Have you heard of trulli Italy? Want to know the story behind trulli Italy? Are you interested in seeing trulli? Or, wish to sleep in a trullo? Perfect! I slept in a trullo in Alberobello on my Puglia road trip, and here is my guide to trulli Italy! My guide covers everything you need to know about trulli in Italy!
TRULLI ITALY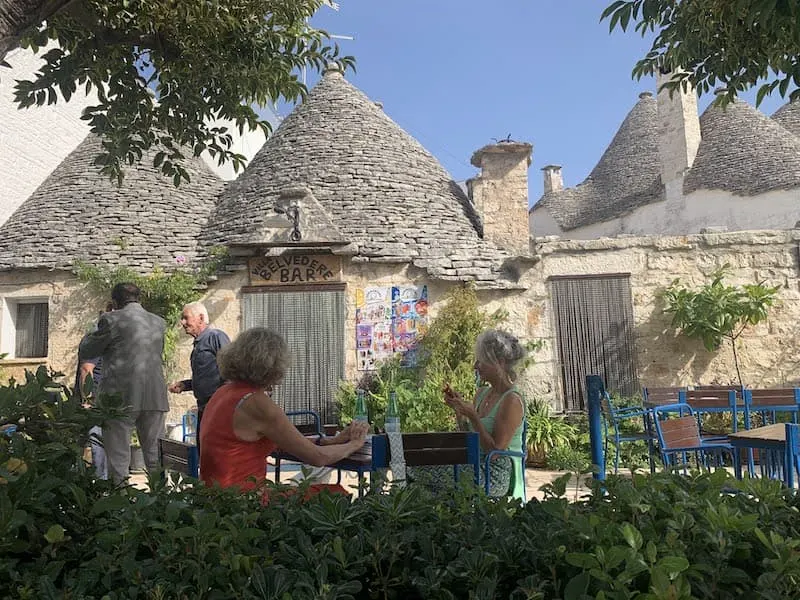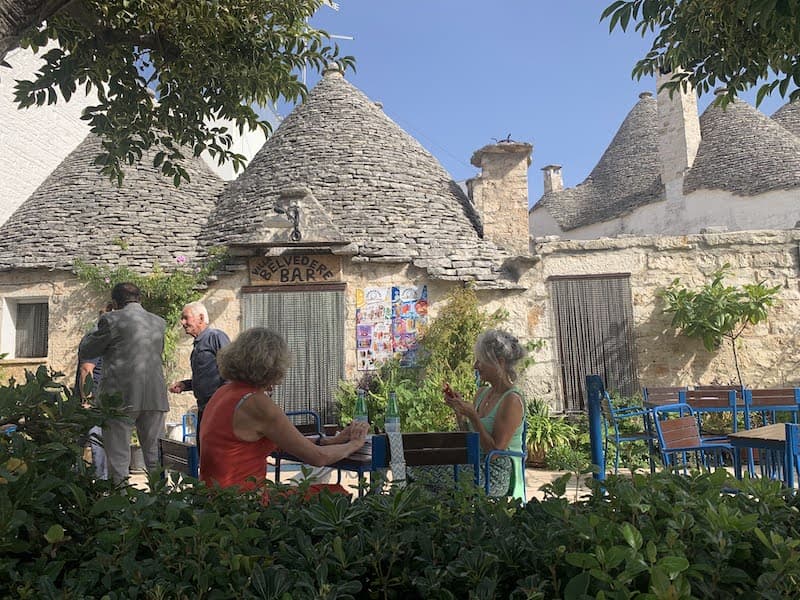 THIS POST MAY CONTAIN COMPENSATED LINKS. PLEASE READ MY DISCLAIMER FOR MORE INFO.
WHAT IS TRULLO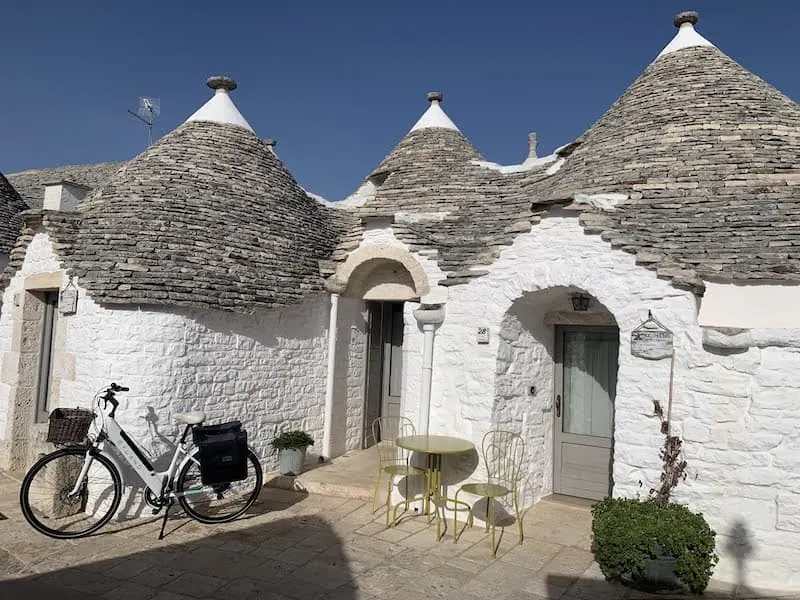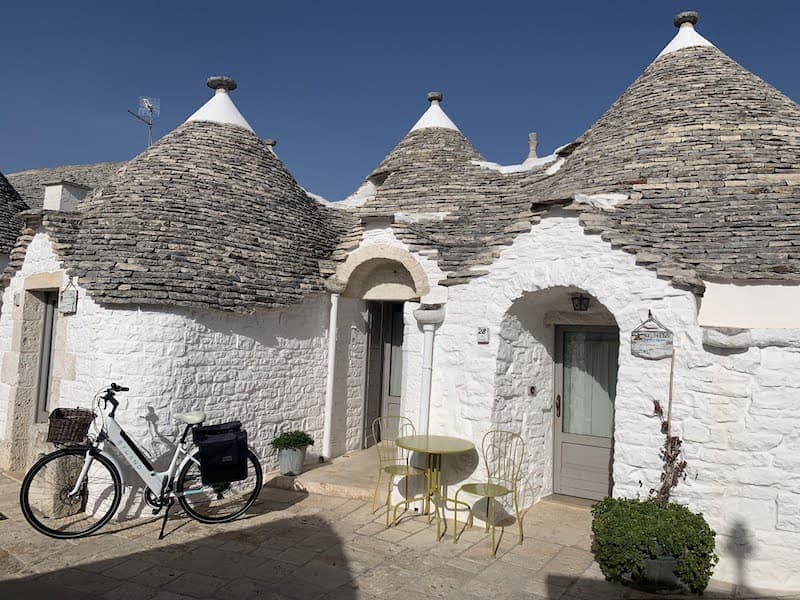 Trullo (sg.) is a traditional limestone hut with a typical domed roof.

The trullo name comes from the word for the dome (cupola).

Trulli (pl.) huts are built with a traditional dry stone construction method. Trulli houses are the finest examples of the prehistorical dry-stone building technique that existed several thousand years ago.

Traditional trulli are built from limestone. Trulli houses are circular-based, with a domed roof, thick and curved walls painted with whitewashed lime, a small doorway, and tiny windows.
WHAT WERE TRULLI USED FOR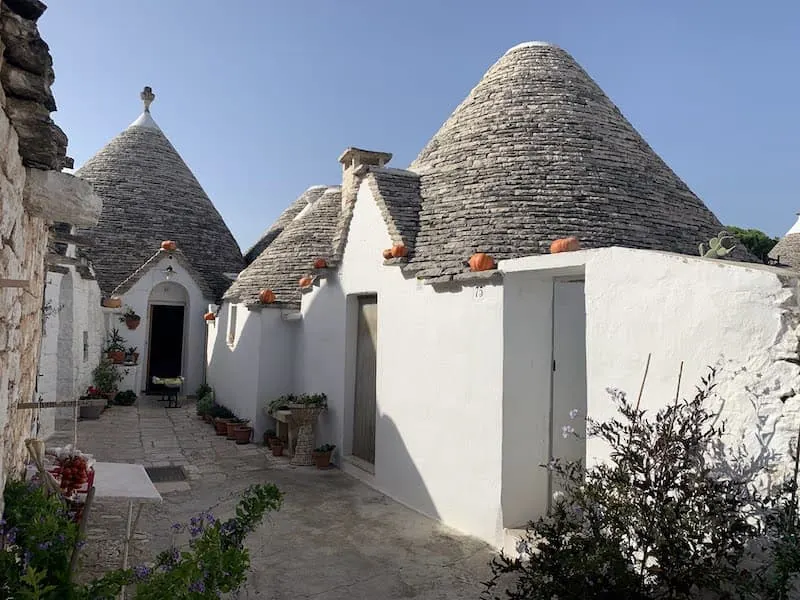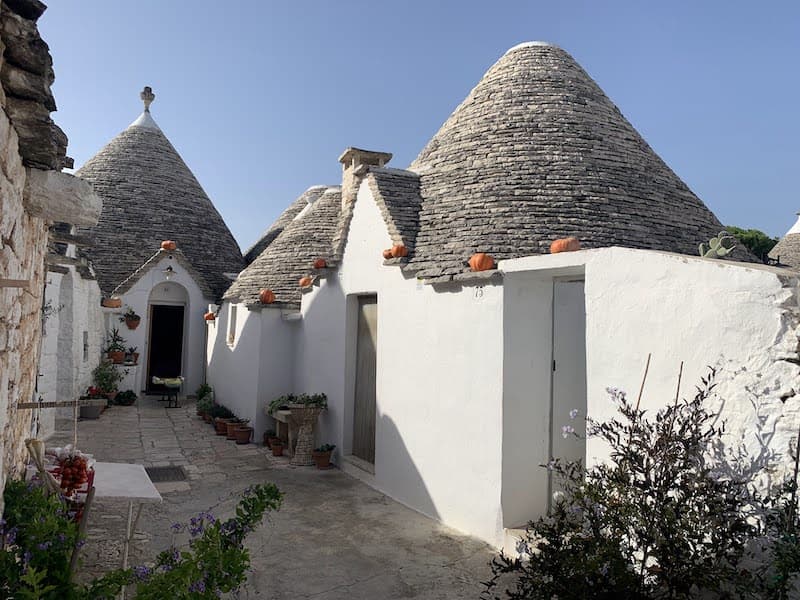 Trulli (pl.) are historical agricultural storage huts. But trulli houses are also rural residential homes of poor farmers and peasants.

You might be surprised, but people still live in trulli huts today.
WHERE ARE THE TRULLI IN ITALY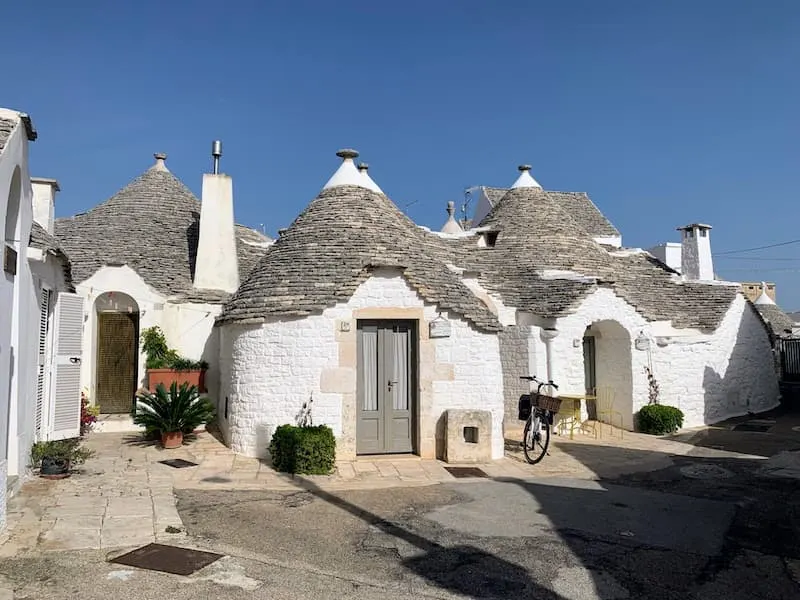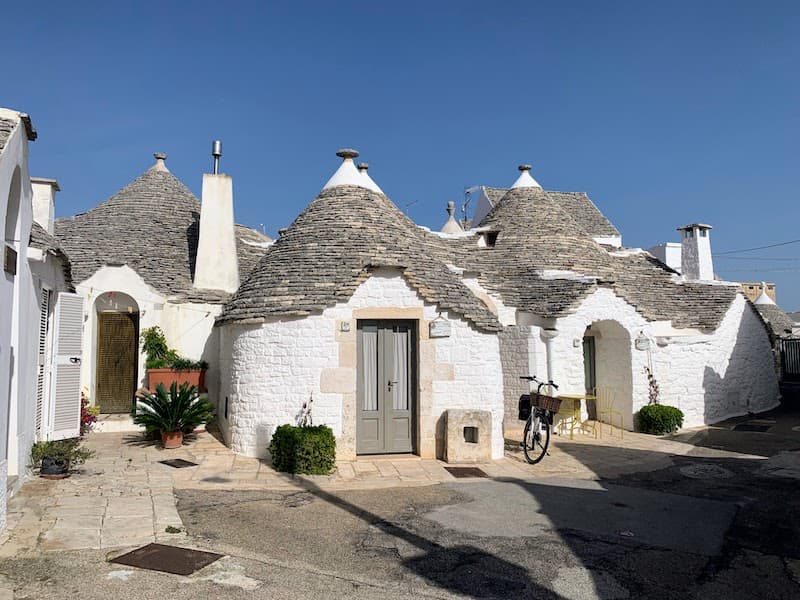 Trulli houses exist across the Itria Valley in the region of Puglia in southern Italy.

According to the historical records, Trulli houses have been in Puglia since the 14th century.
Although you can find trulli across the entire Itria valley, the highest number of trulli exist in the town of Alberobello in Puglia. Distinctive Trulli homes of Alberobello are a UNESCO World Heritage Site and a must-see on any trip to Puglia, Italy. Trulli houses of Alberobello cover an incredible 11 ha of the land.

There are more than 1600 trulli in Alberobello. Around 1000 trulli are in the Rione Monti quarter of Alberobello, and more than 500 trulli are in the Rione Aia Piccola quarter of Alberobello. Trulli houses have been in Alberobello since the 16th century.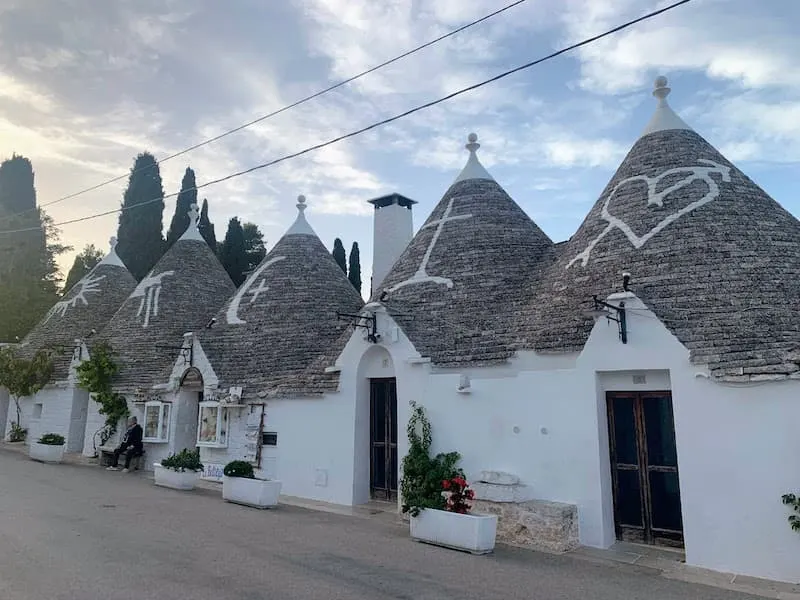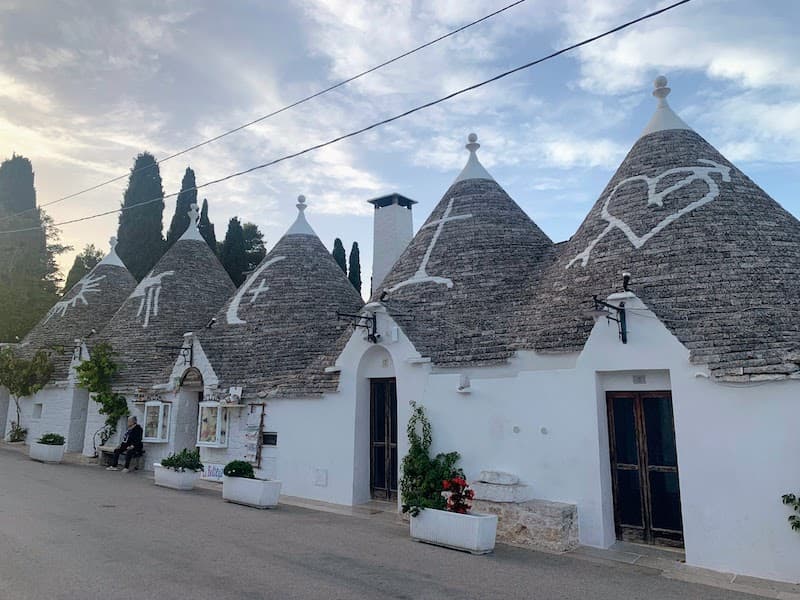 Trulli houses of Alberobello are the finest examples of authentic trulli huts. They often have decorative roof markings (religious or mythological) made with white ash and a roof-toped hand-worked sandstone pinnacle (pinnacolo).
The most famous trulli houses in Alberobello are the Trullo Savrano (a rare two-story trullo house), the Casa d'Amore (the tourist information center in Alberobello these days), and Museum House Pezzolla (the trullo museum consisting of 15 connected trulli in Alberobello), the Church of St Anthony (the trullo church in Alberobello), and Trullo Siamese (the unique troll made of two trulli under one roof).
Trulli houses of Alberobello seem like fairytale houses. They look like hobbit homes, while Alberobello appears like a hobbit land.
Alberobello's Rione Monti, Rione Aia Piccola, Trullo Sovrano and Casa d'Amore are declared national monuments of Italy.
HISTORY OF TRULLI IN ALBEROBELLO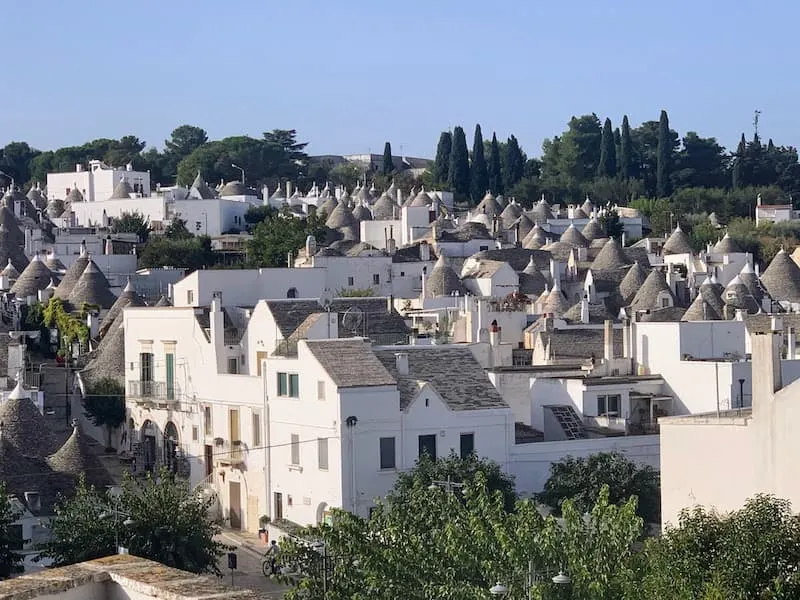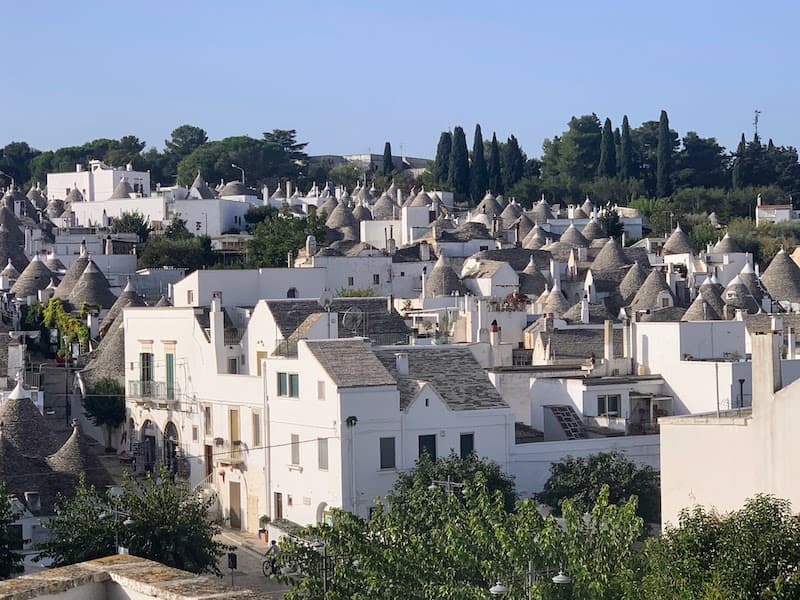 The story of trulli in Alberobello is related to Count of Conversano Andrea Matteo III Acquaviva d'Aragona, Prince of Tarano.
In the 16 century, Alberobello was a part of the Kingdom of Naples, while Count of Conversano was the landowner. At that time, the landowners with houses needed to pay taxes to the Kingdom of Naples. Count of Conversano Andrea Matteo III Acquaviva d'Aragona supported building temporary trulli homes to avoid taxes since trulli houses were built with no mortar and cement and could have been quickly taken down and rebuilt. So, tax avoidance was the main reason why Alberobello had a large number of trulli houses. Alberobello counted around 3500 trulli houses until the 19th century!
STAYING IN TRULLI ITALY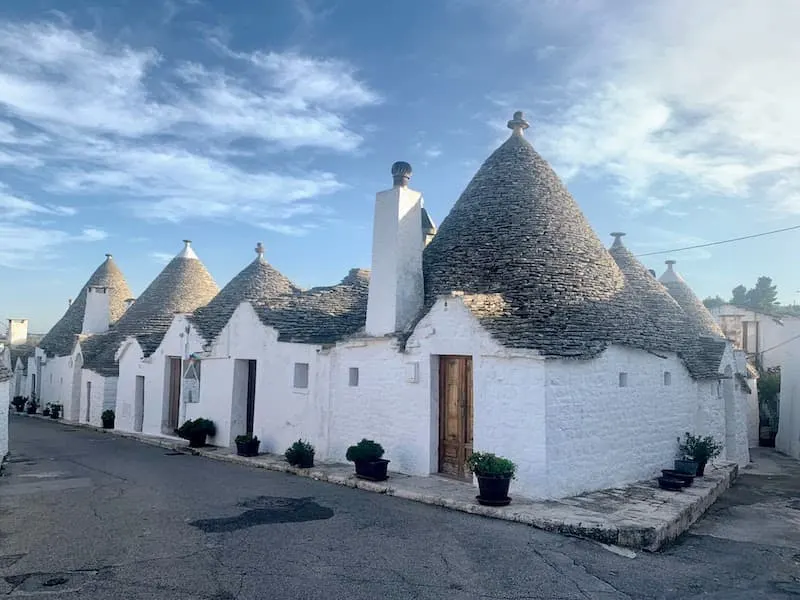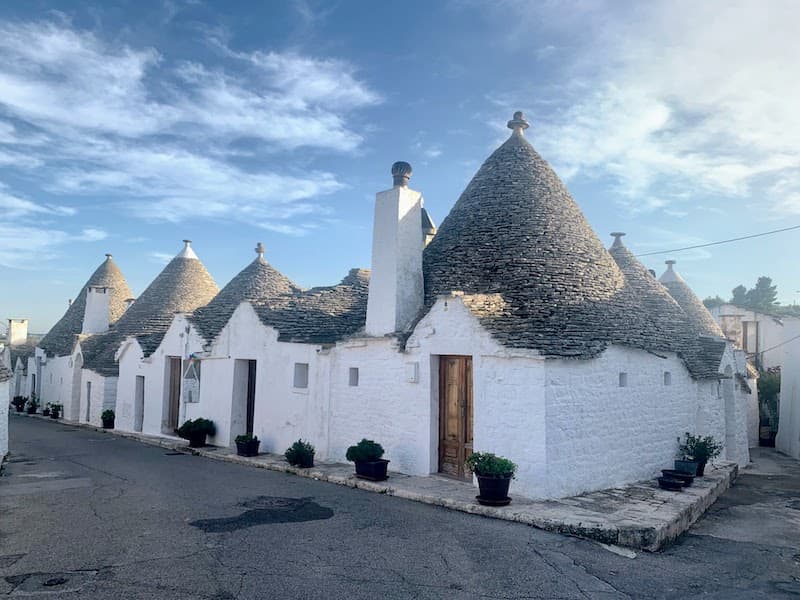 Alberobello is a popular tourist destination in Italy because of its unique trulli huts.

Sleeping in a trullo is a must-have experience once in a lifetime. On my Puglia road trip, sleeping in a trullo house was a must-do for me. e

Before visiting Alberobello, I visited Matera and slept in a cave there. Sleeping in a cave in Matera and sleeping in a Trullo were on my wish list.
Staying in a cave is one of the iconic things to do in Matera, and staying in a trullo is one of the top things to do in Alberobello!
So, sleeping in a trullo in Alberobello was another item I wanted to tick off my Puglia bucket list.
After all, sleeping in an authentic trullo is a unique experience!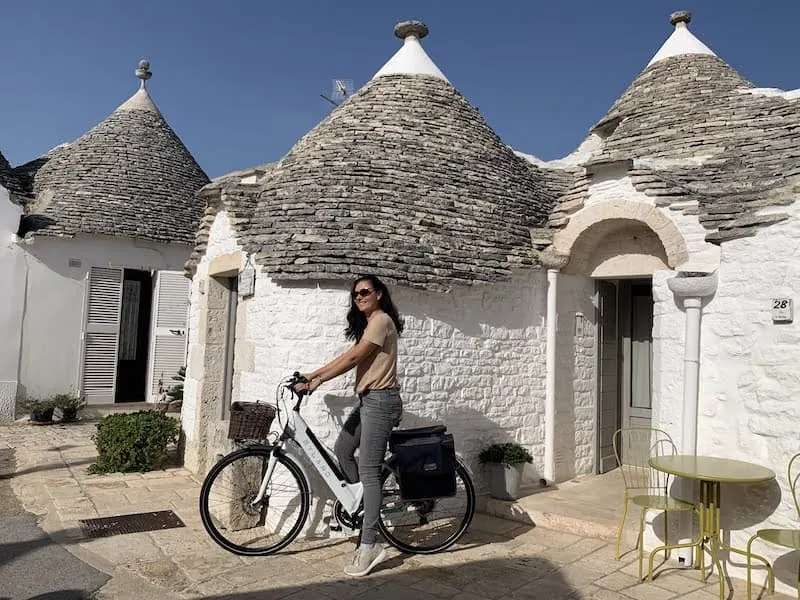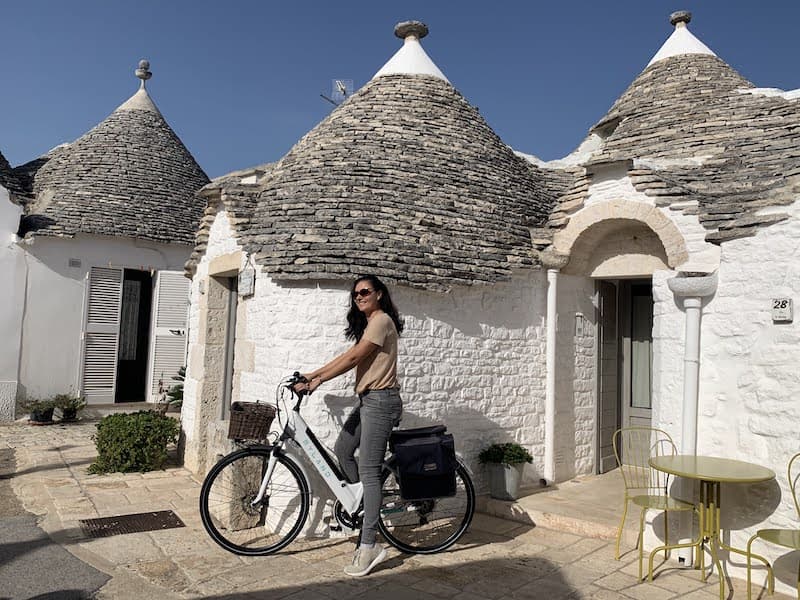 Many trulli stays in Alberobello are on offer: from small single trullo to large family-friendly trulli houses. Some trulli have gardens and an outside seating area. Trulli houses in Alberobello are in two neighborhoods: touristy Rione Monti and quiet Rione Aia Piccola.
I stayed in an elegant single trullo of Trulli Soave in Alberobello overnight.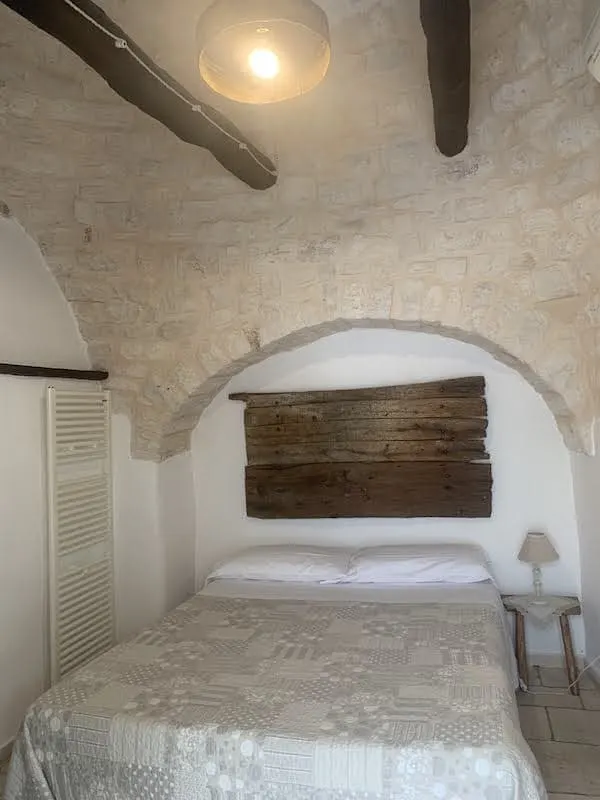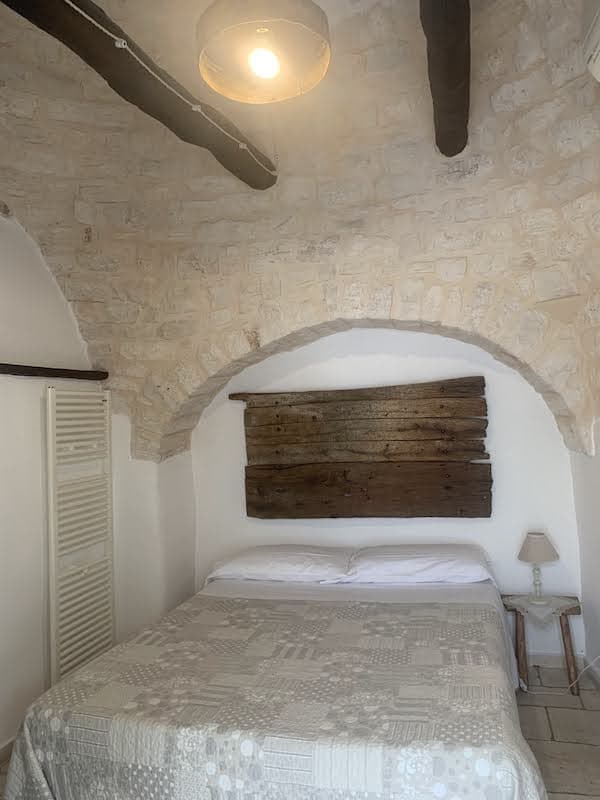 Trulli Soave holiday homes feature charming and cozy historic trulli stays in the idyllic Rione Aia Piccola quarter of Alberobello and within 2 mi walk to the touristy Rione Monti quarter. Trulli Soave is in a quiet area of Alberobello but still close to everything Alberobello has to offer. There are trulli homes in which people still live around Trulli Soave. Walking around the Rione Aia Piccola, you can see locals cooking in their trulli or hear the sounds of TV watching.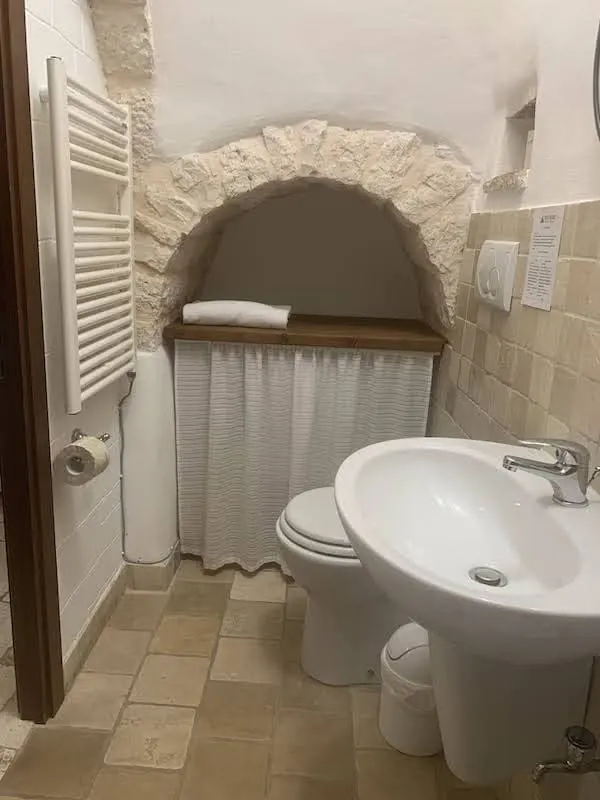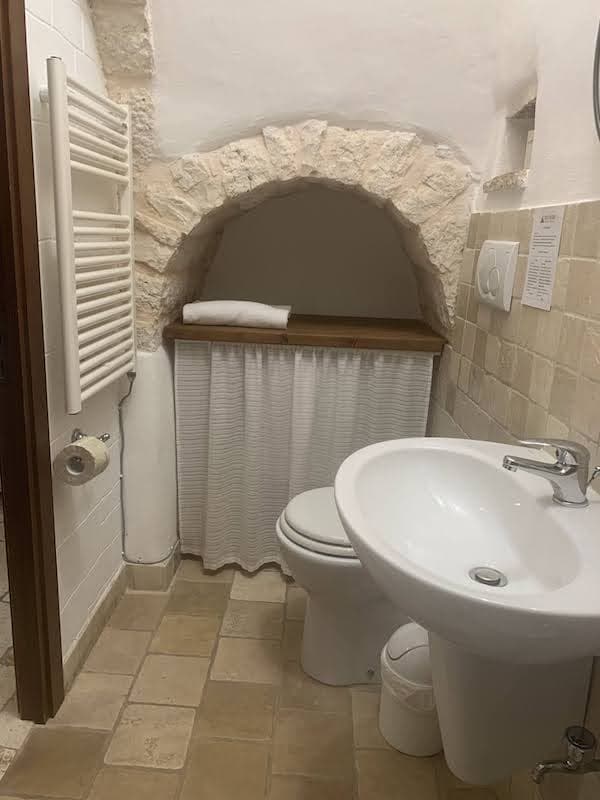 It was amazing to witness typical daily life in Alberobello while staying in Trulli Soave!
The nearest airport to Alberobello is Bari Karol Wojtyla in Bari.
The airport is 67 km from Trulli Soave. Trulli Soave hotel offers a paid airport shuttle service.
If you wish to explore the area independently, as I did, I suggest renting a car at the airport and driving to Alberobello. And, if you are visiting Alberobello with kids, your kids will enjoy staying in a trullo in Alberobello!
TRULLI PUGLIA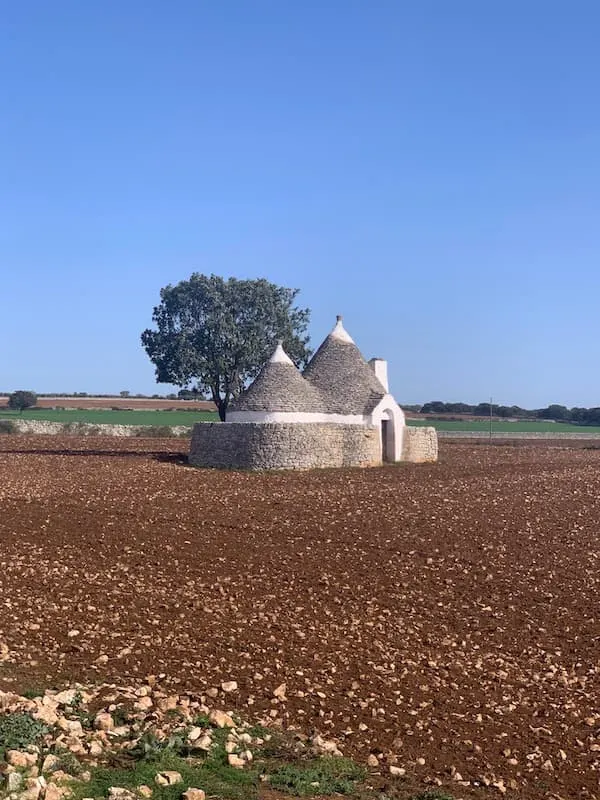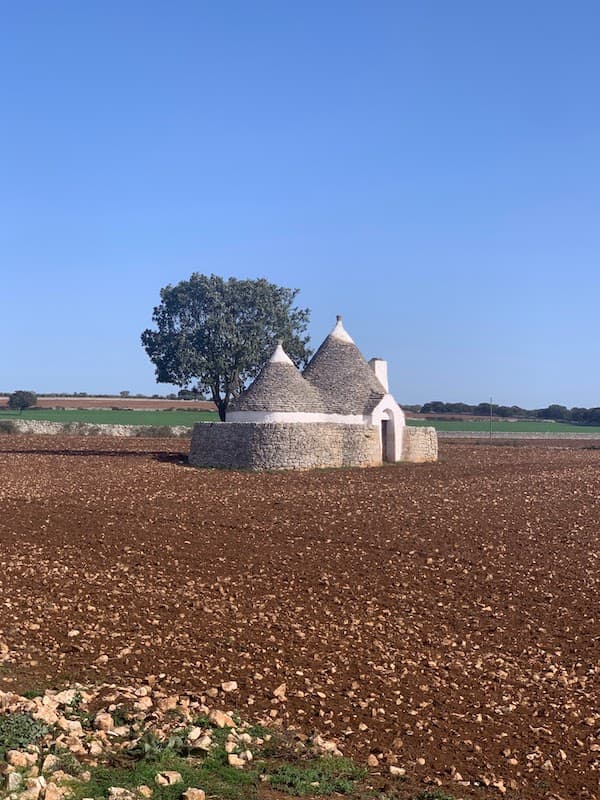 Trulli houses exist in the Itria Valley, in the Alberobello area, around Locorotondo, Fasano, Ostuni, Cisternino, Martina Franca, and Ceglie Messapica area.
So, if you are interested in seeing trulli in Italy beyond Alberobello, head to some of the mentioned places!

RELATED READ: Best Places to Visit in Puglia, Italy
BEST TIME TO TRAVEL TO PUGLIA
The best time to travel to Puglia is spring, early summer, and autumn.
Spring, early summer, and autumn come with sunny days, pleasant air temperatures, and lesser crowds.

The peak of tourist season is summer and months of July and August when you can expect inflated prices and heat!
Therefore, the best months for visiting Puglia are May, June, and September for reasonably priced accommodation, lesser crowds, and pleasant air temperatures for sightseeing.