Traveling to Puglia, Italy? Interested in traditional Apulian dishes and the best food in Puglia? Perfect! On my recent trip to Puglia, I sampled authentic Apulian food and collected the ultimate list of the best food in Puglia, Italy!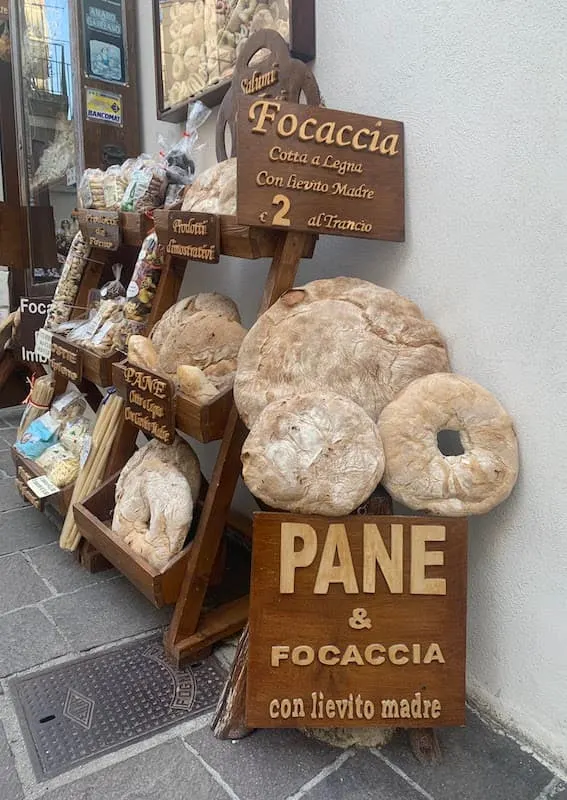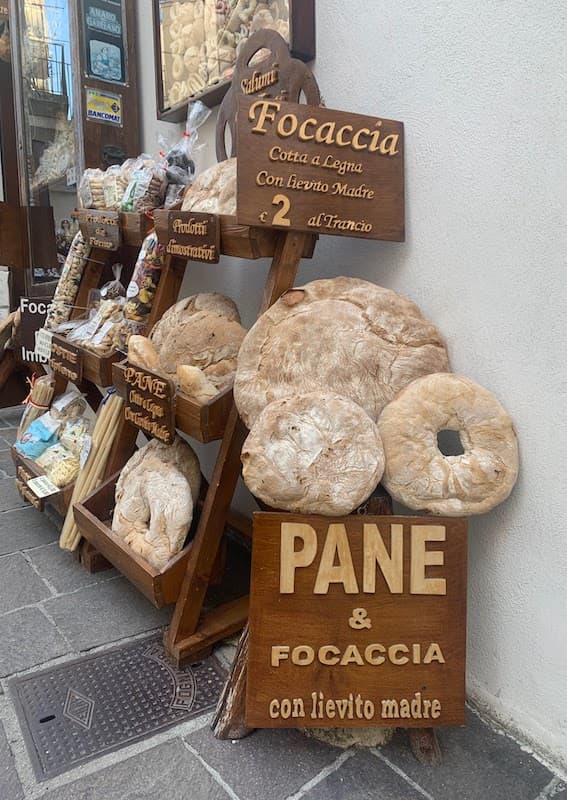 Food from Puglia
I embarked on my recent Puglia road trip with a list of must-try traditional food in Puglia.

I knew that Puglia is famous for its delicious food. But still, I was surprised by the tastes and flavors of authentic Puglian dishes.
Apulian cuisine is known as a top regional cuisine of Italy. The cuisine of Puglia utilizes the less is the better motto. It uses fresh seasonal, simple, but flavorsome local ingredients.
The traditional cuisine of Puglia is 'cucina povera'. However, the cuisine of Puglia is far from poor.
Quite contrary!
The Apulian cuisine is superb cuisine that uses outstanding local produce grown on the fertile soil of sunny Puglia.
Premium olives and olive oil, vegetables (tomatoes, peppers, artichokes, eggplants), fish, seafood, almonds, capers, cheese, and homemade pasta are staple food in Puglia.

Puglia is a haven for gorumands. That being said, I enjoyed the food in Puglia enormously.

After my Puglia trip, I made the ultimate list of the best food in Puglia to help future gourmand travelers to Puglia.
Thus, here is the ultimate list of the best Puglia traditional food and typical Puglia dishes.
This collection of the best food in Puglia covers the best vegetarian Puglia dishes, popular meat-based Puglia dishes, delicious seafood dishes from Puglia, authentic pasta dishes from Puglia, famous Apulian cheese, popular desserts from Puglia, authentic Puglia bread, and popular traditional drinks from Puglia.
Are you planning a trip to Puglia last minute?
If you are traveling to Puglia last minute, I prepared for you a short summary of the best food and drinks tours in Puglia

BEST FOOD AND DRINKS TOURS IN PUGLIA
Puglia: Mozzarella-Making Class at an Apulian Farm
Martina Franca: Wine & Local Products Tasting
Lecce Private Home Cooking Class
Alberobello: Dining Experience at a Local's Home
Foggia 2-Hours Private Gourmet Wine Tour with Tastings
Ostuni: Olive Oil Tasting Tour
BEST FOOD IN PUGLIA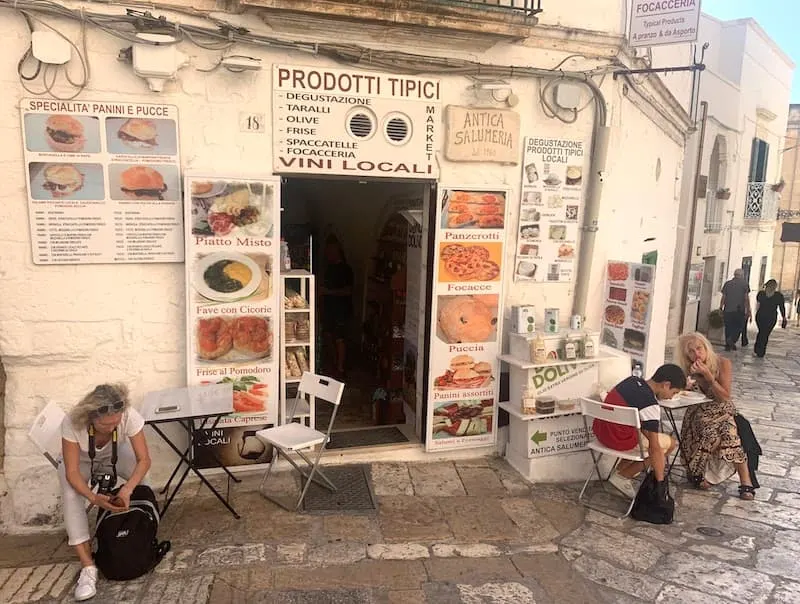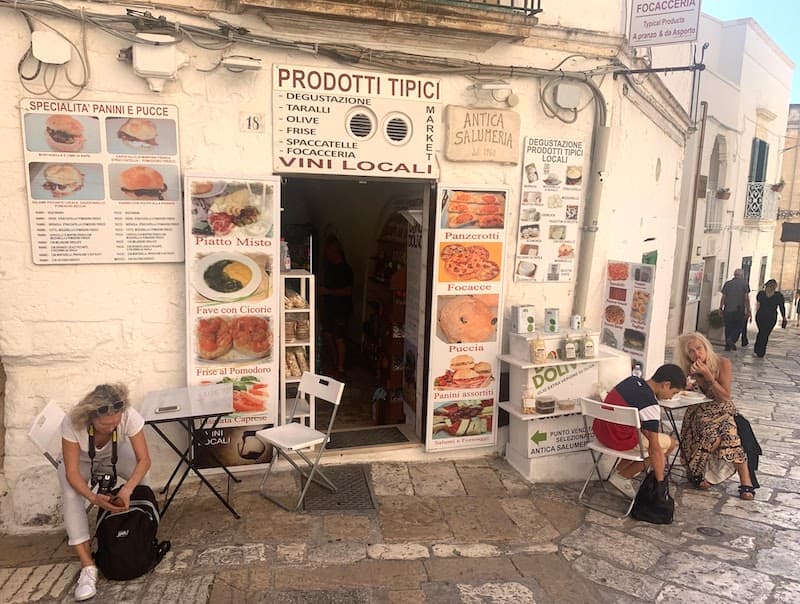 The Puglia food you need to try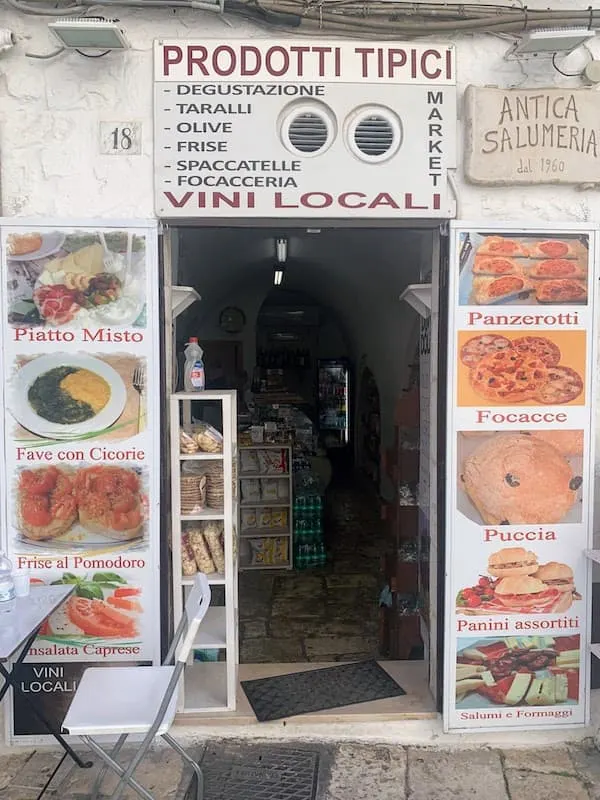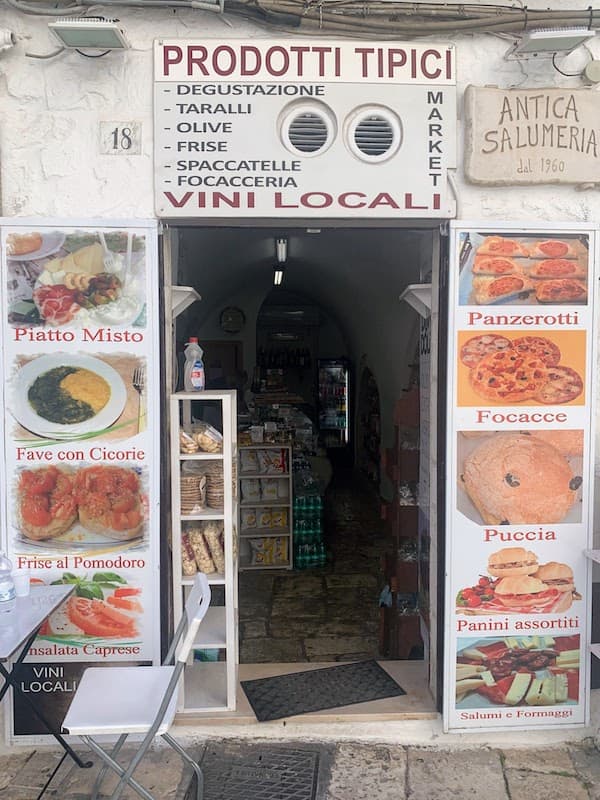 1. ORECCHIETTE CON CIME DI RAPE (the famous Puglia pasta dish with broccoli rabe)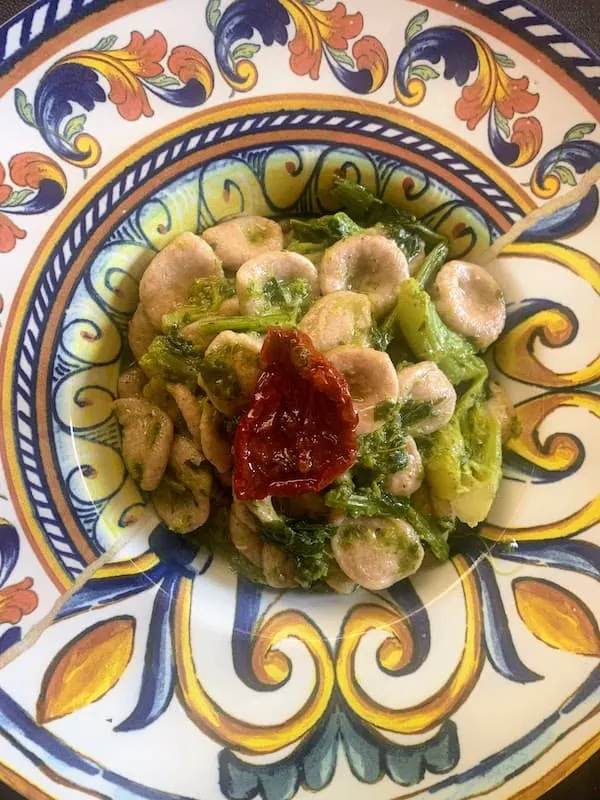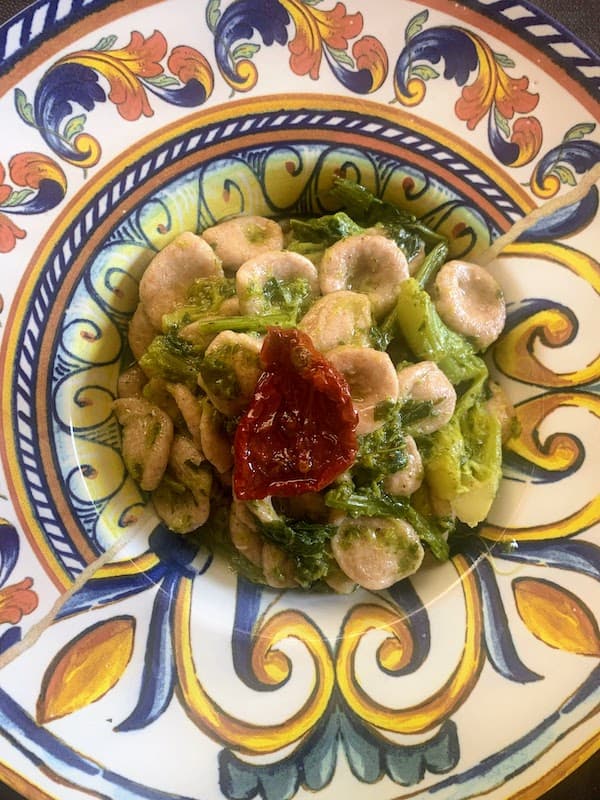 Pasta is a staple food in Puglia.

Orecchiette pasta is a signature pasta of Puglia, and orecciehette con cime di rapa is a signature dish of Puglia.

Orecchiette means 'little ears. As you might assume, orecchiette pasta is a small ear-shaped pasta. Orecchiette pasta is native to Puglia. Apulian women traditionally made it in the homes of Puglia. This homemade Apulian pasta is made with local durum wheat and water but without eggs. Apulian cooks traditionally shape pasta into small ears by inverting small and thin pasta cubes over their thumbs.

Orecchiette pasta is traditionally prepared with vegetable sauces (most commonly with tomato sauce).
However, the most popular Puglia dish is orecchiette con cime di rapa.
Orecchiete con cime di rapa is an iconic dish of Puglia. The dish is made with tiny orecchiete pasta, broccoli rabe, garlic, chili, and anchovies.
This yummy orecchiette dish is seasoned with drizzled olive oil and grated pecorino cheese. Yummy!

Orecchiette con cime di rapa is a typical first-course dish in Puglia. It is a must-try authentic dish from Puglia.
2. FAVE E CICORIA (The famous Puglia fava bean puree with chicory greens)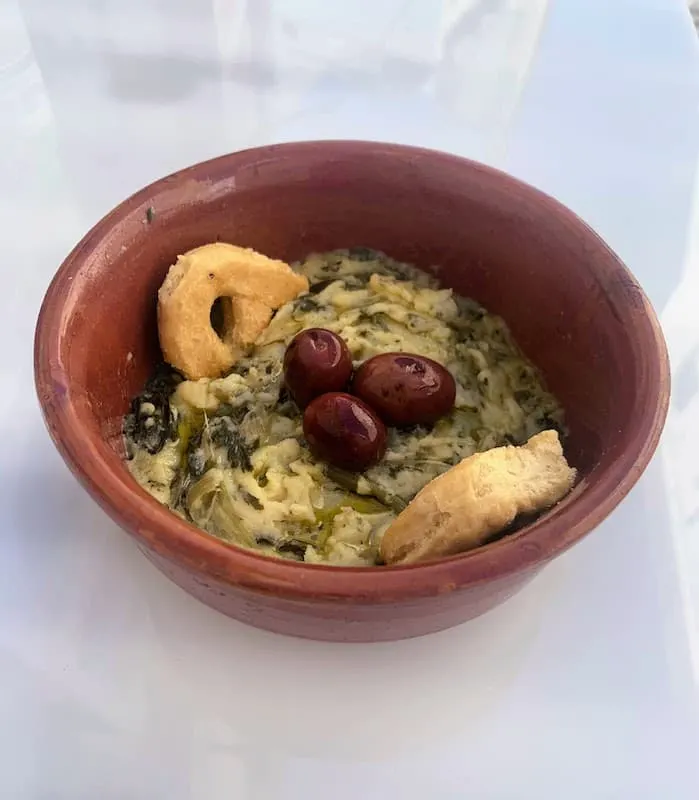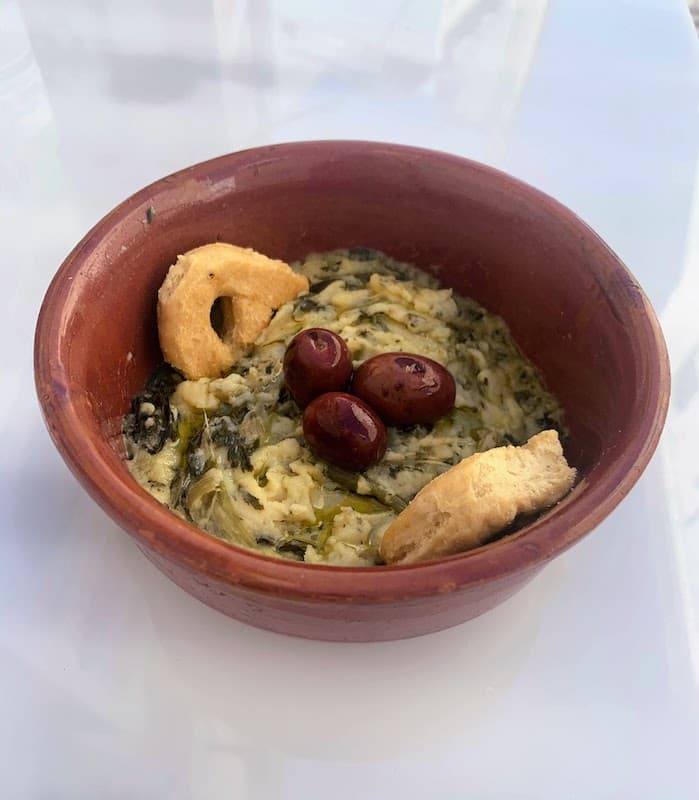 Fave e Cicoria is another classic dish from Puglia.

Fave a Cicoria is a simple and delicious dish made with wild chicory and organic fava beans, all garnished with extra virgin olive oil, garlic, salt, and pepper.
In nutshell, it is a fave bean puree with chicory greens. Fave e Cicoria is one of the most delicious dishes in Puglia. Hearty fava beans blend with bitter chicory perfectly in an authentic Apulian dish.
This yummy vegetarian dish is s traditional antipasto (appetizer) dish in Puglia. The Fave e Cicoria dish is traditionally served with crusty Apulian bread.
Today, it is a popular dish in southern Italy, not only in Puglia.
Authentic Fave e Cicoria dish is a must-try dish in Puglia.

To add here, fava dishes in the traditional Mediterranean cuisine trace influences the traditional Egyptian cuisine that uses fava beans a lot.
3. TARALLI PUGLIESE (The Apulian pretzels)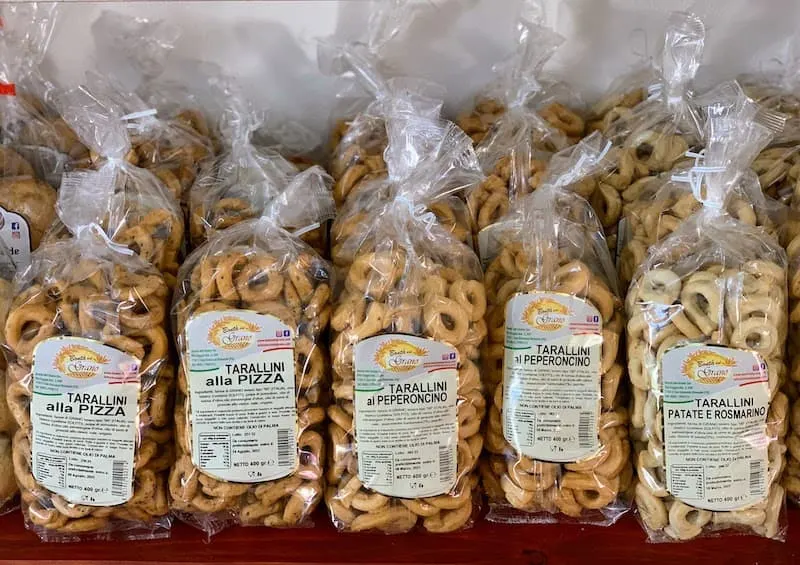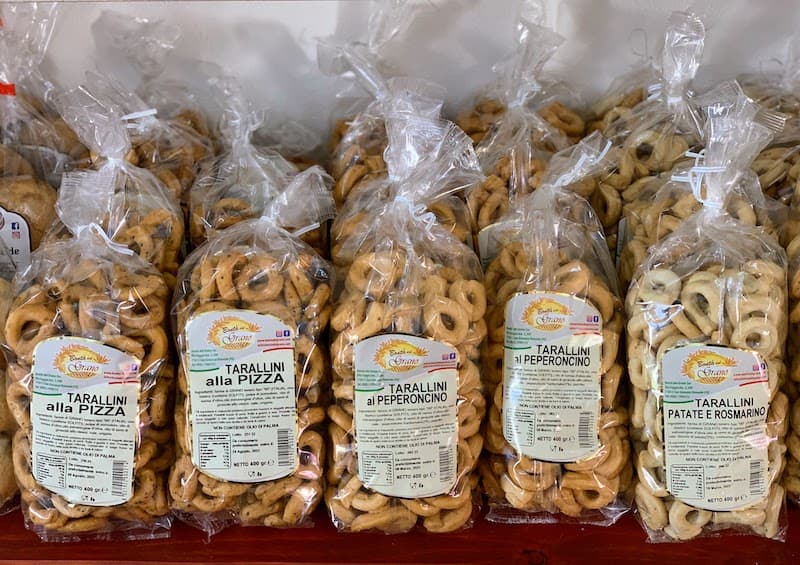 Apulian taralli are ring-shaped breadsticks, similar to pretzels.
Traditional taralli Pugliese pretzels are made with flour, extra virgin olive oil, and white wine from Puglia and shaped into rings.

Taralli rings differ in size and taste. There are big taralli and smaller taralli called tarallini.
And there are also savory and sweet taralli. Savory taralli are seasoned with herbs and spices (like rosemary, fennel, anise, and chili), while sweetened taralli rings come with a sugar glaze.
The most popular taralli are taralli al finocchietto (taralli with fennel seeds), taralli al peperoncino (taralli with chilli), taralli alla cipolla (taralli with red onion), and taralli glassati (sugar-glazed taralli).
Crunchy taralli rings are traditional snacks from Puglia. However, taralli Pugliese pretzels are a favorite snack in southern Italy, not only in Puglia.

Taralli pretzels are popular snacks and antipasti (appetizers before the meal) in southern Italy.
But when in Puglia, remember that taralli pugliese pretzels are the must-try in Puglia.
4. CICERI E TRIA (the Puglia pasta and chickpeas)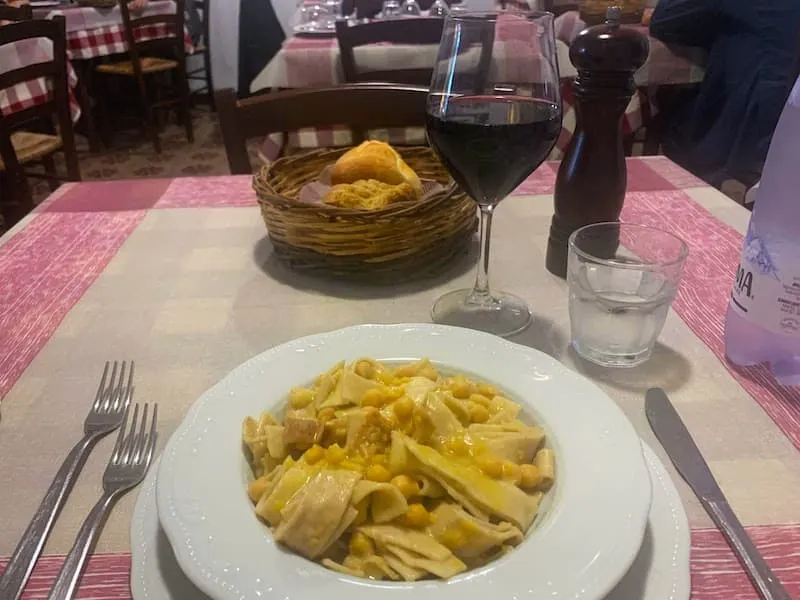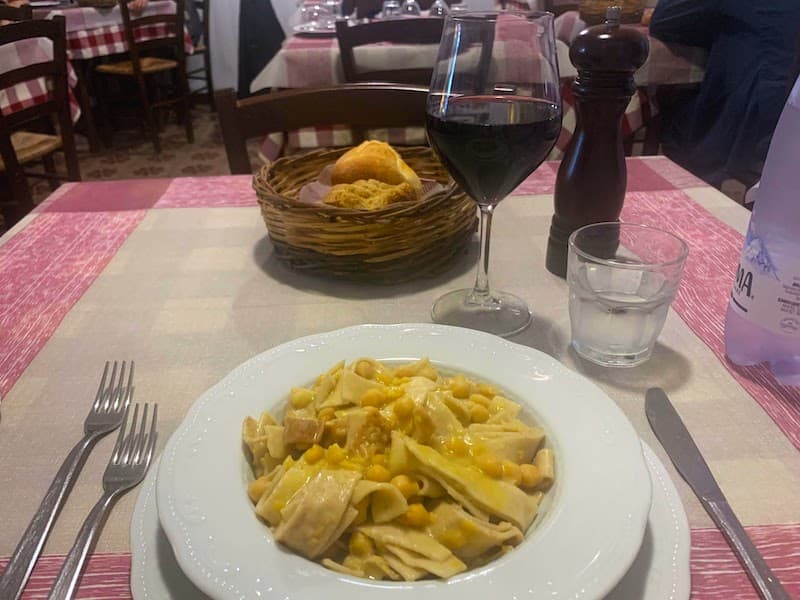 Ciceri e Tria translates as chickpeas and pasta.
Tria is a local pasta made with flour, semolina, olive oil, and water and without eggs.
Tria looks like tagliatelle. However, tria pasta is made without eggs, unlike tagliatelle.
Ciceri e Tria is a traditional pasta dish from Puglia. It is a typical dish from the Salento peninsula. The dish is made of boiled pasta, fried pasta, chickpeas, olive oil, garlic, onion, carrot, celery, and cherry tomatoes. And, optionally, seasoned with some dried peperoncino piccante.
This pasta dish is unique for the mix of boiled and fried pasta. The fried pasta makes an interesting crunchy addition to the dish.
Ciceri a Tria is a classic dish of the Baroque city of Lecce and the Salento peninsula.

Ciceri e Tria is a traditional primo piatto dish (the first-course dish) in Puglia. It is served in traditional trattorias of Salento.
5. SAGNE 'NCANNULATE CON POMODORO E RICOTTA FORTE (The Puglia pasta dish with tomato sauce and aged ricotta cheese)
Sagne ncannulate, orecchiette and maccheroni are the most popular types of pasta from Puglia.
Sagne 'ncannulate pasta is a typical homemade fresh pasta from the Salento peninsula in Puglia. The pasta has a shape of long twisted stripes.
Sagne'ncannulate con la ricotta forte is one of the most famous pasta dishes in Puglia. Sagne'ncannulate con la ricotta forte is a pasta dish with tomato sauce sprinkled with aged Salento ricotta cheese. The dish comes with a distinctive and sharp flavor of the aged ('scante) ricotta cheese. Thus, it might not suit the taste of everyone. People like it or hate it.
Sagne 'ncannulate con la ricotta forte is a typical first-course dish in Puglia. It is a classic Sunday lunch dish in homes in Puglia.
This popular Apulian pasta dish is on the menus of restaurants in Lecce, Gallipoli, Otranto, Santa Maria di Leuca, and other places on the Salento peninsula.
6. CACIOCAVALLO PODOLICO PUGLIESE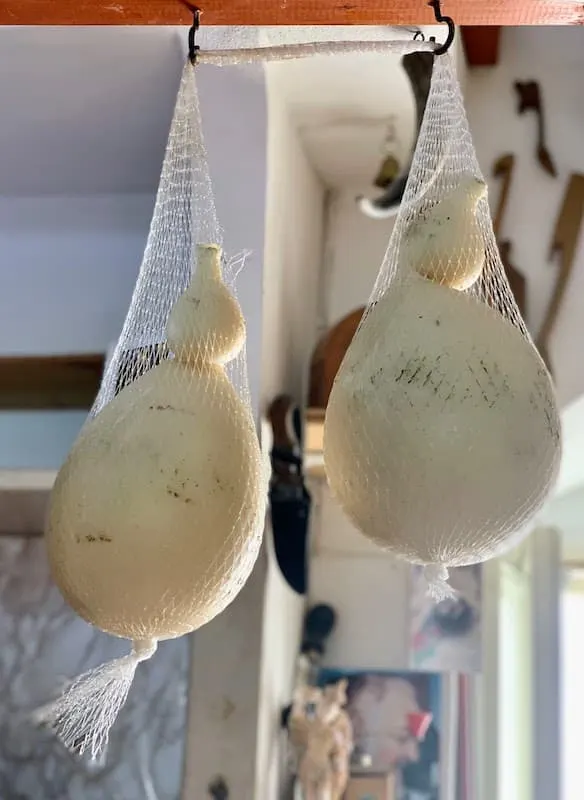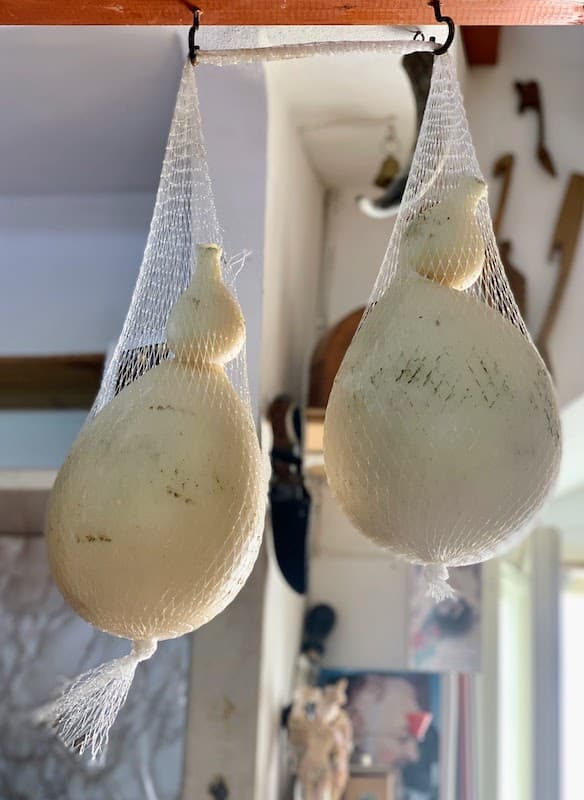 Puglia is a haven for cheese lovers.

Caciocavallo podolico is an aromatic cheese from the Gargano peninsula in Puglia. It is a bag-shaped yellow cheese with a unique and pleasant flavor.

It is made from the milk of wild and semi-wild Podolico cows fed on the pastures of the Gargano peninsula. The taste of each caciocavallo podolico cheese depends on the herbs of the pasture.
Gargano pastures are famous for having many aromatic and healthy herbs like thyme, mountain polio, and lemon balm. So, you can imagine how aromatic caciocavallo podolico can be!
Caciocavallo podalico is a symbol of Gargano and an emblematic food of Puglia. Fresh cheeses are often tied in pairs and hang in stores throughout Puglia,
7. MOZZARELLA PUGLIESE (a famous cheese from Puglia)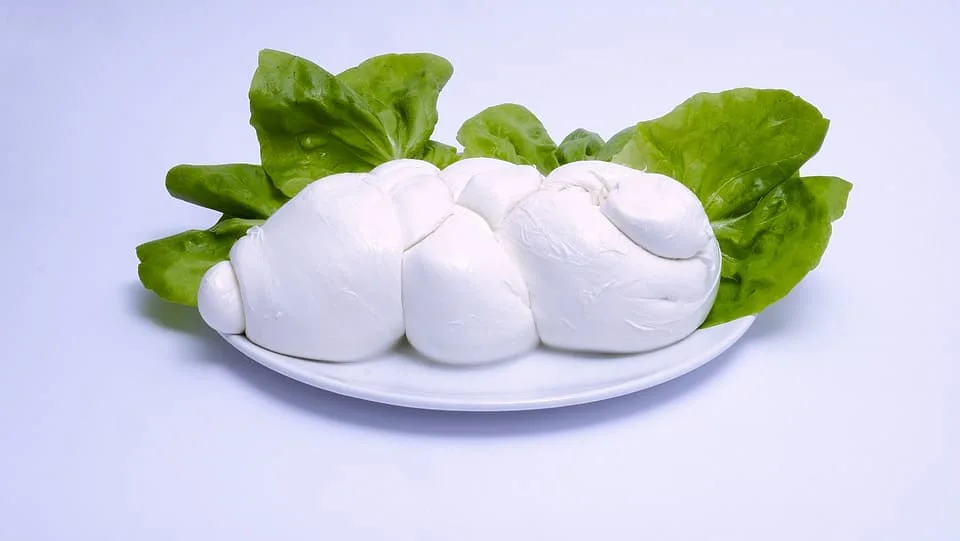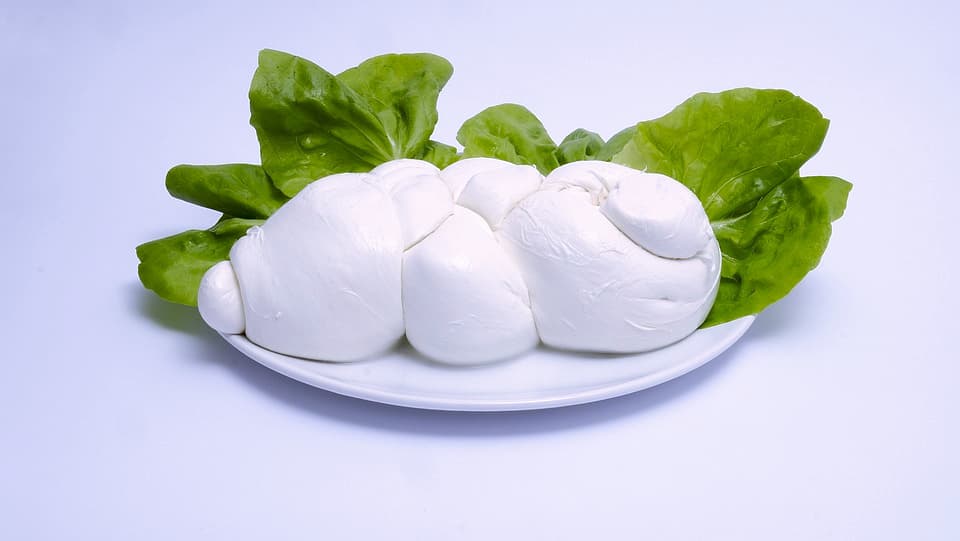 Puglia produces some of the best mozzarella cheese in Italy.
Fresh and soft mozzarella in Puglia is made from cow milk (unlike mozzarella from Campagnia, made from buffalo milk). Mozzarella from Puglia has a spheroidal shape and a delicate and creamy flavor.
The Apulian mozzarella can be also enjoyed fresh in the famous Caprese salad (with tomatoes, olive oil, and basil) or as an ingredient in many dishes.
8. BURRATA (a soft cheese from Puglia)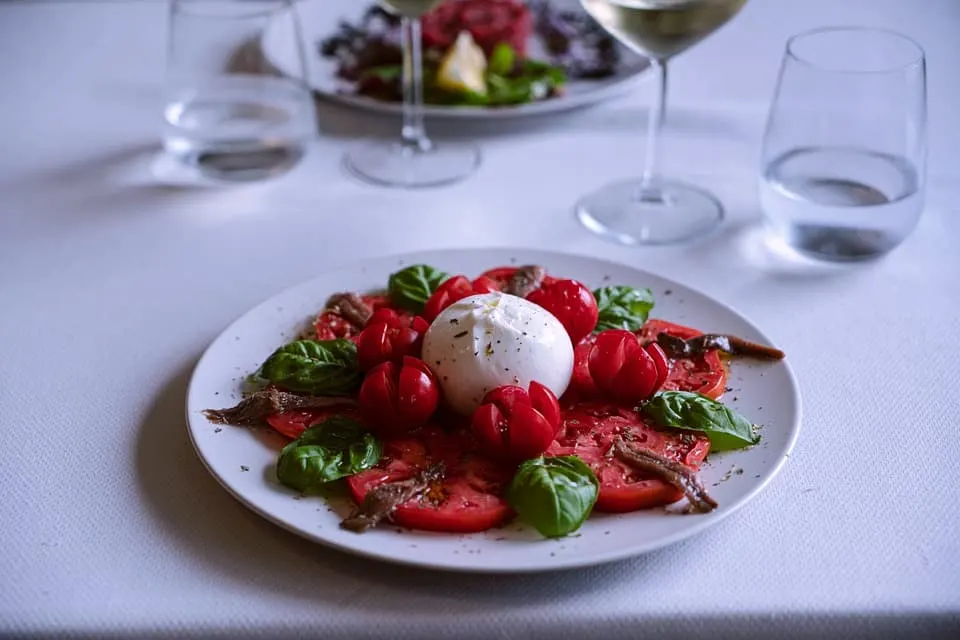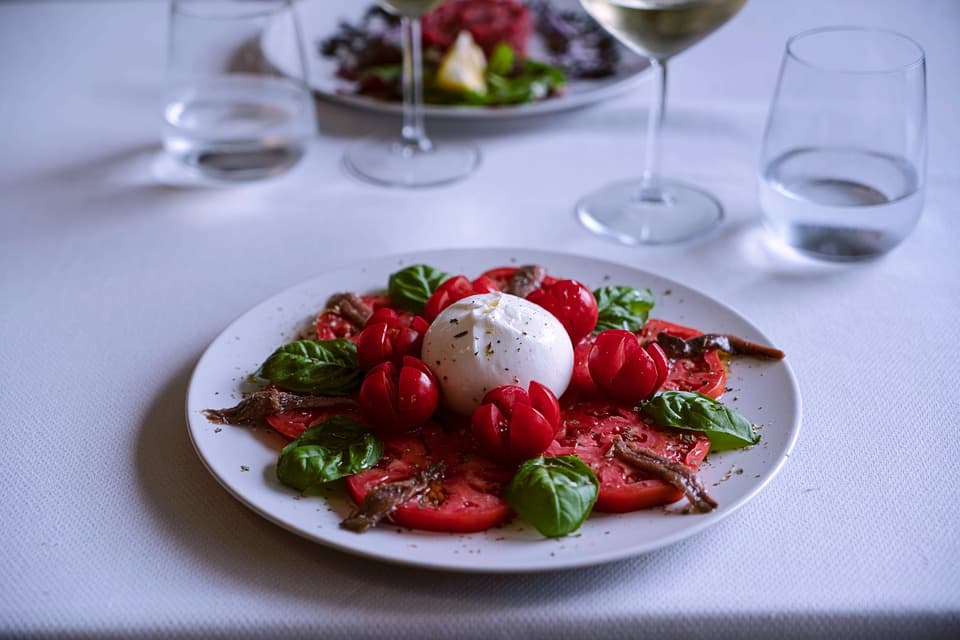 Burrata is one of the most popular fresh cheeses from Puglia. Burrata originates from the city of Andra, near Bari in Puglia.

Apulian burrata cheese is made from mozzarella cheese and cream or buffalo milk. Burrata cheese needs to be eaten within two days.

Burrata means 'buttered' in Italian. Burrata is buttery inside. The outer side of the cheese is mozzarella, and the inner part is mostly cream (and partially mozzarella).
9. STRACCIATELLA (authentic cheese from Puglia)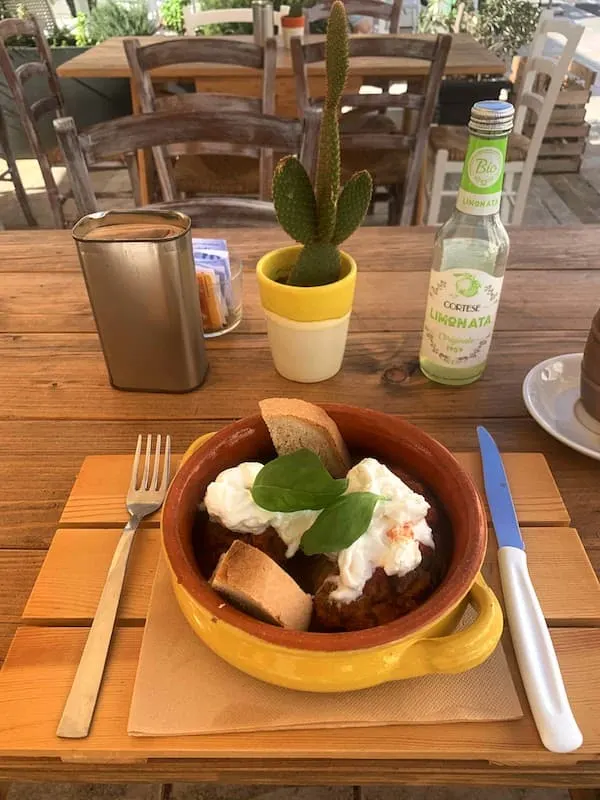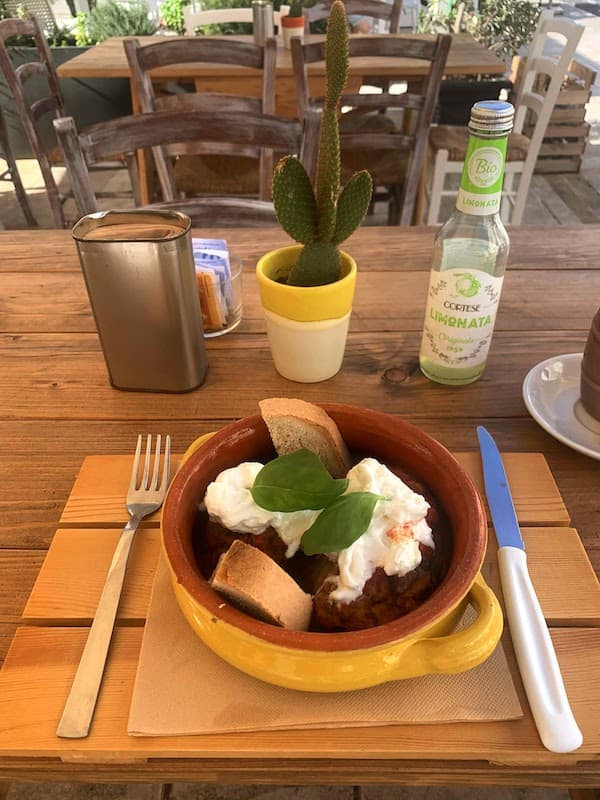 Stracciatella is a famous cheese from Puglia. It hails from the province of Foggia in Puglia.
Apulian stracciatella cheese is made from buffalo milk or cow milk. Stracciatella cheese makes up the inner part of burrata cheese.

Creamy and silky stracciatella has a mild flavor. Therefore it is used for many dishes (like different pasta dishes and bruschette).
But, fresh stracciatella is consumed alone too. Try fresh stracciatella cheese with extra virgin Apulian olive oil, sun-dried tomatoes, and slices of bread pane di Altamura. Yum, yum!
10. COZZE ARRAGANATE PUGLIESI (the baked Puglia-style stuffed mussels)
Puglia has two coasts: the Adriatic coast and the Ionian coast. Naturally, fish and seafood are a staple food in Puglia.

Mussels, or cozze in Italian, are among the most popular seafood in Puglia.

Cozze arraganate is a seafood dish consisting of mussels baked with breadcrumbs, parsley, and capers.

The baked stuffed mussels are a classic dish from Puglia and a must-try Apulian dish for seafood lovers.
11. LINGUINE ALLE VONGOLE ALLA PUGLIESE (the Puglia-style linguine pasta with clams)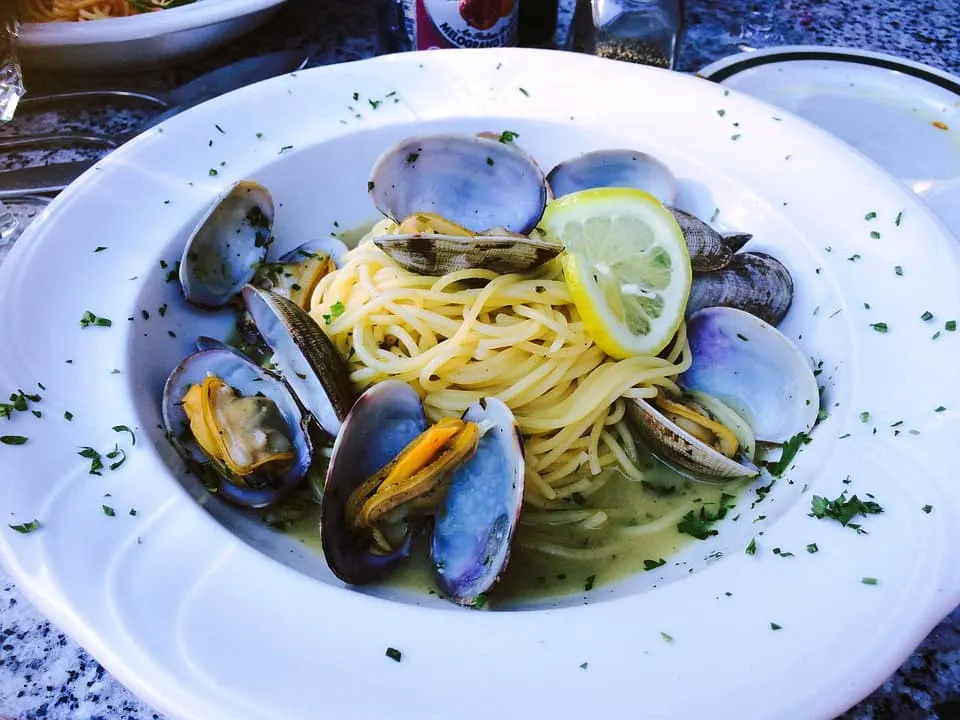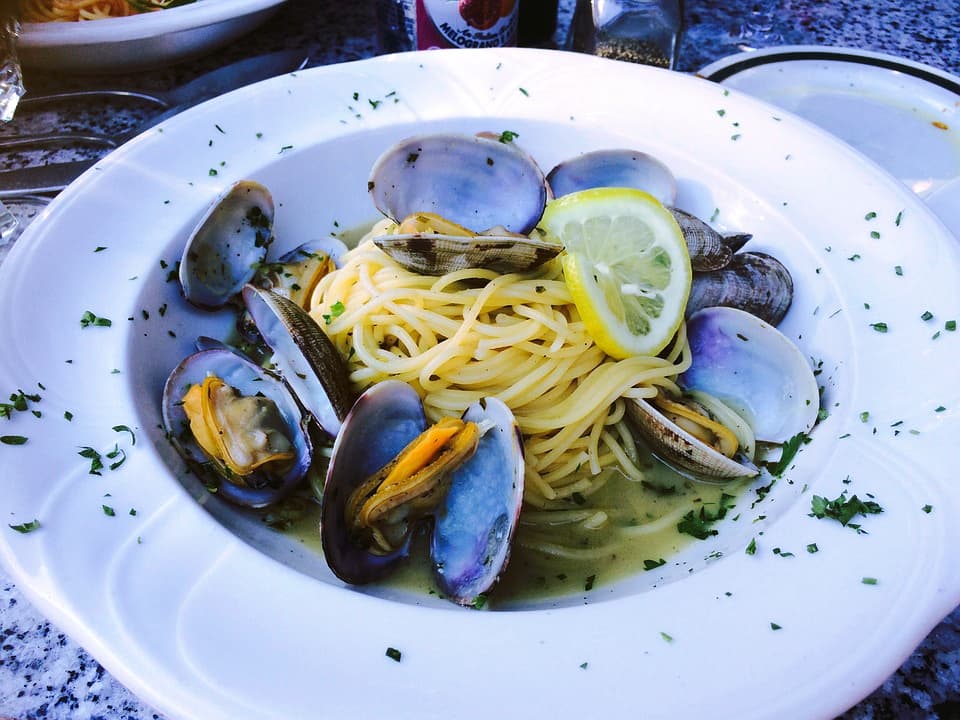 Linguine alle vongole is another classic Puglia dish made with linguine pasta.
It is a pasta dish with fresh clams, a sauce made with sautéed garlic in olive oil, and fresh parsley.
It is a classic first-course dish in Puglia.
12. LINGUINE AI RICCI (pasta with sea urchins)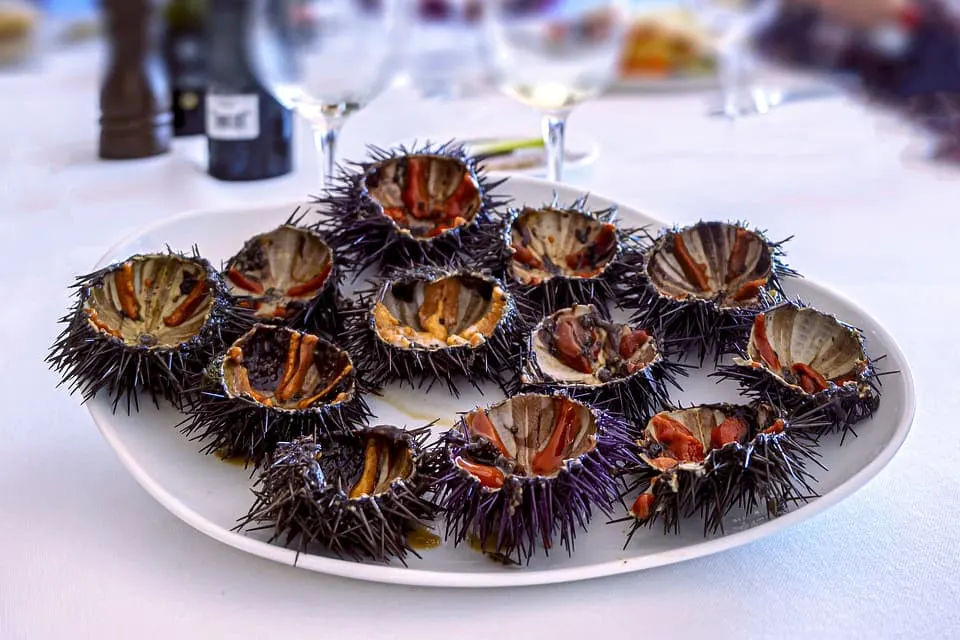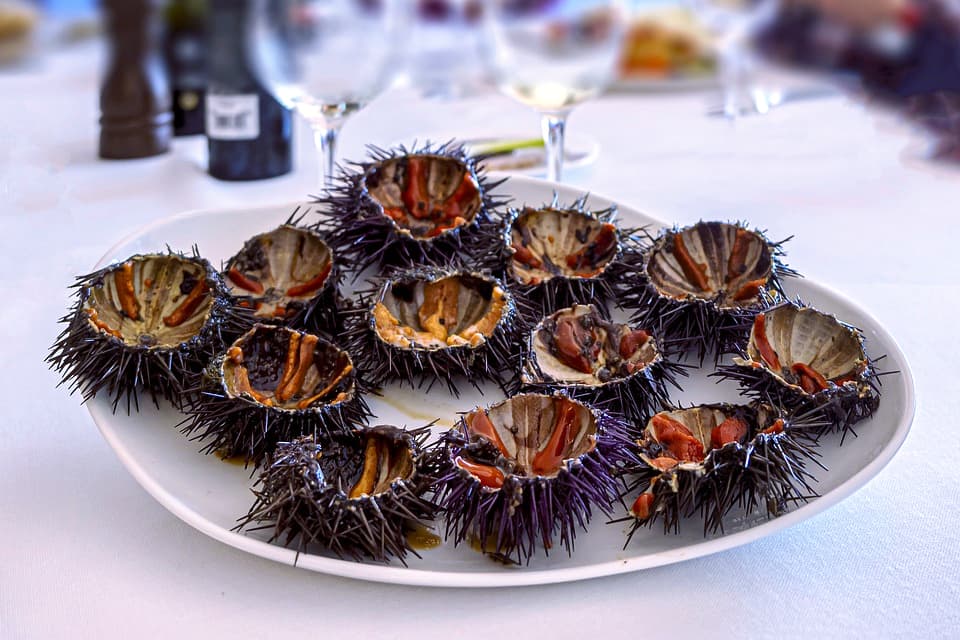 Sea urchins are a popular food in the Salento peninsula. Sea urchins from the Adriatic Sea and the Ionian Sea are a delicacy food in Puglia.
Linguine ai Ricci is a simple and flavorsome pasta dish with sea urchins. This yummy pasta dish includes boiled pasta, sea urchin roe, and a sauce made with olive oil, garlic, parsley, and chili.
The dish is a classic first-course dish of Puglia cuisine.
Let me remind you, sea urchins are popular seafood in Spain, not only in Italy.
13. RISO, PATATE E COZZE / TIELLA BARESE
Have I said that mussels are among the most popular seafood in Puglia?
Well, here is another dish from Puglia prepared with mussels!
Tiella barese, or riso, patate e cozze is a classic seafood dish from Bari. It is a popular dish throughout Puglia.
This famous Puglia dish is made with baked round slices of potatoes, onion rings, finely chopped parsley, round tomato slices, mussels, rice, and grated pecorino cheese.

The Bari tiella got its name after tiella, the pan in which the dish gets prepared.

Tiella is one of the most delicious dishes of Puglia.
14. BACCALA ALLA SALENTINA (the Salento-style codfish)
Baccala alla Salentina is a popular Puglia dish.
The Salentino-style cod is a baked dish made of ingredients typical for the region: cod fillets, potatoes, onion, cherry tomatoes, pecorino cheese, onion, garlic, finely chopped parsley, breadcrumbs, olive oil, salt, and pepper.
Baccalà alla Pugliese is a traditional Puglia dish.
15. POLPETTE DI PANE PUGLIESI (the Apulian bread balls)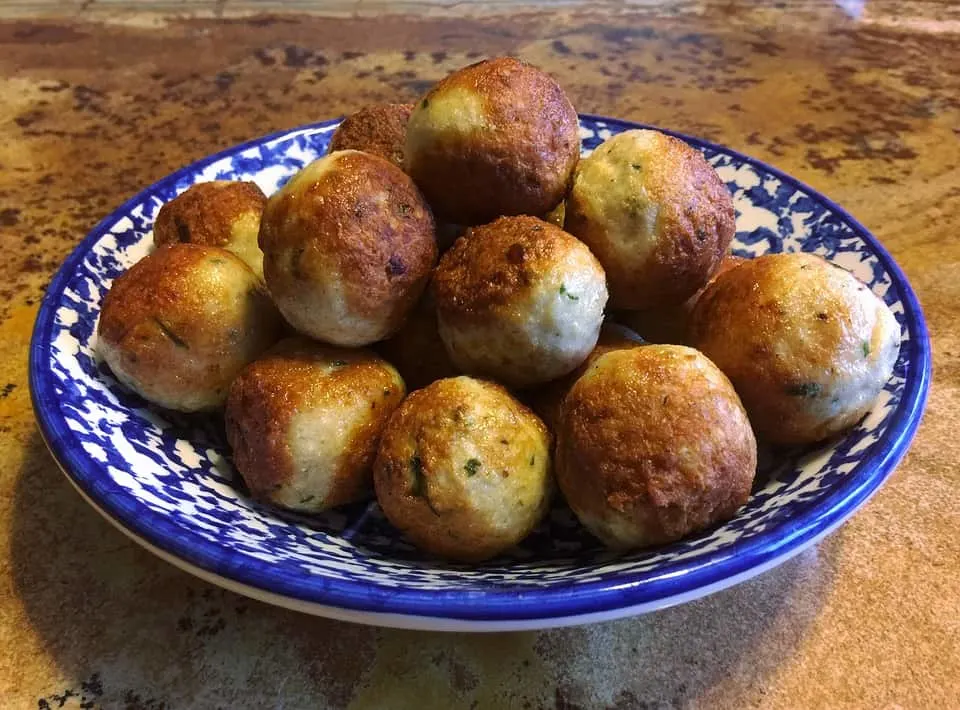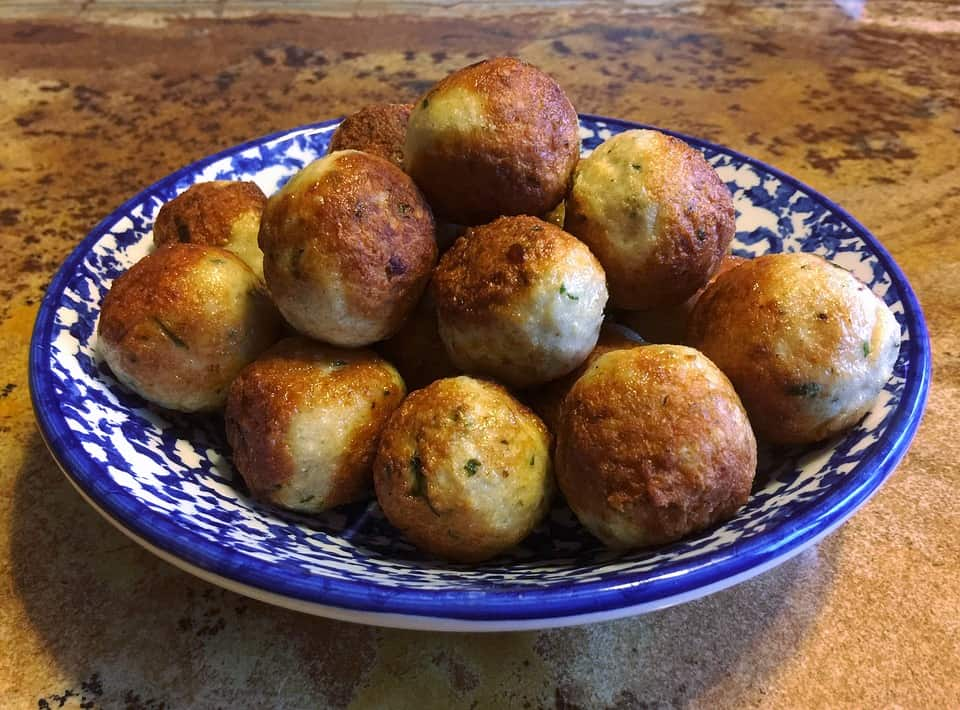 Polpette di pane is a common dish in Puglia.
The Apulian bread balls are bread fritters of milk-soaked stale bread, eggs, and parsley.
The fried Apulian bread balls have peasant roots. The dish uses inexpensive ingredients and leftovers. , but the fried polpette balls are among the best food in Puglia you need to try!
Polpette di pane is a classic appetizer and popular finger food in Puglia.
16. FRISE PUGLIESI (The Apulian bruschette)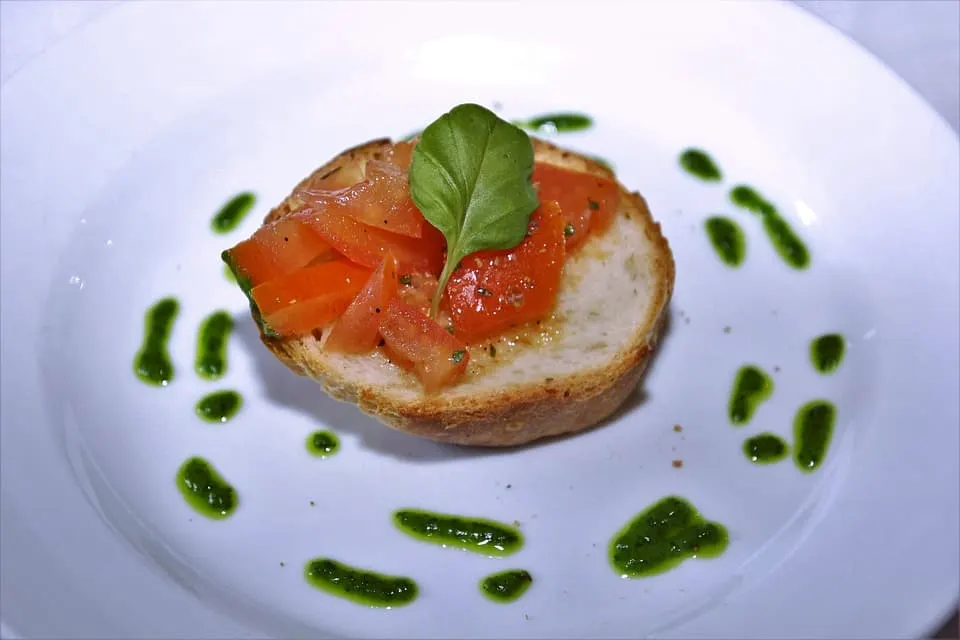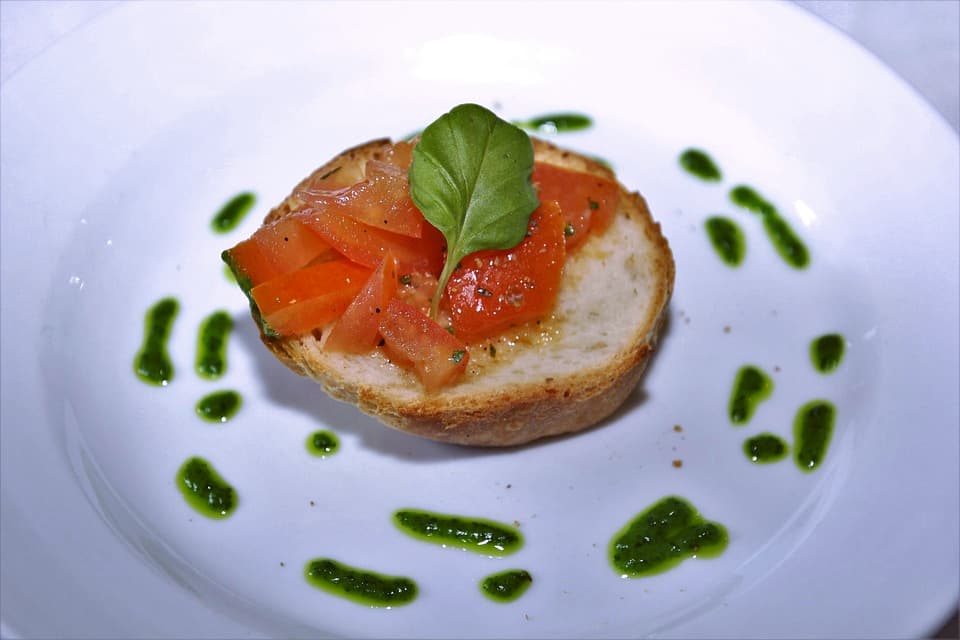 Frise pugliesi, or friselle, are traditional bruschette from Puglia.
The Apulian friselle snacks are toasted slices of donut-shaped bread with cherry tomatoes, olives, basil, tuna, and similar condiments (like anchovies, mozzarella cubes, corn, and grilled eggplants).
However, tomatoes, olive oil, salt, and oregano are the only ingredients of a classic Apulian frisa.

Crunchy Apulian dry bread is a perfect snack and a first-course dish enjoyed during hot summers in Puglia.
17. SGAGLIOZZE DI POLENTA FRITTA (The deep-fried Puglia polenta)
Sgagliozze di polenta fritta, or sgagliozze for short, is a popular street food in Bari. But you can find it almost everywhere in Puglia too.
Polenta is cooked in water with a pinch of salt and then fried in extra virgin Apulian olive oil. Afterward, polenta is left to get cold to get cut.
Typical Bari-style fried polenta is cut into squares and sold in the streets in the Old City of Bari.

St Nicholas the Pilgrim is the patron saint of Bari. Fried polenta cuts are traditionally sold outside the St Nicholas Cathedral after holy mass on St Nicholas Feast Day (December 6).

The Bari-style fried polenta is a popular comfort food sold in the streets and squares of Bari in winter. However, nowadays, sgagliozze di polenta fritta is a typical Apulian street food, available all year round.
18. PANZEROTTI PUGLIESI ( the deep-fried Apulian snacks)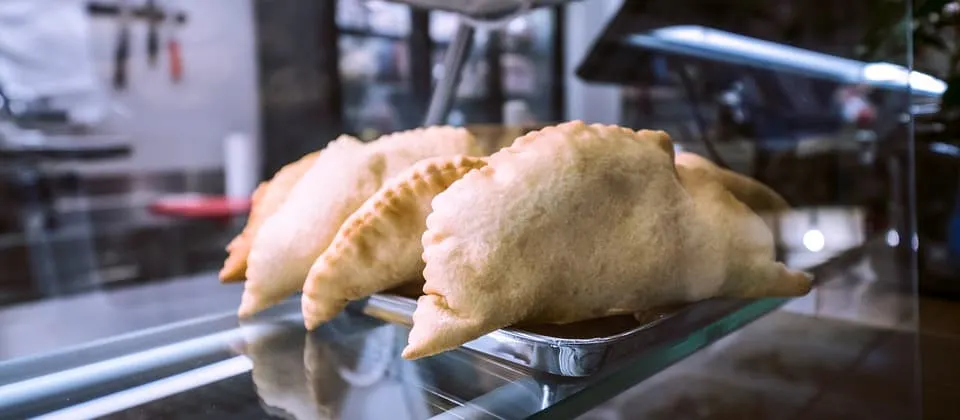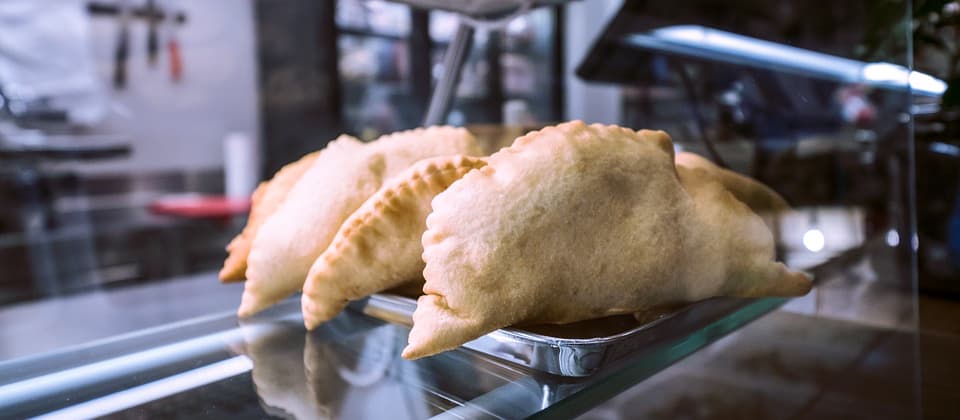 Fried panzerotti pouches are a popular street food in Puglia.
Classic Apulian panzerotti pouches are fried fritters filled with tomatoes and mozzarella. However, there are also panzerotti fillings like ricotta, spinach, mortadella, anchovies, olives, etc.
Bakeries and pizzerias throughout Puglia sell puffy panzerotti pouches. So, do not forget to sample authentic panzerotti pouches from bakeries in Puglia.
19. PUCCE PUGLIESI ( Traditonal Apulian sandwiches)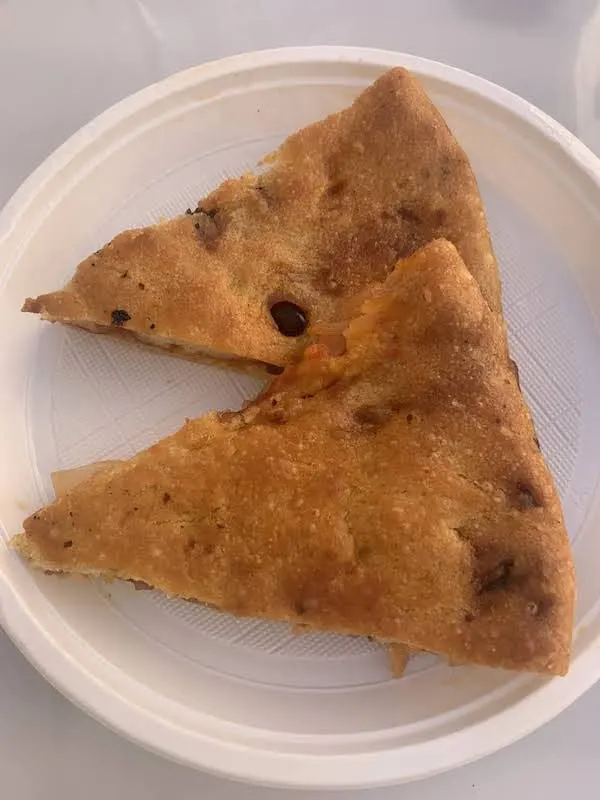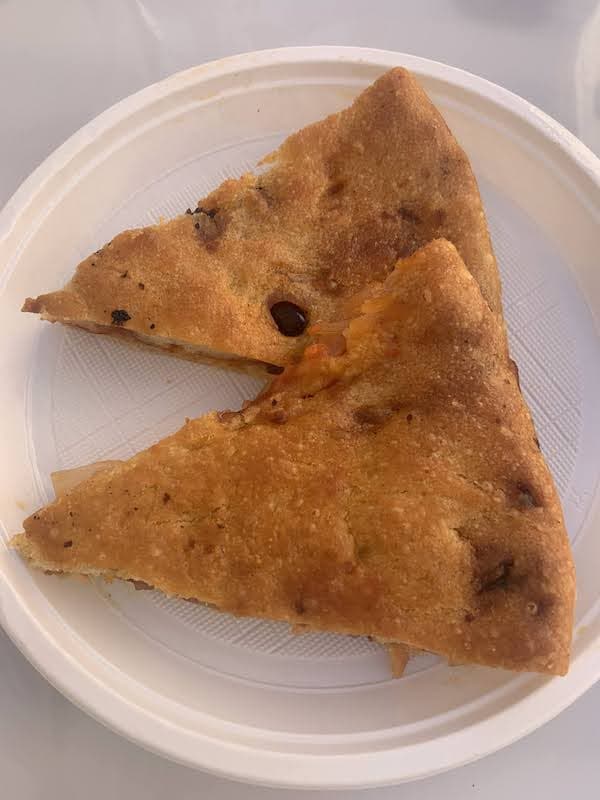 Puccia (singular) and pucce (plural) are traditional sandwiches from Puglia.
Tomatoes, mozzarella, olive oil, and oregano are classic fillings of traditional pucce. Sometimes the Apulian pucce sandwiches are filled with cheese, cold cuts, tuna, tomatoes, lettuce…
Pucce con uccelletti sandwiches, filled with smoked scamorzine wrapped in smoked pancetta, are among the most delicious and popular traditional Apulian pucce.
20. FOCACCIA BARESE (Focaccia bread from Bari)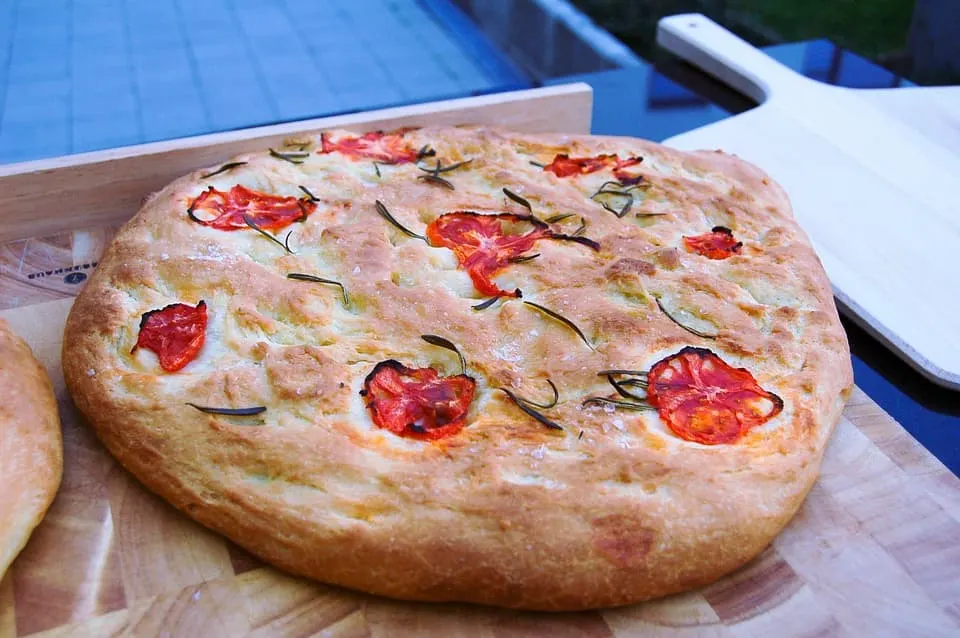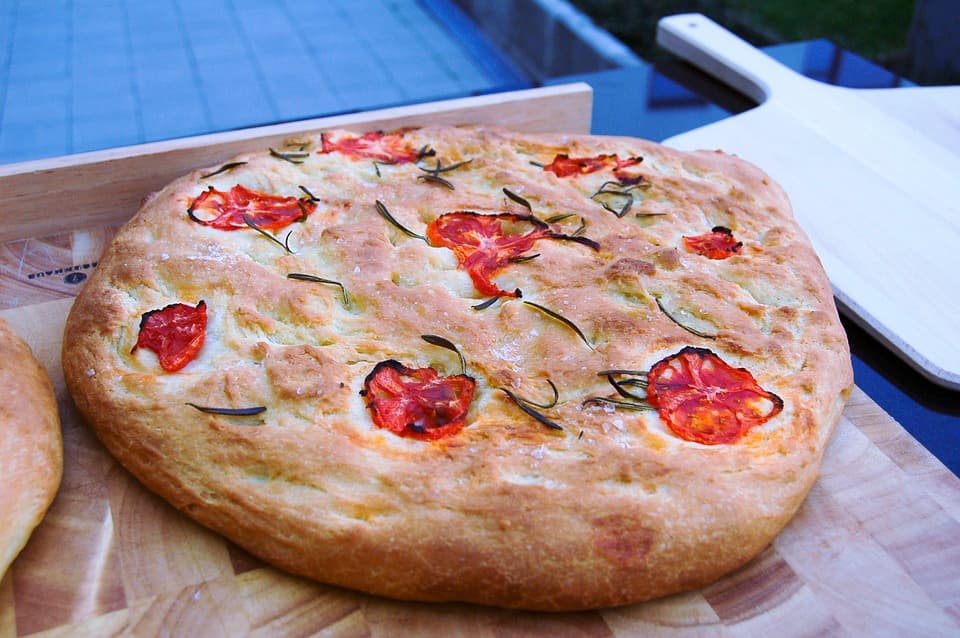 Focaccia Barese, along with focaccia Genovese, is the most famous focaccia bread in Italy.
The traditional focaccia Barese (focaccia from the city of Bari) is made with two types of flour (soft flour and semolina flour), boiled potatoes, olive oil, cherry tomatoes, black olives, and oregano/rosemary.
The traditional focaccia Barese is round-shaped with soft dough and a crispy crust. The distinctive yellow dough comes from semolina flour.
21. MELANZANE RIPIENE PUGLIESI (The Puglia-style stuffed eggplants)
Eggplants are a staple food in Puglia.
Stuffed eggplants (melanzane ripiene) are a typical vegetarian dish from Puglia.
Eggplants are stuffed with small bread cubes, eggplant pulp, chopped parsley, mozzarella, grated pecorino, cooked tomato cubes, and basil and then baked.

It is a simple, vegetarian, and delicious dish from Puglia that you need to try!
22. RUSTICO PUGLIESE (an iconic Apulian pastry)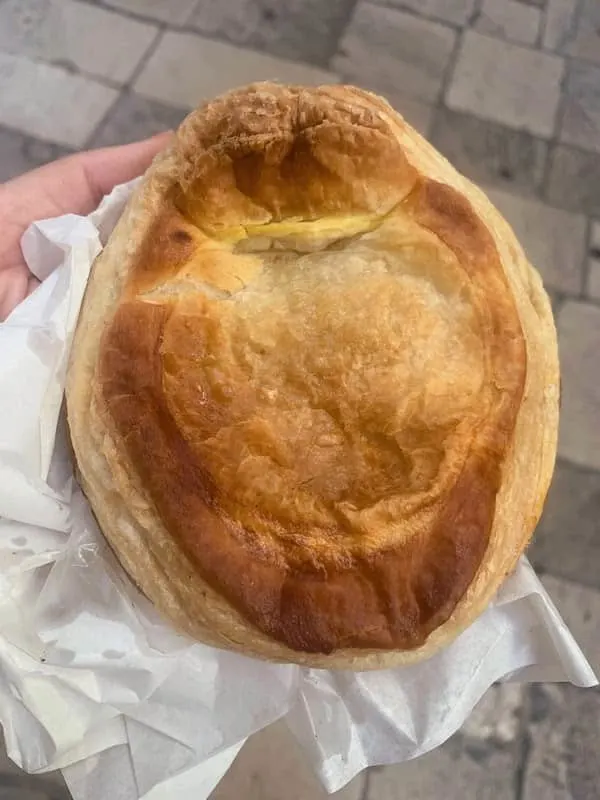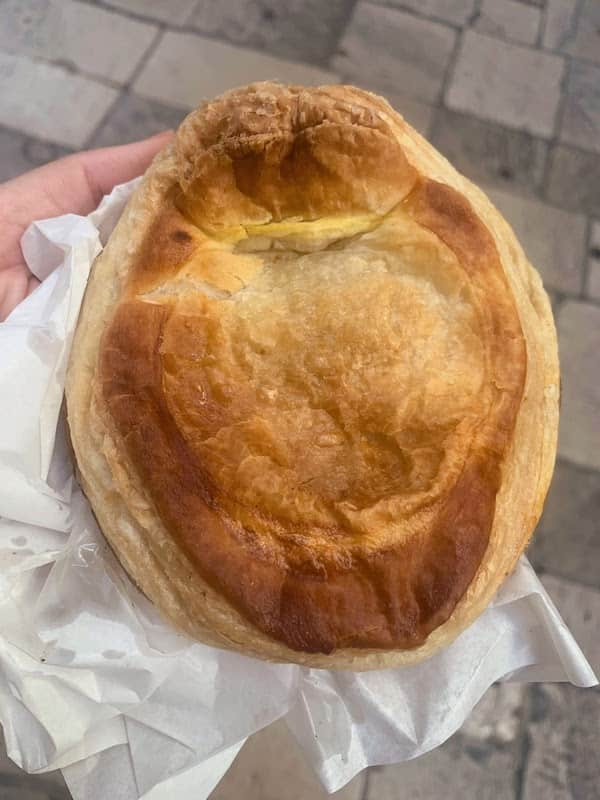 Puffy rustico is an iconic pastry hailing from the city of Lecce.
Rustico is a savory pastry filled with béchamel cream, tomato, and mozzarella. Rustico is puffy on the outside but soft and sticky on the inside.
It is a must-try Apulian food from Lecce. Rustico is a finger food and popular Puglia street food.
23. PANE DI ALTAMURA ( Bread from Altamura)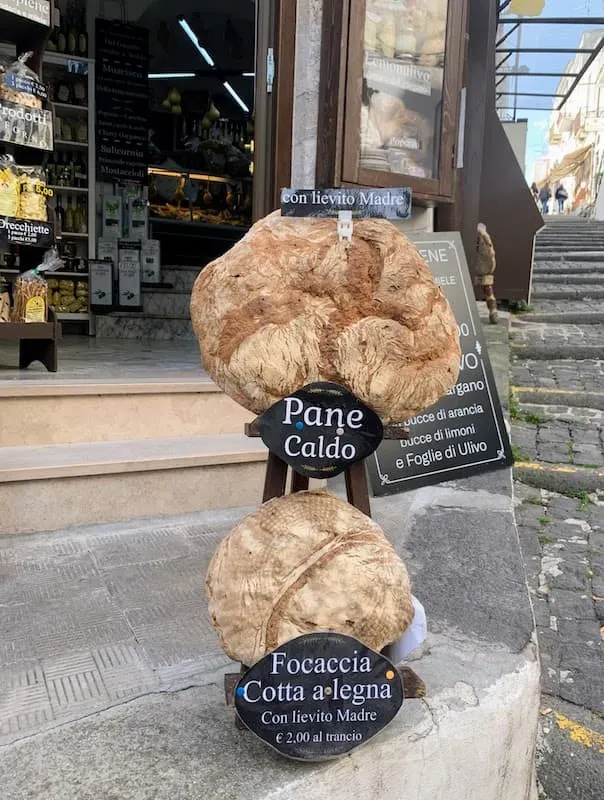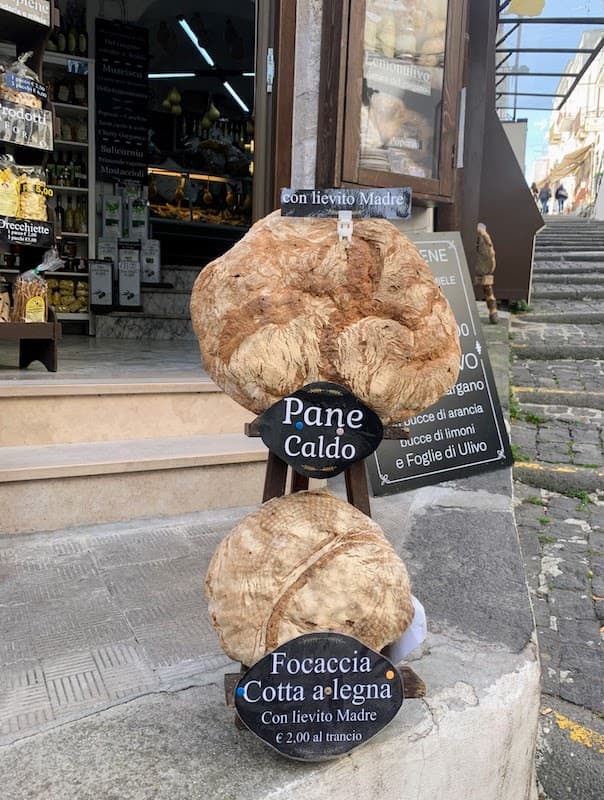 The Altamura bread is a famous bread from the town of Altamura near Bari in Puglia.

It has a PDO status within Europe. Only villages and towns in the Altamura area can produce the bread. However, Altamura bread is sold throughout Puglia.

Altamura bread is made of baked dough prepared with semolina flour (from locally produced durum wheat), natural yeast, water, and salt. Altamura bread is a sourdough type of bread.
The bread from Altamura has been baked since ancient times. Latin poet Orazio mentioned pane di Altamura in 37 BC for the fish time. He called Altamura bread 'the best bread in the world'.
24. PASQUALINO (an iconic sandwich from Alberobello)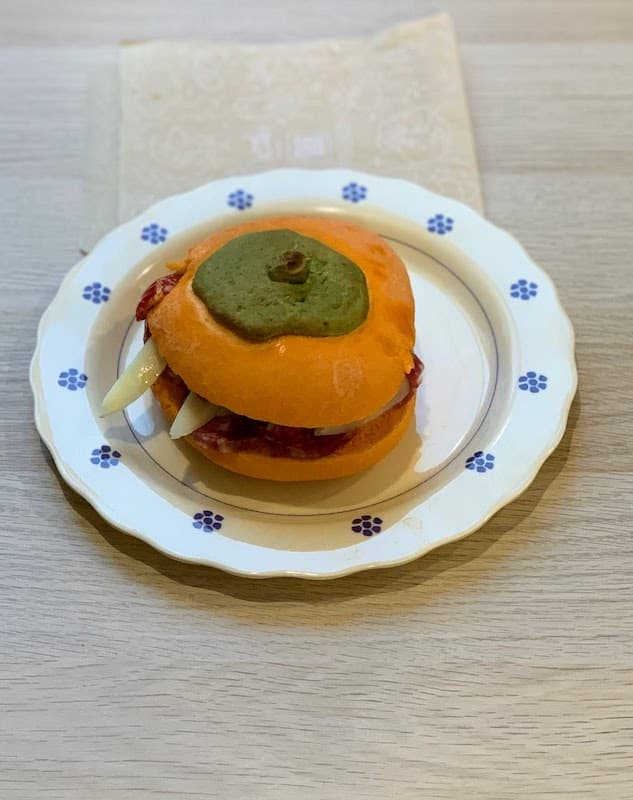 Pasqualino is a famous sandwich from Alberobello. It is unique for Alberobello.
I guess you have heard of trulli, Italy?
Trulli are the unique limestone huts of Puglia. And, the town of Alberobello is famous for trulli houses.
Staying in a trullo is one of the best things to do in Alberobello. But, when in Alberobello, a Pasqualino sandwich is a must-try!
The Pasqualino sandwich is made with rosetta or turtle bread and filled with salami, cheese, tuna, and capers. It can optionally have cold cuts, pickles, and mushrooms.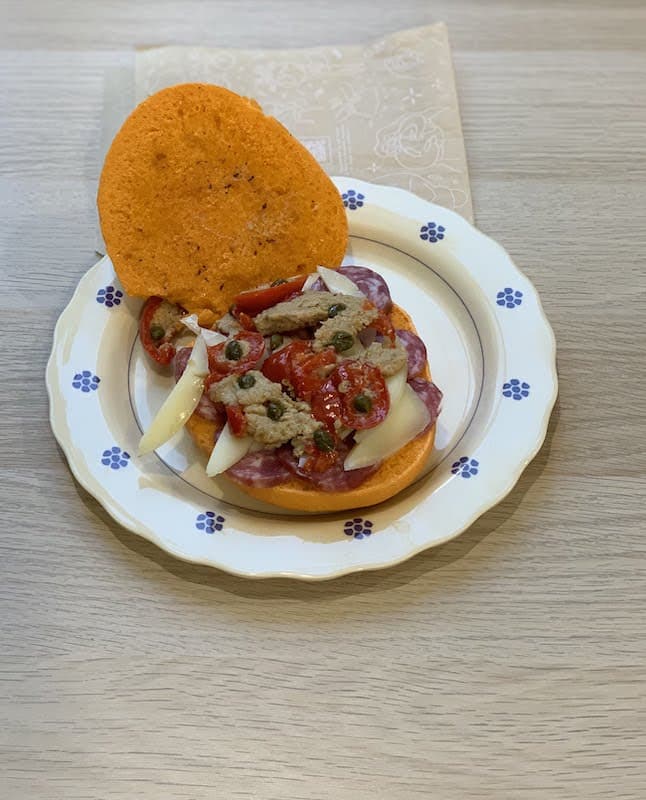 Pasquale Dell'Erba, a grocery owner from Alberobello, invented the sandwich in 1966, and the sandwich got popular soon after the invention. Today, the Pasqualino sandwich enjoys legendary status in Alberobello. Several groceries in Alberobello offer Pasqualino sandwiches today.

The unique Pasqualino sandwich is a must-try in Alberobello.
25. PEZZETTI DI CAVALLO ALLA SALENTINA (The Apulian horsemeat rolls)
Most of the dishes from Puglia are vegetarian-friendly. But, Puglia doesn't lack meat dishes either.
Pezetti di cavallo is an iconic meat dish from Lecce. Traditional pezzetti di cavallo is a horsemeat-based stew with tomato sauce and herbs.
It is a delicacy and a festive dish served at festivals and celebrations. This traditional meat dish might not suit the taste and beliefs of everyone, but locals love it.
It is a typical second-course dish of the Salento cuisine.Pezzetti di Cavallo rolls are served in trattorias of the Salento peninsula.
26. TURCINIEDDHRI (the Apulian grilled lamb sausages)
Turcinieddhri Leccessi is a popular dish from Lecce.

Turcinieddhri sausages are stewed or grilled offals or lamb intestines (liver, lung, heart, lungs, and spleen) packed in lamb casings.

Turcinieddhri sausages hail from the Salento peninsula. You might not like it, but turcinieddhri sausages are a delicacy of the Salento peninsula and some of the most popular food in Puglia.
27. BOMBETTE PUGLIESI (the Apulian meat rolls stuffed with bacon and cheese)
Bombette pugliesi rolls are a popular Pugla dish among carnivores.

Apulian bombettes are meat rolls (typically pork rolls) stuffed with bacon and Apulian caciocavallo podolico cheese.

This classic dish of Pugliese cuisine can be grilled or baked. It is a traditional second-course dish in Puglia
28. PASTICCIOTTO PUGLIESE / LECCESE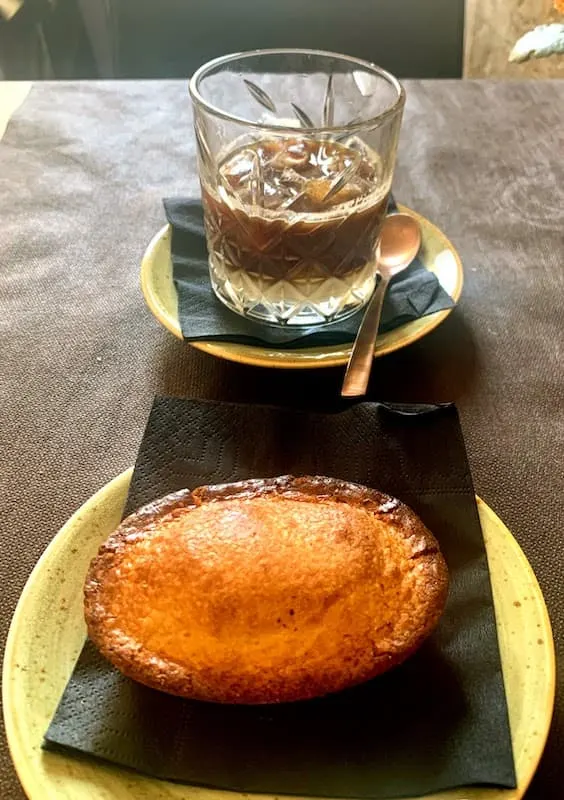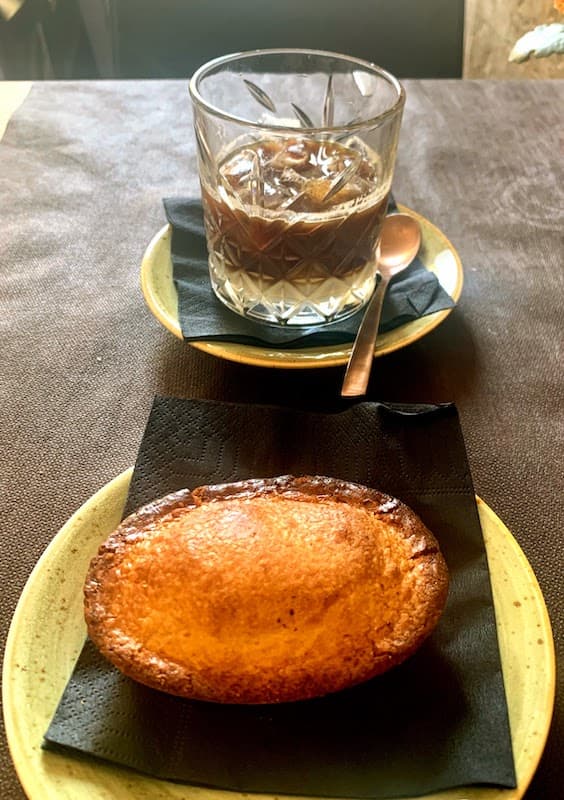 Pasticciotto is a pastry filled with creamy custard.
Apulian pasticciotto pastry is similar to Portuguese pastel de nata. The shortcrust of the traditional pasticotto is made with lard. But the crust of the modern pasticotto is made with butter.
The Pasticciotto Leccese belongs to the culinary heritage of Lecce. It is a symbol of the Salento peninsula.
Pasticciotto is a typical Apulian sweet and one of the most popular desserts in Puglia.
Stores, bakeries, bars, and restaurants across Puglia, especially across the Salento peninsula, sell pasticciotti cookies. Sweet pasticciotto is eaten warm.
29. CARTELLATE PUGLIESI
The cartellate pugliesi cookies are a rose-shaped dessert from Apulia.
It is made with the thin dough but without yeast and sugar (they are only sprinkled with sugar for decoration).
Thin strips of the dough are shaped into roses and filled with homemade jam and chocolate. The rose-shaped dough is fried and sautéed in vincotto.
Cartellate pugliesi are a typical Christmas dessert in Apulia. The rose shape of a cartellate cookie reassembles the crown of Jesus.
Cartellate biscuits are popular in the neighboring regions of Calabria and Basilicata too. Cartellate cookies are typical Christmas cookies in Calabria and Basilicata as well.
However, cartellate cookies are also a traditional Carnival dessert in southern Italy.
30. PETTOLE PUGLIESI (the fried Apulian fritters)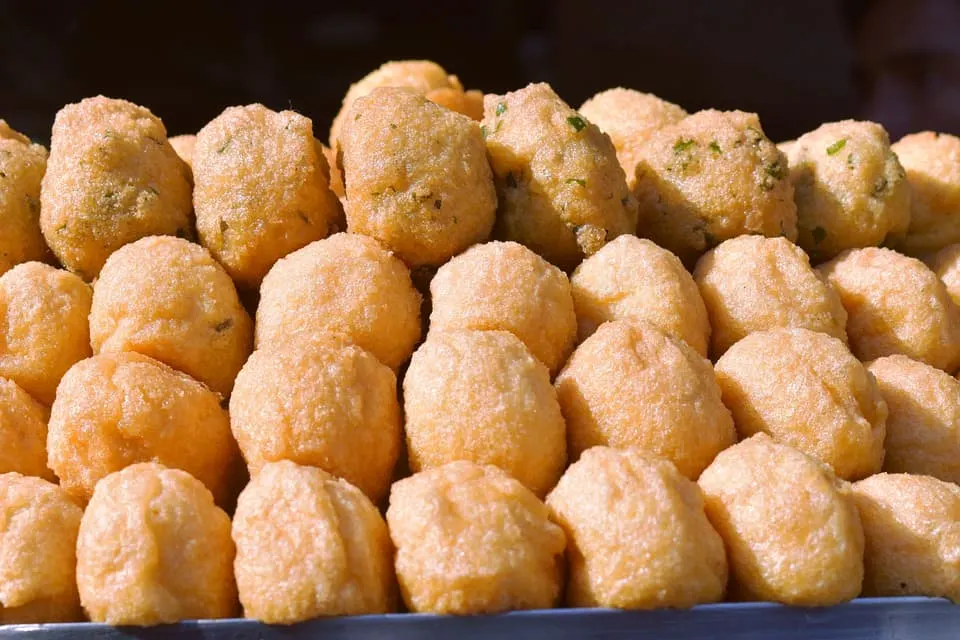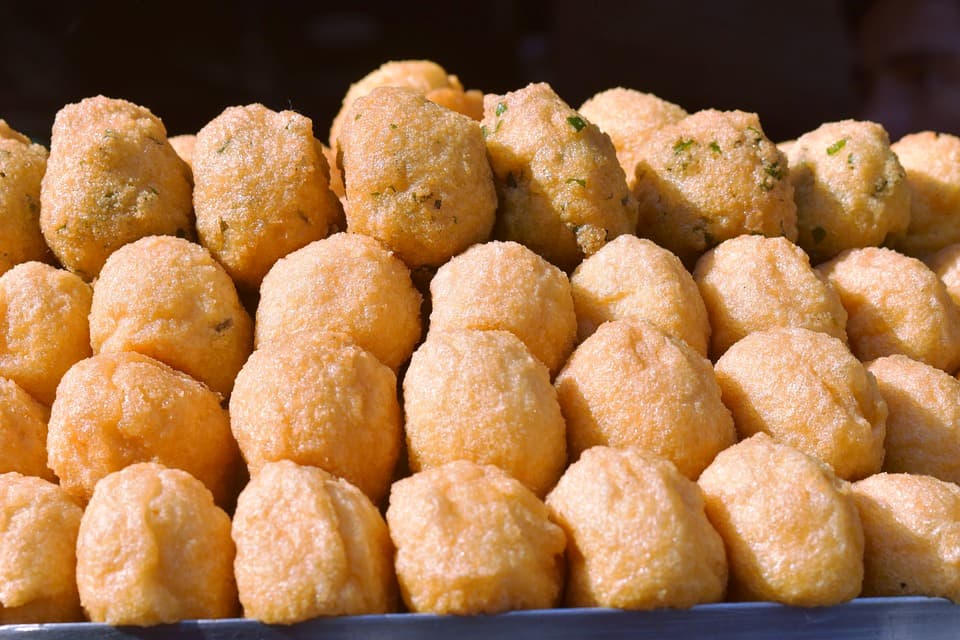 The pettole pugliesi, or pittule, are fried dough balls.
Apulian pettole are similar to Napolitan zeppole and Ventian frittele.
Soft pettole balls are made from simple leavened dough (made from flour, water, and yeast) shaped into balls and fried.
Puffy on the inside and crispy on the outside, pettole can be savory and sweet.
The dough of savory pettole comes with a salty filling (like pieces of green or black olives, anchovies, and cod). Sweet pettole are sprinkled with sugar or dipped into honey.
Pettole are traditionally prepared for Christmas. However, today you can find them all year round in Puglia and the neighboring regions of Campania, Calabria, and Basilicata.
The pettole balls are a popular festive treat. They are made in Lecce for the Feast Day of San Martino ( November 11), in Taranto for the Feast Day of Santa Cecilia (November 22), in Brindisi for the Feast Day of San Lorenzo (July 22) …
Puffy pettole dumplings are a popular street food in Puglia. The hot pettole fritters are served typically as an appetizer or a dessert.
31. CAFE LECCESE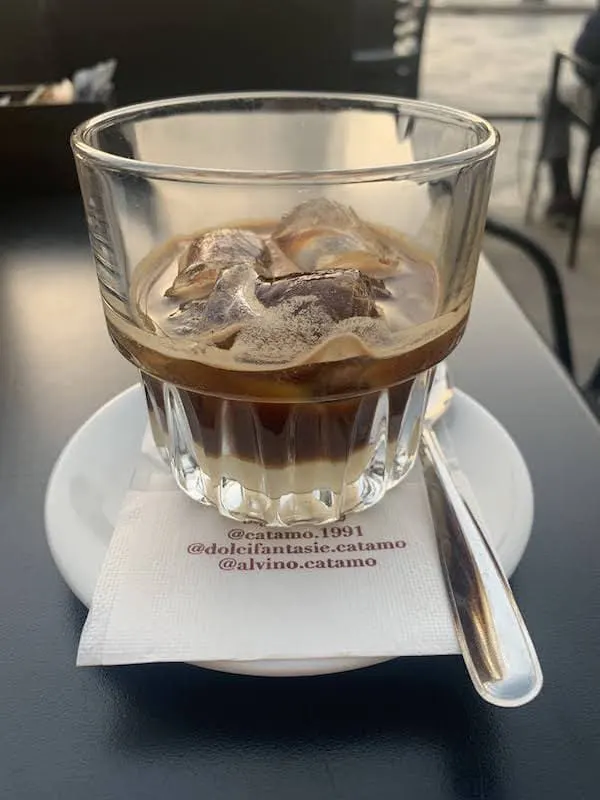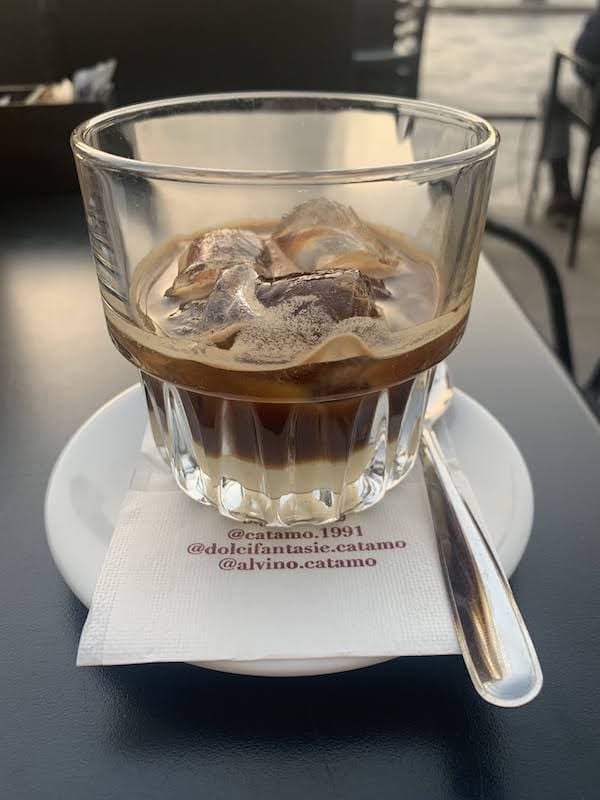 Cafe Leccese is a famous iced coffee with sweet almond milk from Lecce.
The Lecce coffee consists of almond milk, espresso, and ice cubes. Sweet cafe Lecesse gets served in a glass cup.

It is a sweet and refreshing drink for hot summer days in Lecce and the salient peninsula. Cafe Lecesse is enjoyed for breakfast and throughout the day in the Salento peninsula.

A sweet Cafe Lecesse and a sweet pasticotto pastry make a perfect treat!
32. SANGRIA LECCESE / SANGRIA DAL SALENTO
Sangria is a famous drink from Spain.

But, believe it or not, not only Spain has sangria, but Puglia has its version of sangria too.

Sangria Lecesse is a wine-based drink with thin slices of peaches, oranges, lemons, a cinnamon stick, a glass of rum, and a few glasses of soda. The drink is left to refrigerate for 6-8 hours before consumption.
Sangria del Salento is a refreshing drink for hot summer days in the Salento peninsula.
33. OLIVE OIL FROM PUGLIA
Olive oil is the most significant product of Puglia. It is a staple food in Puglia.

Extra virgin olive oil from Puglia is the main ingredient of many traditional dishes in Puglia.

Puglia is the largest olive oil-producing region in Italy. It produces about 40% of Italian olive oil and about 12% of European olive oil in total. About 50 million olive trees grow in Puglia. Many olive trees in Puglia are estimated to be around 3000 years old.