Sipping a cup of authentic kopi luwak in Bali
SAMPLING AUTHENTIC KOPI LUWAK IN BALI
I must confess, I didn't know anything about Kopi Luwak before my trip to Bali.
One of the reasons I travel is to learn. And in Bali in Indonesia, I learned about Bali Luwak Coffee.
One day, on our way from Ubud to Tegalalang rice terrace the taxi driver suddenly stopped near a Kopi Luwak coffee plantation asking my friend and me if we wanted to try civet cat coffee.
When in Bali, why not to try authentic Kopi Luwak?!
With that unexpected taxi stop, my story of Coffee Luwak in Bali started.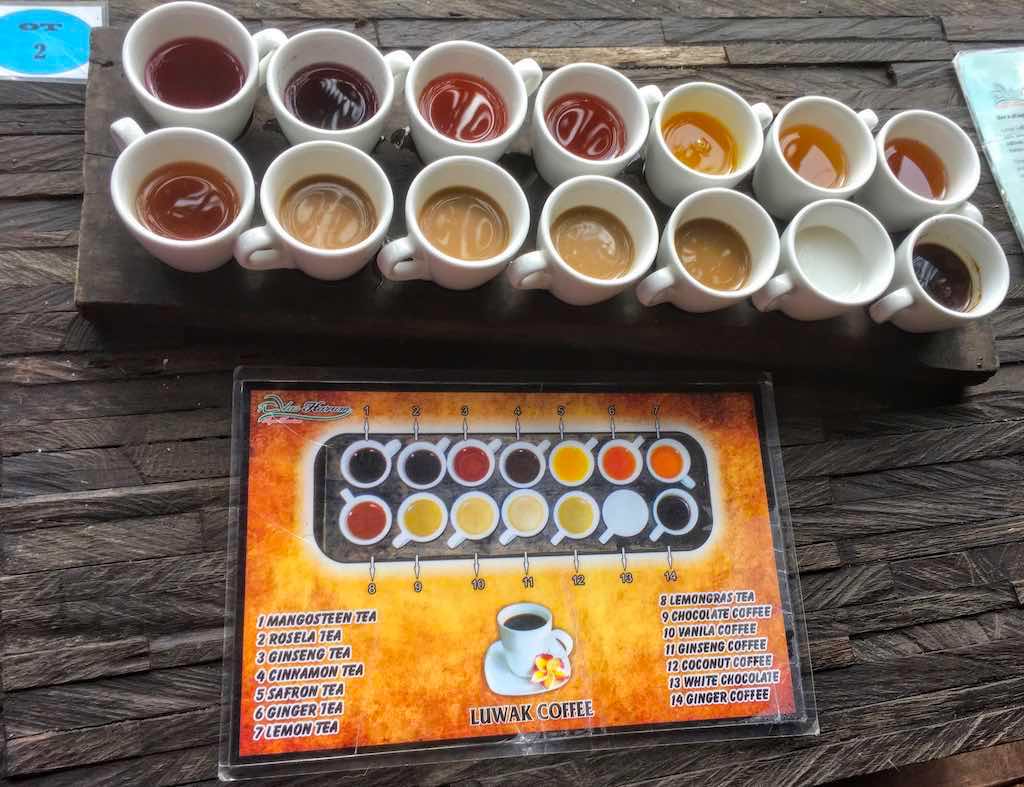 THIS POST MAY CONTAIN COMPENSATED LINKS. PLEASE READ MY DISCLAIMER FOR MORE INFO.
WHAT IS KOPI LUWAK
Kopi Luwak literally means Civet Coffee. In the Indonesian language 'Kopi' stands for 'coffee' and 'Luwak' in the Indonesian island of Sumatra stands for the 'Asian Palm Civet'. Sometimes kopi luwak is called also the mongoose coffee.
In case if you don't know and I didn't know it before visiting Bali coffee plantation either, civet is a small cat-like nocturnal mammal native to Southeast Asia and Sub-Saharan Africa. Civet is popularly known as the cat that eats coffee beans. To sum up, kopi luwak is coffee from civet cat, or more precisely, coffee made from cat poop.
In short, civet crap coffee.
Obnoxious?
Guess what?! Coffee Kopi Luwak is the most expensive coffee in the World.
But does the most expensive coffee in world mean also the best coffee in the world?!
COFFEE BEANS + CIVET CAT DIGESTION ⇒ POOP COFFEE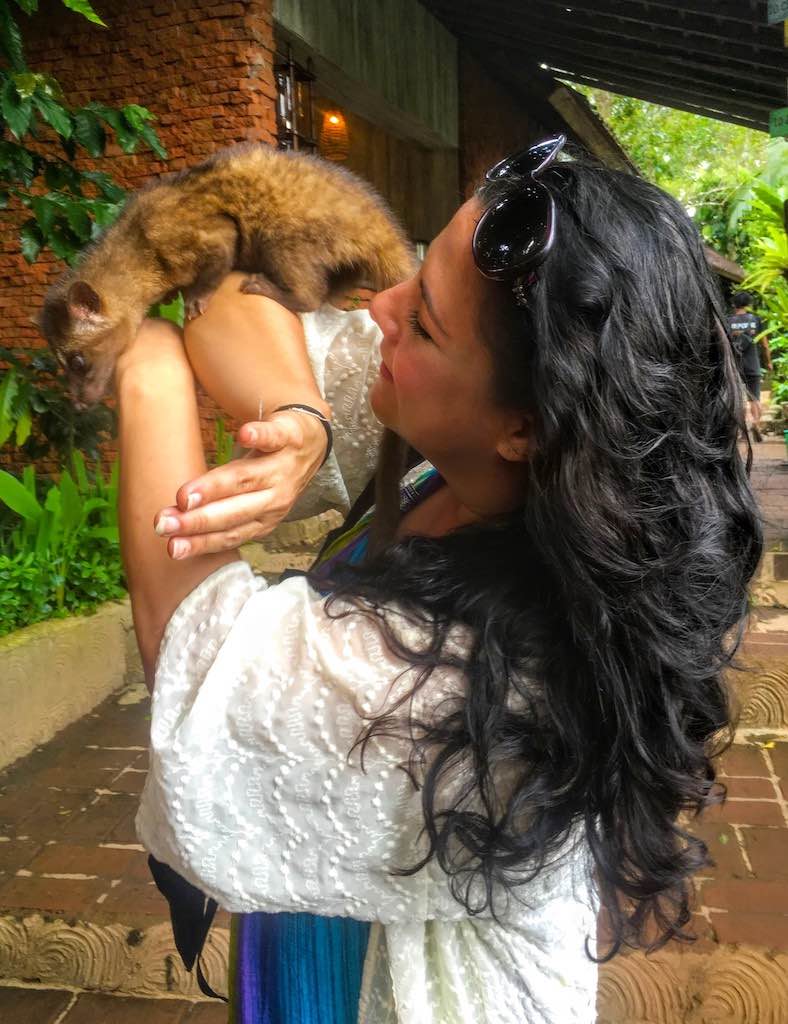 Cute civet cats just adore eating fresh coffee berries. As usual as it comes with nature and animals, wild civets have a nose for the ripest coffee cherries. Wild civets are picky eaters and like to eat the best coffee cherries. But when Asian palm civets digest coffee cherries, magic happens in their digestive system. That magic is called fermentation in biochemistry. During fermentation, enzymes go into the beans making more free amino acids what results with reduction of the bitterness of coffee beans. And the flavor of digested coffee beans changes. Naturally, the digestion process ends in the normal way with the coffee beans pooped out.
Poop coffee beans are collected from the poop, washed, roasted, brewed and transformed into aromatic cat poop coffee.
HISTORY OF KOPI LUWAK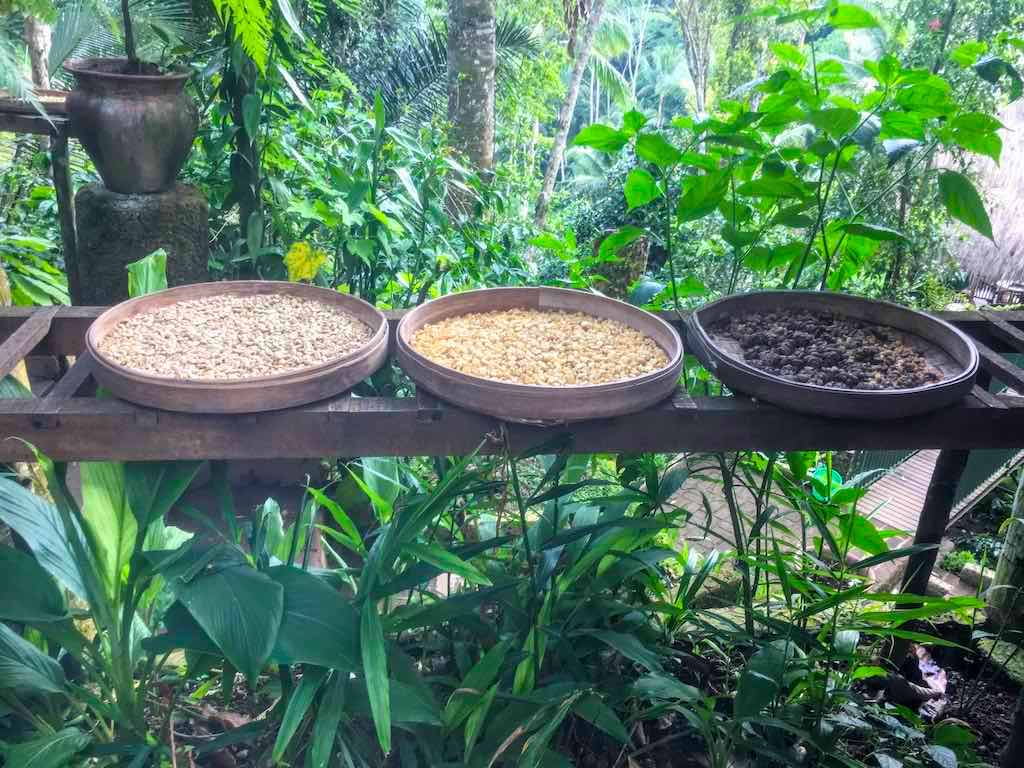 In the 1700s during the Dutch colonial era in Indonesia, workers on coffee plantations were not allowed to drink coffee. But Indonesian coffee workers noticed relatively clean coffee beans in civets poop, so they collected cat poop coffee beans, cleaned, roasted and brewed them. Of course, drop coffee happened to have a better taste than coffee produced as usual. And exotic civic coffee in the World was born.
Today civit coffee is produced in Indonesia (Bali, Java, Sumatra, Sulawesi), East Timor, the Philippines, and Vietnam. Civet poop coffee is also known as weasel poop coffee in Vietnam.
KOPI LUWAK PRICE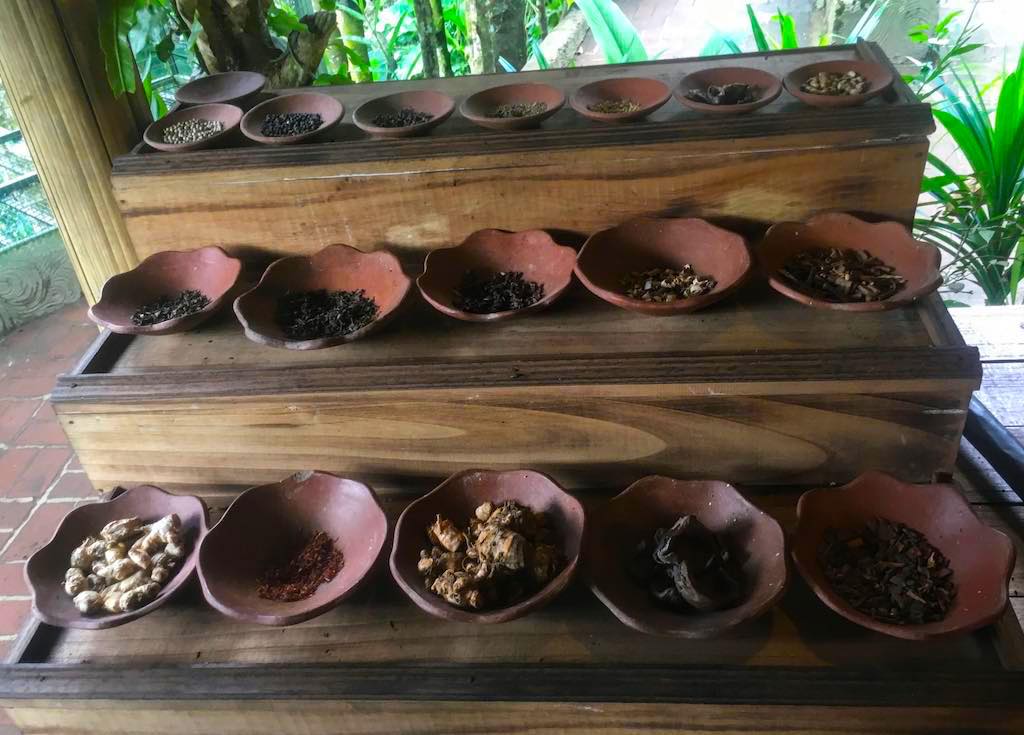 Kopi luwak is popularly known as the World's most expensive coffee. There are 3 types of Luwak coffee: pure luwak coffee (wild), blended kopi luwak (containing at least 1% of kopi luwak coffee), and manufactured kopi luwak. The most expensive is the wild civet coffee. Wild kofi luwak must be labeled as 'Certified Wild Kopi Luwak' and it should be produced from wild civet cats, not caged luwak cats. Remember, wild kopi luwak cat eats the ripest coffee berries and the best quality coffee is produced from the best coffee beans.
Coffee Luwak price
Kopi luwak coffee price ranges from 100 to 600 USD per kilo, depending is it pure or not. In the case of pure Kopi Luwak, the average price of Kopi Luwak coffee is 600 USD per kilo. But, the price of authentically produced Kopi Lowak can go up to 3,000 USD per kilo.
Annual world production of Kopi Luwak is estimated around 600 kilos. Unfortunately, because of the exclusivity of coffee Luwak and related high price, today about 80% of coffee Kopi Luwak on the market is fake. If you seek authentic Kopi Luwak, Luwak coffee beans should be from Indonesia (Luwak coffee Bali, Sumatra, Java and Sulawesi), East Timor, the Philippines, and Vietnam.
If you look for authentic cat poop coffee, you should look for Indonesian cat poop coffee, cat poop coffee Bali, Sumatra cat poop coffee, cat poop coffee from East Timor (where is also called 'kafé-laku'), cat poop coffee from the Philippines (where is called 'motit coffee' and 'kape alamid') and Vietnam cat poop coffee.
TASTING KOPI LUWAK COFEE IN BALI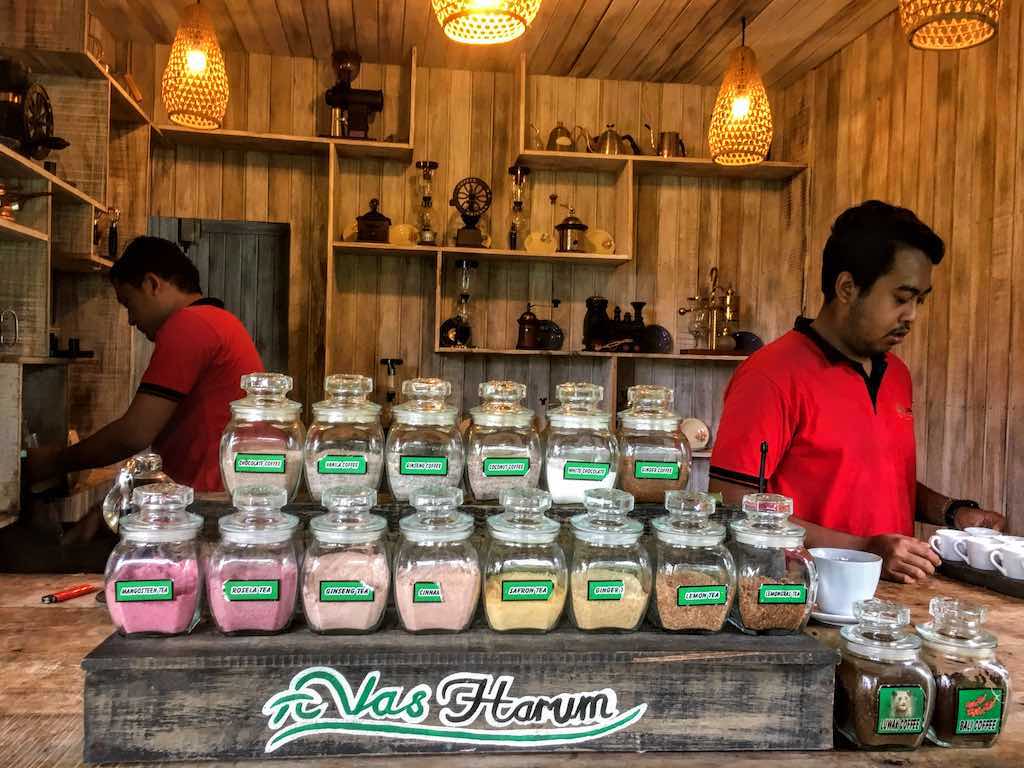 Our taxi driver stopped at a Kofi Luwak farm and plantation called Alas Harum Agro Tourism near Ubud. The entrance was free and we had a free guided tour of the plantation where we saw some civet cats and learned about the process of production of Indonesian coffee Luwak. The civet cats were in cages but they seemed to be looked after well. The Alas Harum is a huge Bali plantation with many fruits, spices, herbs, plants grown and used for coffee and tea flavoring.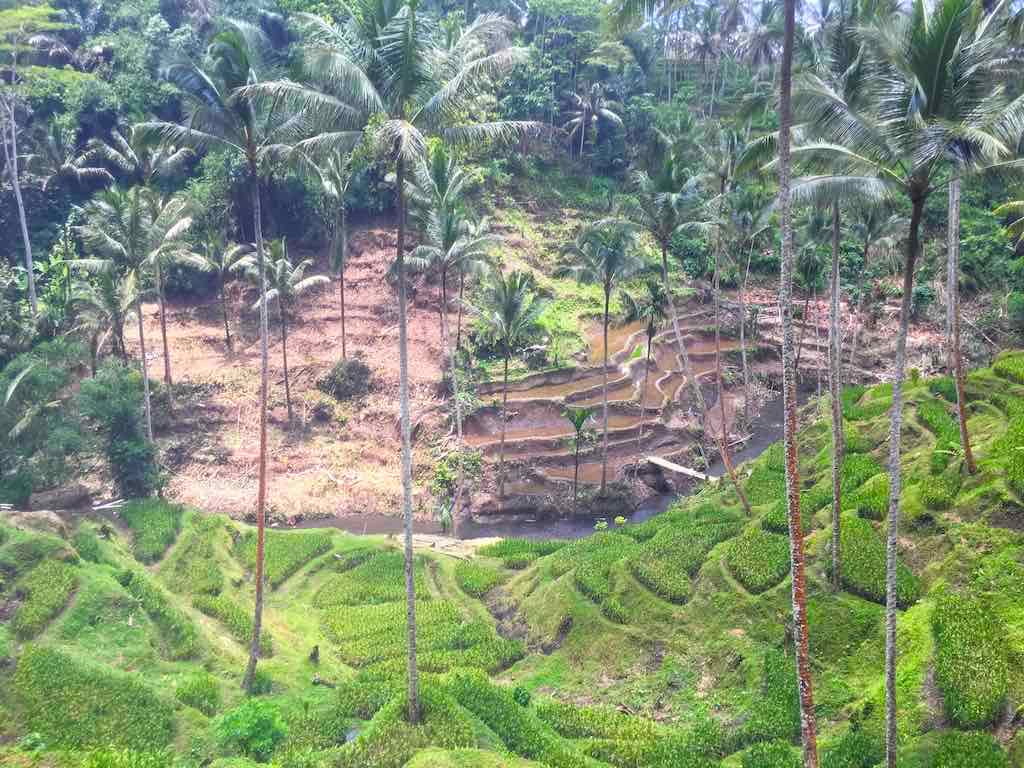 At Alas Harum, we were offered several kinds of tea and coffee for tasting, except coffee Luwak Bali. If you want to try Bali coffee Luwak, you need to pay it. Well, you know, Bali poop coffee is the most expensive cup of coffee after all.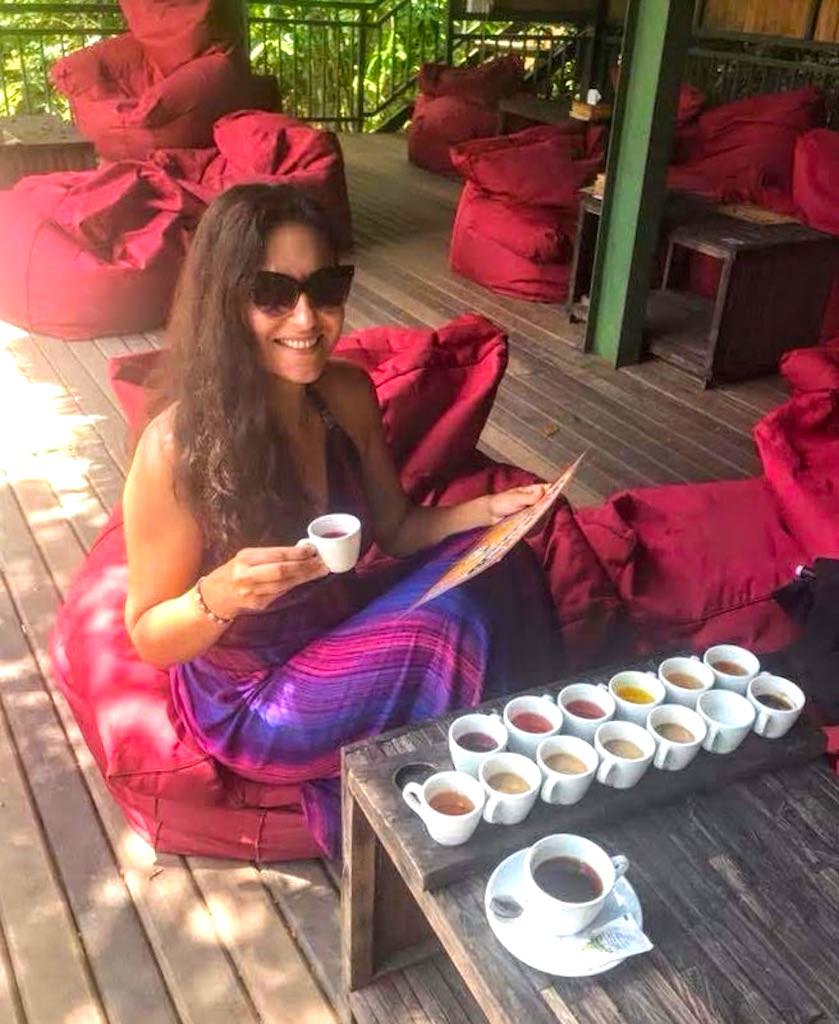 Kopi Luwak price in Bali and Kopi Luwak coffee price per cup
But unlike in the U.S for an example where cat poop coffee price per cup goes from 30 to 100 USD, at Alas Harum we got our Bali coffee poop much cheaper.
A cup of kopi luwak coffee costs 50,000 IDR (∼4 USD) at Alas Harum. We were in Bali in Indonesia and we were drinking Indonesian cat poop coffee. Therefore, that wasn't pricy at all considering how much we would have paid a cup of Kopi Luwak outside of Indonesia.
Luwak coffee Bali price
In Alas Harum shop, you can buy authentic Luwak Coffee. A bag of 100 gr of Bali Luwak Coffee costs 420,000 IDR ( ∼30 USD) in the shop.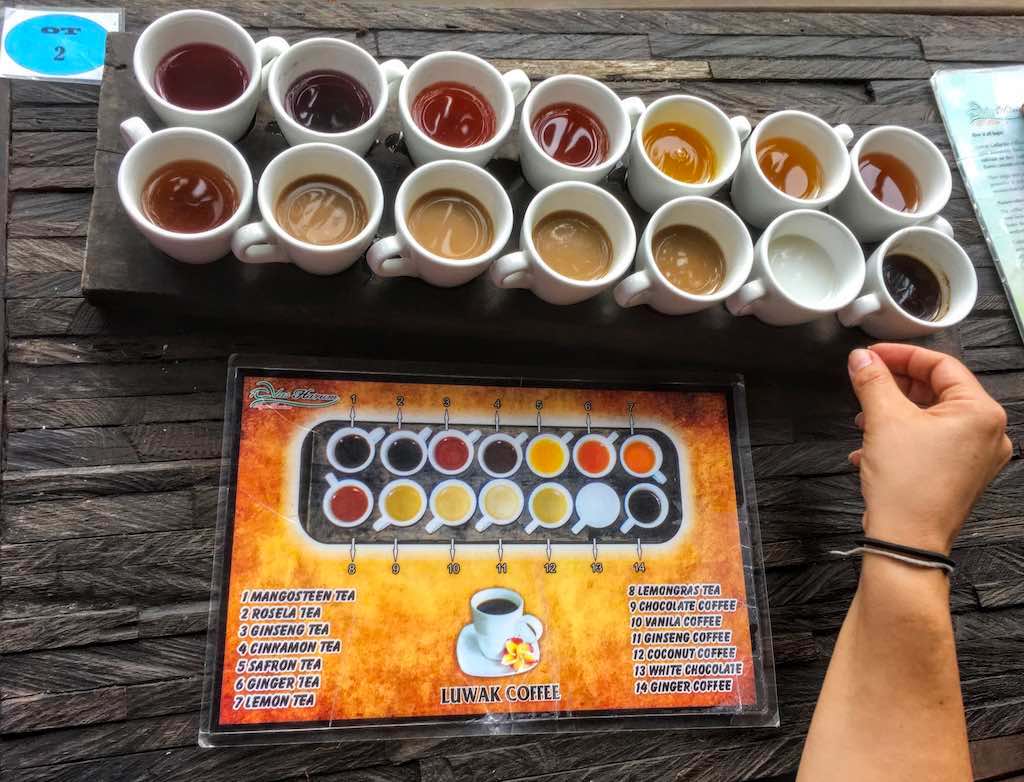 At Alas Harum, along with Kopi Luwak Bali we also tried Bali coffee, Bali ginseng coffee, vanilla coffee, coconut coffee, ginger coffee, and chocolate coffee. And some great teas as well: mangosteen tea, ginseng tea, ginger tea, cinnamon tea, saffron tea, lemon tea, and rosella tea.
MAYBE YOU ALSO WOULD LIKE TO READ: The Most Beautiful Bali Rice Fields
TASTE OF BALI KOPI LUWAK
I am not a coffee connoisseur by no means, but coming from Croatia, a country with a strong hedonistic coffee culture where Italian espresso and Turkish coffee are sipped daily side by side, I am used to strong coffee flavors.
Kopi Luwak taste was strong, fresh, earthy and I would tell a lie if say that I didn't like luwak coffee in Bali. My friend and I agreed on the taste of Bali kopi luwak.
But coffee experts claim that taste of authentic kopi luwak can vary significantly from one batch to another, depending on the quality of the beans that the civet digest. Once again, the taste of pure wild kofi luwak is the best because wild civet cats eat the best coffee cherries.
ETHICAL CONCERNS OF THE MASS PRODUCTION
Wild civet cats inhibit the Indonesian jungle and naturally eat coffee berries as a part of their varied diet. But because of the market demand for coffe luwak, many coffee luwak farms occurred where wild civets are kept in cages and are force-fed. Many concerns are raised how civets cats are treated, living in unnatural environment and conditions. Therefore, mass production of cafe luwak is followed up with some ethical issues.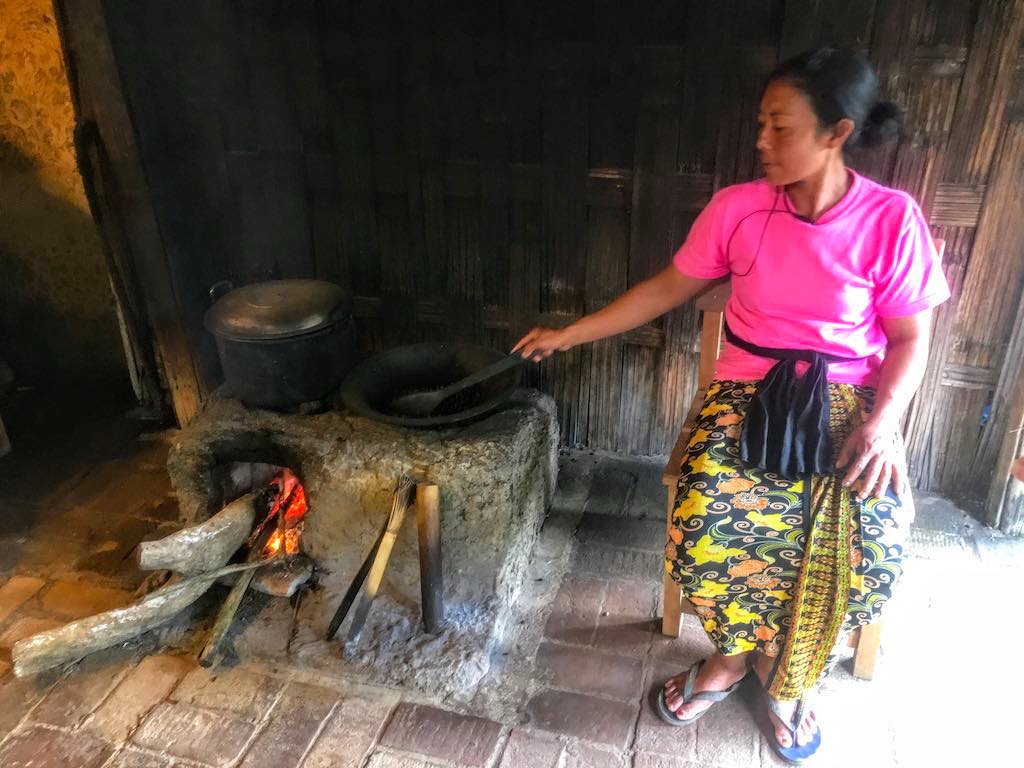 If you would like to taste cat coffee, you should look for pure kofi luwak labeled as "Certified Wild Kopi Luwak' which grants that the cat poop coffee is made from wild civets poo. Buying wild kopi luwak from certified sellers takes away any ethical concerns related to consuming the poop coffee.
Always opt for certified wild kopi luwak.
KOPI LUWAK IS HALAL
Majelis Ulama Indonesia (MUI), the Indonesian Supreme Muslim Council declared civet coffee as halal. Drinking civets coffee is allowed by Islamic laws and it is not considered to be haram as the beans should be cleaned before roasting. Hence, you can enjoy in coffee Bali luwak without any religious concerns.
ANY OTHER ANIMAL POOP COFFEE?
What about some other animal coffee, or better said animal dung coffee? I mean, you know … some other animals that eat coffee beans and some other animal poop coffee?
Have you heard of or maybe even tried elephant poop coffee, known as Black Ivory Coffee in Thailand? Or monkey poop coffee in India, bat poop coffee in Costa Rica, Jacu bird poop Coffee in Brazil?
Heard of them or not, tried or not, poop coffee is rare coffee and unique coffee seemingly conquering the world coffee market. If not with the quantity, then certainly with the price.
Coffee pooped by animal seems to be a thing. Like it or not.
STEPS AND TRAVEL RESOURCES FOR YOUR PERFECT TRIP

1. Find and book your flight: Skyscanner
2. Find and book your stay: Booking.com, HotelsCombined.com
3. Find and book great guided day tours: GetYourGuide, Viator
4. Get travel insurance (insure yourself against any accident, sickness, theft, and canceled flight): WorldNomads.com
WHERE TO STAY IN UBUD IN BALI
Ubud is a must-see in Bali and a great base to explore Bali. Alas Harum Luwak Coffee Plantation is only 6 mi (9 km) away from Ubud.
Recommended Ubud Bali hotels, Ubud villas and Ubud guesthouses:
UPSCALE: Villa Sindu Ubud, Villa Sabandari, Blue Karma Nestling Ubud, Korurua Villa, Green Field Resort Ubud
MID-RANGE: The Tegal Ubud Villa, Joglo Campuhan Village, Kailash Suites at Gunung Sari Jungle Lotus Villas
BUDGET: Dewi Antara Homestay, Tanggal Merah Guest House, Umayuri Inn
Any thoughts about coffee made from poop? Any thoughts of civet coffee price? Could animal shit coffee be your bucket list coffee? Would you taste poop coffee Bali? Are you an adventurous eater on your travels?
Hm, what about cobra whiskey? Here's a photo of cobra whiskey I have tried in Vietnam.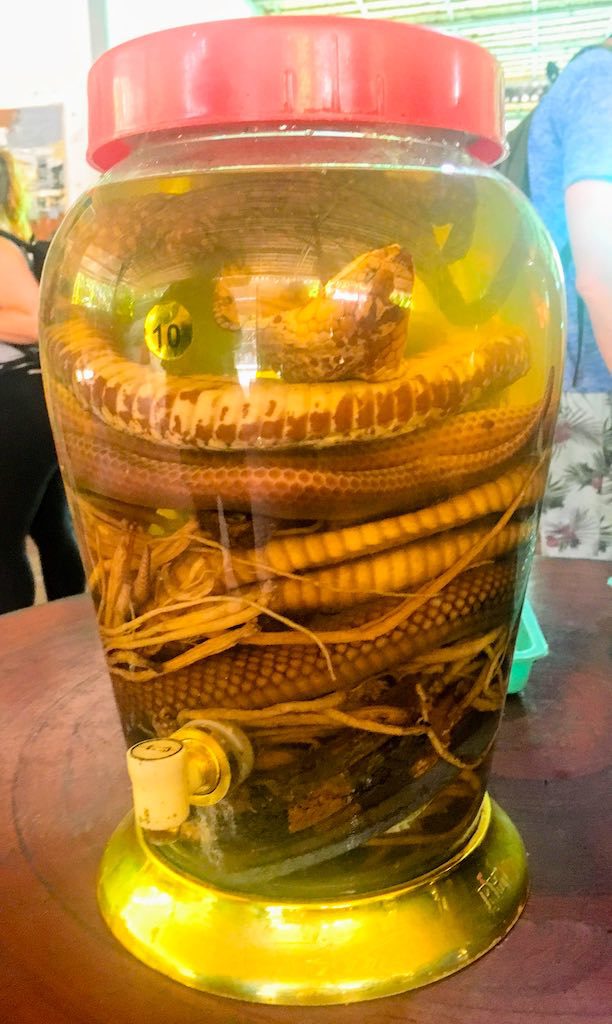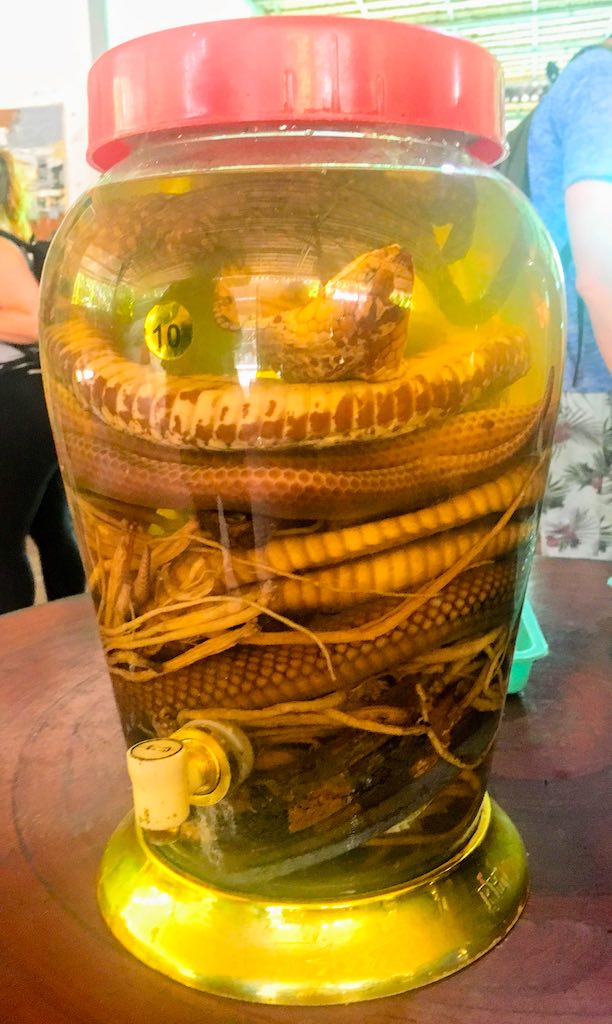 YOU MIGHT ALSO ENJOY
All about Borobudur and Prambanan temples in Indonesia