Traveling to Bali? Want to witness some gorgeous Bali rice terraces? Wish to see the best rice fields in Bali?
There are plenty of rice terraces in Bali.
But you want to see the most beautiful Bali rice fields, right? You don't want the best Bali rice terrace, but 'best of the best rice terraces in Bali'?
Ok, then please do not look any further.
Because these two rice fields Bali will definitely fulfill all your desires, expectations and dreams of what should the most beautiful green rice fields look like!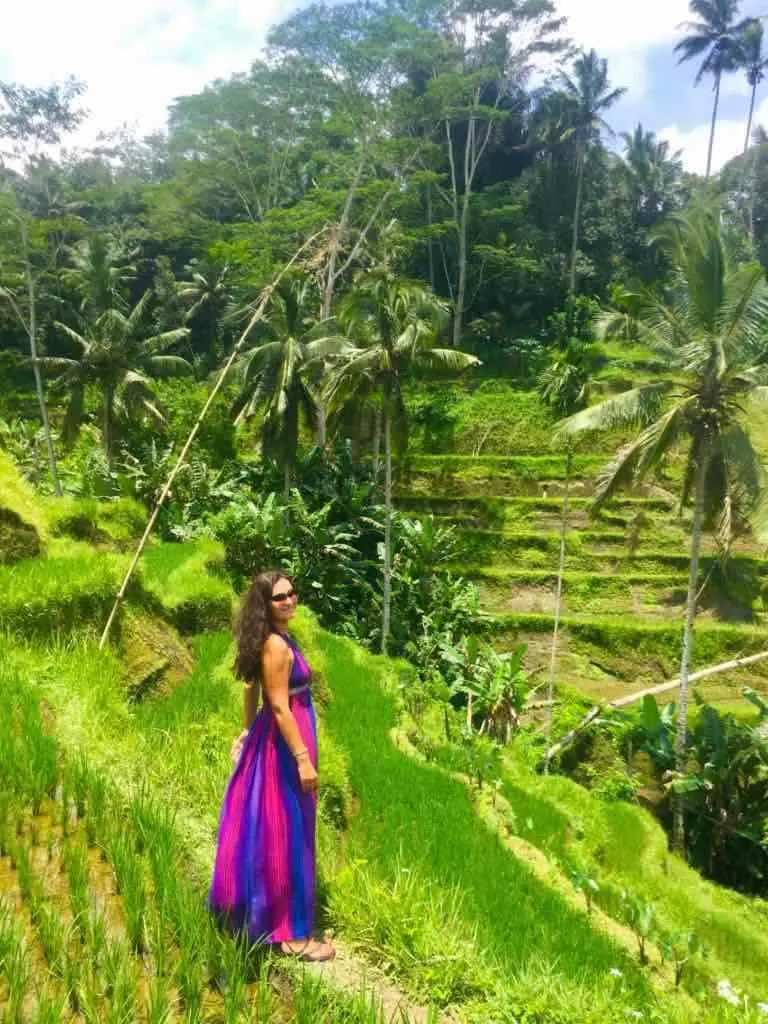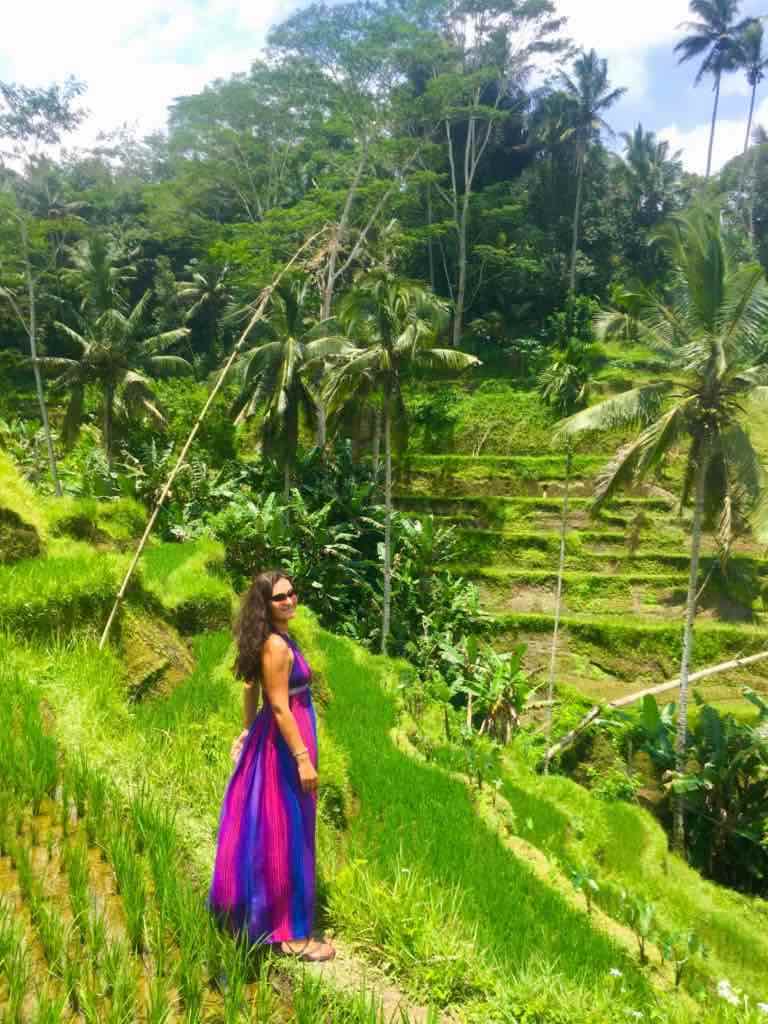 THIS POST MAY CONTAIN COMPENSATED LINKS. PLEASE READ MY DISCLAIMER FOR MORE INFO.
THE MOST BEAUTIFUL BALI RICE TERRACES
1. JATILUWIH RICE TERRACES – The UNESCO Rice Terraces in Bali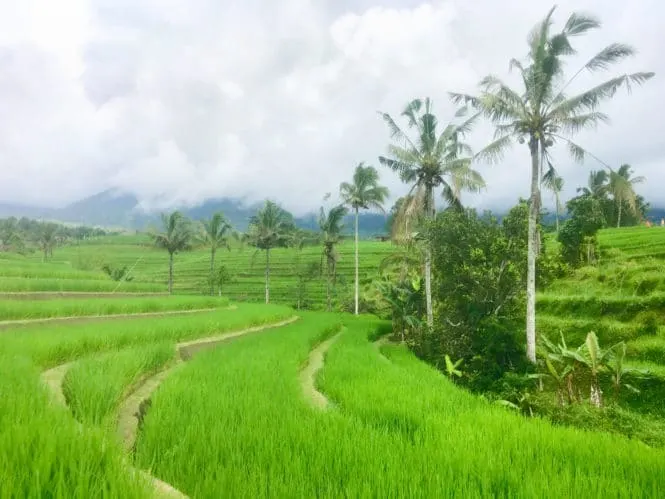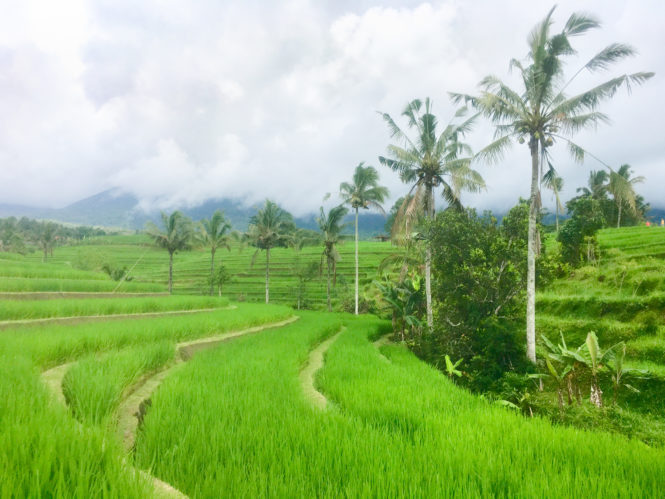 Jatiluwih rice terraces in Bali are the most extensive rice fields in Bali covering over 600 hectares (1,480 acres).

Yes, you have read it correctly: this is a 600-hectare Bali rice field!!
Jatiluwih rice terraces are the most impressive, scenic, photogenic, vast, and peaceful rice fields in Bali.
Jatiluwih rice terrace can literally be translated as 'Really Beautiful' since in Balinese 'Jati' means 'really' and 'Luwih' 'beautiful' or 'good'.
Jatiluwih rice field terraces are 'THE' famous Bali UNESCO rice fields. UNESCO listed them as a World Heritage Site. These Really Beautiful rice fields are created only by the hands of local people (without the use of mechanical machines) and using a traditional subak agricultural watering system based on the Tri Hita Karana Philosophy.
The Tri Hita Karana Philosophy is an ancient Balinese concept that unites into harmony 3 worlds: the natural, spirits, and the human world.
The Tri Hita Karana Philosophy is a distinctive part of the unique Balinese culture. Therefore, UNESCO listed the Jatiluwah rice fields in Bali in Indonesia as a World Heritage Site.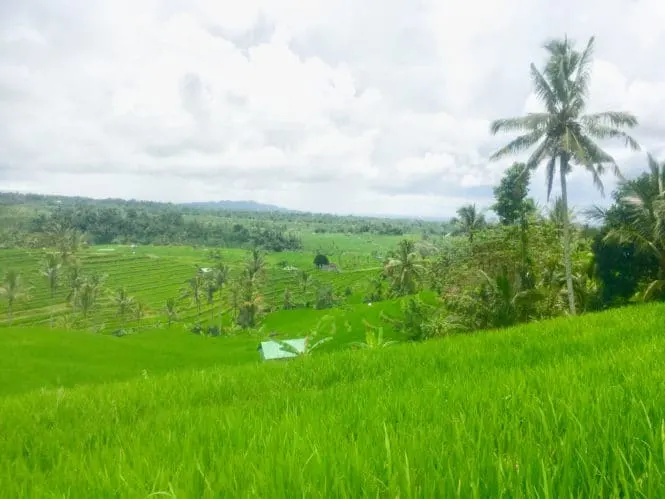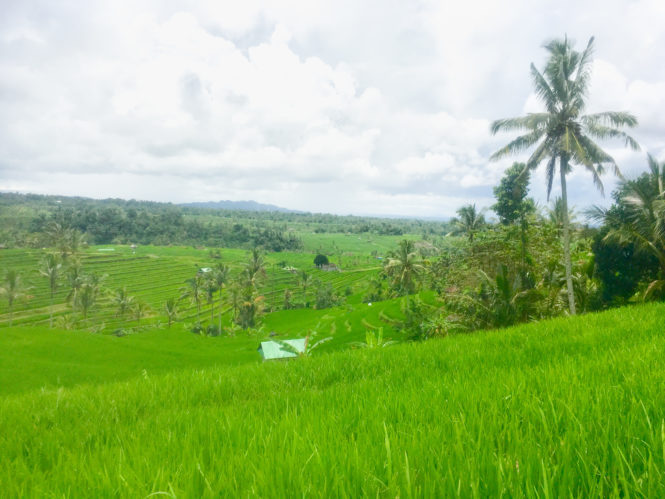 However, do you want to get lost in the silence of nature, dramatic lush greenery, and fresh air with no pollution?
Then trekking or simply wandering around Jatiluwih cascading Bali rice paddies is the answer to all your wishes.
It's not surprising that the Obama family, former First Family of the US have chosen to trek Jatiluwih rice fields on their visit to Bali.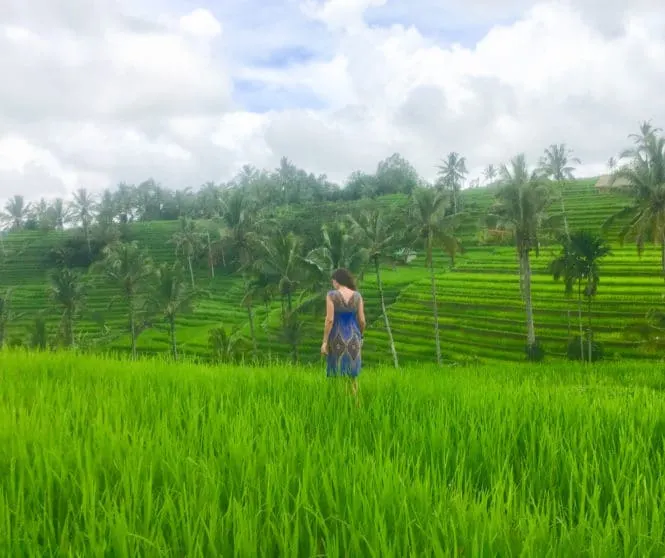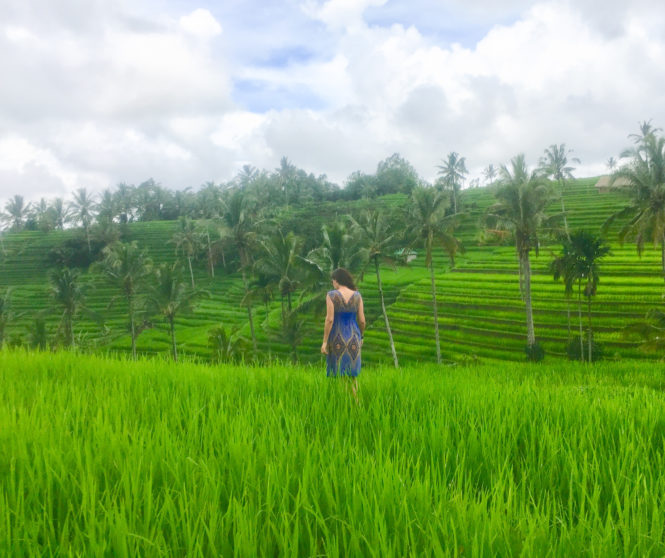 There are 3 different marked routes to trek Jatiluwih Bali terraced rice fields. The longest Bali rice terrace route takes 4.3 mi (7 km) and the shortest is 0.8 mi (1.4 km).
The entrance ticket to Jatiluwih rice terrace Bali is 40k INR (≈ 4 USD) for foreigners or 15k INR (≈ 1,5 USD) for Indonesians. The money goes to the villager's fund for the fields' maintenance.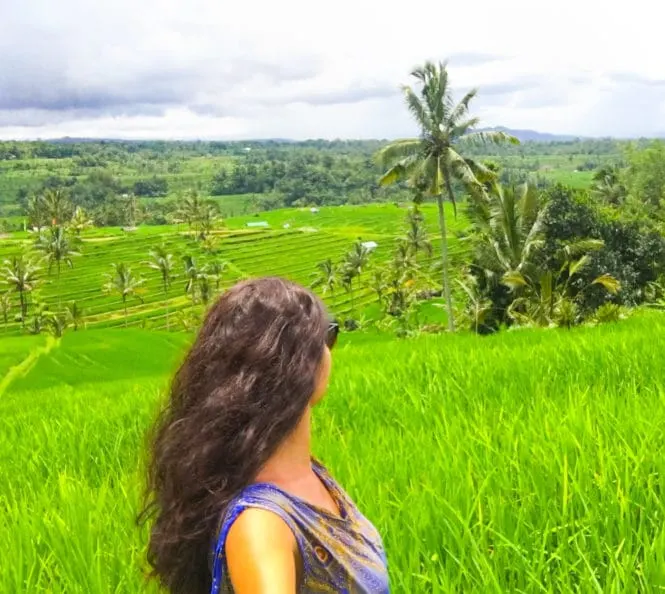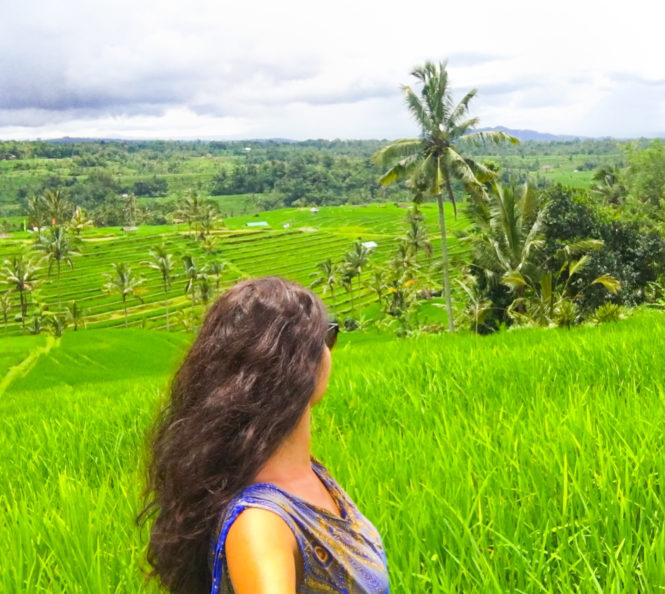 Jatiluwih rice fields are located in West Bali, 30 mi (48 km) from Denpasar and 25 mi (40 km) from Ubud, Bali. Jatiluwih rice fields are one hour's drive from Ubud and about 1 hour and 15 min from Denpasar. Jatiluwih rice fields are the ultimate paradise getaway from Bali's main attractions for all nature lovers.
2-Hour E-Bike Jatiluwih Cycling Tour
Jatiluwih Rice Terraces & UNESCO World Heritage sites in Bali Tour
2. TEGALLALANG RICE TERRACES – Ubud Rice Fields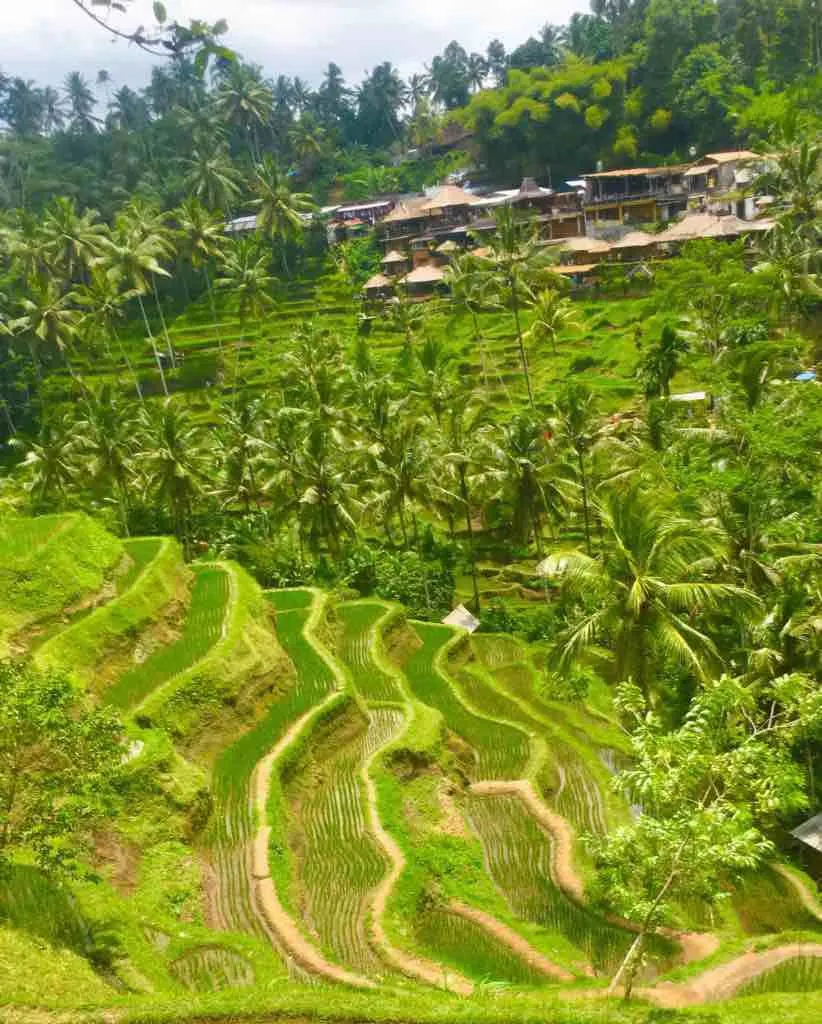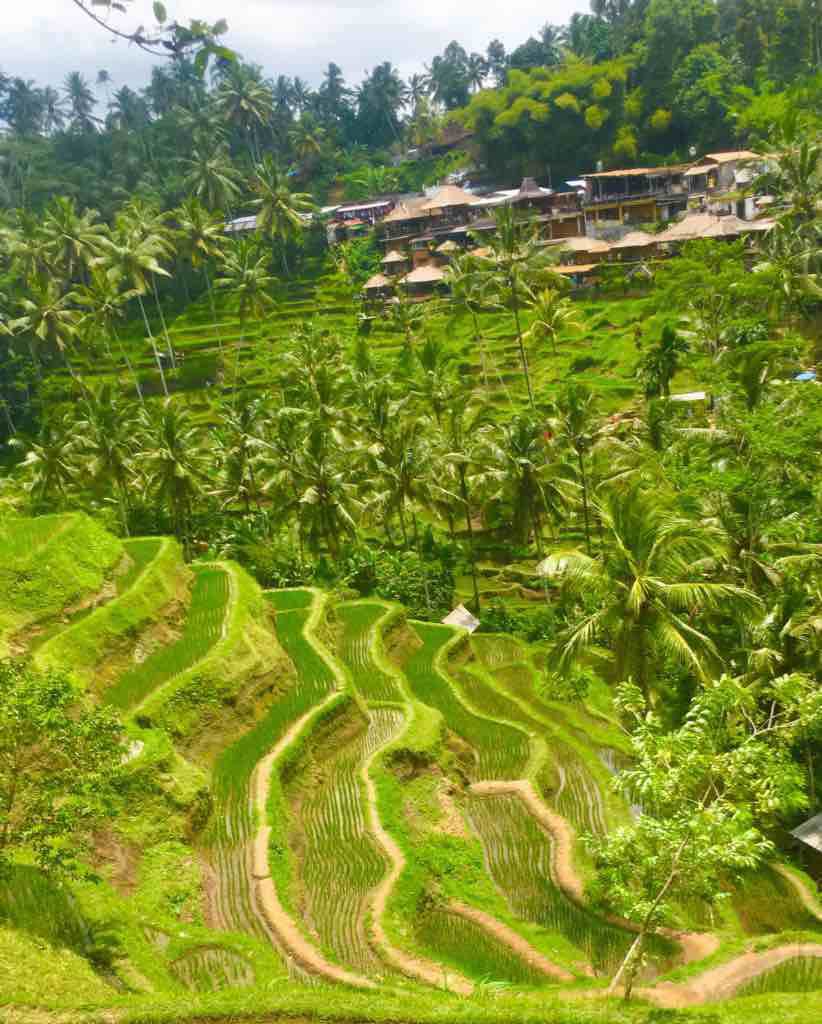 Tegallalang rice terraces in Bali are one of the main tourist attractions in Bali.
Tegalalang rice terraces are more touristy and have much smaller rice fields than the Jatiluwih rice fields.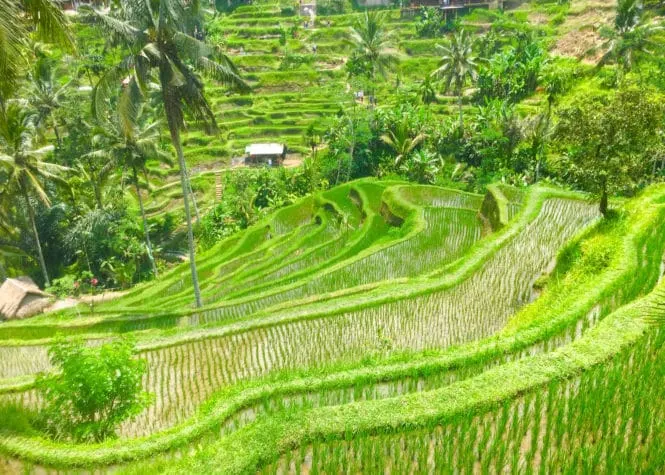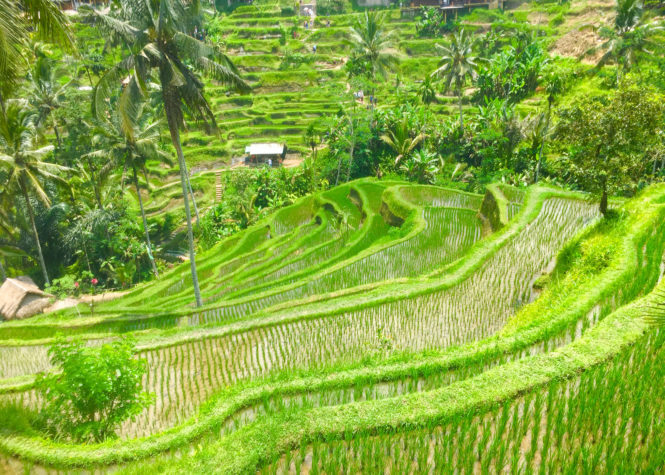 Tegelalang rice terrace is more crowded than the Jatiluwih rice terrace.
Probably because of its location. Tegalalang rice terrace is located near Ubud.

These Bali rice terraces are only 20 min drive from Ubud.
If you have seen photos of Ubud rice fields on social media, then probably you have seen the Tegalalang rice terrace in Bali. Hence, the Tegallalang rice terrace is widely known as the Ubud rice terrace.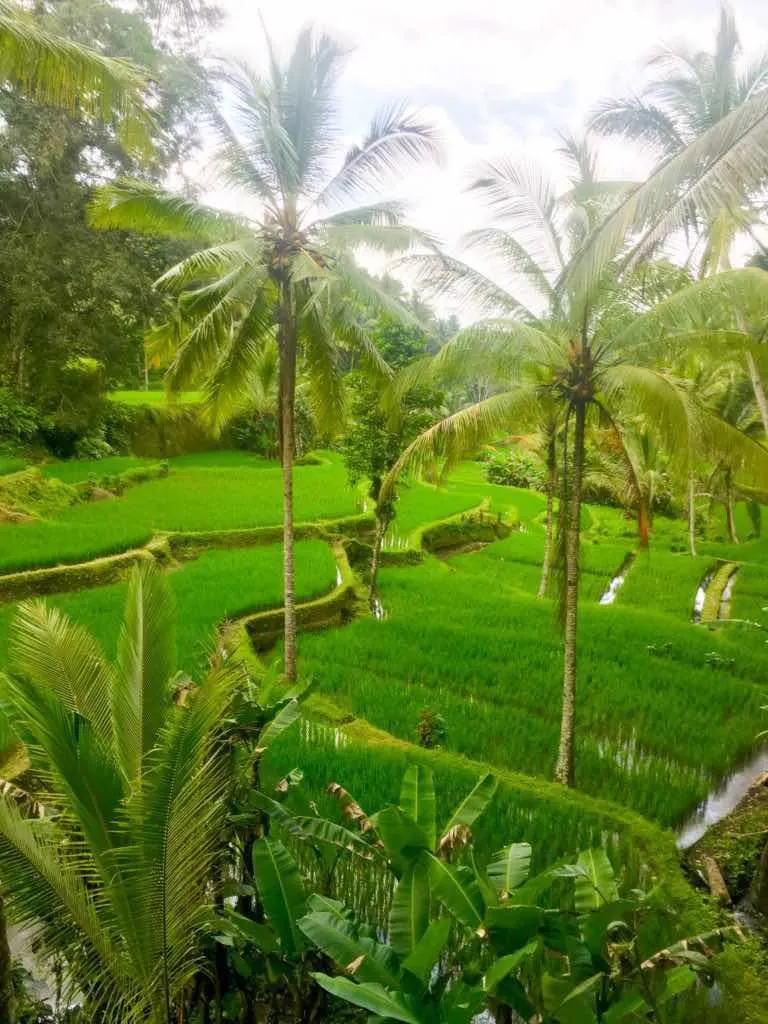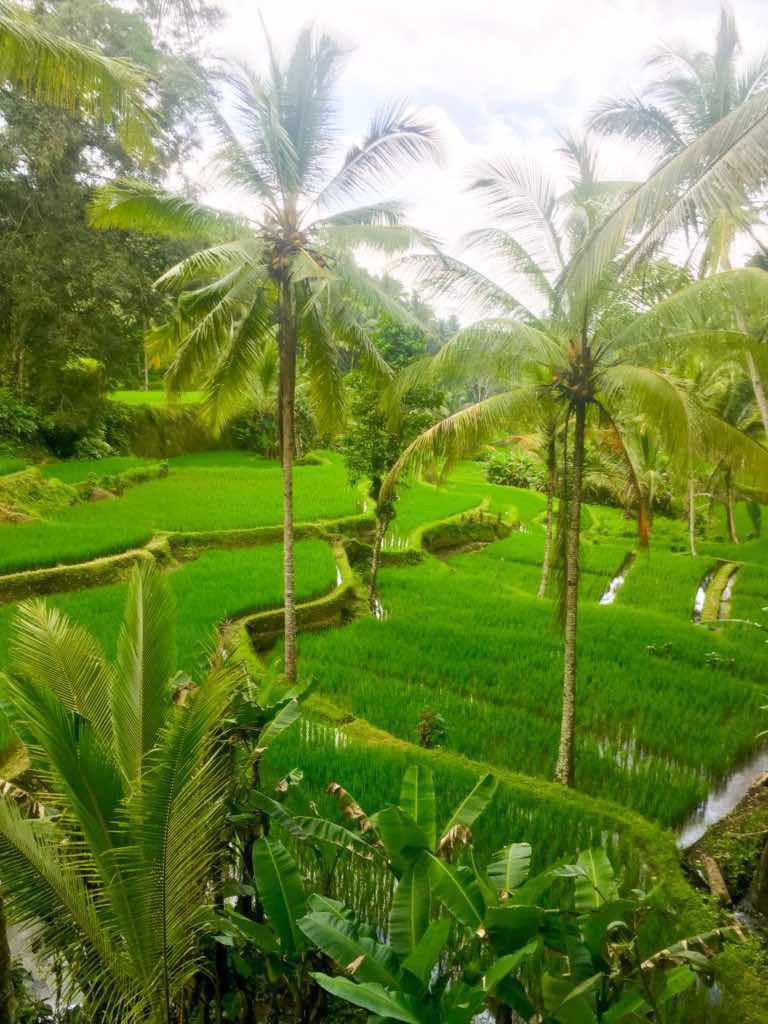 Exploring Tegallalang rice terraces is one of the top 10 things to do in Ubud! Hiking down and walking up to the other side of Tegallang rice valley can take from 30 min – 1,5 hours. There is no entrance fee for Tegallalang rice terraces in Bali but donations are welcome. Yes, entrance to this Bali rice field Bali is free. But, be respectful and generous to people who take care of it.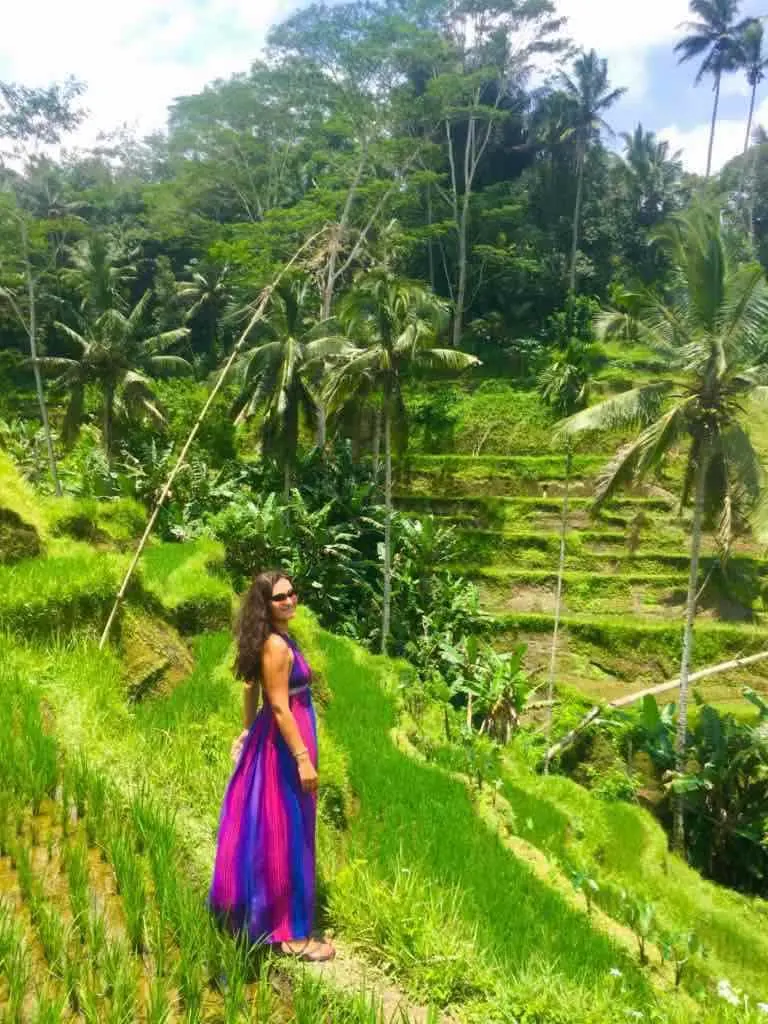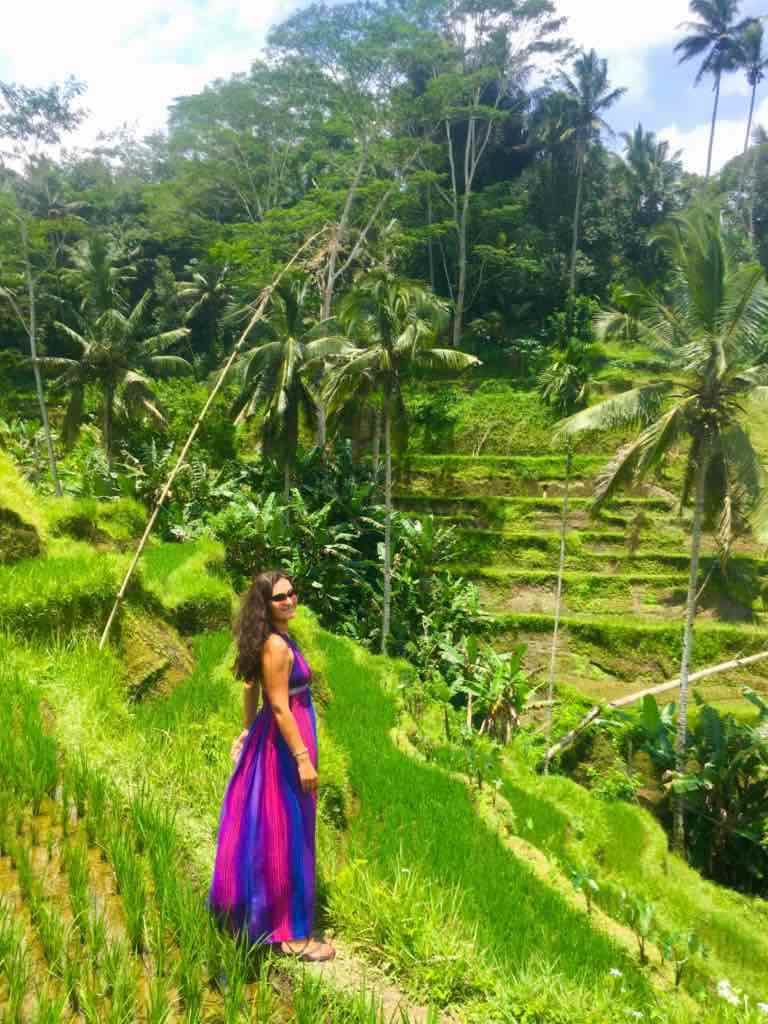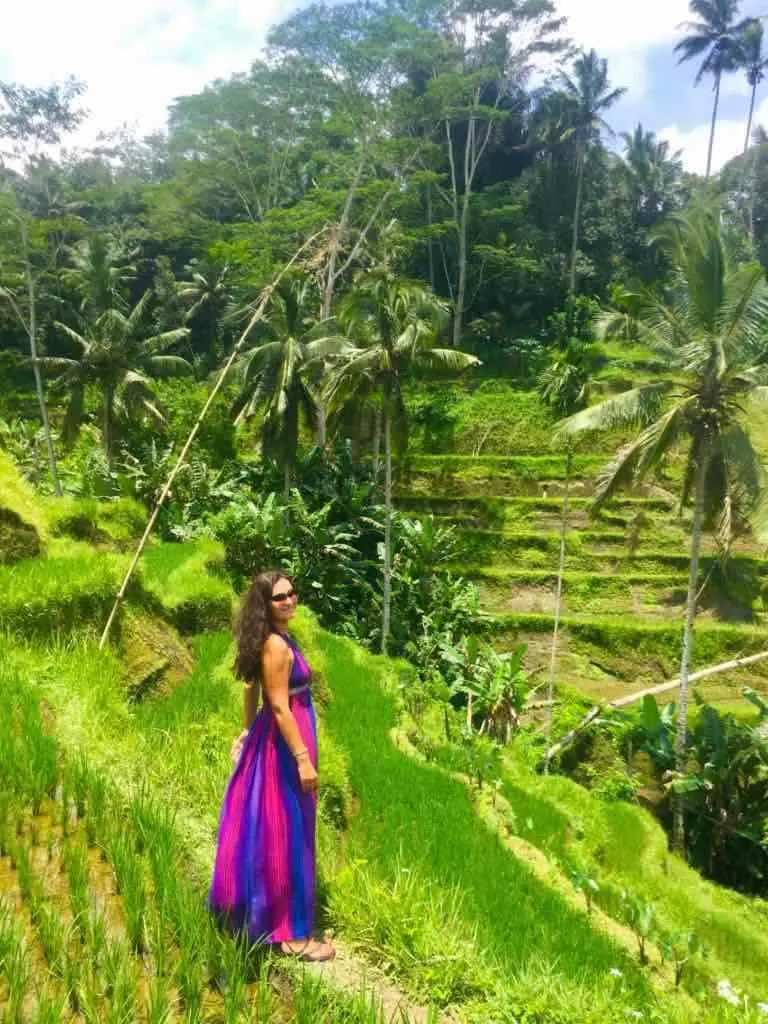 Tegalalang rice paddy, Bali looks like a true patchwork art. And finally, you should rest assured: walking around the Bali Tegalalang rice terrace will reward you with lots of photo opportunities!
Electric Bike Tour to Tegallalang Rice Terraces from Ubud
Ubud Rice Terraces, Temples & Volcano
Jatiluwih vs Tegalalang? What are the most beautiful rice terraces in Bali? Which rice terrace in Bali should you see?
If you ask me should visit Jatiluwih or Tegalalang, my answer would be preferably both! But if you choose to visit only one of these two best Bali rice terraces, in each case you can't get wrong!
MAYBE YOU ALSO WOULD LIKE TO READ: Tasting Authentic Kopi Luwak in Bali
WHERE TO STAY IN UBUD
Ubud is a must-see in Bali, a cultural mecca of Bali, and a great base to explore Bali and visit rice fields in Bali.
Tegalalang rice terraces are 10 km away from Ubud and Jatiluwih rice fields are 40 km away from Ubud.
It means, 20 min drive takes from Ubud to Tegalalang rice terrace, or an hour and a half drive from Ubud to Jatiluwih rice terrace.
Recommended Ubud Bali hotels, Ubud villas, and Ubud guesthouses:
UPSCALE: Villa Sindu Ubud, Villa Sabandari, Blue Karma Nestling Ubud, Korurua Villa, Green Field Resort Ubud
MID-RANGE: The Tegal Ubud Villa, Joglo Campuhan Village, Kailash Suites at Gunung Sari Jungle Lotus Villas
BUDGET: Dewi Antara Homestay, Tanggal Merah Guest House, Umayuri Inn
BEST TIME TO VISIT BALI RICE TERRACES
Bali is close to the equator. Thus, Bali has warm weather all year round with average temperatures around 26-27ºC (79-81ºF) with around 85% air humidity.

There are two seasons in Bali: dry and wet. The dry season in Bali goes from May to October, and the wet season goes from November to May.
The rainiest months in Bali are December, January, and February.
But, still, the average temperature in Bali in December is 27ºC (81ºF), while the temperatures in January and February are similar averaging around 26ºC (79ºF). Although the rain showers can be strong in December, the high season in Bali is December with the peak for the holidays from December 23 to January 6.
On account of two seasons, Bali has also two rice planting and harvesting seasons. The rice is planted in Bali from January to February and from July and August. The rice is harvested from April to May, and from October to November.
If you want to see the most beautiful, green, and lush Bali rice terraces, go to Bali during the wet season from October to March.
March would arguably be the best month to see lush green rice fields in Bali. March is the transition period from the wet season to the dry season, and just before the start of the rice harvest season in April.
I visited Bali in March. So, if you want to see green Bali rice terraces like in the above photos, visit Bali in March!
MAP OF JATILUWAH AND TEGALALANG RICE TERRACES IN BALI
Location of the rice paddies Bali: rice terrace Tegalalang (Ubud rice terraces) and Jatiluwih terrace (UNESCO rice fields Bali)
MAYBE YOU ALSO WOULD LIKE TO READ: Borobudur and Prambanan temples in Indonesia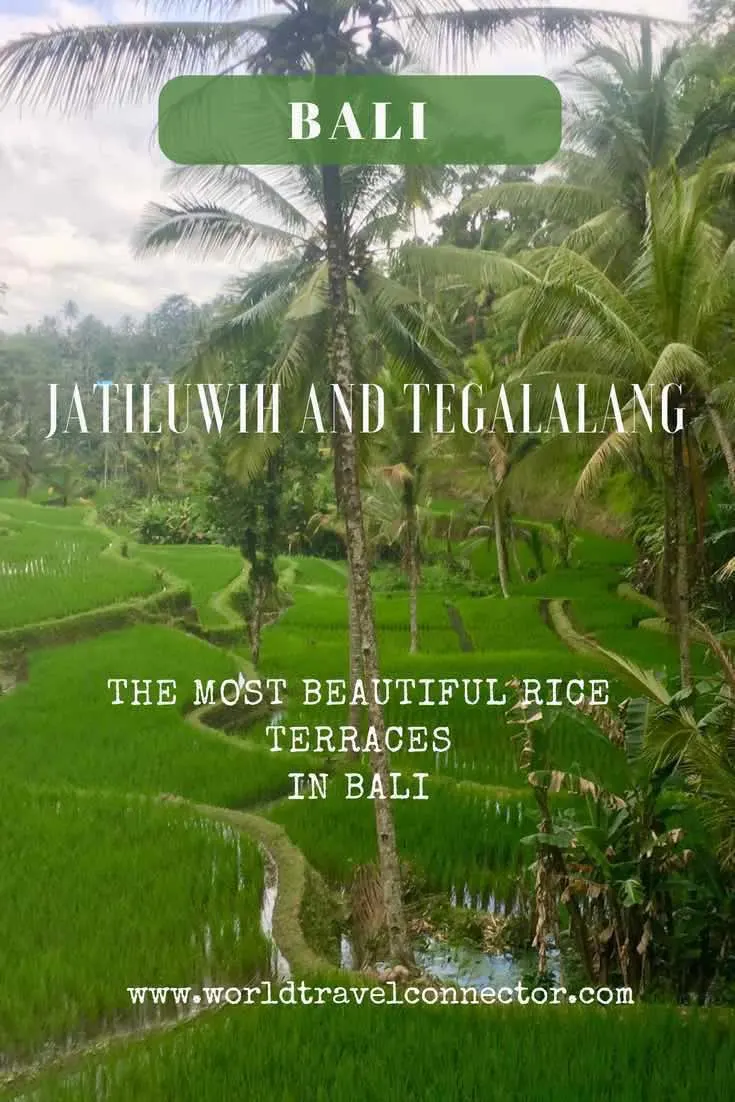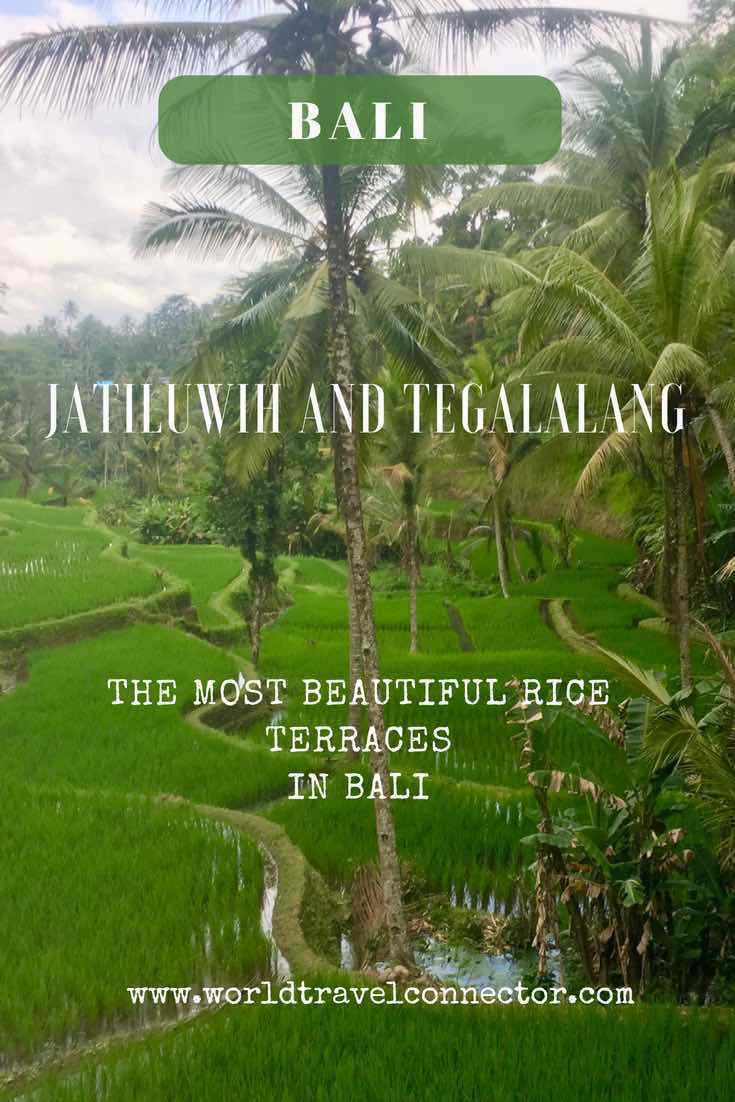 Are you traveling to Bali for the first time? Check here everything (visa, flights, weather, internet, travel insurance, currency exchange, etc) you need to know before you go.
Need help with an itinerary? Don't worry! Backpacking or not, it doesn't matter. This Bali itinerary for first-timers has some great suggestions.
Want to see more than rice terraces Bali? You might be interested in chasing waterfalls in Bali?! Take a look at this Bali Waterfall Guide.
Need some more suggestions?! What about some sea time and gorgeous beaches of nearby Nusa Lembongan island? Read more in Nusa Lembongan travel guide.