16 exceptional Buddhist temples in Southeast Asia
THE 16 BEST BUDDHIST TEMPLES IN SOUTHEAST ASIA TO SEE
Amazing Buddhist temples and holy places of Buddhism you need to see in your lifetime.
THIS POST MAY CONTAIN COMPENSATED LINKS. PLEASE READ MY DISCLAIMER FOR MORE INFO
Awe-inspiring Buddhist temples of Southeast Asia: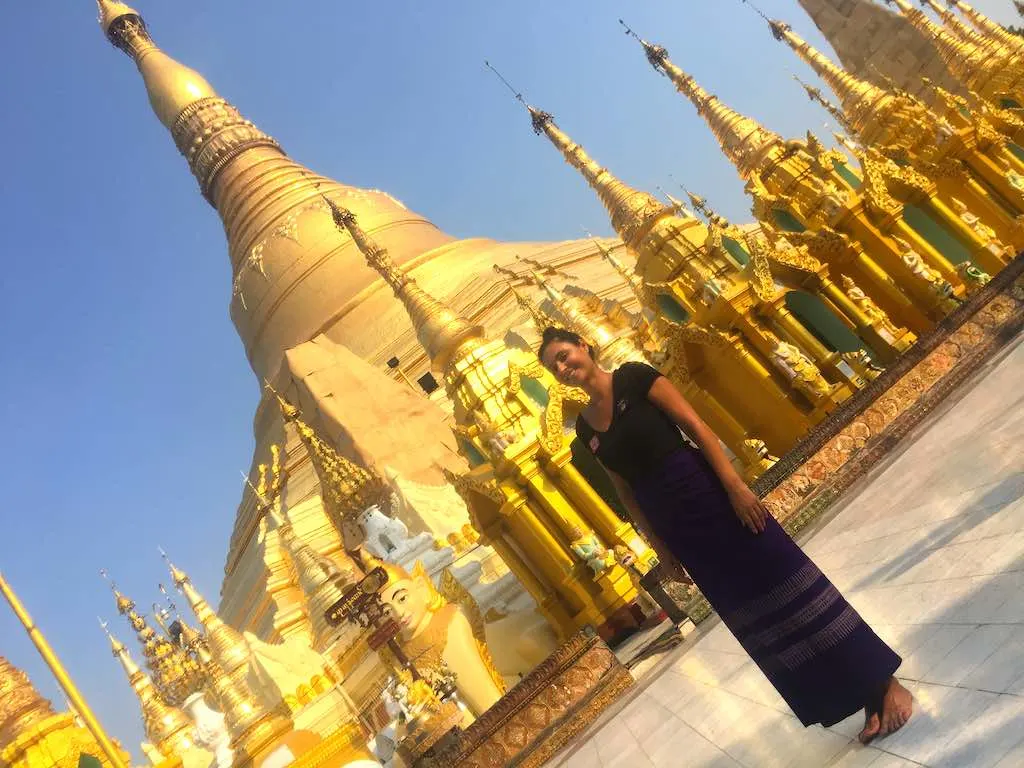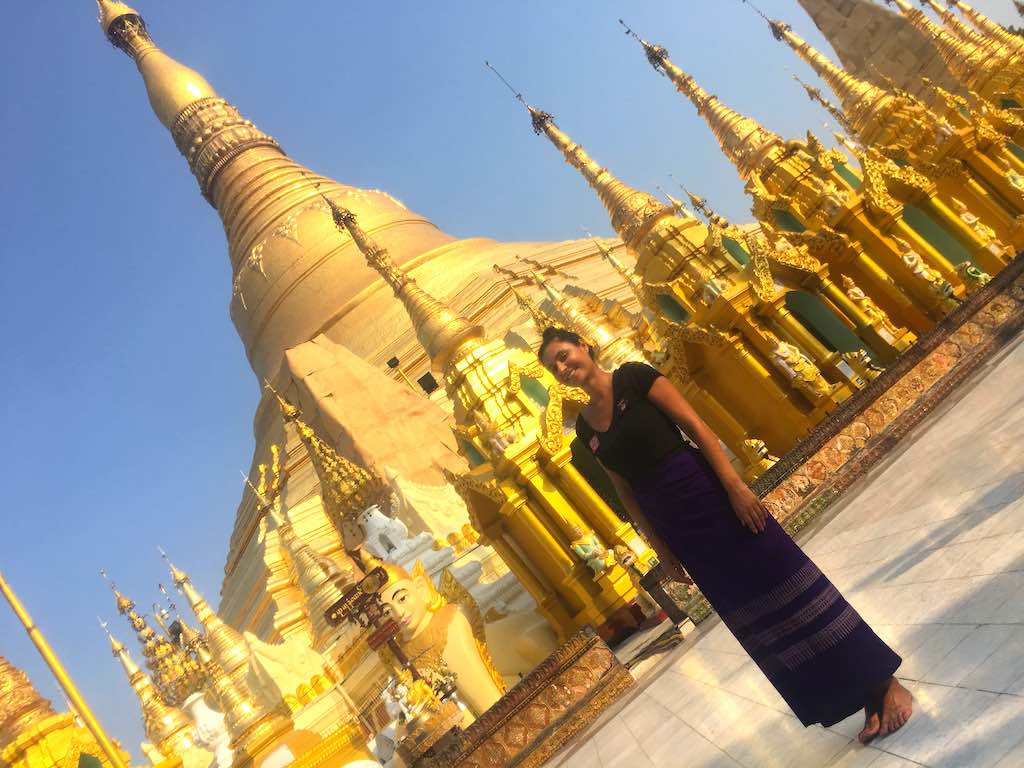 1. BOROBUDUR, JAVA, INDONESIA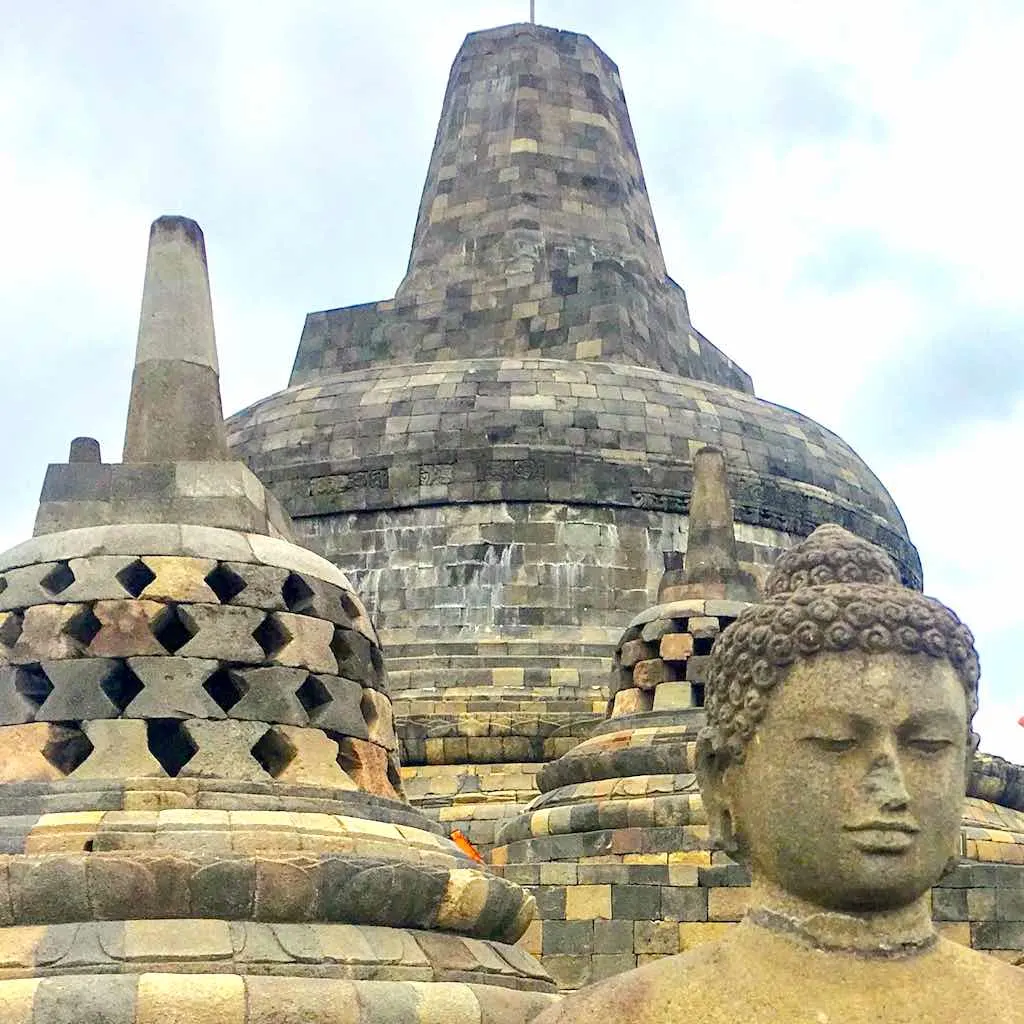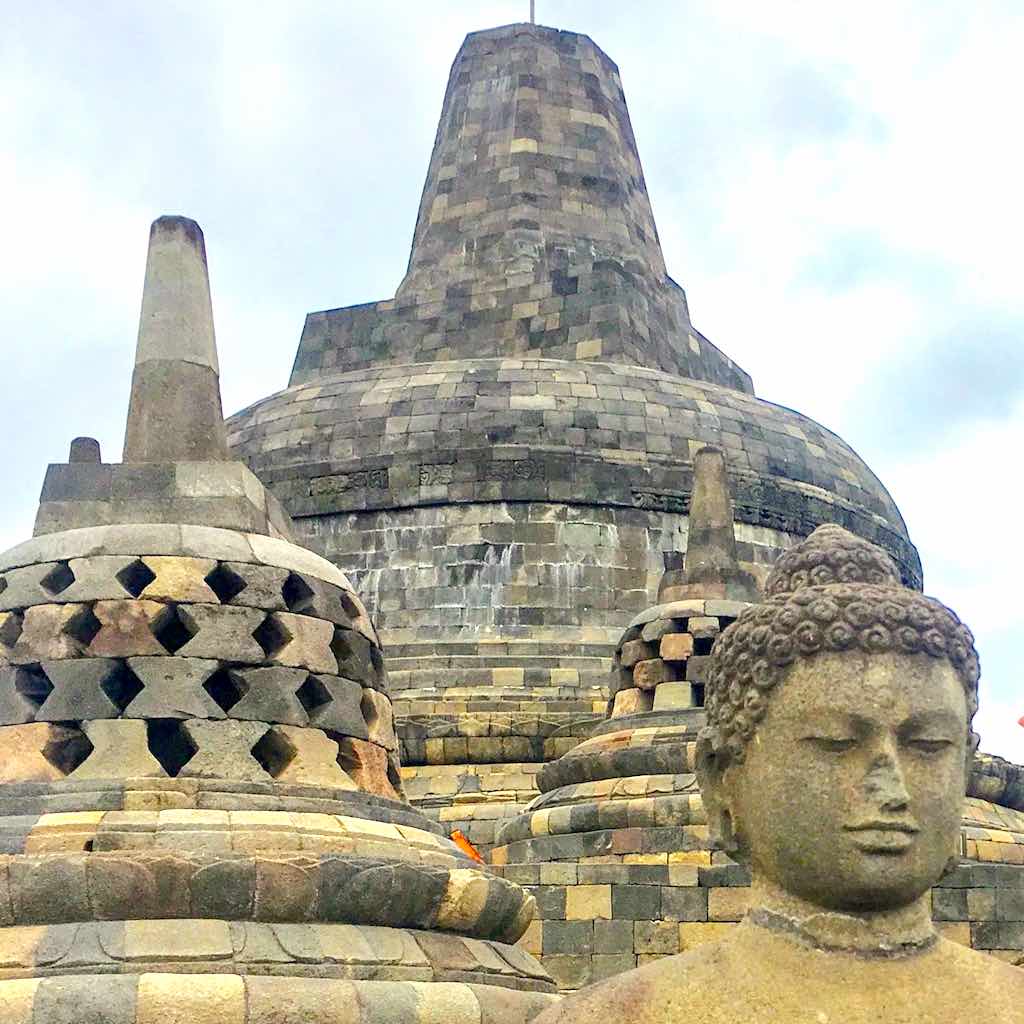 Borobudur is not only the largest Buddhist temple in Southeast Asia but also the largest Buddhist temple in the world and one of the most beautiful temples in the world overall.
Temple of Borobudur is a Mahayana Buddhist temple built between the 8th century and 9th century on the island of Java in Indonesia. It was made of 2 million blocks of stone and covers an area of 0.62 acres (or 2.500 m²).
Barabudur was designed in the shape of the stepped pyramid with 3 levels representing a journey from earthly desires to nirvana. Borobudur temple is actually a huge Buddhist stupa with a square base, 5 square terraces (the first level), 3 circle platforms (the middle level), 72 seating Buddhas in 72 small stupas, and a central stupa at the top (the upper level).
This majestic sacred place of Buddhism is marvelously decorated with 2.672 reliefs and 504 Buddha statues in total.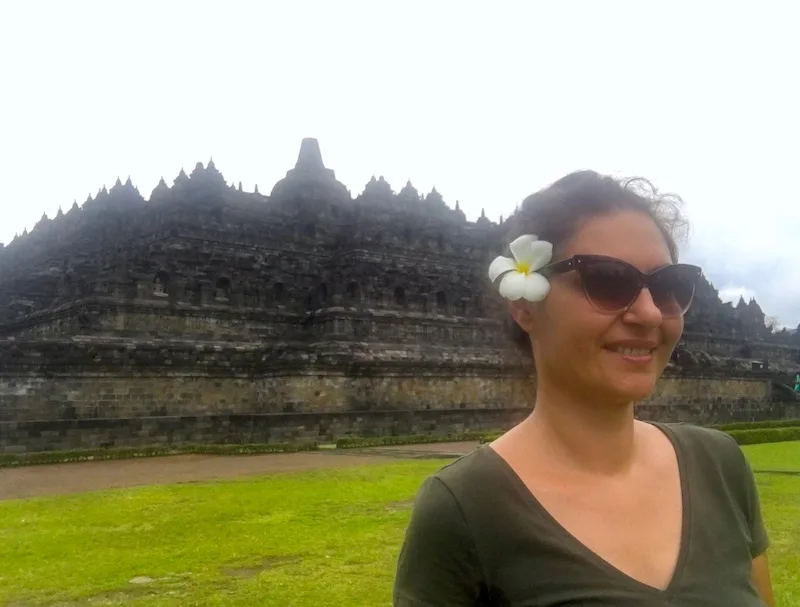 Borobudur in Java is a place of Buddhist worship and Buddhist pilgrimage site in Indonesia.
This biggest Buddhist temple in the world was mysteriously abandoned in the 16th century, and over time got buried by volcanic ash and covered by Javanese jungle vegetation. Borobudur temple was rediscovered in 1815 in a rainforest in central Java.
Today Borobudur is a UNESCO World Heritage site in Indonesia and one of the most famous landmarks of Indonesia.
2. ANGKOR, CAMBODIA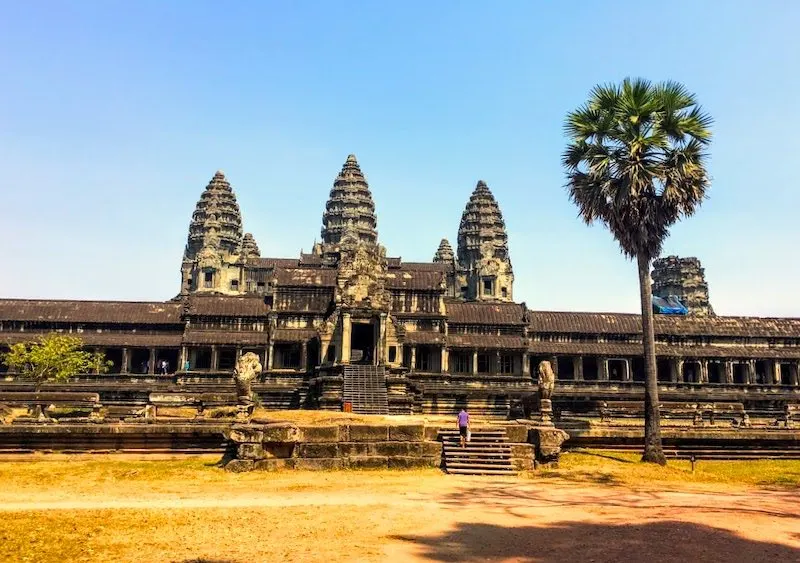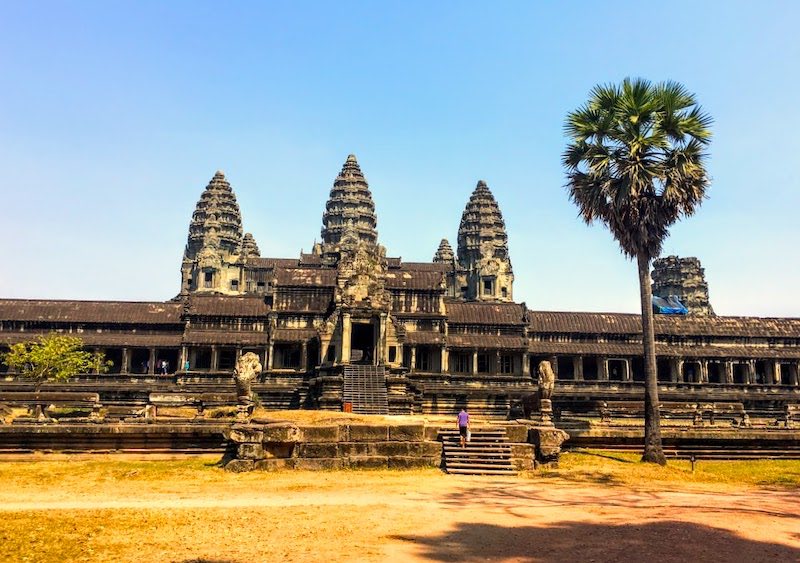 Angkor Wat in Cambodia is the largest religious monument in the World covering about 402 acres (162 ha), and temples of Angkor cover an impressive area of more than 99.000 acres (40.000 ha).
While it's hard to say what is the most beautiful temple in the World, Angkor Wat certainly might be the most impressive temple in the World.
Angkor complex holds sacred places of Hinduism and sacred places of Buddhism and is of huge importance to all Dharmic religions.
Temples of Angkor are both Hindu temples and Buddhist temples. Hence you will find temples of Angkor listed among Hindu temples in southeast Asia and Buddhist temples in Southeast Asia.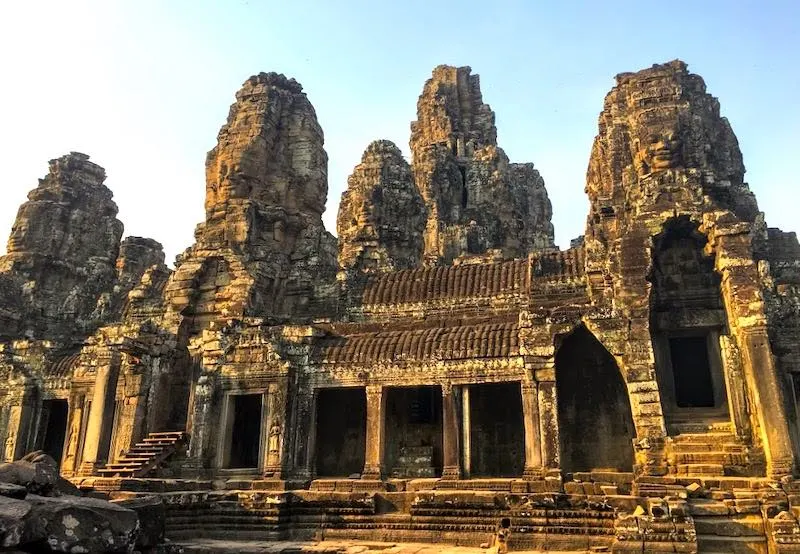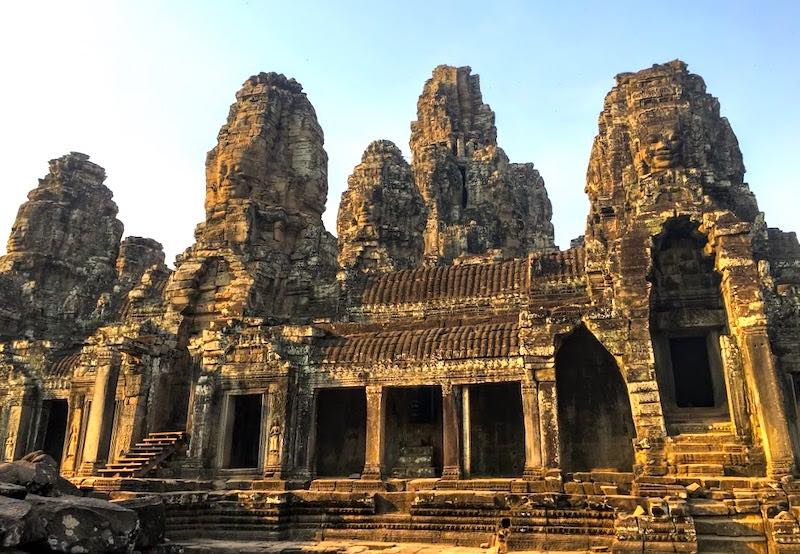 While the first Angkorian period records Shaivism as the state religion from around 800 AD, later periods of the Khmer Empire record Vaishnavism from the beginning of the 12th century, Mahayana Buddhism from the late 12th century, and Theravada Buddhism from the 13th century.
At first, Angkor Wat was dedicated to the god Vishnu. But later in the 12th century, it got consecrated to Theravada Buddhism.
In the late 12th century, Khmer's King Jayavarman VII converted from Hinduism to Mahayana Buddhism. He built the Bayon temple as the first Buddhist temple in the Khmer empire and Buddhism became the state religion of Khmer's Empire.
But his son king Jayavarman VIII reverted to Hinduism and dedicated Bayon to god Shiva. Theravada Buddhism has become the state religion of Cambodia since the 13th century.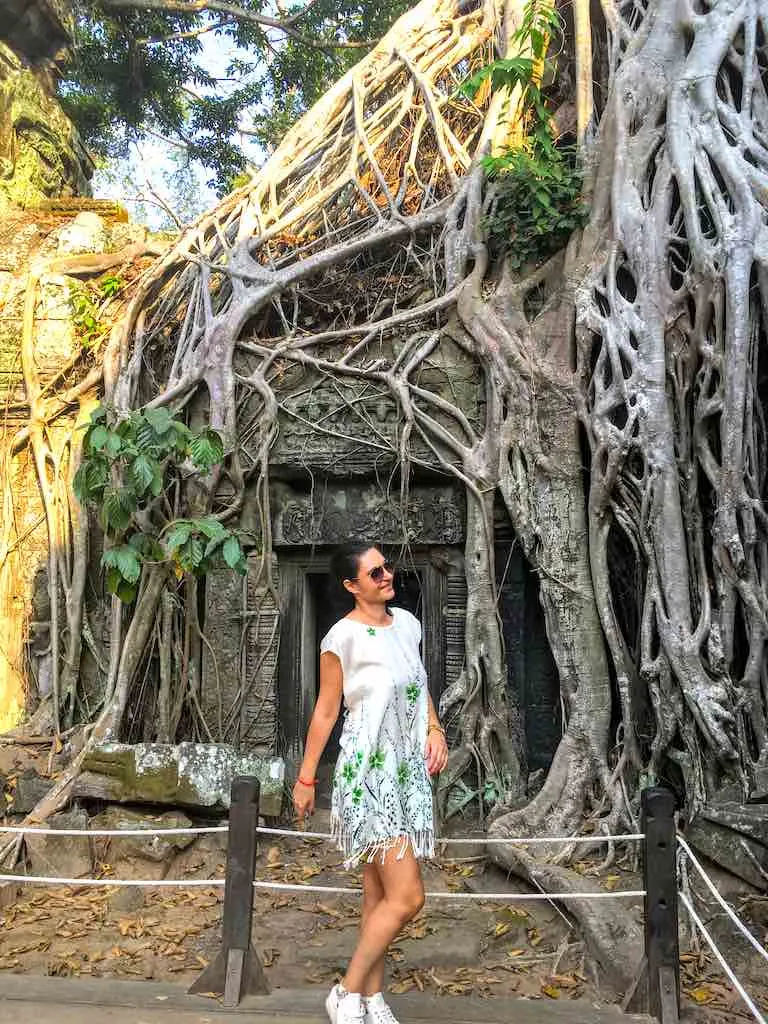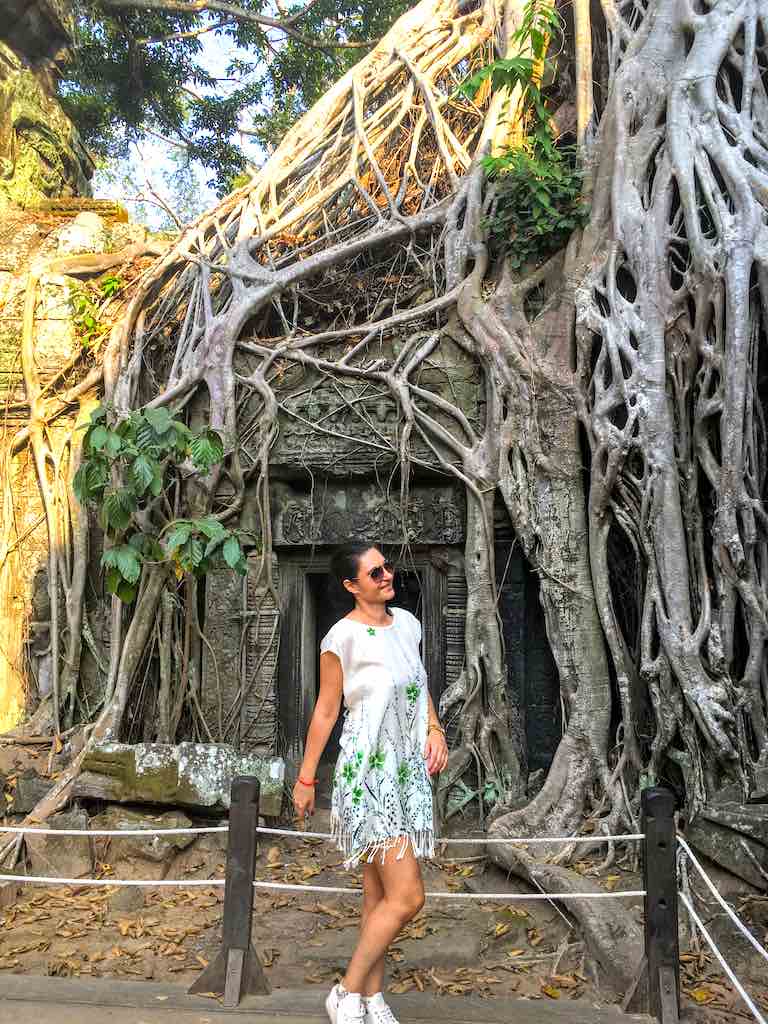 In the 15th century, Khmer's kings left the City of Angkor for unknown reasons and moved to the new capital – Phnom Phnom. Angkor was left forgotten in the Cambodian jungle until the mid-19th-century when it was rediscovered.
Angkor Wat temple complex is a World Heritage Site in Cambodia and a top tourist attraction in Cambodia.
Famous Angkor temples that you must add to your bucket list of temples in Southeast Asia are Angkor Wat, Bayon (Angkor Thom), Ta Phrom, Banteay Kdei, and Ta Som.
Keep in mind that Angkor temples are not only one of the best temples in Asia but one of the best temples in the world too.
3. BAGAN, MYANMAR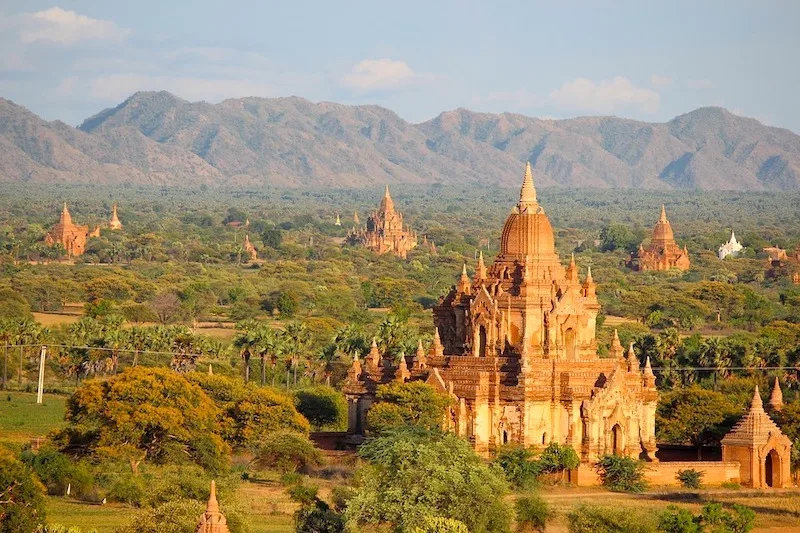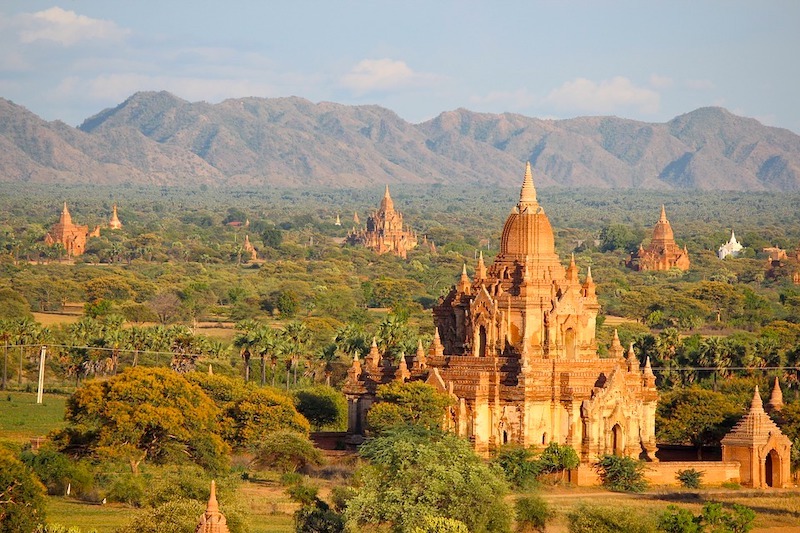 The old city of Pagan holds the largest number of Buddhist temples and pagodas in the World: 2.000 temples and pagodas on 10.400 acres (4.200 ha).
From the 9th to the 13th century at the peak of the Bagan Empire, Bagan had more than 10.000 temples and pagodas.
The most popular pagodas and temples in Bagan are Ananda Pagoda, Dhammayangyi Temple, Thatbyinnyu Temple, Sulamani Pagoda, Thambula temple, Shwezigon Pagoda, Myazedi pagoda, Pyathadar temple, and Manuha temple.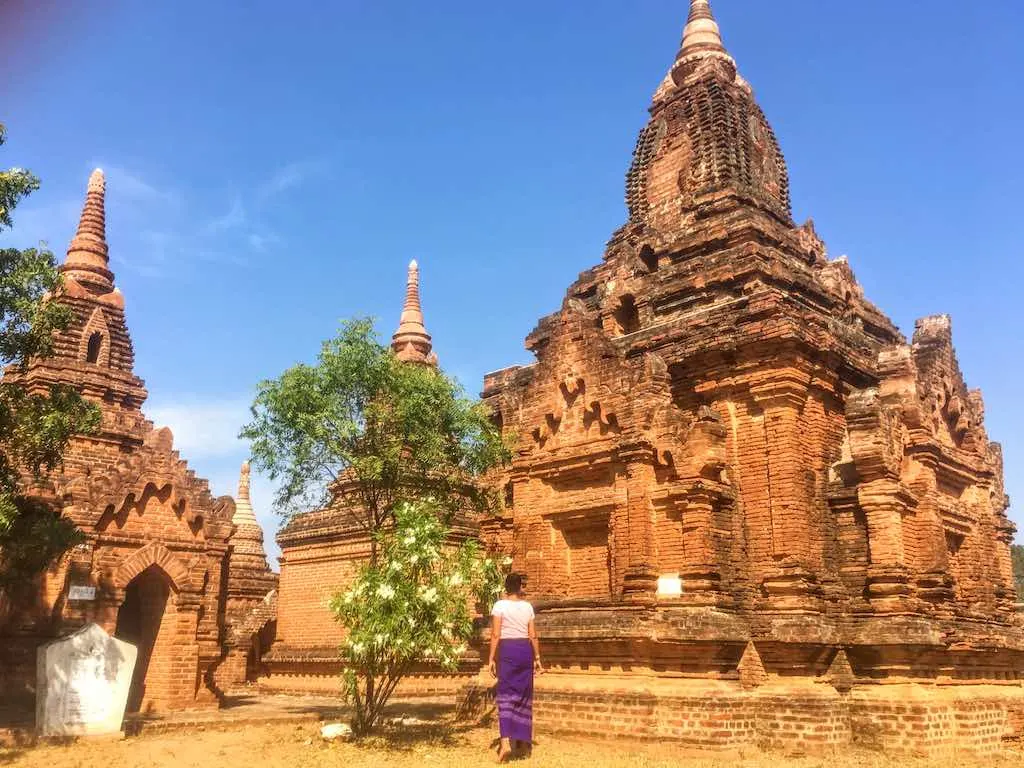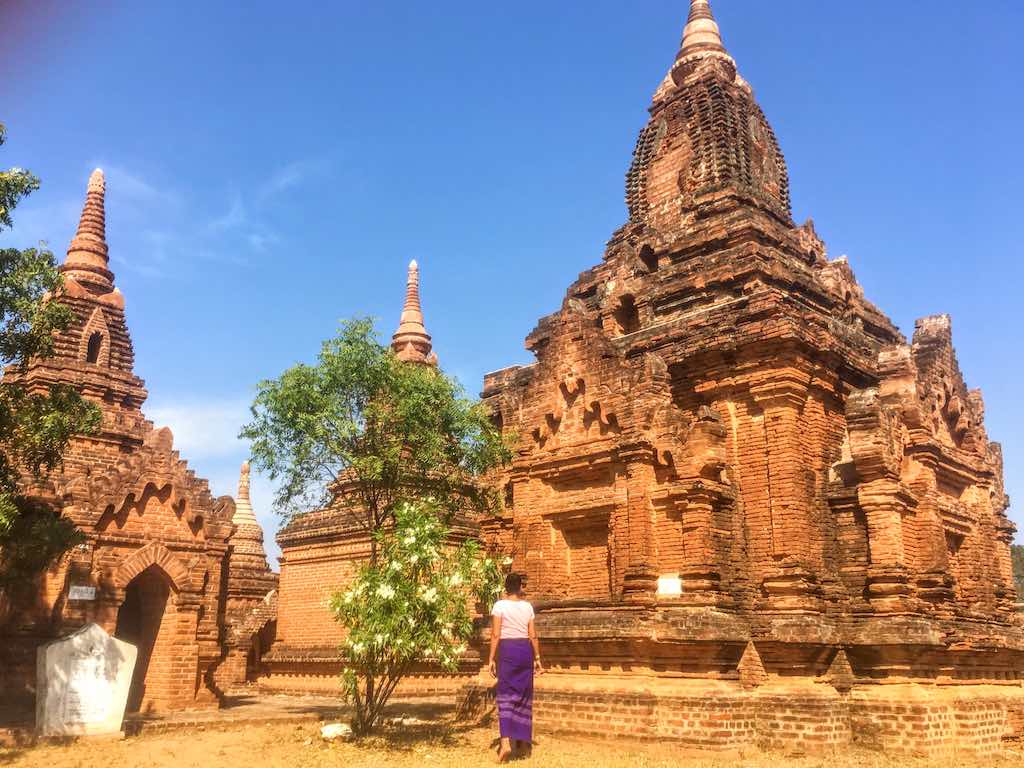 Bagan archeological zone is a UNESCO World Heritage Site in Myanmar. Bagan temples are one of the southeast Asia temples you need to see during your lifetime!
4. SHWEDAGON PAGODA, MYANMAR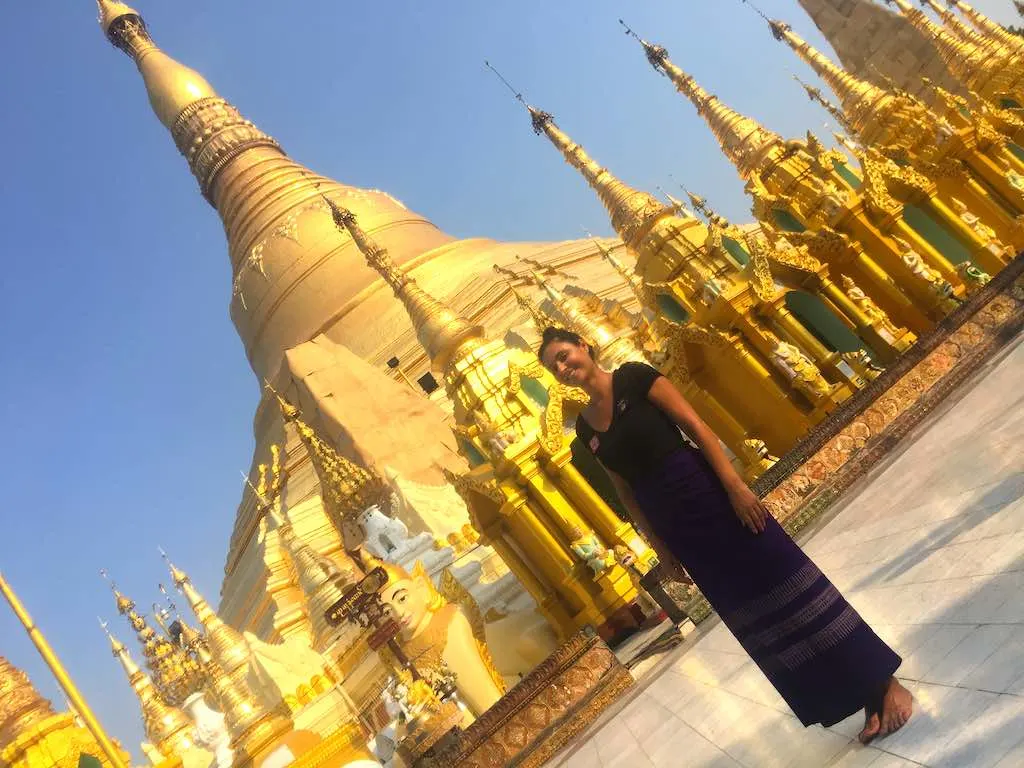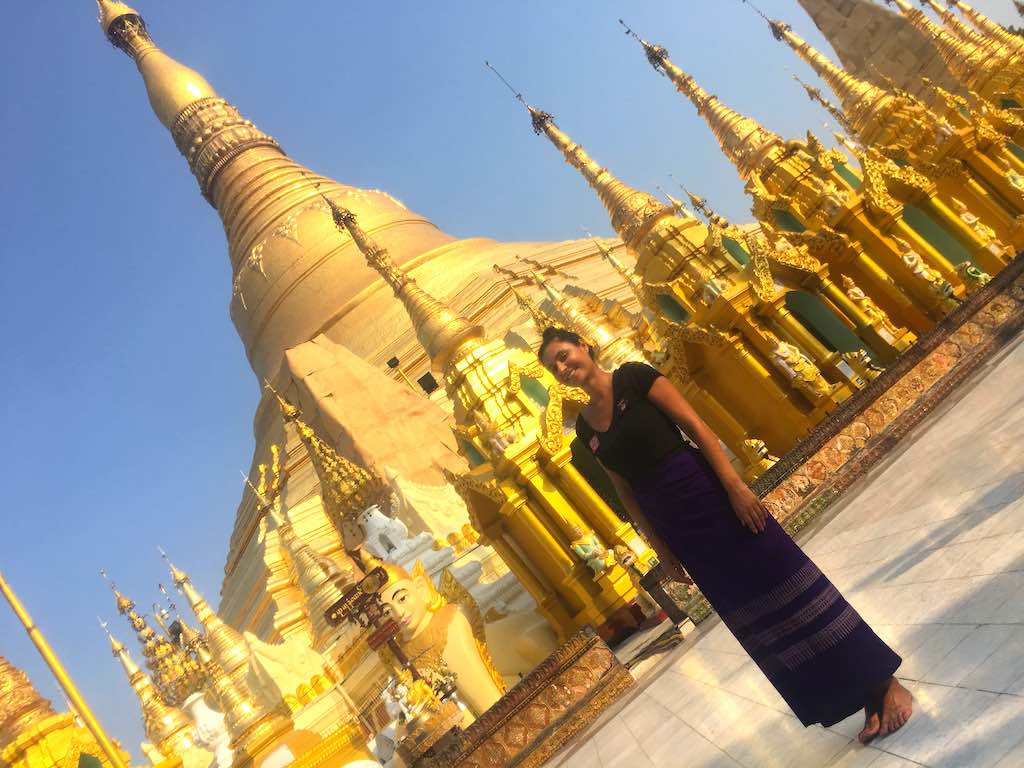 The Great Dagon Pagoda in Yangon in Myanmar is the most Buddhist sacred site in Myanmar holding the relics of 4 Buddhas (the historical Buddha and 3 Buddhas preceding him) and one of the most impressive Southeast Asian temples.
A legend says that it was built 2.600 years ago, while historians believe it was built between the 6th and the 10th century.
This 99 m tall golden Buddhist stupa holds the 76-carat diamond on the top and is the most famous Buddhist pilgrimage site in Myanmar. Shwedagon Pagoda in Yangon is one of the must-see Buddhist temples in Asia.
MAYBE YOU ALSO WOULD LIKE TO READ: Myanmar destinations
5. AYUTTHAYA, THAILAND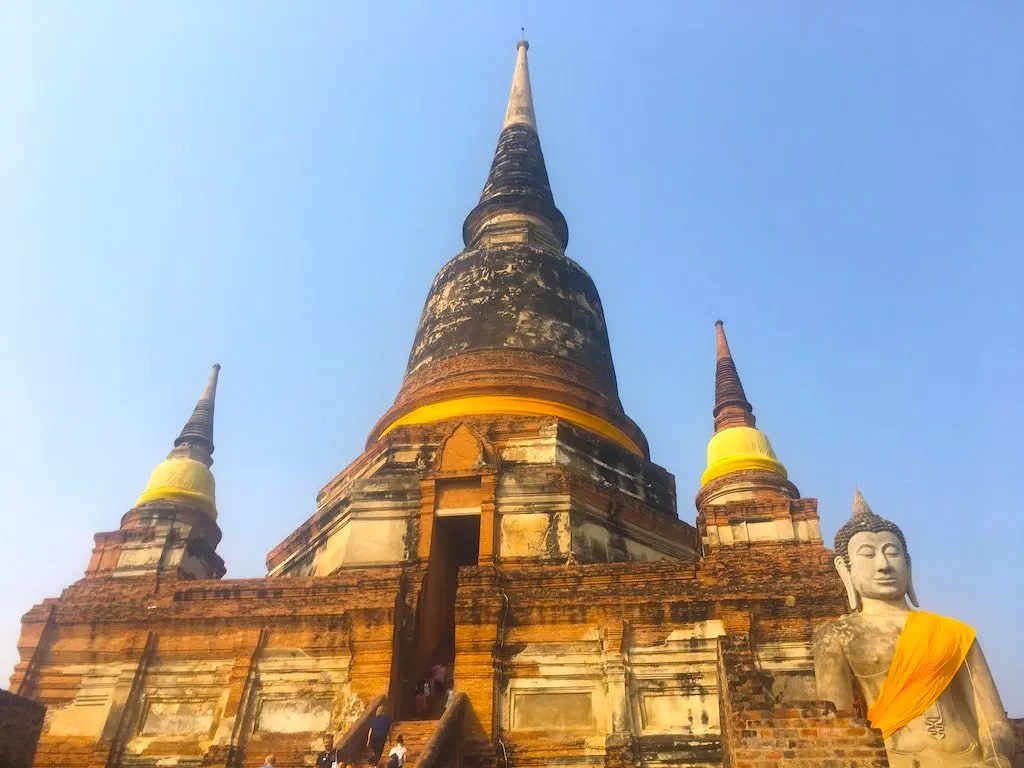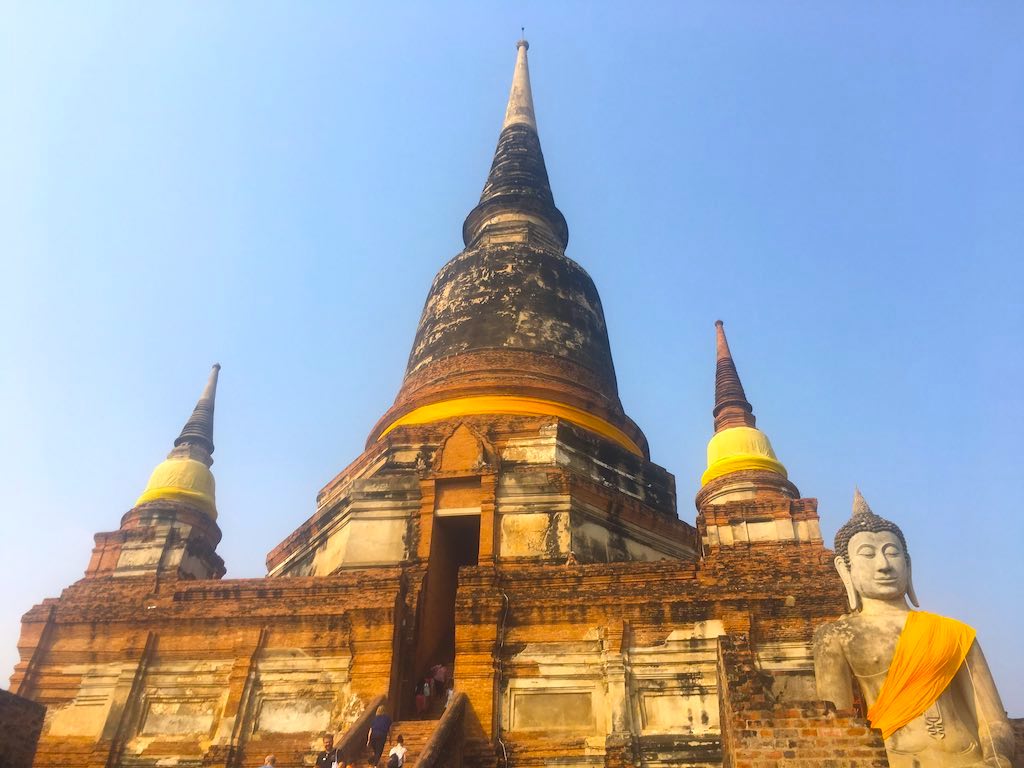 One of the best Buddhist places to visit is definitely Ayutthaya in Thailand. Buddhist temples of ancient Ayutthaya represent the finest example of Siamese art. The city of Ayutthaya was founded as the second capital of the Kingdom of Siam in the 14th century and was destroyed (burned to the ground) by Burmese in the 18th century.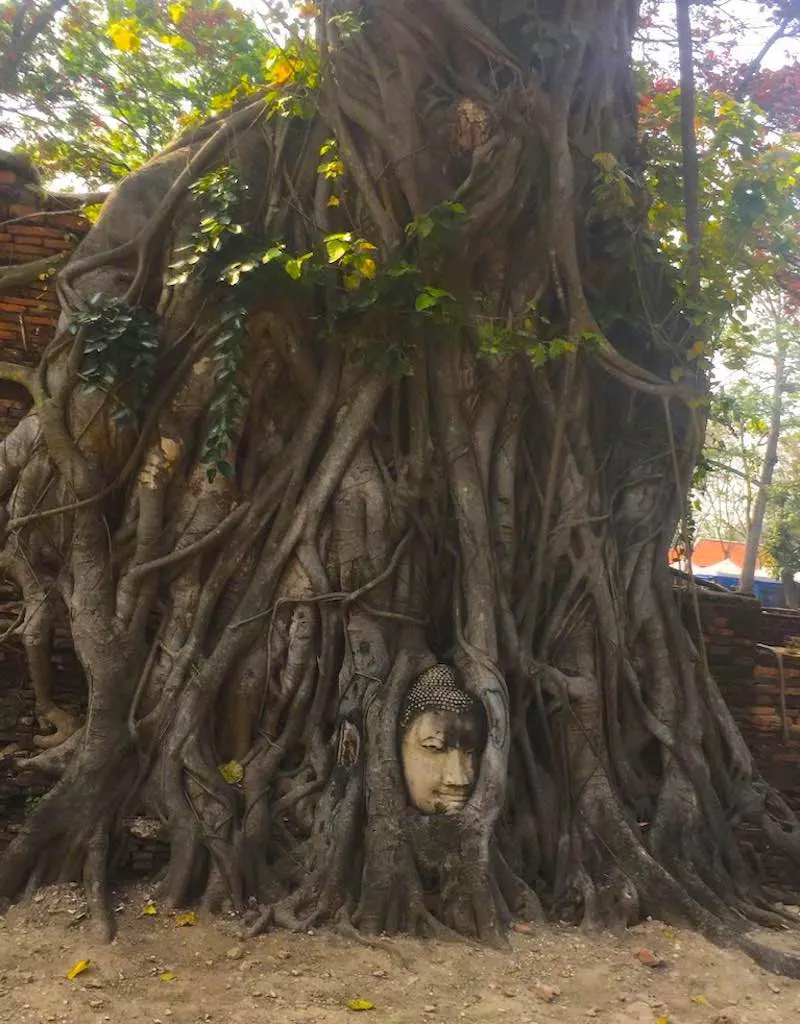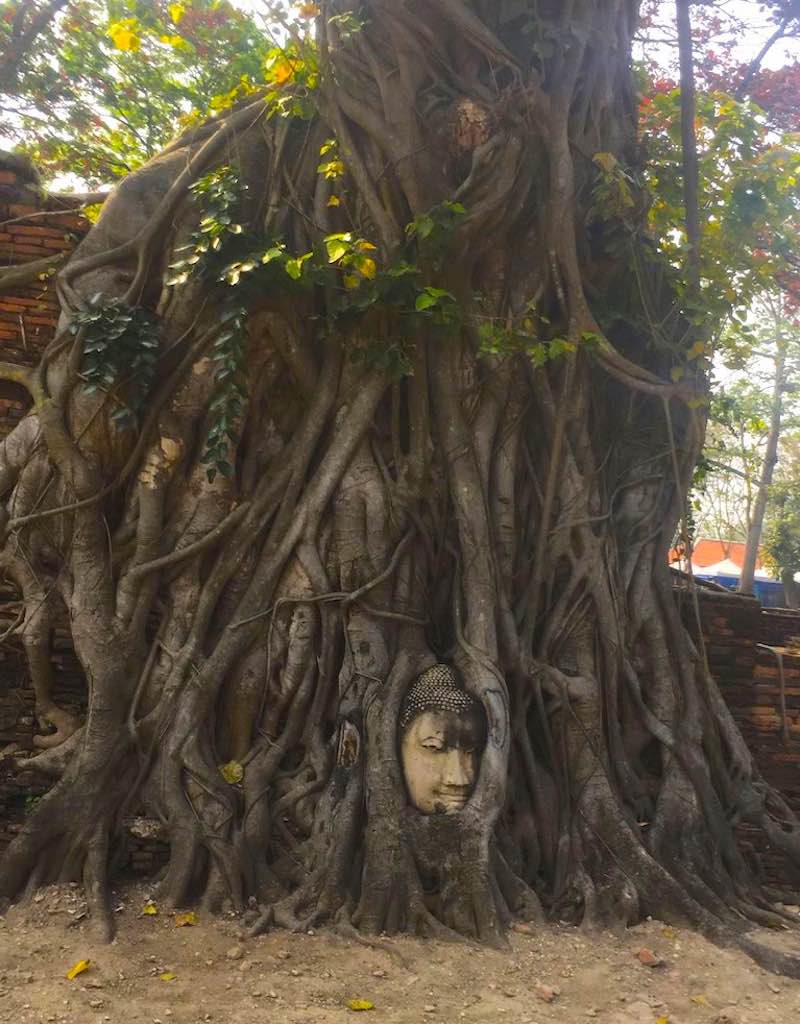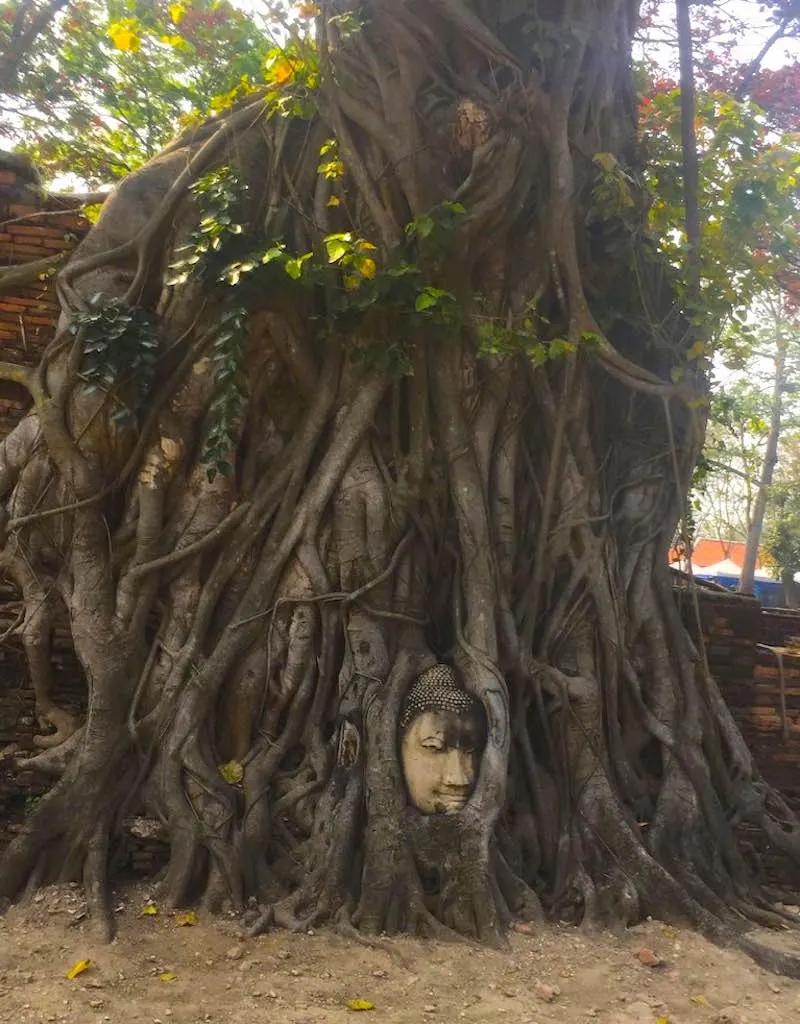 Famous Buddhist temples in Ayutthaya that shouldn't be missed out among Buddhist temples in Southeast Asia are Wat Chaiwatthanaram (a royal Buddhist temple from the 17th century and the most impressive Ayutthaya temple with 8 chedi – pagodas and the central prang — tower), Wat Yai Chai Mongkhon with as a large stupa and a reclining Buddha, white Chedi Phukhao Thong, Wat Mahathat with famous Buddha head in a banyan tree, Wat Phra Si Sanphet with 3 large chedis and once the holiest site of Ayutthaya, Wat Lokkayasuthoram with a huge (about 40 m long and 8 m tall) outdoor Reclining Buddha.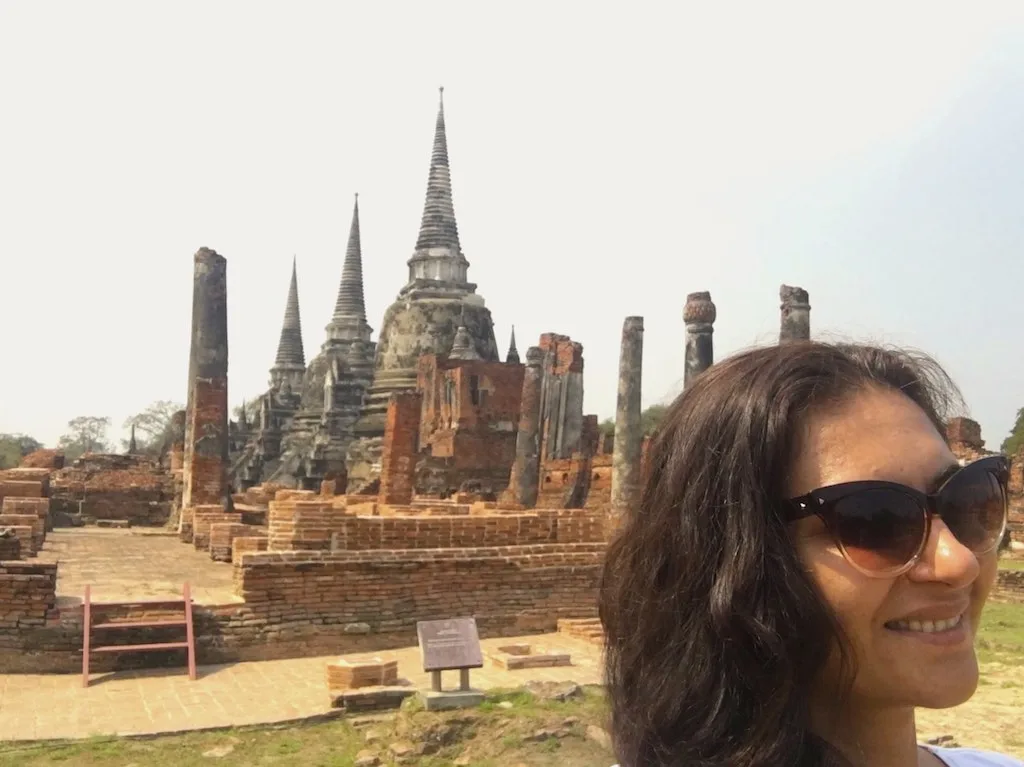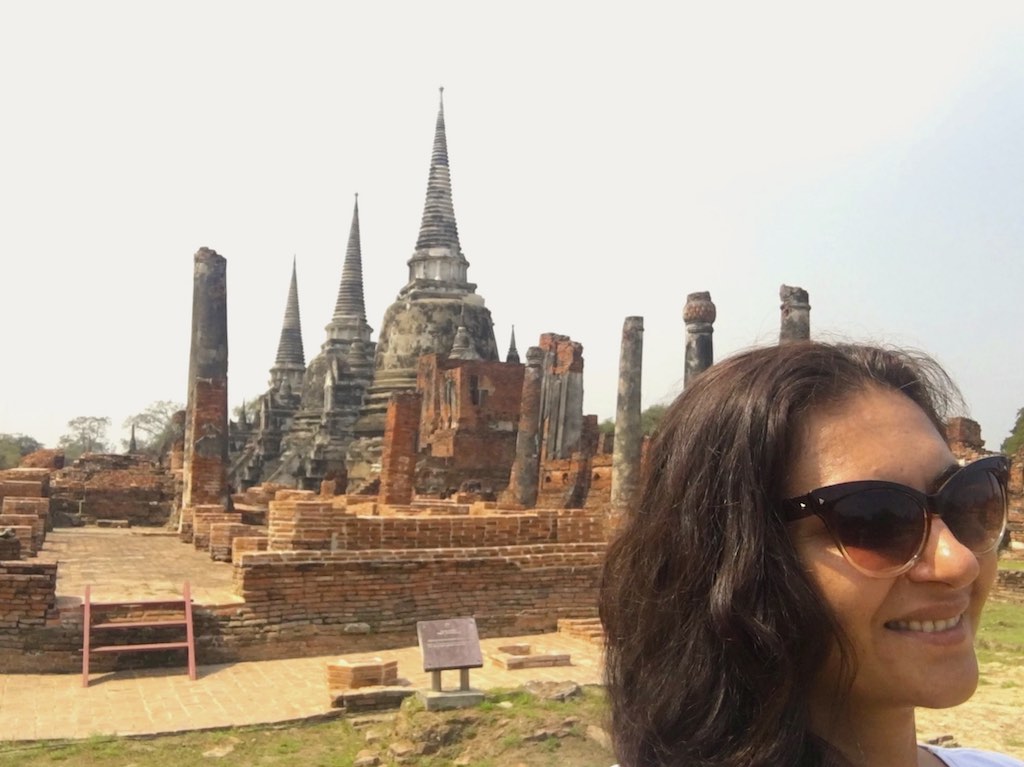 The Historic City of Ayutthaya is a UNESCO World Heritage Site in Thailand.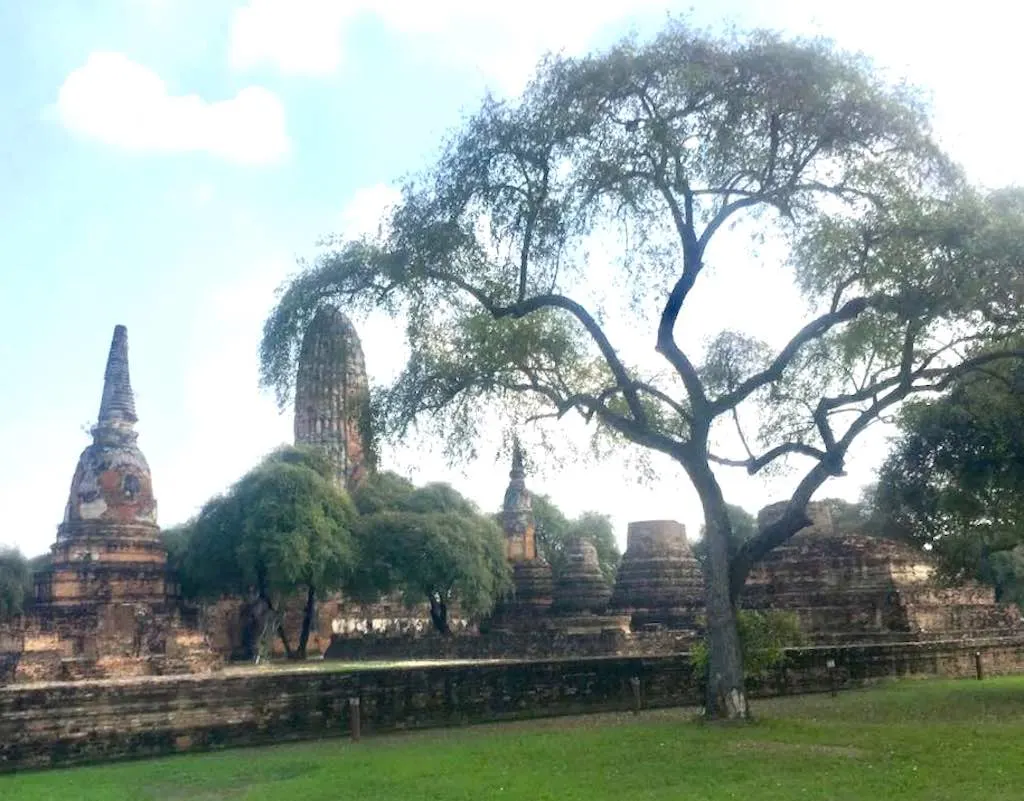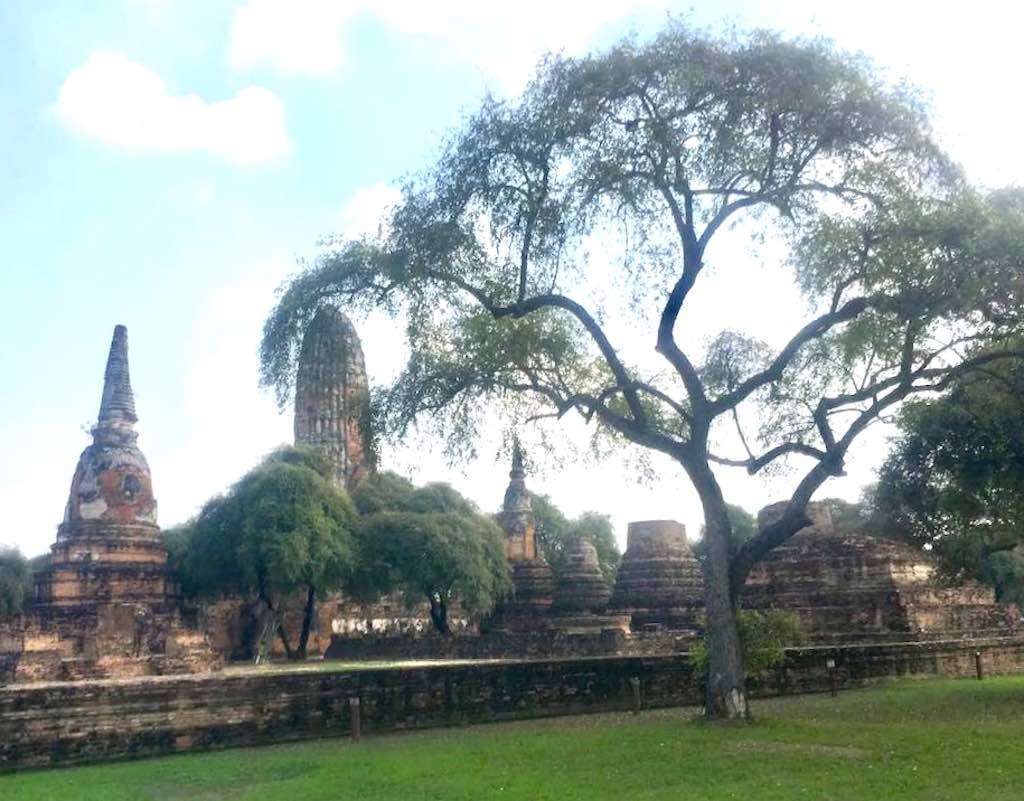 6. WAT PHRA KAEW, THAILAND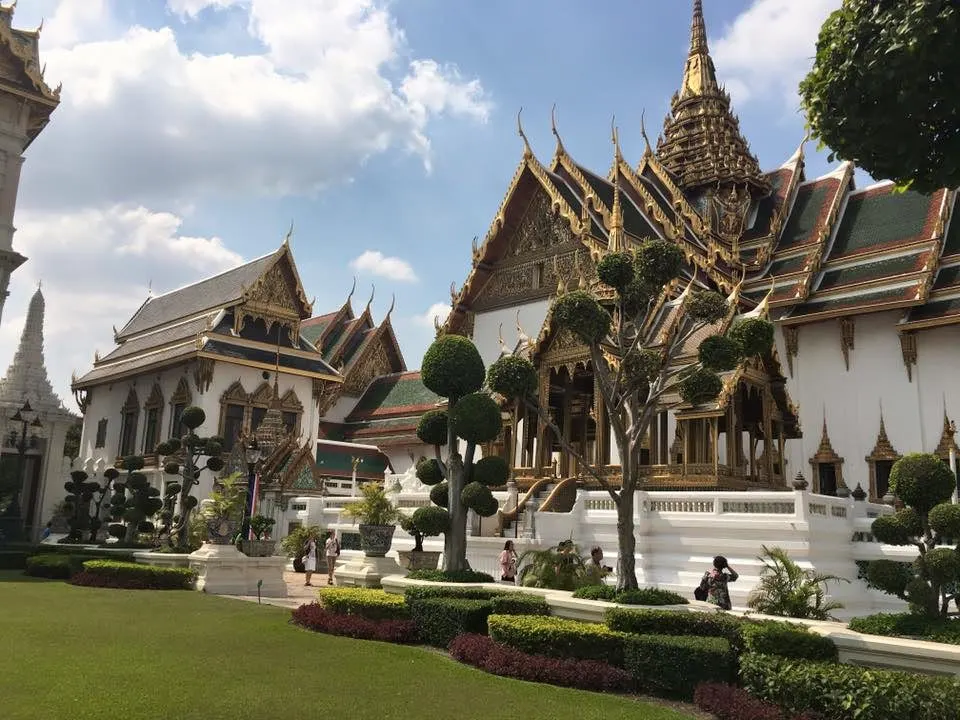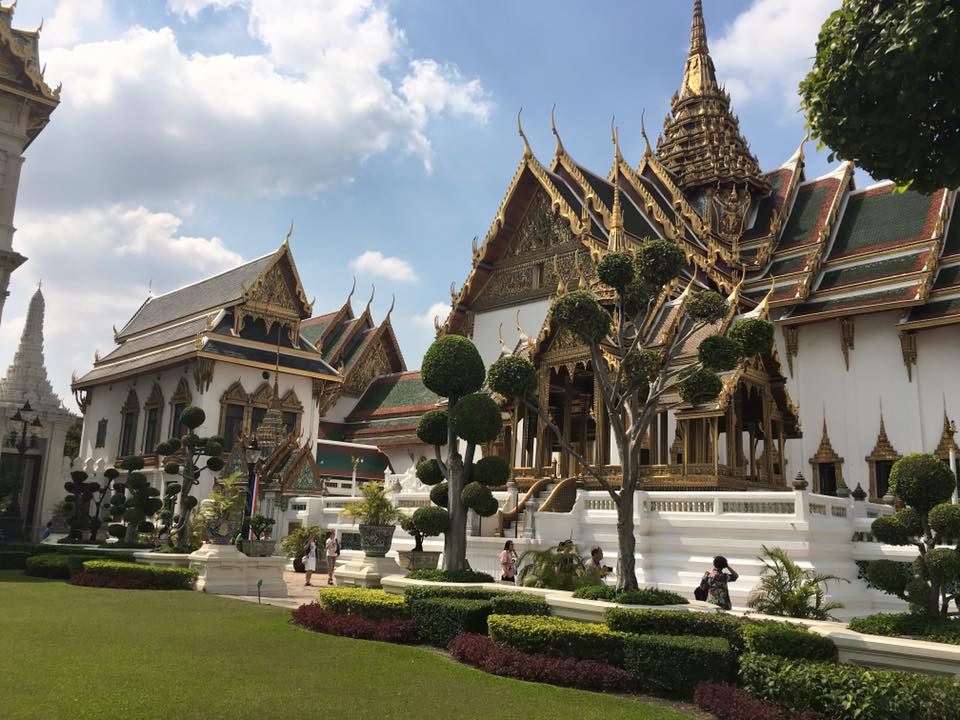 The Temple of Emerald Buddha in Bangkok is the most important Buddhist temple in Thailand and the most famous Buddhist temple in Thailand too.
The 26 in (66 cm) tall Buddha statue is made of a single piece of jade. The king of Thailand is the only person allowed to approach the Emerald Buddha and to change his robes 3 times a year (in the summer season, winter, and rainy seasons).
This Buddhist sacred site is located within the grounds of the Grand Palace of Bangkok.
7. WAT PHO, THAILAND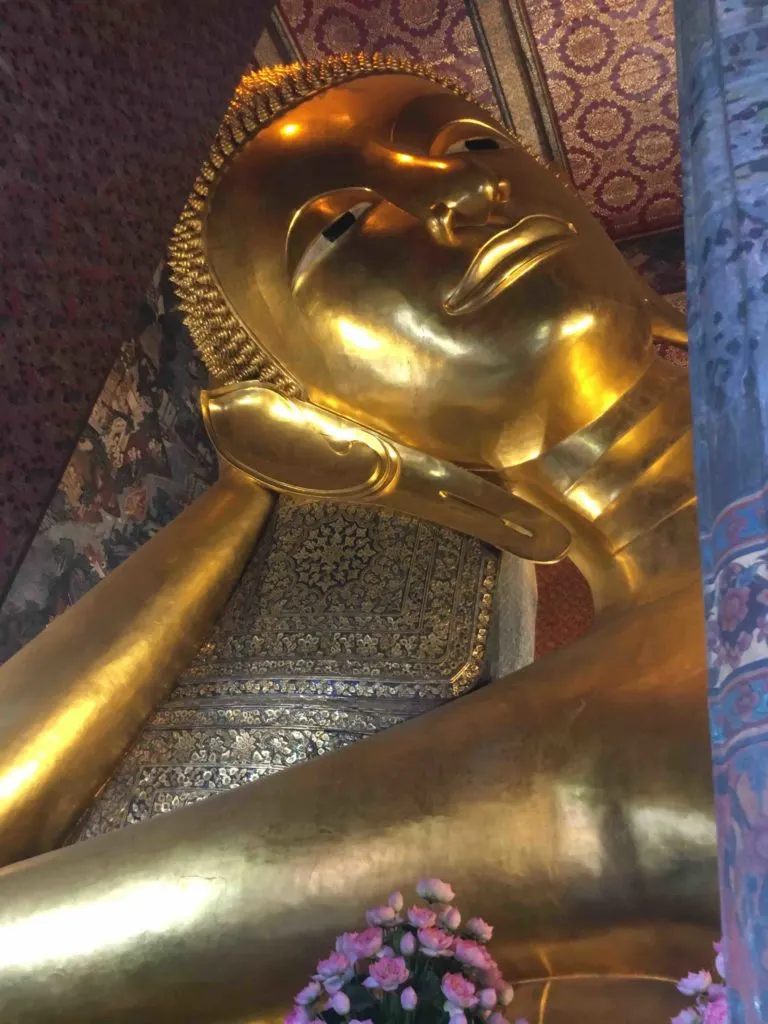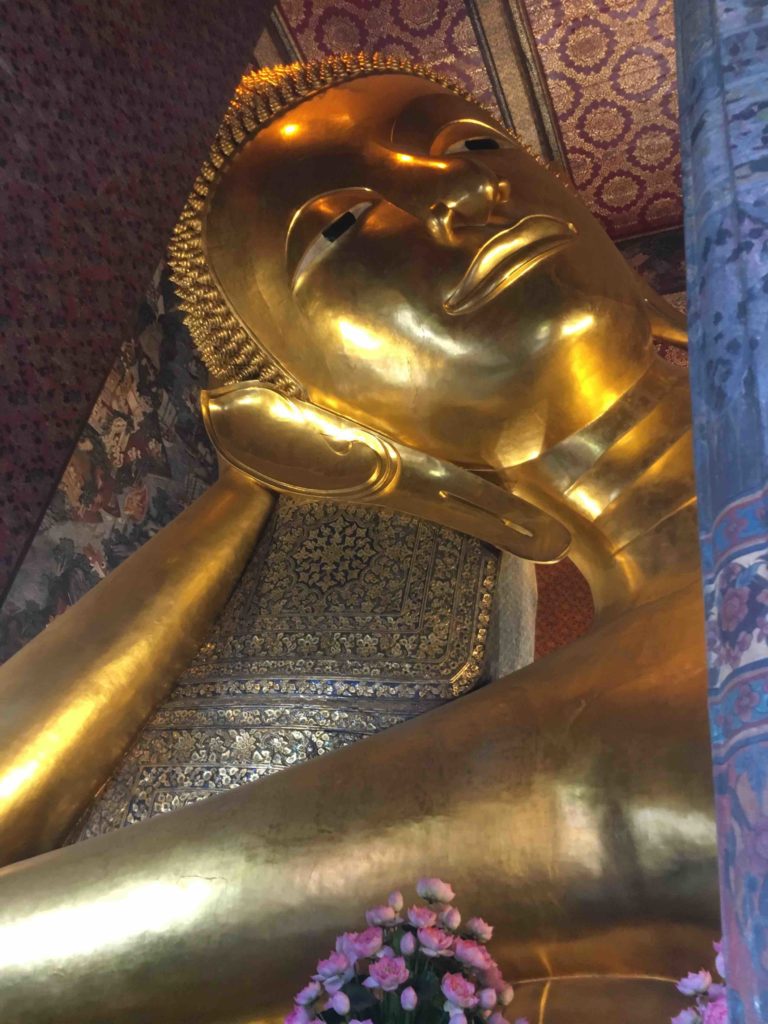 The Temple of the Reclining Buddha in Bangkok is the largest temple complex in Bangkok and one of the oldest temple complexes in Bangkok.
It is home to the largest collection of Buddha images in Thailand, including a giant (15 m tall and 46 m long) gold reclining Buddha statue.
Wat Pho in Bangkok is rated as a first-class Royal Temple in Thailand and is one of the best temples in southeast Asia. Wat Pho is also known as the first public university in Thailand.
8. WAT ARUN, THAILAND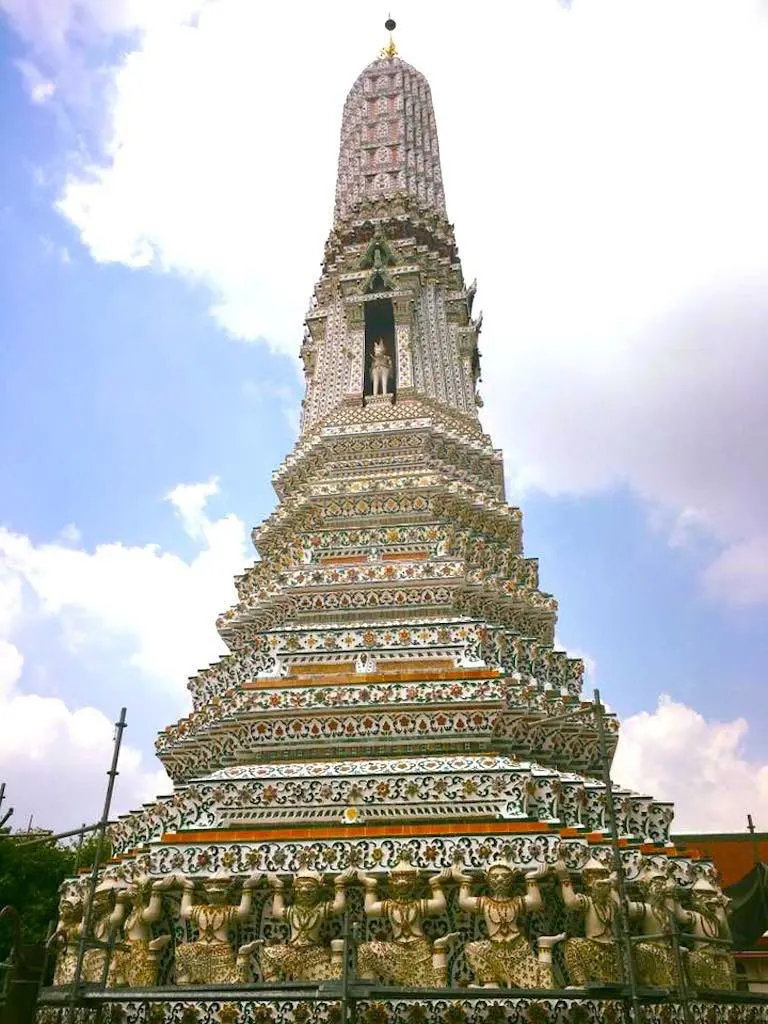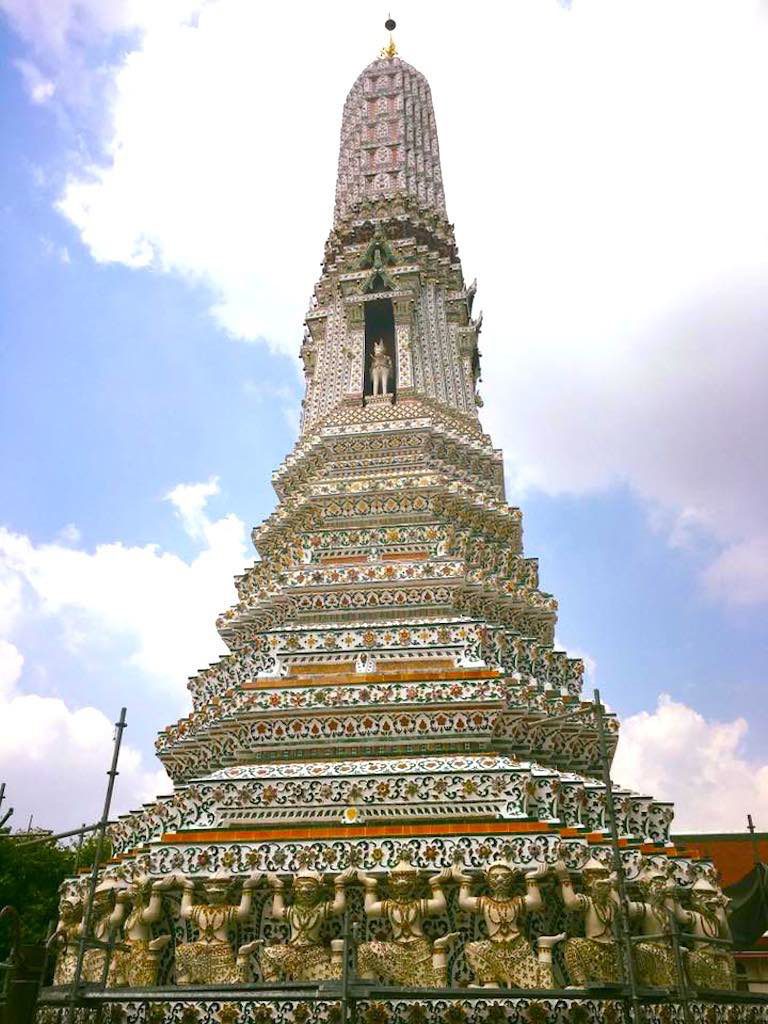 The Temple of Dawn is one of the most impressive Buddhist temples in Bangkok, a famous pagoda in Thailand, and a landmark of Thailand.
Wat Arun is wonderfully decorated with tiny pieces of Chinese porcelain and colored glass and is one of the most beautiful temples in Southeast Asia. This southeast Asian temple is dedicated to the Indian god Arun, and in its form represents Mount Meru.
Wat Arun is located on the west bank of the Chao Phraya River in Bangkok across the Grand Palace complex in Bangkok.
MAYBE YOU ALSO WOULD LIKE TO READ:
Best Things to do in Bangkok, Thailand
Bangkok itinerary for First Timers
9. WAT RONG KHUN, THAILAND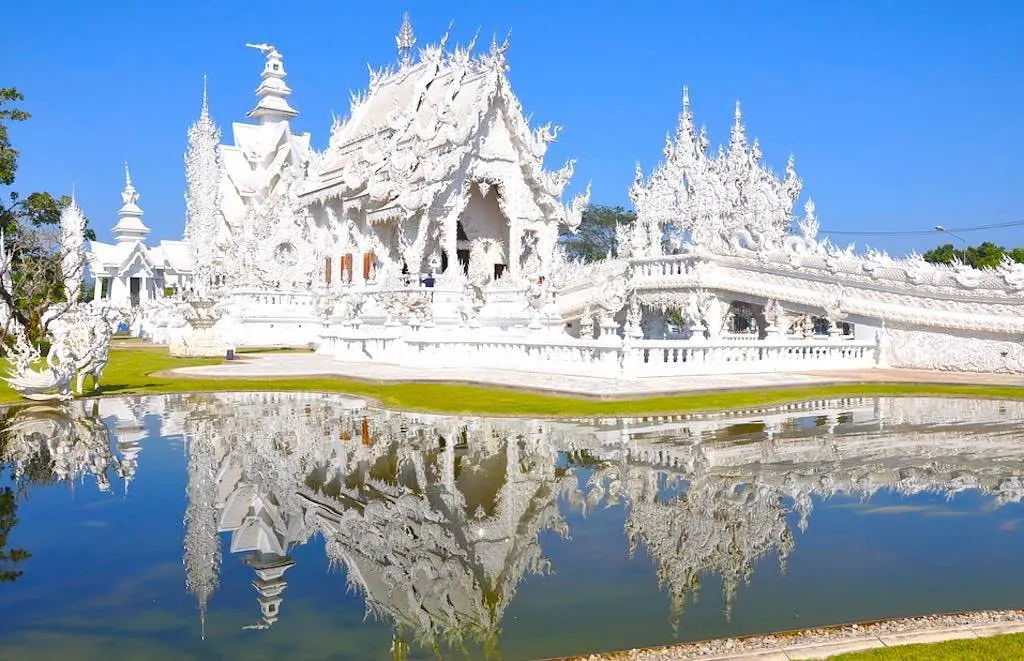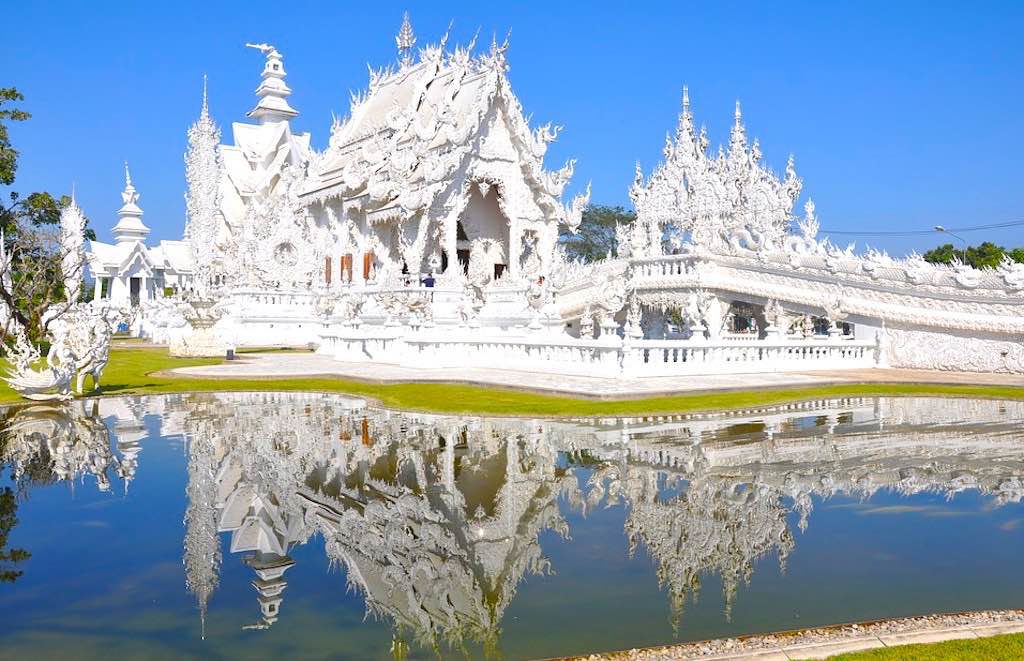 The White Temple in Chiang Rai is a Buddhist temple of the newest date.
It was built in 1997 as an art exhibition and later became a place of Buddhist worship. This fairytale temple is an utterly unconventional Buddhist temple and a top tourist attraction in Thailand.
Wat Rong Kun in Thailand is one of the most bizarre temples in Southeast Asia.
READ MORE: Chiang Rai Temples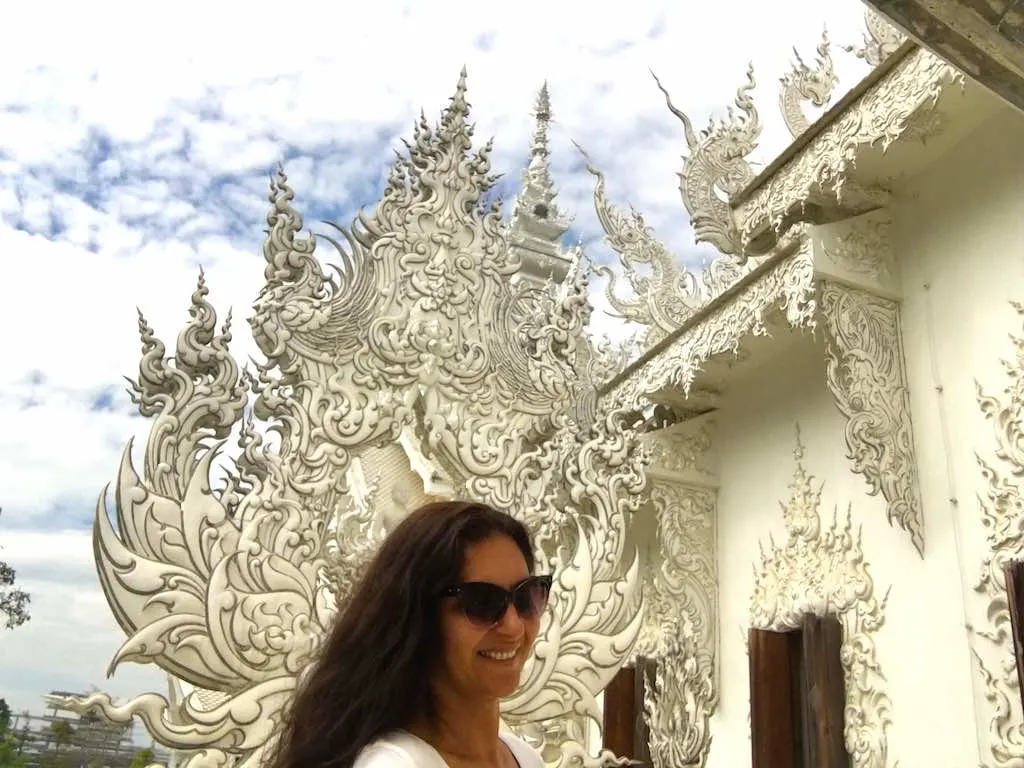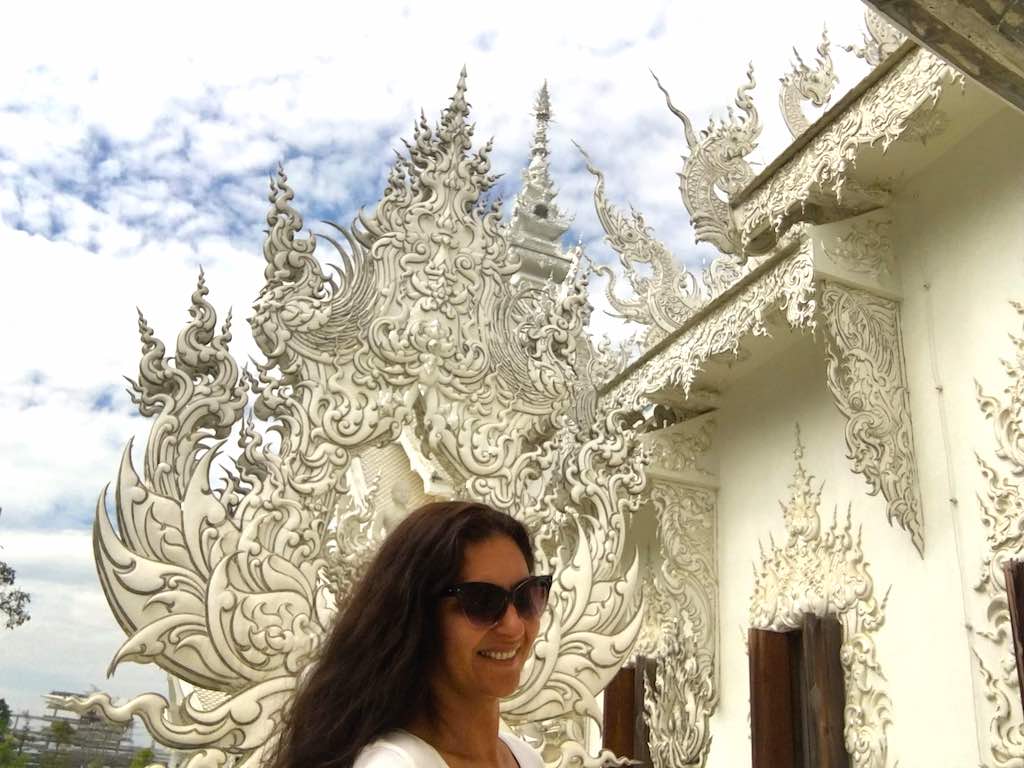 10. PHA THAT LUANG, LAOS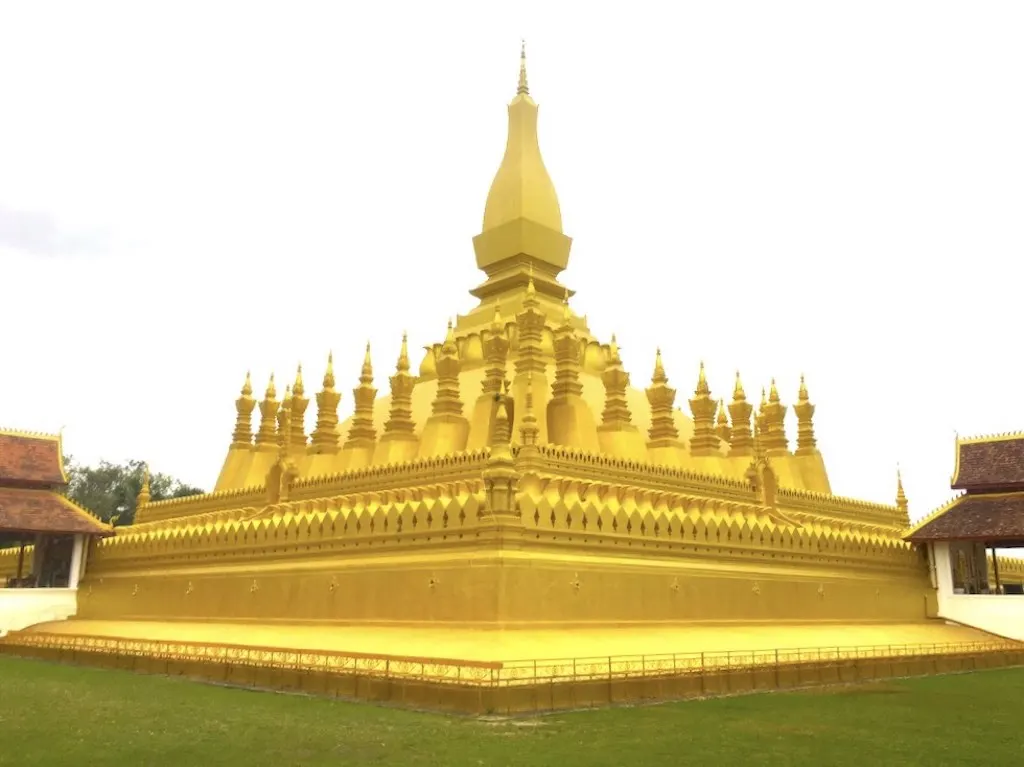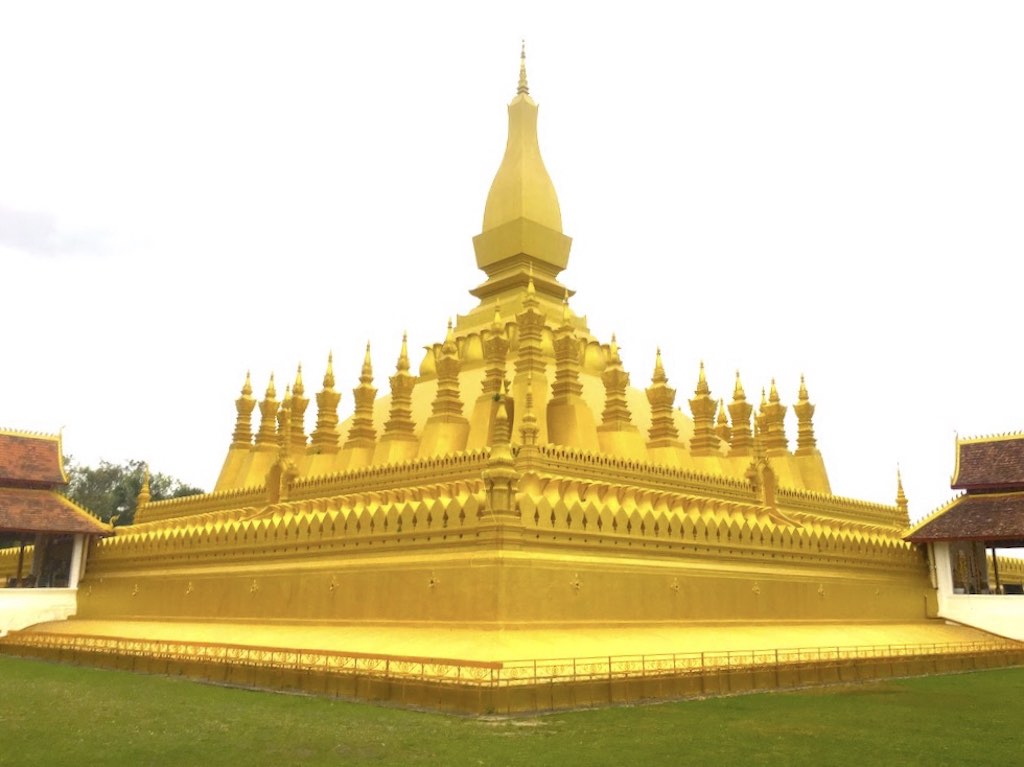 The Great Stupa in Vientiane in Laos is a national symbol of Laos and the most sacred place of Buddhism in Laos.
The Great Sacred Stupa of Laos is believed to be home to a breastbone of Buddha brought by an Indian missionary to Laos in the 3rd century. The current stupa was built in the 16th century on the site of a 13th century Khmer ruin.
Every terrace of Phi That Luang stupa represents a different stage of enlightenment: from the material world to nothingness.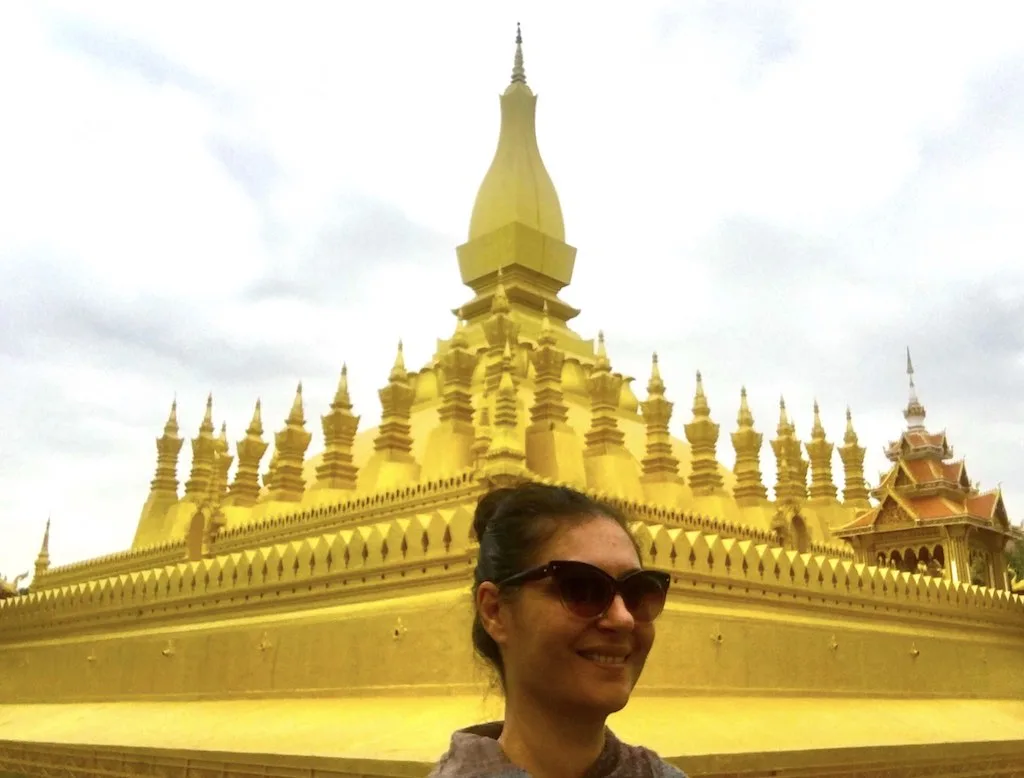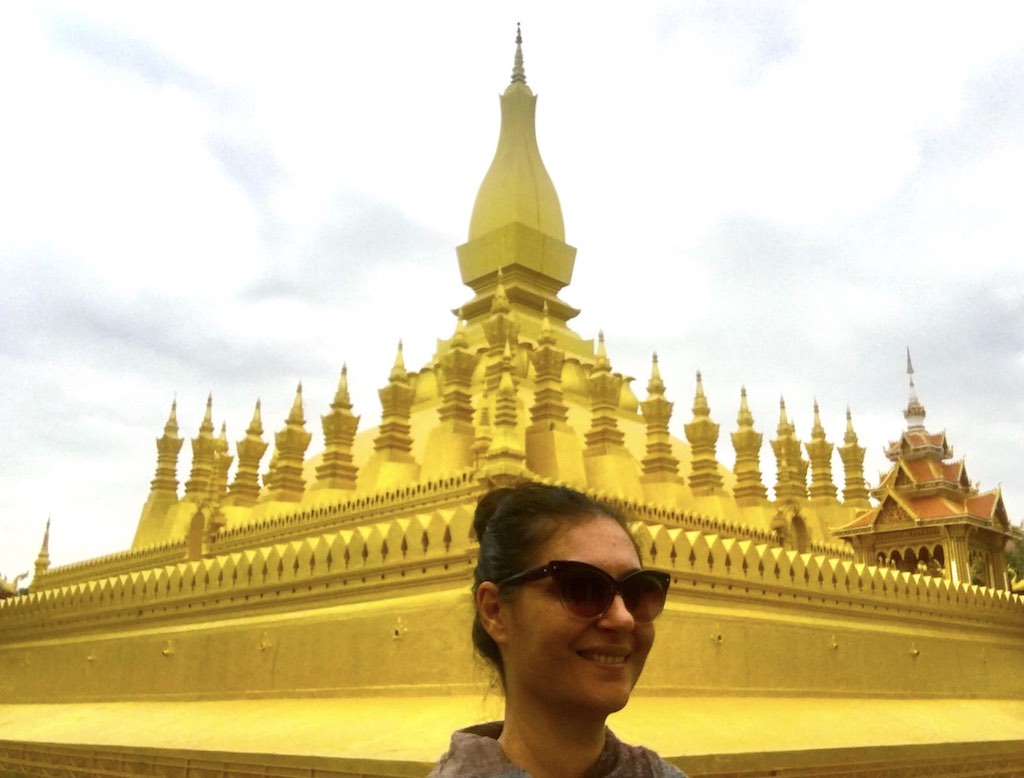 MAYBE YOU ALSO WOULD LIKE TO READ: Buddha Park in Vientiane
11. WAT XIENG THONG, LAOS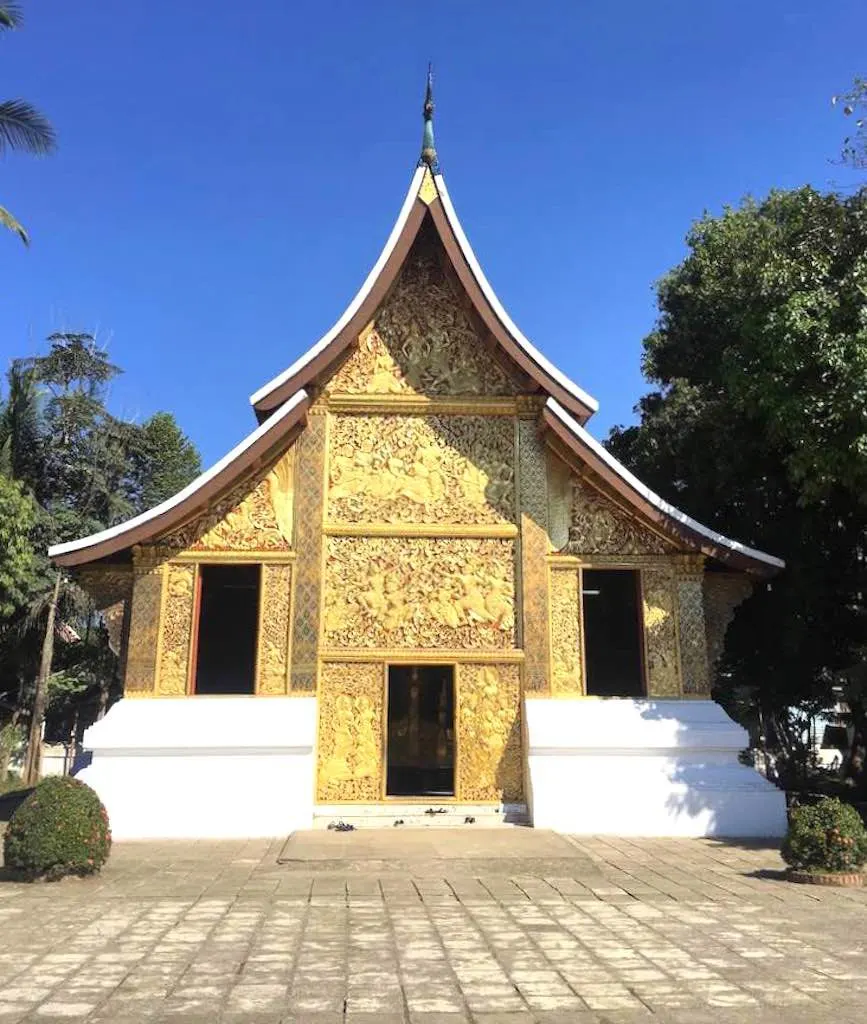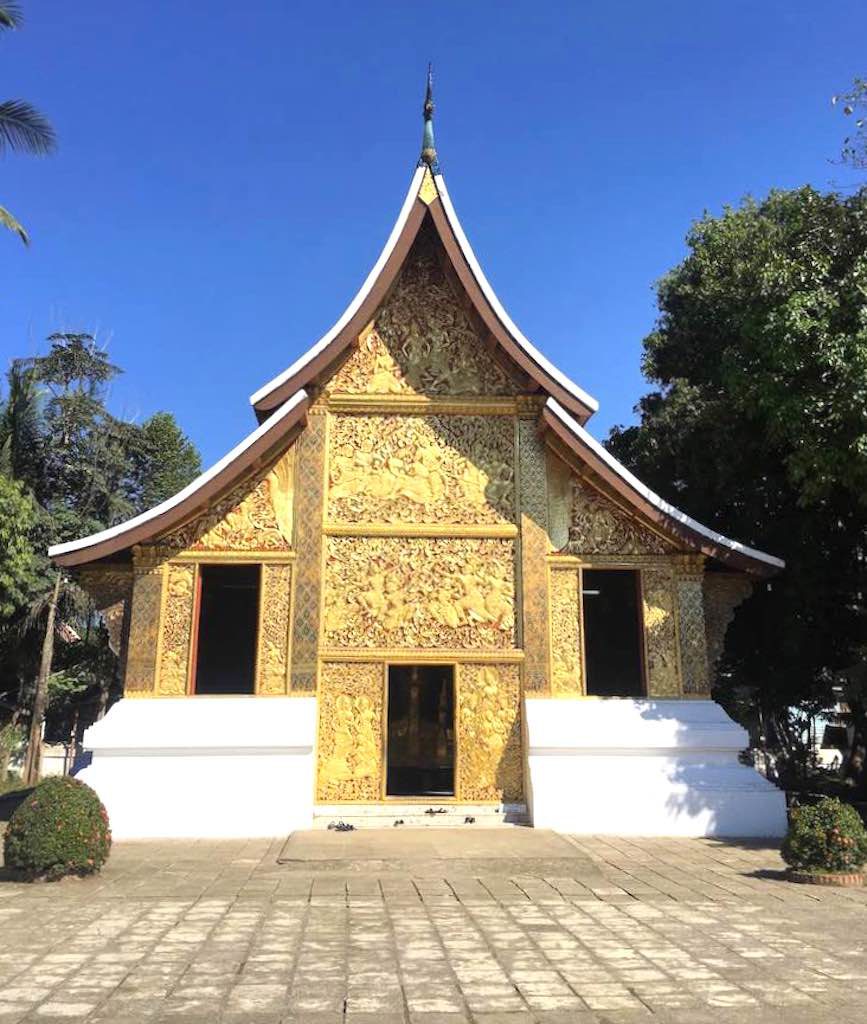 The Golden City Temple is a Buddhist temple in Luang Prabang in Laos.
Wat Xieng Thong was built in the 16th century as a royal temple where Lao kings were crowned until 1975. This holy site of Buddhism is a brilliant example of traditional Lao art and craft.
Wooden golden doors of the temple picture scenes of Buddha's life, while the ceiling with dharma wheels picture Buddhist law and the circle of reincarnation.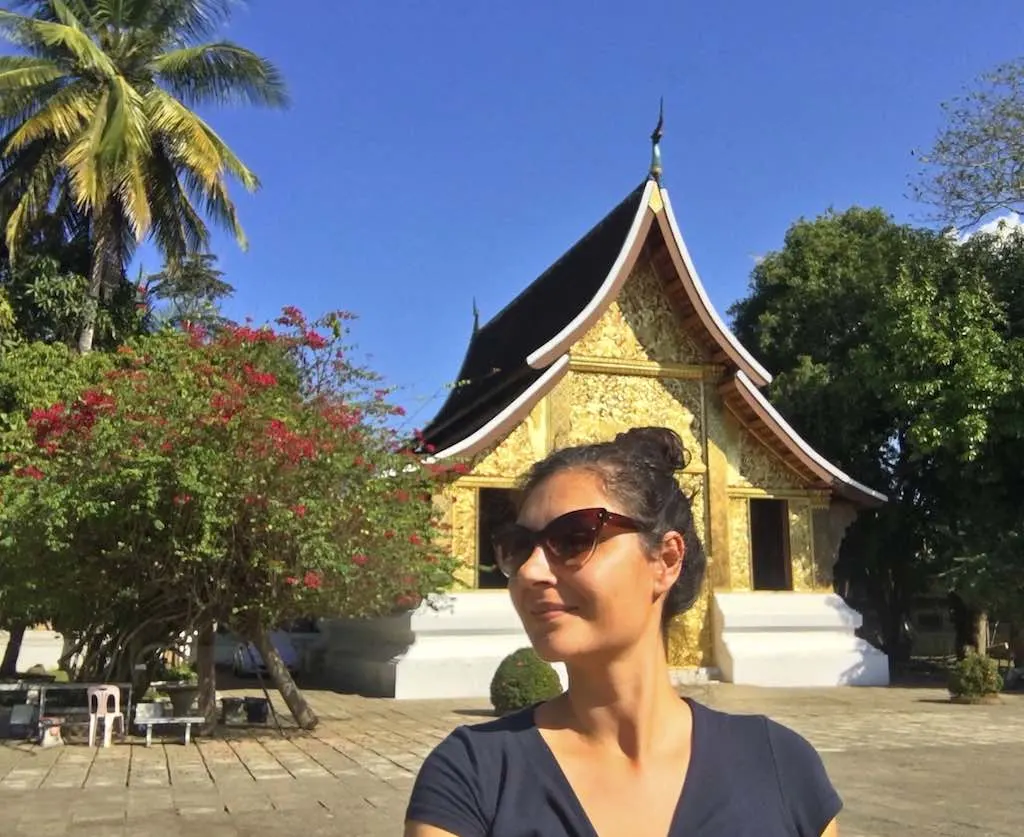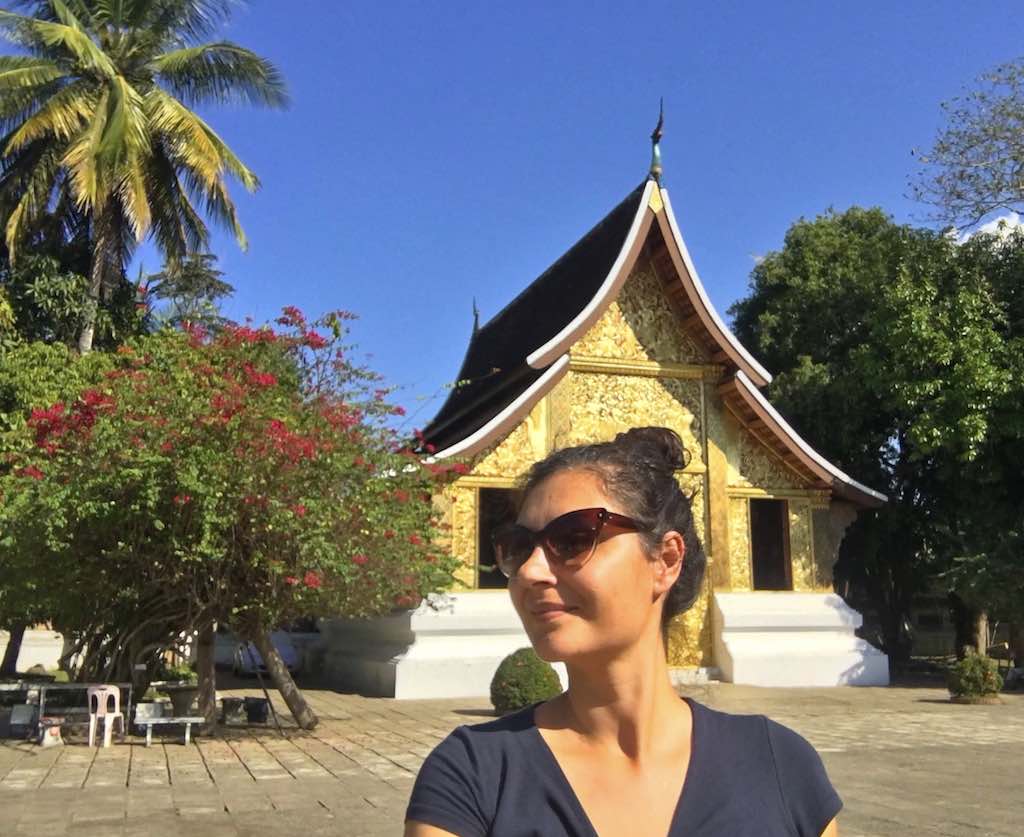 Temples in Luang Prabang are not only one of the most refined Buddhist temples in Southeast Asia, but also one of the most sophisticated temples in Asia overall.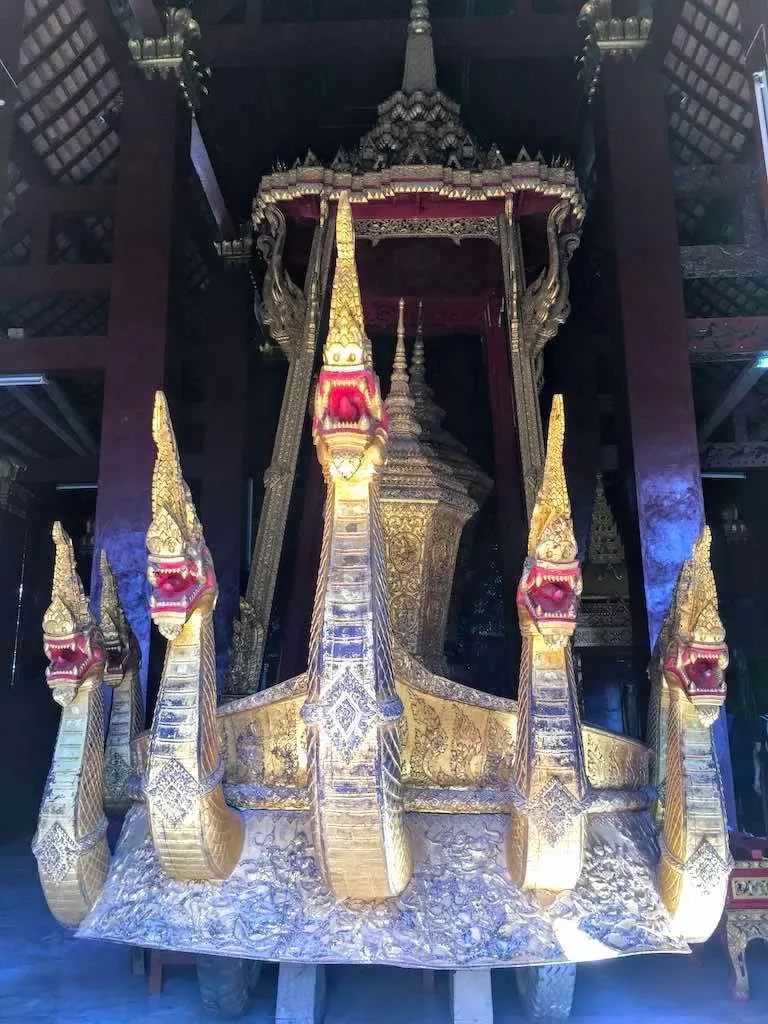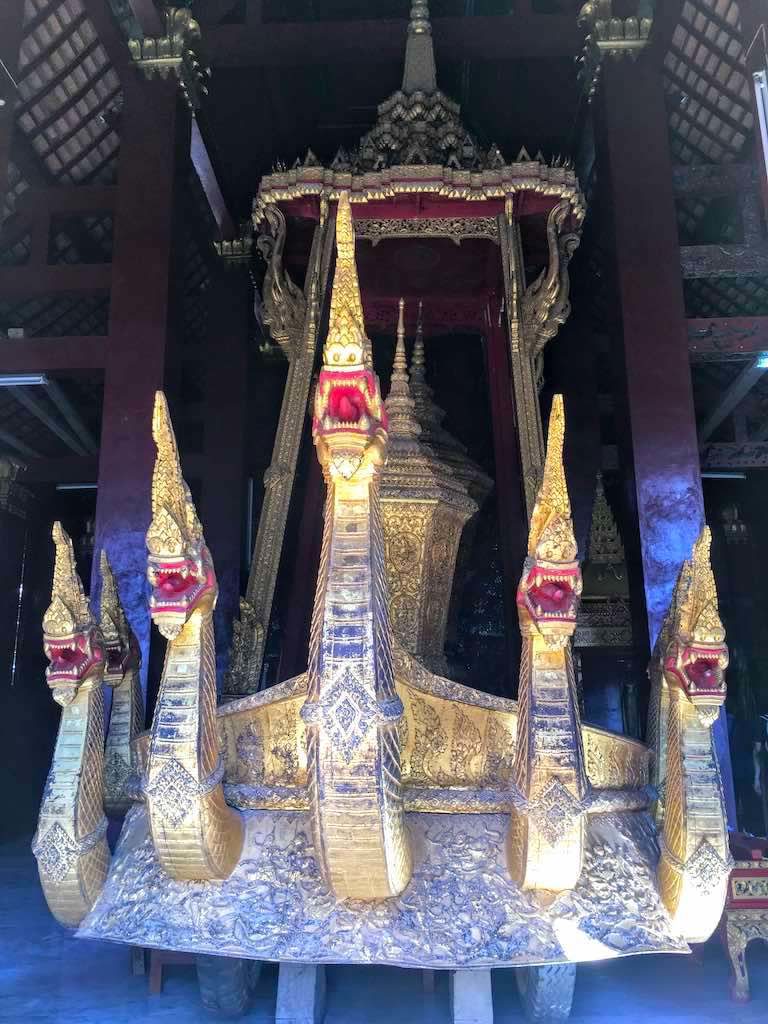 The town of Luang Prabang, meaning Royal Buddha Image, is a UNESCO World Heritage Site in Laos.
12. WAT CHEDI LUANG, THAILAND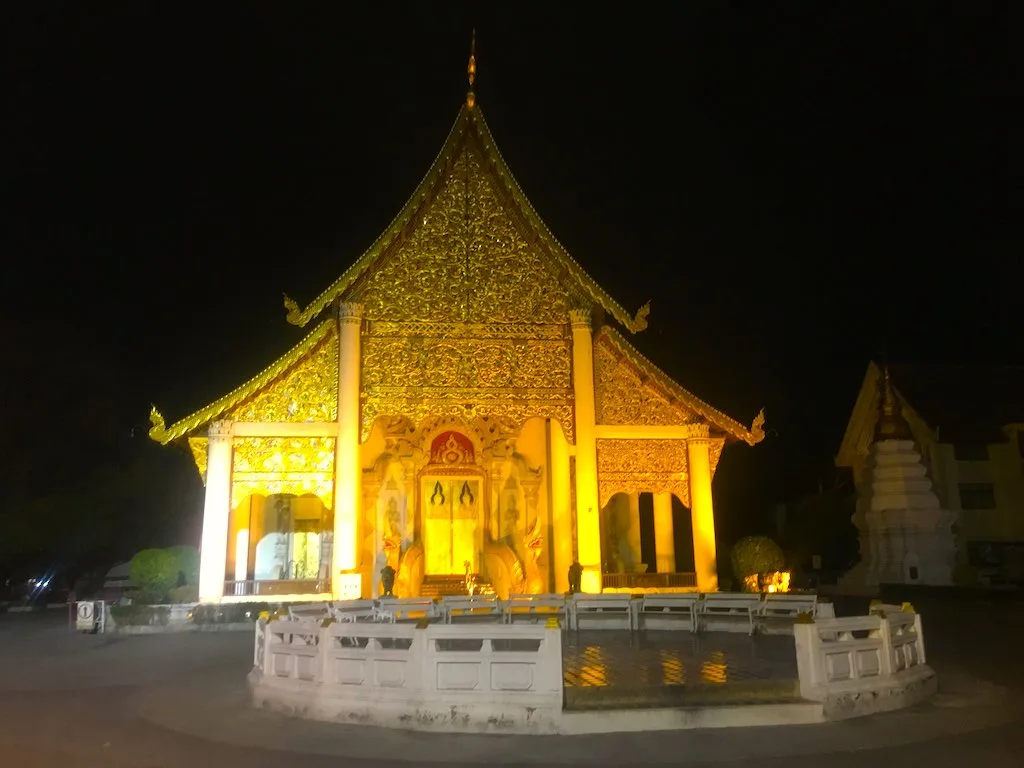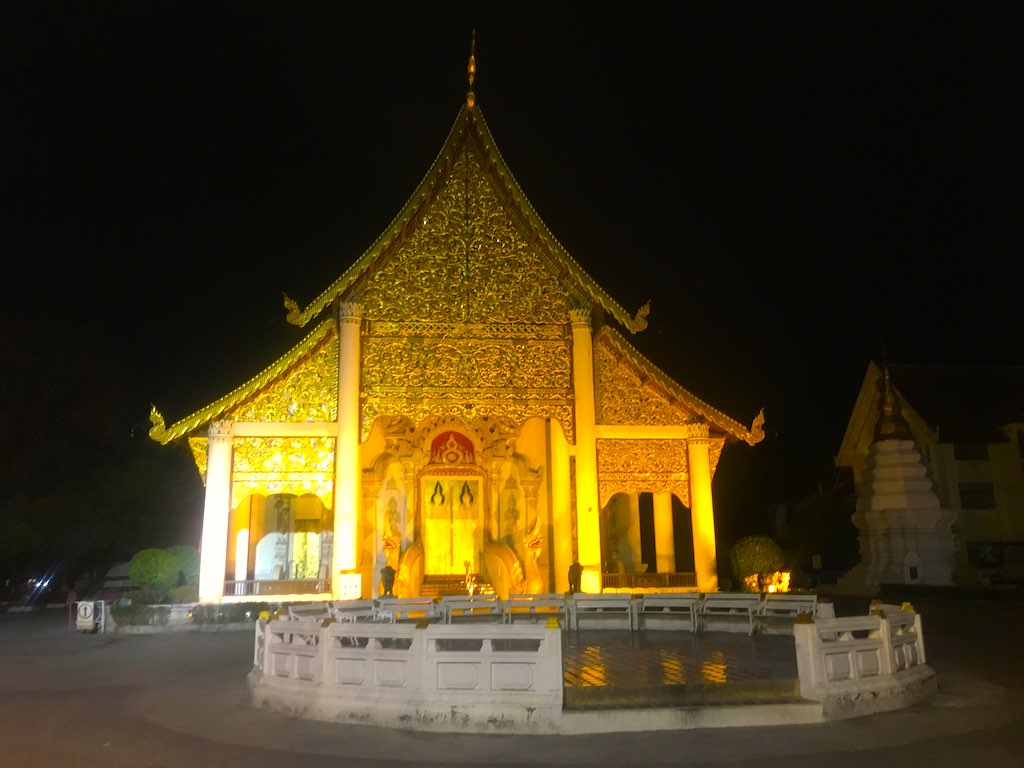 Chiang Mai in northern Thailand holds more than 300 temples. Buddhist temples in Chiang Mai are one of the most beautiful temples in Southeast Asia and one of the most famous Buddhist temples in Thailand.
Wat Chedi Luang complex or 'the Temple of the Great Stupa is one of the most important Buddhist temples in Chiang Mai in Thailand. The temple complex consists of 3 temples: Wat Chedi Luang, Wat Ho Tam, and Wat Summon.
In the 15th century, this famous Buddhist temple was home to the Emerald Buddha that today can be seen in Wat Phra Kaew in Bangkok.
13. WAT PHAN TAO, THAILAND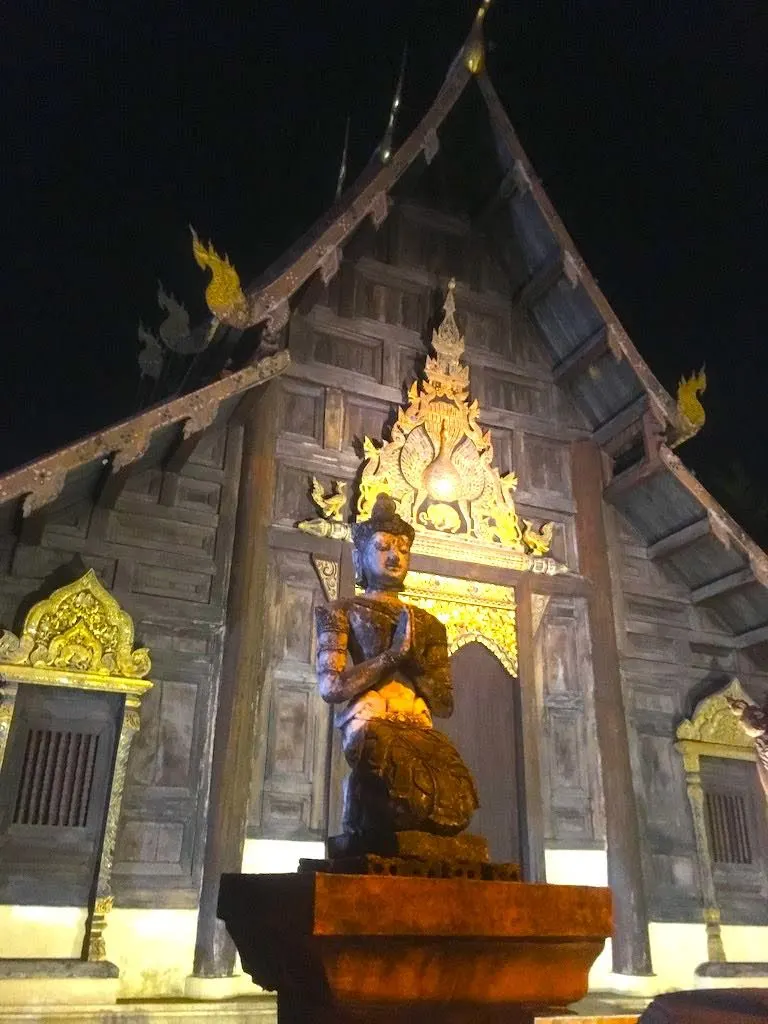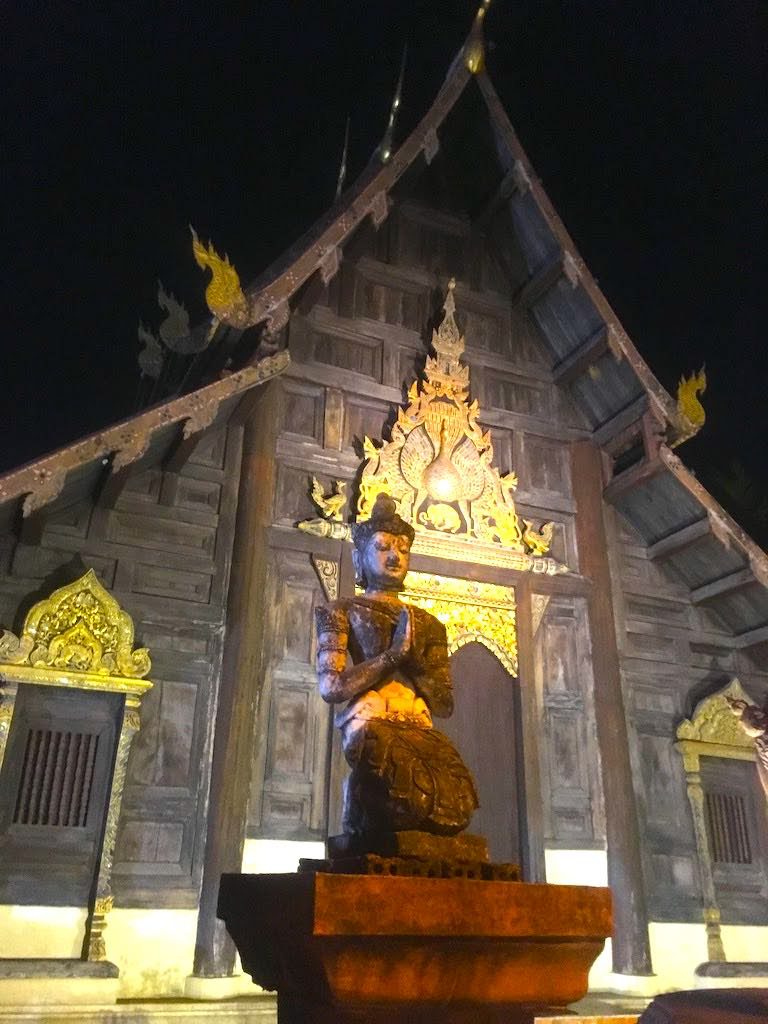 Wat Phan Tao is a wooden Buddhist temple in Chiang Mai in Thailand.
The temple was completely made of dark teak wood in the Lana style in the 14th century. A golden Buddha statue dominates the simple interior.
Wat Phan Tao was a production site of Buddha statues for the Wat Chedi Luang. Hence, the name 'Temple of Thousand Kilns'.
Wat Phan Tao is my favorite Buddhist temple in Chiang Mai because of the simple and humble appearance.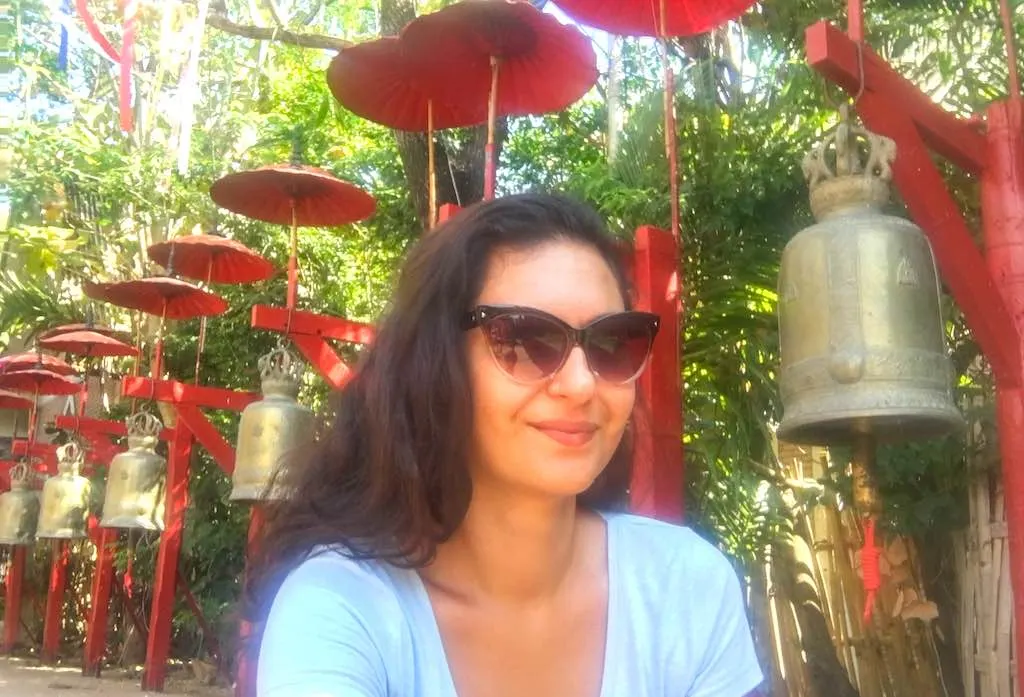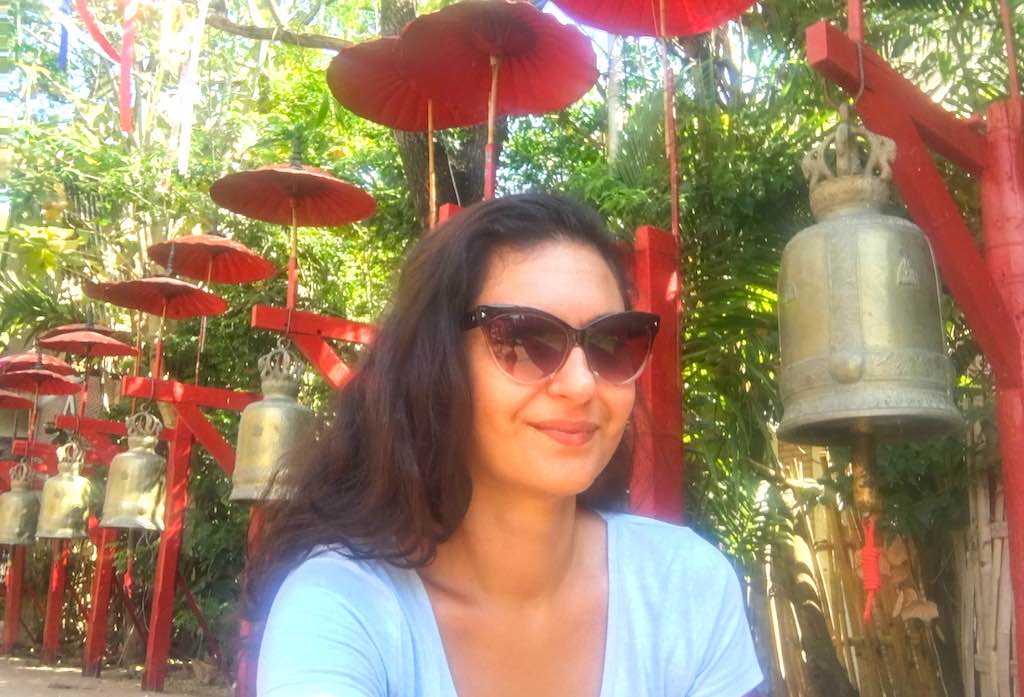 14. WAT SAEN MUANG MA LANG, THAILAND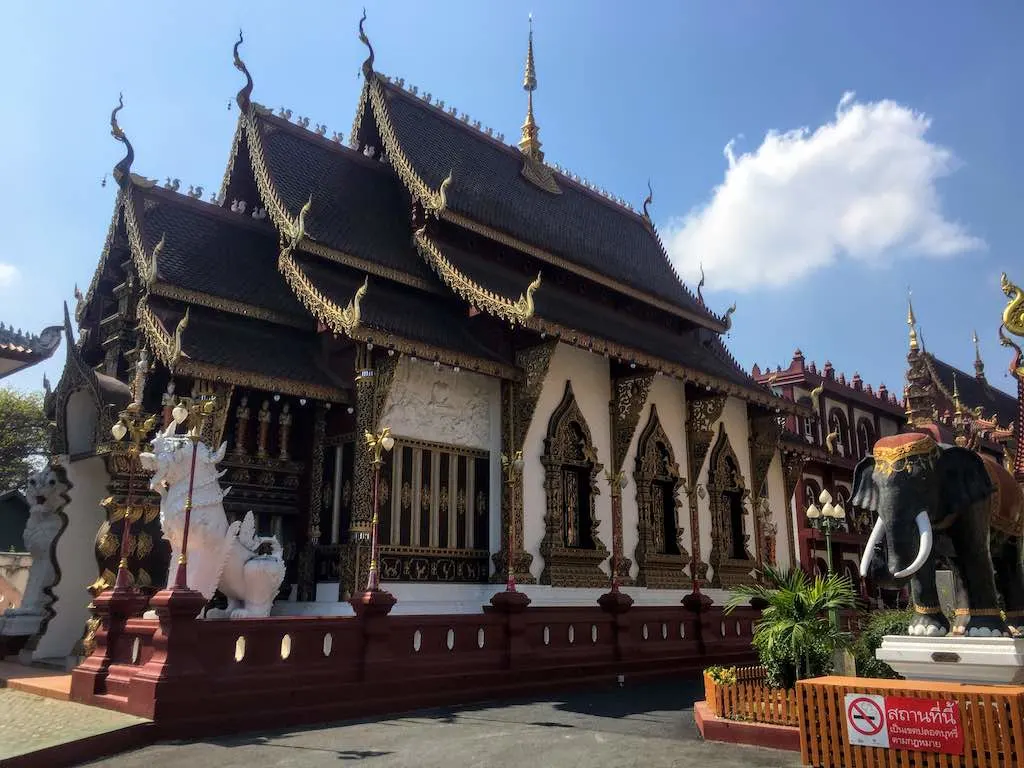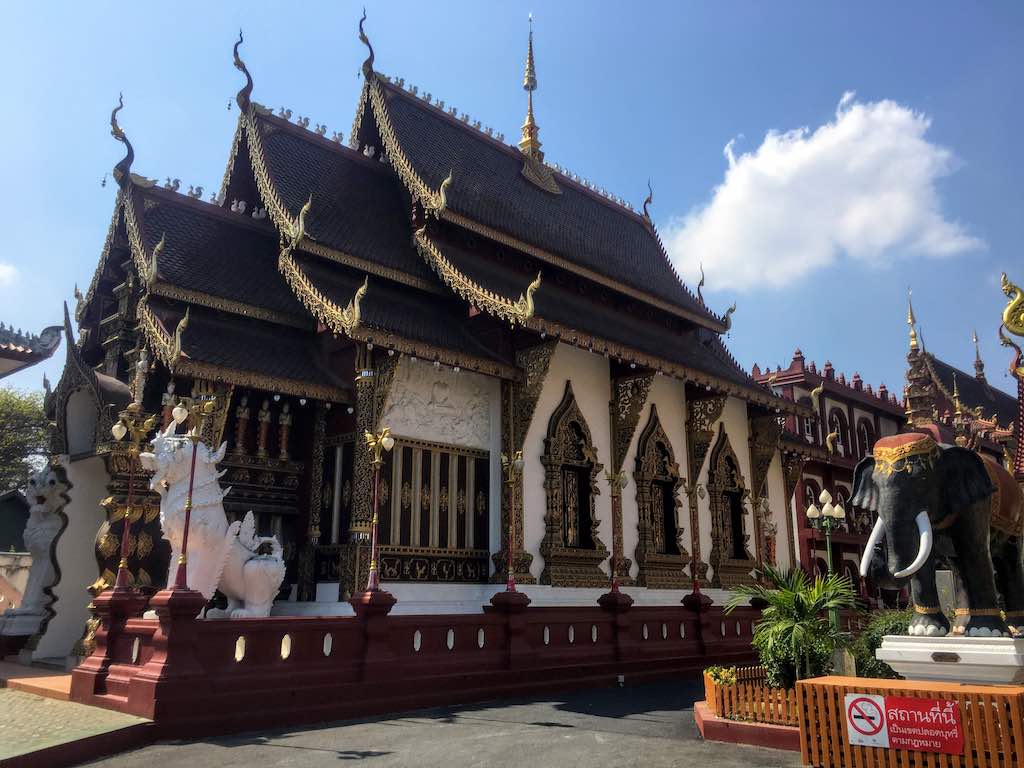 Also called Wat Hua Khuang is one of the most beautiful Buddhist temples in Chiang Mai.
This southeast Asia temple is a Burmese temple with elaborate wooden carvings and gold work with two elephants and two dragons in front guarding the temple.
The viharns (living space for monks and the meditation space) and ordination hall are built in the classic Lanna style of several tiered roofs.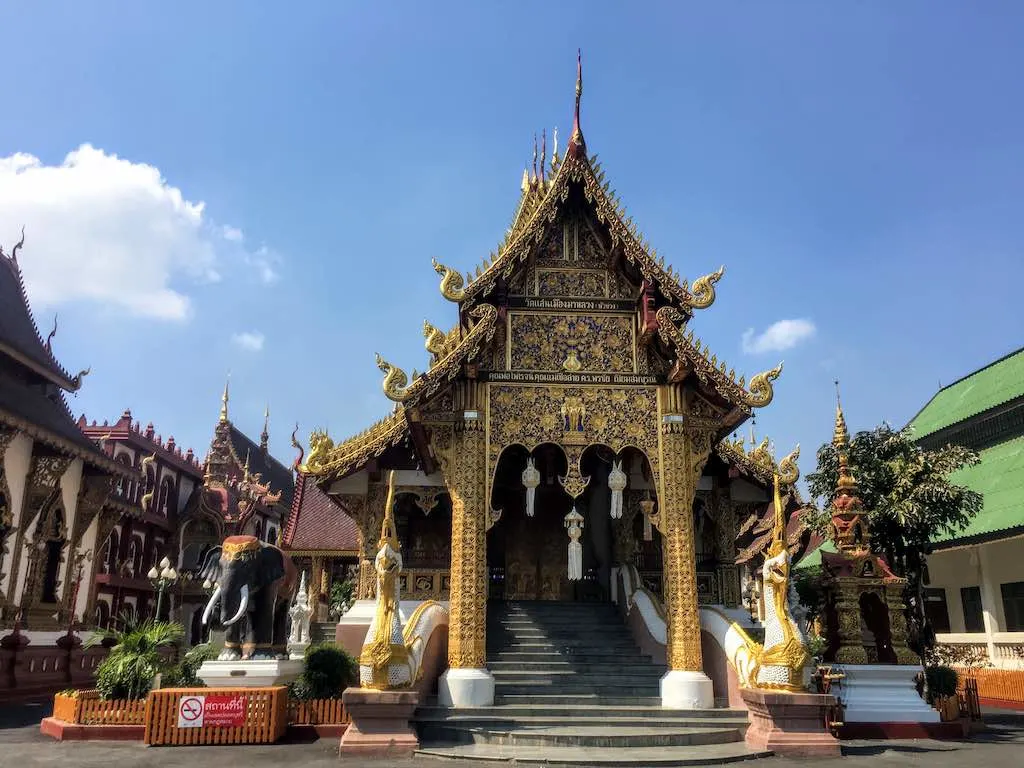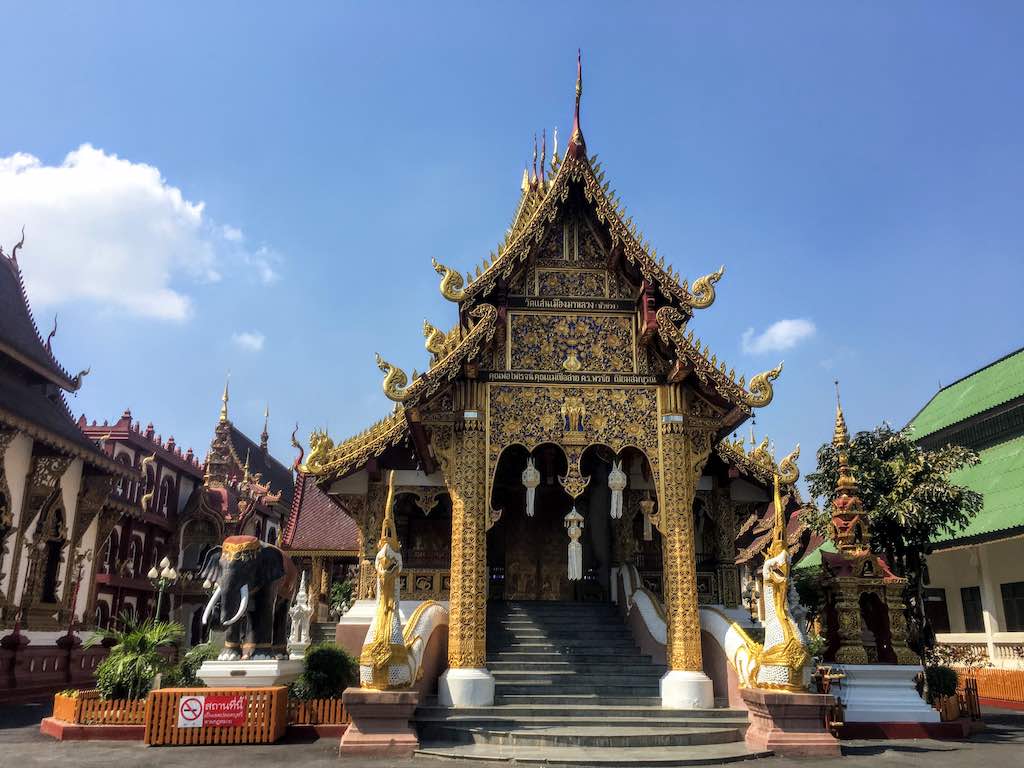 15. MARBLE MOUNTAINS, DA NANG, VIETNAM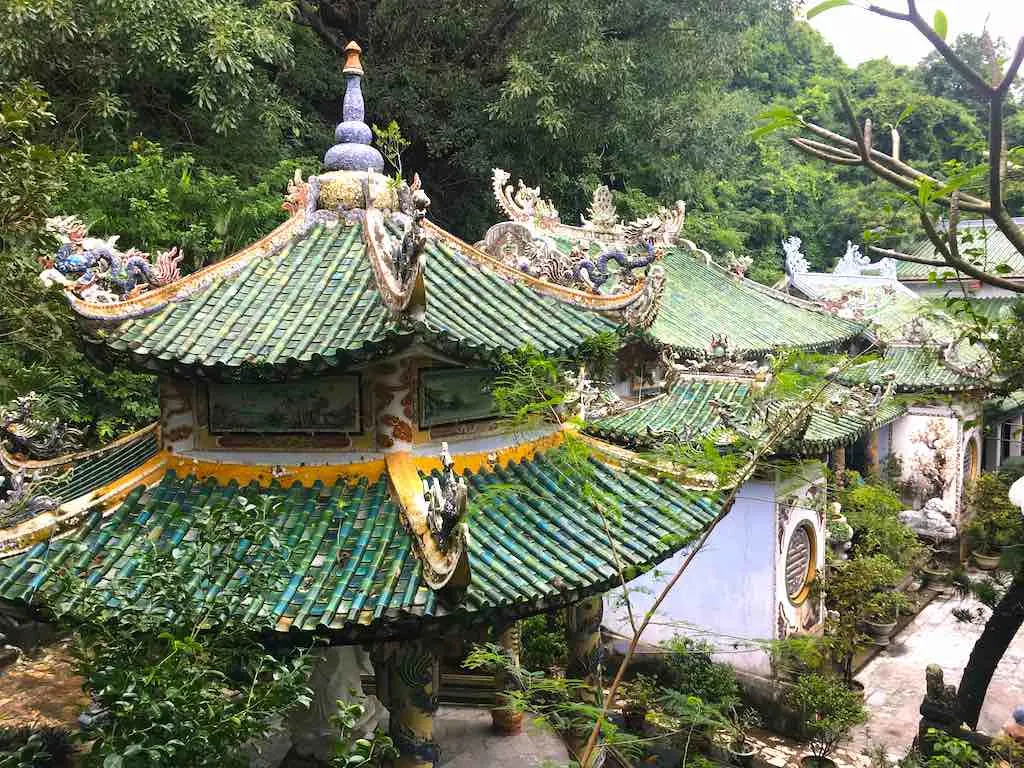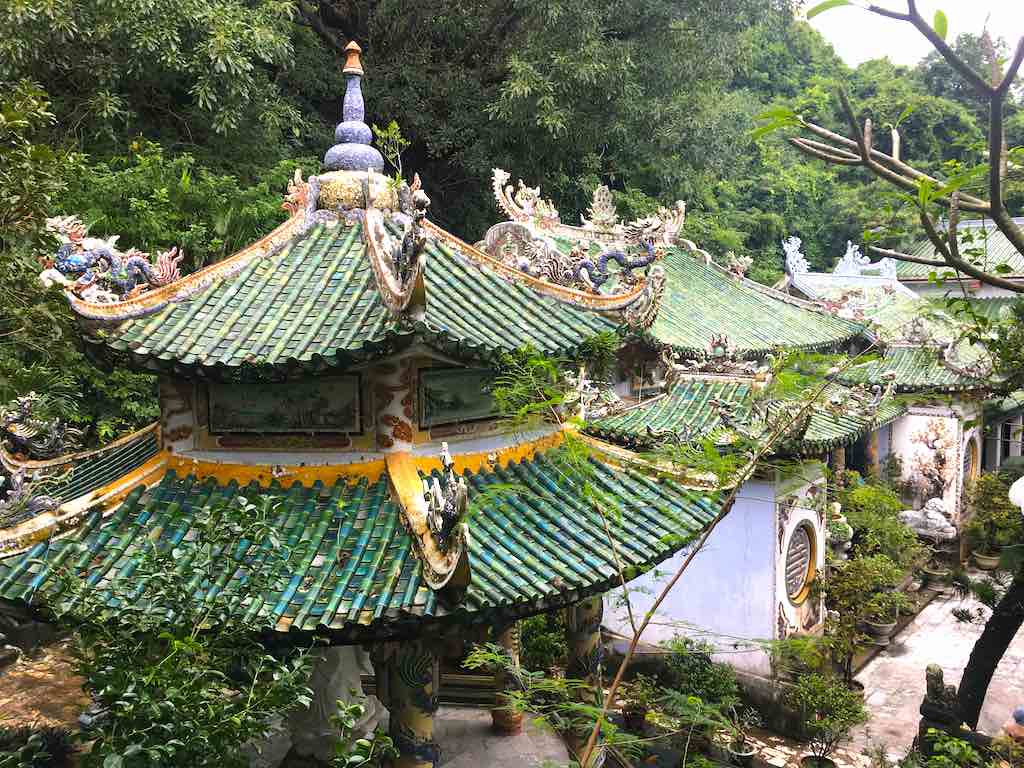 The Marble Mountains is a group of 5 sacred limestone and marble hills with caves and intricate temples near Da Nang in Vietnam.
The mountains are named after 5 elements: Tho Son (Mt Soil), Hoa Son (Mt Fire), Thuy Son (Mt Water), Moc Son (Mt Plant), and Kim Son (Mt Metal).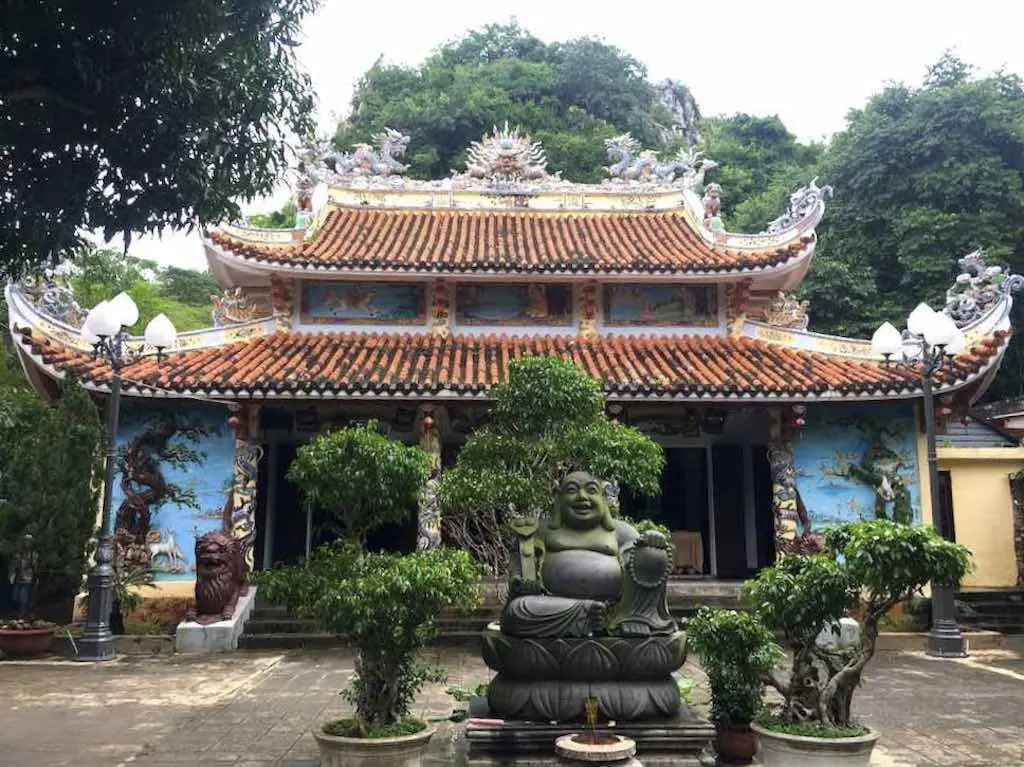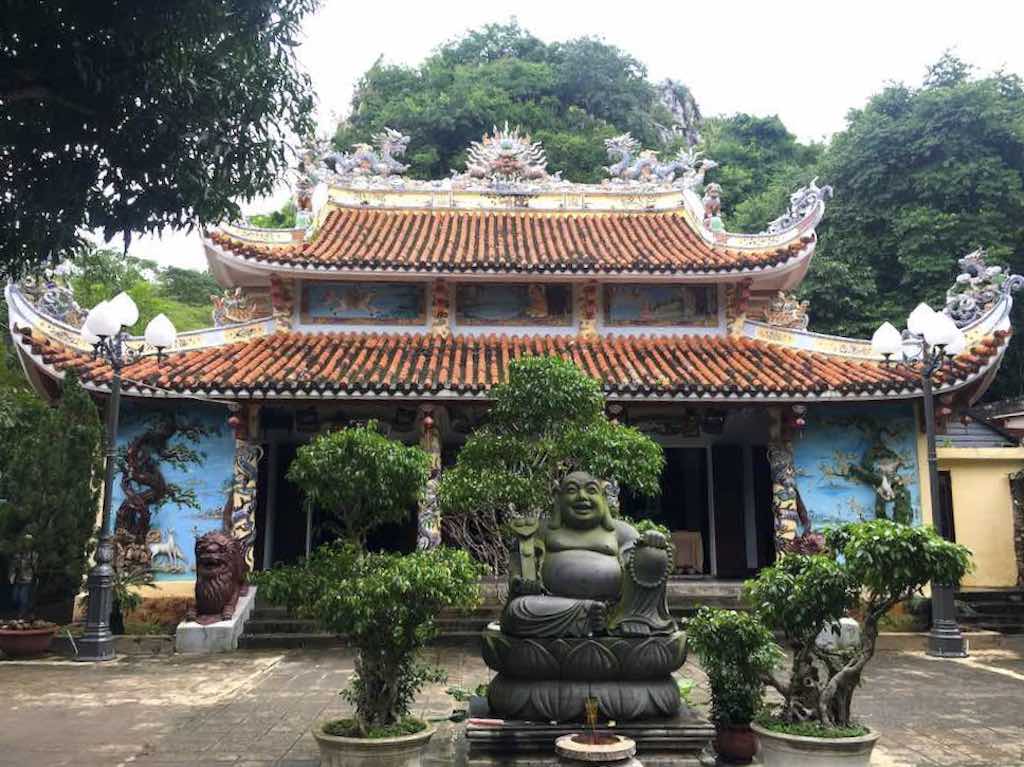 Thuy Son Mountain (the Mountain of Water) is a Hindu and Buddhist holy place of worship in Vietnam and is the only mountain of 5 mountains available for tourists.
Mt Water is a Buddhist sanctuary with Hindu and Buddhist shrines, pagodas, and caves. 156 steps lead to Tam Thai Pagoda and Torre Xa Loi Pagoda on the top of Mt Water.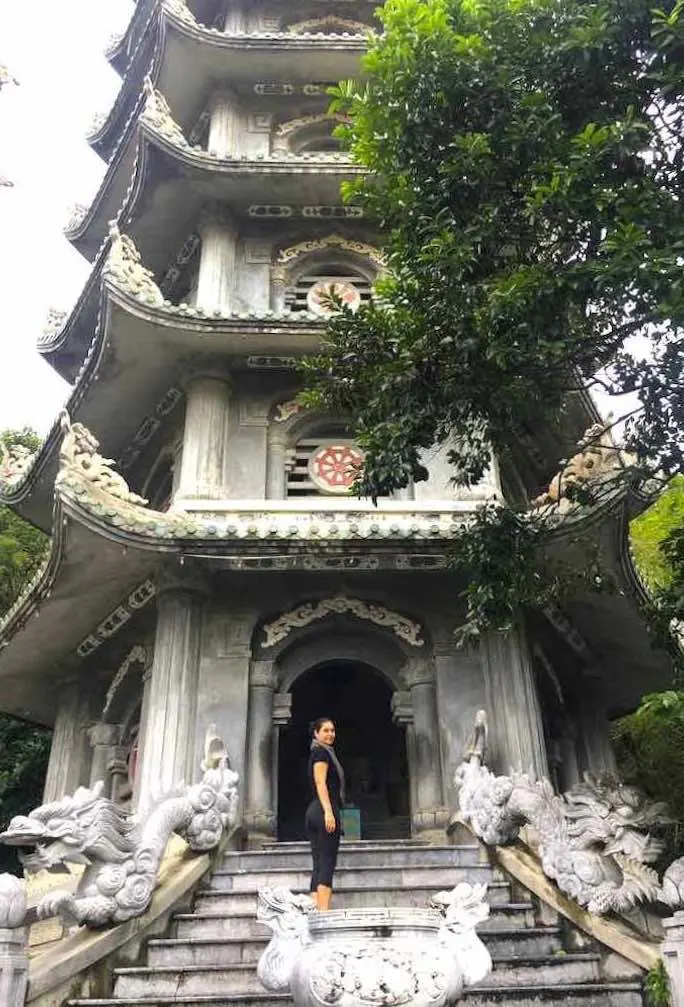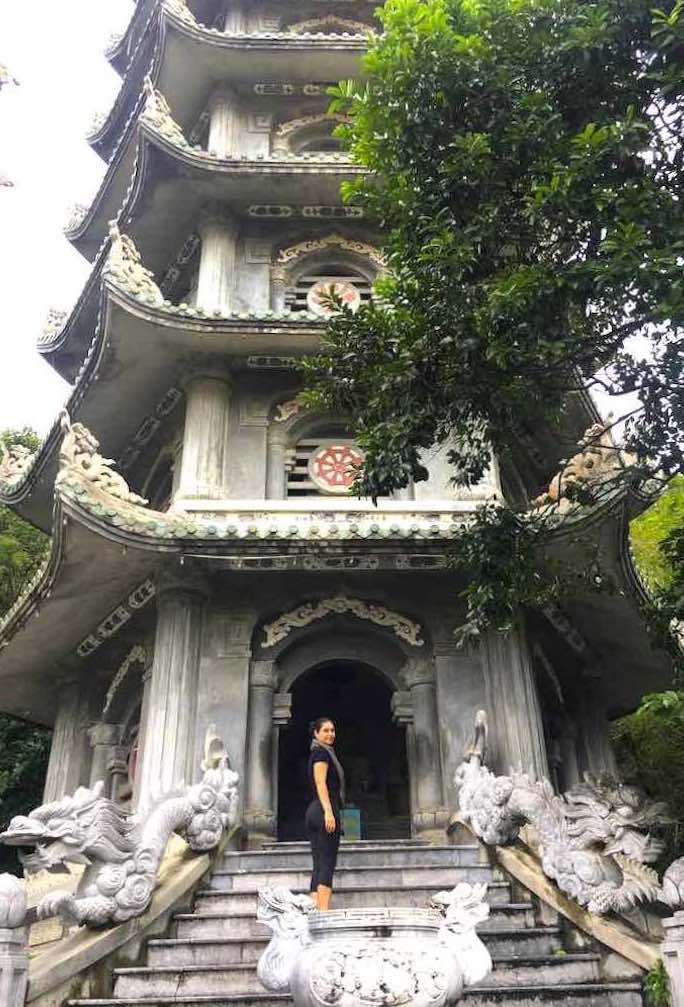 MAYBE YOU ALSO WOULD LIKE TO READ: Fairy Stream in Muine in Vietnam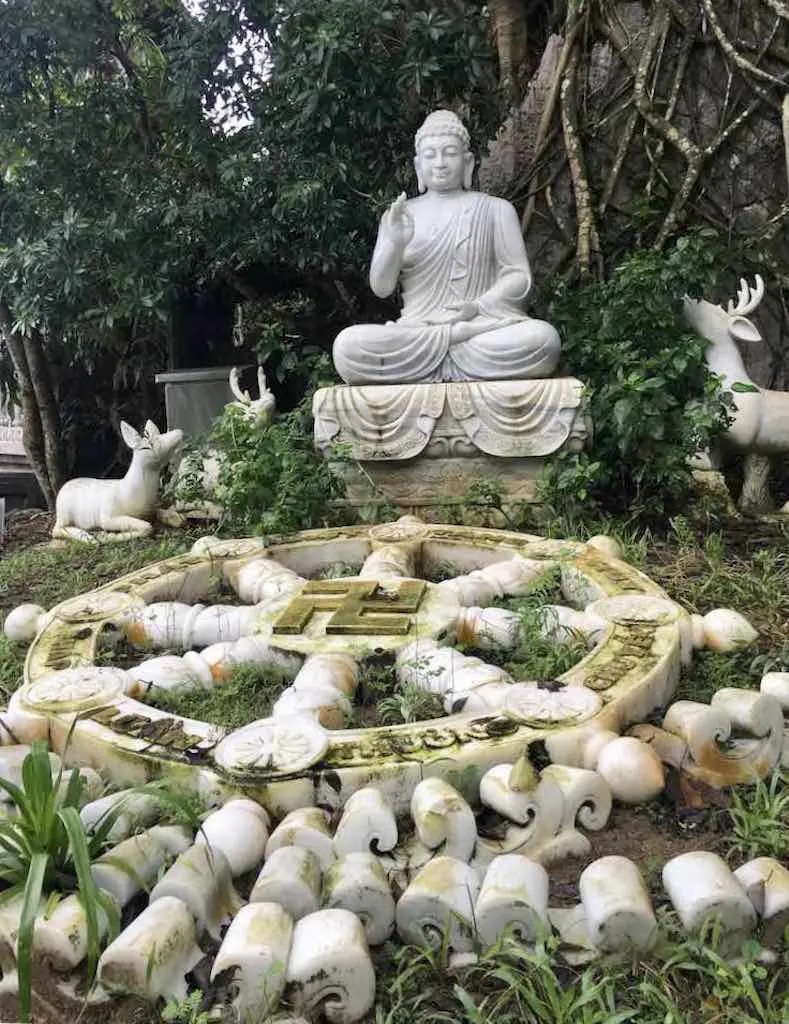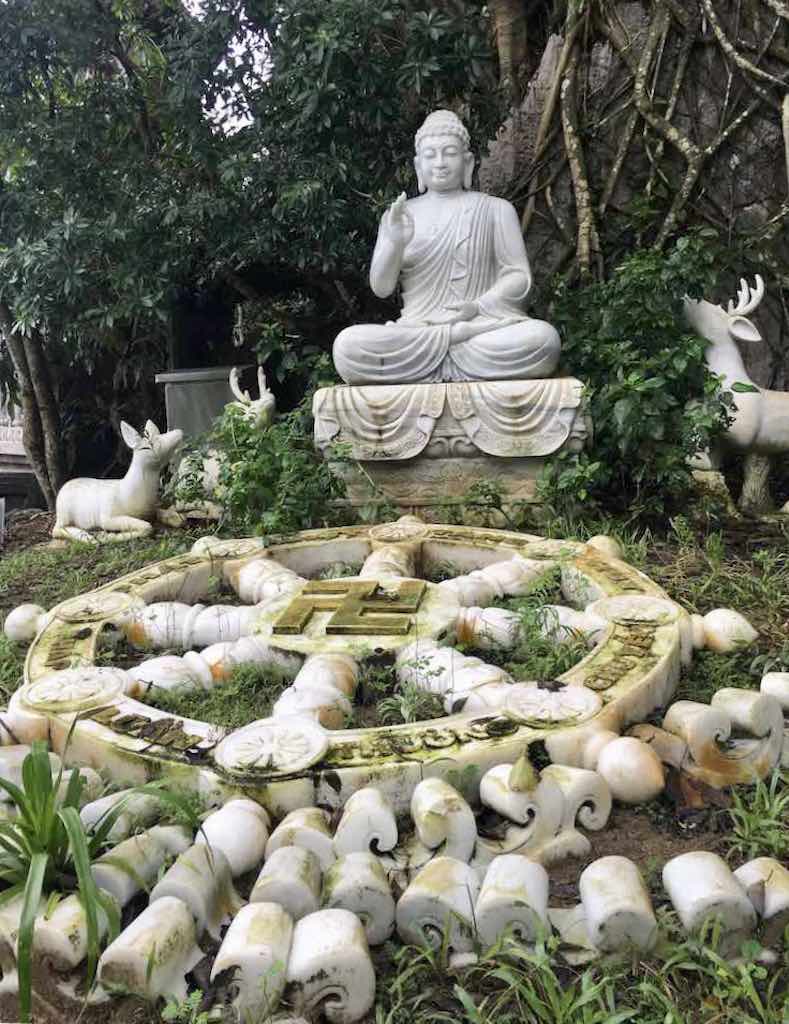 16. WAT PHNOM, CAMBODIA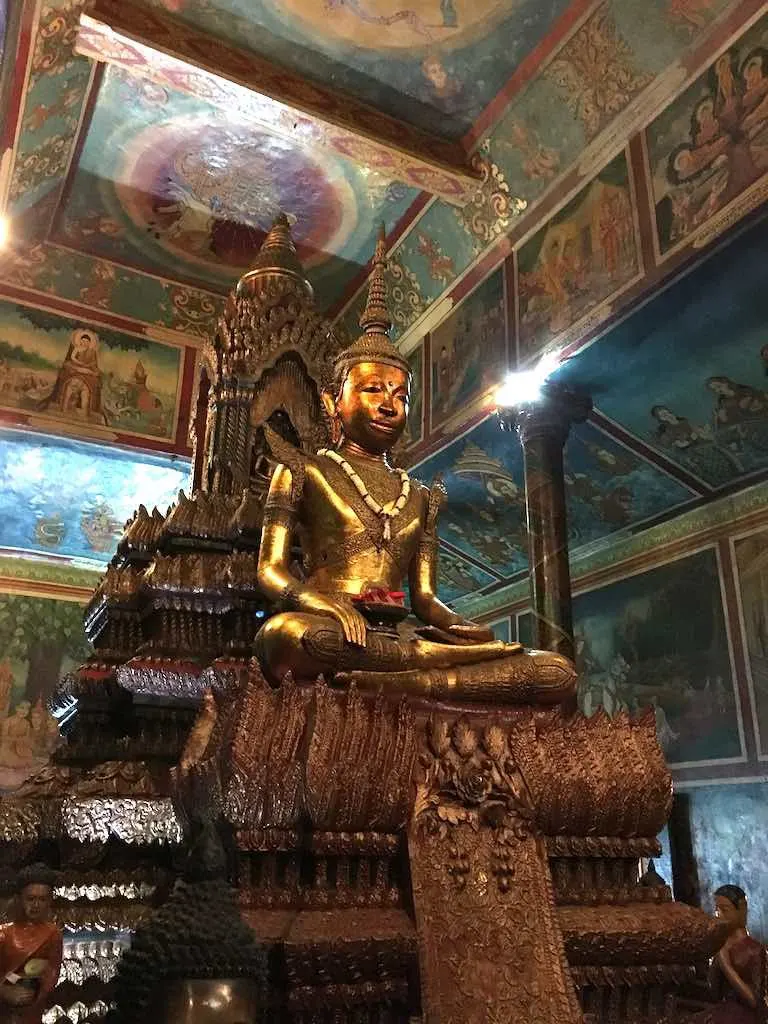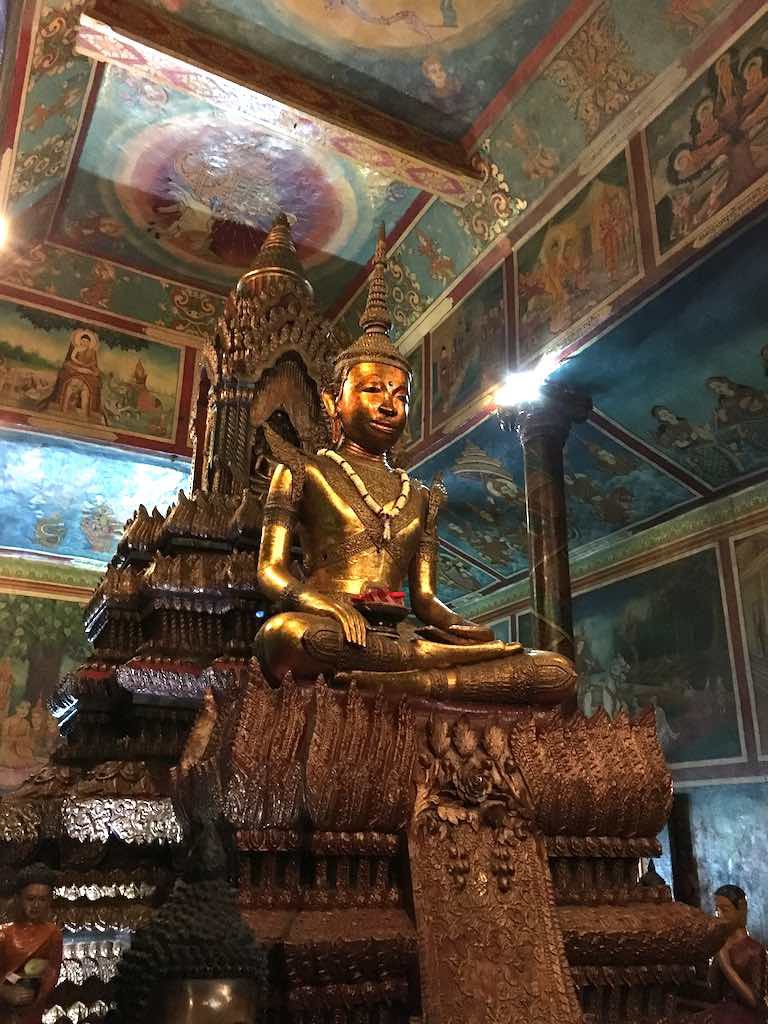 Wat Phnom is a Buddhist temple in Phnom Penh in Cambodia.
It was built in the 14th century on a hill and therefore is named 'the Hill Temple'. According to a legend, a widow named Penh found 4 Buddha statues in a koki tree floating in the river. She built a small shrine on a raised ground, which is later to be known as Penh's Hill, to home the statues.
The last king of the Khmer Empire moved the capital from Angkor to Phnom Penh and raised the hill building a new shrine.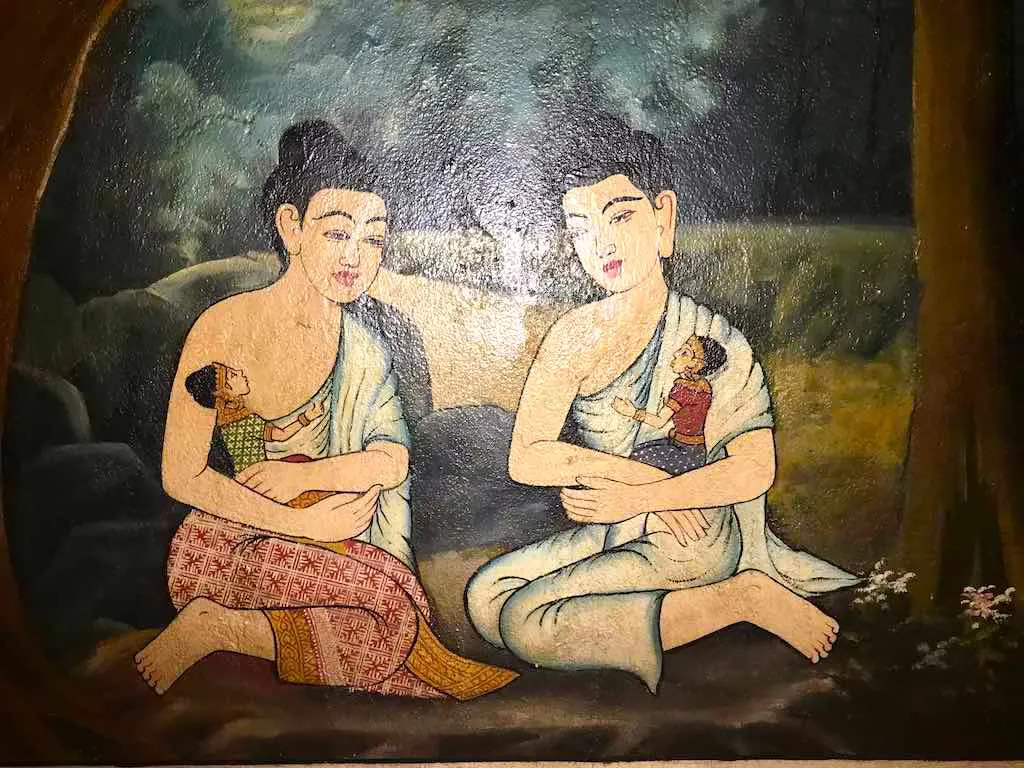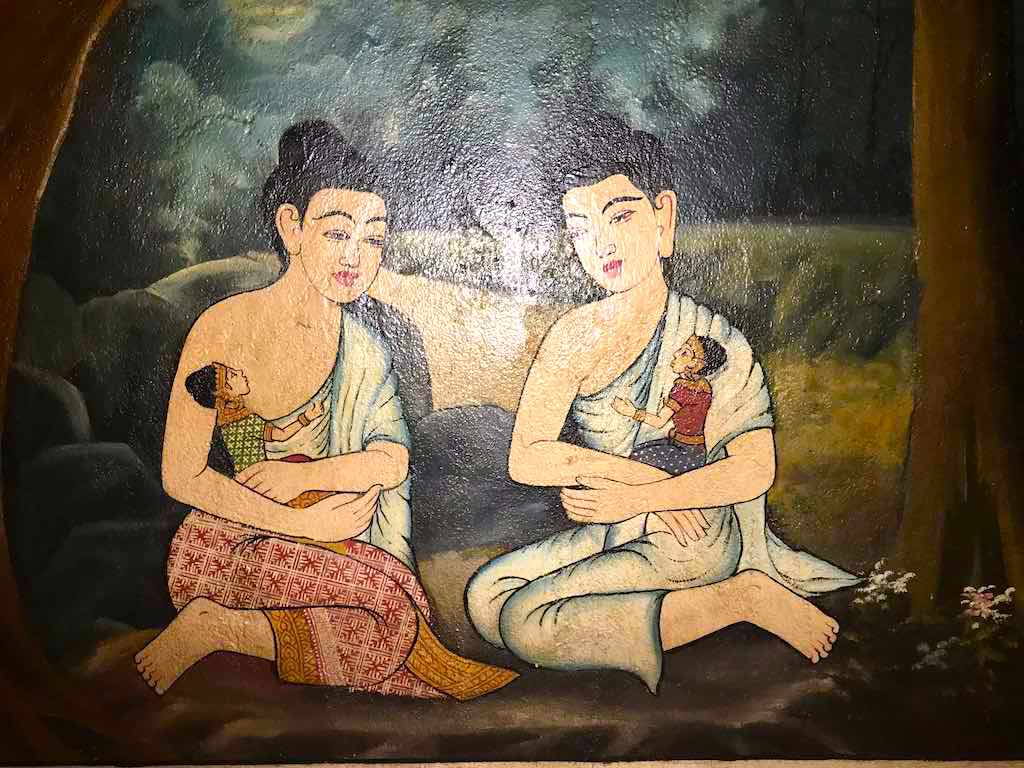 The temple seats a huge bronze Buddha statue and holds exquisite wall paintings with stories of Buddha life and a Khmer version of the Ramayana.
Wat Phnom is the main Buddhist holy site in Phnom Penh for celebrating Khmer New Year. Khmer New Year takes place on 13 April.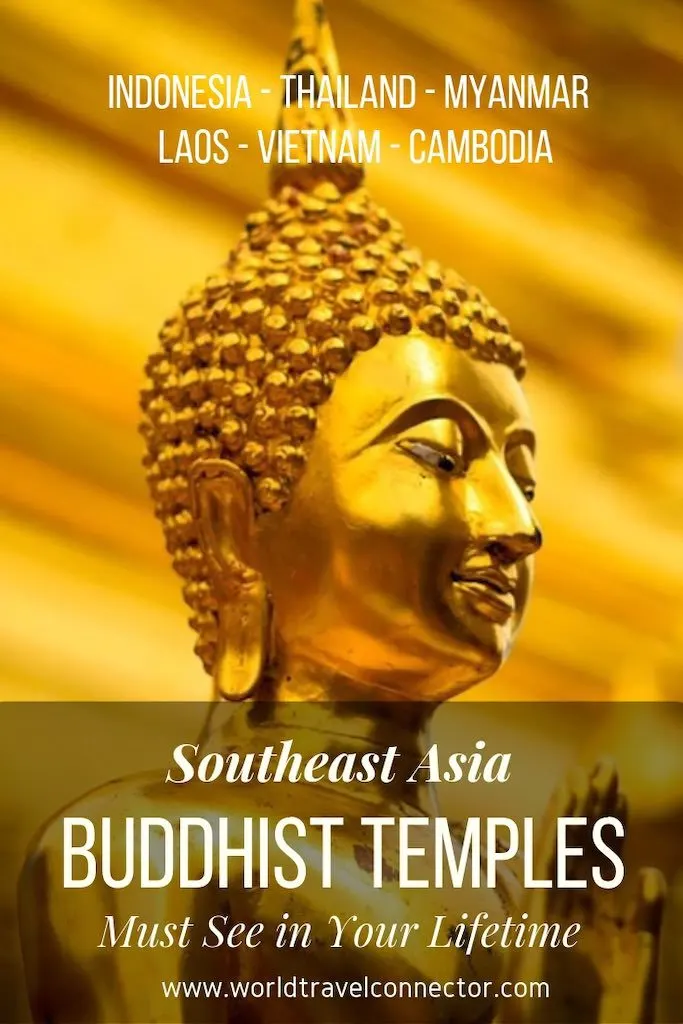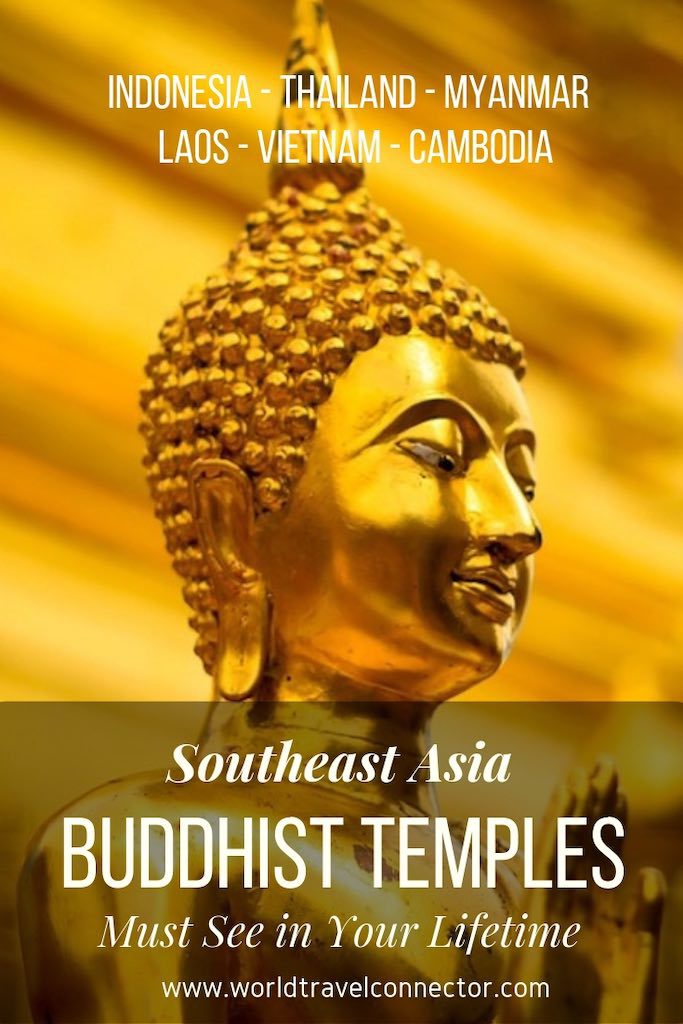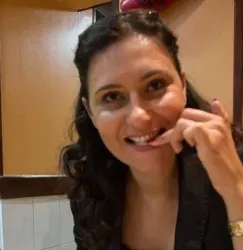 Latest posts by Milijana Gabrić
(see all)