Borobudur vs. Prambanan – should you visit Borobudur or Prambanan, or should you visit both?
Borobudur and Prambanan temples in Java are famous Indonesian temples and breathtaking World Heritage sites in Indonesia
THIS POST MAY CONTAIN COMPENSATED LINKS. PLEASE READ MY DISCLAIMER FOR MORE INFO.
BOROBUDUR AND PRAMBANAN TEMPLES: BOROBUDUR VS PRAMBANAN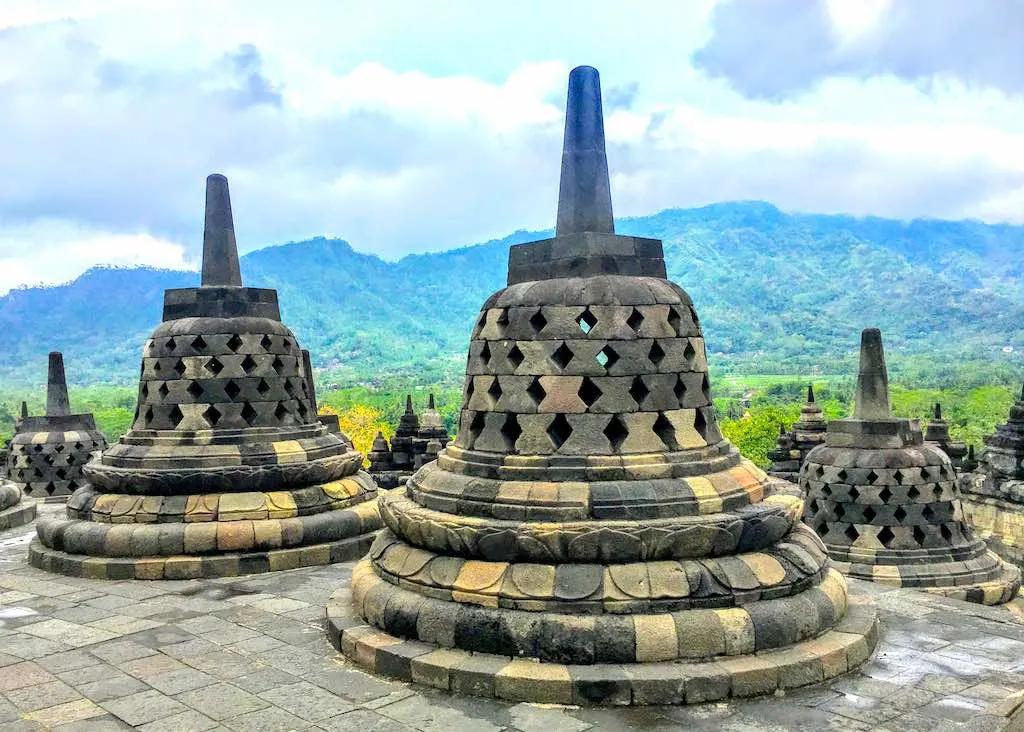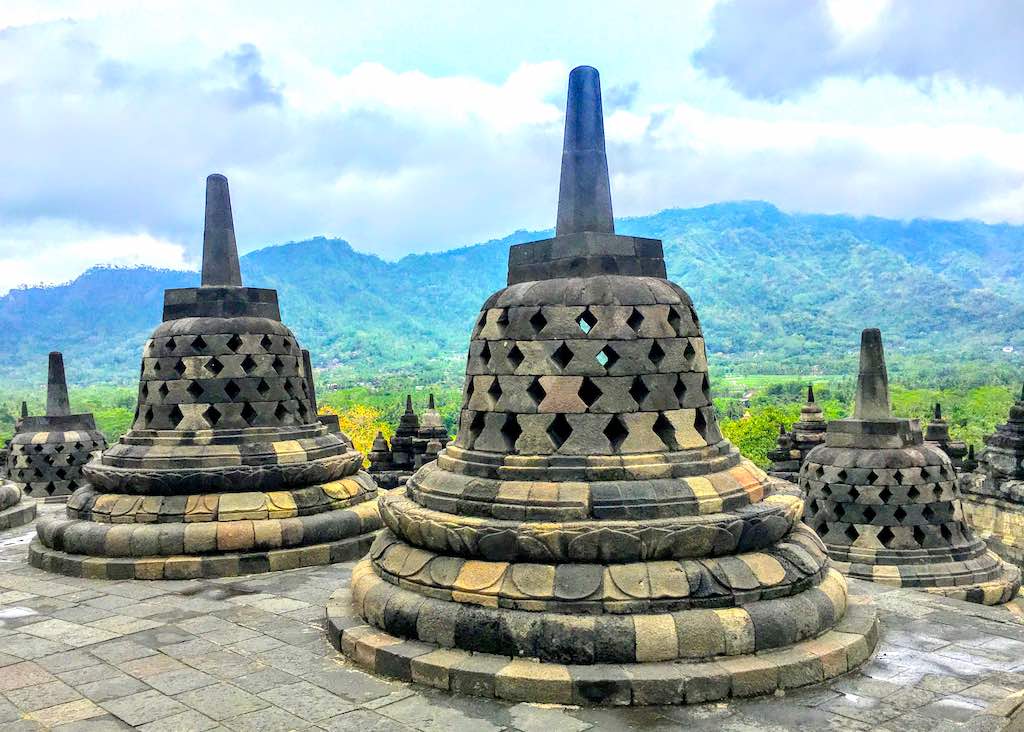 Borobudur and Prambanan are ancient temples near the town of Yogyakarta on the mystical island of Java in Indonesia.
In the Indonesian Bahasa language, 'candi' means 'temple'. Candi Borobudur and Candi Prambanan are the most famous temples in Indonesia and renowned World Heritage sites in Indonesia.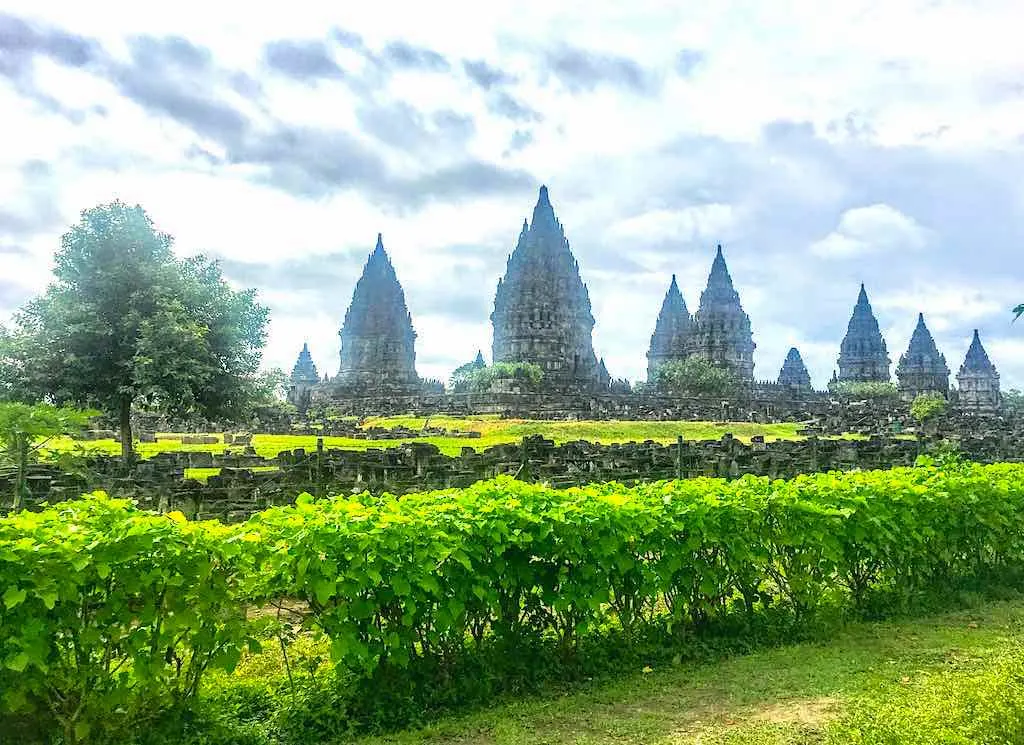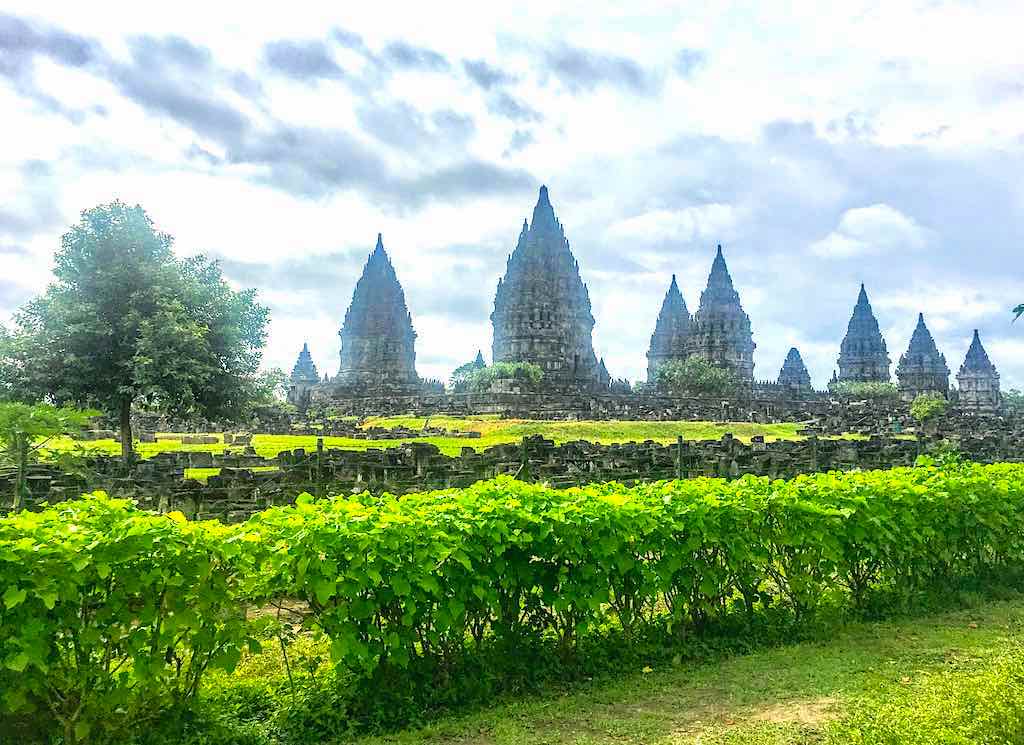 While Borobudur is a Buddhist temple, Prambanan is a Hindu temple. Furthermore, the temple of Borobudur is the largest Buddhist temple in the World and the largest temple in Indonesia, while the temple of Prambanan is the largest Hindu temple in Indonesia. Both temples are remarkable holy places of worship, architectural masterpieces, and famous World Heritage monuments.

Both temples were built in the 9th century and both were covered by ash after the eruption of nearby Mount Merapi volcano in the late 10th century. Followers of Mahayana Buddhism built the Borobudur temple first, during the rule of the Buddhist Sailendra Dynasty in Java. Later on, in the same century, the Prambanan temple was built after the rise of the Hinduism and Hindu Sanjaya dynasty in Java. Regardless of the volcano eruption, no one knows for sure why both of the temples were completely abandoned around the 14th and 15th centuries. Later in the 15th Javanese people converted to Islam and the temples got forgotten. However, both of the temples were rediscovered in the Javanese jungle. The temple of Prambanan was rediscovered first in the 18th century and later the temple of Borobudur in the 19th century. The history of Borobudur and the history of Prambanan are known little, while the mystery of Borobudur and the mystery of Prambanan live on.
Today modern Indonesia with about 225 million followers of Islam is the largest country with a Muslim population in the World. But Borobudur temple remains a Buddhist pilgrimage site in Indonesia and the Prambanan temple remains a place of Hindu worship.
BOROBUDUR TEMPLE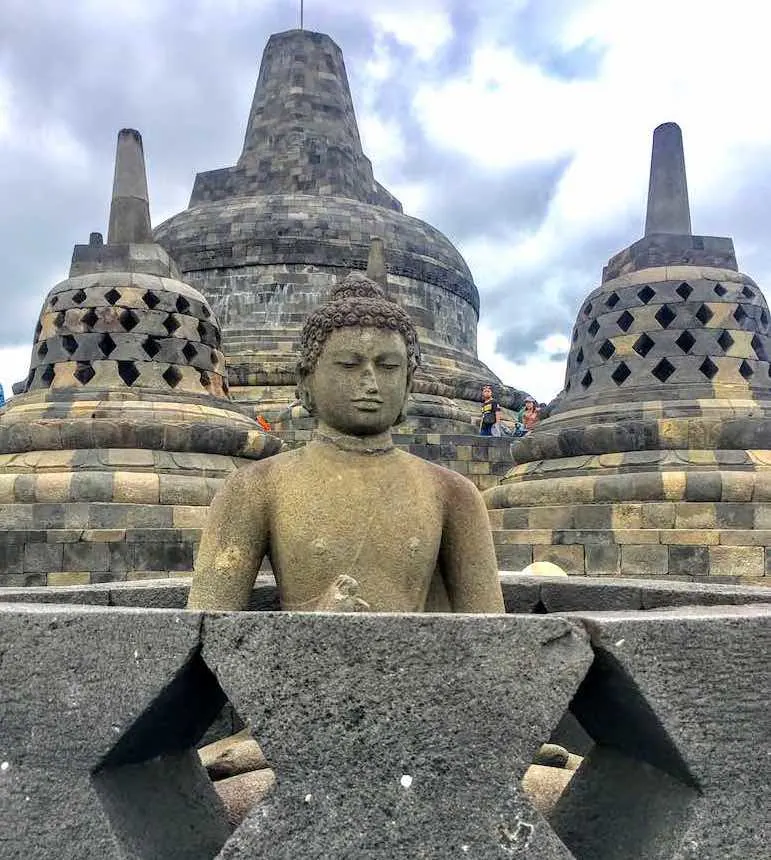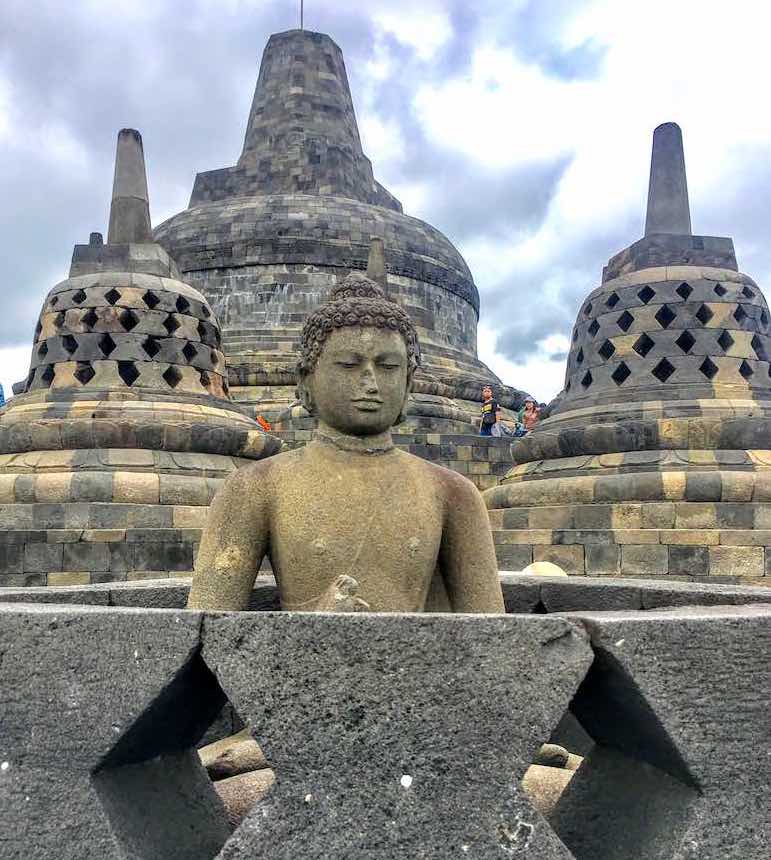 Borobudur, also called Barabadur, is an architectural masterpiece designed in the shape of a pyramid, stupa, sacred mountain, and mandala. The Borobudur name is believed to mean 'Buddhist Monastery on a Hill'. While a three-dimensional mandala symbolizes Buddhist cosmology, Borobudur also symbolically lies between two volcanos (Mt Sumbing and Mt Merapi) and two rivers (Progo and Elo).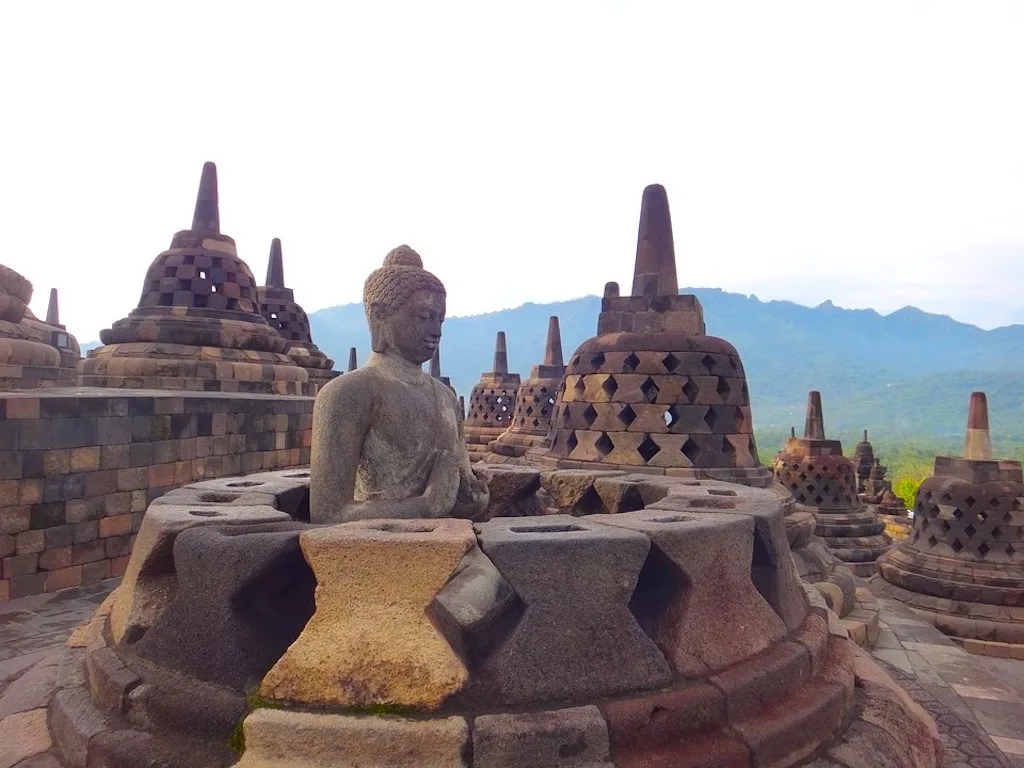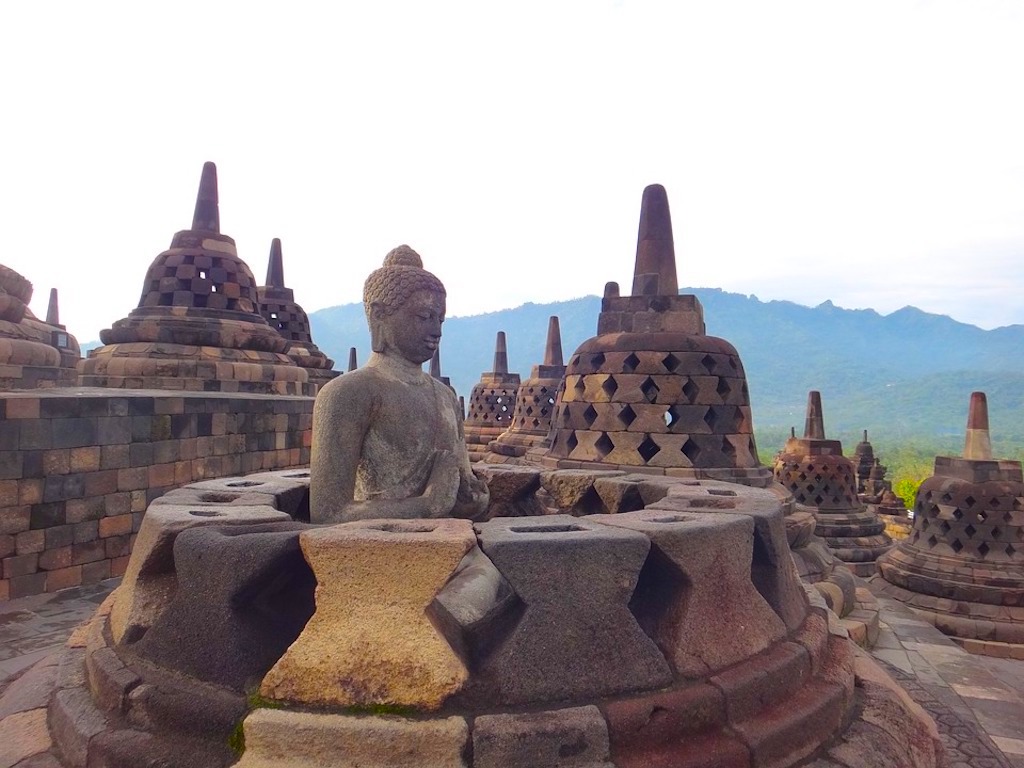 Borobudur temple stands as a single building on the top of a mountain, but Borobudur temple compounds consist of three temples aligned on the same axis. The architecture of Borobudur portrays the Buddhist path to Enlightenment. Three levels of Borobudur stupa represent a spiritual journey from the World of Desire (Kamadhatu) – the 1st level, the World of Form (Rupadhatu) – the 2nd level to the World of Formless (Arupadhatu) – the 3rd level.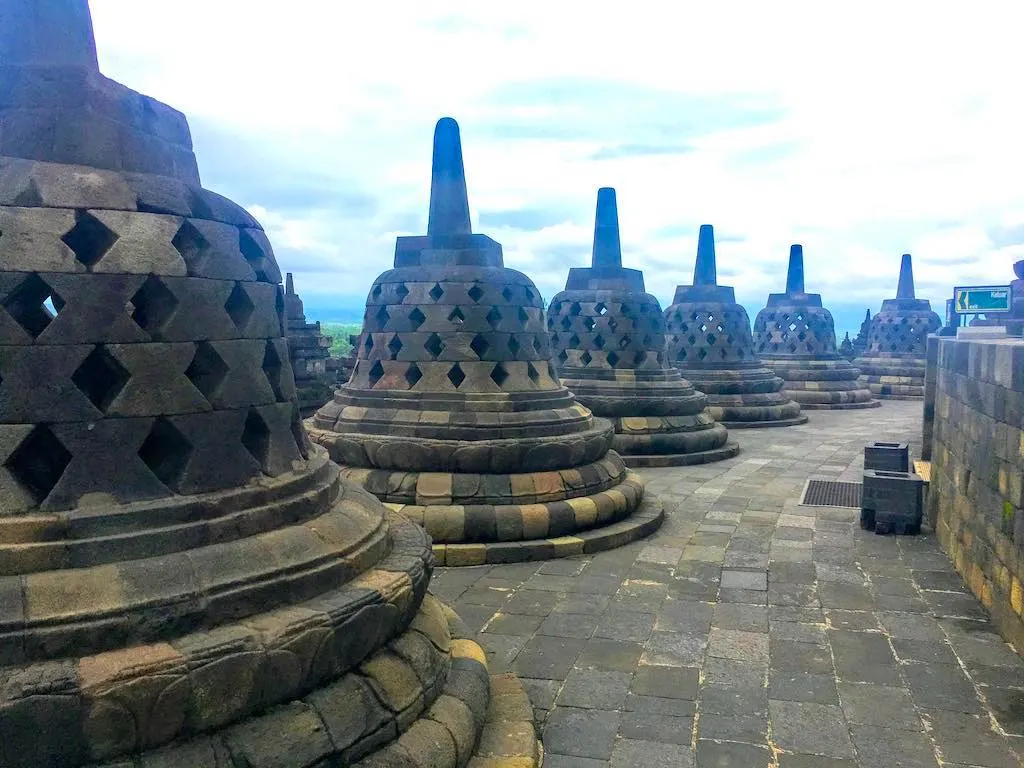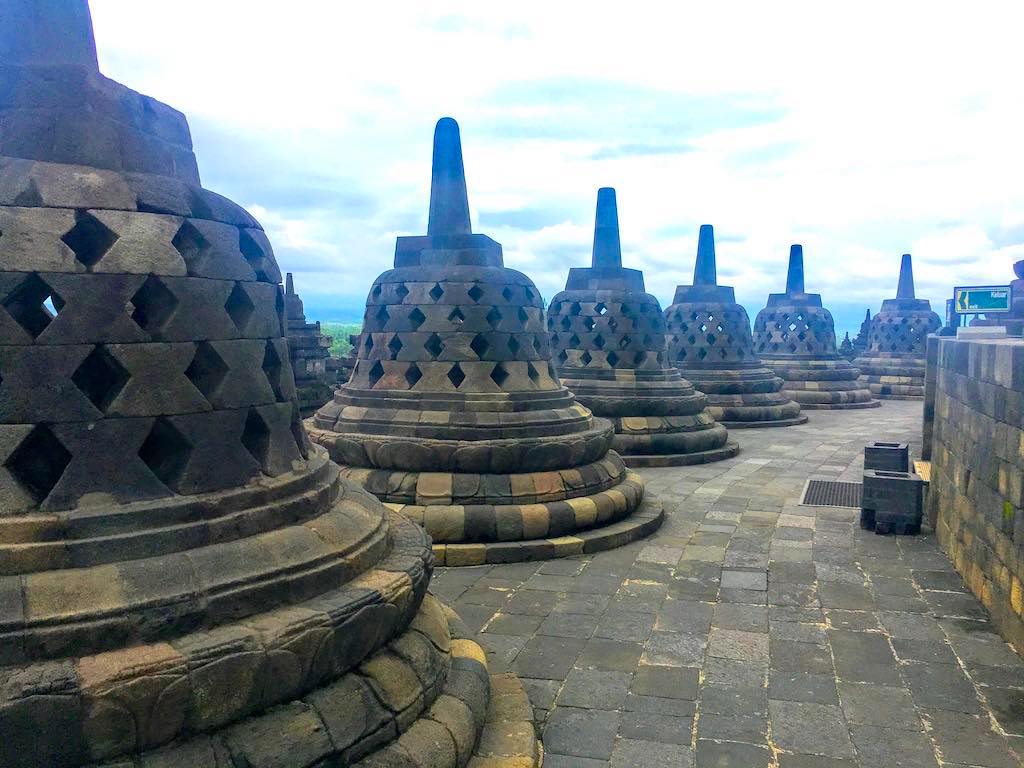 Borobudur is a unique Buddhist temple on an area of 2.500 m2 built of six square terraces, three circular platforms, and a central dome (stupa) on the top dedicated to the 'Great Sun Buddha'. There are 504 Buddha statues in total and about 2.670 narrative reliefs picturing Buddha's teachings (the Dharma), Buddha's past lives (Jataka tales), and stories from important Buddhist scriptures (sutras).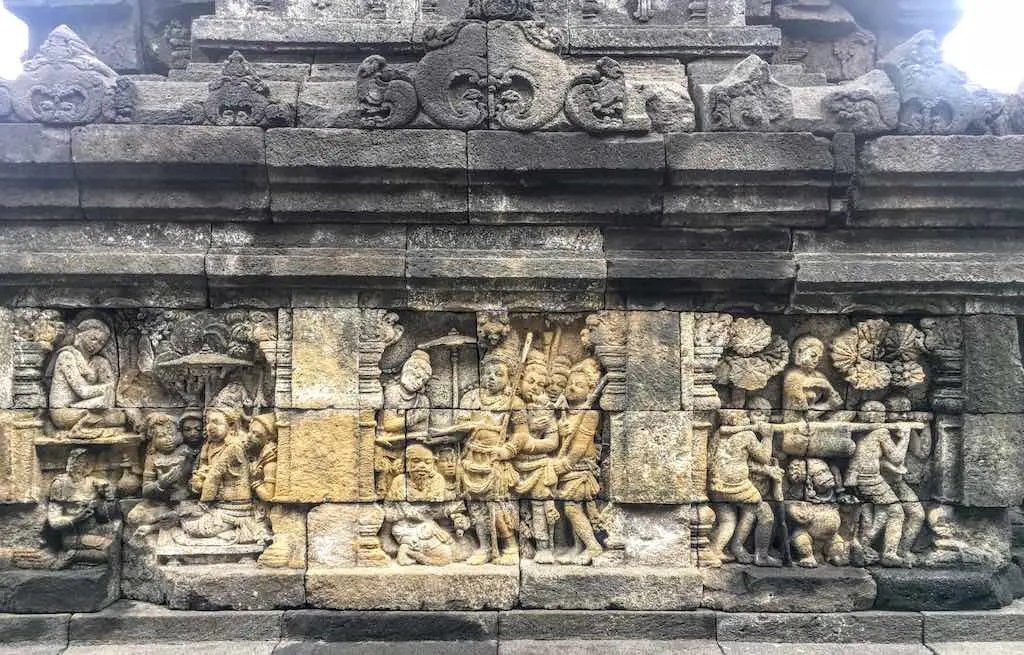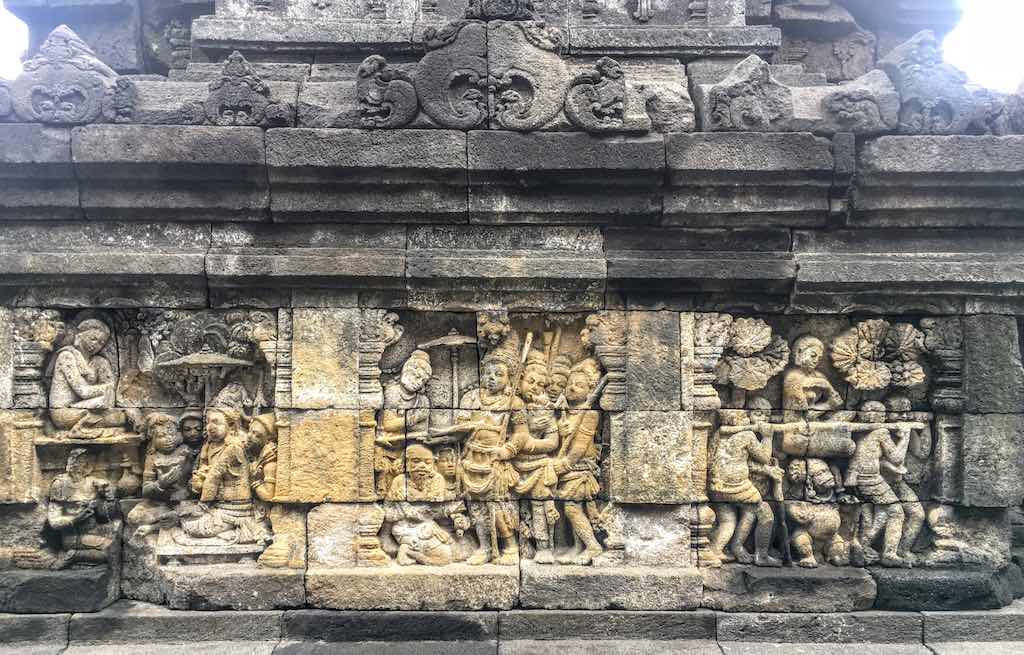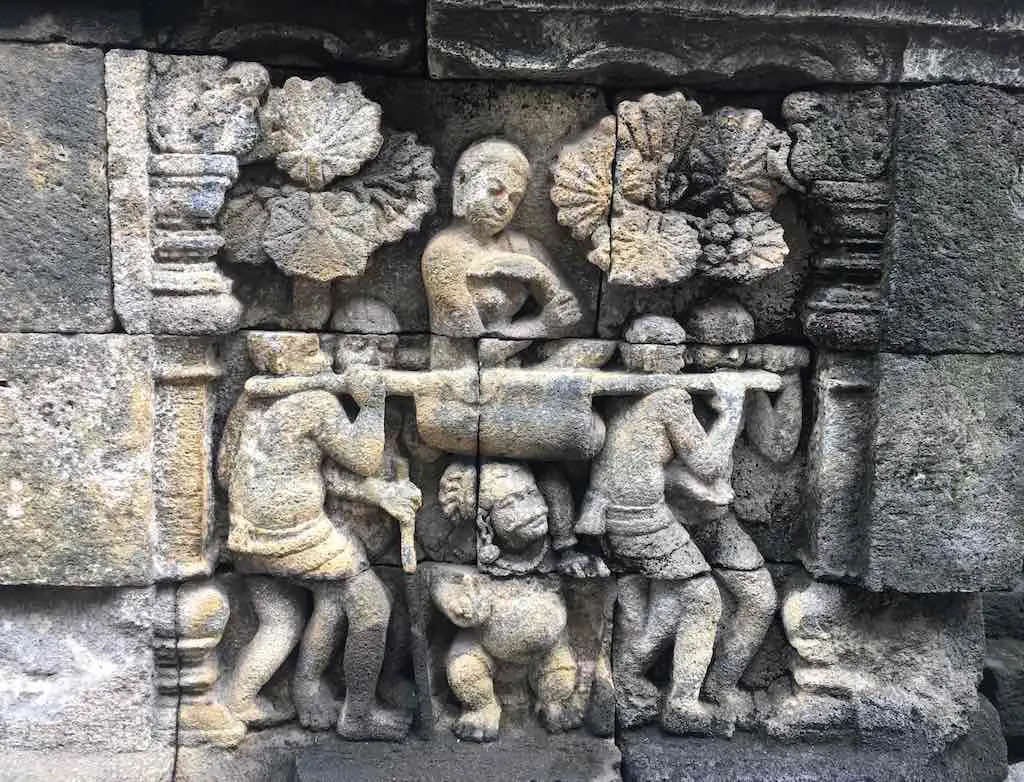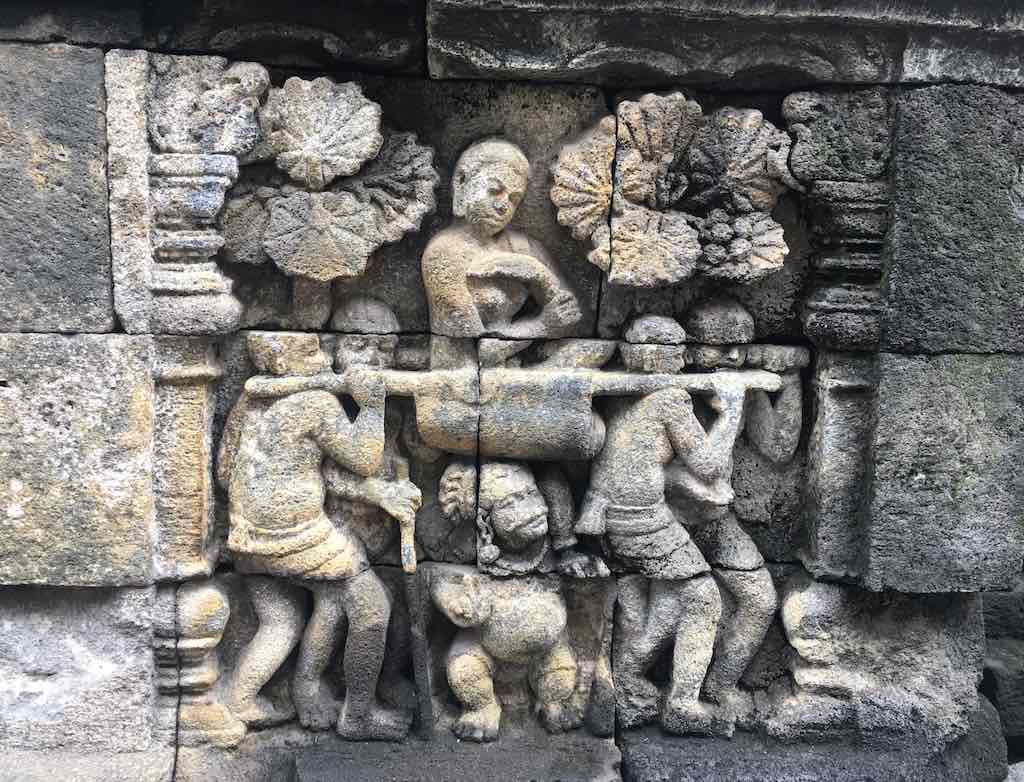 Barabudur temple holds the largest number of Buddhist sculptures on one site in the World. Just to mention, in case you are wondering, Borobudur was built 300 years before Angkor Wat in Cambodia. And while it is not officially one of the Seven Wonders of the World, Borobudur certainly is a true Wonder of the World.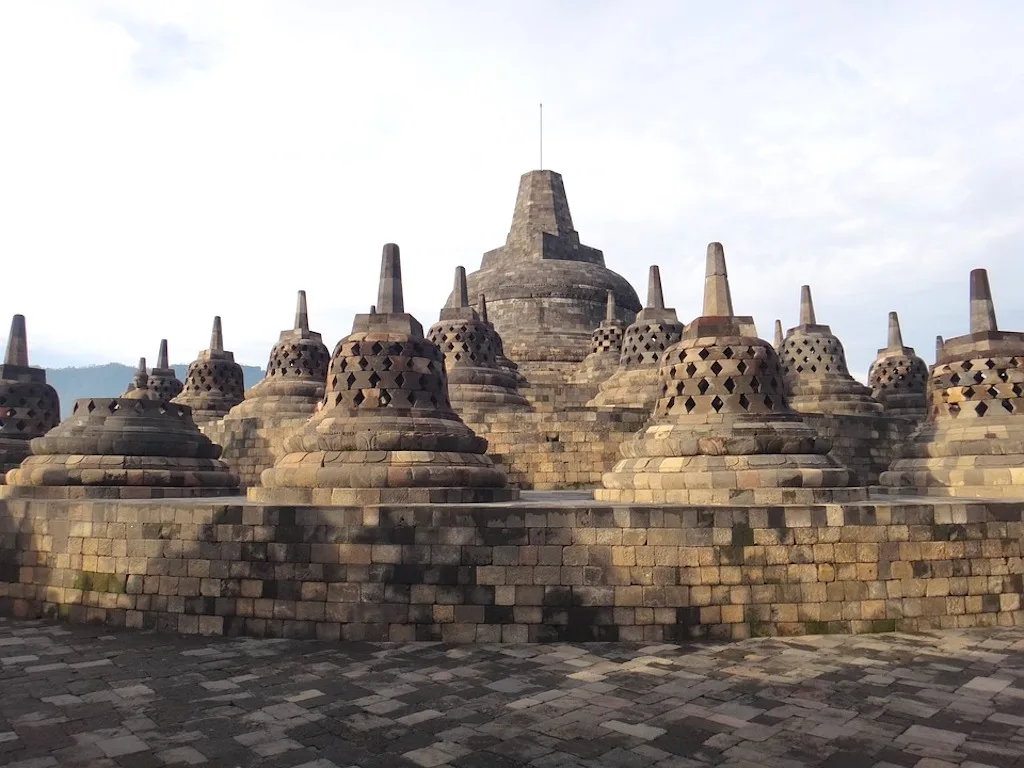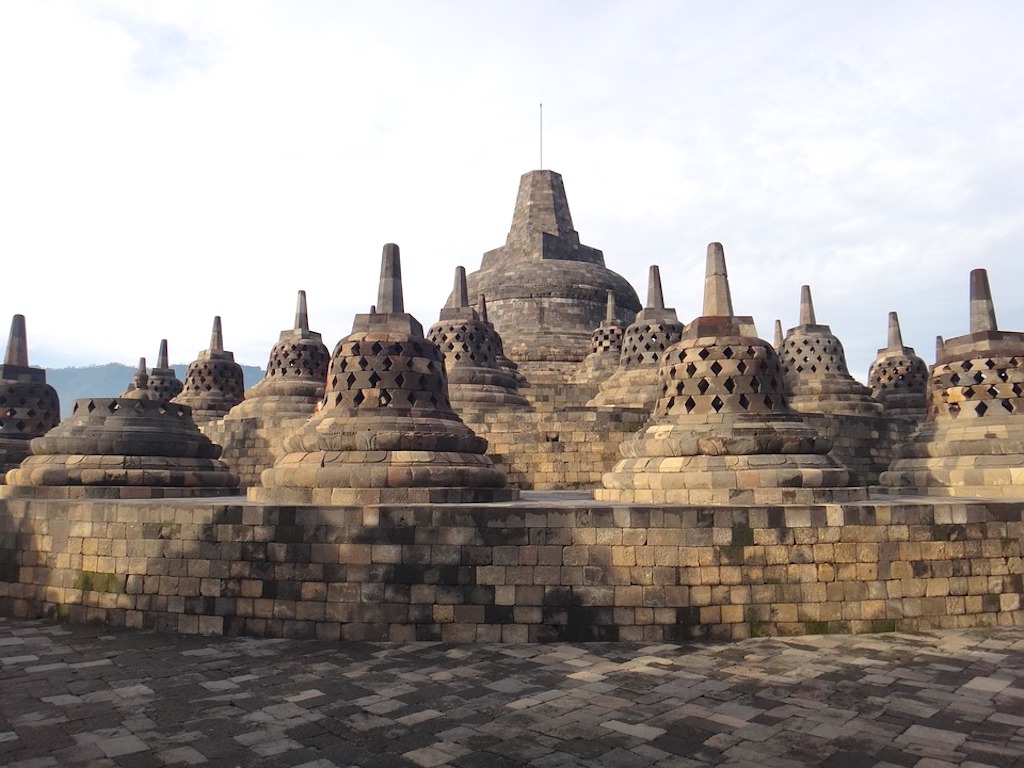 1991. Borobodur was listed as a UNESCO World Heritage site in Indonesia. Today Borobudur is a Buddhist pilgrimage site where Buddhists commemorate Vesak Trisuci (Vesak Day, or the Buddha's Birthday). Borobudur temple is a main Yogyakarta tourist attraction and a top tourist attraction in Indonesia by visitors a year.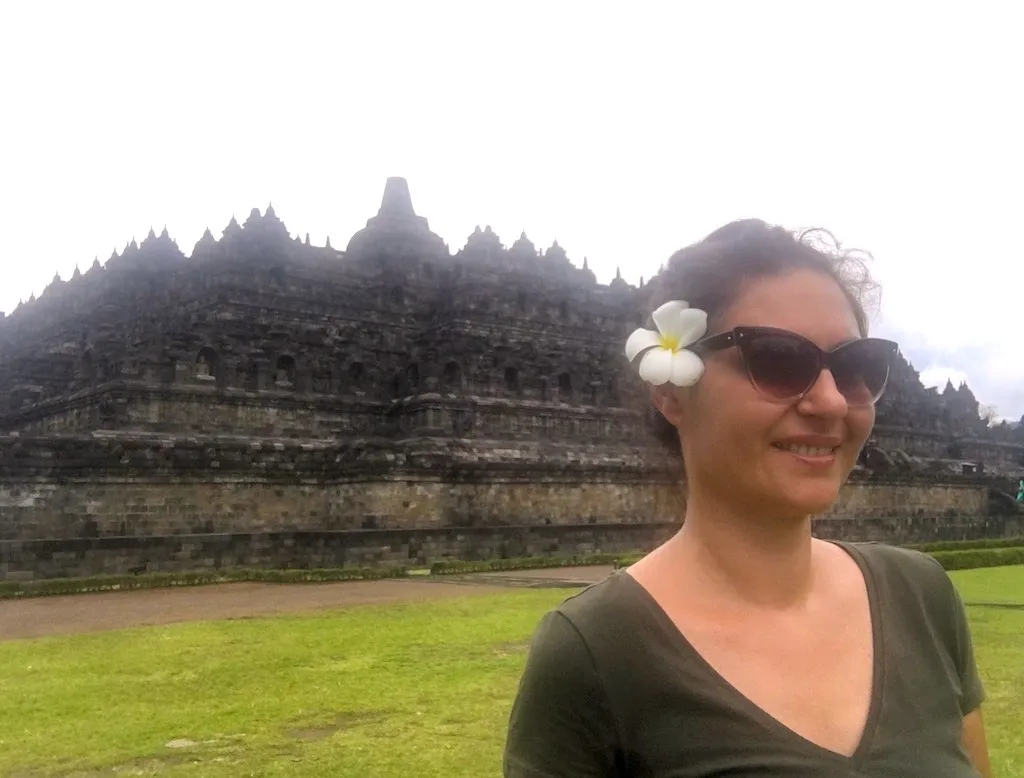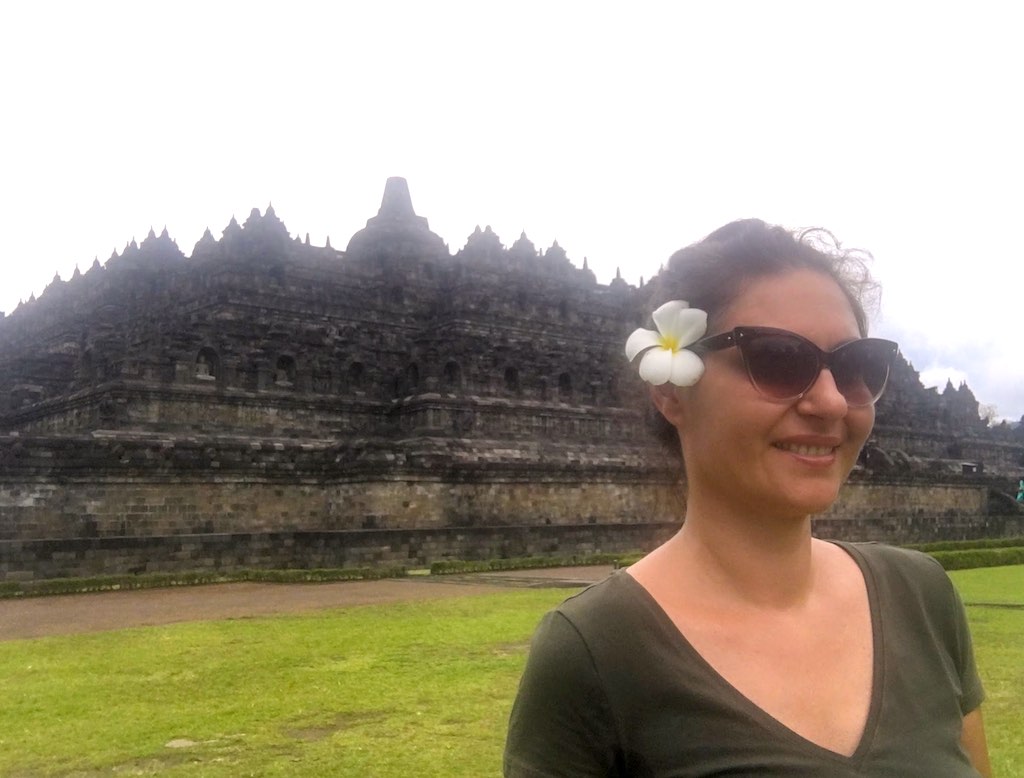 Recommended read: Borobudur Golden Tales of the Buddhas by John N. Miksic
MAYBE YOU ALSO WOULD LIKE TO READ: 16 Buddhist Temples in Southeast Asia You Must Visit
PRAMBANAN TEMPLE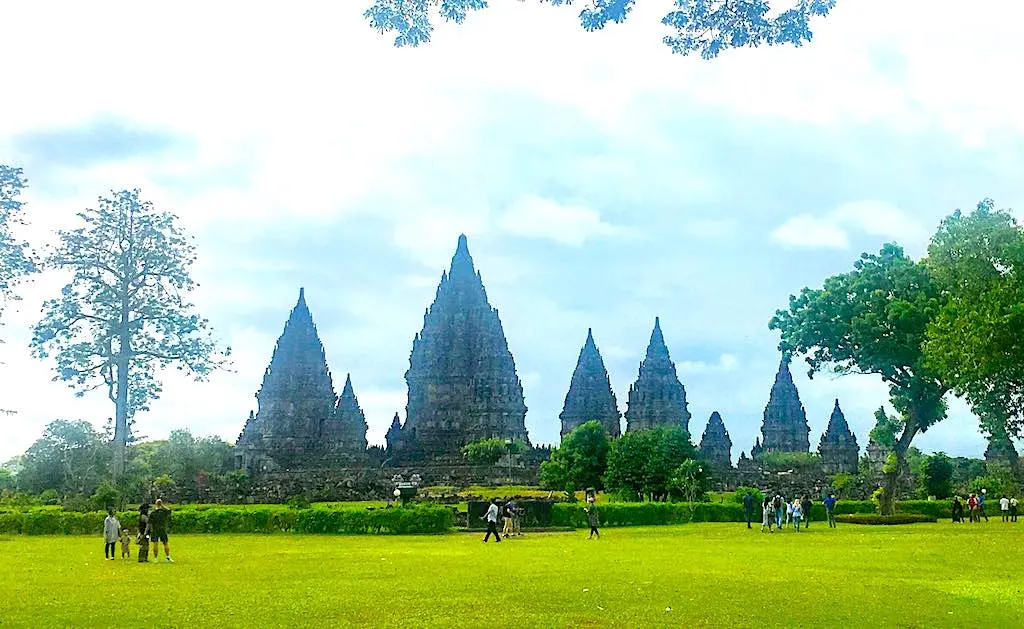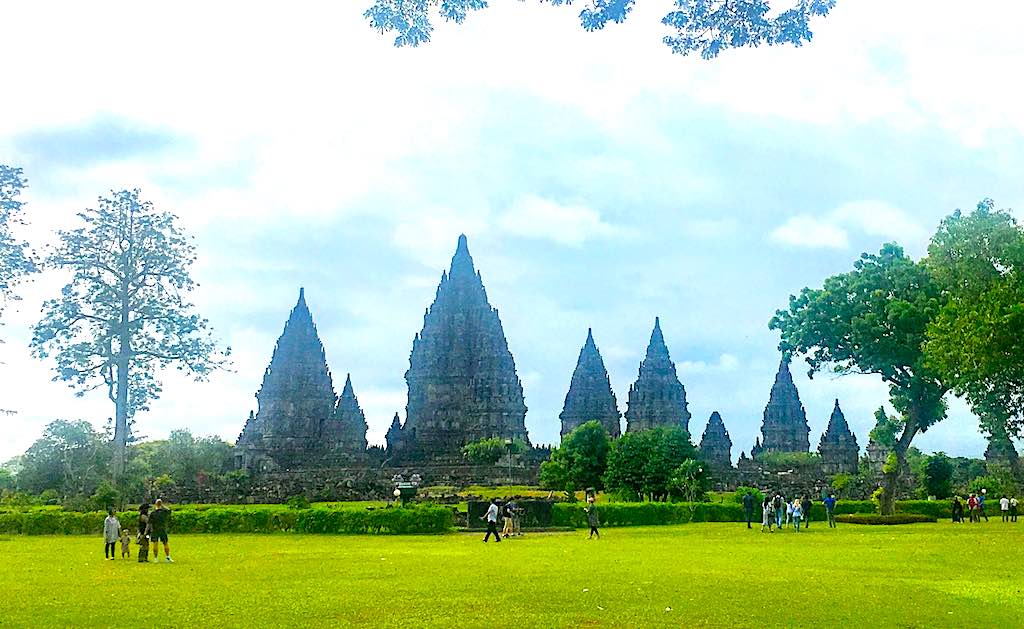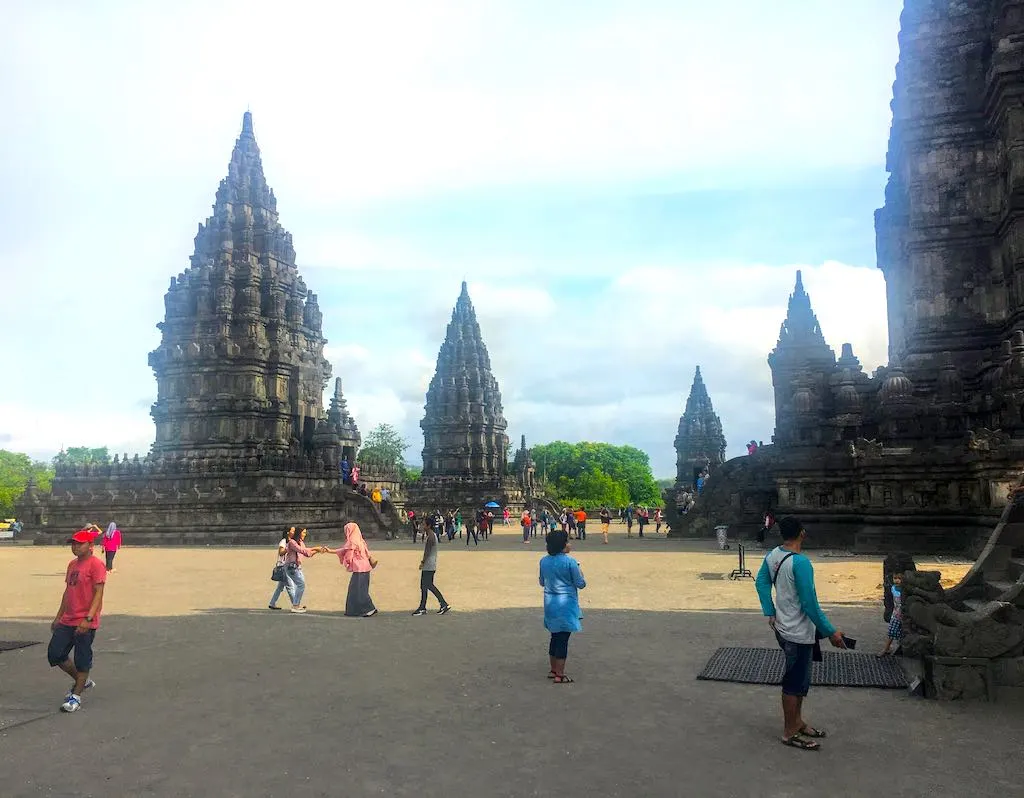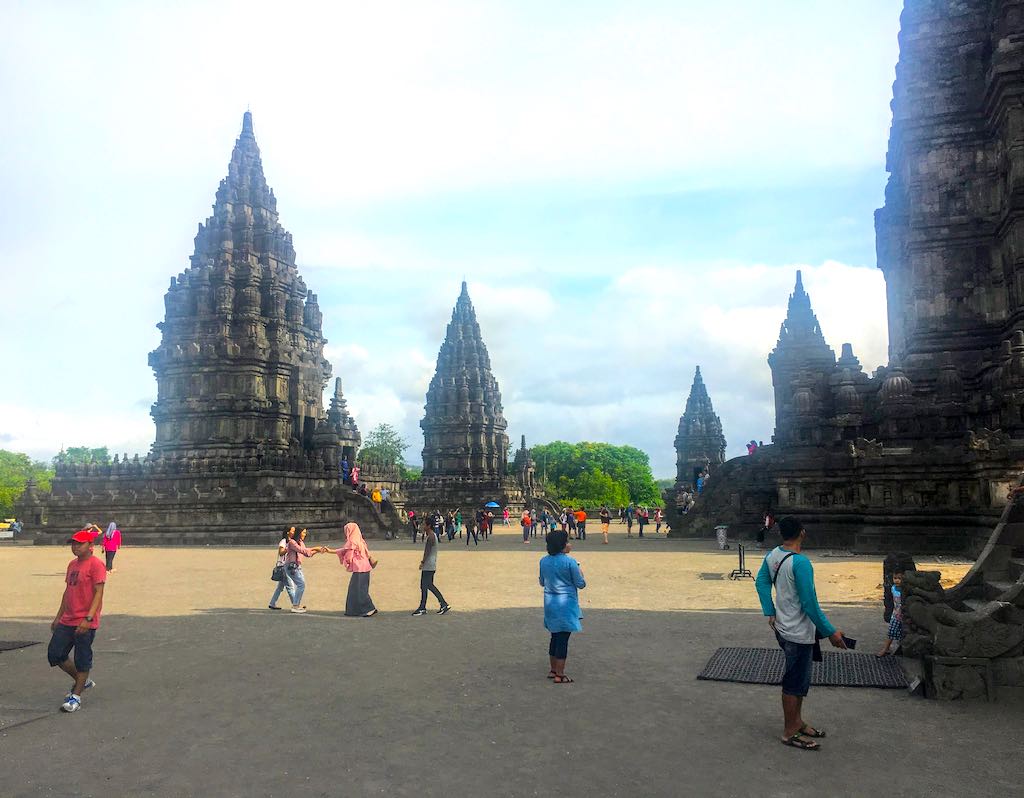 The Prambanan temple complex consists of hundreds of shrines surrounding the central temple. The main temple of Prambanan is dedicated to the Trimurti – the Hindu Trinity ('three forms' or 'three Gods'): Brahma – the God Creator, Vishnu – the God Preserver and Shiva – the God Destroyer.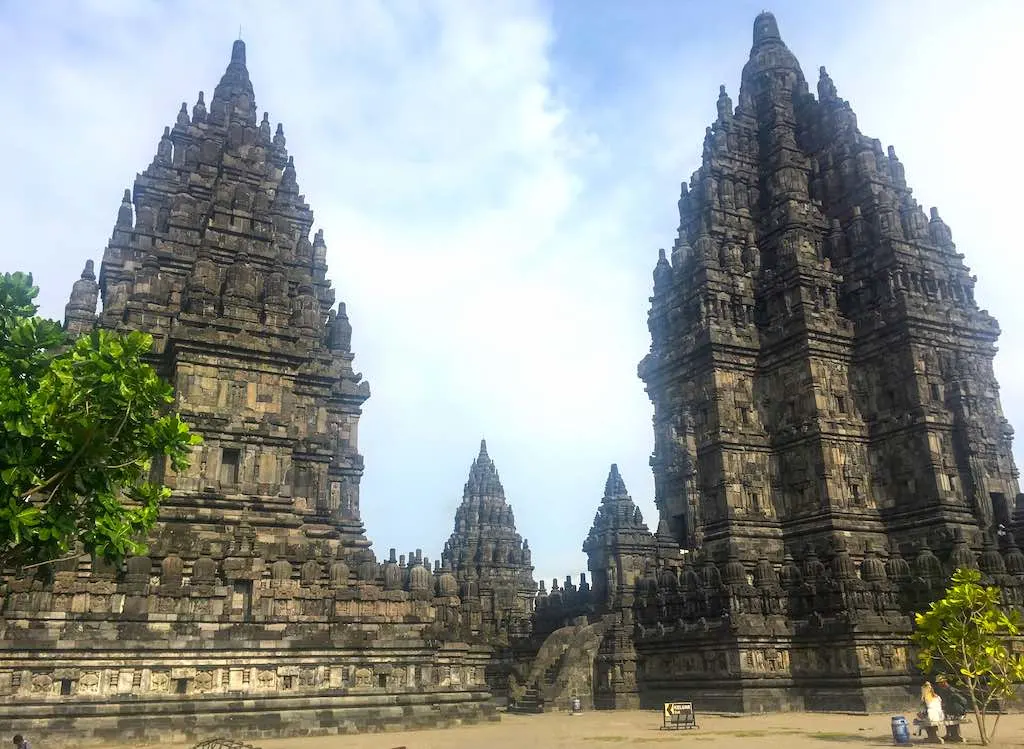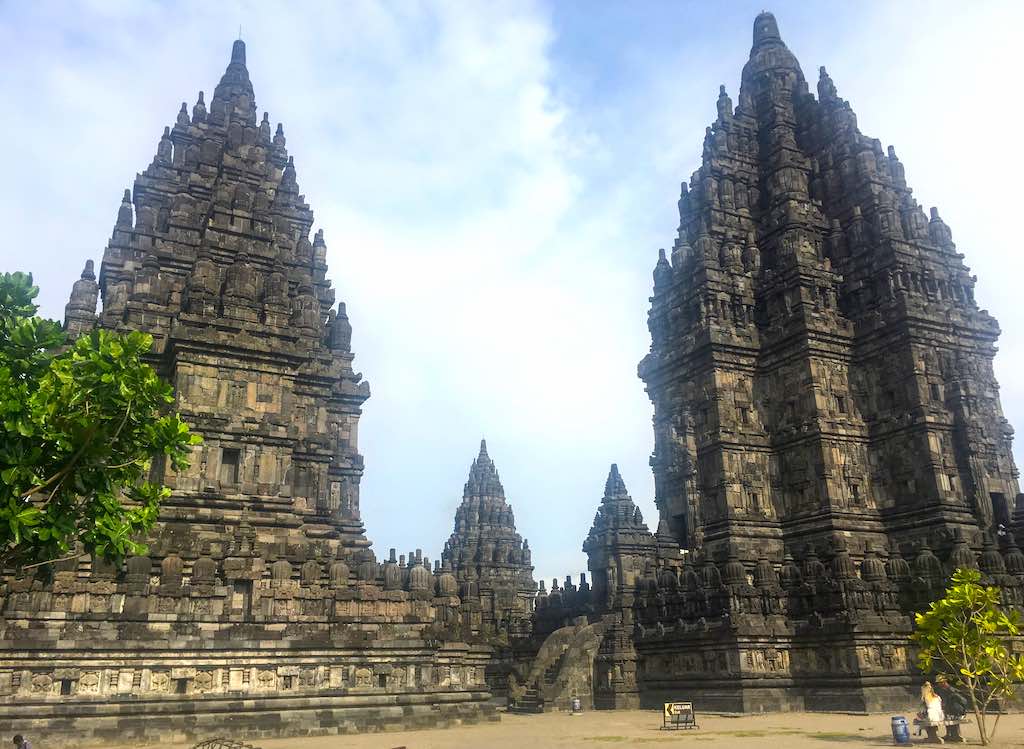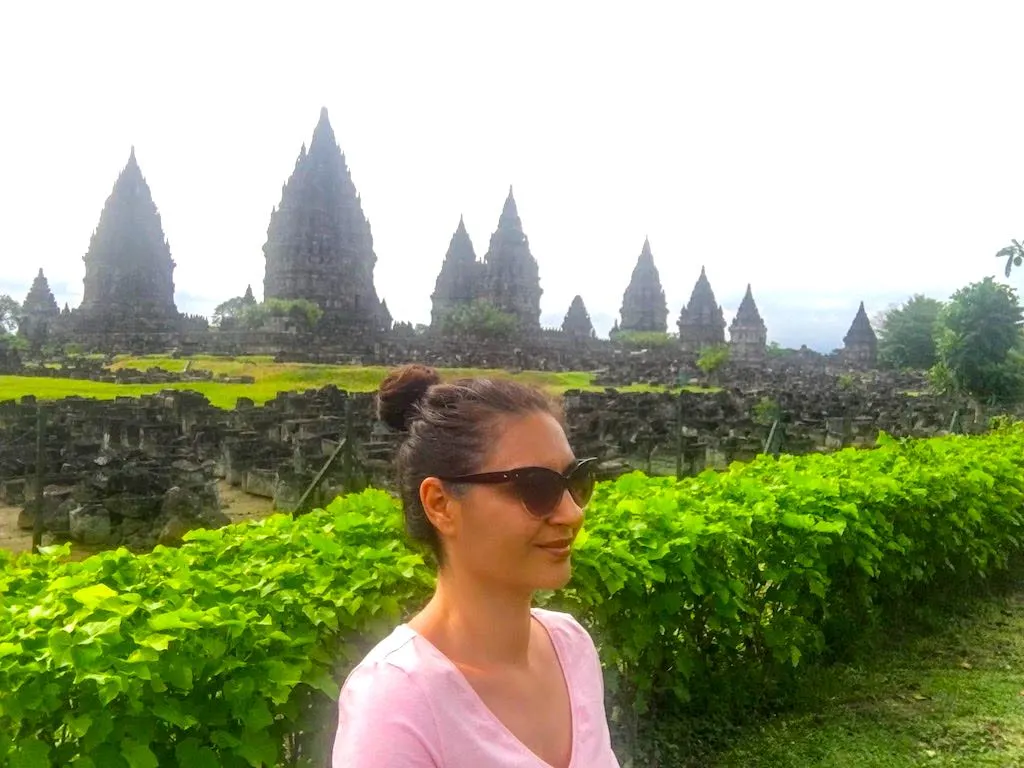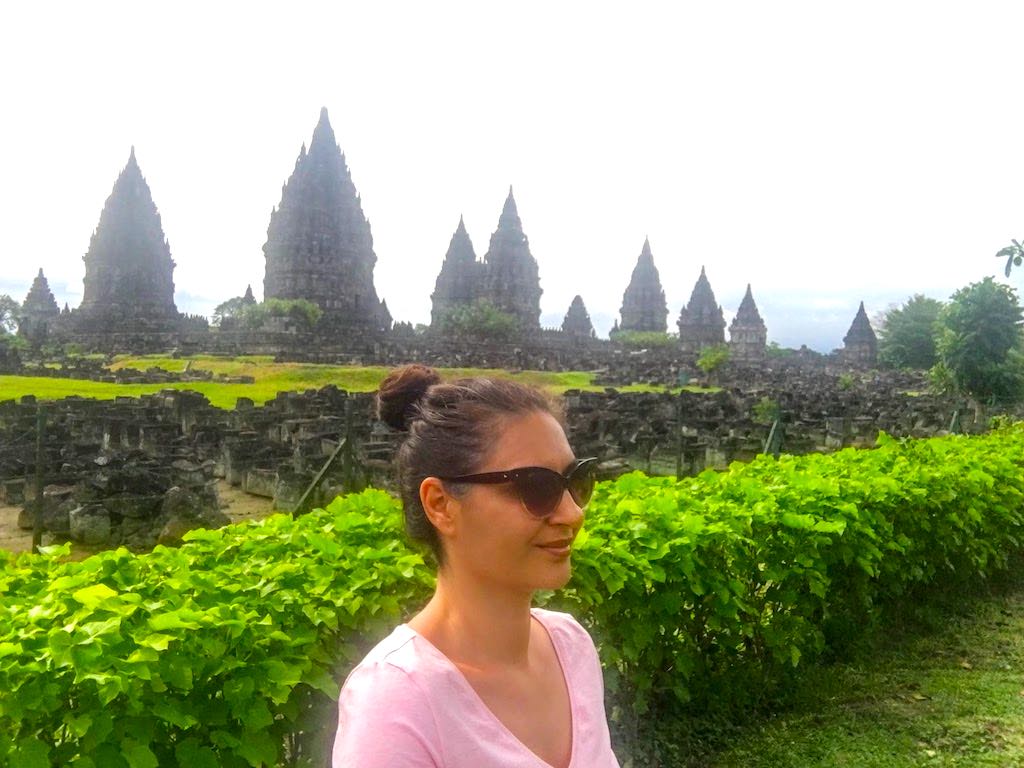 The tallest temple of the Prambanan temple complex is the Shiva temple, also called Candi Shiva Mahadeva temple dedicated to the god Shiva. It is the central temple of Prambanan. The Vishnu temple stands on the north side of the Shiva temple, and the Brahma temple stands on the south to the Shiva temple. There are 3 smaller Hindu shrines in front of the Shiva temple: a Nandi temple – dedicated to Nandi, the sacred bull of Shiva, a Hamsa temple – dedicated to Hamsa, the sacred swan of Brahma and a Garuda temple – dedicated to Garuda, the sacred bird Garuda of Vishnu.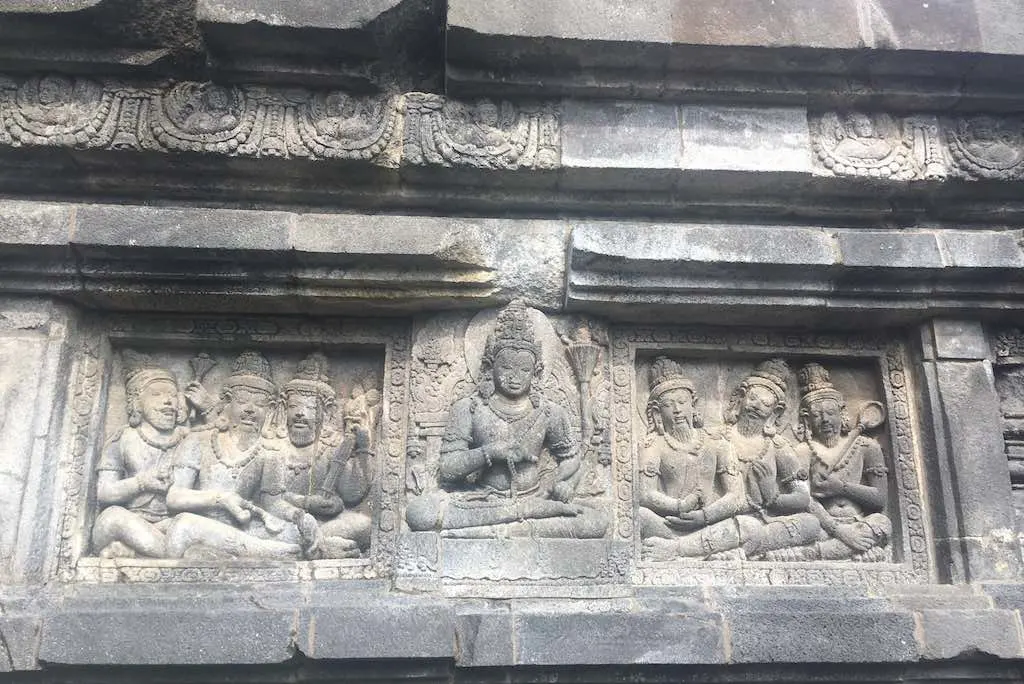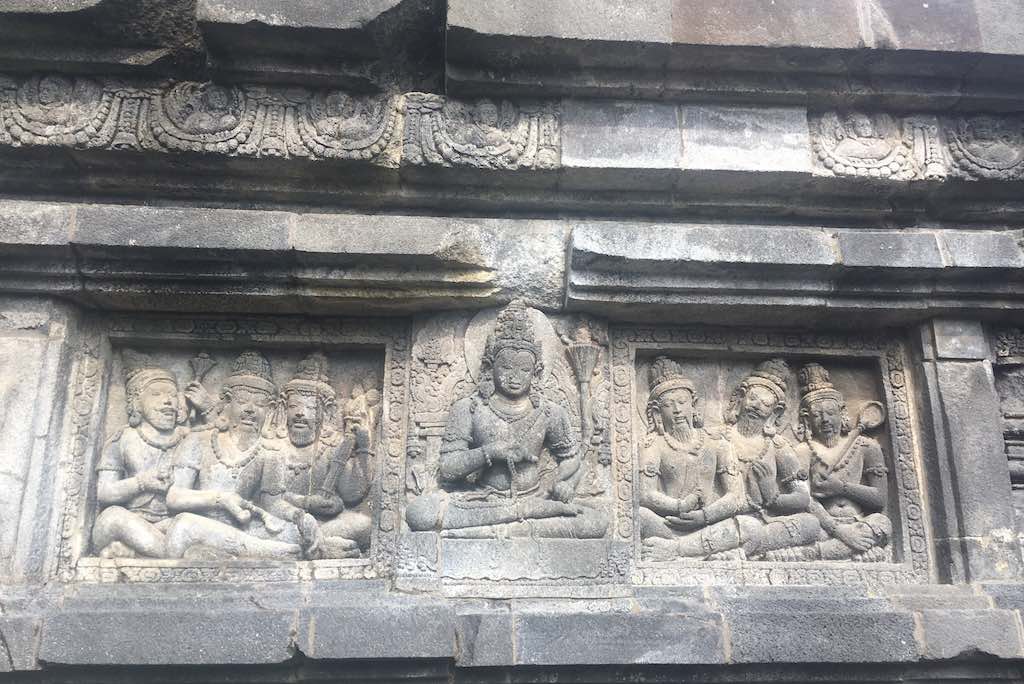 Reliefs of Prambanan temples feature stories of the Ramayana epic. Stone carvings of the Vishnu temple illustrate the story of Lord Krishna from the Mahabharata story. Reliefs of the Brahma temple depict the final scenes of the Ramayana story.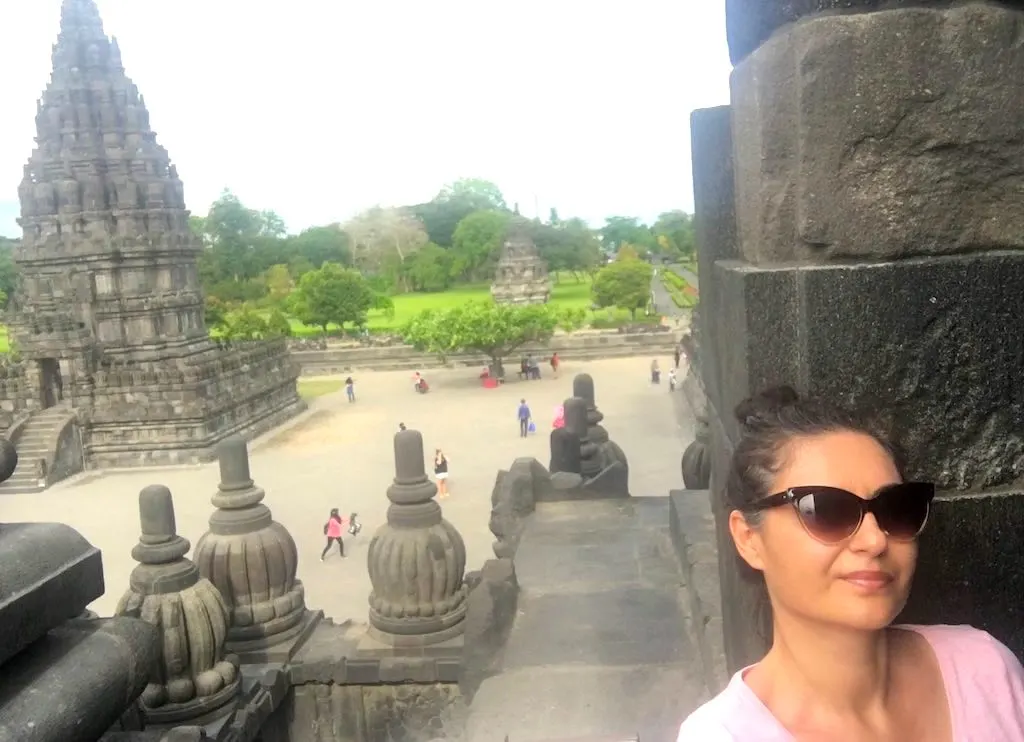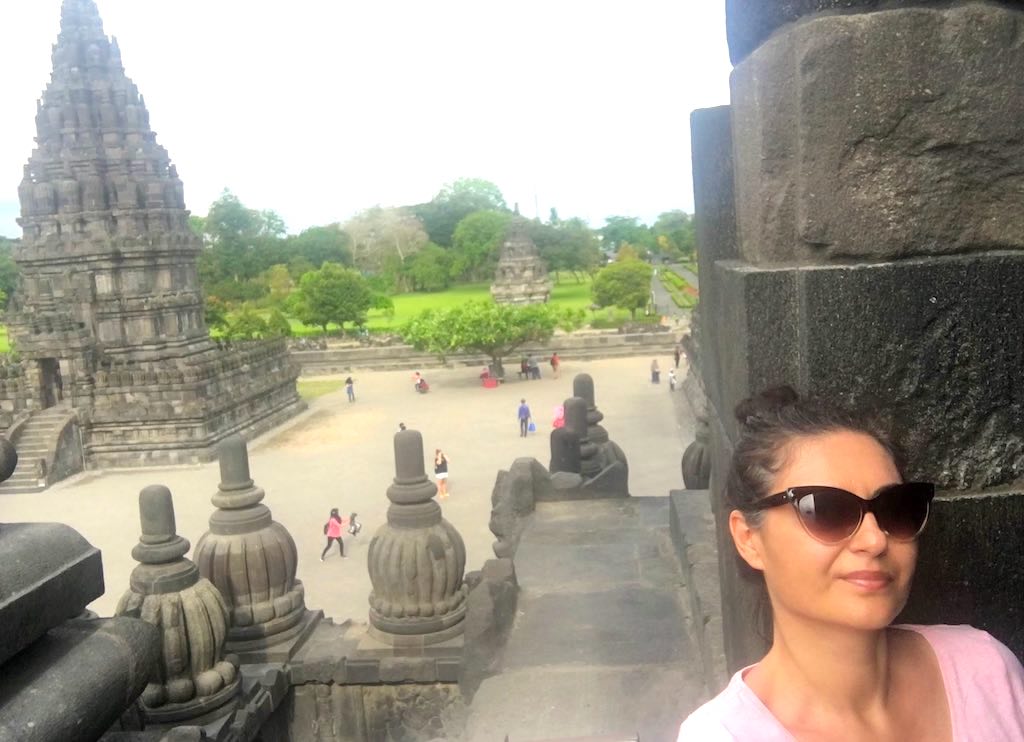 WHERE TO STAY IN YOGYAKARTA
Recommended Yogyakarta accommodation
BUDGET: The Sleepingroom Hostel
MID-RANGE: Grand Ambarrukmo Yogyakarta
LUXURY: Royal Ambarrukmo Yogyakarta, Yogyakarta Marriott Hotel
VISITING BOROBUDUR AND PRAMBANAN IN ONE DAY
Borobudur vs Prambanan? Should you visit Borobudur or Prambanan? For me, there's no question. I would say both! I have visited them both and each of them is a unique masterpiece!
I stayed in Yogyakarta for a few days and explored Borobudur and Prambanan at my own pace, each one in a day. Although Borobudur is about 19 km (12 miles) by air from Prambanan, it is not easy to reach one temple from another. The ride from Borobudur to Prambanan takes from an hour and a half to two hours.
But if you wish to visit Borobudur and Prambanan in one day, the best would be to book a guided tour, take a taxi, rent a car or a motorbike.
Borobudur and Prambanan tour from Yogyakarta: Usually the tours pick you up at your hotel around 5 am with the arrival at Borobudur around 6 am. The tours allow exploring Borobudur for 3 hours on average and after visiting Borobudur, they head to Prambanan temple. Borobudur and Prambanan tours allow 2 hours for exploring Prambanan on average and go back to Yogyakarta around 2 p.m.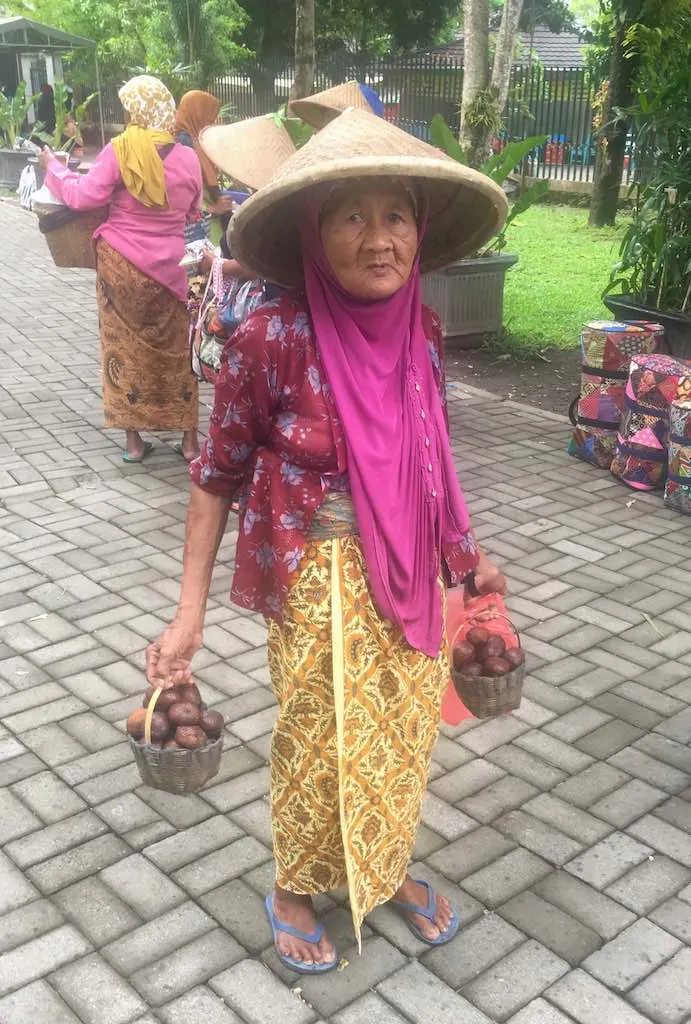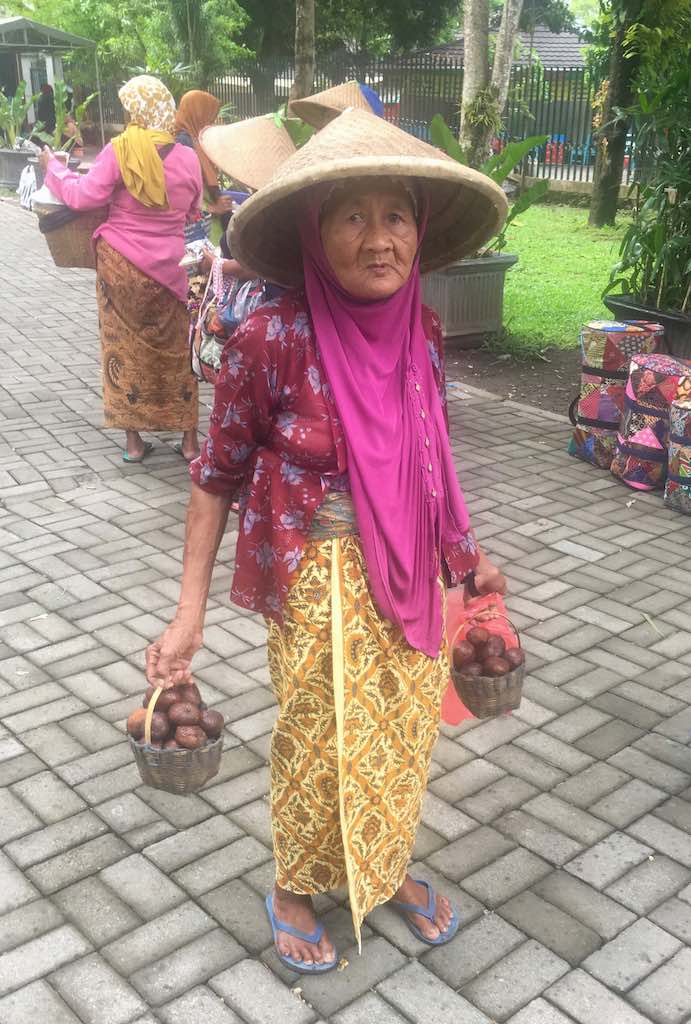 BOROBUDUR AND PRAMBANAN ONE DAY TOUR WITH BOROBUDUR SUNRISE
The Borobudur sunrise tour usually starts with the pick-up at your hotel in Yogyakarta around 4 a.m. before heading to Borobudur for sunrise. I haven't visited Borobudur at sunrise, but many visitors claim that the best lighting at Borobudur is a sunrise. If you want some special Borobudur images, you should go to Borobudur for sunrise. Please keep in mind, that for Borobudur sunrise, you should buy a special sunrise ticket which allows you to be at Borobudur at 4:30 am.
Check out:
Borobudur Sunrise or Sunset Half-Day PRIVATE TOUR from Yogyakarta
Borobudur Sunrise & Prambanan Full Day PRIVATE TOUR from Yogyakarta
Borobudur Sunrise, Merapi Volcano and Prambanan Full-Day Tour from Yogyakarta
COMBINED TICKET BOROBUDUR PRAMBANAN:
A great option to visit Borobudur and Prambanan in one day is to visit Borobudur for sunrise and Prambanan for sunset A combo ticket for a Borobudur sunrise tour and Prambanan sunset tour is cheaper than to buy them separately. check out Prambanan temple Sunset Tour from Yogyakarta
OPENING HOURS OF BOROBUDUR AND PRAMBANAN
Borobudur temple opening hours and Prambanan temple opening hours:
CANDI BOROBUDUR OPENING HOURS
Borobudur Sunrise: 4.30 am – 6 am
Borobudur Pass: 6 am – 5 pm
Borobudur Sunset: 5 pm – 6.30 pm
CANDI PRAMBANAN OPENING HOURS
Prambanan Opening Hours: 6 AM – 5 PM ( and on public holidays)
BOROBUDUR AND PRAMBANAN ENTRANCE FEES
Borobudur ticket 1-Day Pass (Borobudur entrance fee): 25 USD for foreigners (credit cards accepted – MasterCard, Visa; cash – only accepting in IDR); 10 USD discount for students with student ID (but the discount is not valid only for Borobudur sunrise tour)
Borobudur sunrise ticket: 33 USD for foreigners (475.000 IDR); can exclusively be bought at Manohara Resort Hotel in Yogyakarta; Ticket for Borobudur sunrise is possible to buy online.
Borobudur sunset ticket: 33 USD for foreigners (475.000 IDR); can exclusively be bought at Manohara Resort Hotel in Yogyakarta; Ticket for Borobudur sunset is possible to buy online.
Prambanan entrance fee: 25 USD for foreigners
Borobudur Prambanan combo ticket: 40 USD, online (the combo ticket is valid for the next 24 hours)
HOW TO GET TO BOROBUDUR
The historic temple of Borobudur is located about 25 miles (46 km) northwest of the town of Yogyakarta in Java.
GETTING TO BOROBUDUR:
From Yogyakarta to Borobudur
You can go from Yogyakarta to Borobudur by public bus, taxi, car, or motorbike. A drive from Jogjakarta to Borobudur takes about an hour and a half.
The local public bus goes from the Jombor bus terminal in Yogyakarta to Borobudur Bus Terminal. A bus ride lasts an hour and a half. A one-way ticket costs about 1.7 USD (25,000 IDR).
From Jakarta to Borobudur
The best options to go from Jakarta to Yogyakarta are by train and plane. The most popular way among tourists to travel from Jakarta to Yogyakarta is by train. That's something I did. 11 trains a day run from Jakarta to Yogyakarta. The ride lasts about 8-9 hours, but if you take a day train, you will enjoy the scenic Javanese countryside! Jakarta – Yogyakarta train goes from Pasar Senen Station (the business and economy class) or Gambir Station (the executive class) in Jakarta to Lempuyangan and Tugu Train Station (the central station) in Yogyakarta.
Flying from Jakarta airport to Yogyakarta airport is obviously the faster option. A flight from Jakarta to Yogyakarta lasts only an hour. Many airlines fly from Jakarta airport to Yogyakarta airport like AirAsia, Citilink Indonesia, Lion, Batik Air, Garuda Indonesia, Singapore Airlines etc.
From Bali to Borobudur
The best way to travel from Bali to Yogyakarta is by plane. A flight from Bali to Yogyakarta takes only about an hour and a half.
There are many airline companies that fly from Denpasar Airport to Yogyakarta Airport you can choose from some low-cost airlines: Garuda Indonesia, Lion Air, and Mandala Air …
You can also travel overland from Bali to Yogya by bus from Denpasar's Ubung Terminal to Yogya's main bus terminal, Giwangan. A bus ride from Bali to Yogyakarta takes 17 hours. Yes, it is a long ride from Bali to Yogyakarta, but, but the way you can see Mt Ijen and Mt Bromo volcanoes. Check out Borobudur and Prambanan Full Day tour from Bali (with Flight Tickets)
HOW TO GET TO PRAMBANAN
Prambanan temple is located about 17 km (11 mi) northeast of Yogyakarta.
From Yogyakarta to Prambanan
If you want to explore Prambanan on your own, you should know that the Transyogya bus goes from the Jombor bus terminal in Yogyakarta to Prambanan, but you need to change the bus 3 times: from the Jombor terminal to Terminal Condong, from Terminal Condong to Terminal Maguwo, from Terminal Maguwo to Prambanan Terminal. A bus ride from Yogyakarta to Prambanan lasts up to 60 minutes in total. A one-way ticket costs about 0, 25 USD (3600 IDR).
BEST TIME TO VISIT BOROBUDUR AND PRAMBANAN
The best time to visit Yogjakarta and the Yogyakarta temples is in the dry season from April to October. In the dry season, days are hot, dry, and sunny with average daily temperatures from 69.8°F (21°C) to 89.6°F (32°C).
The rainy season in Java is from November to March. Because of the regular strong rain showers, I would not recommend visiting Borobudur and Prambanan temples during the monsoon season from November to March.
MAP OF BOROBUDUR AND PRAMBANAN
Borobudur vs Prambanan? Which one do you like more Borobudur or Prambanan? Any thoughts about Prambanan vs Borobudur? Or maybe you are just like me, in love with Borobudur and Prambanan?!