Georgetown Penang street art and Penang murals became an international phenomenon when in 2012 visionary Penang Municipal Council hired a Lithuanian-born graffiti genius Ernest Zacharevic.
Although the vision of branding George Town started earlier, the artwork of Ernest Zacharevic in Georgetown was the one that caught the eye of the World.
Since then many talented mural artists have been following his steps transforming Georgetown into the World capital of street art.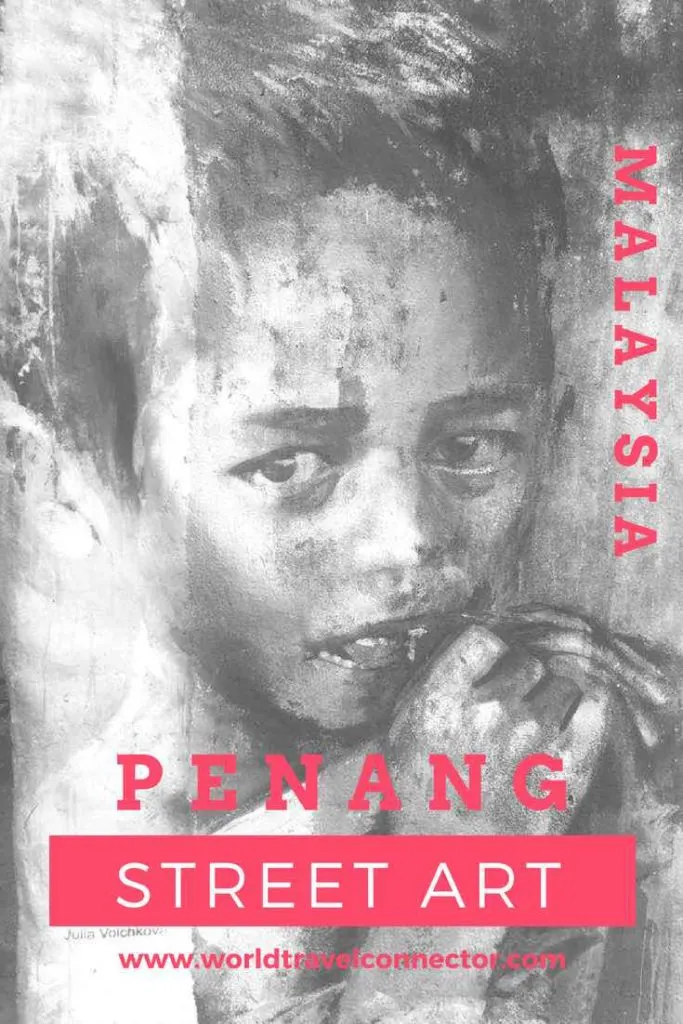 THIS POST MAY CONTAIN COMPENSATED LINKS. PLEASE READ MY DISCLAIMER FOR MORE INFO.
Georgetown on Penang island in Malaysia is a town of impressive history, culture, art, and architecture and a World Heritage Site.
For the past few years, Penang mural art has become the most popular reason for visiting Penang and George Town. In fact, exploring renowned Penang street art and sampling iconic Penang food (like the iconic Roti Canai in Penang) are the top Penang bucket list items.
No matter how much time visitors plan to spend in Georgetown – 1 day, 2 days, 3 days in Penang, or more – Penang street art is always on every Georgetown itinerary and a must-see on any trip to Malaysia.
But let's start with Penang and George Town. In colloquial speech, Georgetown is often referred to as Penang and Penang as Georgetown. Penang Island, or the Island of Pearls, is a peninsula on the Malaysian northwest coast. While George Town is a town on Penang Island and the capital of Penang state.
The multicultural characters and unique charms of Penang and Georgetown reflect their vibrant history. In past times, Penang was an important maritime trading route for traders from China, India, Persia, Africa, Arabia, and Europe. From the 18th to the 20th century, George Town was a supreme trading post of the British East India Company and a vital British Crown Colony.
The culture, art, and architecture of contemporary George Town powerfully radiate those past times. Today while walking in the streets of historic Georgetown decorated with old British colonial mansions and offices, Chinese shops, temples, churches, and mosques, you can hear local people speaking 'Manglish'. Manglish is the Malay Creole version of English and a mix of several languages with a Chinese syntax. Modern Georgetown is a peaceful home to Chinese, Malays, Indians, Eurasians, and many other ethnic groups. Today's Georgetown is a place where four main religions exist side-by-side: Islam, Buddhism, Hinduism, and Christianity.
2008. UNESCO declared Georgetown a World Heritage Site. And with that day, the modern history of Penang started. The Penang State Government and the Penang Municipal Council got a vision to brand Georgetown. Ernest Zachirevic helped them with his marvelous Penang wall painting. Other artists joined and supported the vision.
STEPS AND TRAVEL RESOURCES FOR YOUR PERFECT TRIP

1. Find and book your flight: Skyscanner
2. Find and book your stay: Booking.com, HotelsCombined.com
3. Get travel insurance (insure yourself against any accident, sickness, theft, and canceled flight): WorldNomads.com
4. Find and book great guided day tours: GetYourGuide, Viator
WHERE TO STAY IN GEORGETOWN PENANG FOR EXPLORING PENANG MURALS
Recommended Georgetown hotels and hostels:

◦ UPSCALE: Eastern & Oriental Hotel – gorgeous, gorgeous, gorgeous hotel with a great location!!! Cheong Fatt Tze – The Blue Mansion – another hardly irresistible Georgetown hotel!
◦ MID-RANGE: Areca Hotel Penang, Le Dream Boutique Hotel, Carnarvon House
◦ BUDGET: Great Shanghai Guesthouse, Sogor Girls Dormitory (Female Only), The Rumah Batu Heritage, Kooning, My Guesthouse 109
HISTORY OF PENANG MURALS AND PENANG STREET ART
George Town Street Art starts with the year 2009, following UNESCO's recognition in 2008.
2009. the Penang State Government opened an international pitch 'Marking George Town' to brand Penang as a UNESCO World Heritage Site. Within the project 'Sculpture at Work' company created 52 iron structures spread around the town under the common theme named 'Voice of the People'.
2012. the Penang Municipal Council ran the 'Mirrors George Town' project for the George Town festival. Graffiti virtuoso Ernest Zacharevic made 9 brilliant Penang wall murals capturing the everyday life of the people of Penang.
2013. ASA (Artists for Stray Animals) ran a new project named '101 Lost Kittens' as a part of Artivism – 'Art done for a good cause'. Thai artist Nathhapon Muangkliang and Malaysian artists Louis Low and Tang Yeok Khang created 12 Penang street artworks portraying cats.
2014. – 2015. Hin Bus Depot Art Center and Urban Nation organized Urban Xchange Festival
25 BEST PENANG MURALS
Over the years Penang mural art got spread out of the historic part of George Town and contemporary Georgetown became a creative hub. In 2017. Lonely Planet's Street Art edition featured Georgetown wall painting back to back with the street art of New York, London, Paris, Barcelona, Rome, Chicago, San Francisco, Buenos Aries, Mumbai, Mexico City, and Melbourne.

Therefore, here is a collection of 25 best Street Art Penang murals with locations where to find them.
Penang Street Art by ERNEST ZACHAREVIC
The most famous Penang murals are Ernest Zachirevic's graffiti. Called Asia's Banksy, Ernest Zachirevic's artwork in Georgetown on Penang features 2D wall paintings and 3D street art. Ernest Zachirevic's street art is especially known as interactive and engaging. Visitors often insert themselves into his artwork and make their photo memories. Ernest Zachirevic Penang's street art became a trademark of Penang, which often gets printed on George Town's souvenirs.
1. Little Children on a Bicycle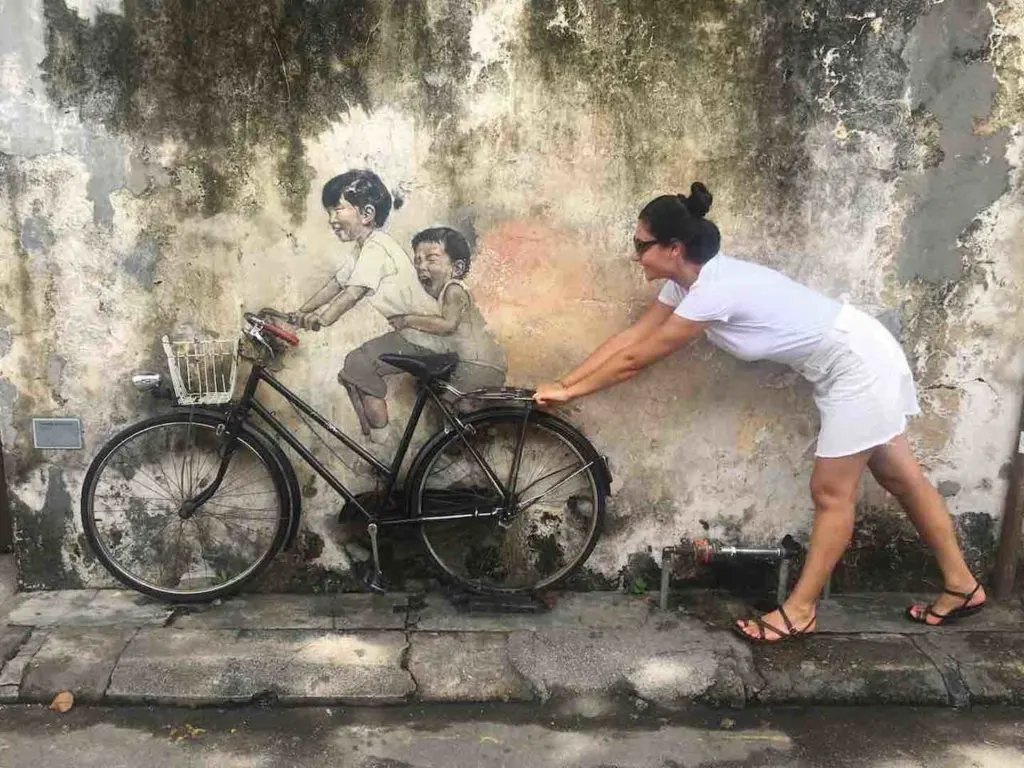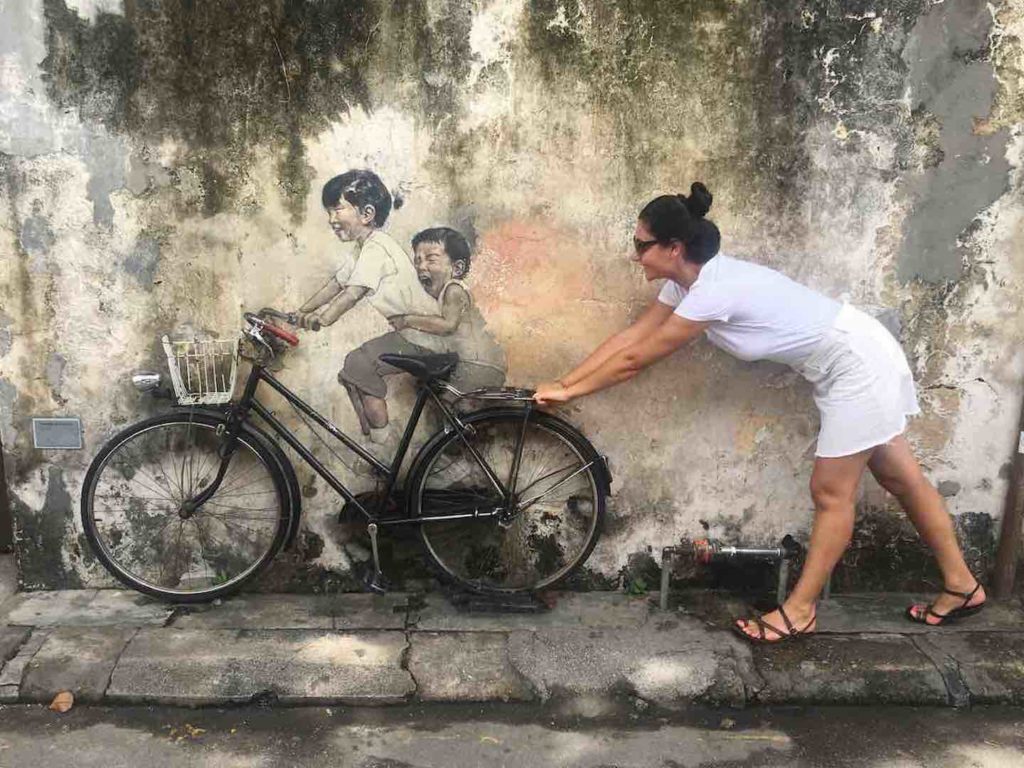 Kids on a Bike is a world-famous Penang mural by Ernest Zacharevic. the Children on a Bike wall painting became a landmark of George Town and the most popular Georgetown Penang mural.
The 3D mural in Georgetown features a 2D wall painting of children and a real bicycle attached to the wall. It pictures a thrilled brother and sister enjoying a bicycle ride. Children on a Bike mural is based on a sister, Tan Yi, and her brother, Tan Kern. One day Ernest was visiting their family and the siblings took his bike. The artist spontaneously captured the moment with his camera. Later the photo became a world-famous mural. The Georgetown mural has been featured in many publications around the world, including the Guardian article 'Guardian readers share their best photos' in 2013.
Penang wall mural Children on a Bike is on Armenian Street (Lebuh Armenian) at the junction with Beach Street (Lebuh Pantai). Armenian Street is a top Penang art street.
2. Boy on a Bike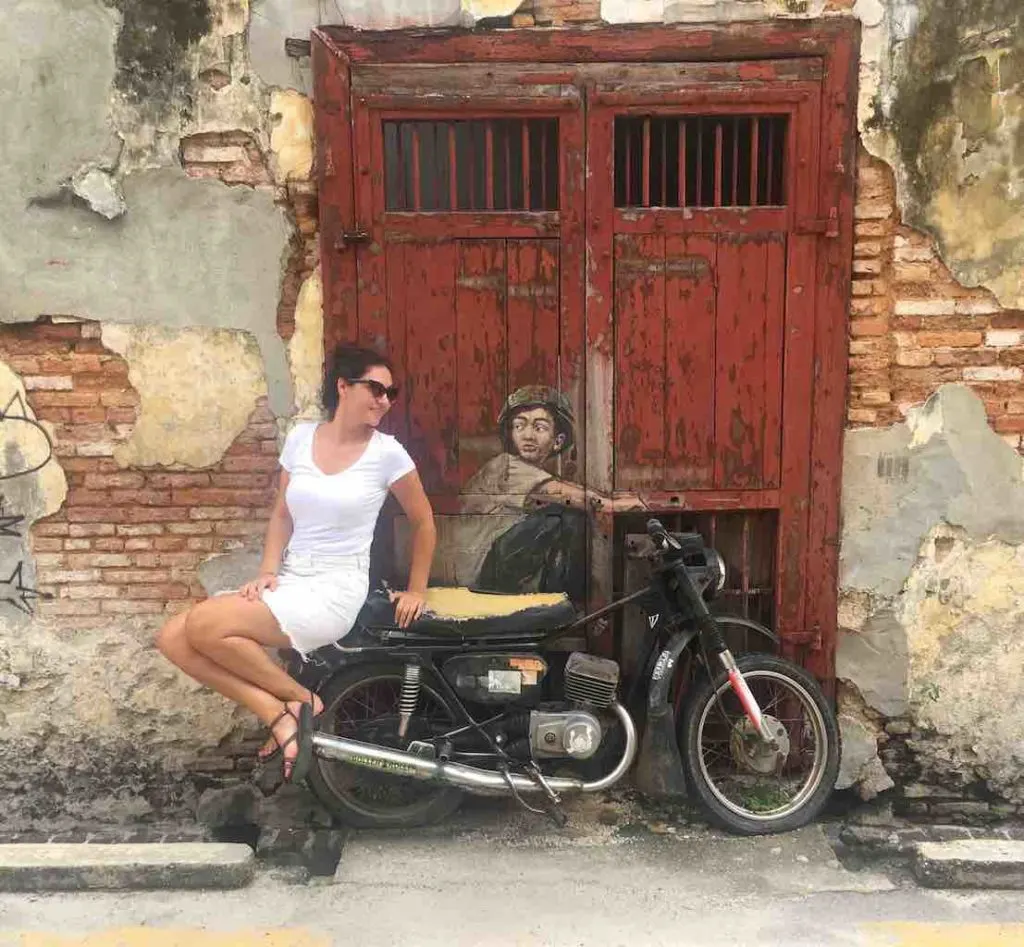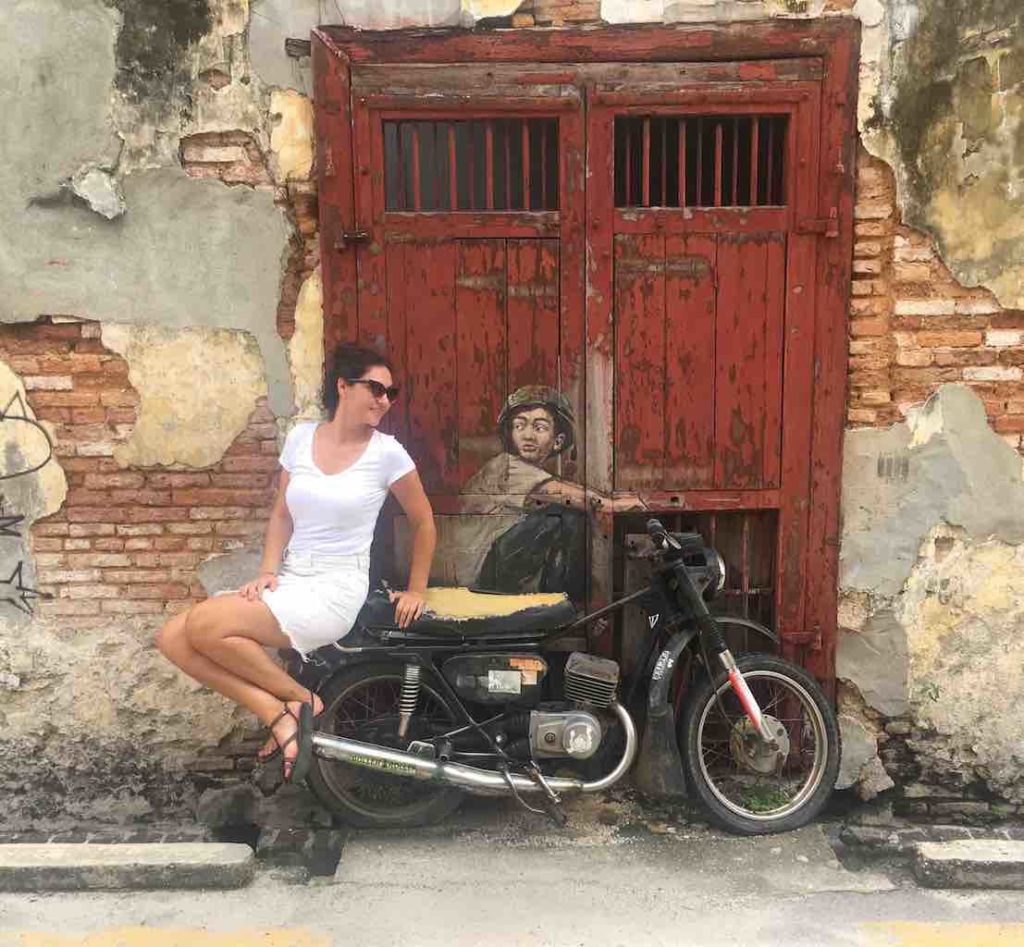 Boy on a Bike is another 3D mural in Georgetown by Ernest Zacharevic. This captivating Ernest Zacharevic 2D wall painting with inserted real bike leaves none indifferent. Quite the opposite, it makes you playful and wants to join the bike ride. This great example of interactive Ernest Zacharevic street art you can find on Ah Quee Street in Georgetown.
3. Little Boy with Pet Dinosaur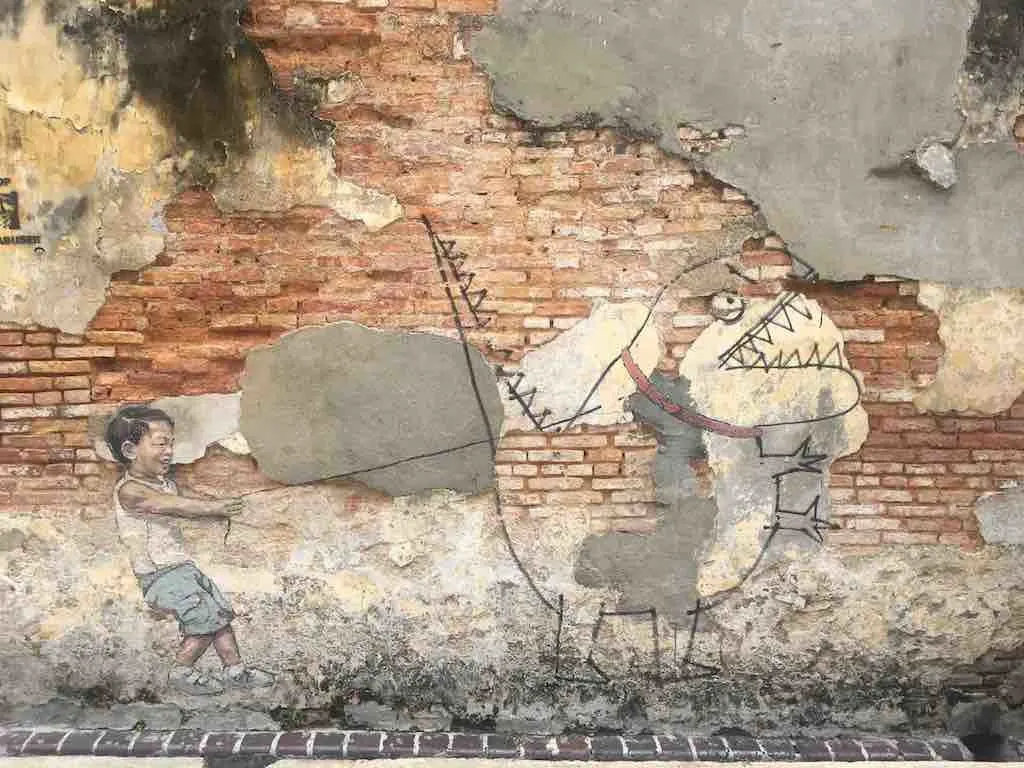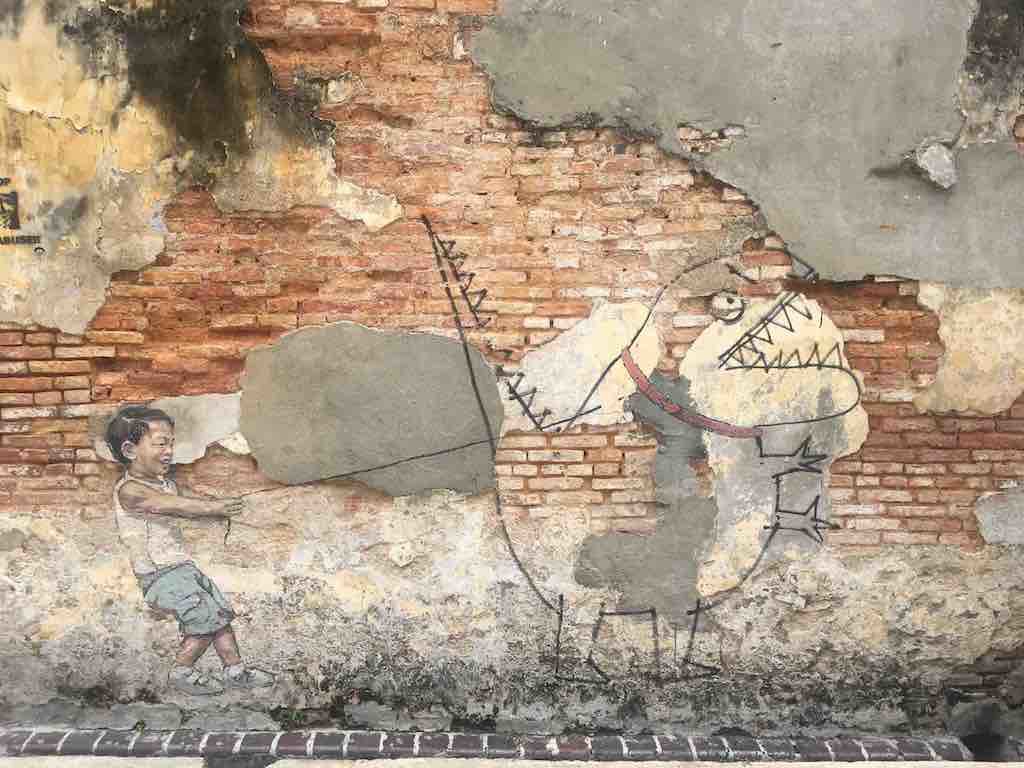 Little Boy with Pet Dinosaur wall painting features a 2D wall painting of a boy who takes a walk with his imaginary dinosaur pet. Ernest praises children's imagination in Little Boy with Pet Dinosaur Penang mural. This Georgetown mural is just next to the Boy on a Bike mural on Ah Quee Street.
4. Boy on a Chair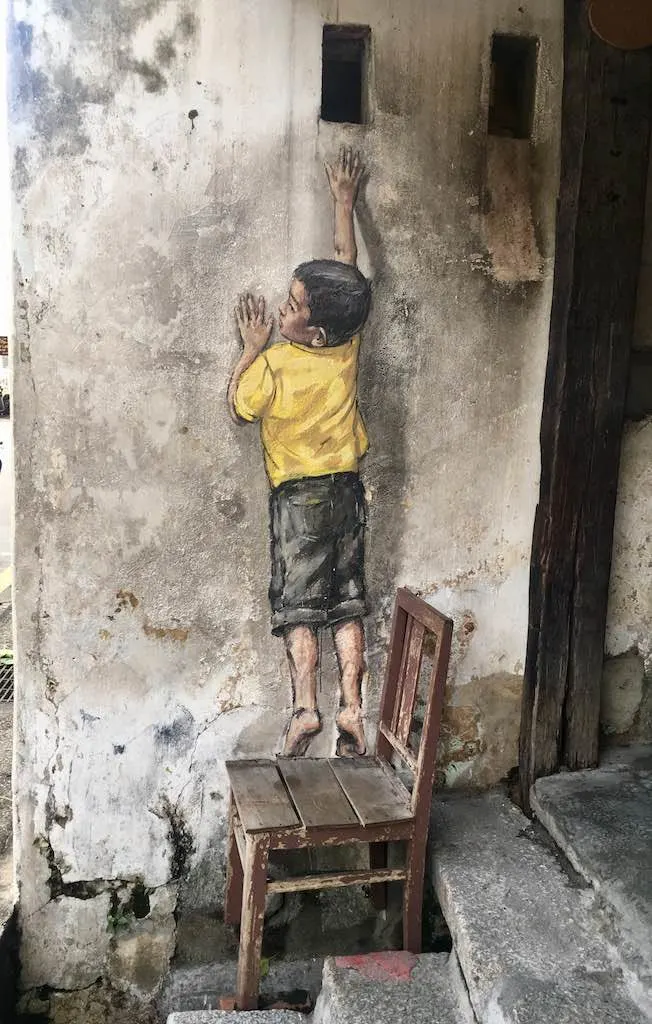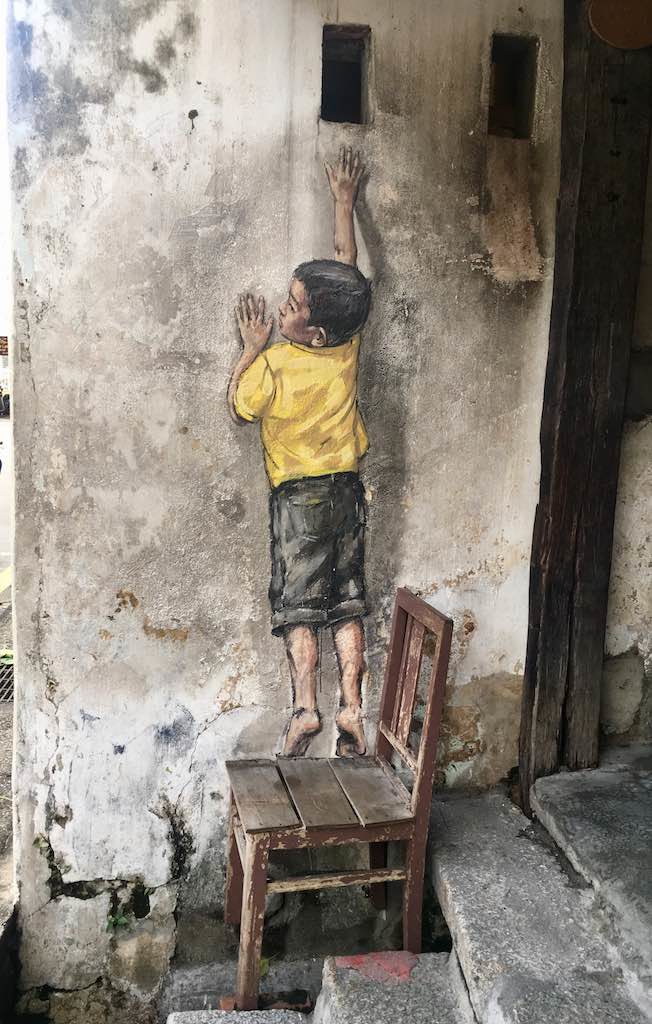 This street art is also known as the 'Reaching Up' mural or 'Almost There'. It pictures a 2D mural of a boy standing on a real chair and reaching a real hole in the wall. Boy on Chair Penang is on Cannon Street, near the corner between Acheh Street and Armenian Street Penang.
5. Little Girl in Blue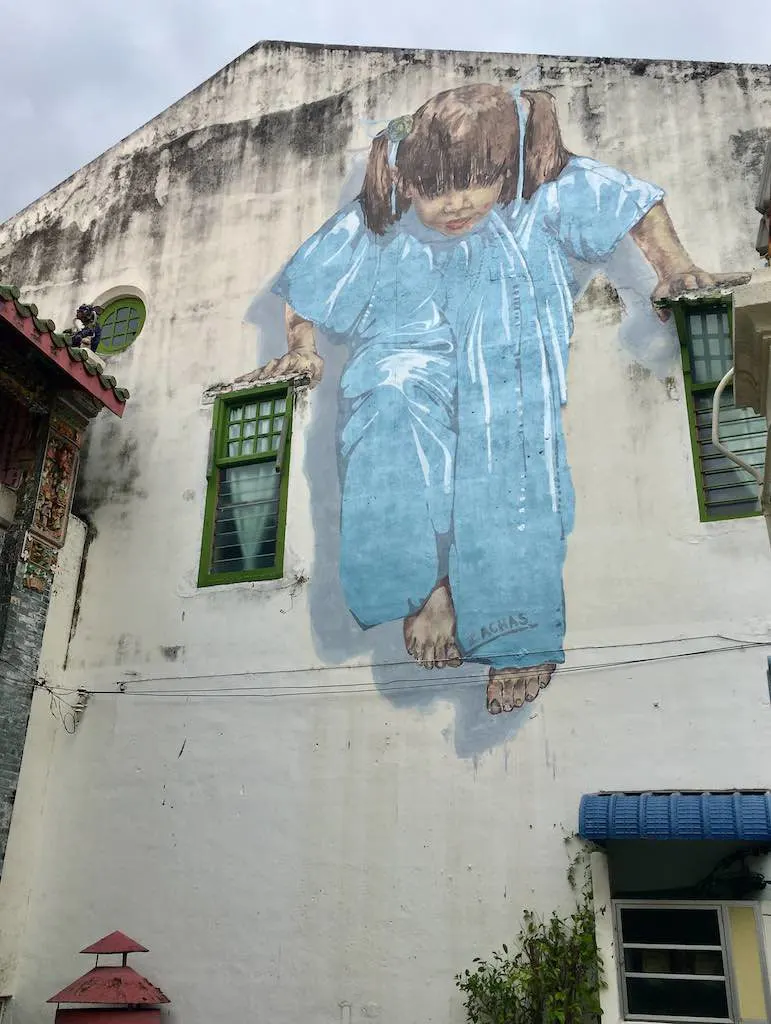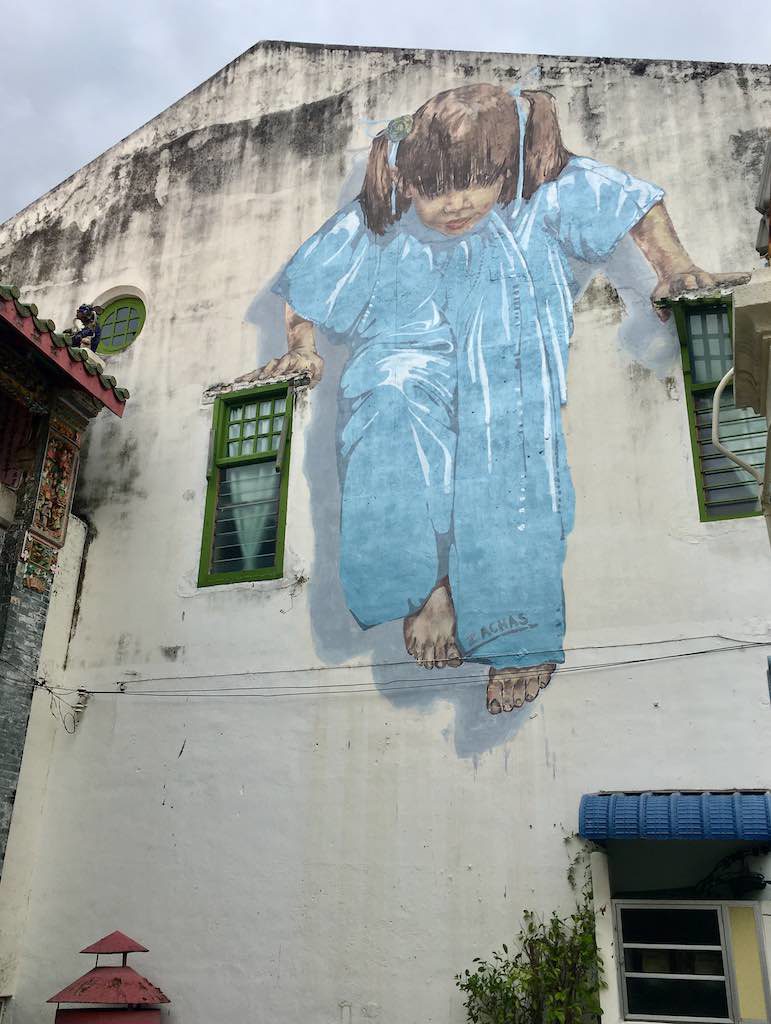 The Little Girl in Blue mural is also called the Kung Fu Girl wall mural in Penang. The Kung Fu girl wall mural in Penang depicts a cheeky girl hanging on her hands. Some visitors find her frightening. I find her just childish playful and cheeky.
Penang mural painting Kung Fu girl is on the wall of Moon Tree 47 cafe and homestay in Muntri Street (Jalan Muntri), between Love Lane and Leith Street. Little Girl in Blue wall art marks the shop where Penang-born world-famous shoe designer Jimmy Choo first apprenticed.
Street Art in Penang by LOUIS GAN
Mute-death Penang murals artist Louis Gan created in his hometown some exceptional Penang murals.
6. Children on a Swing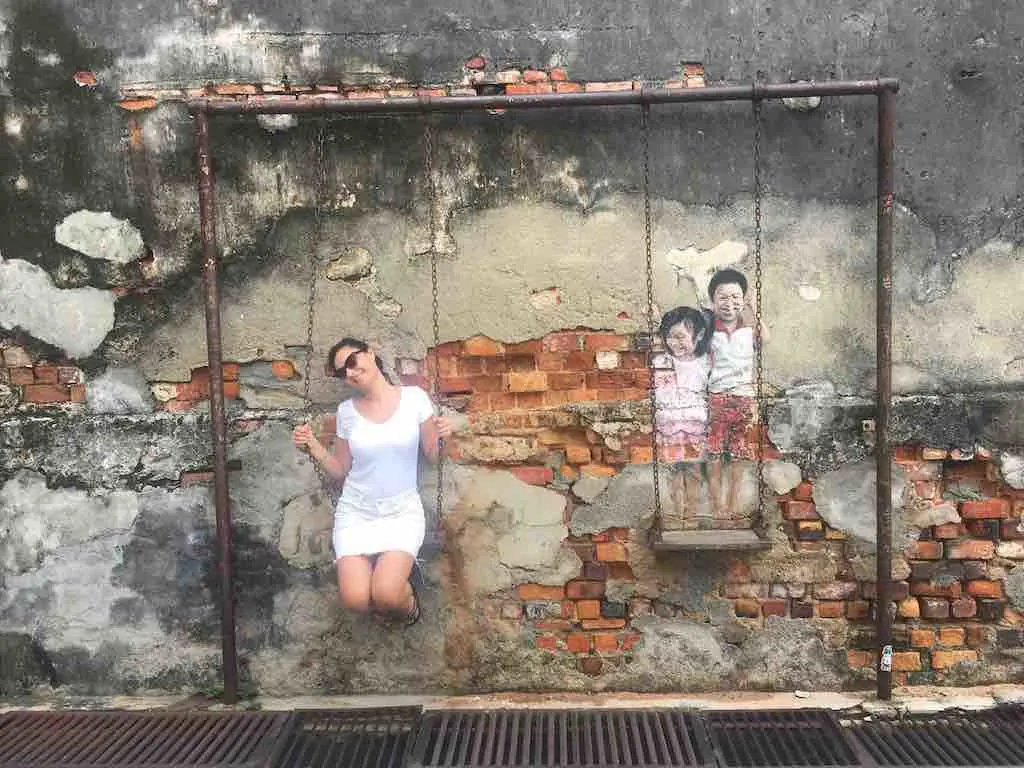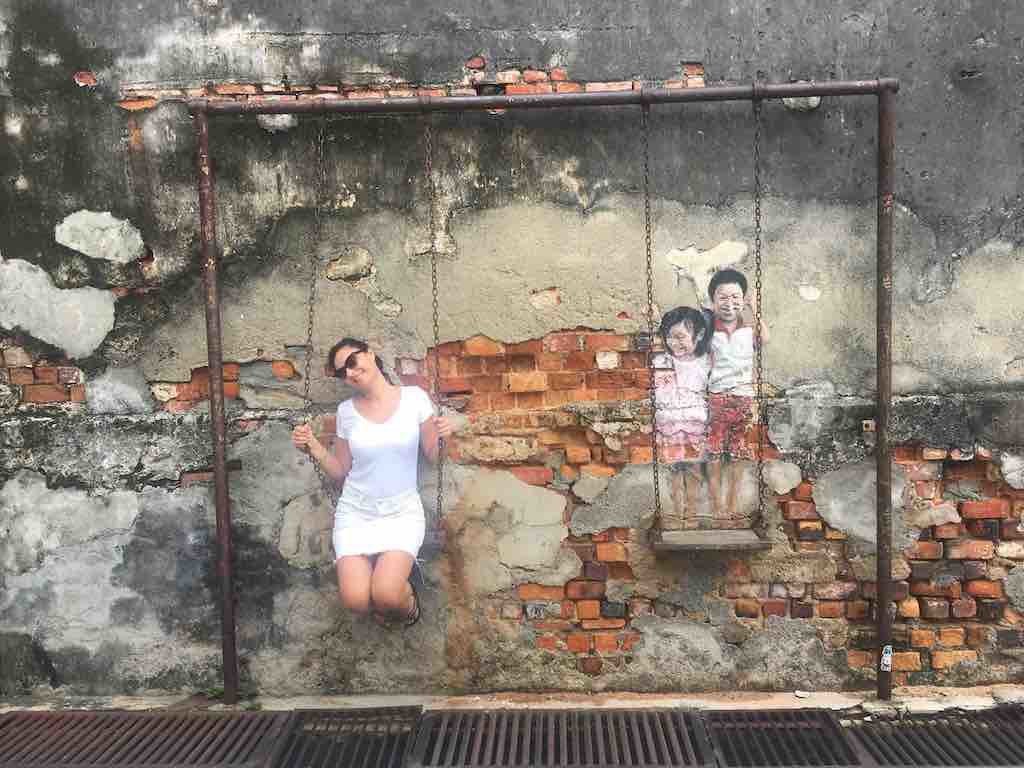 Sometimes Children on a Swing mural is called Brother and Sister on a Swing mural as well. Children on a Swing 3D Penang street art is in a small alley off of Chulia Street (Lebuh Chulia), in Gat Lebuah Chulia between Victoria Street (Lebuh Victoria) in Penang and Pengkalan Weld (Weld Quay).
7. Basketball Game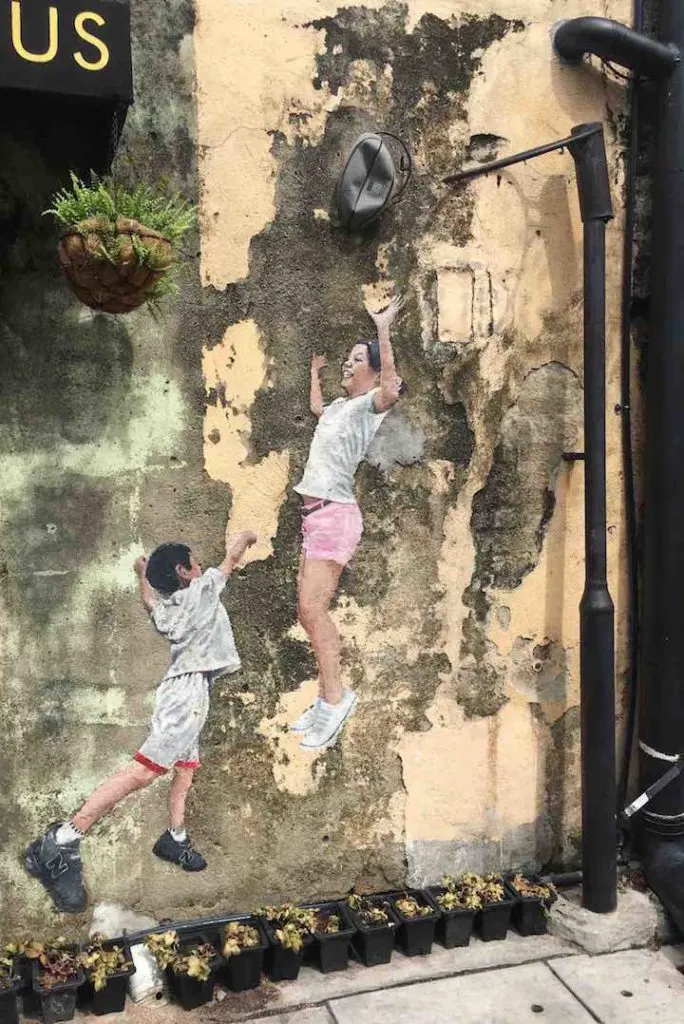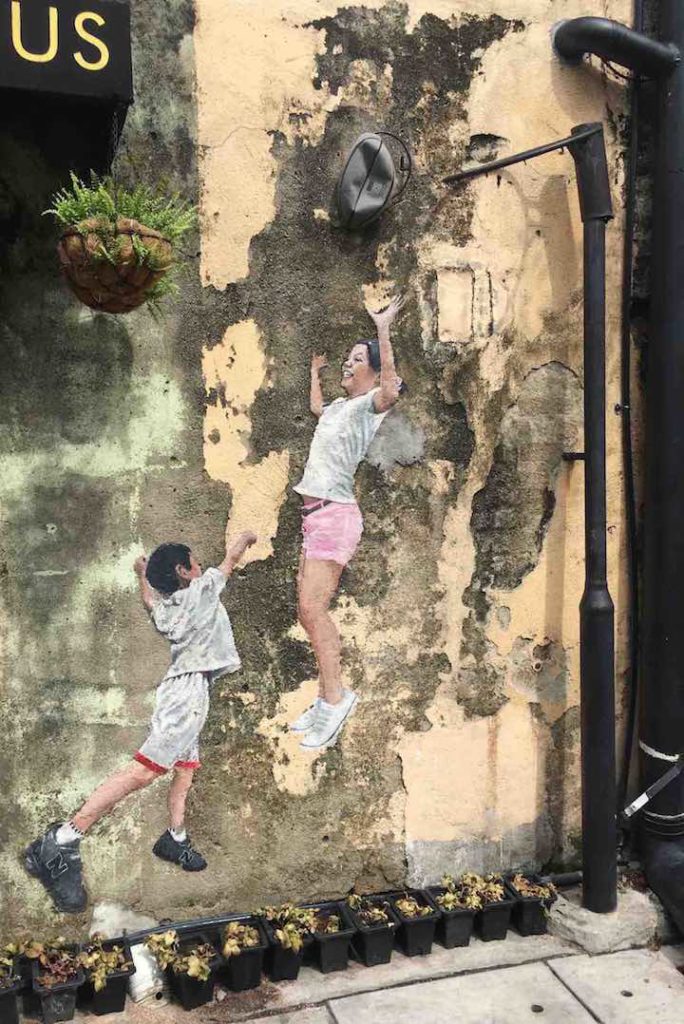 Another great example of 3D art in Penang is the Children playing Basketball mural. Georgetown mural Children playing Basketball in an alley just opposite the Children on a Swing wall mural Penang.
George Town Street Art by ARTISTS FOR STRAY ANIMALS (ASA)
2103 Artists for Stray Animals created some remarkable Penang murals raising awareness of stray animals in Georgetown.
8. The Real Bruce Lee Would Never Do That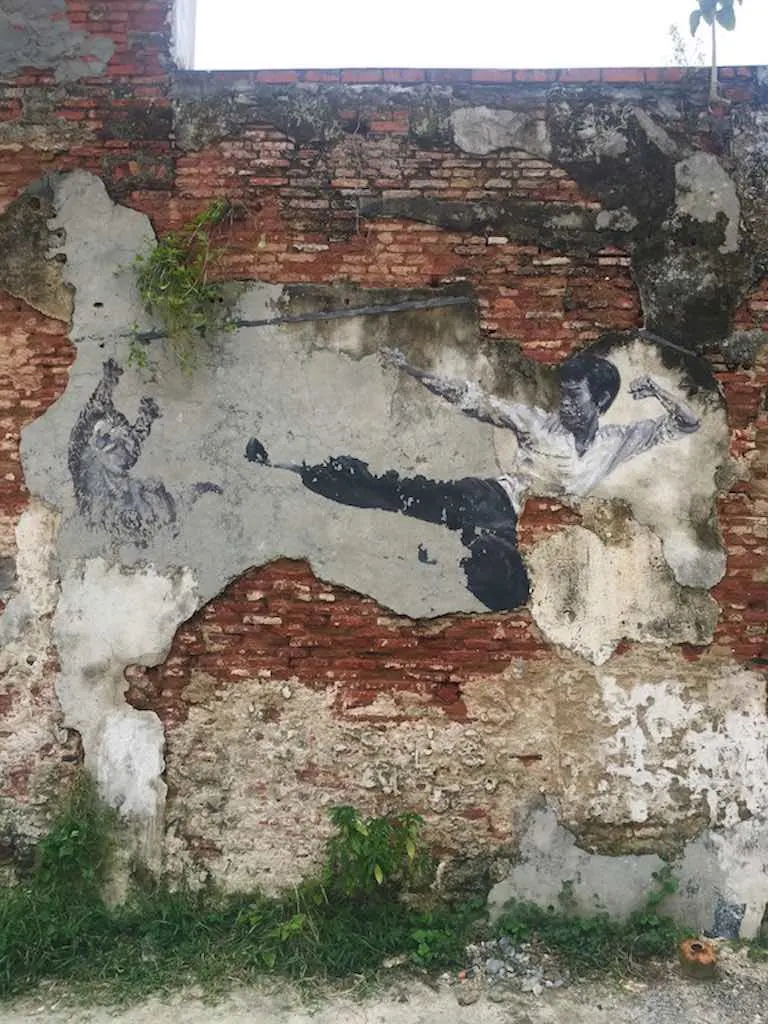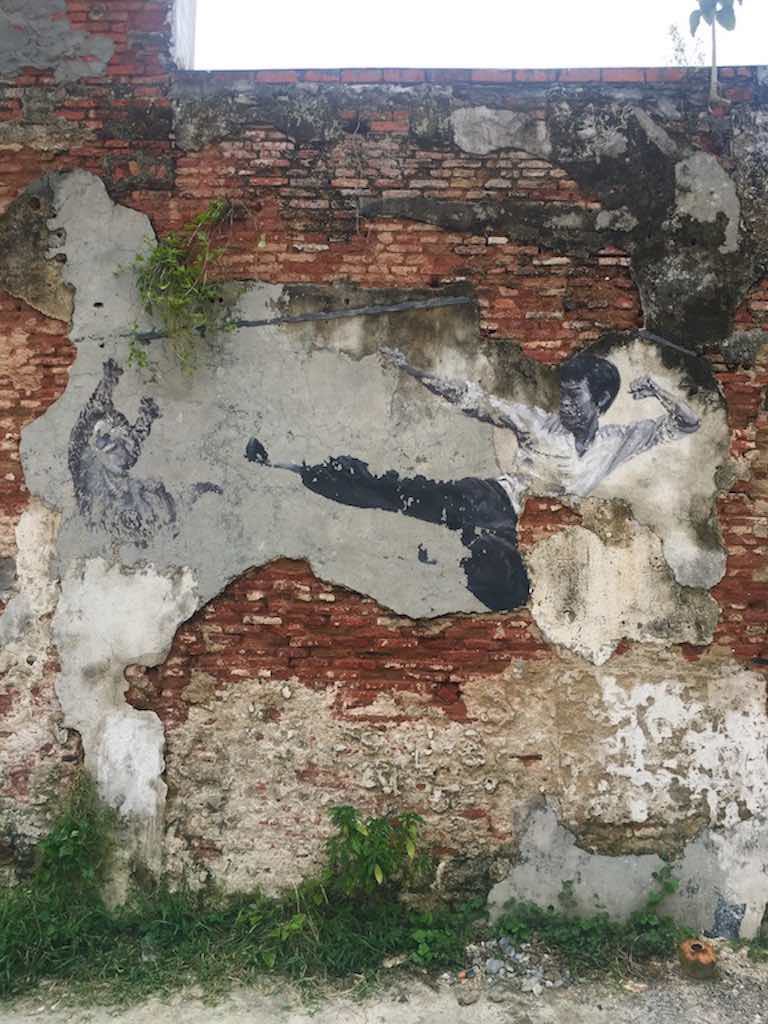 The real Bruce Lee Would Never Do That mural features Bruce Lee kicking two cats, while the third cat is hiding and watching it. The scared little cat is in the right corner staring at Bruce Lee. Please pay attention to her and don't miss the kitty.
Real Bruce Lee Would Never Do That Penang street art is at a back lane off of Ah Que Street, between Lorong Pit and Beach Street (Lebuh Pantai).
9. Cat in Blue Window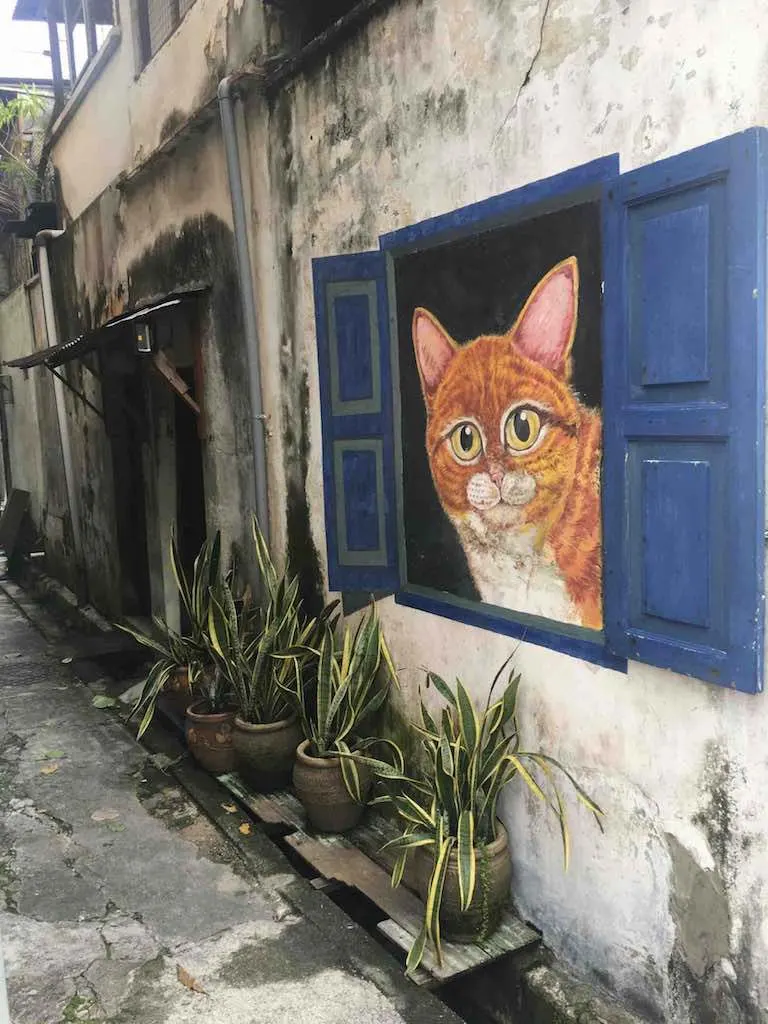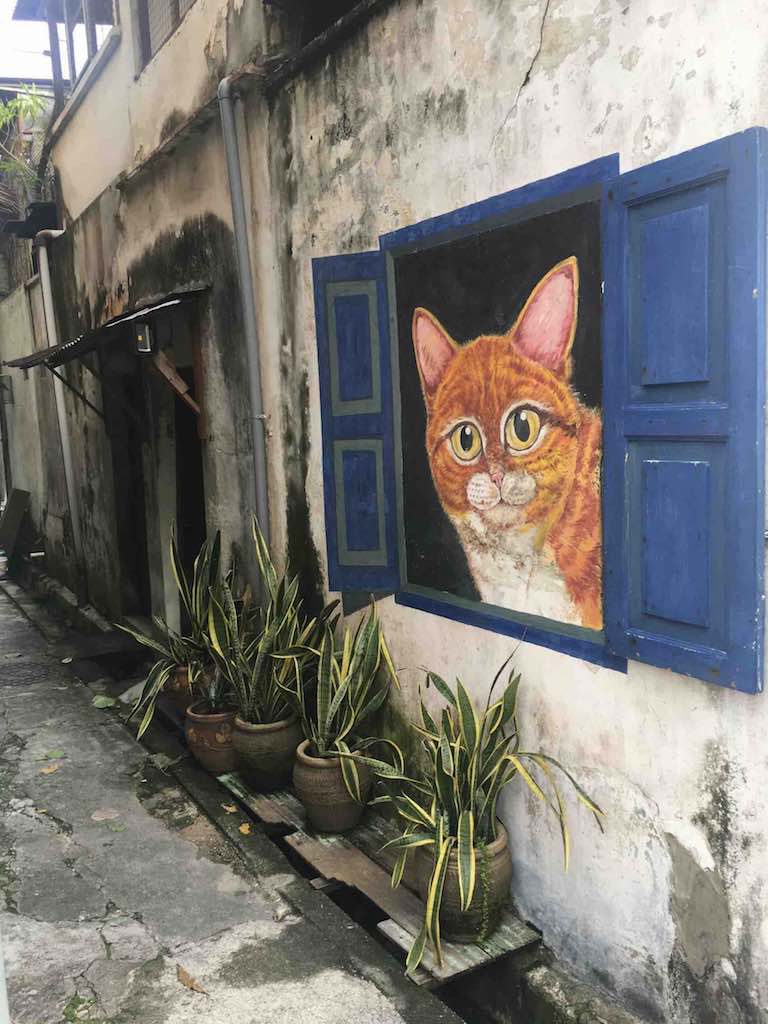 Cat in a Blue Window is one of the Penang murals also made as a part of the 101 Kitten Project. Fiercely eyes of the orange cat in a blue window make Cat in a Blue Window Penang mural special. The mural can easily be found on Penang Cannon Street, just opposite the Boy on a Chair mural.
10. Cats and Humans Happily Living Together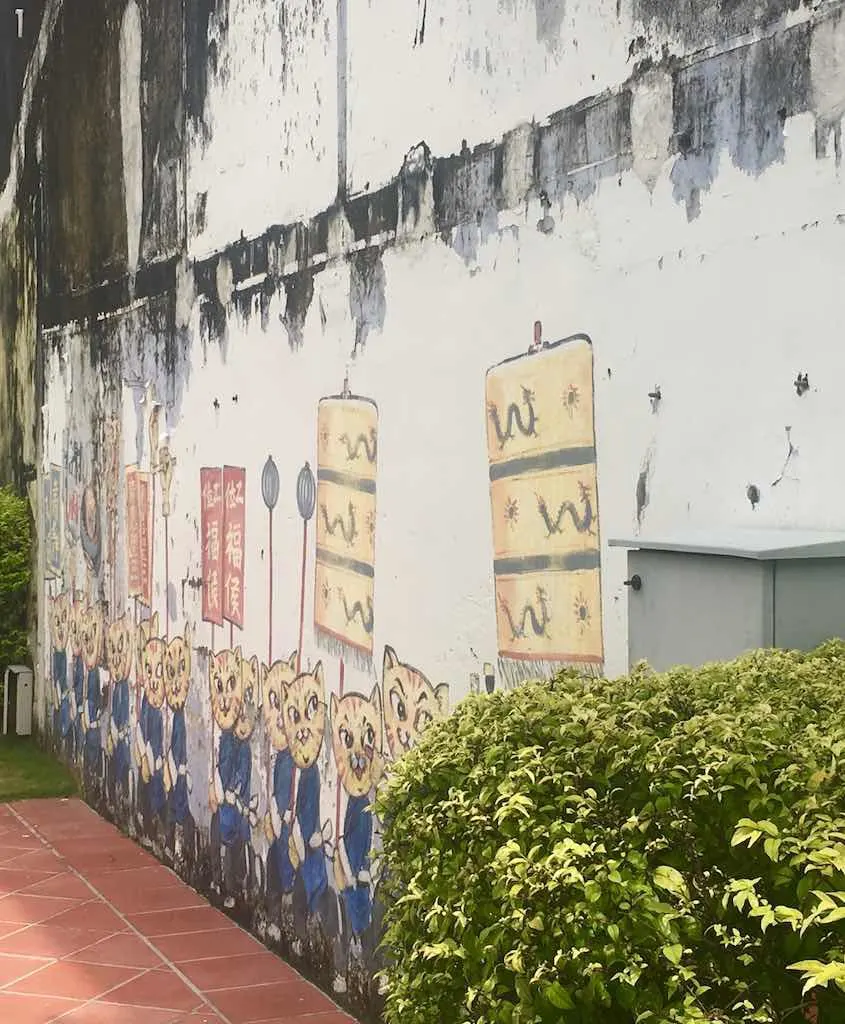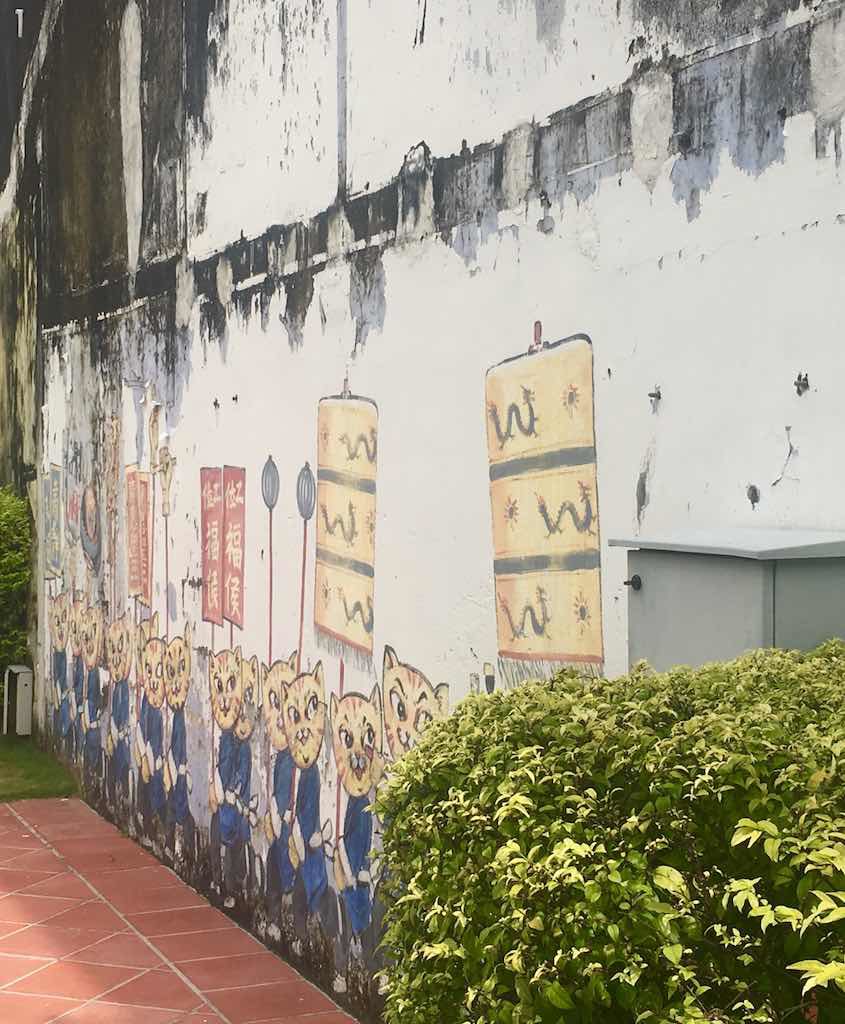 Georgetown's mural Cats and Humans Happily Living Together is on the wall in the garden of Cheah Kongsi in Penang. Cats in the mural carry Taoist lanterns, banners, and some deities in a Taoist procession since the majority of Penang's Chinese are Taoists. Cats and Humans Happily Living Together Penang mural shows exactly what is named for – cats and humans happily live together.
I took the photo from Beach Street (Lebuah Pantai) since the courtyard doors were closed. The entrance is free though.
11. Love Me Like Your Fortune Cat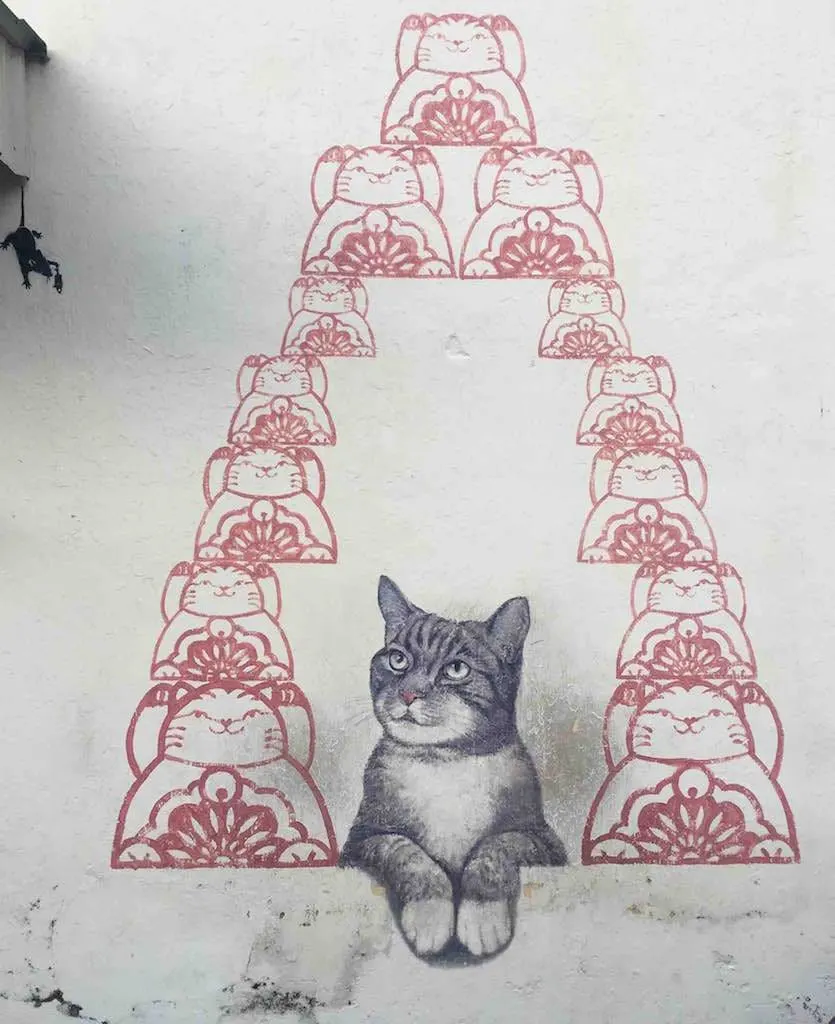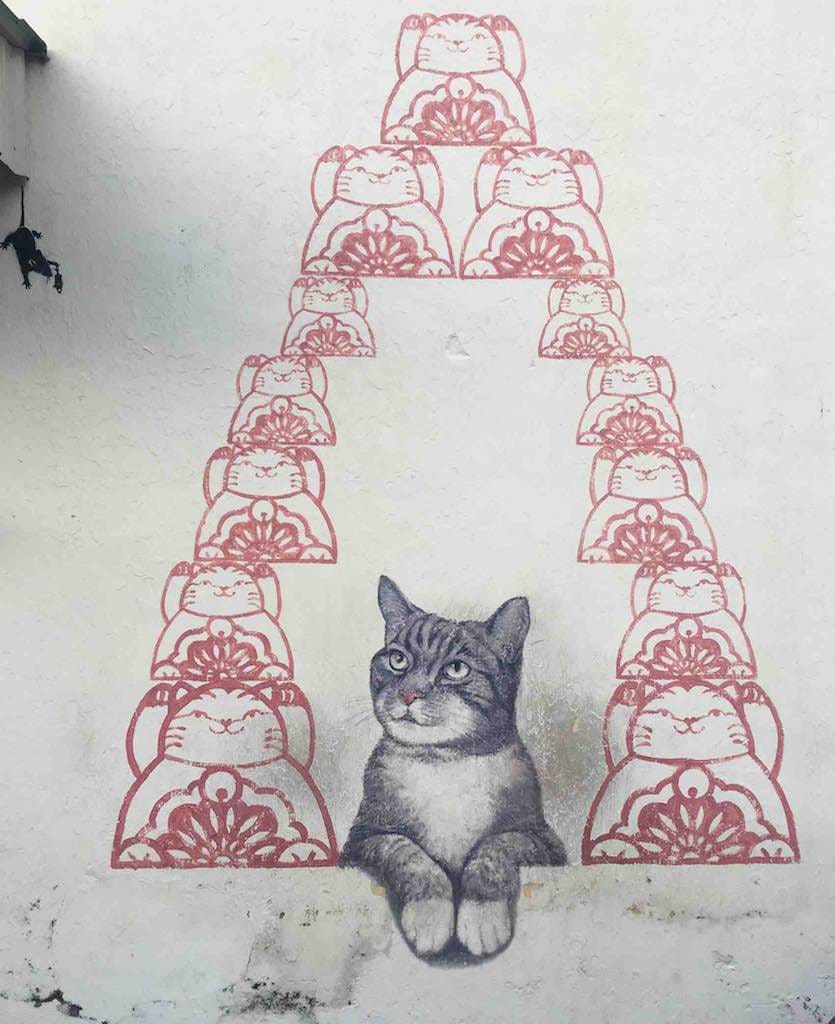 Love me Like your Fortune Cat mural is in Penang Armenian Street (Lebuh Armenian), on the corner near the junction with Lebuh Victoria (Victoria Street).
I love the way the main cat character looks at the little mouse hanging down in the upper left corner. It seems like the mouse is playing with the cat teasing her! Please don't miss to pay attention to the little mouse!
12. Please Care and Bath Me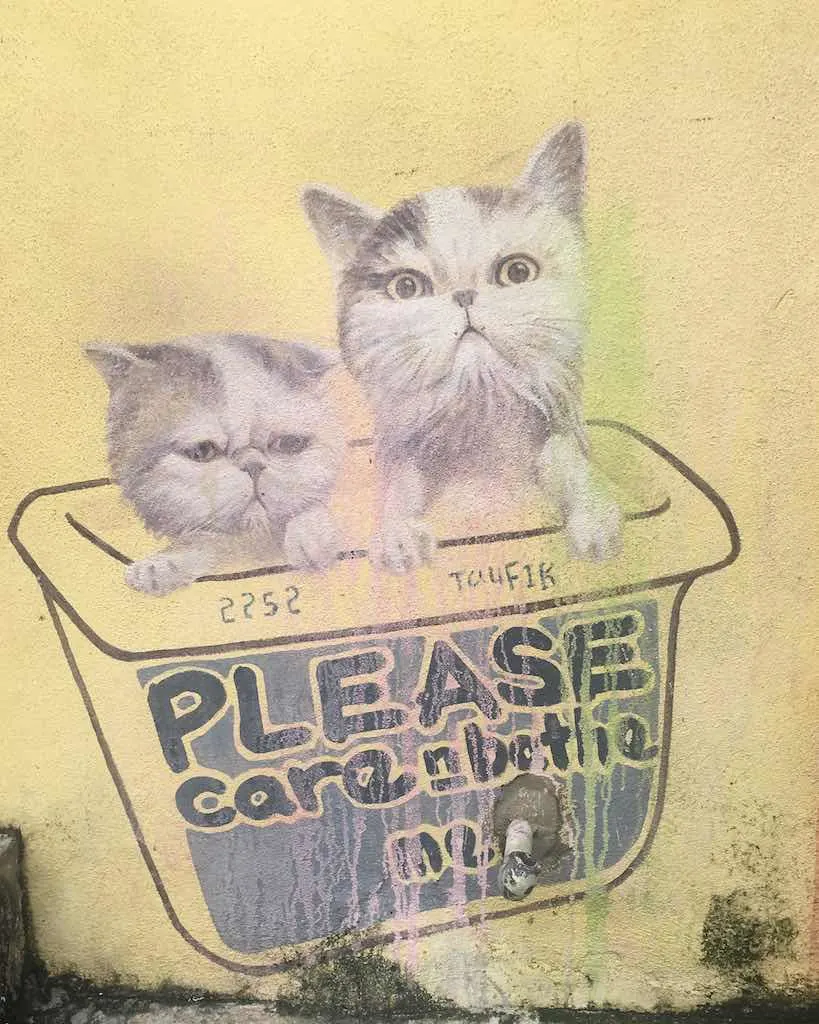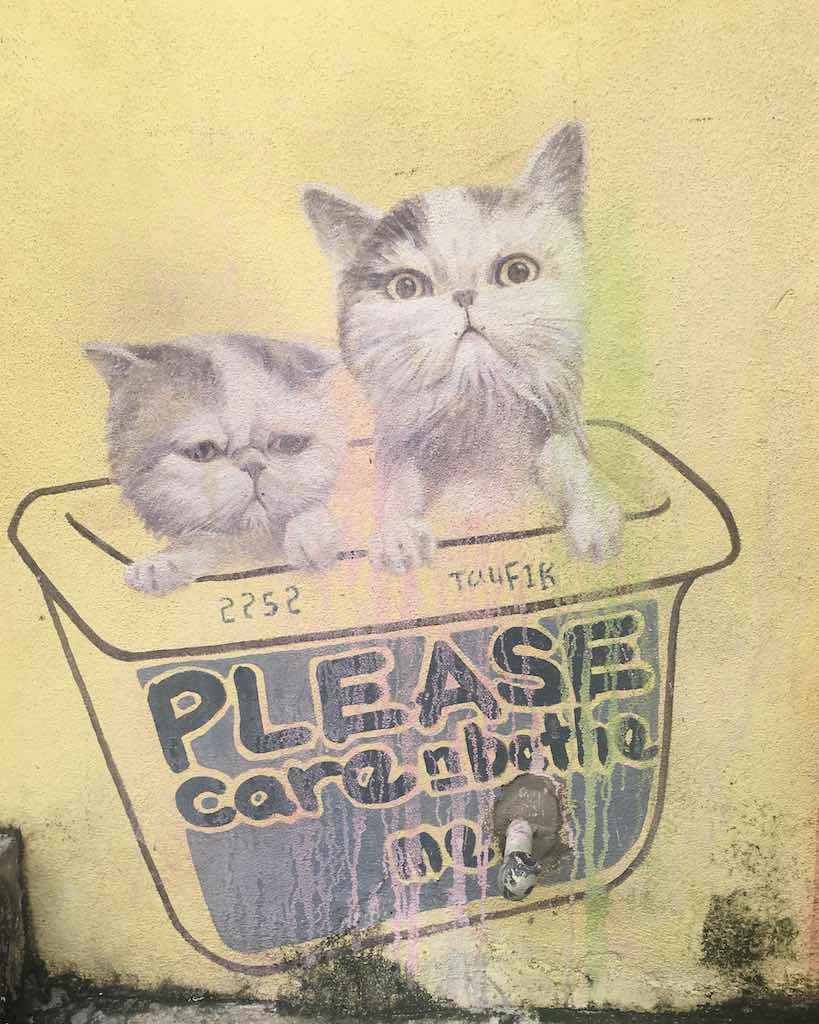 Wall painting mural Please Care and Bath Me is sometimes also called Two Kittens in a Tub mural. Please Care and Bath Me mural is a tiny wall painting in a small alley off of Armenian street in Penang.
13. Skippy Comes to Penang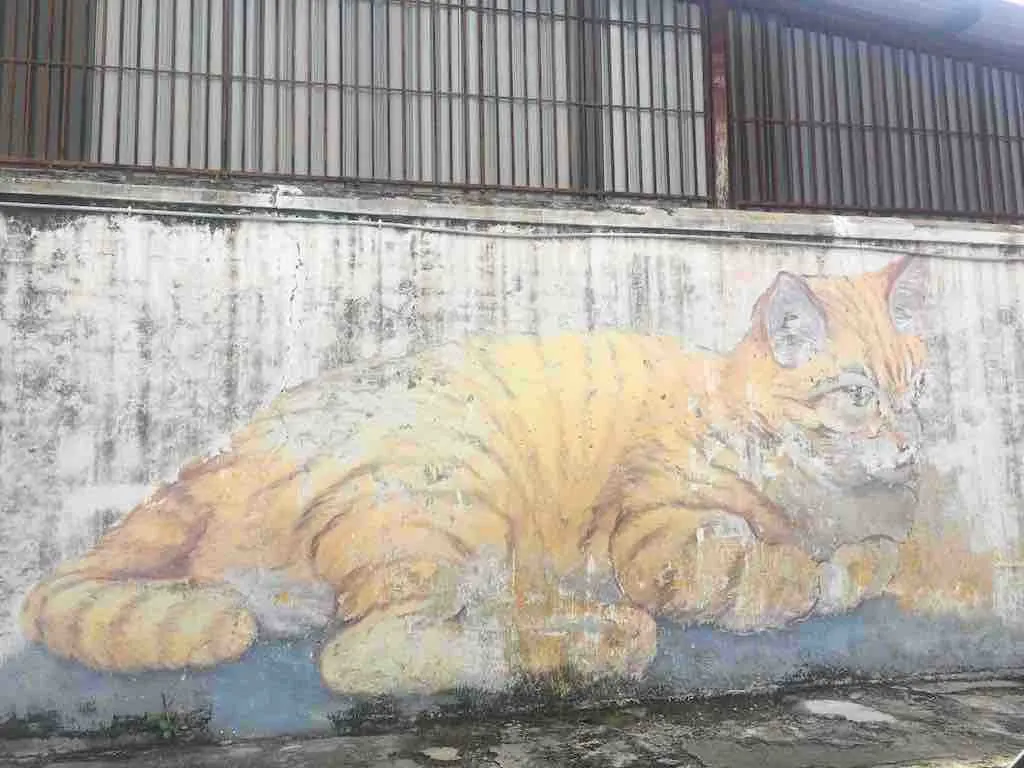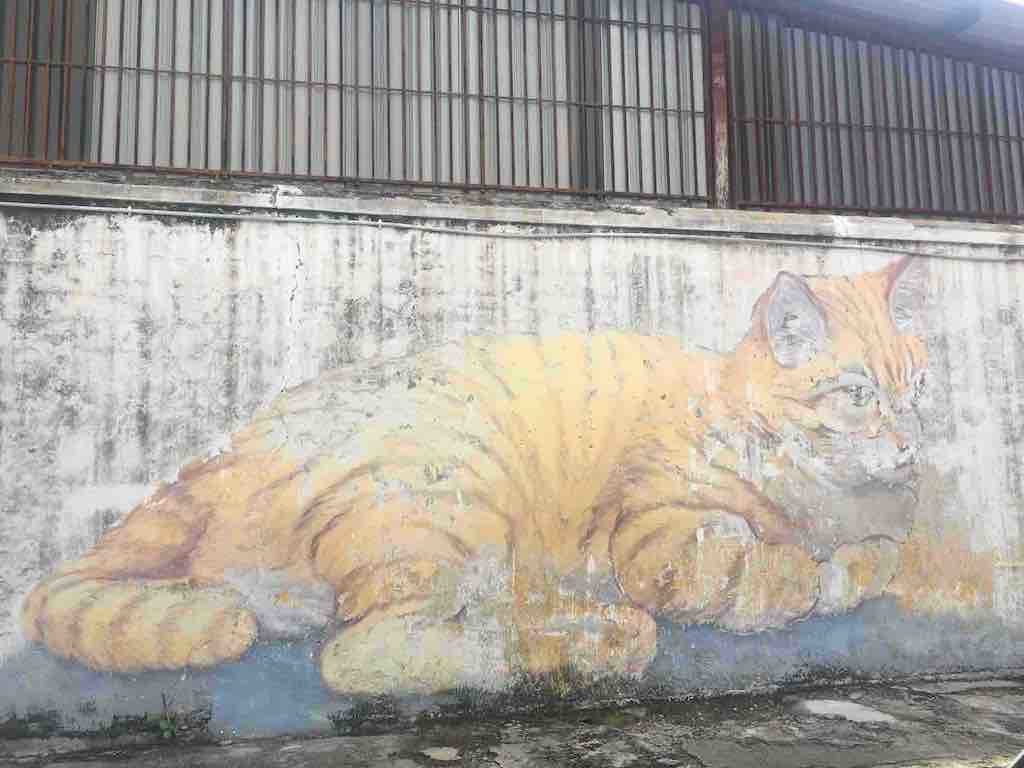 This iconic Penang mural of Skippy is just opposite to Please Care and Bath Me mural. Skippy, the cat with a deformed leg became the main mascot of the 101 Lost Kitten Project. Skippy Comes to Penang wall art is also near the Kids on a Bike mural.
Penang murals by JULIA VOLCHKOVA
Julia Volchkova (or originally Yulia Volchkova) is a Syberia-born mural artist who also left a strong mark on Georgetown street art. Yulia is the creator of several hyper-realistic Penang murals perfectly capturing human expressions.
14. Indian Boatman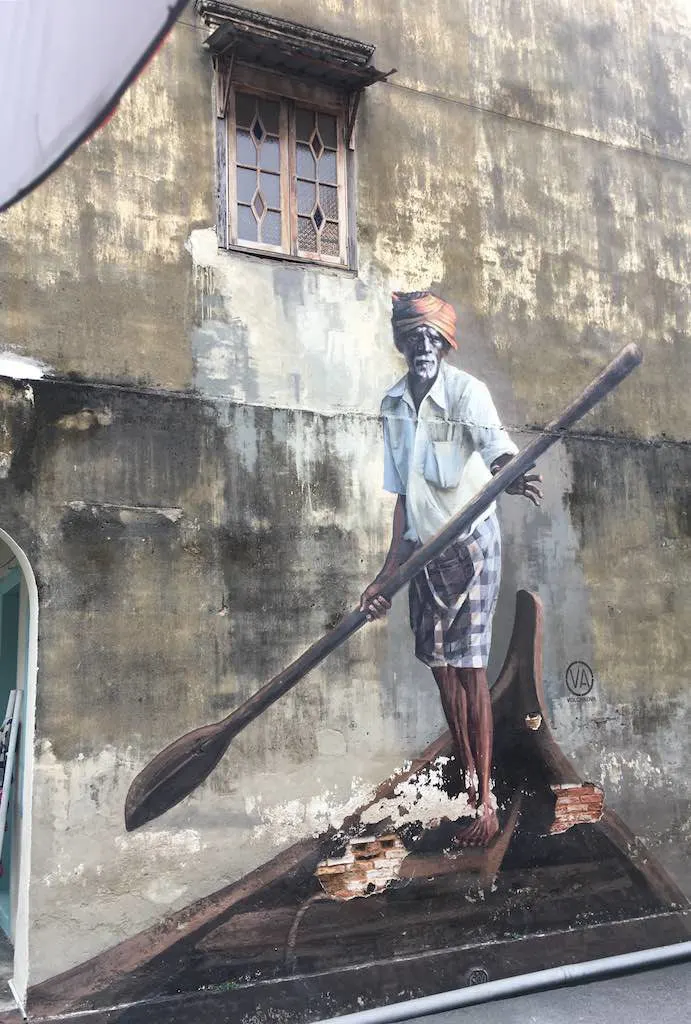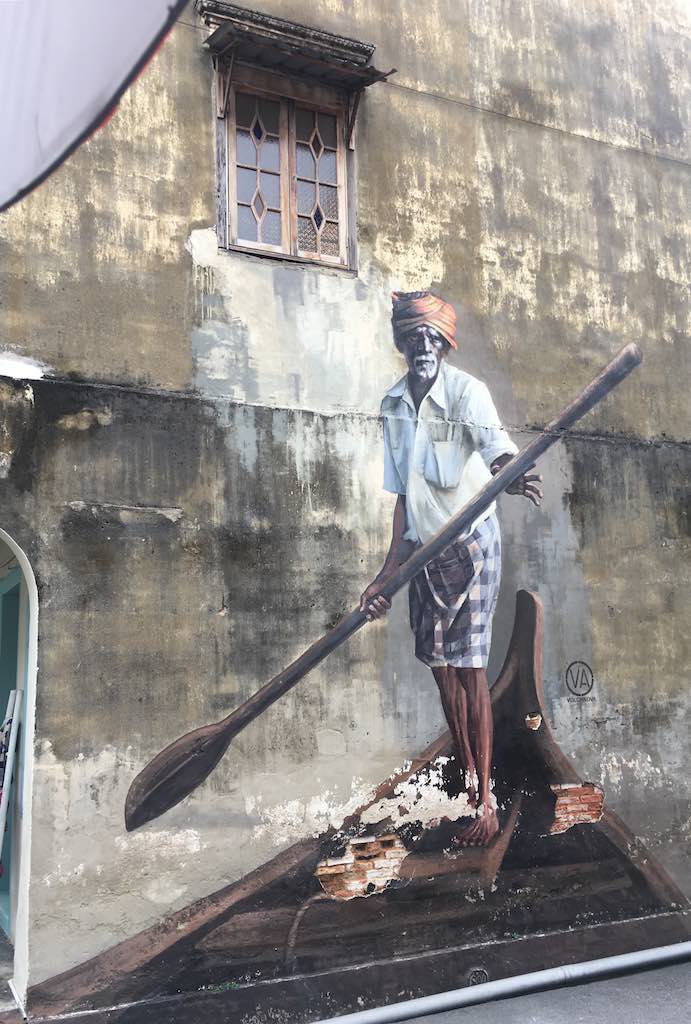 2014 Yulia Volchkova made the Indian Boatman Penang mural. This Georgetown wall mural is on the wall of Clockwise Hostel in 75 Stewart Lane facing Klang street in the part of the historic core of Georgetown where Indians had a strong role in the maritime past of Penang.
15. Old Indian Woman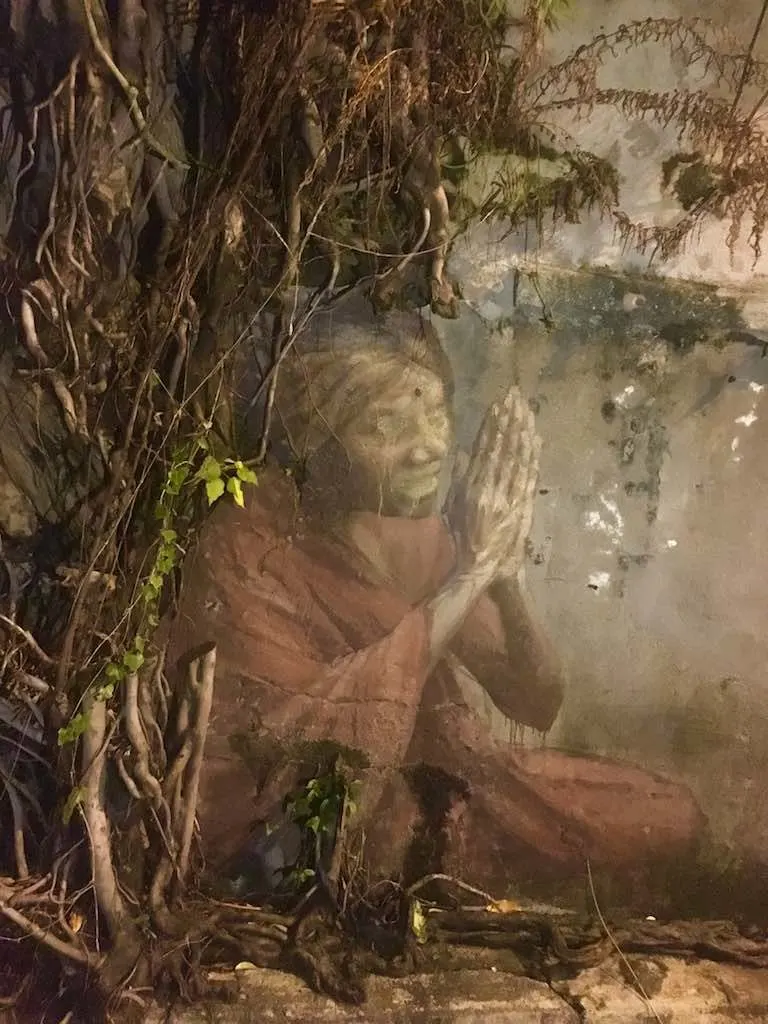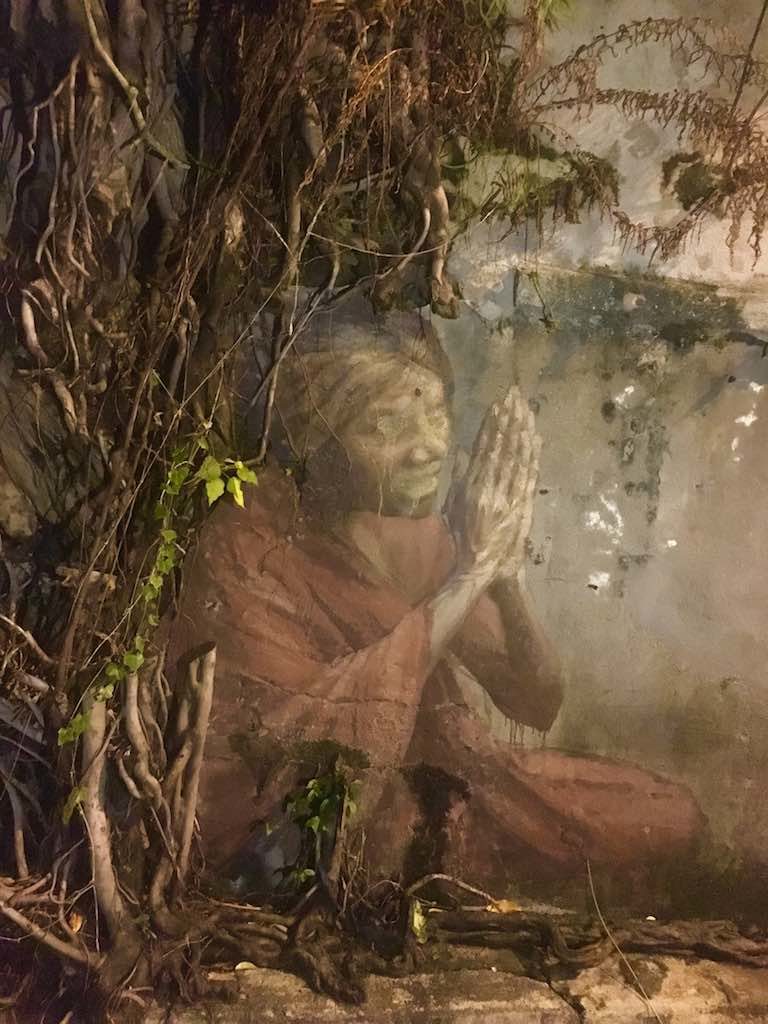 Julia Volchkova made the Old Indian Woman wall painting in 2015. Sometimes it is also called Namaste mural and you can find it in Lamut Lane in Georgetown. The old lady sitting under a Banyan part visually seems to be a part of the tree.
Pity the quality of the photo I took by night is not good. It doesn't' do justice to the greatness of the mural. Penang Old Indian Woman wall mural is one of my favorite Penang murals.
16. Boy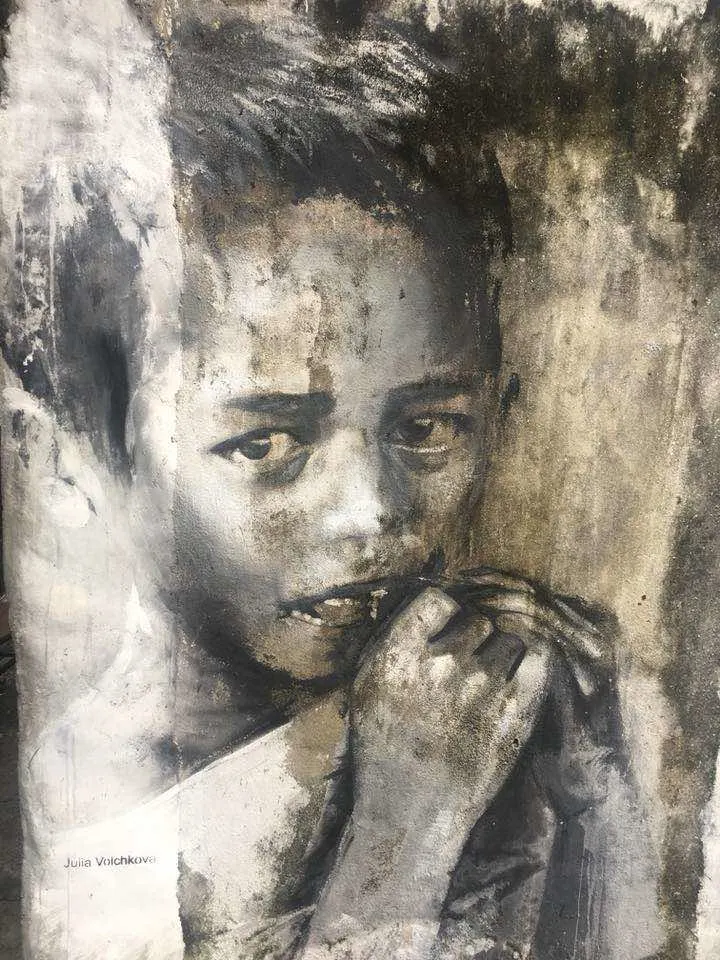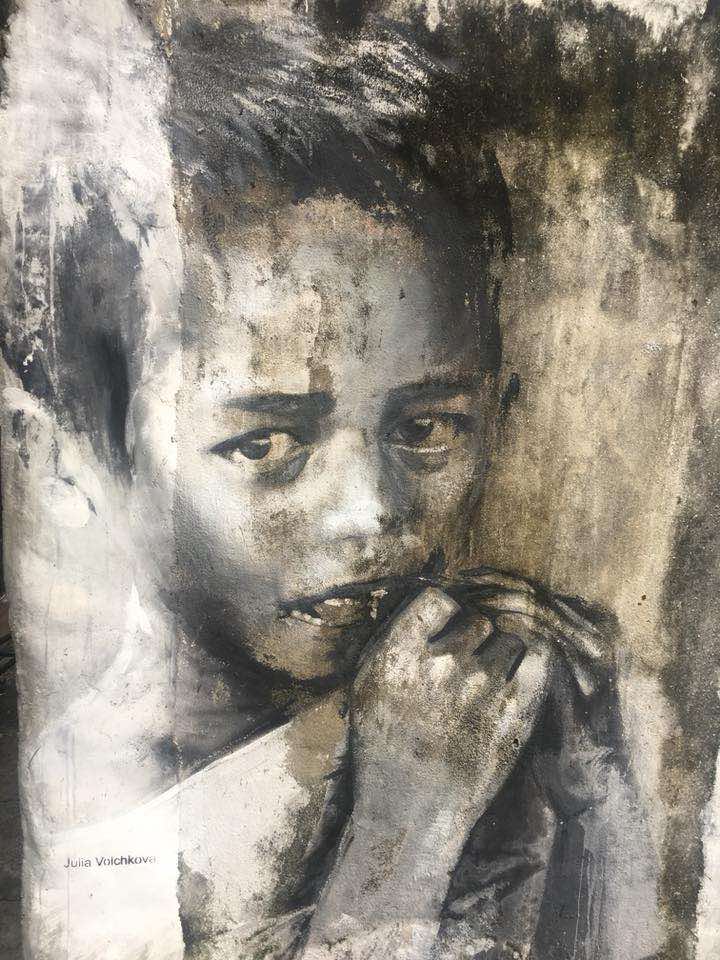 As I have already said, Yulia Volchkova is an expert at drawing facial expressions. Penang's mural Boy is proof. The Boy mural is at the Prangin canal (Gat Jalan Prangin) at the end of Beach Street (Lebuh Pantai).
Penang graffiti by VARIOUS ARTISTS
17. Old Soy Milk Stall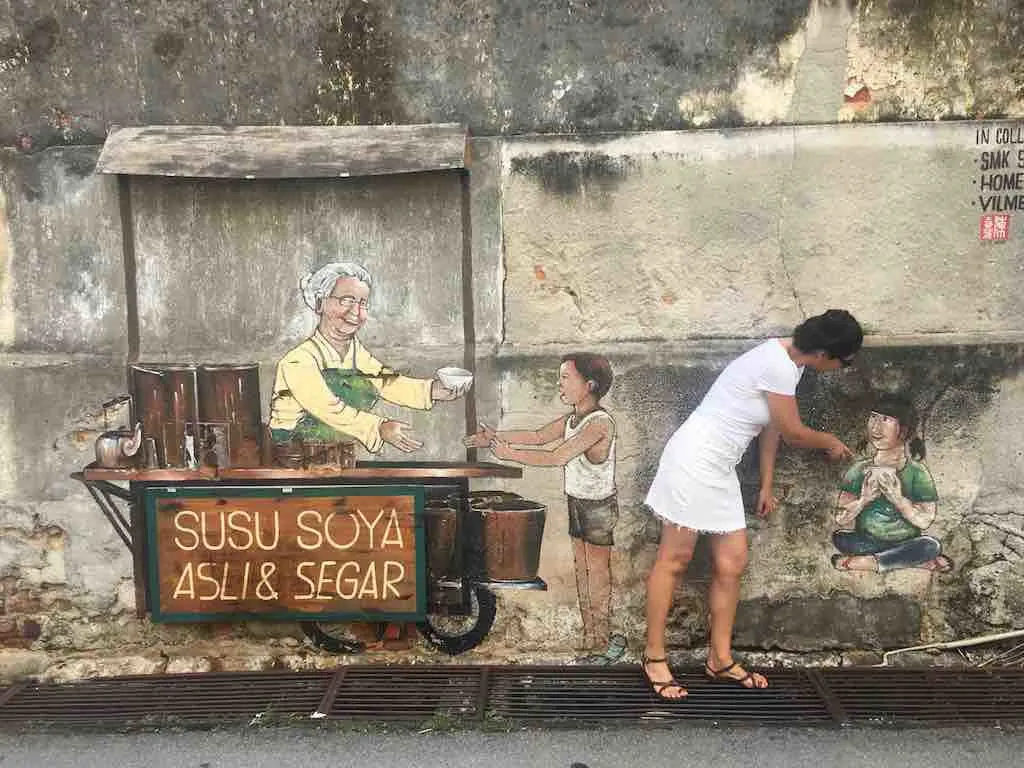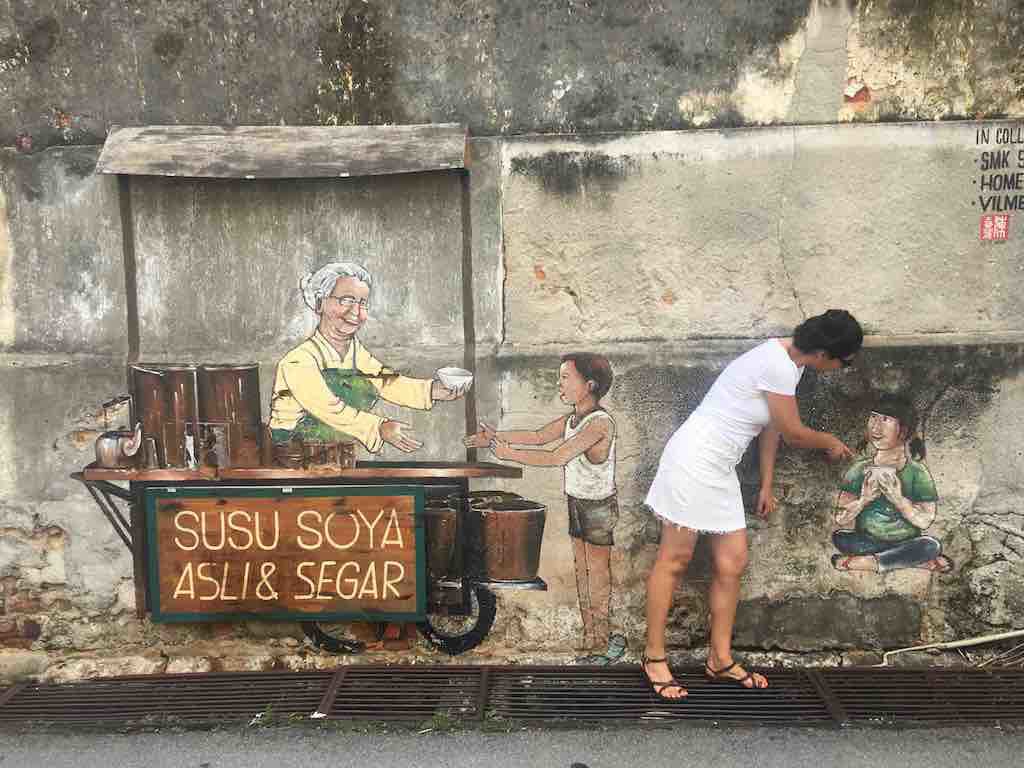 Soy Milk Stall Penang mural pictures children and an old lady serving the soy bowls. Penang wall mural Old Soy Milk Stall is in a small alley off Chulia street in Penang, between Victoria Street and Armenian Street.
18. Easter Egg Girl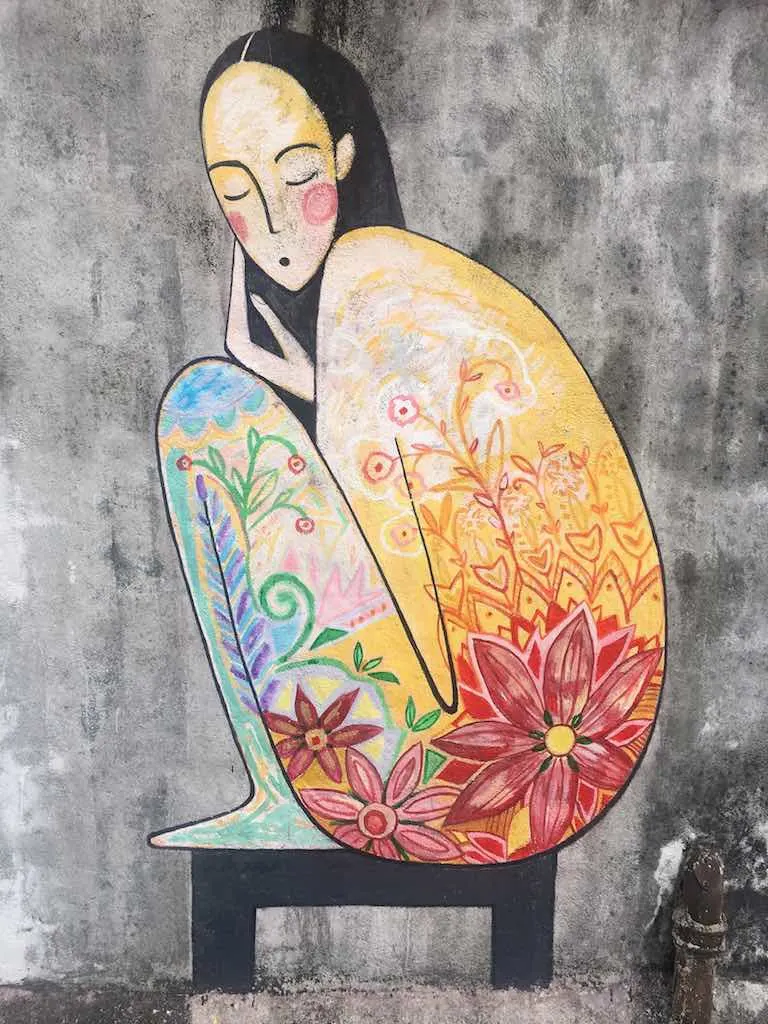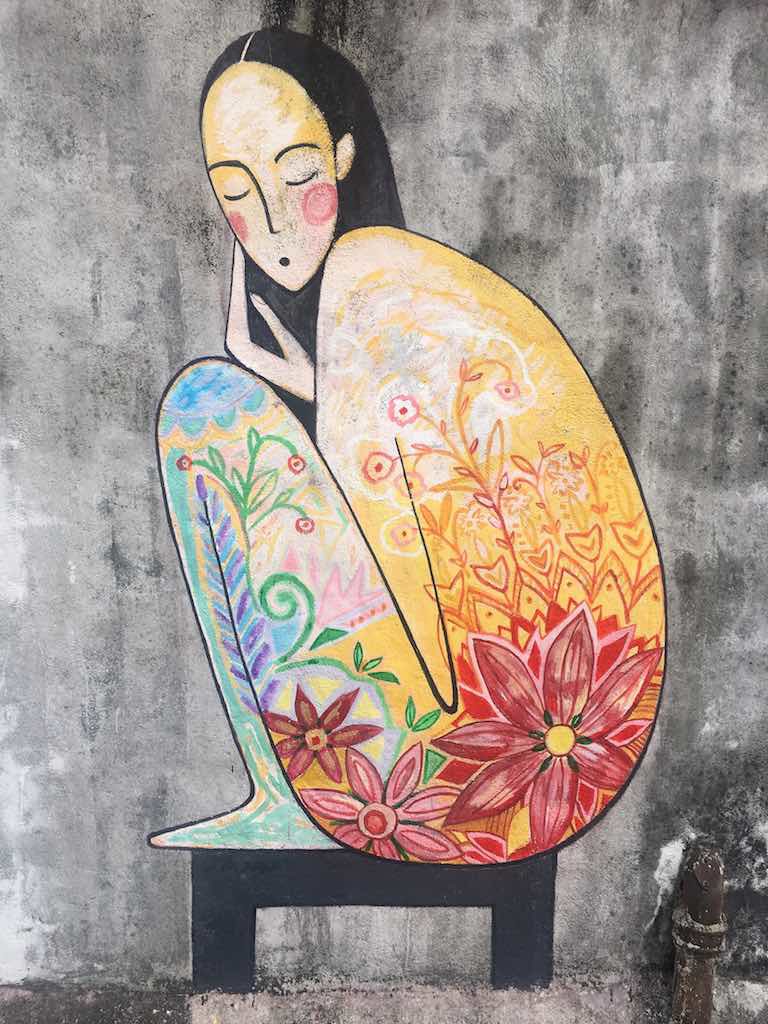 Easter Egg Girl is a colorful wall art Penang on Prangin Road Ghaut, between Beach Street and Weld Quay. I love the floral pattern and the matching colors of the mural.
19. Little Girl with Cheongsam Walking on Numbers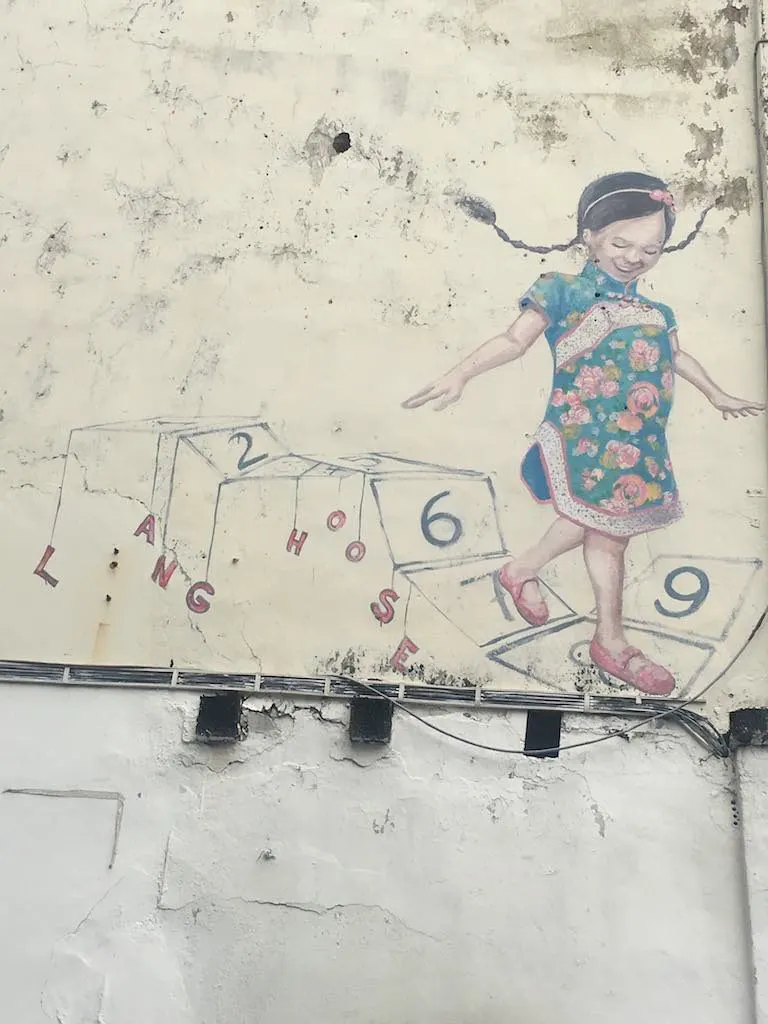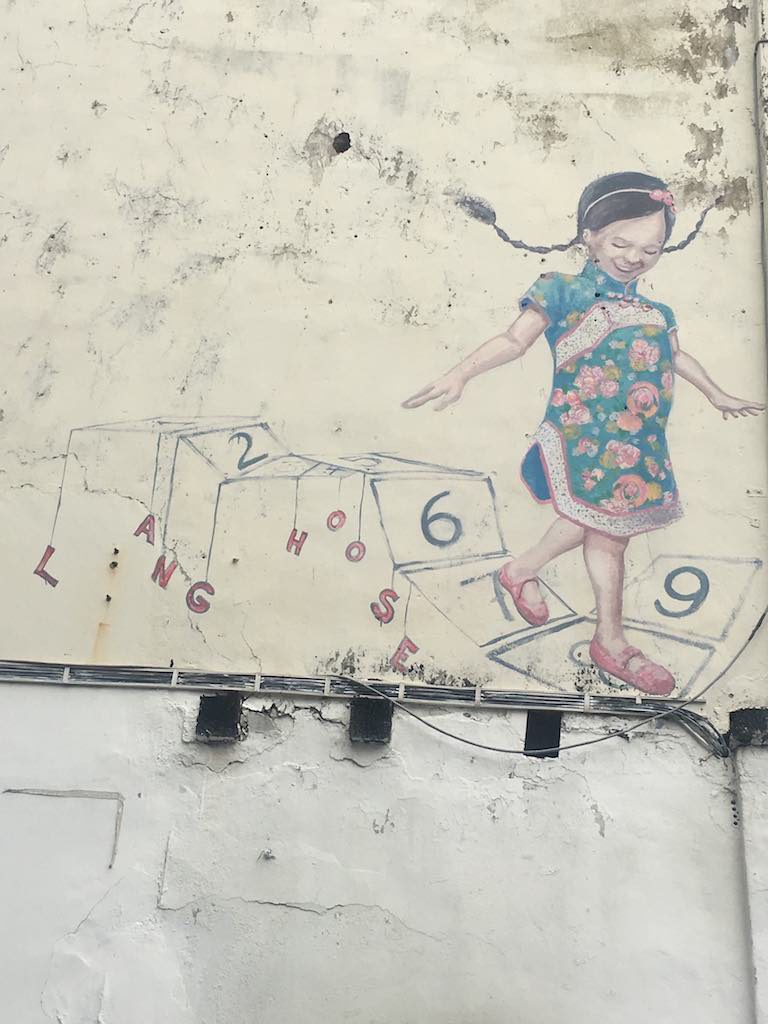 Penang wall mural Little Girl Walking On Numbers is also called Lang Hoose Girl mural since it is drawn on a wall of the Lang Hoose hotel, on the corner of Beach Street (Lebuh Pantai) and Lorong Tog Aha.
Lang Hoose Girl mural portrays happy 4-year old Alexandra, a daughter of that time owner of Lang Hoose guesthouse, playing. This mural in George Town reminds me of my childhood and the time when I was playing the very same game.
20. Only You Can Stop Pollution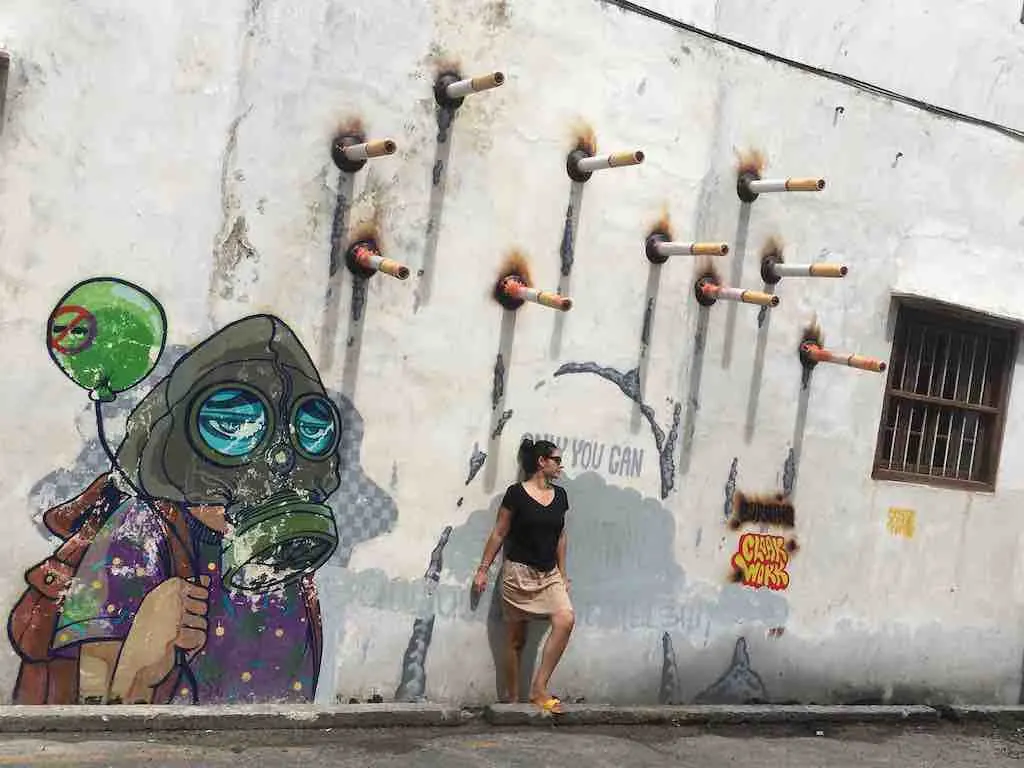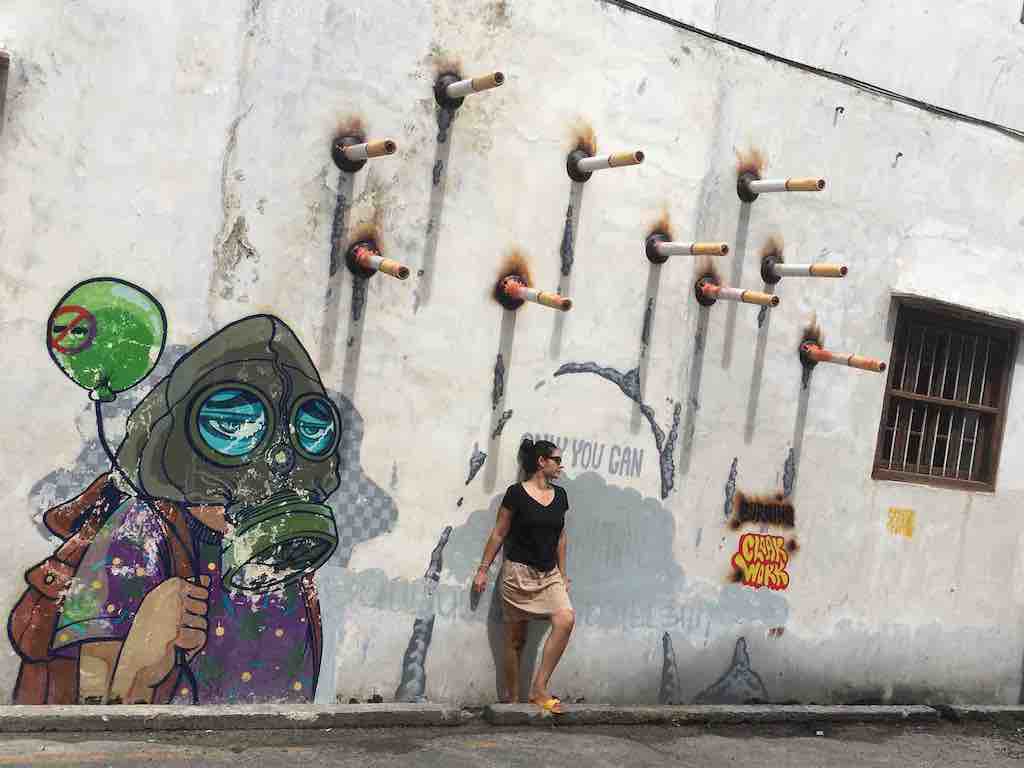 Penang wall art Only You Can Stop Air Pollution is an ethically motivated Georgetown mural featuring a person with a gas mask and the cigarette butts getting out the wall. Only You Can Stop Air Pollution mural is in Ah Quee Street next to the Boy on a Bike mural.
21. Red Tree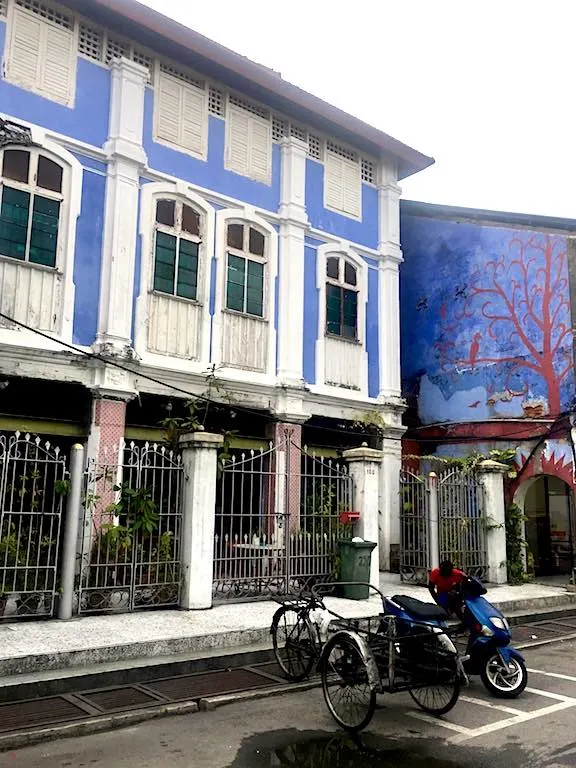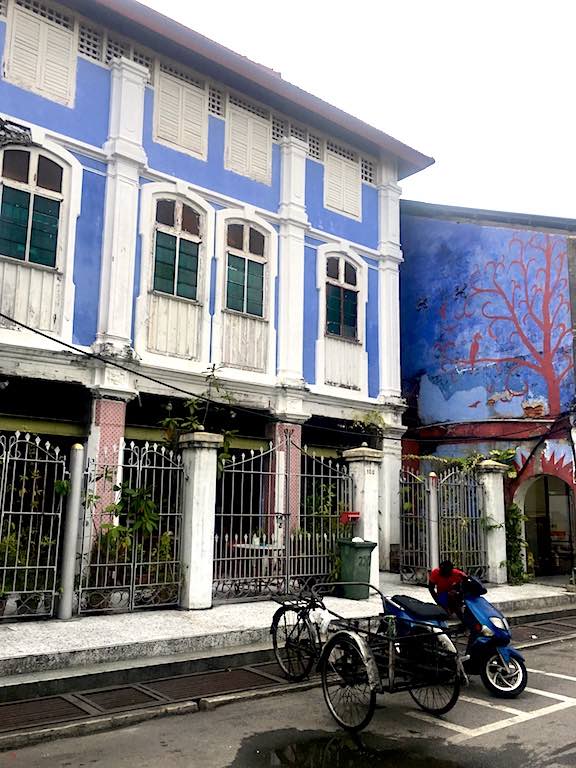 Georgetown wall mural Red Tree depicts a red tree on a vibrant blue background on the sidewall of an old building in Bishop Street in Georgetown.
22. The Awaiting Trishaw Paddler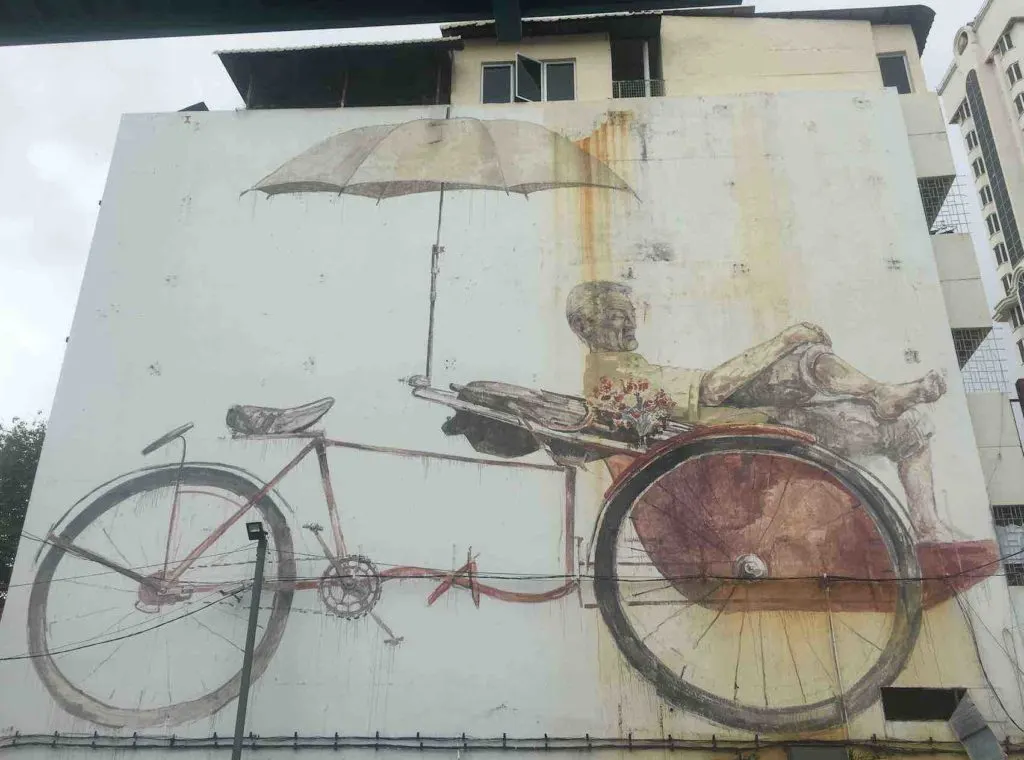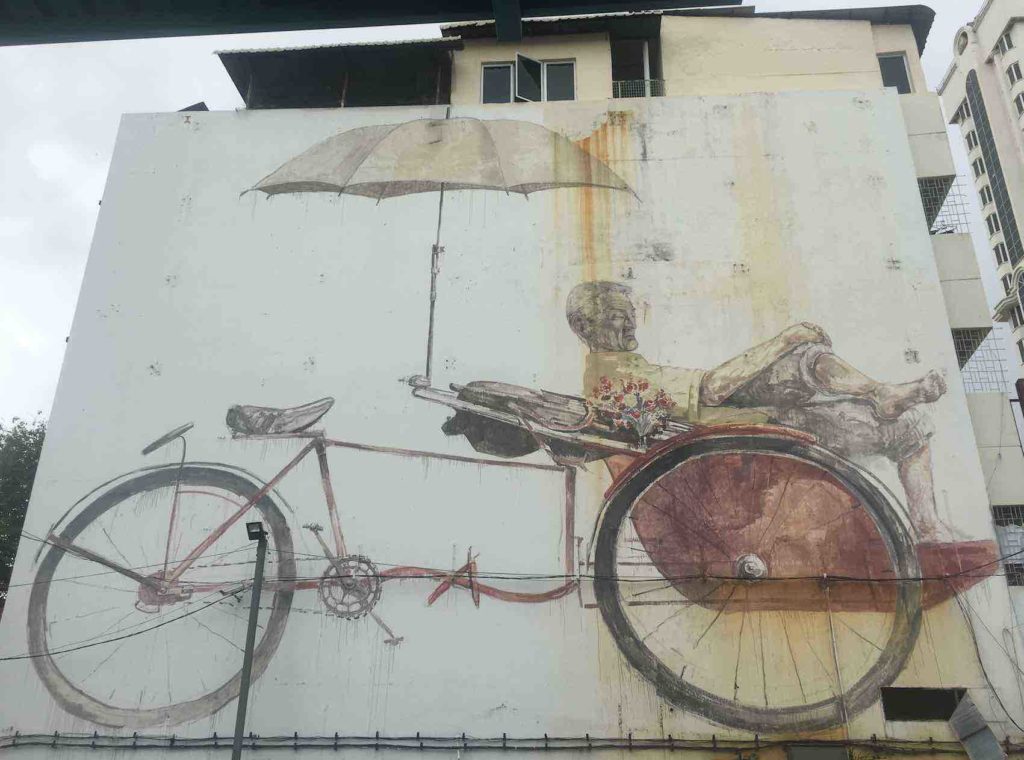 George Town mural The Awaiting Trishaw Peddler, or for short Trishaw man, is a Penang mural by local artist Desmond Yeo on a sidewall of a building on Penang Road (Jalan Penang). The Trishaw man mural, 15.2 x 15.2 in size, is just across the street to the trishaw station in front of St. Francis Xavier Church.
23. The Girl with Tree Hair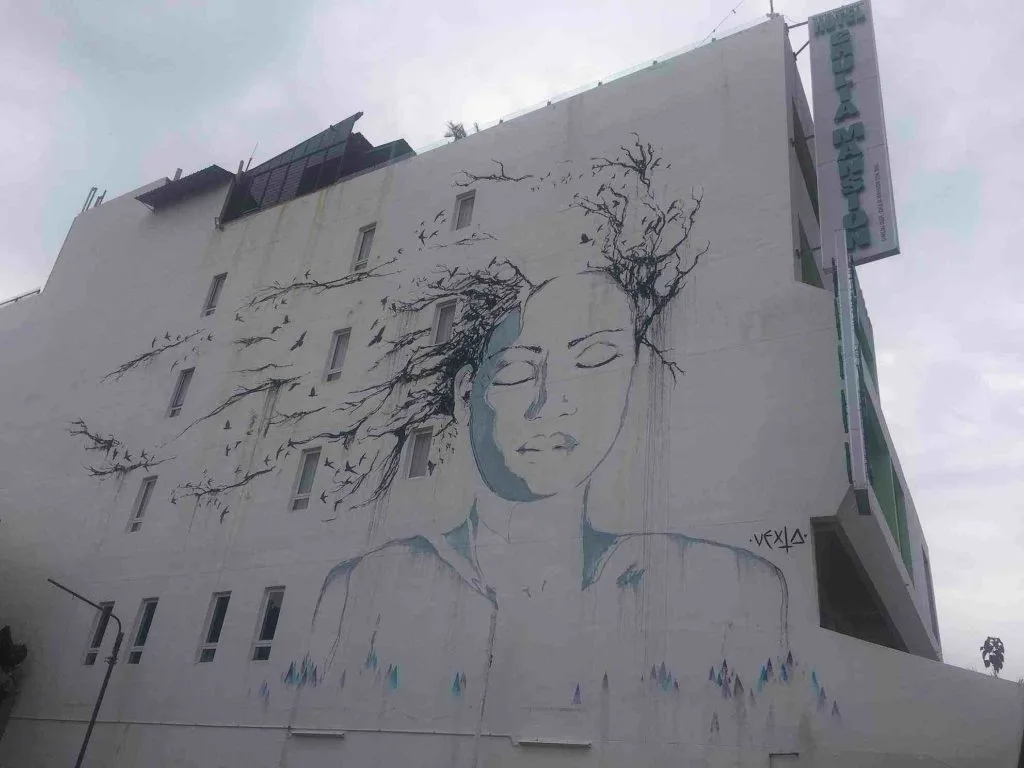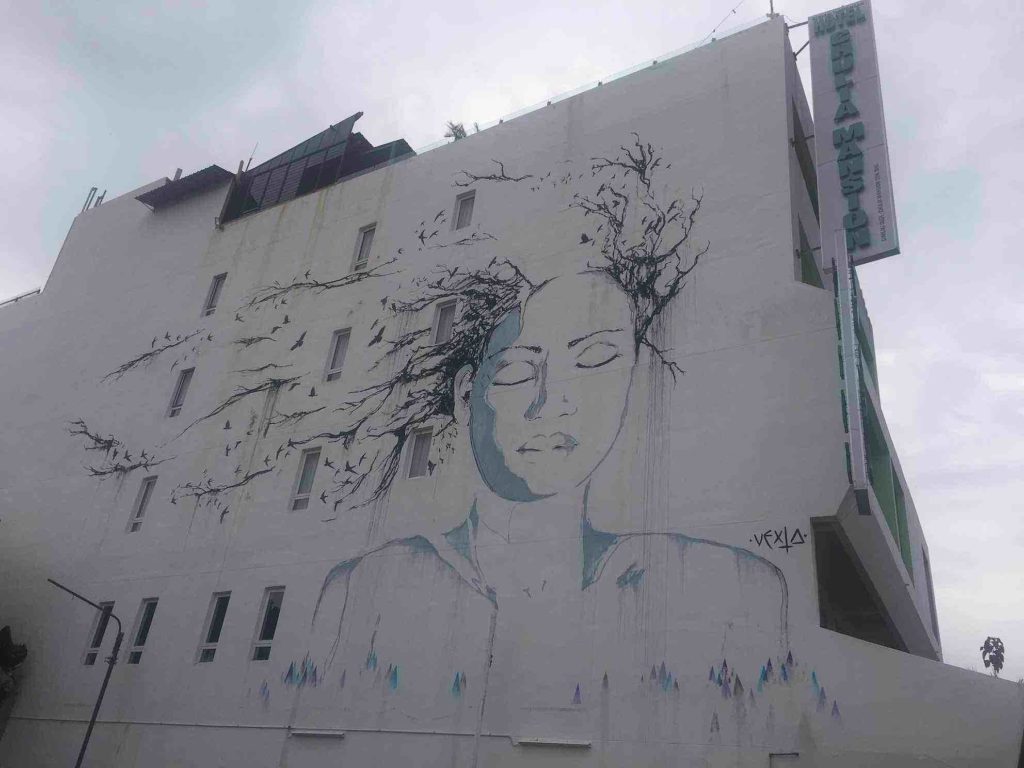 Another giant Penang mural called The Girl with Tree Hair is in Chulia Street in front of the Stardust cafe in Georgetown. Famous Australian artist Vexta painted the Penang wall mural for UX2014.
24. Traditional Rickshaw Vendor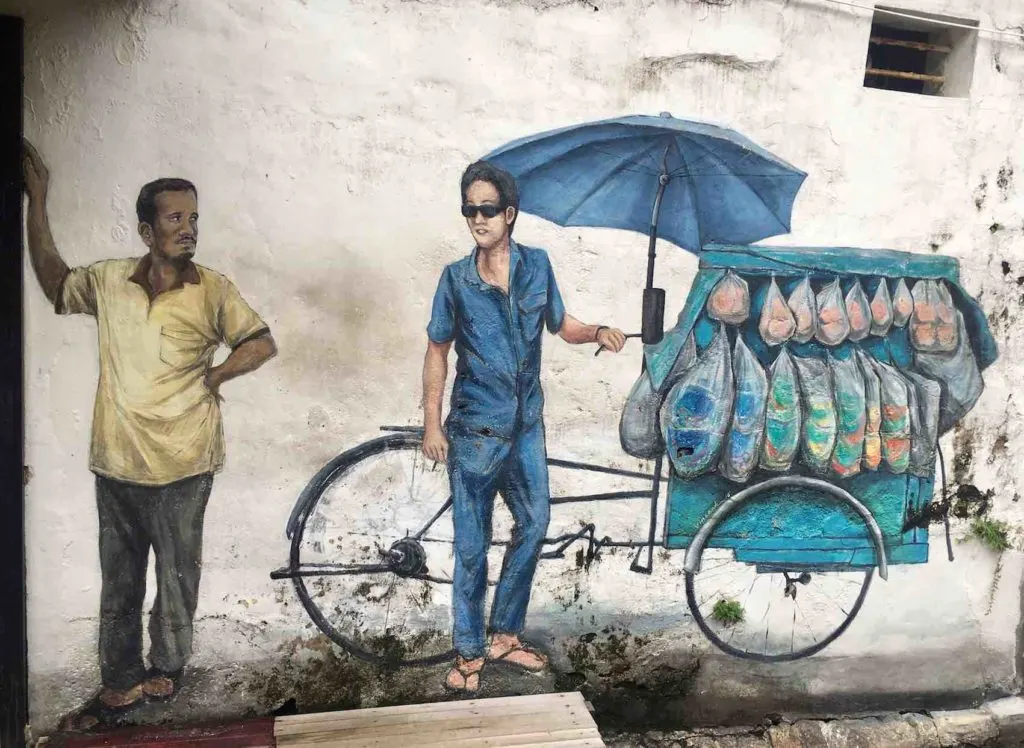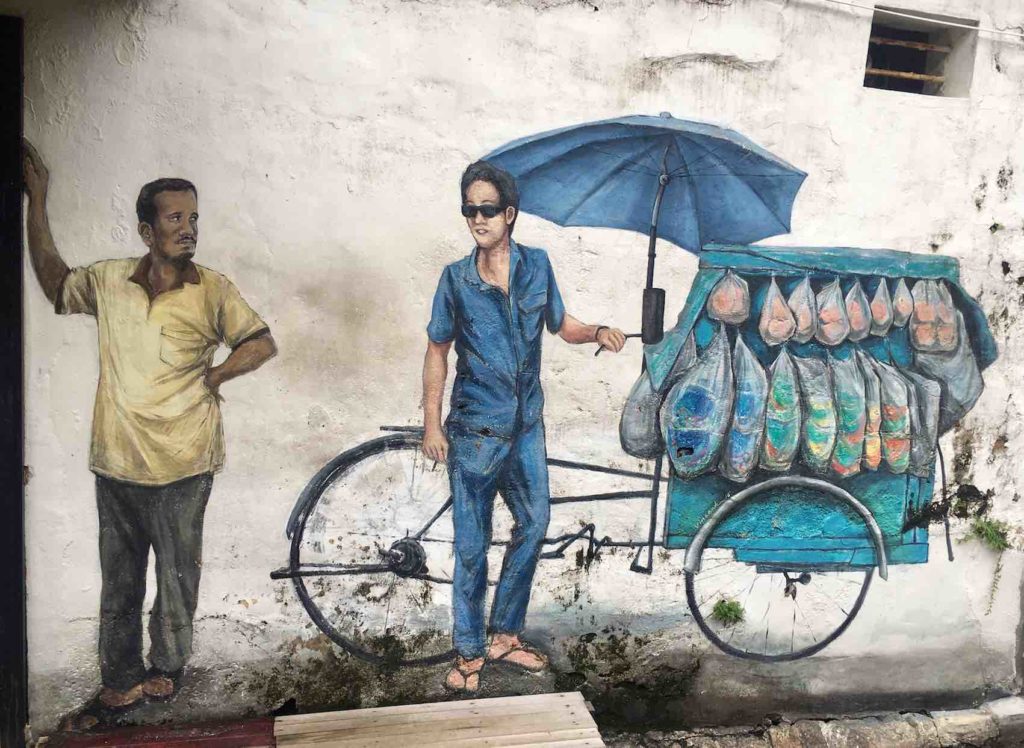 The Traditional Rickshaw Vendor mural is also called Old Penang Roti Seller. It is one of the newest Penang murals and it stands in an alley off of the Armenian street.
25. Wo Ai Nee Chinese Malay Indian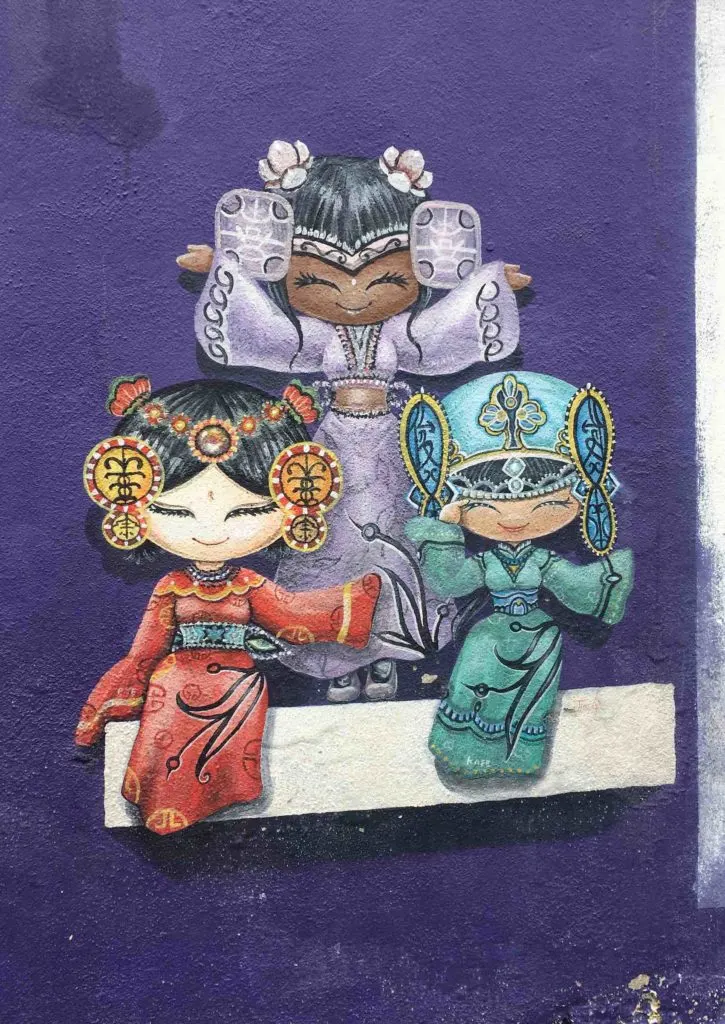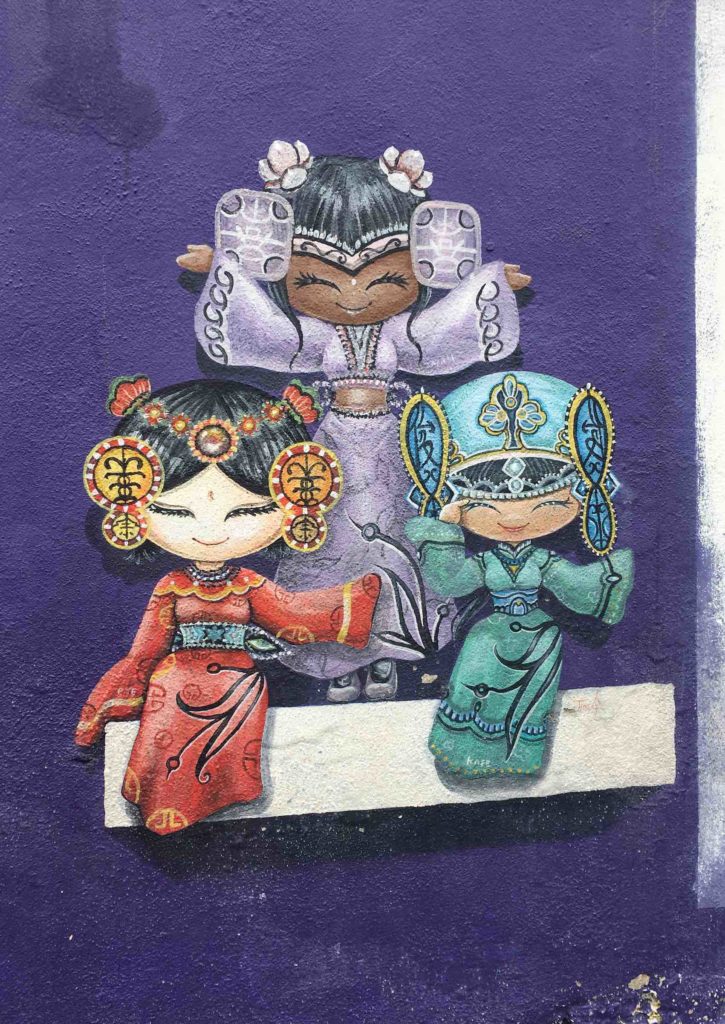 Georgetown wall art Wo Ai Nee Chinese Malay Indian, or the Cultural Girls Georgetown wall painting is a tiny wall mural in Penang Armenian Street from 2o13. The mural portrays three girls of three different races living in harmony in Georgetown: A Chinese, a Malay, and an Indian.
Wo Ai Nee Chinese Malay Indian, literally means 'I love you Chinese, Malay and Indian'. It is an extremely tiny mural and you can easily miss it.
For additional details on Penang Street Art location, please check out this online Penang Street Art Map or Penang Street Art PDF Brochure by the Penang Tourism Board.
Are you interested in some more outstanding murals around the World? Check out the story about Monsieur Chat graffiti in Sarajevo in Bosnia and Herzegovina.