Suối Tiên Mũi Né, or Fairy Stream in Mui Ne – what's that?
Is it a place where fairies live? Does a place like that exist on our planet? Hm, do fairies exist at all?!
If they exist, what kind of places the beings with magical superpowers would inhibit? Nothing less than magical, for sure!
Could Suối Tiên Mũi Né in Vietnam be one of those places?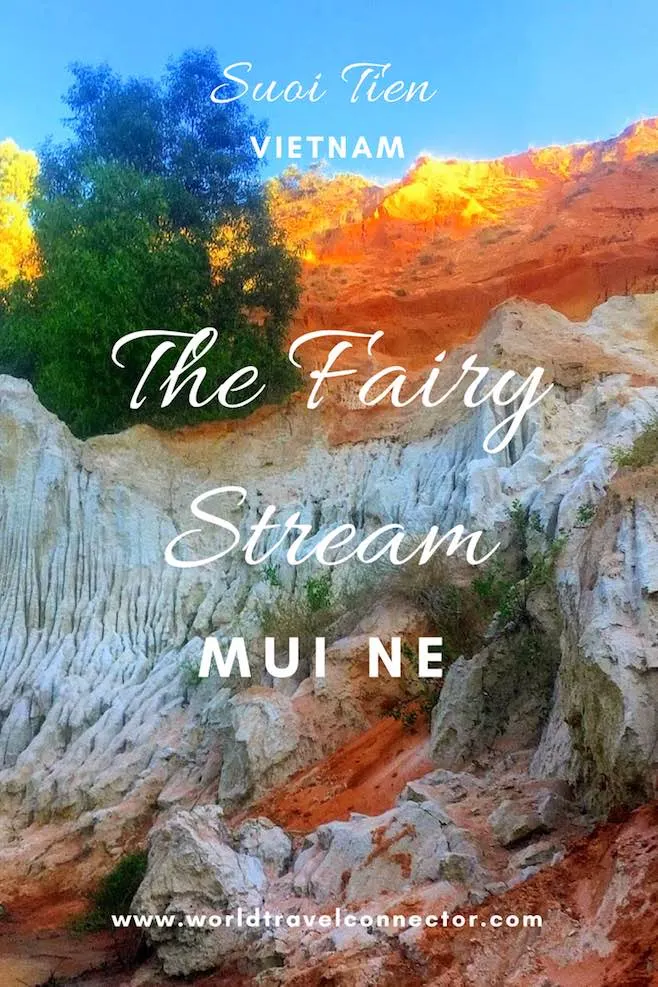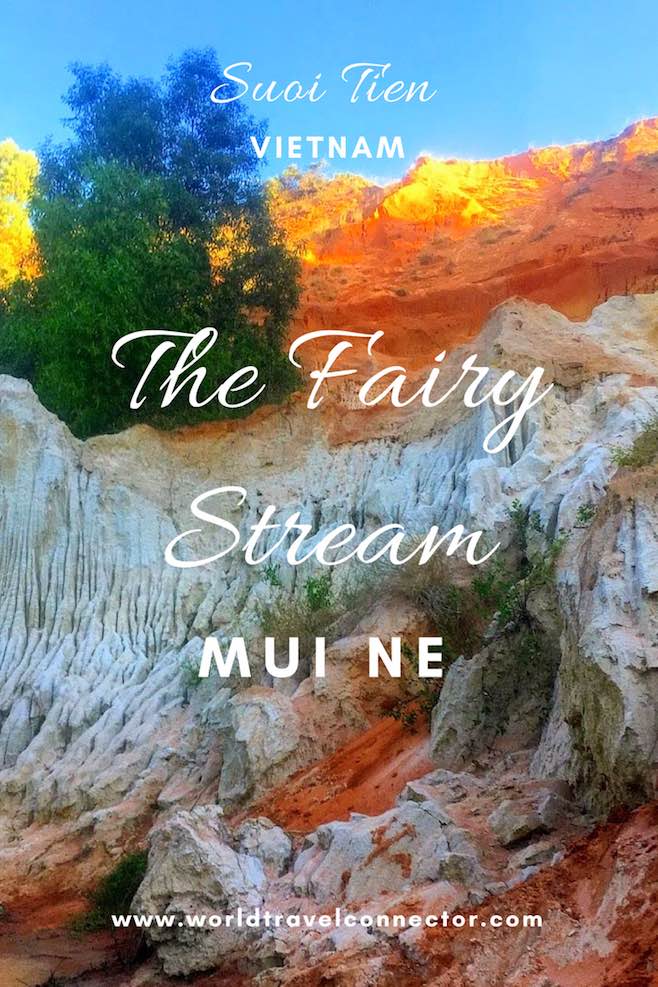 THIS POST MAY CONTAIN COMPENSATED LINKS. PLEASE READ MY DISCLAIMER FOR MORE INFO.
…..
1. SUOI TIEN MUI NE – FAIRY STREAM IN MUI NE
The Fairy Stream is a rivulet with an extraordinarily beautiful and dream-like canyon in Mui Ne in southcentral Vietnam. This is a place where the wind and rain played and shaped the sand, clay, and limestone into unique formations creating a fairyland. The Fairy Stream in Mui Ne, or Suối Tiên Mũi Né in Vietnamese, is one of the most unique places in Vietnam to see!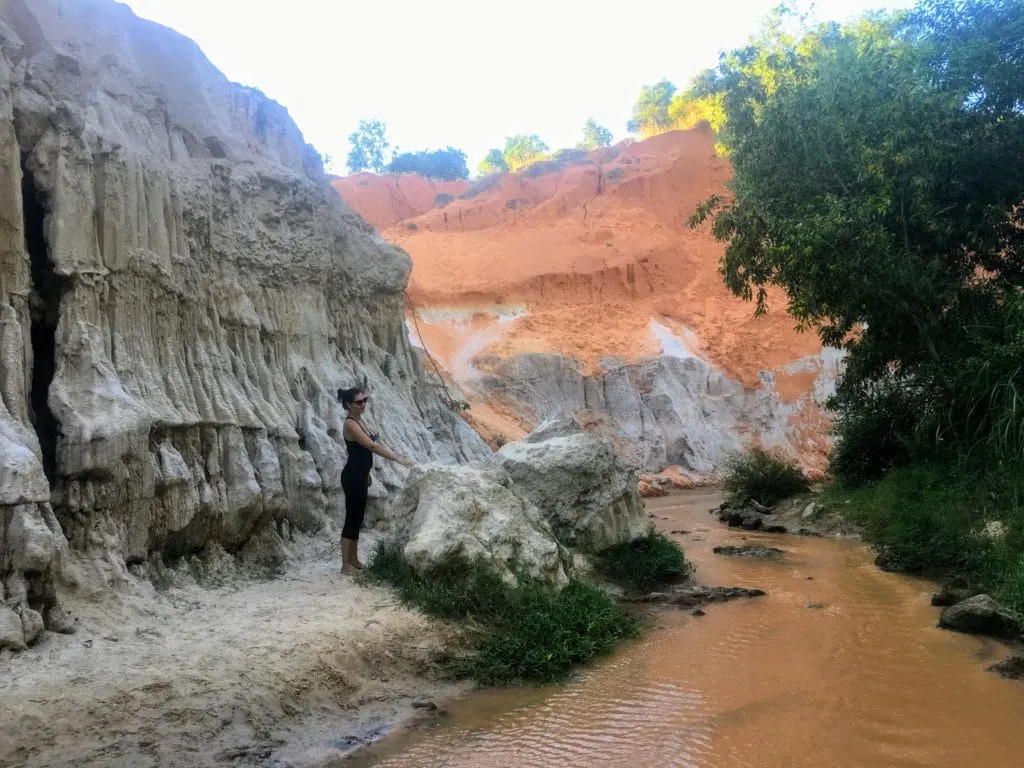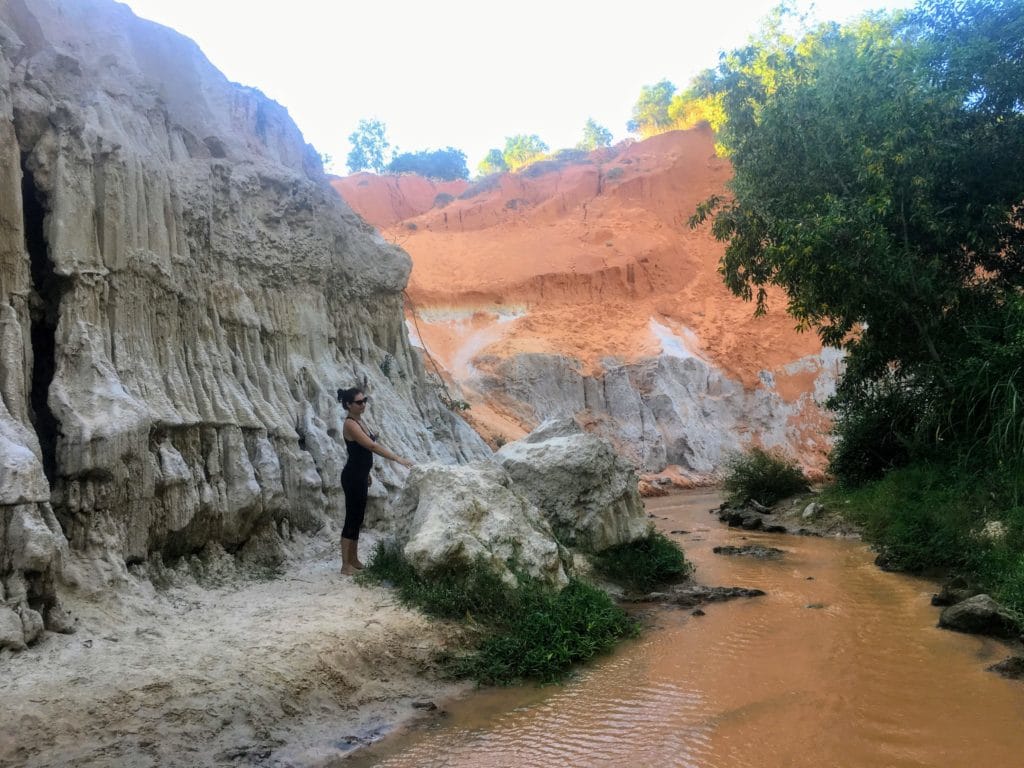 Here you will experience the burst of shapes, colors, and shades as the rocks change their colors with sunlight throughout the day. Hiking the canyon in Mui Ne you will experience a light-show of whites, oranges, reds, and pinks.
Only a few places on the Earth offer a similar setting. Antelope Canyon and Sedona in Arizona, USA, just to name a few.
Here even the creek boosts with a peculiar red color. As you walk Mui Ne red canyon, you will realize that the Fairy Stream in Mui Ne in Vietnam is a top photography hotspot!
And with no doubts, an exceptional natural landmark in Vietnam!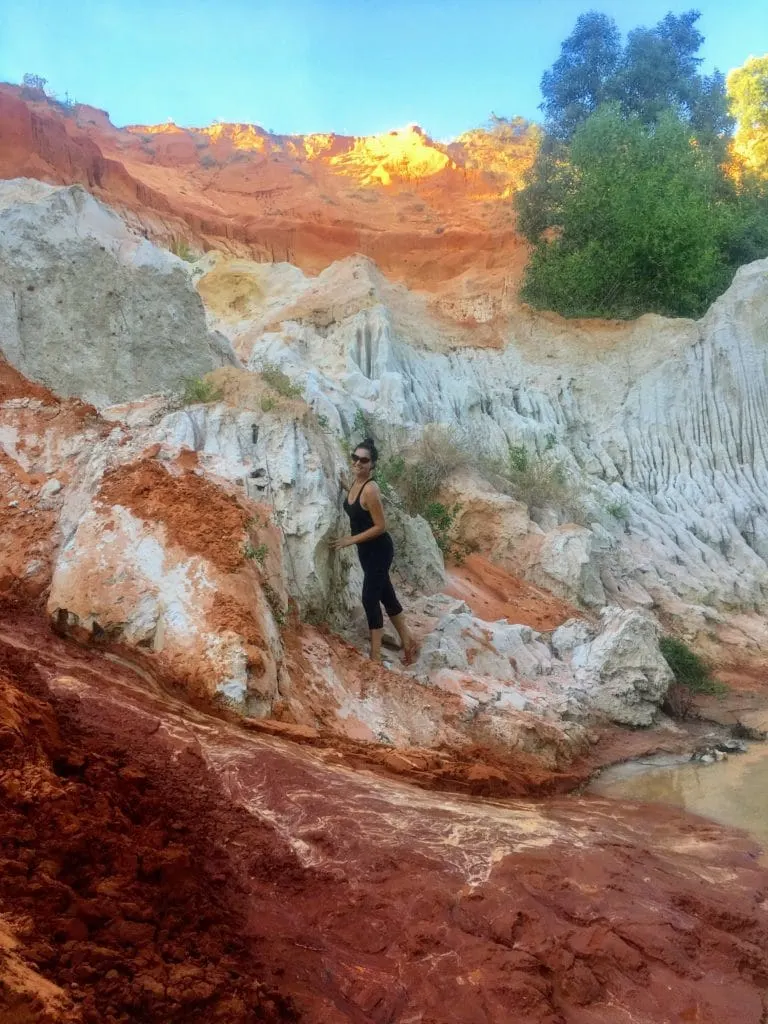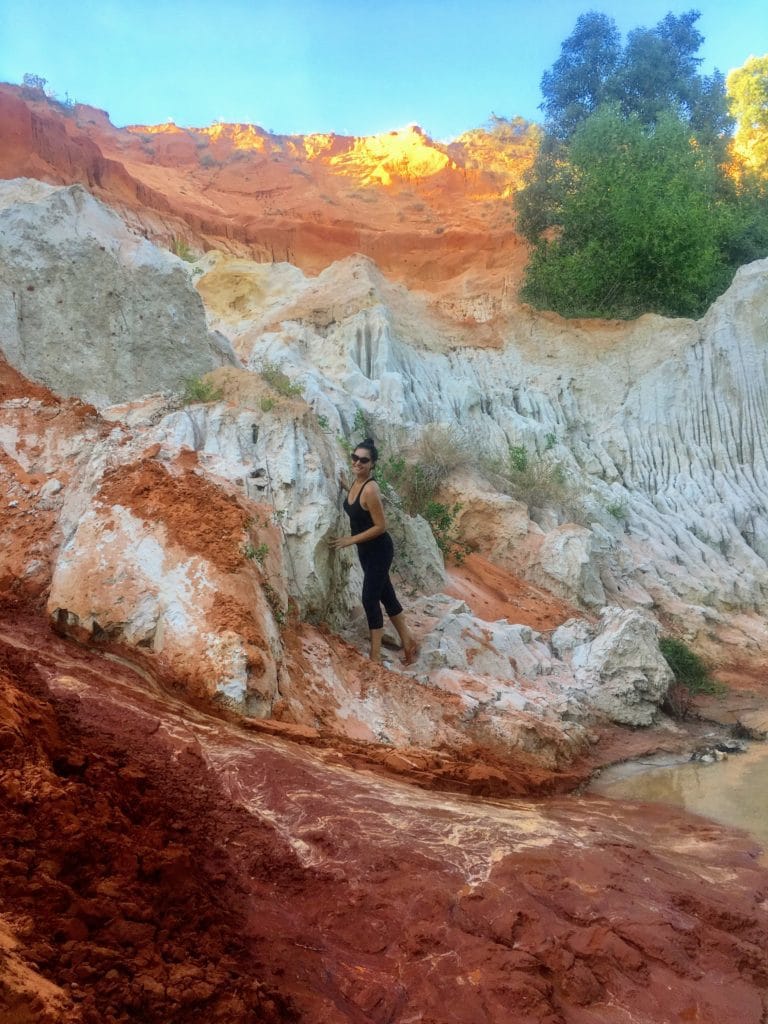 Climbing and running up and down the sandhills will give you a unique sense of freedom that can be felt only in surreal landscapes magically created by Mother Nature.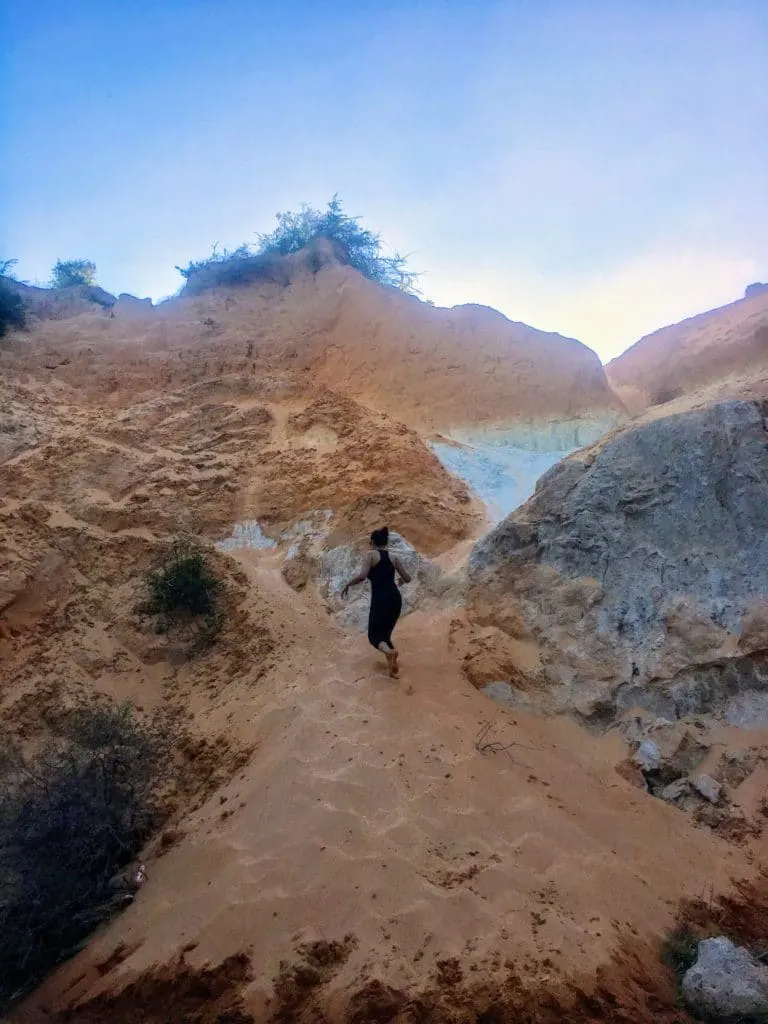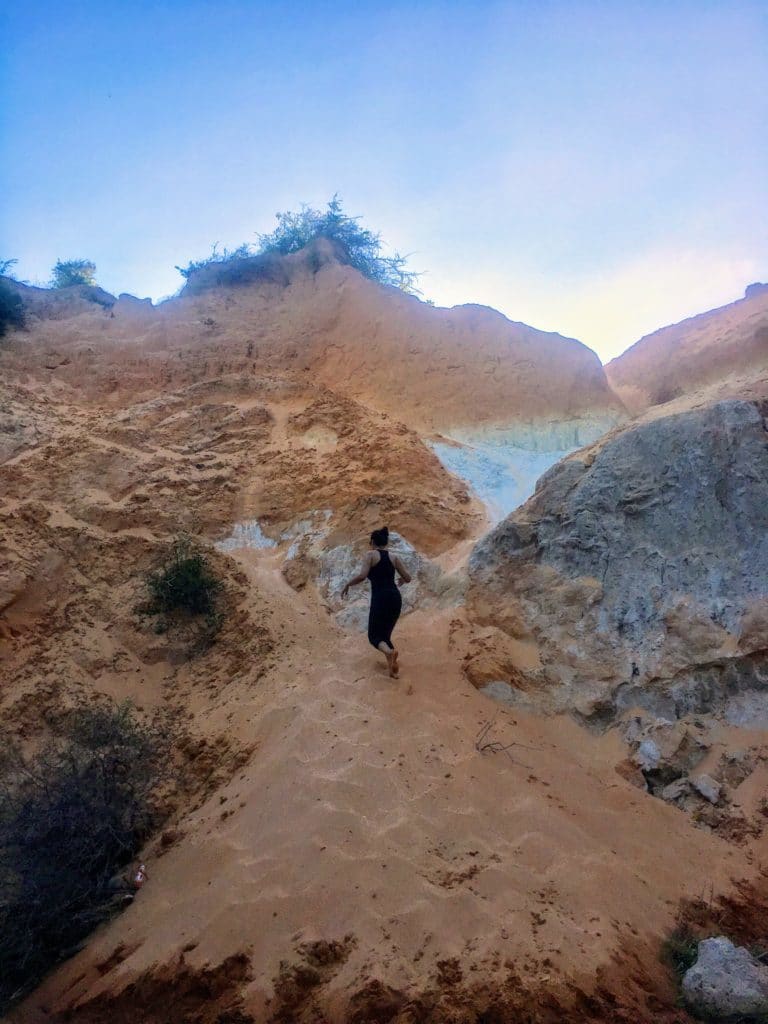 While you hike the stream's trail barefoot, you will feel the powdery soft sand under your feet and gentle touch of the creek's drift.
At the same time, crisp spring's water under the Vietnamese intense sun will refresh you. So, please note, taking off your shoes in the creek is highly recommended.
The hike is only an hour long and the water never goes above your knees. At the end of your trail, a reward awaits you – a small Fairy Stream waterfall.
1.1 ENTRANCE TO THE FAIRY STREAM IN MUI NE
The entrance to the Fairy Spring in Mui Ne is on the main road Mui Ne – Phan Thiet City, or more precisely in Huynh Thue Khang Street No. 40.
You can take a public bus No 1 or No 9, or rent or even buy a bike since motorbiking in Vietnam is extremely popular, and drive along Huynh Thue Khang Street No. 40 until you see a bridge and a sign "Suoi Tien" indicating the entrance to Mui Ne Fairy Stream.
These days some agencies in Mũi Né started offering tours including a visit to Mui Ne Fairy Spring.
Mui Ne Fairy Stream entrance is free, but be aware of some local scammers who might want to charge it.
1.2 WHEN TO VISIT SUOI TIEN
The best time to visit Suối Tiên is during the dry season from October to April, although Muine Vietnam is an all-year-round destination.
2. MUI NE
Once a fishermen's village, present-day Mui Ne in Vietnam is a serene beach resort area and kitesurfing paradise with a wonderful Mui Ne beach. If you prefer quieter places with fewer crowds with a laid back and surfers vibe, you should opt for Muine instead of popular Nha Trang in Vietnam.
Muine is located about 112 mi (180 km) east of Ho Chi Minh City or about 137 mi (220 km) south of Nha Trang. If you are visiting Ho Chi Ming City you can join this 2 day tour to Mui Ne to enjoy Mui Ne beach and a sunrise over white dunes in Mui Ne .
3. WHAT ELSE TO SEE IN MUI NE
Mui Ne Red Sand Dunes and White Sand Dunes, as well as the fishing village' harbor with its large colorful fishing fleet, will satisfy your traveler's appetite.
In Vietnam, only in Mui Ne the visitors can enjoy in the seaside and desert-like landscape at the same time.
3.1 MUI NE RED SAND DUNES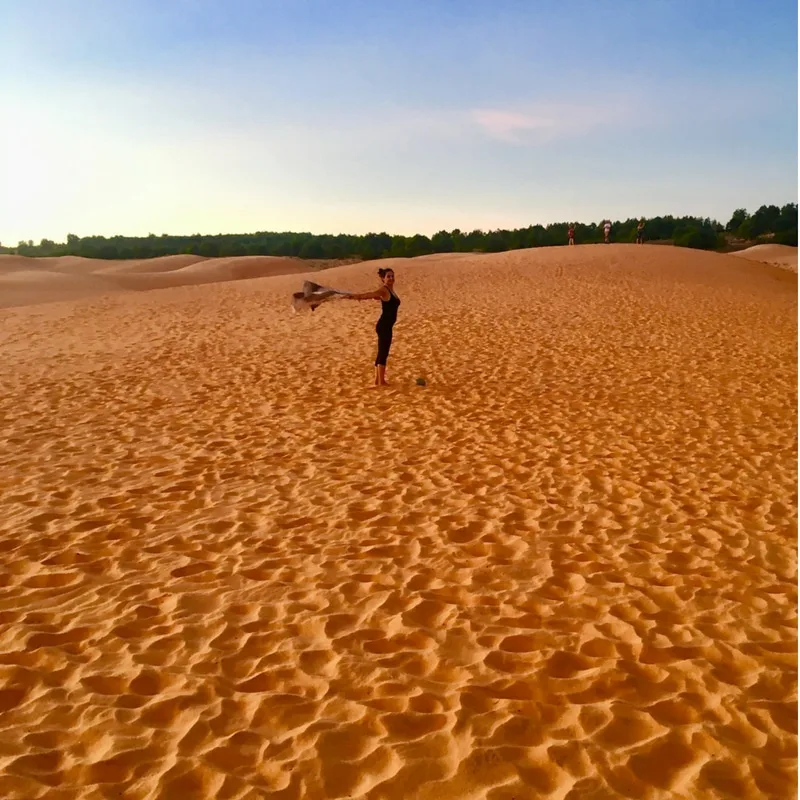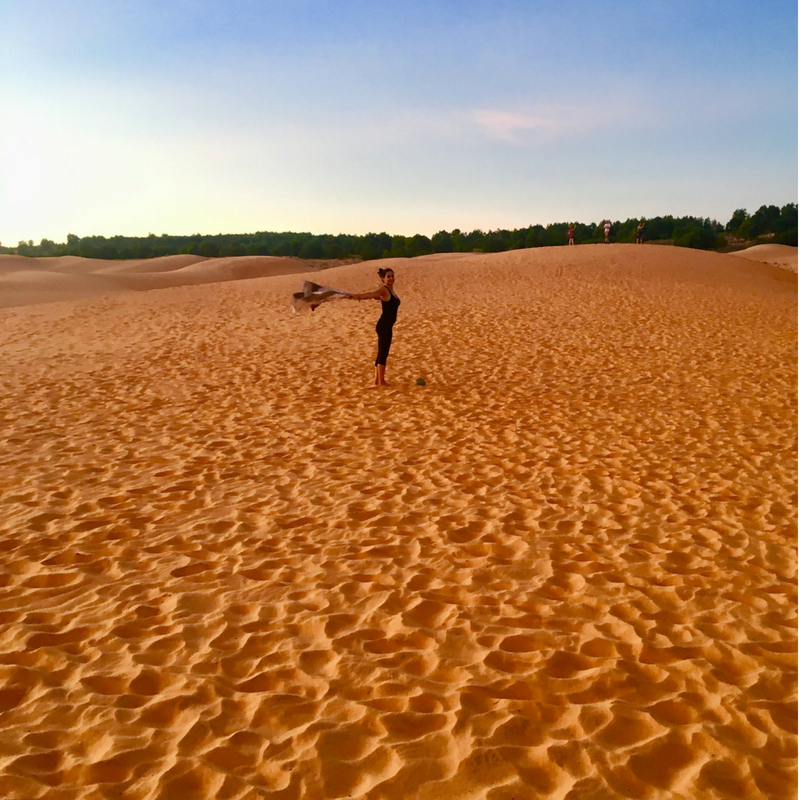 3.2 MUI NE FISHING HARBOUR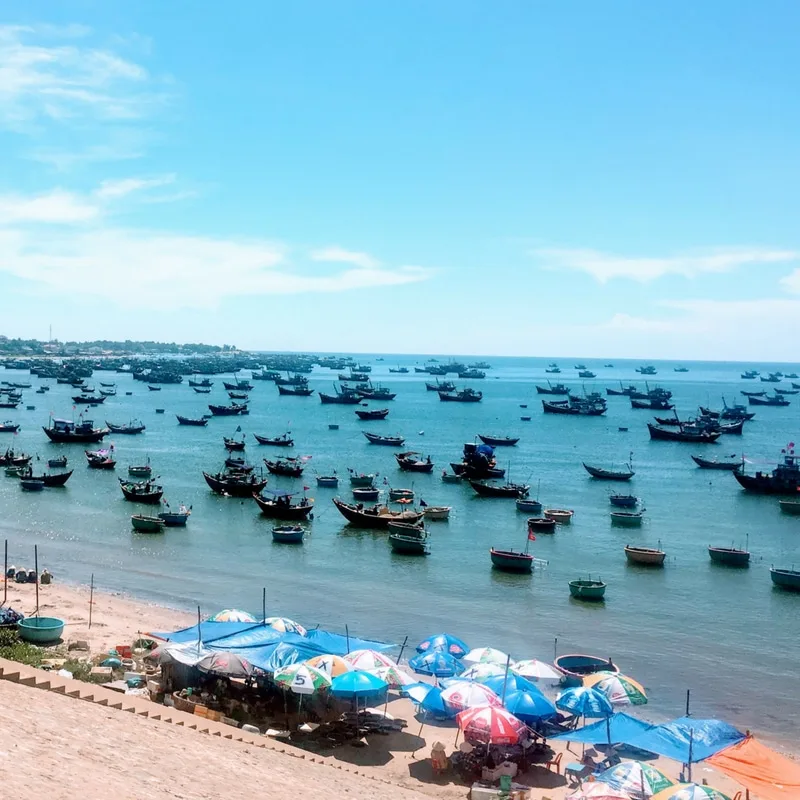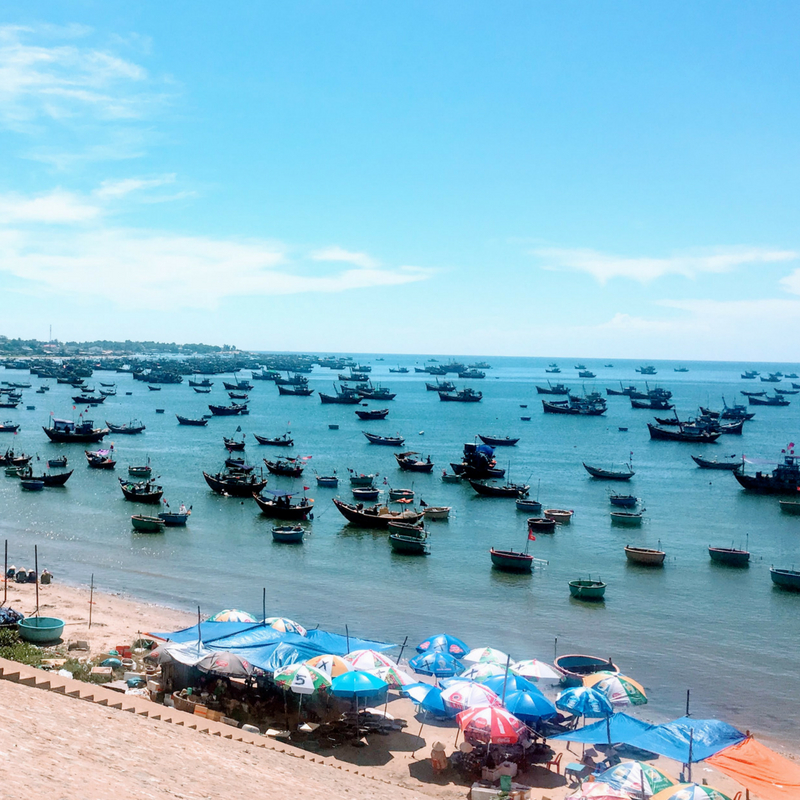 4. WHERE TO STAY IN MUI NE VIETNAM
Recommended Mui Ne accommodation:
BUDGET: Mui Ne Ocean House, Mui Ne Garden Apartment, Cocosand Hotel, Mui Ne Victory Guest House
MID-RANGE: Cham Villas Resort, Serenity by the Sea, Blue Ocean Resort
LUXURY: Bamboo Village Beach Resort & Spa, Victoria Phan Thiet Beach Resort & Spa, The Cliff Resort & Residences
If you are traveling Vietnam, please make yourself a favor and mark Mũi Né on your map and go to Suối Tiên.
Walk the Fairy Stream in Muine before the current stream of travelers gets replaced by the river of tourists!
YOU MIGHT ALSO ENJOY
The Best Time to Travel to Vietnam