Are you planning a trip to Malaga and now researching the best places to stay in Malaga? If so, you will love the capital of Costa del Sol! I explored southern Spain for a month and here are my recommendations on where to stay in Malaga, Spain!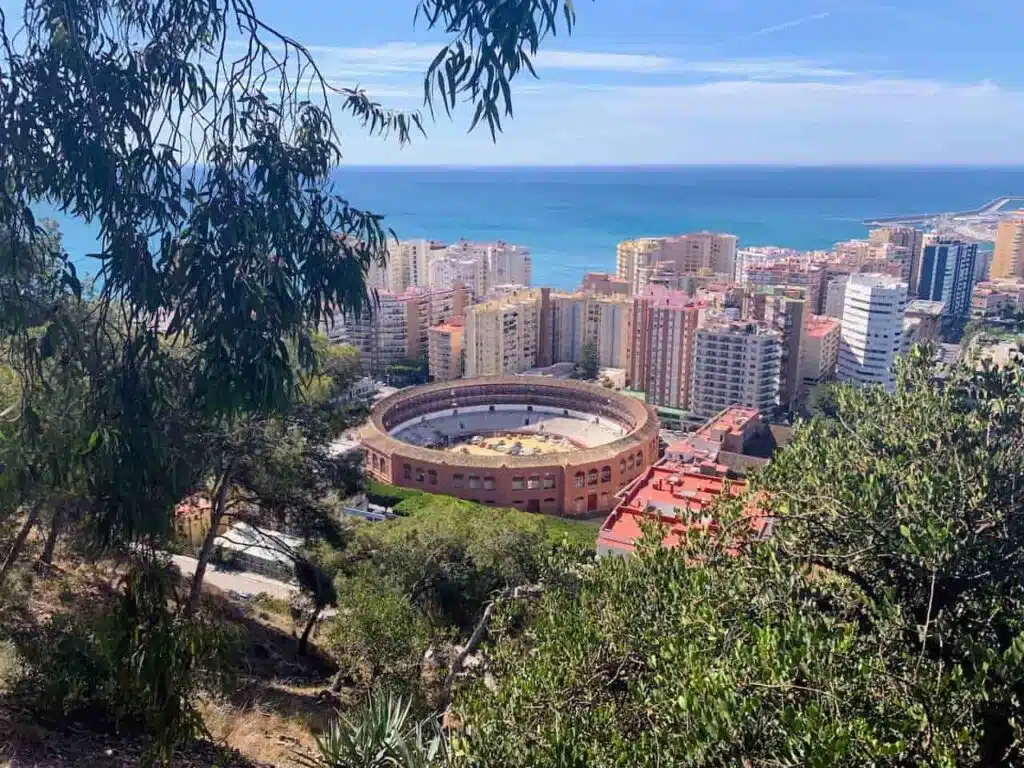 THIS POST MAY CONTAIN COMPENSATED LINKS. PLEASE READ MY DISCLAIMER FOR MORE INFO.
Malaga is the gem of Andalusia, nestled in the sunny south of the Iberian Peninsula. It's an absolute must-visit for tourists, being the capital of the famous Costa del Sol and the sixth-largest city in the country.

People come here from all corners of the world to soak up the glorious sunshine and bask in the beauty of the Costa del Sol, which happens to be one of the warmest spots in Europe. But you know what? Malaga offers so much more than just beaches!
Therefore, I recommend reading my complete guide to the Best Things to Do in Malaga Spain! Malaga is also a perfect place to start and finish an Andalusia loop road trip. Check out my Andalusia road trip!

When it comes to choosing where to stay in Malaga, you'll be spoiled for choice with a range of neighborhoods and accommodations. It can be a bit overwhelming, but don't worry! Depending on your travel style and what you're looking to experience in Malaga, you can easily find the perfect spot for you. To help you find the perfect area and lodging, I'll provide you with the best areas and accommodations in Malaga, Spain for your perfect getaway. So, make sure to continue reading to know more about where to stay in Malaga, Spain. Find out where is the best place to stay in Malaga depending on your needs and preferences.
Here's my ultimate guide to where to stay in Malaga Old Town, where to stay in Malaga City, and where to stay around Malaga.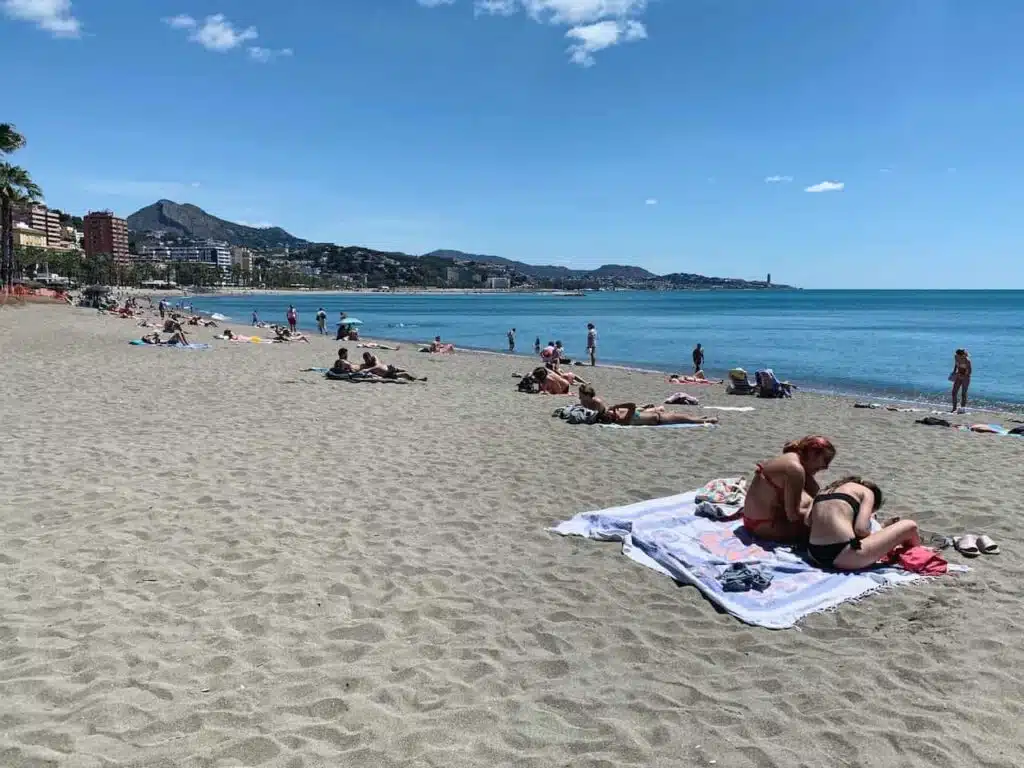 1. Where to stay in Malaga for sightseeing? DOWNTOWN MALAGA
Downtown Malaga, also known as El Centro, is the best area to stay for first-time visitors who want to make the most of their stay. You'll be delighted to find a wide range of attractions and delicious dining options all within walking distance. It's the perfect location if you're eager to explore famous landmarks, such as the Alcazaba of Malaga, Malaga Cathedral, and Plaza de la Merced. You can easily reach Pablo Picasso's birthplace by strolling just a few blocks from there. Staying here will never bore you; there is so much to see that it will take forever to list it all.
Where to stay in Malaga old town:
UPSCALE: Vincci Selección Posada del Patio– This 5-star hotel in central Málaga offers a rooftop pool, free Wi-Fi, and an intriguing display of historical artifacts, including a segment of the city's Arabic walls. All rooms feature welcome amenities, a safe, a flat-screen TV, modern bathrooms, and contemporary decor. Their breakfast menu includes gluten-free choices, ideal for energizing your Málaga adventures. Additionally, the hotel boasts a stunning bar where you can unwind and have a drink.
MID-RANGE: Room Mate Valeria – Room Mate Valeria is a mid-range hotel in Downtown Malaga offering a seasonal rooftop plunge pool with amazing views and a lovely courtyard. Each room at this hotel is designed with a modern style and comes with a flat-screen TV that has USB and HDMI connections. They're all air-conditioned and soundproofed, so you can have a relaxing stay. The breakfast is served until 12:00, so you can sleep in and still enjoy a delicious start to your day.
BUDGET: ATICO CENTRO MÁLAGA & PARKING – ATICO CENTRO MALAGA & PARKING offers affordable accommodation with free WiFi, air conditioning, and convenient amenities like a dishwasher and coffee maker. This apartment has one bedroom, a kitchen with a refrigerator and an oven, a flat-screen TV, a living area, and one bathroom with a bathtub. The apartment also has its own parking for added convenience.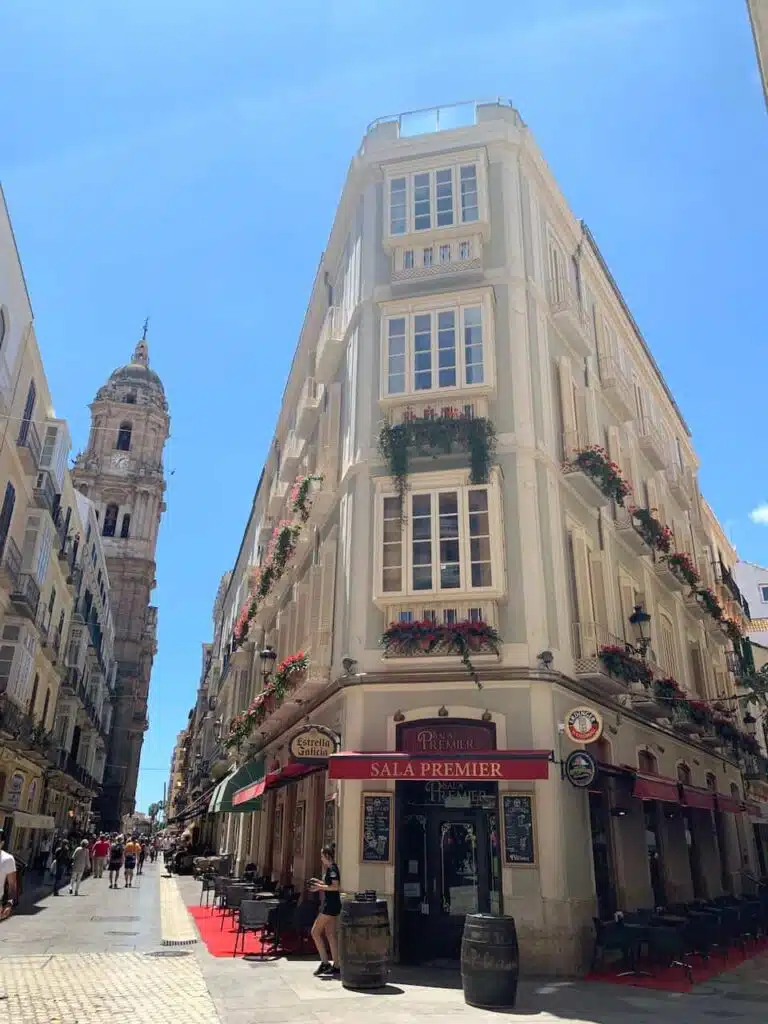 2. Where to stay in Malaga for beach? LA MALAGUETA
This is the best area to stay for luxury travelers who want to stay in Malaga for the beach and nightlife. This classic beach neighborhood is ideal for those who wish to be as close to the Mediterranean as possible while in Malaga. If you're lucky and your Malagueta hotel has a patio, you may get views of both the Alcazaba castle and the water!
La Malagueta is a typical area where local restaurants deliver heartier food at cheaper prices. Accommodations in this beach town are quite affordable for a beach town; however, they can fill up quickly. So, to avoid those high rates, try to book as early as possible!
UPSCALE: Gran Hotel Miramar GL – This luxurious hotel is housed in a classified twentieth-century structure and is only 10 meters from La Malagueta Beach. All of the rooms are air-conditioned and equipped with modern amenities. A flat-screen TV with satellite channels and an entertainment video library are available. Plus, you can enjoy breathtaking views of the ocean, the garden, or the city. Breakfast is provided on the pool level and includes a buffet with a wide selection of fruits, cold meats and cheese, pastries, and a show-cooking section for your on-demand orders.
MID-RANGE: Hotel MS Maestranza Málaga– The MS Maestranza Málaga is perfectly situated in the center of Málaga, 100 m from Malagueta Beach and close to the Centre Pompidou. Each room at this mid-range hotel is modern and comfortable, and you'll adore the warm colors and stylish décor. Each room has a minibar, a hairdryer, and a satellite TV to keep you entertained. One of the highlights of this hotel is its amazing rooftop terrace. Imagine soaking in a hot tub while enjoying panoramic city views!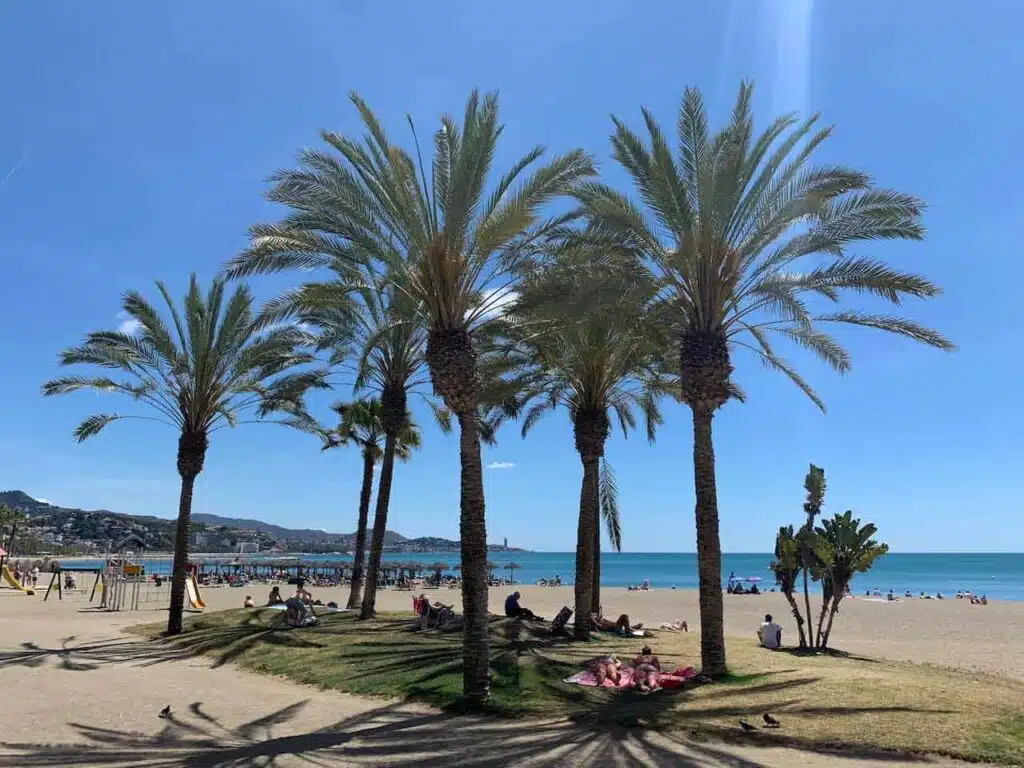 3. Where to stay in Malaga for nightlife? LA MERCED
If you're looking for the best area to stay in Malaga for an epic nightlife experience, look no further than La Merced. This area is in Malaga downtown. It bursts with energy and excitement, offering more pubs, clubs, and restaurants than you can imagine. Trust me, you'll never have a dull moment here!
The neighborhood is famous for its amazing street art and a pleasant street market where you can taste the wonderful local cuisine. La Merced is also well-known for the Plaza de la Merced, which is where Pablo Picasso was born. Museo Casa Natal del de Picasso is here.

La Merced is the perfect place to mingle with people from all around the world and explore the buzzing scene. Head over to Calle Alamo and Calle Carretera and you'll discover a wide array of pubs and nightclubs to choose from. The best part? Everything stays open till late, so you can party the night away and create unforgettable memories. La Merced truly is the place to be in Malaga!
UPSCALE: Hotel Palacete de Alamos – If you want to have a luxurious experience in La Merced, Hotel Palacete de Alamos is the way to go! Their rooms are all created with your comfort in mind. Each room has a flat-screen TV, so you can watch your favorite shows or have a movie night. Some rooms even offer a comfortable lounging space, which is ideal for resting after a long day of exploration. After a night out, you'll be treated to one of Spain's best breakfasts. They have an extensive selection of foods that will satisfy even the pickiest eaters.
MID-RANGE: Minimal Rooms by ELE Apartments – Minimal Rooms by ELE Apartments offer both comfort and style, making your stay truly memorable. They are available in 1 and 2-bedroom options, and each has a private balcony where you can enjoy some fresh air and take in the scenery. The apartments are air-conditioned, so you can keep cool even on the hottest days in Malaga. There's also a small breakfast table where you can enjoy a cup of coffee after your night out.
BUDGET: La Merced Centro Rooms – La Merced Centro Rooms is the perfect spot to rest and recharge after your night out. Every room has a shared bathroom with a bidet and a hairdryer, as well as free WiFi. You may also use the shared kitchen throughout your stay, so you can prepare your favorite foods after a night out or whenever you feel hungry. There is also a shared lounge where you may relax.
4. Where to stay in Malaga for shopping? CALLE LARIOS
Marques de Larios Street (Calle Larios) is a trendy and famous pedestrian street in downtown Malaga. It's an area closer to the port, with spectacular Mediterranean views that are sure to take your breath away.

This is the best area to stay in Malaga if you're into shopping and nightlife. This area is trendy and lively, with a wonderful selection of cafés and bars and pleasant outdoor dining spaces. It's ideal for people-watching and getting lost in the bustling environment. There are also numerous shops that will satisfy your fashion needs and make you feel like a real trendsetter.

When it comes to accommodations, you can expect a more intimate and cozy experience here. The hotels and rooms on Marques de Larios Street are a little smaller, but they are sophisticated. Keep in mind that because this area is in great demand, pricing may be slightly higher. But trust me when I say it's worth every penny for the convenience and vibrant atmosphere.
UPSCALE: Petit Palace Plaza Málaga – Petit Palace Plaza Málaga is located in a pedestrian area right off the famed Larios Street, making it really convenient and accessible. The hotel itself is located in a lovely 20th-century palatial residence, giving your stay a sense of history and charm. Some of the rooms even have spectacular views of the cathedral, providing a true sense of the city's grandeur. They also serve breakfast in a classic Andalusian courtyard.
MID-RANGE: Atarazanas Málaga Boutique Hotel – This charming hotel is located in a renovated historic building and offers contemporary, air-conditioned rooms with plasma satellite TV and a safe. Some rooms also have a small balcony to add to their appeal. What sets this hotel apart is its dedication to inclusivity. They understand that every guest deserves a comfortable stay, which is why they offer specially adapted rooms for those with limited mobility. They also include luggage storage and weighing services, as well as a cafe that serves gluten-free breakfast.
BUDGET: Hostal Vidamia – This budget-friendly hotel in Málaga's city center offers a convenient location, just a 7-minute walk from the Cathedral and the Picasso Museum. Housed in a renovated 19th-century building, it provides charming rooms with free Wi-Fi. Each air-conditioned room features white oak flooring, elegant minimalist decor, and a private bathroom for your comfort.
5. Where to stay in Malaga for trends? SOHO
Soho, Malaga, is a dynamic and diverse area where art, culture, and creativity combine to offer a genuinely unique experience. This is a cool area to stay in Malaga, with newly designed hotels and fabulous street art.
This area has been converted into an open-air gallery, presenting the extraordinary abilities of local and international artists, thanks to the spectacular Malaga Arte Urbano Soho (MAUS) project. Prepare to be amazed by the vibrant and thought-provoking artworks that line the streets.
When it comes to lodging, Soho does not disappoint. The area's boutique hotels cater to artistic travelers, with completely designed roof terraces where you can relax and soak up the creative atmosphere. Even the cheapest hostels in Soho show style and flair, ensuring that each guest gets a taste of Soho's creative appeal.
UPSCALE: Only YOU Hotel Málaga – Only YOU Hotel Málaga is a 5-star hotel featuring an outdoor swimming pool, a fitness center, and a modern bar. It is the ideal combination of luxury and convenience. The air-conditioned rooms include a desk, coffee machine, minibar, safety deposit box, flat-screen TV, and a private bathroom with a refreshing shower. In addition, some rooms include a terrace with spectacular city views. Breakfast is served daily and includes buffet, à la carte, and continental options.
MID-RANGE: Soho Boutique Bahía Málaga – Experience comfort and convenience at Soho Boutique Bahia Malaga, a fantastic mid-range hotel offering rooms with free Wi-Fi and satellite TV. Each room at this hotel is thoughtfully equipped with air conditioning, a safe, and a private bathroom complete with a hairdryer. Indulge in a refreshing drink at the hotel's own bar or explore the diverse range of restaurants and bars located just a short 5-minute walk away. If you're looking to explore further, they also offer a car rental service for your convenience.
BUDGET: Feel Hostels Soho Malaga – Feel Hostels Soho Málaga is a vibrant, budget-friendly hotel offering a sun patio, 24-hour reception, and free WiFi throughout the property. You can choose between private rooms with shared bathrooms or beds in female or mixed dormitories. All accommodations feature wooden flooring, and some have balconies. Bed sheets are provided, and towels can be rented from the reception. The hotel serves a breakfast buffet, and there is a shared kitchen and TV lounge available for you to use during your stay.
6. Where to stay in Malaga for families? EL PALO
Escape the crowds and embrace the beachy bliss of El Palo, located on the east side of the Old City, just a 30-minute drive or bus ride from the center. This is the best area to stay in Malaga for families, and it is also one of the best areas to stay in Malaga for the beach.

This lovely neighborhood offers a distinct atmosphere that is both calm and rejuvenating. You'll meet other long-term travelers and adventurous travelers looking for hidden gems and unique experiences.

El Palo is a haven away from the busy city center, ideal for families and anyone wanting a calmer break, with close access to the stunning Playa Virginia and Playa de la Milagrosa beaches.
UPSCALE: Malaga stylish beach apartments – Experience the ultimate beach getaway at Malaga Stylish Beach Apartments. Just steps away from El Palo Beach and El Chanquete Beach in Málaga, these modern apartments offer free WiFi and a comfortable seating area. Each unit is equipped with air conditioning, a private bathroom, and a fully equipped kitchen complete with a fridge, dishwasher, stovetop, and toaster. Some apartments even boast a terrace or balcony with stunning sea views.
MID-RANGE: Colourful fisherhouse in El Palo – This charming mid-range holiday home in El Palo offers free WiFi, air conditioning, and a terrace. The accommodations feature balconies, providing a pleasant outdoor space where you can unwind during your stay. The holiday home comprises three bedrooms, a kitchen equipped with a fridge and an oven, a flat-screen TV, a living area, and two bathrooms with showers. Towels and bed linen are also provided for your convenience.
BUDGET: Rooms in Seafront Villa – Experience a seaside getaway like no other at Rooms in Seafront Villa in Málaga. Enjoy the convenience of free WiFi, air conditioning, and access to an outdoor swimming pool and fitness center. Choose from a variety of accommodations, some featuring a terrace with stunning city views, a fully equipped kitchen, and a private bathroom with a bidet. During your visit, relax in the lovely garden surroundings and enjoy the BBQ facilities.
7. Where to stay in Malaga for one night? MARIA ZAMBRANO TRAIN STATION
The vibrant district of Maria Zambrano in Malaga is a bustling hub for tourists on the go! This lively area is centered on the Maria Zambrano railway station, making it a convenient transit hub with a wide range of facilities and attractions.
While it may be a little busier than other places, Maria Zambrano's Vialia Mall provides a terrific shopping experience with reasonable options that appeal to locals and visitors. You'll also find a diverse range of international restaurants to satisfy your taste buds. Keep an eye out for the popular Tex-Mex cuisine, and don't miss the unique cinema bistros where you can catch a film while enjoying a delicious meal.
As evening rush hour fades, the neighborhood becomes a tranquil refuge, ideal for a good night's sleep. Enjoy the vibrant environment throughout the day and relax in peace at night. Maria Zambrano is ready to offer you an exciting and comfortable stay in Malaga!
UPSCALE: Ilunion Málaga – Ilunion Málaga provides everything you need for a terrific stay. It is a 5 mi walk away from Mlaga main train station. This hotel offers a restaurant on-site as well as a spa area with an indoor pool and a well-equipped fitness center. Each room is spacious, has wooden flooring, and is painted in warm, inviting colors. You may also select rooms that provide breathtaking sea views, and some even have their own patio for an added touch of luxury.
MID-RANGE: Eurostars Málaga – Experience modern comfort at the Hotel Eurostars Málaga, conveniently located next to Malaga Train Station. Each air-conditioned room has sleek wooden flooring and is equipped with a flat-screen TV and a private bathroom complete with a hairdryer. During your stay, indulge in authentic Andalusian cuisine at the hotel's gastro bar or start your day with a delicious buffet breakfast. For added convenience, room service is also available.
BUDGET: Hotel Las Américas – This budget hotel offers bright and attractive rooms with comfort and modern amenities. Stay connected with the free Wi-Fi while watching international satellite TV. The air conditioning guarantees a comfortable stay, and each room has its own bathroom for your convenience.
Need to store your luggage? They also offer free luggage storage, so you can explore the city without any worries.
8. Where to stay in Malaga on a budget? EL PERCHEL
El Perchel, located just southwest of the old town and just meters from the beach, is the perfect neighborhood for budget-conscious travelers in Malaga. It's close to everything, yet far enough away that rates for lodging and entertainment are affordable!

El Perchel is one of the oldest neighborhoods in Malaga. The neighborhood sprawls around the Mercado del Carmen. It has an authentic charm and offers a taste of "real" Malaga, with local fishermen bringing in their fresh catch. Don't forget to indulge in delicious seafood that surely won't disappoint. There are lots to do in this lively area, and the best thing is that many activities won't cost you a dime!
UPSCALE: limehome Málaga Calle Ancha del Carmen – Digital Access- This luxury hotel provides air conditioning and luxurious amenities. The accommodations feature a fully equipped kitchenette with a dining area, a flat-screen TV, and a private bathroom with a shower. Complimentary amenities and a hairdryer are also included. In-room facilities consist of a fridge, a burner, a toaster, a coffee machine, and a kettle. The hotel is also conveniently located near Malaga Maria Zambrano Train Station, Malaga Cathedral, and the Port of Malaga.
MID-RANGE: Hotel Don Paco – Don Paco offers the ideal combination of luxury and convenience and is ideally situated near Málaga's railway and bus stations. Don Paco is located in the heart of Málaga and is built around an inner courtyard. The church and the Picasso Museum are both within walking distance. During your stay, you may begin your day with a delicious buffet breakfast before using the free Wi-Fi to plan your exciting travels.
BUDGET: Hostal la Hispanidad – Located just 100 meters from Maria Zambrano Train Station in Málaga, Hostal la Hispanidad offers comfortable air-conditioned rooms with free Wi-Fi, TV, heating, and private bathrooms. With Málaga Port just 1 km away and the Picasso Museum 2 km away, you'll have easy access to popular attractions. Within a 10-minute walk, you'll find a variety of enticing bars and restaurants to satisfy your cravings. The hotel's reception is open 24/7 and also provides a convenient luggage storage service.
9. CIUDAD JARDIN – One of the best areas to stay in Malaga for budget travelers
Escape the bustling city and discover the tranquility of Ciudad Jardin, also known as the "Garden City." Nestled in the northern part of Malaga, this mountainous region offers a peaceful and remote retreat. A car is recommended for exploring the surrounding area.
Immerse yourself in nature by visiting the Jardin Botanico Historico-La Conception, a sprawling tropical garden, and the Montes De Malaga National Park, perfect for leisurely walks, picnics, or renting mountain bikes.
Ciudad Jardin has plenty of hiking and biking routes that weave through lovely pine woods, offering a great opportunity to reconnect with nature and take in the breathtaking view. For budget-conscious travelers seeking a longer stay in Malaga, this district offers affordable and efficient accommodations, complemented by the warm hospitality of the local residents.
MID RANGE: Las Tres Macetas – Experience the charm of Las Tres Macetas, located in Málaga's picturesque Ciudad Jardin. Enjoy the conveniences of the air-conditioned apartment, which has a comfortable living space, a well-equipped kitchen with a fridge, and a flat-screen TV for your pleasure. Enjoy garden views from the terrace and stay connected with free WiFi throughout the property.
BUDGET: Málaga Oloroso – This stylish apartment offers modern amenities including free WiFi and a flat-screen TV, ensuring a delightful stay. The apartment features 2 bedrooms, a cozy living room, a fully equipped kitchen with a fridge and coffee machine, and a refreshing bathroom with a shower. With attractions like the Jorge Rando Museum and Museum of Glass and Crystal just a short distance away, and Malaga Park and Malaga María Zambrano Train Station within reach, Málaga Oloroso is the perfect base for your Málaga adventure.
10. Where to stay in Malaga near the beach? PEDREGALEJO
Just a short distance from Downtown Malaga lies the picturesque fishing village of Pedregalejo. With its stunning beaches and family-friendly atmosphere, it's no wonder this neighborhood is considered one of Spain's most charming. Experience the local culture by embarking on a family fishing excursion aboard traditional wooden boats—a truly unique adventure.
Experience authentic dining at the renowned seafood restaurants that line the streets, offering a true taste of the area. This charming location provides a tranquil escape from the city's hustle and bustle while still being conveniently close to all the vibrant attractions. For families seeking a perfect stay, Pedregalejo's beautiful beach and shallow waters create a safe and enjoyable environment for children. Enjoy beach pleasure within a short distance of Malaga's center.
MID-RANGE: Livemalaga Pedregalejo – Livemalaga Pedregalejo offers air-conditioned rooms, where you'll find a modern flat-screen TV to keep you entertained. Some rooms additionally include a comfortable lounge space and a lovely terrace. You can also prepare your own meals in the kitchenette, which has a toaster, refrigerator, burner, and coffee machine.
BUDGET: Elcano – The décor of this budget hotel combines vibrant colors with lovely classic furnishings made of wrought iron or appealing woods. Outside, the terracotta and whitewashed buildings produce a genuine Andalusian ambiance. The hotel's glassed-in balcony is an ideal spot for a quiet coffee or beer with a book. The hotel also provides an authentic Andalusian breakfast to start your day
11. Where to stay near Malaga airport? CHURRIANA
Churriana is located in the southwest area, next to Malaga airport, and is the best neighborhood to stay in if you want to be close to the airport.

This is also an excellent choice if you want to be close to the beach, the city center, and the train station. This area boasts an excellent range of restaurants and pubs, so you won't have to travel far for a delicious meal or drink, as well as some good shopping nearby.
UPSCALE: Parador de Málaga Golf – This luxurious hotel combines excellent golf with a traditional Andalusian atmosphere and stunning sea views. The hotel itself is an excellent example of Andalusian architecture. Its interior is filled with stylish, modern design elements that give it a unique appearance. The hotel also offers a seasonal outdoor pool where you can beat the heat after a game of golf.
MID-RANGE: Hotel Malaga Picasso – The Málaga Picasso Hotel is located near Guadalmar Beach and is only 2.5 kilometers from Málaga Airport. A lovely garden surrounds the hotel's outdoor swimming pool and hot tub. The hotel's rooms are attractively designed, with air conditioning and tiled terracotta flooring. The grounds and swimming pool are accessible from the rooms. During your stay, you may also sit and unwind in the lounge and patio of the Málaga Picasso.
BUDGET: Blonski Guadalmar – Blonski Guadalmar is a budget hotel that offers free WiFi, air conditioning, and a flat-screen TV for your convenience. Some rooms at this hotel have a terrace with garden views, a fully furnished kitchenette, and a private bathroom with a bathtub.
12. Where to stay near Malaga? CAMPANILAS
Campanillas is a lovely area in Malaga's northwestern area. This is the ideal location for those who love nature and a peaceful ambiance. Offering a similar vibe to Ciudad Jardin, Campanillas boasts picturesque scenery, enchanting hiking, and biking trails, and even the opportunity to explore the fascinating ruins of Castillo de Cartama, an ancient castle.
While accommodations in Campanillas are limited compared to other areas, those that are available tend to be higher-end and offer a one-of-a-kind experience. Embrace the tranquility and natural beauty of Campanillas as you immerse yourself in its serene surroundings.
?? UPSCALE: Hotel Plaza Del Castillo – This luxury hotel features a remarkable medieval style with a castle-like façade and lovely ornamental gardens. Each room is equipped with air conditioning, heating, and a minibar. Plaza del Castillo also boasts stained-glass windows, stone walls, and medieval artwork, as well as multiple banquet rooms and a restaurant serving both conventional and contemporary cuisines.
MID-RANGE: Posadas de España Malaga – This hotel is located in Andalucia's Technology Park, close to the Botanical Gardens of Malaga and the A-7 Motorway. It has free parking and internet access, as well as an outdoor swimming pool with a patio and sun loungers. The room is designed with hardwood flooring and furnishings and includes air conditioning and heating, a bathroom with a hairdryer, and lots of natural light. The Posadas Malaga also offers a breakfast buffet, a daily lunch menu, and a variety of specials and chef's recommendations for dinner.
BUDGET: Real Maqueda – Málaga – Real Maqueda – Málaga is located 15 kilometers from Malaga Maria Zambrano Train Station and features a patio. This budget hotel includes a garden and features air-conditioned rooms with free WiFi and private bathrooms. Each room has a desk and a flat-screen TV and is equipped with bed linen and towels. They also serve à la carte breakfast every morning.
13. CRUZ DE HUMILLADERO
Cruz De Humilladero derives its name from the Spanish translation of 'Shrine's Cross.' Situated on the western edge of the city center, this vibrant neighborhood offers excellent transportation connections, including the Maria Zambrano main train station. With convenient access to public transportation, navigating the city is a breeze. This today's Malaga neighborhood was a historic gateway to the city of Malaga. Thus, it is well-connected to the city center.
Enjoy the best of both worlds as you stay in a location that is just a stone's throw away from the city's vibrant energy, yet provides a tranquil retreat away from the bustling center.
UPSCALE: Pavone Apartments Málaga – Pavone Apartments Málaga is located in the Cruz de Humilladero area of Málaga, close to San Andres Beach. It has a balcony, free WiFi, and a washing machine. During your stay, you will also have access to a terrace. The apartment has two bedrooms, a living area, a fully furnished kitchen with a fridge and a coffee machine, and one bathroom with a shower and complimentary amenities.
MID-RANGE: Hotel Goartín – This modern hotel is within a 10-minute walk of Málaga's Maria Zambrano Train Station and Bus Station. There is private parking available at the hotel. Hotel Goartin offers spacious rooms with free Wi-Fi, a TV, and a private bathroom. Some rooms have a balcony or patio. Vending machines are available in the lobby if you want to grab a snack.
BUDGET: Albergue Inturjoven Malaga – This hotel is located approximately 2 kilometers from the center of Málaga and the Alcazaba Church. The rooms of the Inturjoven Málaga are bright and simple. Each accommodation has a low-cost Wi-Fi connection, private bathrooms, a garden, and a terrace. The restaurant in Albergue serves a variety of buffet food, including traditional Malagan meals. There are also vending machines where you can buy beverages and snacks.
14. CARRETERA DE CADIZ
Carretera De Cadiz is located southwest of the city center. This neighborhood offers an authentic local experience, as it is less frequented by tourists. Immerse yourself in the vibrant local vibe and discover hidden gems off the beaten path.
Carretera De Cadiz boasts a wide selection of restaurants and bars, where you can indulge in the local culinary delights. With convenient transportation options, you can easily access the city center and explore its attractions.
When it comes to accommodations, you'll find a range of options to suit different budgets. Whether you're looking for affordable stays or more upscale accommodations, there's something for everyone.
If you're visiting in February or March, don't miss the lively Malaga carnival celebrated in this area. It's an exciting time to be here and soak up the festive atmosphere.
UPSCALE: Vincci Málaga – This modern hotel on Málaga's coastal promenade provides views of San Andres Beach and the Mediterranean Sea. All the air-conditioned rooms have plasma-screen satellite TVs and complimentary Wi-Fi. The rooms are designed elegantly in white with black and green accents. Each room has a minibar and a selection of pillows. The hotel offers a daily continental breakfast buffet with sweet and savory dishes as well as gluten-free alternatives. A beautiful snack bar with an outside patio is also available at this luxury hotel.
MID-RANGE: Hilton Garden Inn Málaga – This modern hotel, located 5 kilometers from Málaga – Costa del Sol Airport, features an outdoor swimming pool surrounded by a sun deck and loungers. The tour desk at this mid-range hotel can arrange car rentals for your convenience. Private covered parking is also available for an additional fee.
BUDGET: Ibis Budget Málaga Aeropuerto Avenida de Velazquez – This budget hotel is located on the A-7 highway, 5 kilometers from Málaga's center. It is about 3 kilometers from Málaga Airport and features contemporary, air-conditioned rooms with flat-screen TVs. Málaga's beaches, notably Los Alamos, are only 5 minutes away by car. Parking is also relatively affordable at the hotel.
What areas to avoid in Malaga? PALMA – PALMILLAS
Palma – Palmillas is one of the Malaga districts with easy access to Malaga downtown and its popular tourist attractions like the Picasso Museum, Malaga Cathedral, and Calle Larios. However, this Malaga district has a bad reputation for high crime rates and might not be for everyone.
WHERE TO STAY IN MALAGA, SPAIN – Map of the best areas in Malaga