Are you traveling to Spain and want to try famous Spanish tapas? Are you interested in a list of Spanish tapas? Or, just curious about amazing tapas from Spain?
Great! Here is the ultimate list of authentic Spanish tapas, common tapas in Spain, and the most popular tapas in Spain.
THIS POST MAY CONTAIN COMPENSATED LINKS. PLEASE READ MY DISCLAIMER FOR MORE INFO.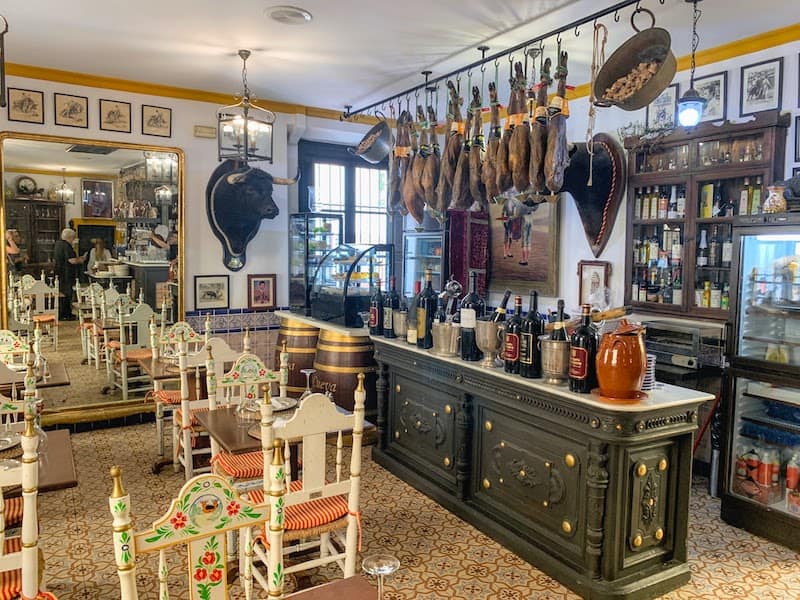 Flavorsome tapas are famous Spanish appetizers or snacks.
Spanish tapas are some of the most delicious appetizers in the world.
Tapas are the heart of Spanish Cuisine and the soul of the Spanish lifestyle.
Tapas in Spain are traditionally enjoyed with a glass of good Spanish wine (think of Sherry, Rosado, Cava, Rioja …some of the famous Spanish drinks) and in good company at tapas bars.
The magic of tapas lies in socializing over delicious bites.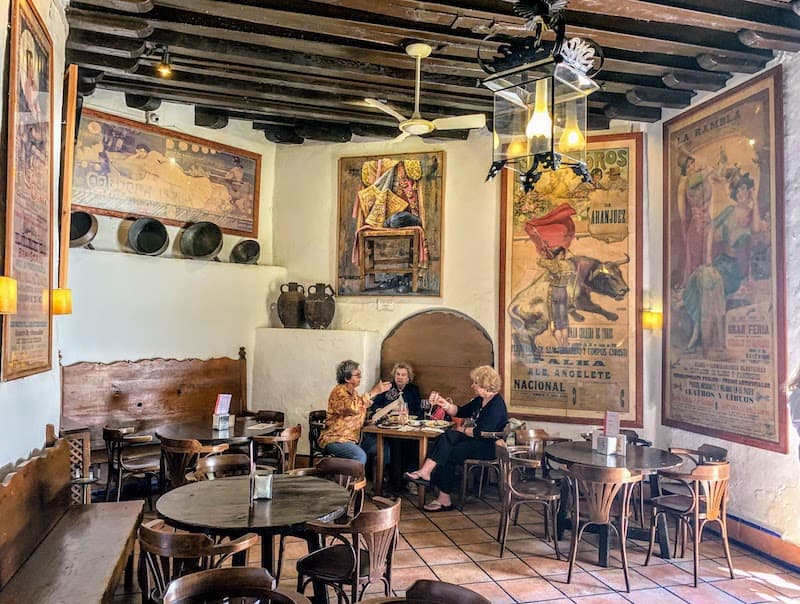 Tapas originate from Andalusia in southern Spain, but tapas are enjoyed throughout Spain these days. The city of Granada in southern Spain is best known for the tradition of free tapas that you get when you buy a glass of wine.
Tapas mean covers. A legend says that the first tapas developed in Andalusia where a glass of sweet sherry wine got covered with a slice of ham to protect the wine against flies in hot Andalusia.
Traditionally Spanish tapas were served as simple dishes to travelers in bodegas (taverns), albergues (hostels), and posadas (inns). Today, tapas bar hopping is one of the must-have experiences in Spain.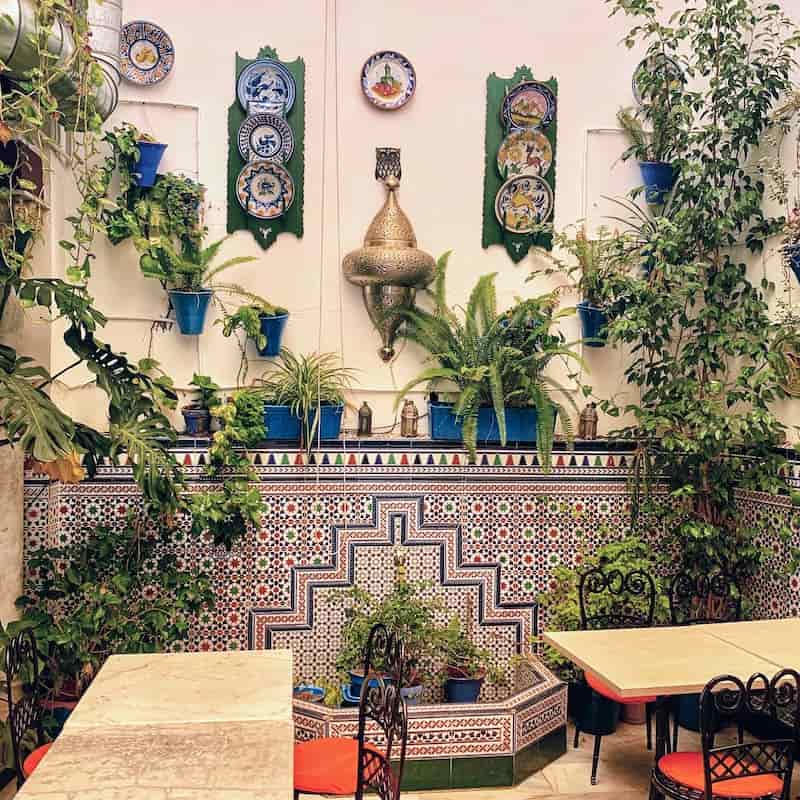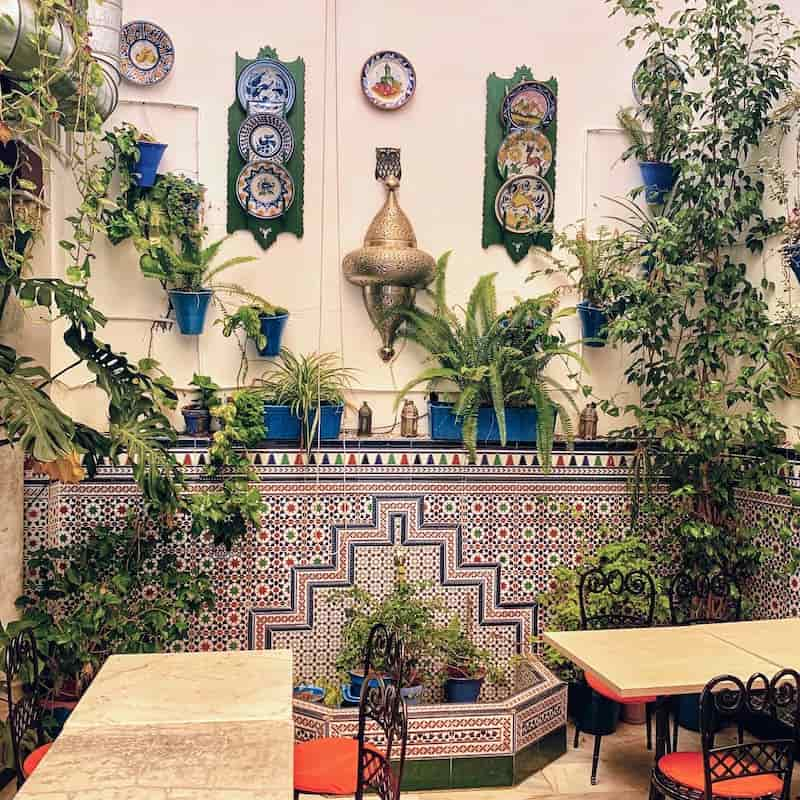 Tapas dishes are typically easy to make, but they are super tasty and healthy.
Not surprisingly, tapas from Spain are some of the most popular appetizers worldwide.
Tapas types
Types of tapas in Spain are finger food tapas, tapas with a utensil, and small tapas dishes (often with a sauce).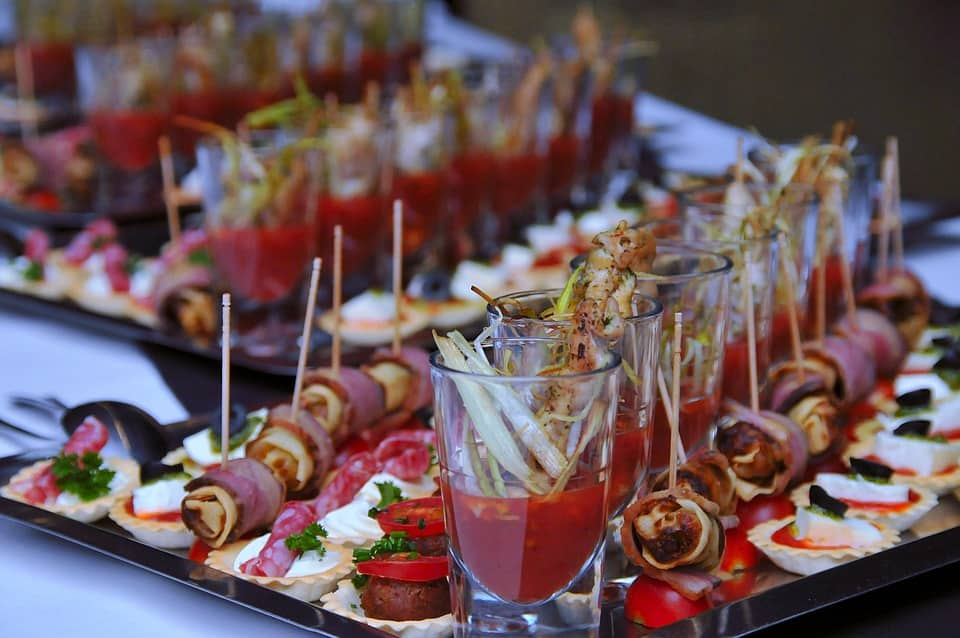 Spaniards traditionally eat tapas between 1.30 pm and 3 pm and between 8.30 pm and 10.30 pm.
Tapas in Spain may be served cold and hot.
They cost around 3 EURO on average in Spain (tapas are more expensive in big cities than in small untouristy places), but seafood tapas are on the more expensive side with an average price of 13 EURO.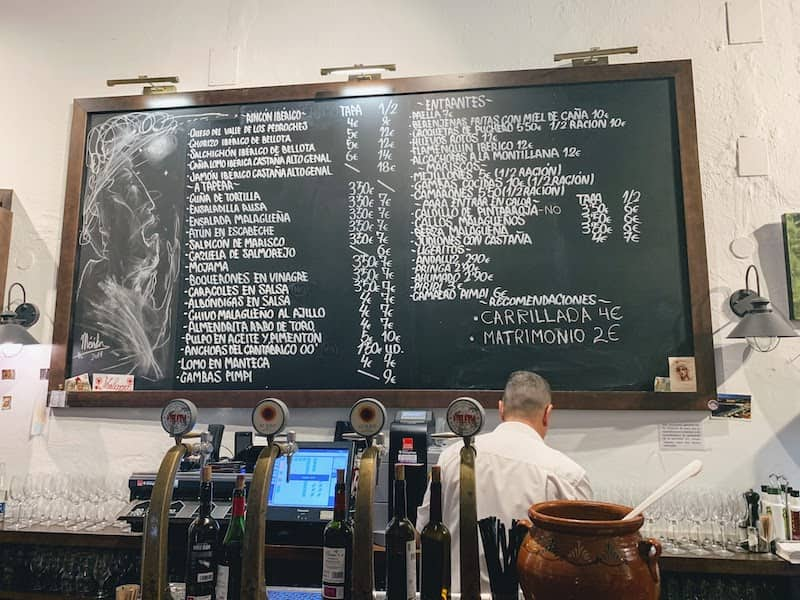 BEST SPANISH TAPAS IN SPAIN
Here is the finest selection of the best Spanish tapas: cold Spanish tapas, hot Spanish tapas, seafood tapas, meat Spain tapas, and vegetarian Spain tapas…. with the names of tapas in Spanish!
Tapas Spain
1. GAZPACHO 
Gazpacho is a famous tomato soup from Spain.
Cold Spanish gazpacho soup is a perfect Spanish appetizer in the summertime.
Unlike common soups, Spaniards consume cold (not hot) gazpacho.
In addition, it is traditionally drunk from a gazpacho bowl (and not eaten with a spoon like a typical soup).
Delicious Spanish tomatoes, green peppers, cucumbers, onions, garlic, vinegar, and extra virgin olive oil are the ingredients of refreshing gazpacho.
This famous Spanish tomato soup is the most popular summer appetizer in Spain. It is one of the most popular cold tapas in Spain as well.
2. SALMOREJO CORDOBESE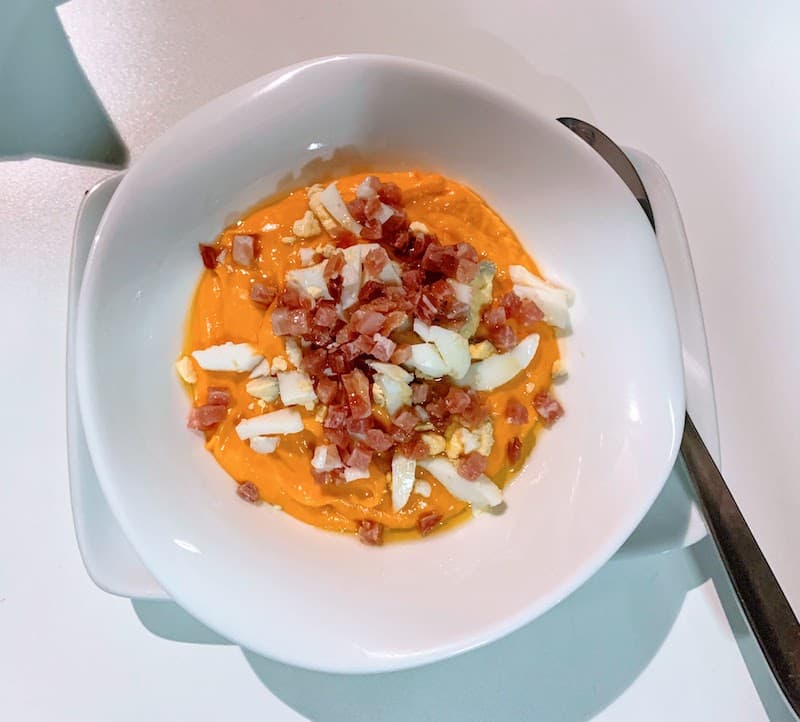 If you like creamy tomato soups, you will love salmorejo cordobese.
Salmorejo tomato soup is similar to gazpacho tomato soup.
The main difference is in the texture.
Salmorejo soup is thicker and more creamy than gazpacho.
Salmorejo soup looks like a tomato puree.
Pureed tomatoes, bread, garlic, and vinegar are the main ingredients of Spanish salmorejo.
A chopped hard-boiled egg or small pieces of ham often come on the top.
Salmorejo is also enjoyed cold, just like gazpacho.
Cold salmorejo soup is a favorite Spanish appetizer in southern Spain.
3. PAN CON TOMATE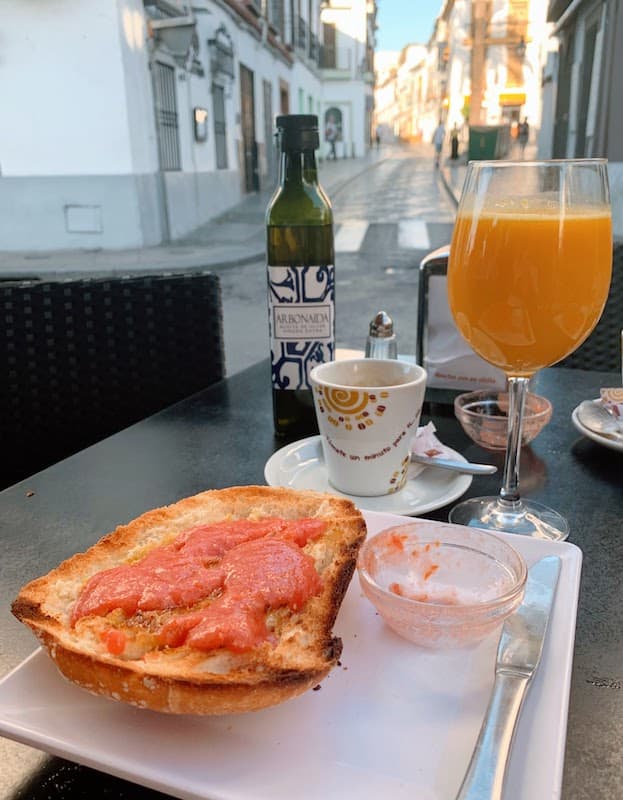 Tomatoes, tomatoes, …, and more tomatoes.
Savory tomatoes are a staple food in Spanish cuisine.
Bread with tomatoes, or pan con tomate in Spanish, is one of the most popular appetizers in Spain.
Pan con tomate is a popular Spanish tapa dish made of toasted bread with garlic and fresh ripe tomatoes. In addition, it's sprinkled with extra virgin Spanish olive oil and salt.
Spanish pan con tomate is a perfect example of a healthy Mediterranean dish.
Pan con tomate is also called pa amb tomàquet in Catalonia.
So, when in Barcelona, be sure to order pa amb tomàquet.
Pan con tomate is a popular breakfast in Spain, but it is also a popular Spanish appetizer served before meals in Spain.
4. PIMIENTOS DE PADRON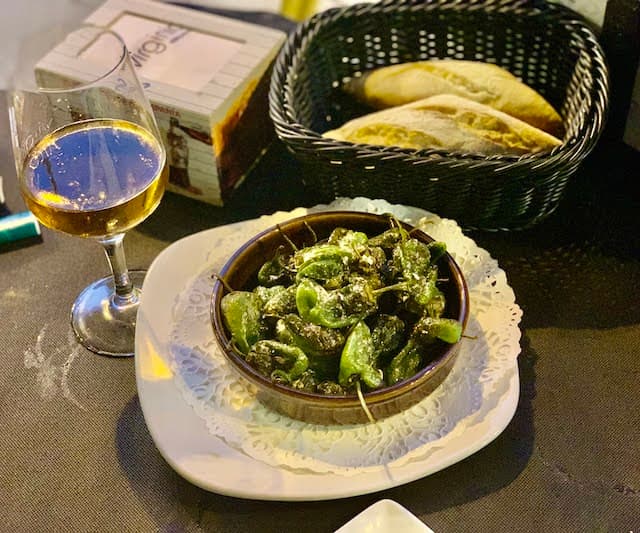 Are you interested in hot Spanish appetizers?
Grilled blistered Padron peppers are favorite hot tapas in Spain.
Padron peppers are delicious Spanish tapas.
The tiny green peppers got their name after Padron municipality in the Galicia region in northern Spain they originate.
Pimientos de Padron peppers are some of the most famous Spanish tapas.
5. CROQUETAS CON JAMON SERRANO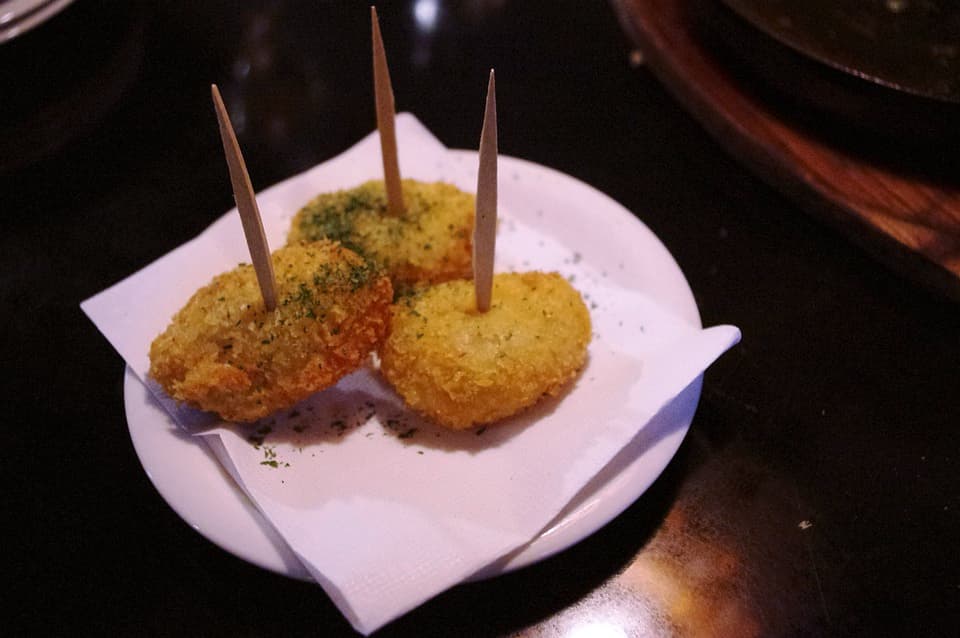 Fried breadcrumbs filled with authentic serrano ham are typical tapas in Spain.
Breadcrumbs in Spain get filled with cheese, codfish, black sausage, spinach, and other ingredients.
There are vegetarian Spanish croquetas and meaty Spanish croquetas.
Leftover meat and vegetables are the most common ingredients of traditional Spanish croquettes.
But, some of the most popular Spanish appetizers are ham croquettes, or croquetas de jamón serrano.
6. MONTADITOS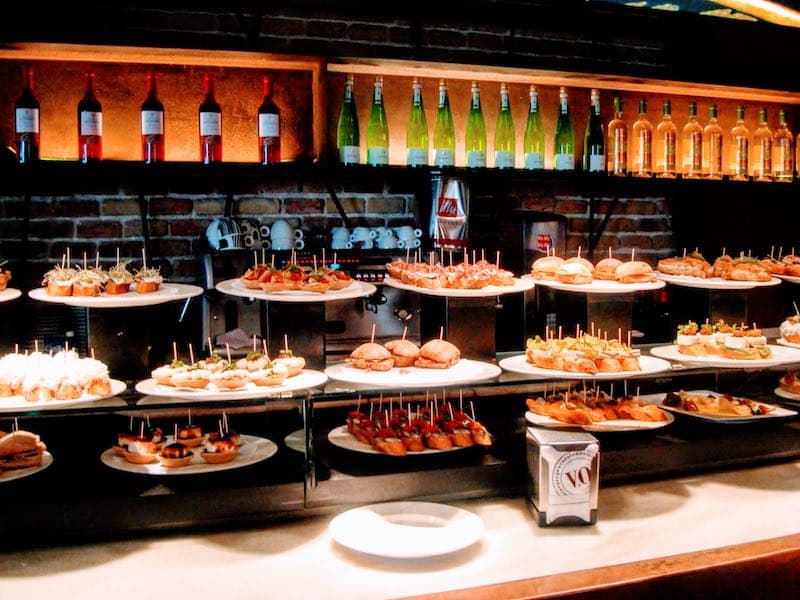 Montaditos are popular Spanish appetizers.

Montaditos are tiny and mouthwatering sandwiches served in every tapas bar in Spain.
Tiny slices of bread topped with cold cuts, cheese, meat, fish, and vegetables make yummy montaditos.
Montaditos are finger-licking must-try Spanish tapas.
7. PINTXOS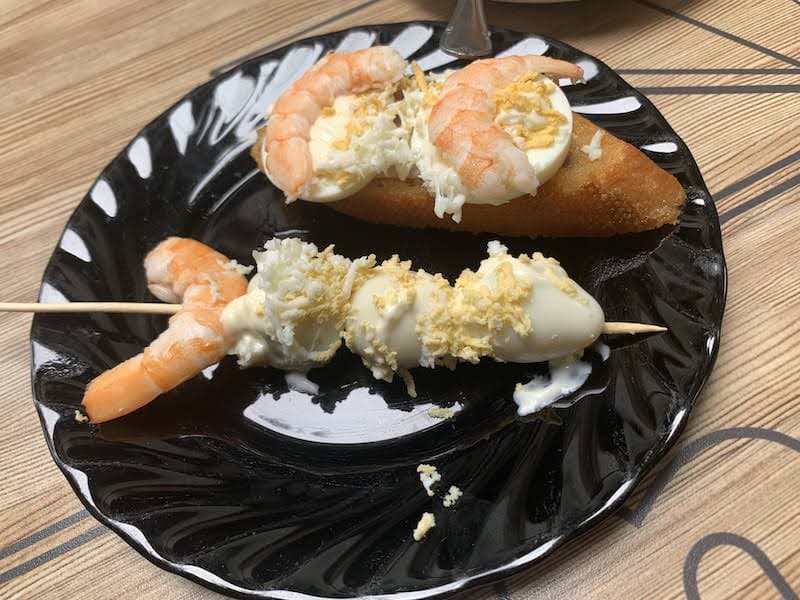 Pintxos in the Basque language (also spelled pinchos in Spanish) are appetizers from northern Spain (most notably, from the Basque Country, La Rioja, Navarre, Cantabria, and Asturias ).

But pintxos are probably most associated with the Basque Country.
Pintxos are the Basque food everybody raves over.
Basque pintxos are small slices of bread topped with meats, seafood, cheese, and vegetables …, spiked with a toothpick.
Just to mention, pincho means to spike.
These popular Spanish appetizers are must-try in Northern Spain.
No visit to San Sebastian and Bilbao is complete without pampering yourself with tasty pintxos.
8. GILDA PINTXOS
Gilda pintxos are the most famous pintxos from the Basque Country.

Gilda pinchos (pl.) consist of olives, salted anchovy fillets, and pickled Ibarra chilies (Gipuzkoa chilies).
9. MEJIILLONES RELLENOS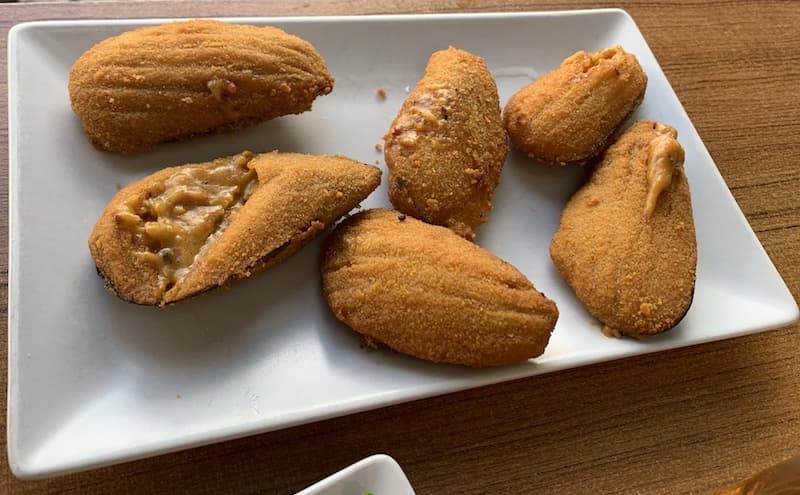 Spicy stuffed mussels are a treat for seafood lovers in Spain.

Mejillones rellenos are also known as tigers as they are spicy.
Spanish tigers mussels are the steamed whole mussels left in the shells and then topped with bechamel sauce (made with white wine and a pinch of spicy Espelette peppers).
Finally, mussels and sauce are fried altogether with dry breadcrumbs.
10. PULPO A LA GALLEGA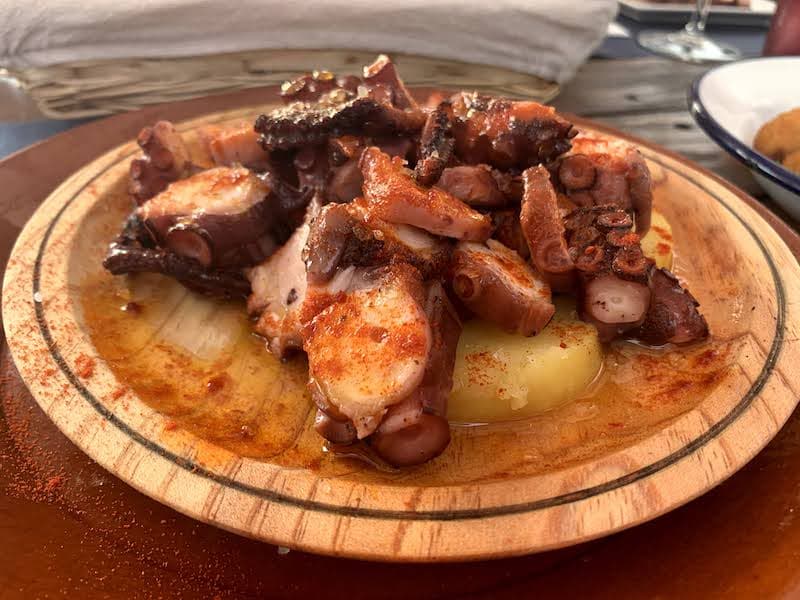 The Galician-style octopus is a hot Spanish tapa dish.

Pulpo a la Gallega is one of the most famous Spanish tapas. It originates from the Galicia region, just like pimientos padrones and zamburinas.
Pulpo a la Gallega is a Spanish tapa dish made of boiled octopus sprinkled with olive oil, salt, and sweet paprika.
Pulpo a la Gallega traditionally comes on a wooden platter with toothpicks.
This delicious Spain tapa is also known as Pulpo a Feira.
Galicia in northern Spain is famous for fabulous seafood dishes.
Pulpo a la Gallega and Zamburinas en salsa Gallega are some of the best seafood dishes in Spain.
11. ZAMBURINAS A LA PLANCHA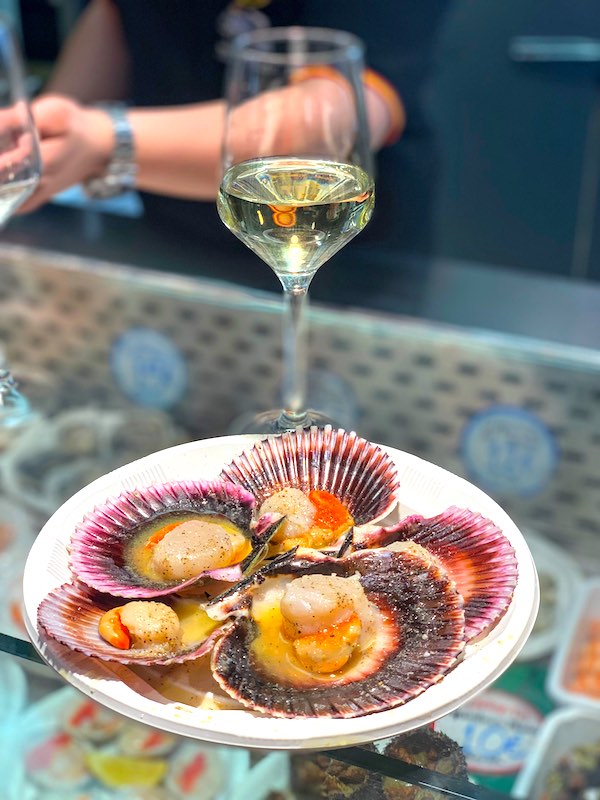 Grilled scallops are delicacy tapas from Galicia.

Zamburinas a la plancha are grilled fresh Galician scallops garnished with parsley, chopped garlic, salt, lemon juice, and extra virgin olive oil.
There is no doubt that Zamburinas a la Plancha are some of the best tapas in Spain.
12. ZAMBURINAS EN SALSA GALLEGA
Scallops with Galician sauce are favorite Christmas tapas in Spain.
Cooked chopped ham, white wine, garlic, onion, fried tomatoes, olive oil, salt, pepper, and (optionally) hot paprika are the main ingredients of the Galician sauce.
Baked scallops are sautéed with the Galician sauce … ya está, zamburiñas a la gallega are done!
They are served warm, of course.
13. CALAMARES FRITOS – CALAMARES A LA ROMANA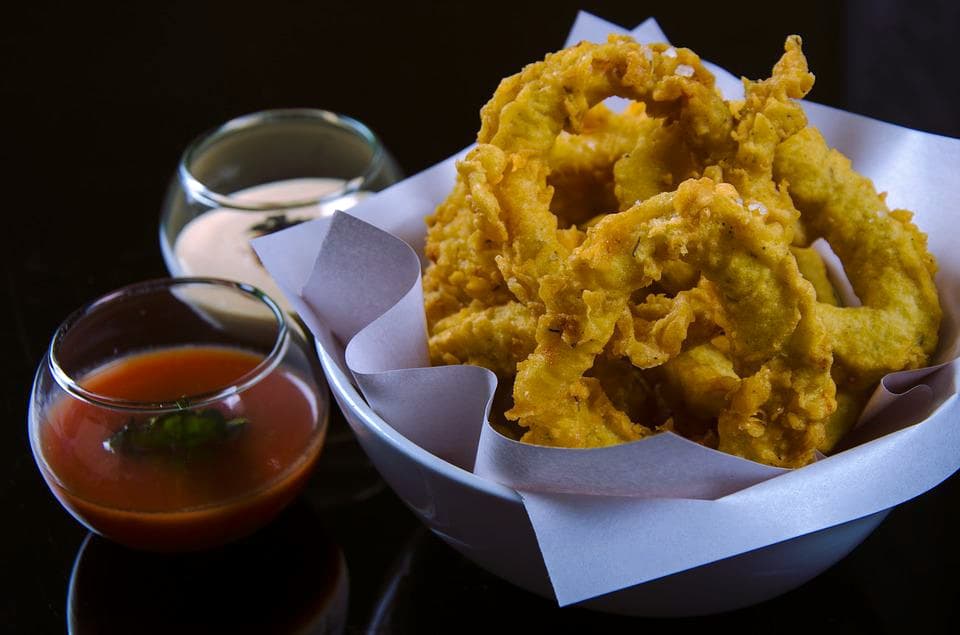 Fried battered rings of squid are a popular tapa in Spain.

Calamares a la Romana are some of the most common Spanish tapas. They are easy to prepare, soft, and yummy to eat.
Calamares Fritos are typical Spanish tapas found in every corner of Spain.
14. ACEITUNAS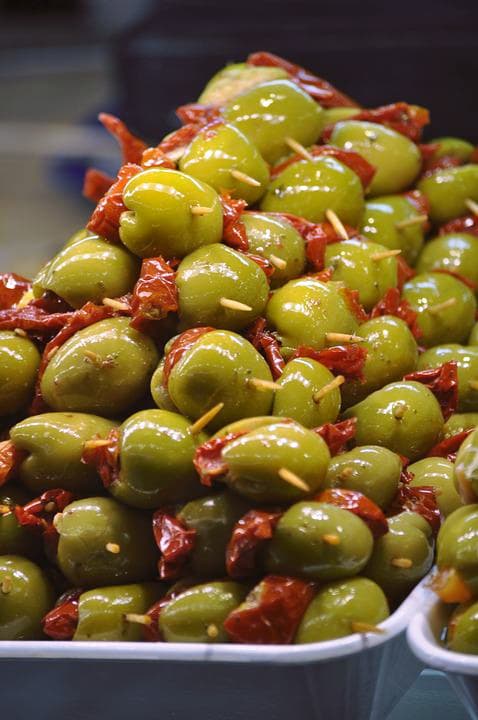 Olives are some of the most popular food in the Mediterranean.

Olives in Spain are an ingredient in many Spanish tapas dishes.
Aceitunas tapas in Spain refer to olives alone or olives filled with anchovies or red bell pepper.
15. BOQUERONES EN VINAGRE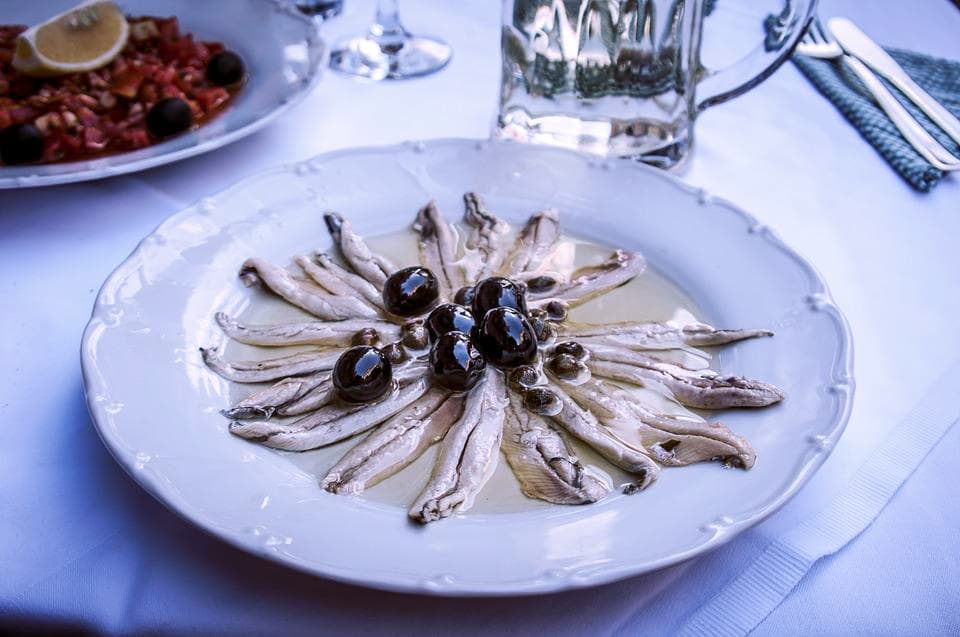 Anchovies, or boquerones in Spanish, are popular appetizers in Spain.

Spanish boquerones en vinagre refer to marinated white anchovies in vinegar.
If you like salty marinated anchovies, you will enjoy boquerones en Vinagre tapas in Spain.
16. BOQUERONES FRITO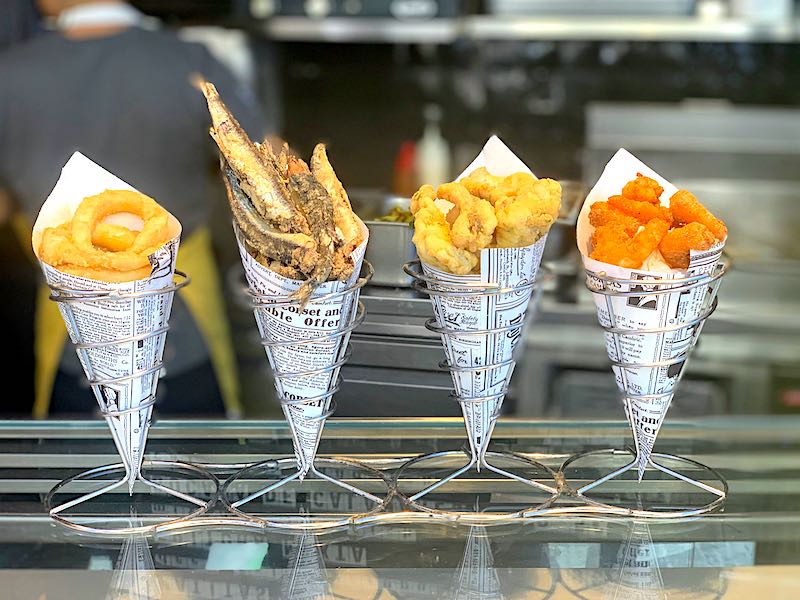 Fried anchovies (boquerones fritos in Spanish), just like fried calamari, are typical Spanish tapas, especially in southern Spain.

Fried anchovies are enjoyed the best with a sprinkle of lemon.
17. PISTO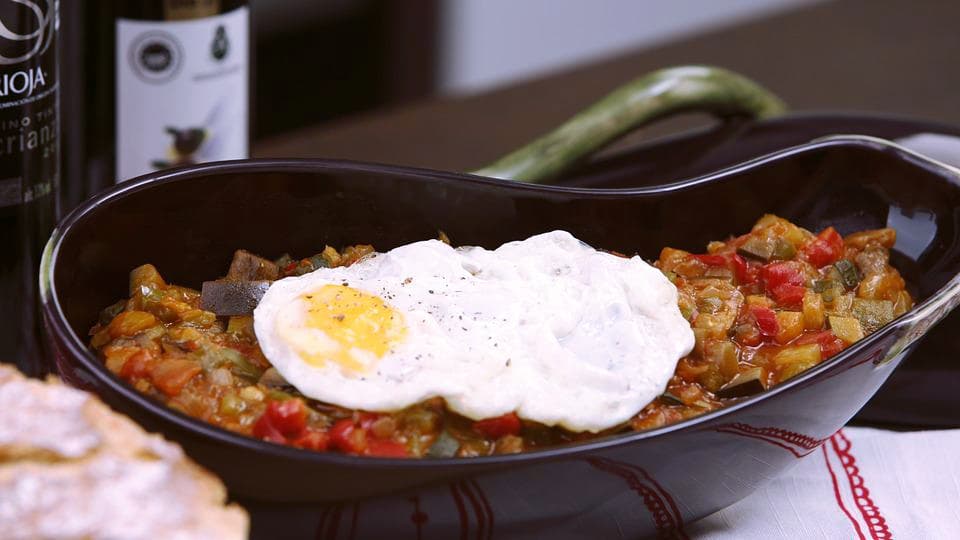 Pisto is a mixed vegetable stew.

Spanish pisto is similar to Middle Eastern shakshouka.
Diced eggplant, zucchini, onion, freshly chopped tomatoes, red peppers, green peppers, and plenty of extra virgin olive oil make a perfect pisto.

Colorful pisto is a hot Spanish tapa.
It traditionally comes with Manchego cheese, egg on the top, and bread.
18. EMPANADAS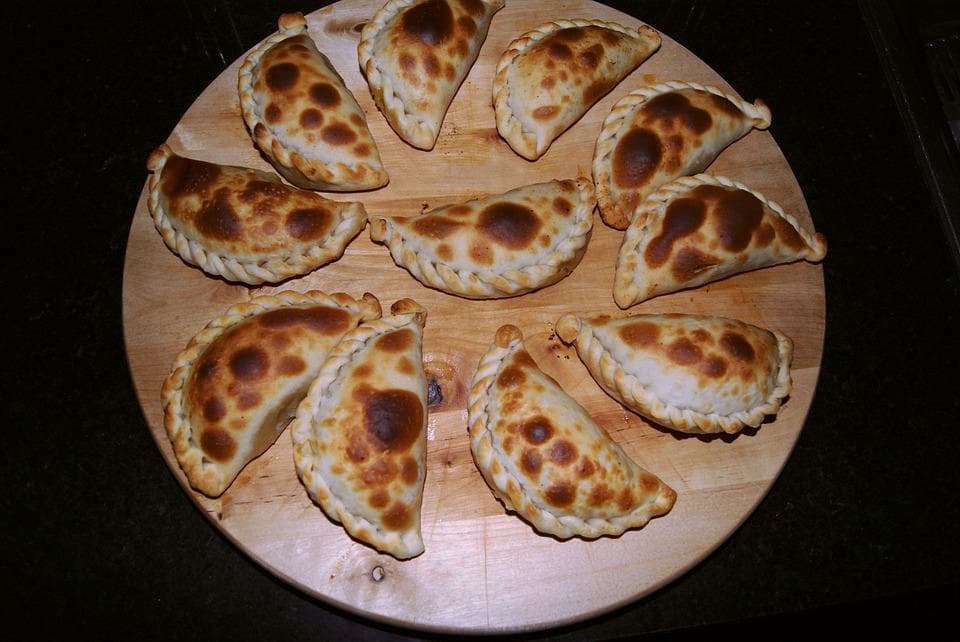 Delicious empanadas are classic Spanish tapas.

Traditional empanadas are fried or baked pastries filled with cheese, meat, vegetables, and fruits.
Empanadas can be savory or sweet (what depends on the filling).
19. TORTILLA ESPANOLA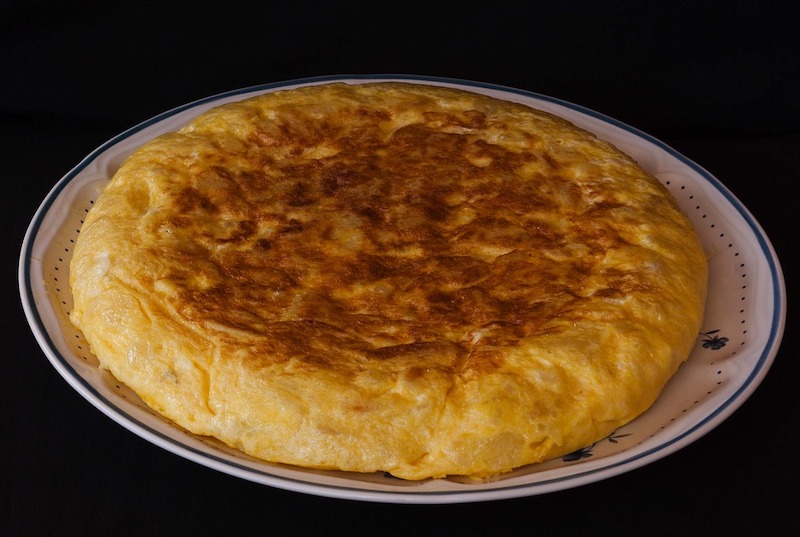 Spanish omelet is a favorite appetizer in Spain.

Tortilla Espanola is a national dish of Spain and one of the most typical Spanish tapas.
Classic Tortilla Espanola is made with potatoes, eggs, olive oil, and (optionally) onion.
20. ESPINACAS CON GARBAZANOS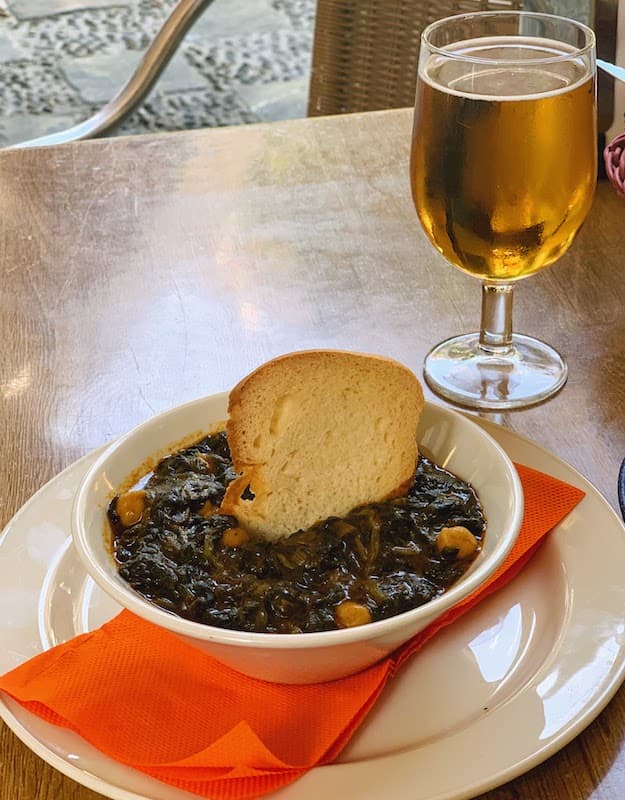 Spinach with chickpeas stew is an easy Spanish tapa.
Spinach, chickpeas, finely chopped onion, garlic, a tablespoon of sweet paprika, a pinch of cumin, salt, pepper, and olive oil for seasoning is all you need to prepare this simple Spanish tapa dish.
Espinacas con garbanzos stew originates from Seville, but today it is a popular tapa dish throughout Spain.
This popular Spanish tapa dish reflects the Moorish history of Seville and Andalusia. The main ingredients of the dish: are chickpeas, spinach, and cumin brought by Moors to Andalusia.
Spinach with chickpeas is a traditional dish for Semana Santa (Holy Week) and Easter in Spain.
However, today espinacas con garbanzos is an all-year-round tapa dish.
21. GAMBAS AL AJILLO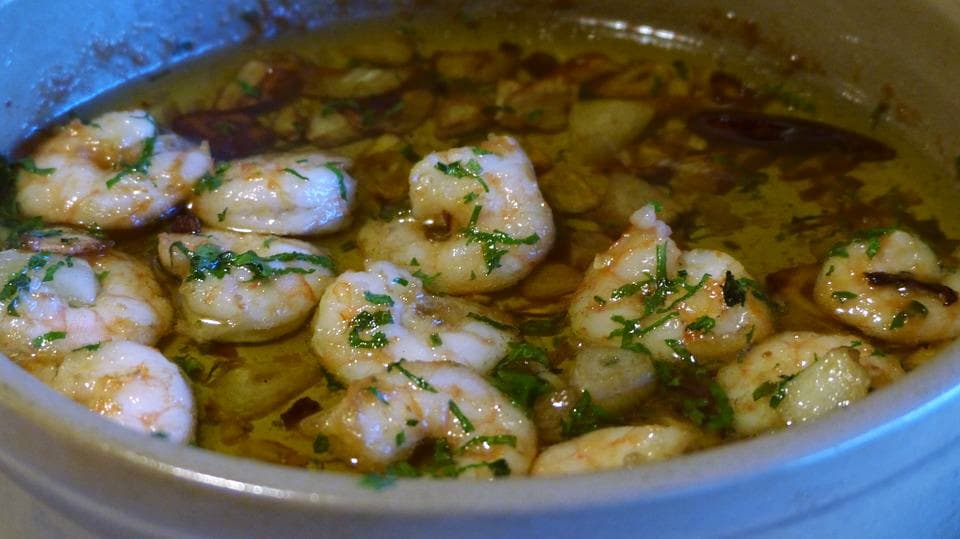 Prawns in garlic are a classic Spanish tapa served in every tapas bar throughout Spain.
Gambas in Spain is the name for medium size prawns.
Gambas al ajilo is a simple Spanish tapa made of medium-sized prawns cooked with garlic, a little bit of red pepper (or a bay leaf), sherry vinegar, and parsley.
This simple tapa dish originates from Andalusia.
Cooked prawns in garlic are must-try tapas in Spain.
22. GAMBAS A LA PLANCHA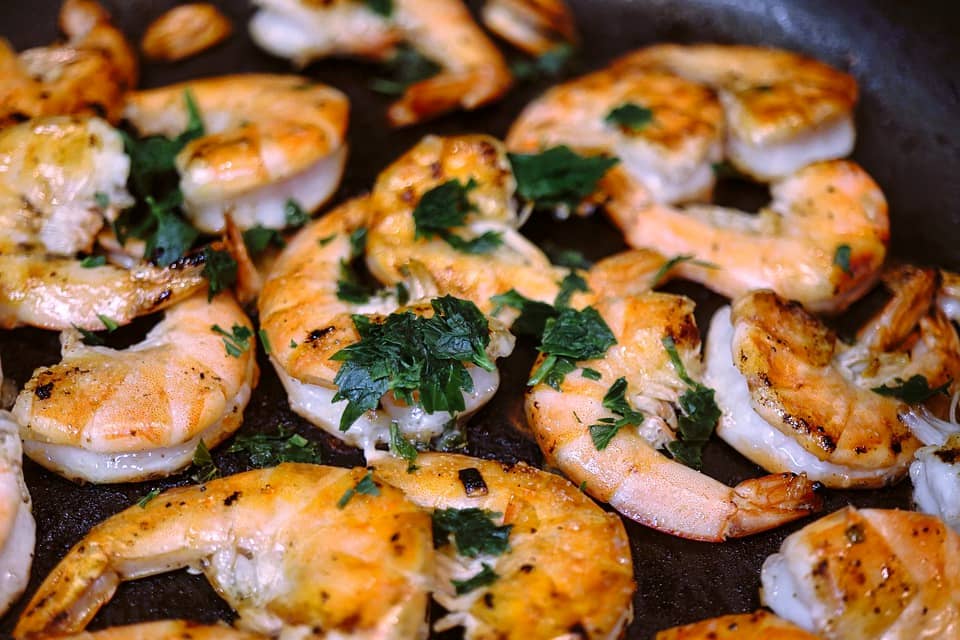 Grilled prawns are traditional Spanish tapas.

Grilled prawns are seasoned with olive oil and (optionally) white wine. They are often served with lemon juice and traditional Spanish aioli sauce (made of olive oil sauce emulsified with mashed garlic) and sometimes with mayonnaise.
Gambas a la plancha dish is a popular Christmas appetizer in Spain.
Grilled prawns are hot tapas in Spain.
23. ALMEJAS A LA GADITANA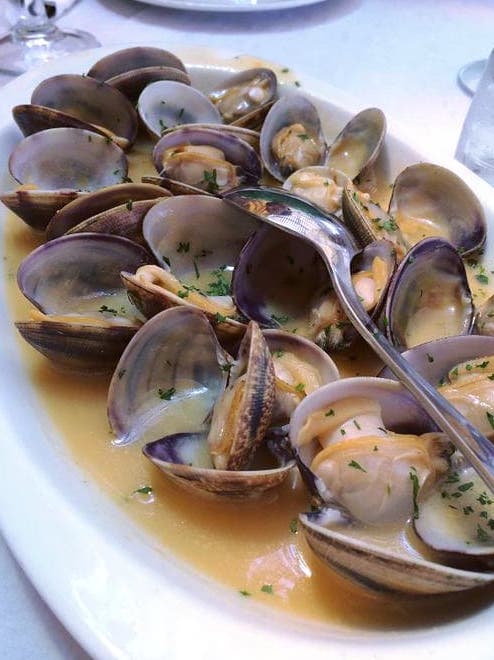 Clams with sherry wine are a famous tapa dish from Andalusia.

Fresh clams are cooked in broth. The broth is made of olive oil, finely chopped garlic, chopped parsley, sweet Sherry wine, and a pinch of salt and pepper.

Almejas a la Gaditana are paired well with Sherry wine, of course.
24. ALMEJAS EN SALASA VERDE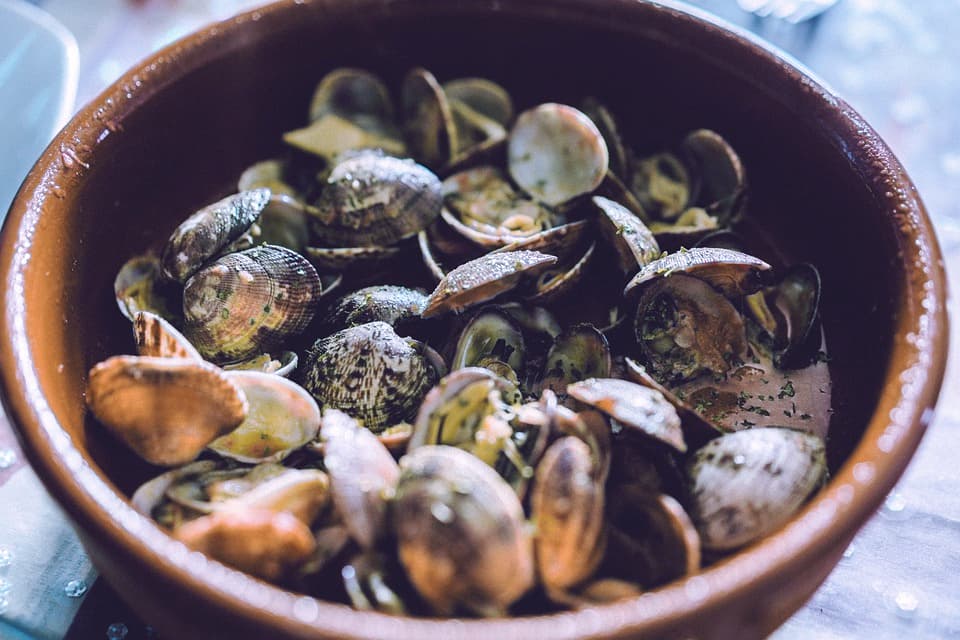 Almejas a la Gaditana (with Sherry wine) is a tapa dish from southern Spain.
But Almejas en salsa verde is a tapa dish from northern Spain.
Clams in green sauce is a traditional Christmas tapa in the Basque Country.
Plenty of fresh parsley, garlic, white wine, olive oil, and a pinch of salt make the green sauce (salsa verde).
If needed, a tablespoon of flour may be added to make the sauce thicker.
Cleaned fresh clams are cooked in the sauce for 5 minutes.
That's all you need to make this perfect Spanish tapa dish. Buen provecho!
25. MEJILLONES AL VAPOR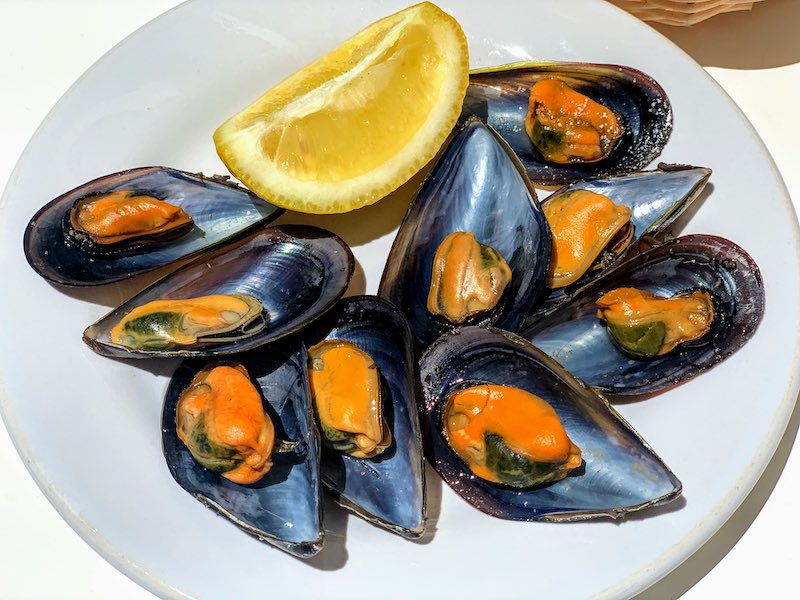 Steamed mussels, or mejillones al vapor in Spanish, are simple Spanish tapas.
Spaniards love eating mussels. They prepare mussels in various ways: pickled mussels, stuffed mussels, mussels with vinaigrette, pickled mussels, mussel croquettes … but the simplest dish made with mussels is steamed mussels.
Mejillones al vapor are popular Spanish tapas enjoyed throughout Spain. The most flavourful and the best mejillones al vapor in Spain are fresh mussels from Galicia.
26. MACHEGO CHEESE AND IBERIAN HAM
Iberian ham and Manchego cheese are the trademark food of Spain.

Some of the quickest and most delicious Spanish tapas are simple slices of bread covered with Manchego cheese and Iberian ham.
27. ENSALADILLA RUSA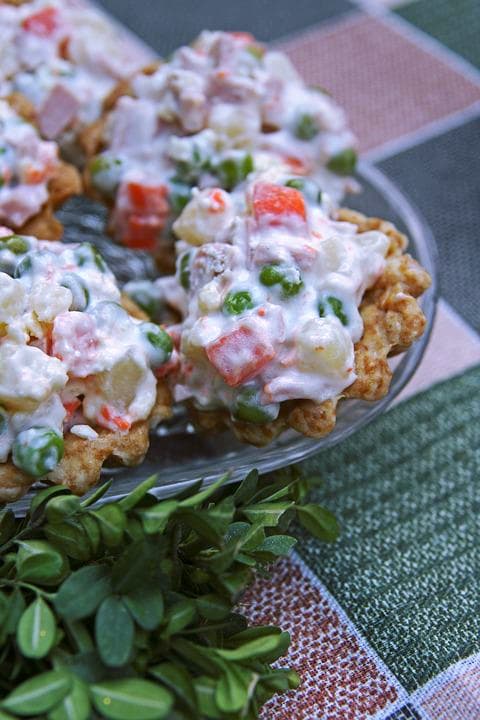 The Russian salad, or ensadadilla Russa in Spanish, is one of the most famous cold Spanish tapas served in the summertime.

This refreshing salad is made with boiled potatoes, eggs, tuna, vegetables, and mayonnaise.
The most used vegetables in ensaladilla rusa are green beans, peas, red peppers, and capers.
28. BANDERILLAS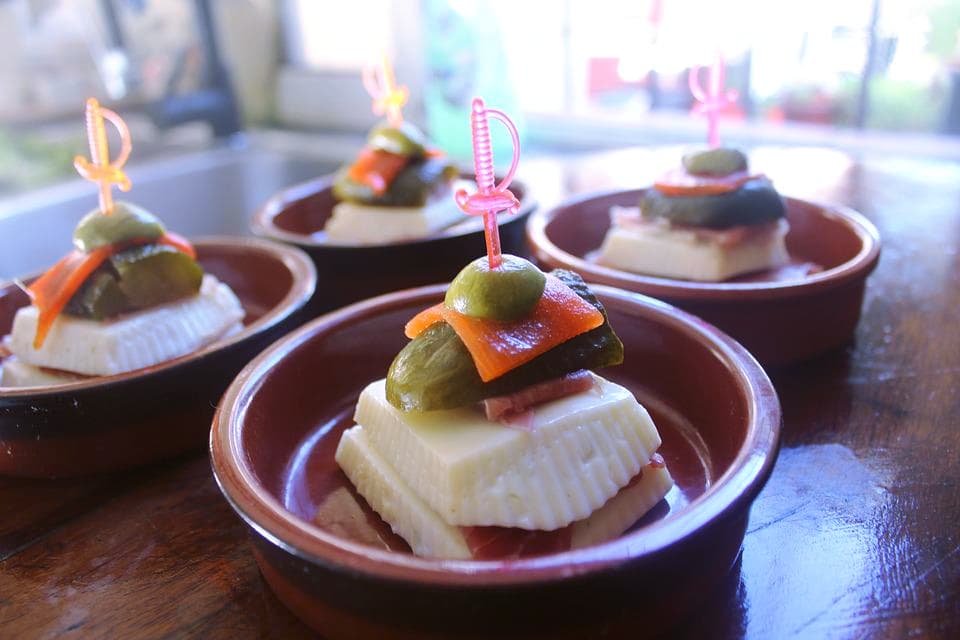 Banderillas are traditional Spanish tapas of pickled olives, onion, gherkin (pickled baby cucumber), and chili on a skewer.

These colorful pickled vegetable skewers are some of the most interesting Spanish tapas.
29. PATATAS BRAVAS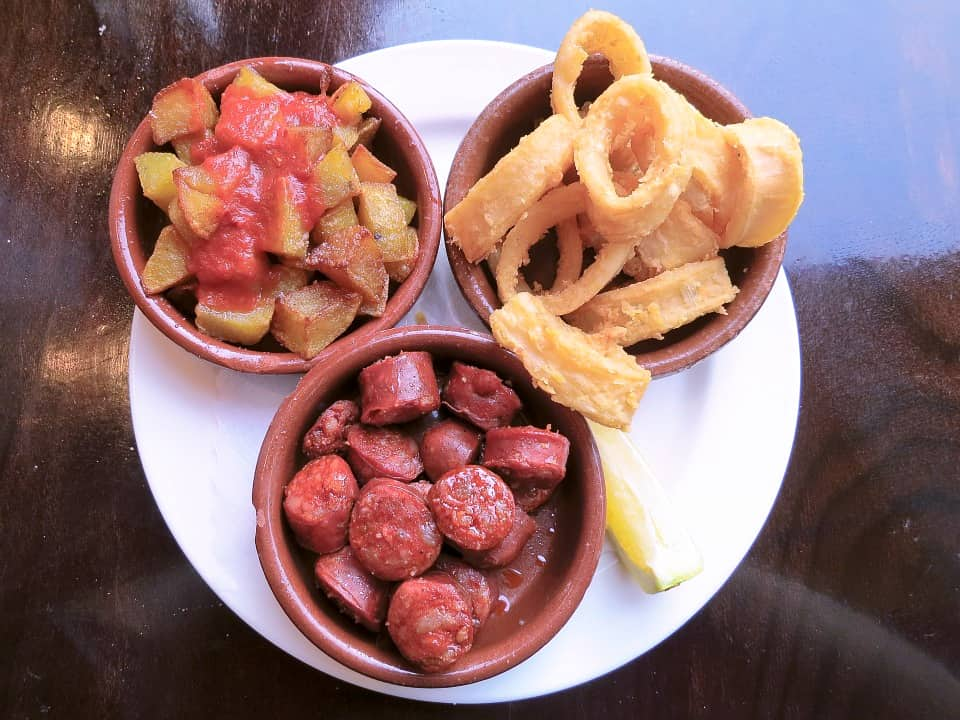 Patatas bravas are classic tapas in Spain.
Patatas bravas means spicy potatoes in Spanish.

Spanish deep-fried potatoes come with red and somewhat spicy bravas sauce (made with a mix of sweet and hot pimentón paprika).
Sometimes patatas bravas in Spain are topped with aioli sauce too.
30. CARACOLES A LA ANDALUZ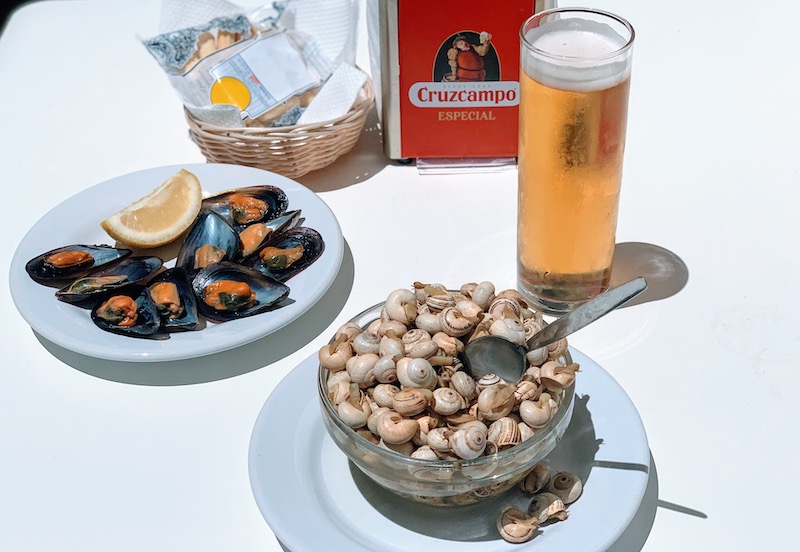 Snails are a favorite Spanish tapa in springtime (May and June).

Caracoles a la Andaluz is a top Spanish tapa dish from Andalusia.
Andalusian-style snails are simple to prepare yet delicious Spanish tapa. Cleaned, and washed snails are cooked in water with onion, garlic, tomato, pepper, bay leaf, salt, mint, and lemon rids.
Snails are a delicacy in Spain.
Spaniards eat about 16 million tons of snails a year.
Only France eats more snails than Spain in the world. French people eat 25 million tons of snails a year.
Snail tapas are some of the unique tapas in Spain.
31. CARACOLES CON ALIOLI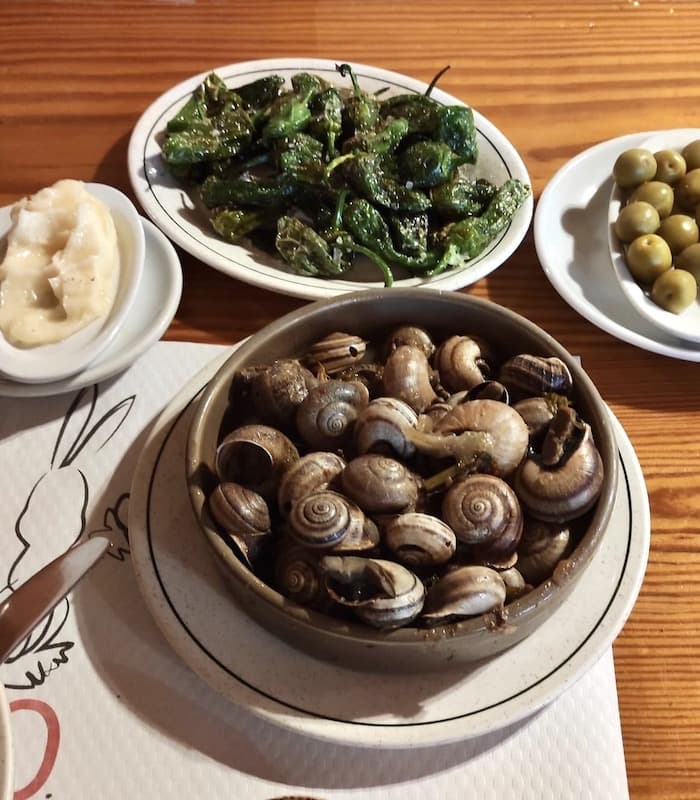 Caracoles con alioli is another type of tapa de caracoles.

Thoroughly washed and cleaned snails (with removed slime and any dirt) are cooked in a saucepan with water, salt, garlic, bay leaf, rosemary, and thyme.
Cooked snails come with aioli sauce on the side.
Cracoles con alioli is a traditional spring tapa in Catalonia and Majorca.
32. CHORIZO A LA SIDRA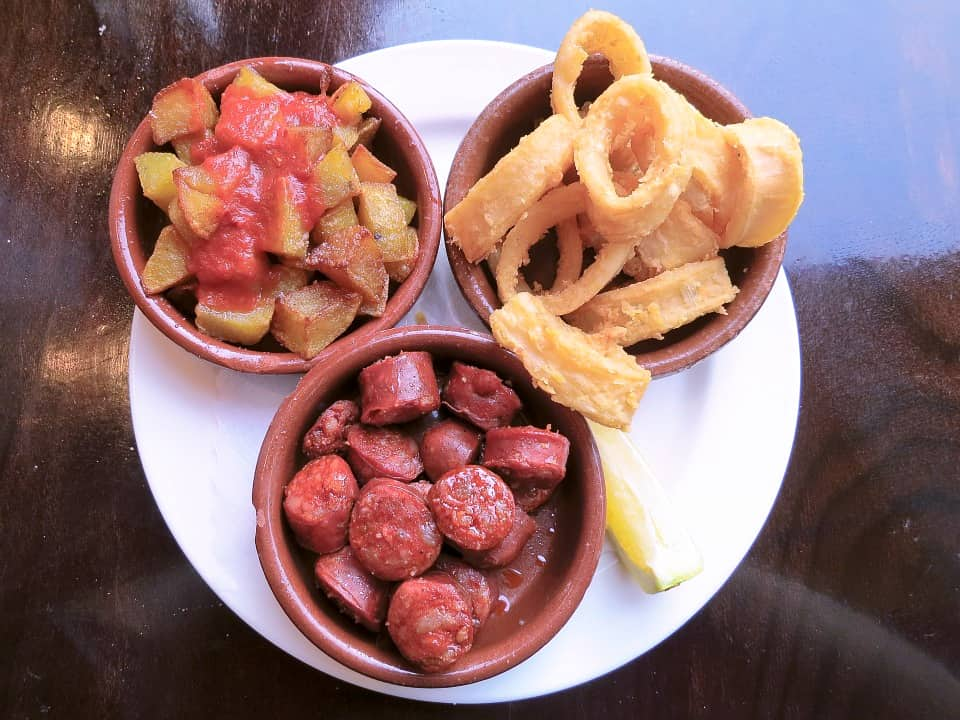 Spanish sausage (chorizo) cooked in cider is one of the most delicious tapas in Spain.

Smokey pork sausage spiced with paprika blends perfectly with a sweet apple beverage.
Chorizo a la sidra is a clasic Spanish tapa from Asturias în northern Spain.
It is made with fried chorizo in extra virgin olive oil with a cup or two of cider with chopped parsley and bay leaves.
This simple tapa dish pairs best with a glass of sparkling Asturian cider!
33. BERENJES CON MIEL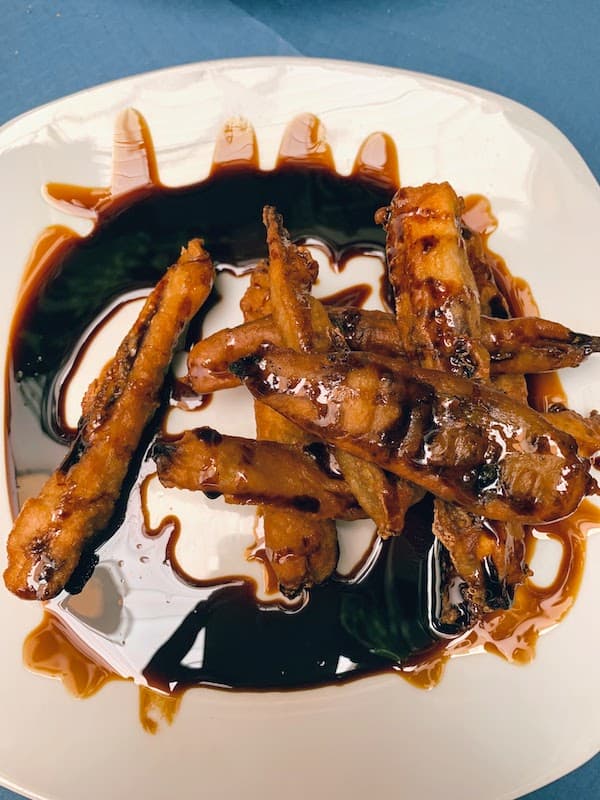 Fried eggplants with honey are the must-try sweet tapas in Spain.

This vegetarian Spanish tapa dish is made with eggplants that had been soaked in milk and dried on towel paper before frying.
Berenjenas con miel de caña is another tapa made with fried eggplants and molasses. It is one of the best vegan Spanish tapas. This sweet vegetarian tapa is a famous tapa dish from Malaga province.
34. ALCACHOFAS AL AJILLO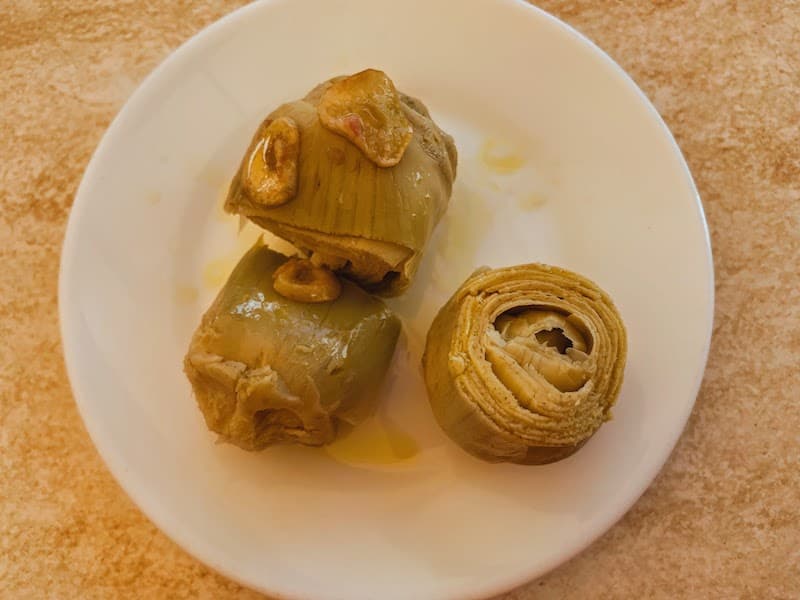 Garlic artichokes, Alcachofas al Ajillo in Spanish, are popular Spanish tapas in the springtime.
Alcachofas al Ajillo are an easy Spanish tapas dish. Artichokes are first boiled in water, and afterward drained and sauteed in Spanish extra virgin olive oil and garlic. Boiling artichokes gives them a perfect texture for absorbing flavors of olive oil and garlic.
Spain has a long tradition of cultivating and eating artichokes. Artichokes harvesting season in Spain starts in March. And, garlic artichokes are traditional tapas in Spain in the springtime.
35. ERIZO DE MAR MARISCO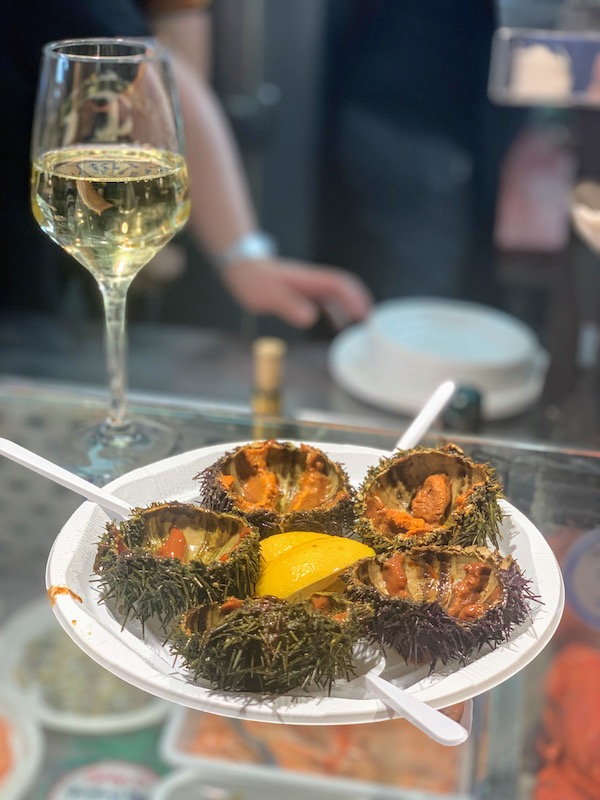 Sea urchins, or erizo de mar marisco in Spanish, are popular seafood tapas in Spain.

Salty sea urchins are popular Spanish tapas in the regions of Galicia and Catalonia in Spain. They are traditionally enjoyed with white sparkling Spanish white.

If you are a seafood lover and you have never tried sea urchins before, Spain is one of the best countries to sample them.
SPAIN TAPAS TOURS
Join food tours in Spain, do some tapas bar hopping, have fun, and learn about Spanish tapas.
TAPAS FOOD TOUR IN MADRID
When in Madrid, don't forget to check out one of these amazing tapas tours:
TAPAS FOOD TOURS IN BARCELONA
Barcelona is a perfect place to crawl tapas bars. So, check out one of these great Spain tapas food tours:
TAPAS FOOD TOUR IN SEVILLE
TAPAS TOURS IN MALAGA
Choose one of these fabulous tapas tours and learn about authentic tapas in Malaga:
FAQ
What are tapas?
Tapas are appetizers or snacks in Spain.
There are three types of tapas: finger food tapas, tapas with a utensil, and small tapas dishes (often with a sauce). Tapas can be hot or cold.
What does tapas mean?
World 'tapa' means 'cover'.
A legend says that the first tapa was invented when a glass of sweet sherry wine in southern Spain got covered by a slice of ham to protect the wine against flies.
What country is famous for tapas?
Spain is famous for its delicious tapas appetizers and tapas snacks.
What are tapas in Spanish?
Tapas are popular Spanish appetizers and snacks. Tapas are finger food and small dishes enjoyed before meals or in between meals in Spain.
What are tapas in Spain?
Tapas in Spain are bite-sized food (finger food and small dishes). Tapas in Spain are popular snacks and appetizers. Some of the most popular tapas in Spain are montaditos (open-faced sandwiches), gazpacho and salmorejo soups, pinchos (finger food sandwiches spiked with toothpicks), tortilla Espanola, croquetas, empanadas, pimentos padron (small grilled green peppers) …