Top places for the best Christmas in Europe: Top Christmas destinations in Europe with the best European Christmas markets
Where is the best Christmas in Europe? What are the best European cities for Christmas?

Where to go in Europe for Christmas? What are the best Christmas cities in Europe? What are the best Christmas markets in Europe?
If you are looking for the best Christmas destinations in Europe, please look no further!
Here are the top 11 best places in Europe for Christmas to have the best Christmas in Europe ever!
This selection of the best European Christmas destinations covers crème de la crème of the best European Christmas markets: from incredible Vienna Christmas markets, charming Budapest Christmas markets, and amazing Berlin Christmas markets, to fairytale-like Prague Christmas markets, and more.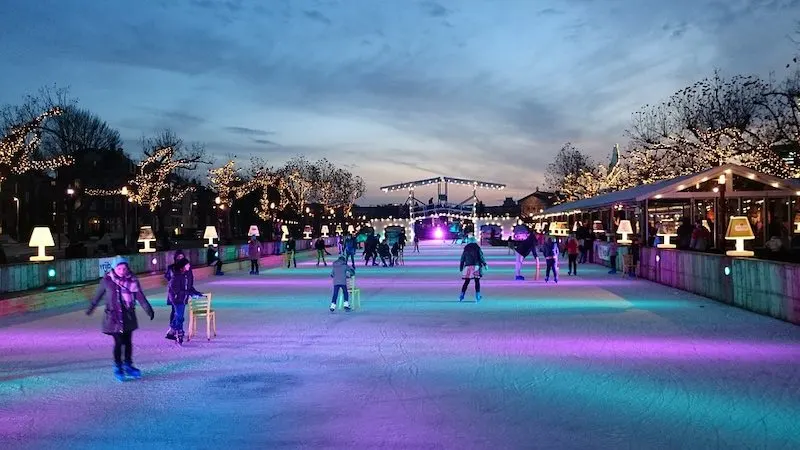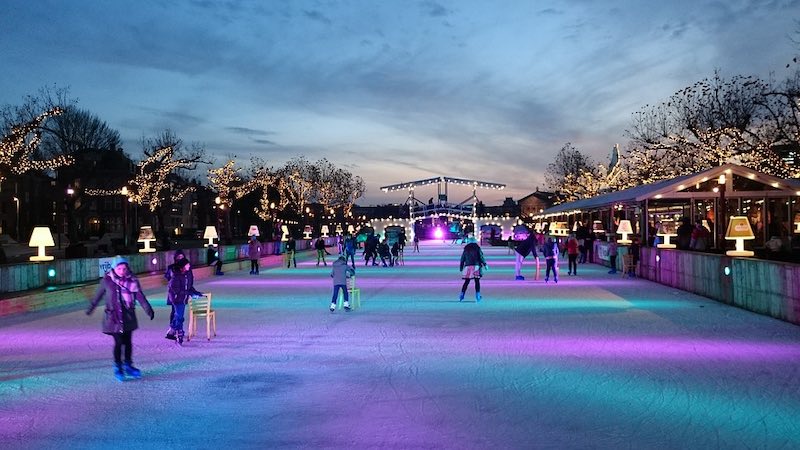 THE 11 VERY BEST PLACES TO HAVE THE BEST CHRISTMAS IN EUROPE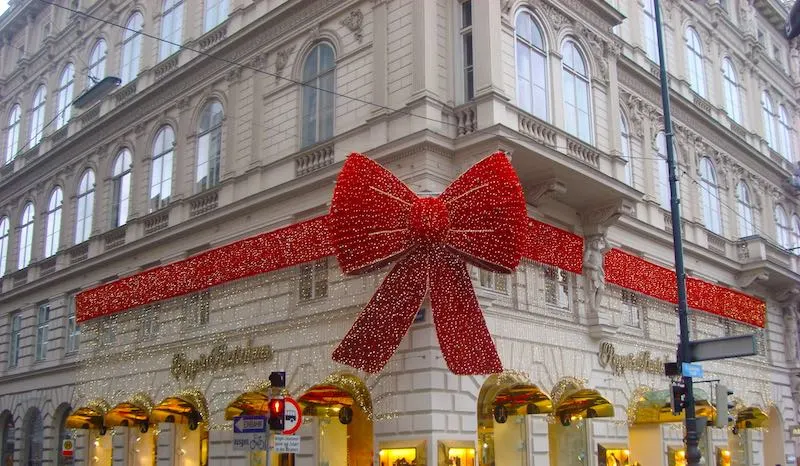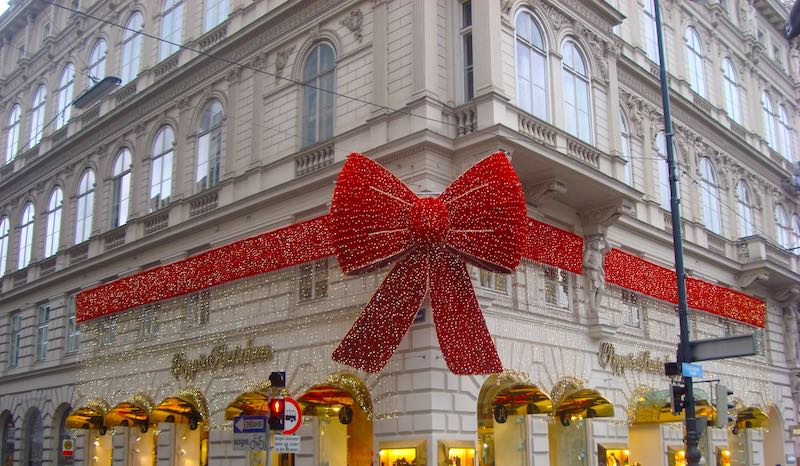 THIS POST MAY CONTAIN COMPENSATED LINKS. PLEASE READ MY DISCLAIMER FOR MORE INFO.
Best Christmas places in Europe
Christmas 2023 is knocking at our doors!
So, let's plan an idyllic Christmastime full of glittering Christmas lights, cheerful sounds of Christmas carols, and the seductive smells of festive treats.
Why? Because we deserve to have the best Christmas more than ever!
Europe is a well-known Christmas destination for the amazing Christmas markets and exceptional Christmas celebrations.
Here are the 11 best Christmas destinations in Europe with the best European Christmas markets.
This year, most of the European Christmas markets will be held from mid-November to the end of December.
Best Christmas cities in Europe:
1. VIENNA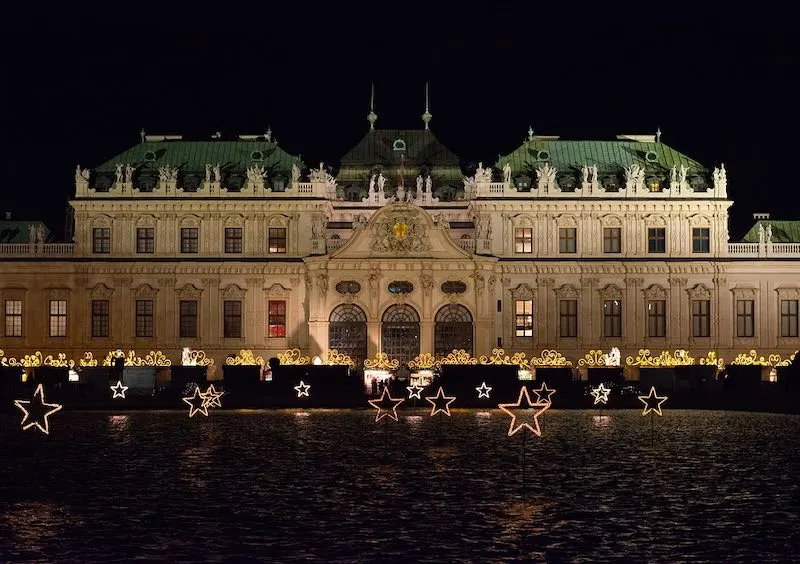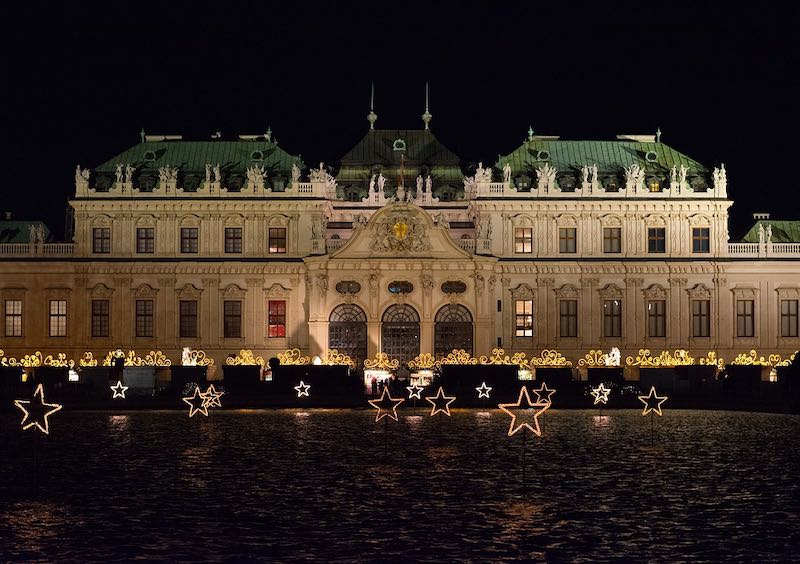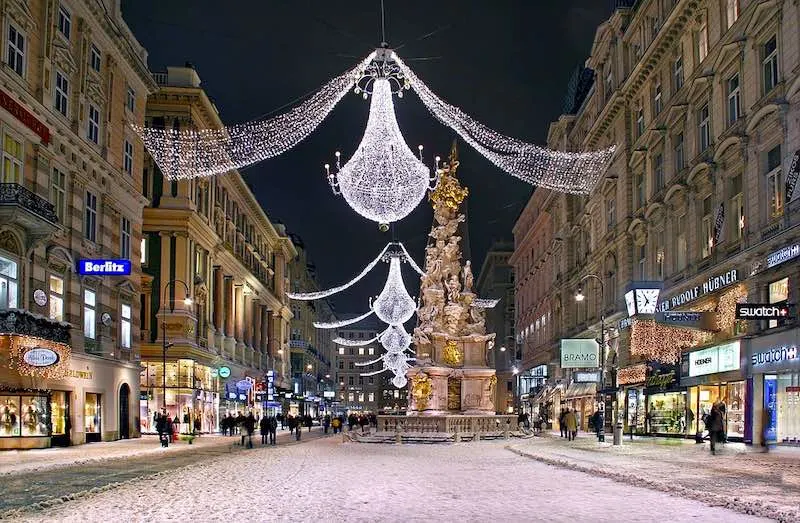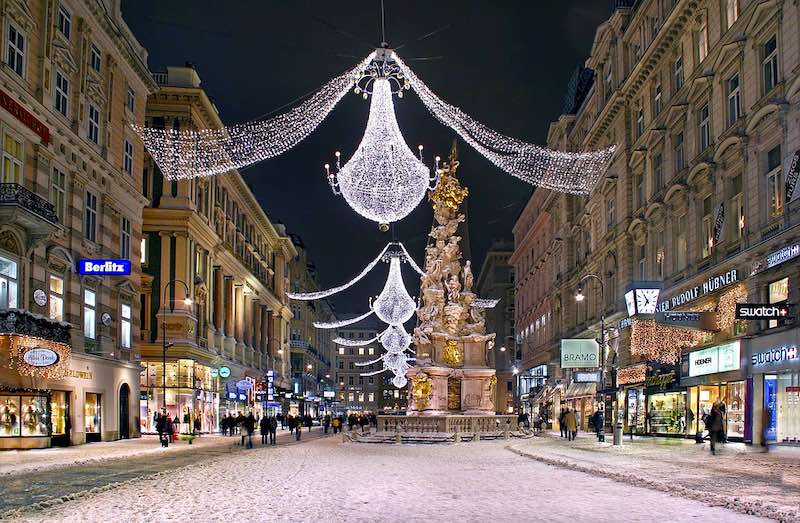 Hardly any place in Europe can compare to royal Vienna at Christmastime.
Austrian Vienna at Christmastime looks like a giant imperial ballroom with thousands of crystals and giant chandeliers, scented candles, and romantic ice skating rinks accompanied by the festive sounds of Christmas carols.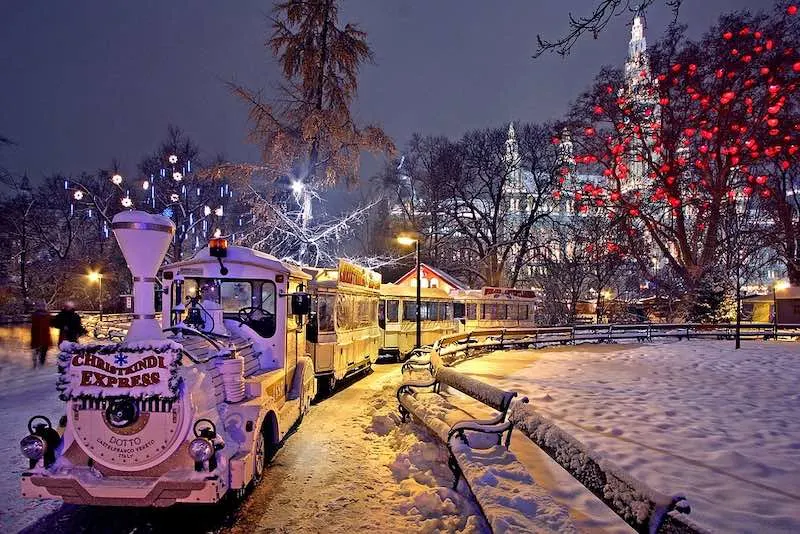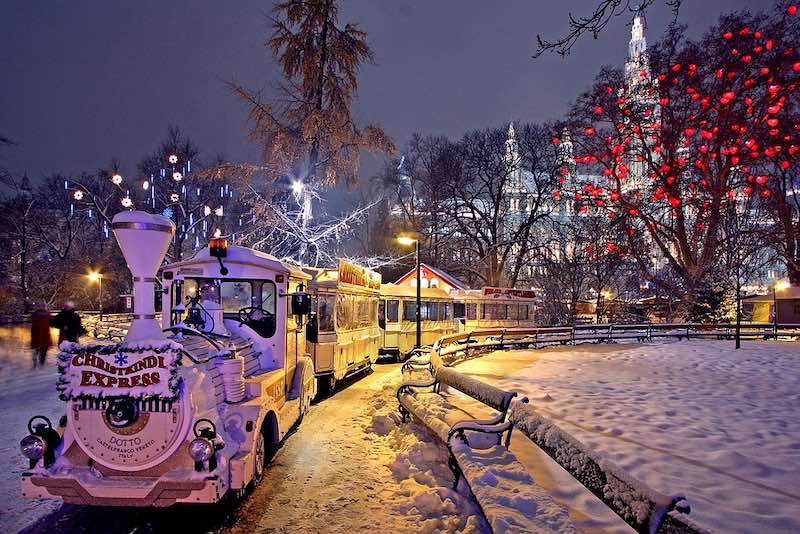 The best Vienna Christmas markets are the glorious Christkindlmarkt on the Rathausplatz with about 150 Christmas stalls, the Christmas market at Maria-Theresien Platz between the Natural History and Art History Museums, the Christmas market in Karlplaz square in front of Karlskirche church, the picturesque Belvedere Christmas market with an art exhibition, loved by locals Altes Akh Christmas Market, Stephansplatz Christmas market in the Stephansplatz square in front of the Vienna Cathedral, arty Am Hof Christmas market, and Freyung Christmas market with organic farmers products.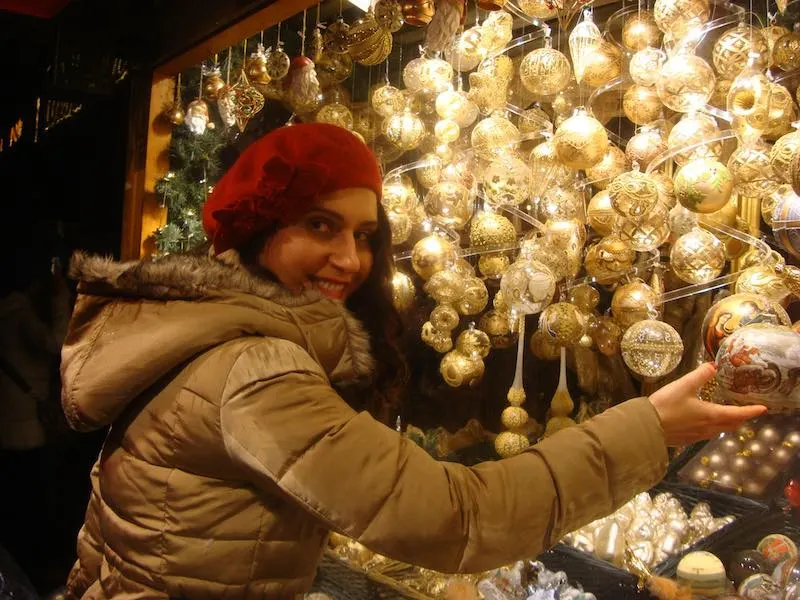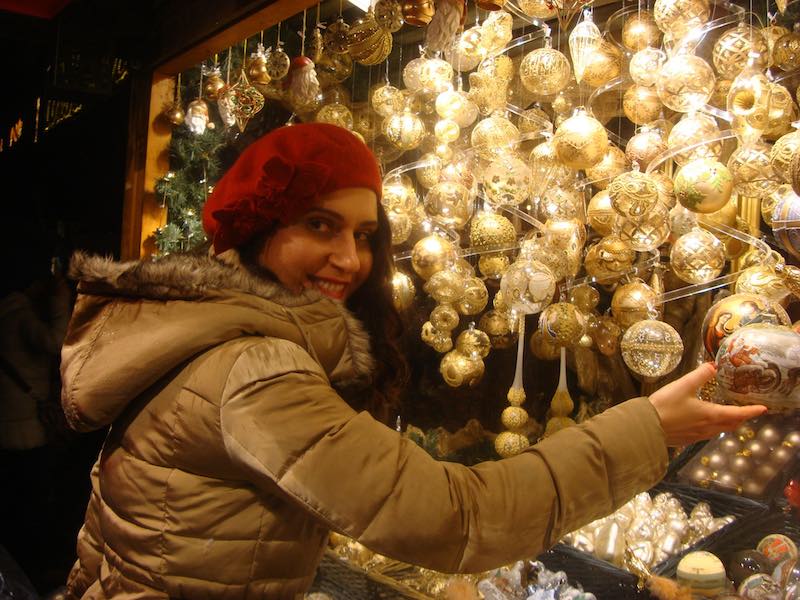 But visiting Christmas markets in Vienna without trying some traditional Austrian Christmas foods is not complete.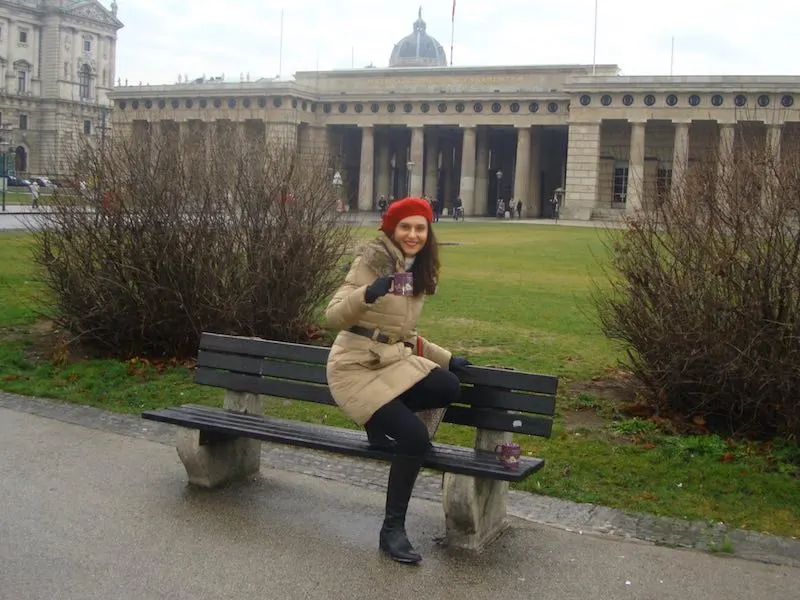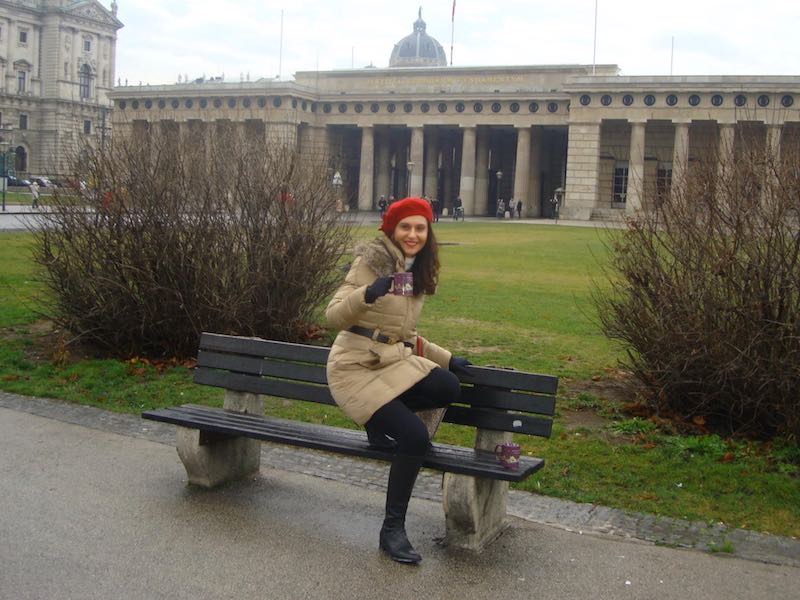 To have the best of Chrismas in Vienna, don't forget to get a mug or two of comforting Weihnachtspunsch – the traditional Austrian Christmas punch, to nibble roast chestnuts at 'Maronistand'- the chestnut street stall, have Käsekrainer or Bratwurst sausages, enjoy Weihnachtskekse – Austrian Christmas biscuits, buy Christstollen – Austrian Christmas fruit bread, or Lebkuchen – an Austrian version of gingerbread, attend Advent concerts in December and enjoy 'Strauss and Mozart' Christmas performances, explore the city by a hop-on-hop-off bus, or have a 30 min Fiaker ride in the Old Town of Vienna, and have Vienna style coffee in one of the famous Viennese cafes.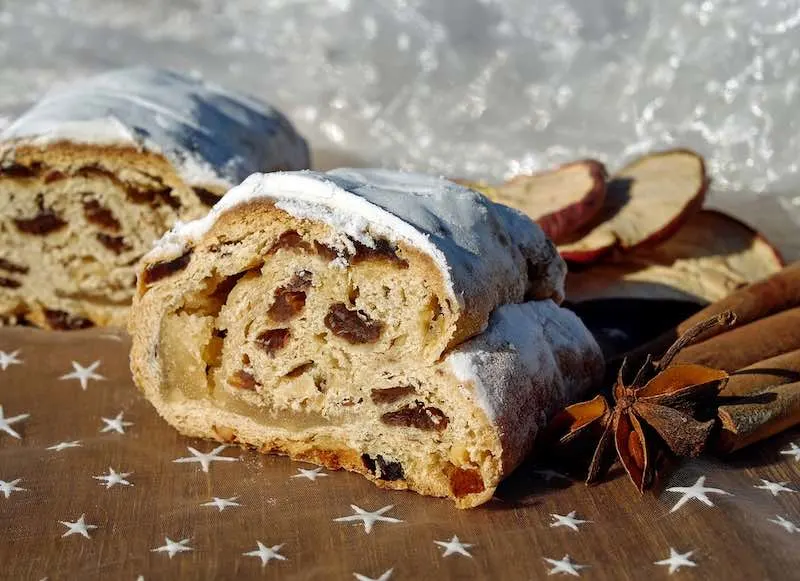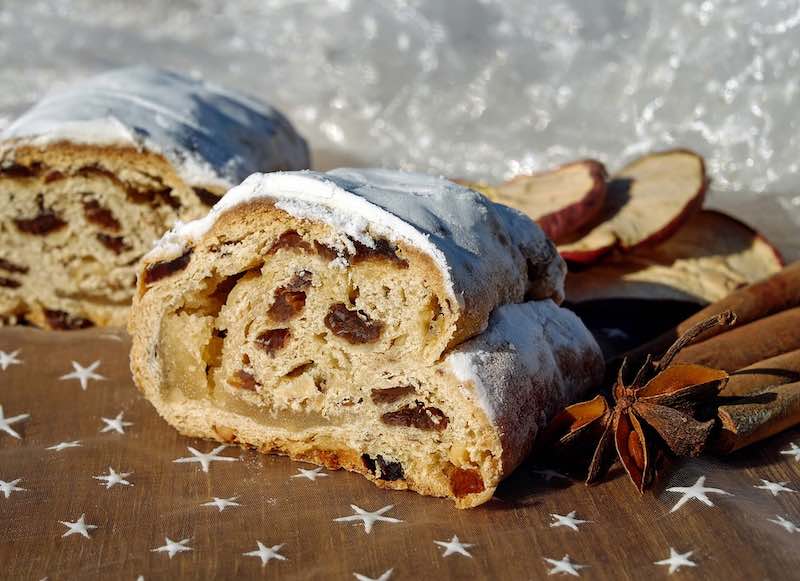 Get your Vienna Pass and I promise you, you will cherish sweet memories of Christmas in Vienna for the rest of your life.
If you are short on time or feel more comfortable exploring Vienna Christmas markets with a tour, consider joining a 2 hour Christmas markets guided tour.
The peak of Advent in Vienna is on Heiligenabend – Christmas Eve.
Vienna Christmas markets 2022 dates: November 11 – December 26, 2023.

Christkindlmarkt at Rathausplatz: Nov 11 – Dec 26, 2023
Christmas Village at the Maria Theresien Platz: Nov 11 – Dec 26, 2023
Advent Market by the Karlskirche: Nov 24 – Dec 23, 2023
Old Viennese Christmas Market at the Freyung: Nov 11 – Dec 26, 2023
Weihnachtsmarkt Am Hof: Nov 11 – Dec 23, 2023
Winter at Museumsquartier: Nov 11 – Dec 23, 2023
Christmas Market at Stephansplatz: Nov 11 – Dec 26, 2023
Christmas Market at Spittelberg: Nov 16 – Dec 23, 2023
Christmas Market and New Year's Market Schönbrunn Palace: Nov 18, 2023 – Jan 04, 2024
Winter Market in the Prater at Riesenradplatz: Nov 18, 2023 – Jan 07, 2024
Belvedere Palace Christmas Village: Nov 18 – Dec 23, 2023
Christmas Village Altes AKH – Unicampus: Nov 11 – Dec 23, 2023
Nearest airport: Vienna (VIE)
Check flights: Skyscanner.net
Check accommodation: Booking.com
2. PRAGUE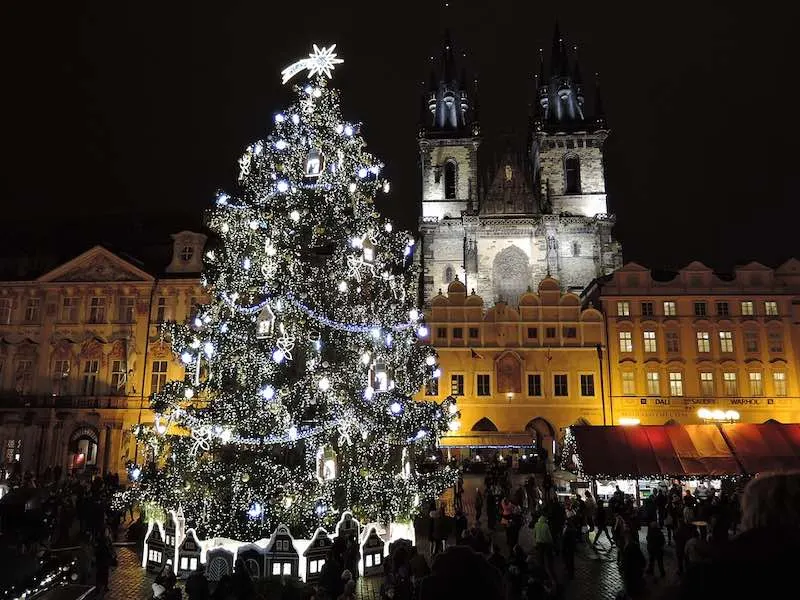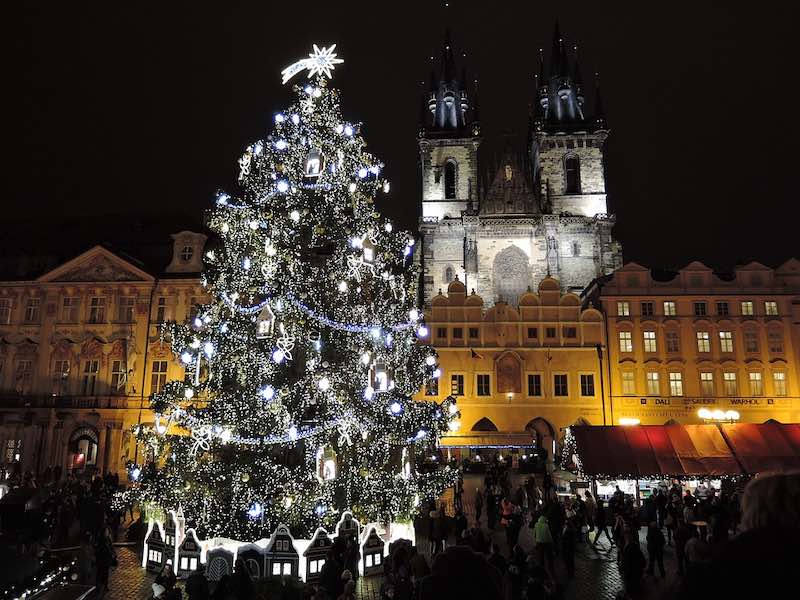 Prague in Christmastime looks like a genuine medieval fairytale.
If you like a mix of the Middle Ages and festive Christmas vibes, most certainly you will love Christmas in Prague.
It is hard to beat the Christmas magic of charming Prague's medieval squares, fairytale-like Prague Castle, and marvelous Prague Gothic churches at Christmas time.
Christmas markets in Prague are held on Old Town Square and Wenceslas Square with the Nativity scenes of Bethlehem with stables and figures of Mary, Joseph, baby Jesus, and the Three Kings, sheep, donkeys, and goats. The Christmas markets are located within 5 min walking distance from each other. The best photos of Prague Christmas Markets are from the Observation Bridge. Tour Prague's Christmas markets with a local guide to get local insights into hidden gems of Prague Christmas Markets.
If you like classical music head to Prague's Gothic churches to listen to some of the most amazing Advent concerts. Or enjoy Christmas Concert at Prague Castle.
To enjoy Christmas in Prague at the most, explore fabulous Prague hidden gems and sample some traditional Czech foods. If you prefer hearty food on cold winter Christmas days, buy flavorsome klobása sausage on a Christmas timber stall, minced párek sausage or utopenec – the Czech pickled sausage with red pepper and onion, pražská šunka – large hams roasted on spits, langoš – Czech flatbread topped with garlic, cheese, and ketchup.
Or, head to Prague Christmas stalls or to some of the cozy pubs in Prague and treat yourself to some first-class Czech beer like Staropramen, Budvar, and Pilsner Urquell. Also don't forget to try the famous Bohemian cinnamon punch, medovina – Czech warm honey liquor, svařák – mulled wine, and grog – a mixture of rum, water, lemon, and sugar.
If you have a sweet tooth go for trdelník – a cinnamon-flavored walnut traditional Czech pastry, perníčky – handmade Czech gingerbread, sladké knedlíky – Czech sweet dumplings, or palačinky – Czech pancakes.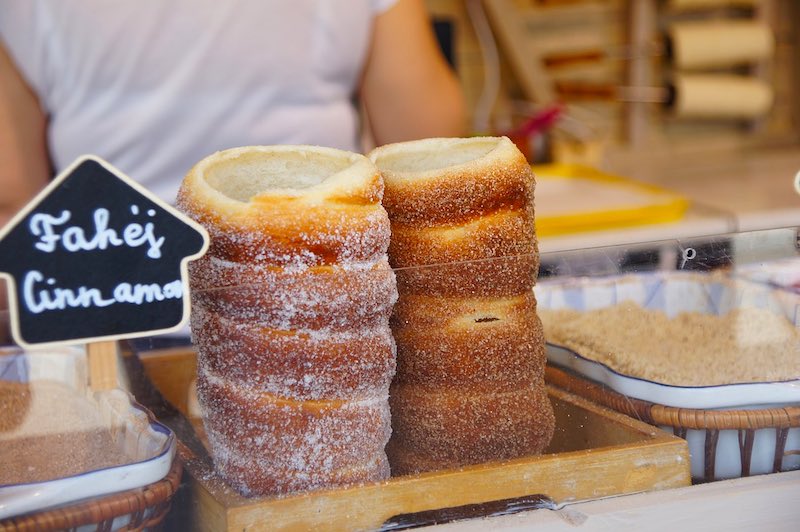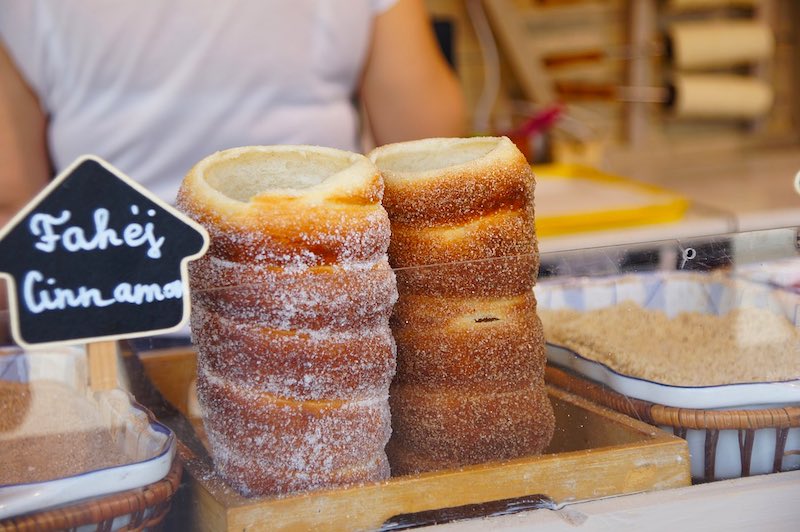 Most likely you will want to buy some Christmas holiday ornaments from your trip to Prague. The best Christmas souvenirs from Prague and Christmas gifts you can buy are wooden Christmas toys, puppets, and dolls dressed in traditional Czech costumes.
Get your Prague City Card and save your time and money in Prague.
Prague Christmas markets 2023 dates: Dec 2, 2023 – Jan 4, 2024
Nearest airport: Prague (PRG)
Check flights: Skyscanner.net
Check accommodation: Booking.com
3. PARIS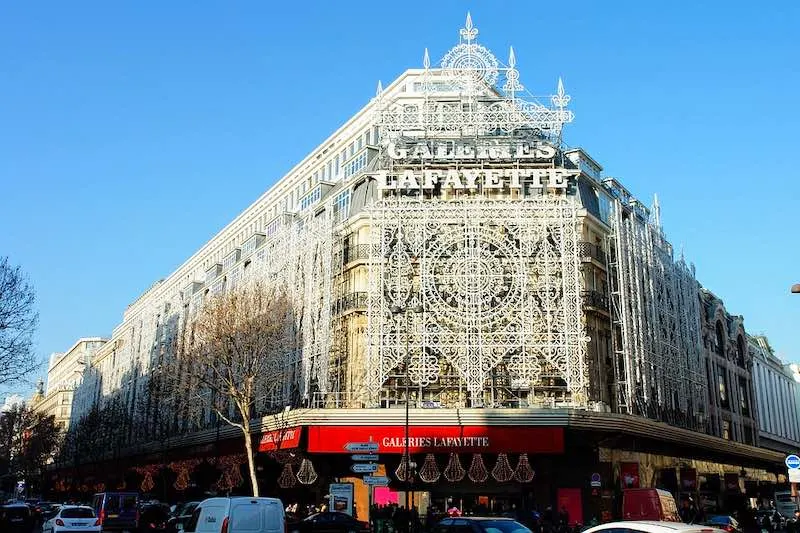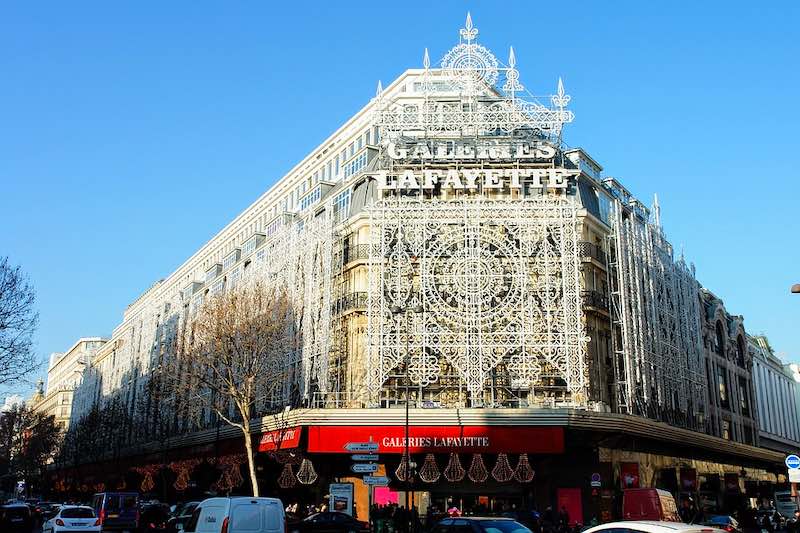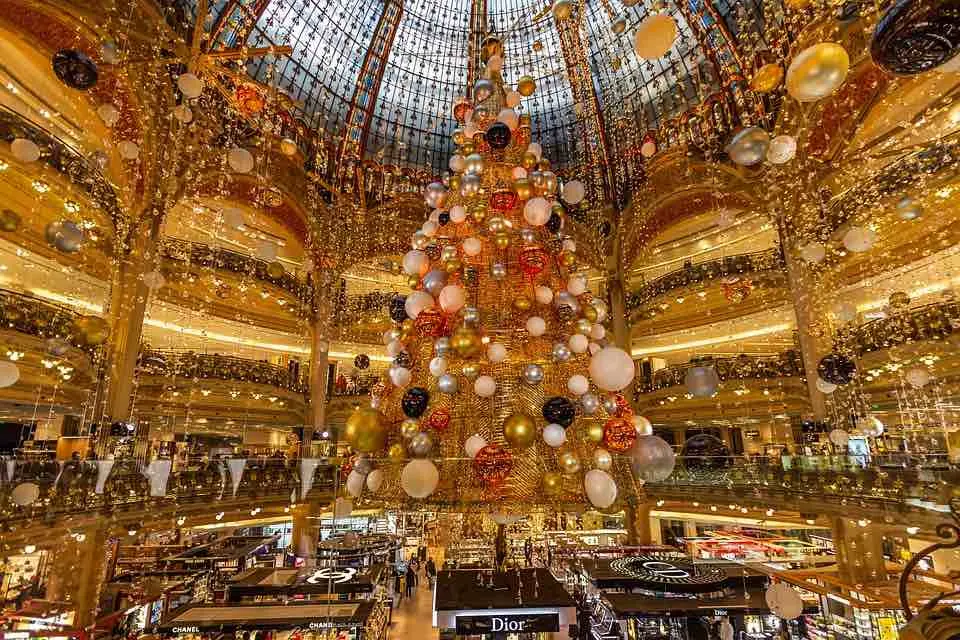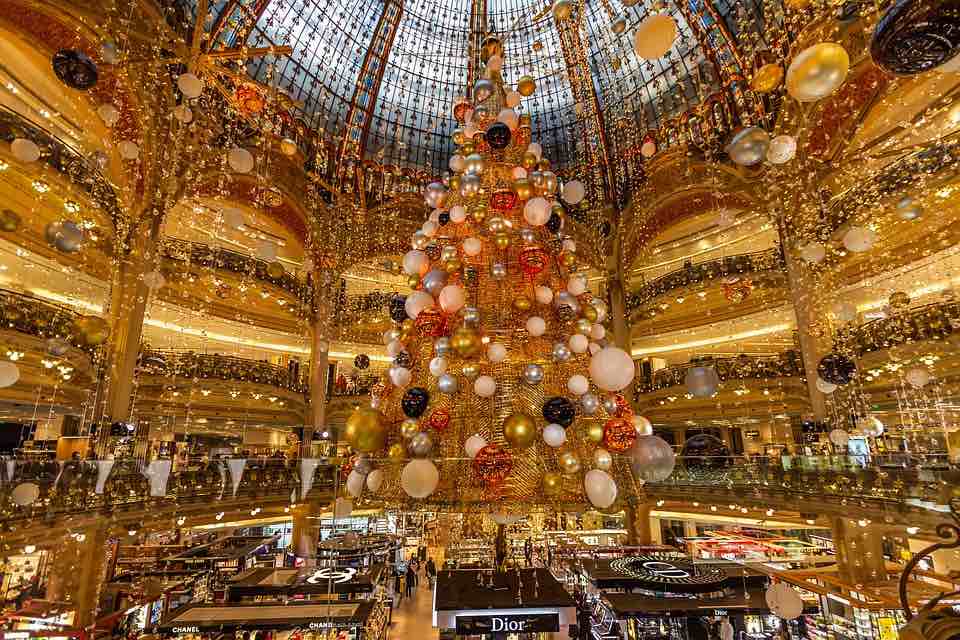 Paris is always a good idea.
Visiting Paris and sightseeing famous landmarks in Paris is always a good idea. Especially at Christmastime.
'The City of Light' or 'La Ville-Lumière' is decorated with spectacular festive lights at Christmastime. The joy and grace of the Christmas lights of the Champs Elysées, Eiffel Tower, Versailles, and the Louvre are unparalleled.
Imagine Paris at Christmas and think of chestnuts and champagne, foie gras, truffles, Britanny oysters, top French wines, delicious French pastry, and French chocolate, croissants, and French macarons … Imagine yourself wandering Paris Christmas markets and treating yourself to some of the most delicious food from Paris.
Imagine strolling Parisian coffee bars, boulangeries, chocolatiers, fromageries, patisseries, and skating at patinoires – the festive skating rinks in front of the Eiffel Tower, or Grand Palais, Champs Elysées, Trocadero, Christmas Village, Jardin d'Acclimation, Paris Zoo, or Bois de Vincennes. Or skating at Le Grand Palais des Glaces with the iconic glass roof with the biggest skating rink in France.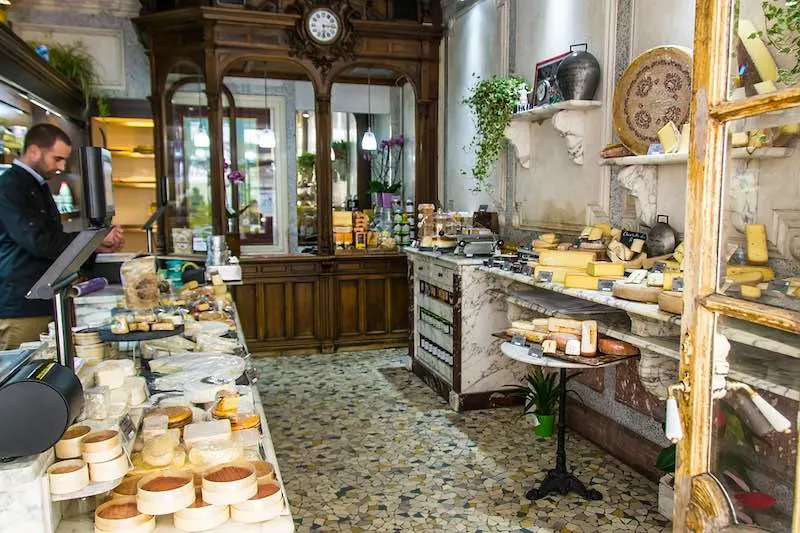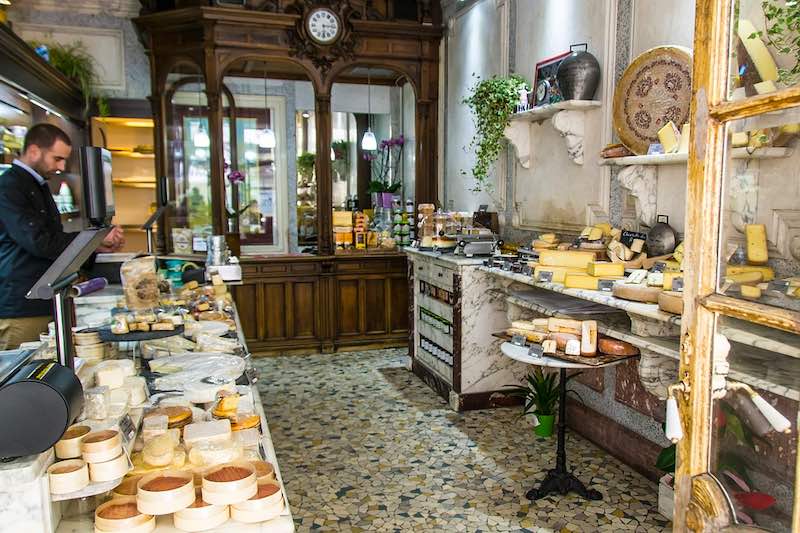 Imagine warming yourself with chocolate chaud — French hot chocolate in chilly Paris in Advent days, having a romantic Christmas dinner on Sienna cruise, or dining a traditional French five-course Christmas meal and sipping French champagne while watching a spectacular cabaret performance at the famous Moulin Rouge.
Can anyone say no to Paris at Christmastime? Hmm, I don't think so.
To chase some more festive moments in Paris, attend traditional midnight Mass at Notre Dame Cathedral, Christmas mess in Église Saint Germain des Prés church, or Christmas Eve organ concert at 10:00 PM and an 11:00 PM vigil and Midnight Mass in Sacre Coeur Basilica at Montmartre.
The best Christmas markets in Paris to visit, called Marchés de Noël, are Notre Dame Christmas Market in front of the Notre Dame church with a giant Christmas tree, Christmas Market at Hotel de Ville in front of Paris city hall, Saint-Sulpice Christmas market, Saint-Germain-des-Prés Christmarket, Trocadero Christmas market, Place de la Concorde Christmas market, Jardin des Tuileries Christmas market, and Eiffel Tower Christmas market.
Needless to say, touring Louvre, Pompidou Centre, Musee d'Orsay, or Versailles is always a good idea in Paris. Take your Paris Museum Pass and visit famous Parisen museums with ease, saving your time and money.
Paris Christmas markets 2022 dates: Nov 18, 2023 – Jan 7, 2024
Nearest airport: Paris Charles de Gaulle (CDG), Paris Orly (ORY), Paris Beauvais (BVA)
Check flights: Skyscanner.net
Check accommodation: Booking.com
4. BERLIN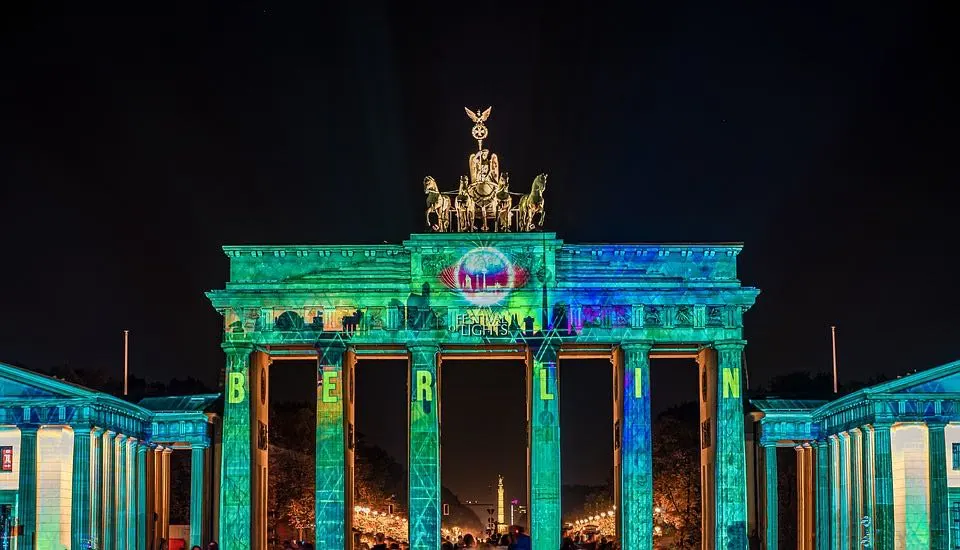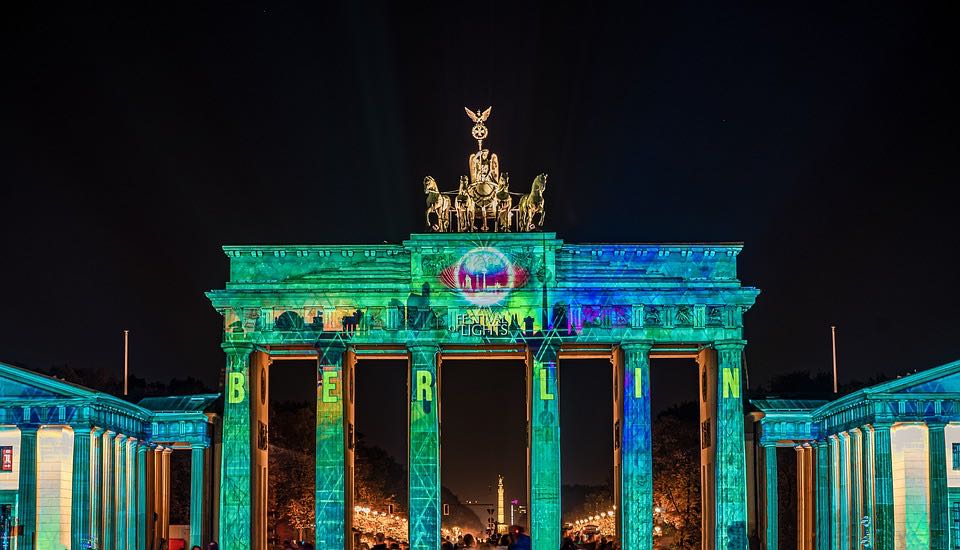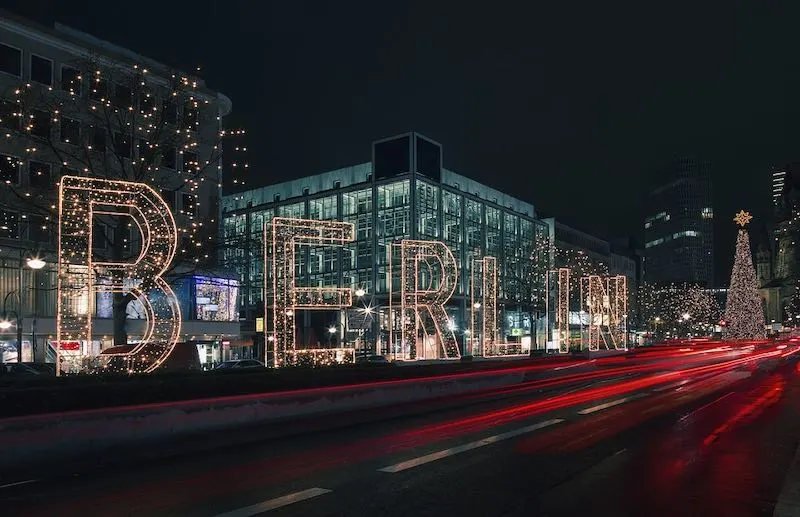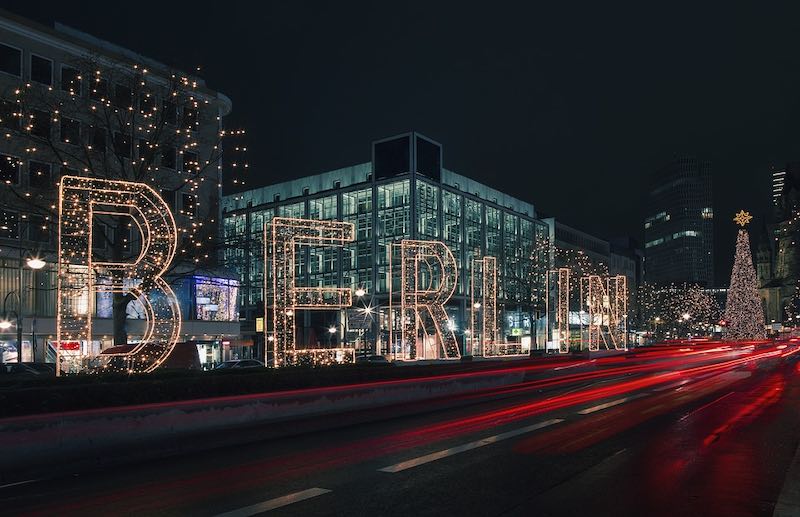 A man could never get tired of London. But a man could never get tired of Berlin either.
German capital with over fifty Christmas markets is undoubtedly one of the best Christmas destinations in Europe.
Christmas markets in Germany have been a tradition since the Middle Ages. And Berlin is the capital of Christmas markets in Germany.
Traditional Christmas markets in Berlin, or Weihnachtsmärkte, are held in almost every Berlin neighborhood: Alexanderplatz, Spandau, Charlottenburg …. you name it!
You can choose from more than fifty Christmas markets in Berlin!! Berlins' Potsdamer Platz becomes the Winter Wonderland each year – a glorious Christmas market with Europe's largest sledding run, a large roller coaster, a Ferris wheel, and the finest festive Christmas stalls.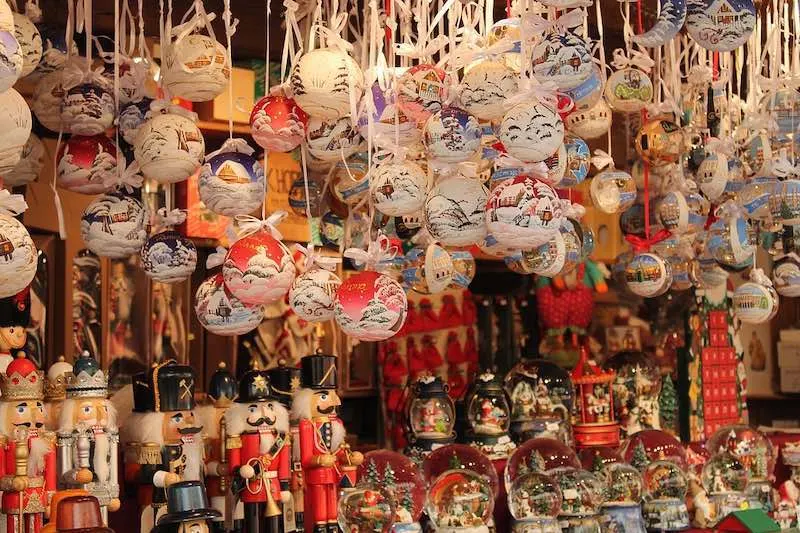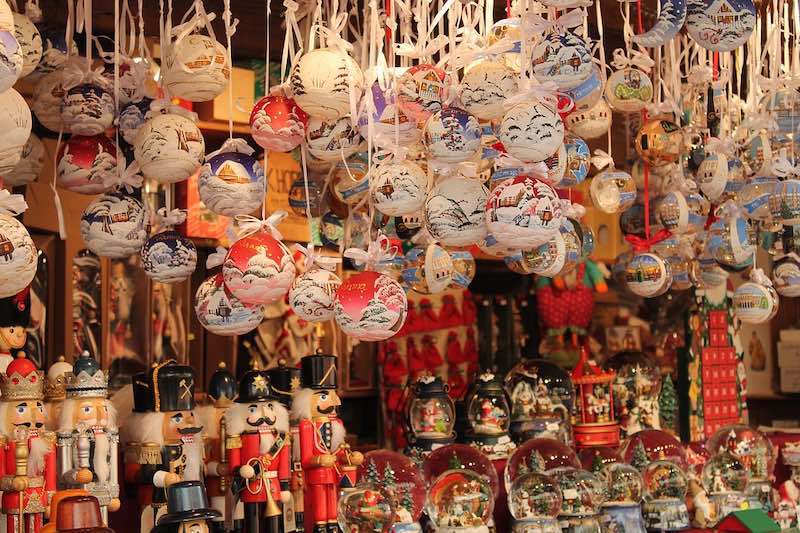 There are too many amazing things to do in Berlin at Christmastime!
But some of the top things to do in Berlin during Christmastime are: visit the festive Kurfürstendamm shopping street, skate on Horst-Dohm Ice Stadium in Charlottenburg (the largest skating rink in Berlin), admire the festive light of the Sony Centre at Potsdamer Platz (additionally decorated with 100.000 lights in Christmastime), grab a hot mug of Glühwein (mulled wine) to make yourself warm, or, even Feuerzangenbowle – famous 'fire tongue' punch holding a high percentage of alcohol, buy heart-shaped Lebkuchen – traditional honey-sweetened German Christmas cookie, or traditional würst – popular German street food sausage (don't worry if you don't eat pork, beef .. you can find even vegan sausages). Or, visit the famous and cozy Gendarmenmarkt Christmas market with over 1,000 fairy lights, the Christmas market in Spandau's old town (to be held in Zitadelle Spandau this year because of the corona).
If you are a first-time visitor to Berlin, you would enjoy an amazing 2.5-hour boat cruise along the River Spree, and the panoramic views of the Reichstag, Berlin Cathedral, the Olympic Stadium, and the Potsdamer Platz from the "Sphere" restaurant of the 200-meter tall Berlin's TV Tower.
But if you love Instagram, I have no doubts that you will enjoy checking out the most instagrammable places in Berlin!
The most popular Berlin Christmas markets to get yourself into a supreme Christmas mood in Berlin are Alexanderplatz Christmas Market, Winter World am Potsdamer Platz, Berliner Weihnachtszeit at Roten Rathaus, Spandau Christmas Market, Weihnachtszauber at the Gendarmenmarkt, Charlottenburg Palace Market, Nikolaiviertel, and Eco Christmas Market.
Berlin WelcomeCard: Museum Island & Public Transport is a money saver.
Berlin Christmas Markets 2023 dates: Nov 27 – Dec 30, 2023
Nearest airport: Berlin Brandenburg (BER), Berlin Schoenefeld (SXF), Berlin Tegel (TXL)
Check flights: Skyscanner.net
Check accommodation: Booking.com
5. ROME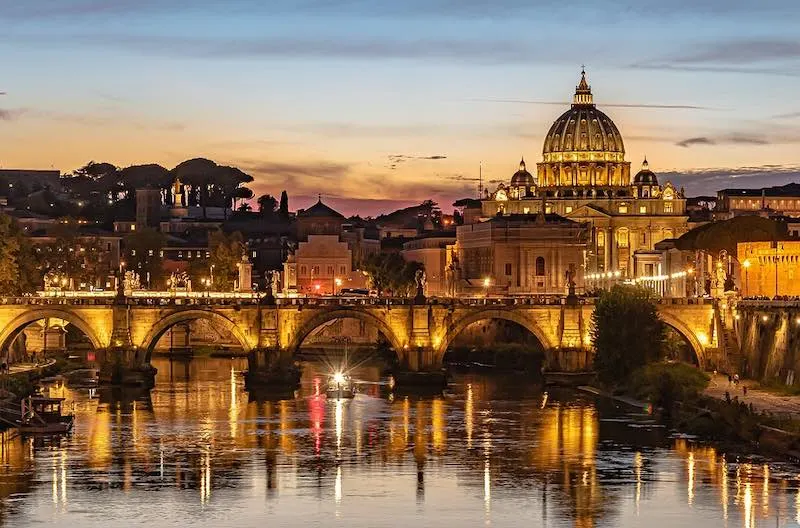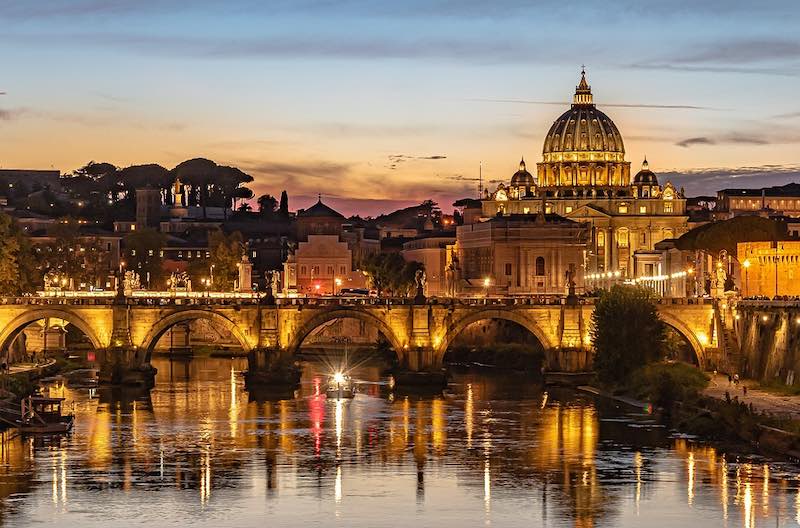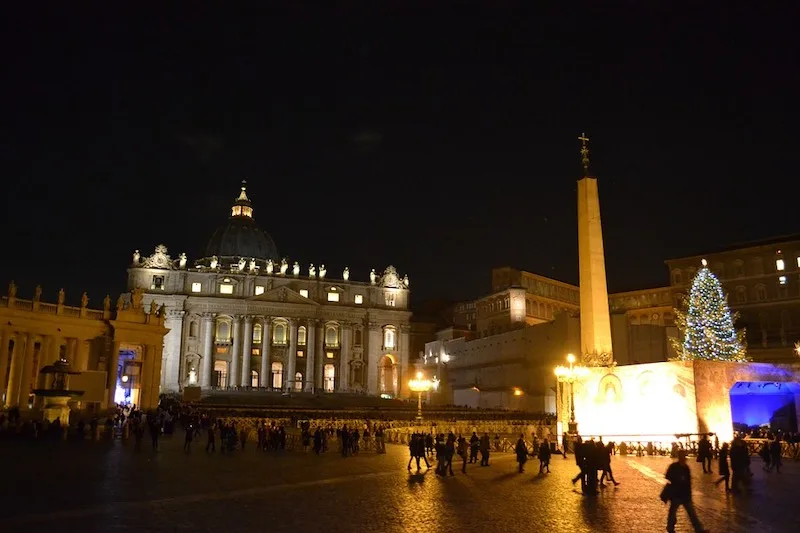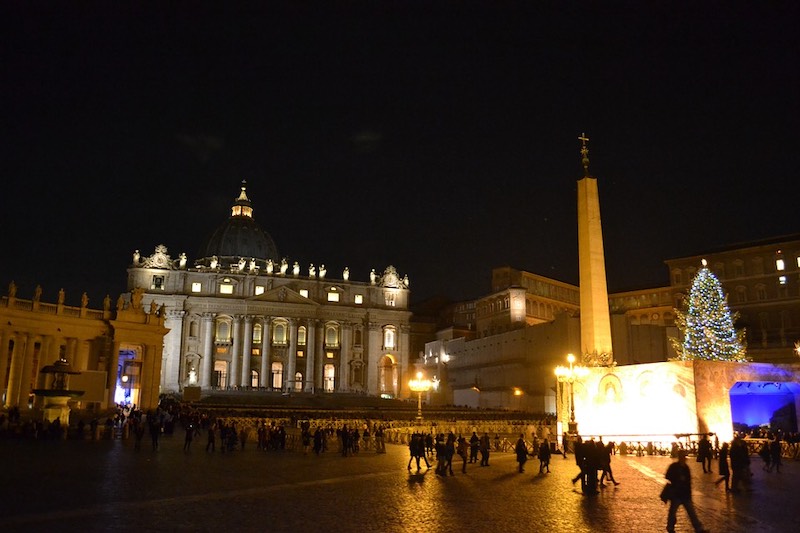 The Eternal City always feels festive. But at Christmastime, the Vatican and Rome are some of the top places to spend Christmas in Europe.
If you prefer romantic and religious Christmas vibes, then there is no other place like Rome at Christmastime.
Spectacular Christmas trees in Rome are set in Saint Peter's Square, Piazza Venezia Square, in front of the Colosseum and the Spanish Steps.
If you are in a religious Christmas mood, head to the Vatican for Christmas Eve Mass. Book a seat inside of the Basilica and watch the Pope. Or watch the mass on large screens in St Peter's Square. On Christmas Day, listen to Pope's Urbi et Orbi speech and get a blessing at St. Peter's Square.
Another option for attending the Christmas mess in Rome is Santa Maria Maggiore church, the oldest church in Rome. Santa Maria Maggiore church also holds the oldest Nativity Scene in Italy. But if you love Gregorian chants, attend Christmas Eve Mass celebrated at the Pantheon with the magnificent Gregorian chanting.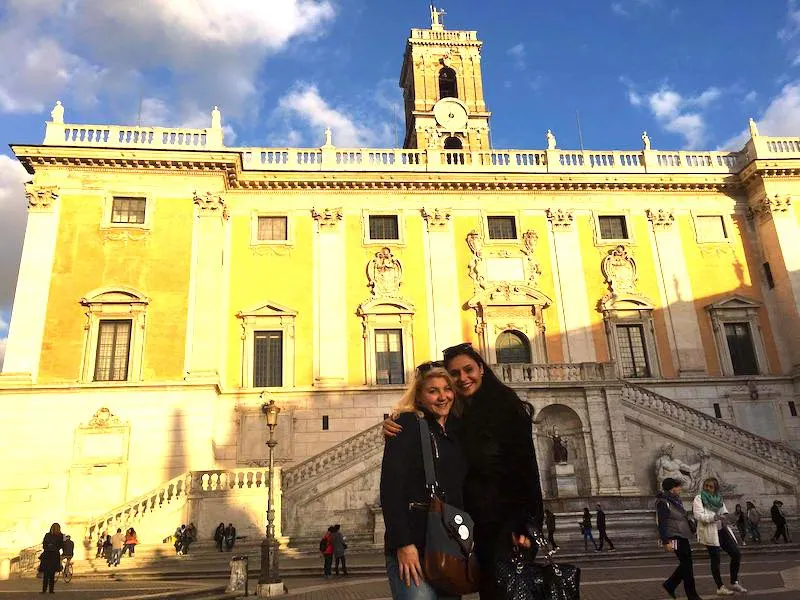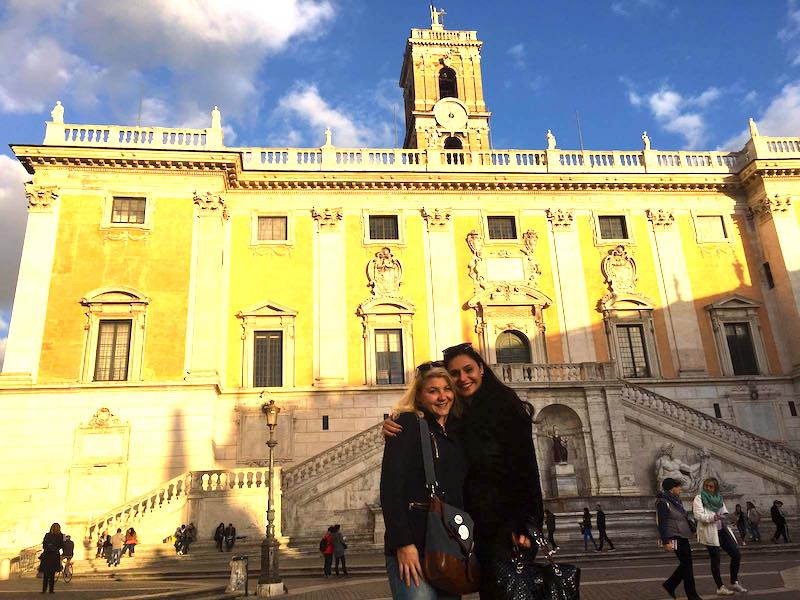 Don't forget to visit the Church of Saints Cosma and Damiano with a stunning Nativity scene, or attend some of the unforgettable Christmas concerts of classic music in Santa Maria ai Monti church, Chiesa di Sant'Antonio dei Portoghesi, and Sant'Ignazio church.
Although you can buy some roasted chestnuts at street vendors, Rome is more about fine dining than street food.
Romans have a tradition of eating out on Christmas Day. So, it gets busy at Roman restaurants on Christmas Day. So keep in mind to book your place in a restaurant in advance.
Traditional Roman Christmas Eve dinner is about fish. So do like Romans do, and have la vigilia – traditional Christmas Eve seven-dish seafood, grilled eel, or baccala – salted cod. Or go for cotechino e lenticchie – a pork rind sausage made with spices and lentils on the side as a meal for good luck in the upcoming year.
Do like Romans do and have traditional Italian tortellini soup for Christmas day lunch. Or enjoy some delicious traditional Italian dishes like lasagne alla bolognese with meat ragù, creamy béchamel sauce, and fresh pasta. For dessert try panettone or pan d'oro – sweet Christmas bread with raisins, lemon zest, and candied orange that goes well with sweet Moscato wine. Needless to say, the iconic panettone is one of the best Italian desserts.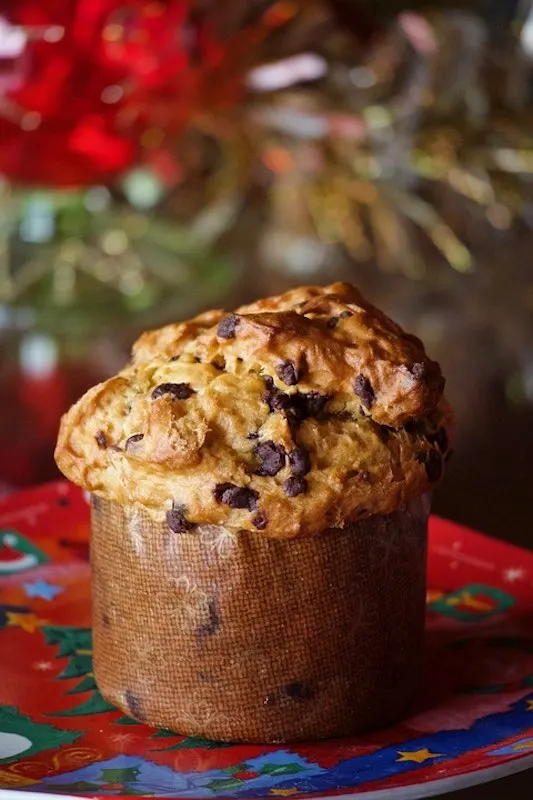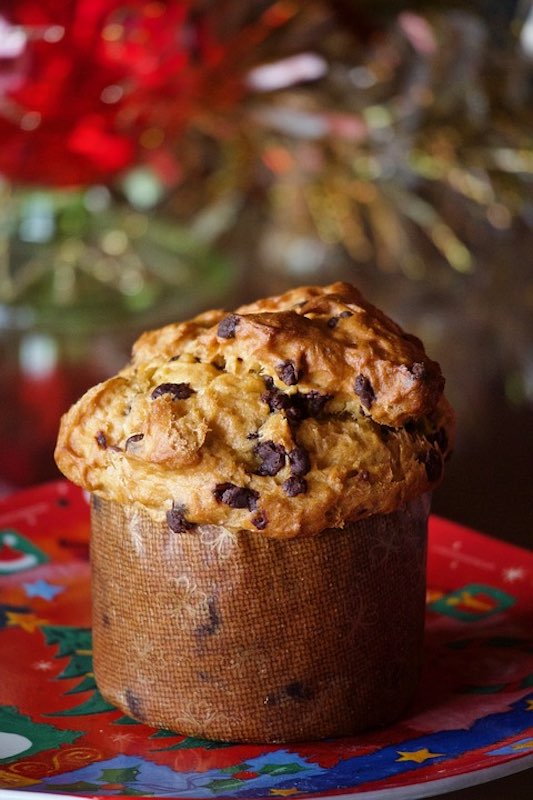 When in Rome buy torrone – honey and sugar nougat in Trastevere, taste pangiallo – a mix of dried fruit, orange peels, and honey, or some delicious artisan Roman chocolate.
Don't forget, authentic Italian espresso is one of the best coffees in the world. Have a cup of classic espresso coffee with pandoro and biscotti, get some unique handmade Christmas ornaments at Sempre Natale shop near Piazza Navona, or some designer decorations in Maria Luisa Rocchi Flowers store at Piazza Euclid, or exclusively distributed in Italy Christmas decoration in Mr. Christmas at Galleria Alberto Sordi.
Check out some of the amazing Rome Christmas Markets: Via del Corso Christmas market, Piazza Navona Christmas market with a traditional visit of Babbo Natale to kids, Campo de' Fiori Christmas market, Mercato Monti Christmas market, vintage Wave Market at Lanificio Christmas market. To have the most of Rome at Christmas, consider taking a 3-hour Christmas tour with a local guide in Rome.
To make it short, Rome is hardly resistible at Christmastime. And, if you want to explore beyond Rome, there are many great day trips from Rome.
To save your money and time, don't forget to get your Vatican & Rome City Pass with Free Transportation.
Rome Christmas Markets 2023 dates: Dec 8, 2022 – Jan 6, 2024
Nearest airport: Rome Fiumicino (FCO), Rome Ciampino (CIA)
Check flights: Skyscanner.net
Check accommodation: Booking.com
6. LONDON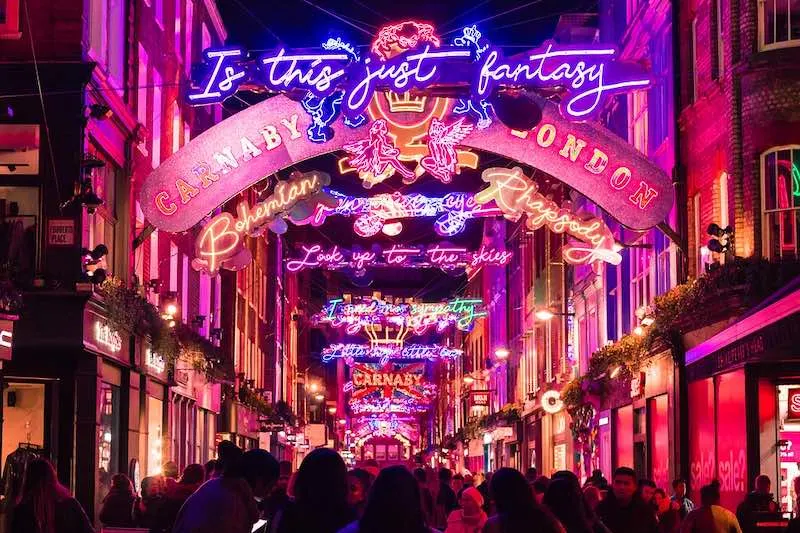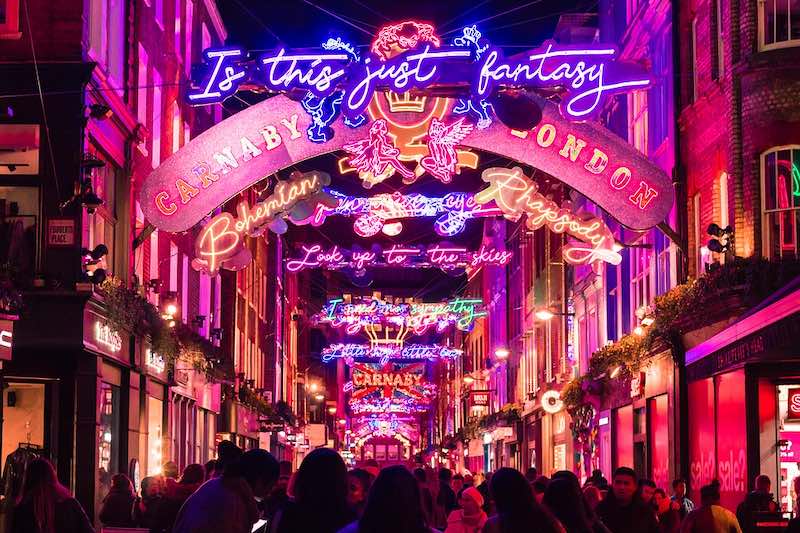 'When a man is tired of London, he is tired of life' said Samuel Johnson once.
And a man could never get tired of London in Christmastime.
Christmas in London goes for Christmas shopping in London, prestigious Regent Street with more than 300.000 Christmas lights, posh Bond Street with extravagant Christmas lights, awesome London Christmas markets, exciting Christmas events, Hyde Park's Winter Wonderland, top-notch ice-skating rinks, Hogwarts in the Snow at Warner Bros Studio in London, striking Oxford Street Christmas lights, wonderful Christmas chandeliers at Covent Garden …
But Christmas in London also means nibbling roasted chestnut along with the South Bank, getting hot mulled English cider at Borough Market, or 'a few proper' pints in cozy London pubs, and equally tempting fancy cocktails in London rooftop bars.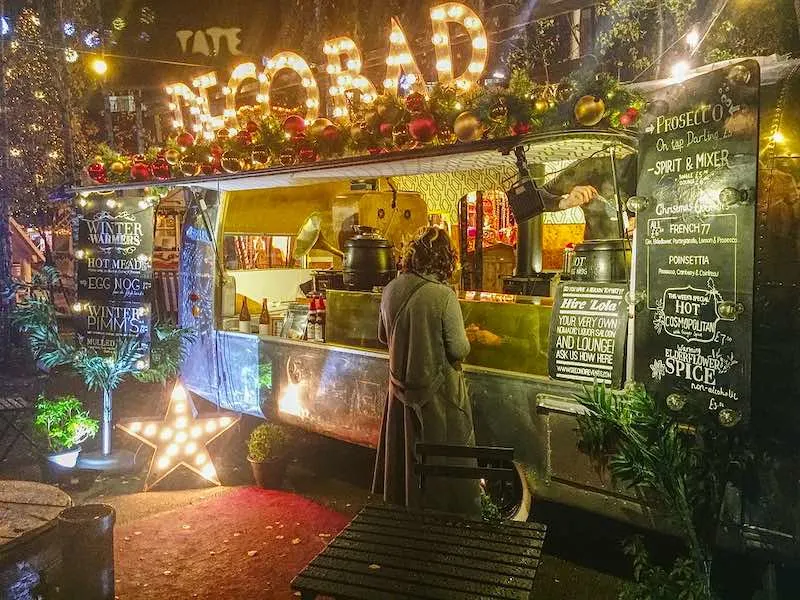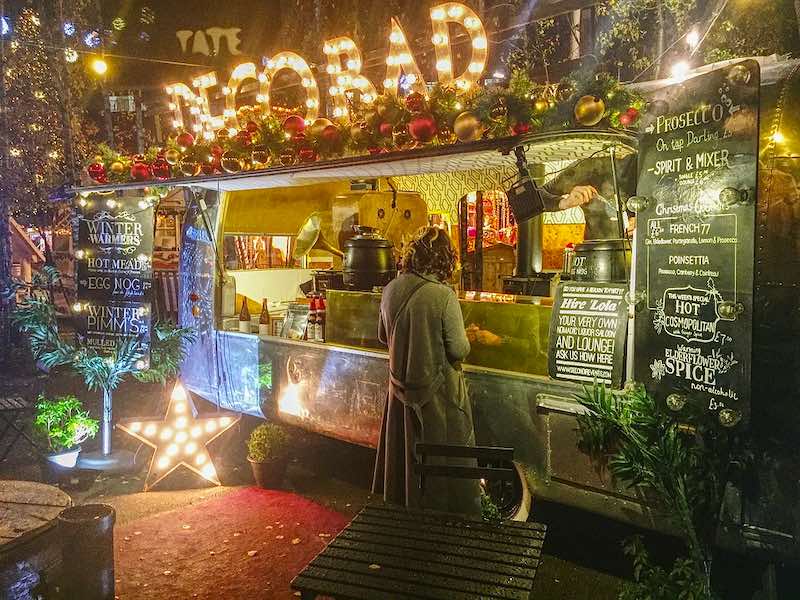 There are so many festive things to do in London at Christmastime.
Some of the most fun things to do in London on Christmastime are to skate on the ice rink next to the Tower of London, on the amazing rink in the 18th-century courtyard of Somerset House, or on the stunning Skylight's rooftop ice rink.
A visitor to London at Christmas time can not resist admiring the Christmas trees at Trafalgar Square and at Windsor Castle.
Some of the best things to do in London during Christmastime are to appreciate Nutcracker by the English National Ballet, to listen to traditional Christmas carols at St Paul Catedral or at Royal Albert Hall., to shop at Selfridges, Fortnum & Mason, to check out famous shops in Oxford Street, Bond Street, and Regent Street, and have fun watching a magnificent performance of brilliant acrobats, trapeze artists, and contortionists at Circus 1903.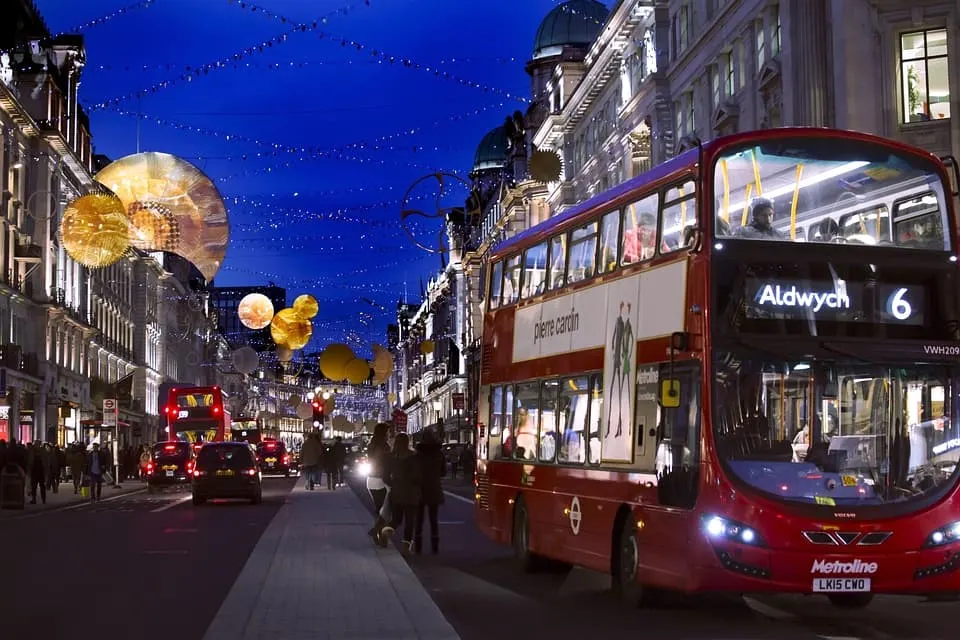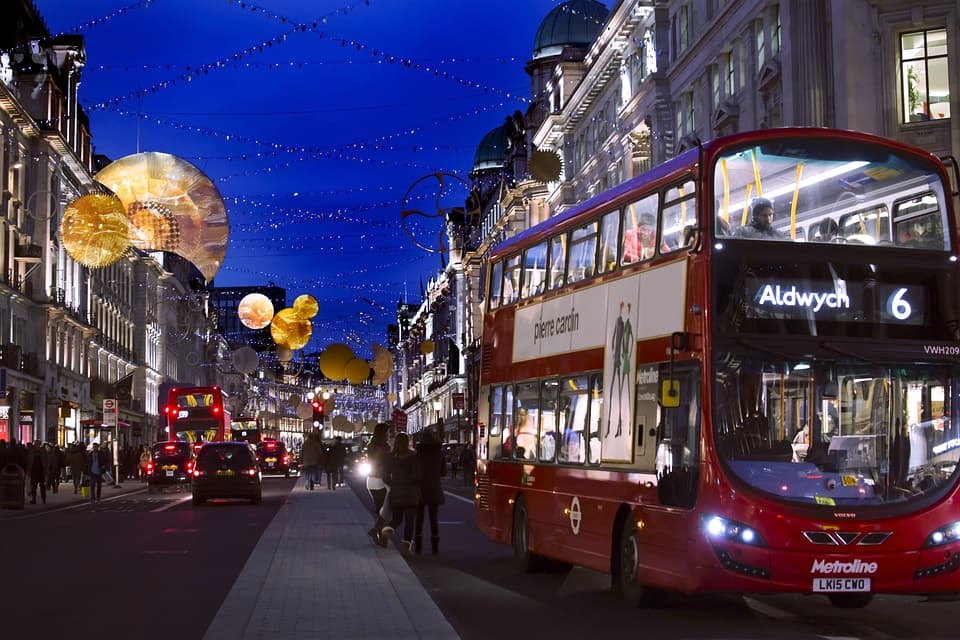 London Christmas markets are some of the very best Christmas markets in the UK.
The best London Christmas markets are Southbank Centre's Winter Market, Greenwich Market with antiques, Westfield London's Christmas market, Christmas by the River at London Bridge City, and Kingston's Christmas market. To see the best of the markets, consider taking a London Christmas Lights and Markets Tour with a Local.
If you are a first-time visitor to London or visiting London with kids, then the Original London Hop-On Hop-Off Sightseeing Bus Tour is a must. You will save your time, money, and energy in London. In short, your pocket and your feet will be thankful to you. And your kids will enjoy it!
London might be an expensive city. But with the London Pass with Access to over 80 Attractions, it is much cheaper.
London Christmas markets 2023 dates: Nov 9 – Dec 23, 2023
Nearest airports: London Heathrow (LHR), London Gatwick (LGW), London Stansted (STN), London Luton (LTN), London Southend (SEN), and London City (LCY).
Check flights: Skyscanner.net
Check accommodation: Booking.com
7. SANKT PETERSBURG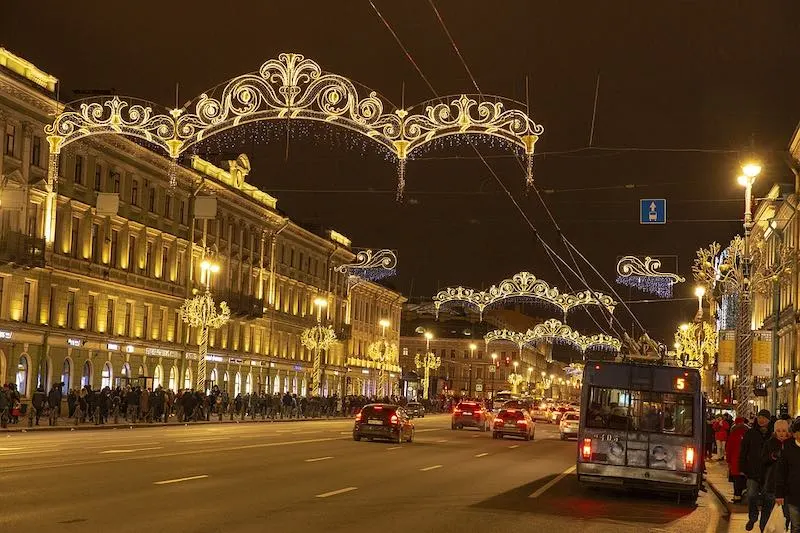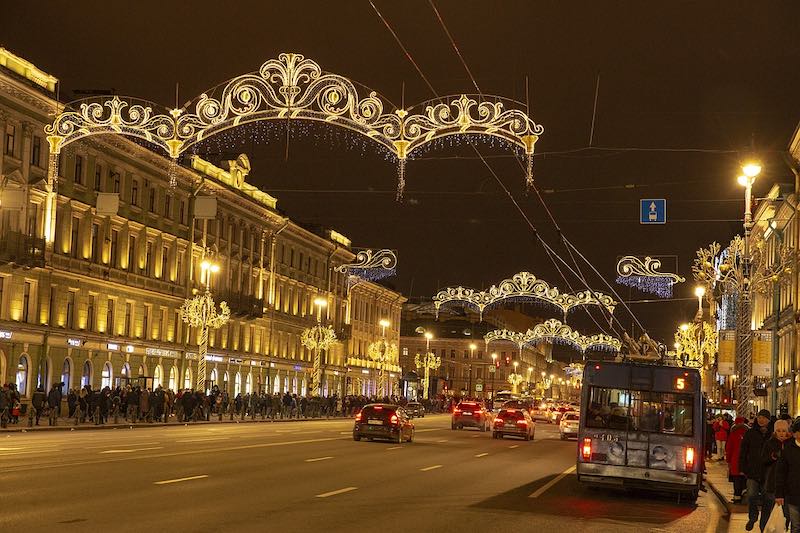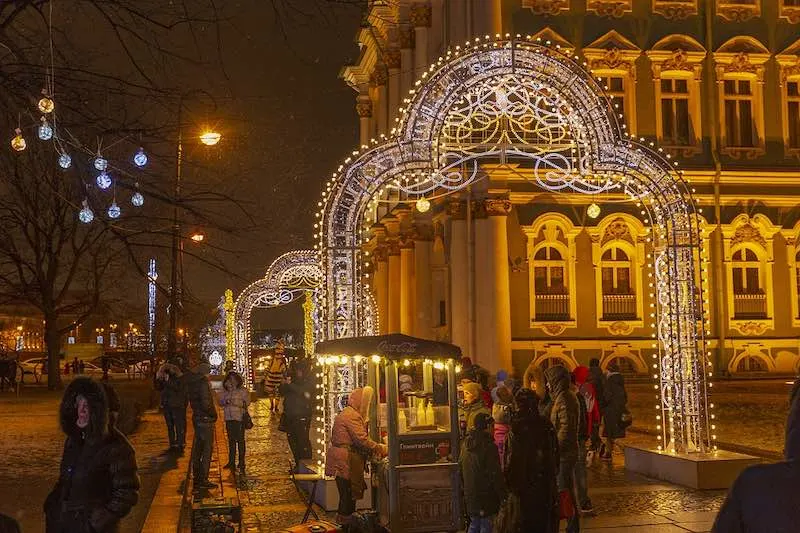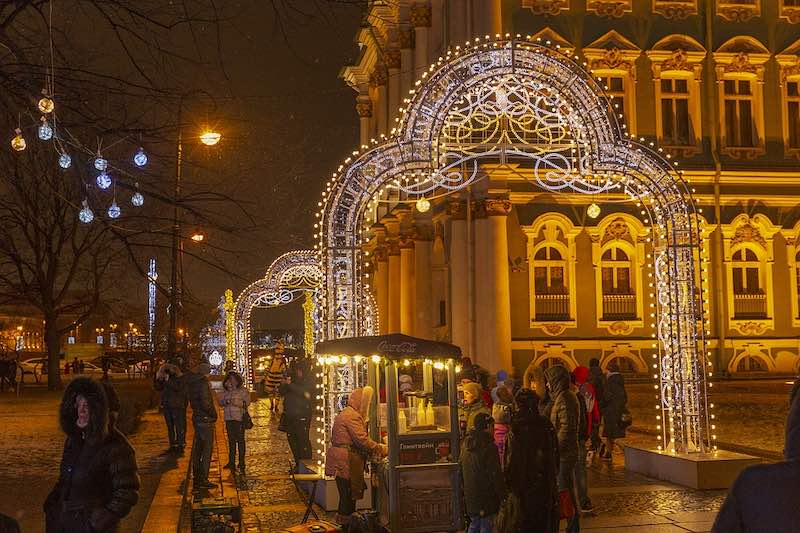 UPDATE: Sadly, St Peterburg Christmas markets are not likely to be held in 2023.
Russians are traditionally Orthodox Christians. So, Christmas in St Petersburg is celebrated in early January in line with the Julian calendar, not on the 25 December.
But, most of the St Peterburg Christmas markets imitate typical Western European markets. And the Christmas celebration season goes from mid-December to mid-January like in Western Europe.
If you would like Russian novels -like Christmas, head to St Peterburg.
Christmas in St Petersburg comes with snowy fairytale landscapes, marvelous architecture, frozen canals, steamy banyas, lots of vodka, and lots of food.
St Isaac's Cathedral in St Petersburg is the largest Orthodox cathedral in the world and a must-see in St Petersburg, especially at Christmastime.
Some of the most amazing things to do in St Petersburg at Christmastime are: attend the annual International Winter Festival, explore the remarkable art collection of the Hermitage Museum with Skip-the-Line Admission, watch Tchaikovsky's Nutcracker or Swan Lake in St Petersburg's Mariinsky Theatre. Explore some of St Petersburg's best shops, restaurants, and architecture in Nevsky Prospect, do some unforgettable ice skating in the arty New Holland district or family-loved Krestovsky Islan, and head to the 18th-century Rococo Catherine Palace which is even more lavish than Versailles. And of course, have an unmissable troika ride – a traditional Russian carriage ride pulled by three horses – around Pavlovsk Park while admiring neoclassical Pavlovsk Palace in snowy but Christmas-glittering St Peterburg. And have a romantic boat trip on the Neva River at night.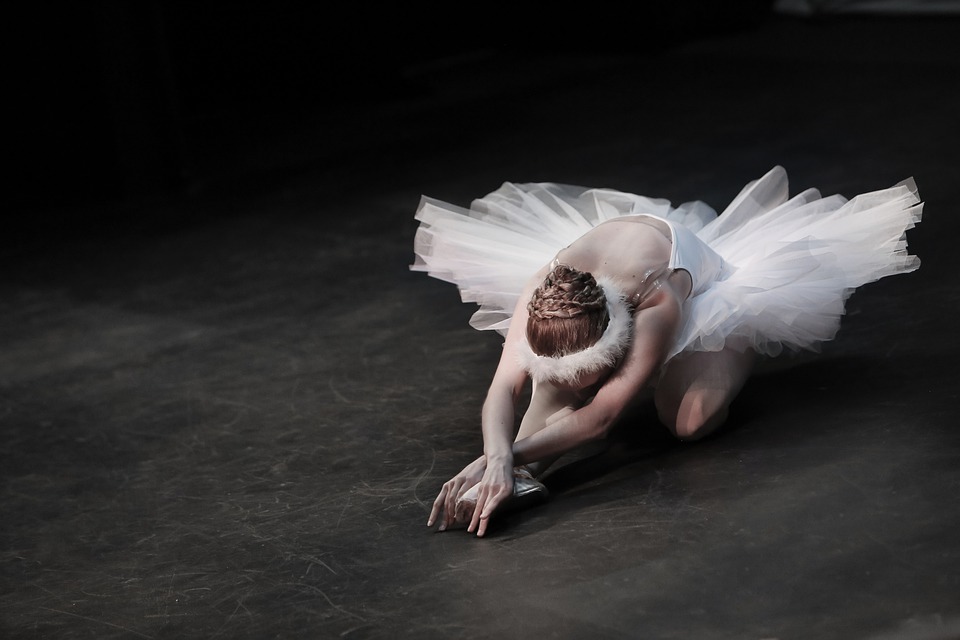 Chilly St Petersburg's Christmas days ask for Russian comfort food and beverages. As I said, Russians celebrate Christmas with lots of food and lots of vodka. Therefore, try some traditional Russian Christmas dishes like stuffed pig's head, roast pork, and goose, kholodets – Russian meat aspic, pirozhki – Russian fruit or beef dumplings, and pelmeni – Russian meat dumplings, Russian fruit pies, gingerbread, and pryaniki – honey bread cookies (typical Russian Chrismas dessert). And have glintvein – Russian mulled vine.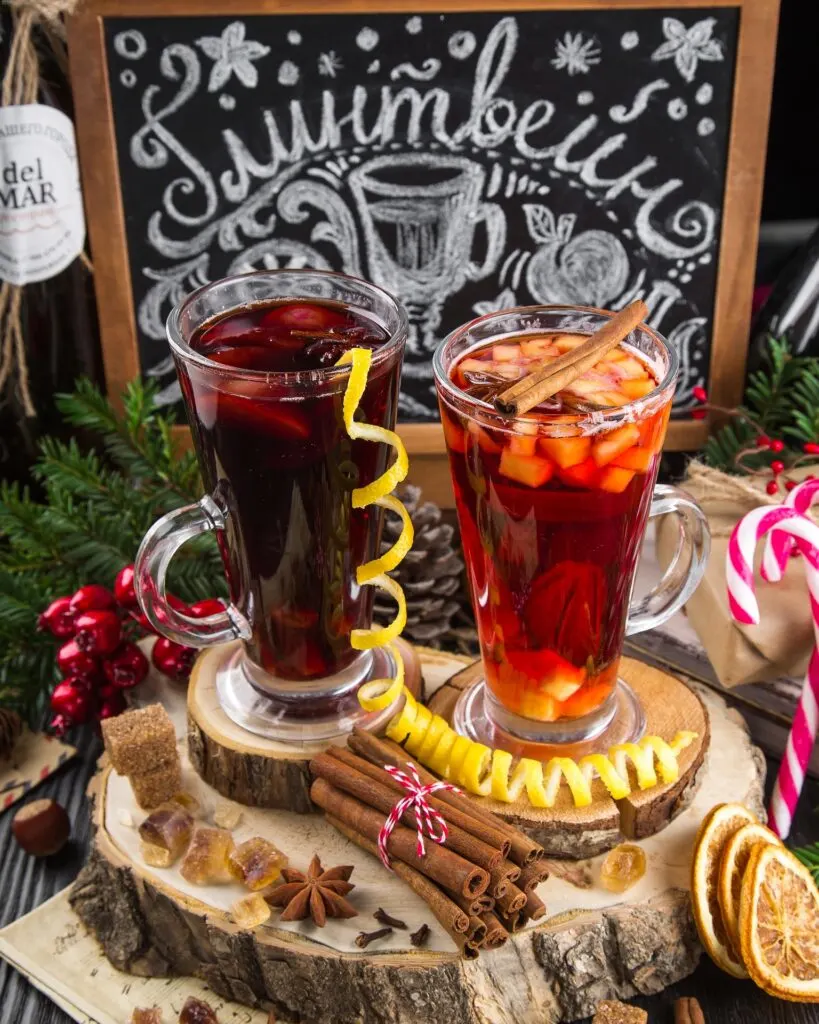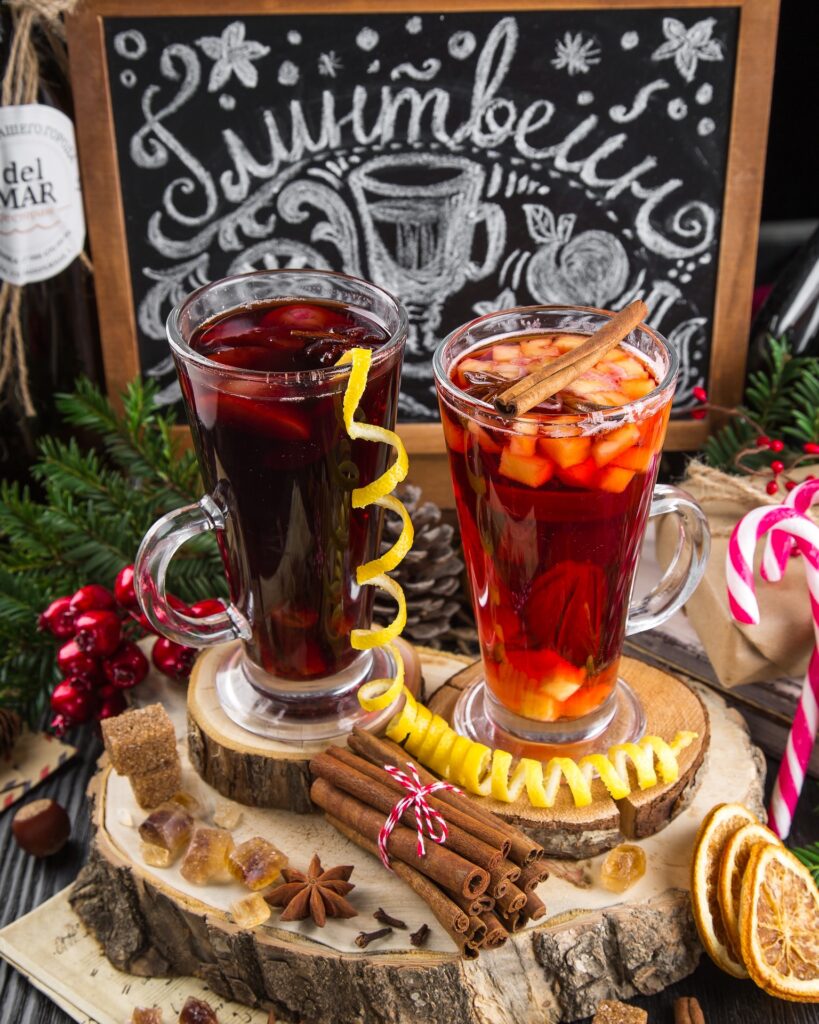 Some of the best St Petersburg Christmas markets are: on Moskovskaya Square, Pionerskaya Square, and in front of the Romanov family's Gatchina Palace.
To visit the Church of the Savior on Blood, St. Isaac's Cathedral, Peter and Paul Fortress, and Hermitage Museum time-wise and money-wise, consider taking St. Petersburg All-Inclusive 8-Hour City Tour.
St Peterburg Christmas markets 2023 dates: unknown
Nearest airport: St Petersburg Pulkovo (LED)
Check flights: Skyscanner.net
Check accommodation: Booking.com
8. STRASBOURG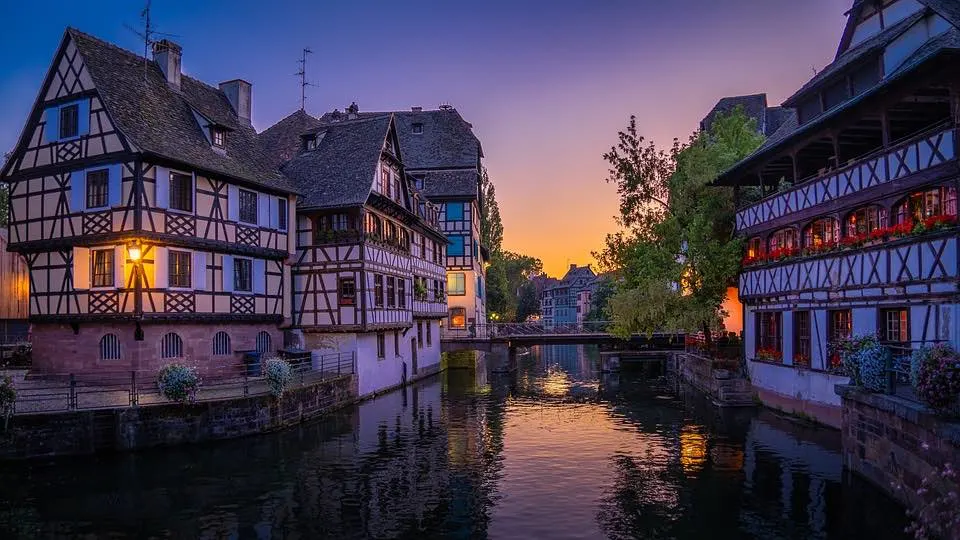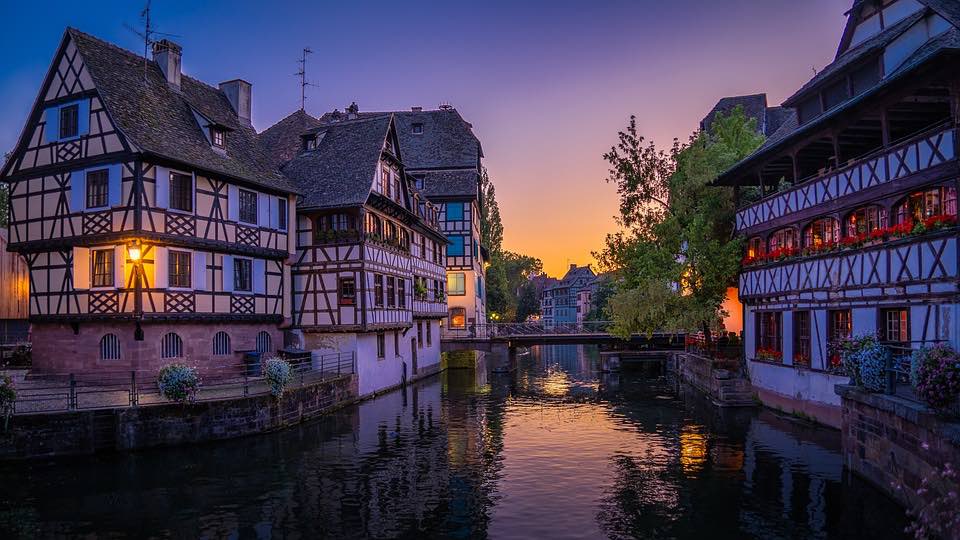 Alsace is a French Christmas fairy-tale region. And Strasburg is a fairytale itself.
If you would like a Christmas in Europe with a French rustic charm, head to Strasbourg.
The Alsatian capital with magnificent wooden chalets and rustic charm is an utterly magical place to spend Christmas in Europe. Strasbourg's Neustadt (New Town) with the Palais du Rhin, the National Theatre of Strasbourg, Place de la République, defensive bridges, and towers of Ponts Couverts along the River Ill, Barrage Vauban, and the Place Kleber are UNESCO Heritage sites. Therefore, take a boat tour and enjoy the sights of Strasbourg during Christmastime.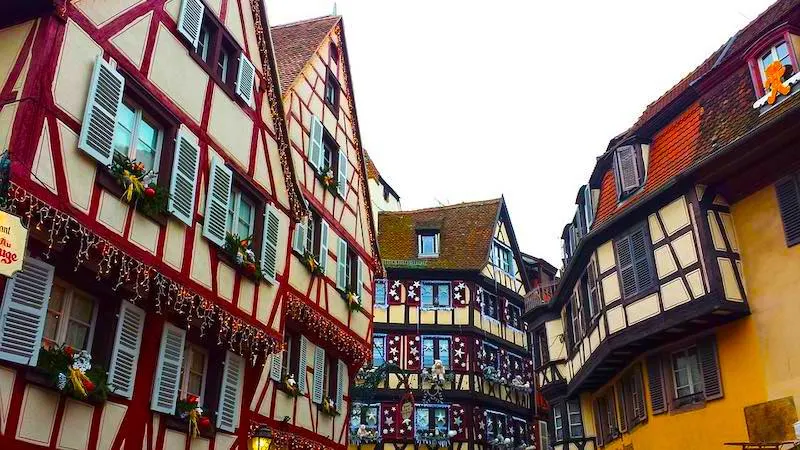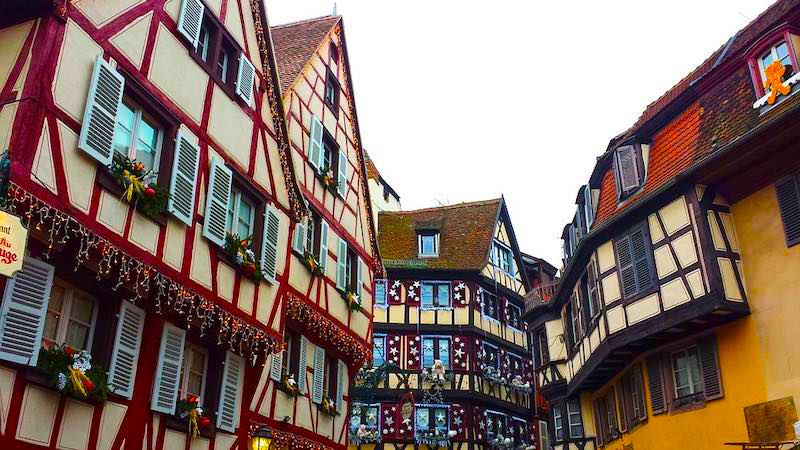 The Strasburg Christmas market is the oldest Christmas market in Europe. So, if you want to see the oldest Christmas market in Europe, buy a ticket to Strasbourg.
The tradition of Strasbourg Christkindmarkt around the Cathedral Notre Dame de Strasbourg dates back to the 13 century. The Strasbourg Christkindmarkt comes with an adorable Nativity scene (called crèche or crib) with figures of Mary, Joseph, and the infant Jesus.
In fact, the tradition of the Christmas tree comes from the town of Sélestat near Strasbourg. The first Christmas tree appeared for the first time in history in Sélestat in 1521.
To have an amazing Christmas in Strasbourg visit the 13th century Strasbourg Cathedral, enjoy the sights of French Baroque-Rococo Palais des Rohan, buy some pretty Christmas decorations, soak up the Christmas atmosphere at Galeries Lafayette Strasbourg, see the Great Christmas Tree on Place Kléber (the main square of Strasburg), admire postcard-perfect authentic timbered buildings of La Petite France ( also known as Tanner's Quarters) from the 1500s and 1600s, and explore Alsatian Christmas markets, including Colmar, in a 7-Hour Strasbourg Christmas Guided Tour.
Take a tour on the river Barrage Vauban and during the tour, you can admire breathtaking the Neustadt Imperial Quarter, Ponts Couverts, Petite France, and modern European institutions.
To make the most of your Christmas in Strasbourg, try some traditional Alsatian specialties in one of the picturesque restaurants in La Petite France. Go for choucroute garnie – the famous Alsatian sauerkraut with sausages, salted meats, and potatoes, baeckeoffe – the Alsatian Christmas casserole dish with potatoes, onions, pork mutton, and beef previously marinated in Alsatian white wine with juniper berries. While in Strasbourg, enjoy the sweet and salted pretzels, marzipan buns, sweet (with dried fruit) or savory (with pieces of bacon) kugelhopfs, and cinnamon cakes. All gourmands rave about Strasbourg: 2-Hour Gourmet Walking Tour. Don't miss it out!
The best money saver is Strasbourg 3-Day City Pass: Boat Tour, Museums & More!
Strasbourg Christmas Markets 2023 dates: Nov 24 – Dec 24, 2023
Nearest airport: Strasbourg (SXB)
Check flights: Skyscanner.net
Check accommodation: Booking.com
9. BUDAPEST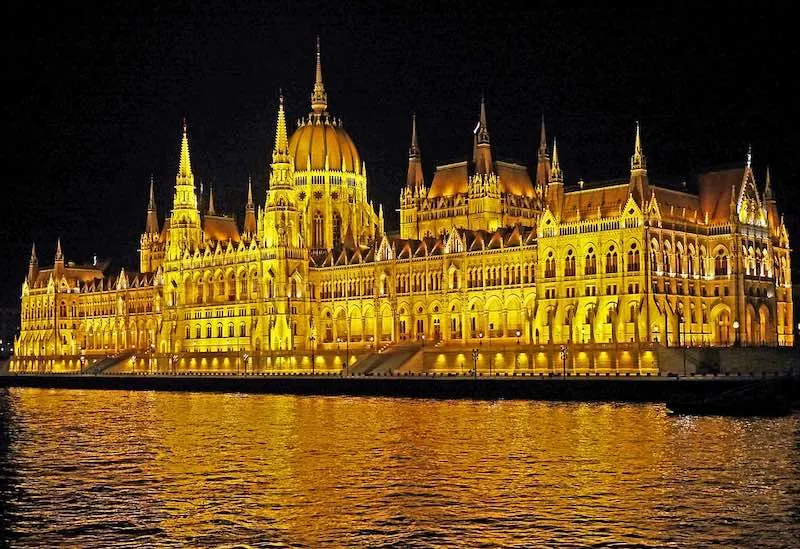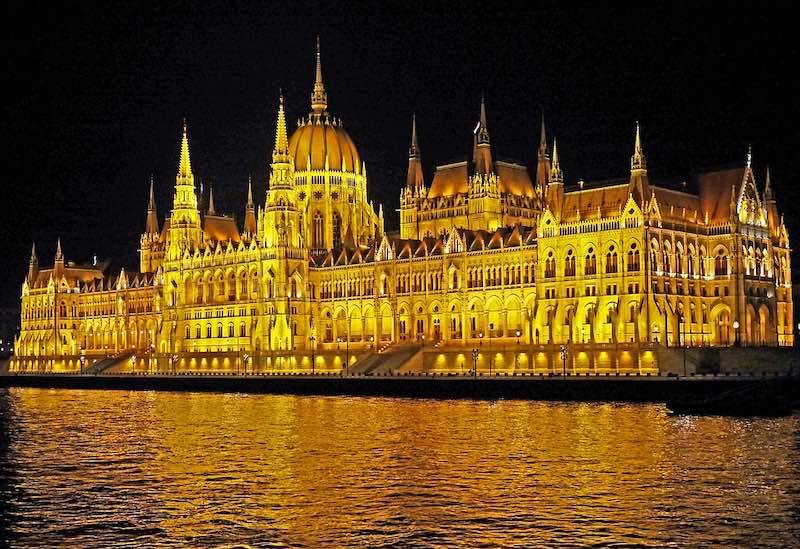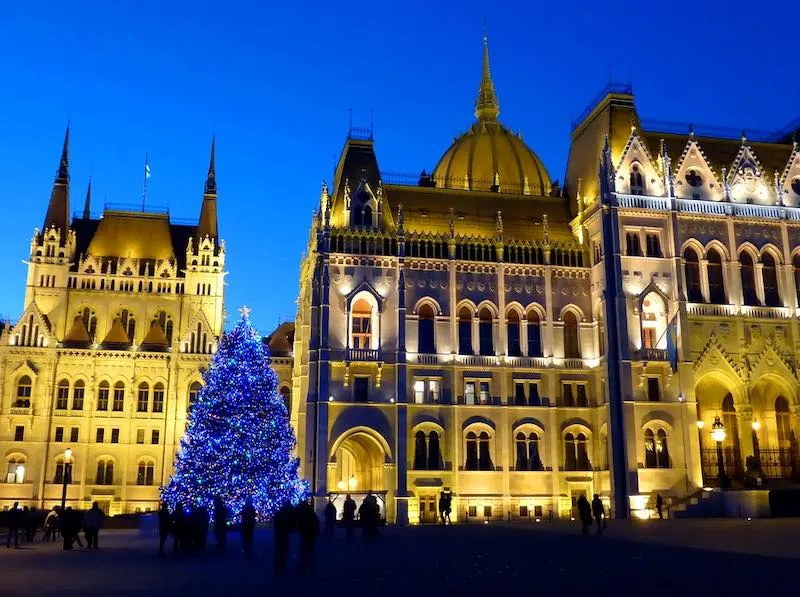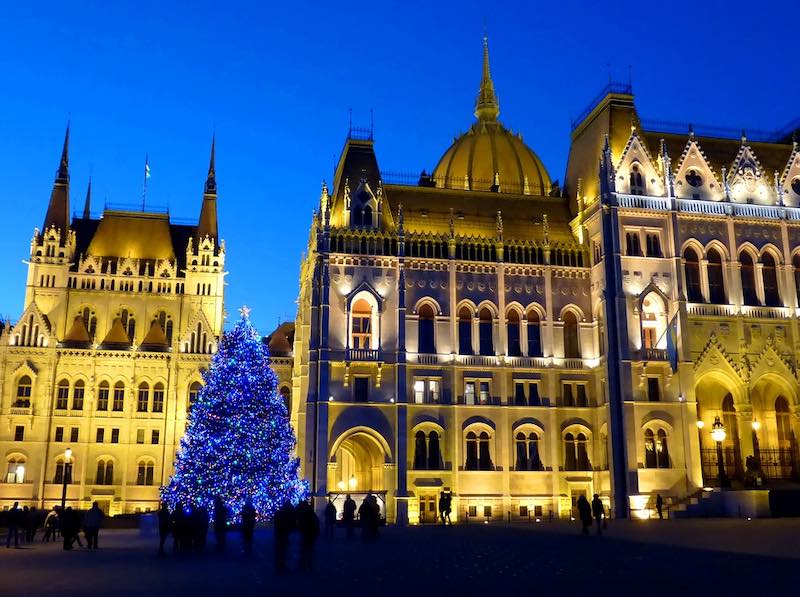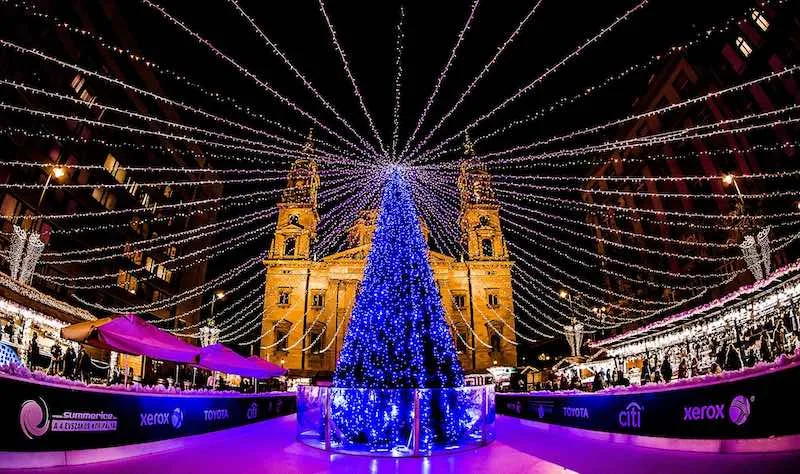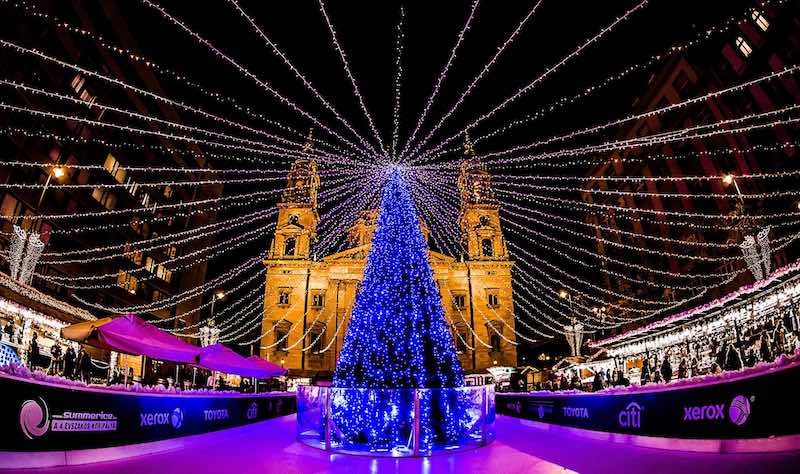 Budapest is one of the top European destinations to celebrate Christmas.
Just think of the spectacular Danube river and arresting Budapest bridges, awe-inspiring Buda and Pesta architecture, warm thermal spas, romantic ice skating, rides on the Budapest Christmas train, Christmas organ concerts in the impressive St Stephen's Basilica … and it gets easy to understand why Budapest is listed as one of the best European cities for Christmas.
Some of the awesome things to do in Budapest in Christmastime: visit Budapesta Christmas markets, experience an outdoor hot thermal bath/spa in the snow (the Gellért thermal bath or the Széchenyi thermal bath. Check out Skip the Line: Széchenyi Spa Full Day Package), cruise down the Danube and have candlelight dinner on the cruise, enjoy the views of Pesta from Fishermans Bastion and visit the Buda Castle, enjoy in Christmas concerts in Budapest, listen to Christmas organ concerts in St Stephen's Basilica in Budapest, have a ride in the Christmas Tram of Budapest that runs along the river Danube, watch Nutcracker Ballet at Budapest Opera House, do some romantic ice rink skating in Budapest City Park.
Budapest Christmas Markets are famed for featuring authentic Hungarian folk art. The oldest and the most beautiful Budapest Christmas Market is on Vorosmarty Square with food and handicraft stalls and free concerts. Also Christmas Market by Basilica with some Hungarian delicacies is one of the best Christmas markets in Budapest.
To sweeten your Christmas in Budapest try some traditional Hungarian food and beverages like Hungarian kurtos kalacs – traditional Hungarian chimney cake and a popular street snack, or slaty pretzel pastry, enjoy spiced mulled wine, try Hungarian beigli – a walnut or poppy seed roll and a traditional Hungarian Christmas cake, mézes kalács – Hungarian honey bread cookies, warm yourself with a cup of palinka – Hungarian apricot brandy and taste famous Tokaji Aszú – the Hungarian "King of wines" dessert wine
Budapest Christmas Markets 2021 dates: Nov 17, 2022 – Dec 31, 2024

Nearest airport: Budapest (BUD)
Check flights: Skyscanner.net
Check accommodation: Booking.com
10. AMSTERDAM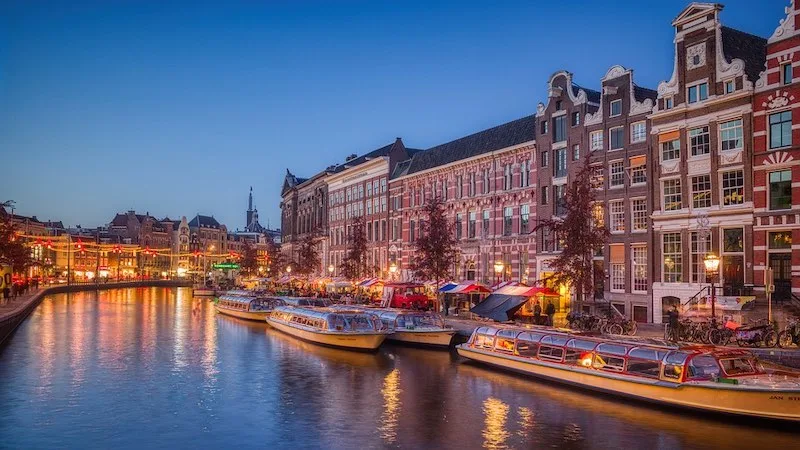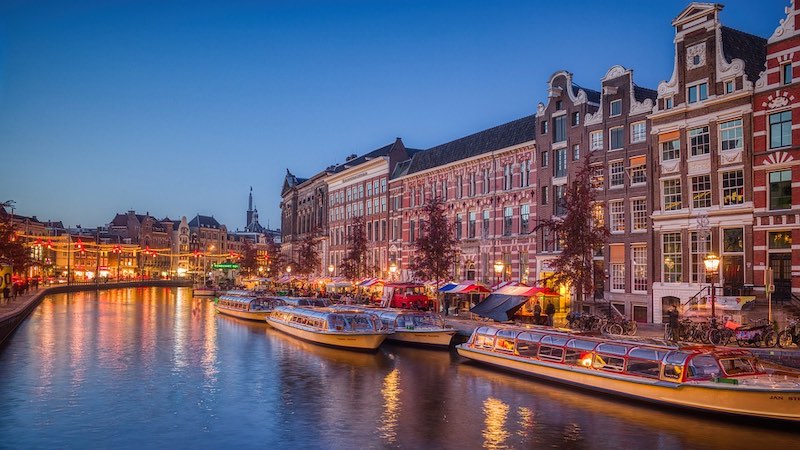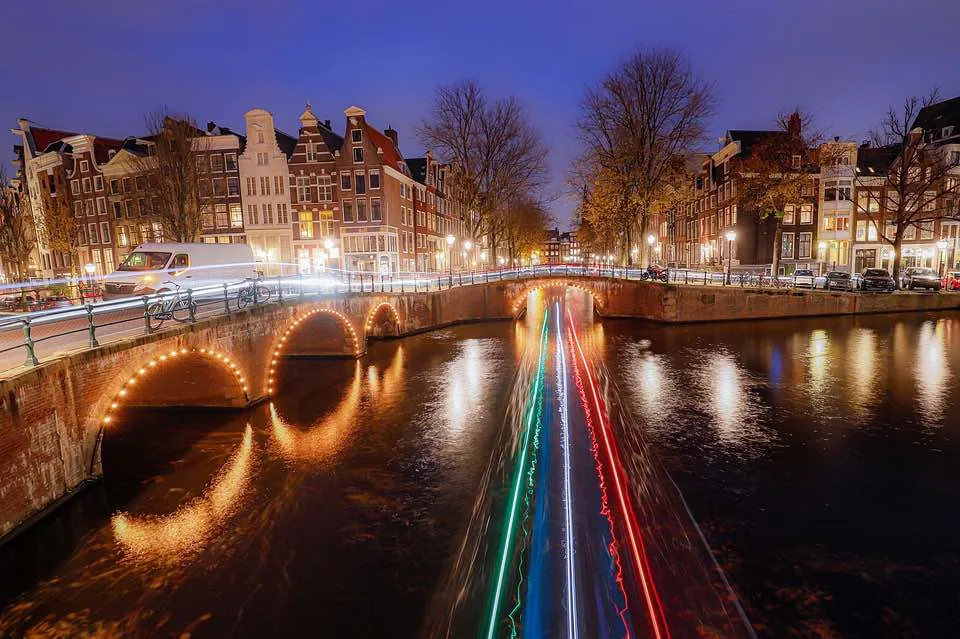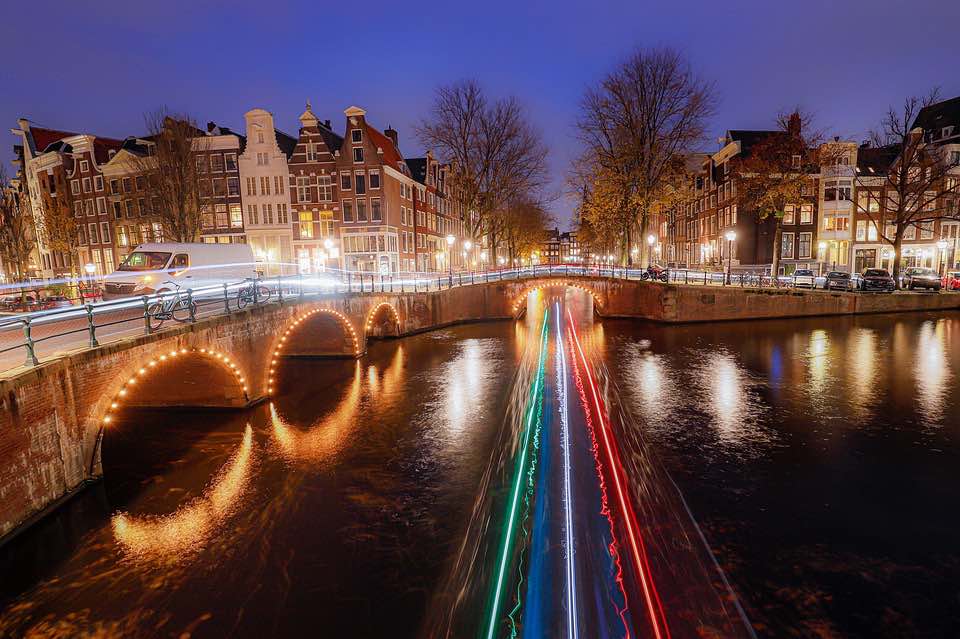 Amsterdam is a popular Christmas destination in Europe.
And for a good reason. Striking Amsterdam architecture with stunning Amsterdam canals in joyful Christmas lights is nothing less than magical.
Among many awesome things to do in Amsterdam in Christmastime, some of the most magical things do are: attend Amsterdam Light Festival exhibiting light artworks (check out Amsterdam: Light Festival Boat Tour with Unlimited Drinks), tour Amsterdam by bike like locals, cruise Amsterdam canals, watch the biggest Swan Ballet in the world in Amsterdam Rai, visit the beautiful Dutch churches of Sint Nicolaaskerk and Vondelkerk in Amsterdam, enjoy in the fireworks on Dam Square in Amsterdam on New Year's Eve.
And don't forget to try glühwein – mulled wine with some traditional Dutch food like Dutch bitterballen – crispy Dutch meatballs served as snacks in bars. Or, try some Christmas Dutch delicacies like oliebollen – Dutch doughnuts, or appelbeignets – Dutch apple fritters!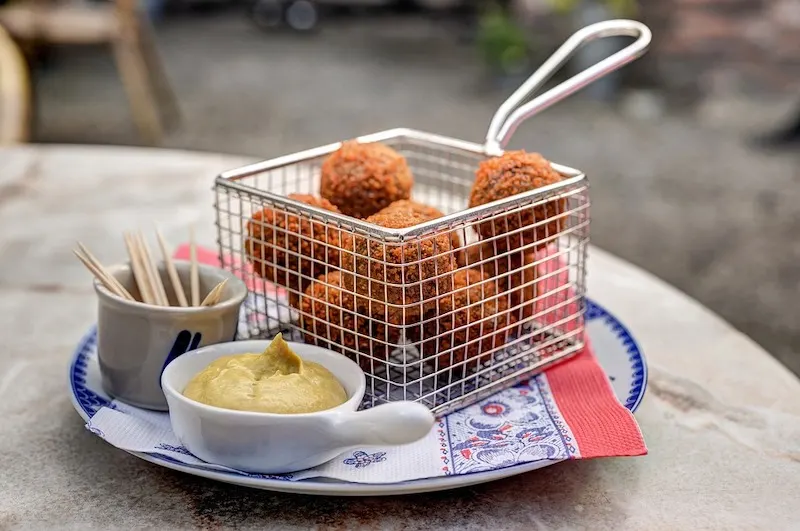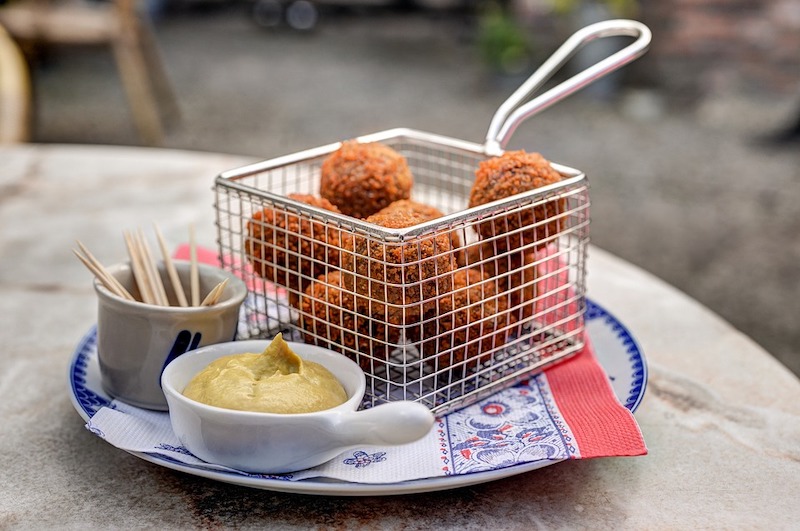 The best Amsterdam Christmas markets are impressive Amestrdam Ice Village Christmas market next to Rijksmuseum in the center of Amsterdam, cozy indoor Amsterdamsche Kerstmarkt, Amsterdam Christmas Market inside the Westergas, fashionable and quirky Funky Xmas Market, Pure Market Winter Market, Amsterdam Winter Paradise at RAI Amsterdam with indoor and outdoor ice-skating rinks and a giant Ferris wheel, Floating Christmas Market that is a 35-minute drive from Amsterdam, and Castle Christmas market in a historic castle an hour drive from Amsterdam.
The I Amsterdam City Card comes with free visits to museums and attractions, unlimited access to Amsterdam's public transport, and a free canal cruise. It's worth every cent!
But if you need only unlimited public transport (on all trams, buses, ferries, and the metro for up to 7 days), check out Amsterdam GVB Public Transport Ticket.
Amsterdam Christmas Markets 2022 dates: Dec 14 – Dec 30, 2023

Nearest airport: Amsterdam (AMS)
Check flights: Skyscanner.net
Check accommodation: Booking.com
11. EDINBURGH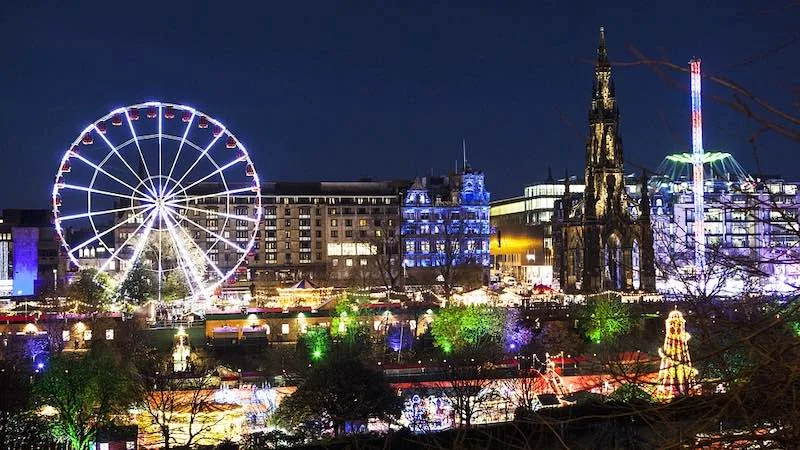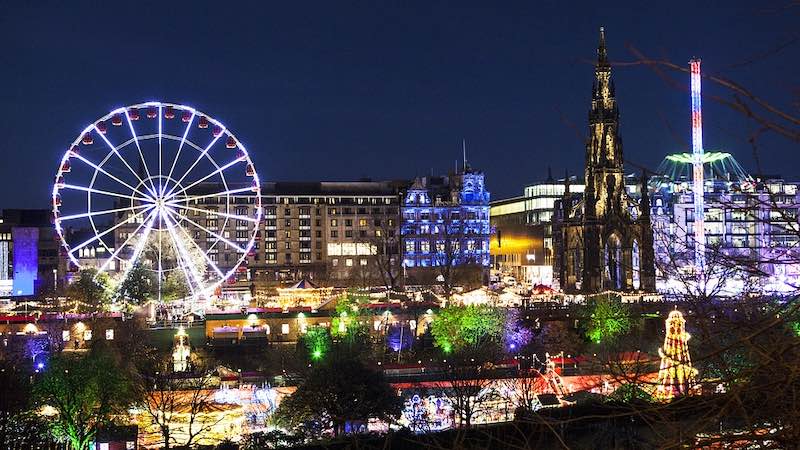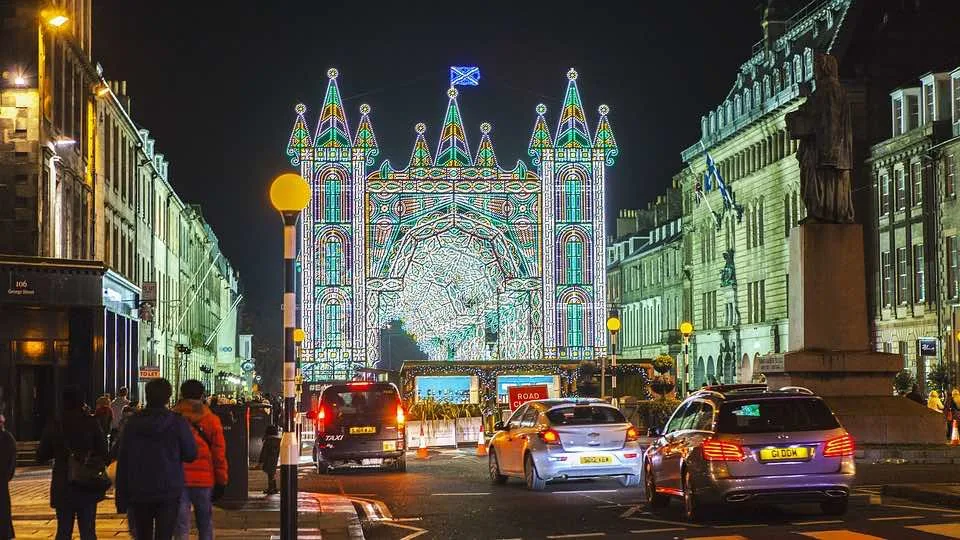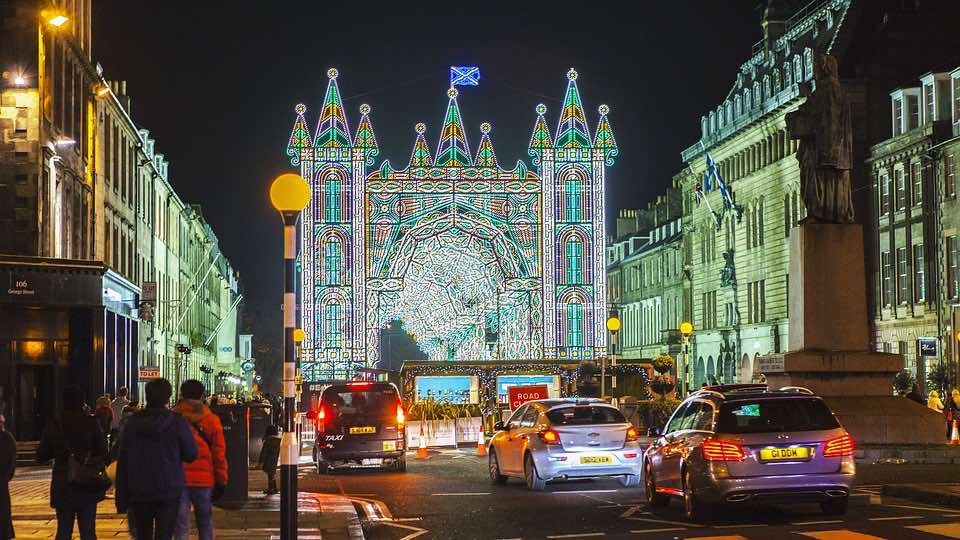 The capital of Scotland is one of the best Christmas destinations in Europe.
Let's be honest, Edinburgh is always lovely!
But when you add glittering Christmas lights to inspiring Edinburgh architecture and the joyful Scottish spirit, you get one of the best places to spend Christmas in Europe.
It is no wonder that over 2.6 million people visited Edinburgh Christmas attractions in East Princes Street Gardens in 2019.
Just imagine cozy Scottish pubs, atmospheric Scottish Christmas markets, festive restaurants, luxury shopping at the finest boutiques at Multrees Walk, kids' beloved and out-of-this-world Santa Land, the famous Hogmanay Street Party, and Torchlight Procession through the Old Town of Edinburgh on 30 December, and a spectacular New Years fireworks.
Some of the best things to do in Edinburgh in Christmastime: stroll Princes Street with Edinburgh Christmas markets, wander the famous Royal Mile (the heart of Edinburgh's Old Town) with historic buildings, Edinburgh Castle, and Holyrood Palace (Holyrood Palace Ticket), visit the British Royal family yacht Britannia (The Royal Yacht Britannia Ticket) , climb the Calton Hill for amazing views of Edinburgh, or hike up Arthur's Seat (it takes only 2 hours from the Holyrood Palace), enjoy the performances at the King's Theatre, Edinburgh Playhouse, and The Festival Theatre and have fun at Camera Obscura and World of Illusions (Camera Obscura and World of Illusions Ticket).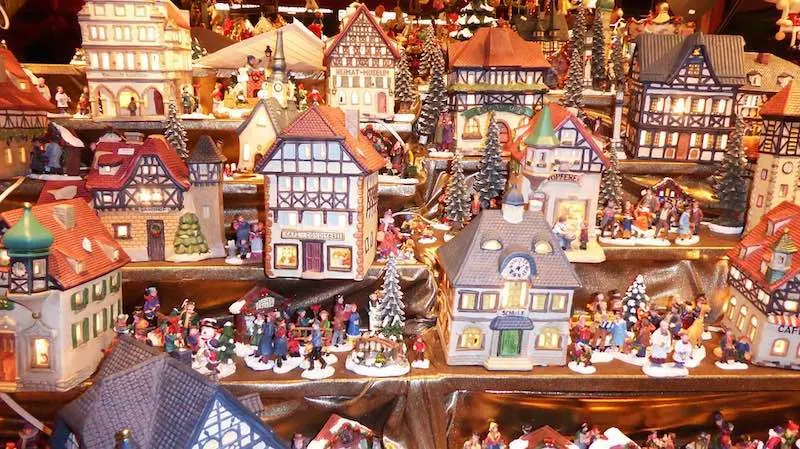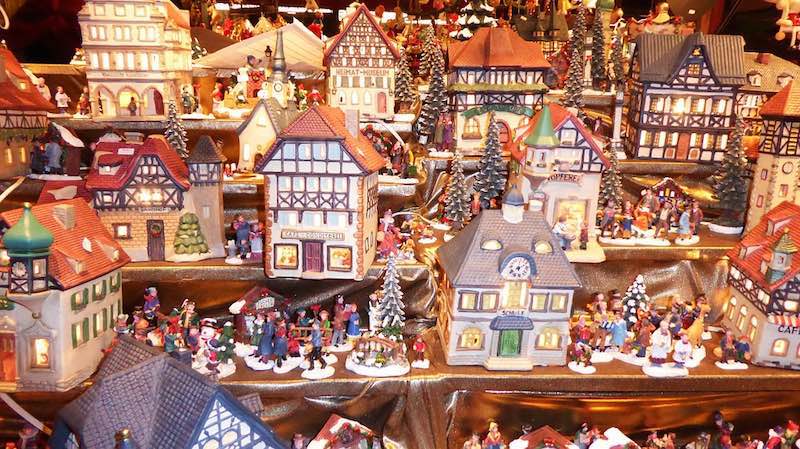 Top Edinburgh Christmas markets are the German Christmas market in East Princes Street Gardens (the Edinburgh main street) with a spectacular 60-meter-high 'Star Flyer' offering a mindblowing 360-degree view of Edinburgh, the Market at St Andrew Square with a skating rink (to be in George Street in 2020), the Scottish Market in West George Street, the European Market in the Mound Precinct, the Children's Market in Santa Land in Princes Street Gardens.
To get local insights choose the priceless Edinburgh Christmas Tour with a Local.
To have the Christmas lunch of your lifetime, have a Christmas lunch in the lavish Queen Anne Room in Edinburgh Castle. If you would like a quirky Christmas lunch, head to the iconic The Witchery restaurant. However, if you are vegetarian or vegan, stylish Grams is one of the best restaurants for vegan breakfast or brunch in Edinburgh.
To do as Scotts do, enjoy traditional Scottish foods like pigs in blankets (traditional Scottish sausages in bacon), Christmas turkey, ham and potatoes, and a Christmas cup of mulled wine or hot cider. Try Edinburgh-distilled gin, Scottish-brewed craft beer, and Scottish egg nog, and have a coffee in the National Galleries cafe with splendid views of Edinburgh Christmas markets.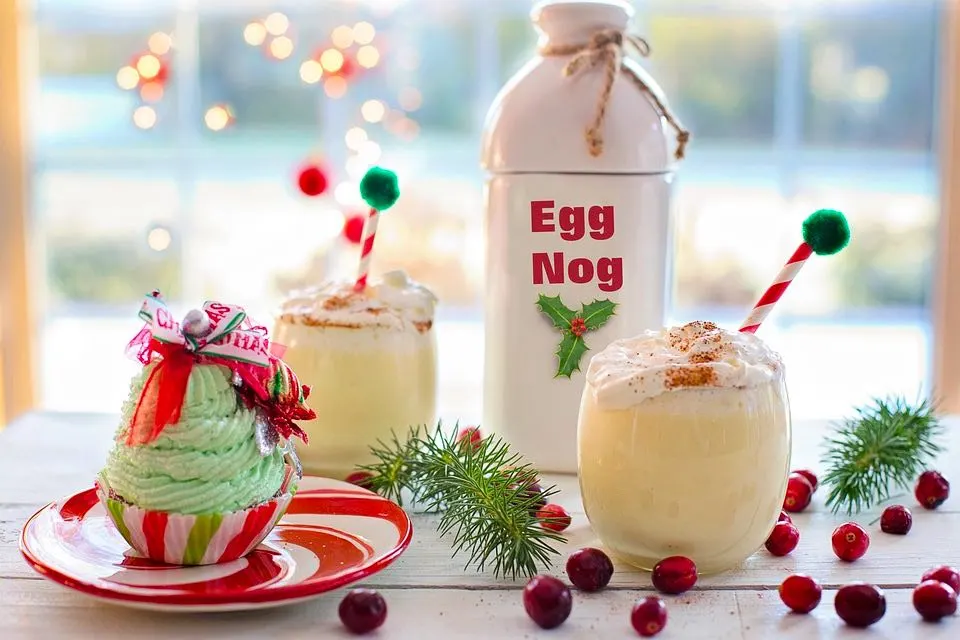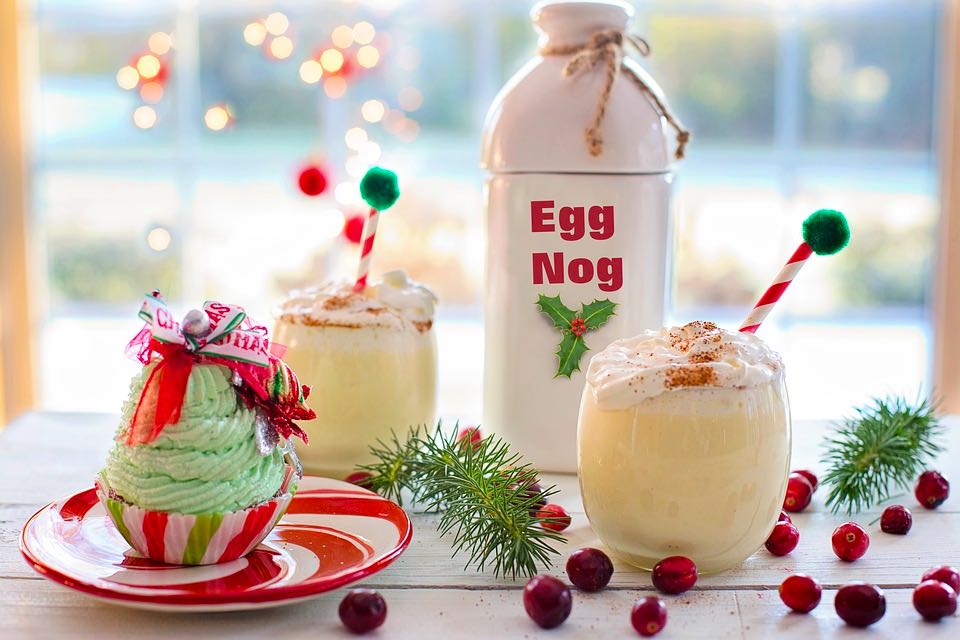 Harry Potter fans are mad about Harry Potter Walking Tour in Edinburgh, while lovers of all things odd enjoy discovering the ghostly and dark history of the city in Edinburgh's Ghostly Underground Vaults Tour.
Edinburgh: Hop-On Hop-Off Bus Pass with 3 City Tours provides affordable and time-wise city sightseeing.
To have memorable Christmas holidays in Scotland, take a full-day tour to Loch Ness, Glencoe & the Highlands from Edinburgh.
The Christmas season in Edinburgh goes from November to January. Yes, it lasts six weeks! So, don't think twice. Just book your ticket to jovial Edinburgh.
Edinburgh Airport Bus Transfer will take you from the airport to the city center.
Edinburgh Christmas Markets 2022 dates: Nov 17, 2023 – Jan 6, 2024

Nearest airport: Edinburgh (EDI)
Check flights: Skyscanner.net
Check accommodation: Booking.com