Interested in authentic Italian food and Italian cuisine?
No wonder, Italy's cuisine is one of the most delicious cuisines in the world. And here is the ultimate list of traditional foods in Italy to whet your appetite on your trip to Italy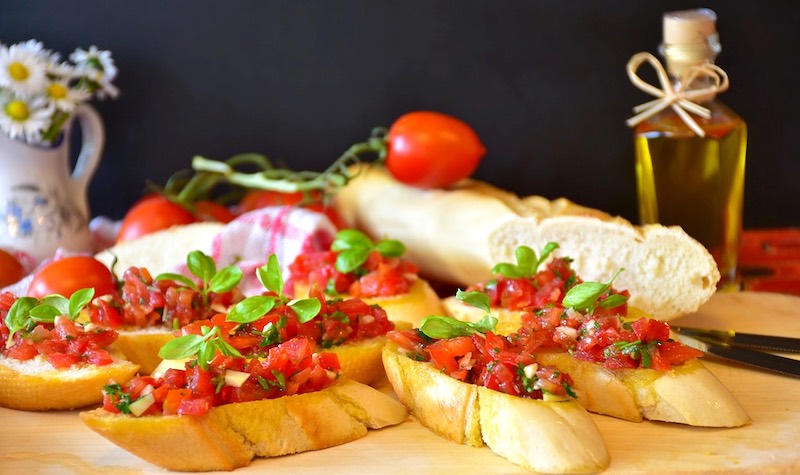 I love Italy.
I have traveled to Italy numerous times. Far more than it's written on this blog. But, here you can find my Tuscany road trip (in my opinion, one of the road trips everyone should take once in a lifetime!) or you can read about famous Venice Carnival masks and the world-renowned Venetian Carnival in Italy.
Ok, I admit, it's easy for me to go to Italy.
After all, I am from Croatia and Italy is just across the Adriatic Sea.
It is easy for me to talk about traditional Italian cuisine and food from Italy. The traditional cuisine of the Croatian coast is heavily influenced by Italian cuisine. Many of the dishes I have listed here are traditionally eaten in the coastal part of Croatia, called Dalmatia, too. The best gnocchi dumplings I have eaten ever in my life were the gnocchi made by my late grandmother in Croatia. Luckily I keep her gnocchi recipe!
Traditional Italian cuisine belongs to healthy Mediterranean cuisine, just like Croatian cuisine, Spanish cuisine, Greek cuisine, Egyptian cuisine, and Israeli cuisine, to name a few.
If you ask me, hardly any food in the world can compare to Mediterranean food.
But, Italian cuisine and Italian food traditions have left the mark on the whole world. Italian food specialties are praised all over the world. Foods from Italy (like Italian pasta, pizza, gelato, or semifreddo to name a few) are widely appreciated.
However, if you are traveling to Italy and you are interested in traditional Italian cuisine and Italian food culture, here's the ultimate Italian foods list covering traditional Italian food, classic Italian food, authentic Italian food, staple Italian food … the most famous Italian food, the most popular Italian food, the most delicious Italian food, fancy Italian food, classic Italian restaurant food … various types of Italian food (from various pasta, soups, pizza to desserts). In this post, you will find the best Italian meals that make the very best Italian food menus!
In short, the following Italian food list summarizes the best Italian foods you need to sample on your next trip to Italy.
And, yes, I have listed the original names of Italian food and Italian food descriptions (with many Italian food pictures)!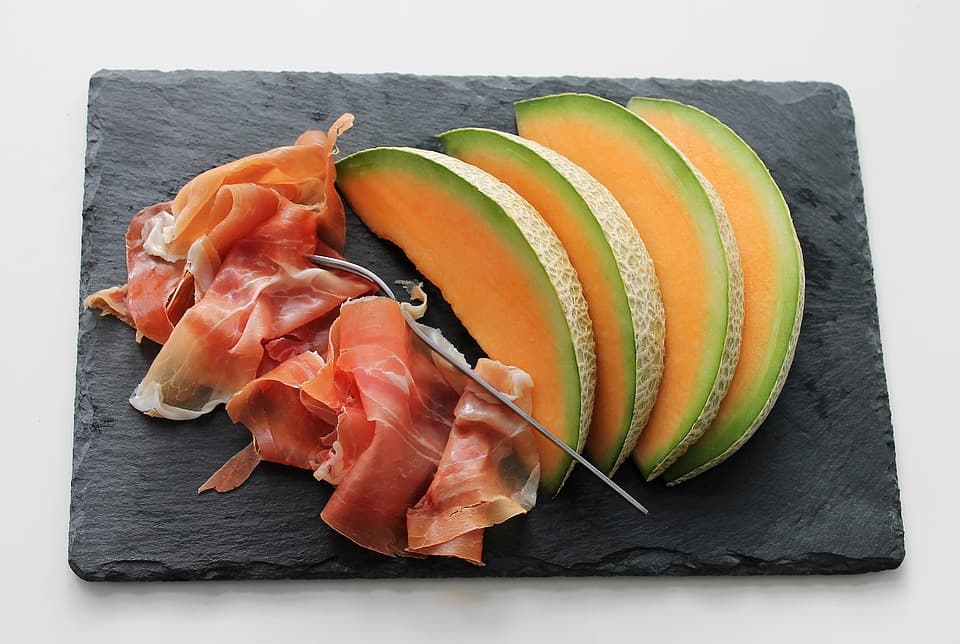 Italian traditional foods
RELATED:
THIS POST MAY CONTAIN COMPENSATED LINKS. PLEASE READ MY DISCLAIMER FOR MORE INFO.
66 MOST POPULAR TRADITIONAL FOODS IN ITALY
Selection of heavenly delicious food in Italy you should not miss out on your Italian vacation
66 most famous traditional Italian foods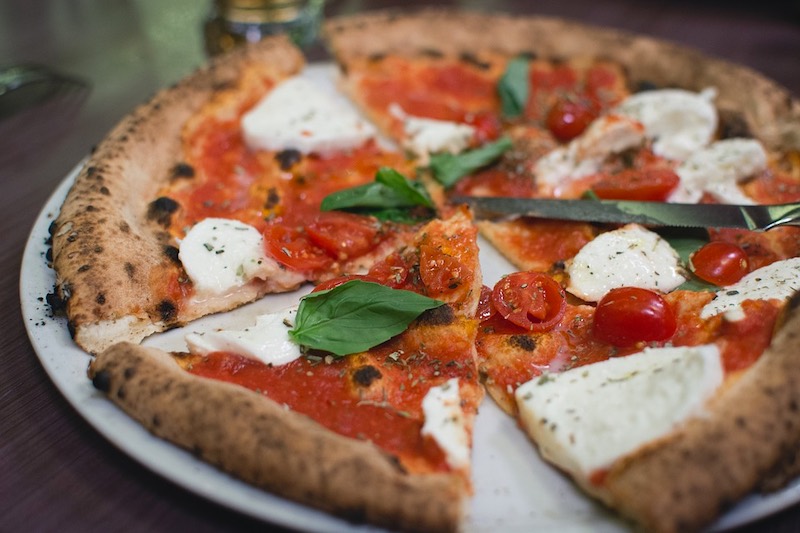 Food of Italy:
1. RAGU ALLA BOLOGNESE – Thenational dish of Italy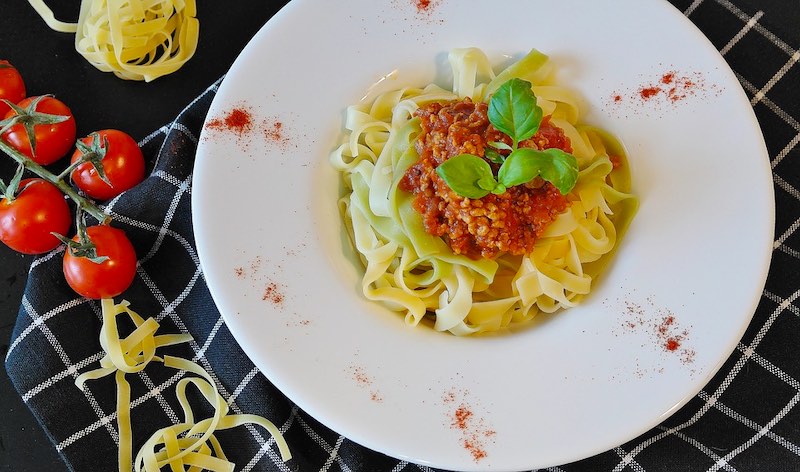 Ragu Alla Bolognese, or Bolognese sauce, is considered to be the national dish of Italy since it is used widely in Italian cuisine with many traditional Italian dishes and some of the best Italian dishes (spaghetti, tagliatelle, pappardelle, fettuccine…) across Italy.
Authentic Bolognese sauce is made from tomatoes, minced beef, garlic, wine, and herbs. Although Bolognese sauce originates from the city of Bologna, you can enjoy it throughout Italy.

WATCH: Ragu Alla Bolognese recipe
Historic Bologna is a beautiful city with stunning Piazza Maggiore, amazing medieval and Renaissance architecture, lovely cafes, and world-class restaurants. Besides that, Bologna is one of the top foodie destinations in Italy. So, don't forget to add one of these awesome food tours in Bologna to your bucket list!
2. PIZZA – The most famous Italian dish and a must-try Italian food in Italy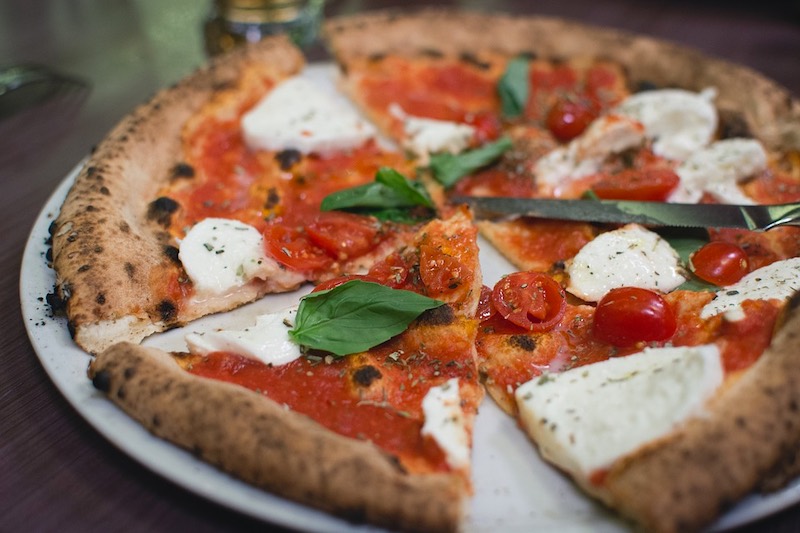 Italian pizza is one of the most popular food in the world.
Unquestionably, pizza is one of the most famous Italian foods ever. In fact, pizza is the most famous Italian dish.
This traditional Italian food is made of flattened round dough topped with cheese, and tomatoes, and additionally garnished with basil, olives, and oregano.
Depending on the toppings, among the most famous types of traditional Italian pizza are Margherita all Napoletana (Naples-style pizza with tomatoes, mozzarella cheese, and basil), Pizza Marinara (with tomatoes, garlic, and oregano), Pizza Quattro Stagioni ('four seasons' pizza with four sections of four different toppings), Pizza Quattro Formaggi (pizza with four different kinds of cheese), and Pizza Siciliana (Sicilian style pizza with tomatoes, cheese, onions, and anchovies).
There's no question, that pizza is one of the top 5 Italian foods.

WATCH: Napolitan pizza recipe
3. FOCACCIA – Famous Italian flatbread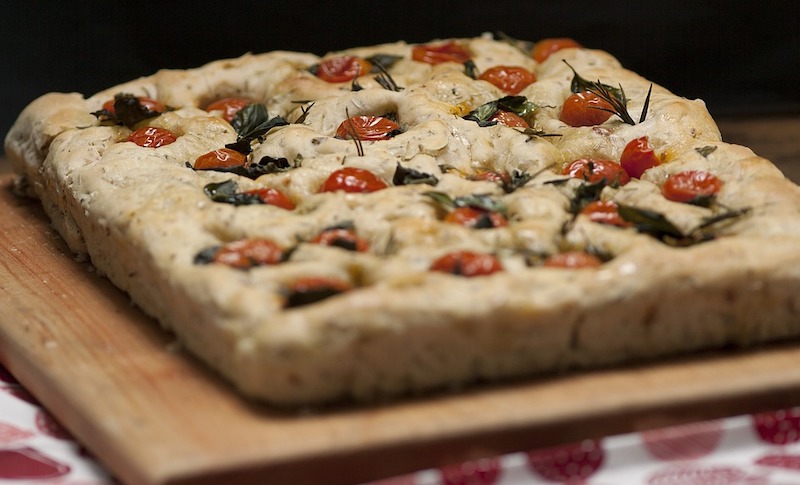 Focaccia is a traditional Italian flatbread similar to pizza.
The most popular focaccia is Focaccia al Rosmarin (Foccacia garnished with rosemary). Focaccia is commonly served as a side bread with typical Italian dishes, as an appetizer, snack, and as sandwich bread.
There are two types of focaccia: savory and sweet. Savory focaccia (with rosemary, garlic, basil, or even prosciutto) and sweet focaccia (with honey, raisins, sugar, and similar sweet ingredient ).
Focaccia is typical Italian fast food.

WATCH: Focaccia recipe
4. SPAGHETTI – The most famous Italian pasta – Long and thin traditional Italian pasta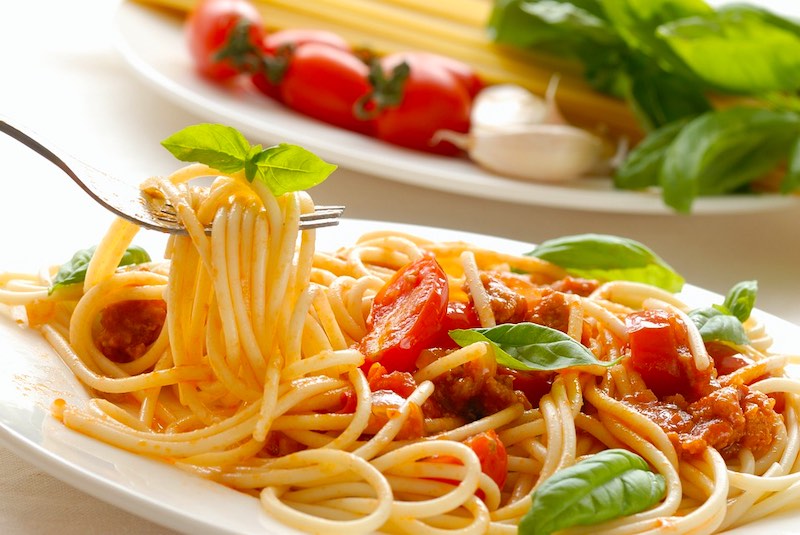 Talking about Italian staple foods, iconic Italian pasta is most likely the No 1. staple food in Italy.
Pasta is one of the top common Italian foods. And, the most popular Italian pasta is spaghetti.
This long and thin pasta is traditionally prepared with only garlic and olive oil (Spaghetti Aglio Olio), spaghetti with tomato sauce and basil (Spaghetti al Pomodoro e Basilico), spaghetti with minced meat sauce (Spaghetti Bolognese), spaghetti with cheese and pepper (Spaghetti Cacio e Pepe), with clams (Spaghetti Alle Vongole) or with bacon (Spaghetti Carbonara) and usually topped with grated hard Italian cheese like world-famous Parmigiano Reggiano or equally popular Grana Padano cheese.
Yet preparation of spaghetti differs a lot from one Italian region to another region. Thus, if you want to try classic Italian dishes, you need to go for some classic spaghetti dishes.
If you are traveling to Rome, please try Spaghetti Carbonara, a traditional spaghetti dish from Rome.
RomanSpaghetti Carbonara is one of the most deliciousauthentic Italian dishes.

WATCH: Spaghetti Carbonara recipe
5. LASAGNA – Layered Italian flat pasta dish AND One of the most popular Italian pasta dishes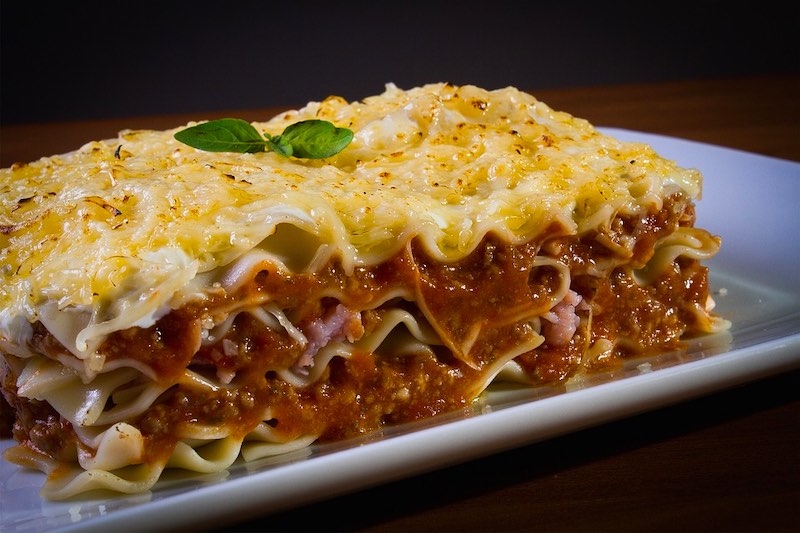 Lasagna is another famous Italian dish that has achieved worldwide recognition.
Classic Italian lasagne are made of layers of flat and wide pasta with a sauce of meat, vegetables, and cheese. Lasagne originates from Naples, but today you can eat lasagne all over Italy.
Lasagne are some of those Italian traditional food all gourmands look forward to on their trip to Italy.

WATCH: Lasagne recipe
Authentic Italian pizza, classic Italian spaghetti, traditional Italian lasagne … sounds delicious?! Italy is one of the best countries for food travel! When in Italy, check out some of these amazing Italian food tours in Italy!
6. GNOCCHI – Famous Italian dumplings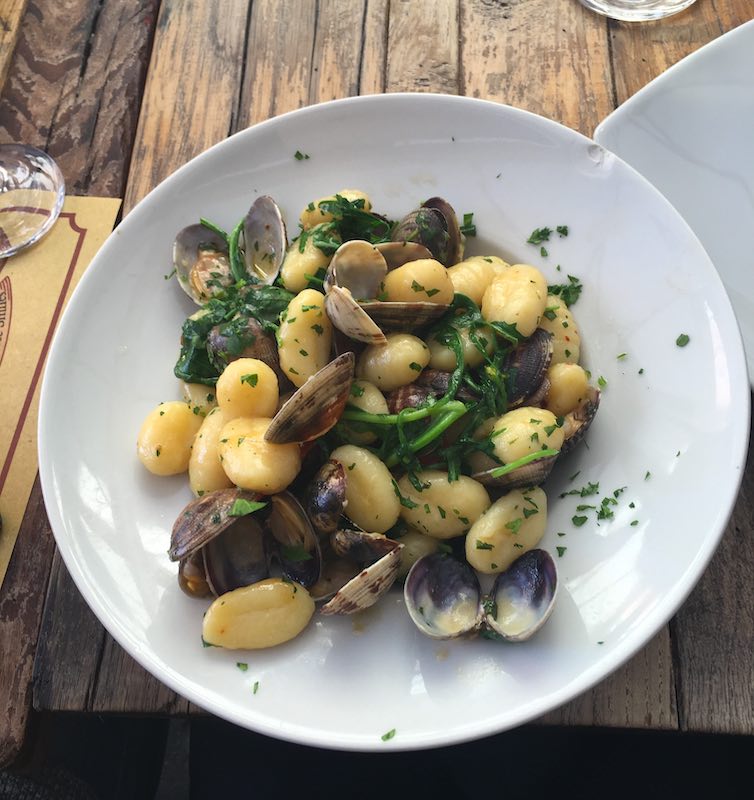 Gnocchi pasta is one of the most popular traditional foods in Italy.
Gnocchi dumplings refer to small and thick dumplings. But the Italian dumplings are traditionally homemade from potatoes and cheese.
But depending on the Italian region, they can be made from semolina or wheat flour, or breadcrumbs instead of potatoes. Gnocchi dumplings are prepared by boiling in salted water and served with a tasty sauce.
If you are traveling to Tuscany and Lombardy you should try Malfatti Gnocchi with ricotta cheese and spinach. But if you are going to Naples and Campagnia region, taste Strangulaprievete Gnocchi (priest stranglers) with a fresh tomato sauce. Or when in Sardinia, opt for little Sardinian Malloreddus Gnocchi alla Campidanese with sausage sauce.

WATCH: Gnocchi Alla Sorentina recipe
7. RISOTTO – Famous Italian rice dish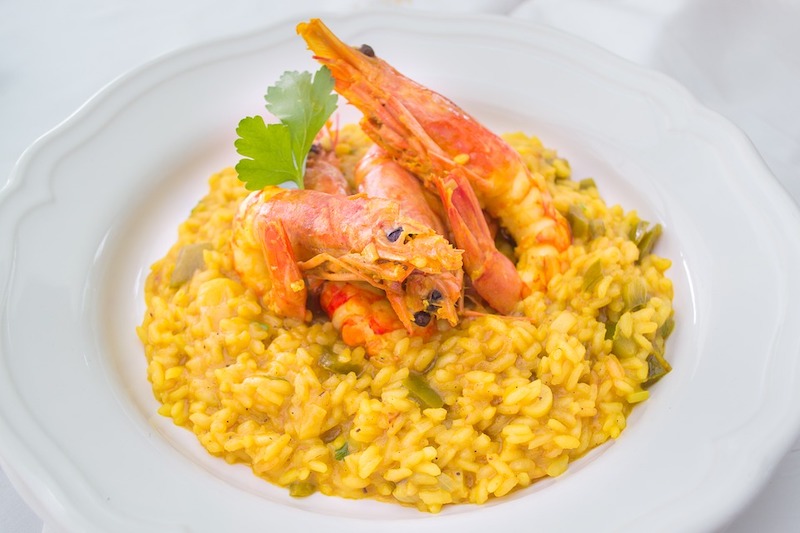 Rice is a staple food of Italy, of course. And, risotto is one of the most famous traditional Italian dishes.
Even more, risotto is one of the top favorite Italian dishes ever. Authentic risotto originates from the Lombardy region. But over time it has become one of the most popular Italian dishes ever.
This classic Italian rice dish is prepared with various meat, fish, or vegetable broths with onion, olive oil or butter or even lard, white wine, and Parmesan cheese.
All over Italy, you can indulge in various risotto dishes made traditionally of Arborio rice or Carnaroli rice like chicken and pea risotto, mushroom risotto, seafood risotto, shrimp risotto, and beef mince risotto … But if you are visiting the city of Milan in Lombardy, don't miss an opportunity to taste authentic saffron-flavored Risotto alla Milanese with beef stock, lard, and cheese.
Although my all-time favorite risotto is black risotto with cuttlefish. Risotto al Nero di seppia originates from the Veneto region!
Just to remind you, in case you are traveling to Croatia or Montenegro and you want to try black risotto, ask for 'crni rižoto'. And when in Spain, keep in mind that 'el arroz negro' is popular Spanish food too.

WATCH: Risotto alla Milanese recipe
8. RAVIOLI – Famous square-shaped Italian pasta with a filling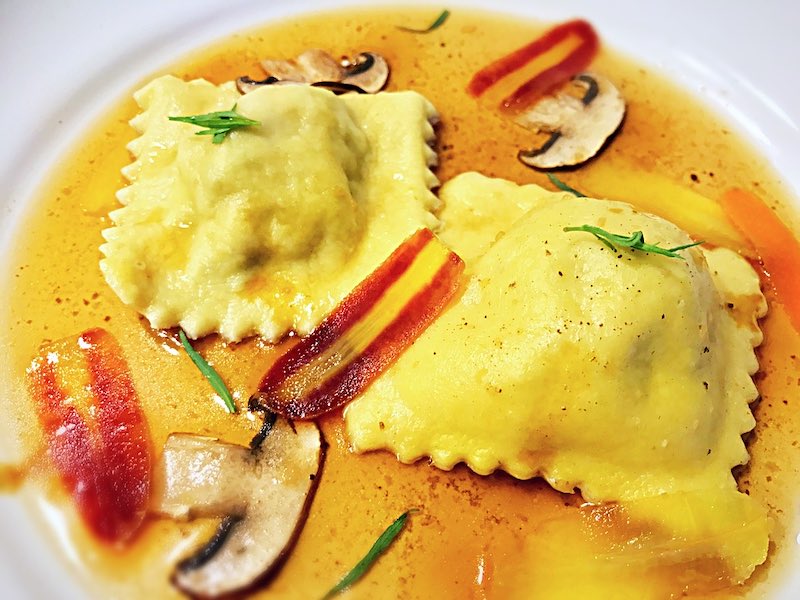 Traditional Italian ravioli are square-shaped pasta with a filling.
Ravioli are eaten throughout Italy. But nevertheless, ravioli filling varies from one Italian region to another.

In Rome and Lazio region the filling is made with spinach, ricotta cheese, pepper, and nutmeg, while in Sardinia a mix of cheese and lemon rid is used for the filling.

WATCH: Ravioli recipe
9. TAGLIATELLE –Famous ribbon-shaped Italian pasta from Bologna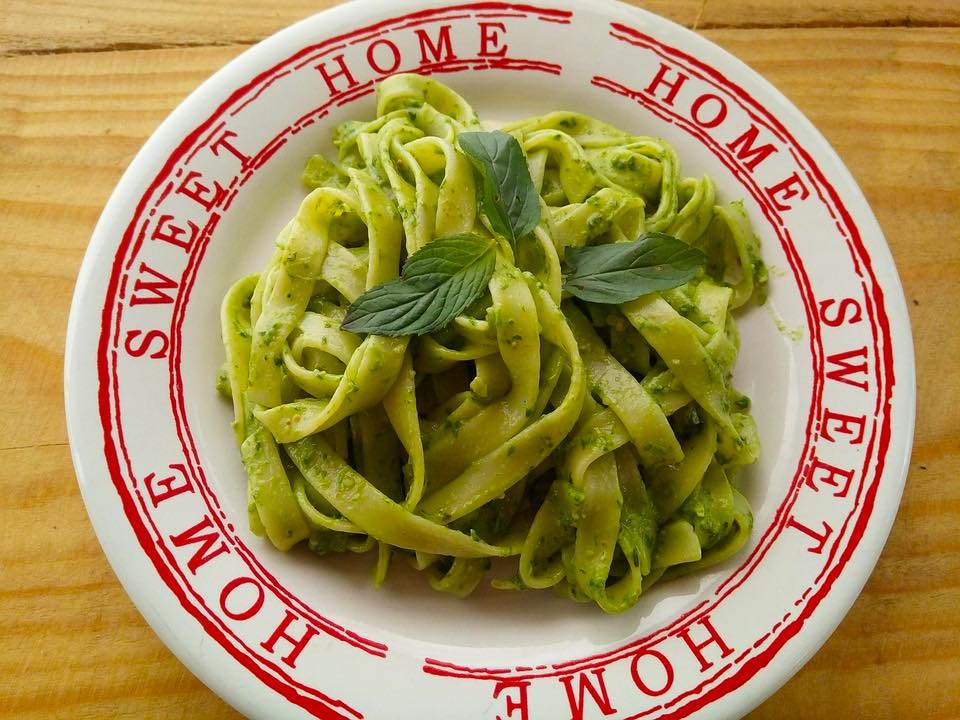 If you are traveling to the Italian regions of Emilia-Romagna and Marche you should opt for tagliatelle pasta as this traditional Italian pasta in the shape of long and flat ribbons originate from there.
Tagliatelle pasta comes with many sauces, but if you happen to visit Bologna go for traditional Bolognese tagliatelle with Bolognese sauce.

WATCH: Tagliatelle recipe
10. PAPPARDELLE – Popular broad Italian pasta from Tuscany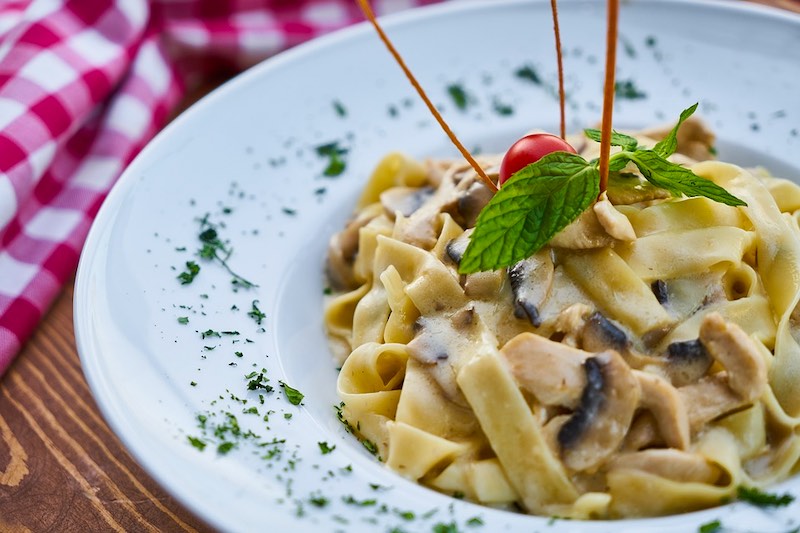 Pappardelle pasta noodles are broad, flat, and thick pasta noodles coming from Tuscany.
They are similar to tagliatelle from Bologna. Pappardelle pasta is typically eaten with chicken or beef sauce. Today pappardelle noodles are common pasta in Roman cuisine and Tuscan cuisine.

WATCH: Pappardelle recipe
When in Tuscany, make yourself a favor and check out some of these fantastic food tours in Tuscany! PS: You can thank me later!
11. FETTUCCINE –Famous ribbon-shaped Italian pasta from Rome and Tuscany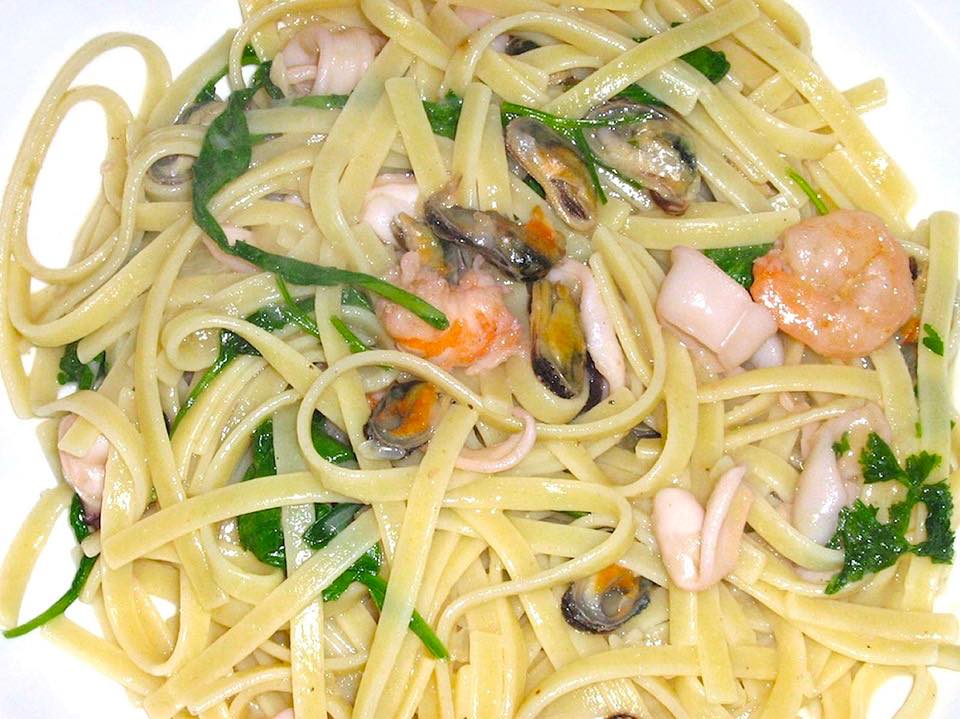 This is another type of pasta that is typical for Tuscan and Roman cuisine.
Fettuccine pasta is ribbon-style pasta. Traditional fettuccine pasta comes with chicken or beef sauce, but popular versions of fettuccine come also with tomatoes (Fettuccine al Pomodoro), creamy cheese (Fettuccine Alfredo), and seafood.

WATCH: Fettuccine Alfredo recipe
12. LINGUINE –Famous ribbon-shaped Italian pasta from Genoa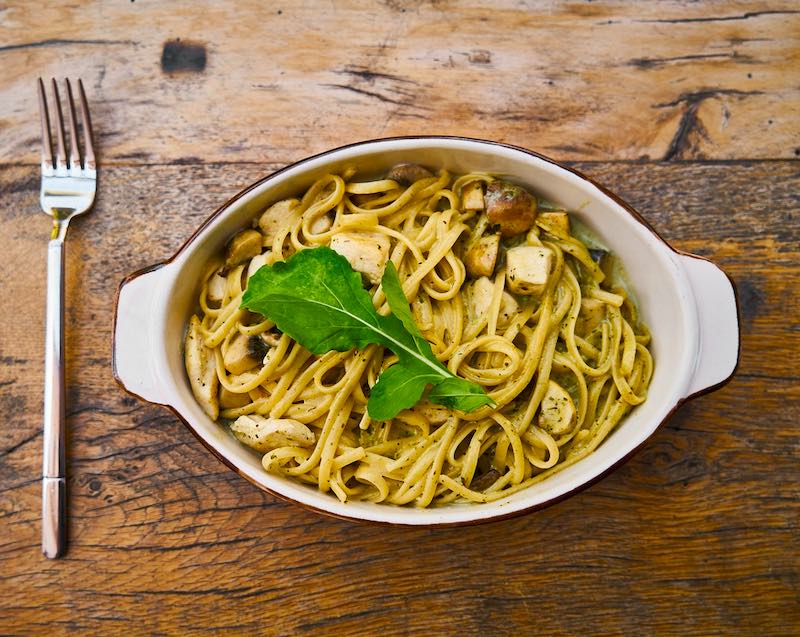 Linguine is an oval-shaped ribbon-style pasta similar to fettuccine. Linguine pasta is wider than spaghetti and more narrow than fettuccine.
This traditional Italian pasta originally comes from the city of Genoa and the region of Liguria. If you are taking a trip to Genoa, you should try authentic linguine pasta in Genova.
Traditional Italian pasta dishes are some of the most toothsome dishes in the world! What about taking a pasta cooking class in Italy? Check out these awesome pasta cooking classes in Italy!
13. CARPACCIO – Famous thinly sliced raw fish or meat from Venice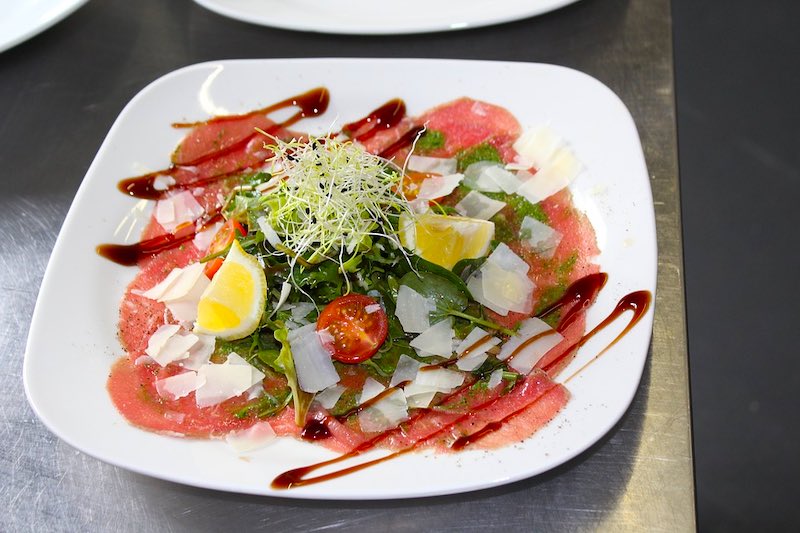 Carpaccio is a traditional Italian appetizer made of finely sliced thin meat or fish.
Original carpaccio is beef carpaccio and it comes from Venice. Thus, when in Venice, please put carpaccio on your menu.
Magnificient Venice, La Serenissima …. when in Venice, make it even more magical and try out this yummy cooking class in Venice!
14. BISTECCA ALLA FIORENTINA – Famous veal steak from Florence – One of the most famous Italian dishes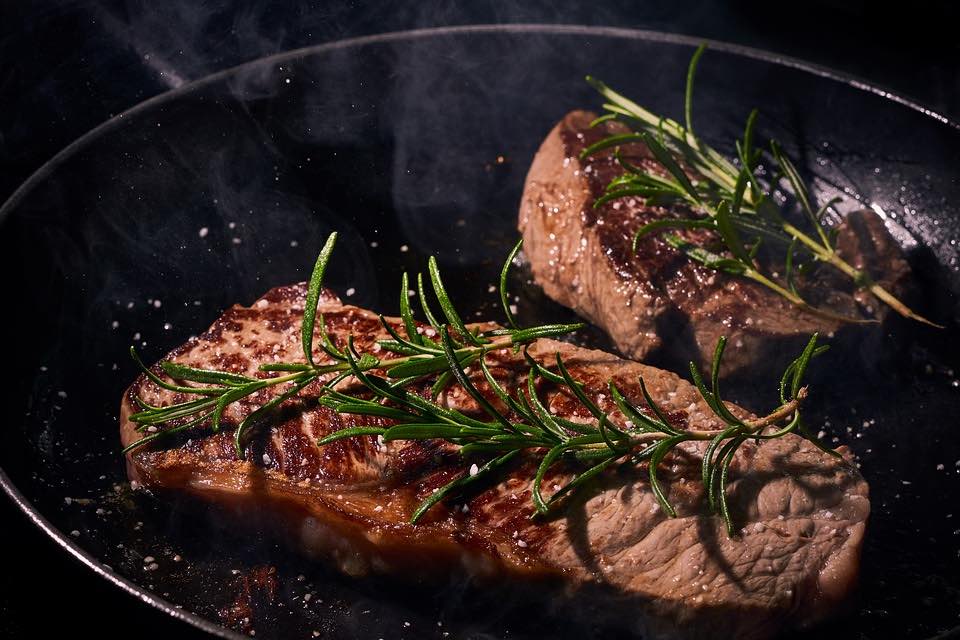 Florentine-style steak is a famous veal meat stake originating from the city of Florence in Italy.
Traditional Bistecca Alla Fiorentina is a T-bone veal steak prepared on glowing coal, light layers, and ashes in such a way to get the meat colored from the outside but juicy, soft, and red from the inside.
If you are traveling to Tuscany and Florence, be sure not to miss tasting authentic Florence stake. The Florentine steak is one of the best food in Tuscany and the best food in Italy to treat yourself with.
15. MELANZANE ALLA PARMIGIANA – Italian-style aubergines with Parmesan cheese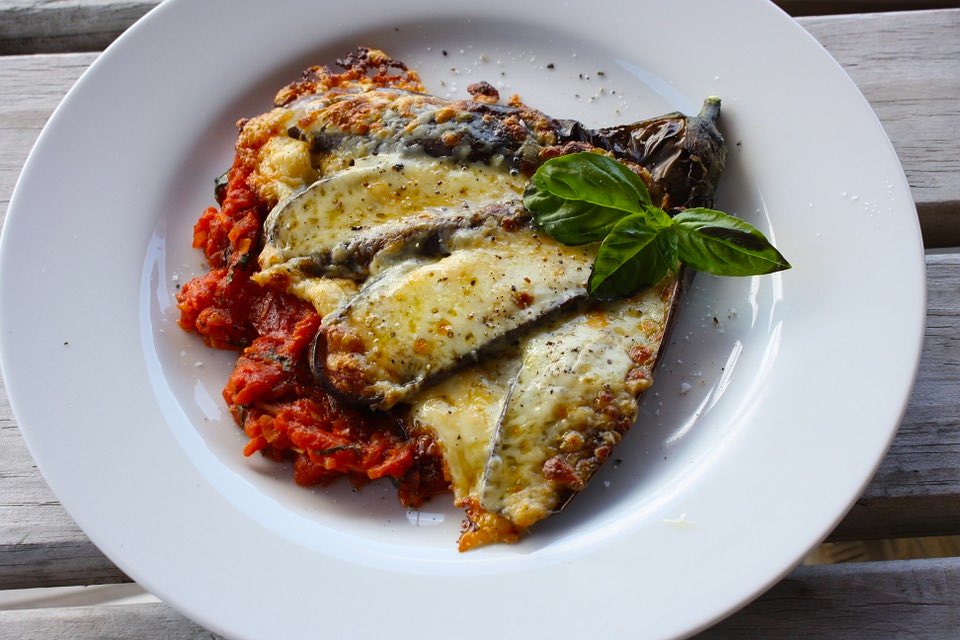 Iconic Melanzane Alla Parmigiana is a traditional Italian dish made of deep-fried layers of eggplants with a sauce made of tomatoes and parmesan cheese and baked in an oven.
Although Melanzane Alla Parmigiana is a typical vegetarian Italian dish, sometimes it is made with meat too. Parmigiana originates from Sicily and Campania region and it is one of the most famous Italian dishes. If you are traveling to Naples and Parma, keep in mind to try authentic Melanzane Alla Parmigiana.

WATCH: Melanzane Alla Parmigana recipe
16. BOTTARGA – Popular Italian dried fish roe from Sicily and Sardinia – One of the top Italian delicacies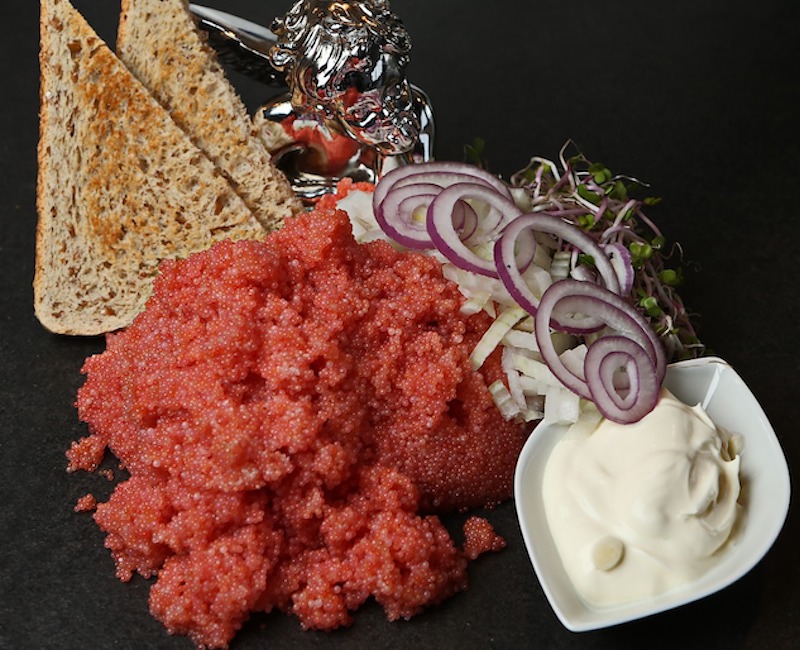 Italian bottarga refers to salted and cured fish roe (tuna or grey mullet).
Once "the poor man's caviar", in modern times bottarga is a delicacy often called the Gold of the Sea. Italian bottarga originates from Sardinia and Sicily. Smooth and silky in texture and salty in flavor, bottarga comes with many pasta dishes, salads, and vegetables.
If you are heading to Sardinia, you should opt for Bottarga di Muggine (grey mullet bottarga). And if you are traveling to Sicily, you should try Bottarga di Tonno (tuna bottarga).
17. RICCI DI MARE – Sea urchins are a delicacy food in Italy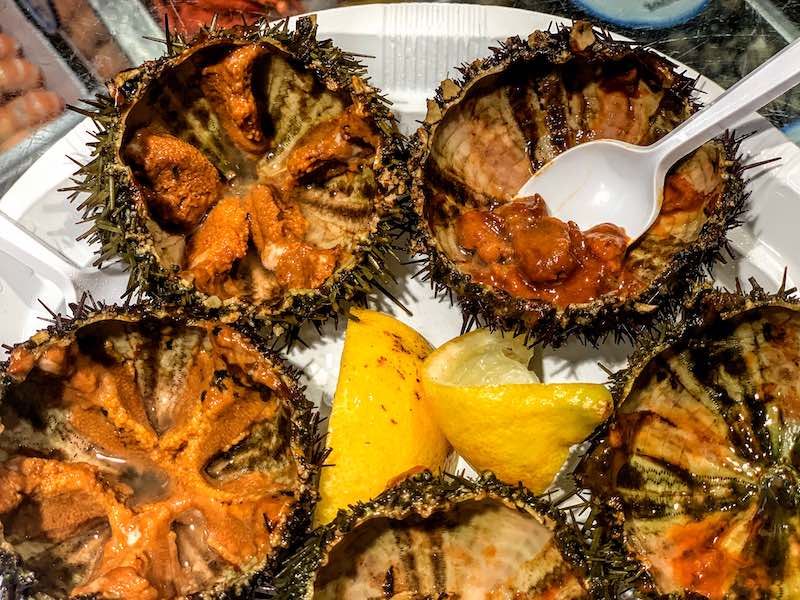 Let's talk about Italian delicacies and exotic Italian food.
Ricci di mare, aka sea urchins, are food delicacies in Italy and beyond. Sea urchins are eaten in Italy from Naples to Sicily.
In Italy, sea urchins are consumed fresh and raw scooped out of the shells with squeezed lemon juice, or with pasta (pasta ai Ricci di mare).  If you are after sampling seafood delicacy and some of the Italian best food on your trip to Italy, then sea urchins should be on your list of Italian foods to try. 
18. BRUSCHETTA – Famous Italian finger food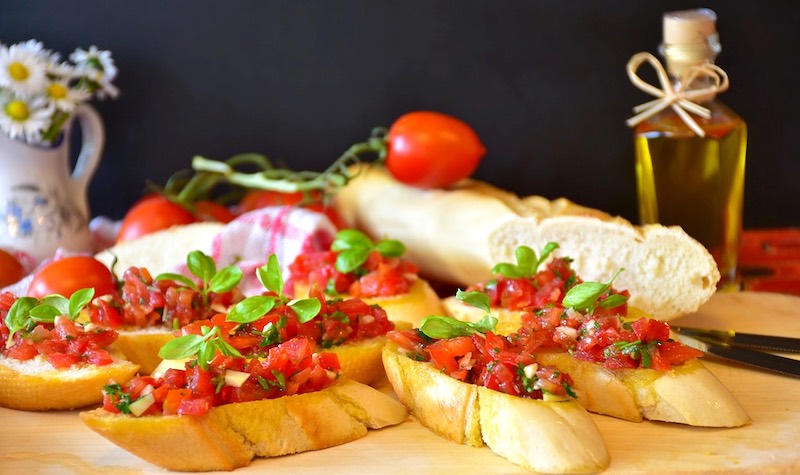 Crispy bruschetta is a famous Italian appetizer, popularly known as Italian cheesy garlic bread.

Traditional Italian bruschetta is grilled bread scrubbed with garlic and garnished with olive oil and salt. Sometimes it comes topped with cheese, tomatoes, prosciutto, various salami, and various vegetables. The most popular Italian bruschetta comes with tomatoes and fresh basil.
Bruschetta originates from ancient Rome and today you can enjoy it throughout Italy.
Tiny and tasty bruschette are popular finger foods in Italy.

WATCH: Bruschetta recipe
19. GRISSINI – Popular Italian breadsticks from Turin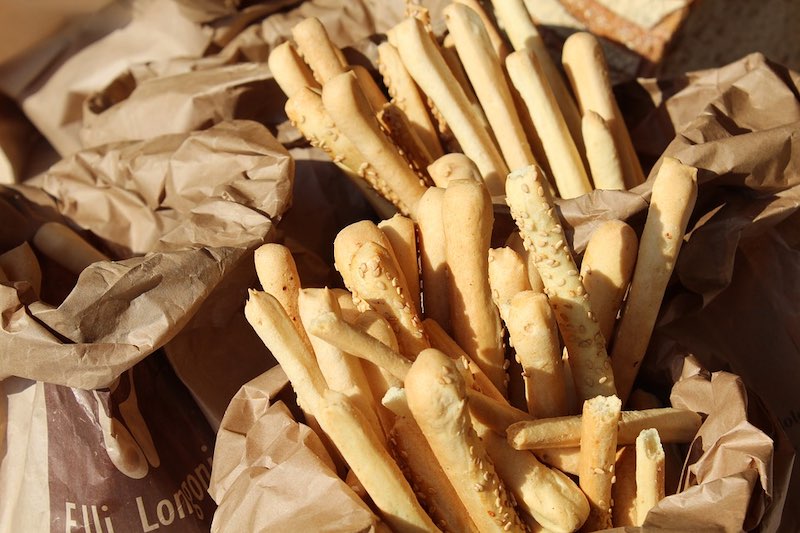 Crusty grissini are traditional Italian breadsticks.
These crispy, long and uneven breadsticks are typical Italian snacks and appetizers. They originate from the city of Turin.
20. POLENTA – Traditional Italian cornmeal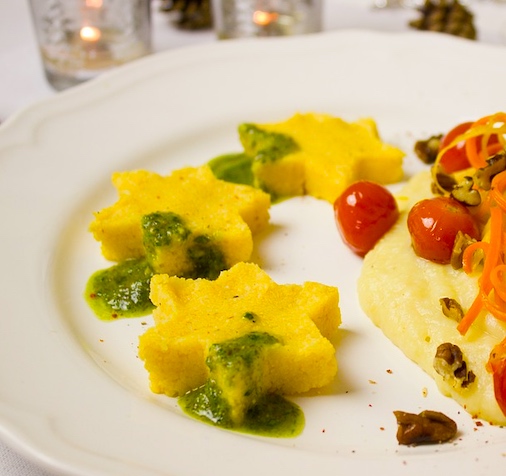 Polenta is a traditional Italian dish made of boiled cornmeal, originating from central and northern Italy.
This simple poor man meal is commonly served instead of potatoes, rice, or pasta.
Polenta has crossed the borders of Italy, and it is enjoyed in neighboring countries like Switzerland, Slovenia, and Croatia. Today polenta is not only one of the top staple foods of Italy. But also Swiss, Slovenian, and Croatian staple food.
21. PASTA E FAGIOLI – Thick Italian soup with pasta and beans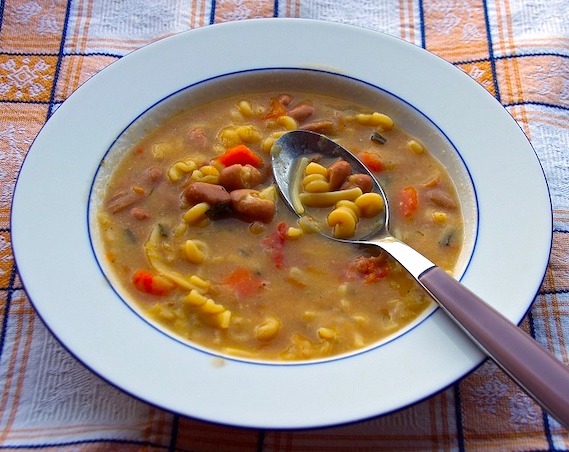 Pasta with beans is a thick traditional Italian soup coming from the Italian regions of Emilia-Romania and Campania.
Ingredients of Pasta E Fagioli may vary from one region to another, but the main ingredients always remain tiny pasta, beans, olive oil, onion, garlic, and tomato paste.

WATCH: Pasta E Fagioli recipe
22. PASTA E CECI – Italian stew with pasta and chickpeas – Traditional Italian dish
Pasta with chickpeas is a similar soup to Pasta e Fagioli.
Pasta e Ceci is one of the most common Italian foods and one of those authentic Italian dishes you need to try in Italy.
Pasta e Ceci Alla Romana is a famous dish originating from Rome.Roman pasta e ceci typically comes with anchovies.
Pasta e Ceci is also a typical soup in the regions of Sicily, Campania, and Puglia.

WATCH: Pasta E Ceci recipe
23. MINESTRONE SOUP – Famous Italian soup with seasonal vegetables and pasta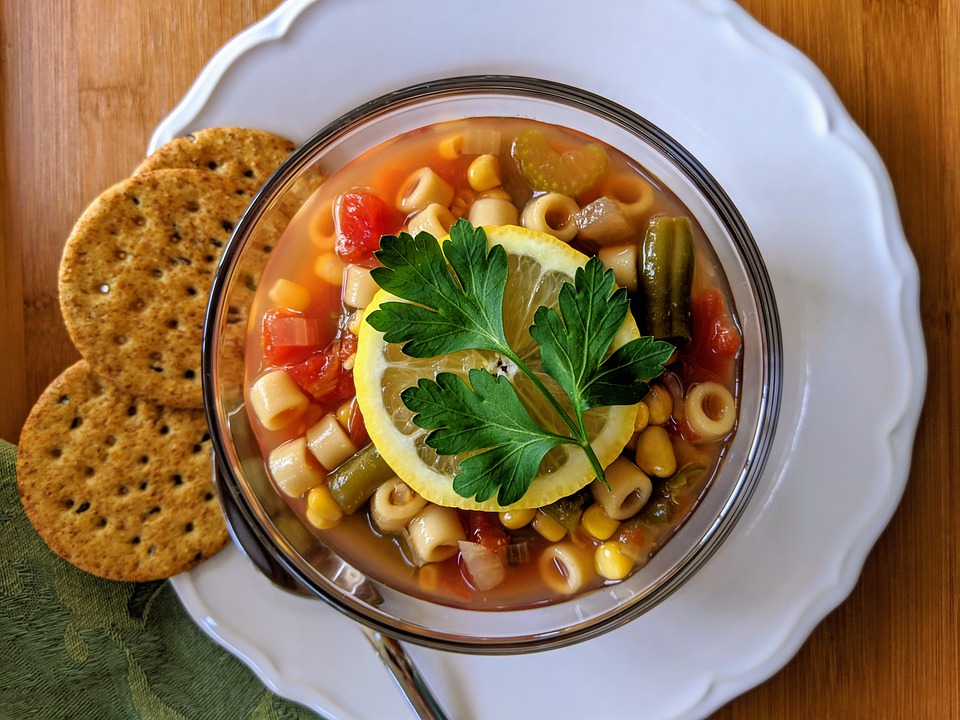 Popular Minestrone soup is one of the most common foods in Italy.
Minestrone is a thick vegetable soup made with pasta and rice and a tomato-based broth. Minestrone is typically made with seasonal hearty vegetables like beans, potatoes, tomatoes, celery, and carrots.
Actually, there is no strict recipe for Minestrone soup since it's commonly made with leftover vegetables and it might include meat, but not necessarily. Classic Italian Minestrone soup is a brothy and hearty soup similar to the above-mentioned Pasta e Fagioli and Pasta e Ceci Alla Romana.

WATCH: Minestrone soup recipe
24. TORTELLINI – Button-shaped Italian pasta from Emilia-Romagna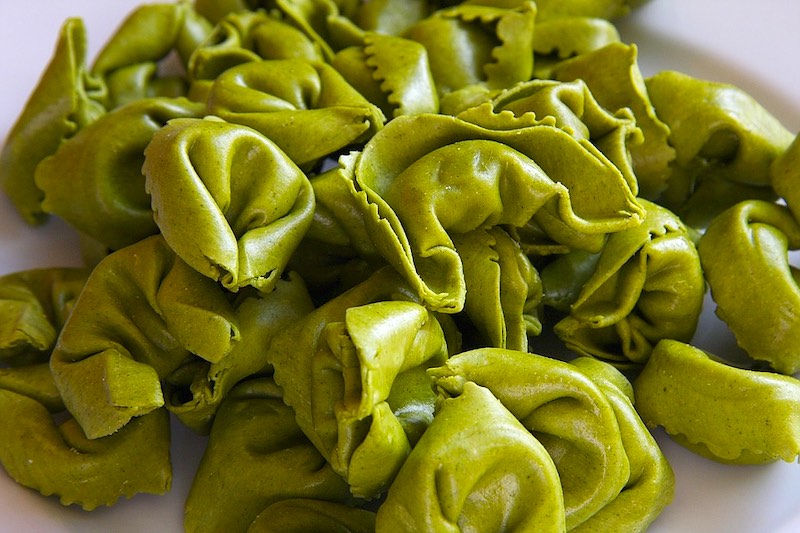 Tortellini are popular button-shaped pasta filled with meat, cheese, nutmeg, and egg, cooked in water, stir-fried with sage and butter, and served with broth.
This famous pasta originates from the Emilia Romagna region. If you are traveling to Modena or Bologna, please try authentic tortellini in Bologna and Modena.
25. POLPETTE – Traditional Italian meatballs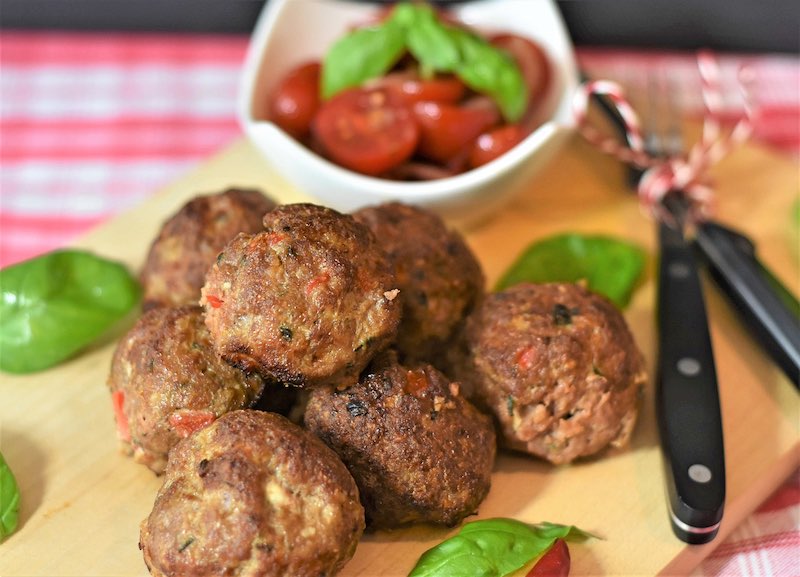 Polpette meatballs are traditional Italian meatballs made of minced meat, eggs, parsley, and Parmigiano cheese.
Meat lovers argue that Italian meatballs are some of the most delicious authentic Italian foods overall.
Italian polpette are typically made of veal or beef meat. But when they are made of fish, they are called crochette (crocchette al pesce). Most commonly they come as a snack or second course. In southern Italy, they come as a main course served in a tomato sauce though. 
26. ARANCINI – Italian rice balls from Sicily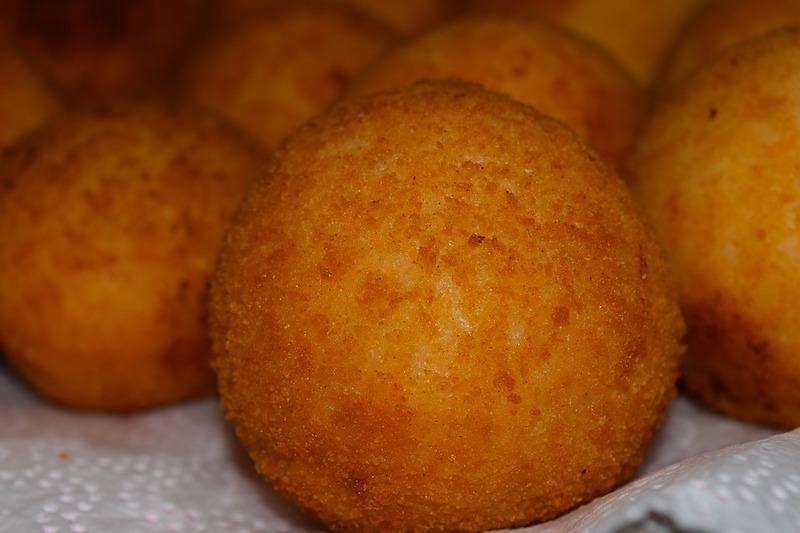 Arancini are traditional Italian stuffed and deep-fried rice balls originally coming from Sicily.
Looking like oranges, they are typically filled with minced meat, mozzarella cheese, béchamel sauce, ham, and peas. Today arancini are popular finger food in modern Italian cuisine.
Italian arancini are some of the best-fried foods in the world worth traveling for.

WATCH: Sicilian Arancini recipe
27. RISI E BISI – Classic Italian soup with rice and beans from Venice
'Rice and peas' is one of the most common traditional Italian dishes.
Contrary to common belief outside of Italy, risi e bisi is a thick soup, not a risotto. It originates from Venice where typically it is flavored with pancetta (pork belly salumi).
So, if you are traveling to Venice and want to eat local Venice food, you should take 'Risi e bisi'.

WATCH: Risi E Bisi recipe
28. CARCIOFI ALLA GIUDIA – Famous Jewish-style fried artichokes from Rome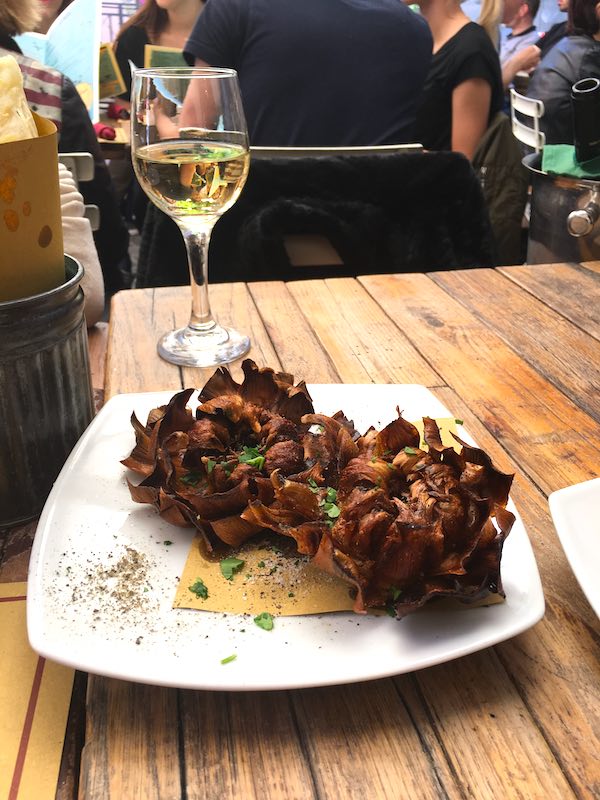 Carciofi alla Giudia or Jewish-style fried artichokes have been a popular dish in Italy for centuries tracing back to the Jewish ghetto in Rome in 1555.
Typically they are served as a first course (primo platto). When in Rome, you should try fried artichokes in the Jewish Quarter of Rome.

WATCH: Carciofi alla Giudia recipe
29. VITELLO TONNATO – Famous Italian veal in creamy tuna sauce from Piedmont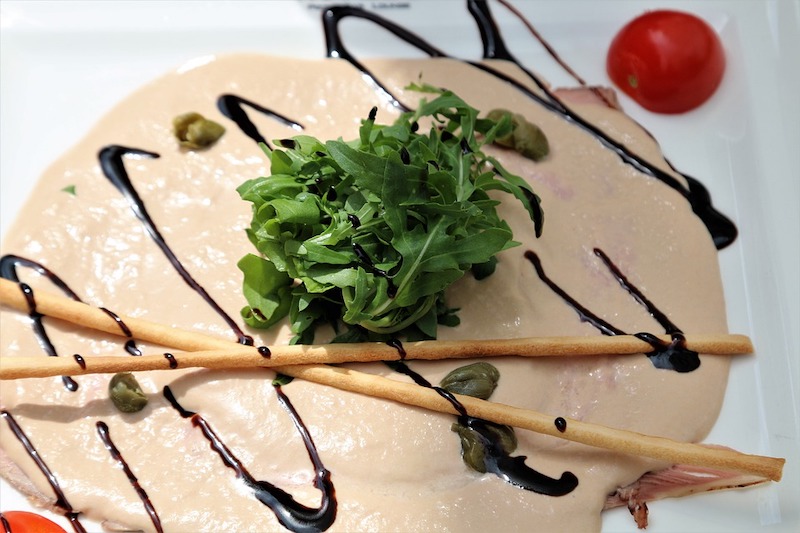 Vitello tonnato is a famous Italian dish served as a cold appetizer (antipasto).
It originates from the Piedmont region. This classic Italian dish is made from meat (veal) and fish (tuna). In fact, 'vietello tonnato' literally means 'veal tuna'. The dish is made of sliced veal covered with creamy tuna sauce seasoned with capers, anchovies, lemon juice, salt, and pepper.
Vitello tonnato is a typical Christmas dish in Italy, but nowadays it's also served as a cold summer dish.

WATCH: Vitello tonnato recipe
30. PARMIGIANO REGGIANO – Famous Italian hard cheese from Parma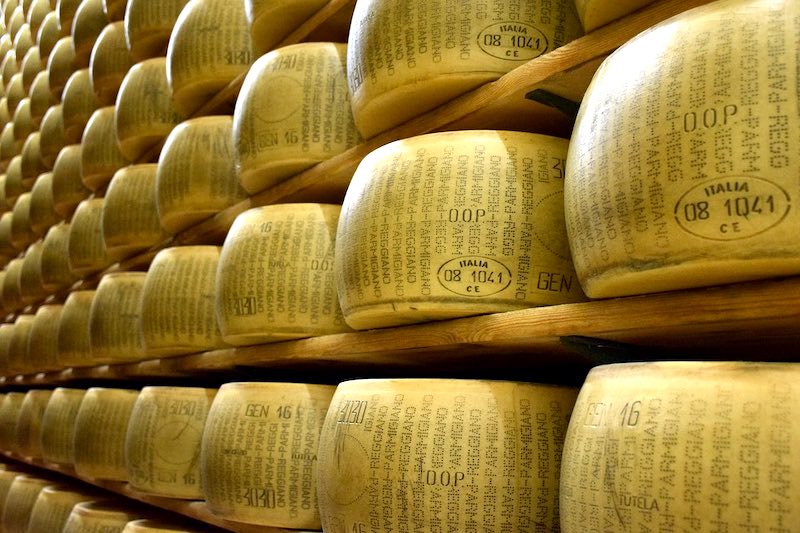 Parmesan cheese is world-famous Italian hard cheese coming from the province of Parma in the Emilia Romagna region.
Parmigiano Reggiano is a hard cow's milk cheese, nicknamed 'King of Cheeses'. Commonly Parmesan cheese is grated over pasta, risotto, and salads but it is also eaten alone.
If you are traveling to Parma in Italy, tasting slices of authentic Parmesan Reggiano should not be missed out.
31. GRANA PADANO – Popular Italian hard cheese from Lombardy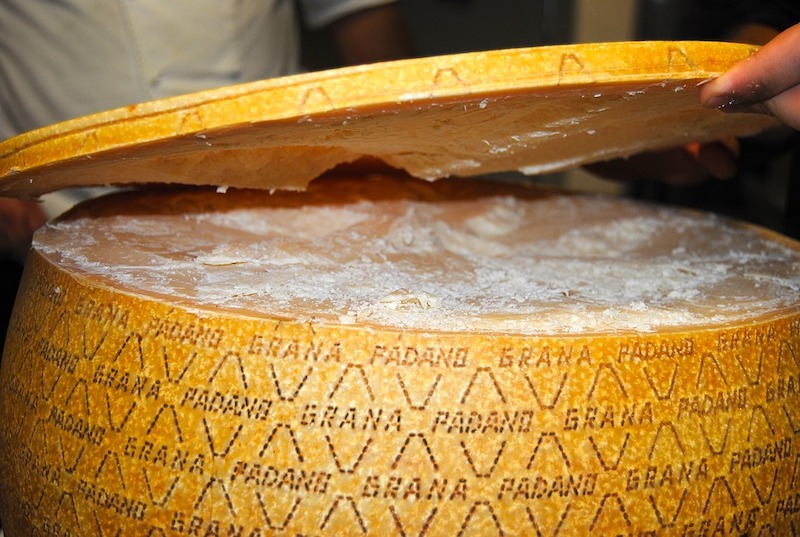 Grana Padano is another famous Italian cheese that comes from the region of Lombardy and the Po River valley.
Grana Padano is a hard cheese of grainy texture, very similar to Parmegiano Reggiano. If you are travailing to Milan or Lake Como, you should opt for authentic Grana Padano cheese.  
32. MOZZARELLA – Famous Italiansemi-soft cheese from Lazio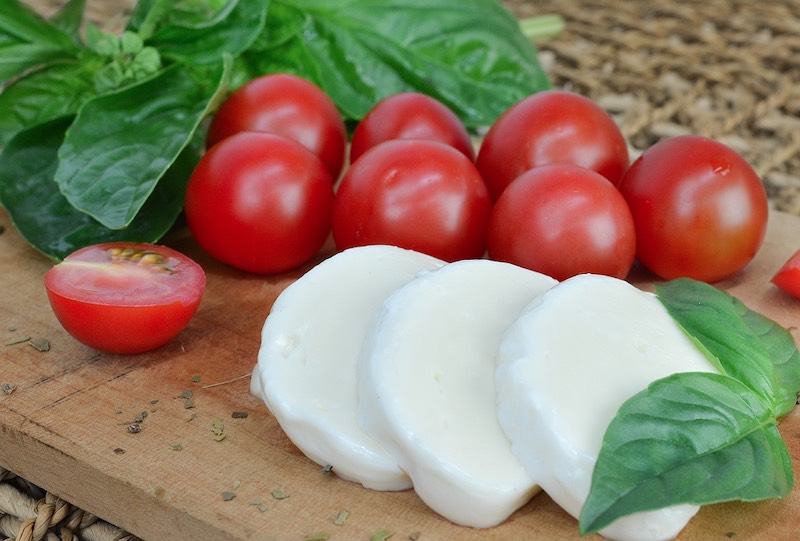 White mozzarella cheese is a popular Italian cheese made from Italian water buffalo's milk.
Mozzarella is a semi-soft cheese very mild in taste. Although there are different types of mozzarella cheese (made from buffalo's milk, cow's milk, goats' milk, and sheep's milk), authentic mozzarella from southern Italy is always buffalo mozzarella (Mozzarella di Bufala Campana).
Classic mozzarella comes from Lazio and Campana regions. Traditionally mozzarella is an ingredient in various pasta dishes, popular Caprese salad, and different kinds of pizza.
33. GORGONZOLA – Famous Italian blue cheese from Gorgonzola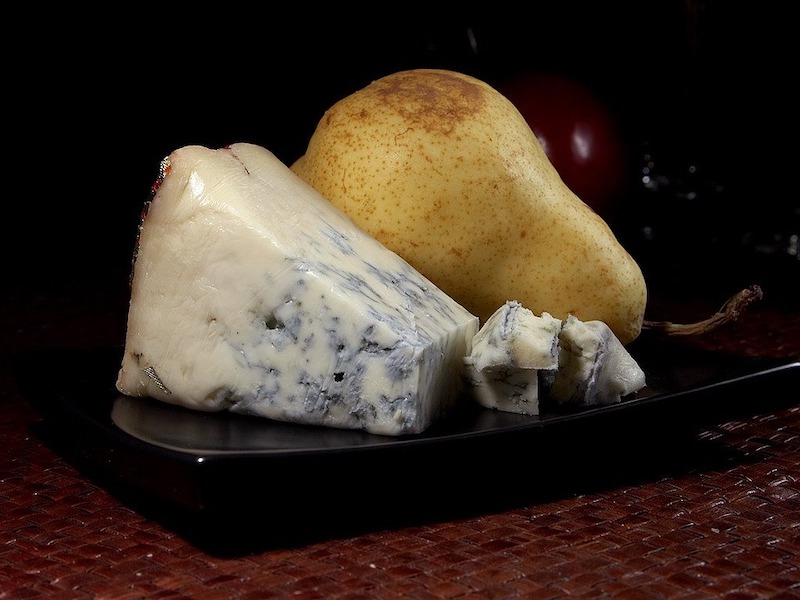 To talk about the most popular Italian cheese and not to mention gorgonzola would be unfair.
Gorgonzola is the most famous Italian blue cheese. To tell the truth, this veined blue cheese is a top staple food from Italy, as it can be consumed in many ways (like a pizza topping, in a dish as an ingredient, in a sauce, as a side dish…).
Gorgonzola cheese comes from the town of Gorgonzola near Milan in northern Italy.
34. INSALATA CAPRESE – Popular Italian salad with cheese, tomatoes, and basil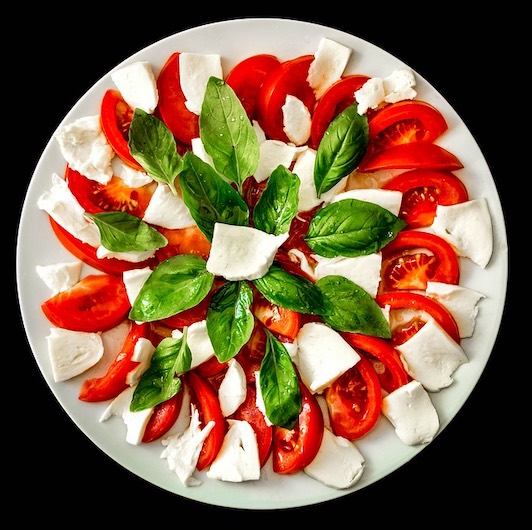 Caprese salad is a famous Italian salad made of fresh sliced tomatoes, mozzarella cheese, garnished with olive oil, Aceto balsamico (Italian vinegar), and fresh basil leaves.
Caprese salad is traditionally an appetizer in Italy (not a side dish).
35. PROSCIUTTO – Famous Italiandry-cured ham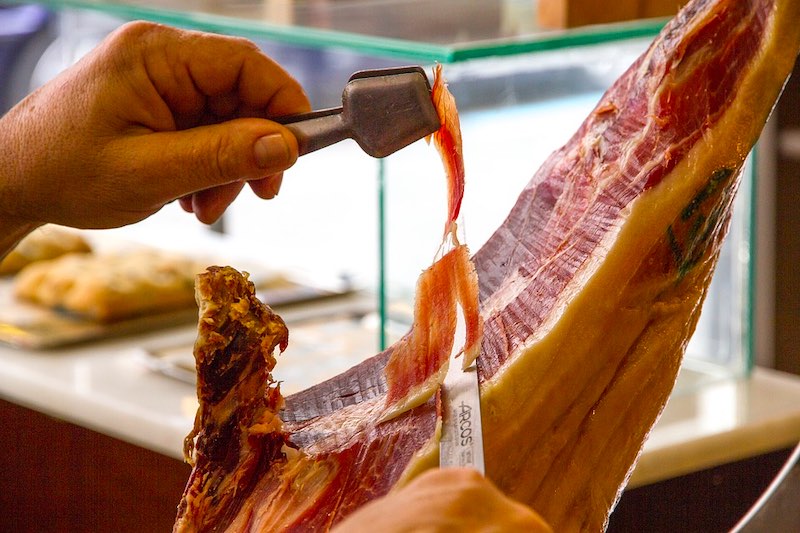 Prosciutto is famous Italian air-cured ham. Italian prosciutto typically refers to raw ham (prosciutto crudo) and rarely to cooked ham (prosciutto cotto).
It originates from Po River Valley, but is it eaten across Italy as an appetizer. Sometimes prosciutto is also called Parma ham as the most appreciated prosciutto in Italy is Prosciutto di Parma from Parma province in the Emilia Romagna region in Po River Valley.
36.PROSCIUTTO E MELONE – Ham with melon is a famous appetizer in Italy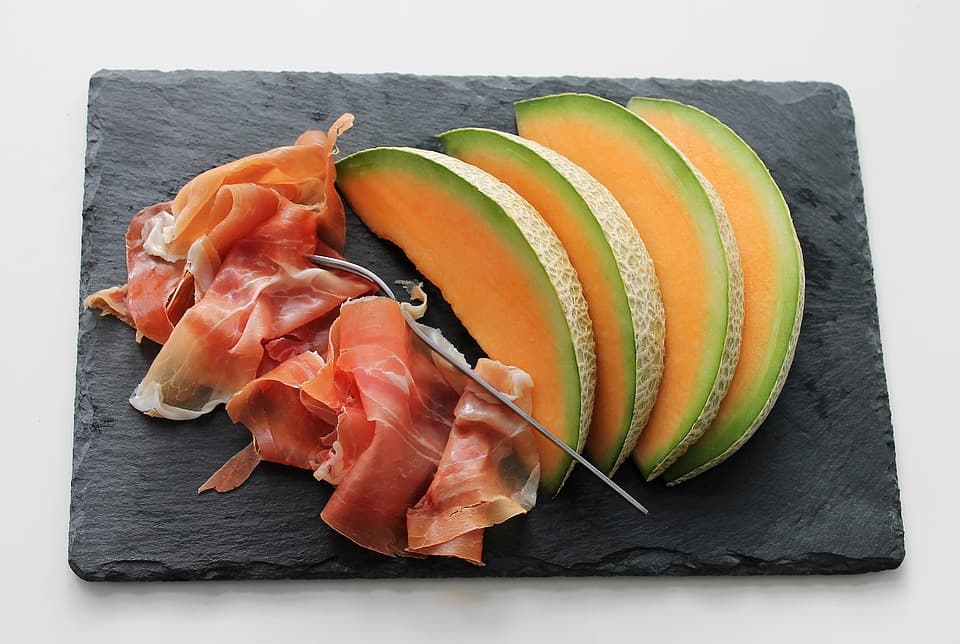 Prosciutto e Melone is a famous Italian dish made withcured hamand cantaloupe.
Dryand salty ham with sweetand juicy cantaloupe has beena favorite Italian starter dish on hot summer days for centuries.
If you're traveling to Italy in summer, don't forget to order this iconic Italian antipasto dish.
37. SALAMI – Traditional Italian sausages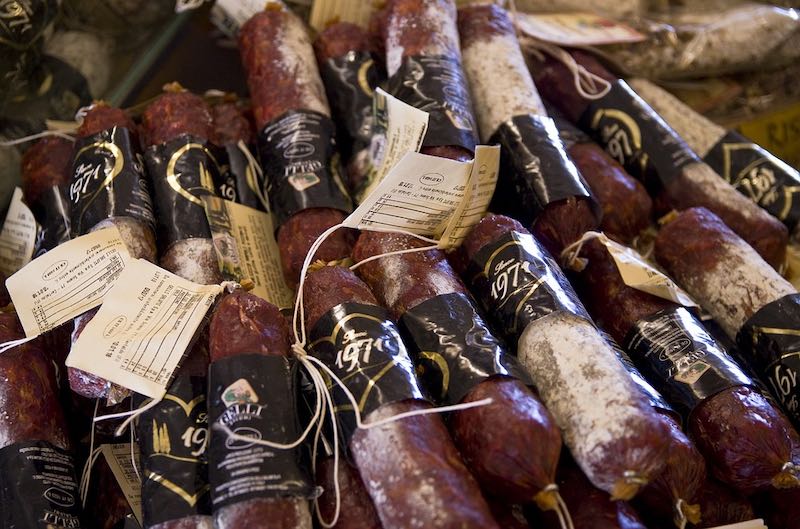 Salami sausages are some of the most popular traditional foods in Italy.
Salamiis traditional Italian sausages (dry-cured and fresh) made of typically pork meat mixed with high-quality pork fat and spiced with pepper, salt, garlic, wine, fennel, and sometimes even cinnamon.
Sometimes Italian salami sausages are made also with some other meats as well like: beef or rabbit meat. But nevertheless, all salami are red from the inside with white fat.
Sausages are among the most common Italian foods.
Depending on your Italian itinerary and Italian destinations, think of trying chicken or rabbit based Cacciatore sausage from Calabria, or Soppressata di Calabria, Salame di Felino from Parma,  pork and fennel based finocchiona sausage (Salame Finocchiona) or Soppressata Toscana from Tuscany, Salame Napoletano with peperoncino, Genovese pork-based salami, Ciauscolo salami with pork meat, white wine, garlic and black pepper from Marche region. 
38. MORTADELLA – Famous Italian pork sausage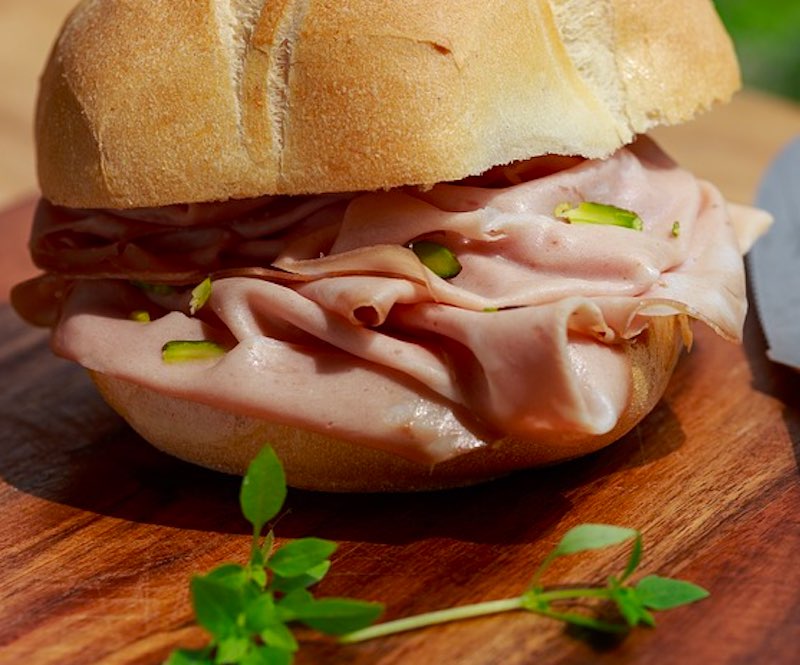 Probably the most famous Italian sausage (salume) is Mortadella di Bologna.
This traditional Italian pork-based sausage is made with black pepper, pistachios, and myrtle berries.
Although you can eat different variations of mortadella in Italy such as Prato mortadella with garlic and 'alchermes' liquor from Tuscany or smoked Amatrice mortadella, authentic Mortadella di Bologna in Bologna is famed as the best mortadella.
39. PESTO ALLA GENOVESE – Iconic Italian sauce from Genoa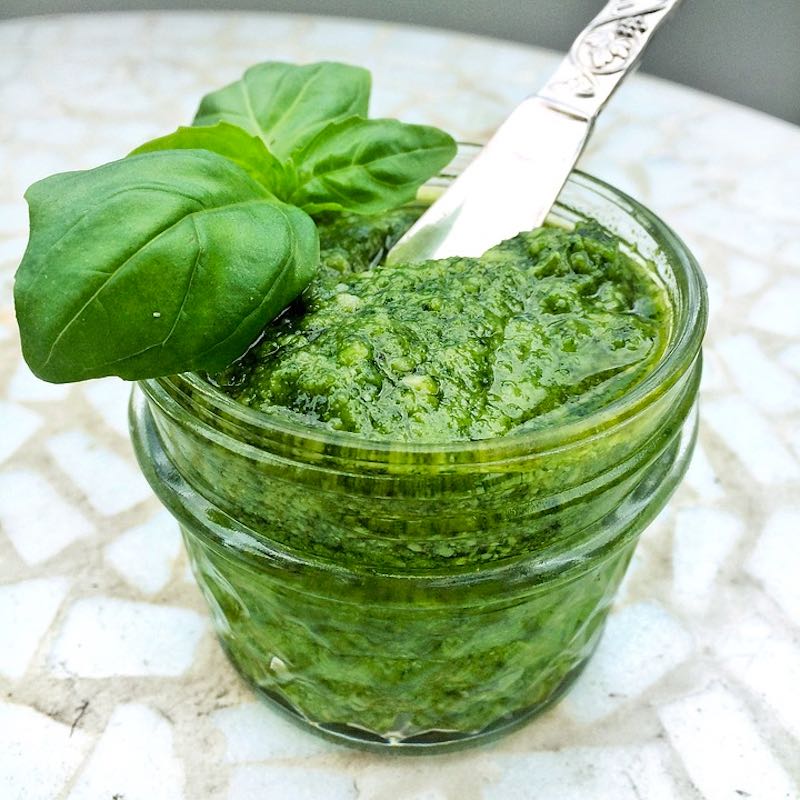 Genoa sauce is a world-renewed Italian sauce made from fresh basil leaves, smashed garlic, pine nuts, and hard cheese blended with extra virgin olive oil.
Original pesto comes from the city of Genoa, therefor it is named after the city. Pesto typically comes with various pasta dishes. Thus, when in Genova don't miss out on Pesto Genovese.
Pesto Genovese is one of the top must-try traditional foods in Italy.

WATCH: Pesto Genovese recipe
40. TARTUFO – Famous Italian delicacy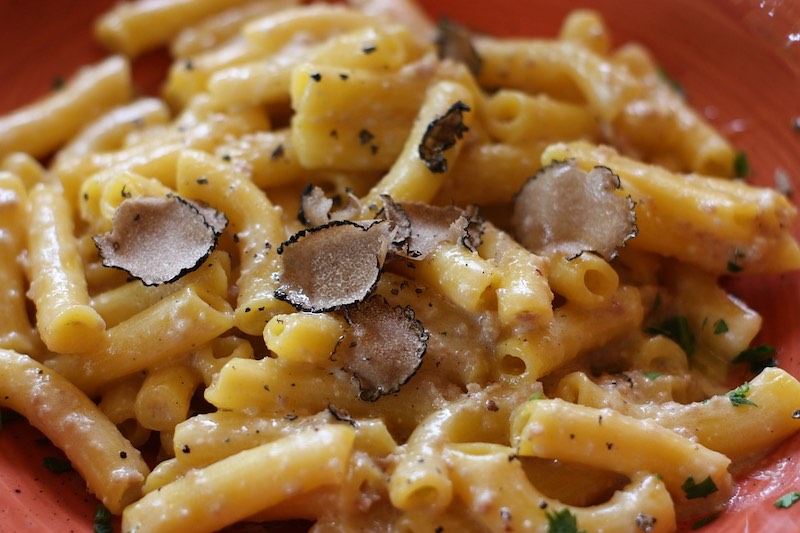 Italian Tartufo (truffle) is a highly prized gourmet delicacy, especially Tartufo Bianco (white truffle) from the Piedmont region.
White truffles reach regularly the price of several thousand dollars per kilo on the market. Fresh truffles are used over pasta, risotto, eggs, and salads in Italy. The city of Alba in the Piedmont region is nicknamed the White Truffle Capital of the World.
If you are traveling to the city of Alba in Italy from September to December when the truffles season is, you should try a local food delicacy called Carne Cruda all' Albese. Black truffles are also a delicacy food but less aromatic and less praised than white truffles.
If you traveling to the city of Assisi and in the Umbria region, be sure to try the Asissi omelet with truffles. If you are a foodie and you want a unique souvenir from your trip to Italy, Italian olive oil with truffles could be your thing.
Love truffles? Check out these fabolous truffle tours in Italy!
41. OLIO D'OLIVA – Traditional Italian olive oil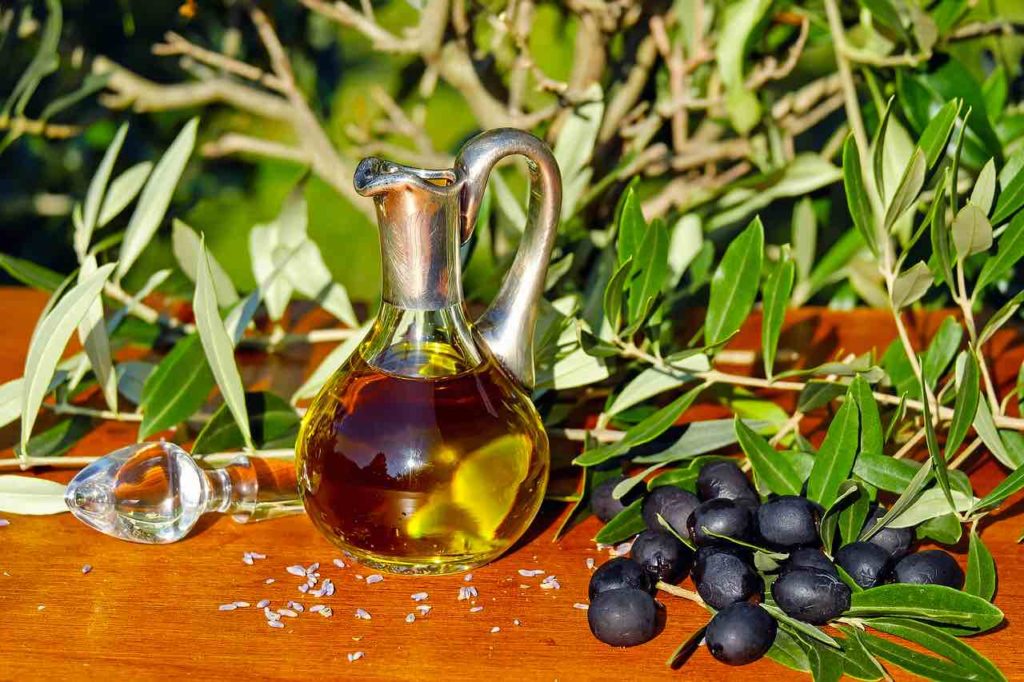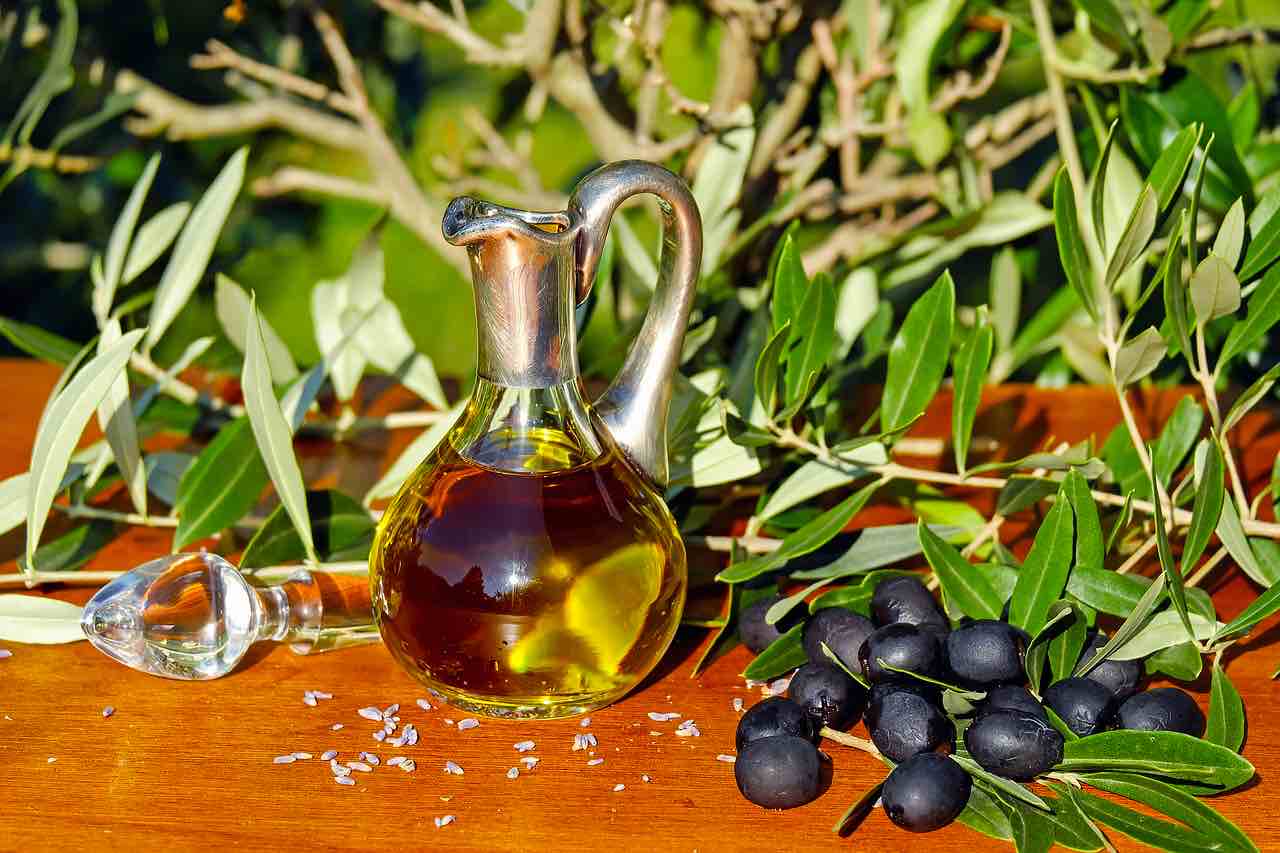 Italy is the second producer of olive oil in the World, following only Spain by production.
Olive oil is one of the most common traditional foods in Italy. Olive oil is produced in Italy from the north to the south, from Lombardy to Calabria, Sicily, and Sardinia.
But, some of the best Italian olive oils come from Tuscany, the Lake Garda area, Lazio Region, and Sardinia.
Depending on where you are heading to on your Italy vacations, you could indulge in peppery flavored olive oil from Tuscany, herbal flavored olive oil from Liguria, delicate and rare olive oil from Lake Garda, tomato-like flavored olive oil from the Lazio region, and artichoke, and cardoon-like flavored olive oil from Sardinia.
42. ACETO BALSAMICO – Famous Italian vinegar from Modena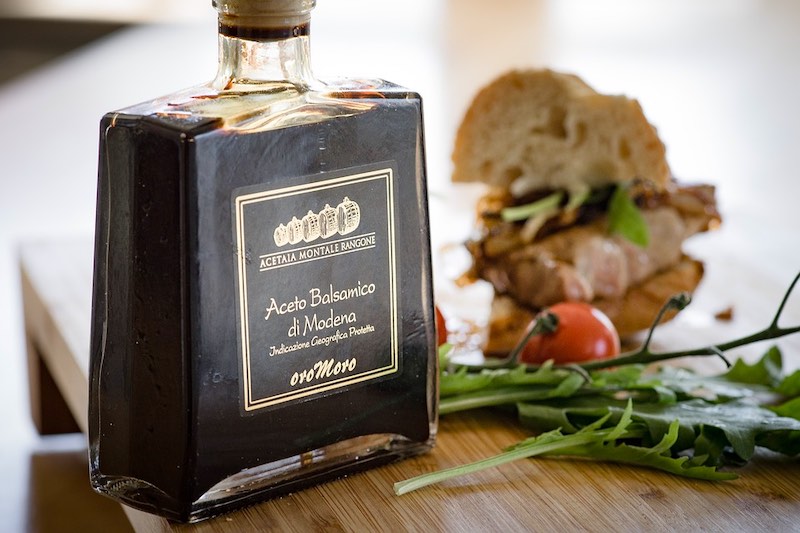 Balsamic vinegar from Modena and Reggio Emilia is world-famous Italian vinegar made from grape must.
Traditionally Aceto balsamico is used with pasta dishes and risotto dishes, and some seafood like shrimps and scallops, but also with grilled fish, eggs, and fresh fruits. If you are heading to Modena or Reggio Emilia region, don't miss sampling first-class Italian balsamic vinegar.
Aceto balsamico is absolutely one of the most famous Italian foods ever.
43. CAMPARI – Famous Italian liqueur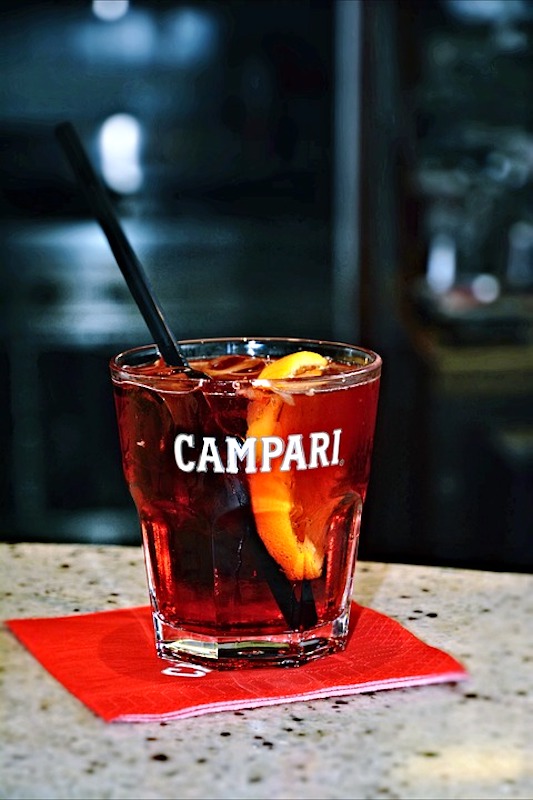 Italian liquors are among the top popular Italian foods.
Iconic campari liquor is the most popular Italian liquor sold today in more than 190 countries worldwide.
This aromatic dark red, and bitter-sweet in-taste Italian drink is commonly used in various cocktails. The city of Novara in the Piedmont region in northwest Italy is the hometown of this world-famous liquor made from aromatic herbs, plants, and fruits.
44. LIMONCELLO – Popular Italian lemon liquer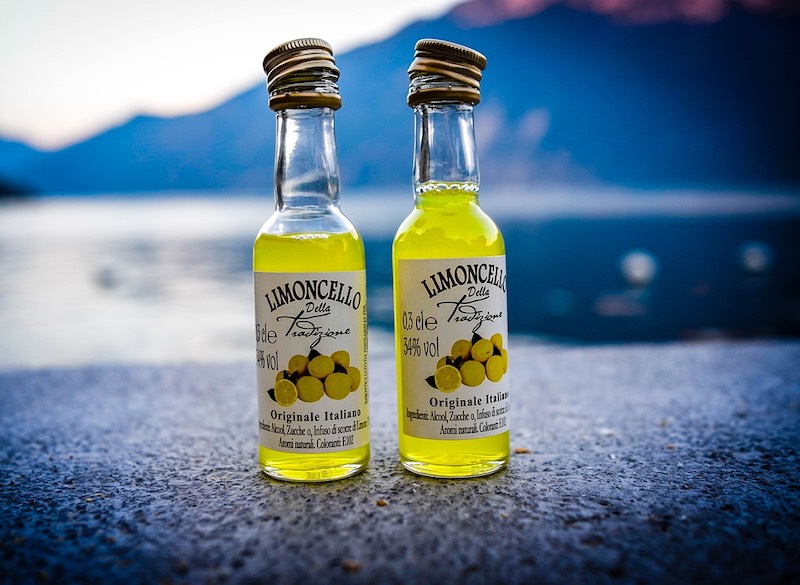 Limoncello is world-renewed Italian lemon-flavored liquor originating from southern Italy, more precisely from the Bay of Naples, the Amalfi Coast, and the Sorrento Peninsula.
This classic sweet and citrusy Italian drink is made by soaking lemon zests in neutral grain alcohol for months. Traditionally it is served chilled after dinner as a digestive. If you are planning your next vacation on the Amalfi Coast, you don't want to miss out on sampling authentic limoncello for sure.
45. APEROL SPRITZ – Iconic Italian drink from Padua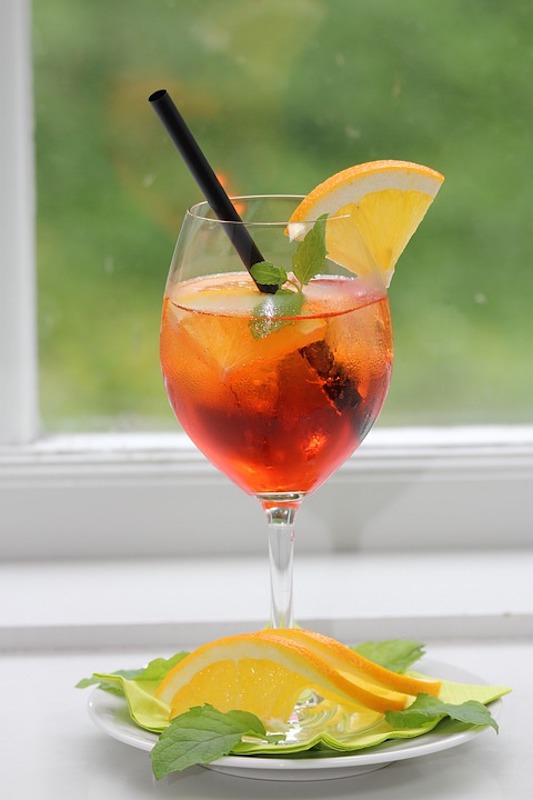 Aperol Spritz is among the most popular drinks in Italy.
Similar to Campari, but with less alcohol and with much less bitter in taste comes orange-colored Aperol, another classic Italian drink. While Campari is digestive, Aperol is an aperitif.
In Italy, extremely popular is the Aperol spritz, a cocktail made of Aperol, soda water, Prosecco wine, and a slice of orange.
Aperol and Aperol Spritz originate from Padua, but they are widely consumed throughout Italy, especially during hot summer days.
46. PROSECCO – Famous Italian sparkling wine from Prosecco village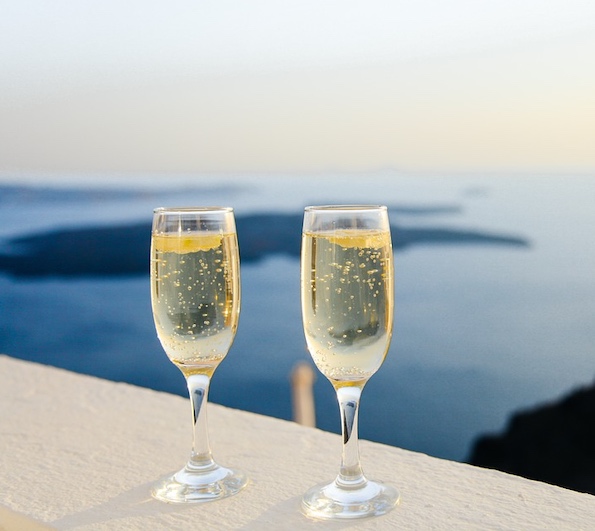 Authentic Italian wines are some of the most famous foods from Italy.
Prosecco is a famous Italian sparkling wine named after the village where it comes from – Prosecco village, close to Treviso and Venice.
These days Prosecco is produced in a larger area of northeast Italy. In 2019 Prosecco hills received world heritage status from UNESCO.  There are three types of Prosecco: Prosecco Spumante (sparkling), Prosecco Frizzante (semi-sparkling), and Prosecco Tranquillo.
Prosecco is characterized by its fruity and flowery aroma and it matches greatly cured meats, fruits-based appetizers (like prosciutto-wrapped melon), or crostini.
Remember, France has Champagne, but Italy has Prosecco.
47. AMARETTO – Famous Italian almond liquer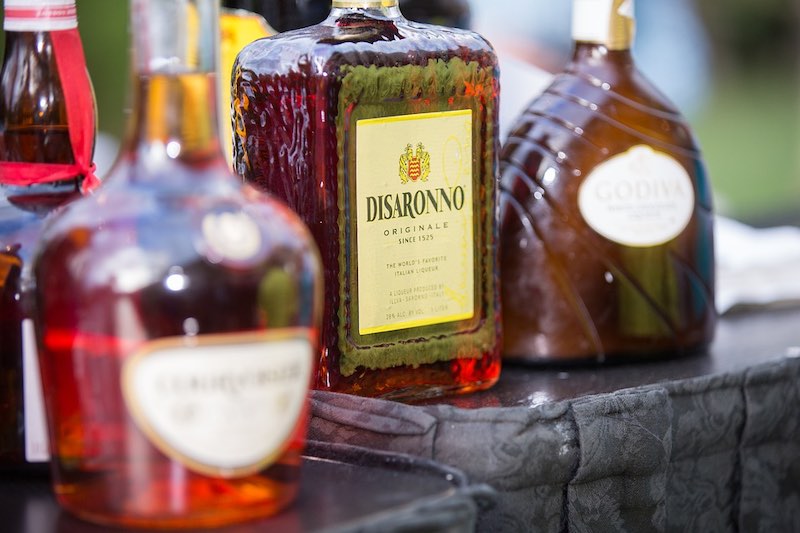 Amaretto is a popular Italian liquor made of bitter almonds but surprisingly it is very sweet in taste.
Originally it was produced from almonds stones, but later the amaretto production of peach stones and apricot stones started also.
Italian Amaretto is consumed alone or added to some dishes, especially desserts like tiramisu. But, amaretto comes in many popular cocktails too.
48. NEGRONI – Popular Italian drink with Campari, gin, vermouth, and orange peel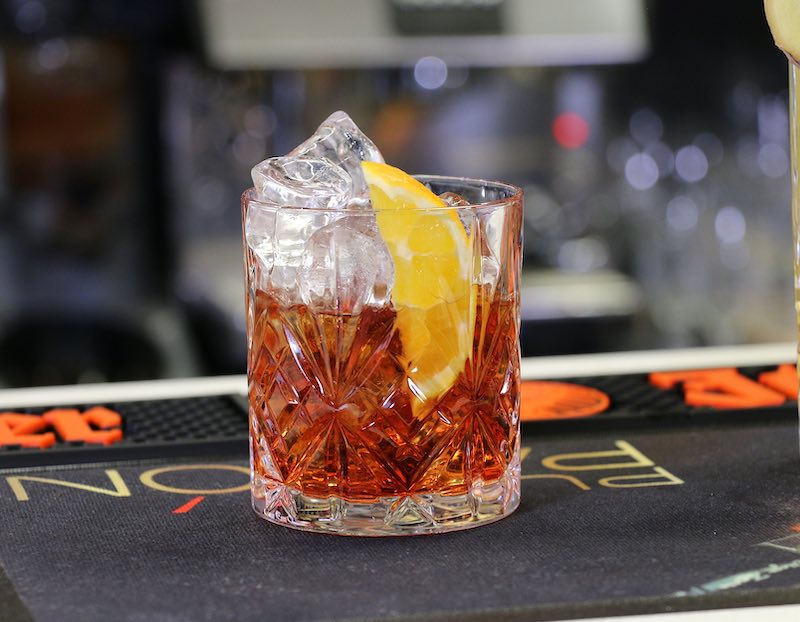 Negroni is one of the most famous Italian cocktails.
The main ingredients are gin, Campari, vermouth, and a fresh orange peel.
Negroni was named after Count Camillo Negroni who asked to put gin instead of soda water into his glass of Americano cocktail. The legend says the event took place in Caffe Casoni in Florence in 1919. Therefore, Florence is accredited as the birthplace of the Negroni cocktail.
But if you are heading to Treviso, you should visit the Negroni Distillery in Treviso founded by Count Camillo in 1919 where bottles of legendary Antico Negroni have been produced.
49. VIN SANTO – Traditional Italian dessert wine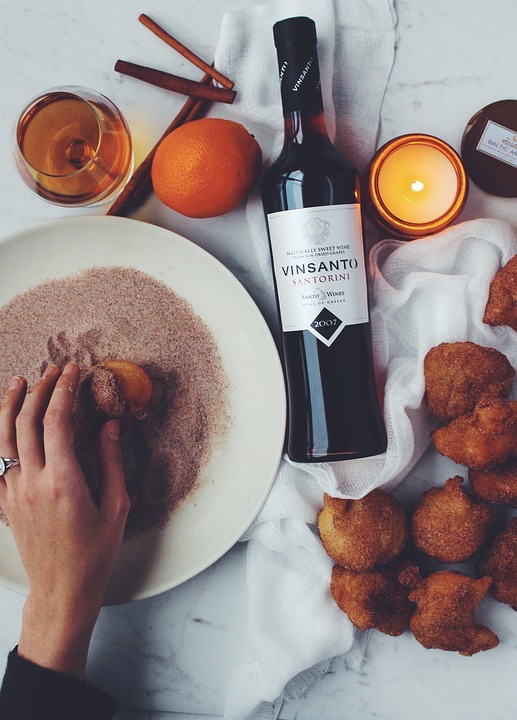 What Sherry is to Spain, Vin Santo is to Italy. Vin Santo is a classic Italian sweet dessert wine.
Although it originates from Tuscany, today Vin Santo is produced throughout Italy. Thus, the color and sweetness of Vinsanto depend on the region and the method of production.
As a dessert wine, Vin Santo is traditionally served with biscuits. If you are traveling to Tuscany and you have a sweet tooth, you should put Vin Santo and biscotti on your bucket list of traditional foods in Italy.
50. CHIANTI VINO – Famous Italian red wine from Tuscany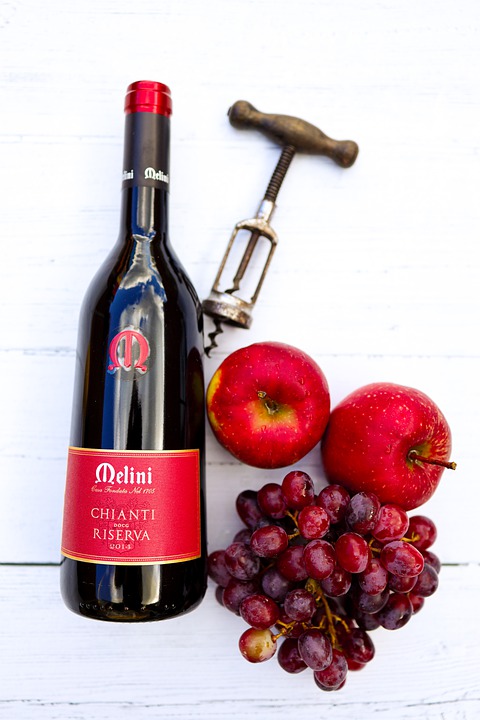 Chianti wine is probably the most famous Italian red wine.
It is produced in the Chianti region between Florence and Siena in central Tuscany. The best known among Chianti wines is Chianti Classico.
The symbol of Chianti wine is a black rooster seal that adorns every bottle of Chianti wine. This first-class dry wine is a great fit for all tomato-based dishes (pasta dishes, meatballs ..).
No trip to Tuscany is complete without sampling authentic Chianti wine.
51. ESPRESSO – The most famous Italian beverage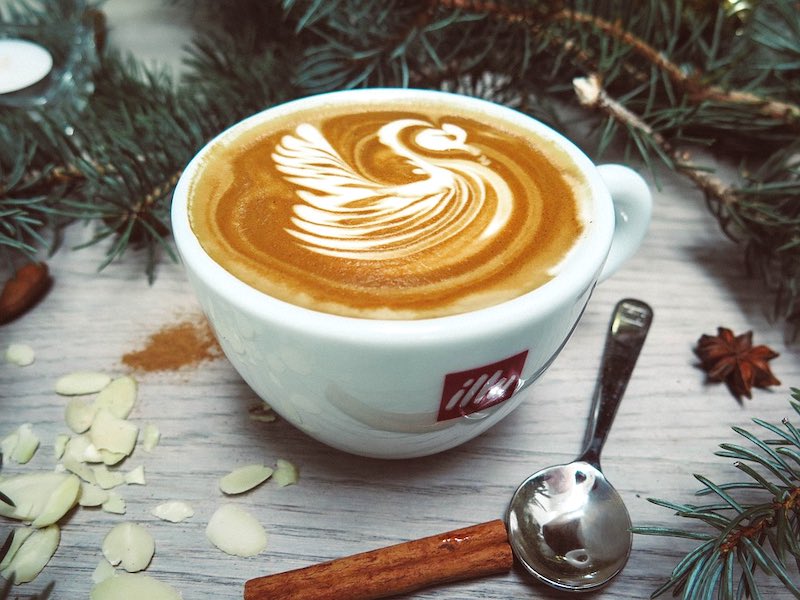 I believe Italian espresso doesn't need any special introduction.
In a certain way, espresso coffee is a synonym for Italy and the Italian way of life or 'la dolce vita' (the sweet life). When someone mentions Italian foods, the first thoughts on everyone's mind are most likely pizza, pasta, gelato, and espresso coffee.
Espresso is one of the most iconic Italian foods. Inarguably, Italian espresso belongs among the best coffees in the world worth traveling for.
A visit to Italy is not complete without a cup of espresso, macchiato, cappuccino, latte, or cortado.
52. AFFOGATO – Popular Italian ice cream and coffee dessert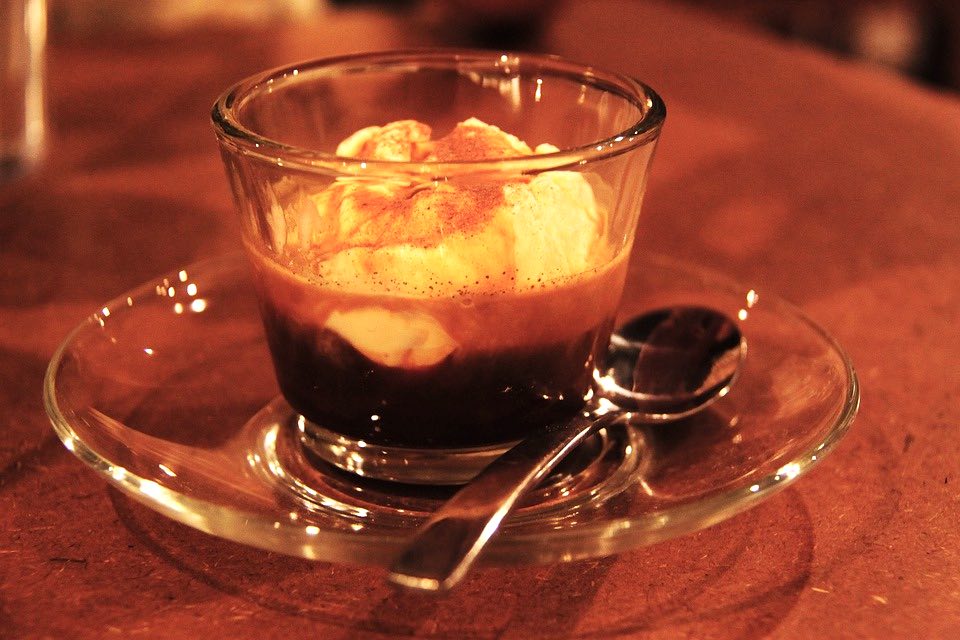 When talking about espresso, I should mention affogato too.
Affogato is a popular coffee-based Italian dessert made of a scoop of vanilla gelato and a shot of espresso. Quite often some berries, honey, and other gelato flavors are added. Essentially, affogato is something between a dessert and a beverage.
Italian affogato is one of the best Italian desserts if you ask coffee geeks.
No matter how you want to define it (as a dessert or a beverage), for all coffee aficionados affogato is highly on the list of Italian foods to enjoy in Italy!
53. TIRAMISU – Famous Italian coffee-flavored dessert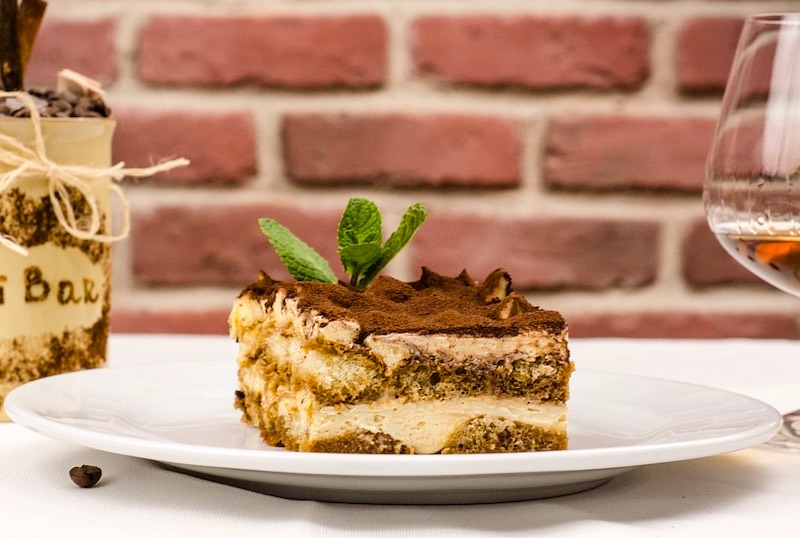 Italian cakes are some of the most popular foods in Italy.
And, tiramisu is one of the most famous Italian cakes. Tiramisu is a famous coffee-flavored Italian dessert.
This rather simple Italian dessert is made of sweet 'savoiardi' biscuits soaked in coffee and sweet cream made of mascarpone cheese, eggs and sugar, and sometimes liqueur.
The birth town of tiramisu is Treviso, but over time tiramisu has become one of the most popular desserts throughout Italy.
54. PANNA COTTA – Famous Italian 'cooked cream'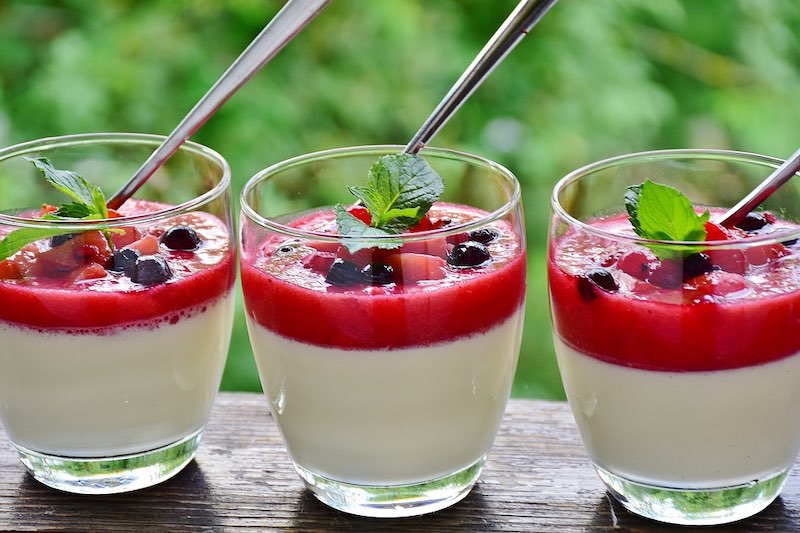 Panna Cotta is another world-famous dessert coming from Italy.
Panna cotta in Italian literally means 'cooked cream'. But panna cotta is much more than simple cooked cream.
It is a par excellence dessert made of flavored cream (often with coffee, rum, or vanilla) and served with berries, chocolate, or caramel sauce. Additionally, it can be garnished with some liquors and fruits.
55. ZABAIONE – Popular Italian liquid egg custard with wine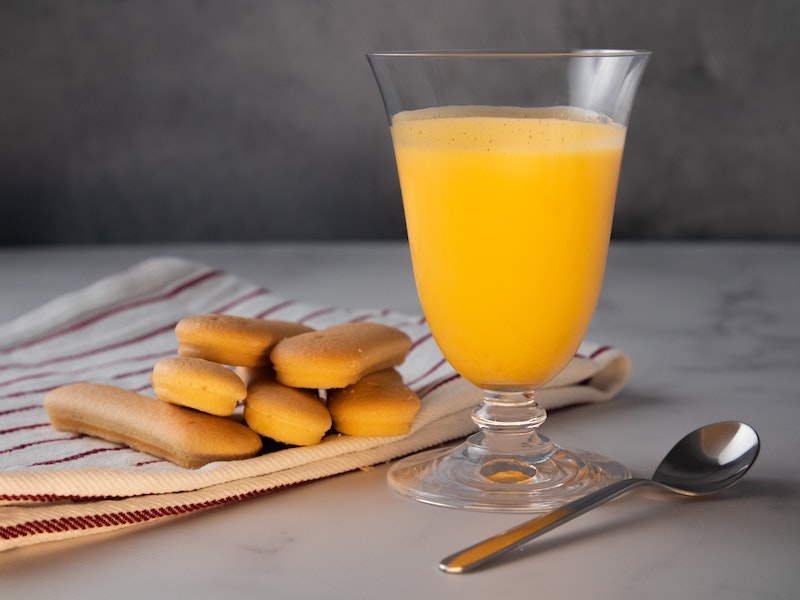 Zabaglione, or also Zabaione, is a custard-like Italian dessert.
This yummy dessert is made with egg yolks, sugar, and marsala wine from Sicily (but sometimes also vin santo or passito). Zabaglione can be made as a beverage or dessert.
Traditionally it's enjoyed at Christmastime with some fruits and cookies.
Unquestionably, this famous Italian Christmas dessert belongs among the best Italian foods.
56. CORNETTO – Traditional Italian croissant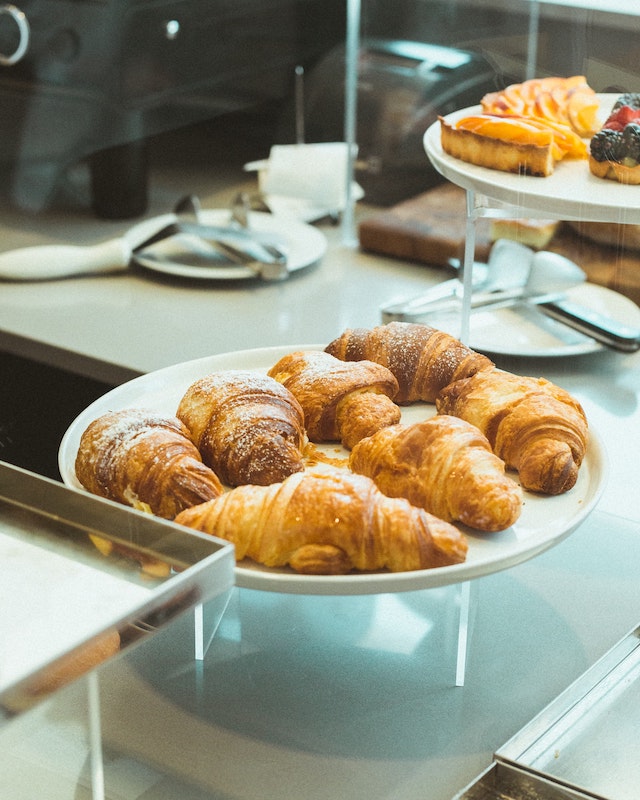 Cornetto(also called brioche in northern Italy) is an Italian pastry similar to a French croissant.
Italian cornetti are less buttery and softer than French croissants. Typical Italian cornetto can be empty or filled with custard, vanilla, chocolate, or apricot jam.
Classic Italian breakfast includes coffee (espresso, latte, macchiato, cappuccino) and a cornetto.
57. PANETTONE – Traditional Italian Christmas bread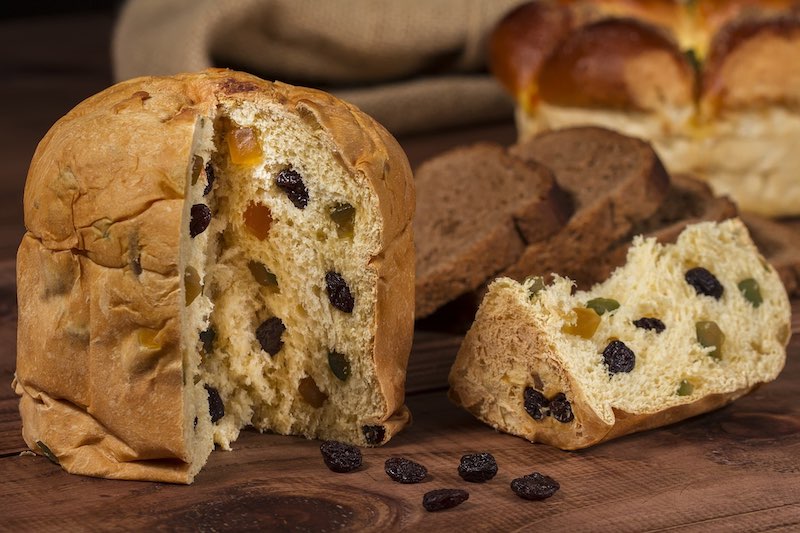 Panettone is sweet Italian bread traditionally prepared for Christmas.
Panettone originates from the city of Milan in Italy, but over time it has become one of the most famous Christmas bread in the World.
This cupola-shaped bread is flavored with candied oranges, citrons, lemon zest, raisins, and sometimes chocolate. Sweet panettone matches well sweet dessert wines and liquors.
58. COLOMBA DI PASQUA – Traditional Italian Easter bread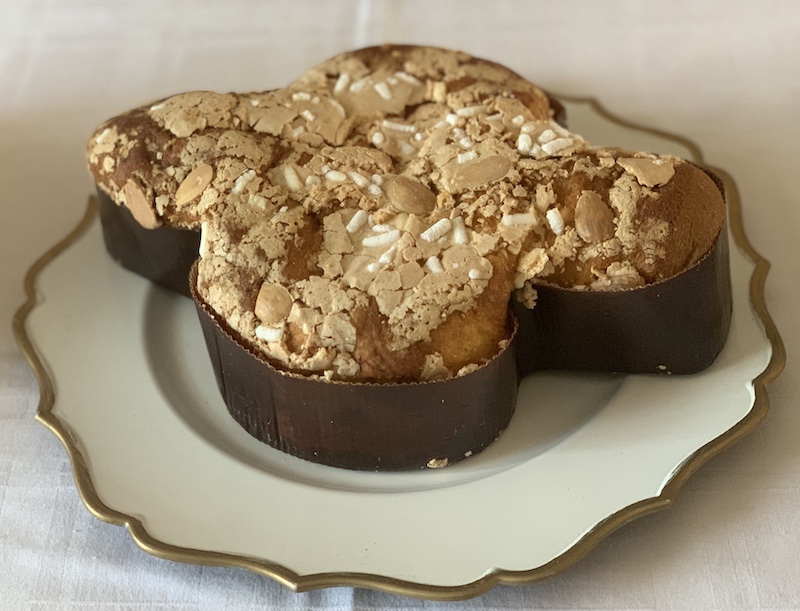 While Panettone is sweet Italian Christmas bread, Colomba di Pasqua is sweet Italian Easter bread.
Delicious Easter Dove, or Colomba di Pasqua in Italian, tastes similar to Panettone. The dough is made pretty much the same. But unlike Panettone, Colomba di Pasqua is made without raisins, and the dough is traditionally covered with almonds and nib sugar.
Colomba di Pasqua origniates from Milan, the same as Panettone.
59. CROSTATA – Popular Italian baked tart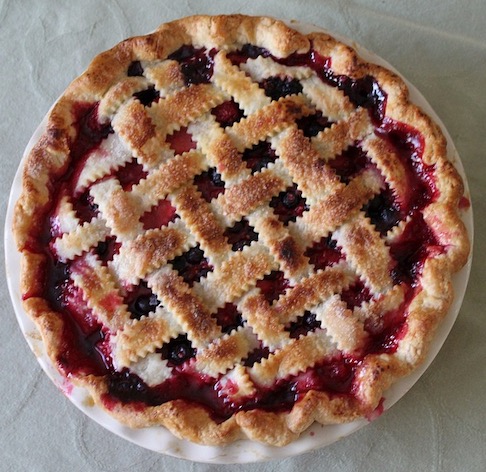 Crostata is a famous Italian pie or baked tart with inconsistent thick fillings.
Depending on the fillings, there are sweet and savory crostata pies. Sweet crostata pie comes with sweet fruits, most commonly cherries, apricots, and peaches, while savory crostata is filled with vegetables, cheese, meat, seafood, and fish.
One of the most popular crostata pies is ricotta and lemon zest-based crostata called crostata di ricotta from central Italy.
60. CANNOLI – Iconic tube-shaped Italian pastry from Sicily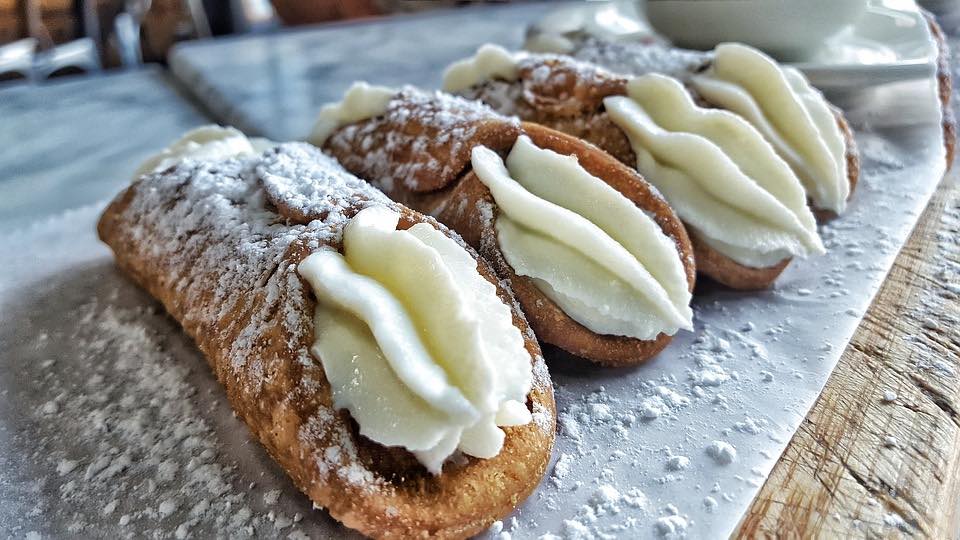 Talking about authentic Italian foods means talking about traditional Italian pastries.
Cannoli are famous Italian pastries. Sweet cannoli are tube-shaped and finger-sized pastries filled with sweet cream that quite often contains ricotta cheese. Cannoli originate from Sicily, or more precisely Palermo and Messina.
Authentic Sicilian cannoli are filled with ricotta cheese, Sicilian Marsala wine, white vinegar, chocolate chips, and optionally chopped pistachios. This iconic Italian dessert is today well-known around the world.
61. TORRONE – Popular Italian nut and nougat confection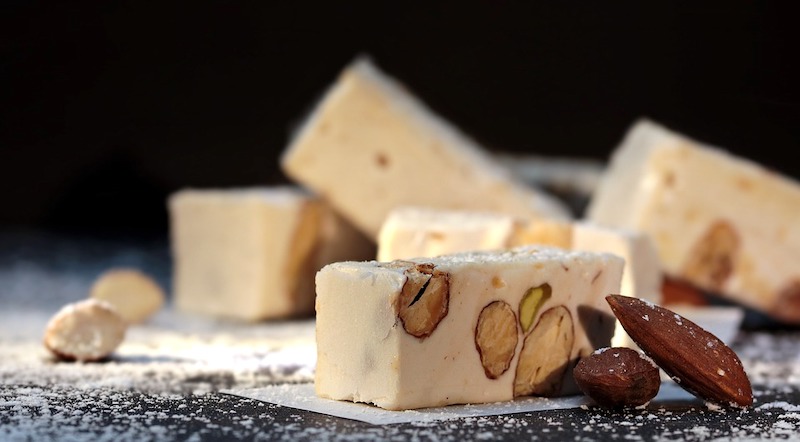 Spain has turron, but Portugal and Italy have torrone.
In each case, it is a confection made of egg whites, sugar, honey, and toasted nuts (most frequently almonds, but also can be whole hazelnuts, and pistachios) in a most commonly rectangular shape.
Torrone is traditionally a Christmas dessert in Italy. 
62. GALANI – Traditional Venetian crostoli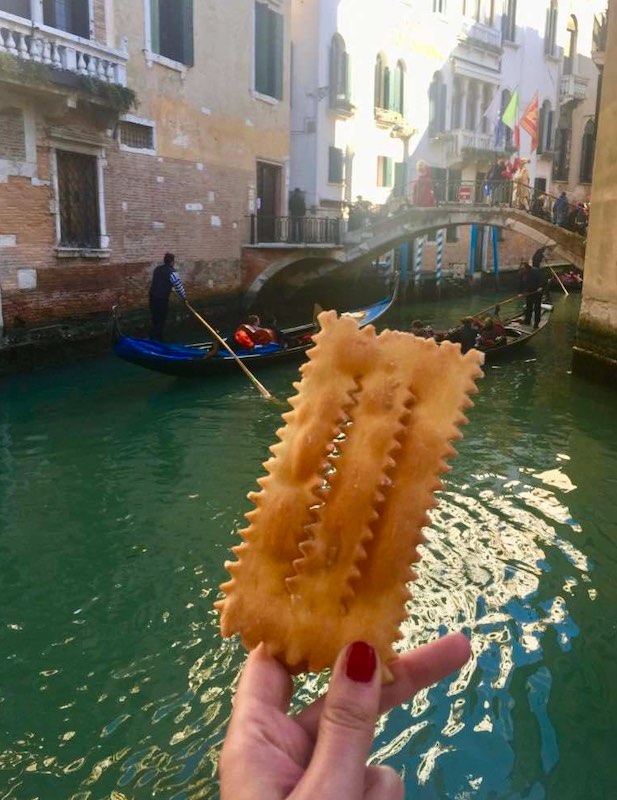 If you are going to Venice for the carnival, you should try a traditional Italian carnival pastry called galani.
Galani are fried sweet and thin pastry strips sold in every bakery and pastry shop in Venice. If you are visiting Venice Carnival, try out delicious and crispy galani.
63. BISCOTTI – CANTUCCINI – Traditional Italian almond cookies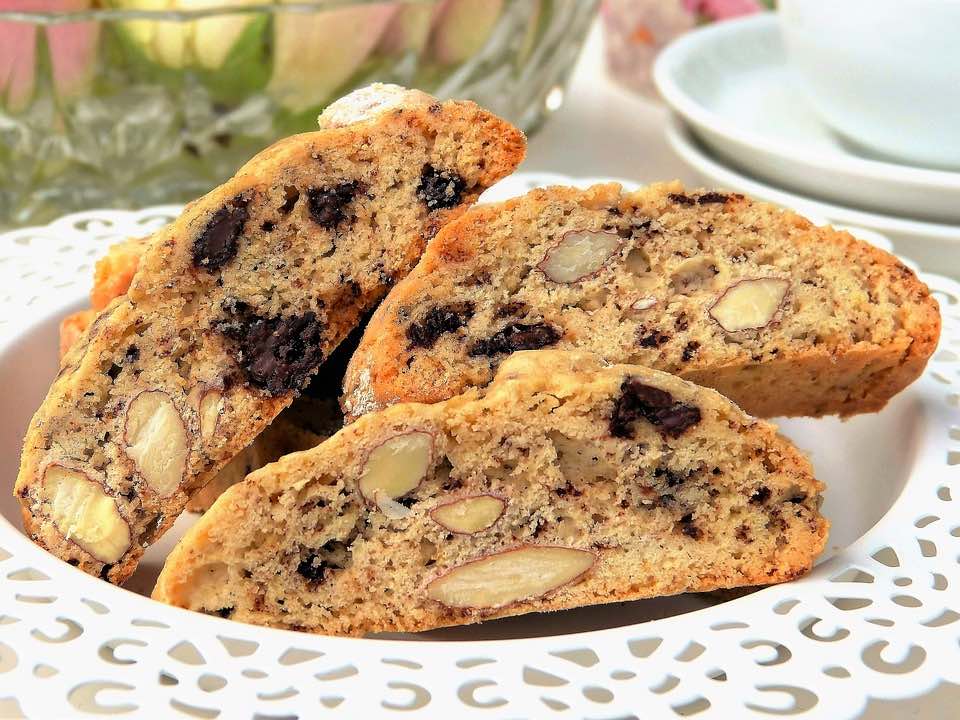 Biscotti or cantuccini are traditional Italian almond biscuits originating from Tuscany, or more specifically from the city of Prato in Tuscany.
Original cantuccini from Prato are called biscotti di Prato. These oblong-shaped crispy cookies are traditionally consumed with sweet dessert wine, i.e above mentioned vin santo.
If you are taking a trip to Tuscany, you should try Tuscany biscotti or biscotti di Prato.

WATCH: Cantuccini recipe
64. FRITTELLE – Traditional Italian doughnuts from Venice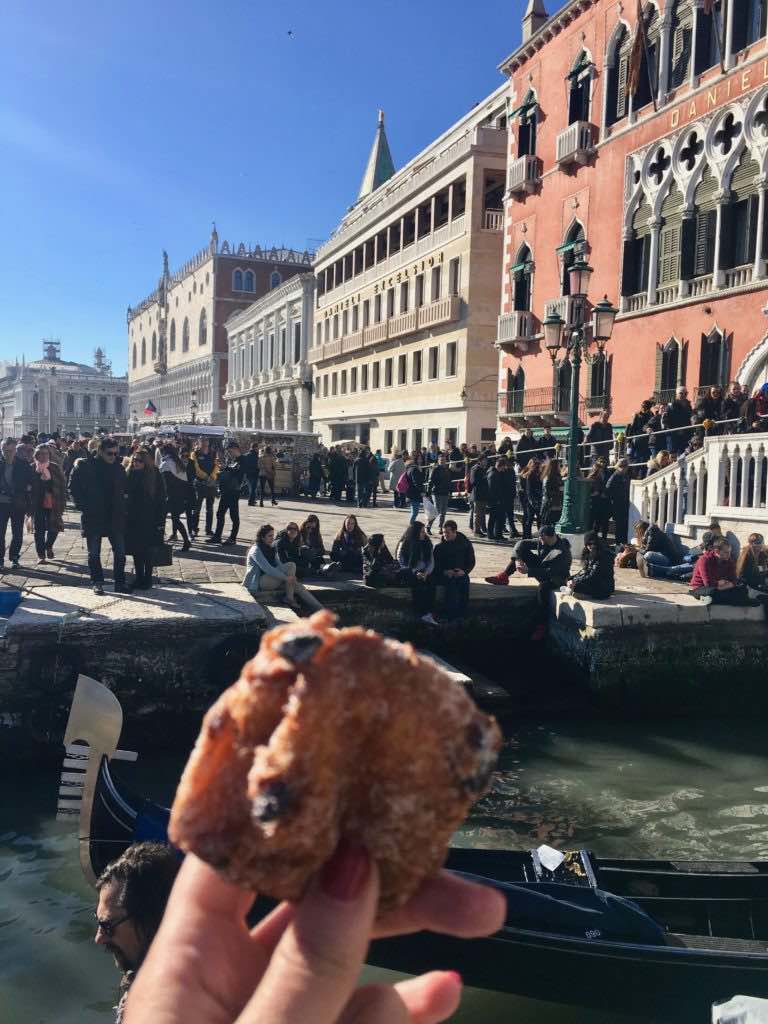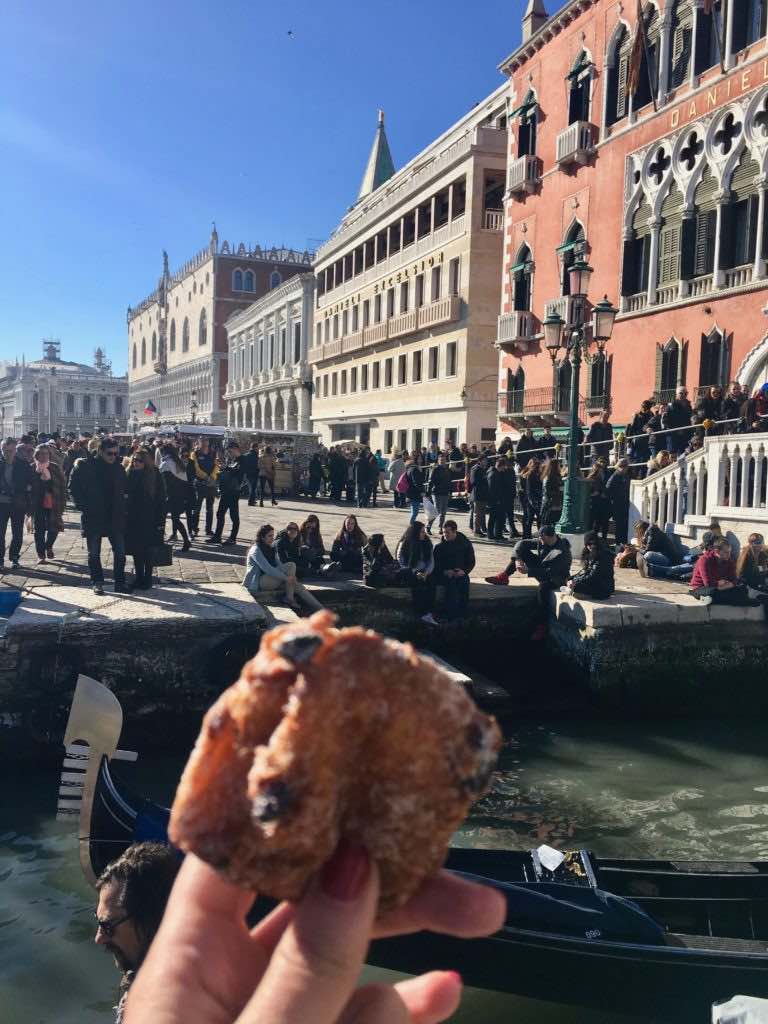 Frittelle are classic Italian doughnuts prepared traditionally in Carnival time and originally coming from Venice and the Veneto region.
These round-shaped traditional Carnival confections are filled with raisins and sometimes pine nuts. They are also known in Venice as Fritelle Veneziane.
While Frittelle Veneziane are typically filled with raisins and pine nuts, Frittelle con cioccolata doughnuts are filled with chocolate, Frittelle con zabaione are filled with Marsala wine, Frittelle con crema chantilly are filled with vanilla.
65. GELATO – Iconic Italian ice cream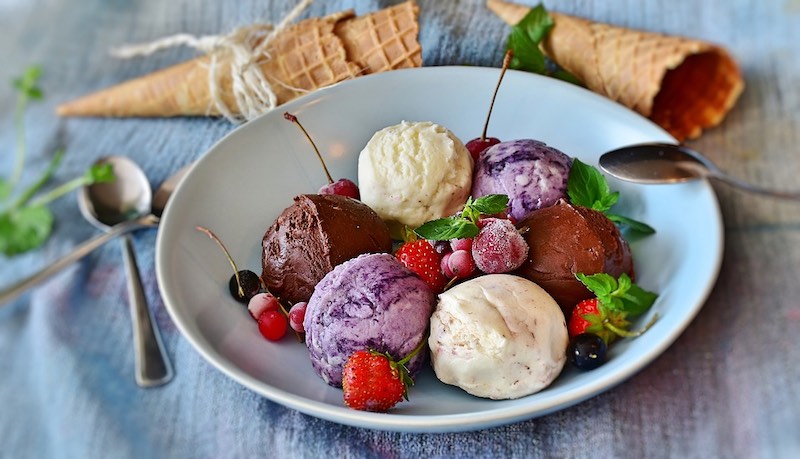 Probably the most popular frozen dessert in the world is Italian gelato.
Authentic Italian gelato is a creamy custard made of whole milk and eggs traditionally flavored with chocolate, vanilla, stracciatella, hazelnut, and pistachio. Modern gelato is flavored with some fruity flavors.
No visit to Italy is complete without a scoop of Italian gelato, agree?!
66. SEMIFREDDO – Famous Italian frozen dessert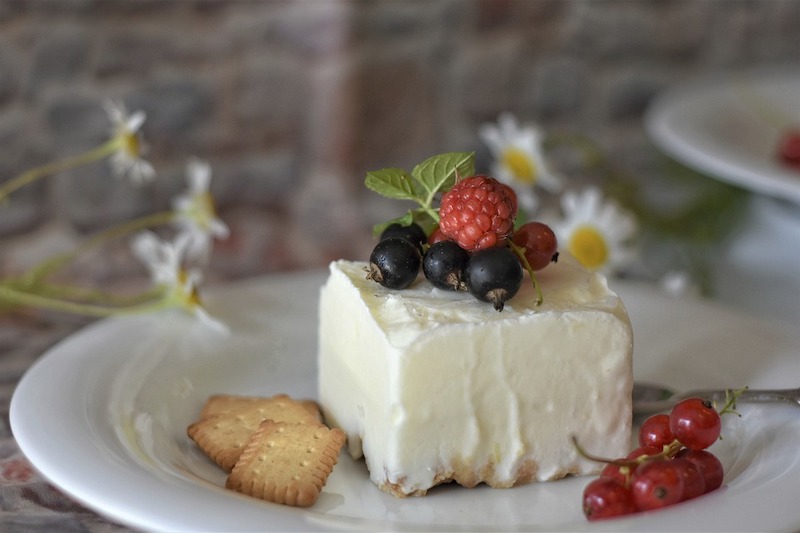 Worldwide known Semifreddo is one of the most popular desserts from Italy.
This 'half mousse – half ice cream' dessert is typically made with egg yolks, sugar and cream. Some of the most popular semifreddos are chocolate semifreddo, lemon semifreddo, nougat semifreddo, pistachio semifredo, berry semifreddo, tiramisu semifreddo…
MAIN INGREDIENTS OF TRADITIONAL ITALIAN COOKING AND TRADITIONAL ITALIAN FOOD
Italian staple food
Italian extra virgin olive oil (olivo d'oliva, in Italian) – Traditional Italian food is predominately made with extra virgin olive oil. Olive oil is an essential ingredient of Mediterranean cuisine, including traditional Italian cuisine.
Garlic (aglio, in Italian) – Garlic is one of the most favorite Italian cooking ingredients. Authentic Italian cooking uses garlic along with olive oil as a cooking base. It is especially used in the cuisine of southern Italy.
Persley (prezzemolo, in Italian)- Persley is one of the most common ingredients of traditional Italian cuisine. There's a famous Italian saying 'Sei come il prezzemolo, sei dappertutto', which means 'You're like parsley, you're everywhere.' Parsely is used in the preparation of many traditional Italian stews, soups, and sauces.
Italian balsamic vinegar (aceto balsamico, in Italian) – Balsamic vinegar is the most used vinegar in authentic Italian cuisine. Balsamic vinegar of Modena is the most famous Italian balsamic vinegar
Basil (basilico, in Italian) – Basil is one of the favorite flavoring ingredients of traditional Italian meals. Basil and parsley are the main herbs of traditional Italian cooking.
Rosemary (rosmarino, in Italian) – Rosemary is used for preparing many types of meat and seafood Italian dishes.
Bay leaves (foglie di alloro, in Italian) – Aromatic bay leaves are used for flavoring traditional Italian dishes: from Italian traditional soups, and stews to sauces.
Oregano (origano, in Italian)- Oregano is one of the favorite flavoring herbs of Italian cuisine. This aromatic herb is used for flavoring pizzas, pasta dishes, and sauces.
Sage (la salvia, in Italian)- sage is an important ingredient of a plethora of traditional Italian dishes: from gnocchi and risotto dishes to pasta dishes and bean soups
Organic tomato (pomodoro, in Italian) – Delicious organic tomatoes are some of the most important ingredients of traditional Italian cuisine as well. Actually, tomato is a star ingredient of Italian authentic cuisine. Roma Pomodoro, Cuore di Bue, Pachino, San Marzano, Piennolo, and Pisanello are the most used tomato varieties in Italian traditional cooking.
Capers (capperi, in Italian)- Capers are used in many traditional Italian pasta dishes, pizzas, meat dishes, and especially, seafood dishes and sauces. The Sicilian island of Salina is known for the best capers in the world.
Lemons (limoni, in Italian) – Refreshing lemon is a major ingredient of traditional Italian cooking. The Amalfi region in Italy is famous for flavorful lemons. Freshly squeezed lemon juice is used in salads, for making marinades and pasta dishes in Italy.
Pasta – The most famous Italian dishes are pasta dishes. There are about 350 pasta varieties in Italy and countless pasta dishes. Pasta is popular cultural food in Italy.
Cheese (formaggio, in Italian) – Cheese is a staple food in Italy. Parmigiano-Reggiano, mozzarella, ricotta, gorgonzola, pecorino romano, mascarpone are the most famous chesees from Italy.
Rice (riso, in Italian)- Rice is a popular food in Italy. Italy is the largest rice producer in Europe. Arborio rice and Carnaroli rice are the most famous varieties of authentic Italian rice. Rice is used for soups, stews, risottos, and desserts in Italy.
Wine (vino, in Italian)- Classic Italian dishes often use wine as an ingredient. besides that, a glass of wine with a meal is an important part of the Italian eating experience.
ITALIAN FOOD GIFTS
Papa Vince Italian Food Gift Basket Gourmet
Italian Gourmet Luxuries in Gift Basket
Biscotti Cookies Gift Basket | Christmas Gourmet Holiday Chocolate Food
The Taste of Italy Gift Basket
RECOMMENDED READ – ITALIAN FOOD COOKBOOKS
Essentials of Classic Italian Cooking: A Cookbook
Lidia's Favorite Recipes: 100 Foolproof Italian Dishes, from Basic Sauces to Irresistible Entrees: A Cookbook
Lidia's Celebrate Like an Italian: 220 Foolproof Recipes That Make Every Meal a Party: A Cookbook, Cover may vary
Jamie Cooks Italy by Jamie Oliver
What are the traditional foods of Italy?
Traditional foods of Italy are: ragu alla Bolognese, pizza, focaccia, spaghetti, lasagne, gnocchi, risotto, ravioli, tagliatelle, pappardelle, fettuccine, linguine, carpaccio, bistecca alla Fiorentina, melanzane alla parmigiana, bottarga, ricci di mare, bruschetta, grissini, polenta, pasta e fagioli, pasta e cecci, tortellini, polpette, arancini …
What do Italians eat?
Italians traditionally eat: pizza, bistecca alla Fiorentina, carpaccio, spaghetti, bruschetta, lasagne, gnocchi, risotto, ravioli, tagliatelle, pappardelle, fettuccine, linguine, focaccia, grissini, polenta, parmigiano reggiano, grana padano, mozarella, pasta e fagioli, pasta e cecci, tortellini, polpette, arancini, risi e bisi, carciofi alla giudea, ragu alla bolognese …
What is the national dish of Italy?
The national dish of Italy is ragu alla bolognese (bolognese sauce). The bolognese sauce is used a lot in Italian cuisine throughout Italy with many traditional Italian pasta dishes such as spaghetti, tagliatelle, pappardelle, fettuccine …
What to eat in Italy?
If you want to sample authentic foods from Italy, you must eat in Italy: authentic Italian pizza, authentic Italian gelato, spaghetti, bruschetta, lasagne, gnocchi, risotto, ravioli, tagliatelle, pappardelle, fettuccine, linguine, focaccia, ragu alla bolognese, some authentic Italian cheese (like parmigiano reggiano, grana padano, mozarella ..), authentic Caprese salad …
What are some common foods in Italy?
Common foods in Italy are: pizza, carpaccio, spaghetti, gnocchi, risotto, bruschetta, lasagne, ravioli, tagliatelle, parmegiano reggiano, grana padano, mozarella, prosciutto, salami, pesto genovese, olio d'oliva, aceto balsamico, gelato …
What food is Italy known for?
Italy is known for traditional Italian foods: pizza, spaghetti, prosciutto, lasagne, gnocchi, ravioli, risotto, bruschetta, parmigiano reggiano, mozarella, grana padano, insalata caprese, gelato, tiramisu …
What is the most famous Italian food?
The most famous Italian food is definitely pizza, various types of pasta (among which spaghetti are probably the most popular),prosciutto (dry-cured Italian ham),gnocchi (famous Italian dumplings), famous Italian cheese (Parmigiano Reggiano, mozzarella, Grana Padano), gelato (famous Italian dessert) …
Whatare some traditional dishes in Italy?
Traditional dishes in Italyare pizza, lasagne,risotto,pasta e fagioli, pasta e cecci,bistecca alla Fiorentina, melanzane alla parmigiana, carciofi alla Giudea, vitello tonnato…
What food Italy is famous for?
Italy is famous forpizza, spaghetti, risotto, prosciutto, lasagne, gnocchi, ravioli, bruschetta, parmigiano reggiano cheese, mozzarella cheese, grana padano cheese, insalata caprese, gelato, tiramisu cake …
Name a food Italy is famous for
The most famous food of Italy are pizza, pasta, gelato, prosciutto, and famous Italian cheeese (Grana Padano, Parmigiano Reggiano, Mozarella)