The ultimate list of the best traditional Italian desserts: from easy Italian desserts to the most popular Italian desserts and the best Italian desserts in Italy!
BEST ITALIAN DESSERTS IN ITALY
Italian traditional food, like all Mediterranean food in general, might be some of the healthiest food on the Planet.
But, Italian traditional desserts represent some of the most delicious bites on Earth too. And, here is a guide to the best desserts in Italy.
This collection of the best Italian desserts in Italy covers the most common Italian desserts, the best frozen Italian desserts (iconic Italian gelato and Italian semifreddo), famous Italian cakes, popular Italian sweets, and top Italian pastries.
Here's the ultimate list of Italian desserts with names of Italian desserts, descriptions of Italian desserts, and photos of Italian desserts.
RELATED:
1. GELATO – Iconic Italian ice cream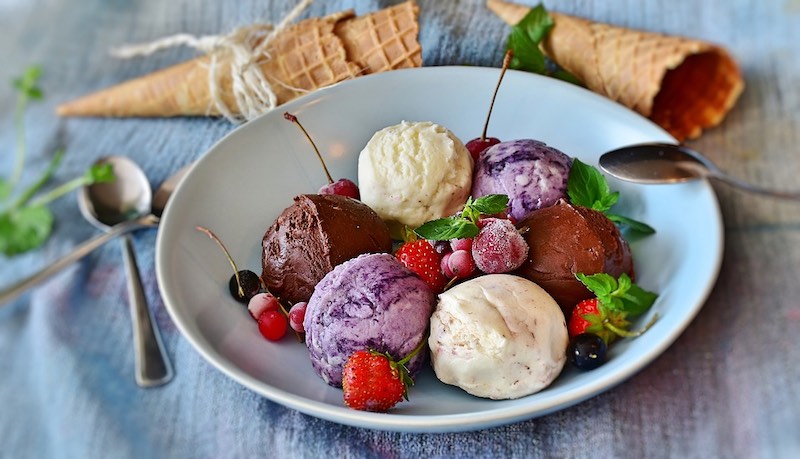 Italian gelato, along with pizza, and pasta, is the epitome of Italian food.
Even more, this to-die-for Italian dessert is the most popular frozen dessert in the world. Undeniably, gelato is the most famous Italian dessert.
Therefore, this list of the best Italian desserts starts with Italian gelato.
Authentic Italian gelato is a creamy custard made of whole milk and eggs. Italian gelato is traditionally flavored with chocolate, vanilla, stracciatella, hazelnut, and pistachio. Modern gelato is flavored with some fruity flavors.
Where to have this top Italian dessert in Italy?
If you want to try a scoop of the very best Italian gelato in Italy, please head to Gelateria Fatamorgana and Gelateria dei Gracchi in Rome, Gelateria Vivoli and Gelateria dei Neri in Florence, or Suso Gelatoteca in Venice!
These gelato shops have won awards for the best gelato in the world.
2. SEMIFREDDO – Popular Italian frozen dessert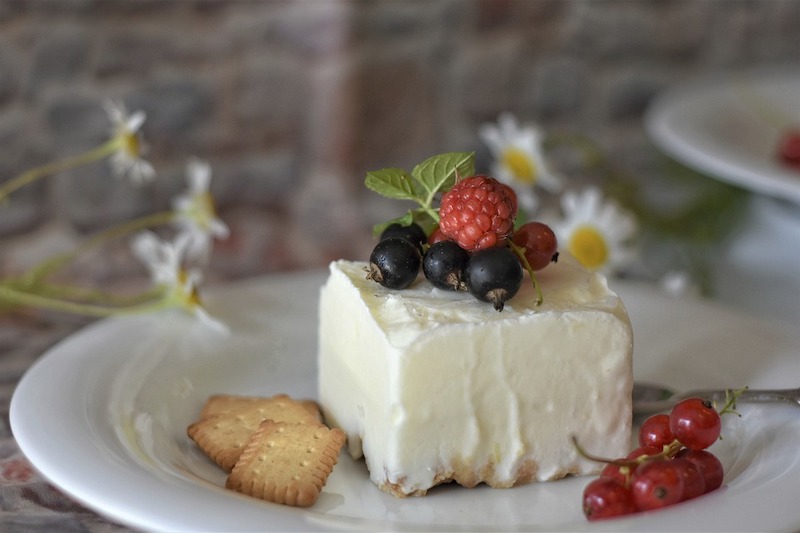 Famous Semifreddo is one of the most popular desserts in Italy.
'Semifreddo' literally means 'half cold' in Italian because of its unique texture.
This 'half mousse – half ice cream' dessert is typically made with egg yolks, sugar and cream. Some of the most popular semifreddos are chocolate semifreddo, lemon semifreddo, nougat semifreddo, pistachio semifredo, berry semifreddo, tiramisu semifreddo…
Gelato and semifreddo are favorite Italian desserts in Italy in the summertime.
3. PANNA COTTA – Megapopular Italian 'cooked cream'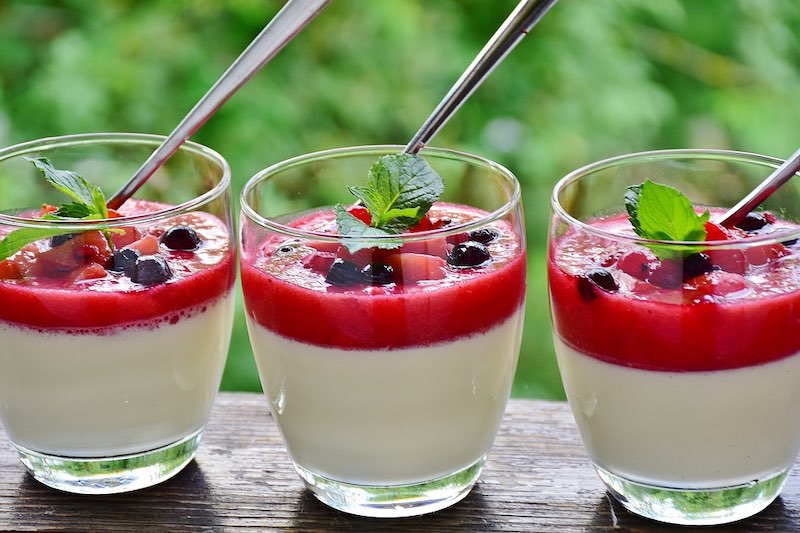 This Italian desserts list wouldn't be complete without mentioning panna cotta.
Panna cotta is another world-famous dessert from Italy.
Panna cotta in Italian literally means 'cooked cream'. But panna cotta is much more than simple cooked cream.
It might an easy Italian dessert to make, but above all, it's a superb dessert made of flavored cream (often with coffee, rum, or vanilla) and served with berries, chocolate, or caramel sauce. In addition, this great Italian dessert can be garnished with some liquors and fruits.
Panna cotta originates from the Piedmont region in northwest Italy.
4. CORNETTO – Typical Italian croissant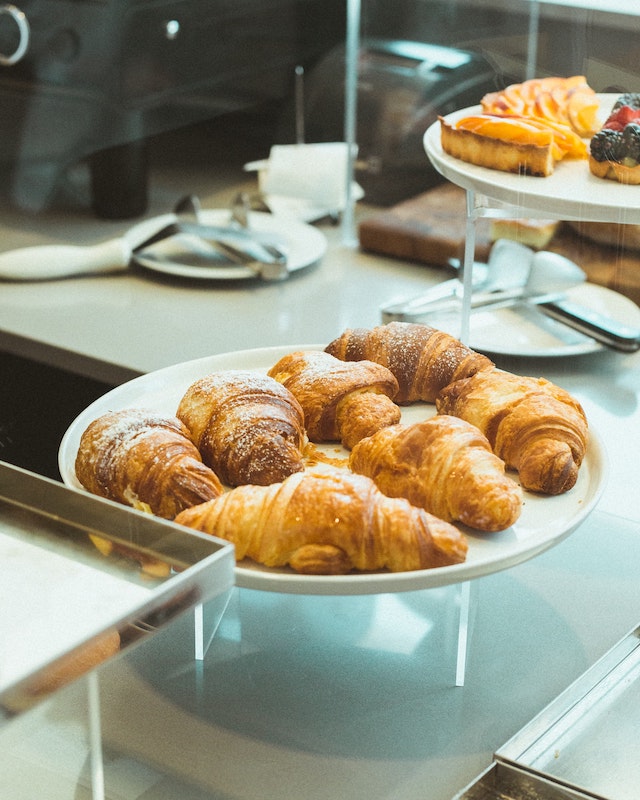 Cornetto (also called brioche in northern Italy) is an Italian pastry similar to a French croissant.
Italian cornetti (plural) are less buttery and softer than French croissants. Typical Italian cornetto can be empty or filled with custard, vanilla, chocolate, or apricot jam.
Classic Italian breakfast includes coffee (espresso, latte, macchiato, cappuccino) and a cornetto.
5. TIRAMISU – Famous and easy to make coffee-flavoured Italian dessert from Treviso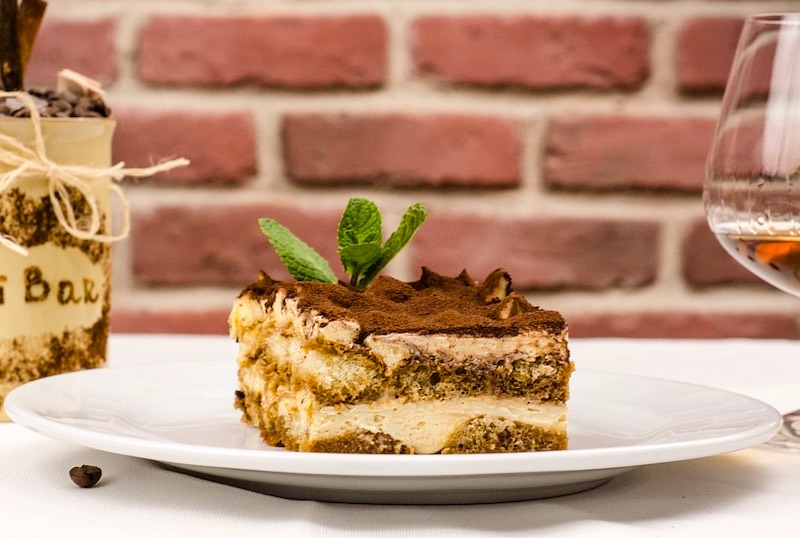 Looking for easy Italian desserts to make? Check out tiramisu!
Tiramisu is one of the most famous coffee-flavored Italian desserts.
This rather simple Italian dessert is made of sweet 'savoiardi' biscuits soaked in coffee and sweet cream made of mascarpone cheese, eggs and sugar, and sometimes liqueur.
Tiramisu is an easy Italian dessert to make but without any doubt one of the best Italian desserts ever!
The birth town of tiramisu is Treviso, but over time tiramisu has become one of the most popular desserts in Italy.
6. CANNOLI – Famous tube-shaped Italian pastry from Sicily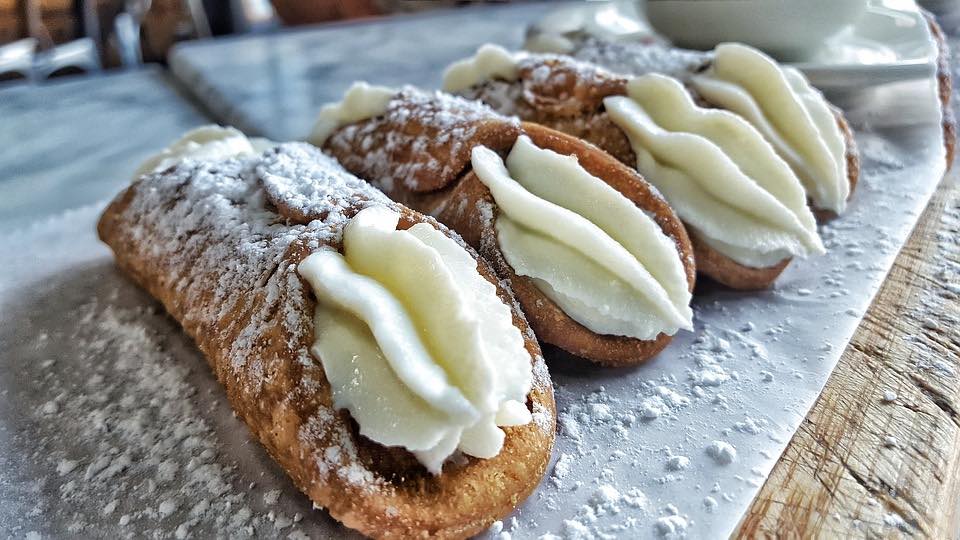 Cannoli are probably the most famous Italian pastries.
Sweet cannoli are tube-shaped and finger-sized Italian pastries filled with sweet cream that quite often contains ricotta cheese.
Authentic Sicilian cannoli are filled with ricotta cheese, Sicilian Marsala wine, white vinegar, chocolate chips, and optionally chopped pistachios.
Cannoli originate from Palermo and Messina in Sicily. Today this iconic Italian dessert is one of the most famous Italian desserts in Italy and beyond!
7. BISCOTTI – CANTUCCINI – Traditional Italian almond cookies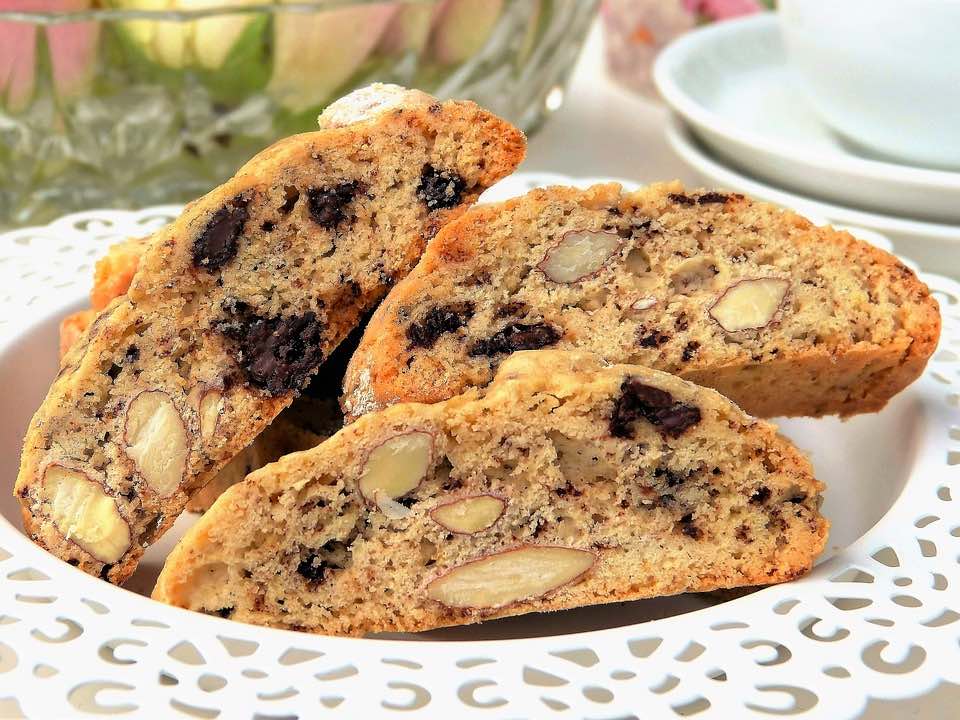 Biscotti or cantuccini are traditional Italian almond biscuits originating from the city of Prato in Tuscany Italy.
Original cantuccini from Prato are called biscotti di Prato. These oblong-shaped crispy cookies are traditionally consumed with sweet dessert wine, aka Italian Vin Santo.
If you are taking a trip to Tuscany, Tuscany biscotti or biscotti di Prato are must-try!
8. CROSTATA – Famous Italian baked tart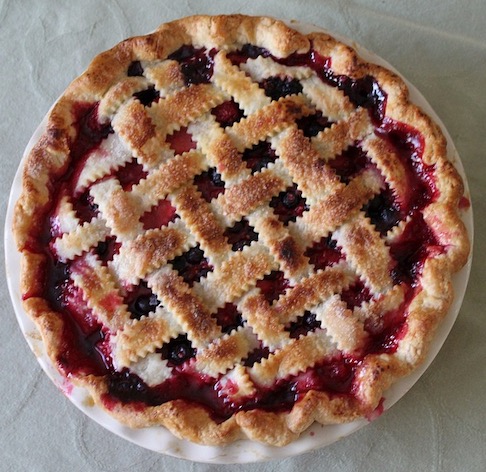 Crostata is a famous Italian pie or baked tart with inconsistent thick fillings.
There are sweet and savory crostata pies depending on the filling. Sweet crostata comes with sweet fruits, most commonly cherries, apricots, and peaches. Savory crostata is filled with vegetables, cheese, meat, seafood, and fish.
One of the most popular crostata pies is ricotta and lemon zest-based crostata called crostata di ricotta from central Italy.
9. FRITTELLE (or FRITOLE ALLA VENEZIANA) – Easy Italian Carnival fritters from Venice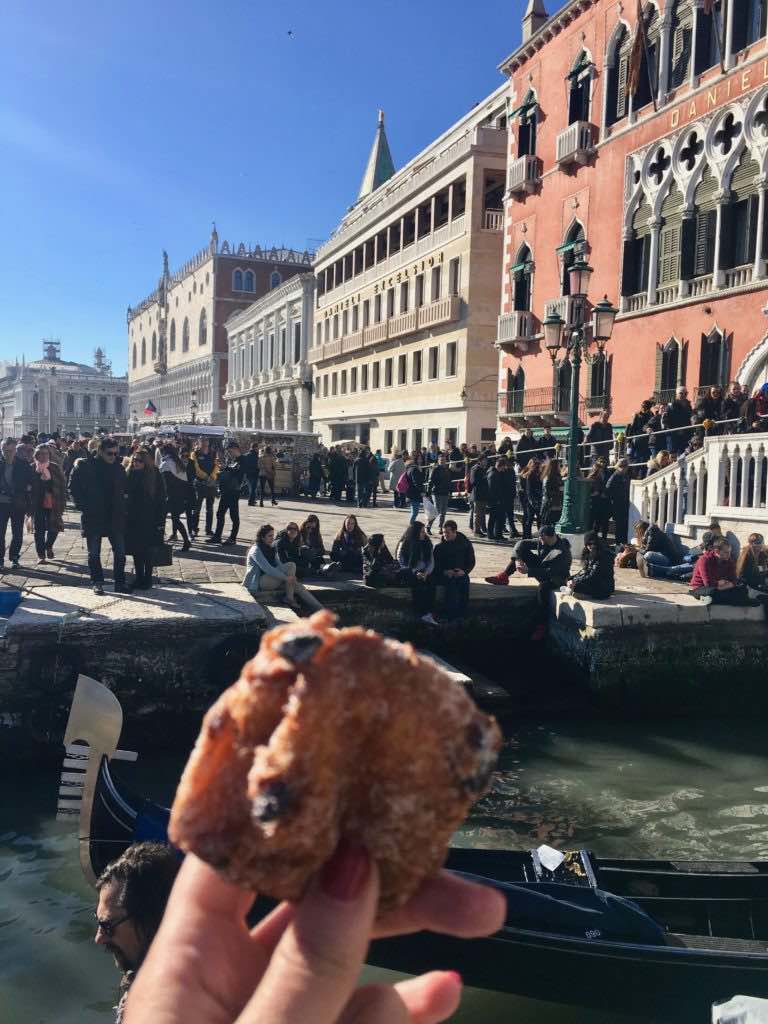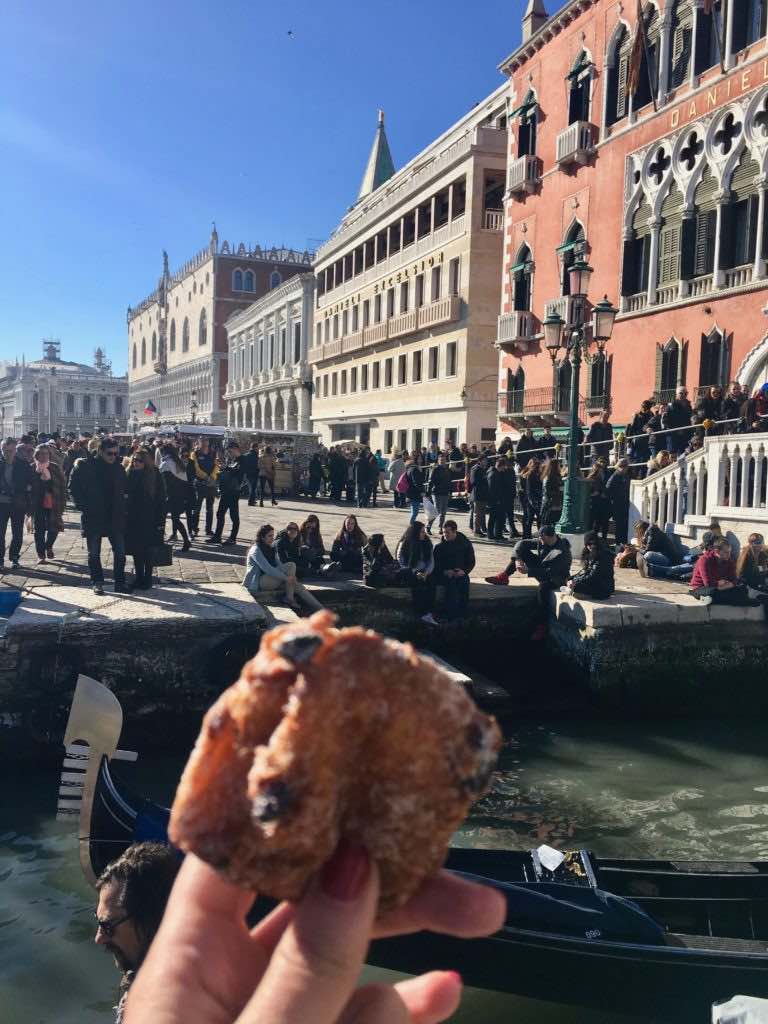 Frittelle, or fritolle, are classic Italian doughnuts prepared traditionally in Carnival time.
These round-shaped traditional Carnival donuts are filled with raisins and sometimes even pine nuts. Frittele donuts originate from Venice and the Veneto region. These Venetian pastries are also known in Venice as Fritelle Veneziane.
Besides Frittelle Veneziane that are typically filled with raisins and pine nuts, there are also Frittelle con cioccolata filled with chocolate, Frittelle con zabaione filled with Marsala wine, Frittelle con crema chantilly filled with vanilla.
Where to get the best fritelle in Venice?
Don't miss out to try amazing these amazing Italian pastries Pasticceria Rizzardini, Majer Venezia Cantinetta and Pasticceria Tonolo in Venice!
10. GALANI – Easy to make Venetian crostoli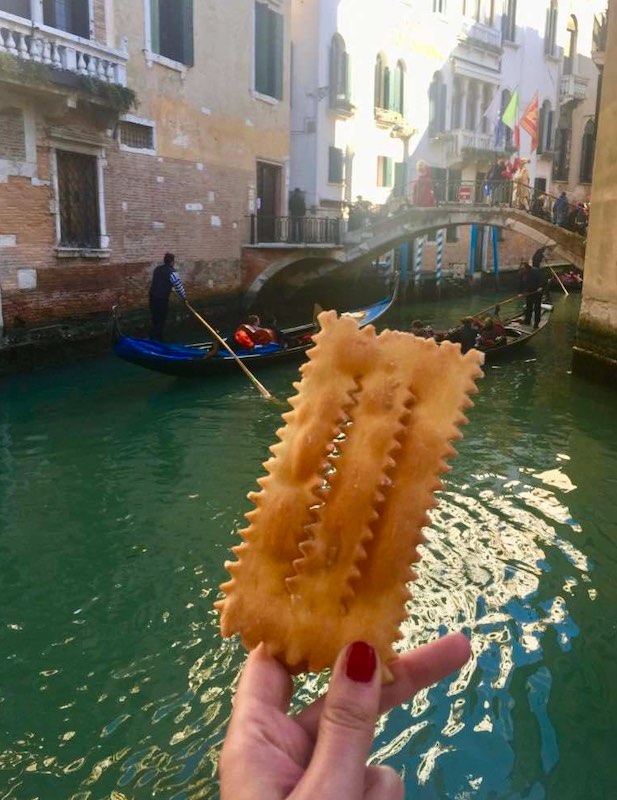 If you are going to Venice for the Venice carnival, you should try a traditional Italian carnival pastry called galani.
Galani pastries are fried sweet and thin pastry strips sold in every bakery and pastry shop in Venice.
11. TORRONE – Popular Italian nut and nougat confection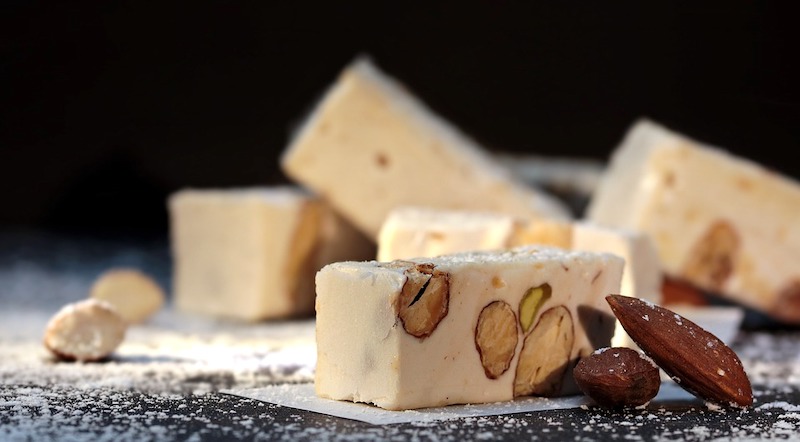 Italian torrone is a confection made of egg whites, sugar, honey, and toasted nuts (most frequently almonds, but also can be whole hazelnuts, and pistachios) in a most commonly rectangular shape.
Torrone is a traditional Italian Christmas dessert in Italy.
12. PANETTONE – Famous Italian Christmas bread from Milan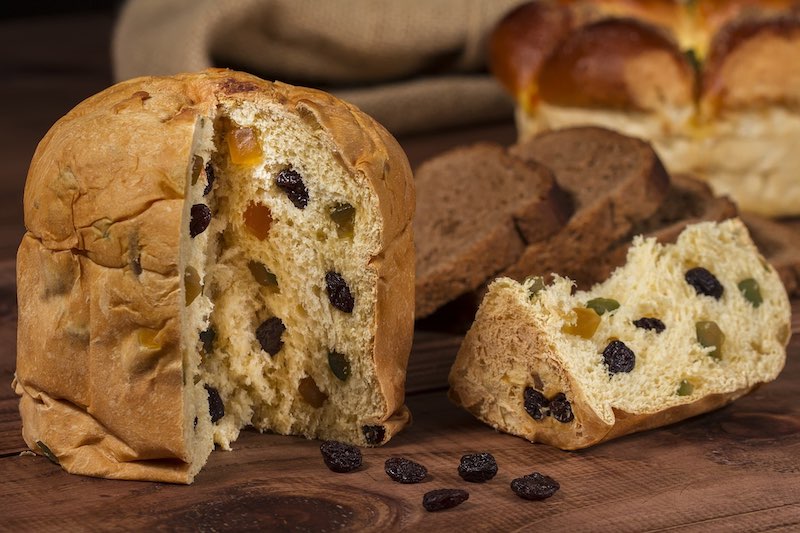 Panettone is sweet Italian bread traditionally prepared for Christmas.
Panettone originates from the city of Milan in Italy, but over time it has become one of the most famous Christmas bread in the World.
This cupola-shaped bread is flavored with candied oranges, citrons, lemon zest, raisins, and sometimes chocolate. Sweet panettone matches well sweet dessert wines and liquors.
13. COLOMBA DI PASQUA – Famous Italian Easter bread from Milan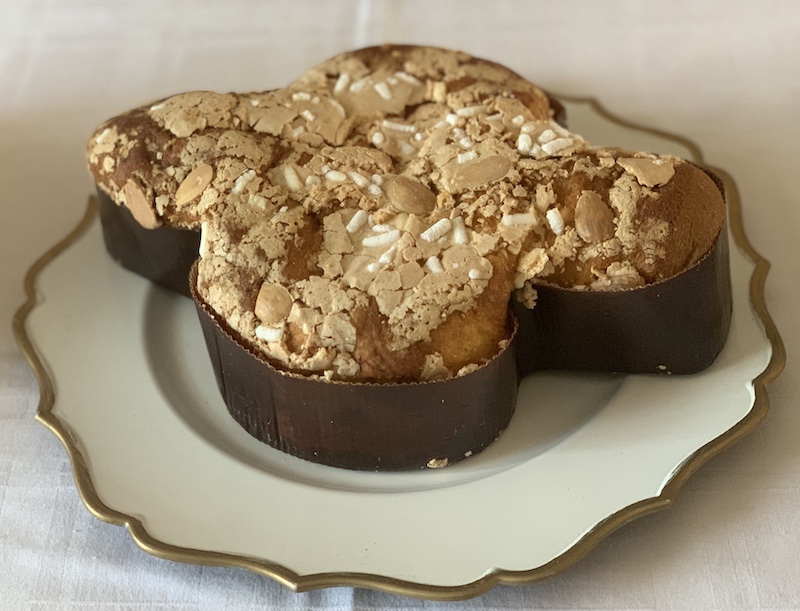 While Panettone is sweet Italian Christmas bread, Colomba di Pasqua is sweet Italian Easter bread.
Delicious Easter Dove, or Colomba di Pasqua in Italian, tastes similar to Panettone. The dough is made pretty much the same.
But unlike Panettone, Colomba di Pasqua is made without raisins, and the dough is traditionally covered with almonds and nib sugar.
Colomba di Pasqua originates from Milan, the same as Panettone.
14. ZABAIONE – Italian liquid egg custard with wine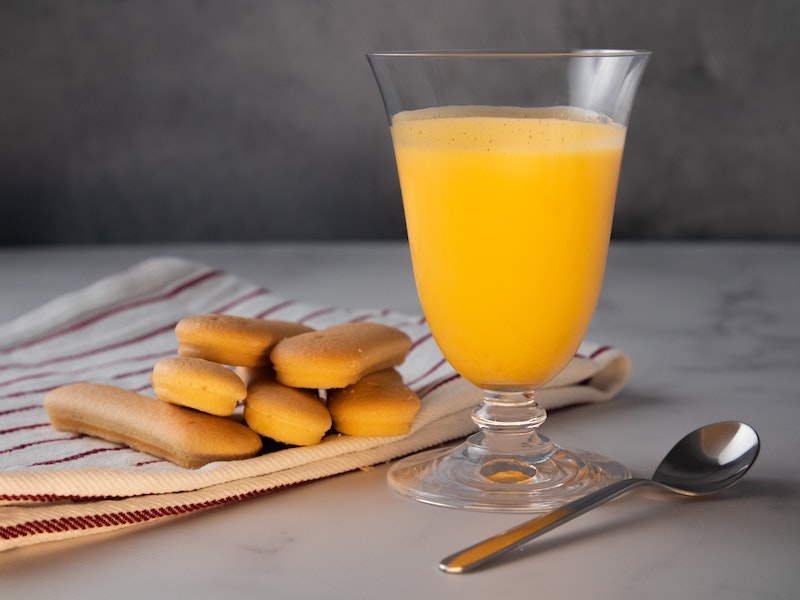 Zabaglione, or also Zabaione, is a custard-like Italian dessert.
This yummy dessert is made with egg yolks, sugar, and marsala wine from Sicily (but sometimes also vin santo or passito). Zabaglione can be made as a beverage or dessert.
It's traditionally enjoyed with some fruits and cookiesat Christmastime in Italy.
Zabaglione originates from the Piedmont region in northwest Italy. Today Zabaglione is one of those easy Italian desserts that can be enjoyed all over Italy.
15. AFFOGATO – Easy Italian dessert made with ice cream and coffee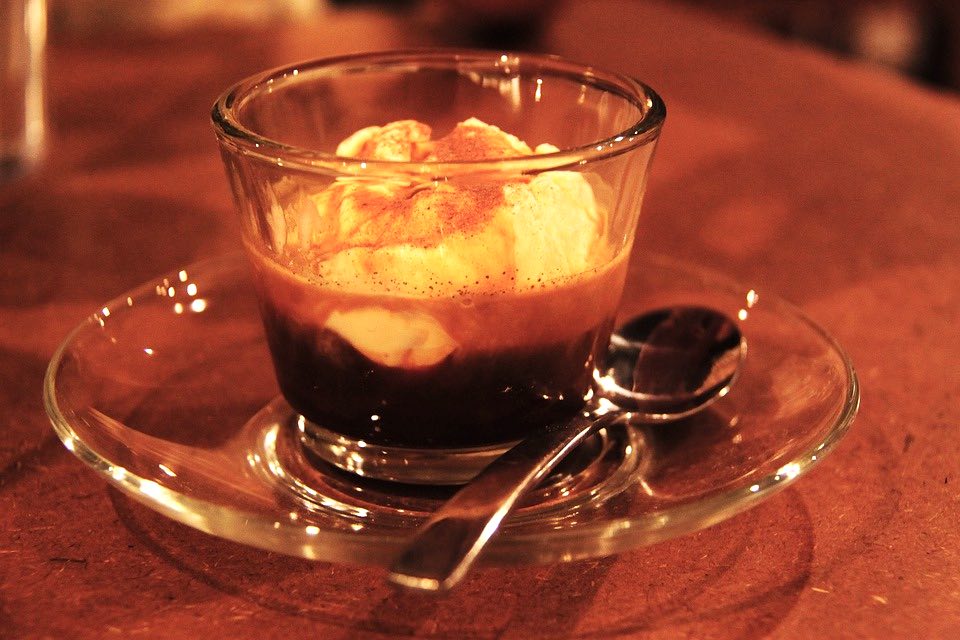 Affogato is a popular coffee-based Italian dessert made of a scoop of vanilla gelato and a shot of espresso.
Quite often some berries, honey, and some other gelato flavorsare added as well.
To tell the truth, affogato is something between a dessert and a beverage.
Coffee aficionados equally love coffee-based affogato and coffee-tiramisu.
16. SFOGLIATELLE – Popular Italian dessert from Salerno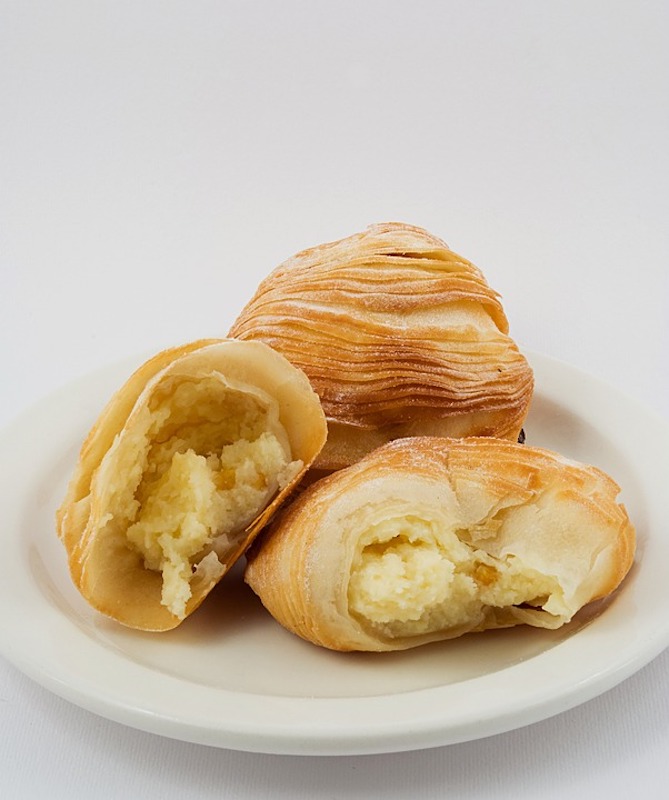 Sfogliatelle pastries are some of the most popular Italian desserts.
These crispy Italian pastries are made in the shape of a shell that is filled with a delicious filling. The most common filling is almond paste, candied lemon, or orange-flavored ricotta.
Sfogliatelle originates from Salerno near Naples in the Campania region in Italy.
17. RICCIARELLI – Famous Italian almond cookies from Siena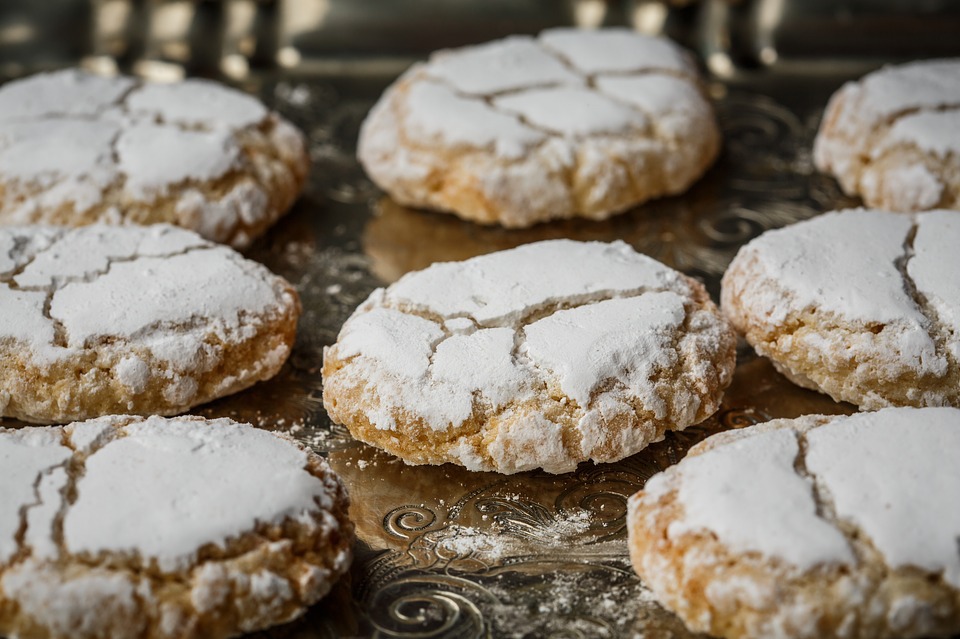 Tuscan Ricciarelli cookies are popular Italian almond cookies.
Italian Ricciarelli biscuits are somewhat similar to French macarons.
The cookies are made from egg white, sugar, honey, and grounded almonds. They are most usually sprinkled with powdered sugar.
Ricciarelli cookies originate in the city of Siena in Tuscany.
Ricciarelli biscuits are traditionally served with sweet dessert wine aka Vin Santo at Christmas time.
18. PIZZELLE – Elegant Italian waffle cookies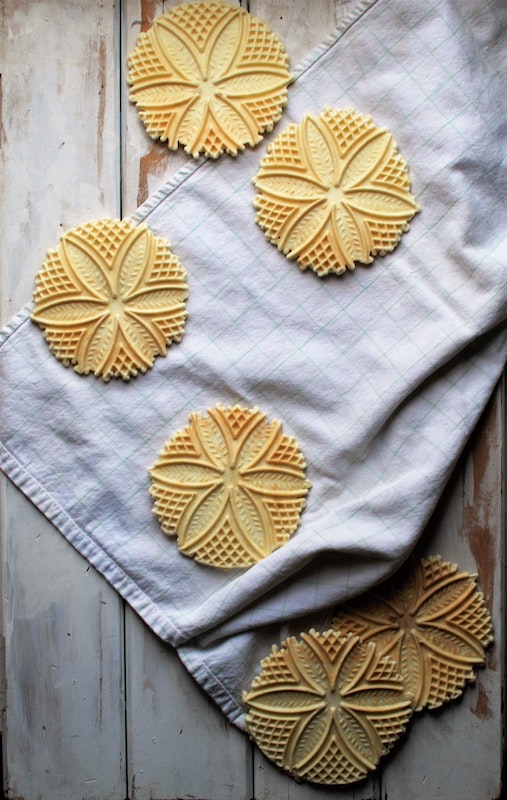 Pizzelle refer to Italian waffle cookies.
Italian pizzelle are thin and elegant cookies made from eggs, sugar, fleur, and oil and baked in 'pizzelle iron' (waffle iron). Pizzelle are typically flavored with anise.Pizzelle are known for the distinctive pizzelle pattern made by pizzelle waffle machine.
They come in various shapes: from round and flat to 'tube-shaped pizzelle.
Pizzelle are a classic Italian dessert served at weddings, Christmas, and Easter in Italy.
19. BOMBOLONI – Italian dounghts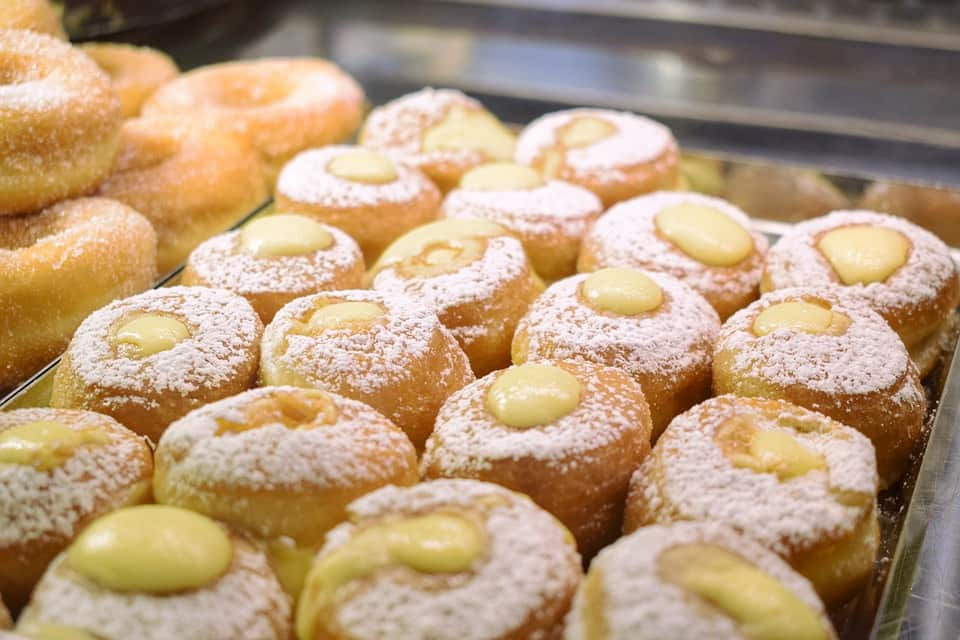 Bomboloni are Italian doughnuts. Bombolini doughnuts are named after 'bombe' (bombs).
Italian bombolini are filled with limoncello-flavored Italian pastry cream (cremma pasticciera) and sprinkled with sugar and cinnamon.
Bombolini are traditional Italian dessert in the regions of Tuscany, Veneto, Friuli Venezia Giulia and Trentino-Alto Adige. Bombolini are the most popular in Tuscany though.
Bombolini are typically served for breakfast along with espresso and cappuccino in bars. They are also sold on beaches in seaside towns.
Deep-friend and cream-filled Italian bombolini doughnuts resemble krapfen from neighboring Austria.
ITALIAN CAKES
Bauducco Panettone Classic, Traditional Italian Recipe, Holiday Cake
Gusta Authentic Biscotti Cookies Made in Tuscany, Italy
Gourmet Chocolate Biscotti Cookies Gift Basket, Christmas Holiday
Tre Marie Il Pandoro Panettone, Traditional Italian Christmas Cake