"Listen to the wind, it talks. Listen to the silence, it speaks. Listen to your heart, it knows." – Native American Proverb
Arizona photos that speak to the heart of every traveler
5 Arizona Photos That Will Make You Fall In Love With Arizona
Arizona is well-known as one of the youngest states of the USA and one of the oldest lands of the American continent.
Called the Land of the Rising Sun, Arizona is a mystical and peaceful land of deserts, cacti, canyons, rivers, lakes, mountains…
Take a look at following pictures of Arizona and I bet these Arizona images will make you book your trip to Arizona.
Arizona pics:
1. Horseshoe Bend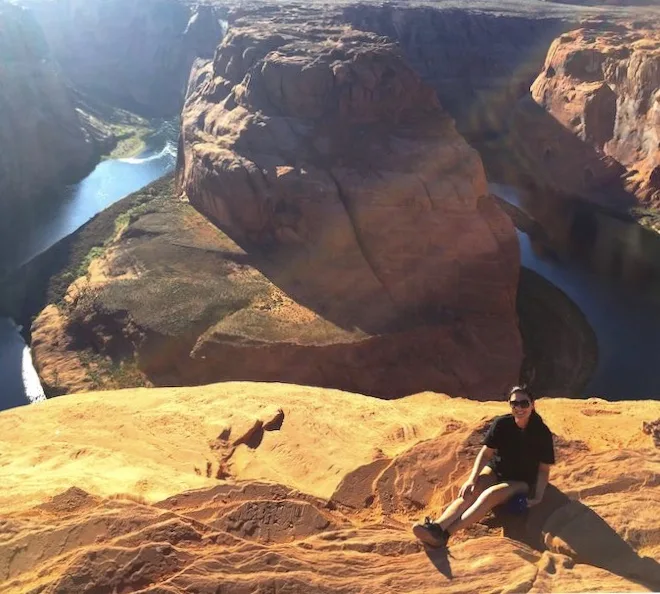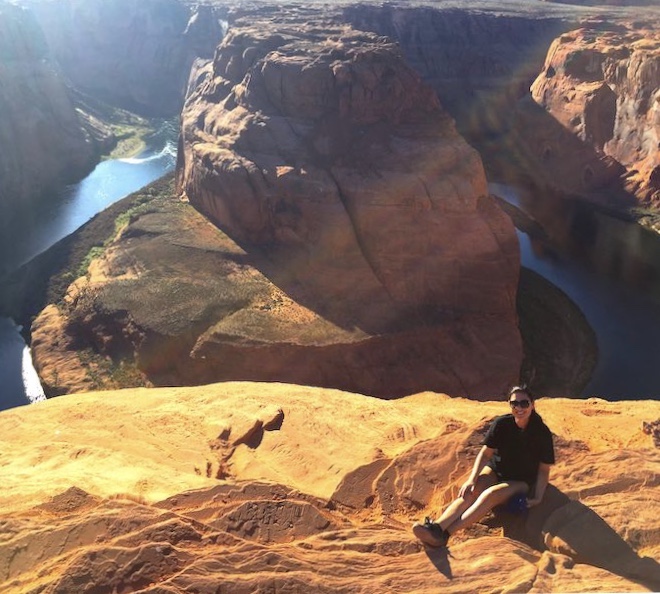 The gallery of Arizona pictures starts with a photo of a magnificent vista of Horshoe Bend and meandering Colorado River from the top of a steep orange cliff.
This scenic overlook of mighty and emerald green Colorado River that bends in horseshoe shape has recently become one of the most visited places in Arizona. Spectacular Horseshoe Bend has been created by water and wind erosion of the rocks over millions of years. Horseshoe Bend is located 4 miles (6.4 km) southwest of the town of Page in Arizona. A 3/4 mile Horseshoe Bend hike from the parking area off the Highway 89 will take you to Horseshoe Bend overlook. Words and photos don't do justice to this masterpiece of nature.
Read more: Hiking Horseshoe Bend in Arizona
2. Glen Canyon Dam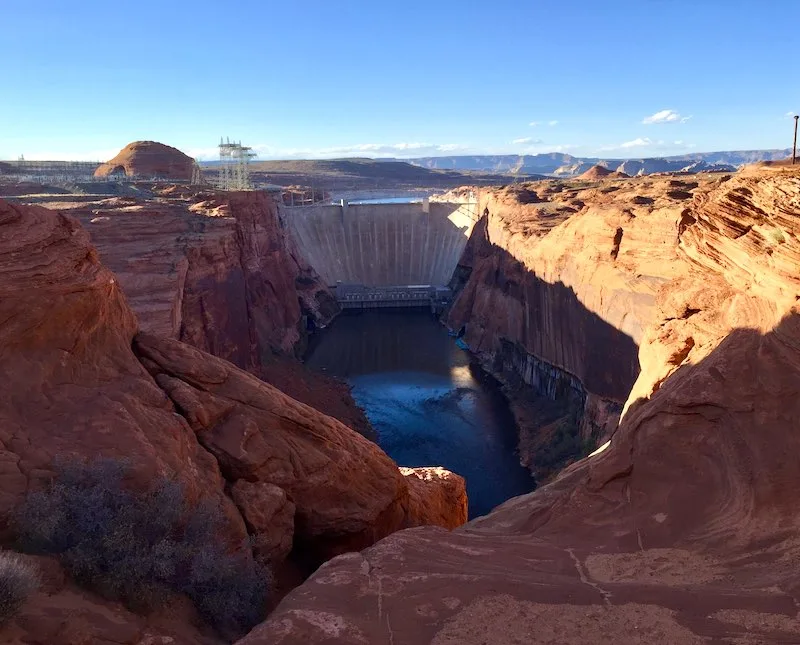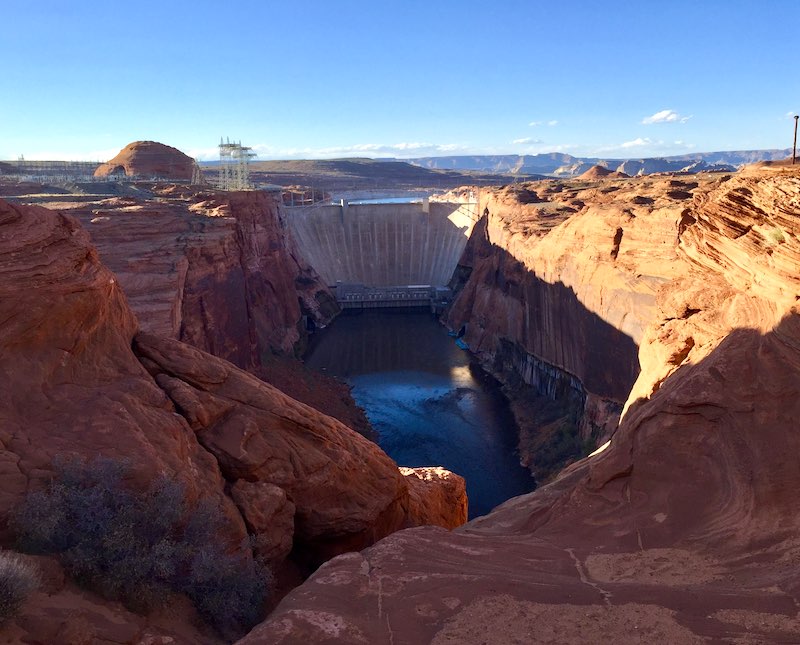 Glen Canyon Dam photo
Impressive Glen Canyon Dam on the Colorado River is surrounded with colorful and sublime Arizona desert scenery. Glen Canyon Dam in Arizona is popularly known as "The White House" since in 1956 President Dwight D. Eisenhower pushed a button from the White House to officially start the construction of the dam to provide water supply and power for several American states. The dam is within 1o min drive from the town of Page in Arizona, near the Utah border. This great panoramic view is easily reachable by 10 min down-and-back walk on the well-marked trail.
3. Lake Powel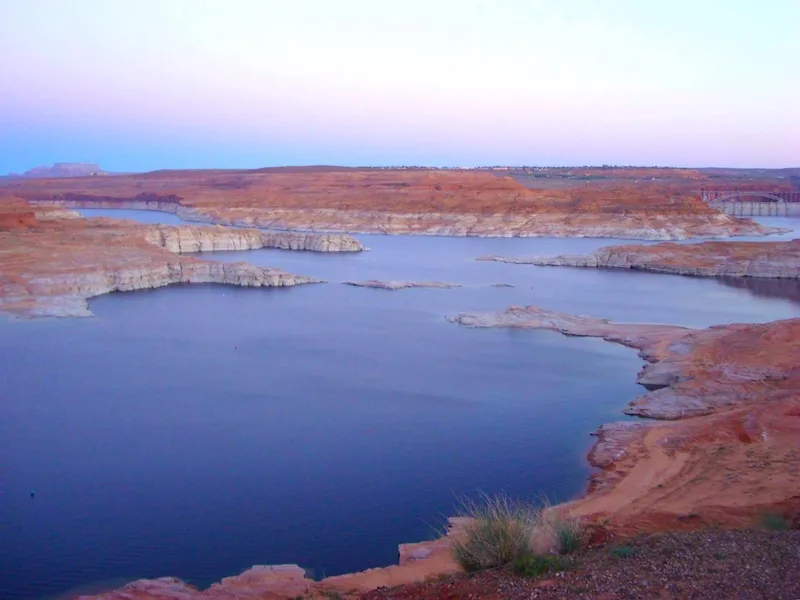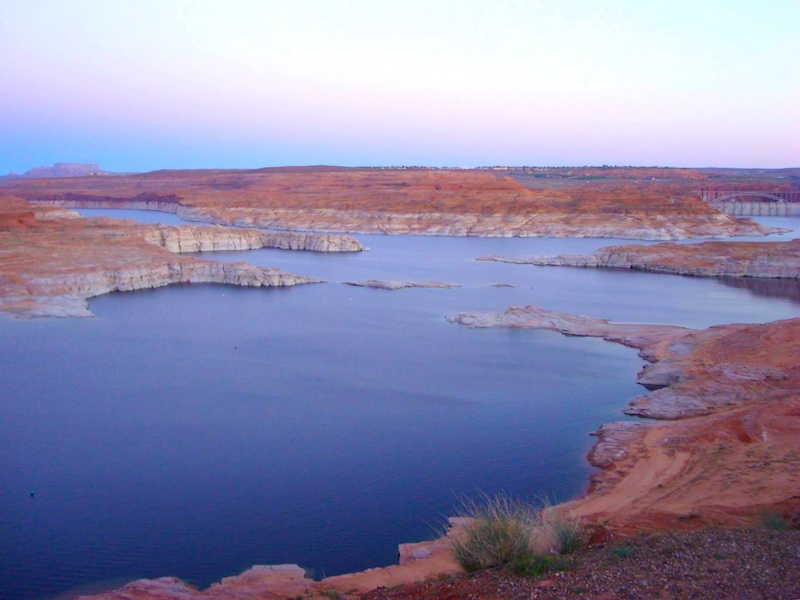 Lake Powel picture from Arizona side
This second-largest man-made lake in the USA (after Lake Mohave) is located on the border between Arizona and Utah. Lake Powel is filled with water from the Colorado River by the Glen Canyon Dam. It is perfectly nestled among surreal and Mars-like land formations. Phantasmagorical landscapes of the lake are a photographer's paradise and vacationers' haven. Lake Powel in Arizona is one of the best lakes in the USA for summer vacation. It is a place with calming and grounding energy where you can swim, fish, water-ski, camp, SUP, kayak, boat, rent a houseboat, take a lake cruise, or take many extraordinary beautiful pictures of Arizona. 2.000-mile Lake Powel shoreline is almost the same length as the total cost of the Pacific coast states.
4. Antelope Canyon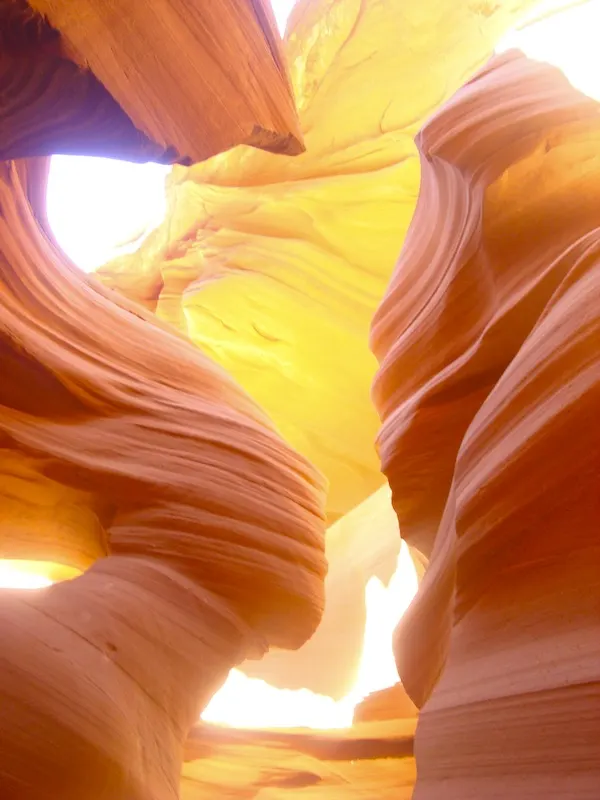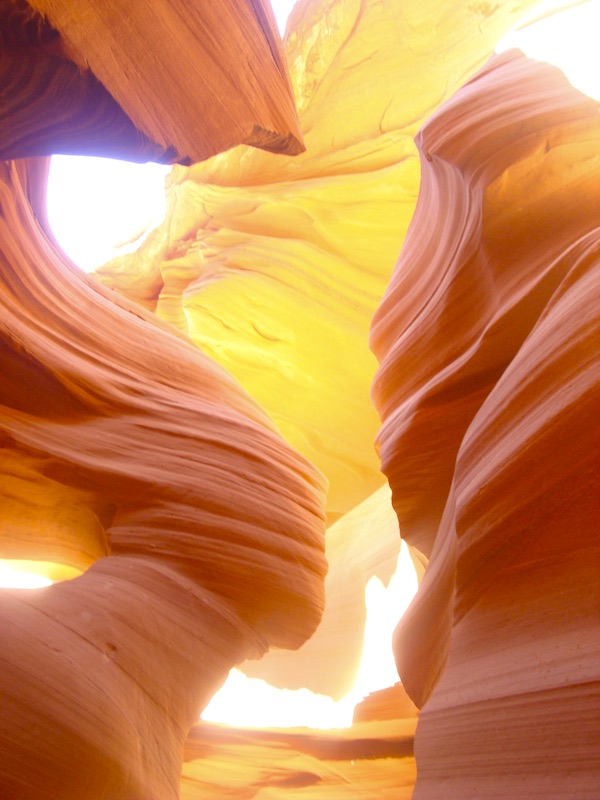 Antelope Canyon photo
Antelope Canyon is a canyon of amazing shapes and colors near the town of Page in Arizona. Antelope Canyon in Arizona is one of the most photographed canyons in the world. If you have seen images of Arizona and photos of red canyons on social media, most probably you have seen images of Antelope Canyon. Antelope Canyon is one of Arizona landmarks. Formed by sand erosion caused primary by flooding, Antelope Canyon in Arizona consists of two sections: the Upper Antelope Canyon (called "The Place Where Water Runs Through" by Navajo Indians) and the Lower Antelope Canyon (called "Spiral Rock Arches" by Navajo Indians). The Antelope Canyon is located on the Navajo land and both sections can be visited exclusively by guided Navajo tours. Navajo Native Americans are the largest United States Native American tribe. With the light changing from minute to minute, the rocks change their colors in a range of a whole palette of yellow, orange and red shades making the atmosphere of a natural light show. If you seak for an unearthly experience with many sensational photo opportunities, you should visit Antelope Canyon in Arizona.
5. Sedona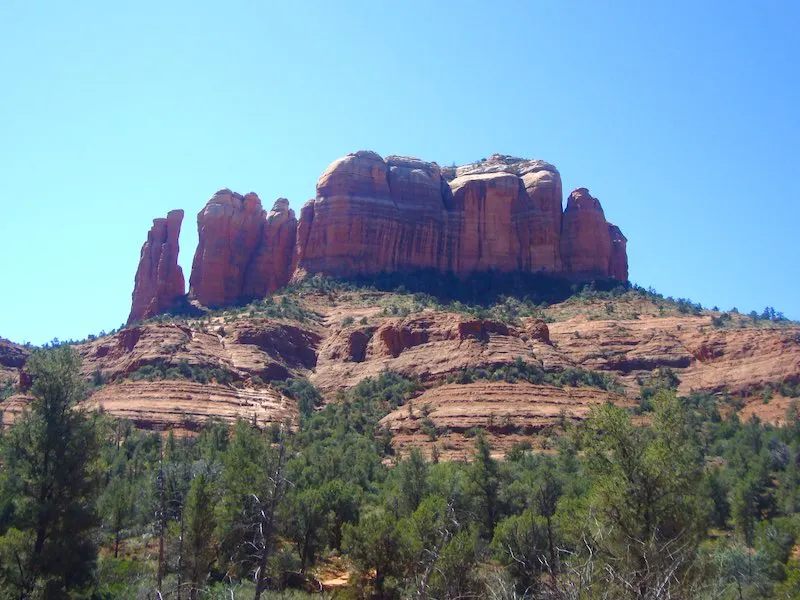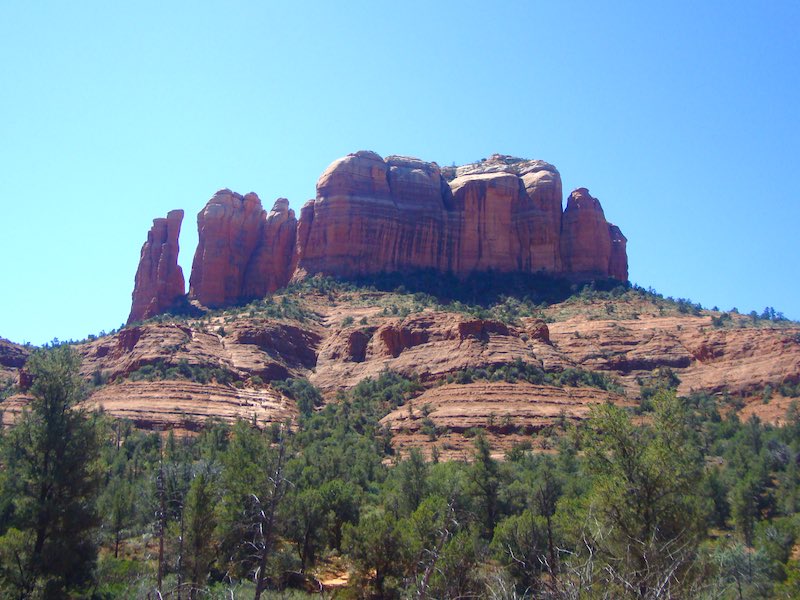 Sedona image
Sedona is a magical town at the lower end of the Oak's Creek Canyon in the middle of the Arizona desert, in so-called "The Red Rock's Country". Sedona in Arizona is a famous American art, spiritual and vacation destination. In the 1950s, surrealist painter Max Ernest moved to Sedona, followed by many artists who over the years created an artists' colony. Sedona is a spiritual mecca with four main vortexes (places releasing psychic energy and power of the Earth): Bell Rock, Table Top Mountain Cathedral Rock and Boynton Canyon. If you want to commune with mind-blowing nature full of magical pinion trees, cypress trees, and jumpier forests and take some amazing pics of Arizona, you should go to Sedona. Sedona is an hour drive from the Grand Canyon. For more information on Sedona, I recommend to check out JenThereDoneThat's post "Sedona Arizona Travel Guide – reviews and recommendations" by my dear, Arizona born, fellow traveler Jen.
RELATED: Best AirBnbs in Sedona
+ one more photo of Arizona: Saguaro Cactus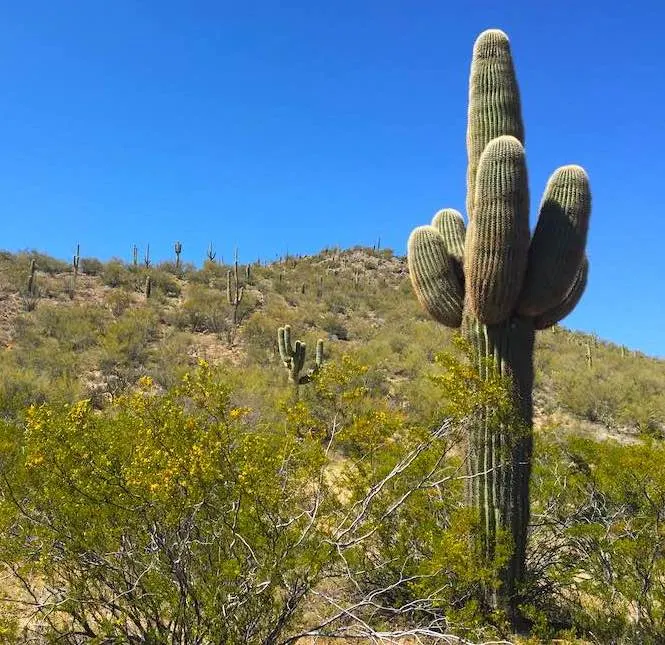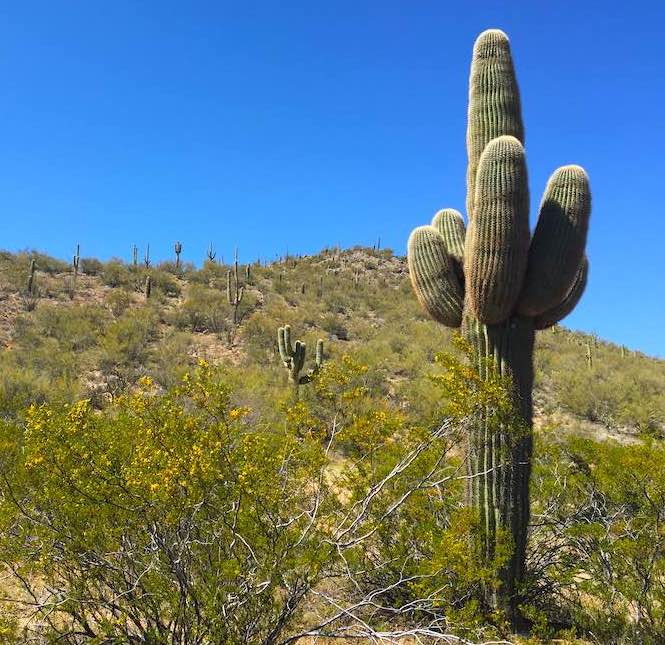 Saguaro cactus image
The gallery of Arizona photos wouldn't be complete without a photo of Saguaro cactus. Saguaro cactus is the symbol of the American West. Bloom of Saguaro cactus is Arizona's state flower. Often when you see photos of Arizona, you see Saguaro cacti. Saguaros cactus grows only in the Sonoran desert. It takes 35 years to Saguaro cactus to grow its first flowers and 50-70 years to grow its first branches. An adult Saguaro weights several tons and lives 150-175 years on average.
I love this Saguaro cactus quote by Ilan Shamir and the lessons nature teaches us.
"Advice from a Saguaro:
– Stand tall,
– Reach for the sky,
– Be patient through the dry spells,
– Conserve your resources,
– Think long-term,
– Wait for your time to bloom,
– Stay sharp."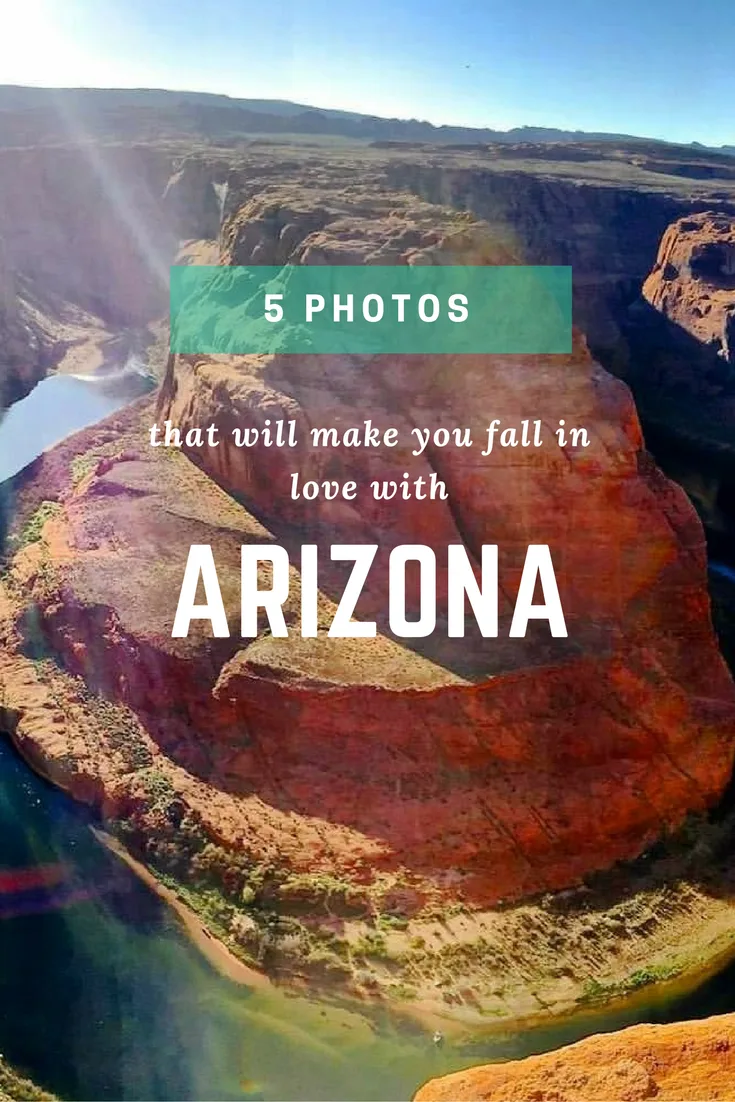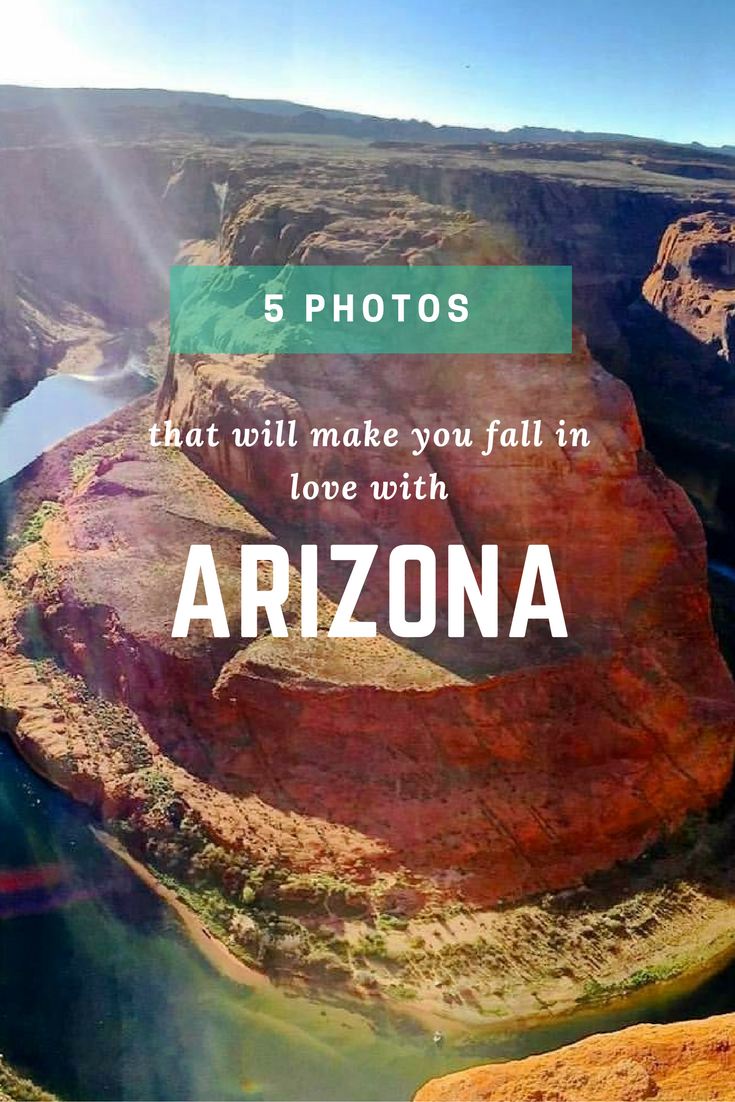 What's your favorite Arizona photo? What Arizona picture speaks to you the most? What Arizona image represents Arizona the best in your opinion?
Do you believe if I say that these images of AZ don't do justice to Arizona? The most beautiful images of Arizona are captured by eyes, not by cameras.
MAYBE YOU ALSO WOULD LIKE TO READ:
The Ultimate USA Southwest Road Trip
Best San Francisco to Los Angeles Road Trip
Death Valley must-see attractions