Going to Bangkok and looking for a great Bangkok itinerary? Visiting Thailand for the first time and planning to spend about 4 days in Bangkok?
Following Bangkok itinerary will help you to navigate your 4 days in Bangkok giving you insights and guidelines into Thai culture and Bangkok's life.
Bangkok is one of the most visited cities in the World.
In 2017 Bangkok has visited 22 million international visitors and it was the second most visited city in the World. The most visited city in 2017 was Hong Kong with 26 million tourists. London, Paris, Dubai, and Singapore followed Hong Kong and Bangkok on the list.
And now it's your time to visit Bangkok for the first time?! Now you are getting ready to see Bangkok for the first time and to visit Thailand for the first time?!
If that's the case, you should read following Bangkok itinerary for first-timers with a short intro guide to Bangkok. This Bangkok itinerary answers your questions what to see in Bangkok, what are the main sights in Bangkok, what are the main districts of Bangkok, what are the best things to do in Bangkok, what to eat in Bangkok and how you can do it all in 4 days in Bangkok.
1. BANGKOK ITINERARY: A short intro guide to Bangkok
'If you want culture and class, I would say Tuscany. If you want exotic, I would say Bangkok, Thailand.' quote by Robin Leach
1.2. TEMPLES IN BANGKOK
Temples of Bangkok are on the top of every Bangkok itinerary. No matter if you are going to spend a day in Bangkok, 2 days in Bangkok or 4 days in Bangkok, you need to visit some of the famous Bangkok temples.
Best temples in Bangkok to visit are Wat Pho, Wat Arun, and Wat Phra Kaew.
Wat Pho is the oldest temple in Bangkok. Wat Arun is one of the most beautiful temples in Bangkok. Wat Phra Kaew is the most sacred temple in Thailand.
Wat Pho
WAT PHO, or the TEMPLE OF RECLINING BUDDHA, is one of the most visited temples in Bangkok. The temple holds the famous 46-meter gold Buddha statue. It is the oldest and the largest temple complex in Bangkok.
The Temple of the Reclining Buddha is located near the Grand Palace.
Wat Pho is open daily from 8 am until 6:30 pm. Wat Pho entrance fee is 100 Baht per person (about 3 USD).
Wat Arun
WAT ARUN, or TEMPLE OF DAWN, is one of the most beautiful Buddhist temples in Bangkok.
It is named after Aruna, the Indian God of Dawn. The temple in Bangkok is impressively decorated with tiny pieces of colored glass and colorful Chinese porcelain. Temple of Dawn is located on Chao Phraya River in Bangkok.
Wat Arun is open daily from 8:30 am until 5:30 pm. Wat Arun entrance fee is 100 Baht (about 3 USD)
Wat Phra Kaew
WAT PHRA KAEW, or the TEMPLE OF EMERALD BUDDHA, is located within the grounds of the Grand Palace.
Wat Phra Keao is also called Temple of the Holy Jewel Image. It is the most sacred Thai temple and one of the top places to visit in Bangkok.
The Temple of Emerald Buddha holds a tiny about 66 cm Emerald Buddha statue. The temple dates back to the time when Bangkok was founded, to 1782.
Wat Phra Kaeo is open daily 8:30 am until 3:30 pm. Wat Phra Kaew entrance fee is 500 Baht (about 15 USD). That is also the Grand Palace entrance fee since the Wat Phra Kaew is located inside of the Grand Palace complex.
Phra Si Rattana Chedi
PHRA SI RATTANA CHEDI is a stupa built in Sri Lankan style in 19 century and it is also one of the main places of interest in Bangkok. This stupa stands next to the Temple of Emerald Buddha and it is also a part of the Grand Palace compound.
Phra Mondop
PHRA MONDOP is a library holding Buddhist scriptures. It is built by Rama I in elegantly carved Ayutthaya style.
The library is also a part of the complex of the Temple of Emerald Buddha.
1.3. DISTRICTS IN BANGKOK
The Bangkok Metropolitan Area is home to more than 10 million people.
Travel to Bangkok and discover the modern metropolis of Bangkok. Be adventures on your visit to Bangkok and explore the streets and corners of the cosmopolitan city.
Master main districts of Bangkok: Rattanakosin Island (Bangkok Old City), Khaosan Road area, Riverside, Chinatown, Sukhumvit, Siam, Pratunam, Silom, and Chatuchak.
Rattanakosin Island
Bangkok Old City, or the Royal District, is the historic core of Bangkok centered around the Grand Palace.
Here you will find the main attractions in Bangkok: the Grand Palace, Wat Phra Kaew (a royal temple), Wat Po, and the National Gallery.
Khao San Road
Khaosan Road is one of the most famous districts in Bangkok, a party paradise, and a backpackers haven. If you like to party all night or if you are traveling on a budget and you don't mind noise and crowds, then Khao San Road should be your choice of where to stay in Bangkok.
Keep on your mind that the main Bangkok attractions in nearby Rattanakosin Island can be reached on foot from Khaosan Road.
Riverside
Bangkok Riverside area is the most charming and eye-pleasing district in Bangkok. Taking a taxi boat or a ferry ride on the Chao Praya river is an experience that should not be missed in Bangkok.
Along the Chao Praya river, you can find 4-star hotels and 5-star hotels in Bangkok.
Chinatown
Chinatown is one of the most vibrant areas in Bangkok. You should go to Chinatown in the evenings when Bangkok heats are down and crazy nightlife in Chinatown starts.
There you should taste some of the most appetizing Chinese and Thai street food in Bangkok.
Sukhumvit
Sukhumvit is the central area of Bangkok packed with western-style pubs and clubs and an energetic nightlife and clubbing scene.
In Sukhumvit area, you will find many luxury hotels, international restaurants with cuisines all around the world, go-go bars, sexy shows, and red-light districts.
Siam
Siam is a busy shopping district in Bangkok with shopping malls, restaurants, and cafes.
In Siam, you will find Jim Thompson's house, a traditional Thai house and a must-see attraction in Bangkok.
Pratunam
Pratunam is the home to the largest market in Bangkok. Clothes, textiles, shoes, fashion accessories and handmade crafts at Pratunam market are sold at wholesale prices.
Silom
Silom is Bangkok's business district packed with offices of a large number of banks and companies. In Silom, you will find the Lumphini Park, a green oasis in Bangkok and the most beautiful public park in Bangkok.
Chatuchak
Chatuchak district lies on the outskirts of Bangkok and is well-known for the Chatuchak weekend market which is one of the largest open-air markets in the World.
1.4. THAI FOOD IN BANGKOK
Thai food is world-famous for the blend of sweet, sour, salty and sweet flavors. Tasting local food, preferably on a food market in Bangkok where also local people eat and buy food or even better taking a Thai cooking class in Bangkok, should be a part of your travel experience in Bangkok. But if you want to eat some fancy food while in Bangkok, you should check out some of these 10 best places for brunch in Bangkok. After all, Bangkok is a cosmopolitan city and one of the most visited cities in the world!
Talking about traditional Thai food you should taste Thai Som Tam (the green papaya salad with peanuts, lime juice, and chilies), Kai Jeow ( the Thai omelet), Poh Pia Tod (Thai spring rolls with meat, rice or vegetable fillings), or Khao Neeo Mamuang (Thai sticky rice with mango), or coconut ice cream.
Order Pad Thai, a traditional Thai dish made of stir-fried noodles with chopped roasted peanuts and bean sprouts. You can take beef Pad Thai, chicken Pad Thai, shrimp Pad Thai, tofu Pad Thai or combination.
1.5. LADYBOY SHOWS IN BANGKOK
Amuse yourself watching a spectacular ladyboy cabaret show in Bangkok by the Calypso Cabaret at Asiatique the Riverfront.
A Calypso Cabaret show lasts 70 min on average. The ticket price for a Calypso Cabaret show is about 1.000 Baht (30 USD)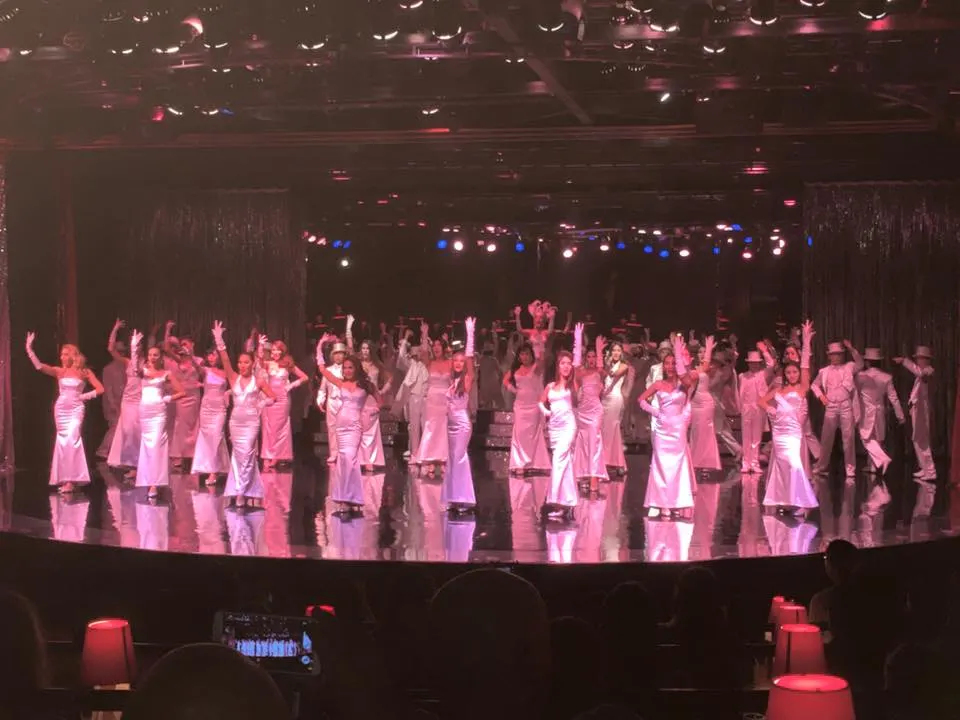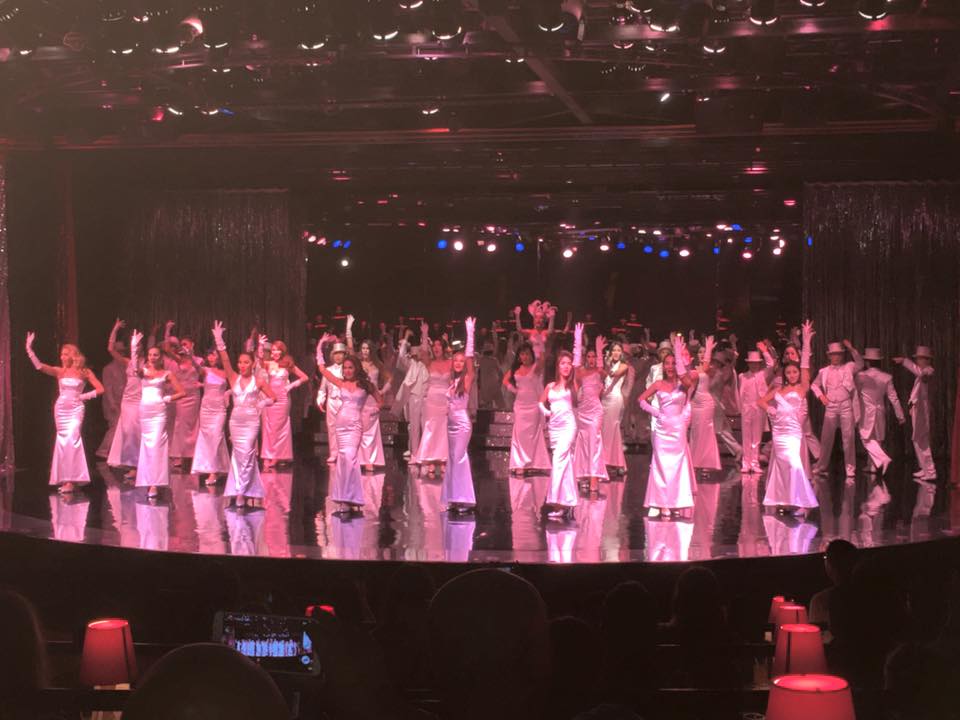 1.6. BUDDHISM IN THAILAND
Theravada Buddhist Mythology
Get familiar with Buddhist mythology in Bangkok. Observe dragons, demons, and other mythological creatures which often guard and adorn Buddhist temples, such as Garuda (a half bird-half man-creature and the national symbol of Thailand), Naga (a snake or dragon without legs protecting holy scriptures) or Yaksha (a nature spirit).
Thostsakhirithon
THOTSAKHIRITHON is a yaksha (nature spirit) and a giant demon in Buddhist mythology. This statue of Thotsakhirithon stands at the entrance to the Grand Palace in Bangkok.
Kinnara
KINNARA is a half bird-half man-creature in Buddhist mythology. These Kinnara statues you can find in the Wat Phra Kaew complex.
Buddhist altars in Bangkok
Enjoy gorgeously decorated Buddhist altars in the streets of Bangkok.
Buddhist symbolism in Bangkok
Learn about symbolism in Theravada Buddhist teachings in Bangkok.
In Buddhism, the white lotus flower represents the purity of the mind and the spirit, while the pink lotus flower represents the history of Buddha and the historical legends of the Buddha.
MAYBE YOU ALSO WOULD LIKE TO READ: Who is the Laughing Buddha
1.7. TUK-TUKS IN BANGKOK
Take a tuk-tuk to get around Bangkok and don't forget to negotiate your fare! The fare is on average 5-15 Baht less than proposed by the driver.
1.8. TAXI IN BANGKOK
While tuk-tuks are convenient for short trips in Bangkok, for longer rides and especially for avoiding Bangkok's crazy traffic jams and heats pick a cab in Bangkok. Average taxi fare for a few kilometers is about 50 baht (about 1.5 USD).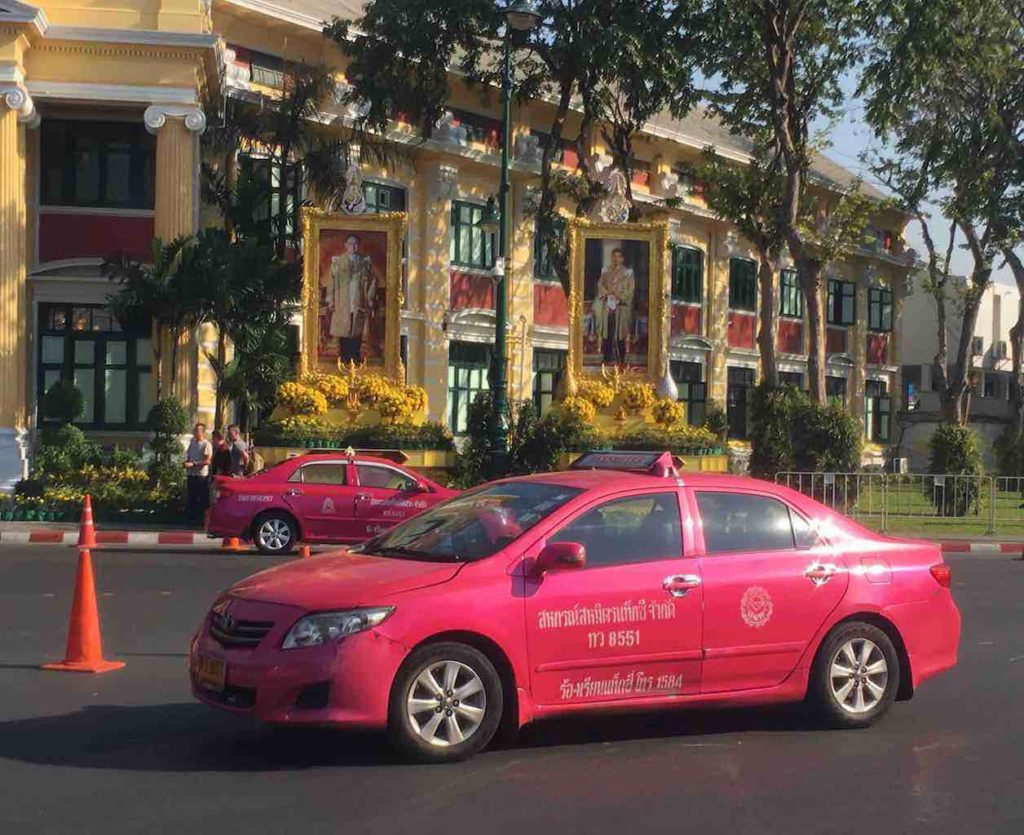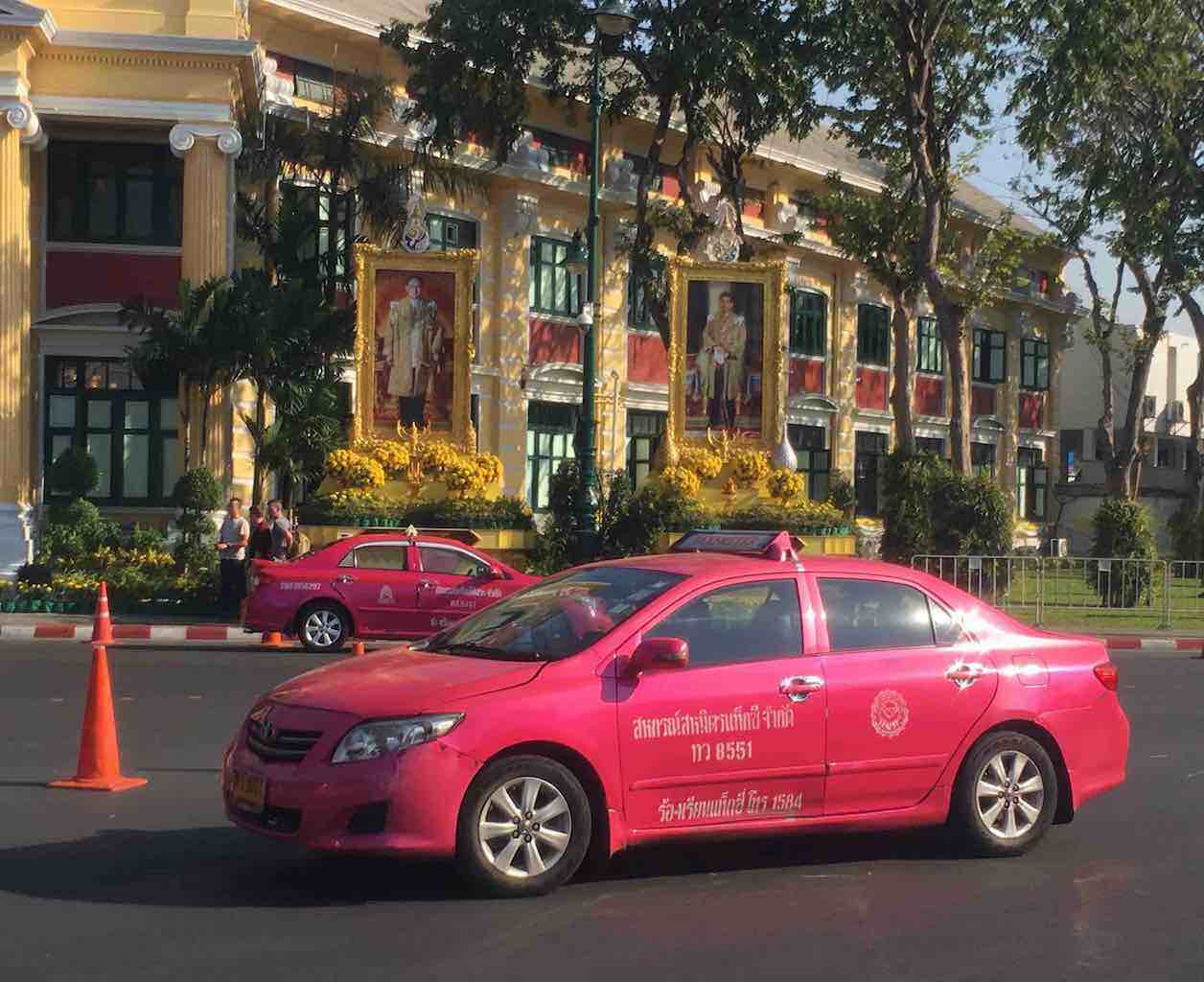 1.9. PEOPLE IN BANGKOK
Practice mindfulness while encountering people in the streets of Bangkok.
2. BANGKOK ITINERARY: 4 DAYS IN BANGKOK
This Itinerary Bangkok 4 days covers what to do in Bangkok in 4 days
While giving you answers what to do in Bangkok in 4 days, this suggested Bangkok 4 Days Itinerary gives you much time to enjoy the City of Smiles with no rush or stress.
Day 1: Grand Palace, Wat Phra Kaeo, Wat Pho, Cloud 47 B
Daytime: Visit the Grand Palace, the Temple of the Emerald Buddha (Wat Phra Kaew) and the Temple of the Reclining Buddha (Wat Pho)
Evening: Relax and have a casual dinner or just a glass of cocktail in the biggest rooftop bar in Bangkok, the Cloud 47 Rooftop Bar with amazing views of Bangkok's skyscrapers in the night.
Day 2: Chao Praya river cruise, Wat Arun, Calypso Cabaret
Daytime: Cruise the Chao Praya river by a ferry or a taxi boat. Visit the Temple of Dawn (Wat Arun)
Evening: Head to the Calypso Cabaret to watch a ladyboy show
Day 3: Siam shopping with Lumpini Park, Jim Thompson house, Pratunam market, Chinatown
Daytime: Have some shopping time at the malls in Siam district, relax on the lake in Lumpini Park, visit Jim Thompson's house, go to the Pratunam market
Evening: Explore Chinatown by night and enjoy the Chinese and Thai street food
Day 4: Chatuchak market, Khao San Road
Daytime: Head to Chatuchak market
Evening: Witness the craziness of the nightlife on the Khao San Road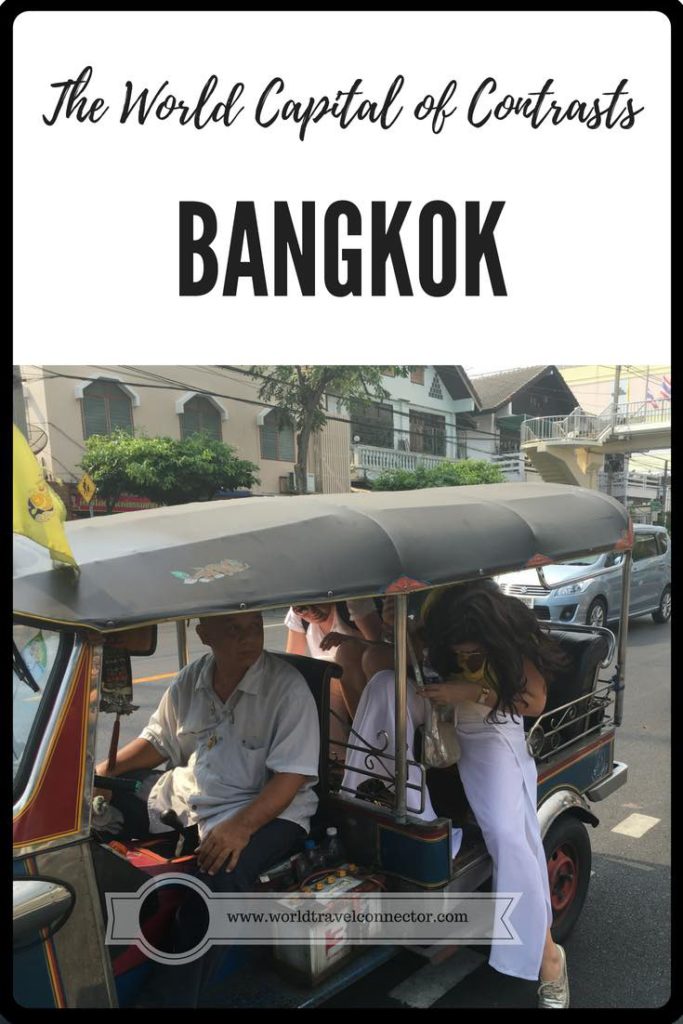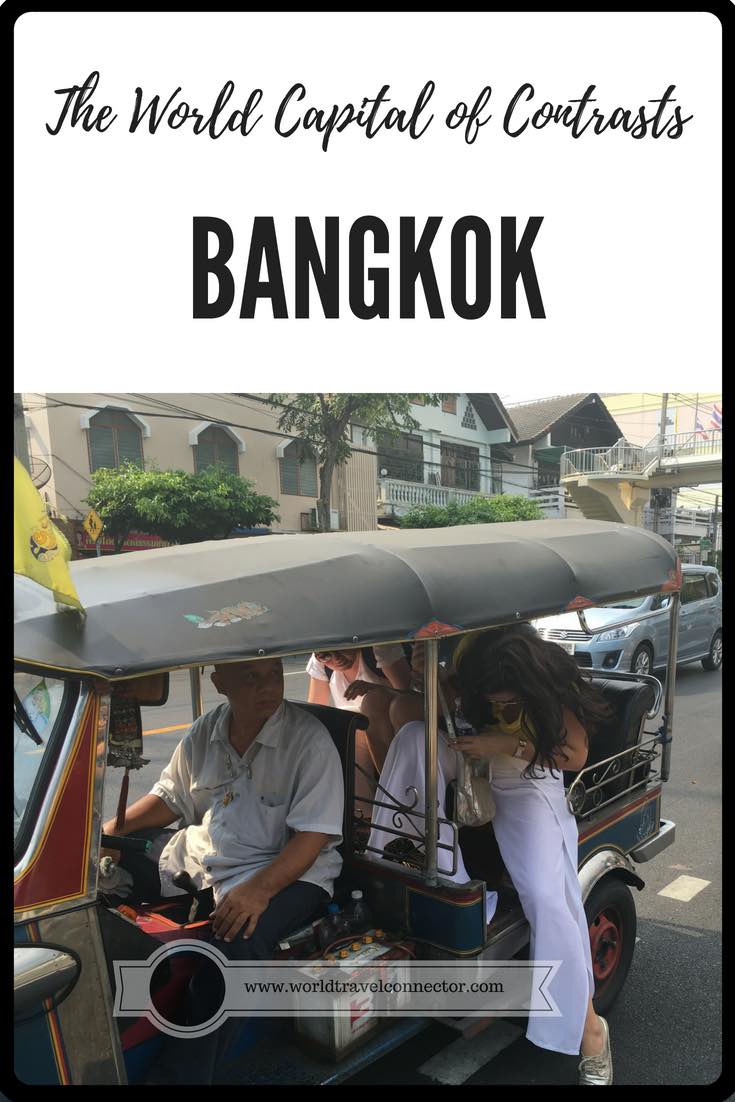 BANGKOK: THE WORLD CAPITAL OF CONTRASTS (POEM)
Bangkok:
the vibrant cosmopolitan city of embraced dissimilarities,
liberating metropolitan city of contrasts and balanced diversity,
unique oxymoron.
Bangkok:
the place where external chaos and inner calmness are in harmony,
where serenity meets busyness,
where Thai-ness and Western-ness blend together,
where authentic Thai traditionalism meets global contemporary modernism,
where sensual hedonism unites with sacred spirituality.
Bangkok:
the city where lady-boys and Buddhist monks walk without prejudice by each other in the streets,
where quiet contemplative temples stand alongside frenetically noisy streets,
where tranquil sanctuaries are close to vibrantly loud markets,
where poverty and wealth stand hand by hand: poor shacks and expensive skyscrapers, bear footed homeless and new riches.
Bangkok:
the place where cruel reality is mixed with progressively unpredictable future,
where cheap goods, fake brand items, and the latest technology super-brands flock together,
where fast long-tail river taxi-boats, tuk-tuks, mopeds, pink taxes, cars, buses and the Skytrain make insanely traffic chaos.
Bangkok:
the sour and sweet mixture,
warm and humid fusion,
union of diverse intensive smells, sounds, and sights:
place of fresh aromatic fruits in the streets, yellow-flowered Buddhist alters on the street corners and nearby flowing blurry smelly river,
the place where sweet sharp jasmine flavor surrounds stinky streets smells.
Bangkok:
the city of freedom of multicultural lifestyles, attitudes, and behaviors,
the city of acceptance of individual differences,
the city of tolerance of multicultural differences,
the city of smiles.
---
What do you think of Bangkok?
Do you agree that Bangkok is interesting and intriguing?
YOU MIGHT ALSO ENJOY