Exploring Northern Thailand?
You have already seen thousands of temples. Now you want to see something different?!
What about two temples more?
You are templed out?! Ok, ok, calm down.
These two Chiang Rai temples are so unique and unconventional as you have never seen something similar before and you shall never see it again.
These Chiang Rai temples served for art exhibitions at first, but over time they became places for meditation.
The first one is white, the second is black.
The first created a student, the second his master.
The first represents the Haven, the second represents Hell.
…. or…
Welcome to Chiang Rai temples!
Welcome to the two most unconventional must-see temples in Thailand: the White Temple and the Black Temple!
THIS POST MAY CONTAIN COMPENSATED LINKS. PLEASE READ MY DISCLAIMER FOR MORE INFO.
CHIANG RAI TEMPLES: WHITE TEMPLE & BLACK TEMPLE
The most popular Chiang Rai temples are the White Temple or Wat Rong Khun, and the Black Temple or Baan Dam (called the Black House as well).
These two temples in Chiang Rai are some of the most famous Buddhist temples in Thailand as they are unique and bizarre. Therefore, visiting the White Temple and the Black Temple in Chiang Rai is on the list of the top Thailand things to do.
1. WHITE TEMPLE IN CHIANG RAI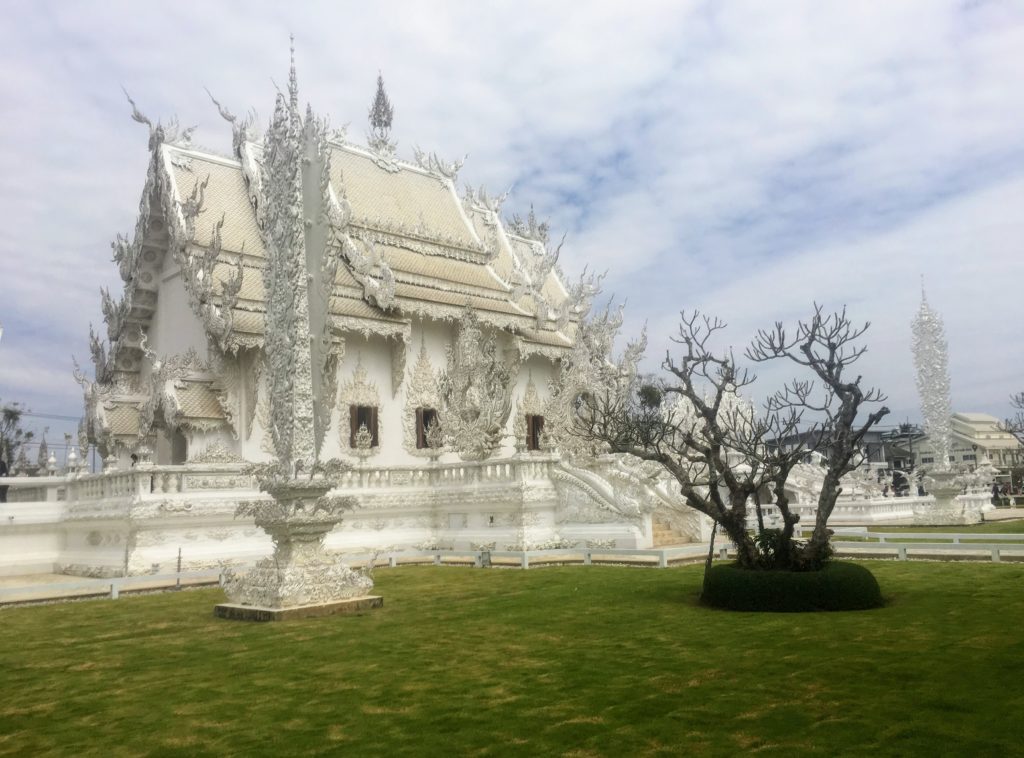 Chalermchai Kositpipat, a Thai famous artist designed and built the White Temple as a representation of the Haven.
In its beginnings, White Temple in Chiang Rai was an art exhibit, but over time it became a religious monument. What makes Wat Rong Khun in Chiang Rai unique is the symbolism of its architecture.
The temple's sparkling whiteness comes out of the building material – glass in plaster. The white color symbolizes Buddha's purity. And the glass symbolizes the Buddhists' teachings.
The Suffering area, or Hell, is just in front of the temple, the Haven. Hell's striving hands demonstrate human Desire, Greed, and Temptations.
To reach the Haven (the temple) a visitor should cross the Cycle of Rebirth bridge over a small lake. The bridge represents the path from Desires and Suffering (the Hell) to Freedom of Suffering (the Haven).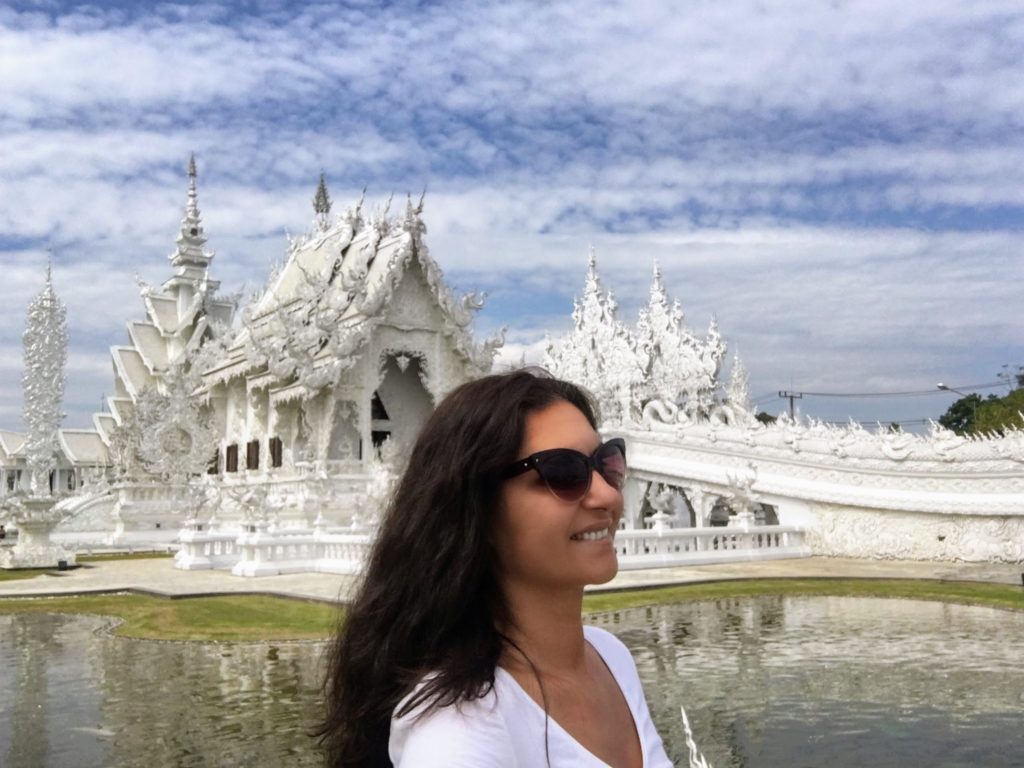 The main Haven's meditation hall is mostly in white. Mostly, there are also some vivid quirky murals. The murals portray modern Western idols, movies heroes, and comics villains. Characters like Spiderman, Batman, Neo, and Hello Kitty are there. They symbolize the foulness of contemporary men.
Is Chiang Rai White Temple an art exhibit or a temple with Elvis Presley and Micheal Jackon murals? Opinions of the visitors are divided, but they all should keep in mind that Wat Rong Khun in Chaing Rai is a Buddhist religious monument and the White Temple's mandatory dress code is covering shoulders and knees. And, of course, taking photos in the Haven is not allowed!
1.1 WHERE IS THE WHITE TEMPLE IN CHIANG RAI
The White Temple is located about 13 km (8 miles) southeast of Chiang Rai. The entrance fee is 50 Baht/person (∼1,6 USD).
1.2 HOW TO GET TO THE WHITE TEMPLE IN CHIANG RAI
The cheapest way to get to the temple is by public bus from Chiang Rai bus station. The one-way ticket is 20 Baht (∼0,6 USD).
MAYBE YOU ALSO WOULD LIKE TO READ: Who is the Laughing Buddha
2. BLACK TEMPLE IN CHIANG RAI (Baan Dam or the Black House)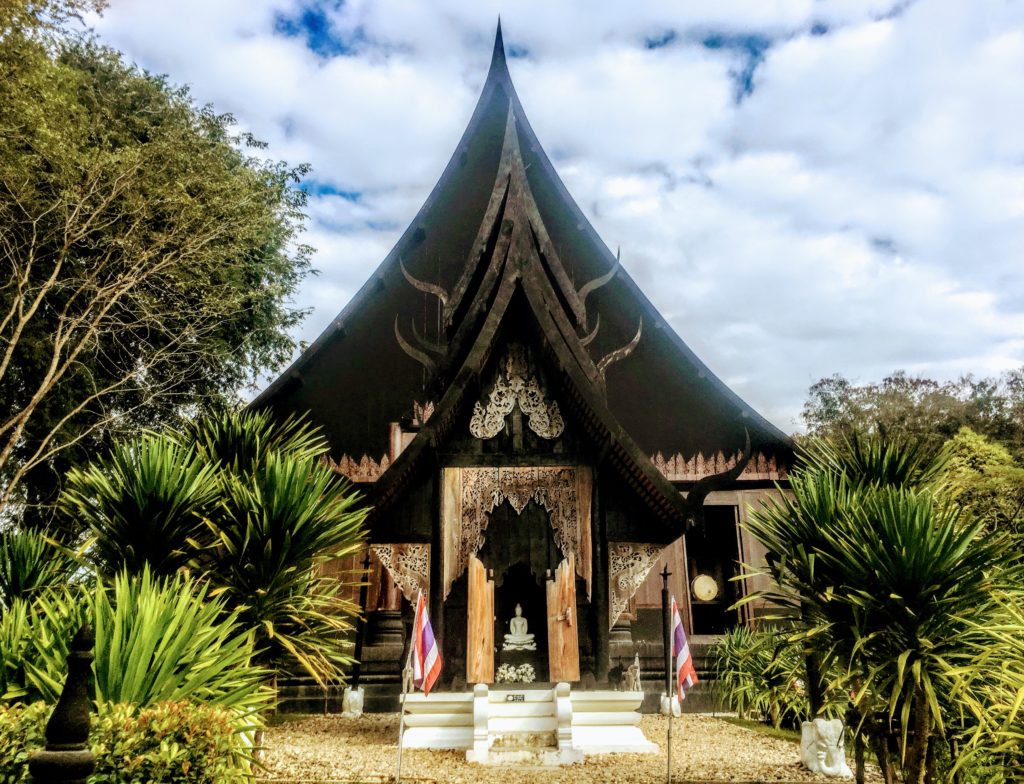 'Baan' means 'house' and 'Dam' means 'black' in the Thai language.
Baan Dam in Chiang Rai, or widely known as the Black Temple in Chiang Rai, is a unique museum designed by world-renowned and controversial Thai artist Thawan Duchanee. The late Thawan Duchanee is presently celebrated as the National Thai Artist.
Although, Black House in Chiang Rai is a museum, there are rooms for meditation where nowadays even the Thai royal family members come to meditate.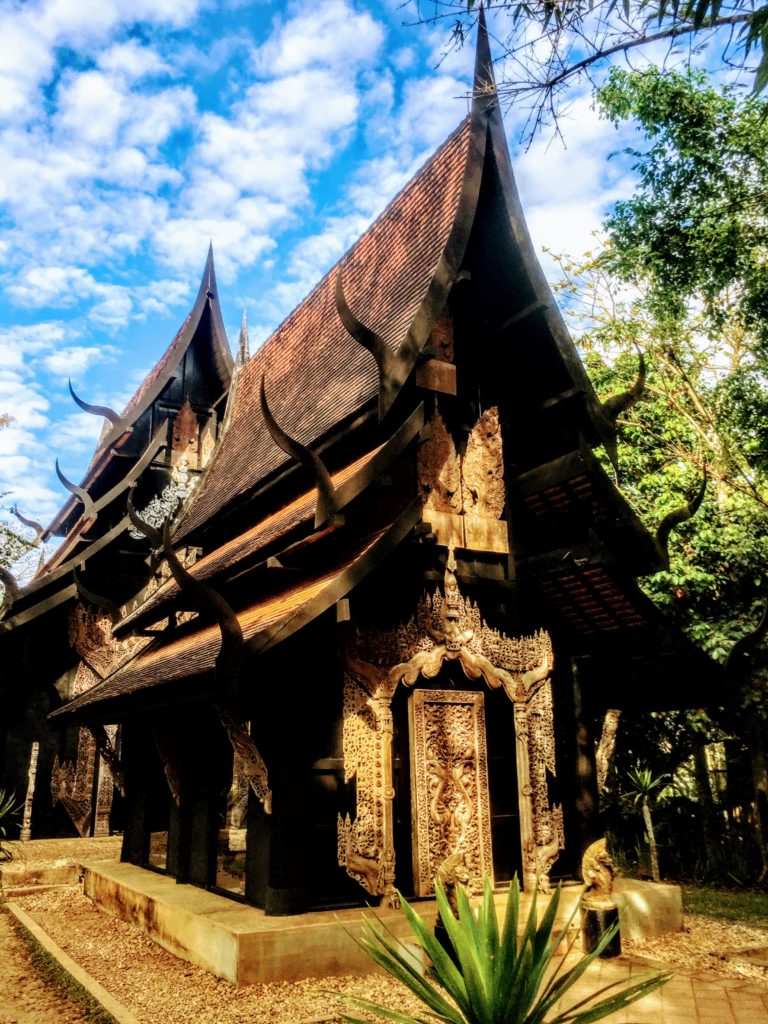 This bizarre but outstanding museum-temple is characterized by an unusual mix of traditional northern Thai style and timeless eccentric design.
The temple compound is made of several buildings. A few of them are traditional teak wood Lanna-style houses and a few are quirky modern structures.
The interiors and exteriors are decorated with animals' skeletons, skulls, horns, skins, and furs illustrating sickness, old age, and death.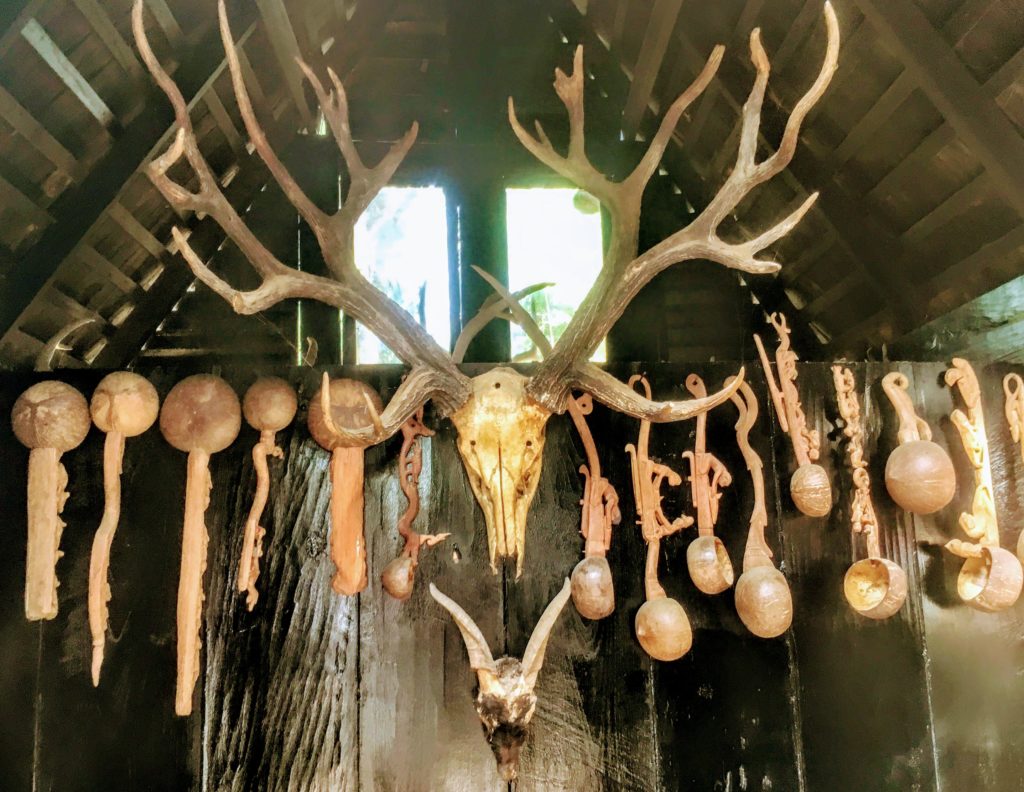 While the furniture is made of animal bones, phallic imageries shocking the visitors are everywhere.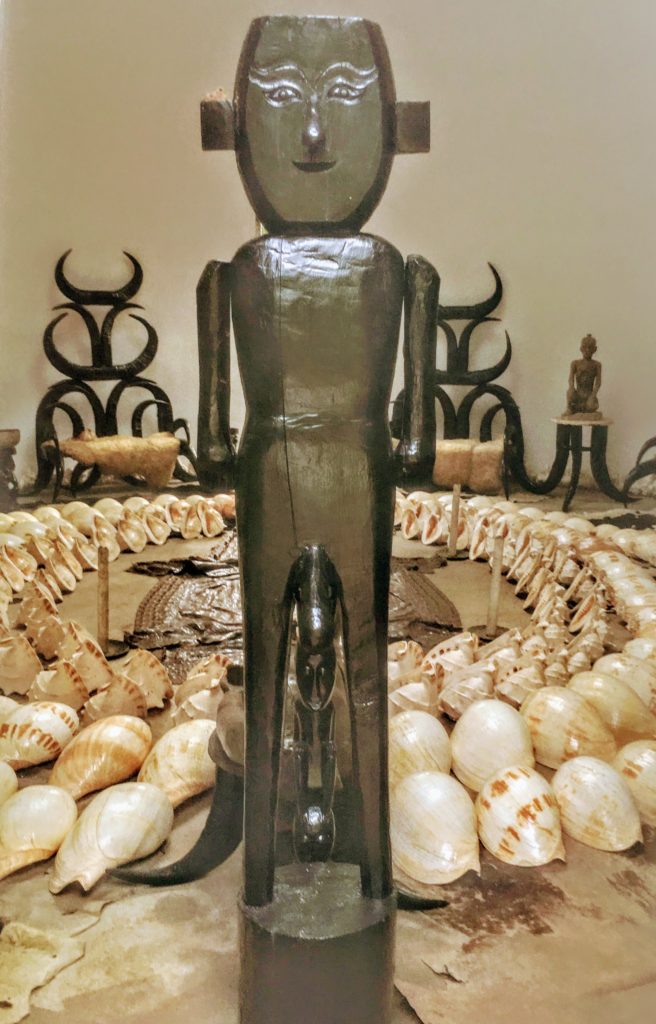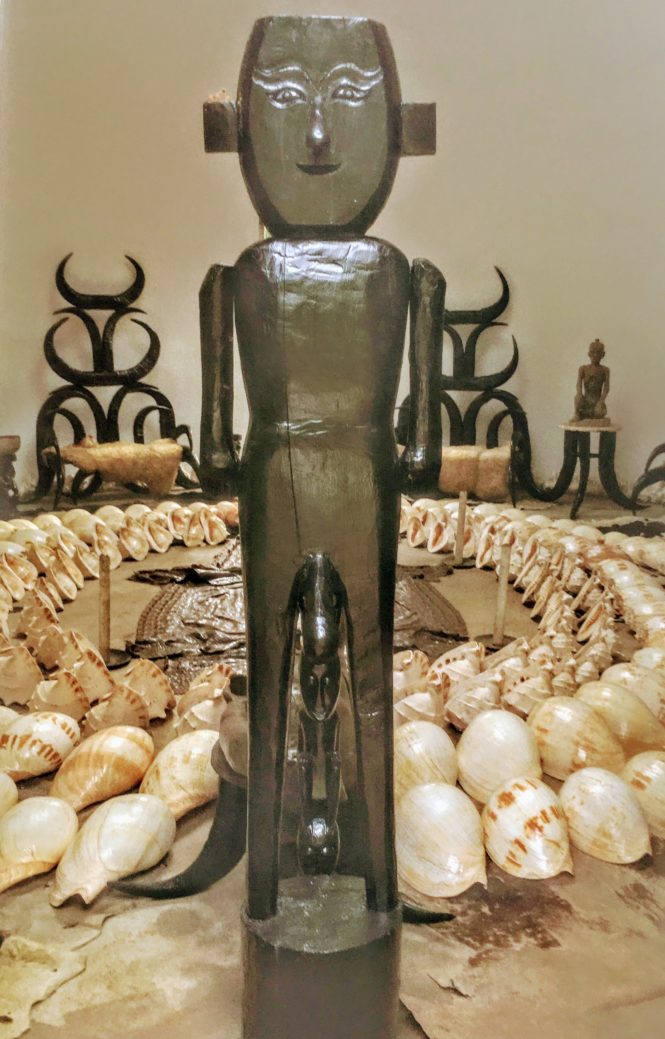 Chiang Rai Black Temple is to some visitors odd, confusing, mysterious, and dark. To others, it is morbid, sadistic, scary, and disturbing.
No one stays indifferent to the Black Temple in Chiang Rai after visiting it. Everyone agrees, it is unique.
Confused a bit and amused a lot, I liked this surreal temple museum. The work of Thawan Duchanee reminded me of Salvador Dalí. Thawan Duchanee is the Thai Salvador Dalí to me.
MAYBE YOU ALSO WOULD LIKE TO READ: 16 Buddhist Temples in Southeast Asia you Must Visit
2.1 WHERE IS THE BLACK HOUSE IN CHIANG RAI
The Black Temple is located about 10 km (6 miles) northwest of Chiang Rai. The entrance fee is 80 Baht/person (∼2,6 USD).
2.2 HOW TO GET TO THE BLACK TEMPLE IN CHIANG RAI
The cheapest way to go to the temple is by public bus from Chiang Rai bus station. The one-way ticket is 20 Baht (∼0,6 USD).
WHERE TO STAY IN CHIANG RAI IN THAILAND
Recommended accommodation in Chiang Rai:

BUDGET: Connect Hostel, Mercy Hostel, Stay In Chiangrai
MID-RANGE: Homestay Chiangrai, Baansuan Rimthan, Saikaew Resort, Maryo Resort
UPSCALE: The Riverie by Katathani, The Imperial River House Resort, Le Meridien Chiang Rai Resort
MAP OF CHIANG RAI TEMPLES
Chiangrai White Temple and Black Temple map
MAYBE YOU ALSO WOULD LIKE TO READ: Borobudur and Prambanan temples in Indonesia
THE BEST TIME TO VISIT CHIANG RAI
The best time to travel to northern Thailand and to visit Chiang Rai and Chaing Rai temples is from December to February when the average daily maximum goes around 79°F (26°C). You should avoid the Moonson season from May to October.
GETTING FROM BANGKOK TO CHIANG RAI
The distance between Bangkok and Chiang Rai is about 510 miles (820 km).
The cheapest direct way to get from Bangkok to Chiang Rai is by bus. One-way bus ticket from Bangkok to Chiang Rai is about 600 Baht (20 USD). Check out timetables and prices here
STEPS AND TRAVEL RESOURCES FOR YOUR PERFECT TRIP

1. Find and book your flight: Skyscanner
2. Find and book your stay: Booking.com, HotelsCombined.com
3. Get travel insurance (insure yourself against any accident, sickness, theft, and canceled flight): WorldNomads.com
4. Find and book great guided day tours: GetYourGuide, Viator
GETTING FROM CHIANG MAI TO CHIANG RAI
The distance between Chiang Mai and Chiang Rai is about 125 miles (200 km).
One-way bus ticket from Chiang Mai to Chiang Rai is about 230 Baht (7 USD). Check out timetables and prices here
YOU MIGHT ALSO ENJOY