'Same Same but Different' Guide to Best Things to Do in Bangkok, Thailand.
A perfect Bangkok bucket list: where to go in Bangkok, what to do in Bangkok, what to see in Bangkok, places to visit in Bangkok, attractions in Bangkok, Bangkok sightseeing, Bangkok nightlife, Bangkok activities, Bangkok must-sees, Bangkok must-does and much more!
Bangkok has been the most visited city in the world for the past 4 years.
23 million people have visited Bangkok only in 2018. Bangkok is not only the capital of Thailand but the top destination in Thailand too.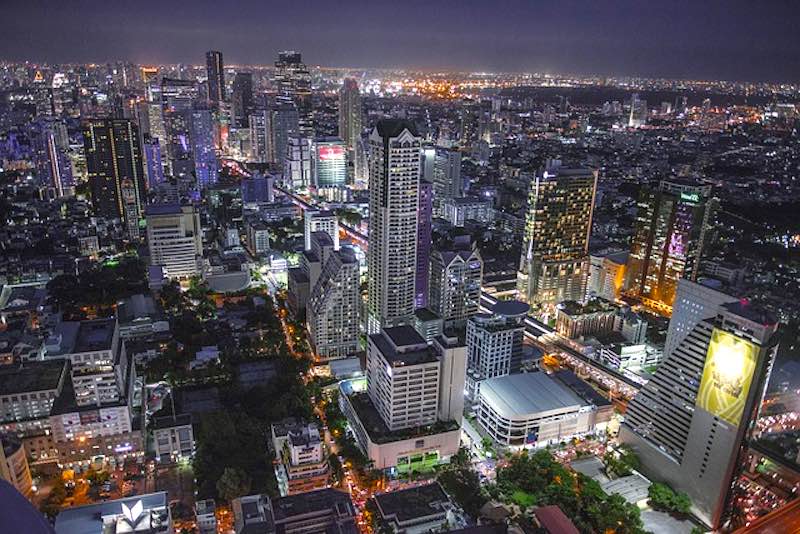 Some people love it, some people hate it. I adore it. I've been to Bangkok several times and I am always looking forward to going back to Bangkok. I am in love with Bangkok since the first day I have set my feet on the ground of Bangkok.
Bangkok city is the crown of all cities in Thailand. Bangkok is a multi-layered cosmopolitan and multicultural city. Bangkok is home to 10 million people and a city that welcomes more than 22 million tourists a year. Not visiting Bangkok during the lifetime is a huge mistake.

Unfortunately, a certain number of people in western countries have prejudices about Bangkok and Thailand. There is a stereotype about Bangkok famous for a certain type of hedonism. Sadly, people who don't travel are inclined to stereotypes and prejudices. Therefore, I urge everyone to travel, to visit Bangkok, and to visit Thailand. I hope my guide to the best things to do in Bangkok will make them book their first flight to Bangkok and tear down their prejudices.
This Bangkok travel guide covers a wide range of the best things to do in Bangkok: from visiting top Bangkok attractions (the Grand Palace, Wat Pho, Wat Arun, Khao San Road, Bangkok floating markets…), sampling delicious Thai food in Bangkok (taking Thai cooking classes in Bangkok, touring Bangkok food markets …), getting sacred Sank Yats tattoo like Angelina Jolie (one of the most wanted and most famous travel tattoos ever), the best day trips from Bangkok (visiting Ayutthaya, Kanchanaburi and the Bridge on the River Kwai..) and more.
THIS POST MAY CONTAIN COMPENSATED LINKS. PLEASE READ MY DISCLAIMER FOR MORE INFO.
STEPS AND TRAVEL RESOURCES FOR YOUR PERFECT TRIP

1. Find and book your flight: Skyscanner
2. Find and book your stay: Booking.com, HotelsCombined.com
3. Get travel insurance (insure yourself against any accident, sickness, theft, and canceled flight): WorldNomads.com
4. Find and book great guided day tours: GetYourGuide, Viator
THE ULTIMATE BANGKOK BUCKET LIST: BEST THINGS TO DO IN BANGKOK, THAILAND
My Bangkok bucket list of top things to do in Bangkok starts with the main Bangkok points of interest and the best places to visit in Bangkok, continues with the best activities in Bangkok and unique things to do in Bangkok, and ends with some fun things to do Bangkok and interesting day trips from Bangkok.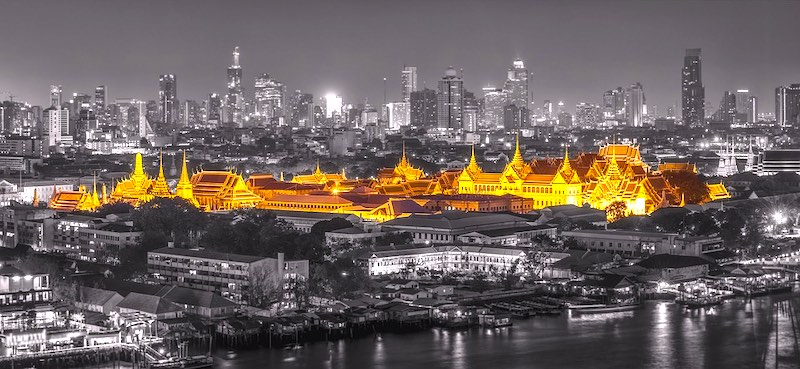 Bangkok things to do to experience the best of Bangkok:
1. VISIT THE GRAND PALACE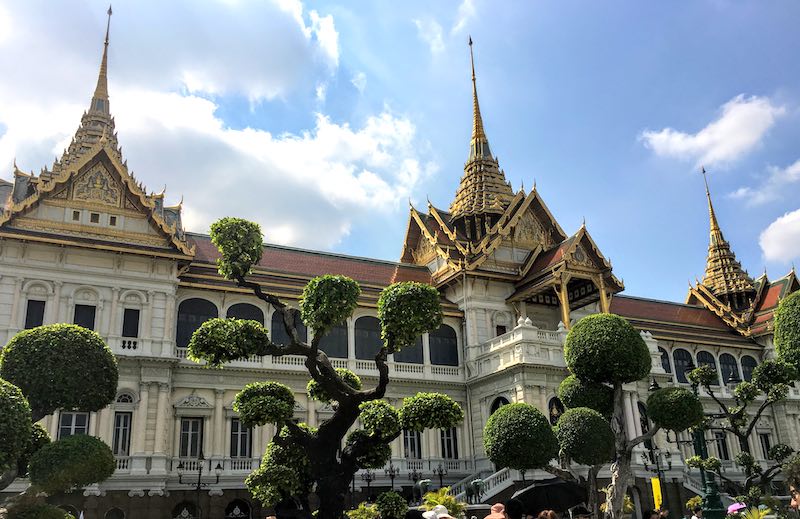 The spectacular royal Grand Palace in the heart of Old Bangkok is the official seat of the Kingdom of Thailand, and the former Kingdom of Siam.
The royal complex represents the heart of Bangkok and Thailand. The Grand Palace complex covers several buildings, halls ad gardens on an area of about 22 ha at the heart of the Rattanakosin Island (the historic area of the Old Bangkok).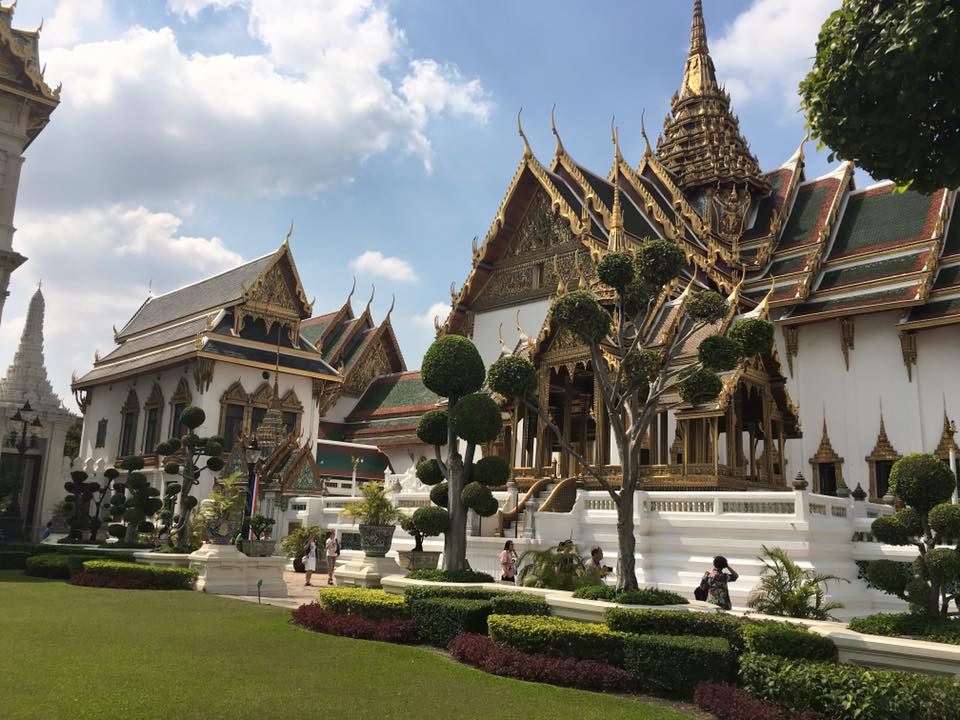 Today Bangkok Grand Palace is used only for official events and ceremonies while royals reside in the Dusit Palace in Bangkok. But, the Grand Palace complex remains a top tourist attraction in Bangkok.
Bangkok Grand Palace entrance fee: 500 baht (15 USD)
Grand Palace, Bangkok – opening hours: 8:30 am – 3:30 pm every day
2. SEE THE EMERALD BUDDHA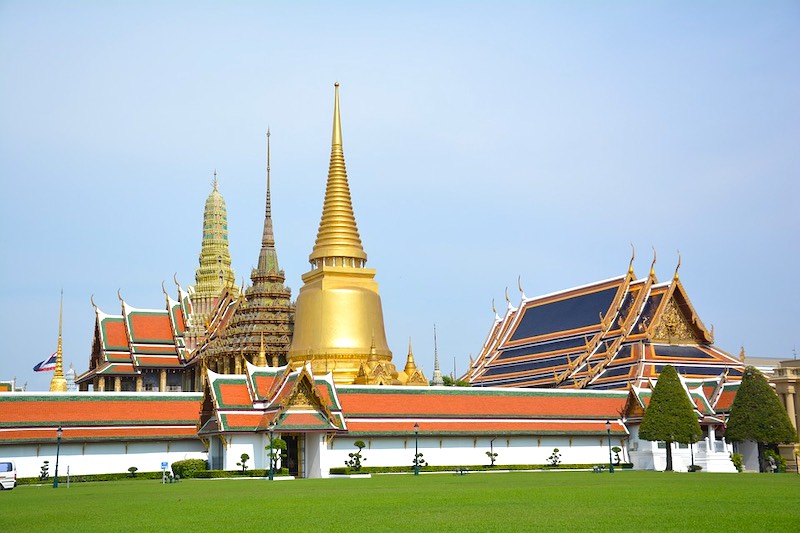 Royal Wat Phra Kaew temple with the Emerald Buddha statue is the most sacred Buddhist temple in Thailand. The Temple of the Emerald Buddha is located within the grounds of the Grand Palace complex.
A tiny 26 inches (76 cm) Buddha statue made of jasper serves as the protector of the Kingdom of Thailand, Thai king, and Thai people. 
Only the King of Thailand is allowed to approach the Emerald Buddha who symbolically changes the robes of the Emerald Buddha 3 times a year (at the beginning of the seasons: winter, summer, rainy).
The Emerald Buddha statue dates back to the 15th century, while the royal temple was built in 1782 and when Bangkok as the capital of the kingdom was established.
Just to remind you, please dress respectfully when entering Wat Phra Kaew and other Buddhist temples covering your knees and shoulders. And keep in mind that you need to take off your shoes before entering Wat Phra Kaeo and all Buddhist temples.
Taking photos inside Wat Phra Kaew is not allowed.
Wat Phra Kaeo and the Emerald Buddha is a part of the Grand Palace complex. Info about the opening times and tickets are above mentioned.
3. VISIT RECLINING BUDDHA IN WAT PHO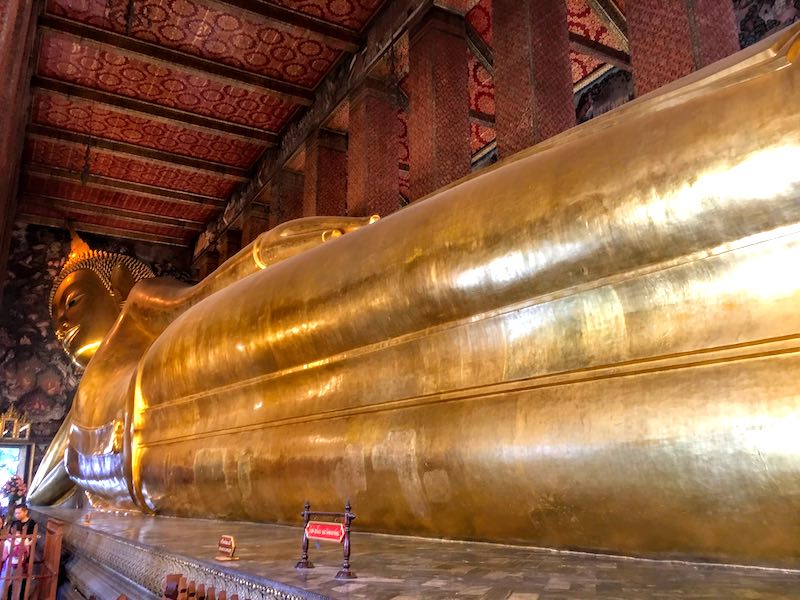 Just 10 min walk away (1 km) from the Grand Palace you can see 46 m long gold Reclining Buddha in Wat Pho.
The temple of Reclining Buddha or Wat Pho is the oldest and the largest temple complex in Bangkok. Thus, it should be on any Bangkok bucket list.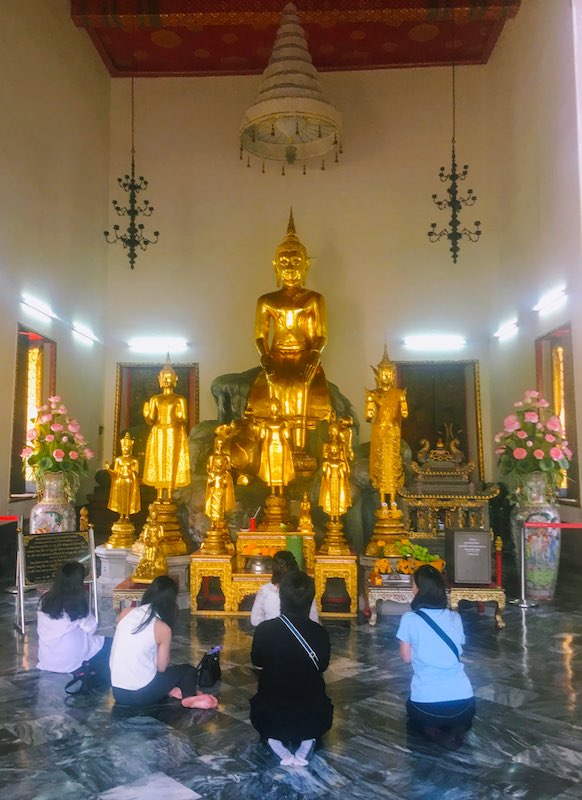 Wat Pho temple and the Reclining Buddha are some of the best things to see in Bangkok.
Wat Pho entrance fee: 200 baht (6 USD)
Wat Pho opening hours: 8 am – 5 pm
4. HAVE TRADITIONAL THAI MASSAGE IN WAT PHO COMPLEX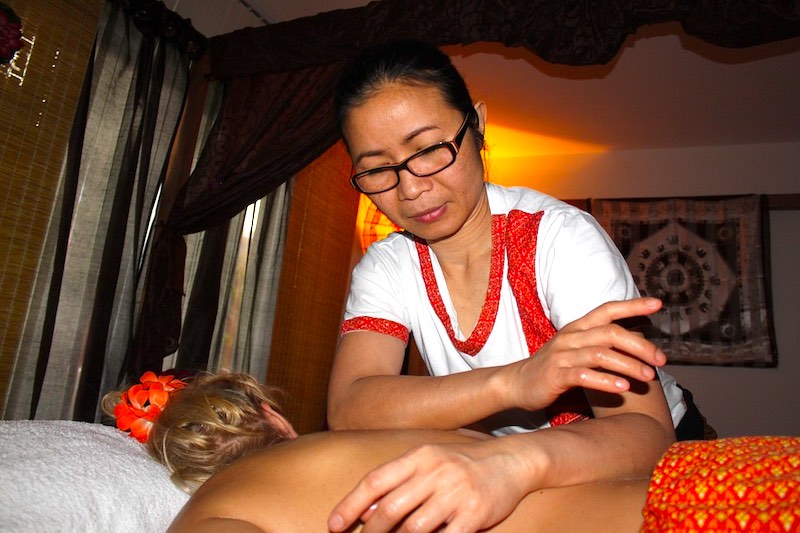 Traditional Thai massage is a more than 2.000-year old unique body therapy and healing art that uses body pulling and stretching and acupressure as techniques for healing and maintaining health.
For this, massage therapists use their thumbs, elbows, and knees and might even walk on the person who receives a massage.
Relaxing with authentic Thai massage is one of the best things to do in Bangkok and one of the top things to do in Thailand.
The aforementioned Wat Pho is not only a Buddhist temple but also the first public university in Thailand with schools for medicine, literature, science, and religion. The national headquarters for traditional Thai medicine, including traditional Thai massage is within the Wat Pho complex.
Thai massage is available at numerous places in Thailand. But the best place in Bangkok to get it is at Wat Pho Thai Traditional Massage School.
Keep in mind, you might wait in a long queue for your traditional massage in the Wat Pho complex. Thus, behave smart and book the massage in advance at Wat Pho Massage School in Bangkok. Thai massage is one of the best things you can do for your health.
Wat Pho Massage School Service Center opening hours: 8 am – 6 pm
Price of Thai massage at Wat Pho Massage School Service Center: 320 baht/30 min (10 USD), 480 baht/1 hour (16 USD), foot massage 220 baht (7 USD)
5. VISIT WAT ARUN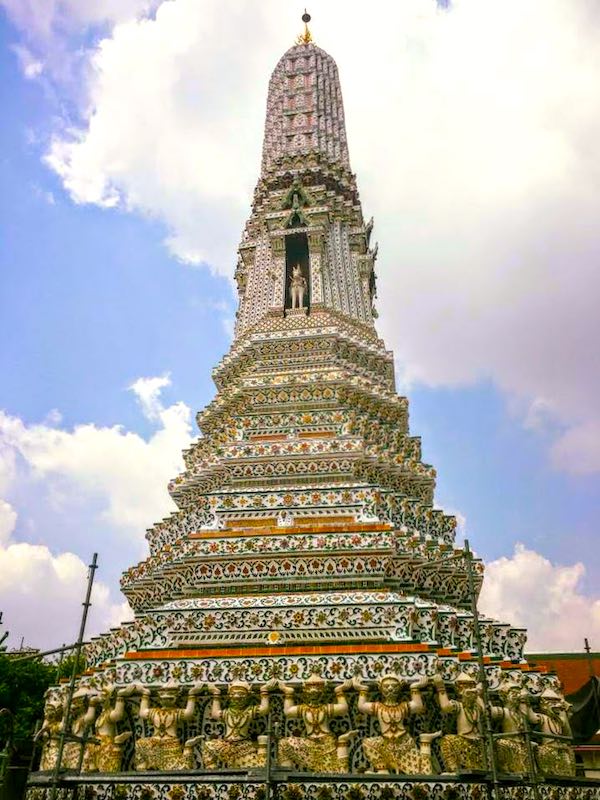 Bangkok's top attractions are definitely Bangkok temples.
The best temples in Bangkok are Wat Phra Kaeo, Wat Pho, and Wat Arun. But the most beautiful temple in Bangkok is probably Wat Arun.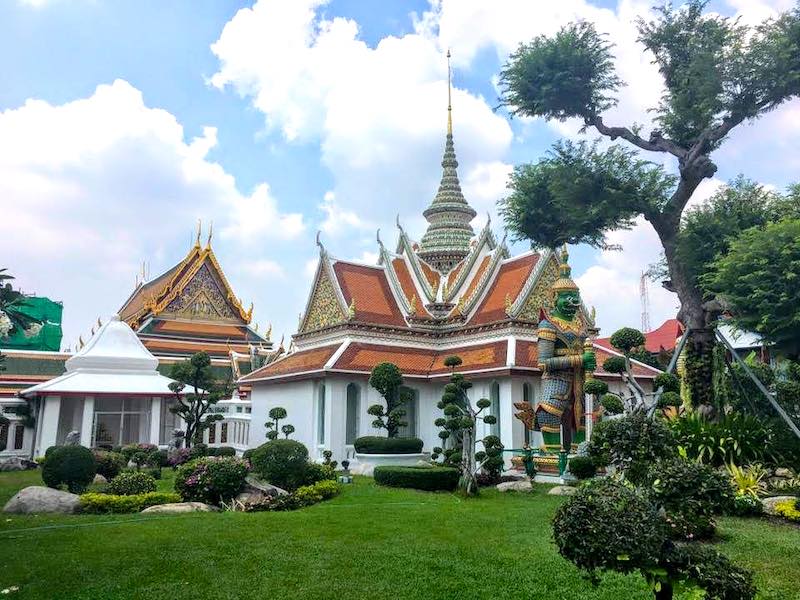 Temple of the Dawn or Wat Arun is located on the west bank of the Chao Phraya River. The temple was named after the Hindu god Arun. The central tower (prang) is made of the finest colorful and intricate Chinese porcelain. Quite often you can see Wat Arun and the Chao Praya River in the photos of Bangkok. For its beauty Temple of the Dawn in Bangkok is a famous Thailand landmark.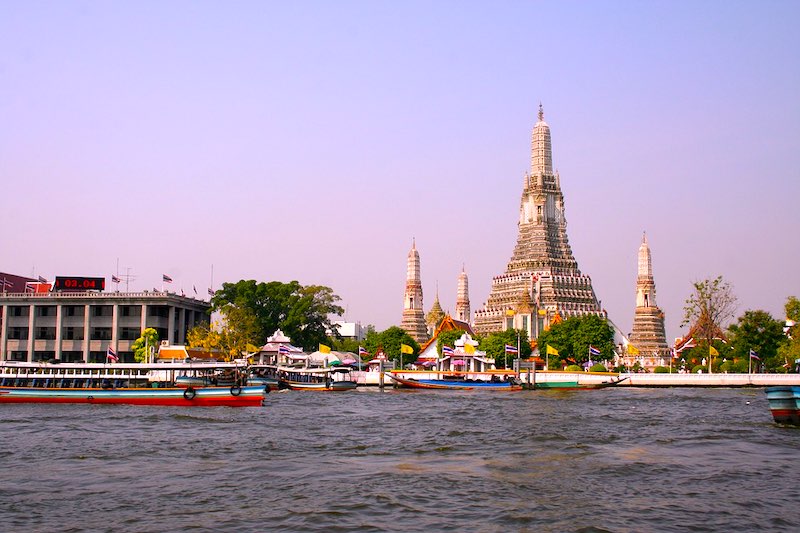 During the Buddhist festival of Kathina that marks the end of the 3 month-long rainy seasons, the Thai king goes in the Royal Kathina Ceremony from Bangkok Grand Palace to Wat Arun to give new robes to the monks as the blessing for the new season.
Taking this Flexi Walking Temple tour you can visit the Grand Palace, the Emerald Buddha Temple, Wat Pho, and Wat Arun in a 4-hour span.
Wat Arun hours: 8 am – 6 pm every day
Wat Arun entrance fee: 50 Baht
6. STROLL KHAO SAN ROAD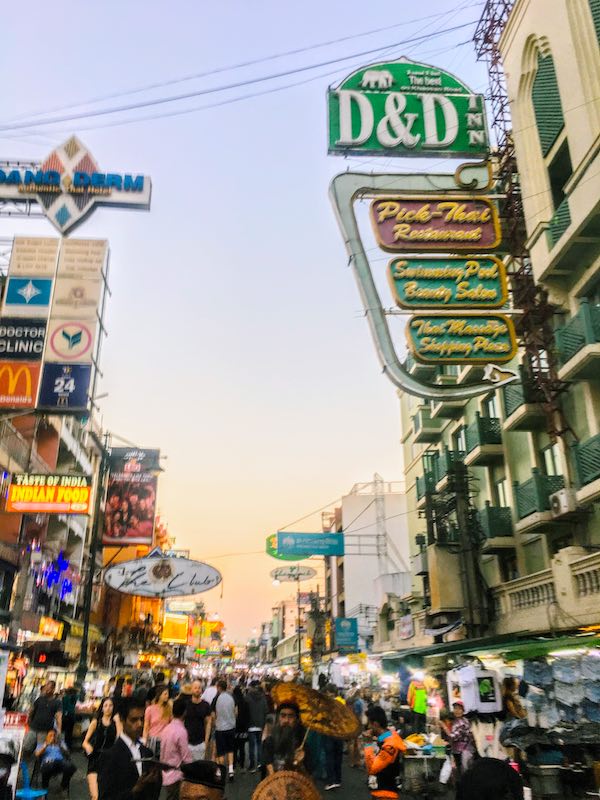 Khaosan Road in Bangkok is probably the most famous backpackers street and backpackers ghetto in the World.
But please don't be misled by this, as on Khao San Road you can meet people from all walks of life, not only backpackers! Khao Sao Road is Bangkok's attraction that shines at night when all bars open and music starts. Life in Bangkok at night is exciting and vibrant. And one of the hotspots of Bangkok's nightlife is Khao San Road.
It is not surprising that visiting Khao San Road is always featured among the top 10 things to do in Bangkok. According to some statistics and depending on the season (the high season or the low season), between 20,000 and 40,000-50,000 tourists a day visit Khao San Road.
Khao San Road is a must-see in Bangkok.
7. ENJOY PAD THAI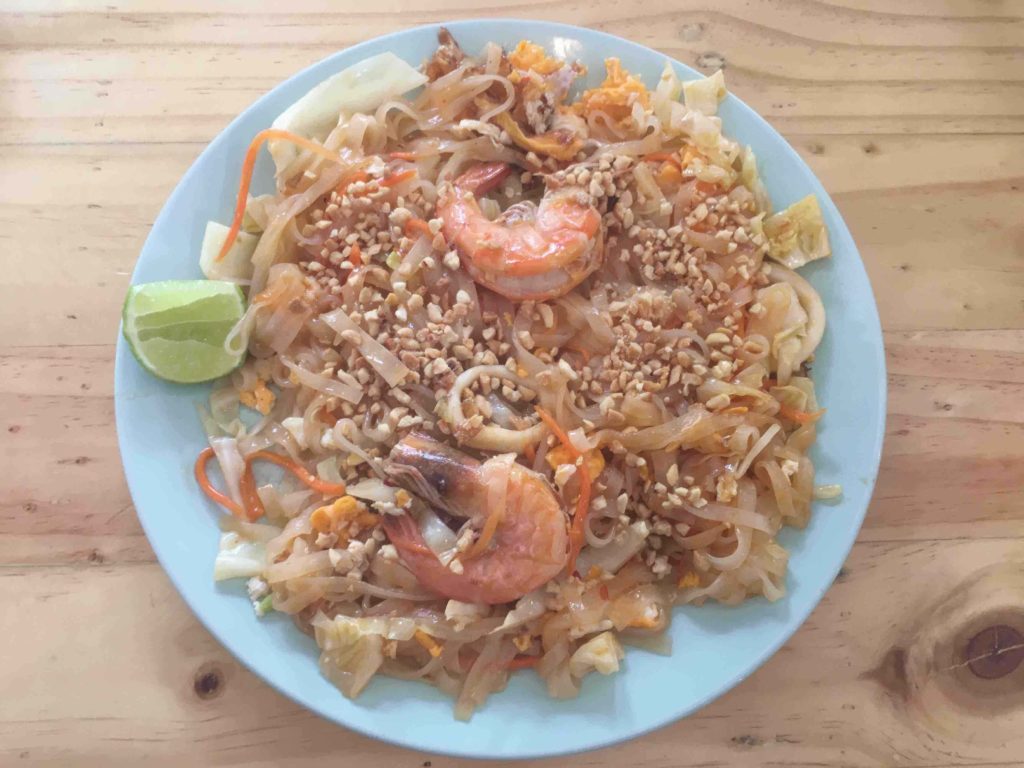 Phad Thai is one of the most well-known traditional Thai dishes.
It is made of rice noodles with eggs and tofu, vegetables (like raw banana flowers, garlic chives, bean sprouts), shrimps or crabs or chicken, and all flavored with tamarind. Chili peppers, palm sugar, lime, and roasted peanuts are usually added making it even more flavourful.
8. CHECK OUT FOOD IN CHINATOWN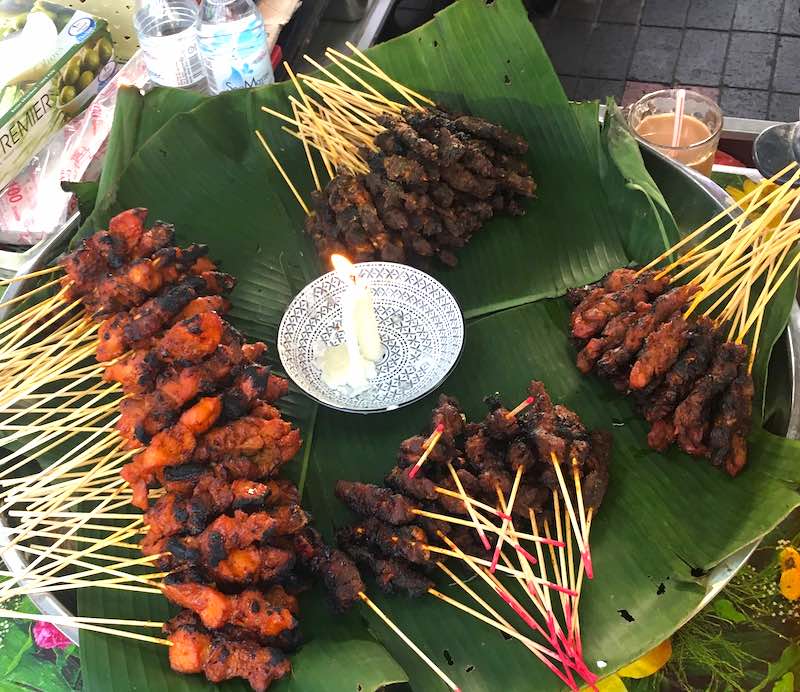 Frenetic Chinatown is Bangkok's attraction where all foodies gather when the sun goes down and the street food scene gets alive.
Although the smells, sounds, and sights of Chinatown can be very intense. Thus, one of the best things you can do in Bangkok as a foodie or a curious traveler who enjoys cultural immersion is to head to Bangkok's Chinatown after the sunset for a sensory adventure.
Some of the best places to eat in Bangkok worth mentioning are in Chinatown like Khao Gaeng Jake Puey stalls for the best curry in Bangkok, Si Morakot old Chinese shop favorite by locals, Chongki restaurant for best pork satay skewers with peanut sauce, Kung Pao Patutong for giant river prawns, Guay Deow Kua Gai Suanmali for first-rate noodle dishes, Lek & Rut for seafood, and T&K again for first-class seafood.
Checking out street food stalls and restaurants in Chinatown is a must-do in Bangkok. Taking a 3.5 hour night food tour in Bangkok Chinatown you can explore and sample the street food.
Bangkok's Chinatown located on Yaowarat Road in Bangkok is arguably the largest Chinatown in the World. Taking a night food tour in Bangkok's Chinatown is one of the best things to do in Bangkok.
9. VISIT FLOWER MARKET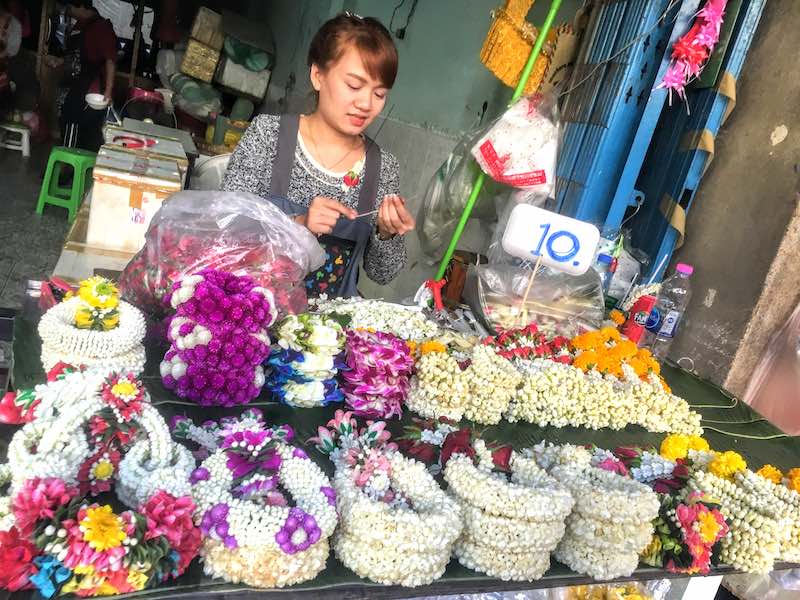 Get your authentic Thai floral experience at Pak Khlong Talat market.
Visit Pak Khlong Talat, the largest fresh flower market in Bangkok. It is both, a wholesale and retail market. Besides the fresh flowers market, vegetables and fruits are sold as well.
Although Bangkok Flower Market is open 24 hours, the peak hours are between midnight and before dawn. Yes, Bangkok likes to live at night! A lot!
Visiting unique Bangkok's Flower Market after midnight is one of the best things to do in Bangkok!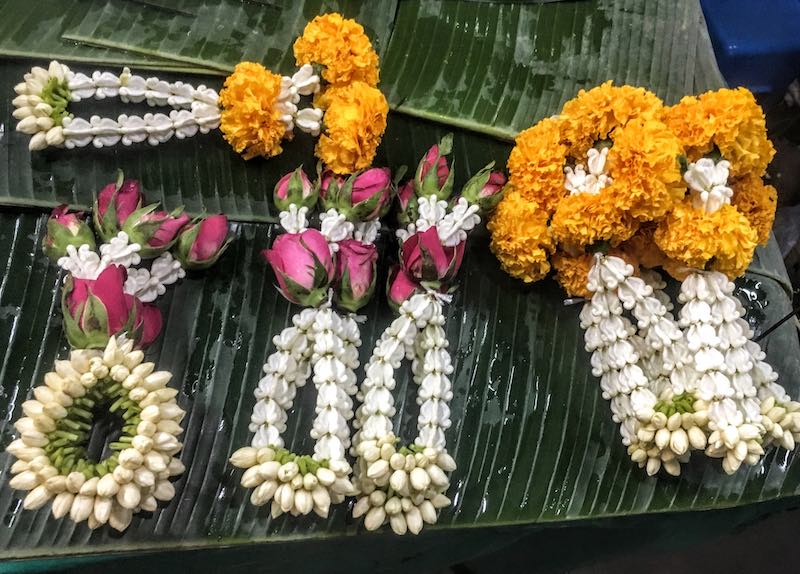 Pak Khlong Talat is located on Chak Phet Road, easily accessible from the Memorial Bridge or Saphan Phut Chao Phraya pier.
10. EXPLORE CHATUCHAK WEEKEND MARKET
The Chatuchak Weekend Market is the largest market in Thailand and arguably the largest market in the World.
This shopping mecca is a bargaining paradise that covers an area of 35 acres. One full day is not enough to visit more than 15,000 market shops and stalls. Some statistics show that more than 200.000 visitors visit the market every weekend. You can find almost anything in the Chatuchak Weekend Market: from clothing, crafts, souvenirs, antiques, arts, books to foods and pets, and more. Plus, you can get it for the cheapest price in Bangkok.
If you would like to explore Chatuchak Weekend Market and Bangkok with a local guide on your own Bangkok itinerary, I would recommend taking Bangkok Private Guided & Self- Tailored Tour.
Chatuchak market opening hours: Sat-Sun 9 am – 6 pm, Mon-Tues closed, Wed-Thurs 7 am – 6 pm (plants and flowers only), Fri 6 pm – 12 am (night market only; wholesale day)
11. TRY THAI COCONUT ICE CREAM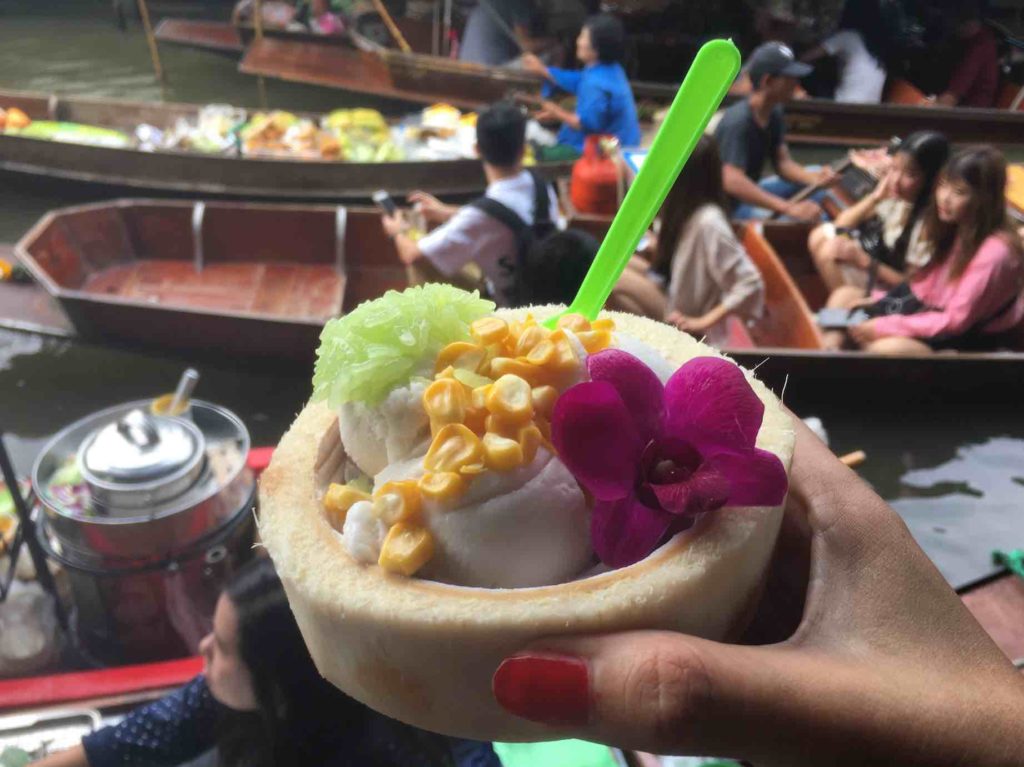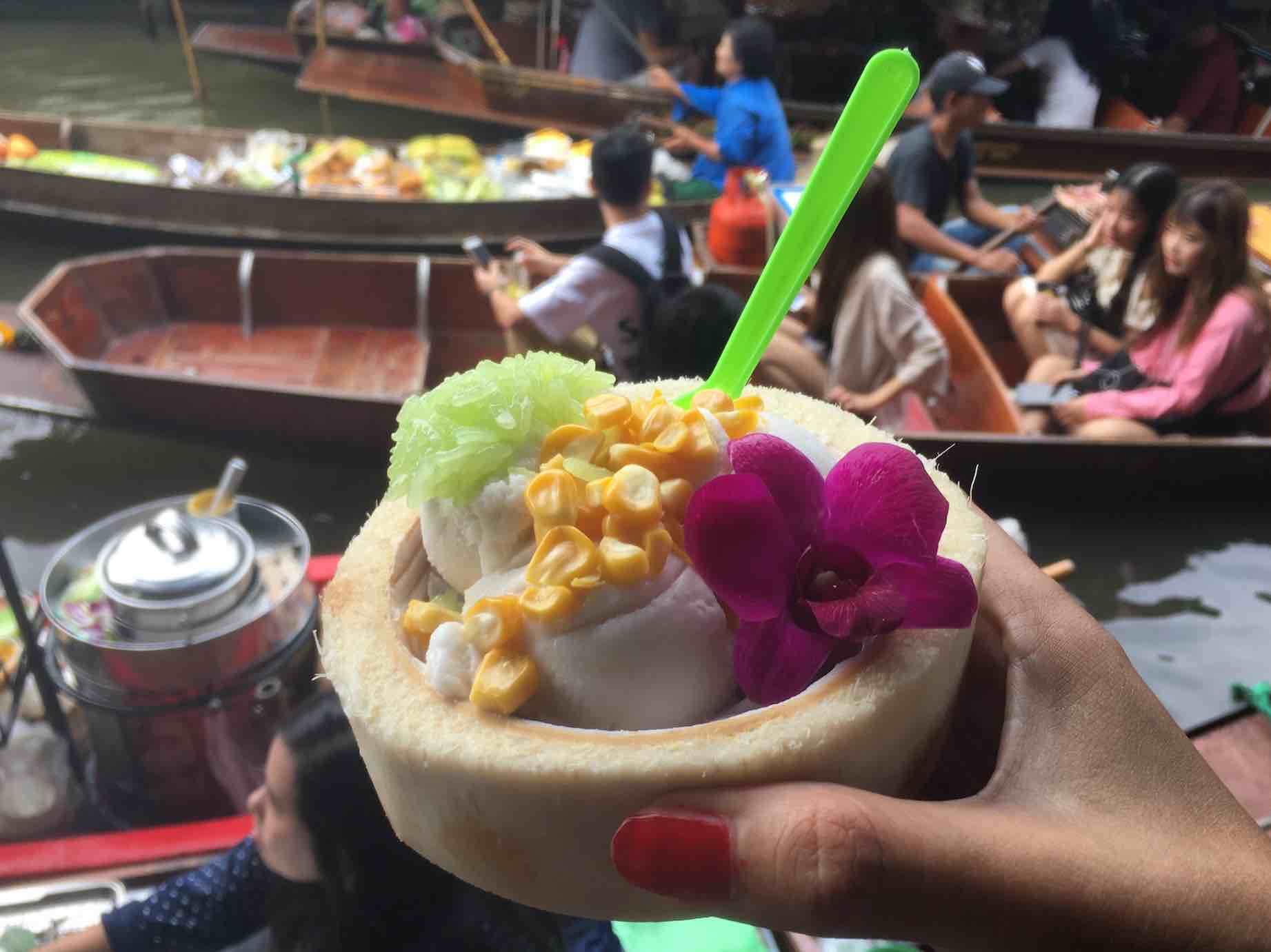 Probably you have already heard people raving about Thai coconut ice cream.
Thai coconut ice cream is made of coconut milk (not of cow's milk like Western ice cream) and it is usually topped with toasted peanuts, cubes of sweet jelly, and kernels of corn. Thai coconut ice cream is typically served in a coconut shell and is commonly sold on the street stalls in Bangkok. Just to mention, you can find stalls with ice cream in the aforementioned Chatuchak market.
Refresh yourself in Thai heat with traditional Thai Coconut ice cream.
12. HAVE THAI MANGO STICKY RICE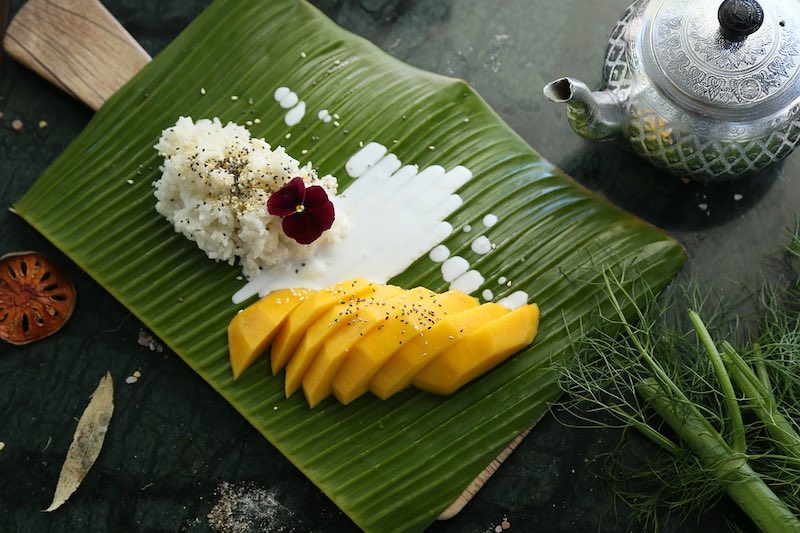 Khao Niaow Muang or Mango Stick Rice is a classic Thai dessert.
Sticky rice with mango is one of the most popular street foods in Bangkok and in Thailand in general. Sticky rice with slices of fresh mango with yummy coconut cream syrup will make you want to stay in Bangkok and Thailand forever.
13. VISIT JIM THOMPSON HOUSE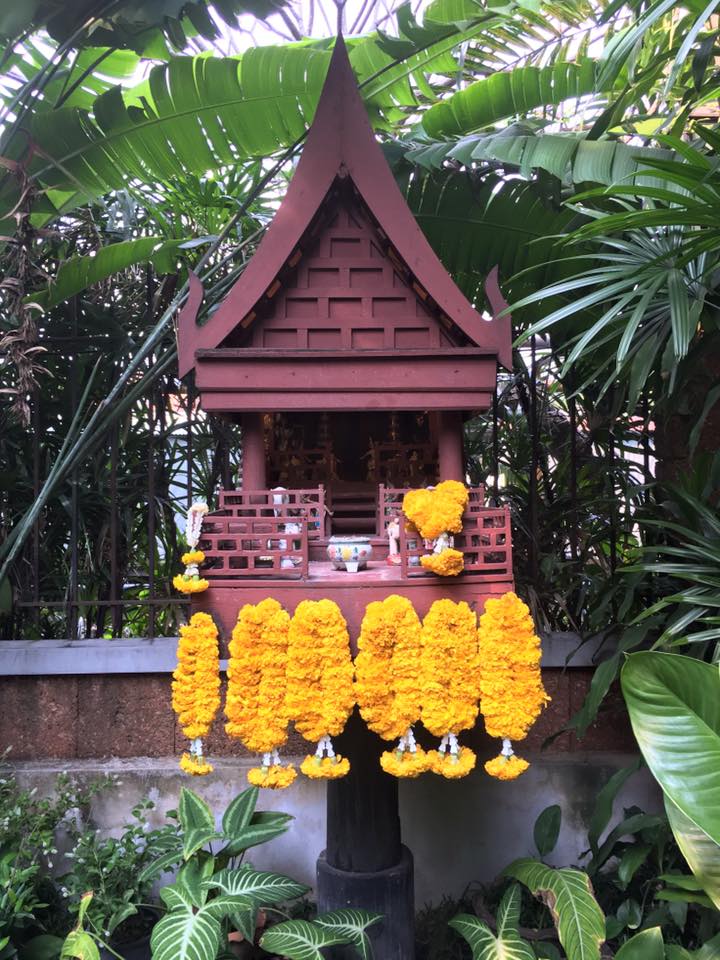 Jim Thompon House is one of the extraordinary places to see in Bangkok.
Jim Thompson was an American businessman, silk trader, and art collector who founded Thai Silk Company Ltd in 1948. Much about him is unknown, but the biggest enigma is his mysterious disappearance in 1967. From his past is known that he was an officer of the OSS (what later became the CIA) in Thailand during World War II. In 1947 he started a silk trading business selling the finest Thai silk to the fashion industry in New York. He became a very influential businessman known as 'Thai Silk King' who was famous somewhat like F. Scott Fitzgerald's Gatsby for his high society parties at his home in Bangkok.
Today his home is a museum in Bangkok featuring 6 traditional Thai teak houses with a stunning number of exquisite traditional Thai paintings, the finest Chinese porcelain, and Burmese, Lao, and Cambodian artwork that he collected on his business travels.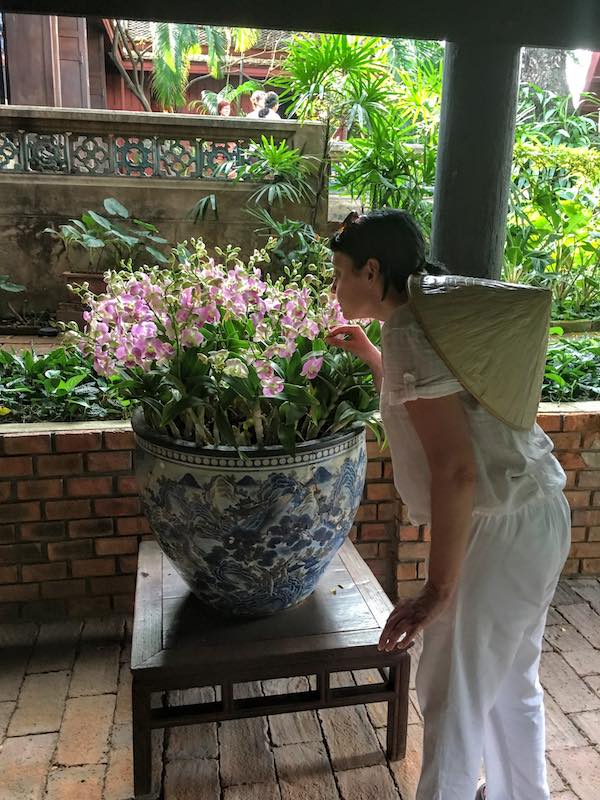 Jim Thompson House is in Pathum Wan District in Bangkok. A boat stop is just next to the house. You can take a canal boat for a few dollars and visit the house.
Taking Jim Thompson House and Baan Krua Community Tour you will visit Jim Thompson House and the silk weaving community.
Jim Thompson House opening hours: 9 am – 6 pm
Jim Thompson House entrance fee: 200 baht
14. TAKE A WATER TAXI ON CHAO PRAYA RIVER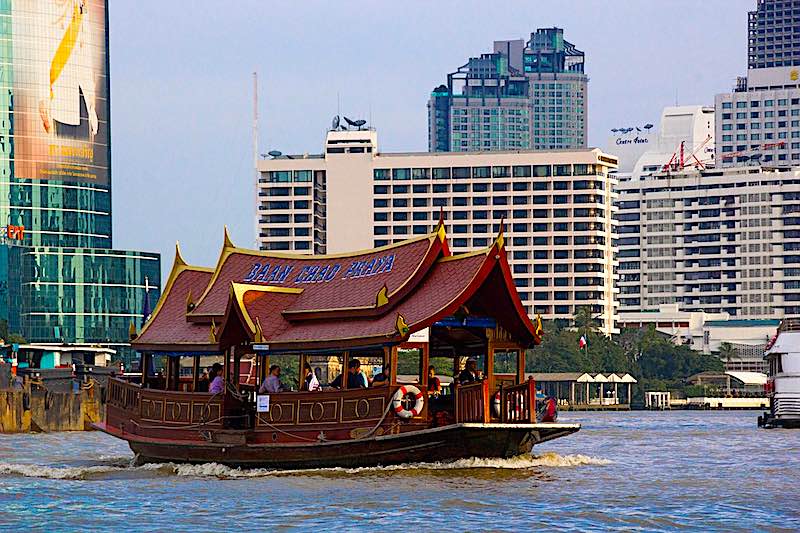 Chao Praya River is the major river in Thailand and it runs through the heart of Bangkok.
Bangkok lies on the Chao Praya River and on the net of canals. That's why Bangkok is called 'the Venice of the East'. 
While western cities have trams, Bangkok has boats. Ferriers, express boats, river taxis, and traditional Thai longtail boats go up and down the Chao Phraya River.
The best way to see all major Bangkok attractions is to take a ferry, boat or river taxi. If you want to have a ride with locals, take a ferry or a long tail boat. But if you want more tourist experience of Bangkok, opt for taxi boats or Chao Praya river dinner cruise. 
Hop-On Hop-Off Chao Phraya River Boat Pass helps you to easily see famous Bangkok landmarks.
15. HAVE A TUK-TUK RIDE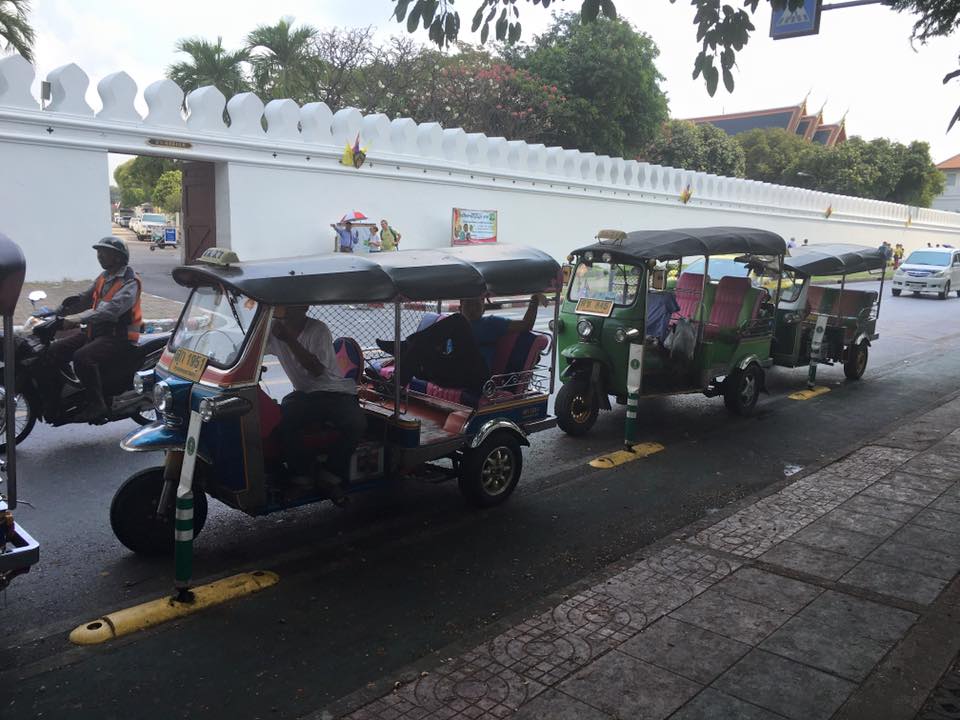 Tuk-tuk is a three-wheeled auto rickshaw commonly used for urban transportation in Bangkok.
But tuk-tuk is more than that. Tuk-tuk is a symbol of Bangkok.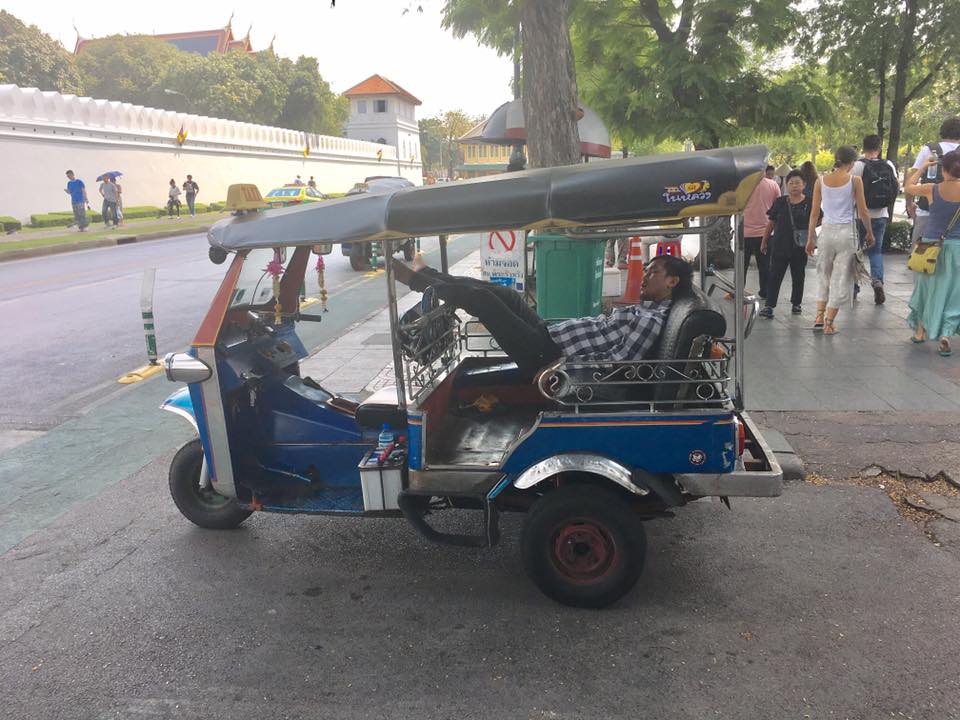 On average tuk-tuk ride is more expensive than a metered taxi and you have to negotiate the price.
For example, the same distance taxi ride costs 50-70 Baht (2 USD), and a tuk-tuk ride 150 Baht (5 USD). Tuk-tuk drivers usually stay in raw waiting for the customers, and I would recommend going from one driver to another asking the price to get the best price. Remember, the price is always inflated and you need to get it down. And don't forget to set the price before the ride!   
Having a crazy tuk-tuk ride is one of the fun things to do in Bangkok.
16. ENJOY THE VIEWS FROM ROOFTOP BARS IN BANGKOK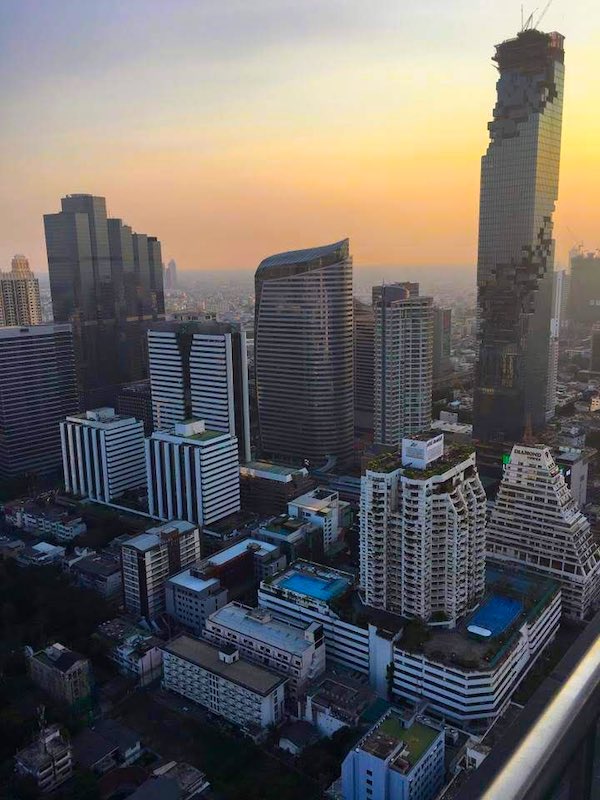 Rooftop bars are the must-places to visit in Bangkok at night!
After a day of sightseeing in Bangkok head to one of Bangkok's rooftop bars for a refreshing cocktail with spectacular views of Bangkok in the late afternoon or evening.
Mahanakhon Bangkok SkyBar on the 77th floor is the highest restaurant and bar in Thailand. A peaceful dinner with amazing views in Vertigo and Moon Bar on the 61st floor of the Banyan Tree Hotel is another great option to spend an evening in Bangkok. Zoom Sky Bar on the 40th floor of the Anantara Sathorn Hotel offers stunning 360 degrees views. Cloud 47 on the 47th floor of the United Center in the center of Silom Road provides supreme views of Bangkok. Sky Bar by Lebua comes up with amazing views from the 63rd floor and is a must-see place in Bangkok for fans of The Hangover movies. Blue Sky on the 24th floor of the Grand Lad Prao Hotel offers serene views of the city lights of Bangkok downtown.
Rooftop bars in Bangkok are exciting places to go in Bangkok for the amazing views. Touring Bangkok's rooftop bars is one of the must-do things in Bangkok!
17. WATCH MAGNIFICIENT LADYBOY SHOW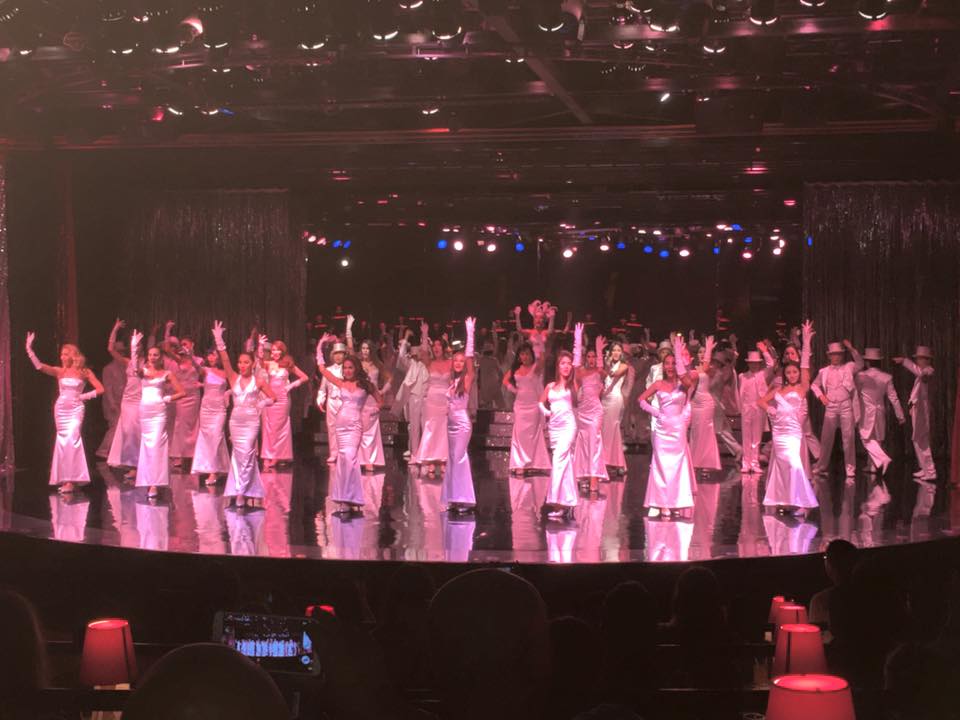 Calypso Cabaret at Asiatique The Riverfront is a glamorous Broadway-style cabaret with first-class performers.
If you are after unique and top-quality entertainment in Bangkok, I suggest heading to Calypso Cabaret in Bangkok. I enjoyed every second of watching the show. After the show, you can take photos with the performers behind the stage. Photos of you and ladyboys performers could be a great souvenir from Bangkok. 
The show can be busy, so keep in mind that you might need to book your Calypso Cabaret Show ticket in advance.
The Calypso Cabaret is a Bangkok must-see!
18. HEAD TO DAMNOEN SADUAK FLOATING MARKET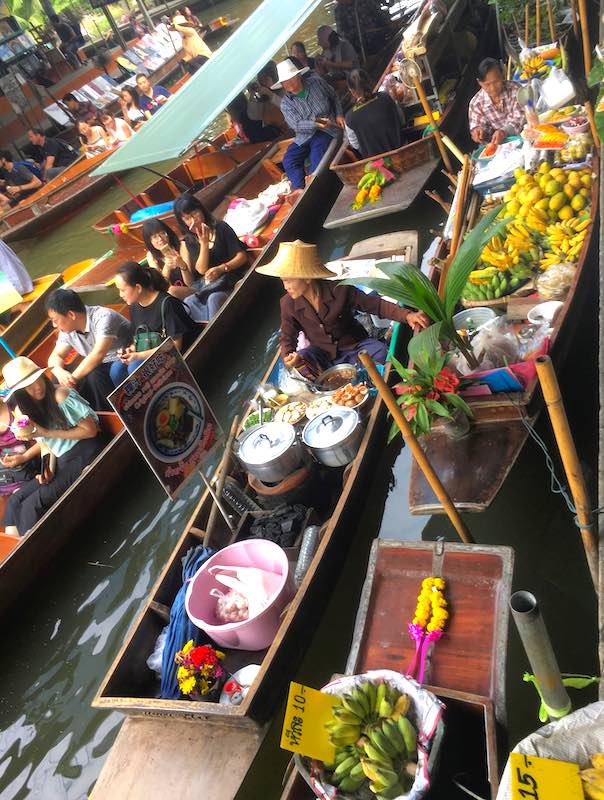 There are 5 floating markets in Bangkok: Khlong Lat Mayom Floating Market, Bang Nam Pheung Floating Market, Amphawa Floating Market, Damnoen Saduak Market, and Taling Chan Floating Market.
Damnoen Saduak Market is the most popular floating market in Bangkok. Vendors in traditional clothing and traditional wide-brimmed straw hats sell vegetables, fruits, meals from small wooden boats while drifting in the market's canals ('khlongs'). Today Damnoen Saduak Market is a big tourist attraction, so beware of tourist prices. The market became especially famous for the filming scenes of James Bond's The Man with the Golden Gun and Bangkok Dangerous.
Damnoen Saduak Market is 62 mi (100 km) southwest of Downtown Bangkok and the easiest way to reach the market is by taking a Damnoen Saduak Market tour.
Damnoen Saduak Market opening hours: 7 am – 5 pm
19. VISIT THE TRAIN MARKET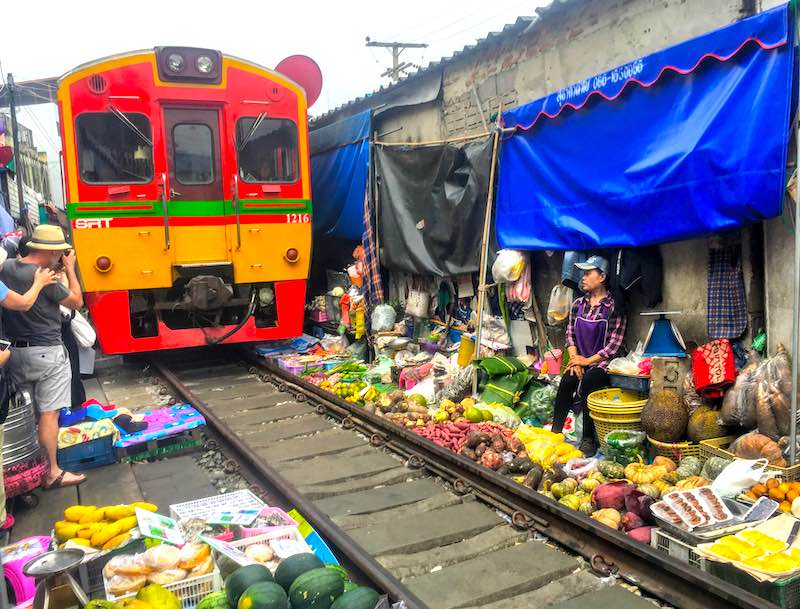 Maeklon Railway Market is a unique Thai market as the train runs down the tracks that go straight down in the middle of the market several times a day.
The train goes from the Ban Laem Station in Bangkok to the Maeklong Station 4 times a day and back. A bell goes over public speakers announcing the coming of the train and vendors start pulling off their products from the tracks. Once the train passes, they take their products back to the original place.
The Maeklong Train Market is about 50 mi (80 km) away from Bangkok and the easiest way to reach it is by taking a tour. The best is to visit the Damnoen Saduak Market and Maeklon Railway Market in one day by taking Damnoen Saduak Floating Market & Maeklong Train Market Tour.
Maeklon Railway Market time: open every day and the train arrives at: 8:30 am, 11:10 am, 2:30 pm, 5.40 pm
20. GET A SANK YATS HOLY TATOO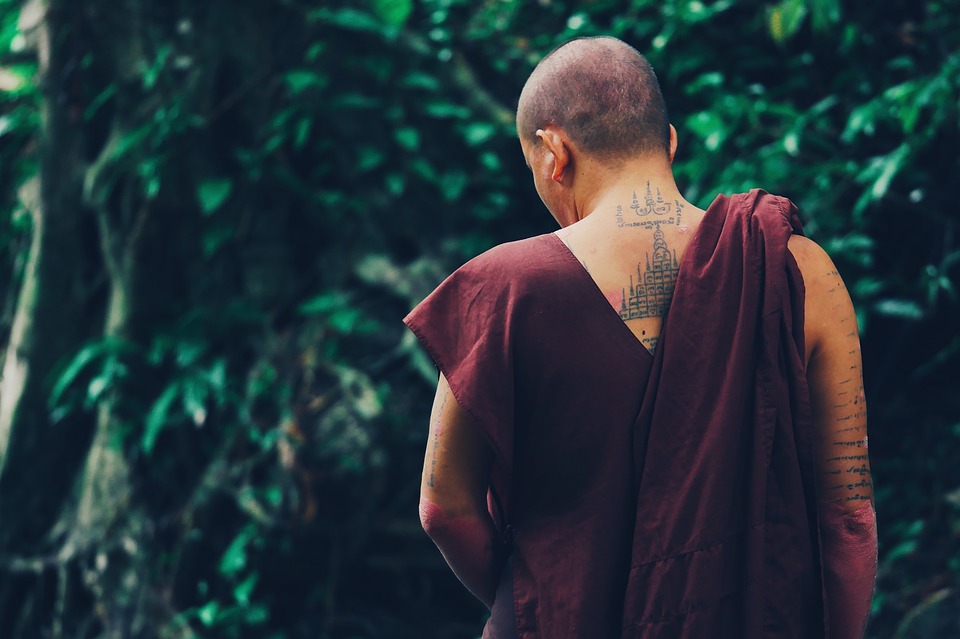 Get a holy tattoo and a blessing from a Buddhist monk at Wat Bang Phra temple.
Sacred Yantra tattoo is made of lines of script, geometric patterns, or animal shapes at the top of the back by Buddhist master monks. Sank Yats tattooing is believed to bring mystical powers, good luck, or protection from evil. Originally Buddhist monks used to make Sank Yats tattoos to warriors for their protection and good luck, but over 2.000 years of the practice, Sank Yats tattooing has widely spread among common Buddhists people. Personally, I have never been fond of tattooing. But indisputably I deeply respect the customs and beliefs of cultures and countries I visit. If you are a Buddhist or you want a holy tattoo with a blessing of a Buddhist monk, probably you would like to get Sank Yats tattoo too. And the best place to get it is at Wat Bang Phra temple. 
Wat Bang Phra is a Buddhist temple and a center of Sank Yats tattooing located 50 km west of Bangkok. The easiest way to reach the temple from Bangkok and get your holy tattoo is by taking Holy Tattoo experience at Wat Bang Phra tour.
21. RELAX IN LUMPHINI PARK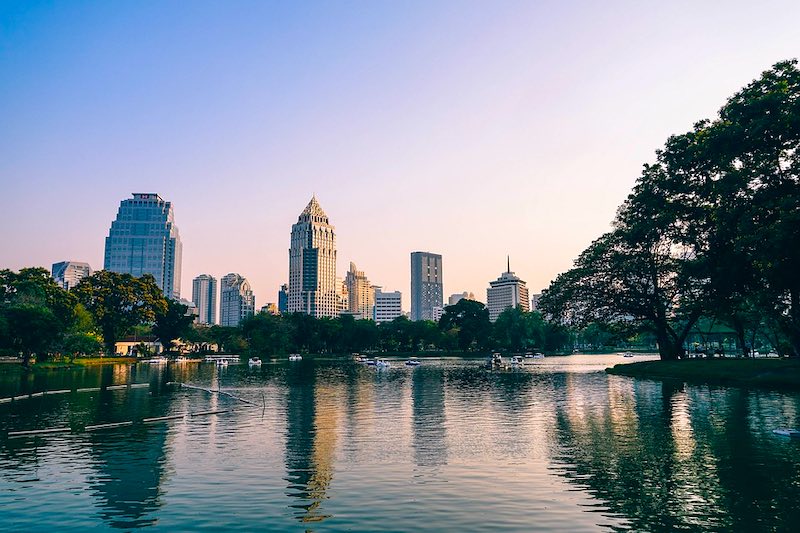 Bangkok is a city of 10 million people. If you want to relax a bit from the crowds and among greenery, head to 57 ha Lumpini park.
The park is the largest park in Bangkok and it was the first park in Bangkok.
Lumphini Park is a peaceful oasis in chaotic Bangkok where people come to relax and do some workouts. But the park is not only about trees, flowers, animals, and lakes. In fact, the park complex features Bangkok's first public library, the Home of Hope center for homeless children, Smiling Sun Ground center for disabled people, Bangkok Elder Citizens Club for socializing and some activities for older people, and more. In an extraordinary city like Bangkok, you can't expect anything less than an extraordinary park! 
Lumpini Park is one of the most beautiful places in Bangkok.
22. CELEBRATE THAI NEW YEAR – SONGKRAN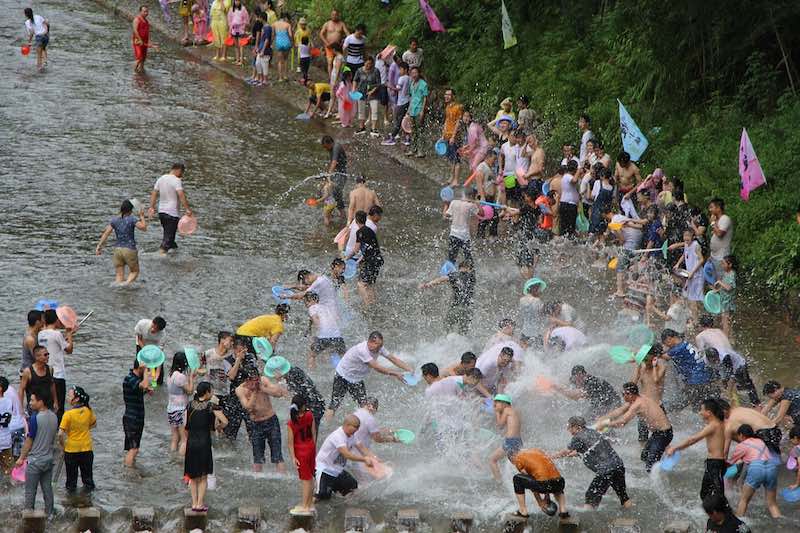 Traditional Thai New Year is called Songkran and it happens on April 13 according to the Buddhist calendar. Official New Year in Thailand takes place on January 1 though.
But the Songkran Festival traditionally lasts for 3 days from April 13 to April 15 and it is celebrated by water throwing. Therefore, the Thai Songkran Festival is also called the Thai Water Festival.
Water throwing symbolizes washing off bad luck and sins. During Songkran, observant Buddhists pour water on Buddha images and on the hands of Buddhist monks in Buddhist temples to show their respect.
The most famous Bangkok Songkran Splendours Festival takes place from April 13-15 and it starts with the opening ceremony at Wat Pho.
If you want to experience a unique event in Bangkok, set April 13-15 in your calendar and head to Bangkok for Bangkok Songkran Splendours Festival.
23. WITNESS THAI LOI KRATHONG FESTIVAL
The Thai floating baskets festival called Loi Krathong is celebrated on the full moon night of the 12th month of the Thai lunar calendar (which is November in the Western calendar). '
'Loi Krathong' in the Thai language means 'to float a basket'.
Thai people traditionally float small baskets made of leaves and filled with flowers, three incense sticks, a candle, and a coin honoring the water spirits and the Water Goddess on Loy Krathong.
Releasing the floating baskets Thai people symbolically let go of negative 'poisonous thoughts' (anger, hate, fear, jealousy, and similar negative emotions).
Loy Krathong 2020 in Thailand takes place on November 1, 2020.
If you want to witness one of the most beautiful celebrations in Thailand, take a trip to Bangkok for the Loi Krathong Festival.
24. GIVE A TRY TO DURIAN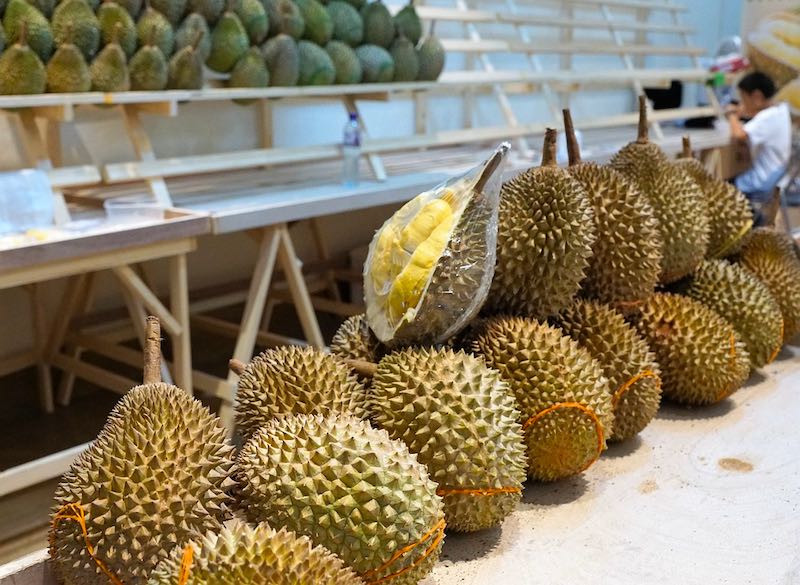 Durian smells bad. So bad that's forbidden to take it into the hotels, taxis, buses, trains… But if you can over the smell, then you will taste one of the most delicious exotic fruits ever. Durian is a delicacy in Southeast Asia and is called 'King of the Fruits'. You can find Durian on street stalls in Bangkok. Block your nose and take a bite. It is so rotten but so tasty! 
25. TAKE A BITE OF A FRIED INSECT?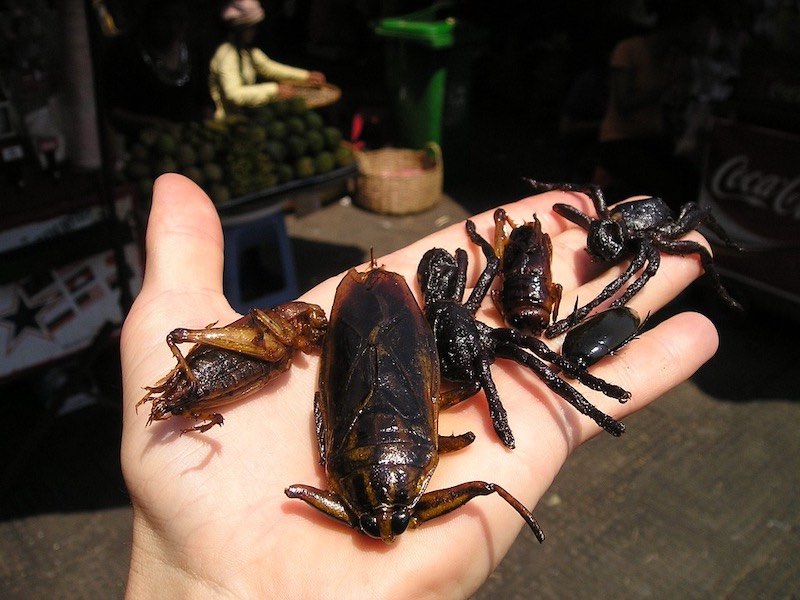 Hm, what about eating some fried insects in Bangkok?!
Some fried insects like tarantulas, spiders, cockroaches, and scorpions are traditional snacks in Southeast Asia. You can even find small snack packages of fried bugs in some 7-Eleven stores in Thailand. But when in Bangkok, you can find fried insects on a few street stalls in Khao San Road. If you are an adventurous eater who would like to challenge your mental barriers related to food, you should opt for fried insects on street stalls in Khao San Road in Bangkok. Let me just say, they are crispy for sure.
Trying a fried insect is one of the most unusual things to do in Bangkok. And some would argue, one of the weird things to do in Bangkok.
26. HAVE AN AUTHENTIC THAI COOKING CLASS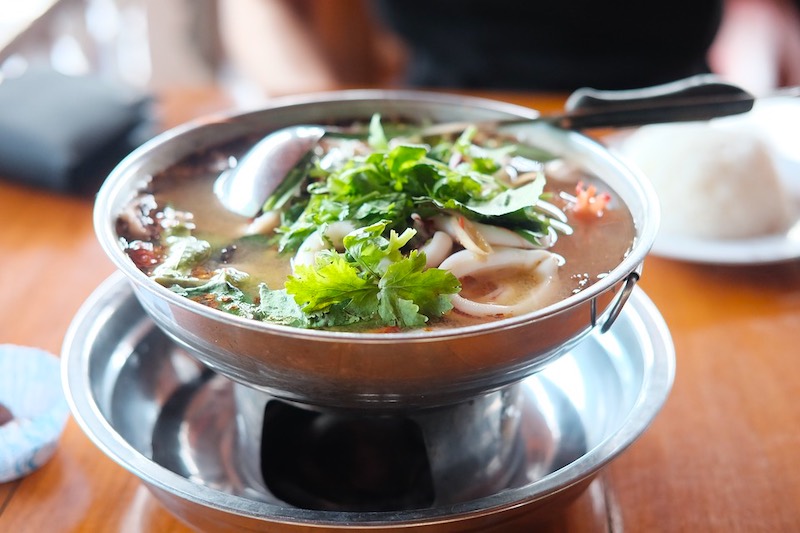 One of the best things to do on travel is to learn about cultures and their traditional cuisines.
Thai cuisine is world-famous for its sweet and savory tastes. Thus, take an authentic Thai cooking class in Bangkok and learn to prepare some of the traditional Thai dishes.
If you are a foodie, one of the best souvenirs you can take with you home from Bangkok is an authentic recipe for popular Thai dishes. Take a Thai cooking class and learn how to prepare famous Thai green papaya salad, delicious Tom Kha Gai (Thai chicken in coconut soup), perfect Pad Kra Pao (Thai holy basil chicken stir-fry), spicy Tom Yum Goong (Thai spicy shrimp soup), or iconic Pad Thai (Thai Style Fried Noodle).
27. TAKE A FOOD TOUR IN BANGKOK BY TUK-TUK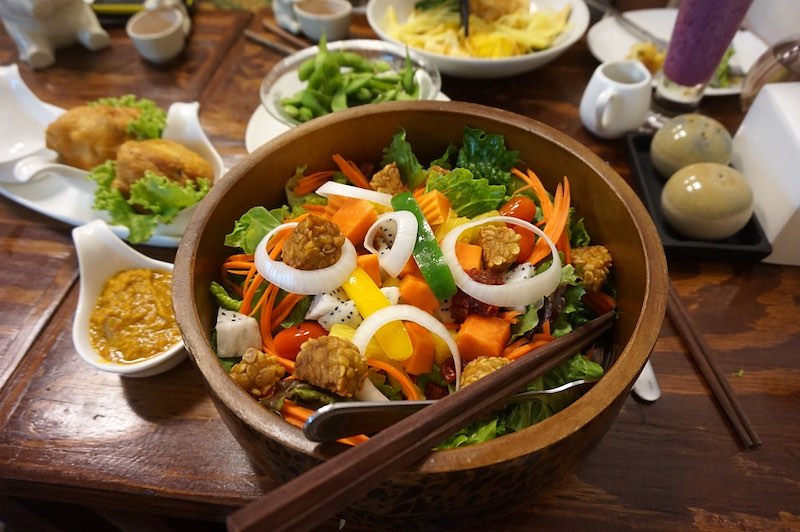 If you are a foodie but you doubt your culinary skills, then this Bangkok Midnight Food Tour by Tuk-Tuk instead of a cooking class might suit you better.
You might not get Thai food recipes, but you will treat your palate with some exceptionally yummy typical Thai dishes in Bangkok.
28. SAMPLE THAI BEER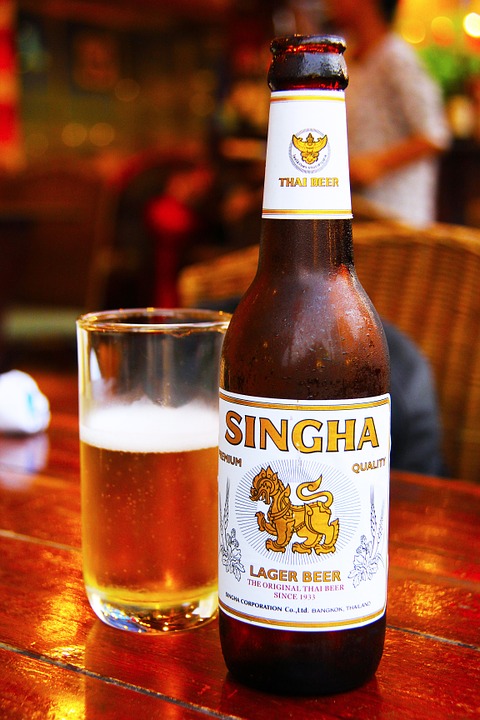 If you like to taste local foods and local drinks on your travels, then you should try some Thai beers.
The most popular beers in Thailand are Singha (lion) and Chang (elephant). Singha is a 5% abv pale lager beer and Chang is a 4.2% abv pale lager beer. I would argue and say they are 'same, same but different'. 
29. TAKE A DAY TRIP TO AYUTTHAYA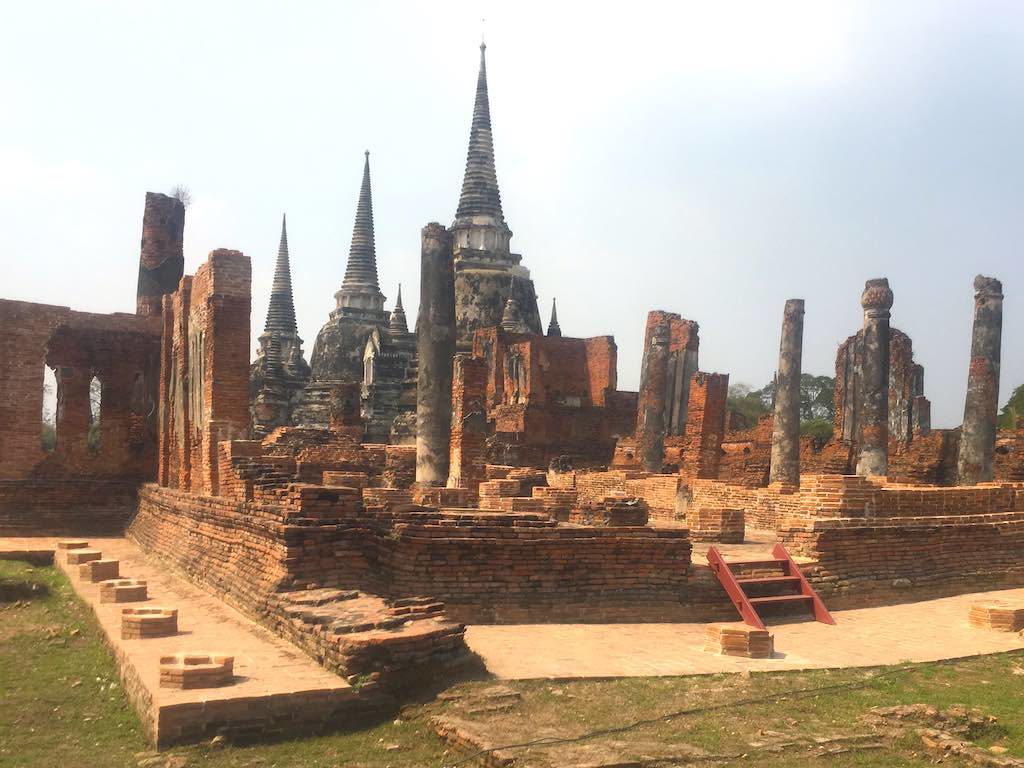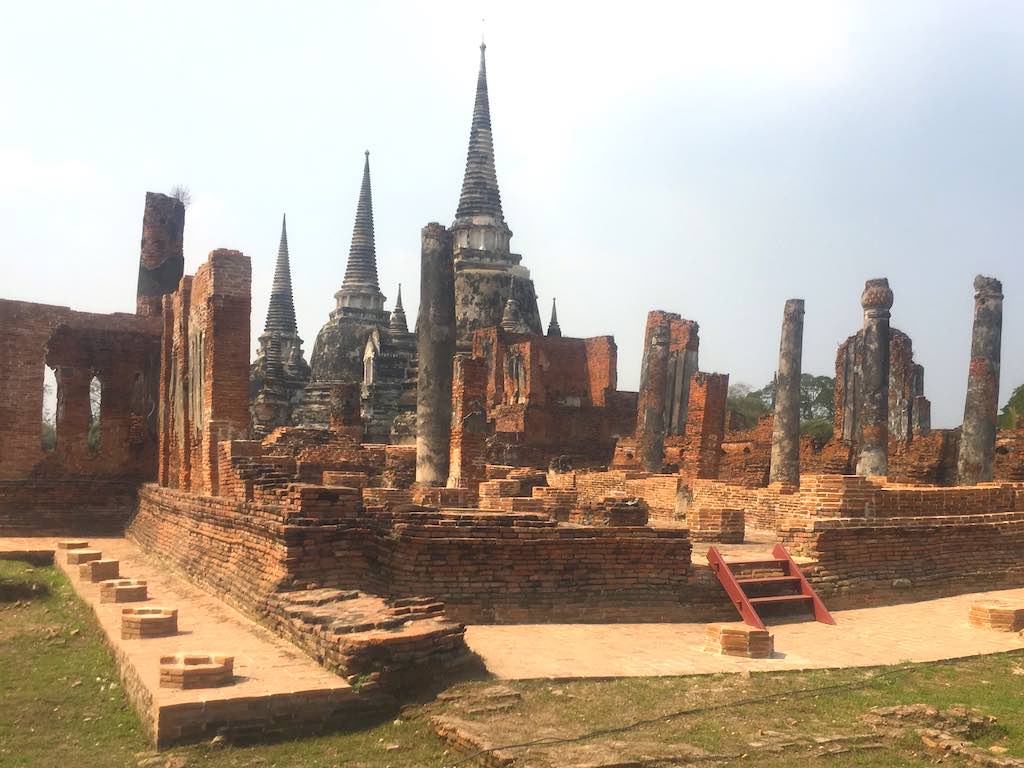 Ancient Ayutthaya was the second royal capital of Kingdom Siam, after Sukothai and before Thonburi and Bangkok.
Today Ayutthaya Historical Parc is a UNESCO World Heritage site of spectacular Buddhist temples that every cultural thirsty and history admiring traveler should see. Ayutthaya is an island on three rivers and taking this Ayutthaya day trip from Bangkok you can treat yourself with a marvelous visit to Ayutthaya temples and a stunning river cruise on your way back to Bangkok.
Ayutthaya is about one hour drive from Bangkok.
30. GO FOR A DAY TRIP TO KANCHANABURI & BRIDGE ON THE RIVER KWAI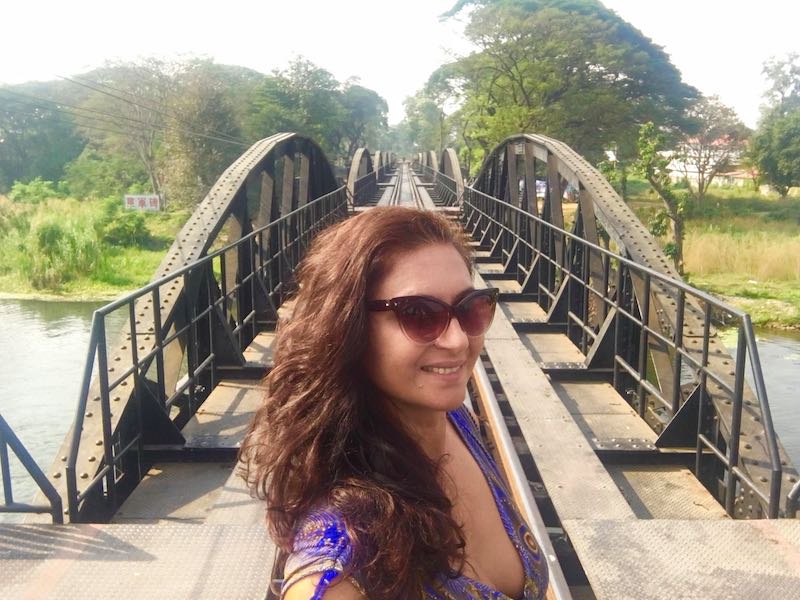 Sadly Kanchanaburi got world-famous for unfortunate events during WWII when Japanese forces forced Allied Prisoners Of War (POW) to build a railway from Thailand to Burma (Myanmar).
Construction of the Thai-Burma railway took so many lives that it got nicknamed the 'Death Railway'.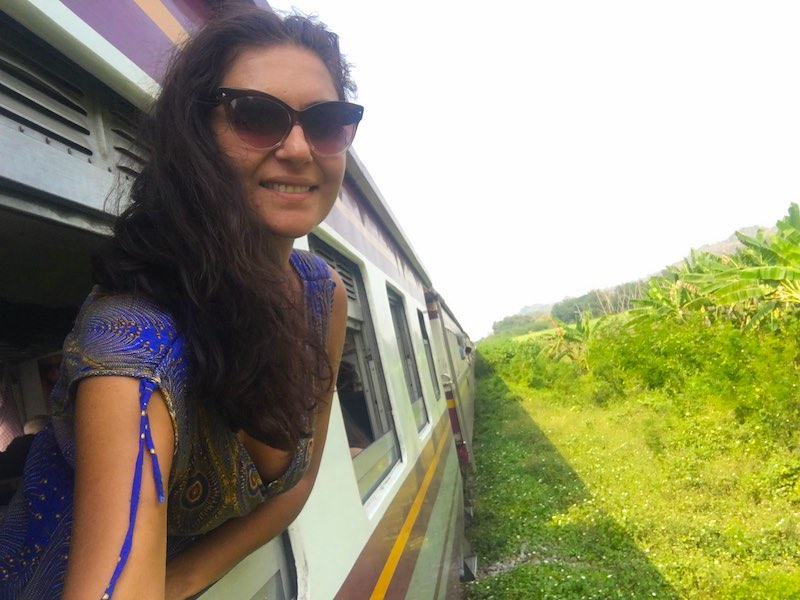 The most popular attraction in Kanchanaburi is an iron bridge that became world-known thanks to The Bridge on the River Kwai movie. Kanchanaburi is home also to JEATEH War Museum and War Cemetary.
Kanchanaburi is about a 2-hour drive from Bangkok. Visiting Kanchanaburi, the Bridge on the River Kwai and taking a ride on the Death Railway by joining this Kanchanaburi from Bangkok tour makes a perfect day trip from Bangkok.
31. WATCH THAI BOXING (Muay Thai)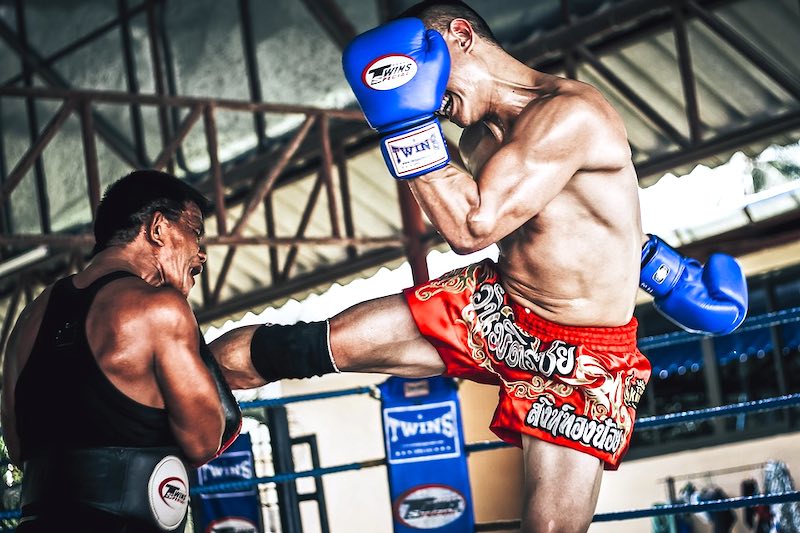 What could a better place to watch Thai boxing than its homeland?
If you would like to watch an authentic Thai kickboxing match, then you should head to MBK Fight Nights (free entrance), Lumpinee Stadium (the most prestigious Muay Thai stadium in the world with the best Muay Thai matches; equally loved by locals and tourists), Channel 7 Stadium or Rajadamnern Stadium (the oldest Muay Thai stadium in Thailand; check out this Entrance ticket with VIP seating to Rajdamnoen Muay Thai match).
If you are more interested in Thai boxing than merely watching it, you can also take a 2-hour class of Muay Thai led by boxing champion.
32. BUY 'SAME SAME BUT DIFFERENT' T-SHIRT
'Same, same, but different' is a famous Thai phrase that crossed the border of Thailand and today is widely used in all Southeast Asia.
Even more, the phrase has become a world phenomenon as a joke. Origins of the phrase are in Thai phrase 'khlai khlai gan' where 'khlai' stands for 'same' and it is repeated to emphases it. Meaning of 'Same same but different' could be translated as 'similar'. Typically Thai salesmen use it when they wish to sell something. Probably the best definition of it is in Urban Dictionary where it is described as 'an attempt to sell something but can mean just about anything depending on what the user is trying to achieve.'
'Are these Ray-Ban sunglasses?'
'Same same but different.'
Nowadays the phrase stands as a trademark of Thailand and it is applied to many souvenirs in Thailand.
If you would like to get fun but culturally meaningful souvenir from Bangkok, buy 'Same Same, but Different' t-shirt.
WHERE TO STAY IN BANGKOK
The main districts of Bangkok: Rattanakosin Island (Bangkok Old City), Khaosan Road area, Riverside, Chinatown, Sukhumvit, Siam, Pratunam, Silom, and Chatuchak.
The best areas to stay in Bangkok nearby major Bangkok points of interest are Rattanakosin Island (Bangkok Old City), Riverside and Khaosan Road.
✓ Bangkok Old City, or the Royal District, is the historic core of Bangkok centered around the Grand Palace and main Bangkok attractions. Click here to get the best rates for your stay in Rattanakosin Island (Bangkok Old City).
✓ The most beautiful Bangkok district is arguably Riverside. All Bangkok tourist attractions are easily reachable from Riverside. You can find 4-star hotels and 5-star hotels in Bangkok along the Chao Praya river. . Click here to get the best rates for your stay in Riverside.
✓ Khaosan Road area is a backpackers' haven and more budget-friendly, and the main Bangkok attractions can be reached on foot from Khaosan Road. Click here to get the best rates for your stay in Khaosan Road.
BEST TIME TO VISIT BANGKOK
Bangkok is always busy. Bangkok is the most visited city in the World. Remember, Bangkok is home to about 10 million people and about 23 million people a year visit Bangkok.
The best time to go to Bangkok is in November and December as the rainy season has just finished and the temperatures are moderate.
The rainiest months in Bangkok are September and October. In November and December, the weather in Bangkok gets cooler and drier.
Actually, the high season in Bangkok goes from November to March. Bangkok is extremely busy during Christmas, New Year, and Songkran (the Thai New Year festival that comes in April).
MAP OF BANGKOK ATTRACTIONS
Hope my travel guide to Bangkok has helped you with answers to questions you might have had: what to do in Bangkok Thailand, what are Bangkok places to visit, what are Bangkok must-sees, what are things to do in Thailand Bangkok, and why you should visit Bangkok at all.
If you are interested in how to visit top destinations in Thailand in only 10 days, I suggest checking out my 10 days in Thailand itinerary.