Searching best Malibu Airbnb rentals? Look no further. Here are the 20 absolutely best airbnbs in Malibu in California.
Malibu is L.A.'s favorite beach town, a popular weekend hideaway and home of many Holywood celebrities.
Malibu is famous for beach homes, sandy beaches, stunning cliffs, fine restaurants, and cool cafes. Malibu is all about the sea, beach, hills, nature, relaxation, and good times. Malibu is the place where Hollywood celebrities meet the sun and the ocean. Malibu is the place where common folks rub shoulders with celebrities in local restaurants and bars.
THIS POST MAY CONTAIN COMPENSATED LINKS. PLEASE READ MY DISCLAIMER FOR MORE INFO.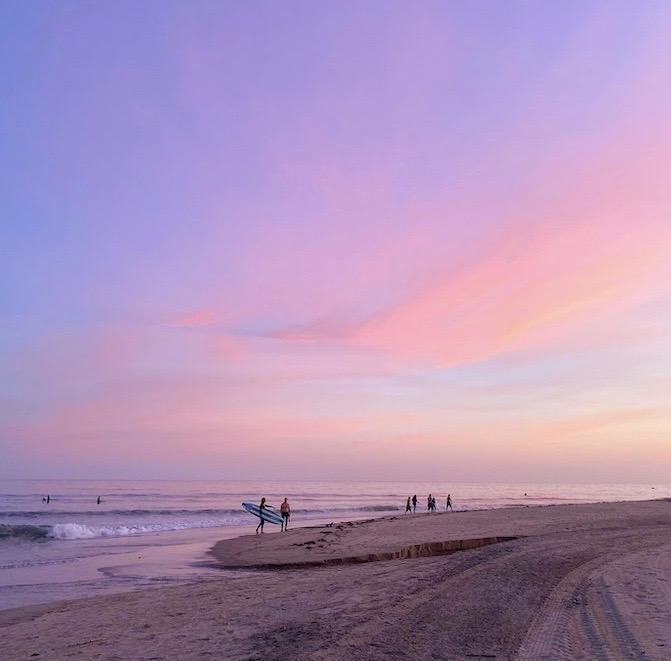 Malibu is a year-round destination. The climate is temperate with pleasant temperatures. Average temperatures in Malibu differ little with a low chance of rain throughout the year. The warmest months in Malibu are July, August, and September. And the best seasons to visit Malibu are spring and fall.
So, it's no wonder if you are planning a trip to the sun-kissed and beach haven of Malibu and researching the best vacation rentals in Malibu.
But before listing the best Airbnbs in Malibu, I've prepared a checklist of the best things to do in Malibu for you:
visit Getty Villa with an impressive collection of more than 44.000 Roman, Etruscan, and Greek artifacts and fine European art
hike trails of the Point Dume Natural Preserve
enjoy the ocean views from the famous Geoffrey's where once Frank Sintra, Marylin Monroe, and Lana Turner dined frequently
go to legendary Paradise Cove Beach Cafe, a well-liked cafe by Hollywood celebrities
shop in sophisticated Malibu Country Mart and dine in some of the best Malibu restaurants within the shopping complex
enjoy in the soft sand of pristine Zuma Beach, one of the most beautiful beaches in California
watch dolphins, sea otters, whales, and seals on the Pacific coast in Malibu
enjoy in some of the best beaches in California: Paradise Cove Beach, Malibu Lagoon State Beach, El Matador State Beach, El Pescador State Beach, Carbon Beach aka 'Billionaires Beach' with ultra-luxury mansions, Corral Beach, Malibu Colony Beach, Point Dume State Beach, and Topanga State Beach
visit Spanish Colonial Revival style Adamson House built in 1929
rent surfboards, kayaks, and stand-up paddleboards at the Malibu Surf Shack
walk to Malibu Pier and enjoy the Pacific Ocean views and the coastline views from there
visit marvelous Serra Retreat in Malibu Canyon run by the Franciscan Friars who welcome all those who seek peace, serenity, and reflection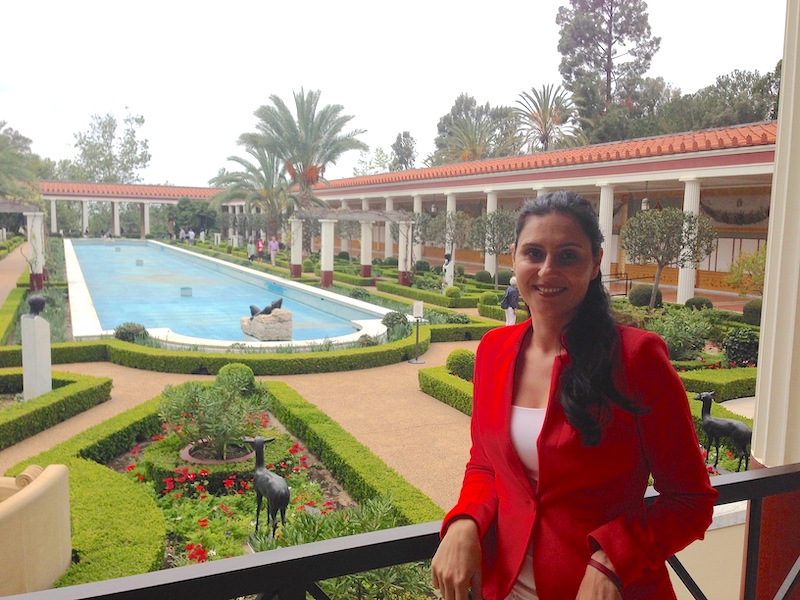 20 BEST AIRBNBS IN MALIBU
Best Airbnbs in Malibu, California you will want to rent straight away:
1. BEST MALIBU AIRBNB BEACH HOUSE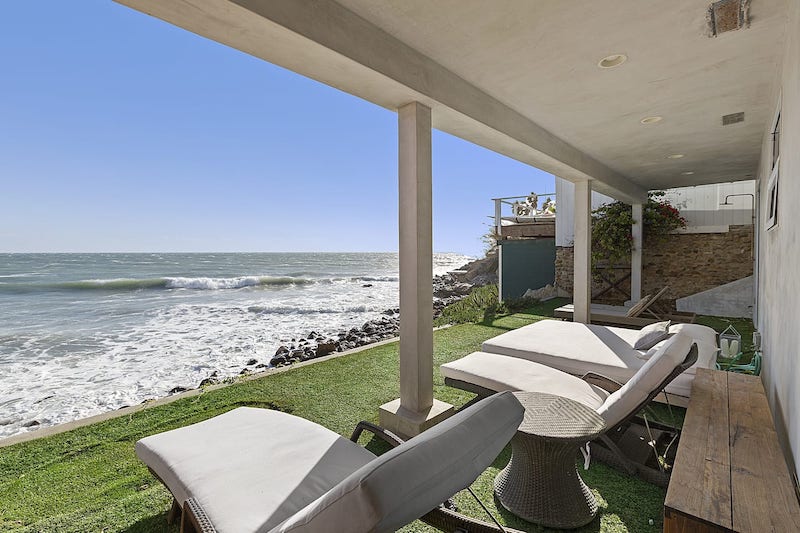 $8 Million Oceanfront Residence with Private Beach
It's well known, Malibu has some of the best beachfront Airbnb home rentals in California.
Furthermore, Malibu beach house rentals are among the top beach rentals in the USA. And this Airbnb Malibu beach house is definitely among them.
This $8 Million beachfront house with a private beach is one of the best airbnbs in Malibu. The luxury Malibu beach house rental sits on a bluff on a gated beach property. The house is flawlessly stylish furnished and decorated with the finest Italian marble, while all rooms come with spectacular views of the Pacific Ocean.
It has 3 bedrooms, 3 beds (2 queen beds and 1 single bed), 3 bathrooms and available free parking on the site. It can accommodate 6 guests.
If you are looking for a beach house for rent in Malibu and want a deluxe beachfront experience, you can't get wrong with this house.
Listen to the waves from your bed and enjoy the private beach!
2. BEST AIRBNB MALIBU BEACHFRONT APARTEMENT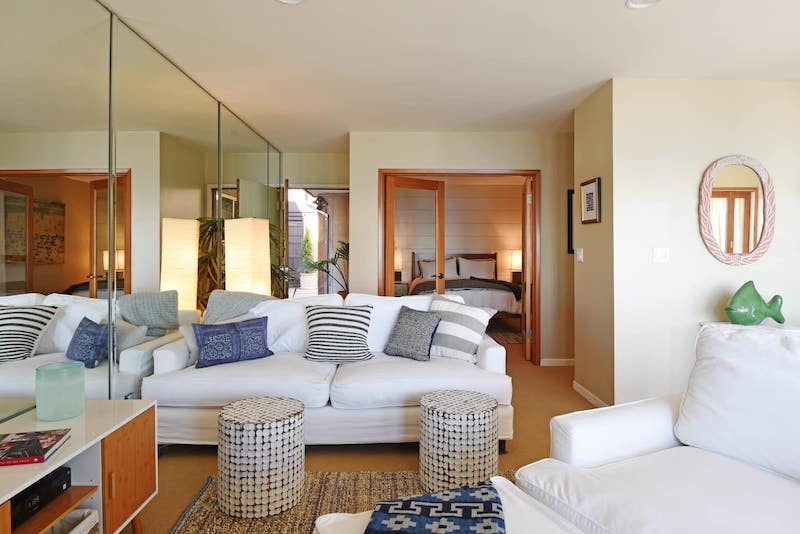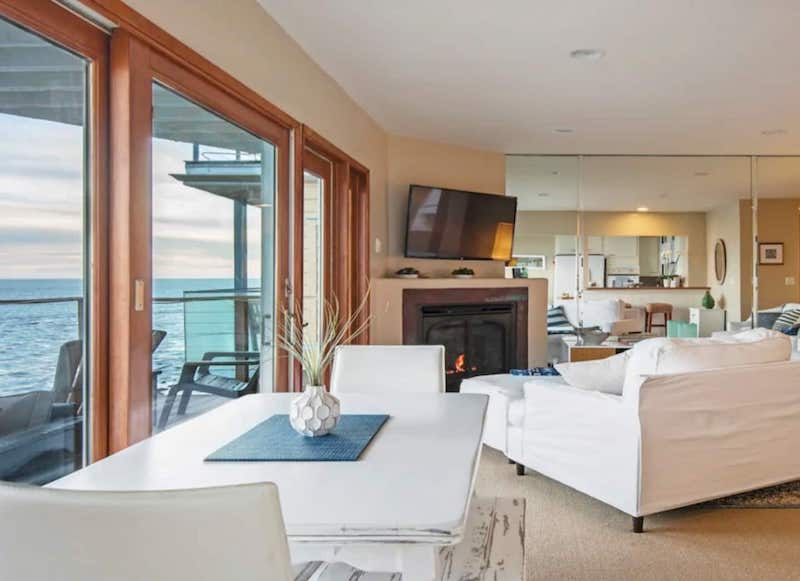 Beachfront Luxury Romance, Near Santa Monica
If a Malibu beach house is out of your budget, you might be interested in a Malibu beach apartment.
This beachfront apartment in Malibu with a fantastic ocean deck and impressive views of Santa Monica Bay is a top Airbnb rental in Malibu.
The apt has 2 bedrooms and 2 beds (a king and a queen bed), 1 bathroom and it can take up to 3 guests.
If you are a family of three and would love to stay in Malibu with unbeatable views of the Pacific Ocean and the Santa Monica Bay, you need to take a look at this apartment.
3. BEST AIRBNB MALIBU BEACHFRONT BUNGALOW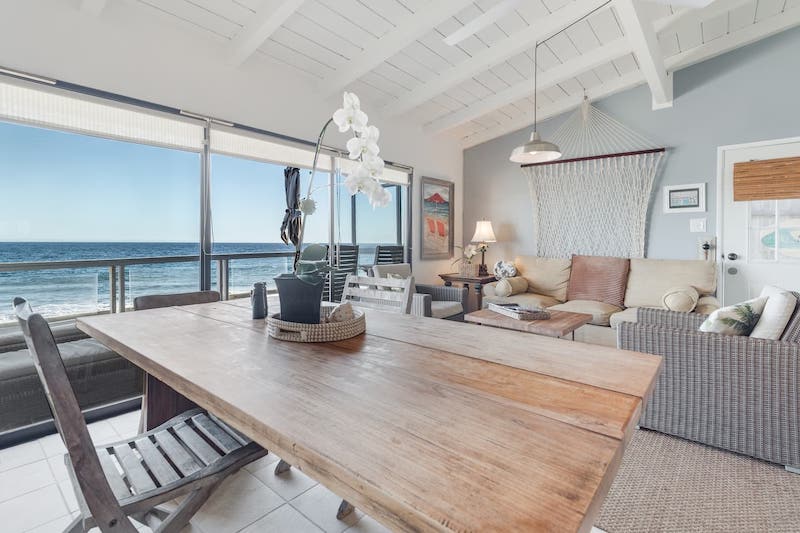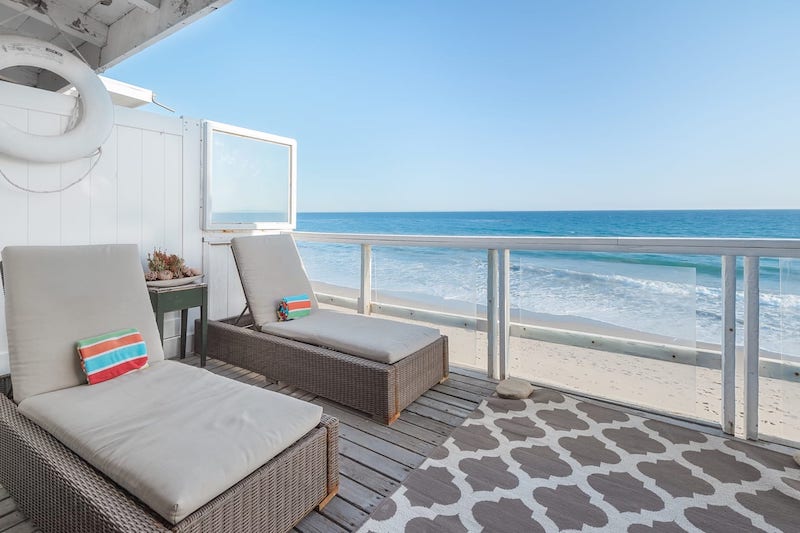 WAVERLY'S OVER THE WATER White ~~~Bungalow
Beach bungalows go to the the list of top Malibu beach rentals.
This white bungalow is one of the best airbnbs in Malibu.
The newly refurbished bungalow from the 1950s with open deck space on a secluded beach is a dream come true to all ocean lovers. It has one bedroom with 1 king bed and 2 single beds and 1 bathroom. The bungalow has a balcony with two lounge chairs, a BBQ, and a small table with a set of chairs. It can host 4 people.
If you would like to listen to the sound of the Pacific ocean and watch amazing Pacific ocean sunsets, please check out this quintessential Malibu bungalow!
4. BEST AIRBNB OCEANFRONT TOWNHOUSE IN MALIBU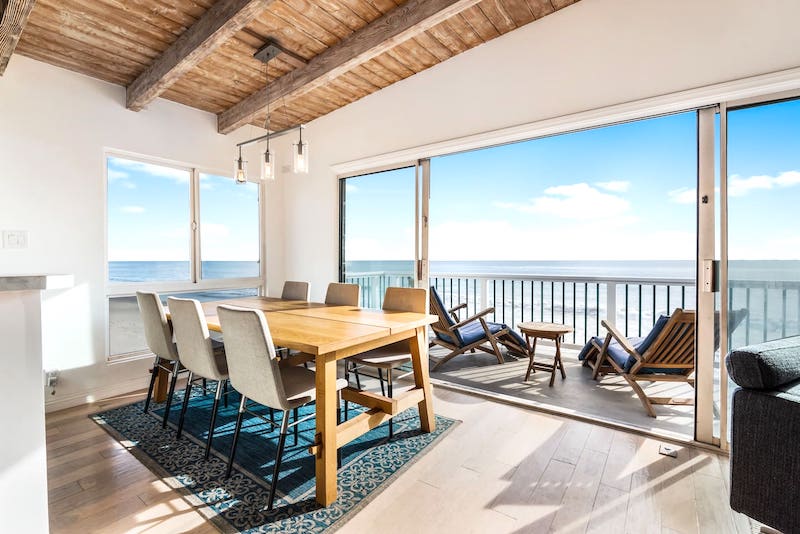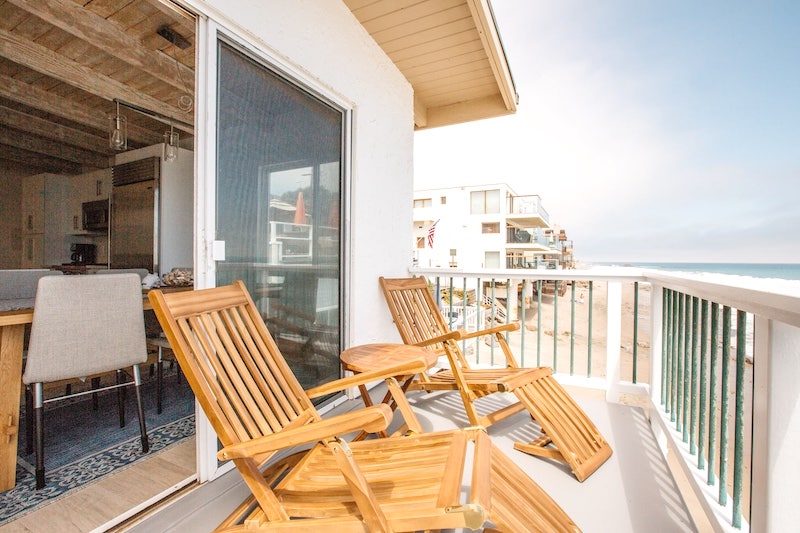 Malibu Road Oceanfront Modern 2 Bed 2 Bath Magic
Looking for some more Malibu houses for rent on the beach? Let me ask you something: do you appreciate long beach walks?
If so, this Malibu oceanfront townhouse might be what are you looking for. This house is a top choice for all beach lovers who enjoy long beach walks.
It has a prime beachfront location in Malibu. The sandy beach leads straight to Malibu Pier and Malibu Country Mart shopping mall.
The house has 2 bedrooms, 2 beds (one king bed and one queen bed), 2 bathrooms, and free on-premises parking. It suits 4 guests.
If you would like to wake up next to the Pacific ocean and spend days on long beach walks, you will most likely appreciate renting this Malibu beach house.
5. BEST AIRBNB VILLA IN MALIBU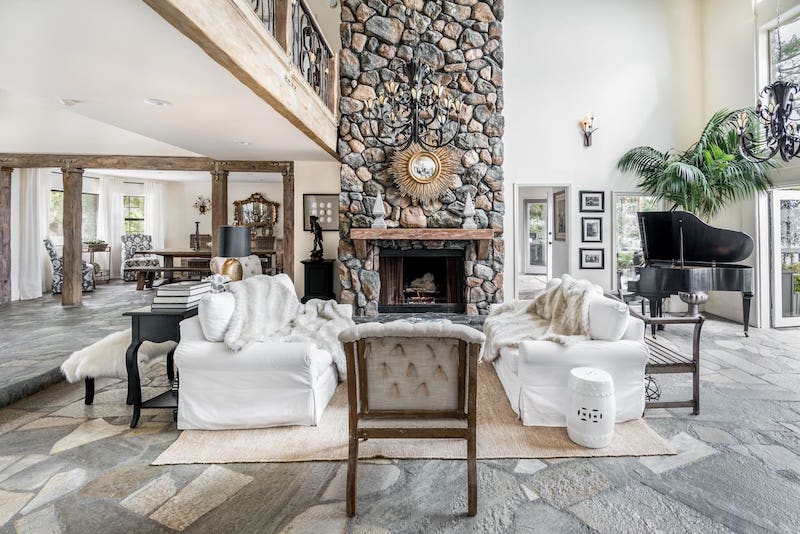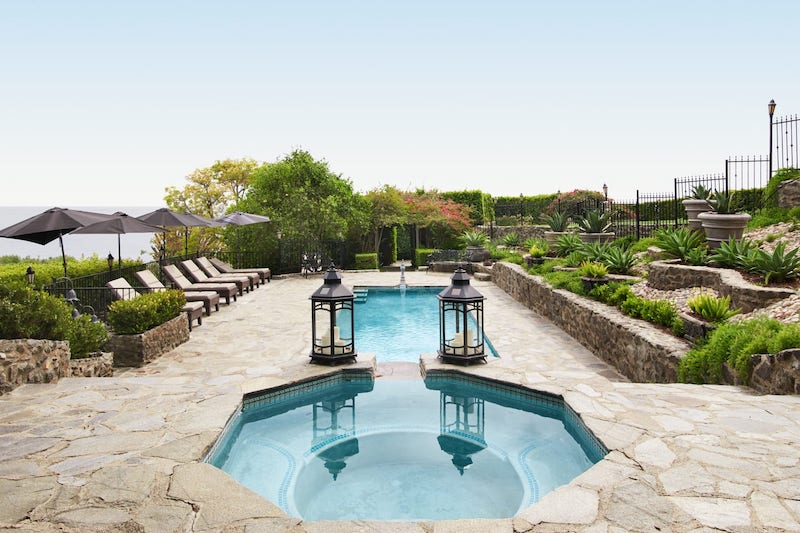 This European style stone villa with the antique castle-like interior on a 3-acre property is undeniably one of the best airbnbs in Malibu.
The villa overlooks Paradise Cove cafe and it features an extravagant main living room, a media room, 5 bedrooms (the master suite has its own living room with a fireplace and a private terrace), 5 beds, 6 bathrooms, terraced gardens, a heated pool, and a mini-golf course. It suits 10 people.
The villa is close to Malibu beaches and Point Dume, a 5 min drive to Escondido Beach, and a 35 min drive to Santa Monica Beach and Santa Monica Pier.
LA downtown and Hollywood are within an hour drive. Los Angeles International Airport (LAX) and Bob Hope Airport (BUR) are less an hour drive.
If you seek a high-end experience in Malibu matched with European elegance, you will love Stone Manor.
6. BEST MALIBU AIRBNB AIRSTREAM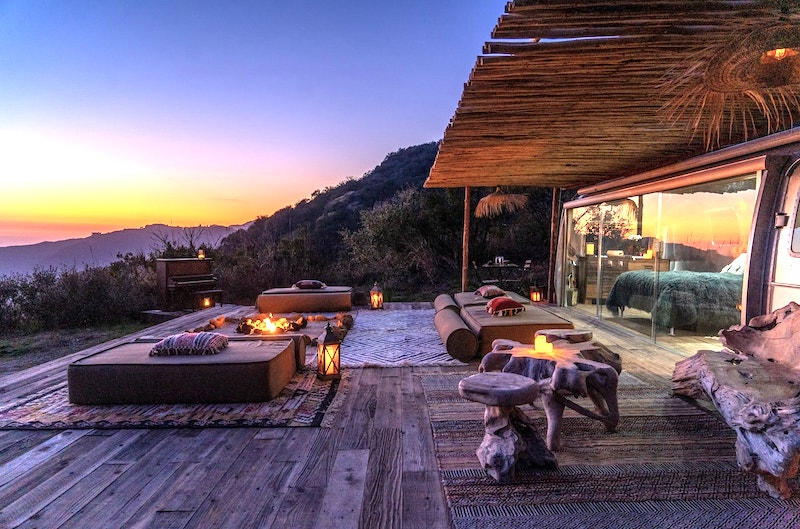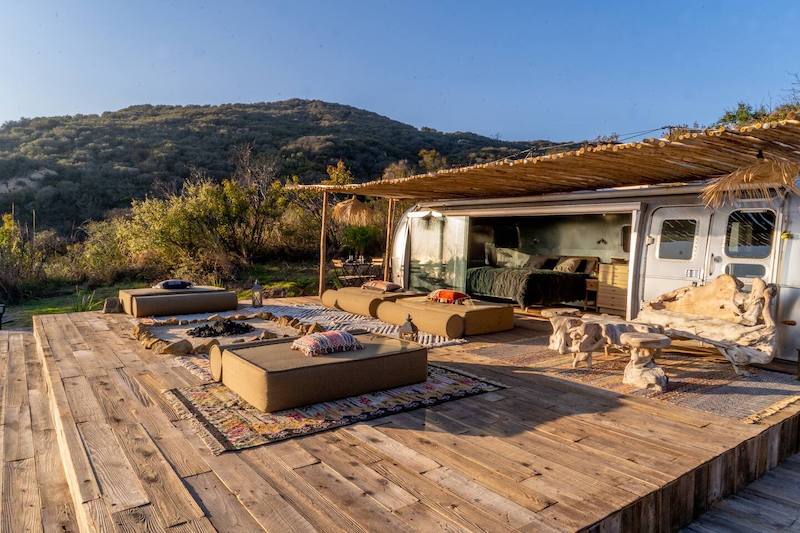 Malibu Airstream Eco Retreat Above The Clouds
How does a first-class eco-retreat in Malibu sound to you?
This Airbnb Malibu airstream offers exactly that.
The airstream is redecorated to a studio with 2 bedrooms and 2 beds ( a queen bed and a mattress), and a kitchenette. It has also an outdoor bathroom, a wooden hot tube, an outdoor spa, and an outdoor movie theater. Wi-Fi is also available in the airstream. The place can accommodate up to 4 people.
It is located on a 12-acre property in the unspoiled nature with stunning views of the Pacific ocean and mountains of Malibu.
Malibu beaches are reachable within 10 minutes drive, and Los Angeles International (LAX) within 40 minutes.
If you want to experience glamping in an airstream in Malibu, please look no further.
7. BEST MALIBU AIRBNB GUESTHOUSE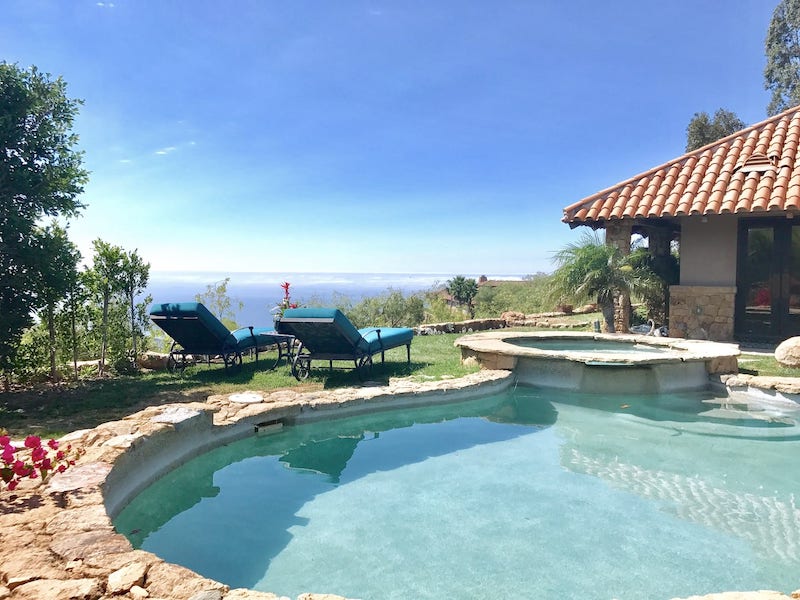 Guesthouse Great Ocean & Mountain Views near Beach
This guest house comes with otherworldly 360 views of the Pacific Ocean and the Santa Monica mountains.
The house is located in Malibu hills in the Santa Monica Mountains National Recreational Area with amazing hiking trails and wildlife, and close to Malibu beaches.
The guest house has one bedroom with one queen room, a kitchen, a bathroom, a private pool, a hot tube, and a garden.
The place perfectly suits 2 guests, but it can take up 5 people as there are some additional sleeping arrangements.
This magical guesthouse is a perfect getaway for nature lovers.
8. BEST AIRBNB IN MALIBU HILLS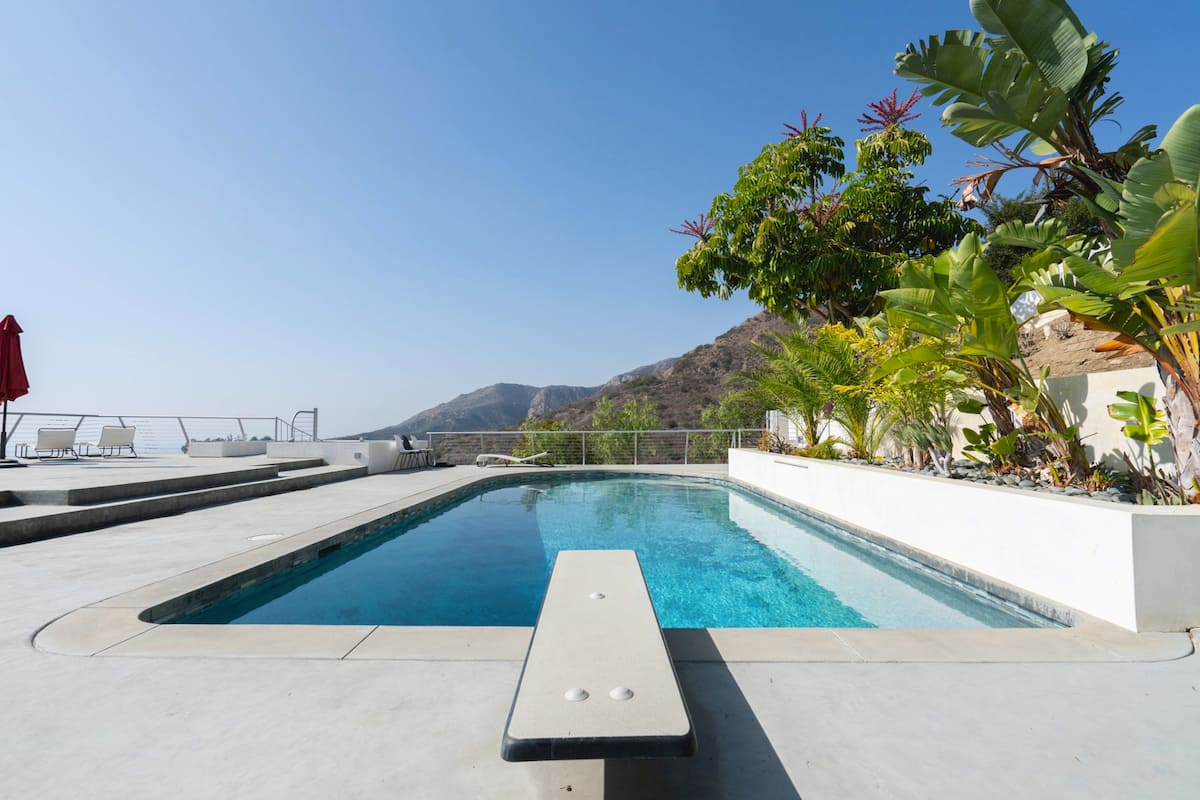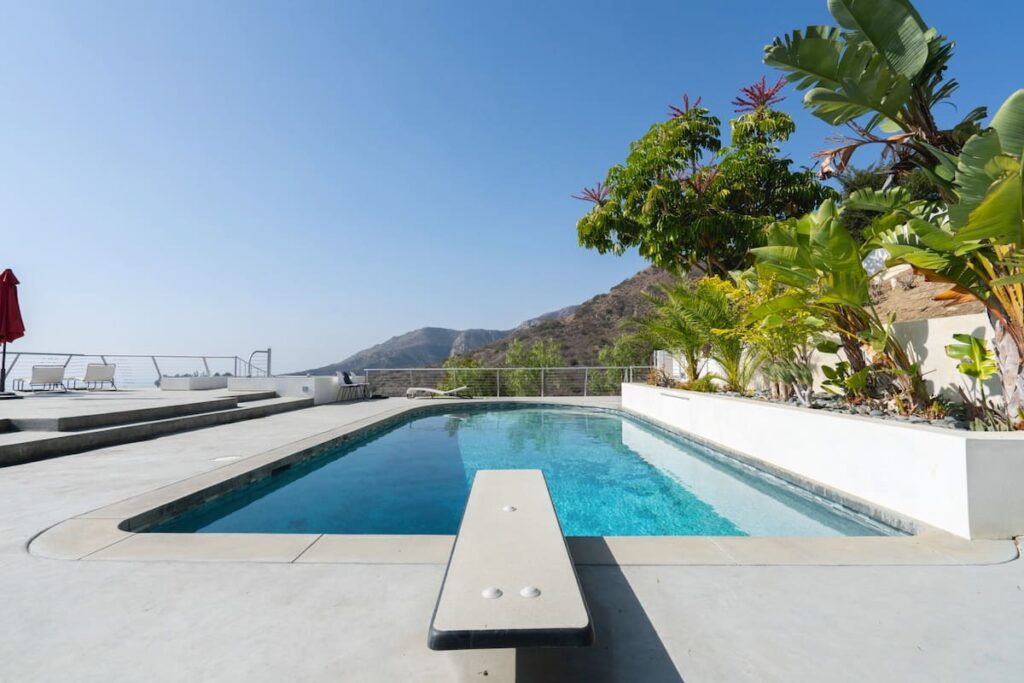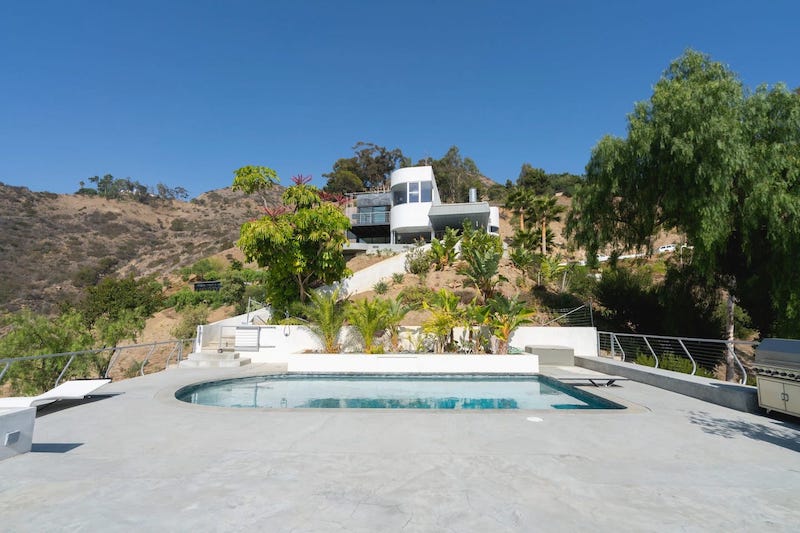 Malibu Modern 1 bedroom Pool House
This spectacular, serene, and spacious guesthouse with a pool is a top-rated Airbnb rental in Malibu.
The pool house has absolutely breathtaking ocean and canyon views, and it is wonderfully furnished with authentic mid-century furniture.
It has 1 bedroom with 1 queen bed and 1 bathroom. It can accommodate 2 people.
The guesthouse is located in Malibu Hills, only a few minutes from PCH, 4 miles to downtown Malibu, and 10 miles to Santa Monica.
If you are searching for a serene retreat or a perfect gateway from busy Los Angels, you might want to book this place in Malibu hills. But please, be aware, you might fall in love badly with the house.
9. BEST AIRBNB MALIBU HOUSE WITH POOL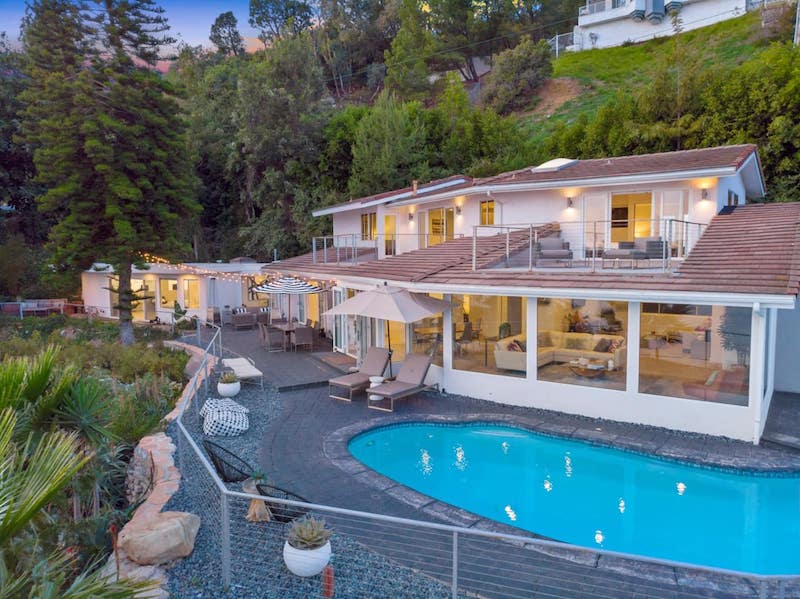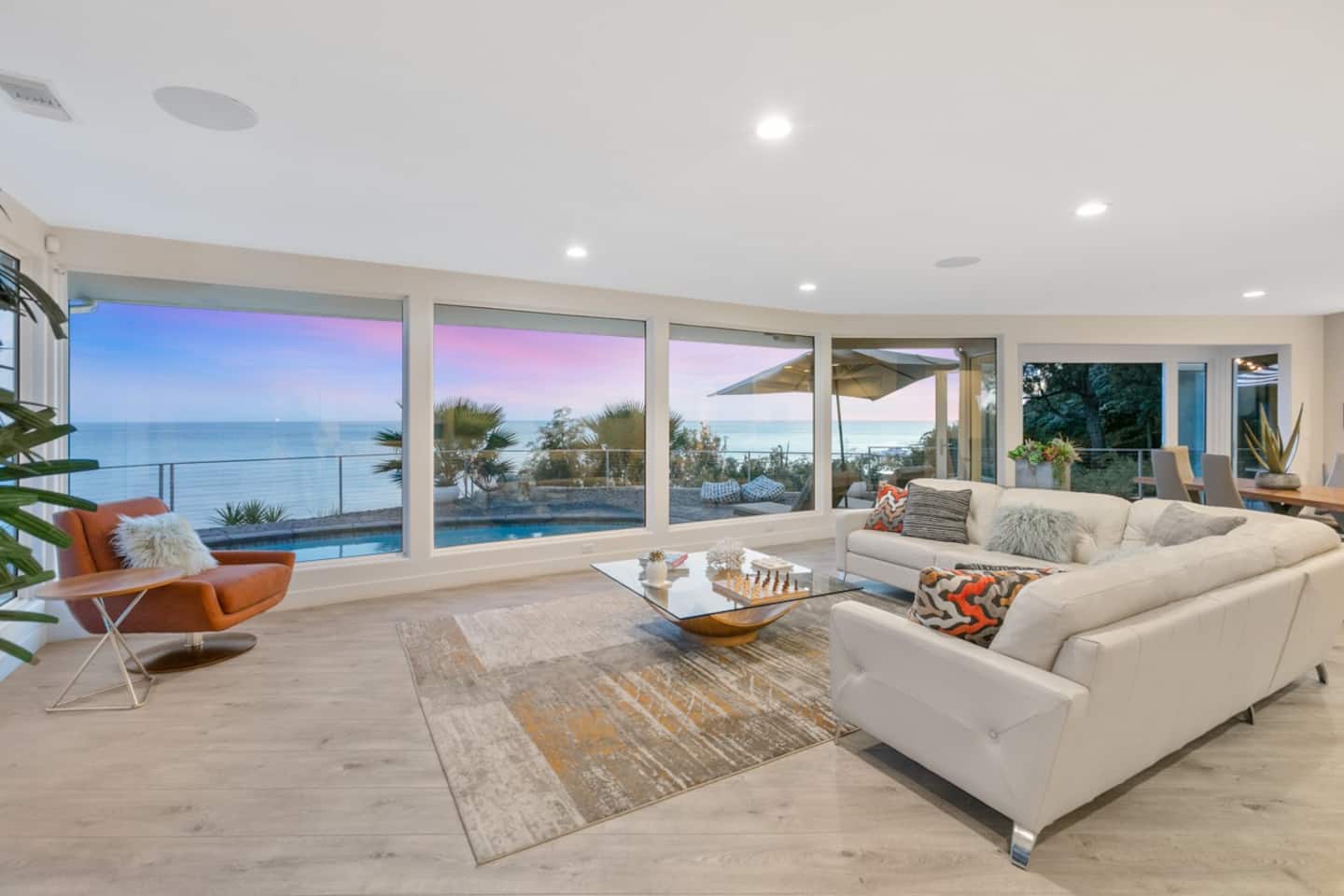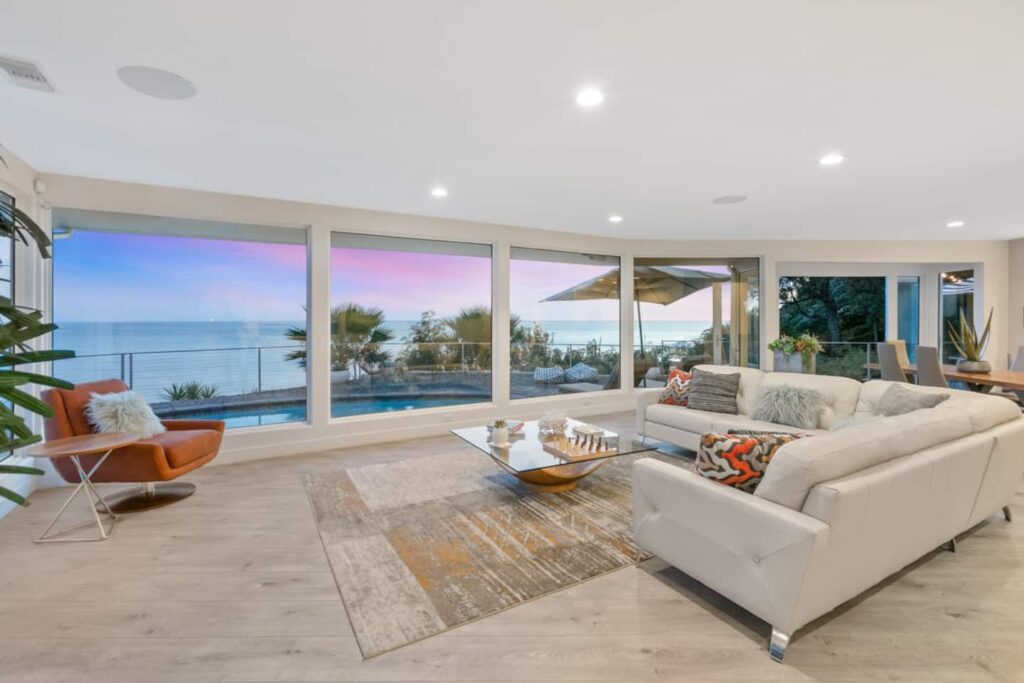 Malibu Oceana Bleu- Incredible Views -Sleeps 10!
Looking for the best Malibu Airbnb with pool?
This modern luxury villa with a pool on a gated property on the bottom of a hill is one of the best airbnbs in Malibu.
The villa overlooks the famous Carbon beach, (aka Billionaire's Beach) and it has spectacular views of the Pacific Coast, Malibu pier, and Catalina Island.
It has 4 spacious bedrooms, 5 beds, 3 bathrooms, a spa, a pool, a hot tube, etc. It suits 10 people.
The villa is owned and managed by renowned Stay Awhile Villas.
If you are visiting Malibu with a group of your friends and desire an exclusive stay, this upscale luxury Airbnb house in Malibu is the place to be.
11. BEST ULTRA-LUXURY VILLA IN MALIBU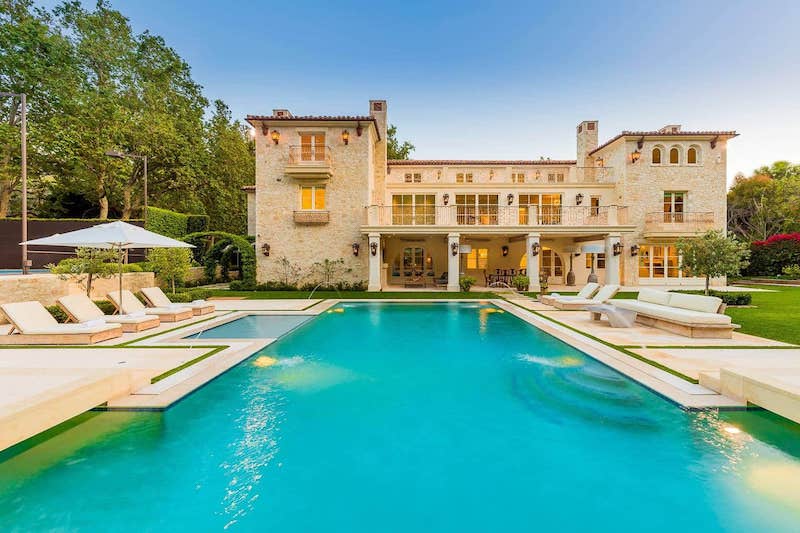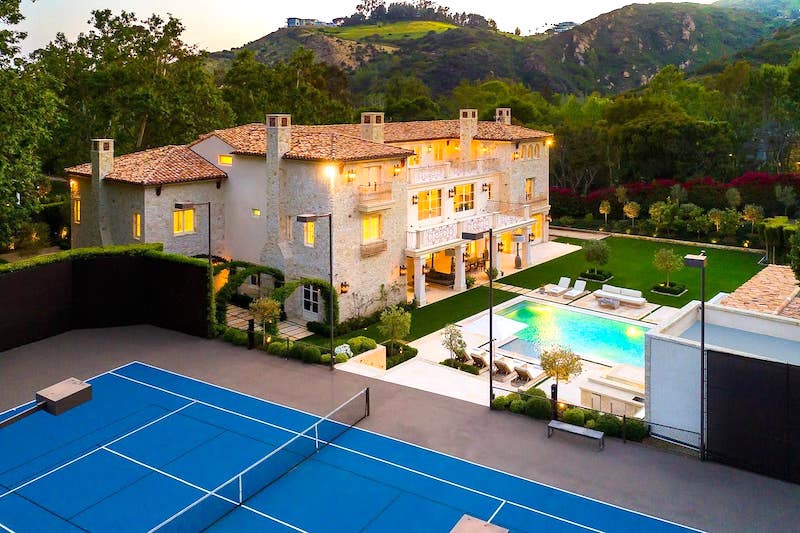 Petra Manor | Malibu Luxury Mansion
Interested to stay in A-listers' favorite mansion in Malibu? Did you know that this mansion was eyed up even by the Duke and Duchess of Sussex?
This ultra-luxury villa is Kylie Jenner's former rental in Malibu, and Prince Harry and Meghan Markle scanned the property for their future home in Malibu.
It's no surprise that a royal couple was interested in this property with an estimated worth of between $ 10-20 million.
The spectacular European-style estate features a mind-blowing villa with 8 bedrooms, 8 bathrooms, a swimming pool, a tennis court, an indoor cinema, a bar, a wine cellar, and a dance studio. The villa suits 16 people.
The high-end property is managed by renowned Stay Awhile Villas.
The mansion is $14,500 a night.
12. BEST AIRBNB BOUTIQUE HOTEL IN MALIBU
Don't wory, Malibu is not only for billioners.
This charming beachfront boutique hotel in Malibu offers a budget-friendly stay next to the ocean.
The hotel apartment features 1 bedroom with 1 king bend, 1 bathroom, a small living room with a sofa and it can accommodate 2 people.
If you are looking for an oceanfront budget stay in Malibu, this hotel apartment might suit your taste and pocket.
13. BEST AIRBNB WITH HOT TUBE IN MALIBU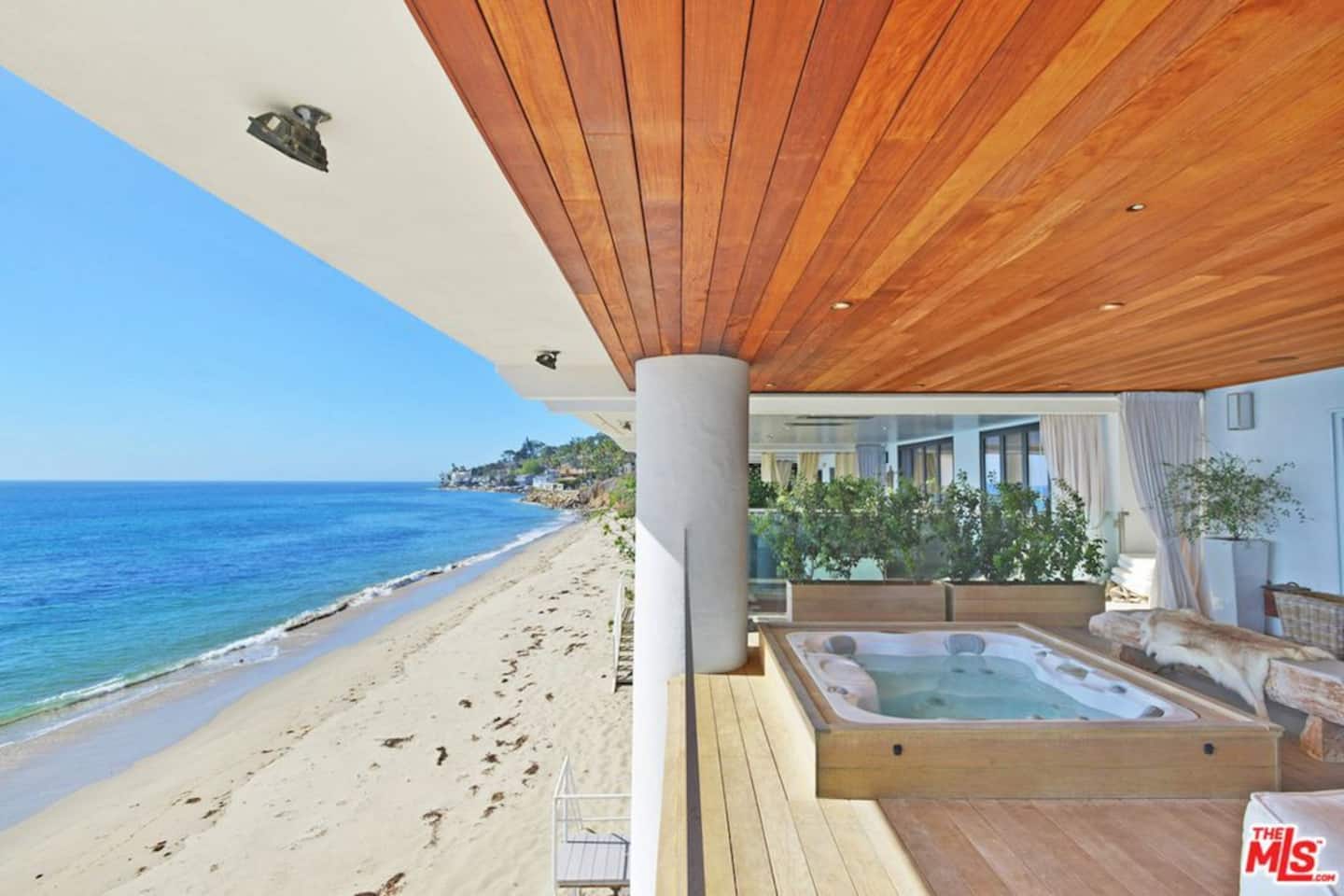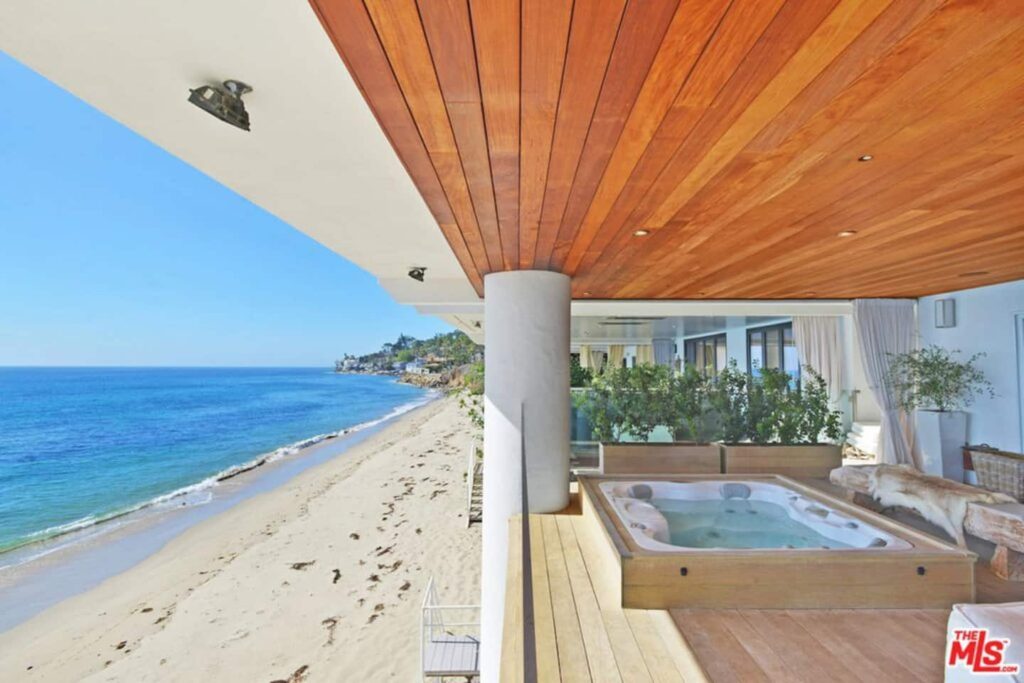 Interested in a beach house with hot tube in Malibu? How does an oceanfront hot tube sound to you?
Susan's Beach House is a top-rated beach Airbnb house in Malibu.
This luxury home is a superb three stories house with 3 bedrooms (each oceanfront), 3 beds (2 king beds and 1 queen bed), 3 bathrooms, and direct access to the beach. It suits 6 guests. So, the house is a perfect Malibu Airbnb rental for families.
The house provides privacy in an exclusive beachfront community.
Needles to stay, this beach house with an oceanfront hot tube is one of the best airbnbs in Malibu.
14. AIRBNB MALIBU BARBIE DREAMHOUSE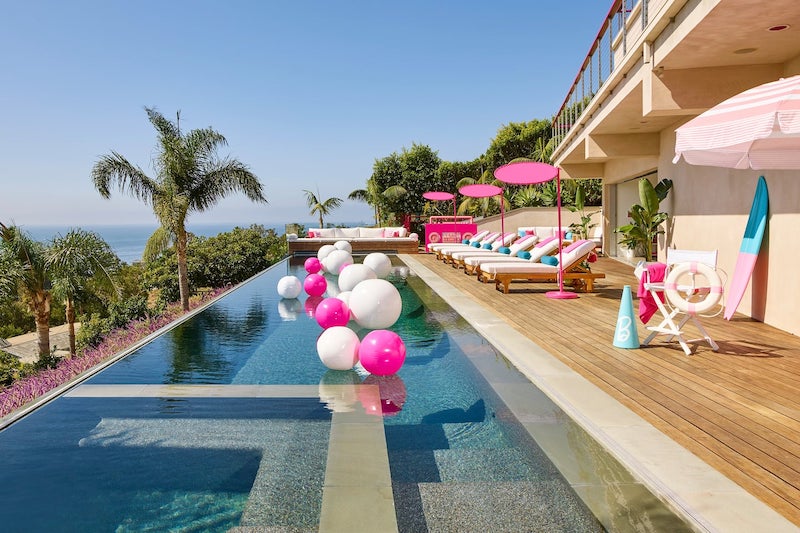 Welcome to the Barbie Malibu Dreamhouse!
Have you heard of Barbie house in Malibu? Yes, you can rent a Barbie's villa in Malibu on Airbnb.
This all things Barbie villa is created by Mattel. Listing glamourous Barbie's house in Malibu on Airbnb was featured in celebrity-style on French Vogue.
Barbie Malibu Dreamhouse is a candy-pink villa with 2 pink bedrooms, 2 pink beds (one king bed and one queen bed), 2 pink bathrooms, Barbie's dressing room (with Barbie's iconic outfit), a pink office, a pink cinema, a pink artist studio, a pool, and even a mediation area. The villa comes with impressive ocean views, of course. It accommodates 24 people.
Barbie Malibu Dreamhouse is $60 a night.
15. MALIBU AIRBNB CABIN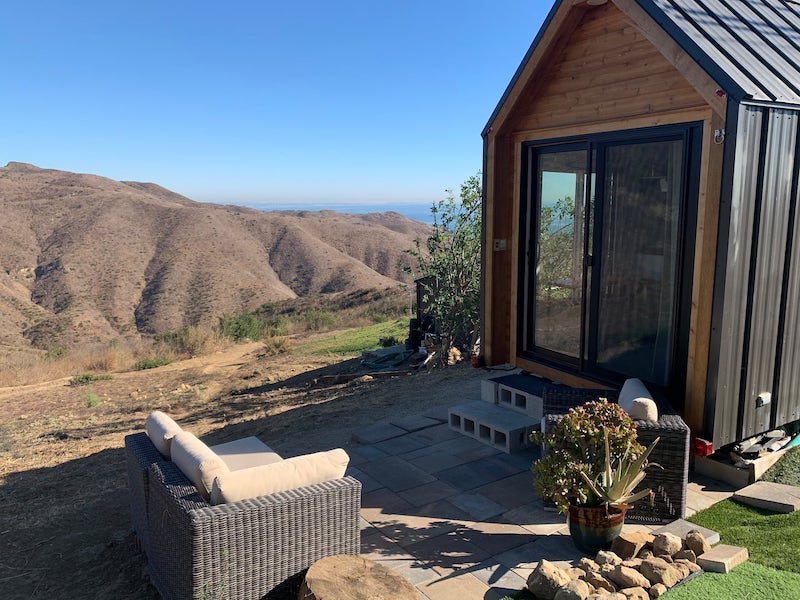 Ocean & Mountain Views- 5 Min from Beach
This brand new cabin is the only Airbnb cabin in Malibu. In fact, it is a RV converted into a cabin.
The cabin has a full kitchen, bathroom, shower, bedroom with twin bed and loft with a queen bed and splendid views of the ocean and the mountains. It comes with free parking as well.
It is located in the center of Malibu and only a few min drive from popular Malibu beaches, surfing spots and, trendy restaurants.
16. MALIBU AIRBNB COTTAGE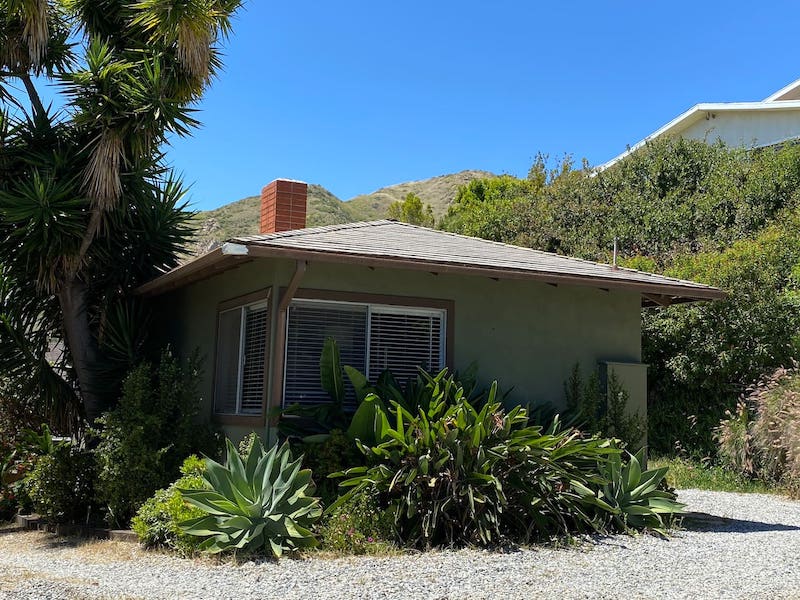 Private Malibu View Cottage Best Location Sleeps 7
There are only two Airbnb cottages in Malibu. And, this Malibu Airbnb cottage is well-liked by guests.
This cute cottage has lovely ocean and mountains views. It features 3 bedrooms, 3 beds (2 queen beds and 1 single bed), 1 bathroom, a lovely backyard, off-street parking, and it suits 7 people.
Not less important, it is also a pet-friendly Airbnb cottage in Malibu.
The cottage is conveniently located in a quiet neighborhood and close to ( less than 5 minutes) everything that Malibu has to offer.
17. MALIBU AIRBNB FARM STAY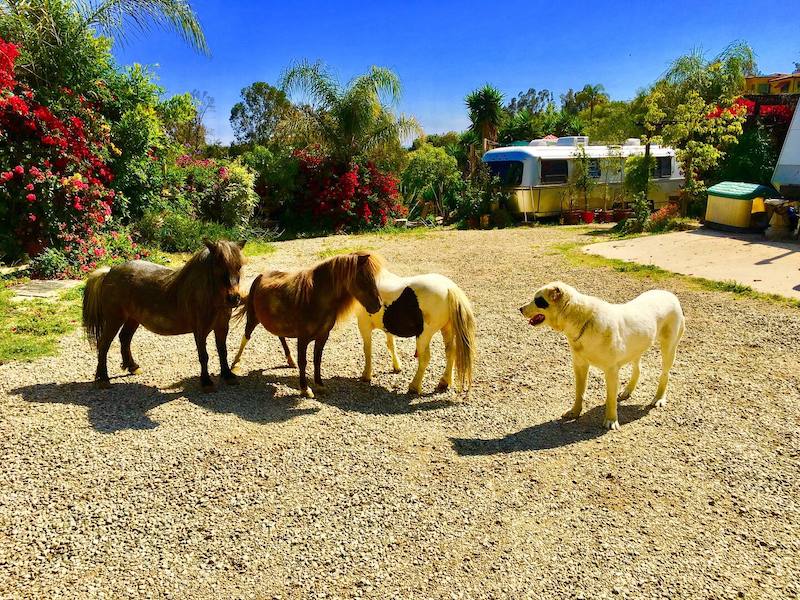 Malibu Airbnb farm stays are limited.
Bu this awesome mini farm offers a room stay.
The glamping type mini-farm with scenic views is surrounded by wilderness. This unique farm in Malibu comes with super-friendly animals and family pets: a micro bull, a mini horse, a sheep, mini cows, chickens, exotic birds, cats, rabbits …
The farm offers one bedroom with one queen bed that accommodates 2 people. Two bathrooms are available on the property. Breakfast, different meals, and even cocktails are available on request as well. In fact, the guests rave about the culinary skills of the owner.
The farm is located only a few min drive to Malibu downtown and a short walk to the beach.
18. MALIBU AIRBNB FARM HOUSE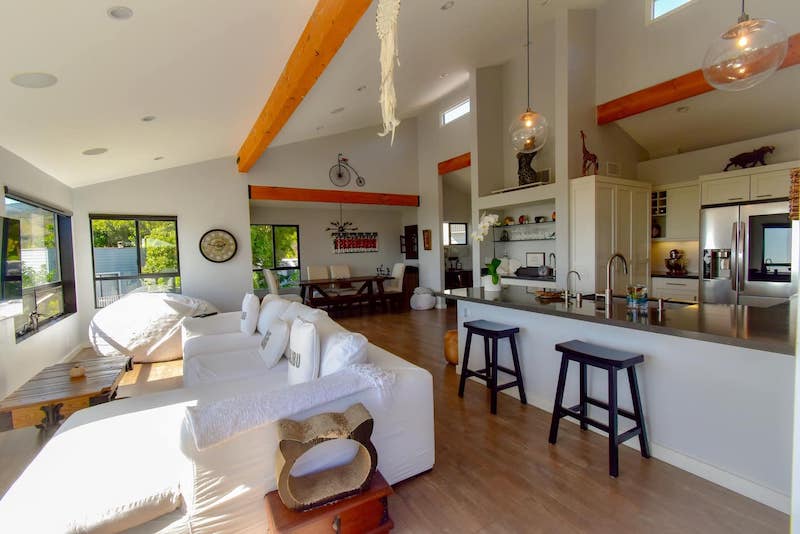 This modern farmhouse with an organic garden is located in Corral canyon in the heart of Malibu.
The property is a perfect mix of a modern house and a rural farm.
While the house is furnished stylishly, the farm comes with chickens, ducks, kitties, turtles, and a tortoise. Additionally, the property provides majestic views of the ocean, mountains, and stars.
The farmhouse has 3 bedrooms with 3 beds (one king bed and two queen beds), 2 bathrooms, and free parking. It can take 6 guests.
This house is a must if you want to rent a farmhouse in Malibu.
19. BEST AIRBNB YURT NEAR MALIBU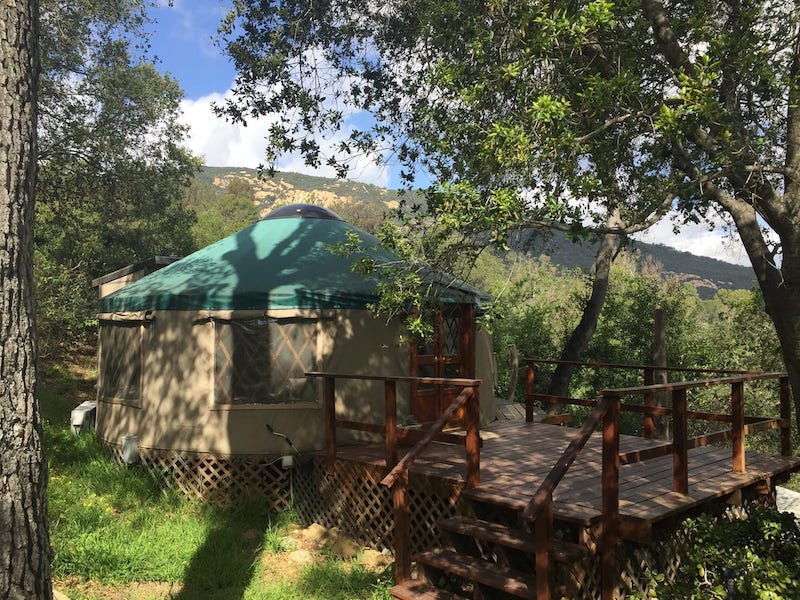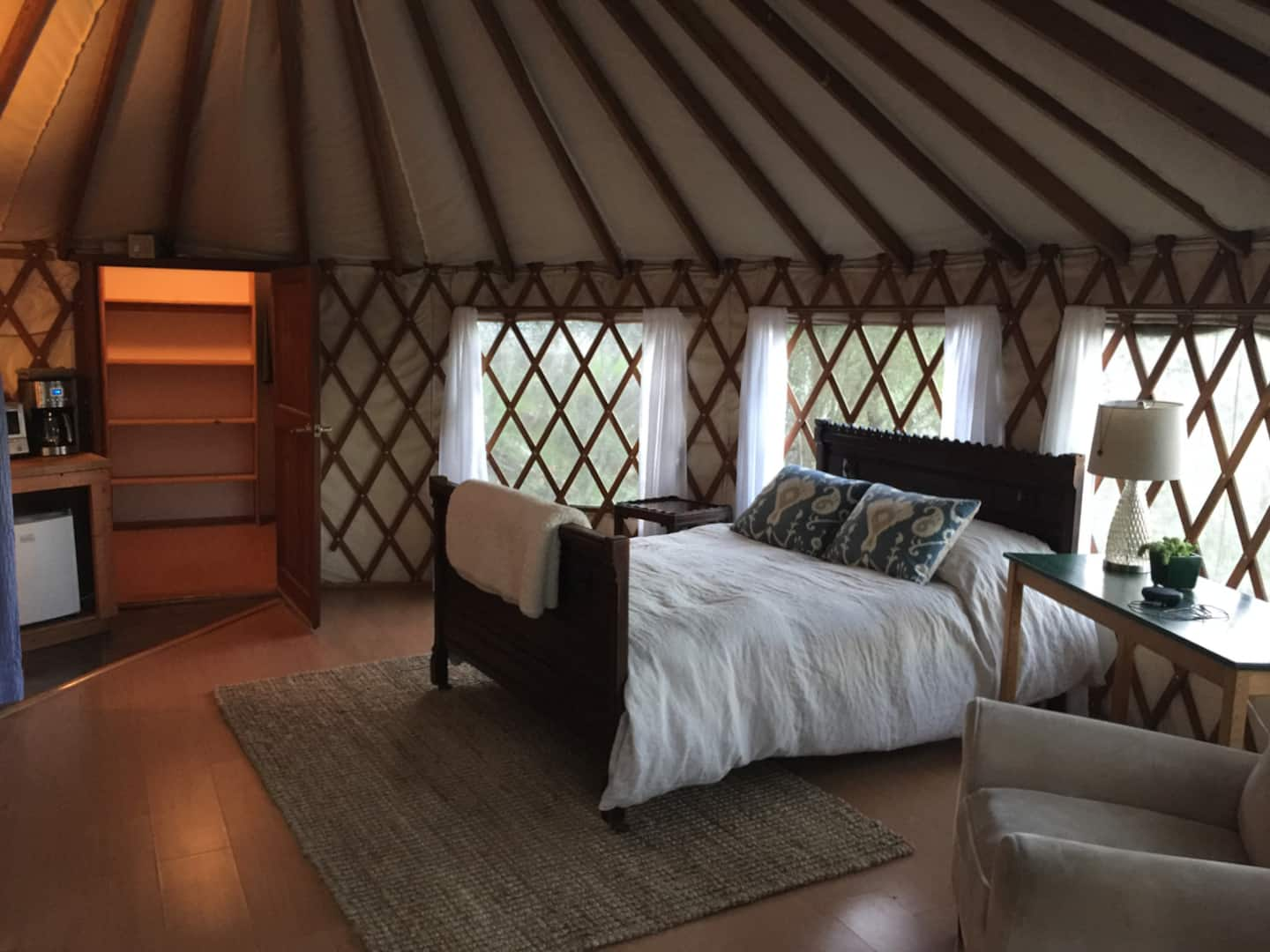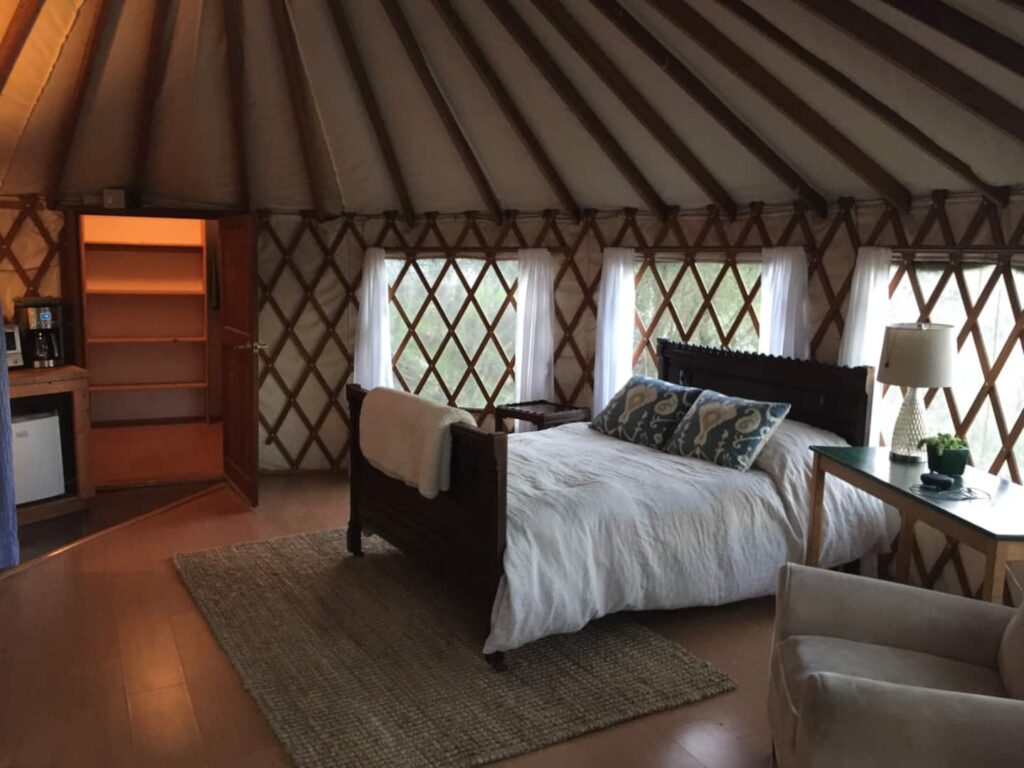 Looking for an Airbnb yurt in Malibu area?
This cozy yurt is located in Topanga in the Santa Monica Mountains. Topanga is only 30 min drive from Malibu.
The yurt has a living space, a kitchenette, one king bed, private patio
The yurt is secluded in the mountains with epic views and surrounded by sounds of birds and crickets, near amazing hiking trails, glorious Topanga Canyon.
RELATED:
The is a great gateway in nature away from the hustle and bustle, in solitude, peace, and tranquility.
If you would enjoy some amazing hikes near Malibu but to be close to Malibu beaches and Santa Monica beaches and with easy access to PCH, check out this Airbnb yurt in Topanga.
20. BEST AIRBNB TENT NEAR MALIBU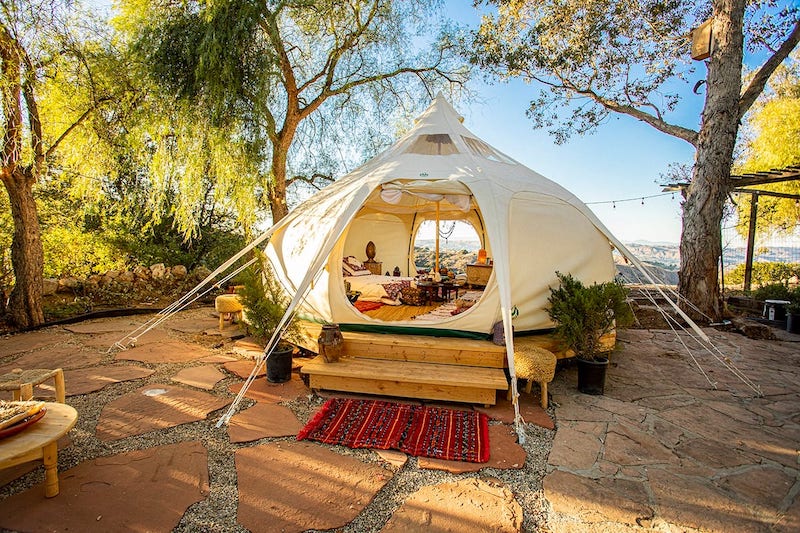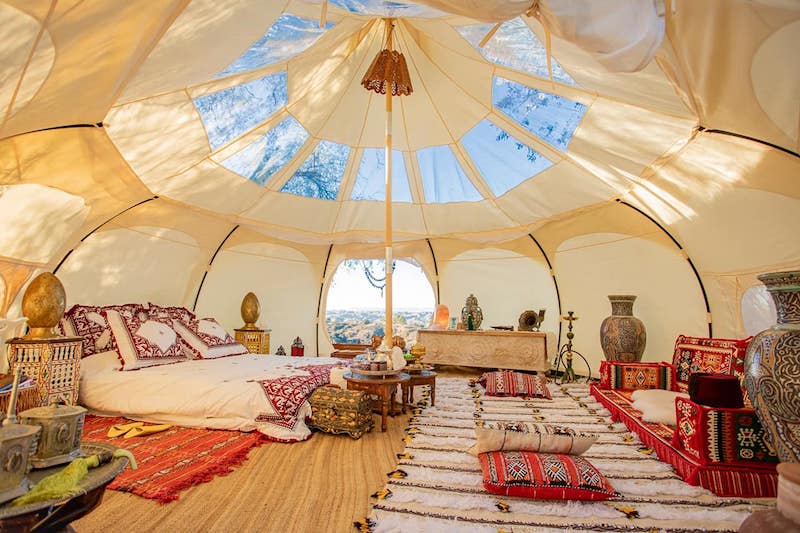 Moroccan Tent Getaway in the heart of mountains
This luxurious Moroccan Tent Getaway is located in Topanga in Santa Monica mountains.
The stylishly decorated Moroccan tent features a comfortable double bed with the finest sheets and cozy pillows, a Moroccan-style sofa, rugs, and Moroccan style floor cushions. It suits 2 people.
The tent is set in an idyllic setting of Santa Monica mountains near amazing hiking trails and horseback riding trails and surrounded by untouched wildlife. Nevertheless, wifi is available in the tent.
If you are after luxury glamping adventure near Malibu, you must check out this Moroccan tent in Topanga.
YOU MIGHT ENJOY: