Are you traveling to Barcelona for a few days and want to see beyond the capital of Catalonia? Interested in day trips around Barcelona? If so, here are the 10 best day trips from Barcelona Spain!
THIS POST MAY CONTAIN COMPENSATED LINKS. PLEASE READ MY DISCLAIMER FOR MORE INFO.
Best Day Trips from Barcelona: 10 Barcelona Day Trips for the NMost Memorable Experiences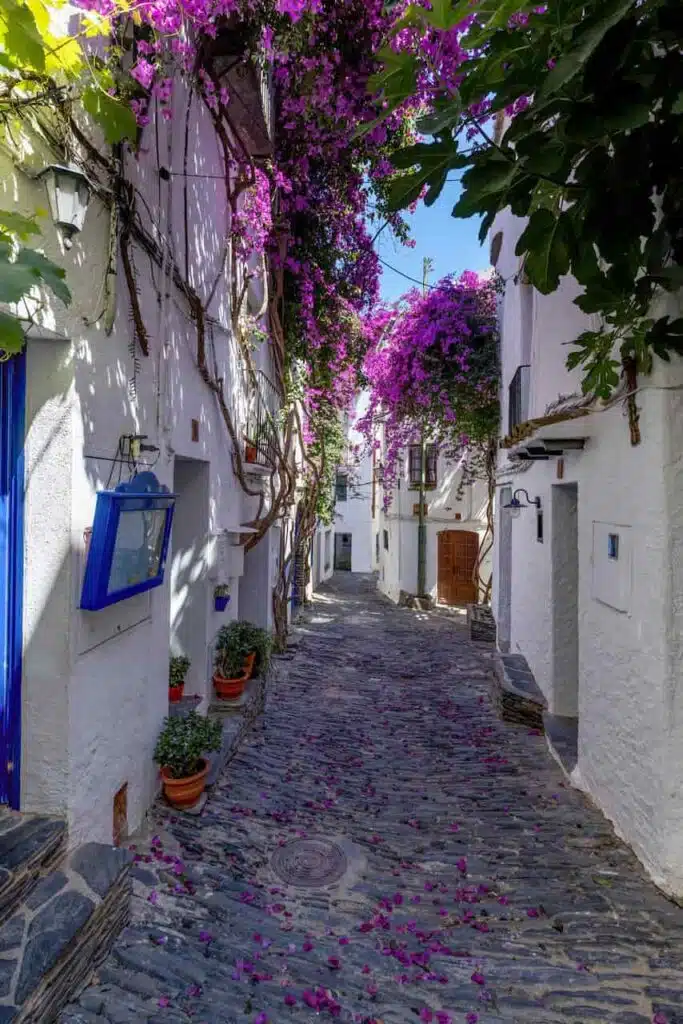 Barcelona, the vibrant capital of Catalonia, is undoubtedly a remarkable travel destination with its rich history, world-renowned architecture, and fascinating culture. Barcelona is absolutely one of the best cities in Spain. While the city has plenty to offer, venturing outside its borders for a day trip can enrich the experience of every traveler.

In this article, you will find some unforgettable day trips from Barcelona that allow travelers to immerse themselves in the region's diverse beauty. You will find destinations that perfectly complement your time in the Catalan capital. Whether it's exploring a medieval town, hiking a scenic mountain trail, or relaxing on a secluded beach, there's an adventure to suit every traveler's taste.

In this article, you will find the 10 best day trips from Barcelona. Here you will find the top short trips from Barcelona, the best beach day trips from Barcelona, the best nature day trips from Barcelona, the top train trips from Barcelona, and above all, fabulous day tours from Barcelona!

Is Barcelona worth visiting? Yes, for sure! But the best part is exploring places around Barcelona. When you travel across the Catalan countryside, you'll love the friendly feel of each site. Each day trip from Barcelona brings new and exciting experiences, making you want to return to this wonderful place.
1. See the mountain and monastery of Montserrat on a day trip from Barcelona
Time: 1 h and a half from Barcelona
Distance: 55 km/34 mi

Montserrat, a stunning range in Catalonia, makes a great day trip from Barcelona. Its mighty mountains have peaceful hiking paths and amazing views of Spain's countryside. It's also famous for the Montserrat Monastery. This old Catholic Monastery from the 11th century is still a top spot for pilgrims.

The heart of Montserrat is the Montserrat Monastery, home to one of the most revered Black Madonnas in Europe. The monastery offers stunning views besides its religious significance. It is an ideal place to take in a peaceful atmosphere and contemplate the beauty of nature.

Montserrat has numerous well-maintained hiking trails catering to all levels of fitness. The most popular hikes include those to the Sant Jeroni Peak, Santa Cova, and Sant Cugat. Adventurous visitors can also take the funiculars to explore higher elevations for breathtaking vistas. Moreover, the hiking trails are also home to charming chapels, hermitages, and tranquil caves.

Visitors can reach Montserrat from Barcelona through various transportation methods. The cheapest and most common way to get there is by bus, with fares around €5 each way. Buses depart from Barcelona Sants Bus station and the journey takes approximately one hour and a half. Alternatively, one can also take a cable car or enjoy a scenic train ride.

However, this Half-Day Tour to Montserrat from Barcelona with Cable Car and Easy Hike is among the top memorable day trips from Barcelona!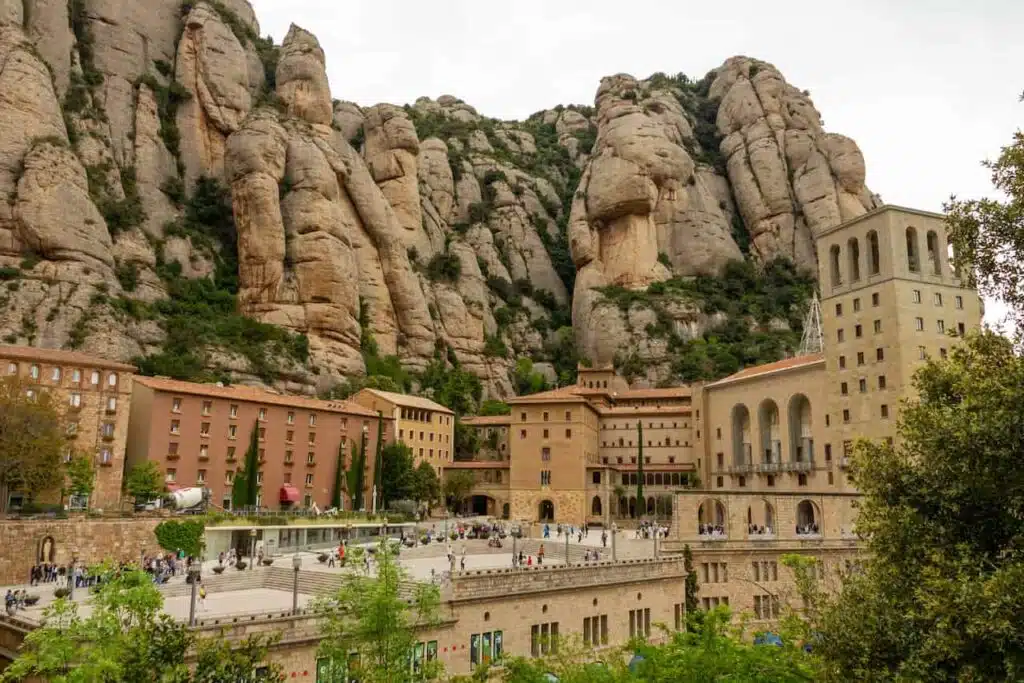 2. Explore the ancient Tarragona from Barcelona
Time: 1 hour from Barcelona
Distance: 100 km/62 mi

Tarragona is just 100 km south of Barcelona. It's a city filled with old Roman history. Because it has so many well-preserved Roman ruins, UNESCO has recognized it. A day trip to Tarragona from Barcelona is a must if you're a history buff. Tarragona is one of the best places to visit outside Barcelona for history and archeology lovers.

In Tarragona, don't miss the Tarraco Archaeological Site. It's a big area full of Roman ruins. Visitors can see an old theater with views of the Mediterranean Sea, a grand aqueduct, and detailed city architecture.

In addition to the Roman ruins, Tarragona's charming Old Town is perfect for wandering through its narrow streets and discovering picturesque squares. The city is also known for its stunning sandy beach, providing a tranquil relaxing spot after a day of exploration.
Tarragona is an ideal place for a day trip from Barcelona. A journey from Barcelona to Tarragona is a short, convenient trip – about an hour to an hour and a half, either by train or rental car, if you'd like more flexibility. Besides that, the Roman Tarragona and Glamorous Sitges Small Group Tour from Barcelona is one of the best day tours from Barcelona!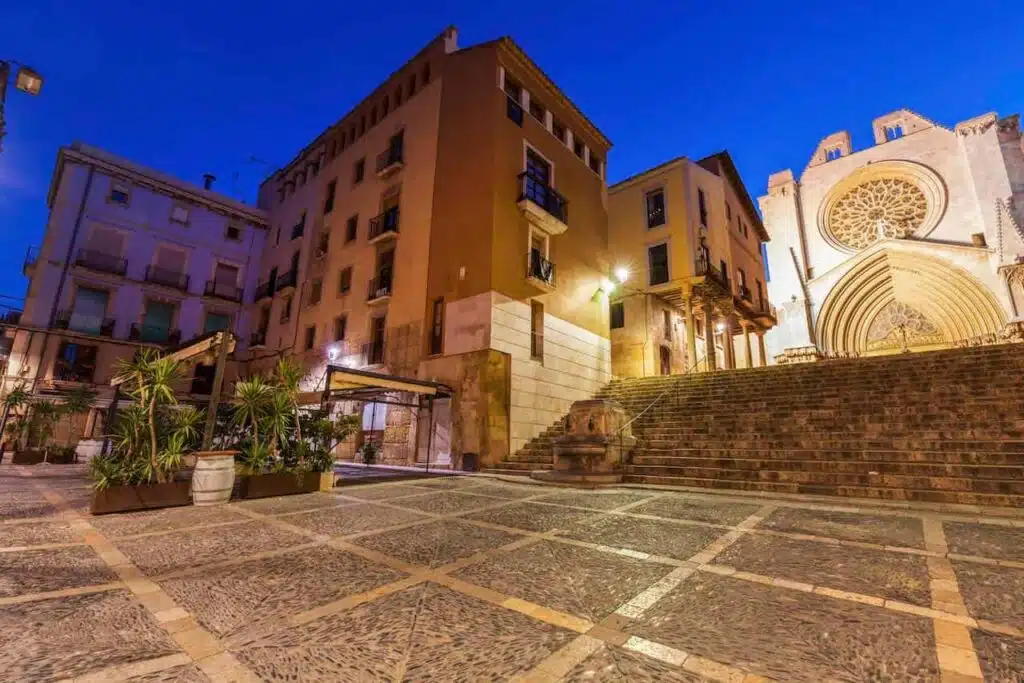 3. Discover the medieval magic of Girona from Barcelona
Time: 40 min from Barcelona
Distance: 102 km/63 mi

Just a short drive from Barcelona, approximately 40 minutes, you'll find Girona. This appealing city is famed for its quaint Old Town and rich medieval heritage. Conveniently positioned alongside the Onyar River, Girona is an outstanding Barcelona day trip for explorers with a fondness for historic towns and villages.
Let's first focus on the city's heart, the Old Town. Here, a maze of cobblestone lanes begs exploration. The remarkable Girona Cathedral is a must-see highlight in this part of the city. Admire its awe-inspiring Gothic exterior, then step inside to discover various artistic wonders.
Moving on to the next gem in Girona, you will find yourself in the Jewish Quarter, also known as the "Call." This area boasts some of the finest preservation in all of Europe. Take a moment here to delve into Girona's Jewish past. Make your visit to Girona even more enlightening with a stop at the intriguing Museum of Jewish History.
The colorful houses lining the Onyar River provide a vibrant backdrop for visitors as they stroll along the riverside. Don't forget to snap some pictures of this iconic view, reflecting Girona's unique charm.
There are several convenient ways to travel from Barcelona to Girona, including by car, train, or on a guided tour. Girona day trip from Barcelona is among the best train day trips from Barcelona. You can reach Gorina from Barcelona by train in only 40 min. However, car rentals offer the most flexibility, while trains provide a comfortable and scenic journey. Guided tours provide a knowledgeable guide highlighting the city's history and hidden gems.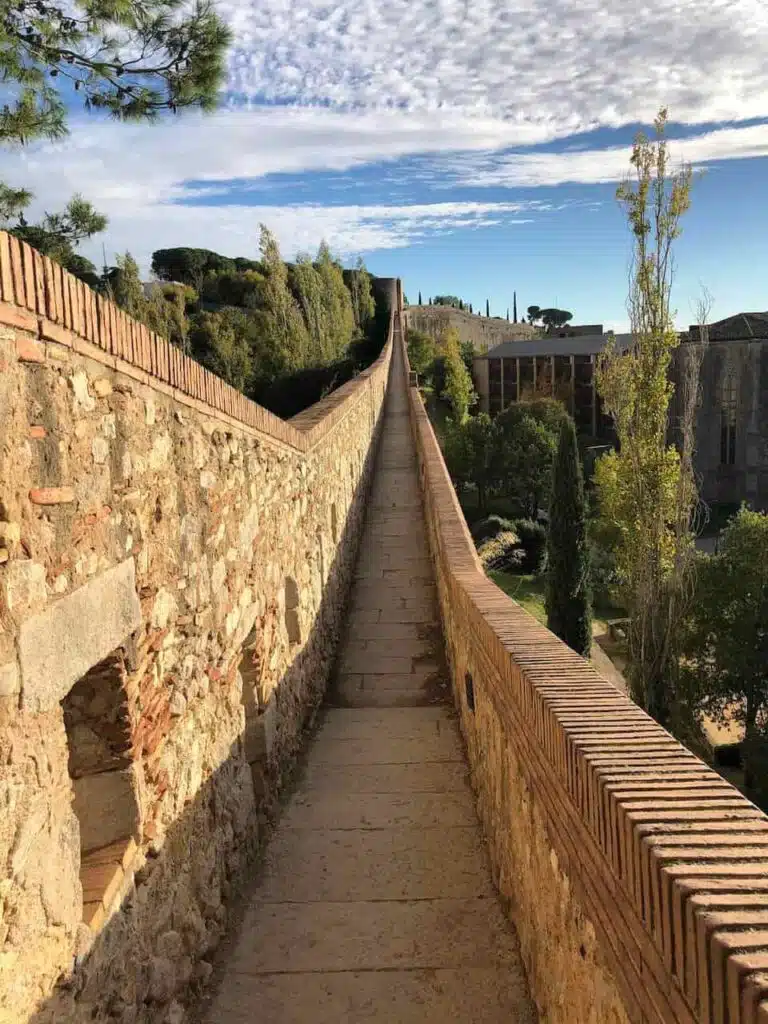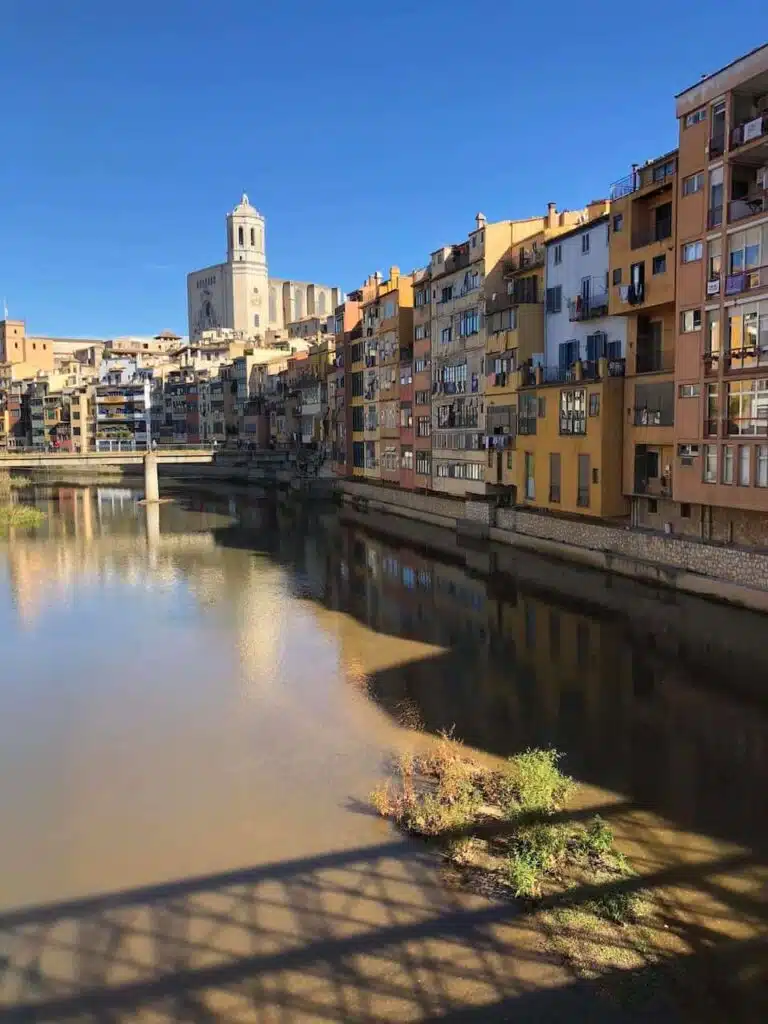 4. Venture into Salvador Dali's home in Figueres on a day trip from Barcelona
Time: to 2 hours
Distance: 138 km/86 mi

Take a day out of Barcelona and explore Figueres, a lovely town in Catalonia. It's a treat for Salvador Dali fans and art lovers. Figueres is famous as the birthplace of Salvador Dali, a master of surreal art. Your highlight in Figueres will surely be visiting the well-known Dali Theatre Museum.
The Dali Theatre Museum is a place that showcases Dali's unique and creative personality. Here, you'll find a big collection of Dali's art pieces. This includes his paintings, sculptures, and even art installations. Walking through the museum, you'll find many surprising and fun exhibits. This museum is special. It's designed to let you experience the world as Dali did.

Besides the museum, Figueres also offers a glimpse into the life of Salvador Dali, with the opportunity to visit his birthplace on Monturiol Street. Furthermore, the town boasts beautiful medieval architecture, local shops, and charming cafes – perfect for resting your feet after a day of surreal exploration.

Travelers can easily get to Figueres from Barcelona by train to embark on this Dali-inspired adventure. A trip to Figueres is among the best day trips from Barcelona by train. The journey takes around 1.5 to 2 hours, with trains departing from Barcelona's Sants or Passeig de Gracia stations. Be sure to plan your itinerary so you can spend ample time exploring the museum and the quaint streets of Figueres. Consider visiting Figueres from Barcelona on this fabulous half-day Dalí Small Group Tour: Museum, Dali House, Cadaques & Pubol!
If you are planning to spend a week in Spain, Barcelona is a great place to base yourself. And places like Figueres and Girona make great day trips from Barcelona.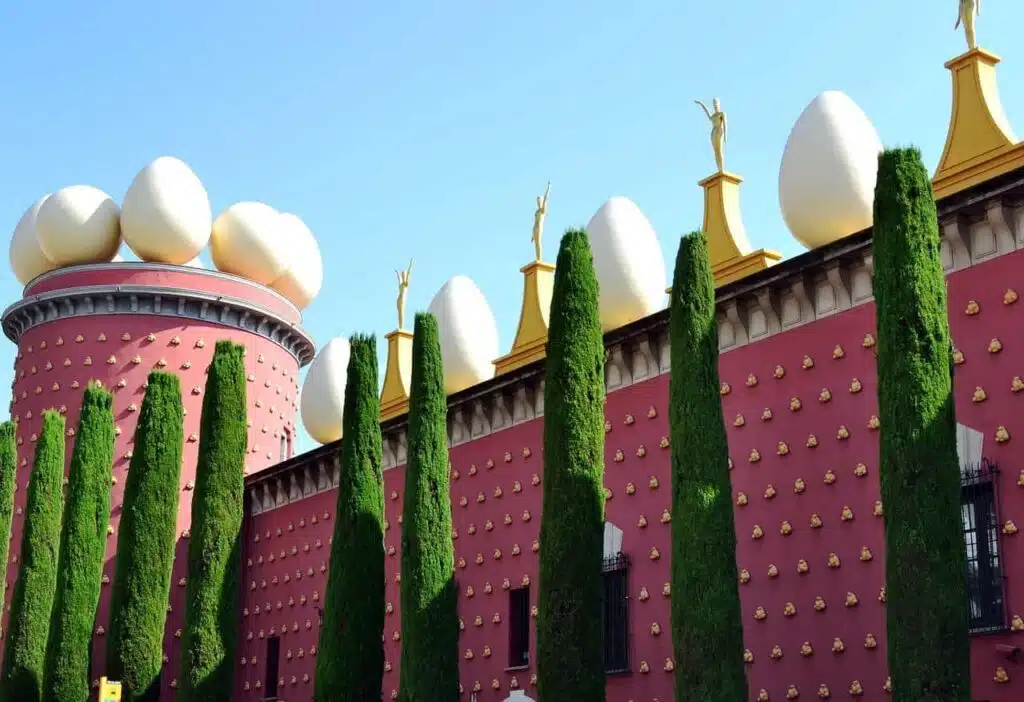 5. Experience the wine country of Penedes on a day trip from Barcelona
Time: less than one hour from Barcelona
Distance: 55 km/34 mi

Penedes, located just a short drive from Barcelona, is a paradise for wine enthusiasts. This charming wine region is famous for its high-quality Spanish wines and the popular sparkling wine known as cava. Cava wine is among the most famous Spanish drinks.
The Penedes wine region offers a unique experience of vineyard exploration and wine-tasting sessions catering to casual drinkers and connoisseurs alike.
The beautiful vineyards and wineries in Penedes are a delight to explore. Many family-run wineries offer tours and tastings, educating visitors on the complex process of producing wine and cava. The region's climate and soil contribute to the distinct flavors and aromas of the wines, making each tasting a delightful experience.

Before exploring the green vineyards, make sure to look up any dates on wine festivals in Spain. You may get lucky! These annual harvesting festivals spread throughout the country show the strong traditions and rich culture of wine production. They give you a great chance to taste different wines and cava's, meet local wine producers, and chat with other wine lovers.

Visitors can embark on a day trip from Barcelona to Penedes and make the most of their wine adventures even in only one day. Several organized tours are available. These tours typically include transportation, an English-speaking guide, and wine or cava tastings at selected wineries. Check out Wine & Cava Tour with Tasting from Barcelona!
6. Relax on the beaches of Sitges from Barcelona
Time: 40 min from Barcelona
Distance: 40 km/25 mi

Sitges, a charming coastal town located just 30 km south of Barcelona, offers a delightful day trip getaway with picturesque beaches and vibrant culture. Visitors can relax and sunbathe on the sandy shores or immerse themselves in the lively local festivals and events.

Reaching Sitges is a breeze, with convenient travel options including road, train, and bus. The summer months draw crowds eager to soak up the sun and bask in the refreshing sea breeze along the 2.5-kilometer-long promenade.

The town boasts various beautiful beaches, such as the popular Platja De La Fragata, nestled near the old town of Sitges. This scenic spot offers great views and a bustling atmosphere, perfect for making unforgettable memories. A day trip to Sitges is one of the best beach trips from Barcelona.

However, Sitges is not just about beaches; it's also famous for its diverse cultural events, such as the international film festival, attracting worldwide enthusiasts. Film buffs can indulge in unique cinematic experiences during their visit.
A trip to Sitges wouldn't be complete without exploring its fascinating museums. The Cau Ferrat Museum, once the home of artist Santiago Rusiñol, showcases stunning Modernist artwork and an impressive wrought iron collection. A short stroll away, the Museu Maricel boasts a remarkable assortment of medieval and modern art housed in the majestic Palau Maricel.

Sitges is easily reachable from Barcelona by car and public transport. But, if you prefer guided tours to get valuable insights into the place and its hidden gems, you will love this Private 5-hour Tour of Sitges from Barcelona with an official tour guide!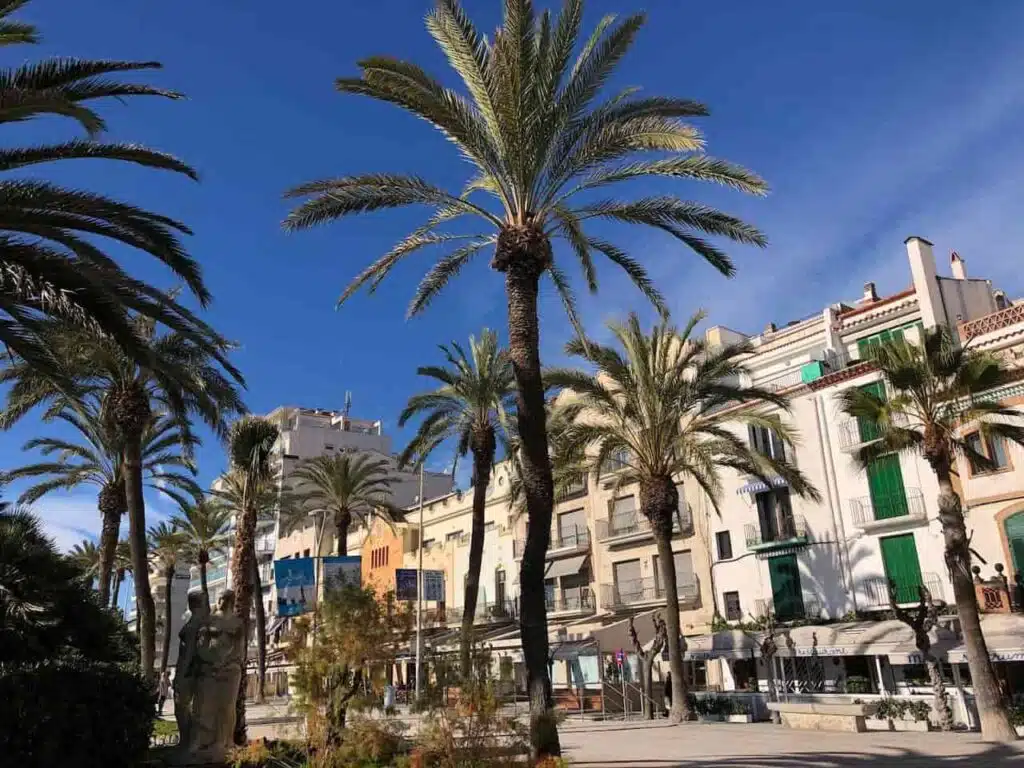 7. Visit the artists' favorite seaside town of Cadaques on a Barcelona day trip
Time: 2 hours and a half from Barcelona
Distance: 170 km/106 mi

Cadaques, a lovely seaside town in Costa Brava, has earned a reputation as a haven for artists, including Salvador Dalí and Santiago Rusiñol. Its white-washed streets, stunning beaches, and vibrant art scene continue to draw tourists and creatives alike.
The town's picturesque landscape has not only attracted renowned artists but even architect Antoni Gaudí had a hand in designing some elements in the area. Visitors will enjoy exploring Cadaques' winding streets, filled with galleries, boutiques, and traditional Mediterranean architecture.
For a unique experience, make sure to stop at the Dalí House Museum in the nearby village of Portlligat to witness the surrealist world that once belonged to Salvador Dalí. This is a must-visit site that offers a glimpse into the life and work of the artist within his home.
To reach Cadaques from Barcelona, one can opt for a full-day guided tour or travel independently by car which takes about 2.5 hours. Do bear in mind that the journey may require some navigation, as the town is nestled within the Cap de Creus peninsula, offering breathtaking views as the reward for your efforts.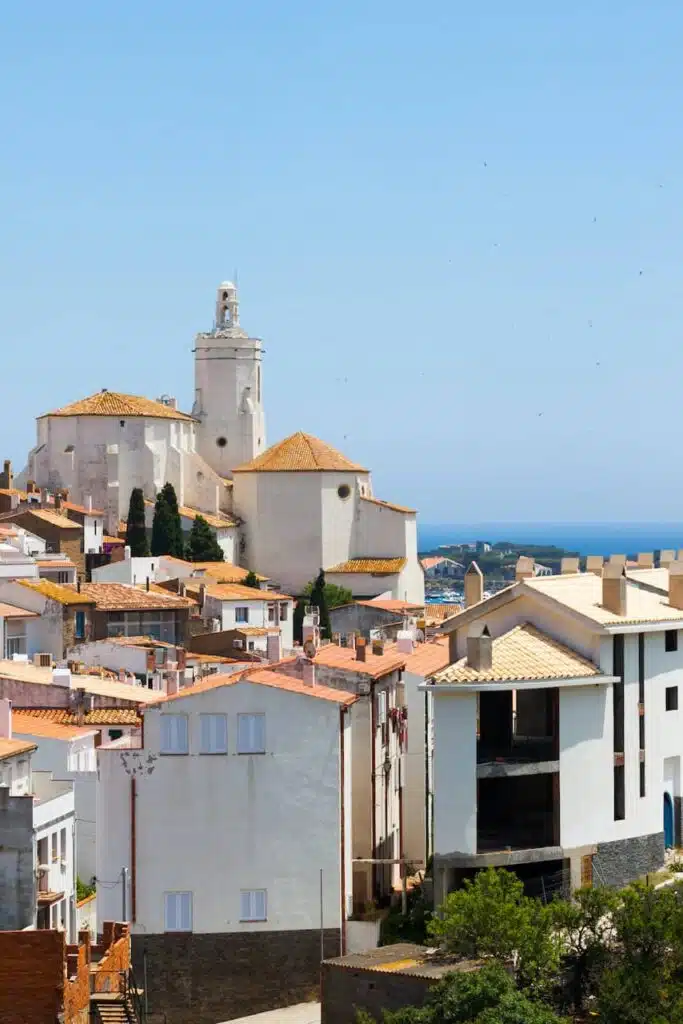 8. Explore Cap de Creus Natural Park on a day trip from Barcelona
Time: 2 hours from Barcelona
Distance: 180 km/112 mi

Cap de Creus Natural Park is an excellent day trip from Barcelona, especially for nature lovers who appreciate the combination of the sea and mountains. Located on the easternmost side of the Iberian Peninsula, this park showcases rugged coastlines, mountainous areas, and a diverse range of flora and fauna.
There are plenty of opportunities for hiking enthusiasts to explore and encounter the region's endemic species. Additionally, the park features 3,000 hectares of protected marine sections, offering a diverse and stunning underwater world. Notably, areas like Cabo Norfeu are dedicated to conserving rare species.
To reach Cap de Creus Natural Park from Barcelona, renting a car for the approximately 2-hour drive is best. This will allow you to fully take in the breathtaking views along the way and make impromptu stops at scenic vantage points. Alternatively, you can take a bus from Barcelona to nearby towns such as Cadaqués or Roses and then make your way to the park from there.
When packing for your day trip, ensure to bring comfortable walking shoes, sunscreen, a hat, and water since the trails can be steep and sunshine is abundant. Make sure to also allow time to visit nearby attractions, like the charming town of Cadaqués and Salvador Dalí's home in Port Lligat. You might enjoy this Cadaqués and Cap de Creus Private Tour from Barcelona as well! Happy exploring!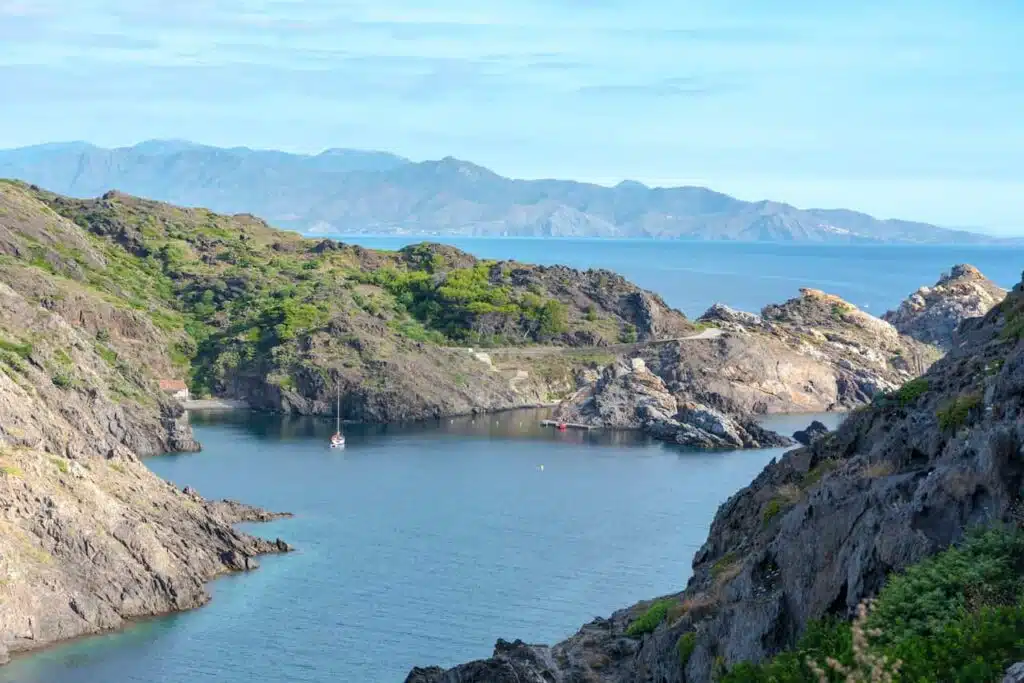 9. Enjoy the seaside town of Tossa de Mar from Barcelona
Time: about 1 hour and 30 min

Tossa de Mar is a picturesque beach town nestled along the Costa Brava coastline, approximately 90 km from Barcelona. Renowned for its stunning beaches and medieval architecture, Tossa de Mar makes for an ideal day trip from Barcelona.

Beach enthusiasts will love Mar Menuda Beach's golden sands and crystal-clear waters. It's perfect for lounging and taking refreshing dips. Snorkeling is a popular activity for those seeking adventure in Tossa de Mar. Explore the vibrant underwater world and discover its wonders.

A visit to Tossa de Mar is incomplete without a leisurely walk through its Old Town. Lose yourself in its charm as you wander along cobblestone streets. The well-preserved medieval buildings offer a glimpse into the town's history. Don't forget to visit the iconic Tossa de Mar Lighthouse, which provides sweeping sea views.

To reach Tossa de Mar from Barcelona, the most common mode of transport is by bus. With its enchanting beaches, historic touches, and proximity to Barcelona, Tossa de Mar is a must-visit destination on your next-day trip from the city. Check out this Private Costa Brava and Tossa Tour with hotel pick-up and Panoramic Boat Ride for unforgettable moments on Costa Brava!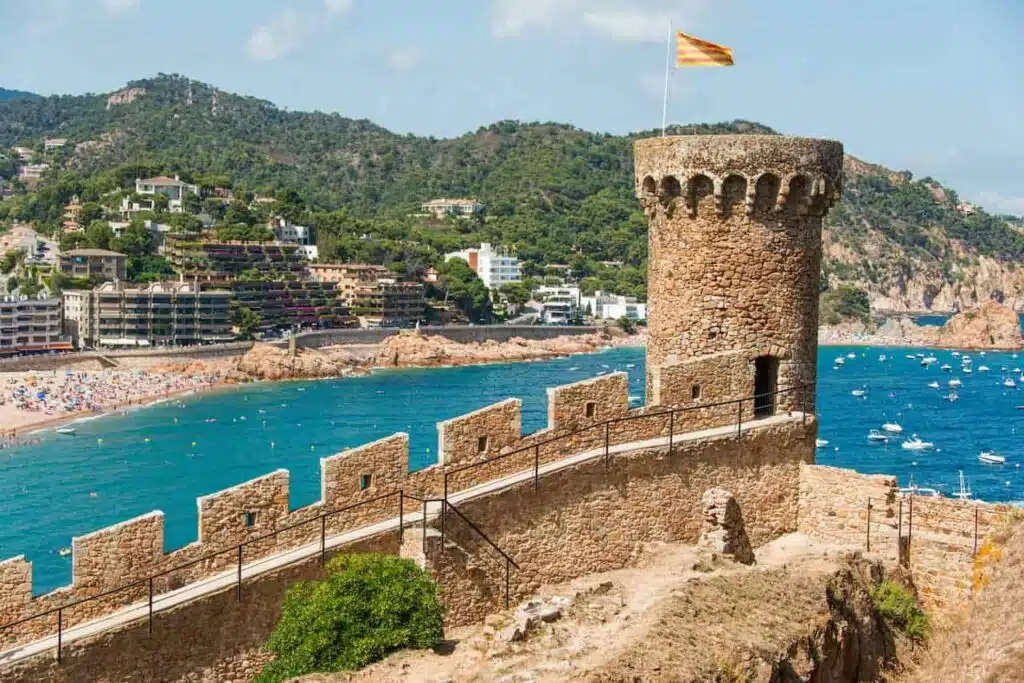 10. Get an authentic Spanish coastal experience in Premià de Mar on a short trip from Barcelona
Time: 30 min from Barcelona
Distance: 24 km/15 mi

Premià de Mar offers visitors an authentic Spanish coastal experience. This lesser-known destination is beloved by locals for its beautiful beaches and charming atmosphere. The town's rich history is displayed through its many points of interest, such as the Cases de Cos which showcases stunning architectural buildings, as well as the local Museo de la Estampación which highlights Premià de Mar's textile industry.
A visit to this hidden gem rewards travelers with a perfect blend of relaxation on sandy shores and insights into the town's cultural heritage. With several beach options to choose from, visitors can enjoy basking in the sun or taking a serene stroll along the coast. While in Premià de Mar, make sure to wander around the lovely Placa Nova playground and visit the historic Parroquia de Sant Cristofol church.
Getting to Premià de Mar from Barcelona is a breeze, as it is barely 20 km away and easily accessible via train or car. To truly immerse oneself in the local experience, consider joining guided tours or free tours in the area. A day trip to this coastal town guarantees a genuine and unique Spanish experience away from the bustling city of Barcelona.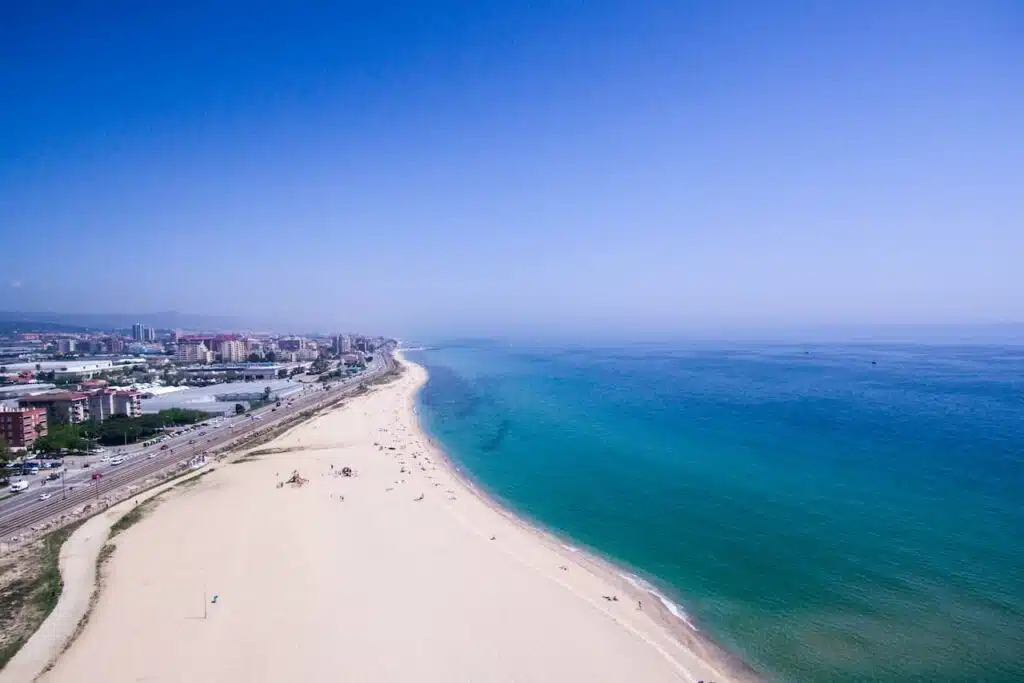 Making the Most of Your Barcelona Day Trips
Planning ahead is essential to truly enjoy your day trips from Barcelona. Start your day early to maximize your time and avoid peak travel hours. Pack light, but bring essentials like sunscreen, water, and snacks.
Regarding transportation in Spain, you have several options to consider. One convenient choice is to utilize the country's efficient public transportation system. This includes trains and buses, which provide a hassle-free and eco-friendly way of getting around.
If you prefer more flexibility, renting a car is a great option. It allows you to explore at your own pace and visit off-the-beaten-path destinations.
For those seeking a guided experience, various tours offer valuable insights into the places you'll visit.
You can download helpful apps and resources to simplify day trip planning. These include interactive maps, local transportation schedules, and tour guides.
By using these tools and following these tips, you can fully immerse yourself in the diverse experiences that day trips from Barcelona have to offer.
Barcelona: Life in Catalonia's Heart
Barcelona, the bustling heart of Catalonia, has a magnetic charm that captivates the hearts of both locals and visitors. Rich in history and culture, this thriving city offers a unique fusion of architectural beauty, mouthwatering cuisine, and great shopping experiences.
Strolling down its bustling streets, one can feel the city's energy on every corner. From the awe-inspiring Gaudí creations to the enchanting Gothic Quarter, Barcelona is a treasure trove for art and history enthusiasts. The friendly locals welcome you with open arms, making it one of the best places to live in Spain with family.
Yet, one of the city's greatest charms lies in its proximity to stunning day trip destinations. Be it beachside towns, vineyards, or medieval villages, many beautiful locations are just a stone's throw away from the Catalan capital. These perfect escapes from urban life showcase Catalonia's diverse landscape and authentic experiences.
Conclusion: Your Day Trips from Barcelona Awaits
As you can see, numerous day trips from Barcelona offer diverse experiences for visitors to Catalonia. From the sacred Montserrat mountain to scenic coastal towns, these destinations enable travelers to immerse themselves in the region's beauty and culture.
Don't miss the opportunity to explore these stunning locales and create unforgettable memories. Step outside of Barcelona and allow yourself to be captivated by the charm and allure of Catalonia and Spain. Happy travels, and may your adventures be as memorable as the picturesque surroundings you'll encounter!
Map of the best day trips from Barcelona Spain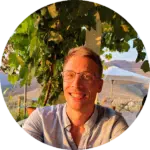 This post has been written in collaboration with Timon from TravelSpain24.com. Timon is a seasoned traveler who has lived in Barcelona for two years, discovering every hidden gem in the region. Timon offers a unique viewpoint on what makes Spain truly special. He's ready to help you plan an unforgettable Spanish adventure, guiding you every step of the way.