Are you wondering what to eat in Barcelona Spain? Do you want to know what the traditional foods of Barcelona are? Are you interested in the famous food in Barcelona?
I feel you, my gourmand friend. Sampling authentic local food has always been a vital part of my travels. I have collected a list of the top foods in Barcelona that visitors need to try. Here are my recommendations on what to eat in Barcelona.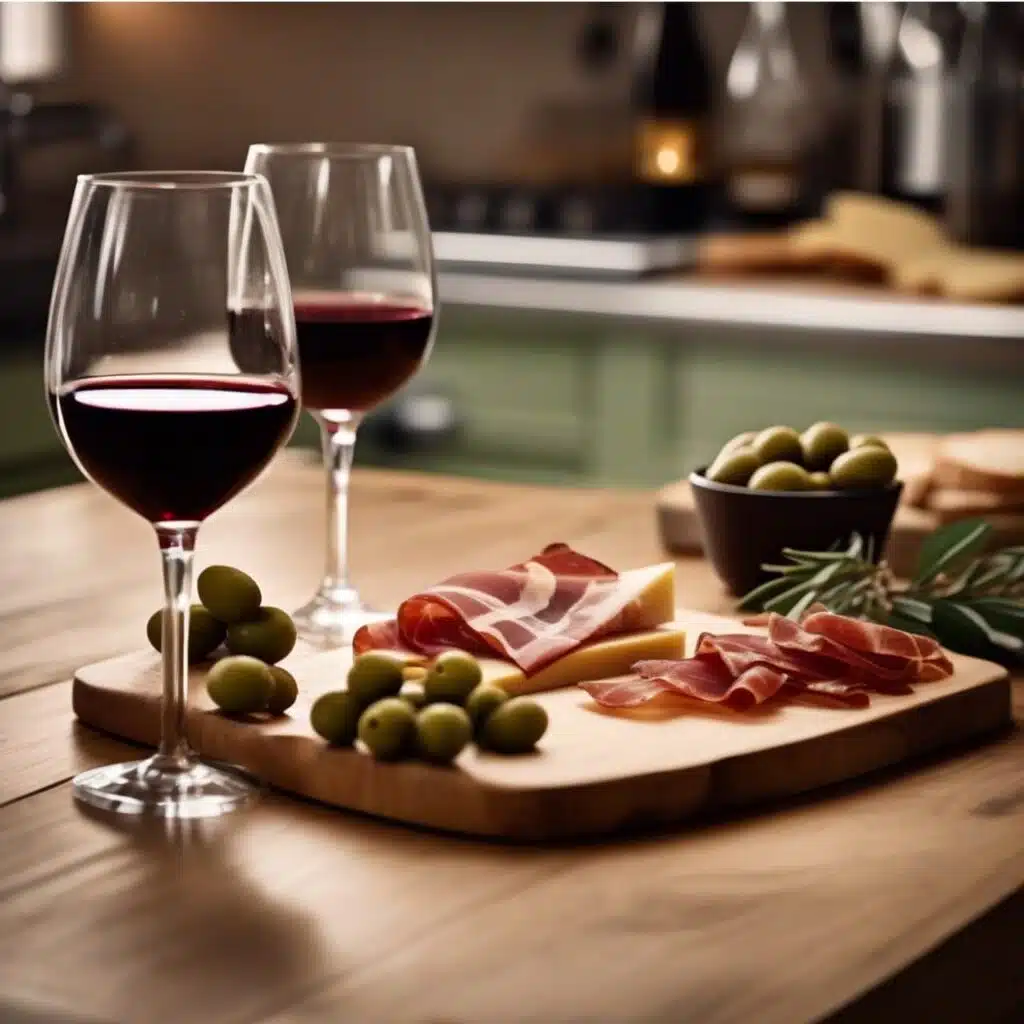 Barcelona is the capital of Catalonia and the second-largest city in Spain. The food scene of Barcelona includes distinctive food from Catalan cuisine (la cuina catalana) and typical Spanish food. If you are a gourmand who is visiting Barcelona, here is the best Barcelona food you need to try!
THIS POST MAY CONTAIN COMPENSATED LINKS. PLEASE READ MY DISCLAIMER FOR MORE INFO.
Best Foods of Barcelona: 20 Must-Try Barcelona Food
Traditional foods of Barcelona
1. Pa amb tomàquet
Pa amb tomàquet is a signature dish of Catalan cuisine.
Pa amb tomàquet is strongly associated with Catalan identity.
Catalan pa amb tomàquet is a simple dish with peasant origins. It is a toasted bread with rubbed tomato on the top and seasoned with olive oil and salt.
Pa amb tomàquet is the Catalan staple and a must-try dish in Barcelona! Catalans called this dish pa amb tomàquet, but the same dish is known as pan con tomate in the rest of Spain. Pan con tomate is a traditional Spanish breakfast food.
When in Barcelona and Catalonia, start your day with pa amb tomàquet. Pa amb tomàquet, a favorite Catalan breakfast dish, is delicious and will keep your stomach full for a long time.
You can find this classic Catalan dish in all bars and restaurants in Barcelona.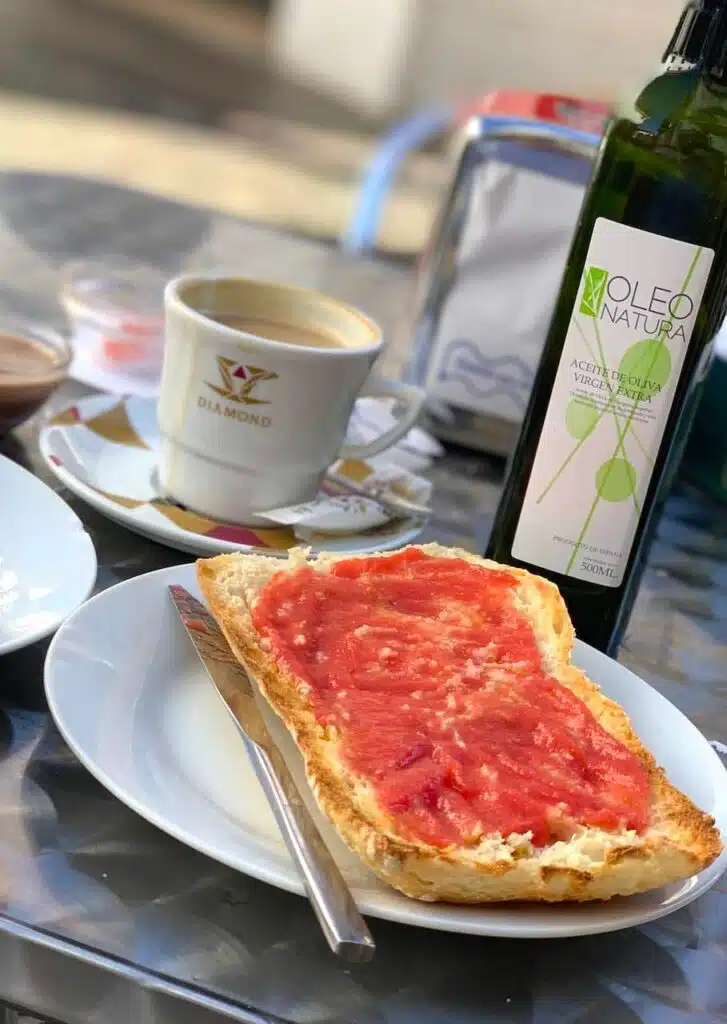 2. Tortilla Espanola
Tortilla Espanola is a national dish of Spain.
Tortilla Espanola is a simple Spanish omelet, but it looks more like a quiche than a standard omelet.
It is a typical breakfast dish served across Spain.
You can eat tortilla espanola sliced or as a bocadillo sandwich (with tortilla Espanola squeezed between the bread).
If you are staying longer in Barcelona, have pa amb tomàquet for breakfast one morning and go for tortilla espanola the following morning.
3. Paella de Marisco
Paella is a signature dish of Spain.
Paella stands as a symbol of Spain.
No matter where in Spain you are, paella is a must-eat.
Paella is a national dish of Spain. This iconic Spanish rice originates from Valencia but is eaten all over Spain.
This world-famous Spanish saffron rice dish can be with meat (paella de carne), fish and seafood (paella marisco), and vegetables (paella de verduras). Besides that, there is mixed paella (paella mixta) with meats, seafood, and vegetables. The authentic paella Valenciana is paella mixta. But when in Barcelona, go for seafood paella.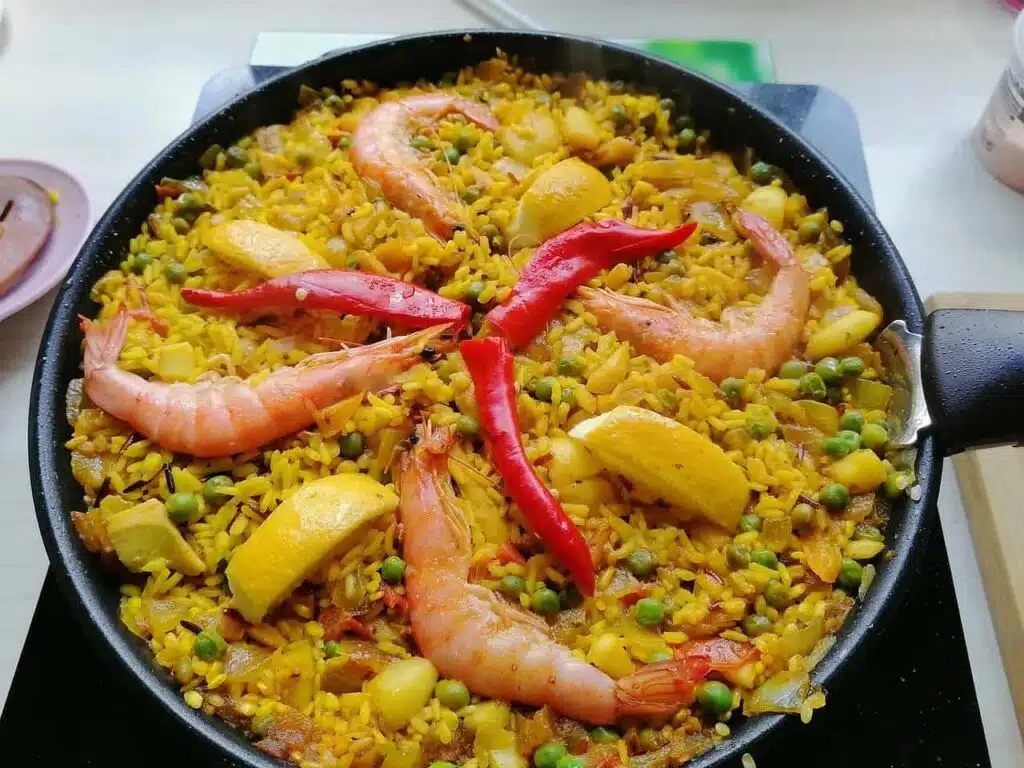 4. Crema Catalana
Crema Catalana is a famous Catalan dessert dish.
So, if you are looking for famous foods in Barcelona, look no further than Crema Catalana.
Crema Catalana is a must-have dessert in the capital of Catalonia.
Crema Catalana is a sort-of Catalan creme brulee. But unlike creme brulee (prepared with cream), Crema Catalana is prepared with milk.
The authentic Crema Catalana is flavored with lemon and cinnamon.
Crema Catalana originates from Catalonia. This Catalan dessert is one of the most popular desserts in Spain for a good reason. Light and not-too-sweet Creama Catalana is one of the most delicious dishes you can try in Spain.
5. Escalivada
Escalivada is a classic Catalan side dish. Escalivada refers to roasted or grilled vegetables. The name is derived from the Catalan verb 'escalivar', which means "to cook in ashes".
This traditional Catalan dish is prepared typically with eggplants, peppers, and onions, which swim in olive oil usually.
As a side dish, escalivada is served with meat and fish dishes. Delicious escalivada is often called Catalan grilled salad.
Escalivada, a tasty vegetarian dish from Catalonia, can be enjoyed alone, too.
Have escalivada with crusty coca de vidre(the traditional Catalan glass flatbread) and a glass of wine in Barcelona, and you will be more than well! Catalan grilled salad is a food of Barcelona that will make you want to return to Barcelona.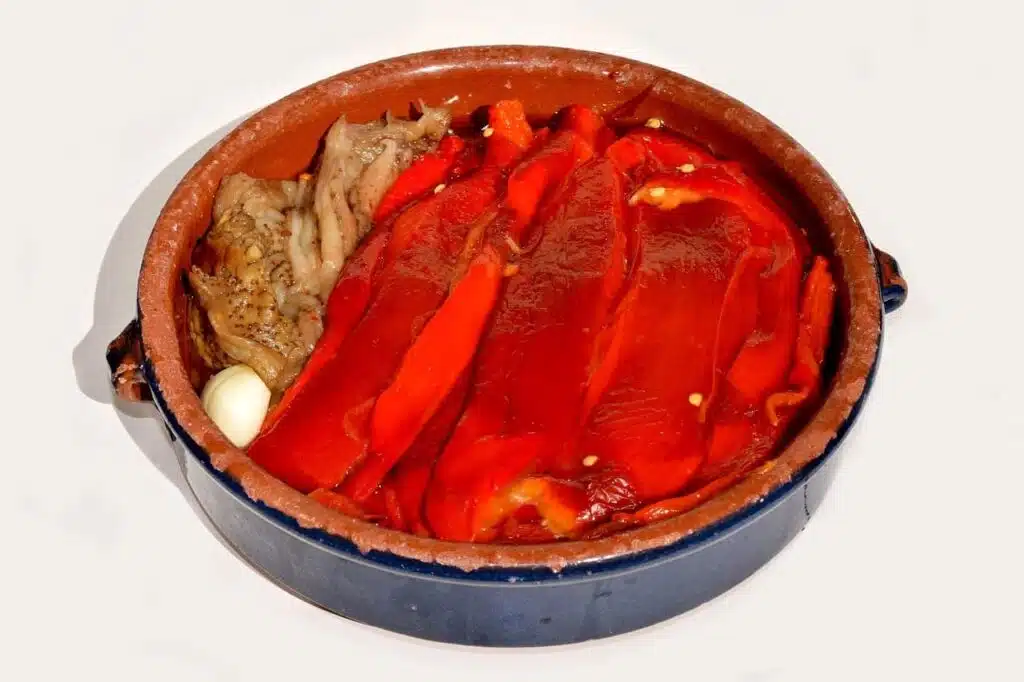 6. Patatas bravas con allioli
Patatas bravas is a popular Spanish tapa dish. Patatas bravas, the famous Spanish-style potatoes in a tomato sauce, originate from Madrid, but this yummy tapa dish is eaten across Spain.
However, patatas bravas come with a unique twist in Catalonia. In Catalonia, Patatas bravas come with aioli, a pungent garlic-olive oil sauce.
Patatas bravas with aioli sauce are must-eat food in Barcelona!
7. Fuet
Chorizo, a famous Spanish pork sausage, is among the most popular food in Spain.
However, Catalonia has its unique chorizo, called Fuet.
Fuet is a thin and air-cured pork sausage from Catalonia.
Catalan Fuet is typically seasoned with garlic and black pepper, while classic Spanish chorizo is seasoned with paprika.
Fuet sausages are a traditional food in Barcelona. Fuet de Barcelona is a must-eat in Barcelona!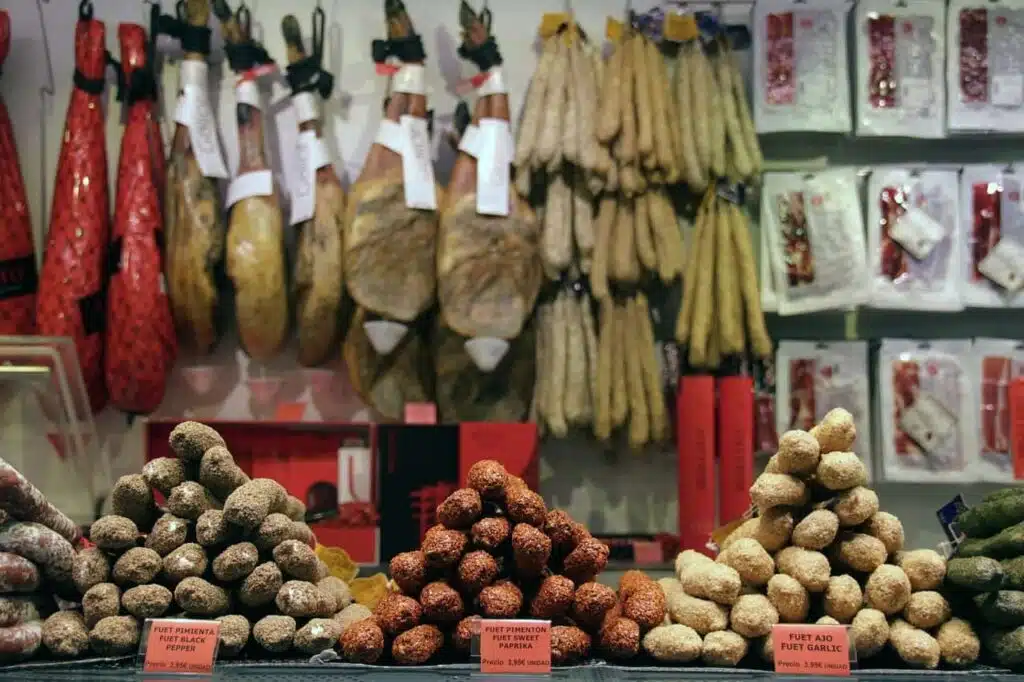 8. Fideuà Catalana
If you have already tried paella in Barcelona and want to sample something similar, go for Fideuà Catalana.
Fideuà Catalana is a Catalan version of paella. Unlike paella, made with rice, Fideuà is made with pasta noodles called fideus. Fideus pasta appears like a short spaghetti pasta.
Fideuà Catalana is cooked fideus pasta in a fish and shellfish broth.
Scampi, prawns, monkfish, and cuttlefish are typical ingredients of traditional Fideuà Catalana.
Fiduea originates from the neighboring Valencia region. Fideua Valenciana is a must-try dish in Valencia, and Fideuà Catalana is a must-try dish in Catalonia.
Try Fideuà Catalana in Barcelona! It is a must-eat in Barcelona!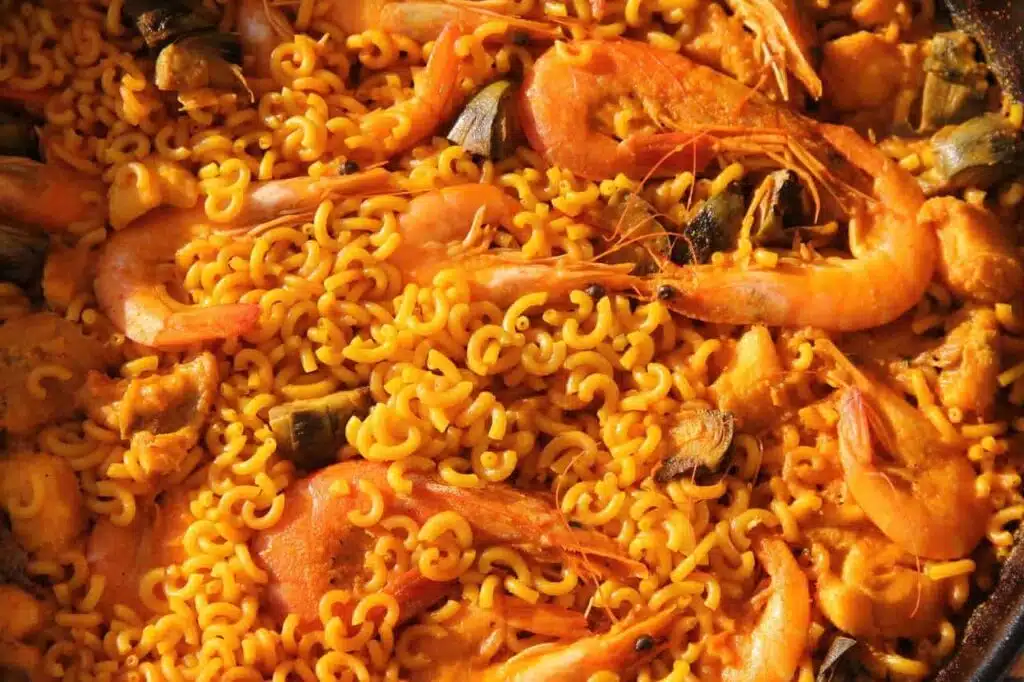 9. Calçots
Calçots are green onions hailing from southern Catalonia.
Calçots are traditional Barcelona food. The long and thick Catalan green onions are grilled over embers and traditionally wrapped in newspaper.
You need to peel away their blackened outside layers to eat the sweet and smoky white flash.
Calçots are harvested from January to March. They are a popular winter food in Catalonia. If you are visiting Barcelona in winter, try Calcots.
10. Espinacas a la Catalana
Espinacs amb panses i pinyons, also known as Espinacas a la Catalana, is a famous Catalan dish made with spinach, raisins, and roasted pine nuts. It is a sweet and savory dish. The Catalan-style spinach with raisins and pine nuts is definitely one of the must-try traditional foods of Barcelona, Catalonia.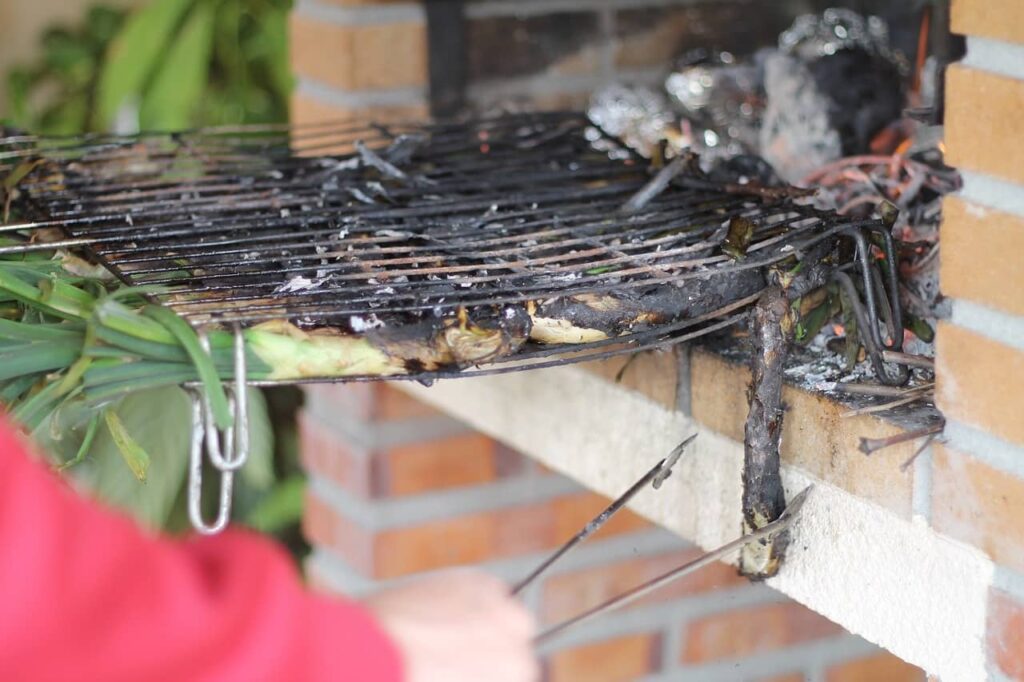 11. Mel i mató
Cheese with honey, or mel i mató in Catalonian, is a traditional Catalan dessert.
Mel i mató is made with Catalonian fresh mató cheese (similar to ricotta) sprinkled with honey and garnished with nuts. Mel i mató is a classic Catalan dessert everyone needs to try in Barcelona!
12. Arròs Negre
Arròs negre is another dish that is common to Valencia and Catalonia. Arròs negre, is also called paella negra (black paella). This traditional Catalan dish (and Valencian dish) is made with rice and black squid ink. Arròs negres is a black seafood paella made typically with prawns, squid, and squid ink.
This tasty seafood dish from Catalonia has a rich, sweet, and savory flavor.
Don't miss out on an opportunity in Barcelona to try arròs negre!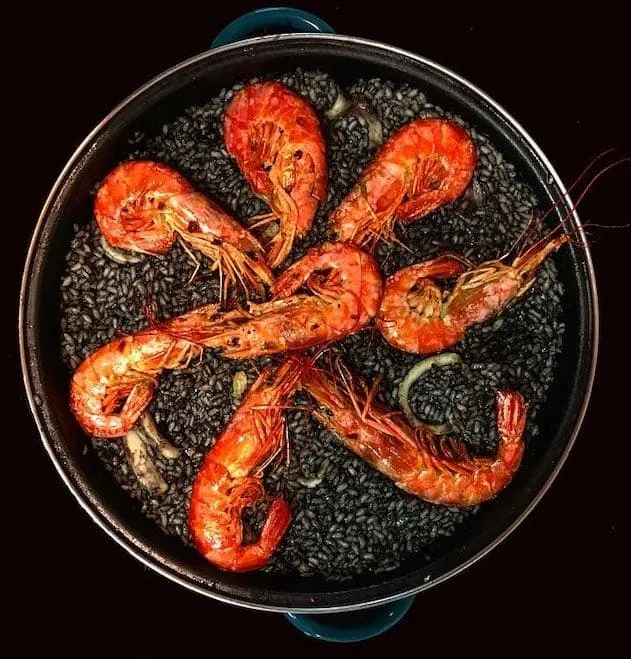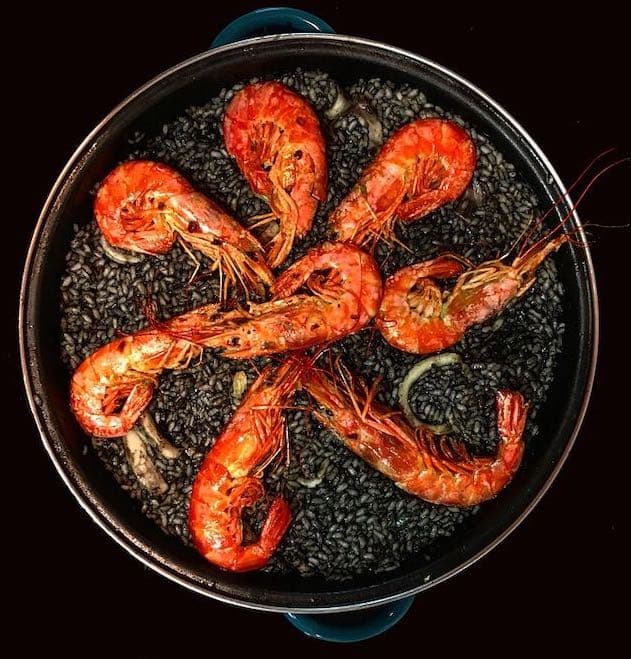 13. Suquet de pescadores
Suquet de Pescadores is also a typical dish from Catalonia and Valencia. Its name means fisherman's shoe. Suquet de Pescadores is a seafood stew from the coast of Catalonia and Valencia. Suquet de Pescadores is a traditional fishermen's stew made with fish and seafood that fishermen could not sell. Suquet de Pescadores is made with different kinds of fish (most commonly monkfish), shellfish (like clams), potatoes, and a flavored sauce. Today, the best restaurants on Costa Brava serve this once-poor fishermens' dish. Today, Suquet de Pescadores is known as a prestigious fish stew from Catalonia.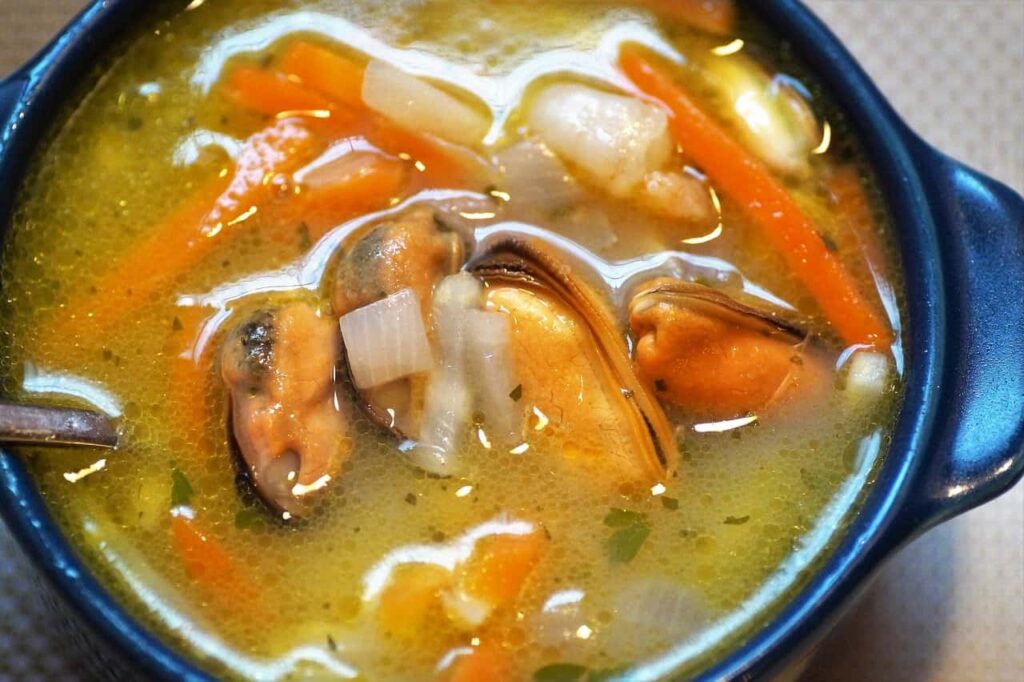 14. Cua de bou al vi negre
Cua de bou al vi negre means oxtail in red wine. Catalan oxtail in red wine is a hearty meat dish. Oxtail is cooked slowly in the sofrito sauce (made with olive oil, onions, garlic, tomato paste, herbs, and pepper) and aromatic herbs. Locals eat it traditionally in the morning.
You can find this traditional Catalan dish in small tapas bars in Barcelona.
15. Bombas
Bombas are a popular street food in Barcelona. There are many debates about its origins, but some argue that bombas hail from Barcelona. Stories say that bombs were invented in a restaurant named La Cova Fumada in the Barceloneta neighborhood of Barcelona. Regardless of their origin, bombas are the must-try food in Barcelona. Bombas are fried breadcrumbs-covered mashed potato balls stuffed with meats and vegetables. And all topped with spicy sauce.
16. Jamon Iberico
Jamón Ibérico is a national food of Spain. Jamón Ibérico de Bellota is regarded as the finest ham in the world. It is the ultimate delicacy of Spanish tapa. So, not having the finest Iberian ham in Barcelona is a big no for any serious gourmand!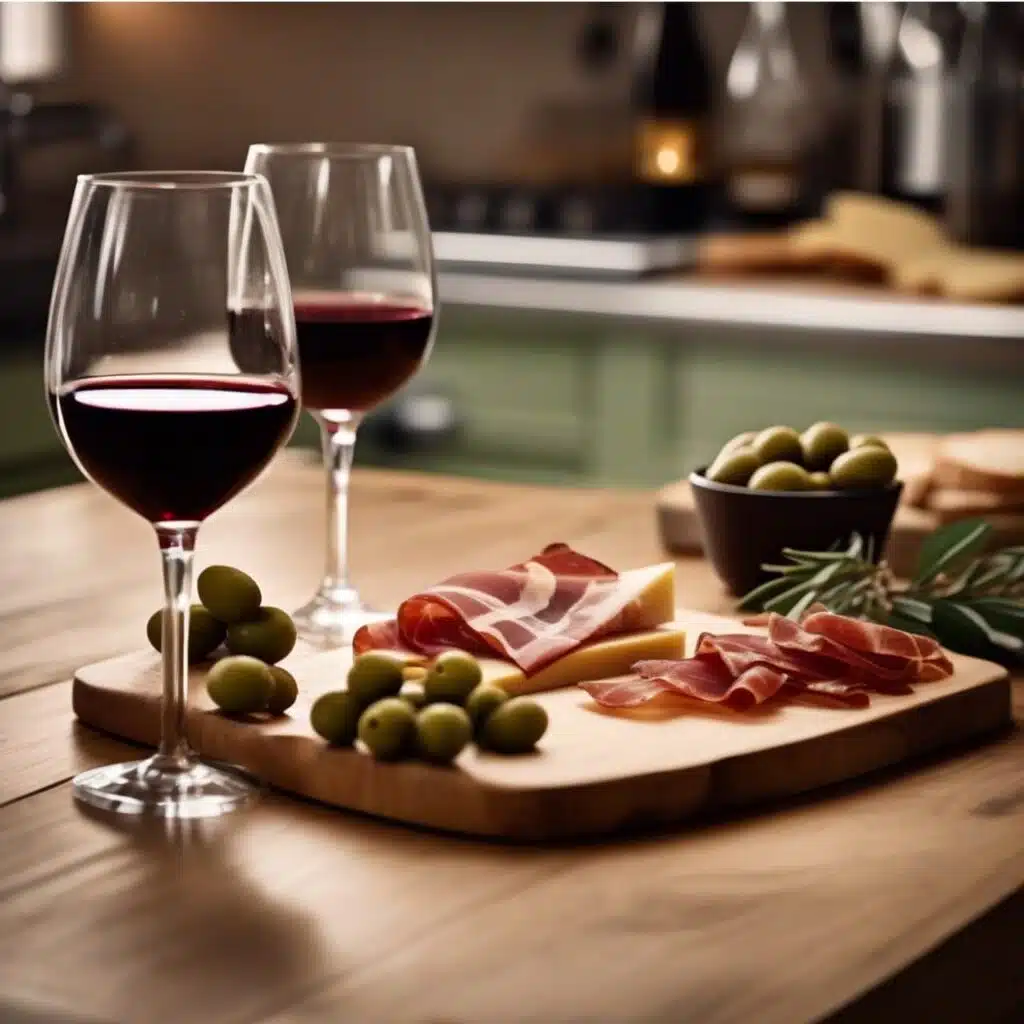 17. Coca flatbread
Coca is a famous Catalan flatbread. It is commonly known as Spanish pizza. Catalan cocas appear like mini pizzas.
Roasted vegetables (like red peppers, artichoke hearts, and spinach) top Catalan cocas.
There are two types of Catalan cocas: sweet and savory. Bakeries in Barcelona sell coca bread. Besides that, Barcelona restaurants often offer them, too.
18. Xuixo
Interested in some more Barcelona famous food? Have you heard of xuixo?
Xuixo is a famous pastry from Catalonia.
It is a cylindrical-shaped pastry filled with crema catalana and covered in crystallized sugar. If you want coffee with a Catalan pastry, try Xuixo with Spanish Cafe Cortado in Barcelona. Xuixo is a classic Catalan dessert, too.
19. Cava
Cava wines are sparkling wines from Catalonia. Cava wine is popularly called Spanish champagne.
There are white and rose cava wines. Cava wines pair well with Spanish seafood, Manchego cheese, light egg dishes, and fruity desserts. Do you wish to drink authentic wine from Catalonia?
Take Cava!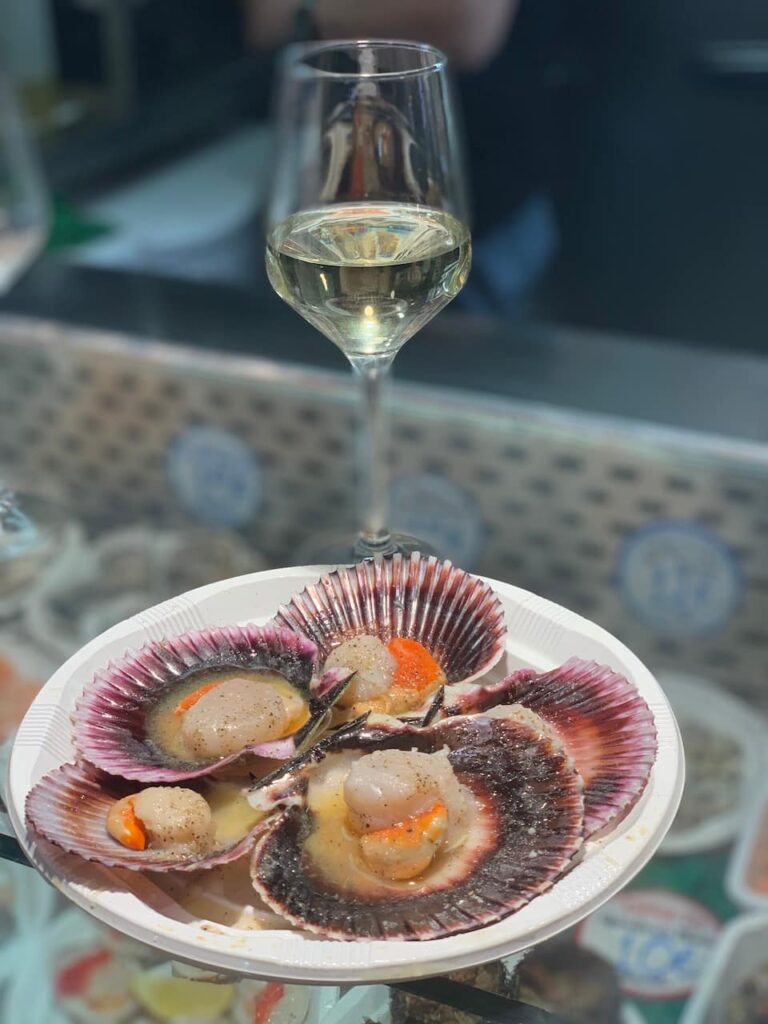 20. Sangria
Tapas, paella, and sangria are synonyms of Spanish food culture.
Sweet and fruity sangria is a favorite Spanish drink.
This famous Spanish red wine cocktail with chopped fruits is an easy find all over Barcelona.
Do not forget to make a few cheers with the world-famous sangria in Barcelona!
BEST Food Tours in Barcelona
Barcelona Tapas and Wine Experience Small-Group Walking Tour (the most popular food tour in Barcelona)
Interactive Spanish Cooking Experience in Barcelona (the most popular culinary class in Barcelona)
Tastes and Traditions: Barcelona Food Tour with Market Visit (a popular tour with a visit to Santa Caterina Market)
Paella Experience and Bottomless Wine in Barcelona (one of the most popular food tours in Barcelona)
Read more in my detailed guide to The Best Barcelona Food Tours
Find your stay in Barcelona Spain