Interested in culinary and gastronomy adventures in Spain? Planning a foodie trip to Spain? Searching for the best Spain foodie destinations? Want to experience the best food tours in Spain? Here's a guide to foodie Spain!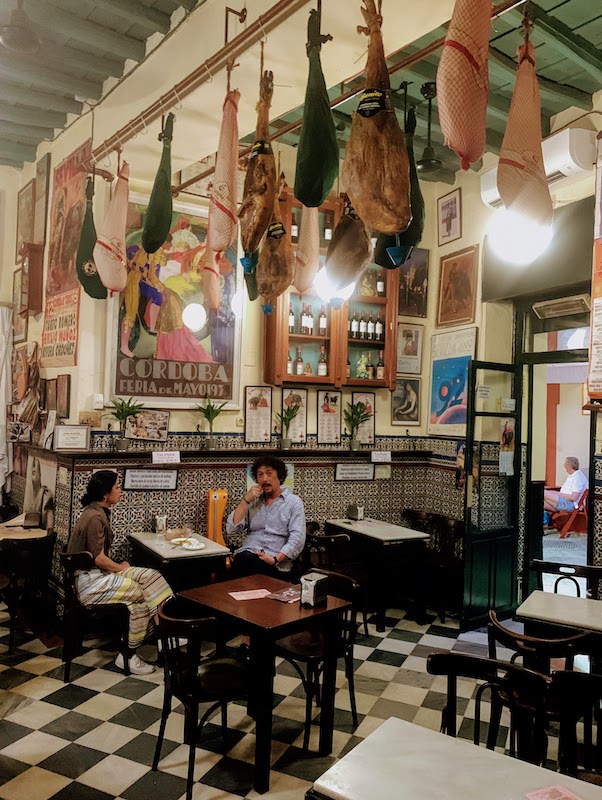 FOODIE SPAIN DESTINATIONS
THIS POST MAY CONTAIN COMPENSATED LINKS. PLEASE READ MY DISCLAIMER FOR MORE INFO.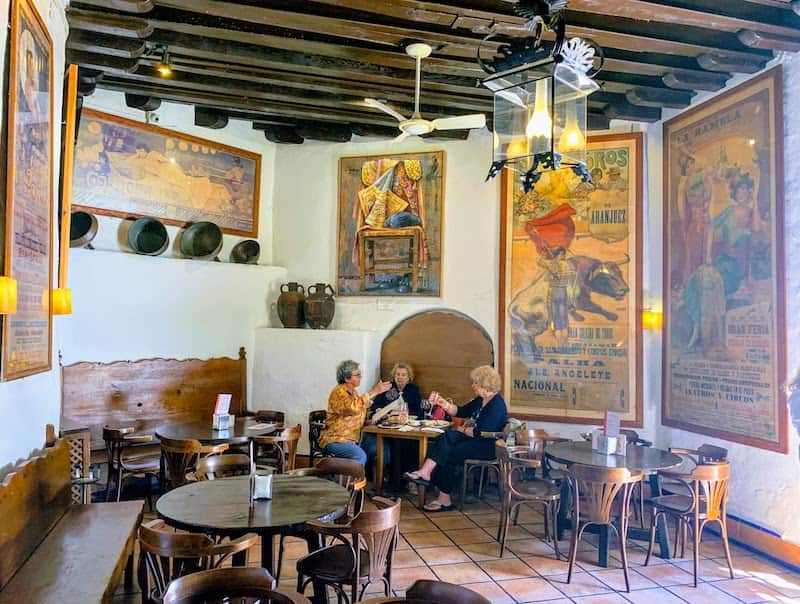 Foodie Spain: Best food destinations in Spain and best food tours in Spain
1. SAN SEBASTIAN: PINTXOS AND MICHELIN-STARRED RESTAURANTS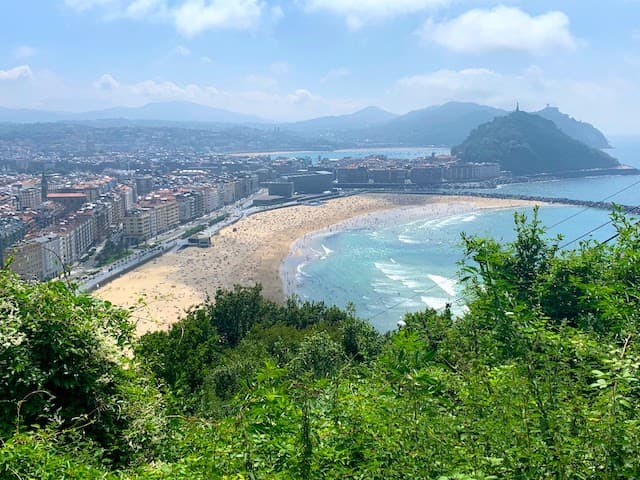 Interested in eating in the food capital of Spain? Head to San Sebastian.
'There is no better place to eat in Europe than the city of San Sebastian', said the late Anthony Bourdain in his Parts Unknown in May 2017.
Beautiful San Sebastian in the Basque Country in northern Spain is the food capital of Spain.
San Sebastian, also called Donostia by Basque people, is a top foodie destination in the world.
It has the second-highest number of Michelin-starred restaurants per square meter in the world. Only Kyoto in Japan has more Michelin restaurants per square meter than San Sebastian.
San Sebastian is proud of its fabulous 16 Michelin restaurants.
The most popular Michelin-star restaurants in Donostia are Akelarre in the 5-star Akelarre – Relais & Châteaux Hotel, Arzak, and Martín Berasategui. Anthony Bourdain loved the iconic Arzak restaurant the most.
But San Sebastian is not only famous for the Michelin restaurants and their innovative chefs. San Sebastian is famous for traditional Basque pintxos served in common pintxos bars and bodegas.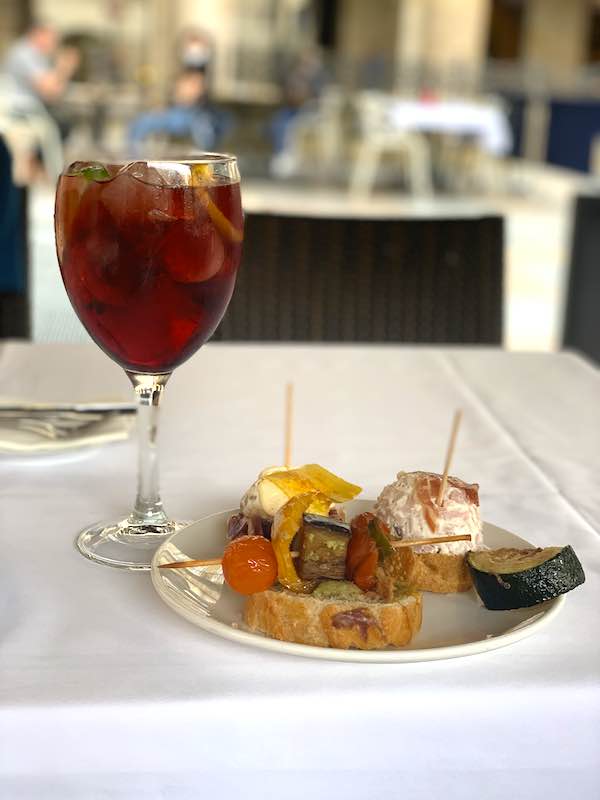 Pintxos (spelled also pinchos) are mouthwatering tapas (snacks) of the Basque Country. There are more than 100 pintos bars in San Sebastian's Old Town (the Party Vieja) to choose from.
Late Anthony Bourdain raved in his 'Parts Unknown' about wild mushrooms with egg yolk pintxos in Ganbara restaurant/bar in San Sebastian.
Besides the food, beautiful Donostia is a famous luxury destination in Spain famed for beautiful sandy beaches and wonderful architecture.
San Sebastian is the top foodie Spain destination for fabulous Basque food and amazing Michelin-starred restaurants.
RELATED READ: Best Spanish Tapas
Best food tours in San Sebastian:
Gourmet Pintxo Tour in San Sebastian
2-Hour Walking Tour with Pintxo and Drink in San Sebastian
Ultimate Pintxos & Wine Evening Tour in San Sebastian
2. RIOJA: WINE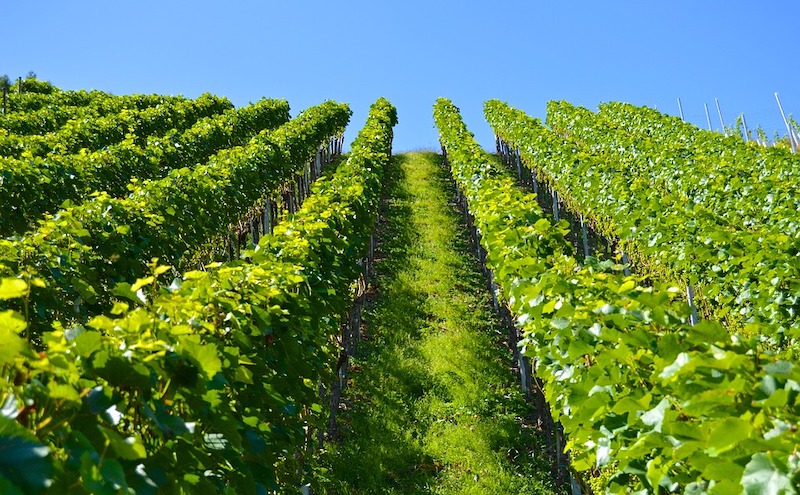 Interested in the best wines of Spain? Head to Rioja.
Wines from the La Rioja region in northern Spain are the most famous wines from Spain.
La Rioja is a region between the Basque Country, Navarre, and Castile-León. To say that the region is picturesque would be an understatement.
More than 16.000 vineyards and more than 600 wineries in La Rioja put the region at the top of foodie destinations in Spain.
Rioja is the top Spanish destination for wine tourism. About 200 Rioja wineries are open for wine tastings, and about 850.000 people a year visit them.
Rioja wines are produced as red (tinto), white (blanco), and pink (rosado).
Rioja wines are a blend of various grapes.
Rioja wines are mostly a blend of Tempranillo, Mazuelo, and Graciano. White Rioja wines are mostly a blend of Malvasia and Macabeo.
Red Rioja wines are classified as some of the finest wines in the world.
Rioja is a destination in Spain for wine enthusiasts.
Best wine tours in La Rioja:
Winery Tour with Tastings and Traditional Lunch in La Rioja
Private Wine Tasting Tour in La Rioja
3. VALENICIA: PAELLA AND ORANGES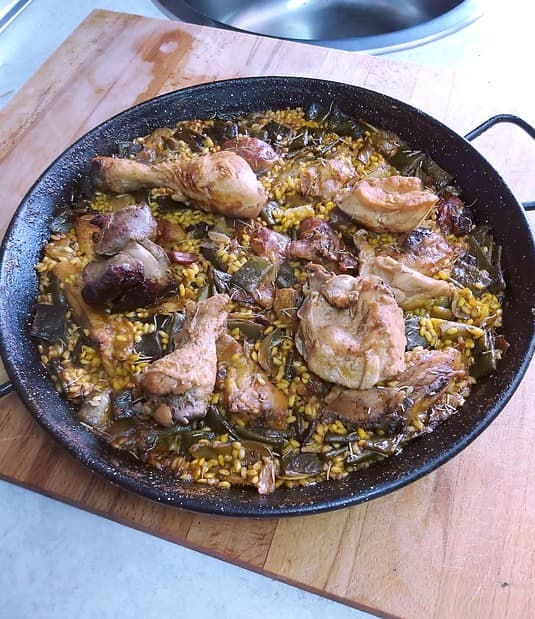 Interested in the best paella in Spain? Head to Valencia.
You can eat paella across Spain. But Valencia is the birthplace of paella.
Contrary to common beliefs, authentic Valencian paella is not seafood paella. Original paella from Valencia is mixed meat paella.
Traditional Valencian paella is made with rabbit, chicken, sausage, and even snails.
Want to eat the yummiest oranges in Spain? Go to Valencia.
The sweetest and juiciest oranges in Spain come from Valencia.
Sunny Valencia in Spain is a top-producing region of the finest oranges in the world.
The best orange juice in Spain is made from juicy Valencia oranges, of course. Refreshing Zumo de Naranja is one of the most popular drinks in Spain.
Valencia is one of the best cities in Spain to visit for delicious food, sun, beaches, and modern architecture.
Best food tours in Valencia:
City of Arts & Sciences Tour with Rooftop Wine & Tapas
Wine Tasting and Tapas Tour in Valencia
Valencia Gastrobars Private Tasting Tour
4. MADRID: CHURROS AND ROAST SUCKLING PIG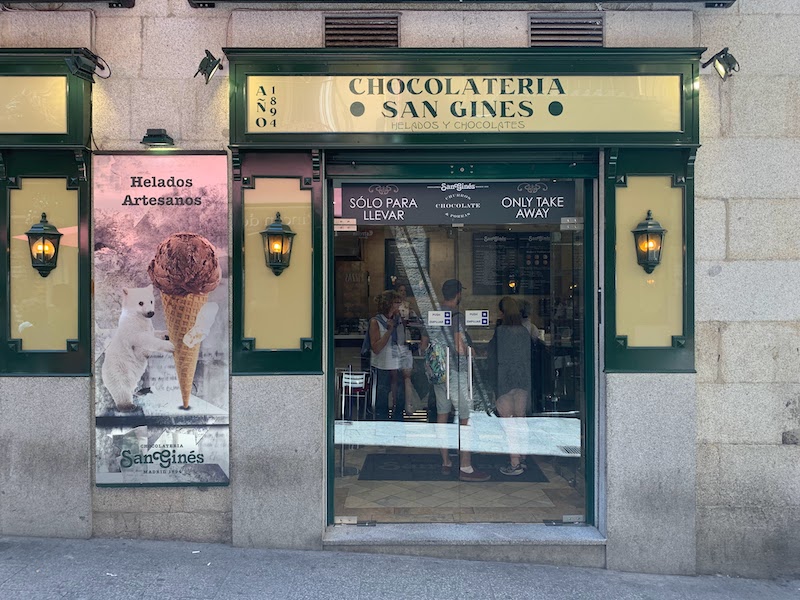 Interested in the best churros in Spain? Head to iconic San Ginés Chocolatería in Madrid.
Churros con chocolate (long and fried Spanish doughnuts with chocolate) is a favorite Spanish dessert. Spaniards typically enjoy sipping coffee and dipping churros in chocolate for breakfast.
La Chocolatería San Ginés in Madrid has a long reputation for serving the best churros and the most delicious dark chocolate in Spain.
The chocolatería was founded as a traditional churrería (a churros shop) in 1894. The charming interior of San Ginés cafe recalls romantic cafes of the late 19th century.

Everyone raves about San Ginés churros with chocolate. You will do it too after visiting the cafe. But, if you are traveling with kids, remember dipping sweet churros in dark chocolate at San Ginés cafe is one of the best things to do in Madrid with kids. You and the kids will be delighted!
Interested in eating in the oldest restaurant in Europe? Reserve a table in Sobrino de Botin in Madrid!
Sobrino de Botin was founded in Madrid in 1725. According to the Guinness World Record, Sobrino de Botin is the oldest restaurant in the world.
The most famous dish of the restaurant is suckling pig. Ernest Hemingway was a regular guest of the restaurant and he mentioned the dish and the restaurant in his 'The Sun Also Rises' novel.
Madrid is a top foodie Spain destination for some of the best traditional Spanish restaurants and best international restaurants. Not surprisingly, Madrid offers some of the best Spain food tours.
Best food tours in Madrid:
Wine and Tapas in Madrid: 2.5 Hour Tour
10 Tapas 2.5-Hour Cooking Class in Madrid
Spanish Gastronomy and History with 3-Course Meal in Madrid
Iberico Ham and Spanish Wine Small-Group Food Tour in Madrid
Lonely Planet Experiences: Madrid Tapas & Wine Tasting Tour
5. SANTIAGO DE COMPOSTELA: ZAMBURINAS AND TARTA DE SANTIAGO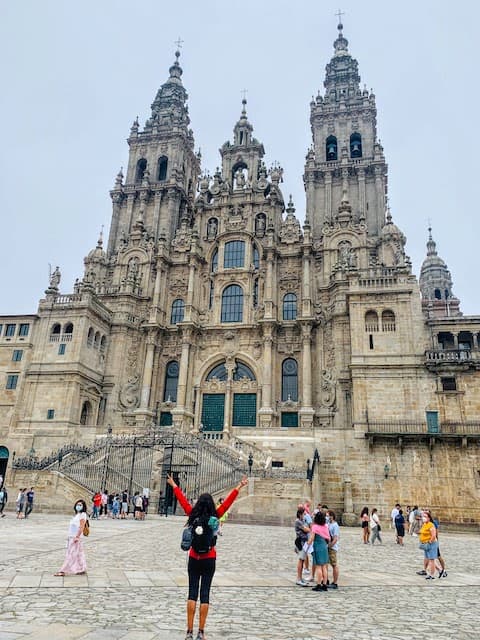 Interested in the tastiest scallops in Spain? Go to Santiago de Compostela.
The Galician coast is famous for scallops. Scallops in Spain are farmed along the Atlantic coast of Galicia.
Scallops are associated with Galicia and St James. They are even called St James shells.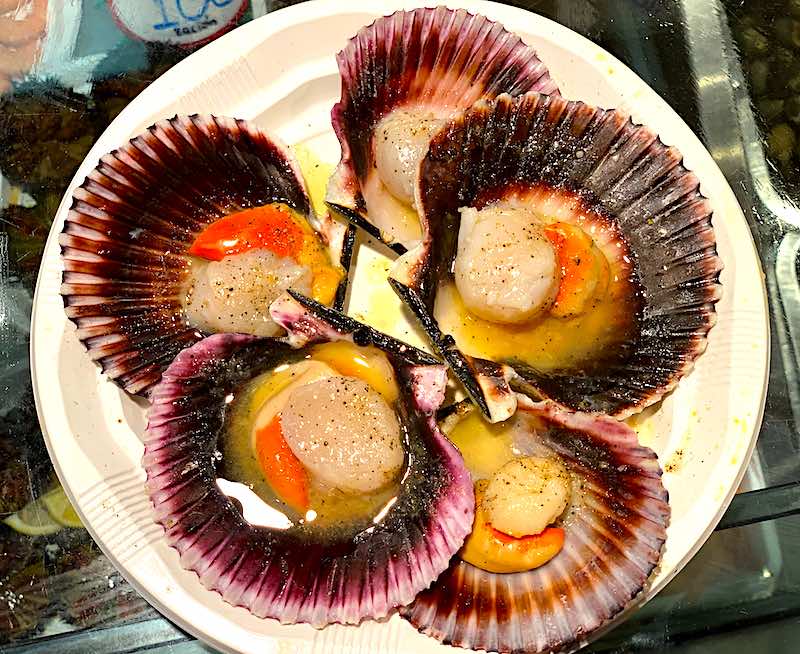 Saint James the Great (the apostle of Jesus Christ) is the saint patron of Spain. His remains are being held in a tomb in the Cathedral in Santiago de Compostela in Galicia in Spain.
The shell of the scallop is a symbol of the famous pilgrimage route of Camino de Santiago.
Zamburiñas are Galician-style scallops traditionally prepared with tiny pieces of Spanish ham, and a garlic-onion sauce with parsley, lemon, and olive oil.
Tarta de Santiago, or Cake of St James, is a famous Spanish almond cake from Santiago de Compostela.
It is also historically related to the Camino de Santiago. The cake is made with almonds and decorated with sprinkled sugar in the shape of a St James cross.
Santiago de Compostela is one of the best foodie destinations in Spain for tasty scallops and St James cake.
I have hiked 808 km of Camino del Norte, the Northern Way of Camino de Santiago. Read my Camino del Norte Guide.
Best food tours in Santiago de Compostela:
Gastronomic Day Tour in Santiago
Gastronomic Night Tour in Santiago
6. GRANADA: FREE TAPAS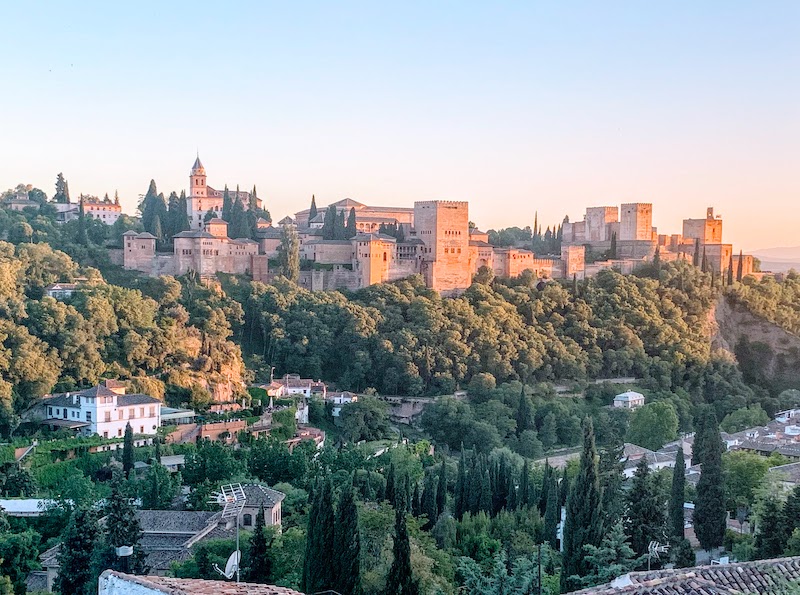 Interested in free tapas in Spain? Go to Granada.
The city of Granada is not famous only for the Alhambra Palace. Granada is famous as a city in Spain where along with paid drinks, free tapas are offered.
You can not be in Granada without visiting Alhambra. And, you can not order a drink without getting a free tapa in Granada either.
Some of the most popular free tapas bars in Granada are Los Diamantes, El Bar de Fede, Bar Casa Julio, Bodegas Castaneda, La Blanca Paloma, and bar Poe.
Granada in Andalusia is a top foodie destination in Spain for tapas.
Best food tours in Granada, Spain:
Guided Gourmet Tapas Tour in Granada
7. JEREZ DE LA FRONTERA: SHERRY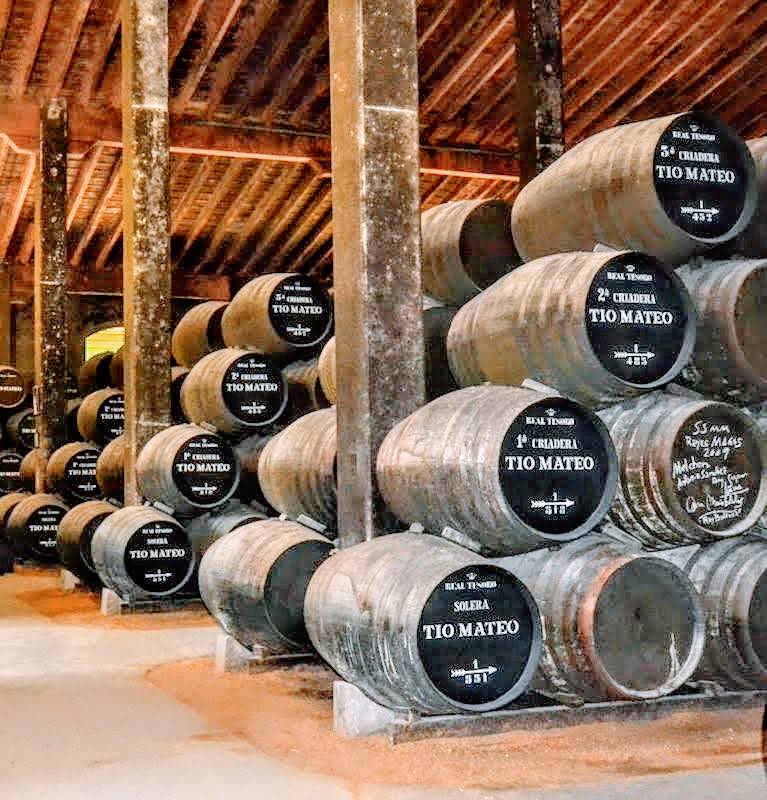 Interested in tasting the most famous Spanish dessert wine? Head to Jerez de la Frontera.
Sherry wine is the most famous sweet wine from Spain. Sherry originates from the town of Jerez de la Frontera in Andalusia.
Even the name of this dessert wine (sherry) is the anglicized version of the new of the town (Jerez).
You can taste authentic sherry in old sherry stores called 'tabancos' where sherry drops directly from the barrels to your glass. Head to Jerez and take 'ruta de tabancos' for an authentic sherry experience in Spain!
Jerez de la Frontera is a top foodie destination in Spain for its famous Sherry wine.
Best wine tour in Jerez de la Frontera:
1.5-Hour Sherry Winery and Tasting Tour in Jerez
8. MALAGA: FRIED FISH AND SEAFOOD PAELLA AT CHIRINGUITOS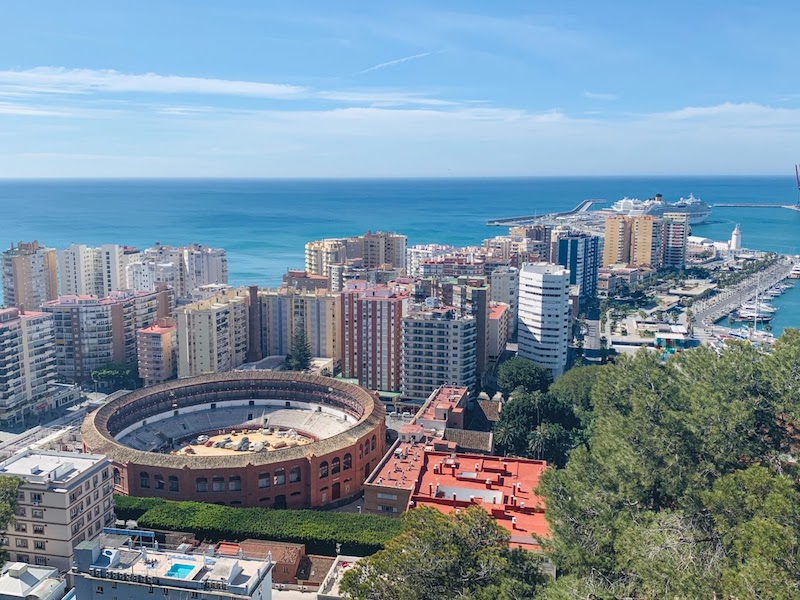 Want to enjoy seafood directly on a sunny beach in Spain? Visit chiringuitos in Malaga on Costa del Sol.
Chiringuitos are traditional beach bars and restaurants in Malaga.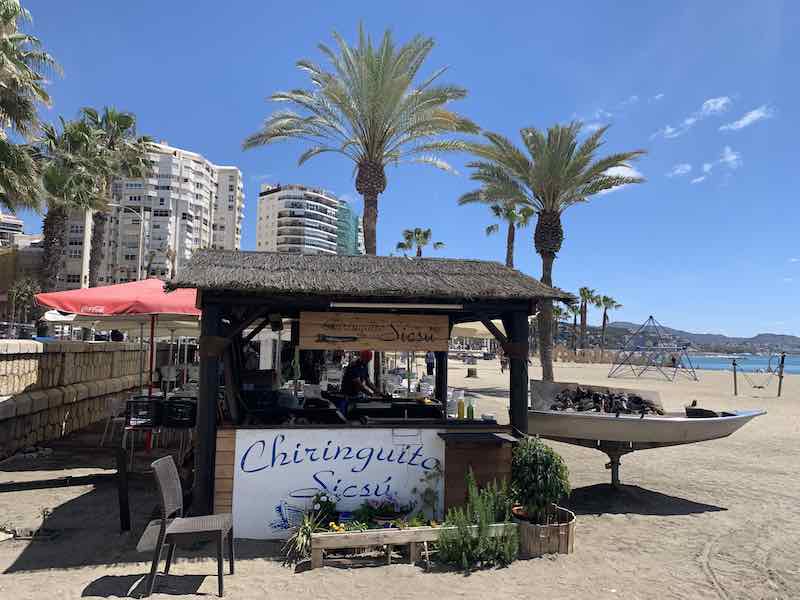 The open-air chiringuitos sell fish and seafood dishes. Typical chiringuitos come with terraces and sun-loungers to make eating food on a beach most enjoyable.
If you love to eat fresh fish and seafood on a beach, head to a chiringuito in Malaga and order traditional pescaito frito (fried fish), boquerinos en limon (fried anchovies in lemon), pescaito combinado (a platter of mixed fish), or classic seafood paella.
RELATED READ: Best Things To Do in Malaga
Best food tours in Malaga:
Evening Wine and Tapas Tour in Malaga
Bike Tour of Malaga: Tapas and Wine
9. CASTILLA – LA MANCHA: MANCHEGO CHEESE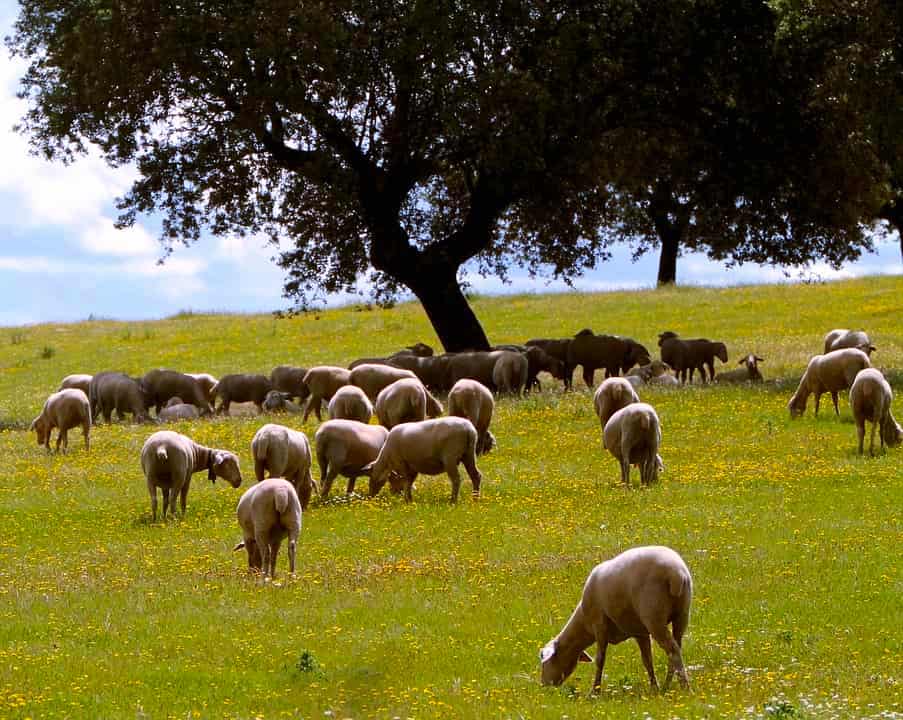 Want to eat the best cheese in Spain? Head to the La Mancha region!
Queso Manchego is the most famous Spanish cheese from the La Mancha region in central Spain.
Miguel de Cervantes made Manchego cheese world-famous in his Don Quixote novel. Just to remind you, Don Quixote is the second-most published book in the world, after the Bible.
Manchego cheese is made of milk from the Manchega sheep.
It's a semi-hard cheese with sweet, caramel, and a nutty flavor.
Sweet Manchego pairs well with toasted almonds, honey, and fruits. But one of the favorite desserts of Spaniards is Manchego con membrillo (Manchego cheese with quince jam).
Head to the town of Manzaranes in the heart of the La Mancha region, book a room in the 4-star Parador de Manzaranes, and explore the Manchego cheese-producing farms in the area.
The yummy route of Manchego cheese in La Mancha comes like a paradise for cheese lovers.
10. BARCELONA: PA AMB TOMAQUET, ARROZ NEGRE AND CREMA CATALANA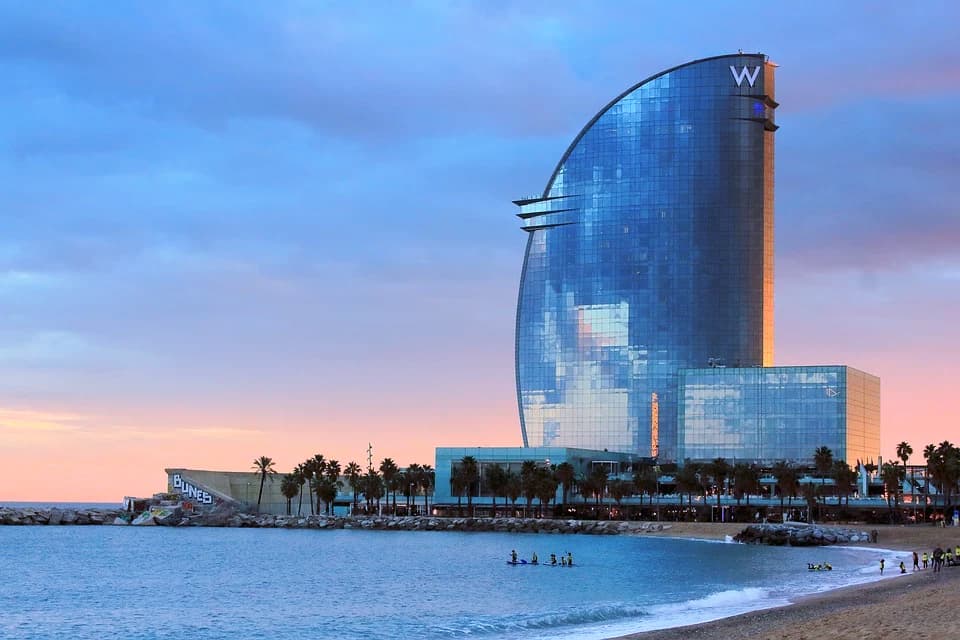 Want to eat the best Catalan food in Spain? Head to Barcelona!
Barcelona is the capital of Catalonia. And Crema Catalana is one of the most iconic Spanish desserts from Catalonia.
The Catalan Creme is a custard made only of milk and eggs, flavored with lemon peel and cinnamon and with a caramel topping.
Want to eat the best black paella in Spain? Try out arroz negro in Barcelona!
Arroz negro is a traditional Catalan rice dish prepared with white rice, black squid ink, squid or cuttlefish, olive oil, and seafood broth.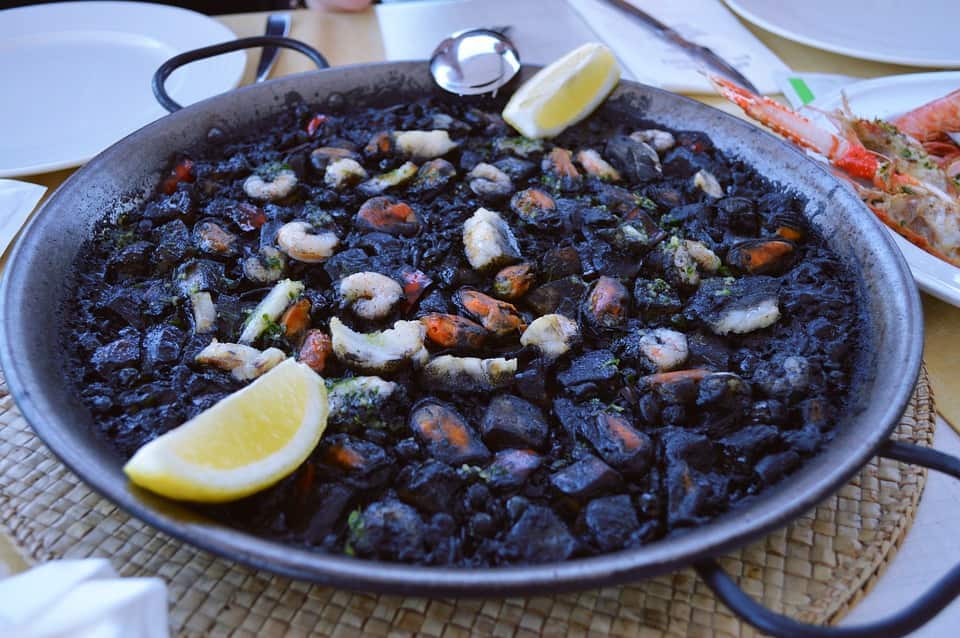 Want to start your day with the tastiest breakfast in Spain? Order pa amb tomàquet in Barcelona!
Pa amb tomàquet or Catalan bread with tomatoes is a crispy and tasty tapa typically enjoyed for breakfast in Spain.
Barcelona has 22 Michelin-starred restaurants, out of which two restaurants are 3-Michelin star restaurants (ABaC restaurant in the luxury 5-star ABaC Restaurant Hotel Barcelona GL Monumento and Lasarte restaurant in the 5-star Monument Hotel.
But one of the most vibrant food experiences in Barcelona is at the iconic La Boqueria food market on La Rambla.
Barcelona is a top foodie Spain destination for delicious Catalan food, Michelin-starred restaurants, and a must-see La Boqueria food market!
Best food tours in Barcelona:
Wine, Cava, Tapas & Vineyards 4WD Experience in Barcelona
Tapas and Wine Small-Group Walking Tour in Barcelona
Paella Cooking Experience + Boqueria Market Tour in Barcelona
Tapas and Flamenco Experience in Barcelona
11. VIGO IN GALICIA: BEST SEAFOOD IN SPAIN (PULPO A LA GALLEGA AND PERCEBES)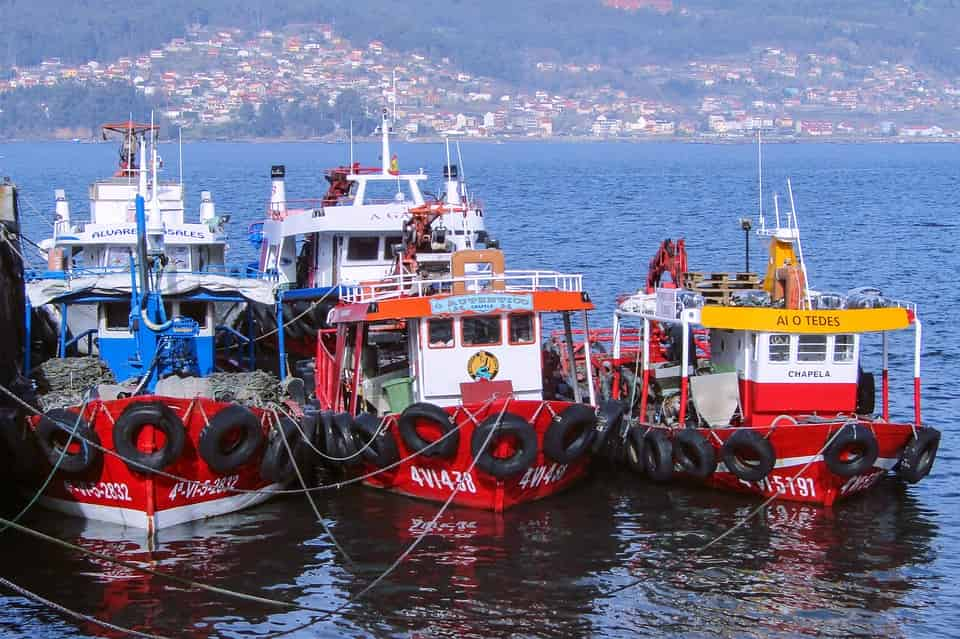 Interested in eating the best seafood in Spain? Go to Vigo!
The city of Vigo is popularly called the seafood capital of Spain.
Vigo in Galicia is the largest European fresh fish port and the biggest fishing port in the World.
The best seafood in Spain you can find in the town of Vigo. The Vigo estuary is home to the finest fresh oysters, mussels, barnacles, crabs, shrimps, octopus, cuttlefish, sea bass, and more.
The Galician-style octopus, pulpo al la Galega, is one of the most famous seafood dishes from Spain. The dish is made of a Boiled octopus which is cut into small bite-size pieces and sprinkled with olive oil, salt, and lots of paprika.
Interesting tasting the most expensive seafood in Spain? Try out goose barnacles in Vigo.
Goose barnacles, or percebes in Spanish, are found on the Galician coast as well. Goose barnacles are sold for 200 euros per kilo in Spain.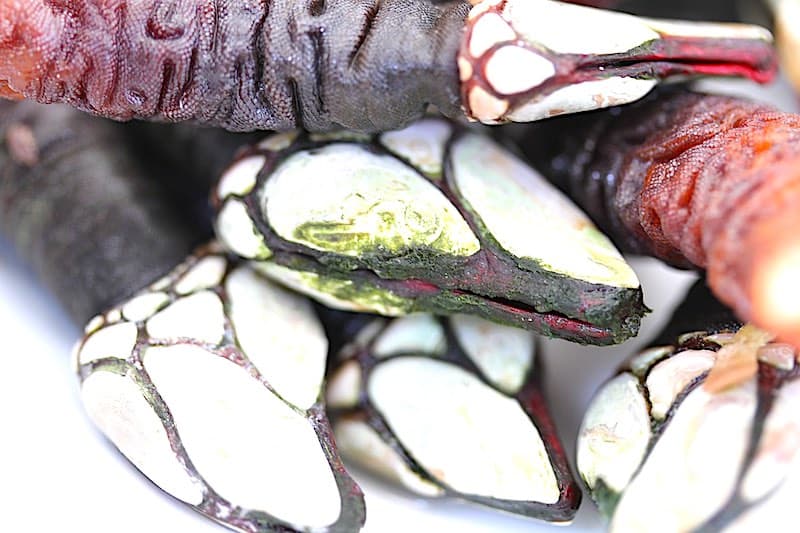 Famous seafood restaurants in Vigo: Timon Playa, Casa Vella, and El Mosquito
And check out street stalls along Rúa da Pescadería street (also called Rúa das Ostras – Oyster Street by locals).
Vigo in Galicia is a top foodie destination in Spain for seafood lovers.
12. ANDALUSIA: GAZPACHO, SALMOREJO AND SANGRIA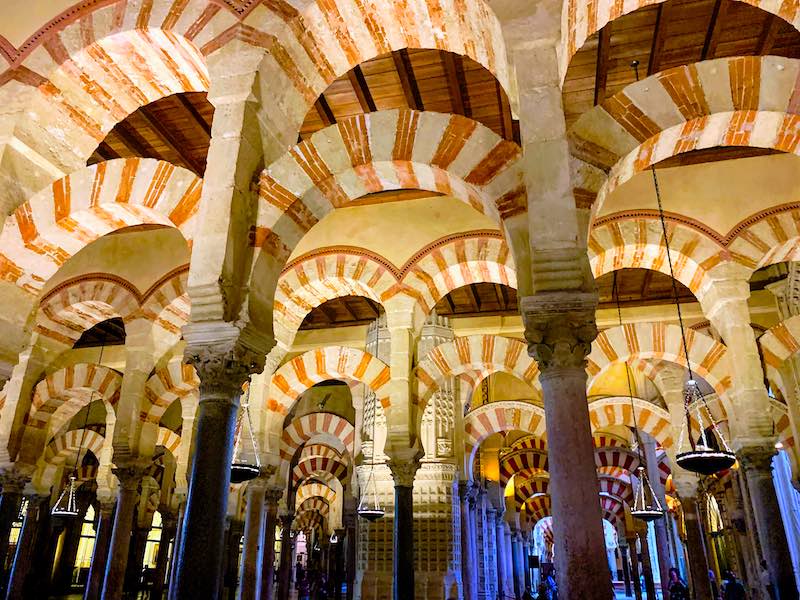 Want to eat the most delicious soups in Spain? Head to Andalusia.
The tastiest tomatoes in Spain are grown in sunny southern Spain – Andalusia. And the tastiest tomatoes soups in Spain are Andalusian gazpacho and salmorejo.
If you are visiting Granada or Seville in Andalusia, order gazpacho. But if you are visiting Cordoba in Andalusia, remember that salmorejo is native to Cordoba.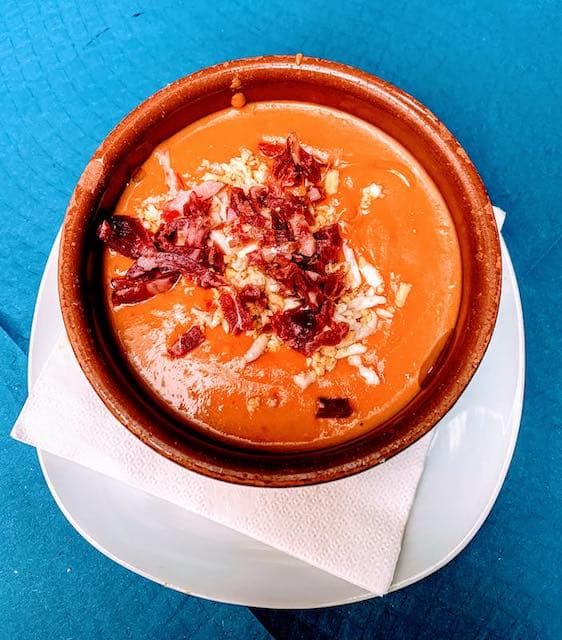 Want to try the best Sangria in Spain? Order sangria in Andalusia.
Bubbly and fruity sangria is the most famous Spanish drink.
The sweetest sangria in Spain is made of sweet and juicy fruits from southern Spain too. Sunny Andalusia is a top foodie destination in Spain for classic Andalusian dishes like salomorejo and the best Sangria in Spain.
13. BASQUE COUNTRY AND ASTURIAS: CIDER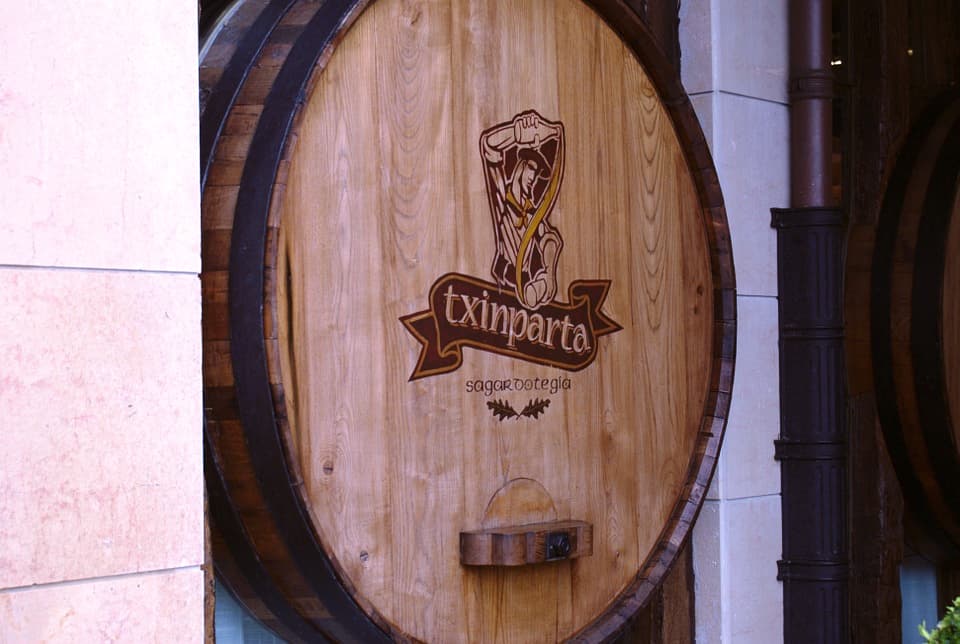 Production and drinking of cider have a long tradition in northern Spain, most notably in the Basque Country and Asturias.
Cider has been produced in Asturias and the Basque Country for centuries.
Cider is called sidra in Asturias and sagrado in the Basque Country.
This traditional drink made by the fermentation of apples is considered the regional wine in Asturias and Basque County.
Asturias produces about 45 million liters of cider a year. And the Basque Country produces about 13 million liters of cider a year.
Cider has been produced at cider houses, called sagardotegi in the Basque farms or sidrerias in Asturias for centuries.
Spanish cider is still (not sparkling), low in alcohol about (5%), and slightly acidic. That's why is referred to as natural cider.
The tastiest ciders in Spain are poured straight from barrels in traditional cider houses across Basque County and Asturias.
So, head to traditional sagardotegi or sidrerias and enjoy the best cider drinks in Spain from January to April when new barrels are open!