Buddha Park in Vientiane is a must-see in Laos.
WONDERING WHAT TO DO IN VIENTIANE? VISIT BUDDHA PARK!
If you are visiting the capital of Laos, you should stop questioning what to see in Vientiane or what to do in Vientiane.
There is one place where you should go. Visiting this place crowns the list of the best things to do in Vientiane. This is a place like no other in Laos.
It is called Buddha Park and it is the quirkiest place in Laos.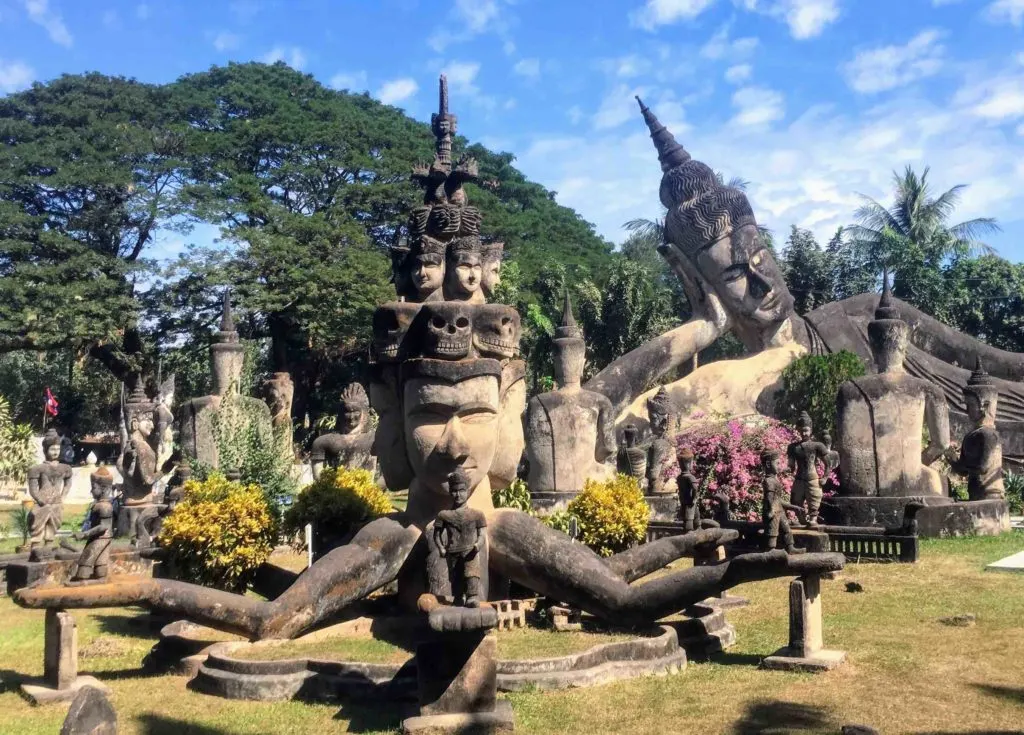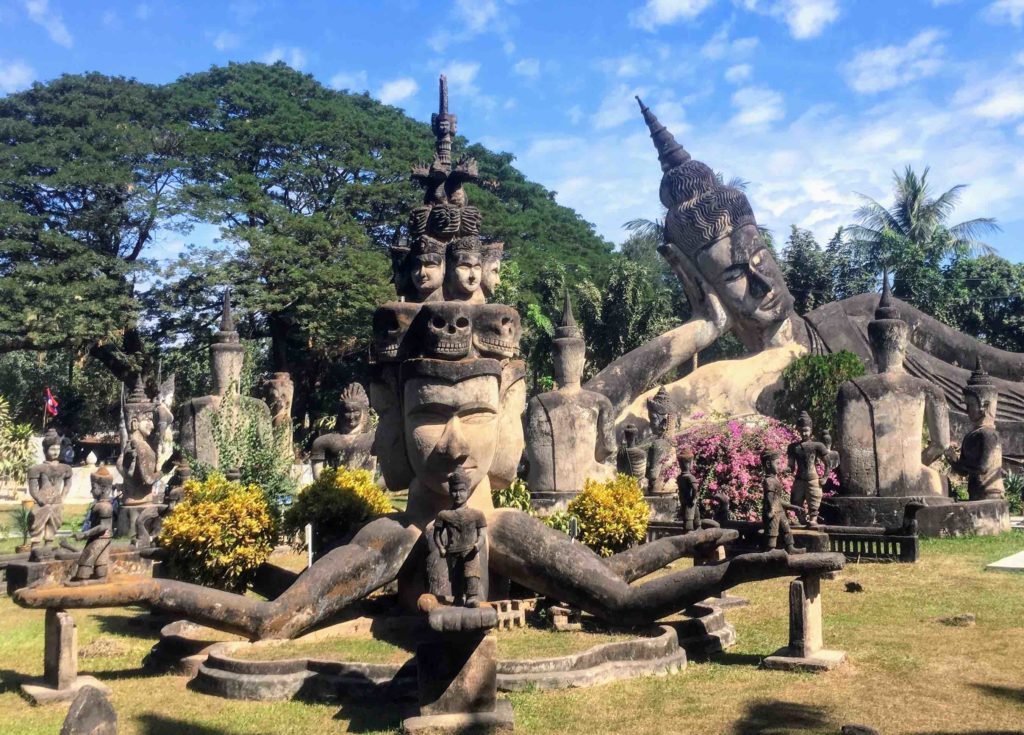 THIS POST MAY CONTAIN COMPENSATED LINKS. PLEASE READ MY DISCLAIMER FOR MORE INFO.
BUDDHA PARK IN VIENTIANE: THE QUIRKIEST PLACE IN LAOS
The Buddha Park is also locally known as Wat Xieng Khuan, or the Spirit City temple. Sometimes it is even referred to as Sala Xieng Khuan (Sala means the 'Place for meditation').
This rather eccentric sculpture park with more than 200 statues of gods, demons, humans, animals and bizarre creatures is the quirkiest place in Laos.
Located just on the outskirts of Vientiane and along the river Mekong, Buda Park is one of the most visited sites in Laos ever and it deserves to be on every Laos itinerary.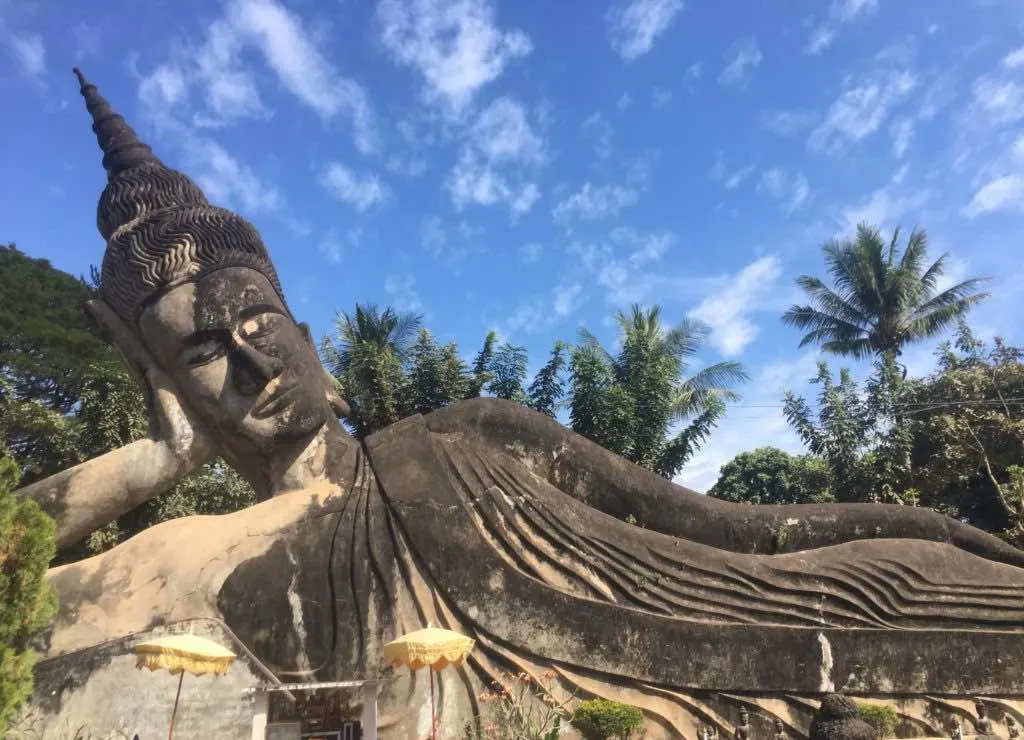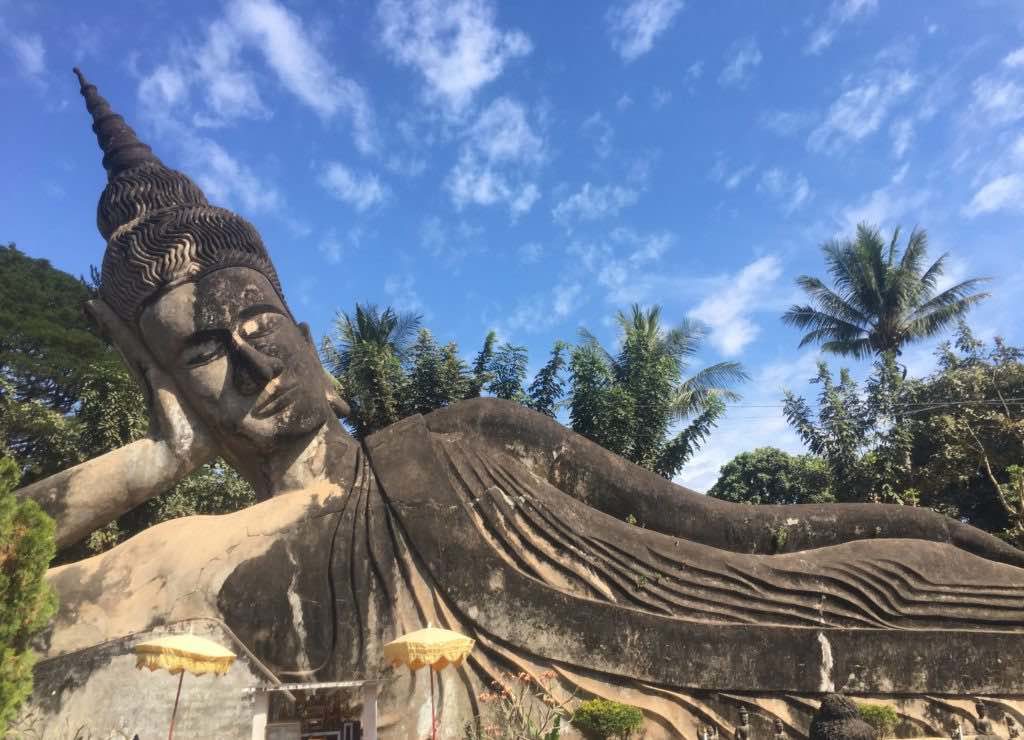 Reclining Buddha statue in Buddha Park
This is a place where fantasy meets mythology and where Buddhism faces Hinduism. Religious and mythological sculptures in Buddha Park create a deeply mystical and bizarre atmosphere.
The park is not only lucid, creative, eccentric but also sacred and otherworldly. Buddha Park Laos is inarguably the playground of a mystic and an artist.
The mix of Buddhist and Hindu statues reflects the personal philosophy and beliefs of Bunleua Sulilat, a mystic teacher, and creator of the park.
Buddha statues, Vishnu statues, and Shiva statues are all over the park. Statues in Buddha Park may look ancient, but in fact, they are merely 60 years old. While Bunleua Sulilat designed all the statues, his followers built them.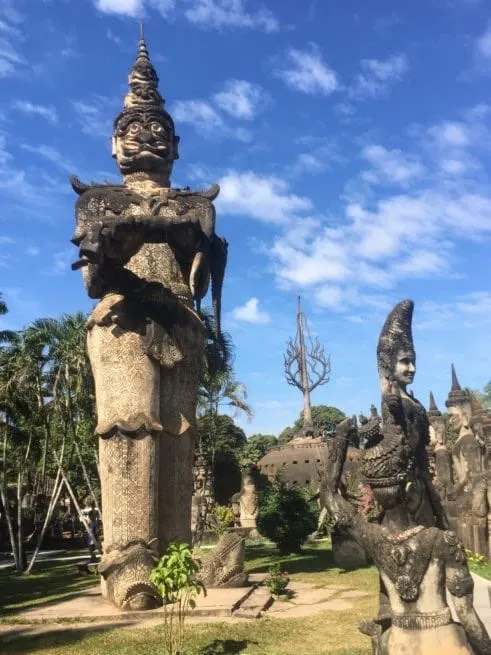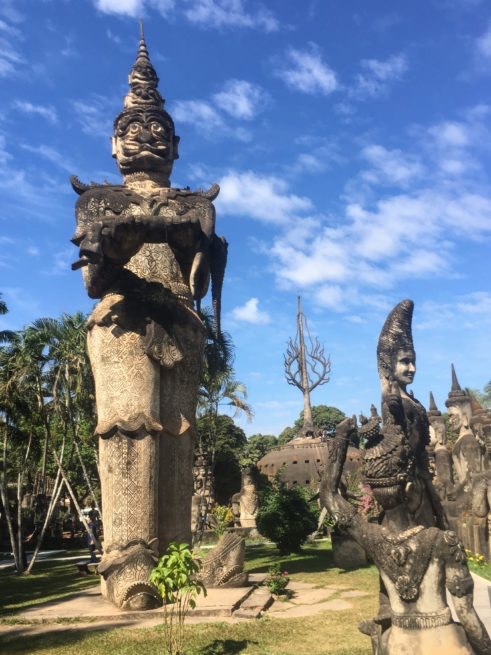 Some sculptures are religious, some are mythological and some are a matter of visitors' eternal wonder.
Like the odd giant pumpkin in the park. The pumpkin's entrance represents a demon's mouth. After entering the pumpkin visitors need to climb three floors representing Hell, Earth, and Haven. Coming to the top of the pumpkin, they reach the Haven.
And in the end, the Haven treats them with marvelous views of the park.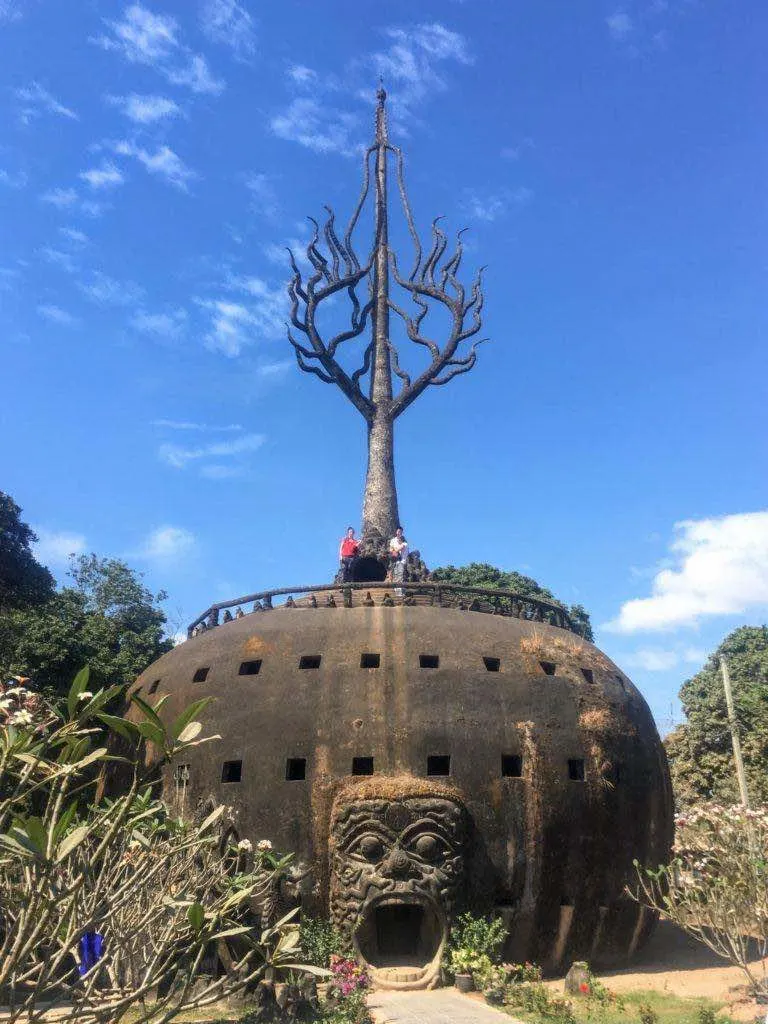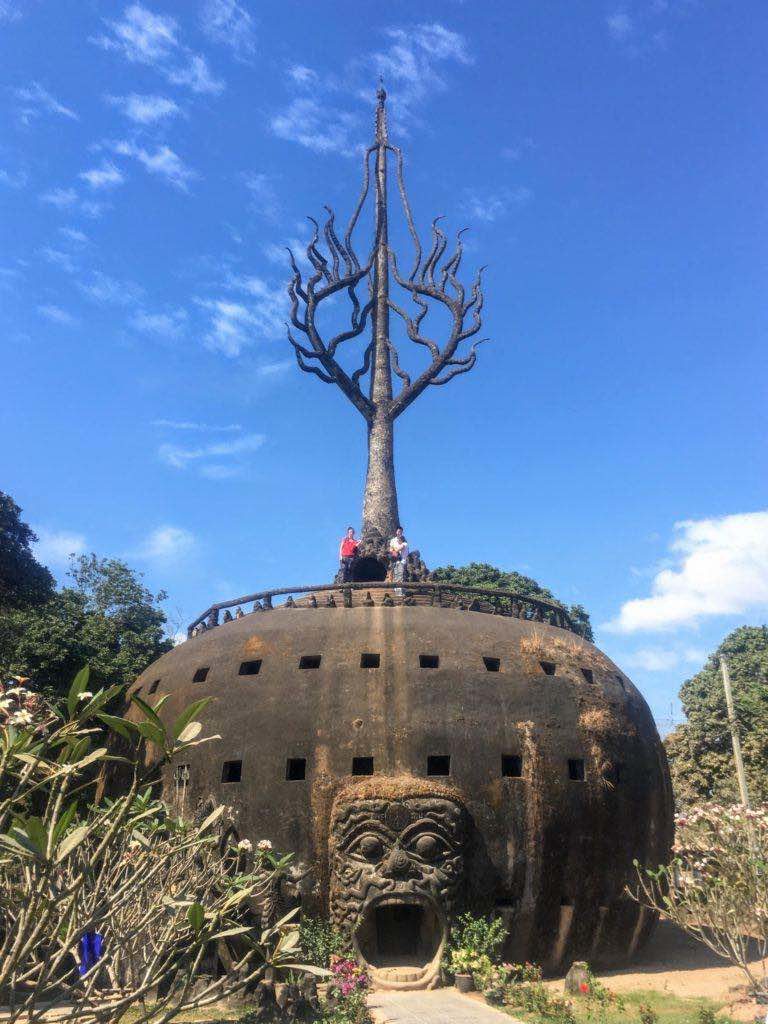 BUDDHA PARK: CREATOR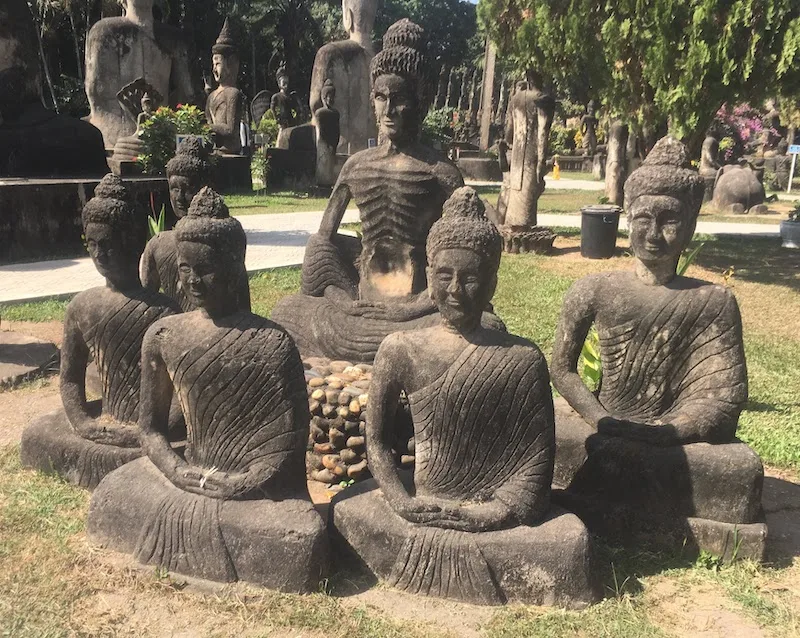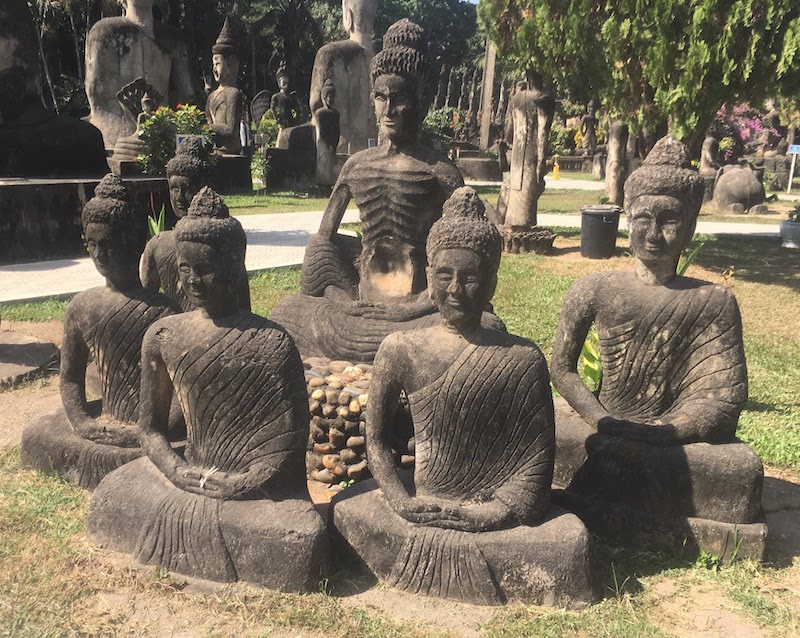 A Thai born priest-shaman and mystic-artist Luang Pu Bunleua Sulilat created the Buddha Park Vientiane in 1958.
Although the majority of his life Bunleua Sulila lived in Laos, he was born as a Buddhist in Thailand and studied Hinduism in Vietnam.
Hence, during his spiritual and artistic life, he advocated a mix of Buddhism and Hinduism. As such he found many followers in Laos and Thailand who called him Luang Pu, meaning the Priest.
Therefore, he was treated as a cult leader and a mystic.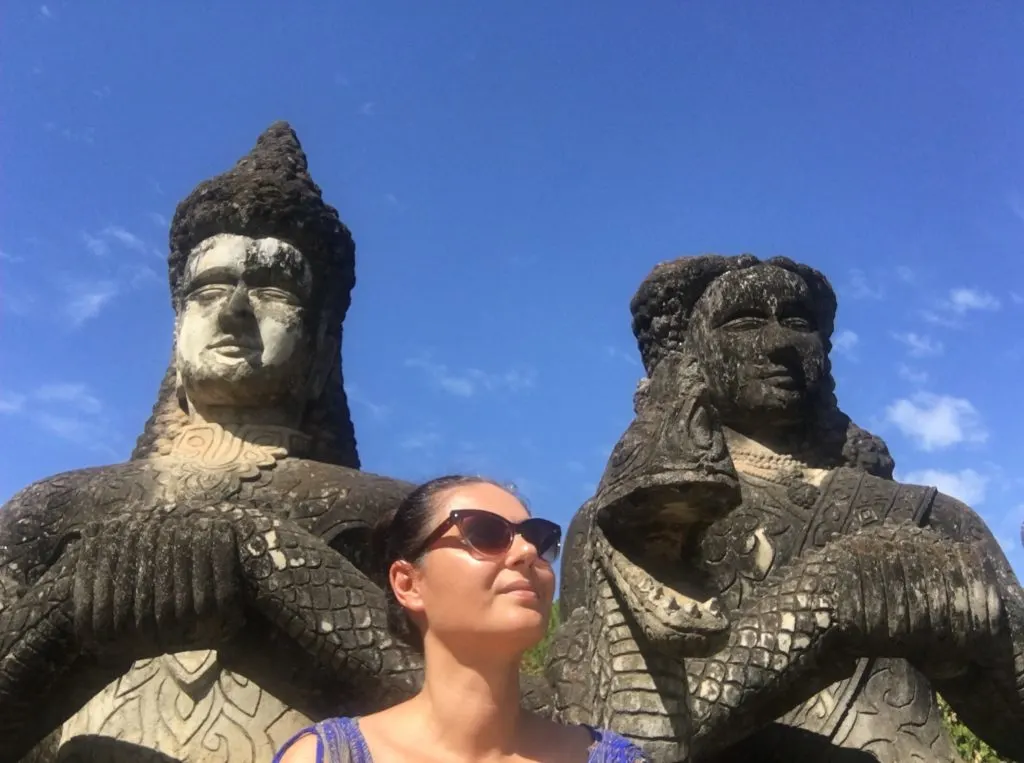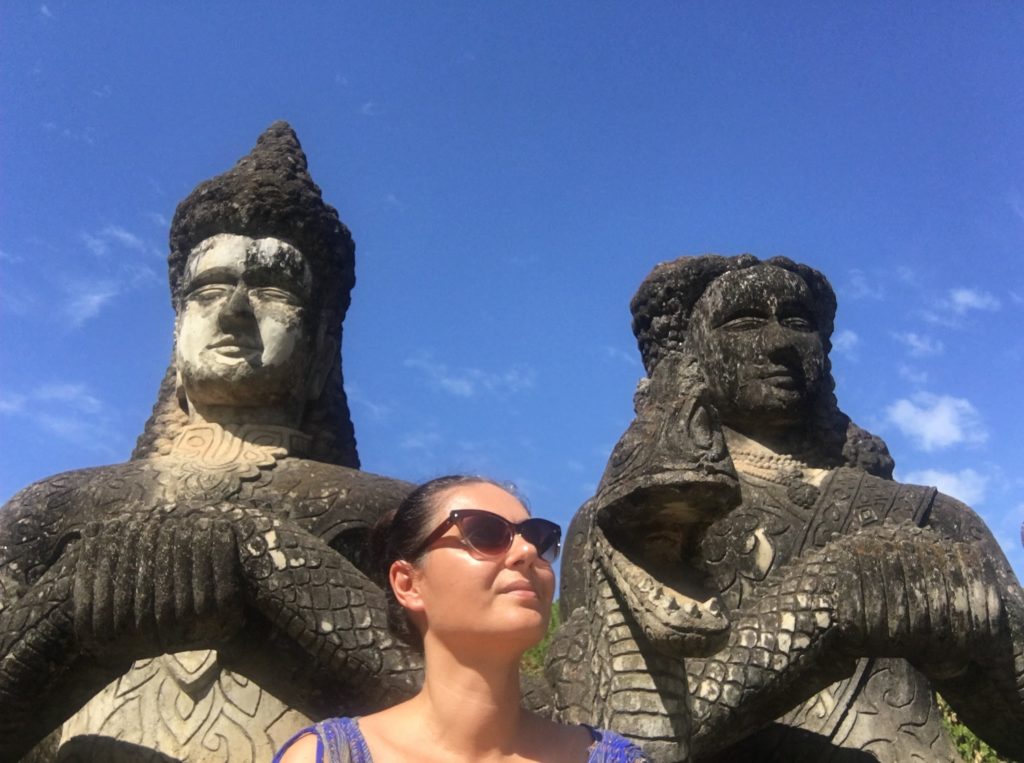 BUDDHA PARK: A PARK, TEMPLE OR TOURIST ATTRACTION?
First of all, the Buddha Park in Vientiane is officially a public park.
Considering the amount of Buddhist and Hindu images it holds and visitors who come to meditate there, it is a temple or Wat.
But, taking into account the number of people who come to visit it, it is unquestionably a top tourist attraction.
Given that, the Buddha Park in Vientiane, or Wat Xieng Khuan (the Spirit City Temple), is all mentioned; a park, a temple, and a tourist attraction.
And maybe even more: a timeless sensation?!
BUDDHA PARK: PECULIARITY
And for the end, one peculiarity.
Just across the Mekong, on the Thai side of Mekong River, Bunleua Sulilat created a twin park.
He ran away from Laos to Thailand after the communist revolution in 1975. He named the park on the Thai side the Sala Keoku, or the Hall of Keoku, after the hermit Keoku who was his spiritual mentor.
WHERE EXACTLY IS BUDDHA PARK IN VIENTIANE
Vientiane Buddha Park is located about 15 mi (25 km) southeast from Vientiane.
HOW TO GET TO BUDDHA PARK IN VIENTIANE
The cheapest way to get to the park is by public bus from Talat Sao, the central bus station, in Vientiane. Bus no. 14 goes every 30 min from Talat Sao to Thai-Lao Bridge of Friendship. The price of a one-way ticket is 8.000 kip.
ADDITIONAL INFO: OPENING TIMES AND ADMISSION
Buddha Park Vientiane Laos is open from 8 am – 5 pm. The entrance fee to Laos Budhha Park is 5.000 kip. An additional fee for a camera is 3.000 kip.
WHERE TO STAY IN VIENTIANE
Recommended accommodation in Vientiane – Vientiane hotels and Vientiane hostels
There are three questions and one answer.
Three questions are: What to see in Vientiane? What to do in Vientiane? And, where to go in Vientiane Laos?
And the ultimate answer is: visit Buddha Park in Vientiane.
YOU MIGHT ALSO ENJOY