Eager to see some hill tribes in Vietnam?
Interested to learn about tribal cultures in Vietnam?
Put Sapa, a mountain town in the northwest of Vietnam, on your Vietnam itinerary!
Meeting Vietnamese tribes in Sapa is one of the most interesting things to do in Vietnam!
…THIS POST MAY CONTAIN COMPENSATED LINKS. PLEASE READ MY DISCLAIMER FOR MORE INFO.
Vietnam with officially 54 ethnic minority groups is one of the most ethnically diverse countries in the World.
About 74 million, out of 90 million people living in Vietnam, are Kinh ethnic group or true Vietnamese. The rest of 16 million goes to ethnic minorities of Tay people (about 2%), Tai people (≈1,8%), Muong people (≈1,5%), Khmer Krom people (≈1,5%), Hmong people (≈1,2 %), Nung people (≈1,1%), Hoa people (≈1%) and others.
HILL TRIBES IN VIETNAM: Sapa tribes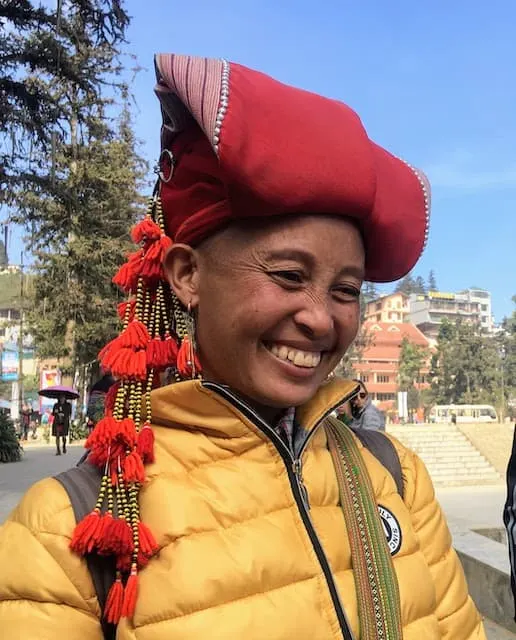 Ethnic minorities in Vietnam are mostly hill tribes residing at high altitudes in the mountains.
In particular, the Sapa area in the northwest of Vietnam, near the border with China, is a center of Vietnamese tribal culture.
The small town of Sapa has only about 3.500 people, while the Sapa district holds about 32.000 people. But nevertheless, 52% of the population of the district is Hmong ethnic minority, 25% are Red Dao tribe, 5% are Tay tribe, 2% are Giay tribe and some minor percentages are Muong tribe, Thai tribe, Hoa tribe, and Xa Pho tribe.
Most noteworthy, each hill tribe in Sapa in Vietnam has its unique language, culture, and historical background.
Equally important, the Sapa area is one of the best, if not the best trekking destination in Vietnam. Popular trails in Sapa in Vietnam will take you through Sapa's terraced rice paddies, valleys, and hills, and to the highest mountain in Vietnam – Fansipan (3,143 m; 10,312 ft)! Glorious Fansipan is called the Roof of Indochina.
Sapa rice terraces are one of the most beautiful rice fields in the World, along with the Tegalalang rice terrace and Jatiluwih rice terraces in Bali to name a few.
MAYBE YOU ALSO WOULD LIKE TO READ: Rice terraces in Bali
Trekking in Sapa and meeting Sapa hill tribes should be at the top of everyone's Vietnam bucket list.
In the streets of the town of Sapa, you can meet members of different Vietnam hill tribes, most likely their women. If you fancy trekking and staying in a homestay, the hill tribeswomen in Sapa can guide you and organize your homestay in their villages for a symbolic price. Also, you should not worry about communication as their English is surprisingly good.
But if you are not into trekking, please dismiss any doubt that your thirst for hill tribal culture in Vietnam won't be met even in the streets of Sapa. Although the hill tribeswomen can be very forceful in their attempts to sell you some of their products, to tell the truth, they are very open, friendly, and, most of all, like to smile. In addition, interactions with them can reward you with valuable insights into the unique customs of the Vietnamese mountain tribes.
I have traveled to Sapa independently.
Here you can find my suggested 10-day Vietnam itinerary.

But if it's more convenient for you, here are some great tours from Hanoi to Sapa to consider:
3-Day Homestay Trekking Sapa Tour from Hanoi
Sapa Trek and Local Villages
Or if you feel more comfortable visiting Sapa while traveling Vietnam with a travel company, I highly recommend taking this 15-day Best of Vietnam tour.
Predominant hill tribes of Vietnam in the Sapa area:
1. HMONG tribe

The majority of Sapa people are Hmong ethnic minorities.
The Hmong tribe is one of the most fascinating tribes in Vietnam. The Hmong tribe in Sapa originally came to Vietnam from China 300 years ago.
There is not a much-written history of the Hmong people in Vietnam since their literacy is low. Hmong traditions and stories are passed down through rituals and legends.
The Hmong tribe in Vietnam has several Hmong subgroups. The best-known Hmong tribes are the Black Hmong tribe, the White Hmong tribe, the Green Hmong tribe, and the Flower Hmong tribe. Vietnam Hmong tribes are identified by the way they dress. The Black Hmong tribe is dominant in Sapa.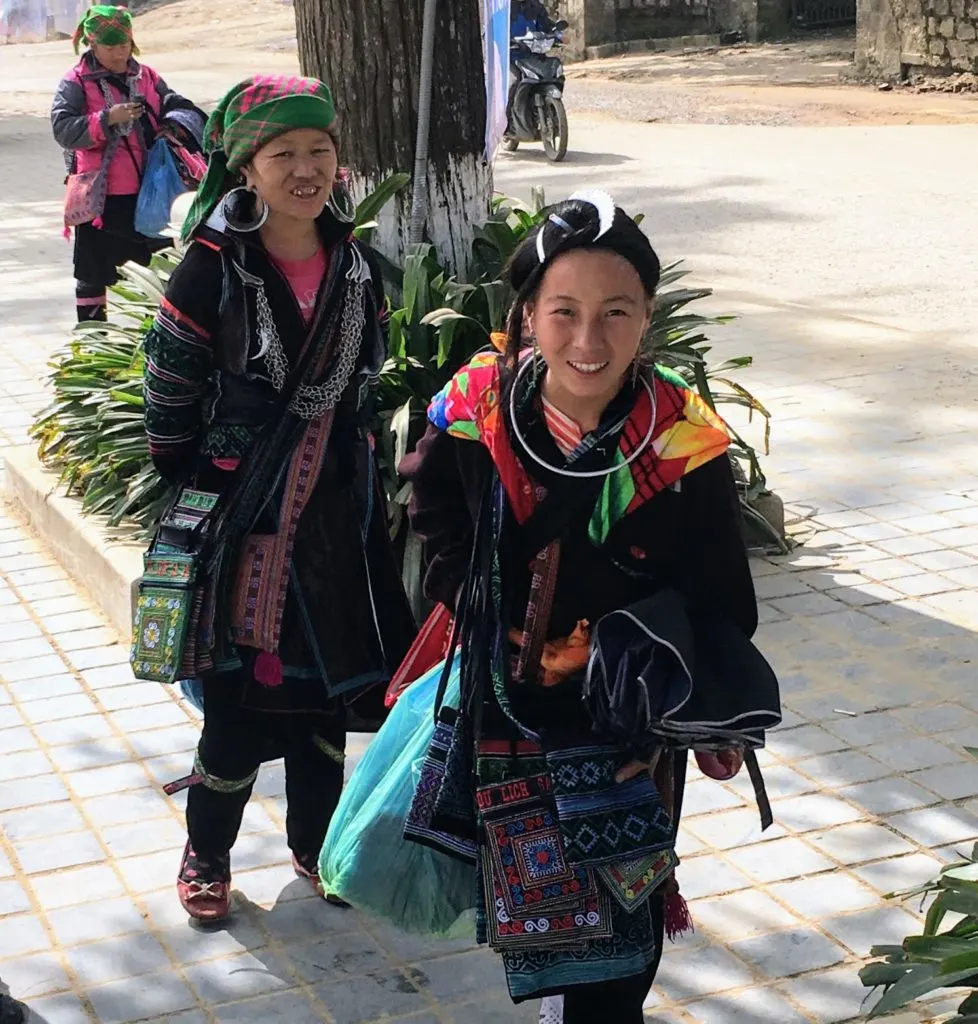 Vietnam's Hmong society is patriarchal. Every Hmong village has a tribal head of the village who takes care of all issues in the village.
Hmong hill tribes are animists who believe in ancestors' spirits and other spirits, such as houses, doors, and kitchen spirits. Every Hmong house in Sapa has a family altar for worshiping the ancestors.
Hmong traditional clothing is made mainly of hemp and died in deep blue indigo color, although they dress much more westernized these days. Hmong women wrap their long hair and usually wear turbans.
Hmongs in Sapa are farmers and use the agricultural calendar. A new year starts when the rice harvesting season finishes. Hence Hmong's New Year, or Gau Tao, is at the beginning of December.
Every year in Sapa the Hmong community organizes 'the Love Market'. This is when a Hmong man 'abduct' a Hmong woman and takes her to his family. After 3 days, if she agrees, he goes to her family to ask for her hand. Once married, the Hmong woman belongs to her husband's family line.
2. TAY tribe
Another ethnic group in the Sapa district and a prominent Vietnam tribe is the Tay tribe.
The Tay people are the largest ethnic minority in Vietnam making up 2% of the Vietnamese population and are the most integrated ethnic minority in modern Vietnamese and Kinh culture.
The Tay tribe was the first hill tribe in Sapa. They came to the Sapa area about 500 BC. Today Tay hill tribes live in Ban Ho and Thanh Phu villages in the Sapa district. As agriculturalists, the Tay tribe in Sapa also mainly plant rice.
Their polytheistic belief system consists of worshiping spirits, ancestors, and midwives. Astrology is also an important part of their belief system. For instance, for marriages and building new houses they consult astrology.
The cult of the midwife is especially worshiped. After the wedding, the wife stays with her parents during her pregnancy to avoid evil spirits. When a child is born, there's a one-month ritual for honoring the midwife.
Tay clothing is cotton-made and dyed with dark blue or indigo (Tay). Women of the Tay ethnic group can be easily recognized by distinguished little decorated dark blue suits.
3. RED DAO tribe

The Red Dao tribe, pronounced Red Yao or Red Zao, is the second-largest ethnic minority in the Sapa district and one of the most distinctive Vietnam tribes. They are also called 'Jungle People'.
The Red Dao tribe is one of the most interesting Vietnam tribes.
Their unique belief system holds elements of Confucianism, Buddhism, and Taoism. Furthermore, Dao people worship their great ancestor Ban Vuong as their Holy Man.
For an illustration of their peculiar customs, when selecting a place for a family house, they dig a hole and fill it with rice. The rice represents family members and all their possessions. If the rice is still in the bowl the next morning, they build the house in the same place.
Red Dao society in Vietnam is patriarchal with dominant men's role in the family. Red Dao women shave their heads and eyebrows. They wear a distinctive red triangular-shaped turban, decorated with silver coins and red tassels. A square piece on their clothing symbolizes that they are children of God.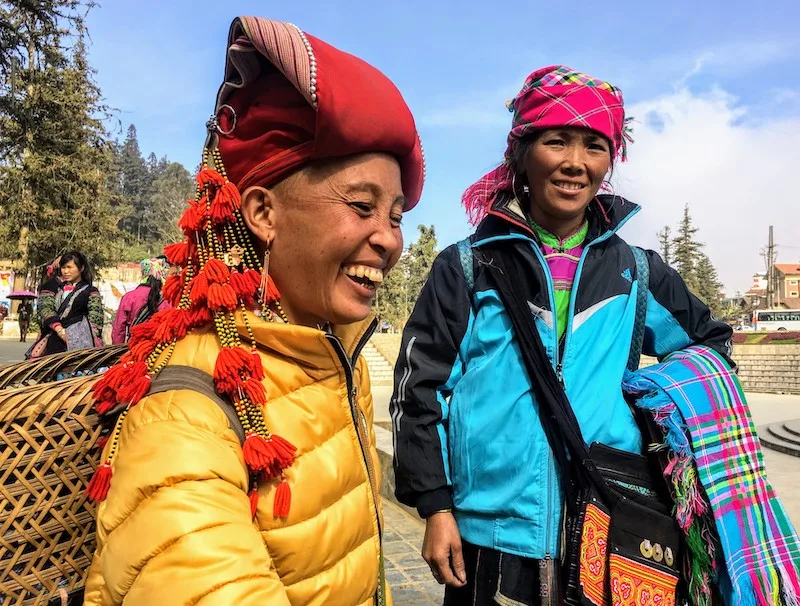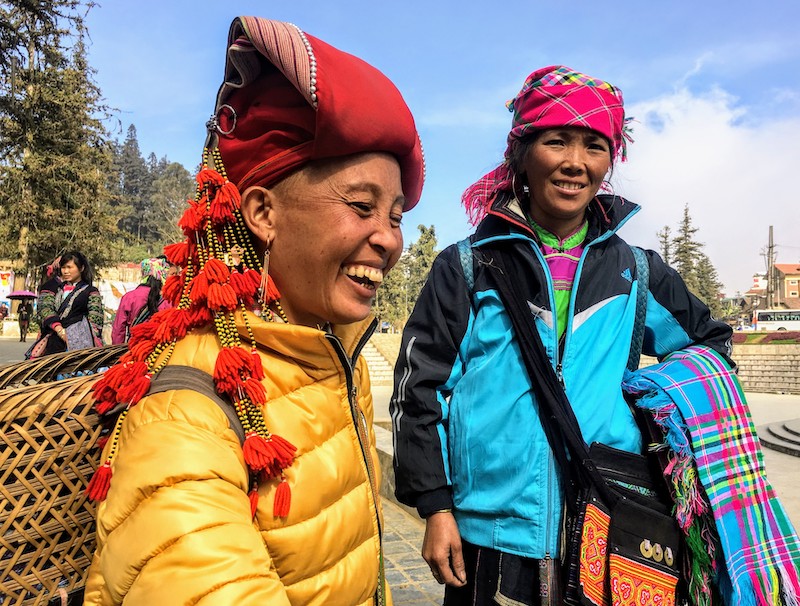 Red Dao Sapa
Dao people have a vast knowledge of herbal medicine. The Red Dao Vietnam minority lives in Ban Lech, Nam Toong, Supan, and Ta Phin villages in the Sapa district.
4. GIAY tribe
Giay (pronounced Zai) tribe, also called the Nhang people, is another remarkable Vietnam hill tribe.
Giay hill tribe came to Sapa from China 200 years ago. Thus their customs are influenced by Chinese culture. However, Giay people speak the Thai language.
Like the Red Dao and the Hmong, the Giay society is also patriarchal. Same, they are animists. Giay ethnic group believes in nature and spirits.
The Giay people are widely known for their five-colored steamed sticky rice symbolizing five elements of Nature: earth, water, fire, wood, and metal.
White rice represents metal. Red rice is colored by Gac fruit and represents fire. Yellow rice is colored by turmeric and represents Earth. Green rice is colored by ginger leaves and represents wood. And finally, purple rice is colored by a special tree and represents water.
According to their beliefs, eating five-colored sticky rice brings happiness and luck. Hence, they usually welcome their guests with five-colored rice.
Giay minority lives in Ta Van village in the Sapa district.
Giay's Roóng poọc festival is popular with all hill tribes in Sapa. Therefore, the best time to visit the Giay minority would be during the Roóng poọc festival in Sapa. It happens every year on the Dragon day after the first full moon of the lunar calendar.
Roóng poọc literally translates as 'going down the field'. The festival is held to show respect to Nature and to pray for good weather and good health.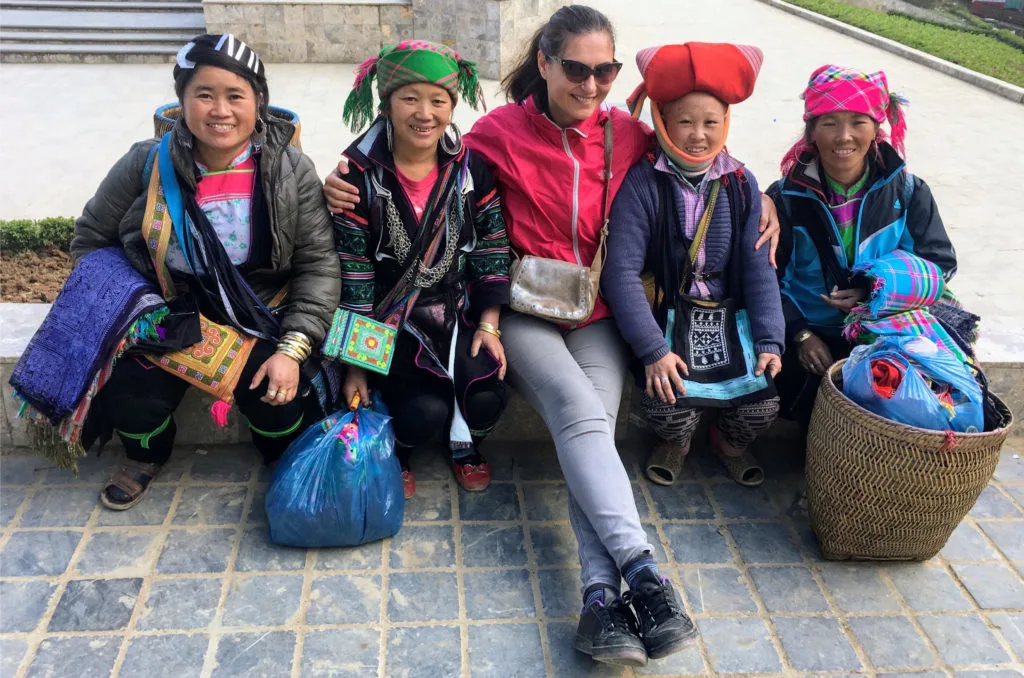 WHERE TO STAY IN SAPA – RECOMMENDED STAY IN SAPA
Hmong House – Sapa Homestay – A cozy homestay with a fabulous location and stunning views of Sapa rice paddies. Especially recommended for traditional homemade and above all delicious food. Click here to see more details and the latest prices
Tavan Riverside Ecolodge – An extraordinary beautiful homestay Click here to take a look at the property, to check out more details and the latest prices
Topas Ecolodge – A peaceful and romantic mountain retreat and a travel sustainable property with breathtaking views Click here to see more details and the latest prices
GETTING TO SAPA
HOW TO GET TO SAPA FROM HANOI
The distance between Hanoi and Sapa is 202 mi (325 km). It takes 6 hours by bus or 8 hours by train from Hanoi to Sapa. In fact, if you decide to go by train you will go from Hanoi to Lai Ca by train and then from Lai Ca to Sapa by van. A sleeper train ticket from Hanoi to Lai Cai is 42 USD, while a sleeper bus ticket from Hanoi to Sapa is 12 USD.
But if it's more convenient for you, you can take a tour from Hanoi to Sapa. Here are some great tours from Hanoi to Sapa to consider:
3-Day Homestay Trekking Sapa Tour from Hanoi
Sapa Trek and Local Villages
BEST TIME TO GO TO SAPA
The best time to visit the Sapa area for trekking or hiking Fansipan (the highest peak in Vietnam) are September, October, November, and March. Even April and May work for treks in Sapa well.
The dry season in the far north of Vietnam goes from October to March and the wet season from April to September.
Although December and January belong to the dry season, December and January in Sapa can be really cold with the possibility of snow. And, rice is harvested, and the fields are empty.
If you want to meet Vietnamese hill tribes in Sapa and trek green rice terraces, you must visit Sapa in September, October, November, and March.
To learn more about the climate in Vietnam, the best time to go to Vietnam, and to stay away from weather troubles on your trip to Vietnam, I recommend reading The Best Time to Visit Vietnam.
Yearning to learn more about Vietnamese hill tribes?
As Albert Einstein said: The only source of knowledge is experience.
In other words, Sapa and the tribes of Vietnam need to be on your Vietnam itinerary!
STEPS AND TRAVEL RESOURCES FOR YOUR PERFECT TRIP

1. Find and book your flight: Skyscanner
2. Find and book your stay: Booking.com
3. Get travel insurance (insure yourself against any accident, sickness, theft, and canceled flight): WorldNomads.com
4. Find and book great guided day tours: GetYourGuide
YOU MIGHT ALSO ENJOY