Are you a foodie who has a sweet tooth? Traditional Spanish food is fantastic, and authentic Spanish desserts in Spain are to die for!
And here's the ultimate guide to the very best traditional Spanish desserts in Spain
27 TRADITIONAL SPANISH DESSERTS IN SPAIN TO MAKE YOUR SWEET TOOTH HAPPY
Treats from Spain
This is the ultimate collection of the best traditional Spanish desserts in Spain: from typical Spanish tapas desserts, and popular Spanish pastries, to traditional Spanish cookies and famous Spanish cakes.
Desserts from Spain:
1. CHURROS CON CHOCOLATE – Spanish fried-dough pastry with chocolate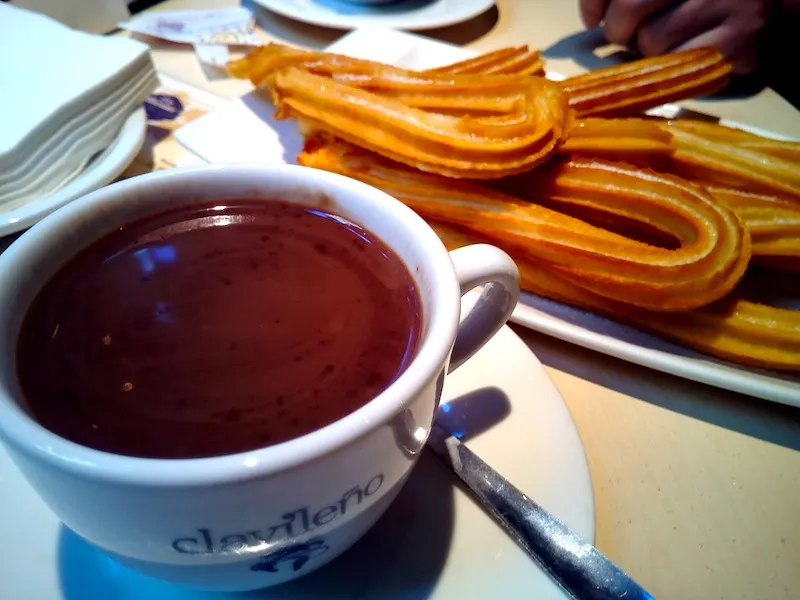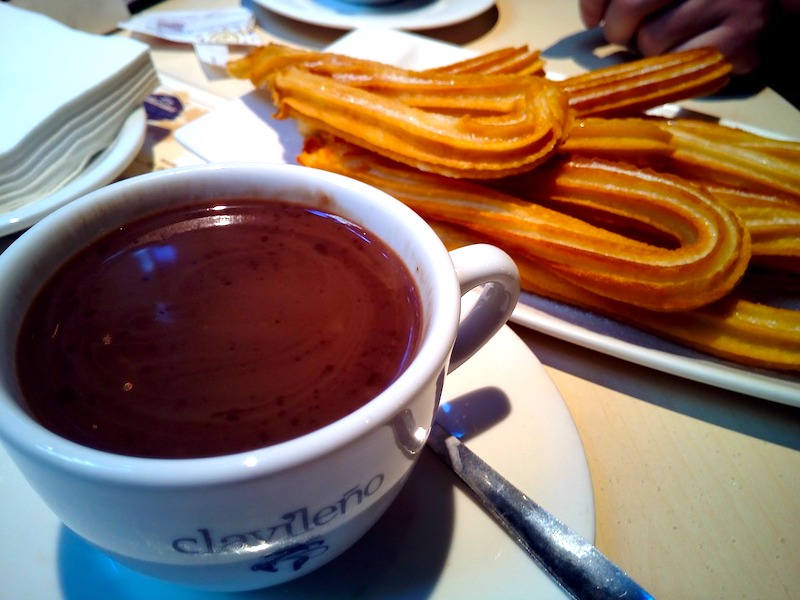 Churros con chocolate are the most popular Spanish dessert eaten for breakfast in Spain.
Churros are long and fried Spanish doughnuts typically sprinkled with sugar and sometimes even cinnamon.
Heavenly churros are some of the best fried foods in the world worth traveling for!
Spaniards indulge daily in sweet churros along with coffee for breakfast. Typical Spanish breakfast includes dipping churros in dark chocolate along with a cup of coffee.
If you want to do as Spaniards do, have some churros con chocolate for breakfast in Spain!

Just to mention, the best churros in Madrid you can find in the iconic San Gines Chocolatería. You can visit it and sample its delicious churros on a food tour in Madrid.
2. MEMBRILLO CON QUESO – Quince jam with cheese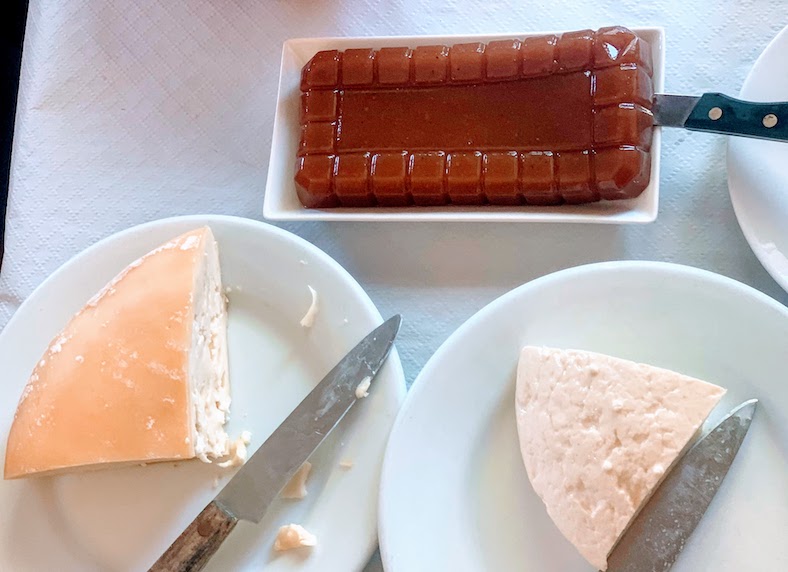 Cheese with quince paste, or queso con membrillo in Spanish, is one of those authentic Spanish desserts in Spain that need to be on the must-try list of every foodie!
The blend of sweet quince and slightly salty cheese is to die for.
Membrillo con queso fresco (quince paste with fresh cheese), and membrillo con queso Manchego (quince paste with famous Manchego cheese), are some of the best Spanish tapa desserts you need to try in Spain!
3. CREMA CATALANA – Spanish caramel custard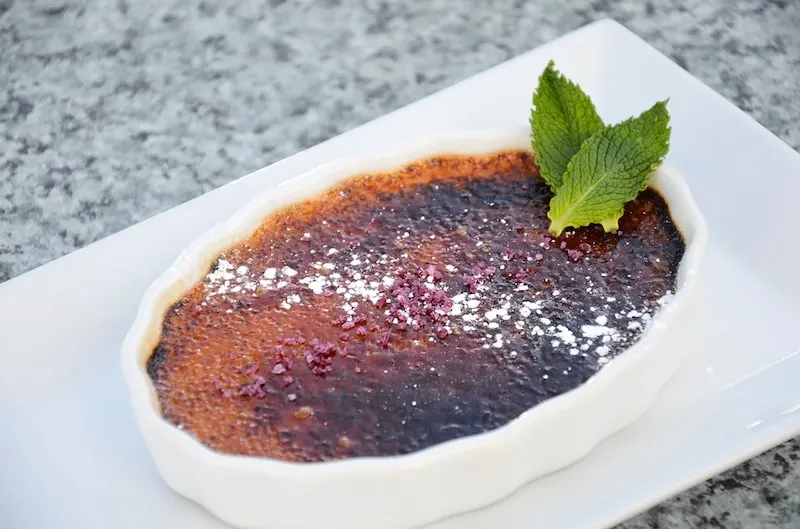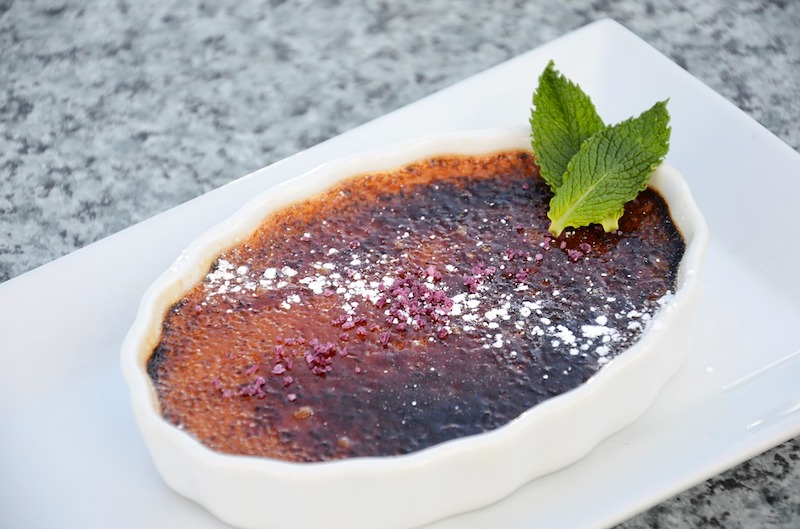 Various custards are some of the top traditional Spanish desserts in Spain.
The most typical custard desserts in Spain are crema Catalana (Catalan cream), flan (caramel cream), and natillas (basic custard).
Crema Catalana is Spanish custard with a caramel topping. It is one of the most popular Spanish desserts in Spain.
This creamy Spanish dessert is made only of milk and eggs, and a bit of cornstarch to thicken the texture. Authentic Crema Catalana is flavored with lemon peels and cinnamon sticks.
Crema Catalana, as the name says, originates from Catalonia. But today crema Catalana can be found throughout Spain since it is one of the most famous Spanish desserts ever.
4. FLAN – Spanish creme caramel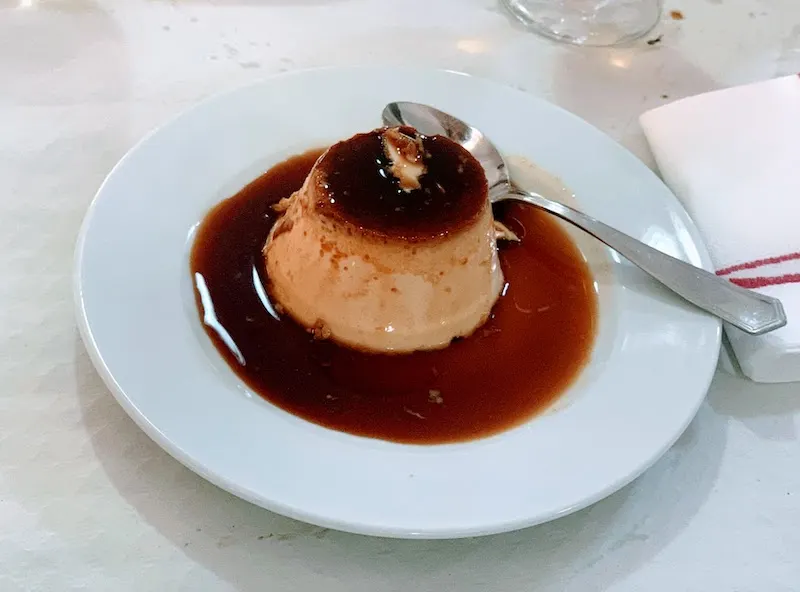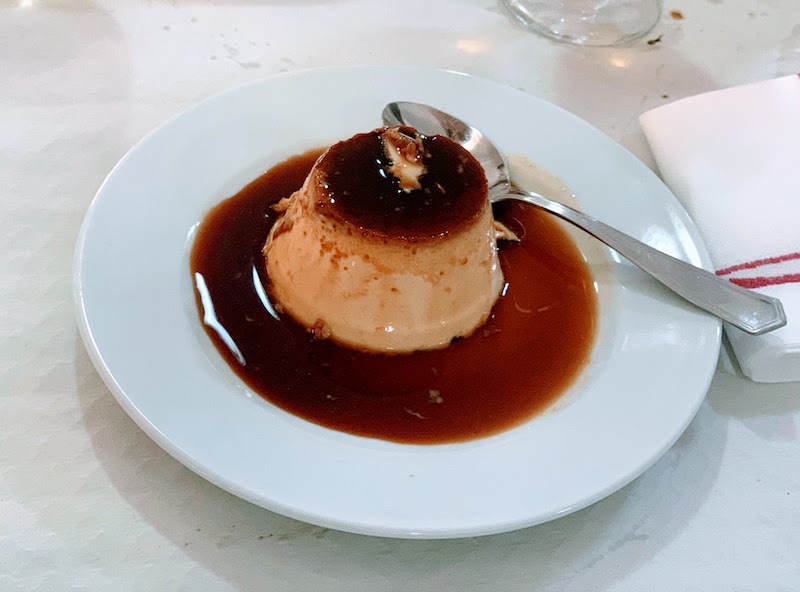 Light Spanish flan is one of the most traditional Spanish desserts in Spain.
In other words, flan is the king of desserts in Spain as you can find it in every restaurant in Spain.
Flan is a typical Spanish egg custard with a caramel sauce. Flan has a caramel sauce and crema Catalana comes with a layer of caramelized sugar on the top. Also unlike flan, crema Catalana has lemon peels.
Flan is a popular dessert around the world (Europe, Latin America, Philippines, Vietnam), but flan is undeniably the most popular dessert in Spain and Mexico.
READ: Best destinations in Mexico for foodies
5. NATILLAS – Classic Spanish custard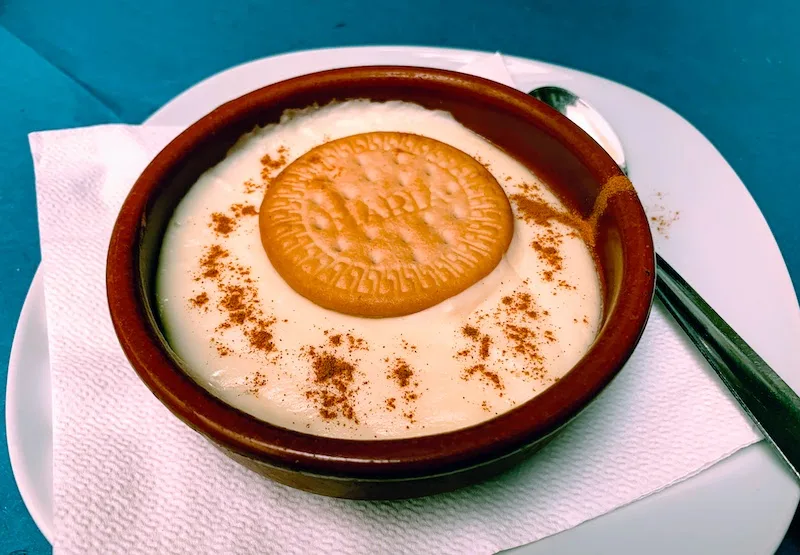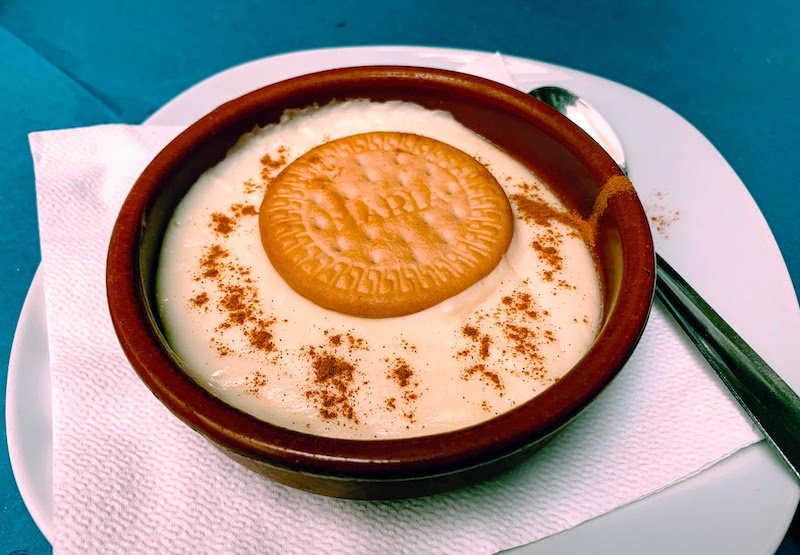 Natillas, also called natillas de leche, is another popular custard dessert from Spain.
Spanish natillas custard is made with eggs, sugar, and milk, and flavored with vanilla and cinnamon.
Natillas and flan differ in texture. Natillas de leche has a thicker texture and comes with lots of cinnamon but without caramel sauce (like flan).
Natillas and Catalan cream, also differ in texture. Natillas is softer than Creme Catalan since Natlilas custard has less cornstarch. On the other hand, Catalan cream, unlike natillas, comes with a layer of caramelized sugar on the top. Natillas Spanish dessert is made with vanilla, and Catalan Cream uses lemon peels.
Natillas is a popular dessert in Spain and Latin America.
6. TARTA DE SANTIAGO – Spanish almond cake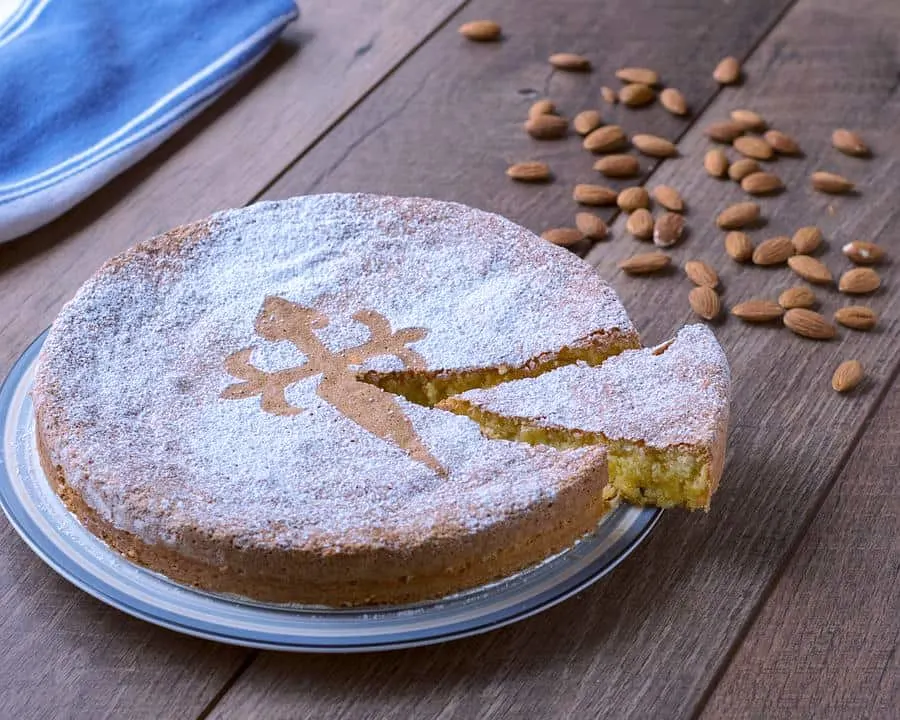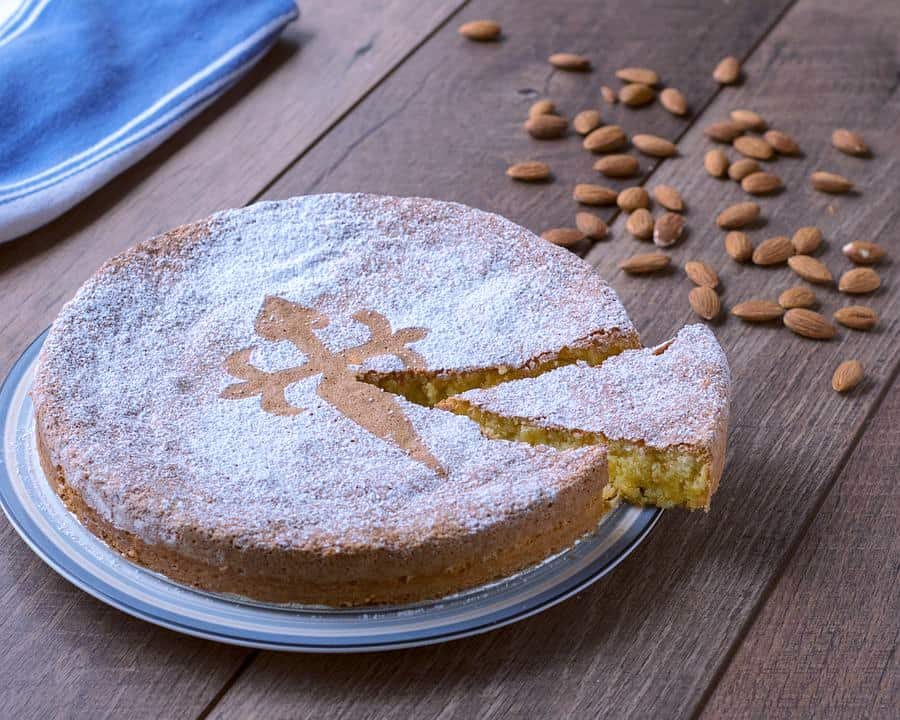 Tarta de almendras, or Tarta de Santiago, is the most popular Spanish almond cake.
Tarta de Santiago literally means Cake of St. James. It's made with almonds and decorated with sprinkled sugar in the shape of a St. James cross.
The Tarta de Santiago cake is a signature dessert of Santiago de Compostela. This tasty Spanish almond cake was created in medieval times and it's historically related to the famous pilgrimage route of Camino de Santiago.
If you are planning to walk Camino de Santiago, most likely you will treat yourself with slices of Tarta de Santiago in Santiago de Compostela!
Today this fantastic almond cake can be found not only in Santiago de Compostela and Galicia but throughout Spain.
7. TORTAS DE ACEITE – Spanish olive oil biscuits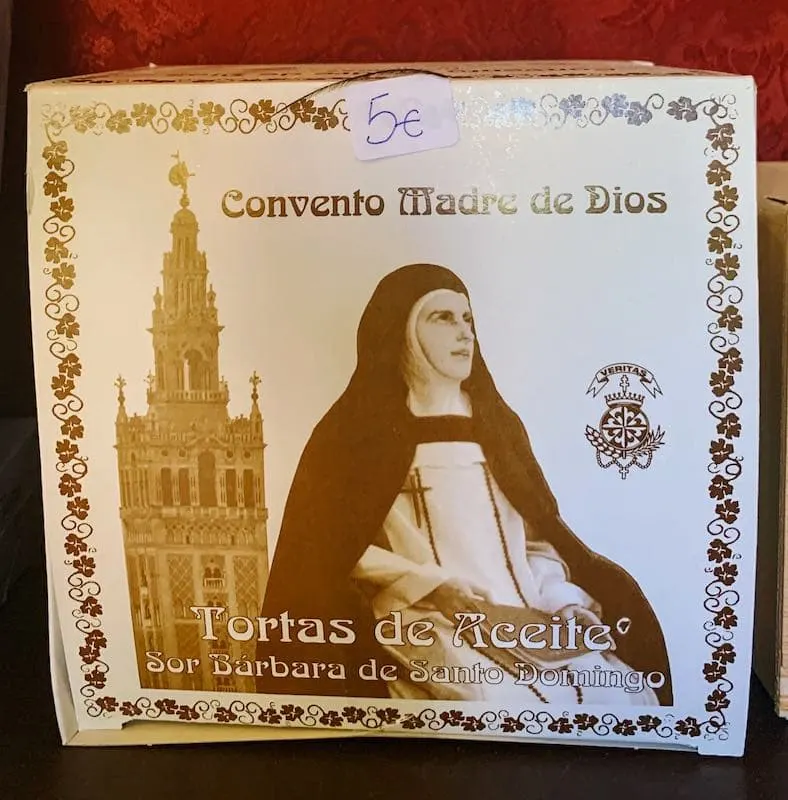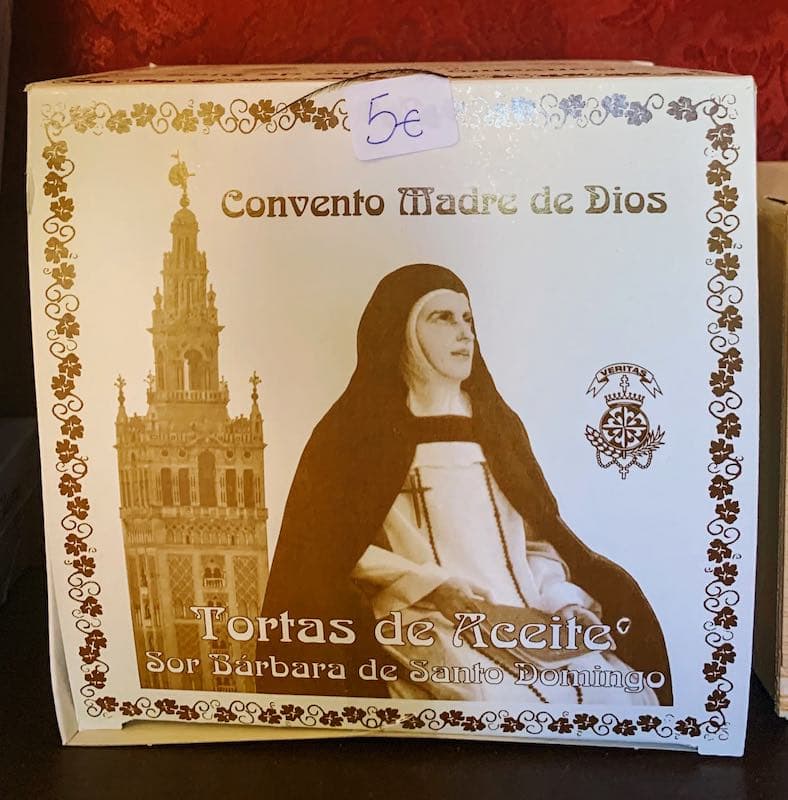 Spanish olive oil tortas are famous Spanish biscuits made of wheat flour, white egg, sugar, and olive oil with anise, sesame seeds, and almonds.
Although these crispy sweet wafers originate from southern Spain, today tortas de aceite are enjoyed all over Spain.
8. TURRON – Spanish nougat candy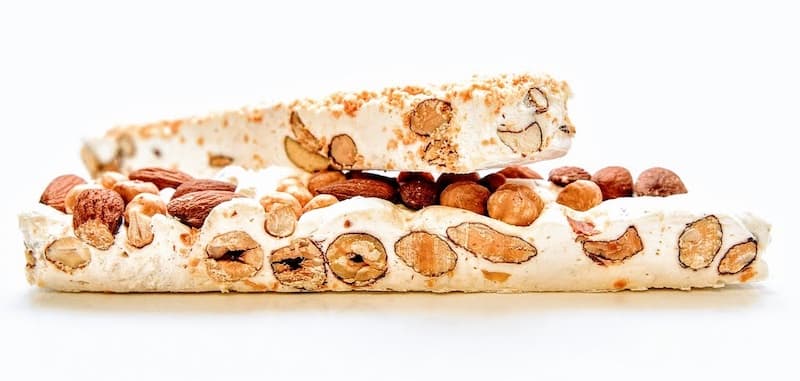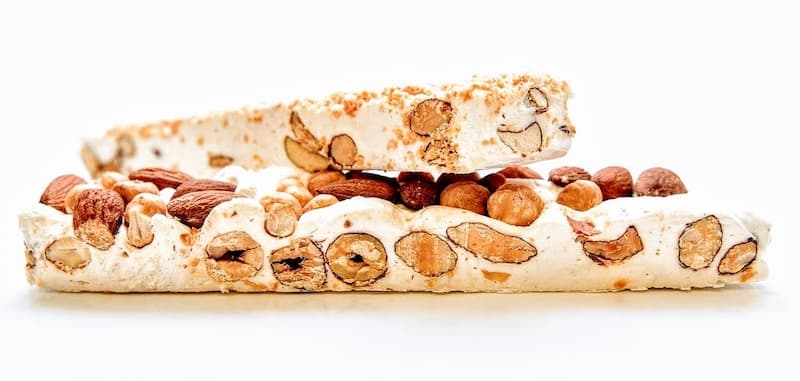 Turron is the most famous Spanish sweets.
Although torrone is one of the most popular Italian desserts in Italy, Spain is the largest exporter of turron in the World.
Spanish turron is a nougat candy made of sugar, eggs, honey, and roasted nuts (typically almonds but sometimes pistachios too).
There are two main types of turron: turron de Alicante (or turron duro) and turron de Jijona (or turron blando). Turron de Alicante is hard and brittle, while turron de Jijona is soft and chewy.
9. ARROZ CON LECHE – Spanish rice pudding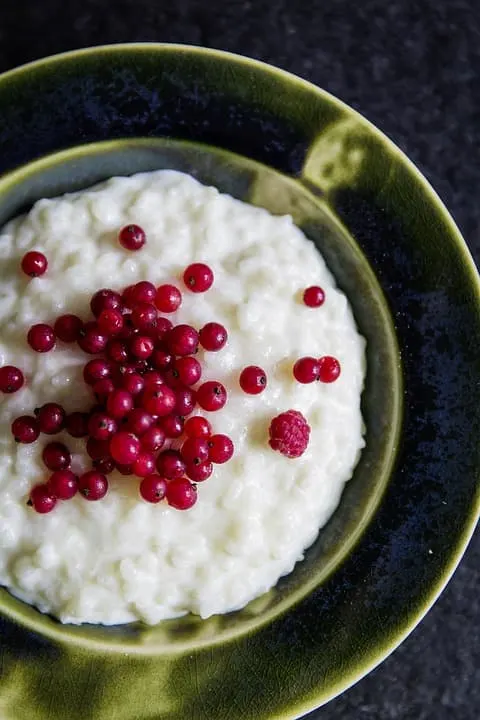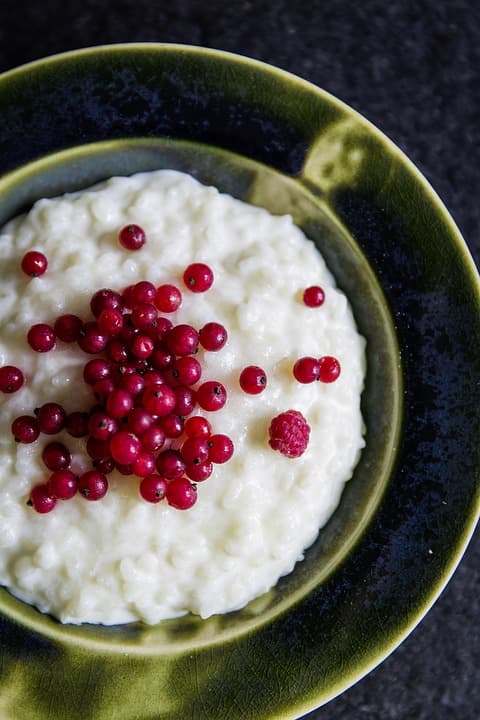 Rice pudding is a popular dessert in many countries, including Spain.
Rice pudding in Spain is called arroz con leche.
Light rice pudding is a popular dessert around the world for a good reason: creamy but flat-in-taste rice mixtures magically well with aromatic and warming cinnamon and refreshing lemon.
So, if you would like to have a light but aromatic dessert in Spain, arroz con leche is the Spanish dessert to go for!
10. LECHE FRITA – Spanish fried milk pudding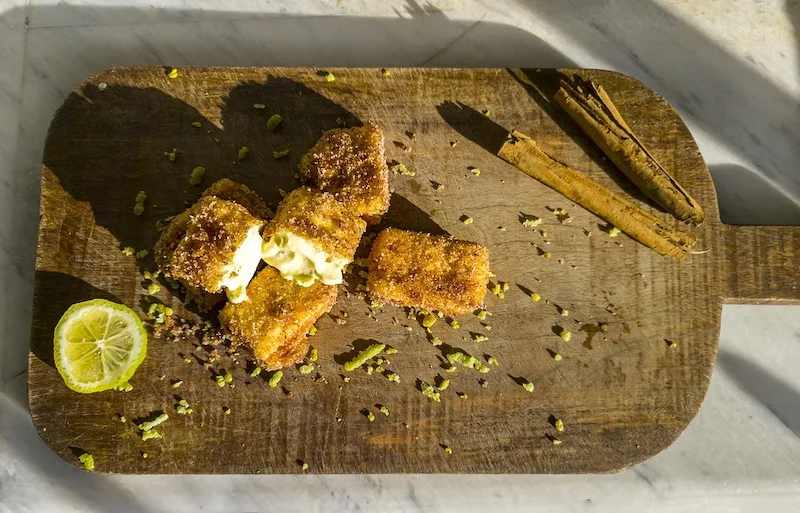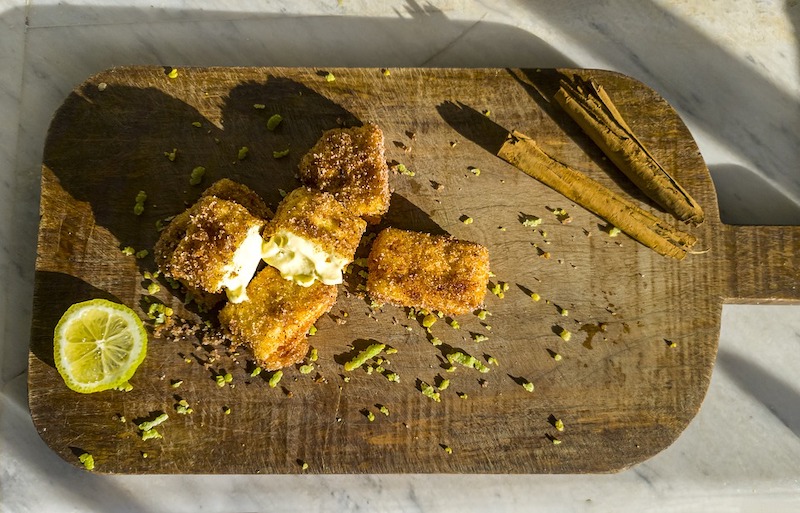 Fried milk, or leche frita in Spanish, is one of the top traditional Spanish desserts in Spain.
Leche frita is made by first cooking and then frying milk, fleur, and sugar. Traditional leche frita comes with a glossy sugar glaze and aromatic cinnamon powder.
This firm and crunchy from the outside but soft from the inside Spanish dessert can be served as a cold and a hot dessert in Spain.
Sweet leche frita originates from northern Spain, but today it is served in restaurants and sold in pastry shops throughout Spain.
11. TORRIJAS – Sweet Spanish French toast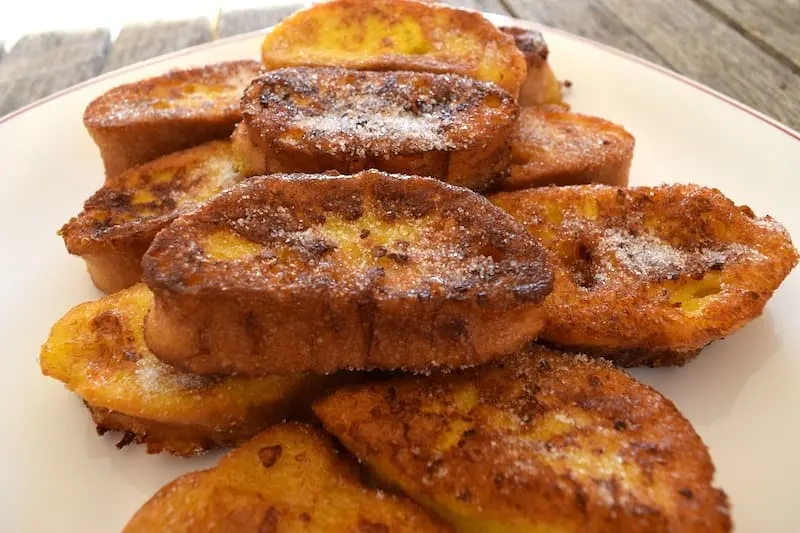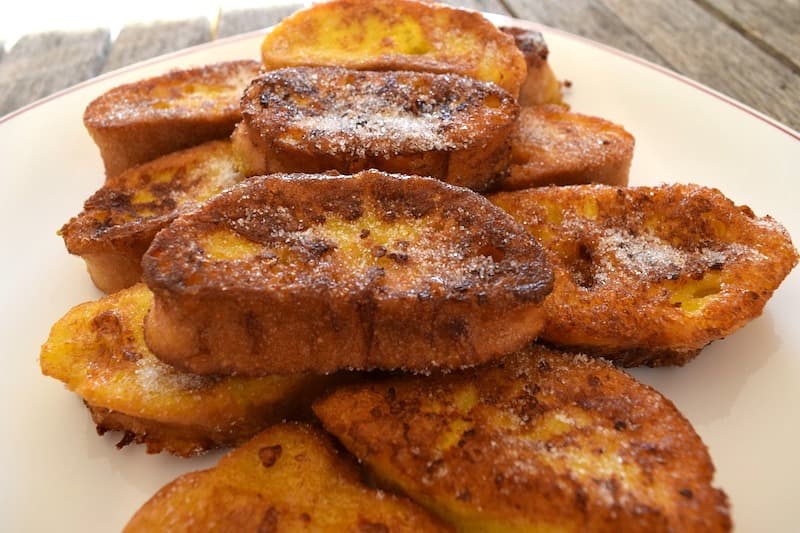 Spanish torrijas refer to soaked slices of bread in milk and wine with spices (cinnamon, typically). The soaked bread is dipped in beaten egg and fried in oil.
Cinnamon as a spice is always used for the preparation of Spanish torrijas. But, sometimes even some lemon peel and cloves can be added.
Torrijas is a typical Spanish dessert prepared during Lent and Easter. Fried torrijas are typical Carnival desserts in northern Spain (Asturias and Cantabria) and in the Canary islands as well.
12. CUAJADA – Spanish milk curd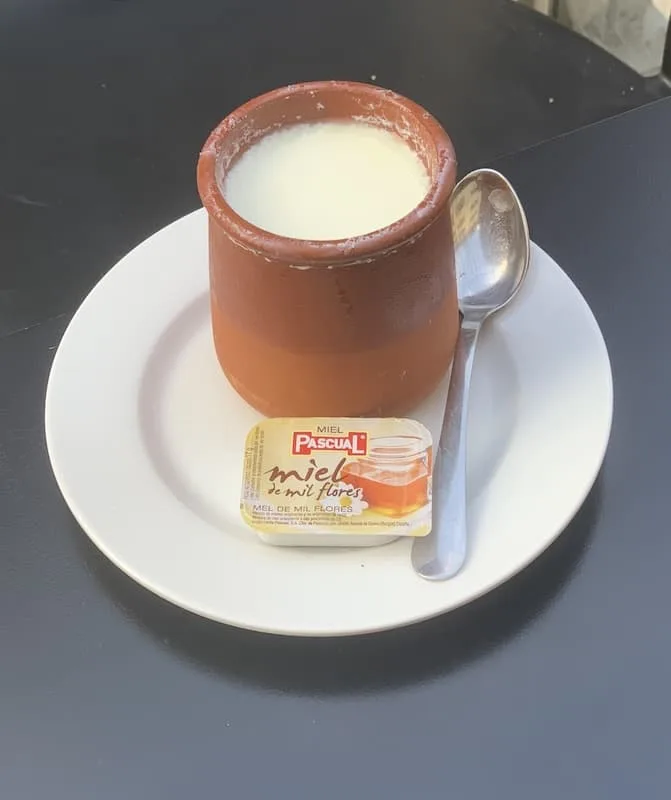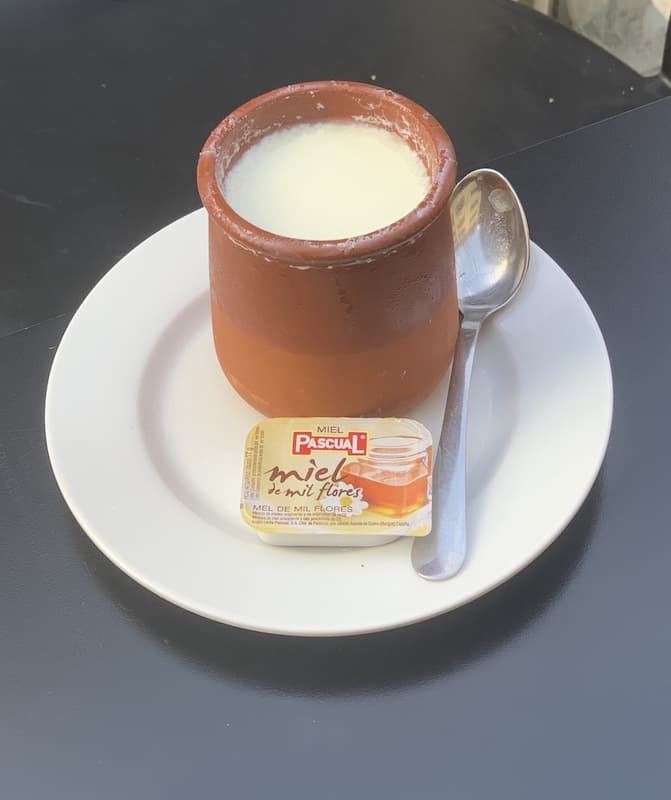 If you want to try some of the most interesting desserts in Spain, please try Spanish cujada.
Cuajada is a Spanish milk curd.
This Spanish cheese product is traditionally made from sheep's milk, but in modern times it's made from cow's milk as well.
Cujada is a popular dessert in northern Spain (the Basque Country, Asturias, Navarre, Rioja, Leon). This Spanish dessert with a smooth and creamy texture is typically served with honey, walnuts, and fruits.
Cujada is also called mamia is the Basque country.
13. PASTEL VASCO – Basque cake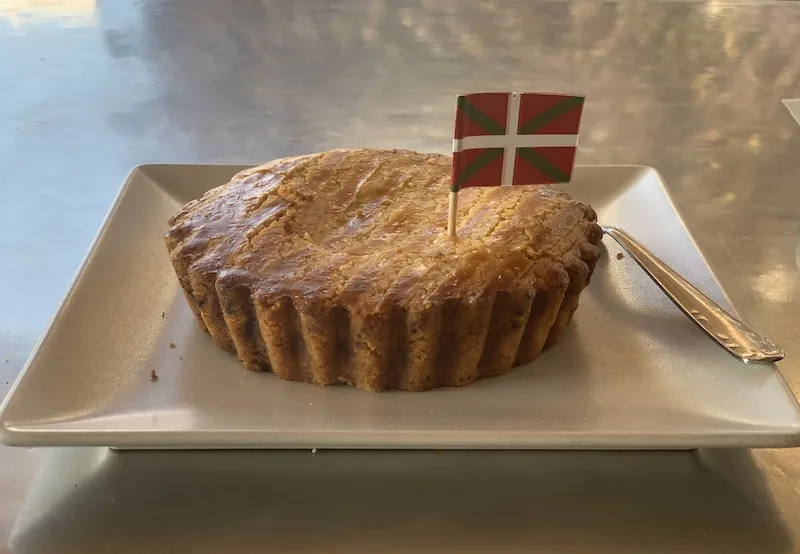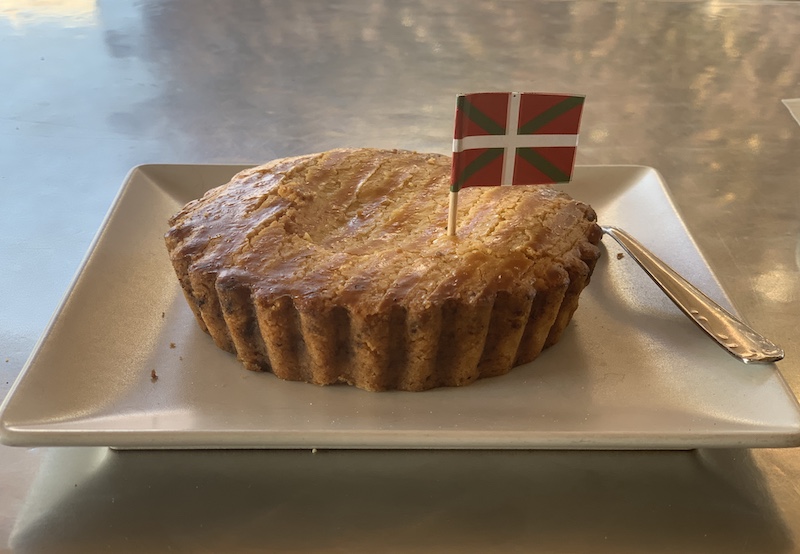 The Basque Cake, or Pastel Vasco in Spanish and Gâteau Basque in French, is the signature dessert of the Basque Country.
The Basque cake is basically a short-crust pastry with a filling. The Basque Cake typically comes with two types of filling: vanilla cream and black cherry jam.
The vanilla cream is the typical filling in the Spanish part, while the black cherry jam is the typical filling in the French part of the Basque Country.
Sometimes homemade Basque cake can be filled even with fruits like apricots, blackberries, figs, or cherries.
Today Gâteau Basque (Pastel Vasco or Etxeko Bixkotxa), is deeply associated with the Basque identity. The Basque Cake Festival happens every year in October in Cambo-les-Bains.
14. TARTA DE QUESO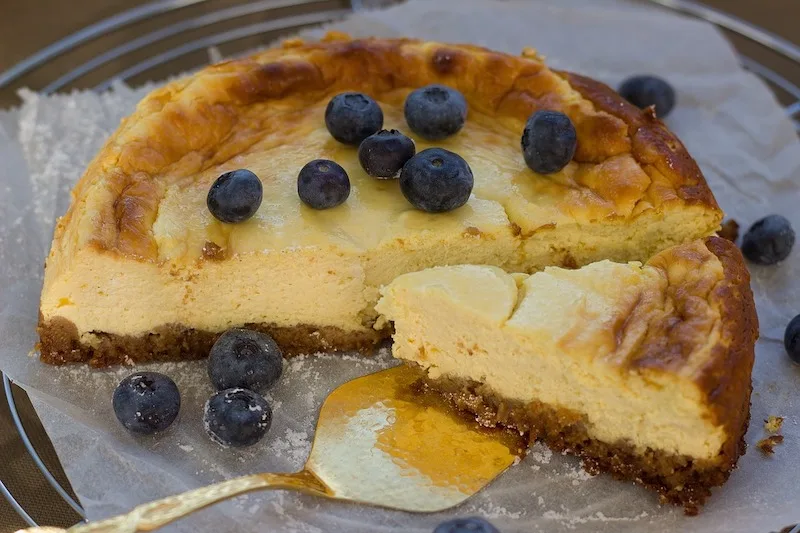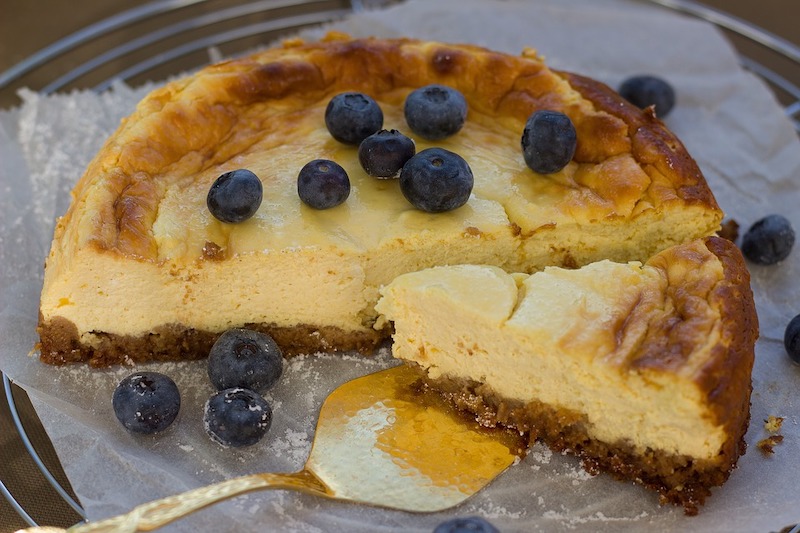 Classic cheesecake is one of the most popular desserts in the world.
Needless to say, pastel de queso, or tarta de queso, is one of the popular desserts in Spain.
This easy-to-prepare but extremely delicious cake is a classic dessert you can't get wrong with it in Spain!
16. BASQUE CHEESECAKE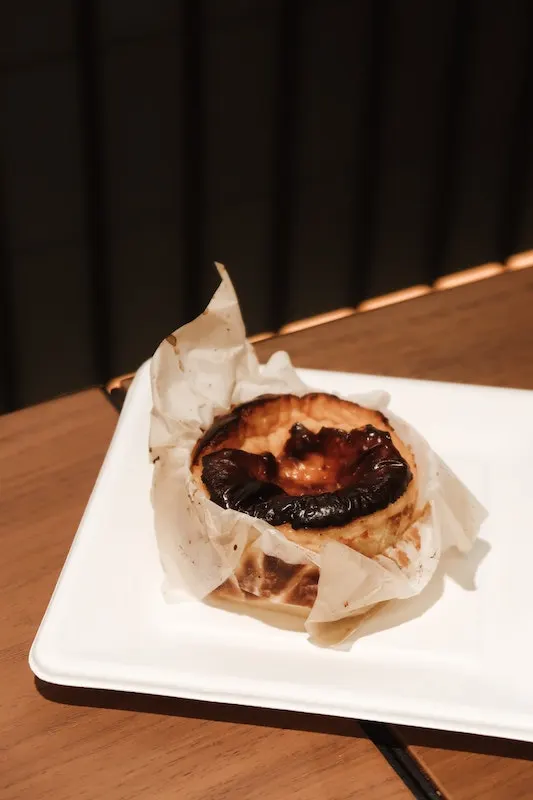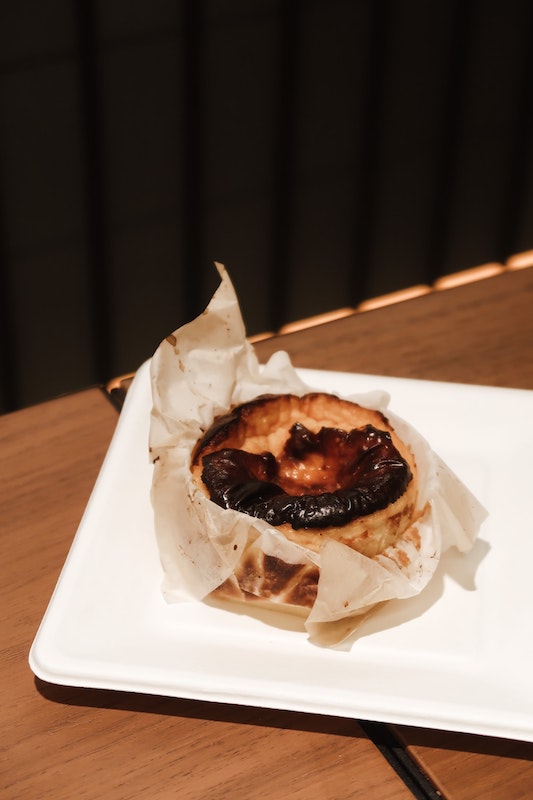 Basque burnt cheesecake is one of the most famous desserts from the Basque Country.
The balance of sweet and creamy interior and caramelized and somewhat bitter exterior is what makes this famed Basque cheesecake amazingly delicious.
Basque cheesecake was created in La Viña restaurant in San Sebastian in 1990. The cake was inspired by the globally popular 'tarta de queso'.
The intentionally burnt Basque cheesecake is typically prepared 3 days before serving and is always served at room temperature.
15. PANTXINETA – Basque pastry with custard cream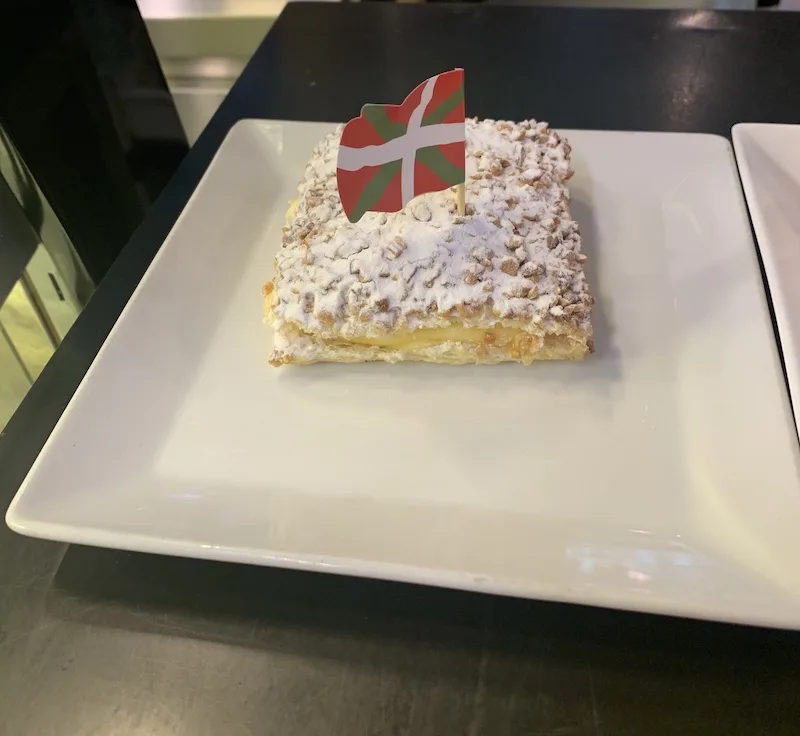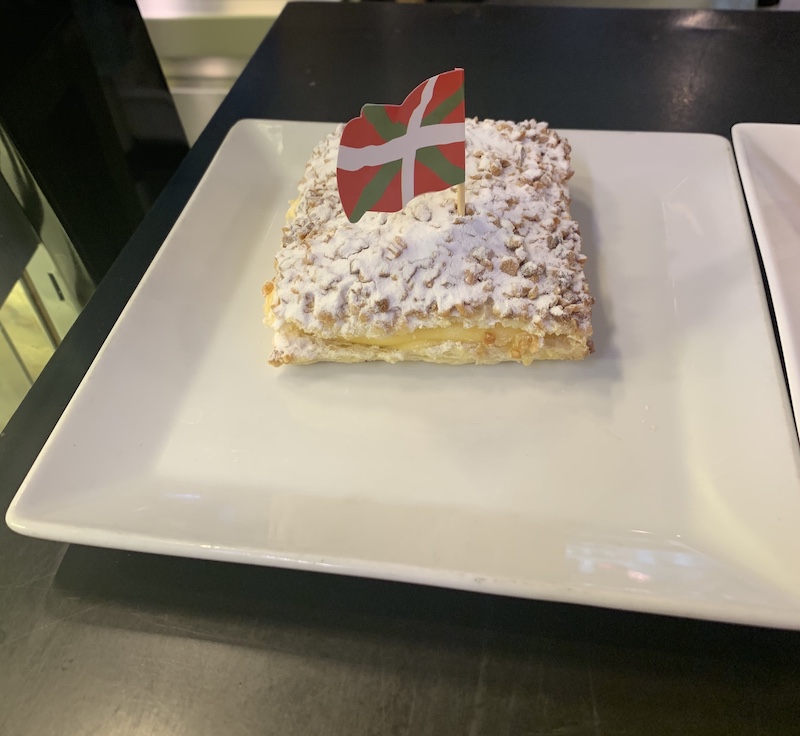 Panchineta, or pantxineta, is a traditional Basque cake made of puff pastry filled with custard cream. The cake is covered with almonds and powdered sugar.
If you like puff pastry, custard cream, and almonds, unquestionably you will enjoy this awesome cake.
Pantixineta is native to San Sebastian (Donostia) in the Basque Country, Spain. In addition, it is one of the best Basque desserts and one of the most popular desserts in Spain.
16. TRAINERA – Basque apple cake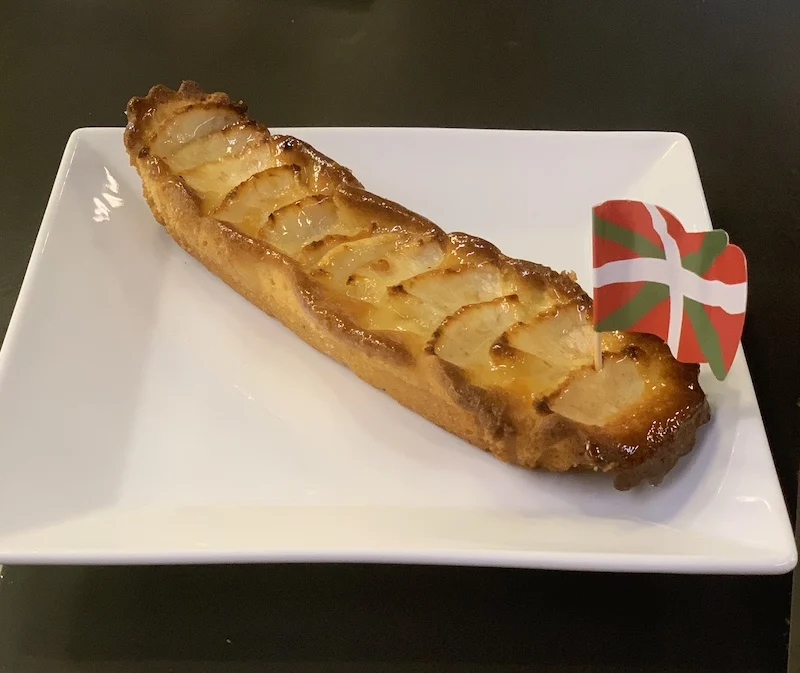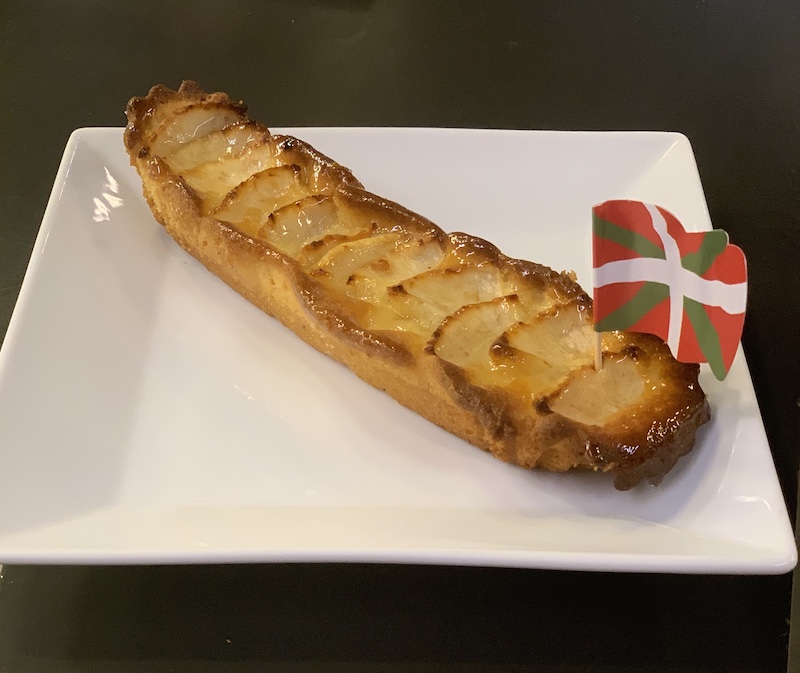 Trainera is Basque apple cake made of baked broken dough with almonds, and apples lined on the top.
The cake is named after the Basque trainera boat. Trainera is a traditional Basque boat with oars.
Historically Basque fishermen used trainera rowing boats for fishing anchovies and sardines in the Biscay Bay and the Cantabrian sea.
17. PESTINO – Spanish honey-glazed fritters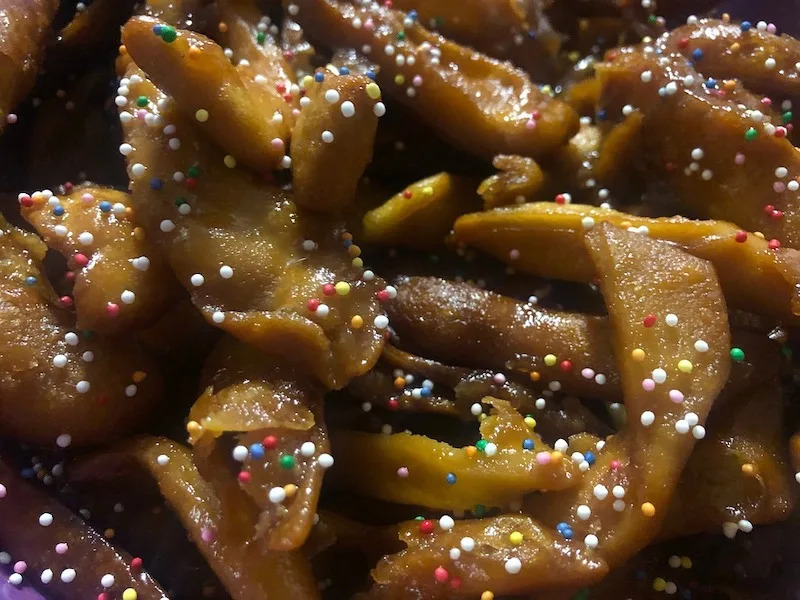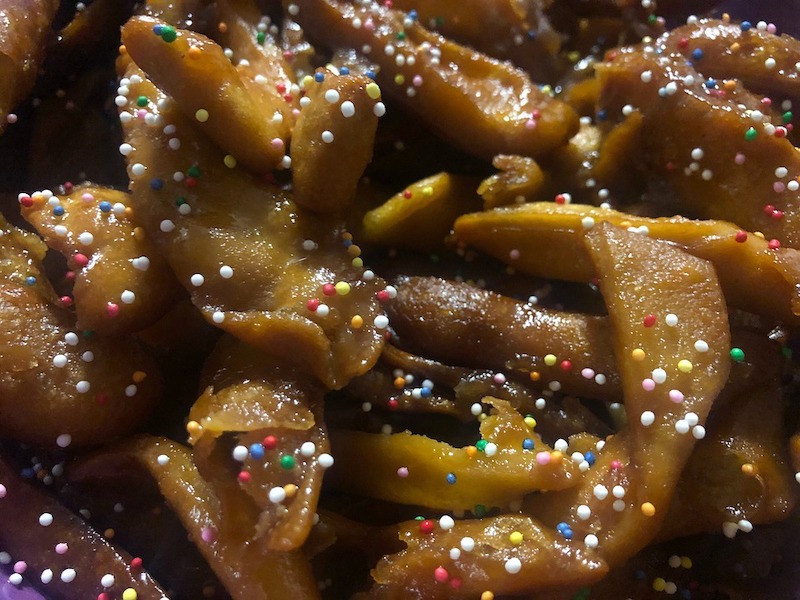 Pestiños are some of the most typical Spanish desserts in Spain.
These deep-fried Spanish pastries are made with fleur, olive oil, wine, aniseed, and with a sugar or honey glaze.
They were traditional desserts in Spain during Holy Week and at Christmastime, but today they are popular desserts in Spain throughout the year.
Sweet pestiños pastries originate from Andalusia in southern Spain.
If you planning an epic Andalusia road trip, keep in mind to try authentic Andalusian pestiños on your way through beautiful Andalusia.
18. FRISUELOS – Spanish crepes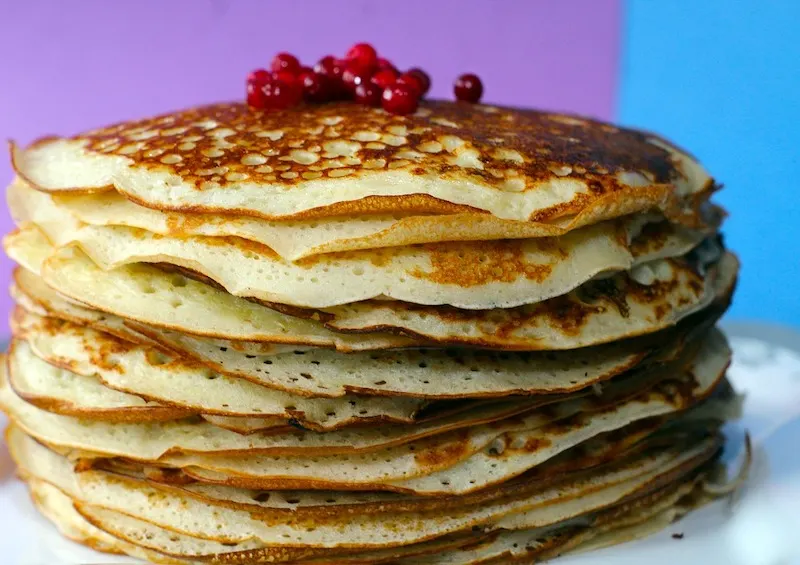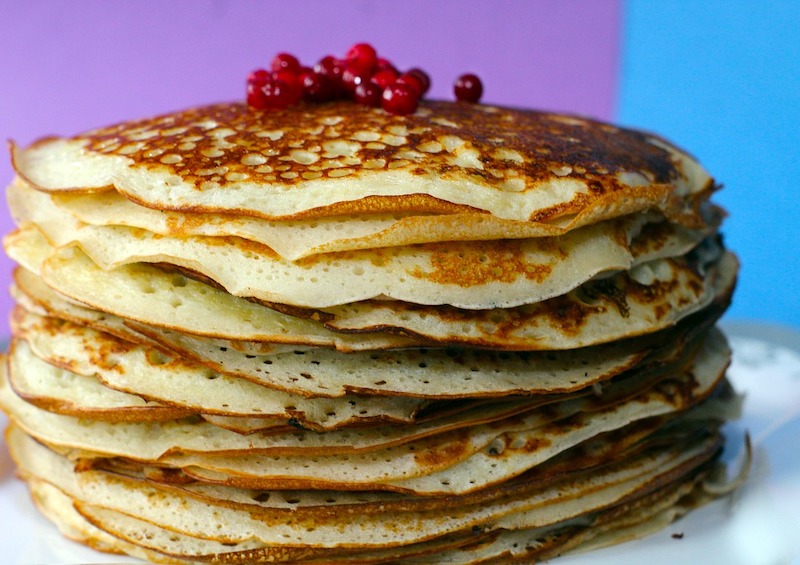 Frisuelos, also spelled frixuelos, are a typical Spanish dessert from northern Spain (Cantabria, Asturias, Leon).
This sweet Spanish dessert is made from milk, fleur, sugar, and spiced with anise.
Some of the most common fillings of this yummy Spanish dessert are pastry cream, honey, jam, and apple compote.
Spanish crepes are always eaten warm and fresh.
19. ROSQUILLAS DE SEMANA SANTA – Spanish Easter donoughts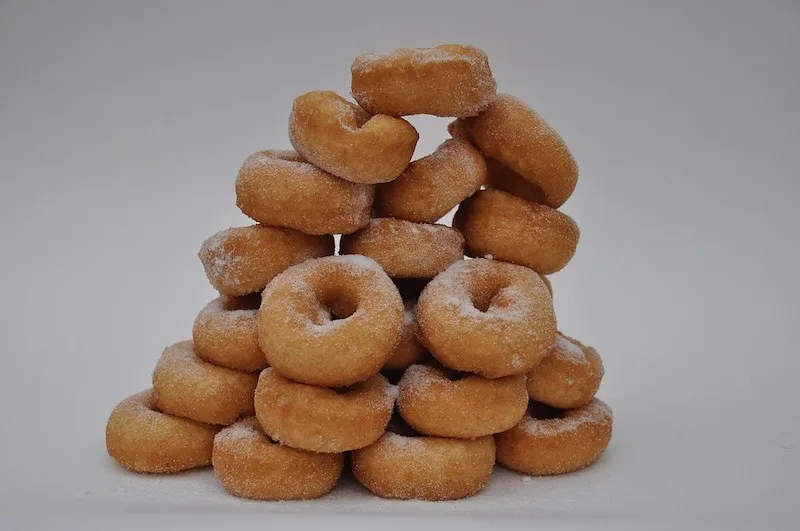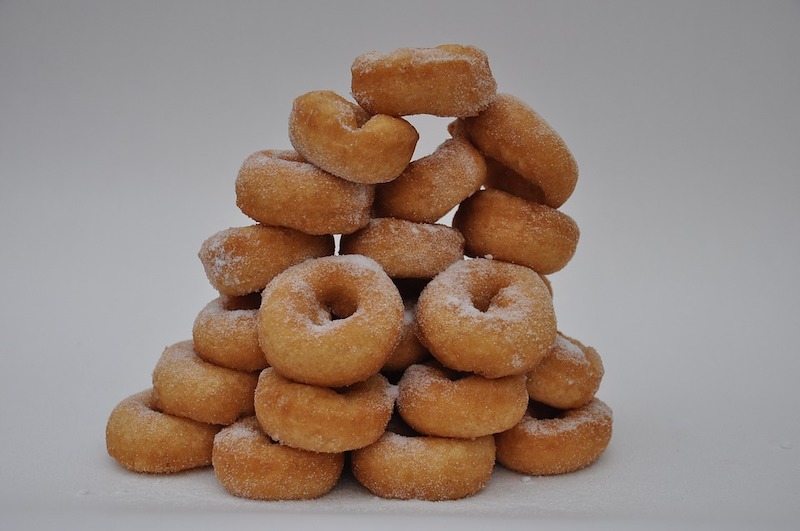 Rosquillas are the famous Spanish Easter donuts and the most typically Spanish desserts during the Holy Week.
Fluffy Spanish rosquillas are prepared with fresh orange juice and lemon rid but without yeast.
If you are planning to spend Easter in Spain, Spanish Holy Week donuts are a must-have!
20. BUNUELOS DE VINTO- Spanish doughnuts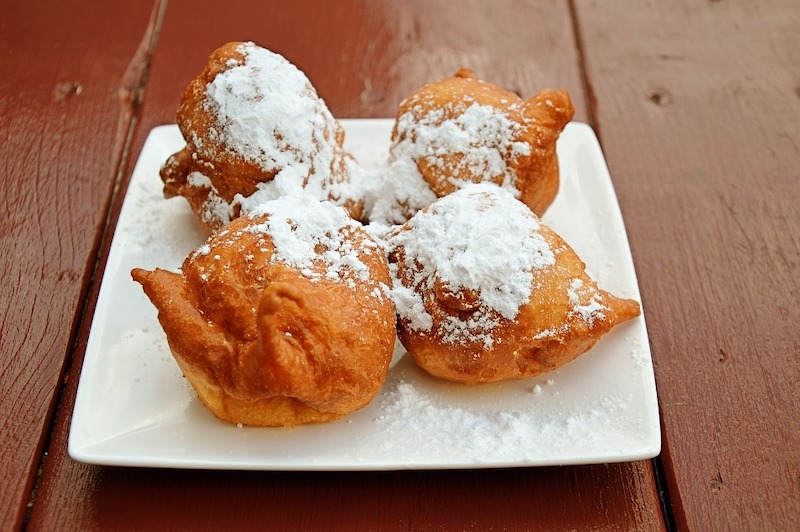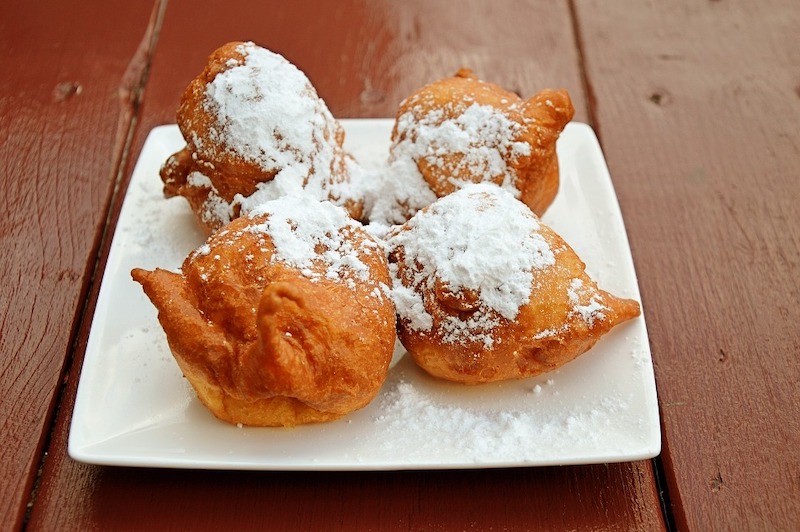 Buñuelos de viento are mouth-melting Spanish doughnuts.
These fluffy Spanish fritters are some of the most popular Spanish afternoon snacks that you can buy in Spanish pastry and cake shops.
They are traditional Spanish desserts eaten for holidays. Buñuelos de viento Spanish doughnuts are eaten traditionally for All Saints Day, Easter, and Carnival in Spain.
Today Buñuelos de viento, along with churros, are some of the most popular Spanish pastries.
21. SWEET EMPANADAS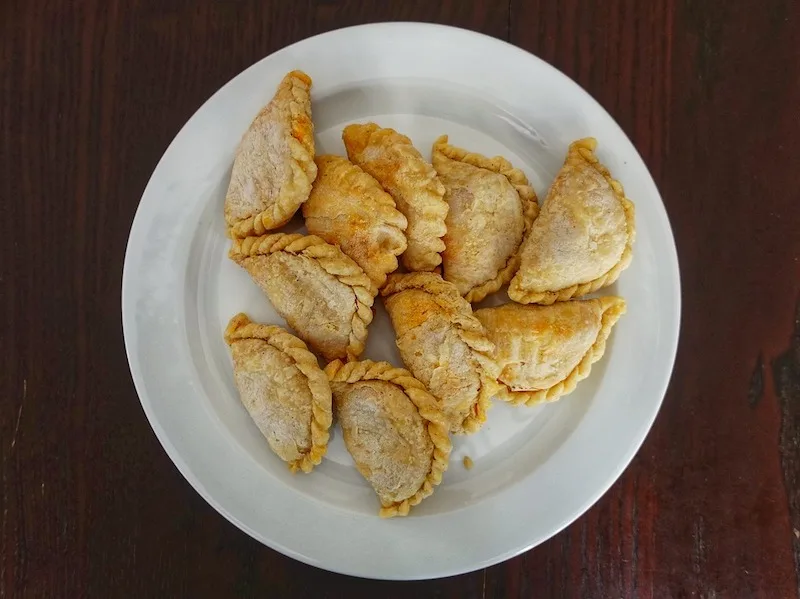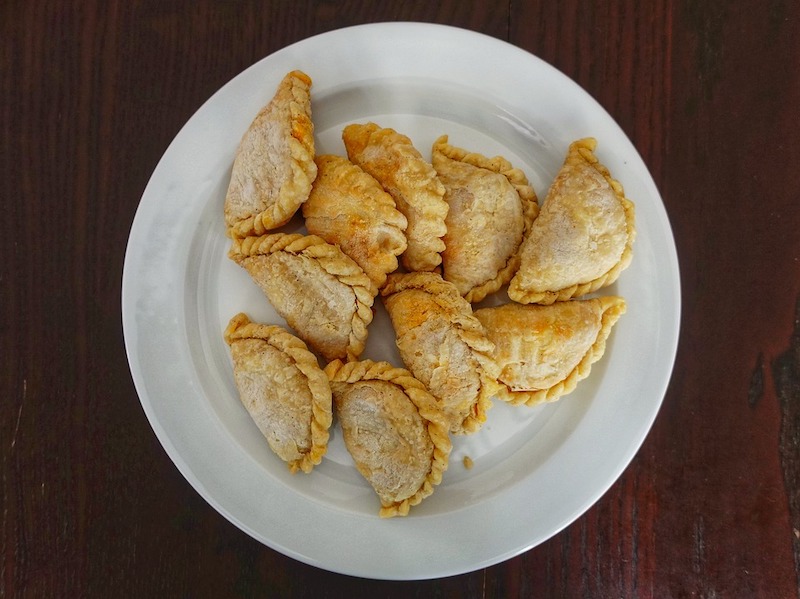 Spanish empanadas refer to stuffed pastries.
Empanadas can be savoury and sweet. Sweet empanadas filled with fruits are eaten as desserts in Spain. Some of the best sweet empanadas are empanadas with apples and empanadas with plums.
Spanish empanadas originate from Galicia in northwest Spain.
24. TARTA DE MANZANA – Spanish apple cake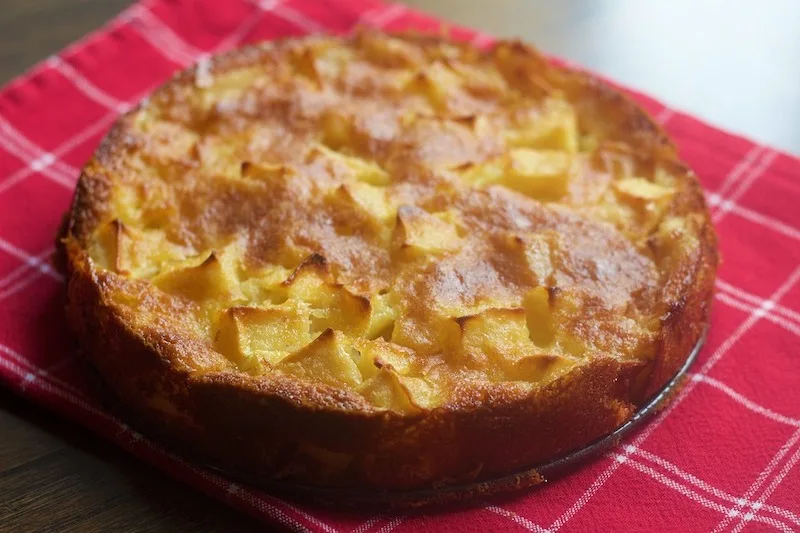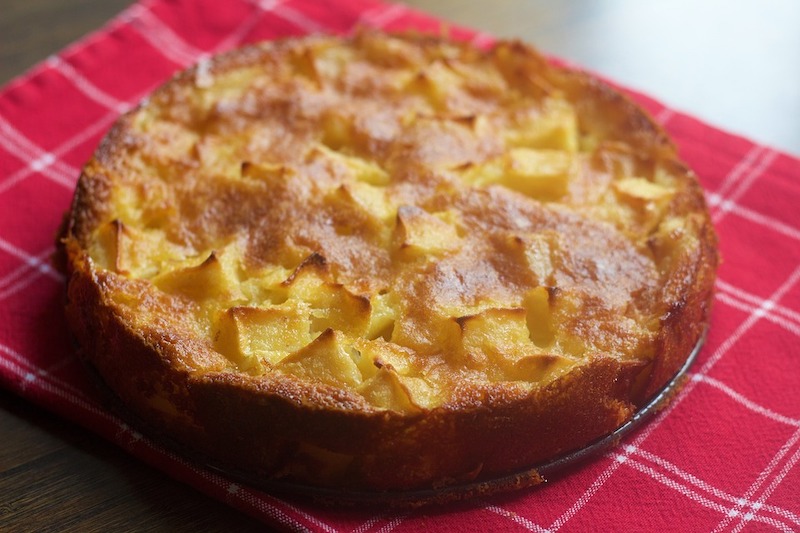 Tarta de Manzana is traditional Spanish apple tart.
The Spanish-style apple cake is yummy but, most importantly, a healthy dessert. Spanish Tarta de Manzana is made with little fleur and many apples.
Sweet and juicy Tarta de Manzana is a classic Spanish dessert that goes on the list of the most addictive deserts in Spain!
25. BRAZO GITANO – Spanish Swiss roll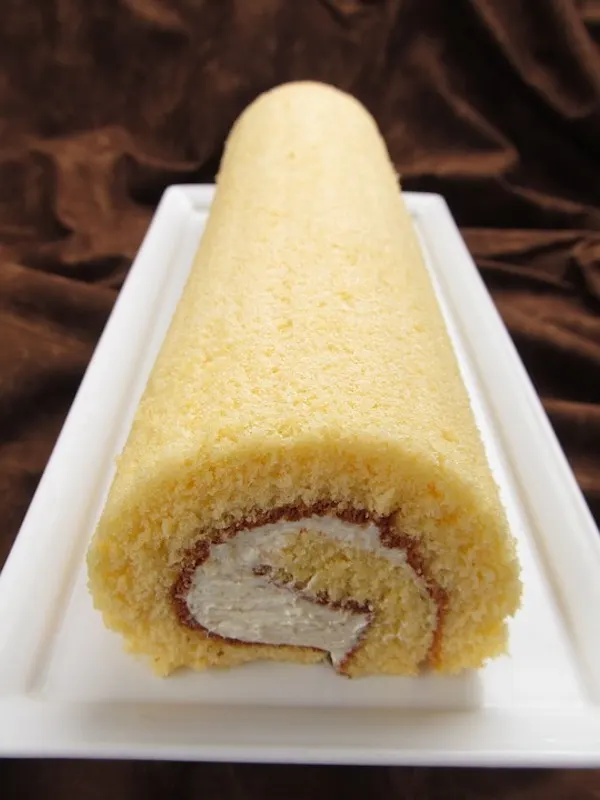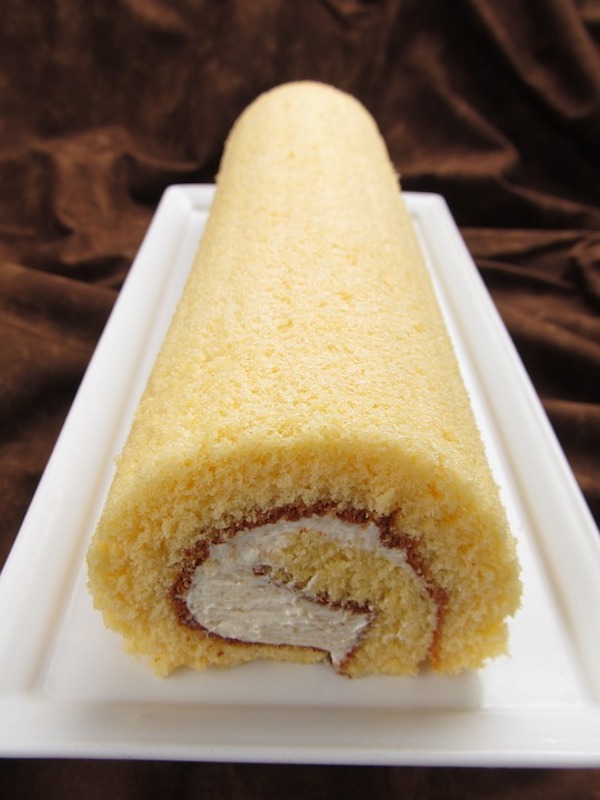 Swiss roll is one of the classic desserts around the world.
Swiss roll is called brazo gitano in Spain. Funny or not, brazo gitano literally means 'gypsy's arm' in Spanish.
This iconic rolled sponge cake is a staple dessert in Spanish cuisine. But, the filling of brazo gitano differs from one Spanish region to another. Spanish Swiss roll can be filled with jam, marmalade, chocolate, custard cream, and coffee cream.
Typical Brazo Gitano in Spain is sprinkled with sugar on the top, but it can be covered with chocolate and even creme Catalana.
26. BIZOCHO – Spanish sponge cake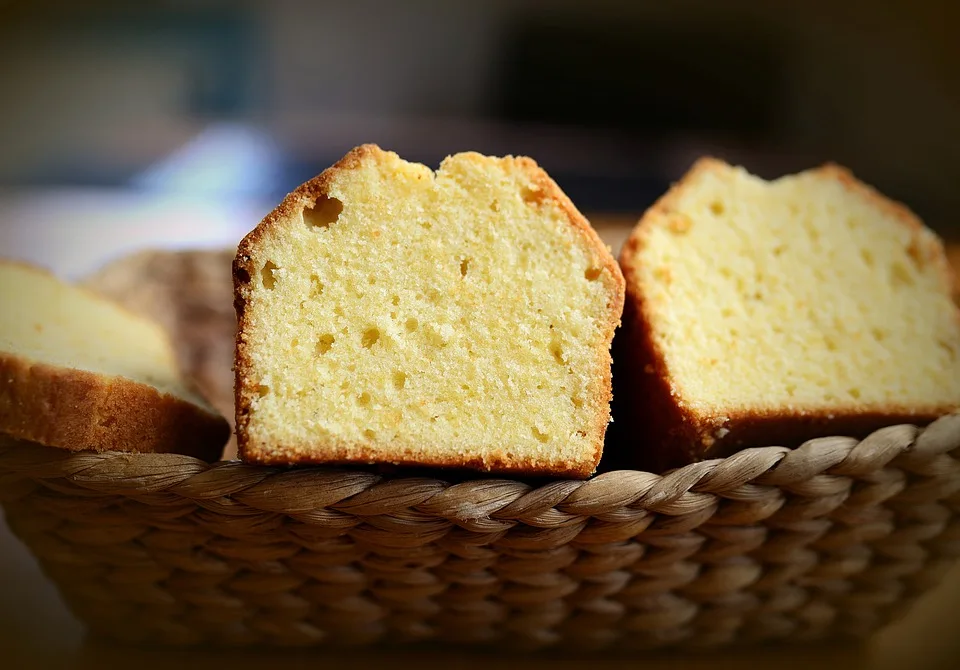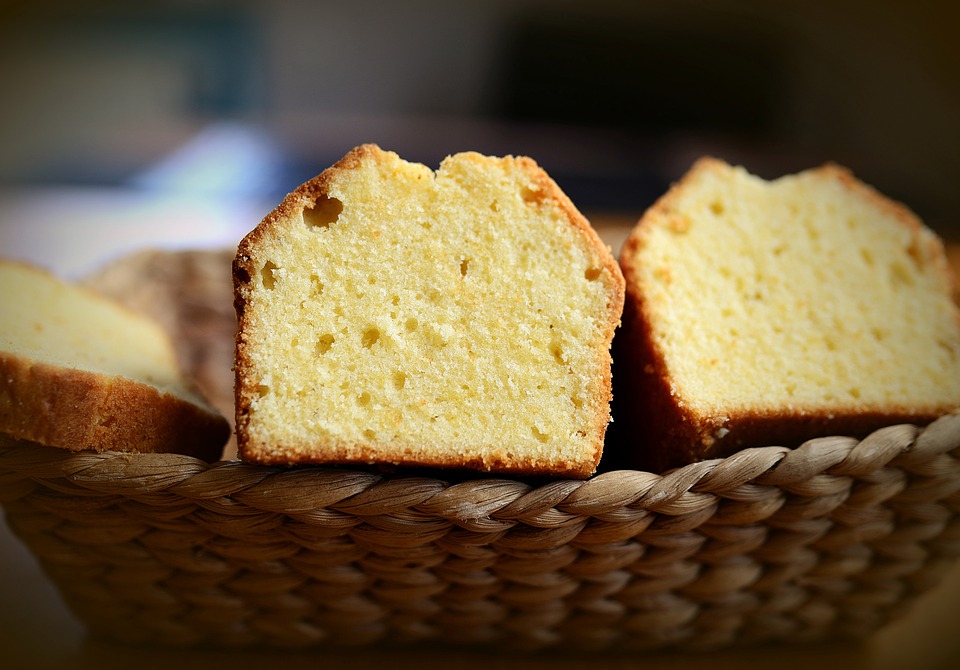 Bizocho in Spain always refers to classic sponge cake, unlike in the rest of Spanish-speaking countries where bizocho refers to various pastries, cakes, and cookies.
Spanish sponge cake is an easy-to-make traditional Spanish dessert. This simple and light cake is made with simple ingredients: eggs, granulated sugar, fleur, oil (natural and olive), a bit of baking powder, and flavored with aromatic Spanish lemon rid.
Spanish bizocho is a light cake traditionally eaten for breakfast in Spain. It is a classic coffee cake typically served with coffee in every cafe in Spain.
27. MAGDALENAS – Spanish lemon cupcakes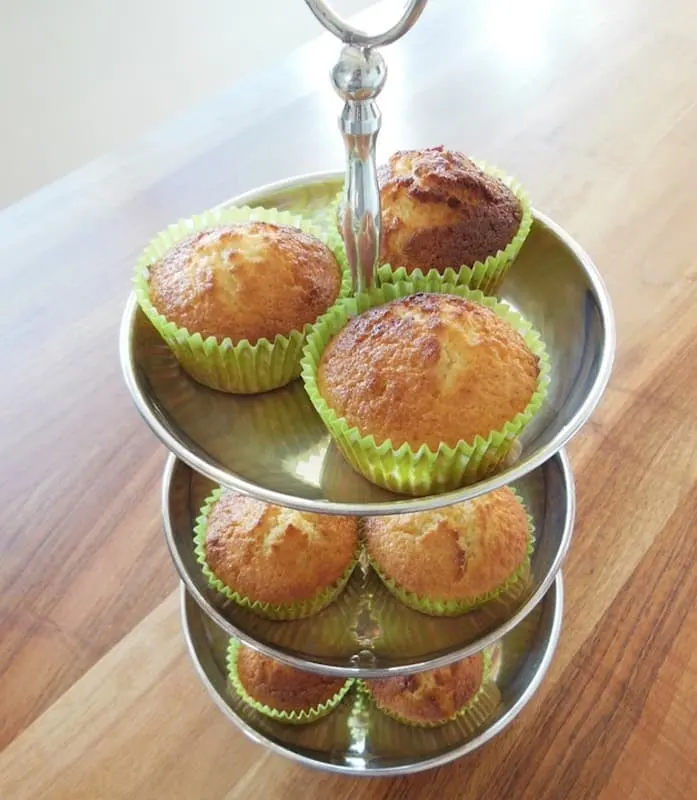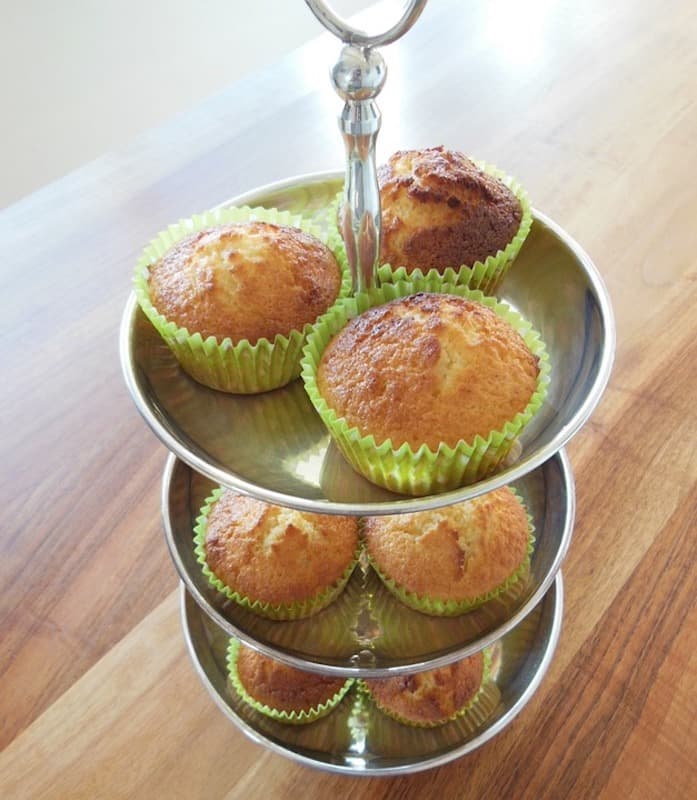 As you might have noticed, Spanish cakes use lots of lemon for flavoring.
Some of the best lemony Spanish desserts are magdalenas. Spanish magdalenas are similar to muffins, but they are more fluffy and more lemony!
Magdalenas are also enjoyed along with coffee for breakfast in Spain. Fresh magdalenas are available in supermarkets, bars, and bakeries across Spain.