Traditional food in Tuscany, Italy you must try on your Tuscany vacation
If you are traveling to Tuscany and you want to taste traditional food in Tuscany, here's a list of must-try Tuscan food, classic Tuscan dishes, typical Tuscan desserts, and authentic Tuscan drinks.
Typical Tuscan dishes are hearty and simple as they have origins in peasant food. A classic Tuscan dish is a 'poor man dish' or 'un tipico piatto povero Toscano' as Italians would say. But Tuscany's food is undeniably delicious. Like all food from Italy.
RELATED:
YOU MIGHT ALSO ENJOY:
28 TUSCAN FOODS IN TUSCANY YOU NEED TO TRY: BEST FOOD IN TUSCANY
Food in Tuscany to whet your palette:
1. TRIPPA – Florentine-style tripe stew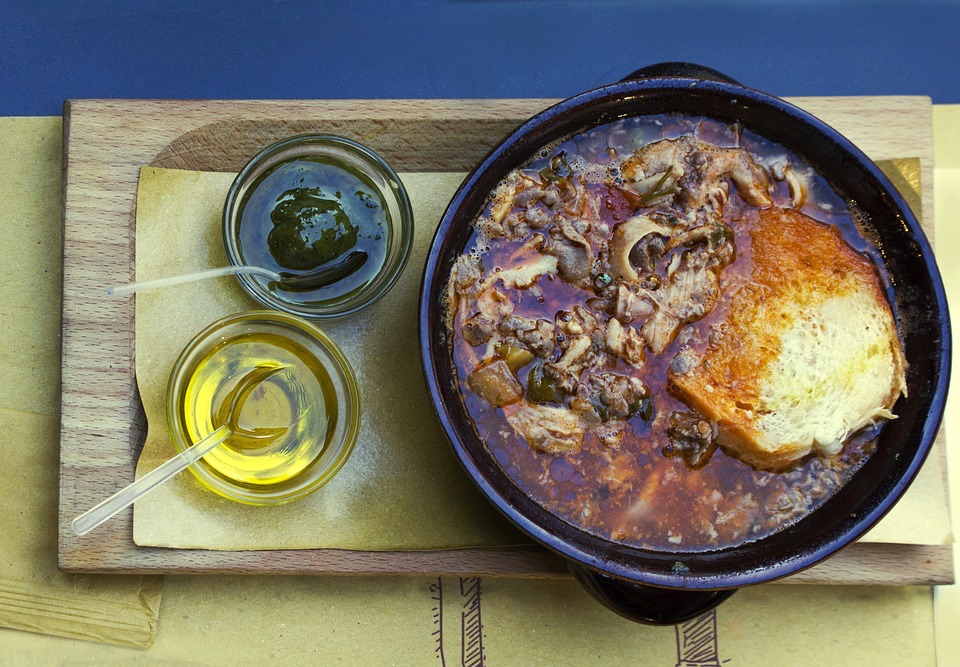 Tripes are parts of cattle's stomachs.
Ok, tripes may not sound promising. But Trippa alla Fiorentina and Trippa alla Tocana are some of the most famous Tuscan dishes.
Florentine-style tripe is a traditional Tuscan stew prepared of slowly cooked slices of tripes in a sauce made of peeled tomatoes, onions, carrots, parsley, celery, salt, pepper, and olive oil.
Trippa is a popular 'poor man' Italian dish from Florence in Tuscany. Trippa Italiano is prepared across Italy but the origins of the dish are in Florence.
Some of the most famous versions of trippa dish are: Trippa alla Fiorentina (the original trippa from Florence), Trippa alla Romano from Rome, Trippa alla Veneto from the Venice Region, Trippa alla Abruzzo from the Abruzzo region, Trippa alla Milanese from Milan, Trippa alla Tocana from the Tuscany Region …
While trippa stew in Tuscany and other parts of Italy is made with meat sauce, authentic Trippa alla Fiorentina is traditionally made with tomato sauce.
2. LAMPREDOTTO ALLA FIORENTINA – Florentine-style Lampredotto sandwich
Lampredotto is a typical sandwich from Florence.
The sandwich is made of a grilled crispy bun called 'panino' filled with a slowly-cooked final stomach of a cow in a broth called 'lampredotto' in Italy. The cow's stomach meat is cooked with tomatoes, onions, parsley, celery, olive oil, salt, and pepper, while the bun is typically first soaked in lampredetto broth and then grilled. Lampredotto traditionally comes with a spicy green sauce called 'salsa verde' prepared of parsley, garlic, and anchovies.
Lampredotto is a popular street food in Florence typically sold on street food stands called 'chioschi' in Italy.
3. BISTECCA ALLA FIORENTINA – Florentine veal meat stake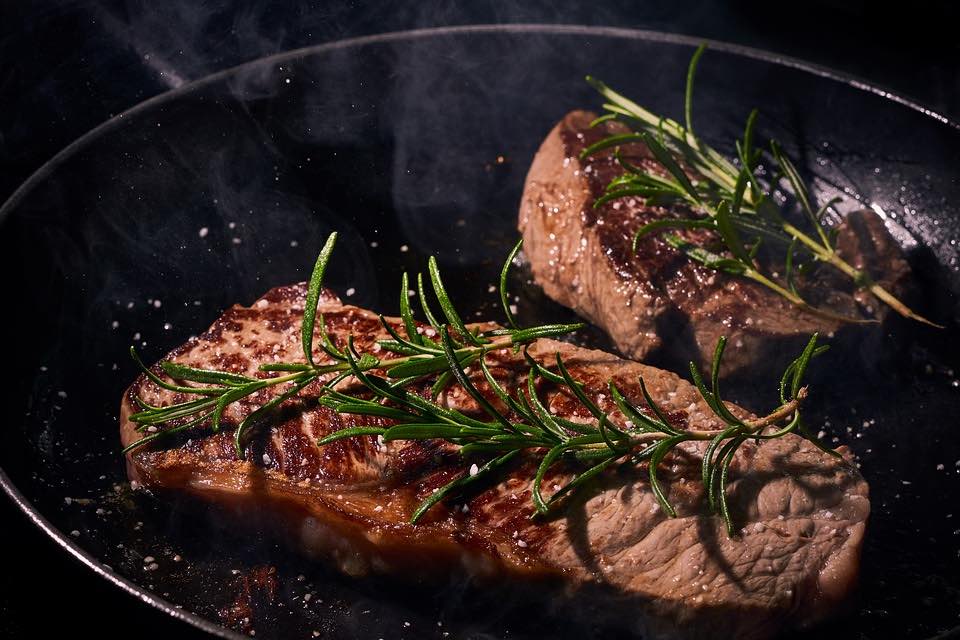 Florentine-style steak is a famous veal meat stake originating in the city of Florence in Tuscany.
Bistecca Alla Fiorentina is a T-bone steak traditionally prepared on glowing coal, light layers, and ashes. Classic Florentine-syle stake has colored meat from the outside, but juicy, soft and red meat from the inside.
Florentine-style steak is one of the most famous traditional food in Italy that regularly features top gastronomy lists of the best foods in the world.
Don't forget to try authentic Bisteca Alla Fiorentina when in Florence.
4. CROSTINI TOSCANI – Tuscan chicken liver pate with crostini
Chicken liver pâté served on crostini (traditional Italian toasted bread slices) is a typical Tuscan dish.
The pâté is made of chicken liver with sautéed onions, olive oil, butter, sage, a few drops of sweet vinsanto, salty capers and anchovies, and all sprinkled with salt and pepper.
A legend says that Catharina de Medici brought the recipe of Crostini Toscani from Florence to Paris. Thanks to the pâté of Crostini Toscani, French Foie Gras was invented.
This iconic Tuscan antipasto (appetizer) is also called Crostini Neri and Crostini di Fegato. Crostini Toscani are on the menu of every trattoria in Tuscany and in every Tuscan home.
5. FETTUNTA – Tuscan roasted bread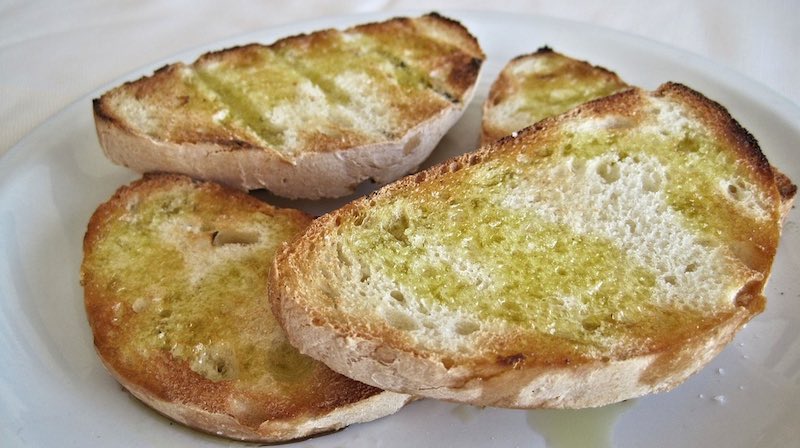 Fettunta is roasted Tuscan bread with a generous amount of extra virgin olive oil.
Sometimes garlic clove is rubbed over the toasted bread before pouring the olive oil.
Fettutnta is a simple version of bruschetta, but no less delicious. Name Fettunta comes from Italian 'la fetta unta' meaning 'the oily slice'. Fettunta is traditionally eaten in November when new extra virgin olive oil is produced. Eating fettunta people in Tuscany celebrate their hard work put in growing olive trees and producing olive oil.
6. PANZANELLA SALAD – Tuscan bread and tomato salad
Panzanella is Tuscan bread and tomato salad, similar to Levantine Fattoush.
This popular summer salad from Tuscany is made of stale bread, chopped tomatoes and onions, olive oil and vinegar, and quite often cucumbers and fresh basil. The name comes from 'pane' meaning 'bread' and 'zanella' meaning 'bowl' (deep plate).
7. ACQUACOTTA MAREMMANA- Tuscan bread and vegetables soup with poached eggs
Leftovers bread is not only used in a salad in Tuscany but also in soups.
One of the most popular Tuscan dishes is Acquacotta Meremmana.
Thick and creamy Tuscan soup prepared with vegetables (tomatoes, onions, celery, red chili), flavored with a few drops of dry white wine, and with poached eggs on the top, dandelion, pork lard .. and served a plate with the stale bread at the bottom and with grated Pecorino Toscano cheese on the top.
When in Tuscany, keep in mind to taste this flavorsome Tuscan bread and vegetable soup with poached eggs.
8. PAPPA AL POMODORO – Tuscan bread and tomato soup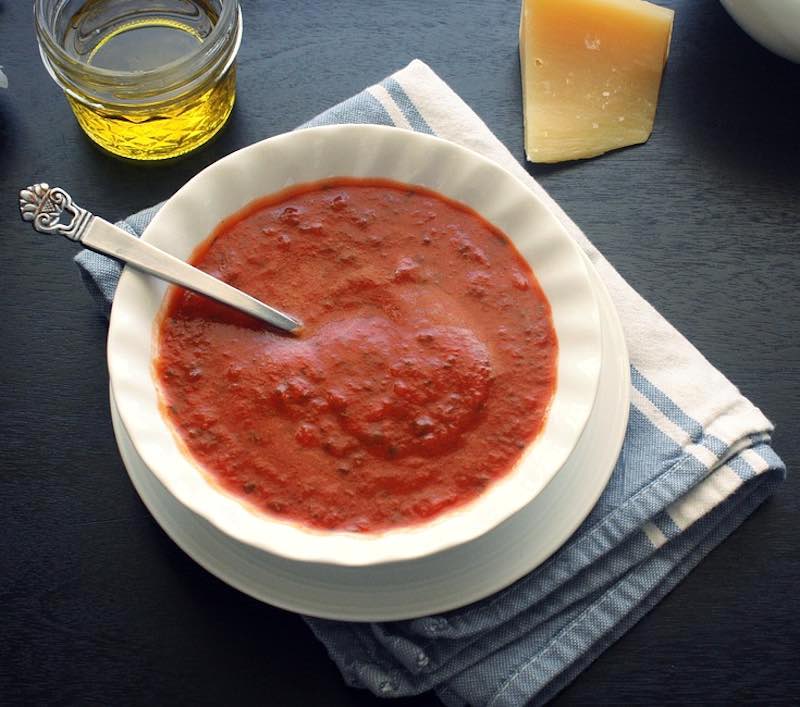 Pappa al Pomodoro is another thick traditional Tuscan soup. It is made from stale bread, fresh tomatoes, garlic, extra virgin olive oil, fresh basil, salt, and pepper.
9. RIBOLLITA SOUP – Tuscan bread, and white beans soup
Another delicious Tuscan soup made from leftover bread is Ribollita soup.
'Ribollita' means 'reboiled' as the soup is reboiled from the leftovers from the previous day.
Ribollita is a hearty Tuscan soup made from leftover bread and vegetables (cannellini beans, potatoes, onions, carrot, beans, chard, celery, cabbage, lacinato kale) with herbs (thyme, rosemary, bay leaves). Traditionally Ribollita was a poor man dish in Tuscany – 'un tipico piatto povero Toscano'. Ribollita is a thick soup that is sometimes even considered a stew because of the thick texture.
10. CACCIUCCO – Tuscan seafood soup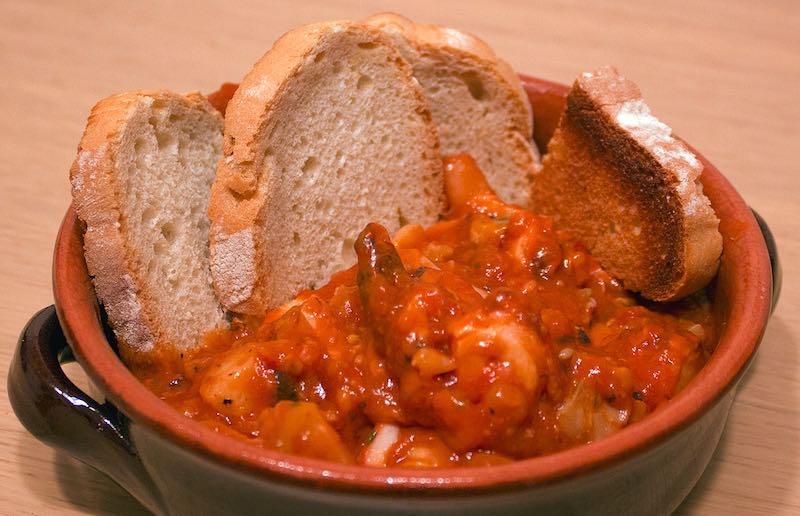 Cacciucco is a Tuscan seafood stew similar to French Bouillabaisse.
Cacciucco comes from the coastal part of Tuscany and probably the best known are cacciucco from the city of Livorno and cacciucco from the city of Viarregio.
A legend says that five 'c' letters in 'caccicco' name refer to five types of fish and shellfish traditionally used in the stew. But quite often cacciucco is made from several types of seafood, or better said from everything caught in the sea that day.
Thick broth of this hearty seafood soup includes various vegetables (tomatoes, onions, dried red peppers..) spices and herbs (time, bay leaf, aniseed), but also some other ingredients like fish stock, wine and even a stone from the sea.
11. PAPPARDELLE ALLA LEPRE – Tuscan pappardelle pasta with hare meat
Pappardelle pasta is broad, flat and thick pasta noodles originating in Tuscany. Tuscan pappardelle are similar to the Bolognese tagliatelle.
Pappardelle pasta is typically eaten with chicken or beef sauce, but famous Pappardelle alla Lepre comes with hare meat sauce. In traditional Tuscan cuisine in the past, the meat was stewed in its own blood, but today in modern Tuscan cuisine tomato sauce is used to mimic the red color of the blood.
12. POTATO TORTELLI – Tuscan ravioli with a potato filling
Tortelli is a classic squared Tuscan pasta similar to Ravioli. Shape of Tortelli can vary from square to semi-circular and fully rounded though.
Potato Tortelli refers to Tortelli pasta filled with mashed potatoes, parsley, garlic, and cheese. This pasta dish originally comes from the town Mugello in Tuscany. The authentic Mugello Potato Tortelli refers to potato stuffed fresh pasta traditionally served in a butter and sage sauce or meat sauce.
Along with Mugello Tortelli some of the most popular Tortelli pasta comes from Florence and Arezzo,
Sometimes the pasta is filled with chestnuts instead of potato.
13. CINGHIALE CON POLENTA ALLA TOSCANA – Tuscan wild boar stew with boiled cornmeal
Cinghiale con Polenta Alla Toscana is an iconic stew from Tuscany.
The dish is made of marinated, dried, fried and cooked wild boar meat that is typically served with cornmeal.
Wild boar meat is first marinated in red wine and vinegar with vegetables (carrots, onions, celery) and aromatic herbs (rosemary. thyme, sage, bay leaves) and juniper berries for 24 hours. After a day in the marinade the wild boar meat is dried and fried in a pan, and finally cooked with tomato puree and the rest of marinade.
Cinghiale con Polenta Alla Toscana is traditionally served with polenta.
14. FAGIOLLI ALL'UCCELLETTO – Tuscan Cooked Beans Stew
Fgiolli all'uccelletto is a typical Tuscan dish made of cooked beans in thick tomato sauce with herbs.
The dish is particularly traditionally eaten in the Florence area. This is another iconic Tuscan dish found in every trattoria in Tuscany.
'Fagiolli all'uccelletto' translates as 'little bird beans'. A legend says that the name comes from the fact that the dish is prepared with the same herbs used for small birds 'uccelletti' .
Fagiolli all'uccelletto is a vegetarian dish but 'la salsiccia con i fagioli all'uccelletto' comes with sausages.
15. PECORINO TOSCANO – Tuscan sheep cheese
I can't talk about food in Tuscany and not to mention Tuscan cheese.
Pecorino Toscana is a famous sheep cheese from Tuscany.
It comes in a cylindrical shape with distinctive yellow rid. The cheese has an intense but pleasant distinctive scent and sweet taste.
While semi-hard Pecorino Toscano cheese is best known, there is also soft Pecorino Toscano. Semi-hard Pecorino Toscano is served grated on dishes like pasta dishes, and gnocchi dishes or for the filling of ravioli and tortellini. Sweet pecorino cheese goes well sweet fig jam and honey, but also compliments well nuts and pairs well strong red wines, more notably Chianti Classico.
Soft Pecorino Toscano is a classic table cheese that goes well with white wines.
16. FINOCCHIONA SALAMI
Finocchiona is Tuscan pork and fennel based salami.
Tuscan Finocchiona salami is made from pigs' trimmings leftover from its stomach and shoulder with salt, pepper, garlic, fennel and red wine that gives to Finocchiona special flavor.
17. SOPRESSATA TOSCANA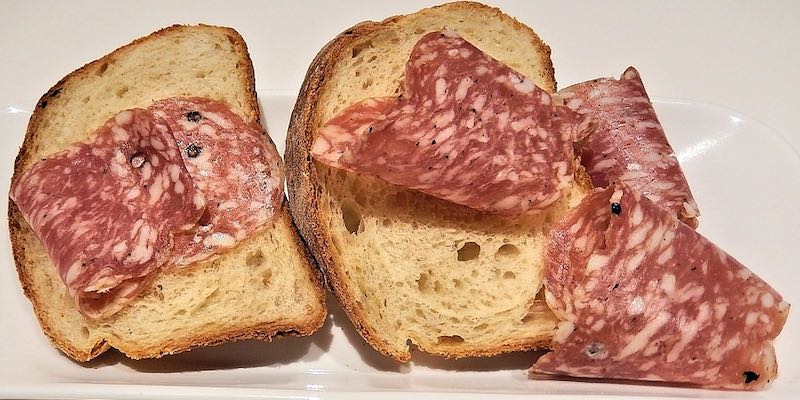 Tuscan Sopressata is a type of uncured Tuscan salami made with the leftovers of the pig, such as neck, head, cheeks, neck, tongue, and with a mix of spices: pepper, garlic, coriander, cinnamon, ginger, cloves, nutmeg, mace flower, and even orange peel and dried fruit.
Sopressata is made across Tuscany, but best known Sopressata salami come from Lucca, Arezzo, and Siena. It s popularly known as 'poor sausage' since it was a peasant sausage made from the pig leftovers.
Sopressata sausage is a typical appetizer in Tuscany, but also a filling for sandwiches.
18. TUSCAN SALAMI
Tuscan salami is cured pork sausages with large grains of lard and prepared with a mix of spices, garlic, and black pepper.
Traditional Tuscan Salami is dark red in color and very aromatic in flavor. Salami are typical appetizers in Tuscany but also used as fillings for sandwiches.
19. LARDO DI COLONNATA SALAMI – Salumi from Colonnata
Lardo is Tuscan salumi made from cured pork fatback, herbs, and spices.
Please bear in mind that Italian lardo doesn't mean lard in English! Lardo salami in Tuscany is not made with lard!
The most popular lardo is Lardo di Collonnata from the hamlet of Colonatta, which is a part of the city of Carrera.
Tiny sliced Lardo salami is a typical Tuscan appetizer (antipasto).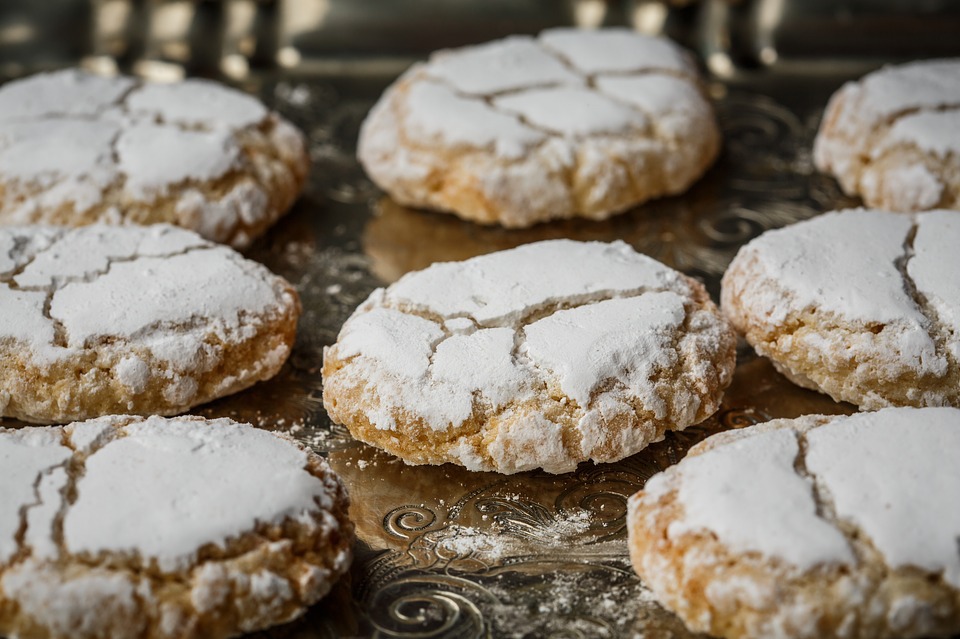 Tuscan Ricciarelli cookies are popular Italian almond cookies, somewhat similar to French macarons.
Ricciarelli cookies originate in the city of Siena in Tuscany. The cookies are made from egg white, sugar, honey, and grounded almonds. Typically they are sprinkled with powdered sugar.
Ricciarelli biscuits are traditionally served with sweet dessert wine Vin Santo at Christmas time.
21. TAGLIOLINI AL TARTUFFO – Tagliolini pasta with white truffles
Highly prized white truffles can be found near the town of San Miniato near Pisa and near the town of Montaione in Tuscany.
Because of the strong and distinctive aroma, truffles are used in simple pasta dishes, most commonly Taglilioni pasta. Tagliolini is a long pasta similar to tagliatelle.
White truffles harvesting season is in autumn when truffle festivals take place to. White Truffles Festival in Montaione called Tarufesta happens on the last weekend in October, while the white truffle festival in San Miniato called La Sagra del Tartufo Bianco happens at the end of November.
If you are traveling to Tuscany in autumn, you should consider attending some of these unique festivals and sampling Tagliolini pasta with fresh white truffles.
22. CASTAGNACCIO – Tuscan chestnut cake
Castagnaccio is Tuscan chesnut cake and a classic Tuscan dessert.
Tuscan Castagnaccio cake is made with chestnut flour (most notably DOP flour, Farina di Neccio della Garfagnana), pine nuts, walnuts, raisins, and rosemary.
While it is called cake, in fact castagnaccio is more crepe than cake. And although you can find castagnaccio in different Italian regions like Veneto, Emiglia Romana, Liguria, or Pidmenton, castagnaccio is believed to originate in Tuscany.
Tuscan Castagnaccio is traditionally served with chestnut honey and sweet vinsanto.
23. CANTUCCINI (BISCOTTI) – Tuscan almond biscuits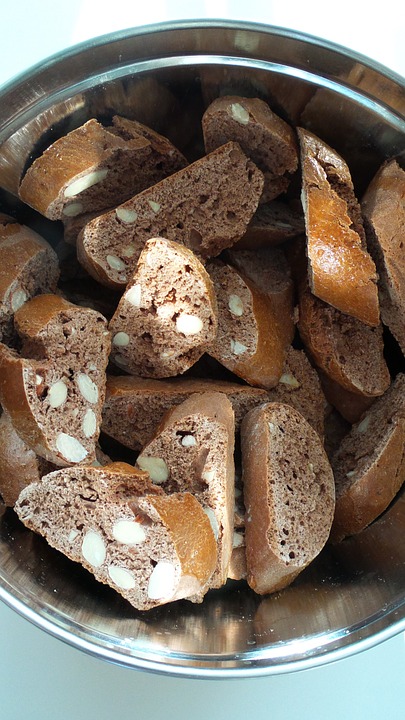 Biscotti biscuits or cantuccini are traditional Italian almond biscuits originating in Tuscany, or more specifically in the city of Prato in Tuscany.
Authentic Prato cantuccini are called biscotti di Prato. Oblong-shaped crispy Biscotti cookies are traditionally consumed with a sweet dessert wine – vin santo.
If you are taking a trip to Tuscany, you should try Tuscany biscotti or biscotti di Prato.
24. VIN SANTO – Tuscan sweet dessert wine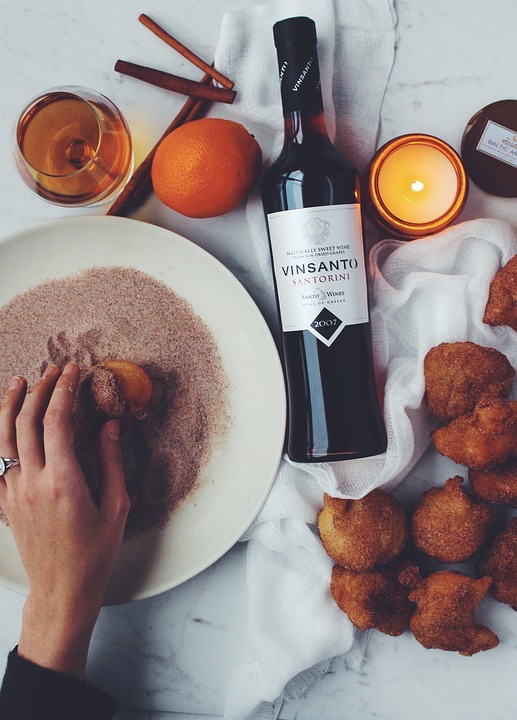 Vinsanto is a sweet Tuscan dessert wine.
Vinsanto is a classic Italian sweet dessert wine. Today Vin Santo is produced throughout Italy, but it originates in Tuscany. As a dessert wine, Vin Santo is traditionally served with biscuits.
If you are traveling to Tuscany and you have a sweet tooth, you should put Vin Santo and biscotti on your bucket list of traditional foods in Italy.
25. CHIANTI WINE – Top Tuscan red wine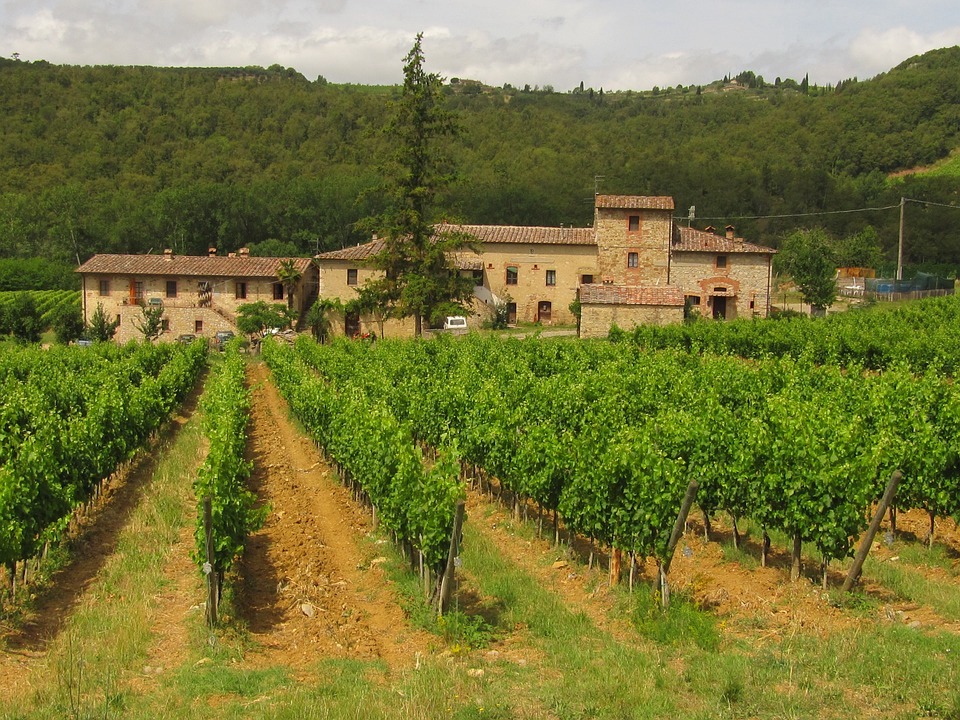 Chianti wine is top Tuscan red wine.
Chianti wine is probably the most famous Italian red wine.
This first-class Italian wine is produced in the Chianti region between Florence and Siena in central Tuscany. The best known among Chianti wines is ruby-red Chianti Classico. Symbol of Chianti wine is a black rooster seal that adorns every bottle of Chianti wine. This first-class dry wine is a great fit for all tomato-based dishes (pasta dishes, meatballs …).
No trip to Tuscany is complete without sampling authentic Chianti wine.
26. VERNACCIA DI SAN GIMIGNANO – white Tuscan wine
Vernaccia di San Gimignano is a white Tuscan wine from the town of San Gimignano.
The wine is made from Vernaccia grape. Vernaccia di San Gimignano is a dry wine of crisp, citrusy and slightly bitter on the finish in flavor.
Vernaccia di San Gimignano is well-known as one of the finest Italian wines.
27. NEGRONI – famous Italian cocktail from Florence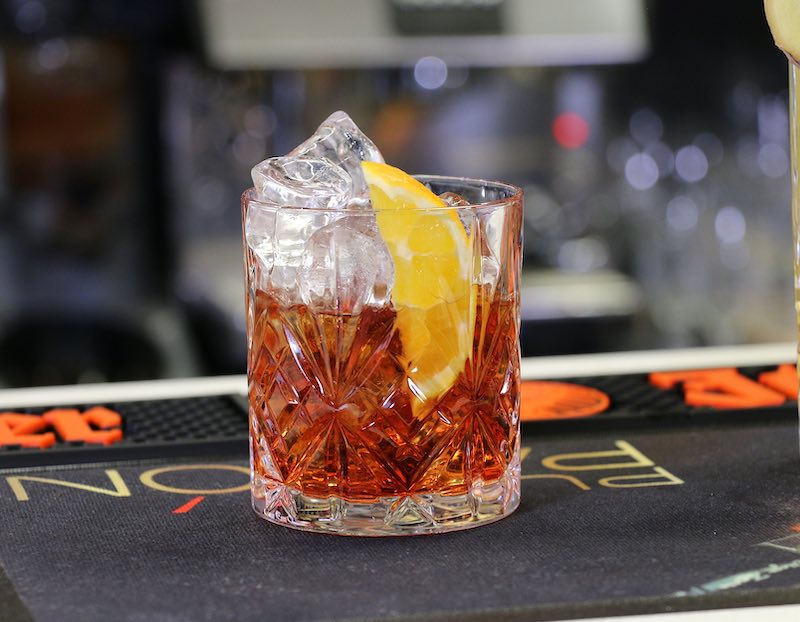 Negroni is a world-known Italian cocktail originating from Florence in Tuscany.
Negroni is one of the most famous Italian cocktails and one of the top drinks from Italy. The main ingredients are gin, Campari, vermouth, and a fresh orange peel. Negroni was named after Count Camillo Negroni who asked to put gin instead of soda water into his glass of Americano cocktail.
A legend says the event took place in Caffe Casoni in Florence in 1919. Therefore, Florence in Tuscany is accredited as the birthplace of the Negroni cocktail.
28. EXTRA VIRGIN OLIVE OIL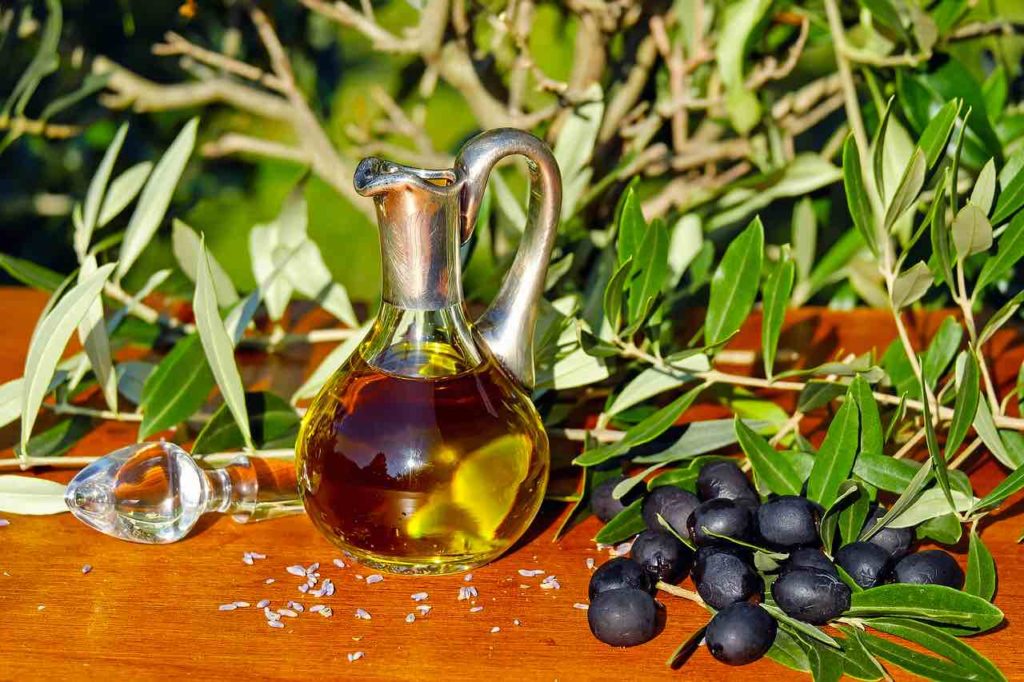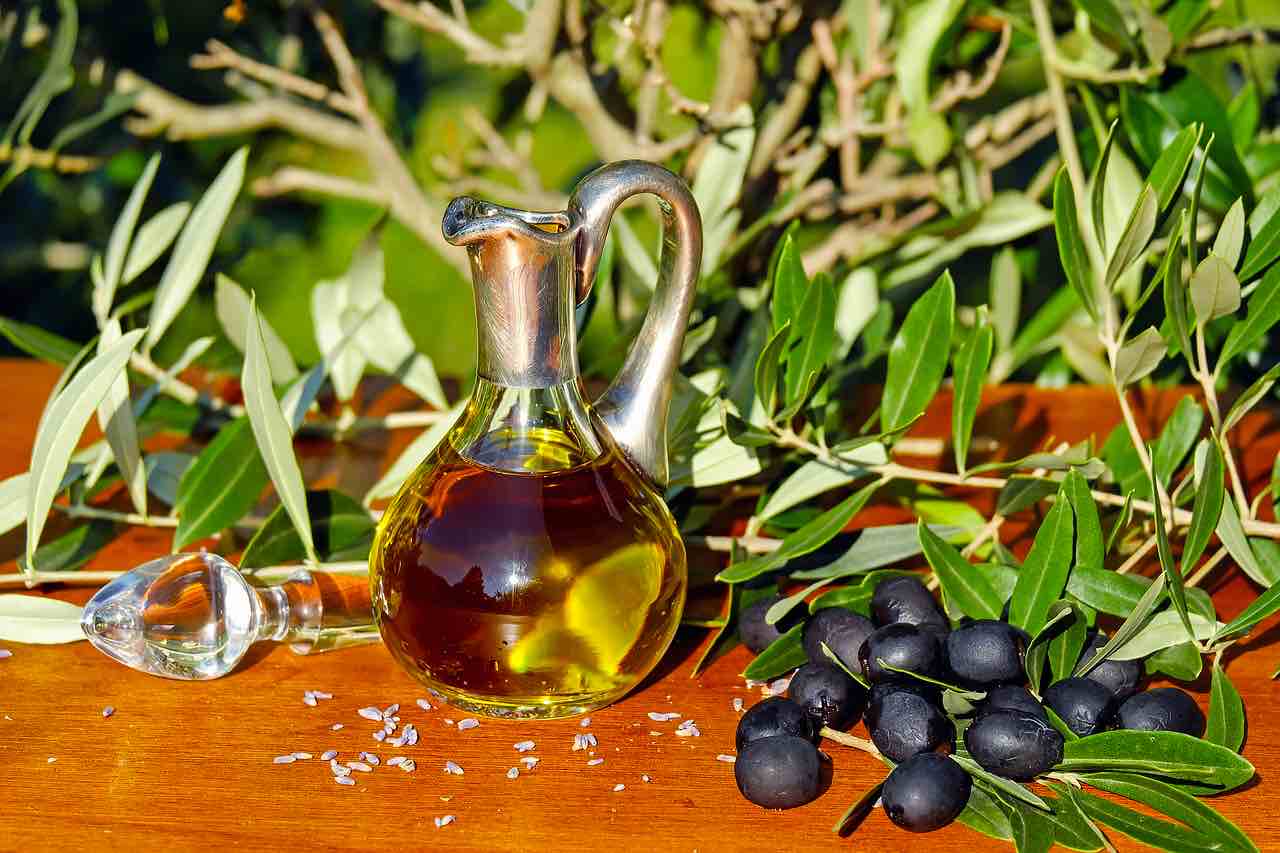 I am ending this list of food in Tuscany with one of the most world-renowned products from Italy – Tuscany's olive oil.
Italy is the second producer of olive oil in the World, following only Spain by the production.
Although olive oil in Italy is produced from the north to the south, from Lombardy to Calabria, Sicily, and Sardinia, some of the best Italian olive oils come from the region of Tuscany.
Authentic Tuscan olive oils are peppery in flavor. Tuscany's olive oils are regularly ranked as some of the best olive oils in the world.