The ultimate list of the best national dishes in the world and the most famous foods around the world
60 FAMOUS FOODS AROUND THE WORLD YOU NEED TO TRY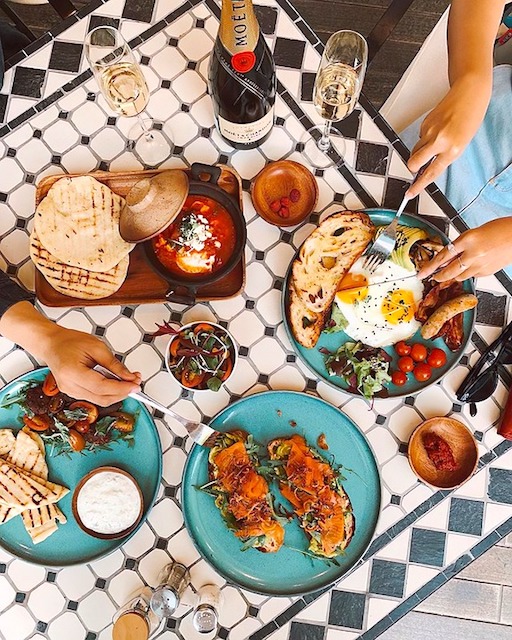 Food from around the world that is worth traveling for!
What is the best cuisine in the world? What is the best food in the world?
It's hard to say what the best cuisine in the world is, or what the countries with the best cuisines in the world are. The list of countries with the best food in the world could be entirely biased.
There are different cuisines around the world with distinctive flavors and styles of preparing food. Each country and each cuisine comes with some unique foods and unique cooking methods and styles that meet various tastes and needs.
But we can definitely talk about the most popular food in the world. And while it is hard to say what is the best food ever or what the best dish in the world is, it is possible to talk about cultural food, popular national dishes, the most liked food, and the most famous foods in the world.
RELATED:
Here's a list of 57 most famous foods from around the world, national dishes of the world, traditional food around the globe, and arguably the most delicious food ever and best foods of the world!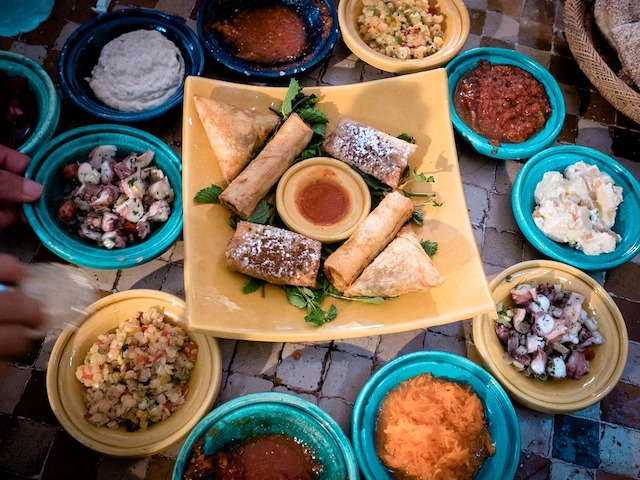 THIS POST MAY CONTAIN COMPENSATED LINKS. PLEASE READ MY DISCLAIMER FOR MORE INFO.
BEST FOODS IN THE WORLD: TOP 57 TRADITIONAL FOODS AROUND THE WORLD
Let's see what are the most famous foods from different countries and signature dishes around the world:
1. ITALIAN PIZZA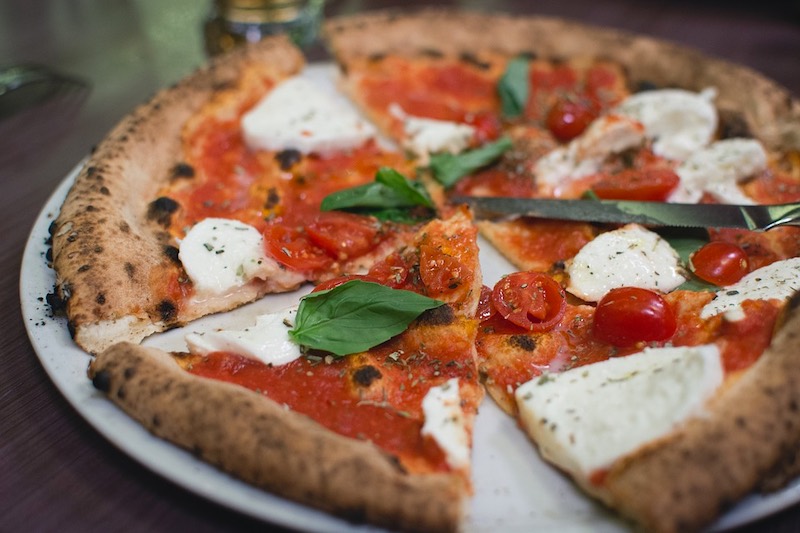 Italian pizza is probably the most famous food in the World.
Pizza has crossed the borders of Italy a long time ago and nowadays it is consumed all over the world. Pizza is the topmost liked food in the world.
Today you can find pizza in almost every corner of the world. This traditional Italian dish is made of flattened round dough topped with cheese, and tomatoes, and additionally garnished with basil, olives, and oregano.
Depending on the toppings, among the most famous types of traditional Italian pizza are Margherita, Napolitana, Marinara, Quattro Stagioni, Quattro Formaggi, and Siciliana.
Recommended read: Mastering Pizza: The Art and Practice of Handmade Pizza, Focaccia, and Calzone [A Cookbook]
2. TURKISH DONER KEBAB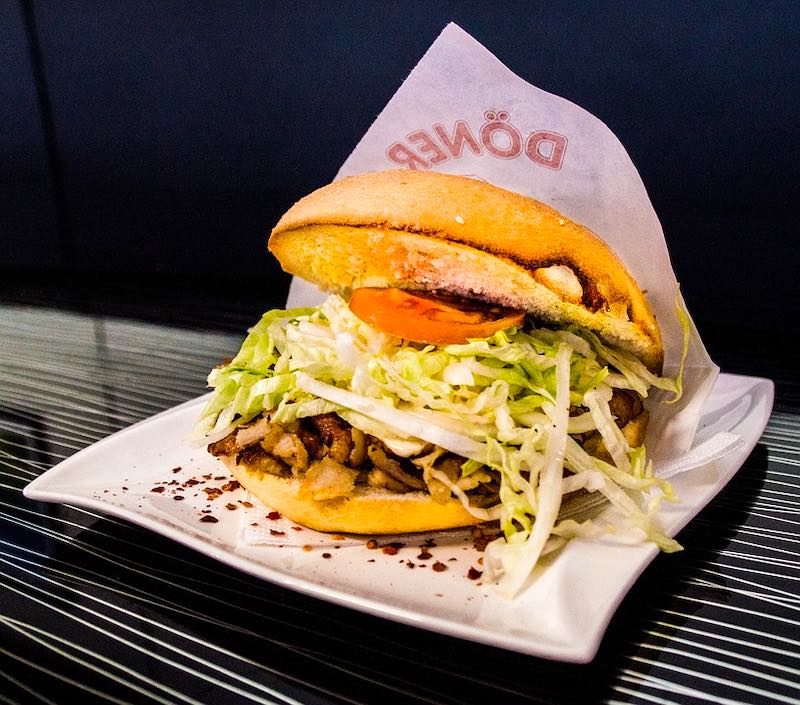 Italian pizza might be the most famous food in the world ever.
But the second close world-famous dish is Turkish kebab. Turkish doner kebab is a famous street food that can be found today pretty much everywhere in the world.
Kebab is one of the most eaten food in the world. Authentic Doner Kebab is made of Turkish pide bread stuffed with marinated and vertically grilled mutton or lamb (sometimes beef or chicken) meat, lettuce, slices of tomatoes, and onions. Turkish kebab is with no doubt one of the top favorite foods around the world!
Recommended read: Istanbul and Beyond: Exploring the Diverse Cuisines of Turkey
3. AMERICAN HAMBURGER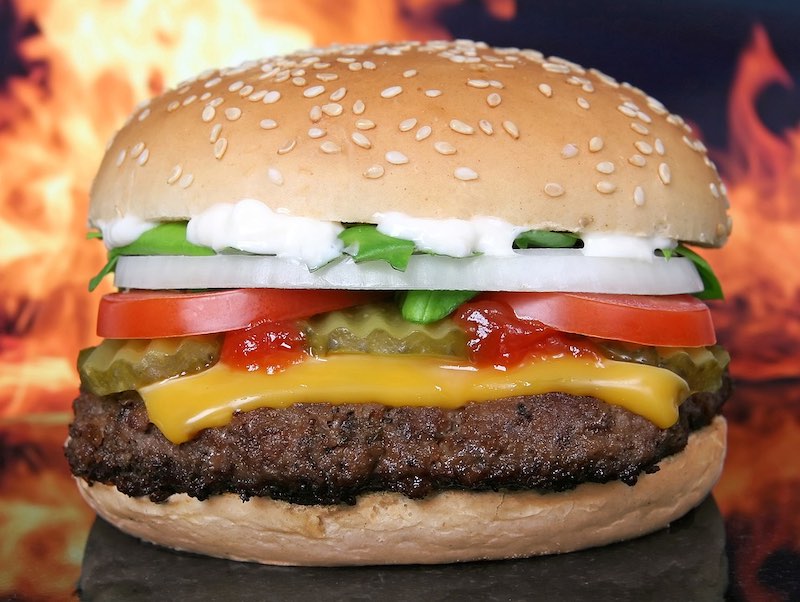 Probably the most famous sandwich in the world is the American hamburger.
Flattened, and typically round minced meat is placed between slices of bun or roll bread and accompanied by tomatoes, cucumbers, cheese, onions, pickles, lettuce, and bacon. Usually, some mayonnaise, ketchup, mustard, or some sauce is added.
While there are some theories about hamburgers originating from Germany, these popular sandwiches have been widely consumed in the USA and this is where they reached their world fame. Hamburger is considered to be the national dish of the USA, and undeniably it is one of the most popular foods in the world.
Recommended read: Great American Burger Book: How to Make Authentic Regional Hamburgers at Home
4. MIDDLE EASTERN FALAFEL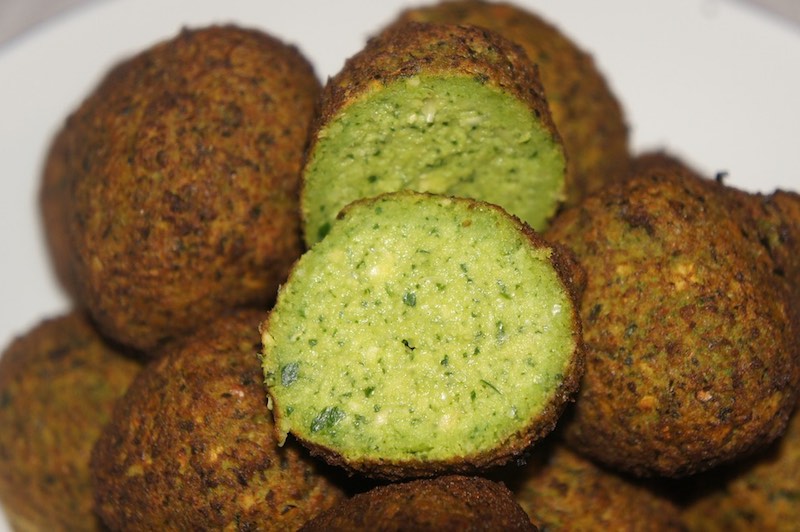 Italian pizza, Turkish kebab, American hamburger, and Middle eastern falafel are the most eaten food in the world.
Traditional Middle Eastern falafel balls are made of deeply fried chickpeas, fava beans, or both.
Falafel is often wrapped in a pita sandwich or eaten alone as a part of the meze (the Middle Eastern palette of appetizers).
Falafel is believed to originate from Egypt. Falafel is called 'tameya' in Egypt. However, falafel is traditional Egyptian food, traditional Lebanese food, traditional Jordanian food, traditional Palestinian food, and traditional Israeli food.
Today falafel is a popular street food not only in the Middle East but around the globe.
Recommended read: Complete Middle East Cookbook
4. GREEK GYRO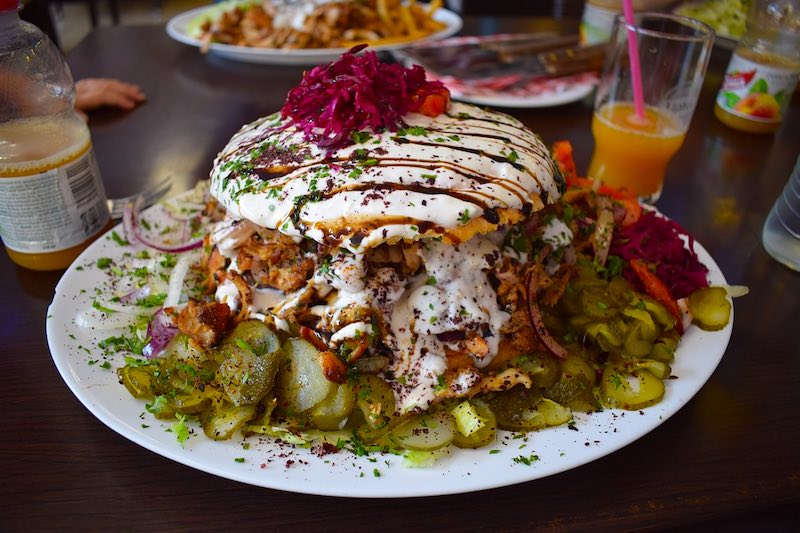 Gyro is a national food of Greece. Gyro or γύρο means 'turn'.
Greek Gyro is similar to Turkish döner kebab or Middle Eastern shawarma. But while kebab and shawarma are made of beef or lamb, typical Greek Gyro is made of pork and chicken.
Authentic Greek Gyro definitely deserves a place among the top 10 delicious food in the world.
Recommended read: Ikaria: Lessons on Food, Life, and Longevity from the Greek Island Where People Forget to Die: A Cookbook
Greece is a great travel destination for foodies! If traveling to Greece, check out these incredible Greek food tours in Greece!
5. MIDDLE EASTERN HUMMUS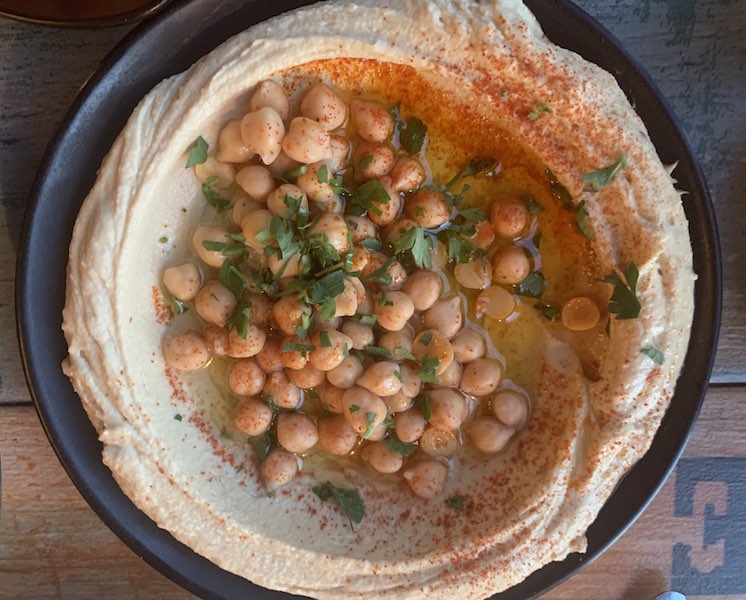 This famous Middle Eastern spread of mashed chickpeas and fava beans is a world-renewed dish.
Mashed beans are blended with tahini, lemon juice, olive oil, salt, and garlic. And there it is, hummus is made!
Hummus is one of the most popular spreads in the World ever. Unnecessary to say, hummus is regularly featured on numerous culinary lists of the 10 best food in the world overall. Hummus spread is one of the best-liked around the world food! Thus, talking about traditional food around the world inevitably means mentioning divine Middle Eastern hummus.
Recommended read: The Complete Hummus Cookbook: Over 100 Recipes – Vegan-Friendly
6. RUSSIAN CAVIAR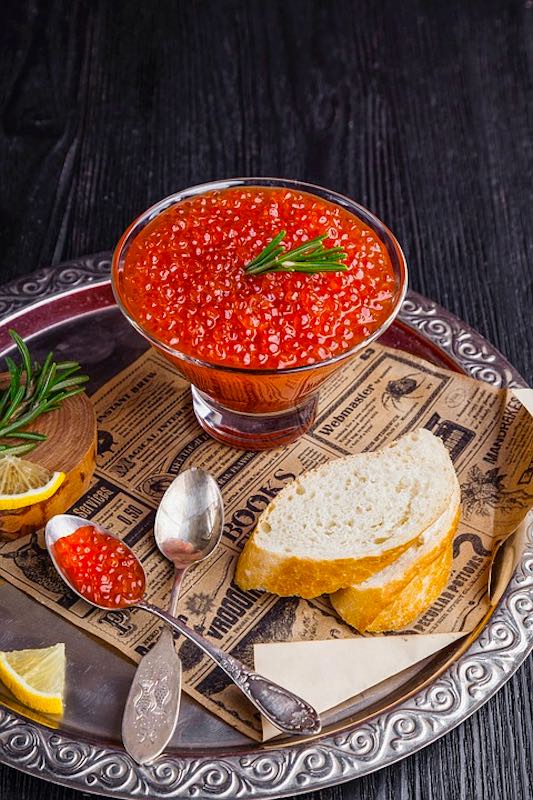 Traditional Russian caviar is fresh or pasteurized salt-cured roe from wild sturgeon in the Caspian Sea and the Black Sea.
Caviar is one of the most famous delicacies in the world and the most expensive delicacies in the world too. There are two types of caviar: black and red.
Black caviar is more appreciated than red and thus it is more expensive too. Black caviar is nicknamed the Black Gold. First-class caviar comes with a price tag of more than 30.000 USD per kilo.
Russian caviar definitely doesn't belong to the list of common foods. Instead, it deserves a special place among the best food around the world.
Recommended read: Caviar: A True Delicacy – 25 recipes to enjoy and impress
7. CHINESE PEKING DUCK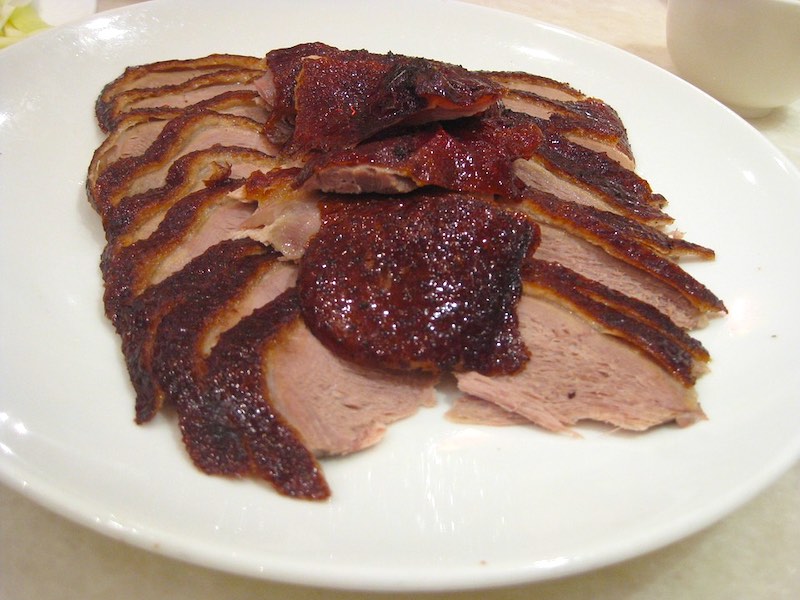 Chinese cuisine is one of the most diverse cuisines in the world.
But Peking duck stands out among all Chinese food. Cantonese Peking duck is the national dish of China. Roasted duck marinated and flavored with soy sauce, traditional Chinese five-spice powder, and maltose syrup is the most famous Chinese dish and one of the most famous foods made of duck in the world.
Recommended read: Exploring China: A Culinary Adventure: 100 Recipes from Our Journey
8. CHINESE DIM SUM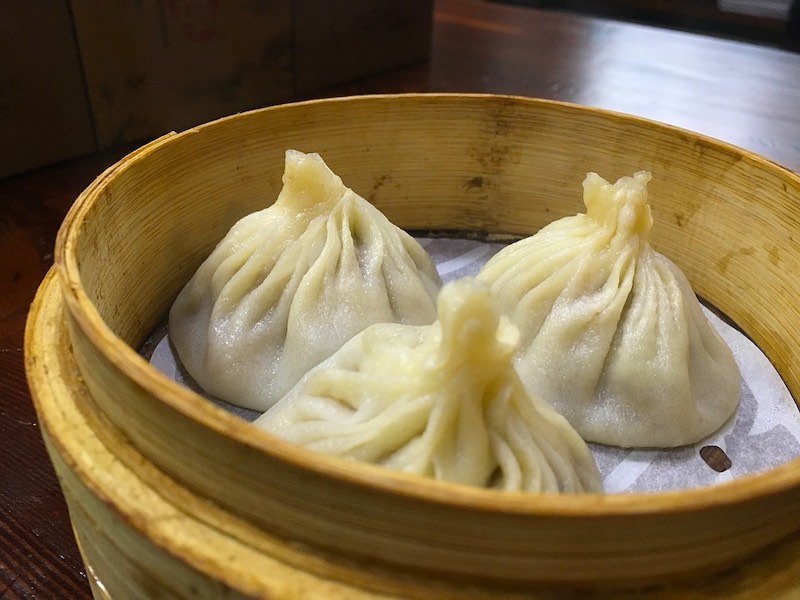 Cantonese Dim Sum refers to a large range of tiny bite-sized dishes prepared in small steamer baskets.
Dim Sum literally means 'touch your heart' and this traditional Cantonese dish has touched the hearts of not only Chinese people but the hearts of people outside China too. Dim Sum is one of the most famous foods around the world and one of the best dishes in the world.
Traditionally dim sum is served in Chinese teahouses while socializing with friends and families over tea and tiny dim dum dishes such as dim sum pork dumplings, dim sum shrimp dumplings, dim sum steamed soup dumplings, dim sum rice noodle rolls, dim sum sticky rice chicken lotus leaf wrap, dim sum deep-fried durian puffs and many more dim sum delicacies.
Recommended read: Dim Sum: Dumplings, parcels and other delectable Chinese snacks in 25 authentic recipes
9. ITALIAN SPAGHETTI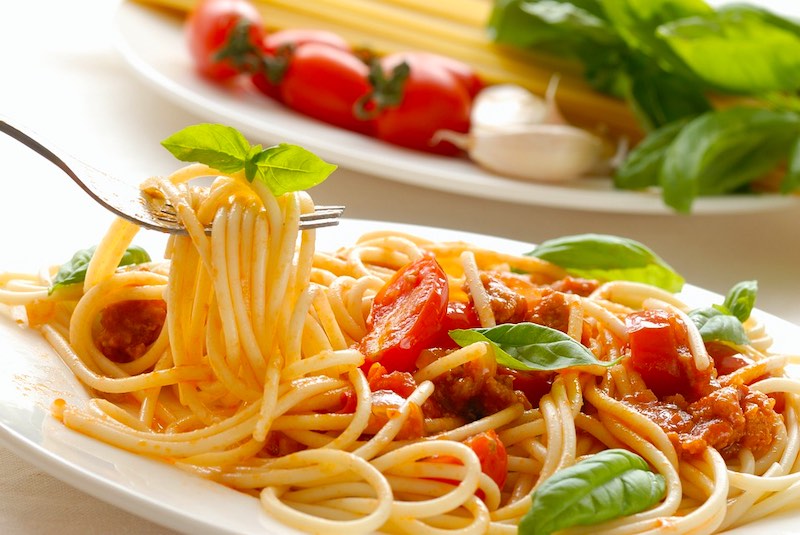 Italian cuisine proudly comes with a wide range of the best food dishes in the world.
Italian pasta is one of the most famous foods in the world. And spaghetti is one of the most famous types of pasta.
This long and thin pasta is traditionally prepared with only garlic and olive oil (Spagetthi Agilo Olio), with tomato sauce and basil (Spaghetti Pomodoro e Basilico), with minced meat sauce (Spaghetti Bolognese), or with bacon (Spaghetti Carbonara) and usually topped with grated hard Italian cheese like famous Parmigiano Reggiano or equally popular Grana Padano. Yet preparation of spaghetti differs a lot from one Italian region to another region.
Italian spaghetti pasta is often voted as one of the best dishes in the world.
Recommended read: Homemade Pasta Made Simple: A Pasta Cookbook with Easy Recipes & Lessons to Make Fresh Pasta Any Night
10. ITALIAN LASAGNE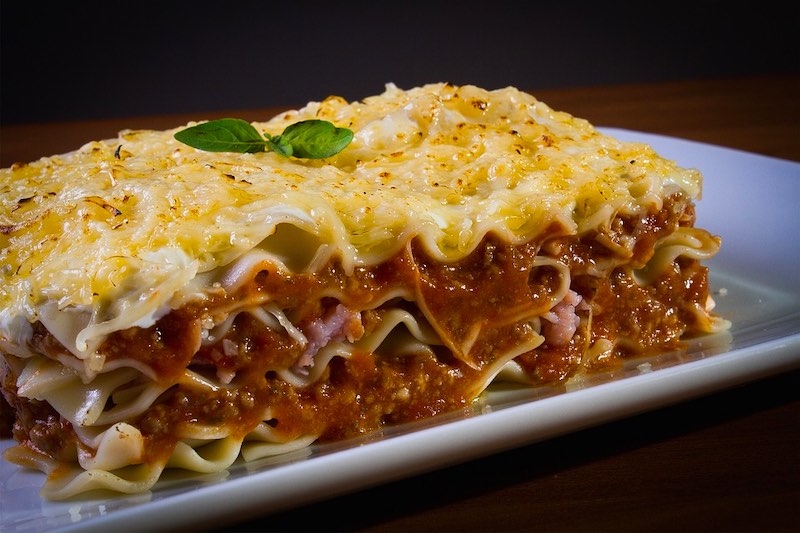 Italian cuisine covers a huge range of very best Mediterranean dishes.
And lasagne is a Mediterranean dish from Italy everyone needs to try. This famous Italian dish made of wide and flat pasta is another famous food from Italy that has achieved worldwide recognition.
Classic Italian lasagne are made of layers of flat pasta with a sauce made of meat, vegetables, and cheese. Lasagne are some of the yummy foods worth booking a ticket to Italy.
Recommended read: Lasagna: A Baked Pasta Cookbook
11. ITALIAN BOLOGNESE SAUCE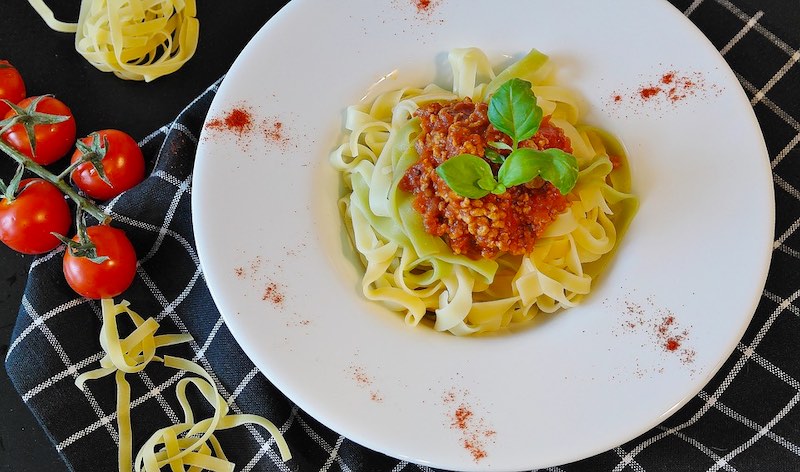 Pizza and all different kinds of pasta are world-famous foods from Italy, but Ragu Alla Bolognese is considered to be the national dish of Italy.
Although there is no general agreement among Italians about what dish is the national dish, they agree that the Bolognese sauce is used widely in Italian cuisine in almost all dishes (spaghetti, tagliatelle, pappardelle, fettuccine…).
Authentic Bolognese sauce is made from tomatoes, minced beef, garlic, wine, and herbs.
Recommended read: The Best Pasta Sauces: Favorite Regional Italian Recipes: A Cookbook
Italy is one of the best food travel destinations. When in Italy, consider taking one of these amazing Italian food tours in Italy!
12. MIDDLE EASTERN BABA GANOUSH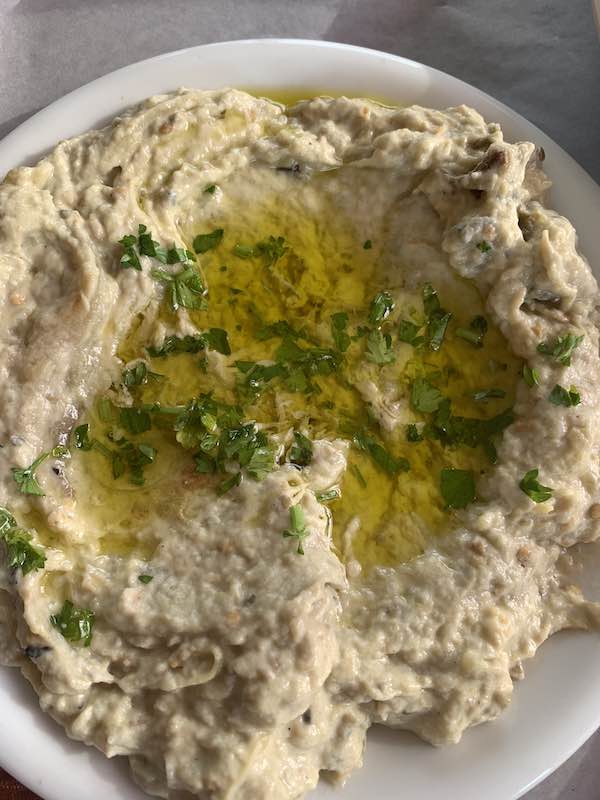 Baba Ganoush is a famous Middle Eastern dip made of fried and smashed eggplants with chopped tomato, pomegranate molasses, herbs (like mint and parsley), garlic, cumin, olive oil, lemon juice, and some salt and pepper.
Contrary to popular belief, authentic Middle Eastern Baba Ganoush is not prepared with tahini!
Baba Ganoush is one of the most famous spreads in the world. In some English-speaking countries, this yummy spread is popularly called eggplant caviar or aubergine caviar.
If you are a vegetarian, you will most definitely agree that baba ganoush goes on the list of the most amazing foods in the world.
Undeniably, the Baba ganoush spread belongs to the most delicious food in the world. But remember, authentic Baba Ganoush is without tahini.
Recommended read: Our Syria: Recipes from Home
13. MIDDLE EASTERN MUTABBAL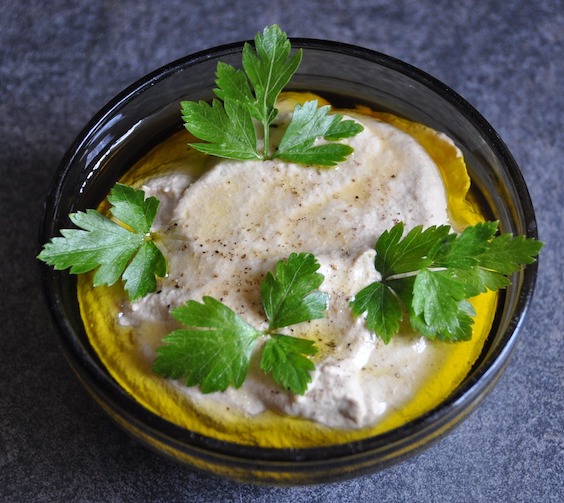 Mutabbal is another famous Middle Eastern spread made with eggplant.
Classic Mutabbal is prepared with eggplant, garlic, lemon juice, olive oil, and tahini. Therefore, Baba Ganoush and Mutabbal are often mistaken.
While Mutabbal is prepared with tahini, Baba Ganoush is not. So, if you want creamy tahini eggplant dip, then you should look for Mutabbal (not Baba Ganoush)!
14. INDIAN BIRYANI RICE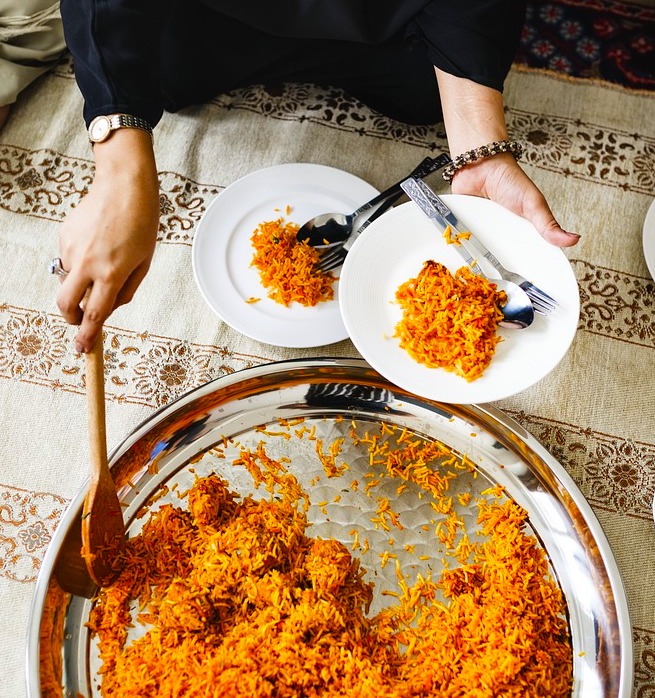 Indian cuisine is one of the most diverse cuisines in the World.
And Indian food is unarguably one of the most delicious foods in the world. It's hard to pick only a few Indian dishes to represent the best of India.
But, Biryani rice comes with many popular Indian dishes. Indian Biryani refers to various mixed rice dishes consisting of Biryani rice with a plethora of Indian spices (cardamom, coriander, bay leaves, cinnamon, nut mag, mint, ginger..) and various types of meats (chicken, lamb, goat, beef, fish, prawns..), or vegetables or eggs. Thus, there is meat Biryani, Vegetable Biryani, and Navratan Biryani (with cashews, apples, and pineapples).
Recommended read: Indian Instant Pot® Cookbook: Traditional Indian Dishes Made Easy and Fast
15. INDIAN THALI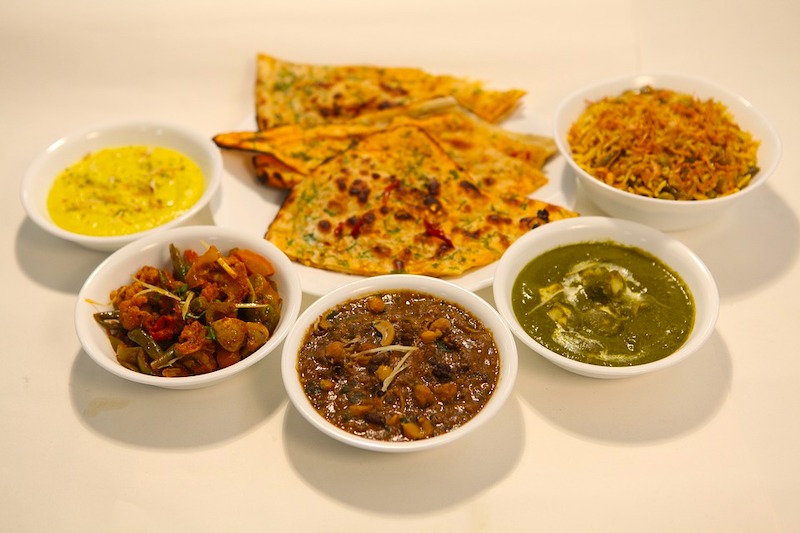 Indian Thali refers to various small sizes dishes served typically on a round platter.
Thali literally means 'plate'. Every Indian region has its own Thali. Therefore, there are 16 different Thalis across India, and each comes with unique dishes.
When in India or in an Indian restaurant wherever in the world, Indian Thali is a must-have.
Recommended read: Vegan Richa's Indian Kitchen: Traditional and Creative Recipes for the Home Cook
16. INDIAN CHICKEN TANDOORI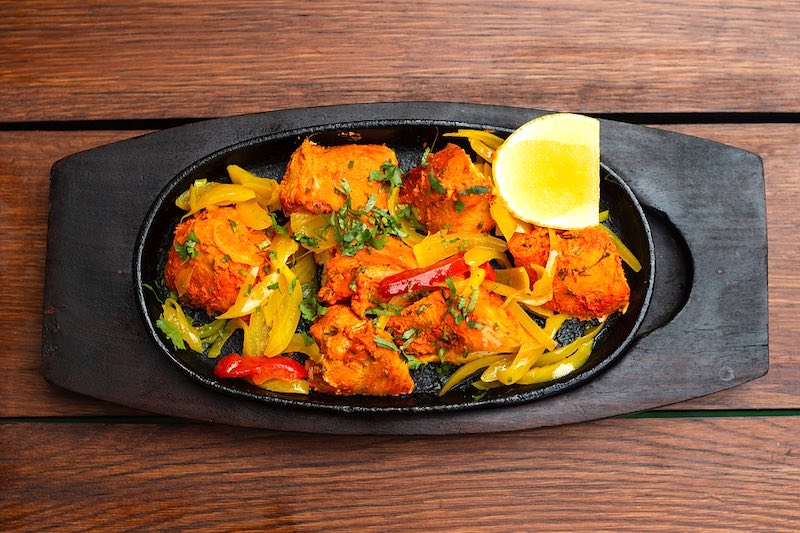 Chicken tandoori is a famous Indian dish.
Indian chicken tandoori is made of chicken marinated in yogurt and spices and then roasted on skewers in a cylindrical clay oven called 'tandoori'. Indian chicken tandoori is highly appreciated in the world and it is one most famous foods in the world overall.
Recommended read: Made in India: Recipes from an Indian Family Kitchen
Don't forget, India is one of the best countries for food travel! So, when in India check out these delicious Indian food tours in India!
17. SPANISH PAELLA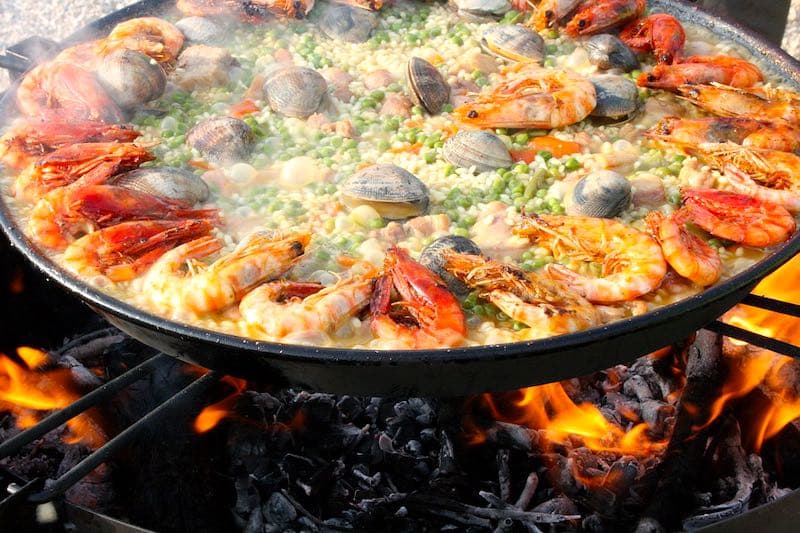 Spanish food is praised across the globe for its incredible tastiness.
Paella is the national dish of Spain and one of the most famous foods in the world. This widely worshiped Spanish rice dish originates from the Spanish region of Valencia.
Spaniards savor different types of paella: meat paella, seafood paella, vegetable paella, or mixed paella (meat, seafood, and vegetables). Paella de Marisco (the seafood paella) is the most famous type of paella in the World, but authentic Valencian paella is actually mixed meat paella (with the meat of rabbit, chicken, sausage, and snails). Spanish paella is one of those cultural dishes worth traveling to for.
Recommended read: Paella!: Spectacular Rice Dishes From Spain
Traveling to Spain? Check out these awesome culinary tours in Spain!
18. FRENCH ESCARGOTS DE BOURGOGNE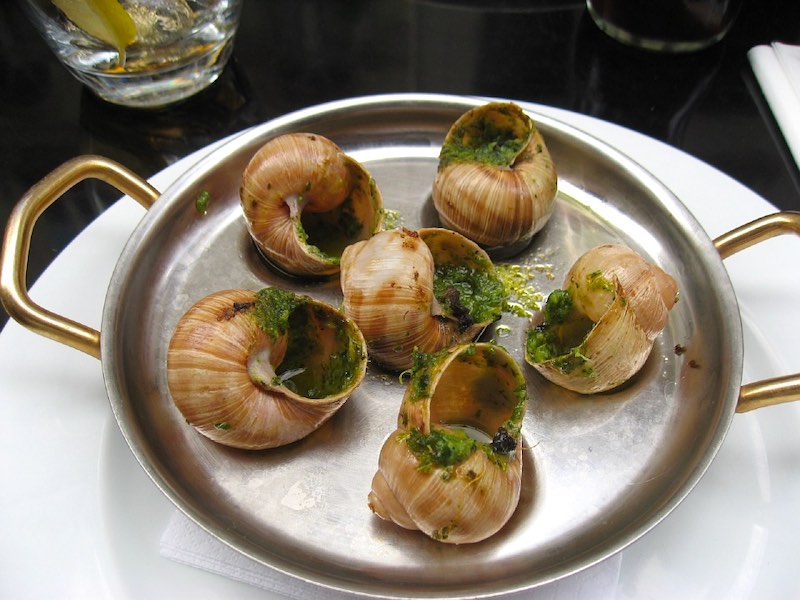 French cuisine is rich in delicacies.
Snails are regarded as a delicacy food in many countries. Burgundy snails are a top world-renewed French dish originally coming from the French region of Burgundy.
The snails are taken out from their shells, cooked with butter, garlic, parsley, and wine or chicken stock, and then put back into the shells. Burgundy snails are considered a top delicacy around the world. While there is a long tradition of eating snails in Western Europe (like caracoles snail tapas in Spain, caracóis in Portugal), the most famous snail dish in the world is escargots de Bourgogne.
Recommended read: Mastering the Art of French Cooking, Vol. 1
19. FRENCH GARLIC SOUP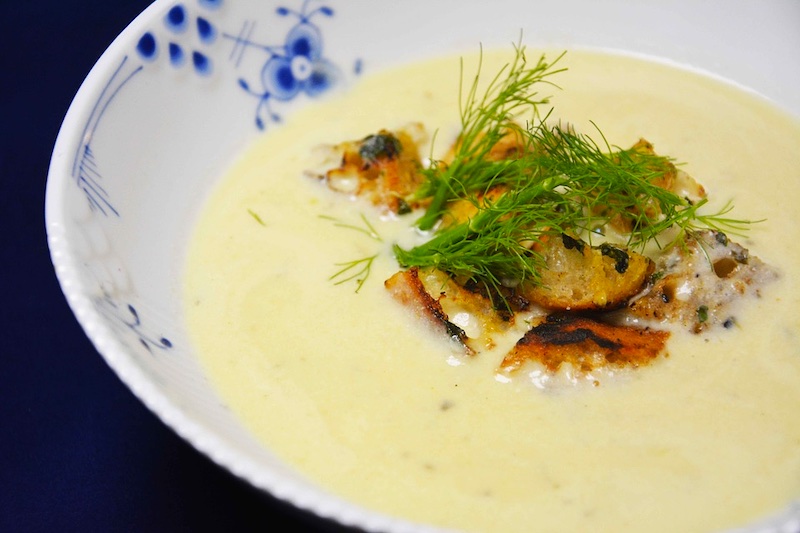 Traditional French creamy garlic soup originally comes from the region of Provence.
Authentic French garlic soup is made of smashed garlic, salt, pepper, cloves, thyme, sage, bay leaves, olive oil, egg yolks, shredded cheese, and toasted rounds of baguette. Pretty much similar is popular French onion soup. French garlic soup or French onion soup? You can't go wrong with any of these soups.
Recommended read: The French Cook: Soups and Stews
Traveling to France? Try out these amazing culinary tours in France!
20. MEXICAN MOLE
Mexican cuisine and Mexican food are highly beloved across the globe. A foodie Mexico vacation is a must-have in the lifetime for people who enjoy great food.
Mole is a national dish of Mexico. Mexican mole is a sauce made of a mix of chiles, nuts, seeds, vegetables, various spices, and sometimes unsweetened chocolate, tomatoes, and raisins.
Mexican mole is typically used as a base for a stew or it is consumed as a sauce poured over meat or poultry (turkey most commonly).
Recommended read: The Mexican Slow Cooker: Recipes for Mole, Enchiladas, Carnitas, Chile Verde Pork, and More Favorites [A Cookbook]
21. MEXICAN BURRITO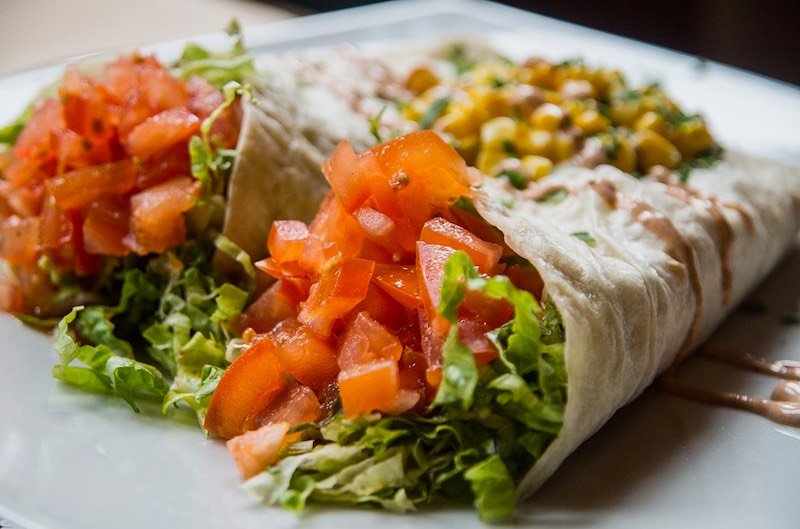 Mexican cuisine holds some of the world's best food and Mexican burrito proves it.
Burrito is a traditional Mexican food made of cylindrically wrapped tortilla filled with rice, various meats (chicken, beef, pork), cheese, vegetables (lettuce, tomatoes, beans, onions …), and condiments (salsa, guacamole..). Today Mexican burritos are popular street food worldwide.
22. MEXICAN TACOS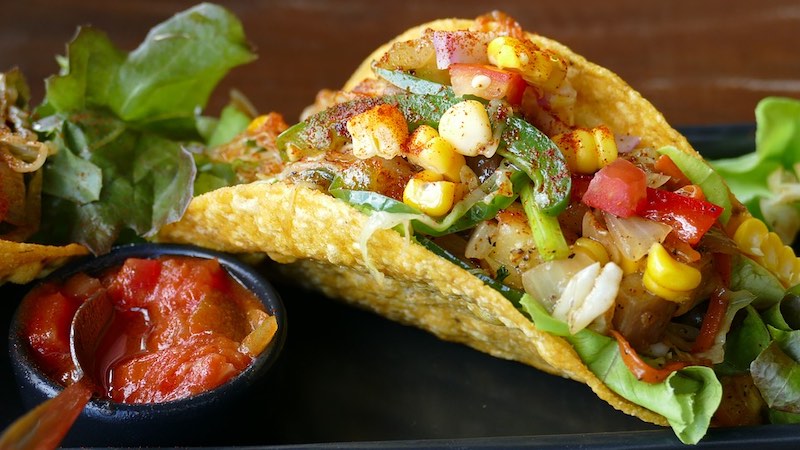 Taco is a traditional Mexican dish and common street food in Mexico.
While burritos are made of rolled tortillas, tacos are made of folded tortillas. Tacos are much smaller in size than burritos and they are common Mexican finger food.
Like burritos, Mexican tacos come filled with various ingredients (rice, cheese, meats, vegetables, condiments…).
Recommended read: Authentic Mexican 20th Anniversary Ed: Regional Cooking from the Heart of Mexico
Planning your vacation in Mexico? If so, check the best destinations in Mexico for foodies!
23. JAPANESE SUSHI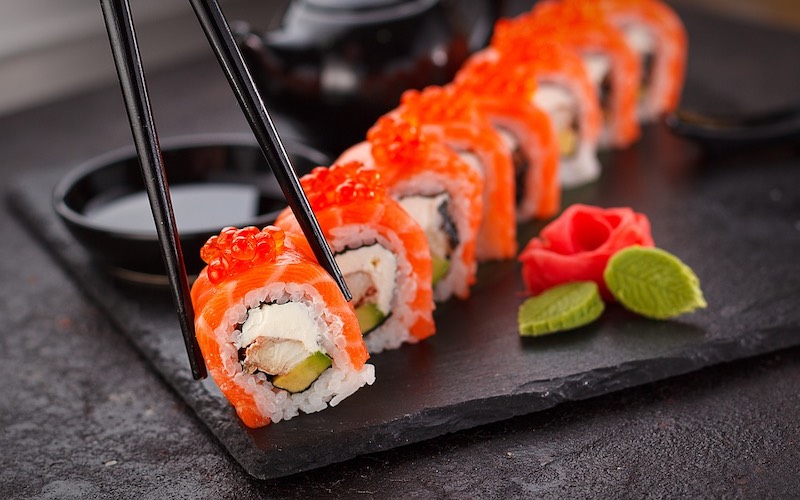 Japenese cuisine is one top world-renowned cuisines.
And, this famous Japanese dish is one of the top famous foods around the World. Even more Japanese sushi goes on the list of the best food of all time!
Sushi is a Japanese dish made of vinegared rice with seafood, vegetables, and sometimes tropical fruits. Vegetarian sushi is quite popular as well. While there are many types of sushi depending on ingredients, the main ingredient always remains rice.
Recommended read: Sushi: The Beginner's Guide
24. JAPANESE SASHIMI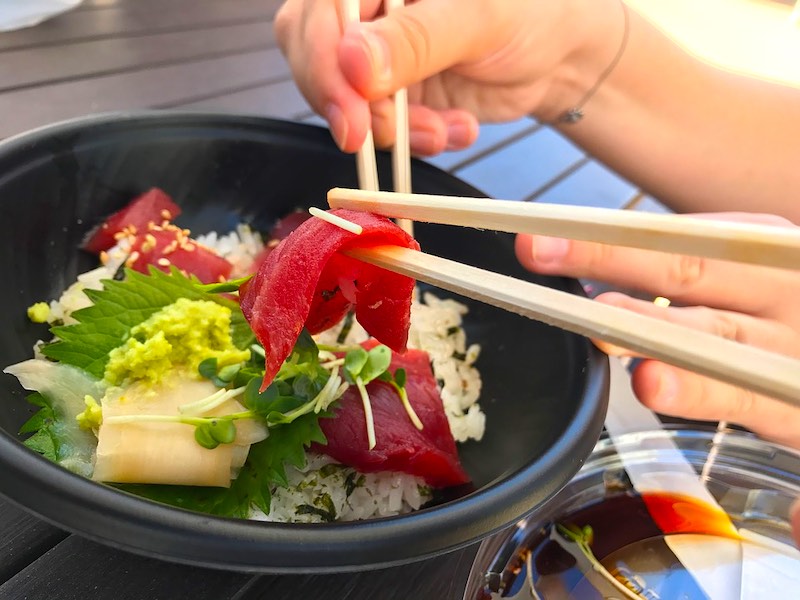 Sashimi is another famous traditional Japanese dish.
This simple Japanese dish consists of raw slices of meat or fish, typically eaten with soy sauce. Japanese sashimi is one of the most famous raw foods dishes in the world.
Recommended read: The Complete Guide to Sushi and Sashimi: Includes 625 step-by-step photographs
25. JAPANESE RAMEN SOUP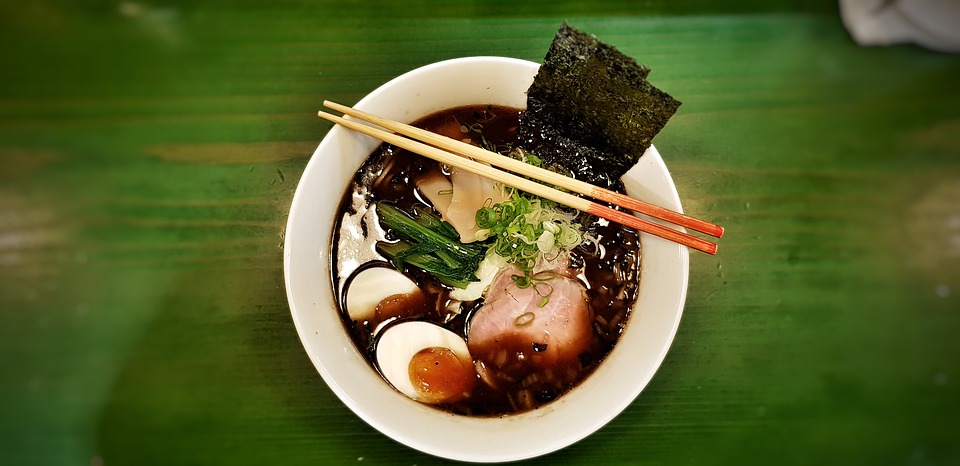 Ramen is a famous Japanese soup well-known worldwide.
This wheat noodle soup is made of meat broth, flavored with soya sauce or miso, and topped with slices of pork, seaweed, spring onions, and 'menma' (fermented bamboo shoots).
Recommended read: Mastering the Art of Japanese Home Cooking
Planning a trip to Japan and want to try authentic Japanese food in Japan? If so, check out at least one of these fantastic food tours in Japan!
26. VIETNAMESE PHO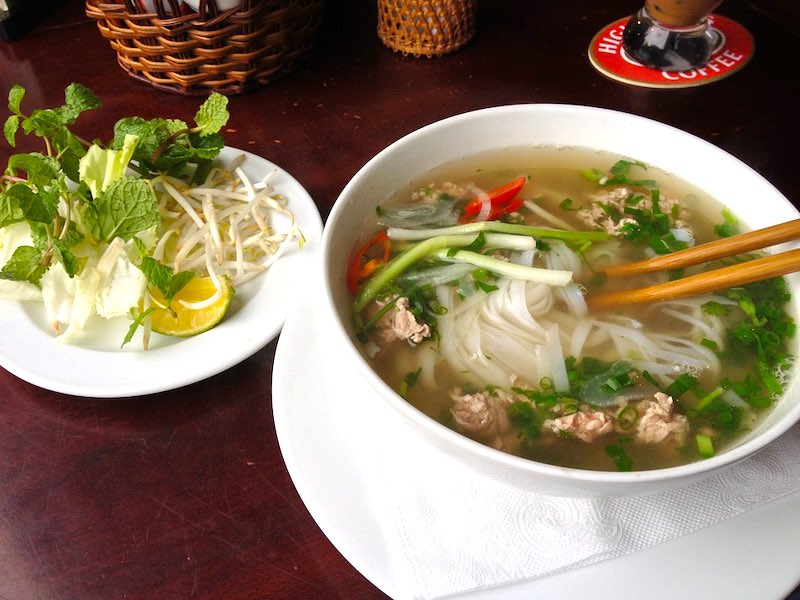 Pho is a famous Vietnamese soup.
Basically, it is a rice noodle soup with knucklebones (of beef, or chicken), roasted onions and ginger, and spices (cloves, cinnamon sticks, fennel, star anise, coriander pods, cardamom, chili peppers)
Recommended read: The Pho Cookbook: Easy to Adventurous Recipes for Vietnam's Favorite Soup and Noodles
27. VIETNAMESE SPRING ROLLS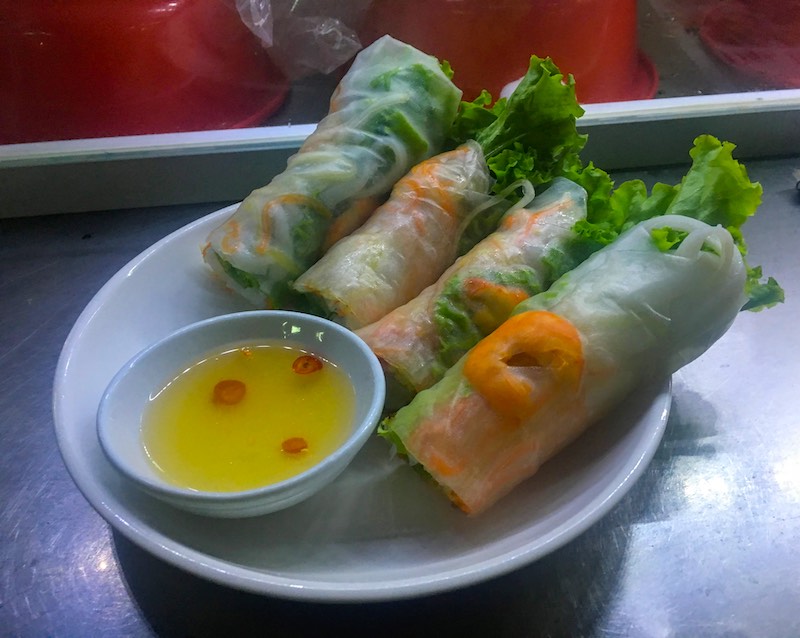 Gỏi cuốn or fresh spring rolls are traditional Vietnamese food made from vermicelli rice, pork, shrimps, vegetables, and all wrapped up in edible rice paper.
Fresh spring rolls are a popular appetizer in Vietnam and a must-try food in Vietnam. In addition, fresh Vietnamese spring rolls belong to the ultimate selection of the best foods ever!
Recommended read: Hometown Flavors: Vietnamese Recipes with Vibrant Origins
Nothing more delicious than authentic national food in the country! If you are traveling to Vietnam, please make yourself a favor and try out these awesome Vietnamese food tours in Vietnam!
28. PAD THAI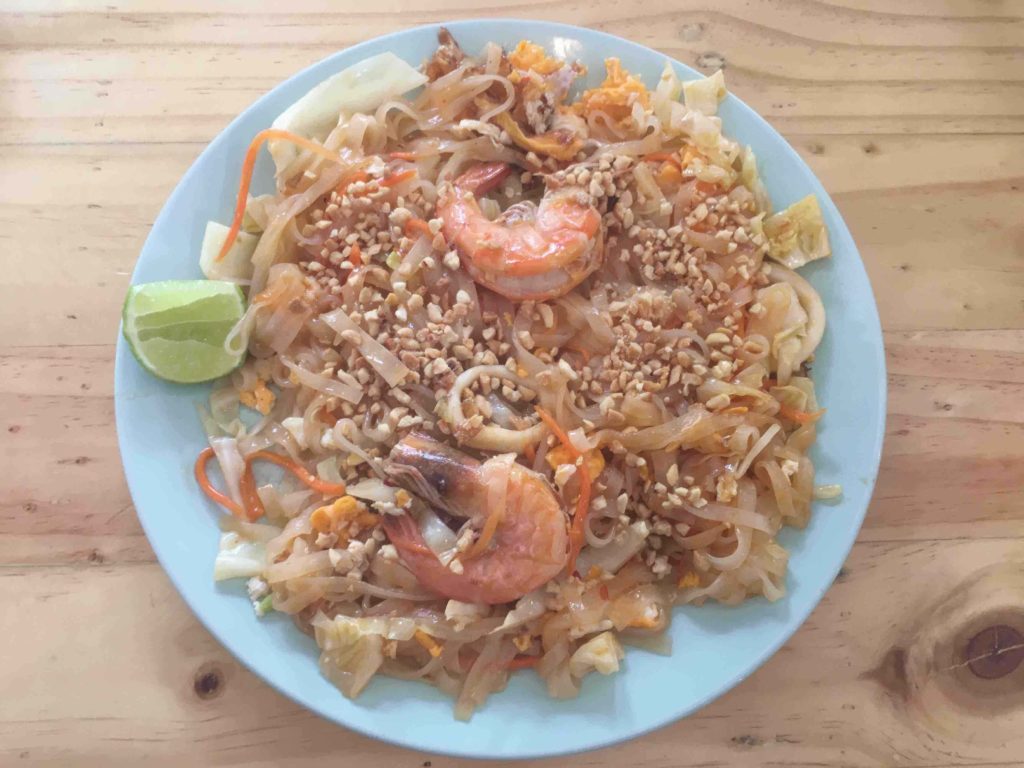 Pad Thai is the national dish of Thailand.
It is made of rice noodles with eggs and tofu, vegetables (like raw banana flowers, garlic chives, bean sprouts), shrimps, crabs, or chicken, and all flavored with tamarind, chili peppers, palm sugar, and lime. Roasted peanuts are usually added making it even more flavourful.
Thai Pad is one of the best-tasting food not only in Thailand but the best-tasting food in the world too.
Recommended read: Hot Thai Kitchen: Demystifying Thai Cuisine with Authentic Recipes to Make at Home
I've traveled to Thailand several times. Trust me, authentic Thai food is absolutely yummy! If you are traveling to Thailand, don't forget to check out some of these incredible Thai food tours in Thailand!
29. LAO/THAI GREEN PAPAYA SALAD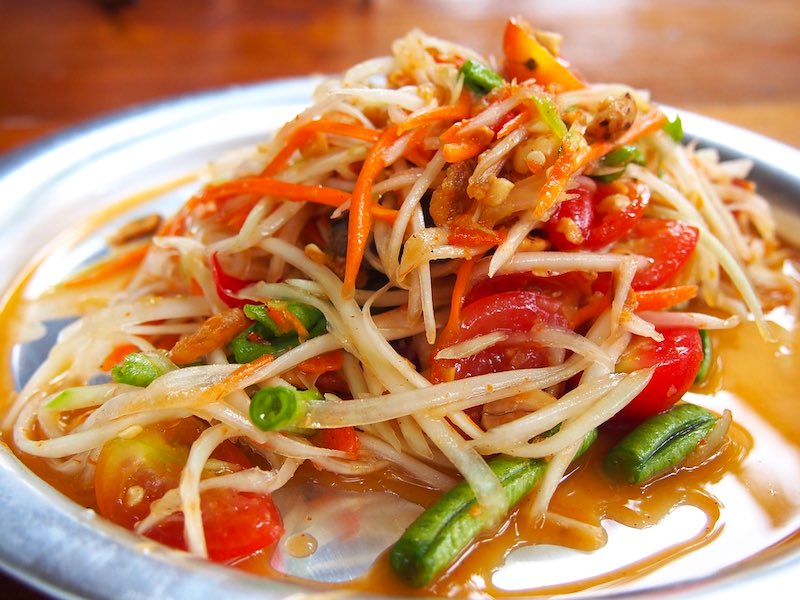 As you can assume, this tasty salad is made of shredded unripe papaya.
Although green papaya salad originates from Laos, it is quite popular throughout Southeast Asia. Probably the most popular is Thai Some Tam with peanuts.
Green papaya salad is one of the most delicious foods in the world as it blends five important tastes: salty (salt), sweet (palm sugar), hot (chili), sour (lime), and savory (fish sauce).
Recommended read: The Everything Thai Cookbook: Includes Red Curry With Pork And Pineapple, Green Papaya Salad, Salty And Sweet Chicken, Three-Flavored Fish, Coconut Rice, And Hundreds More!
30. BURMESE GREEN TEA SALAD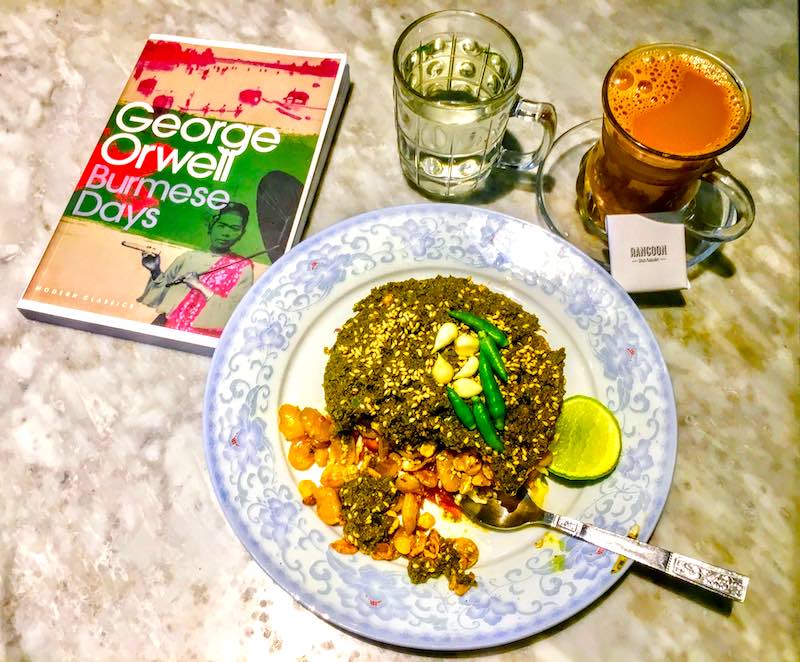 Burmese Laphet Thoke is one of the most famous salads in the world too.
Green Tea Salad of Myanmar consists of fermented soft tea leaves, roasted crispy peanuts, some crunchy beans (butter beans or yellow split peas), toasted sesame seeds, fried garlic, chopped tomatoes, and sometimes dried shrimp and shredded cabbage. It is widely known as one of the healthiest salads in the world.
Recommended read: Burma Superstar: Addictive Recipes from the Crossroads of Southeast Asia [A Cookbook]
31. ISRAELI SHAKSHUKA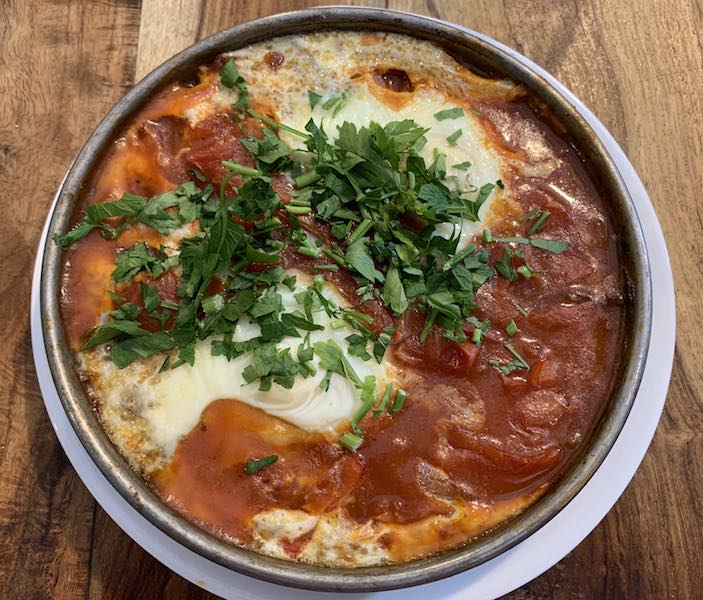 Shakshouka is a popular Israeli dish made of poached eggs in a sauce of tomatoes, chili peppers, and onions spiced with cumin or zaatar, paprika, cayenne pepper, and coriander.
Shakshouka originally comes from the Maghreb region of North Africa, more precisely from Tunisia. But Israel is the place where Shakshouka reached world fame.
Recommended read: Zahav: A World of Israeli Cooking
I enjoyed traveling to Israel for the heavenly food! When in Israel, don't miss out on checking out these awesome food tours in Israel!
32. EGYPTIAN KOSHERI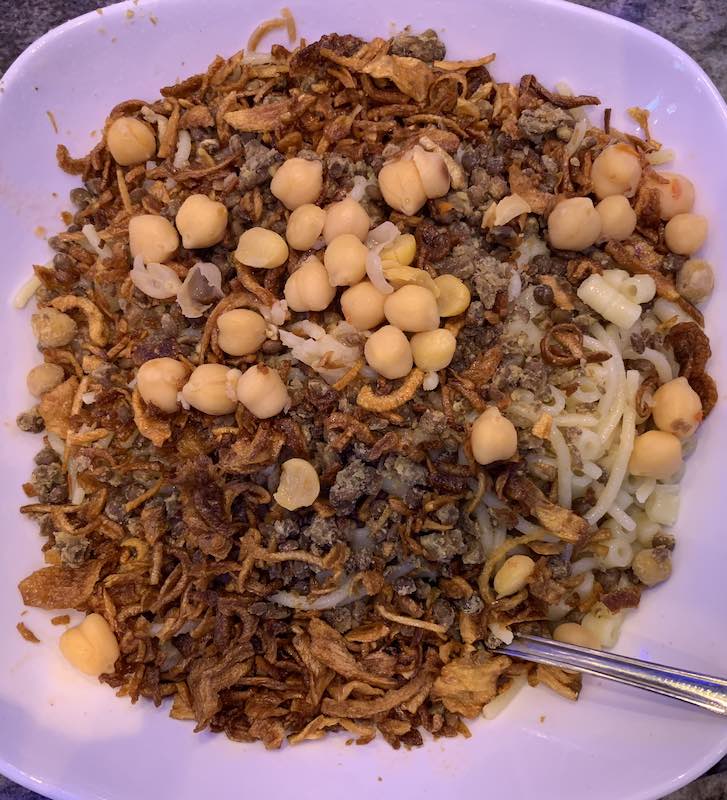 Koshary is the national dish of Egypt.
This traditional Egyptian dish is made of tasty carbs: rice, macaroni, lentils, and chickpeas, topped with onions, and a special vinegar-tomato sauce. Koshari could be additionally garnished with hot chili sauce.
Recommended read: My Egyptian Grandmother's Kitchen: Traditional Dishes Sweet and Savory
33. ALGERIAN COUSCOUS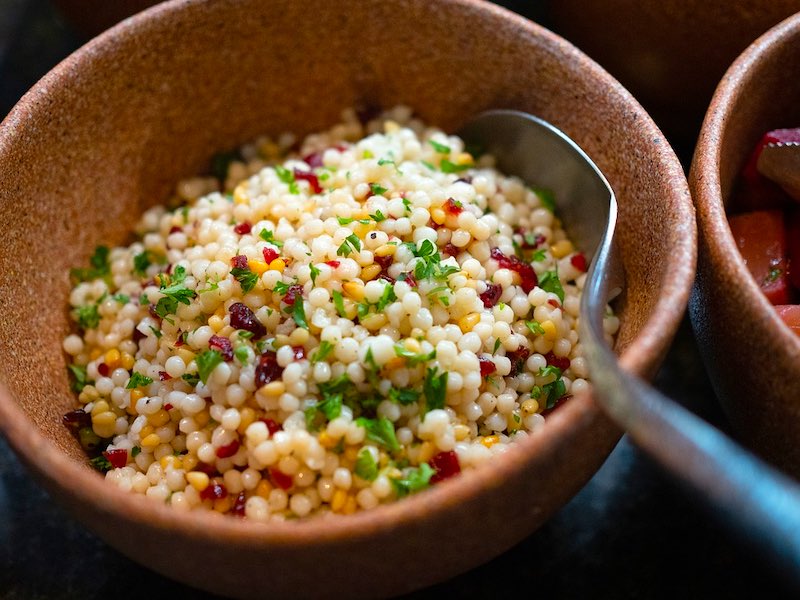 Couscous is the national dish of Algeria.
Couscous is called Ta'ām in Algeria which literally means 'food'. It is made from steamed semolina. Typical Algerian couscous is topped with meat, vegetables, and various spices.
Today couscous is one of the most famous foods around the world overall. LYBIAN KUSKUS is the national dish of Lybia. TUNISIAN KOSKSI is the national dish of Tunisia.
Recommended read: Feast: Food of the Islamic World
34. MORROCAN TAGINE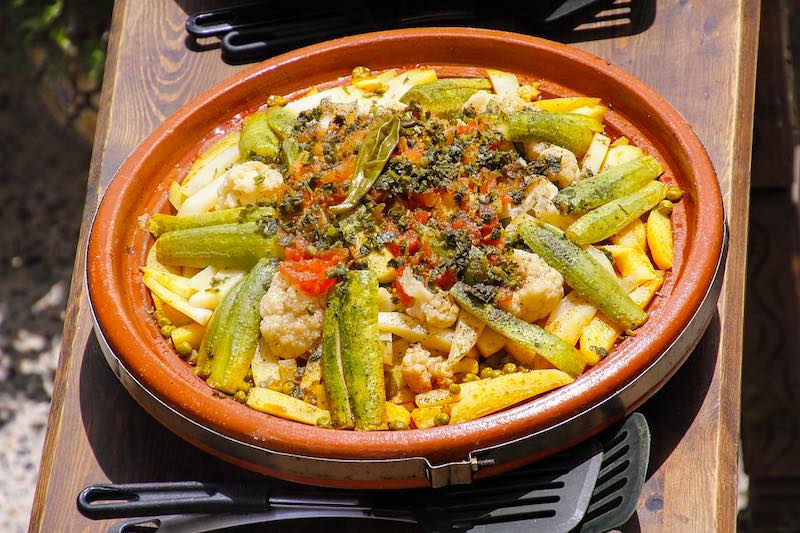 Couscous is the national dish of Morocco.
But tagine or tajine is a world-famous dish from Morocco as well. This traditional Moroccan dish is meat or fish-based stew with vegetables or fruit, dried fruits, spices (cinnamon, ginger, cumin, turmeric, saffron, chili) prepared in a traditional domed shaped clay tajine pot.
Morrocan tajine is famous for its mix of sweet and sour tastes.
Recommended read: Tagines and Couscous: Delicious recipes for Moroccan one-pot cooking
35. ETHIOPIAN INJERA
Ethiopian injera is a flatbread with a spongy texture and made of teff flour.
Injera is the national dish of Ethiopia, Eritrea, and Somalia. Traditionally different stews and salads are put on injera, and then small pieces of injera with the stews or salads are torn and eaten all together.
Therefore, Injera at the same time serves as a plate, eating utensils, and food.
Recommended read: Taste of Africa: 50 Most Popular and Delicious Ethiopian Recipes
36. ARGENTIAN ASADOS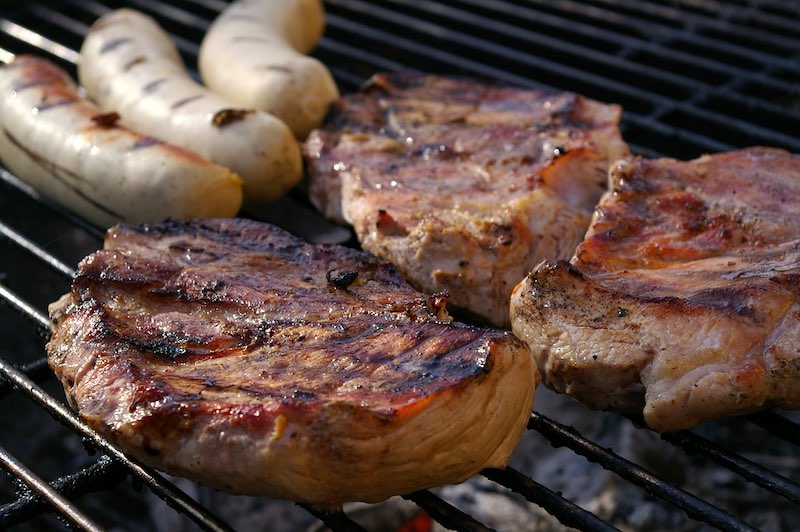 The national dish of Argentina is Asados.
Asados refer to various grilled meats (stakes, sausages, ribs, etc). Argentinian barbecue is commonly served with chimichurri, a sauce made of vinegar, garlic, and herbs.
Argentian barbecue is done exclusively with coal and wood (never gas). In Argentina, Asado means both 'barbecue' and a 'cut of meat'. Asado is a symbol of Argentina.
Recommended read: Seven Fires: Grilling the Argentine Way
37. PERUVIAN CEVICHE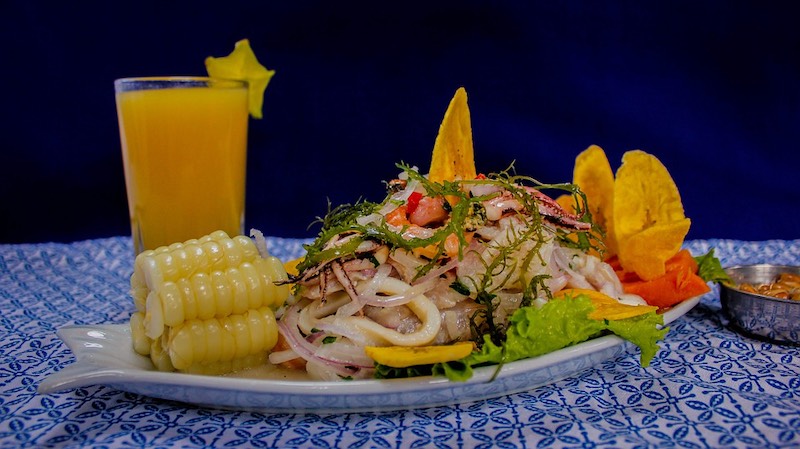 The national dish of Peru is ceviche.
This famous Peruvian dish consists of raw fish, lime, lemon, onion, and chili pepper. Italy has carpaccio, Japan has sashimi, but Peru has ceviche.
Recommended read: Peru: The Cookbook
38. HUNGARIAN GOULASH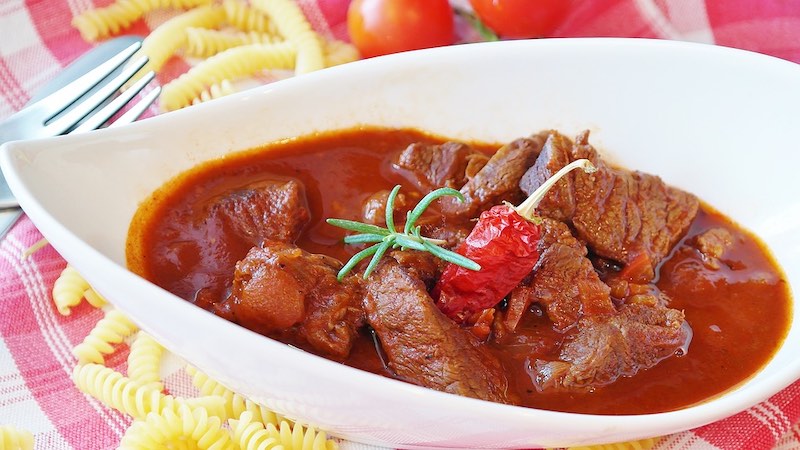 Goulash is the national dish of Hungary.
This traditional Hungarian dish is basically a beef-based stew with onion and paprika. Quite often potatoes, carrots, garlic, peppers, and tomatoes are added.
Hungary likes paprika. Thus expect to get a lot of paprika in authentic Hungarian goulash.
Recommended read: Hungarian Cookbook: Old World Recipes for New World Cooks
39. TURKISH/GREEK MOUSSAKA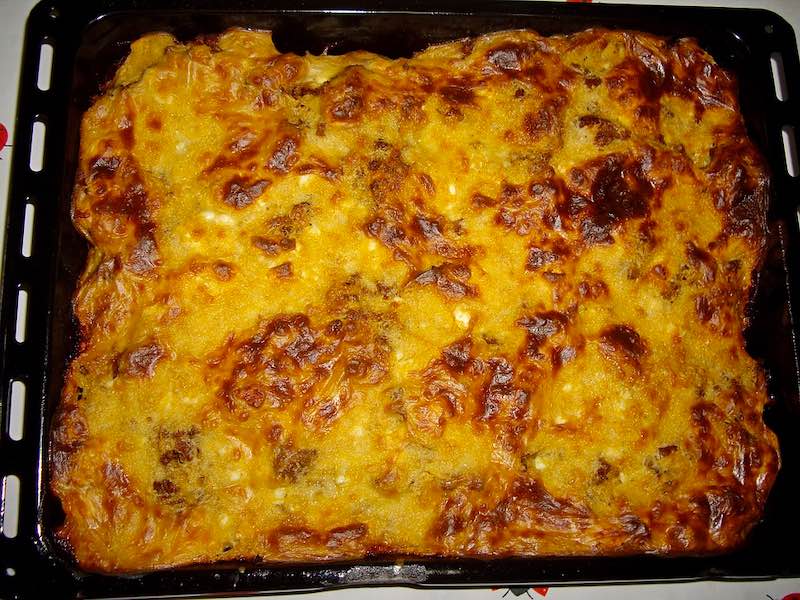 Moussaka is a famous dish from the Levant, the Middle East, and the Balkans.
Moussaka originates from the Ottoman Empire. Probably, the best known today are Turkish moussaka and Greek Moussaka.
Moussaka is made of layers of potatoes or eggplants and tomato-based sauce with minced meat. Moussaka is eaten warm in Greece, at room temperature in Turkey, and cold in Arab countries.
Recommended read: Opa! The Healthy Greek Cookbook: Modern Mediterranean Recipes for Living the Good Life
40. AUSTRIAN WIENER SCHNITZEL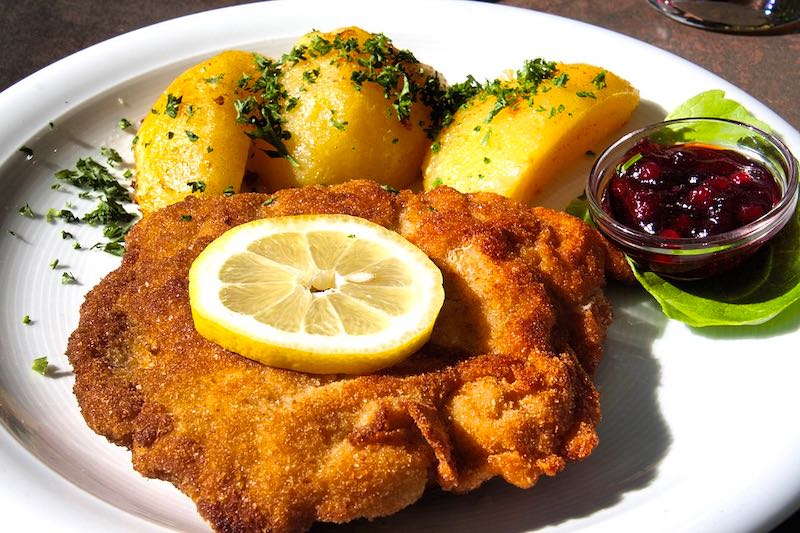 Traditional Austrian dish made of sliced and breaded veal fried in the fat (lard or butter). Wiener Schnitzel is the national dish of Austria and one of the top famous foods in the world.
41. GERMAN BRATWURST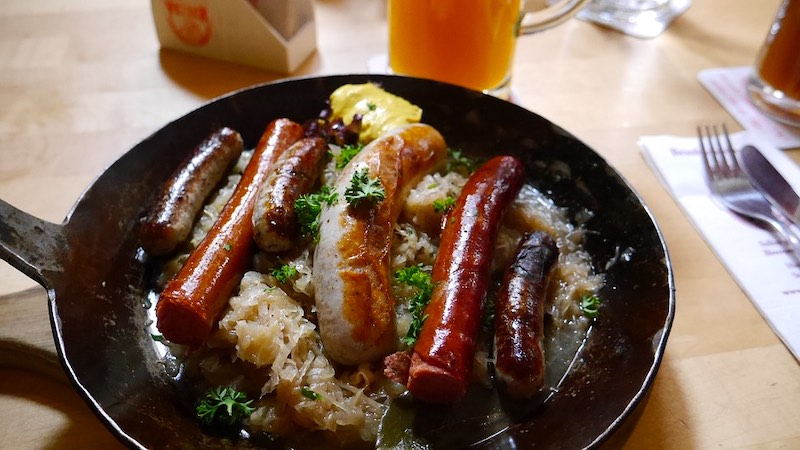 German bratwurst is probably the most famous sausage in the World.
This popular German pork sausage is typically fried and cooked with beer, potatoes, and red cabbage. German bratwurst and German beer go well together!
Recommended read: Grandma's German Cookbook
42. BELGIAN MOULES FRITES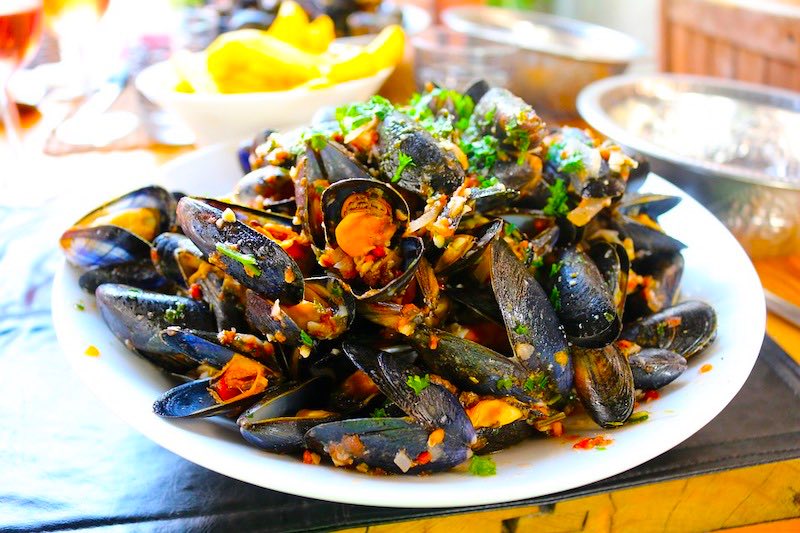 Mussels are the national food of Belgium.
In Belgium, they are cooked or steamed with onions and celery and commonly accompanied by fries. Oh, should I add that there's a dispute about (French) fries not being originally French but Belgian?!
Recommended read: 150 Dutch & Belgian Recipes: Discover The Authentic Tastes Of Two Classic Cuisines
43. ENGLISH YORKSHIRE PUDDING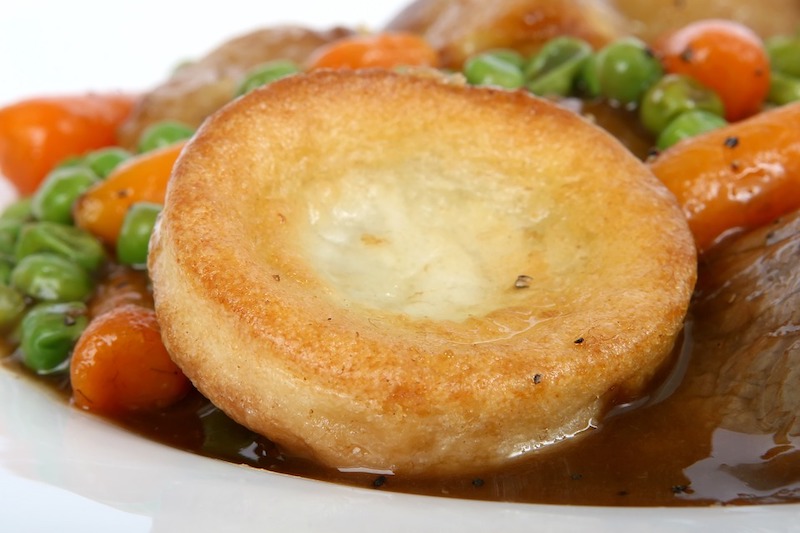 Yorkshire pudding is a national dish of England.
Actually, this simple baked pudding is a side dish made from eggs, flour, milk, or water. Typically it is served as a first course with onion gravy or as a main course with beef and gravy.
Recommended read: Traditional Cooking of the British Isles: England, Ireland, Scotland, and Wales: 360 Classic Regional Dishes With 1500 Beautiful Photographs
44. ENGLISH STILTON CHEESE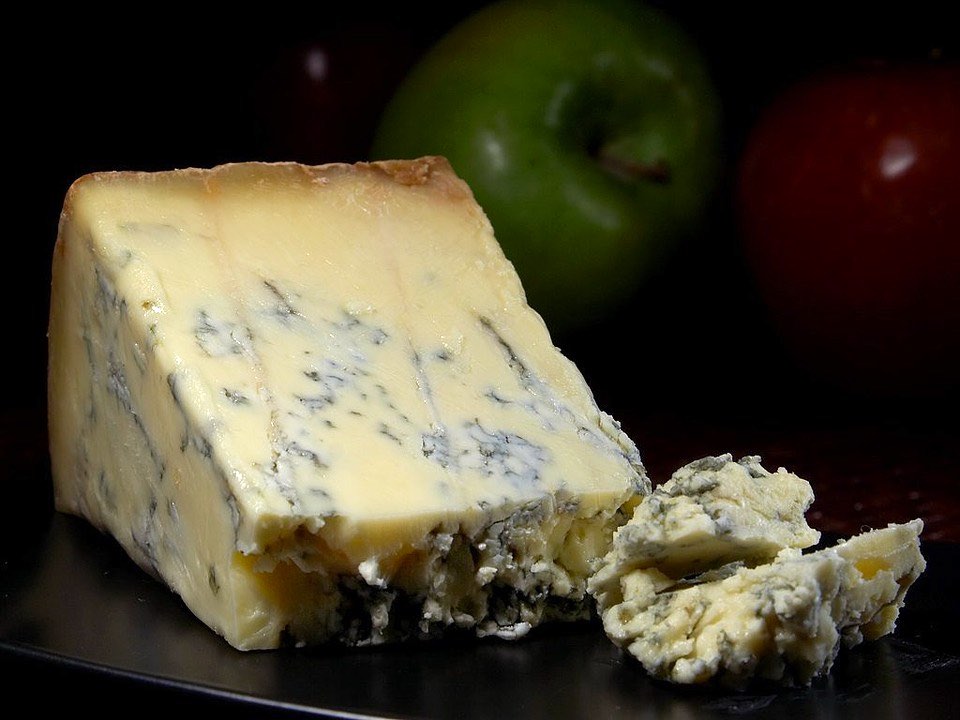 France has its wide list of first-class cheeses like Munster cheese, Brie, Camembert, Roquefort … Italy has a wide range of famous cheeses like Parmigiano Reggiano, Grana Padano, Gorgonzola, Mascarpone … But delicious Stilton cheese comes from England.
There are two types of creamy Stilton: Blue Stilton and White Stilton cheese. My favorite is Blue Stilton cheese, and thus on my list of most delicious food in the world deserves a special place. Without a doubt, Stilton cheese is one of the top must-try British foods in Britain.
45. SWISS CHEESE FONDUE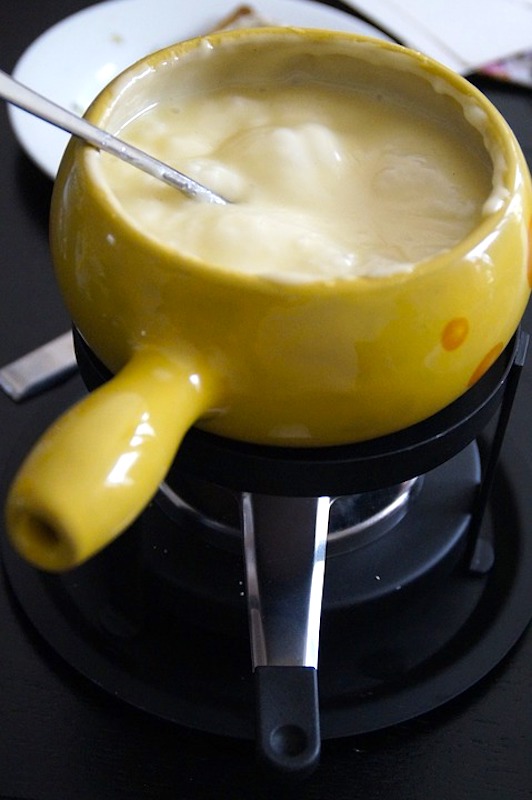 This traditional Swiss dish is one of the most famous dishes around the world.
Traditionally prepared of cheese, wine, and simple peasant bread. It is a hearty peasant dish prepared in a rounded ceramic pot with a handle on a tabletop burner, consumed widely in the winter.
Typically Swiss cheese fondue is eaten with long and thin fondue forks.
Recommended read: The Fondue Bible: The 200 Best Recipes
46. CANADIAN POUTINE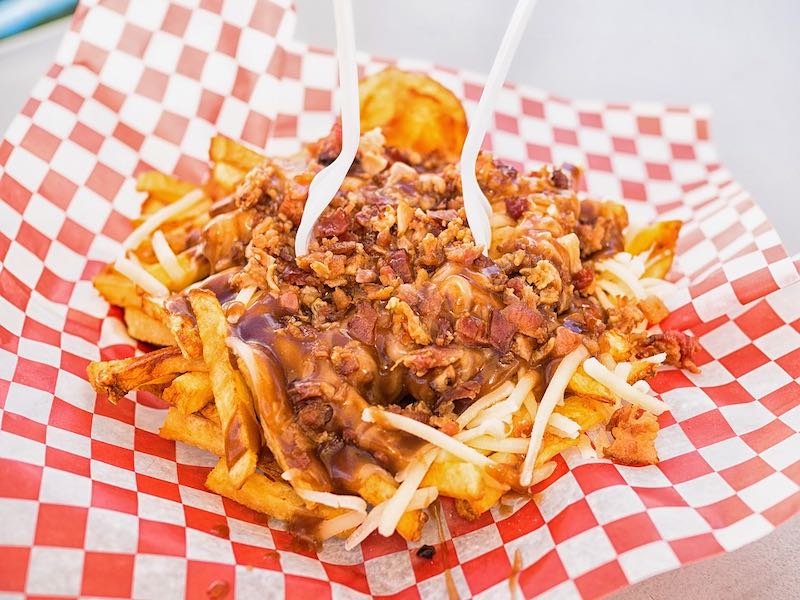 This list of national dishes around the world continues with amazing Canada.
The national dish of Canada is poutine. This simple dish consists of french fries with cheese curds topped with gravy.
Recommended read: Canadian Living: The Ultimate Cookbook
47. BOSNIAN ĆEVAPĆIĆI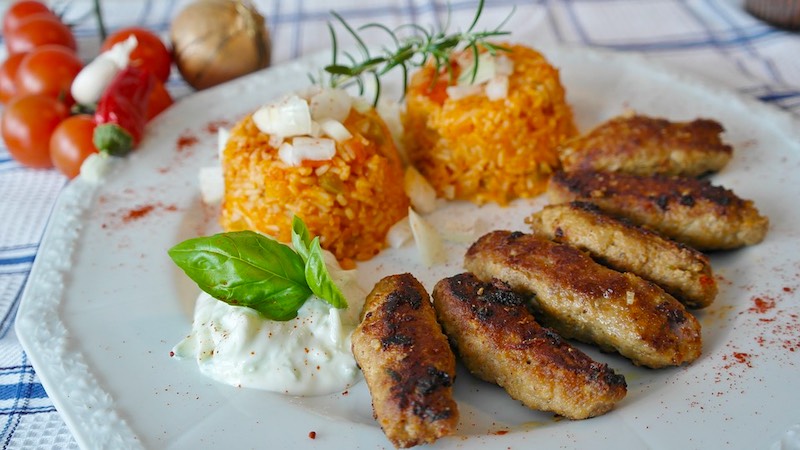 Ćevapćići sausages are the national dish of Bosnia, but they are actually eaten throughout the Balkans.
Ćevapćići sausages are small oblong sausages made of grilled minced meat (usually beef, but can be also pork, lamb, or mixed). They are served typically in 'somun' or 'lepinja' flatbread with chopped onions, kajmak cheese, and ajvar spread.
Recommended read: Taste of Bosnian Cuisine
48. BALKANS AJVAR
Ajvar is a famous spread and a side dish in the Balkans.
Ajvar is made by slowly cooking (hours and hours of cooking) red bell peppers and oil. There are three types of ajvar: mild (typically), piquant, and hot (spicy; with lots of chili peppers ).
If you are traveling to North Macedonia, Bulgaria, Albania, Serbia, Montenegro, Bosnia or Croatia, don't miss out on tasting this heavenly spread!
49. NORTH MACEDONIAN GRAVČE TAVČE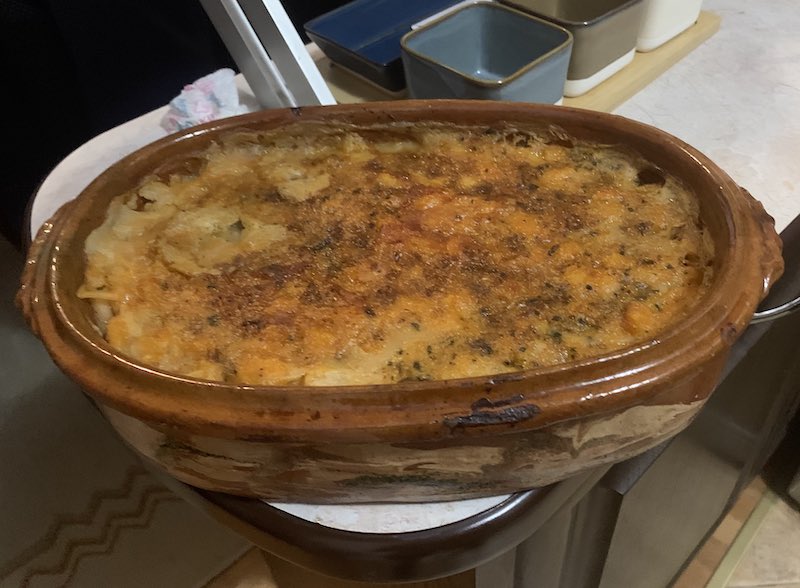 Gravče na tavče is the national dish of Macedonia.
This tasty traditional Macedonian dish is prepared with kidney beans ('gravče' in Macedonian) and vegetables (dried red pepper, onion) baked in a traditional unglazed clay pot. Classic gravče na tavče is a vegetarian dish.
Macedonians are Orthodox Christians. So, Macedonian-style baked beans are traditionally served on Friday, for the Nativity Fast and the Great Lent fast. There are some variations of this traditional Macedonian dish with meat (bacon, smoked pork) across the Balkans though.
50. PORTUGUESE BACALAHU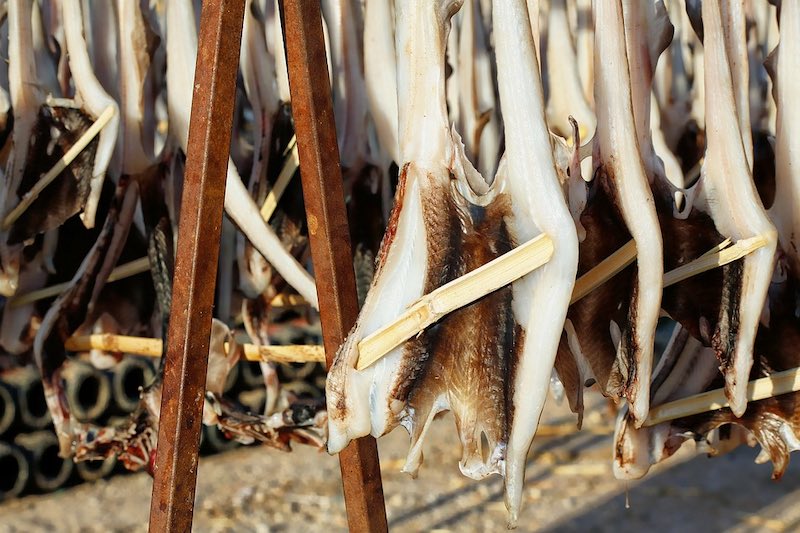 Dried and salted codfish, or Bacalhau in Portuguese, is the main food in Portugal.
In Portugal, it is said that there are more than 365 ways to prepare codfish, one for every day of the year. If you are traveling to Portugal, you can't miss some of the many traditional Portuguese dishes made of codfish.
The most popular cod dish in Portugal is 'Bacalhau com todos' which literally means 'cod with everything'. 'Bacalhau com todos' is a Portuguese dish made from cooked cod, vegetables, and hard-boiled eggs.
Recommended read: Authentic Portuguese Cooking: More Than 185 Classic Mediterranean-Style Recipes of the Azores, Madeira and Continental Portugal
51. BASQUE BALCAO AL PIL PIL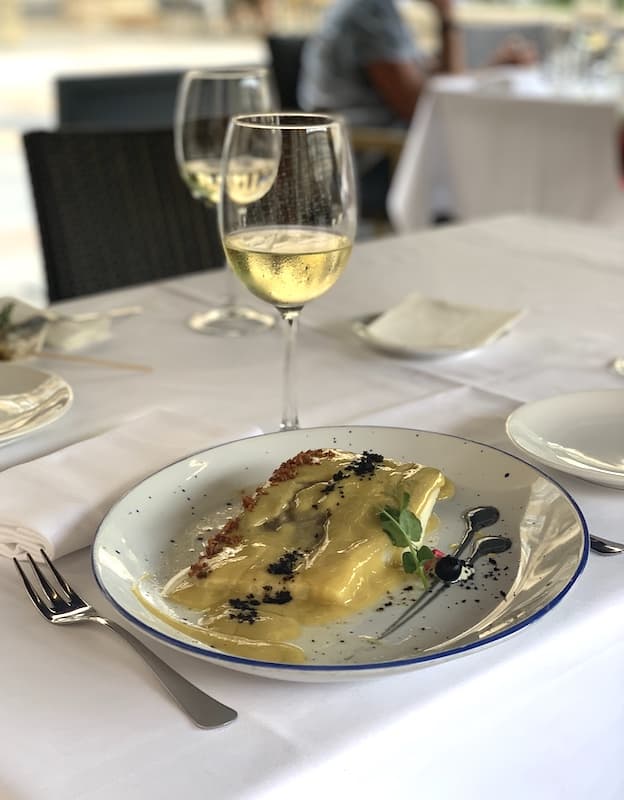 When talking about codfish, I must mention the Basque country, amazing Basque food, and incredible Bacalao Al Pil Pil
Iconic Bacalao Al Pil Pil is the most famous Basque dish made with codfish.
The secret of this amazing Basque dish lies in the emulsification of Pil-Pil sauce. The emulsification of the ingredients happens naturally by simmering the pot filled with salt cod, olive oil, and garlic.
Basque Bacalao Al Pil Pil is one of those famous Basque dishes that makes visitors come back to the Basque country regularly.
52. BRAZILIAN FEIJOADA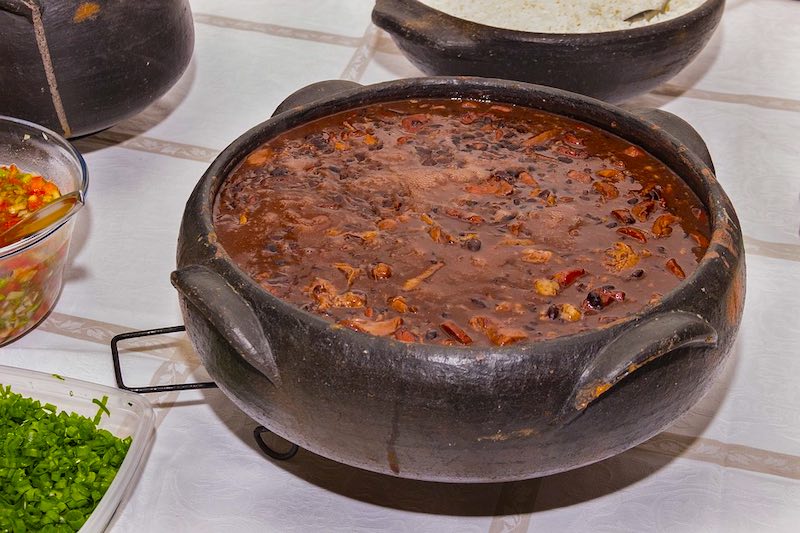 Feijoada is the national dish of Brazil.
This traditional Brazilian dish is a hearty stew of beans with beef and pork prepared in a thick clay pot. Typically it is not made with vegetables.
Instead, it's served with white rice, shredded kale, and slices of oranges to make digestion easier.
Recommended read: The Food and Cooking of Brazil: Traditions, Ingredients, Tastes, Techniques, 65 Classic Recipes
53. SOUTH KOREAN KIMCHI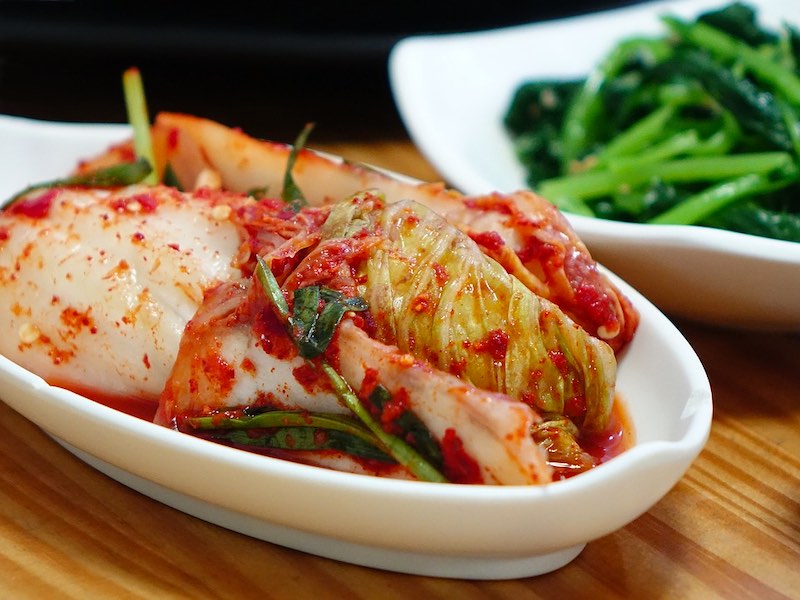 Korean kimchi refers to spicy fermented vegetables.
It is often described as spicy and aromatic Korean sauerkraut. Cabbage and radishes are salted and drenched with water. After a few hours of fermentation, chili powder, garlic, scallions, ginger, and sometimes even salted seafood are added.
Korean kimchi is regularly voted as one of the top foods by many world gourmands.
Recommended read: Maangchi's Real Korean Cooking: Authentic Dishes for the Home Cook
54. PHILIPPINO CHICKEN ADOBO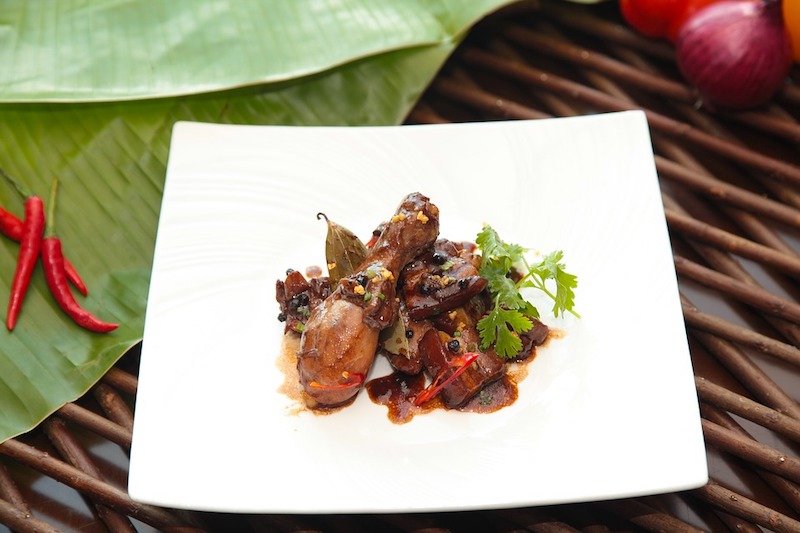 Adobo is the national dish of the Philippines.
This traditional Filipino food is prepared from pot-roasted beef or pork meat (sometimes both) in a special sauce made from vinegar, soy sauce, cooking oil, garlic, peppercorns, and bay leaves.
Recommended read: The Filipino Instant Pot Cookbook: Classic and Modern Filipino Recipes for Your Electric Pressure Cooker
55. CZECH KNEDLIKY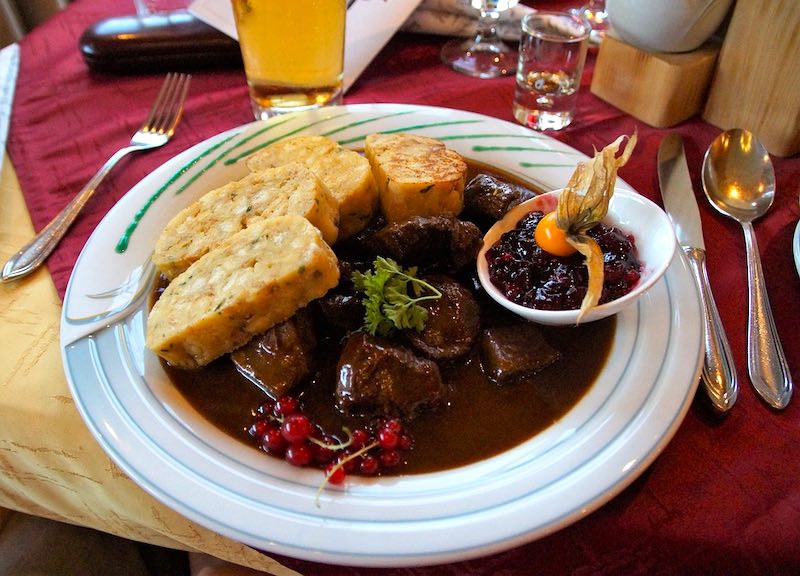 Traditional Czech knedliky are boiled bread dumplings made with milk, flour, egg, and yeast.
The Bohemian bread dumplings are a popular side dish in the Czech Republic and a signature dish of the Czech Republic. In other words, delicious Czech knedliky are must-try when in Prague!
Recommended read: Czech Cookbook RECIPES AND STORIES VOLUME 1
56. POLISH PIEROGI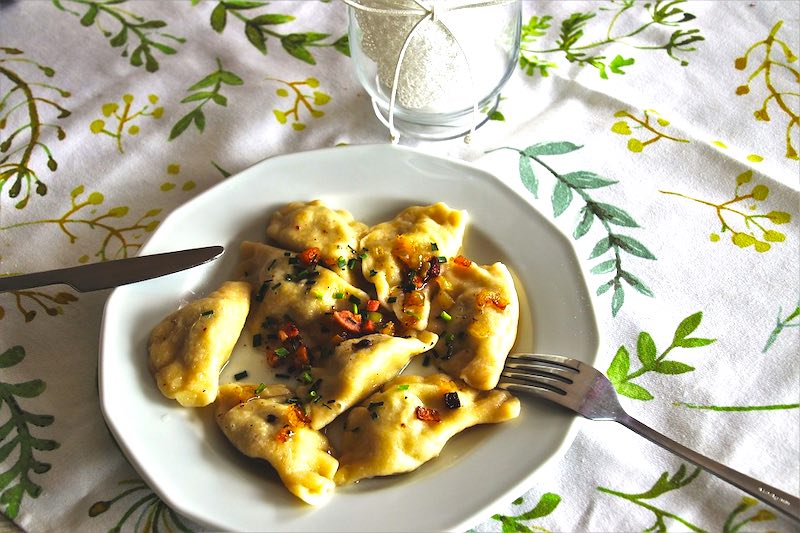 Pierogi are the national dish of Poland, although they can be found across Central Europe and Eastern Europe in various forms.
Pierogi are boiled dumplings with sweet, salty, spicy, or savory fillings. Sometimes they are fried as well.
The most common Polish pierogi are filled with fresh creamy quark cheese, boiled potatoes, and fried onions.
Recommended read: Authentic Polish Cooking: 120 Mouthwatering Recipes, from Old-Country Staples to Exquisite Modern Cuisine
57. INDONESIAN SATAY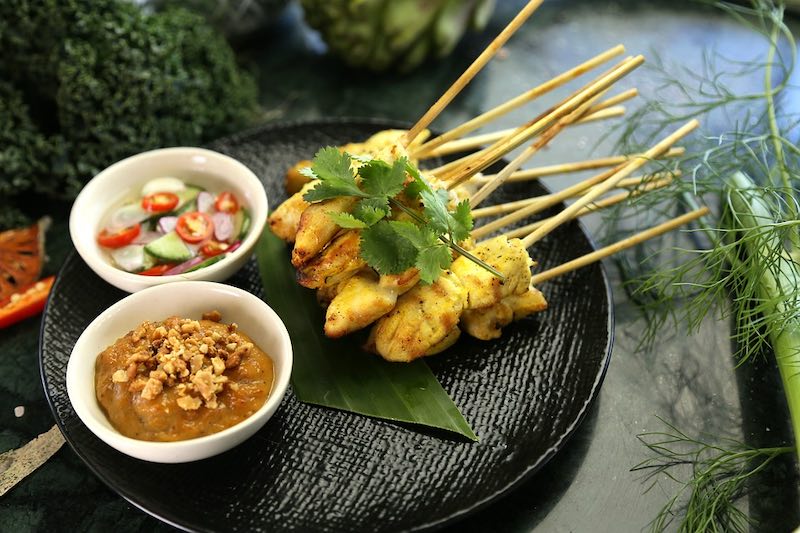 Satay is a famous Indonesian dish. Basically, it is seasoned meat, put on skewers, and grilled.
Most commonly Indonesian satay is prepared of chicken, mutton, beef, pork, goat, and fish. It is eaten with a sauce, most typically with soy and peanut sauce.
Satay is beloved across southeastern Asia, not only in Indonesia. It is especially popular in Malaysia, Brunei, Thailand, and Singapore.
Recommended read: Authentic Recipes from Indonesia (Authentic Recipes Series)
58. UKRAINIAN BORSCHT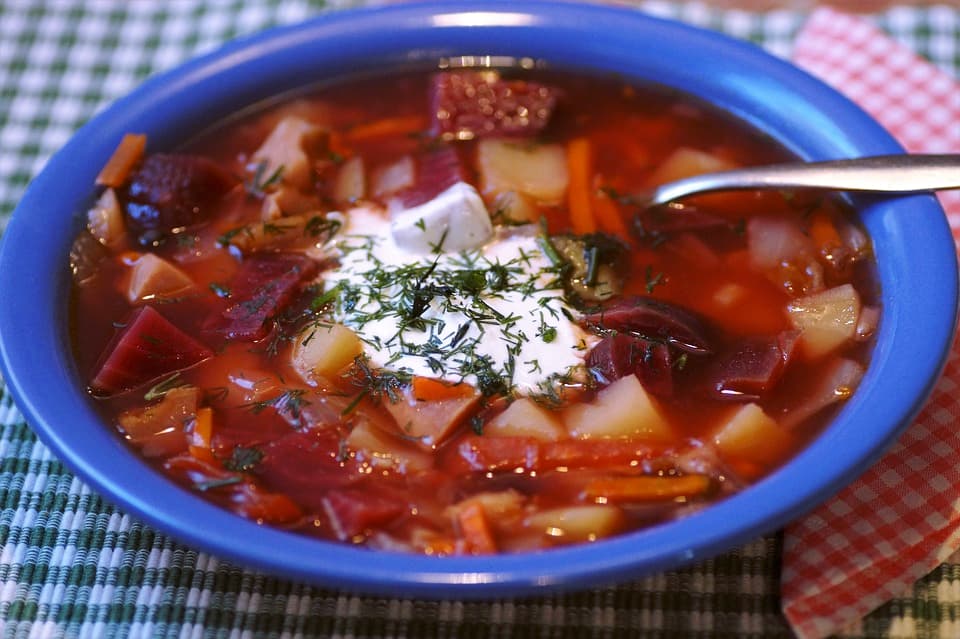 Borscht is a famous soup from Ukraine.
It's one of the most famous red soups in the world, along with Spanish gazpacho. But unlike gazpacho which is made with tomatoes, this red soup is made with beet.
Ukraine borscht is made with beets, cabbage, carrots, potatoes, garlic, onion, and sometimes beans and beef. Traditionally it's served with sour cream and dill.
Most importantly, Borscht from Ukraine is one of the healthiest soups in the world.
19. GEORGIAN KHACHAPURI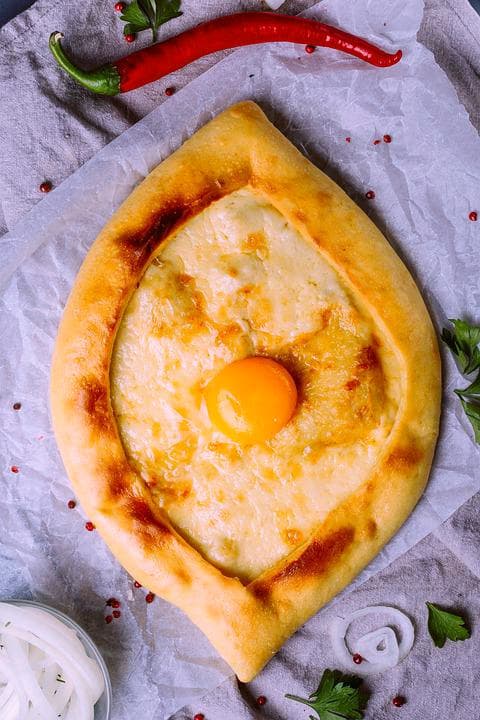 Khachapuri is a famous cheese bread from Georgia, the Caucasus.

The name khachapuri comes from khacho (meaning cheese in Georgian) and puri (meaning bread in Georgian)
Traditional khachapuri is made in the shape of a boat, typically filled with Khachapuri cheese and with a soft-boiled egg on the top. Various types of khachapuri are filled with various ingredients. There are even 53 types of khachapuri.
Soft Khachapuri is a staple food in Georgia and a popular street in Georgia. Khachapuri is a national dish of Georgia.
To make it short, Khachapuri is a favorite dish of Georgians and a must-try food in Georgia.
59. AIR-CURED HAM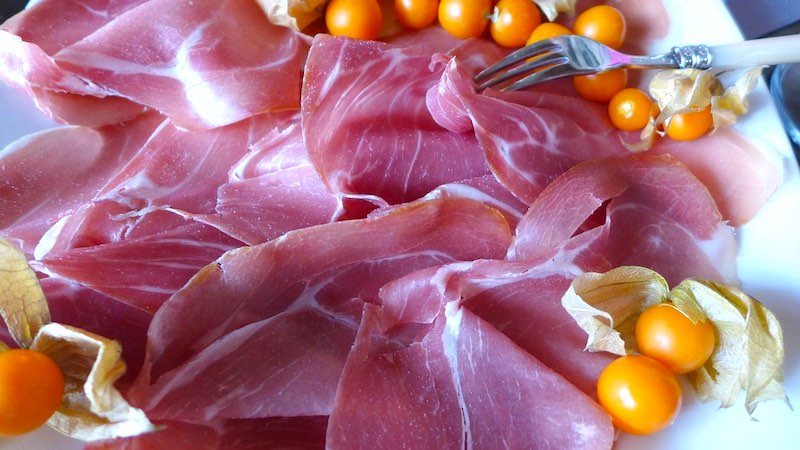 Italy has prosciutto crudo, Spain jamon iberico, France jambon sec, Croatia pršut ... but in each case, it is always thinly sliced, air-dried, cured, and uncooked pork meat, or more precisely pig's hind leg or thigh.
And it is always eaten raw. Needless to say, air-dried ham is voted the first-class delicacy by gourmands over the globe.
Recommended read: The Complete Mediterranean Cookbook: 500 Vibrant, Kitchen-Tested Recipes for Living and Eating Well Every Day
What is the most famous food in the world?
Some of the most famous food in the world are unarguably Italian pizza, American burger, Turkish doner kebab, Middle Eastern falafel and hummus, Russian caviar, Chinese dim-sum, and Peking duck, Mexican burrito and tacos, Japanese sushi and sashimi, Vietnamese pho …
What is the most popular food in the world?
Among the most popular food in the world are Italian pizza, pasta and spaghetti, American burger, Japanese ramen soup, sushi and sashimi, Indian chicken tandoori, thali and biryani rice, Vietnamese pho and spring rolls, Mexican burrito, and tacos …
What is the most delicious food in the world?
Considering the popularity, the most delicious food in the world are Italian pizza and pasta dishes,American burgers,Turkish doner kebab, Greek gyro, MiddleEasternhummus, Spanish paella, Mexican mole, burritoand tacos, Indian thaliand chicken tandoori, Japanese sushi…
What are the most popular ethnic foods in the world?
The most popular ethnic foods in the worldare Italian pizza,Indian thali,and chicken tandoori,Japanese sushi and sashimi,MiddleEasternhummus,Mexican mole, burritoand tacos,American burger, Turkish doner kebab,Chinese dim-sum…
What is the top 10 best food in the world?
The top 10 best food in the world isItalian pizza,American burger, Turkish doner kebab,MiddleEasternhummus, Japanese sushi,Chinese dim-sum, Indian chicken tandoori, Mexican mole, Vietnamese spring rolls, and Russian caviar.
What is the most eaten food in the world?
The most eaten food in the world is American hamburger, Italian pizza, Belgium- French fries, Middle Eastern falafel, and Turkish doner kebab.