You are cruising the Croatian coast and have time for only 1 day in Split Croatia.
Are you pondering now what to see in Split Croatia in one day and what to do in 24 hours in Split Croatia?! One day in Split Croatia seems so short for this lovely Mediterranean town.
Are you contemplating over the itinerary for a day in Split Croatia questioning is it possible to see top attractions in Split Croatia in one day?!
Please put your mind at ease. It is possible to visit Split in one day and enjoy it. Here are the top things to see in Split Croatia and the top things to do in Split Croatia!
THIS POST MAY CONTAIN COMPENSATED LINKS. PLEASE READ MY DISCLAIMER FOR MORE INFO. 
WHAT TO SEE IN 1 DAY IN SPLIT CROATIA & WHAT TO DO IN 1 DAY IN SPLIT CROATIA 
Split is the largest Croatian city on the Adriatic coast and the capital of Dalmatia region in Croatia.
It is one of the most beautiful towns in Croatia along with Dubrovnik, Korčula, Hvar, Trogir, Zadar, and Rovinj to name a few.
Split is an ancient city with a rich history dating back to Greek and Roman era, Byzantine and Venetian period, Napoleonic era, Habsburg Monarchy, Austria-Hungary, Italy,, and ex Yugoslavia times which are evident on every step visitor take in Split.
But nevertheless, Split is widely known as the hometown of Roman Emperor Diocletian and the place where he retired after the abdication of the throne of Rome to enjoy his last days living in peace and growing vegetables under the Mediterranean sun.
There is an interesting historical anecdote with Diocletian when Maximinus' ambassador begged Diocletian to come back to the throne of Rome from Split and become the Roman Emperor for the second time. Diocletian apparently answered:
'If you could show the cabbage I planted with my own hands to your emperor, he definitely wouldn't dare suggest I replace the peace and happiness of this place with the storms of a never-satisfied greed.' Diocletian
Click To Tweet
Split and Diocletian's Palace are inseparable. When you think of Split, you think of the Diocletian's Place and vice versa.
The Diocletian's Palace is a 30.000 square meter complex built in the 4th century AD. The complex encompassed a luxurious emperor's villa and a military camp in the past. The palace was made of local white limestone, high-quality marble from the nearby island Brač, as well as Greek and Italian marble, and decorated with Egyptian granite columns and sphinxes from Luxor.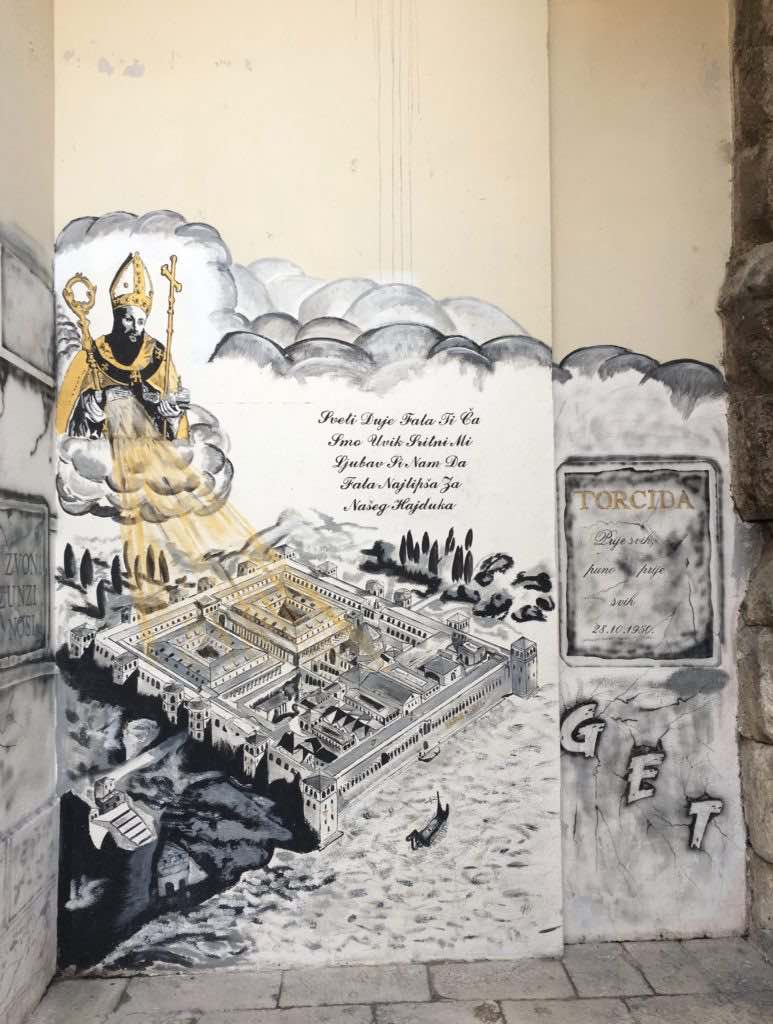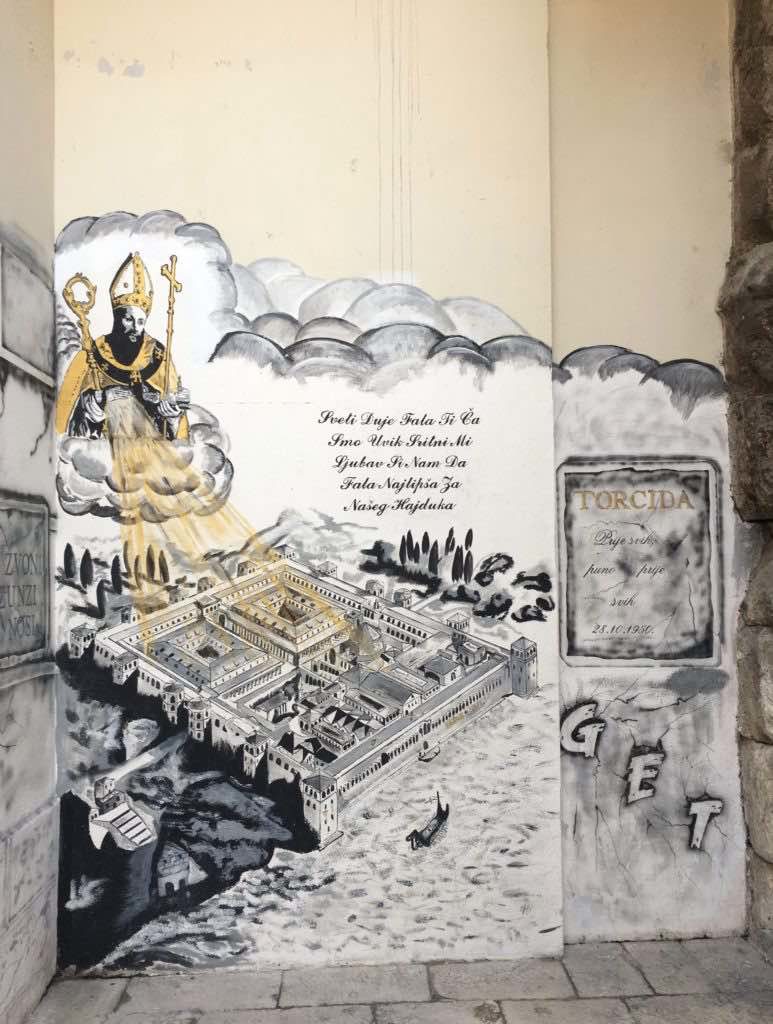 The core of the old town of Split is Diocletian's Place with the Peristyle square, cellars, temples, vestibule, fortes, four towers and four gates on every side and thick net of narrow old Roman pedestrian-only alleys.
Today the palace is melted into the city of Split and it is the heart of contemporary Split. In Diocletian's times, the Palace was home to more than 9.000 people. Today over 3.000 people live within the ancient palace walls.
But, what to do in Split Croatia? Even more, what to do in Split in one day?!
MUST VISIT PLACES IN 1 DAY IN SPLIT CROATIA 
Things to do in 1 day in Split Croatia: 
Thinking of 10 best things to do in Split? Well, let's not talk about top ten things to do in Split. Instead, let's do 12 best things in Split.
The best places to visit in Split Croatia, and must do things in Split:
1. Peristyle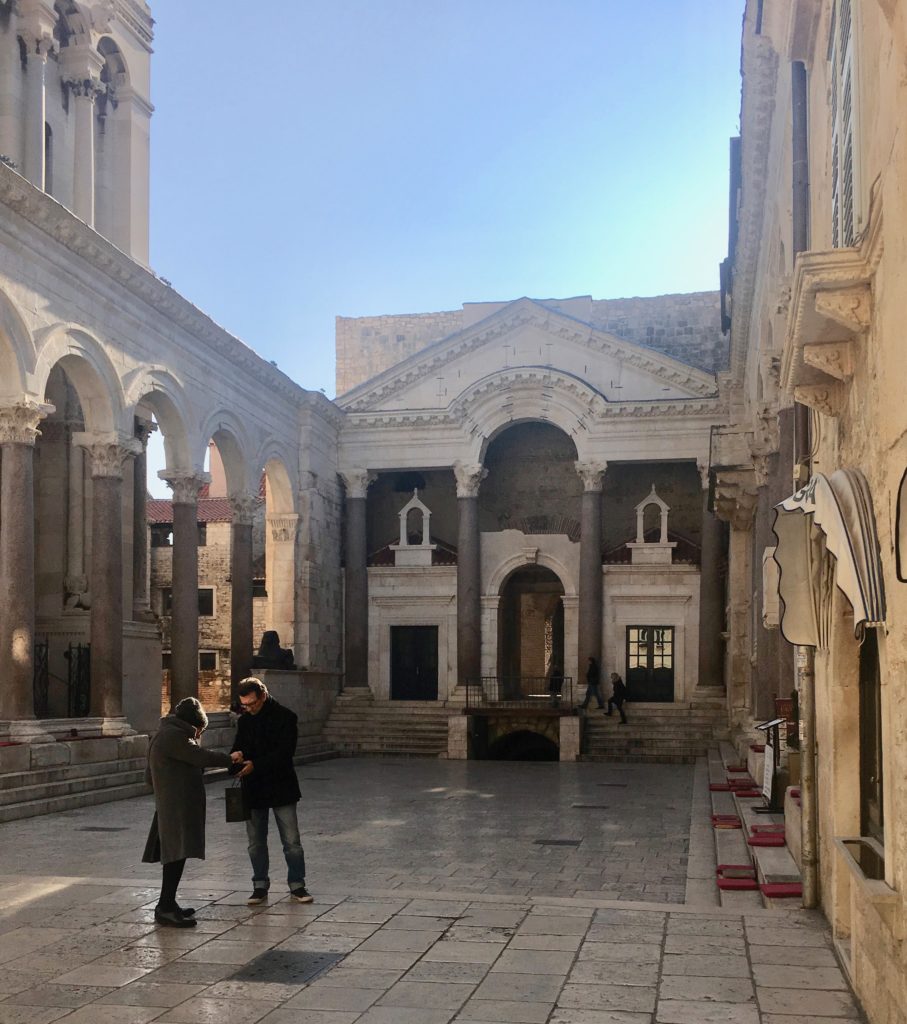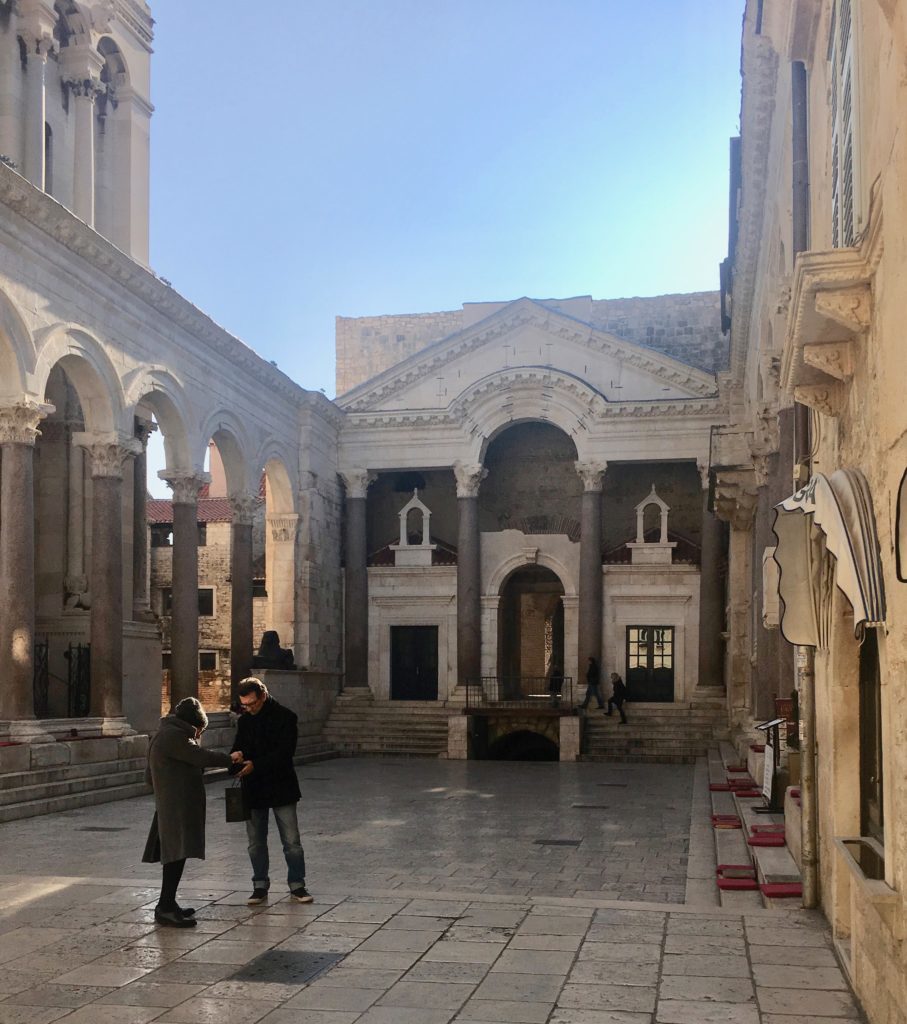 What to see in Split Croatia in one day: Peristyle is the central square of Diocletian's Place and the northern access to the imperial apartments.
It is an open colonnade ceremonial court made of white stone from the island Brač and decorated with Italian marble and Egyptian Sienite (from Assuan) columns on the sides.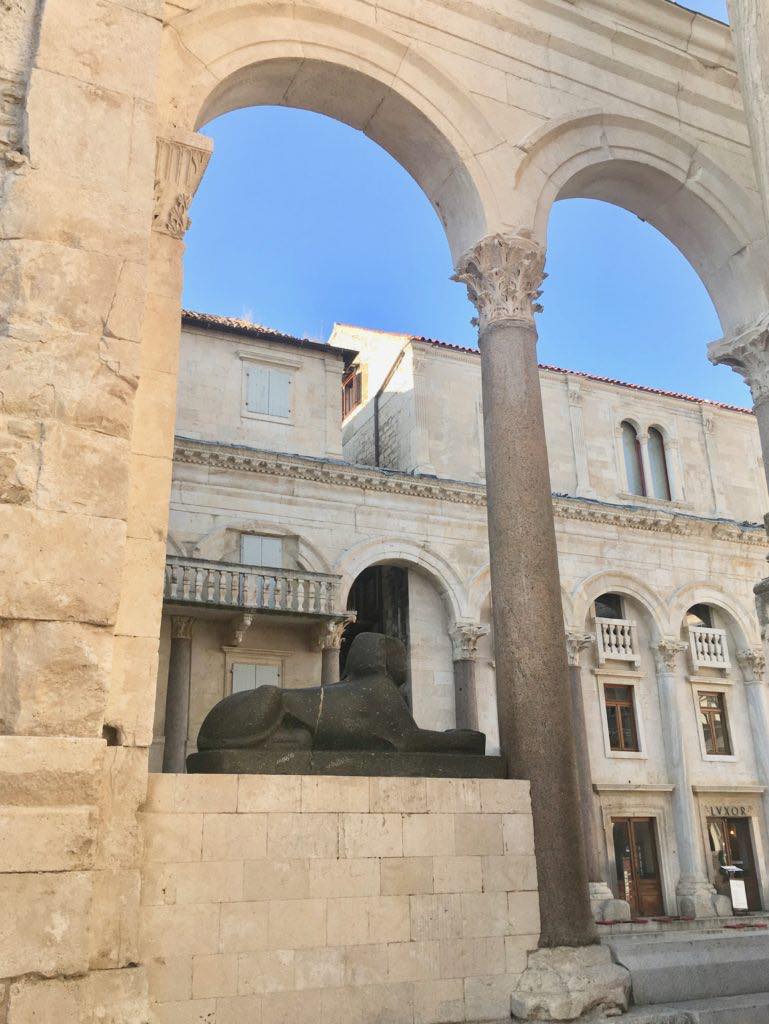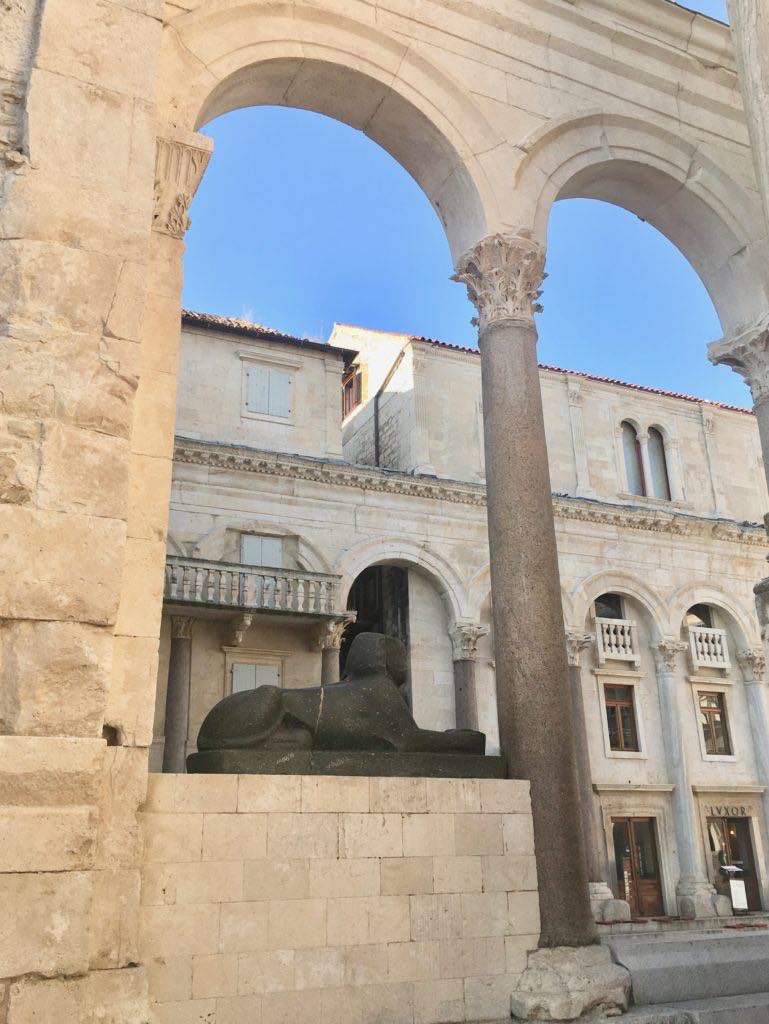 Diocletian imported twelve Egyptian sphinxes from Egypt to decorate his residence. One of them is still on the Peristyle.
During summer the place hosts many cultural and musical events. In summer you can meet even "Roman gladiators" in the Peristyle square.
On one side of the Peristyle is St. Dominus Cathedral. Opposite the Cathedral in a small cobbled alley, you will find the Jupiter's temple and the narrowest alley in Split called 'Let me Pass' just next to the temple.
2. St. Domnius Cathedral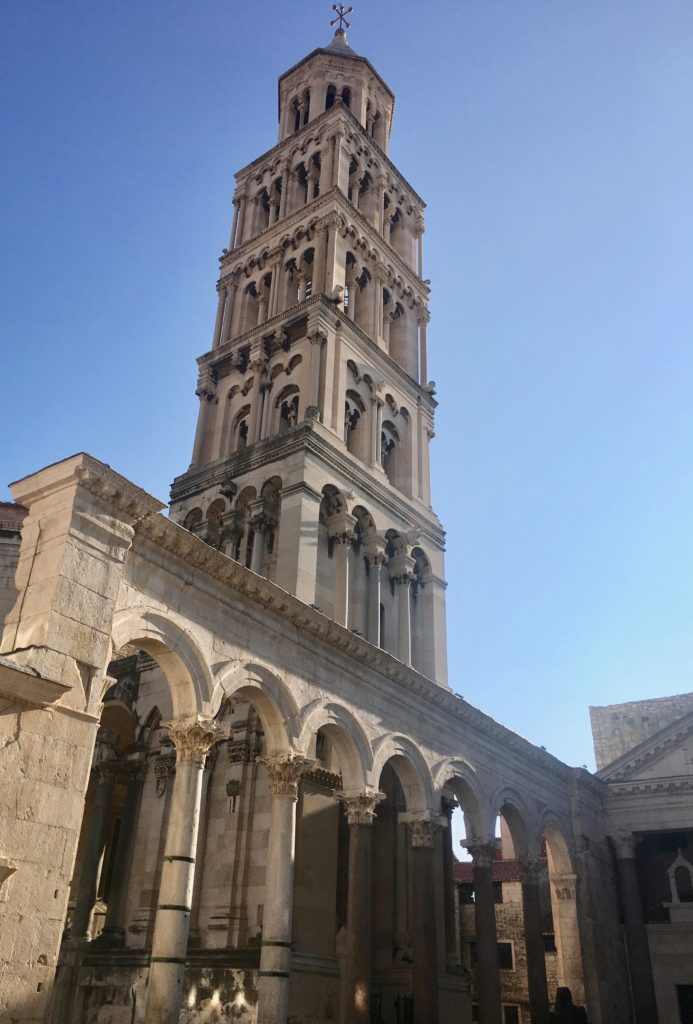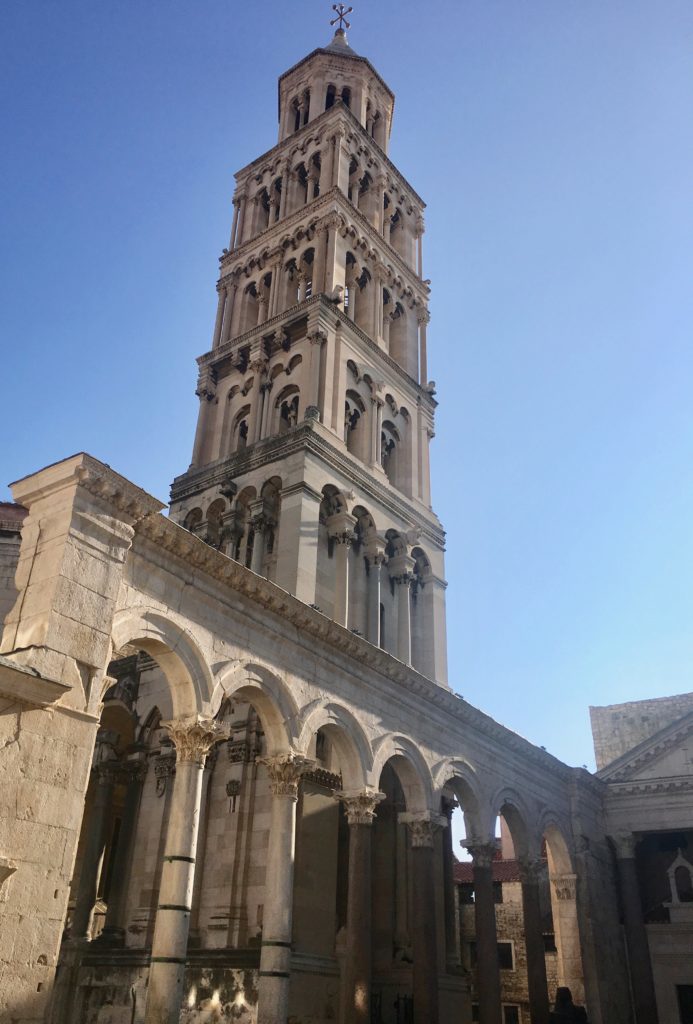 What to do in Split Croatia in one day:  Climb the bell tower of St. Domnius Cathedral on the Peristyle and enjoy magnificent panoramic views of Split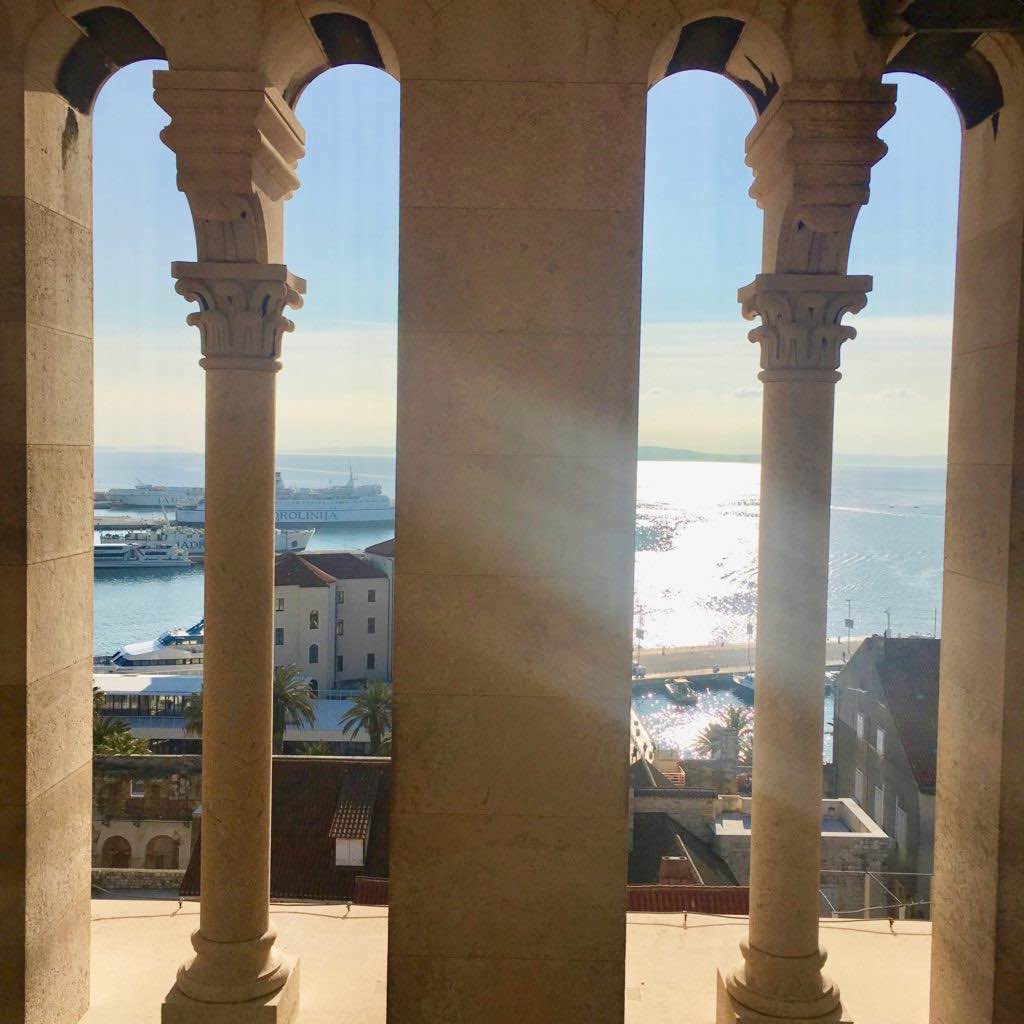 St. Domnius is the patron saint of Split. He was the first bishop of Roman province Dalmatia.
Cathedral of St. Domnius was originally the Diocletian's mausoleum built in the 4th century AD. Later, in the 7th century, the mausoleum was converted to the Cathedral.
Ironically, St. Domnius as a Christian was beheaded in one of the persecutions of Christians by Emperor Diocletian.
The bell tower of St. Domnius Cathedral was built in the 12th century in the Romanesque style.
Climbing the bell town of the cathedral is Split is a must do in Split Croatia!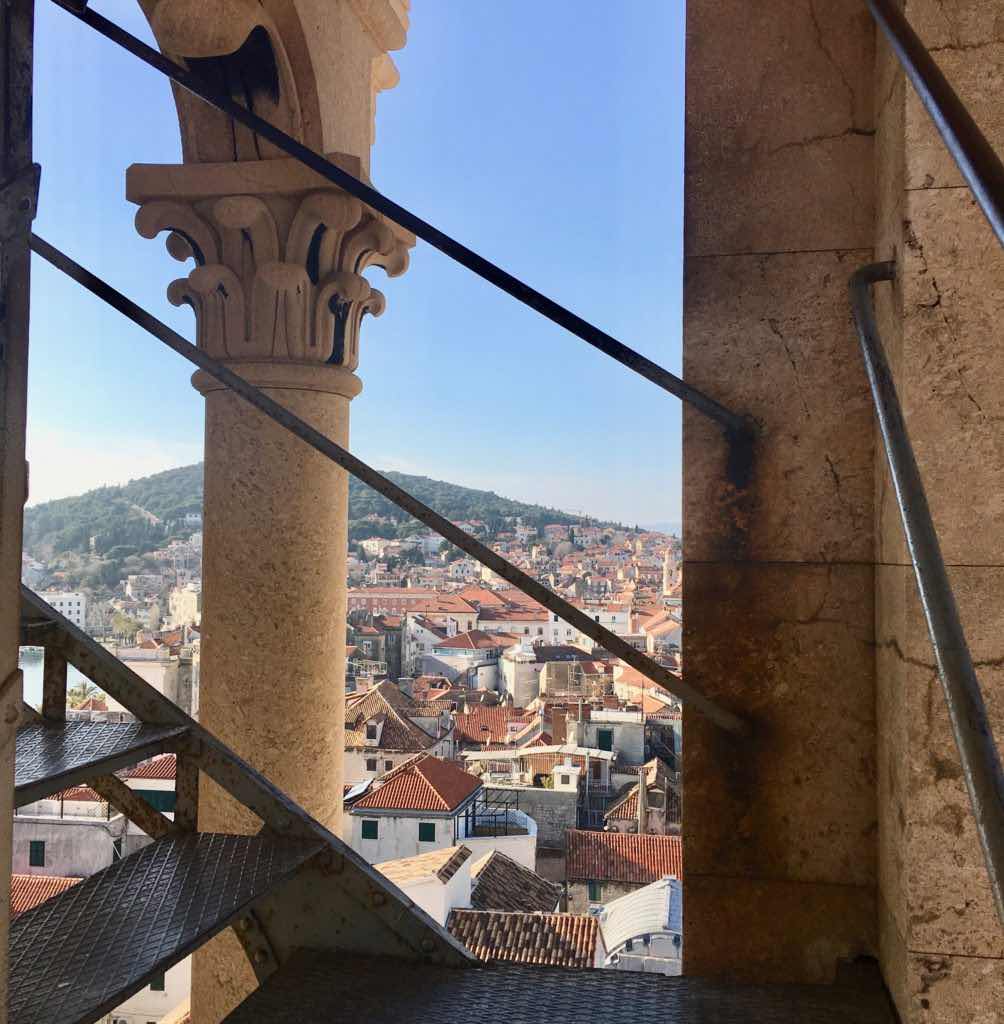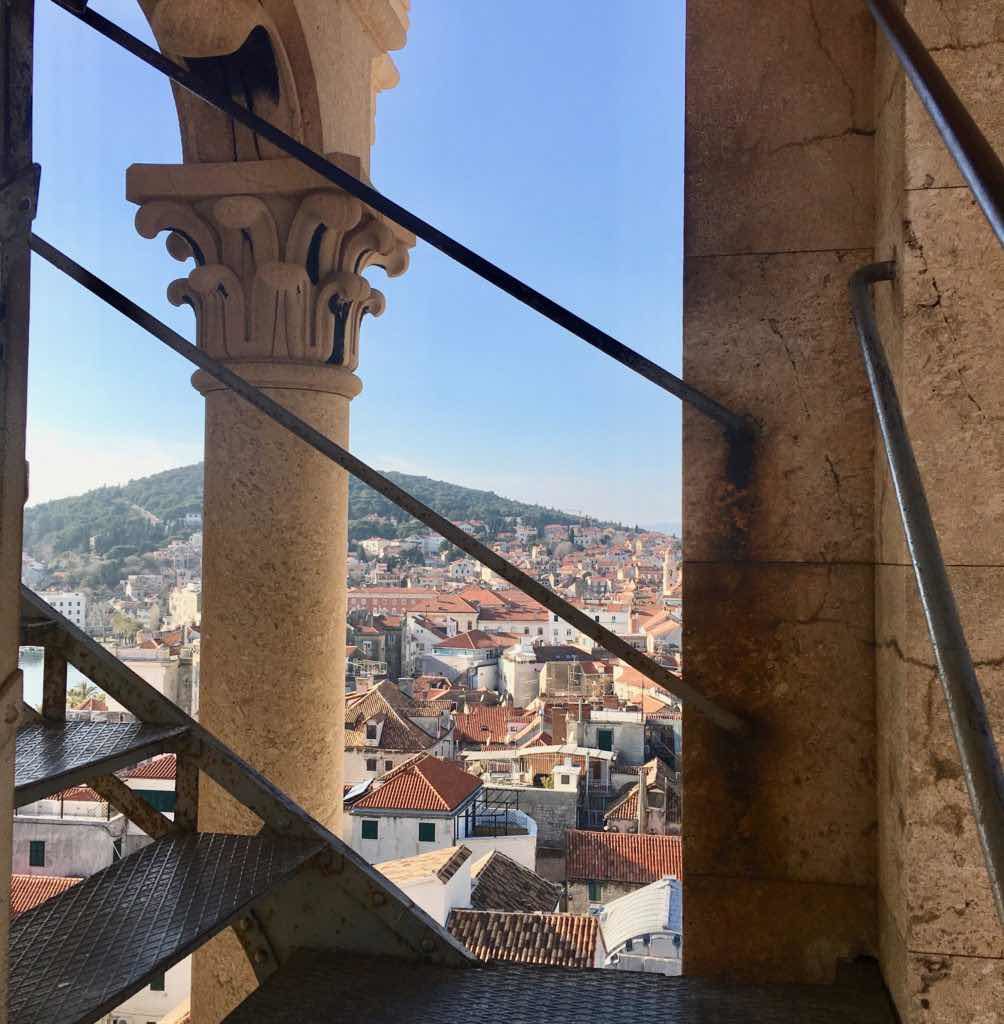 3. Jupiter's Temple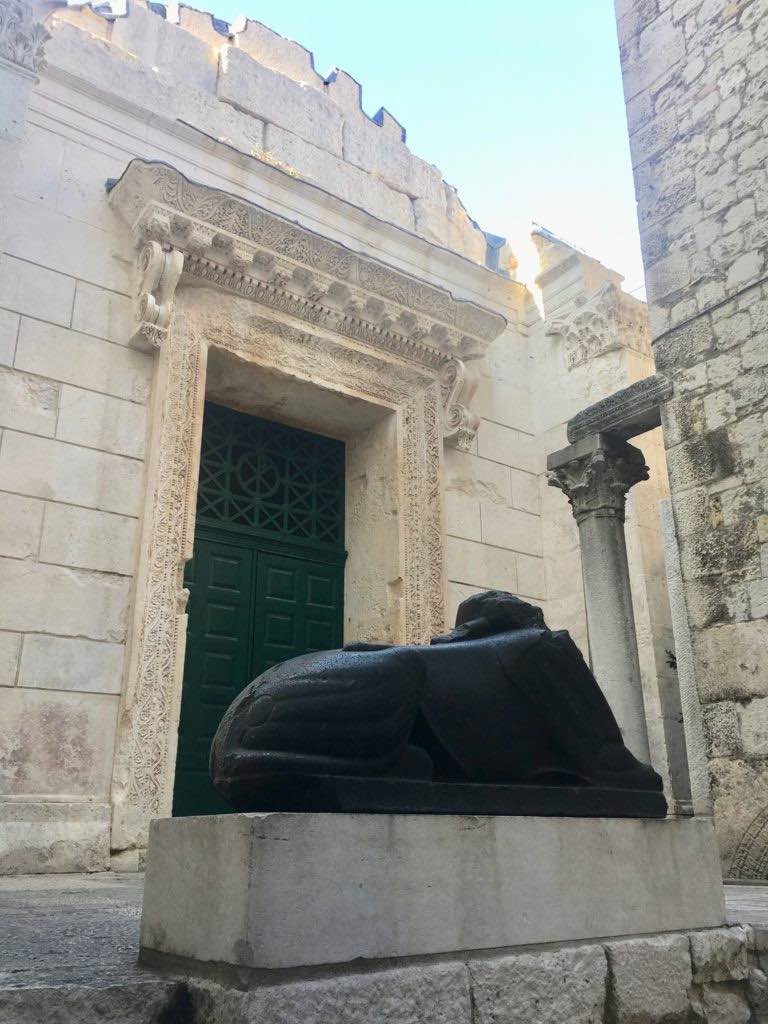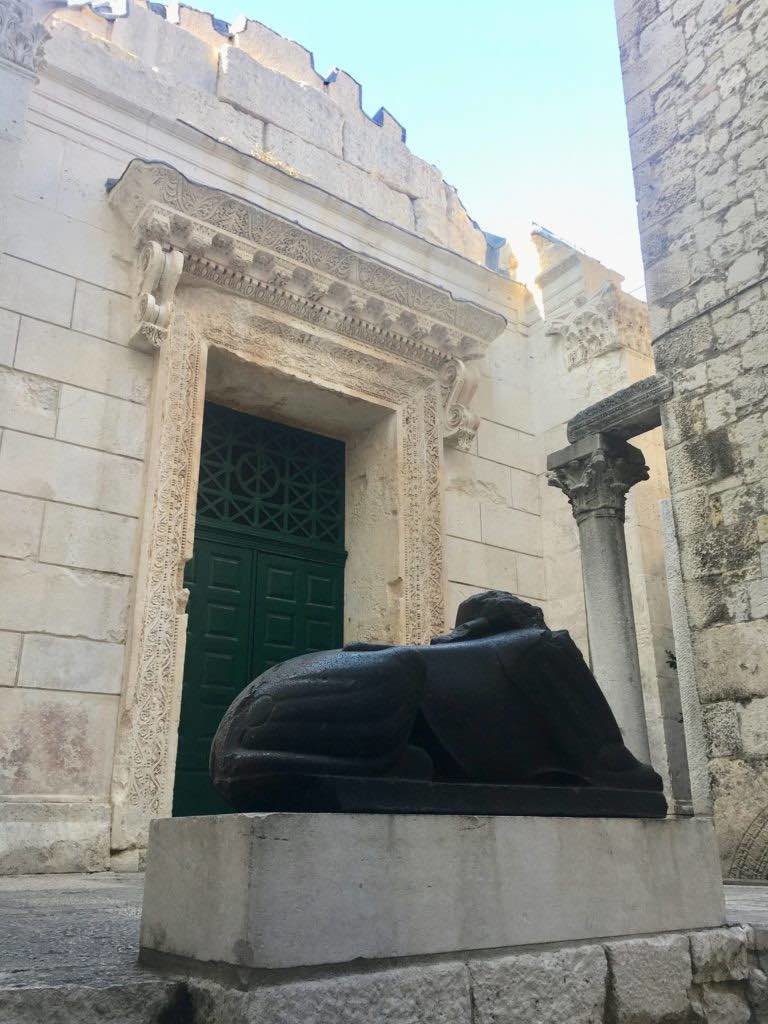 What to see in Split Croatia in one day: Jupiter's temple, located just a few steps from the Peristyle
Jupiter's temple was built in the 4th century AD honoring the cult of Jupiter.
Diocletian as a Roman Emperor was believed to be the reincarnation of Jupiter, the Roman highest god, and the god of the sky, thunder, and lightning. Hence, Diocletian was worshiped as a god.
In front of the temple stands an Egyptian sphinx as the temple's keeper and a renaissance sarcophagus from the 16th century.
In the 6th century AD, the temple was converted into St. John's  Baptistery. Nowadays it is open just one day in the year, on 24th June, the Day of St. John the Baptist.
4. Narrow old Roman alleys 
What to do in Split Croatia in one day: Walk the old Roman cobbled alleys in Split as the old Romans did!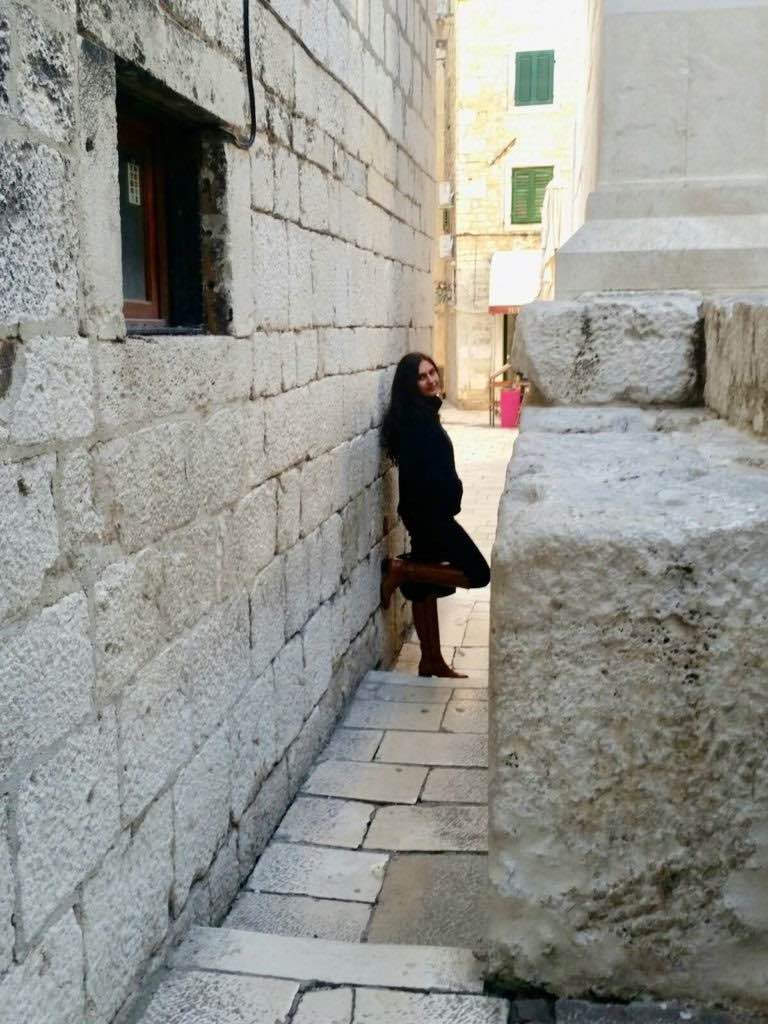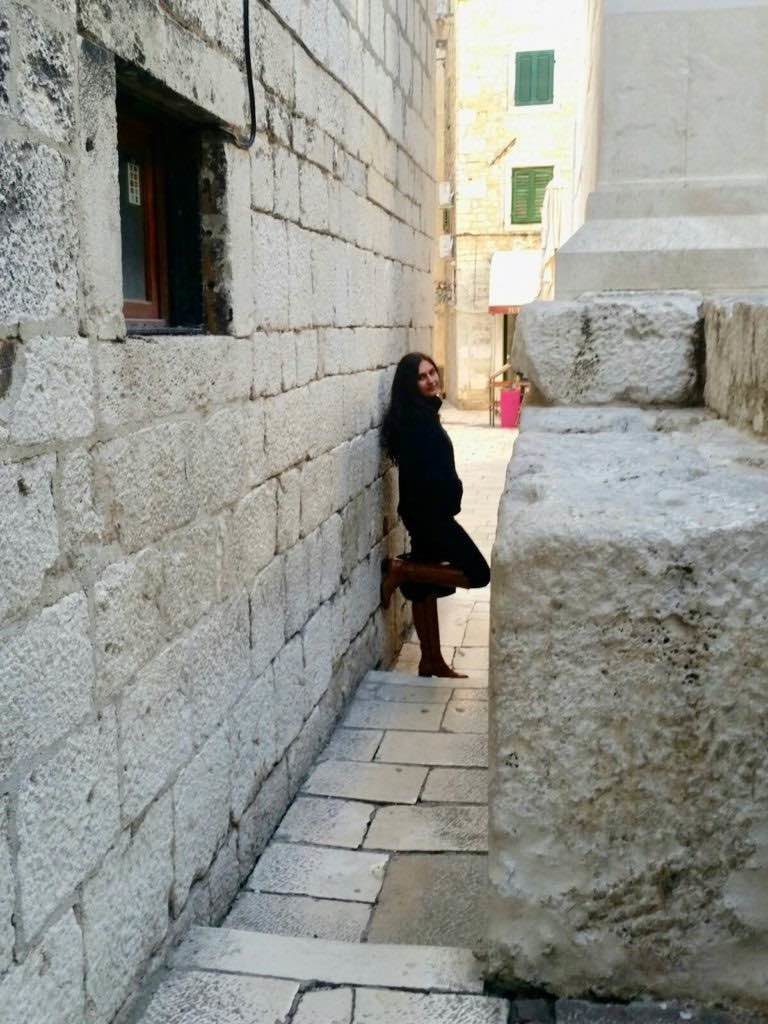 'Let me pass' street (or 'Pusti me proć' in Croatian) is the narrowest street in Split. It is just next to Jupiter's Temple.
5. Vestibule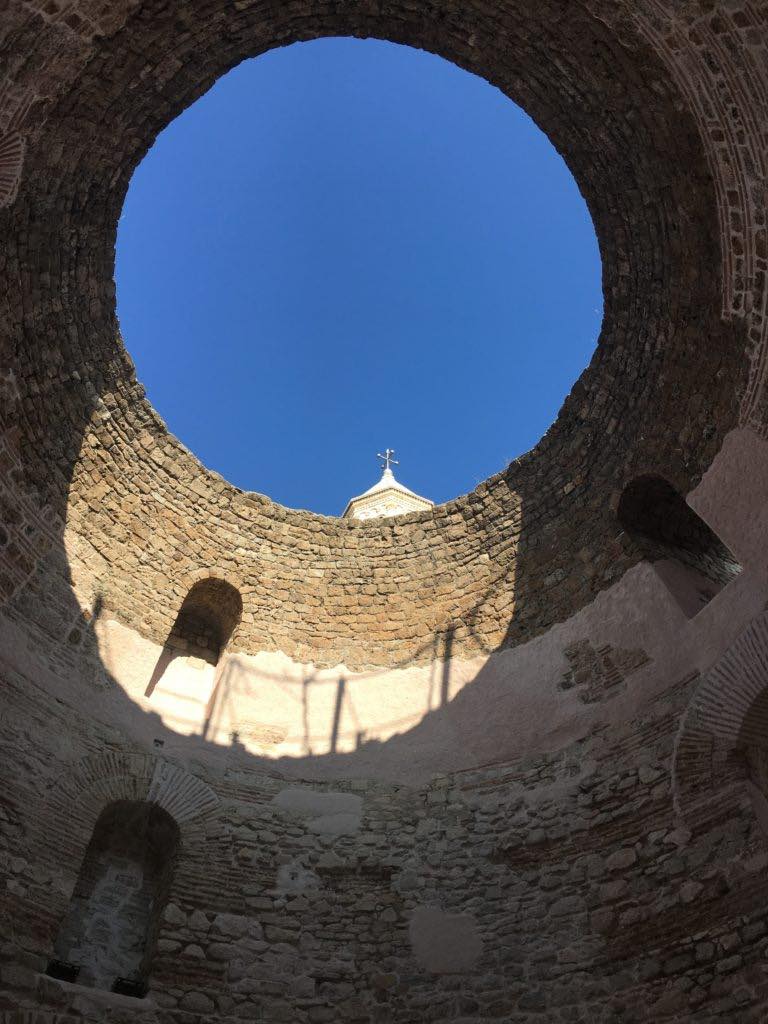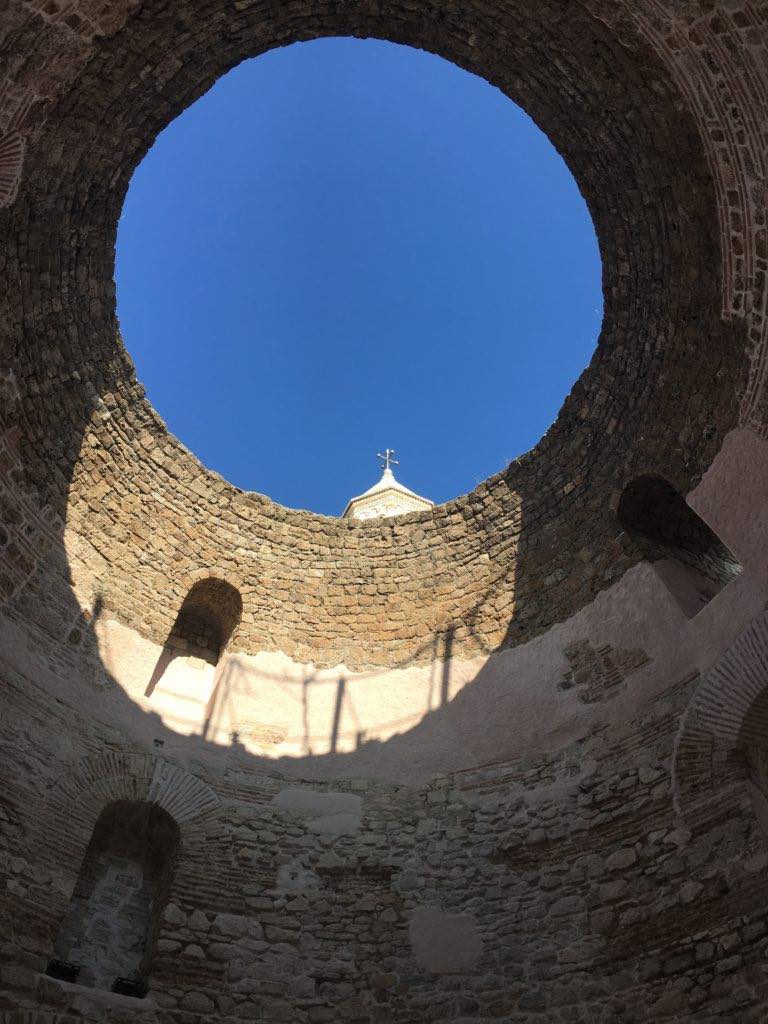 What to see in Split Croatia in one day: Vestibule,  the entrance to Diocletian Palace 
The vestibule is the antechamber to the residential part of the Diocletian's Palace. Once the niches of the antechamber were full of statues and it was covered with a large cupola.
The vestibule in the Diocletian Palace in Split is a site with great acoustics. There you can meet and hear some great street musicians and a cappella Dalmatian Klapa singers.
6. Homes and businesses within the walls of Diocletian's Palace
What to see in Split Croatia in one day: contemporary life in Split within old Palace walls.
The Diocletian's Palace is the only World Heritage site in the world where people still live within the original walls of the palace!
Within the walls of the historic palace, you can find small shops, coffee and wine bars, restaurants, and bistros.
7. People's Square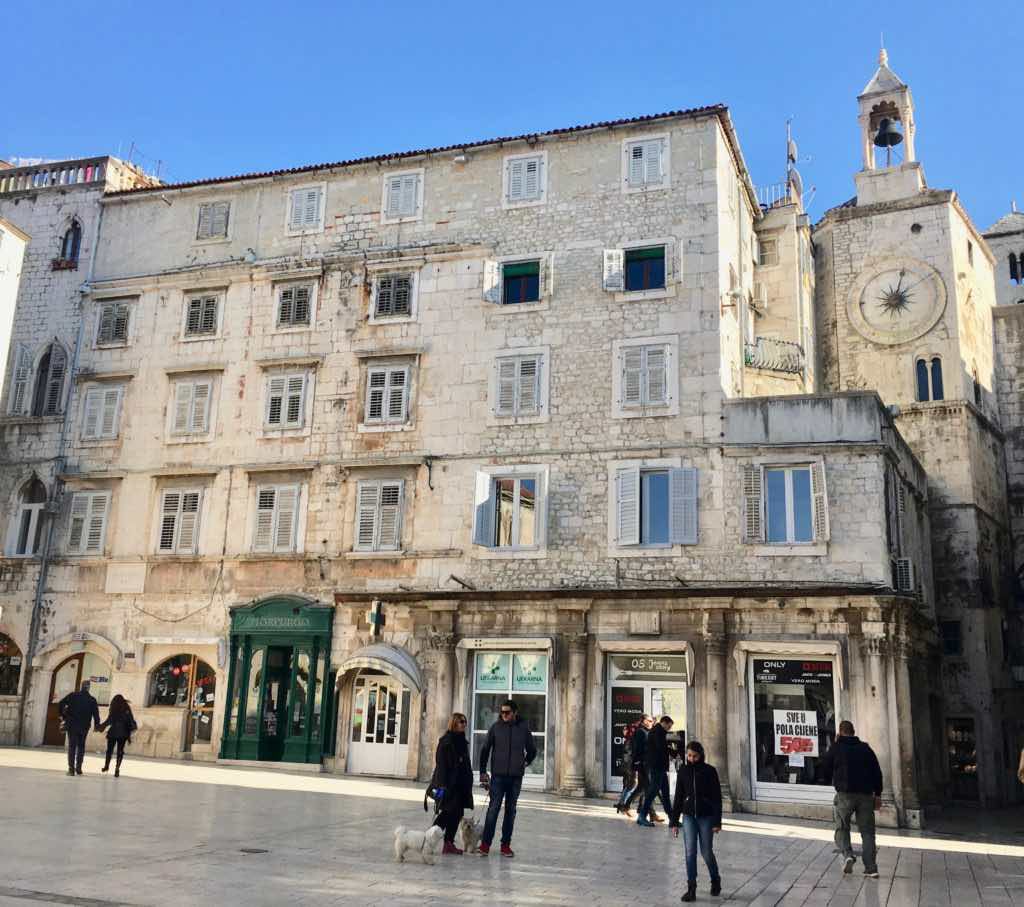 What to do in Split Croatia in one day: Visit the People's square
People's Square (or Narodni Trg in Croatian, also known as Pjaca among the locals), is a place with a long tradition of people's gathering.
The most prominent square's buildings are a Romanesque clock, medieval sundial, the City Cafe, and baroque Milesi palace.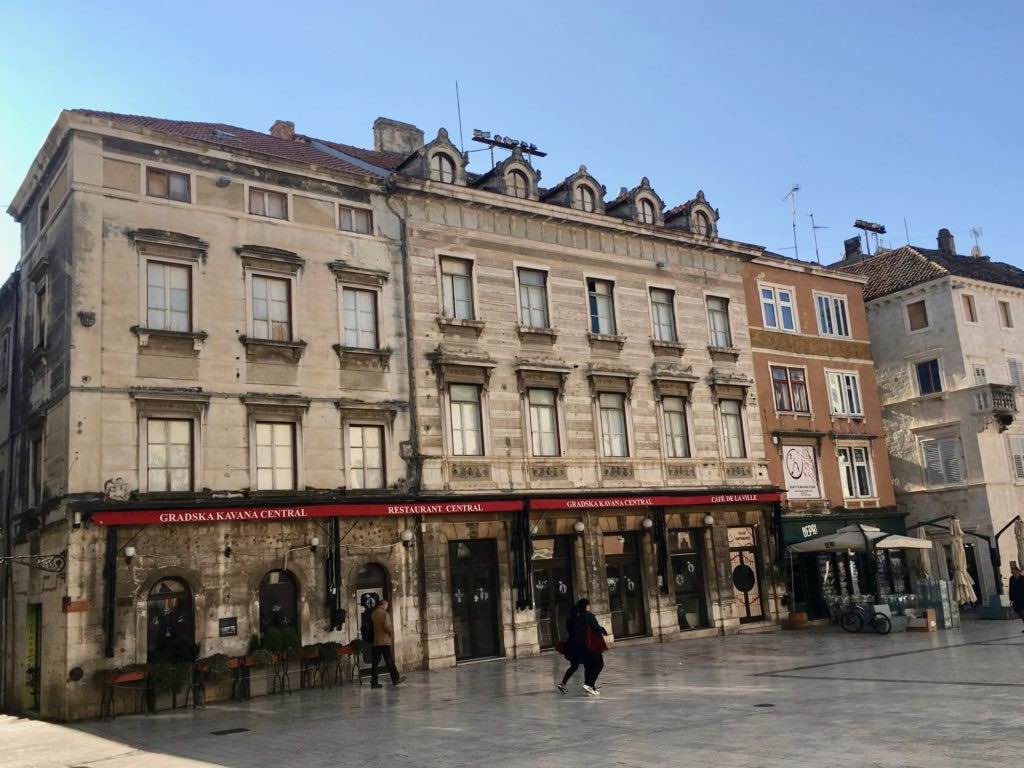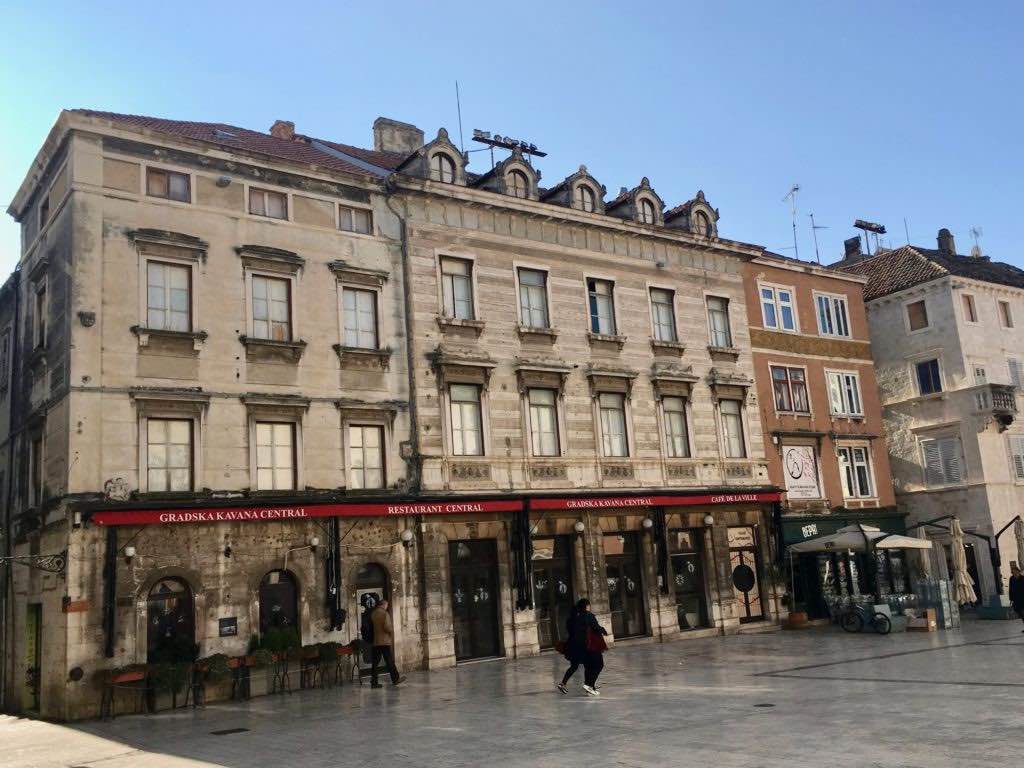 8. Fruit Square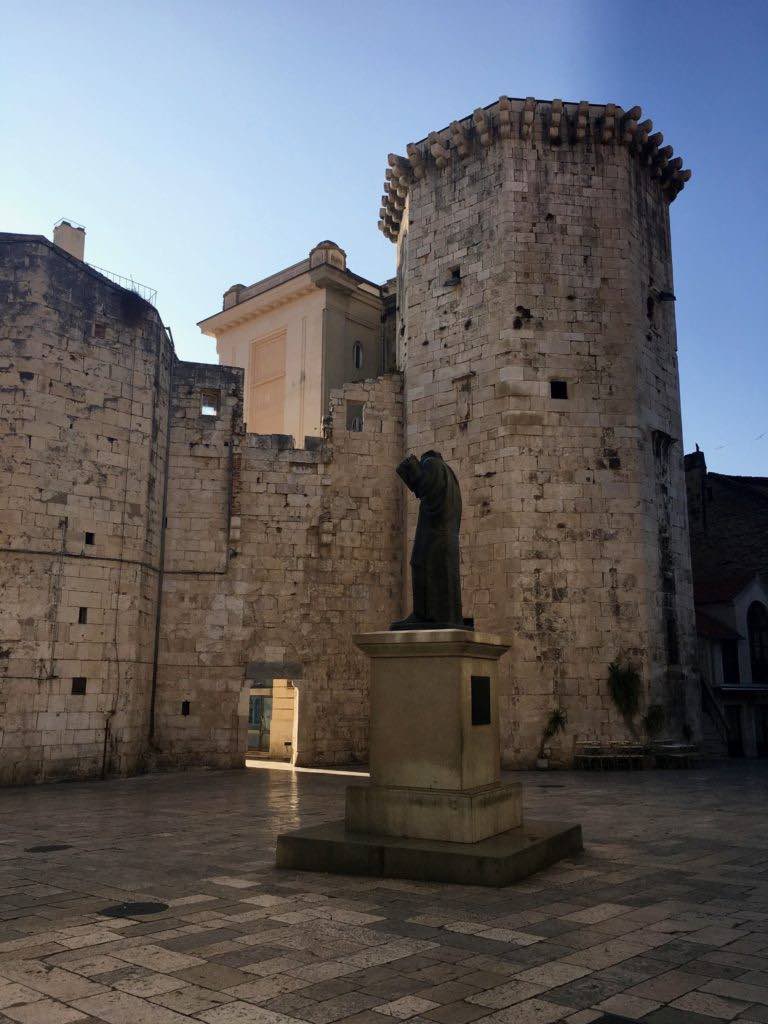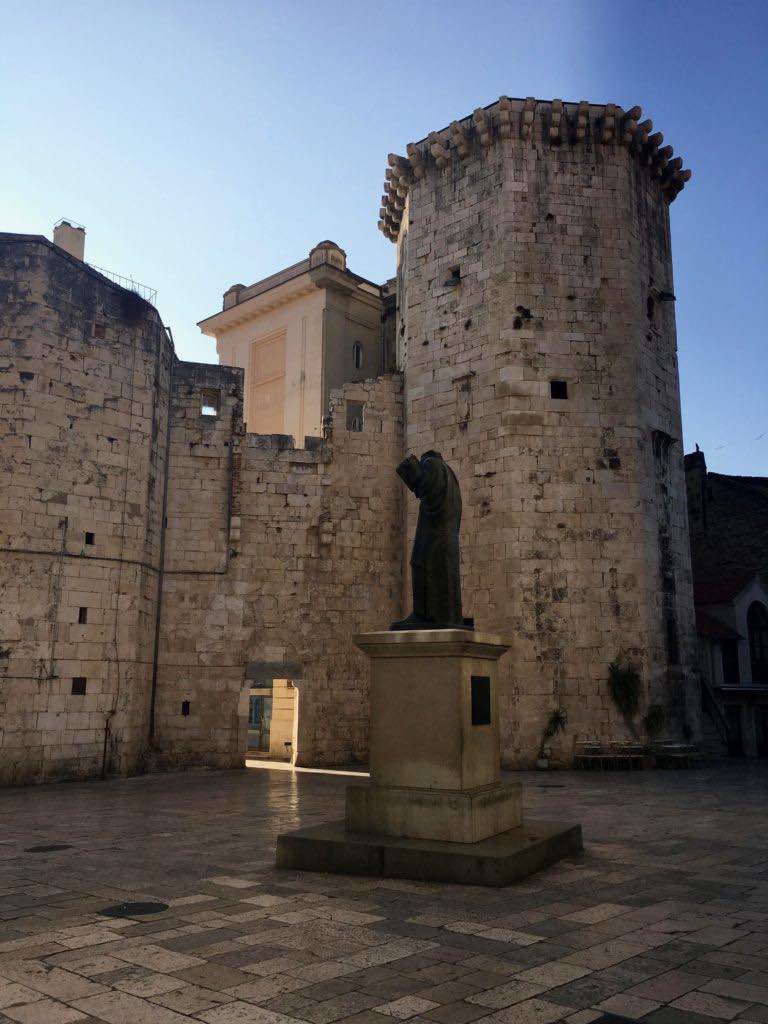 What to do in Split Croatia in one day: Mingle with local people at the Fruit Square.
Fruit Square is a square in Split with the octagonal Venetian tower and statue of Marko Marulić, a Renaissance poet from the 15th century and the father of Croatian literature. Once a bustling fruit market is now one of the most popular gathering places in Split.
9. Golden Gate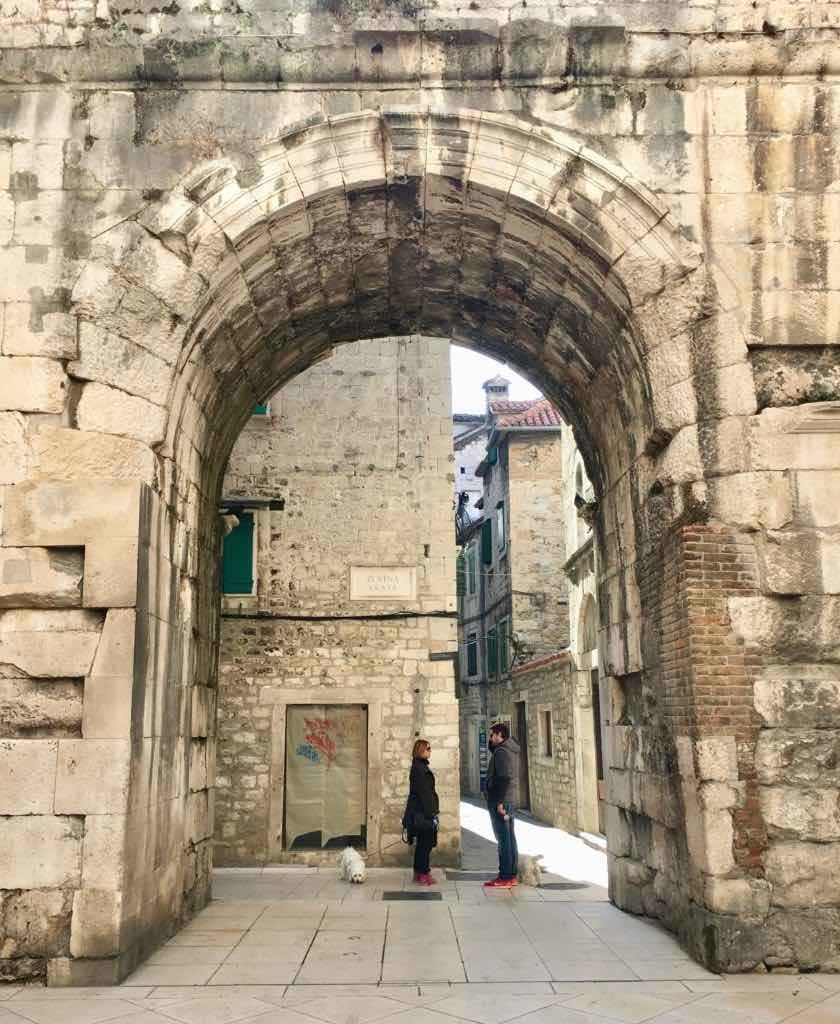 What to see in Split Croatia in one day: The Golden Gate in Split
The Diocletian's Palace has forth gates named by materials: The Golden (Northern), Silver (Eastern), Iron (Western), and Bronze (Southern) Gate.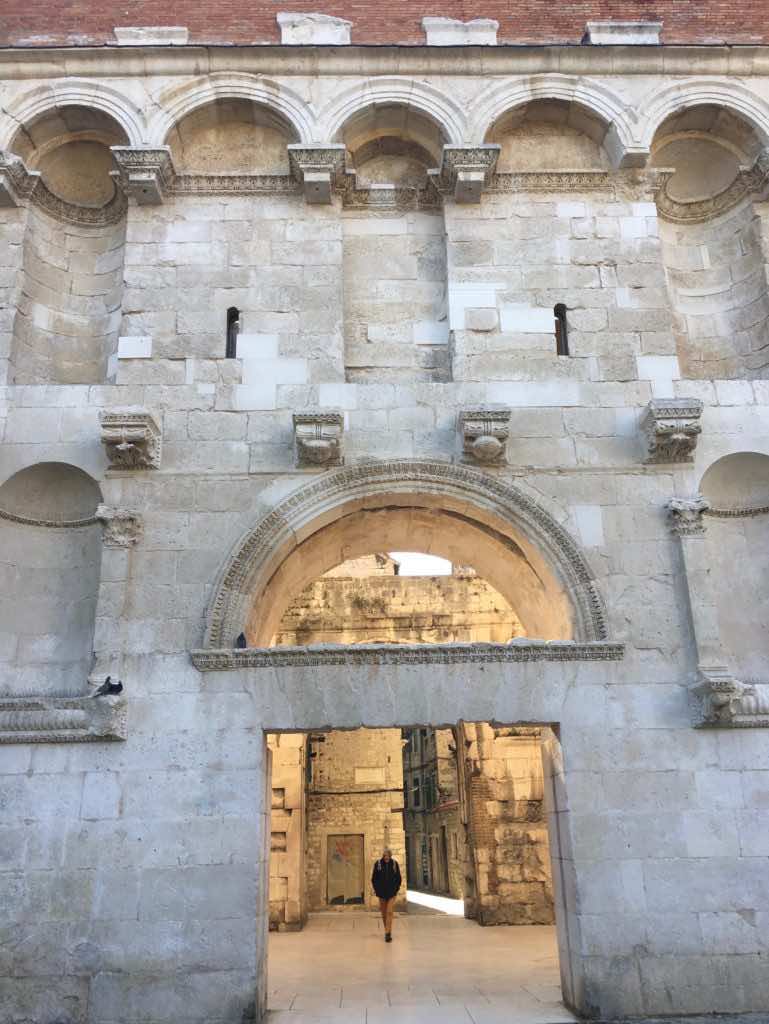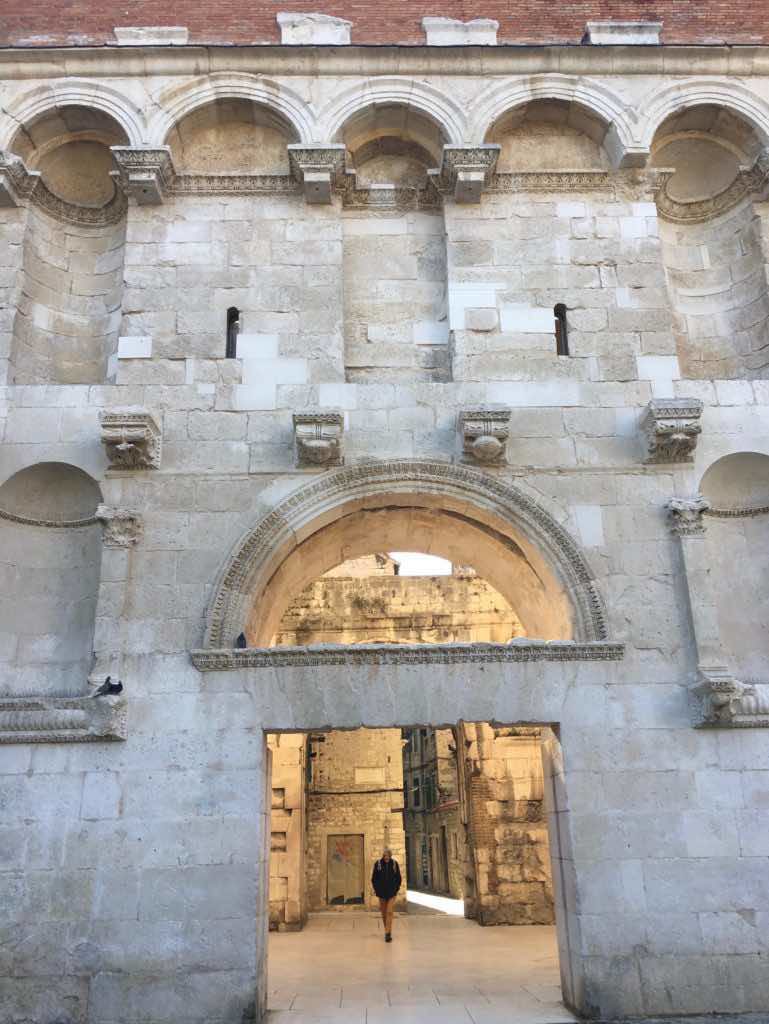 The Golden Gate, constructed as double doors in defending military purpose, was the main entrance to the palace. On the 1st June 305 AD, Emperor Diocletian walked through the gate, officially entering the palace.
10. Statue of Bishop Gregory of Nin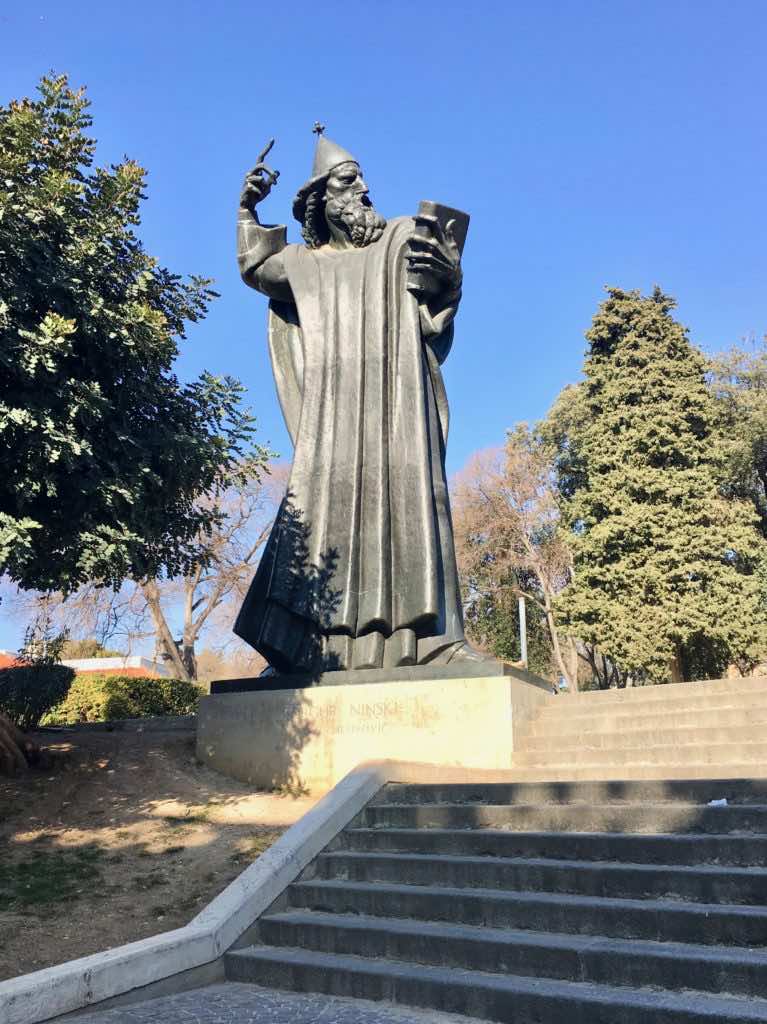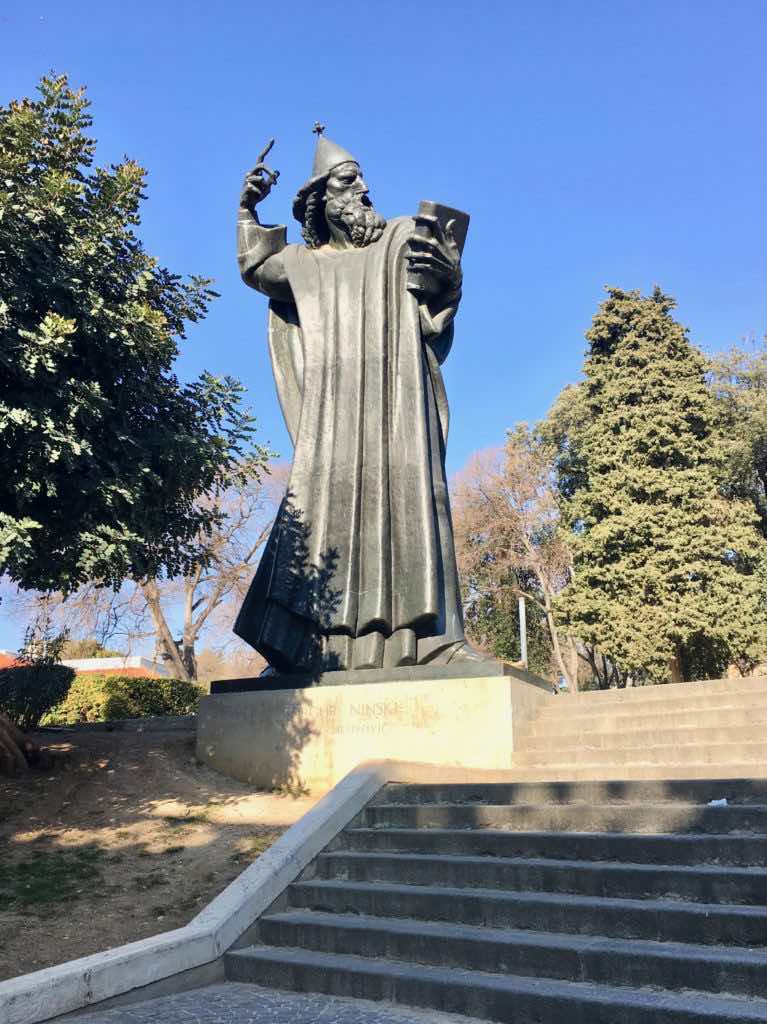 What to do in Split Croatia in one day: Make a wish and rub the thumb of Bishop Gregory of Nin.
In the 1oth century, Bishop Gregory of Nin was a huge advocate of using the Old Slavonic language and Glagolitic script.
Famous Croatian-born American sculptor Ivan Meštrović made the 6 feet (183 cm) tall statue of Bishop Gregory which stands just in front of the Golden Gate. Rubbing the bishop's thumb is believed to make the wish come true.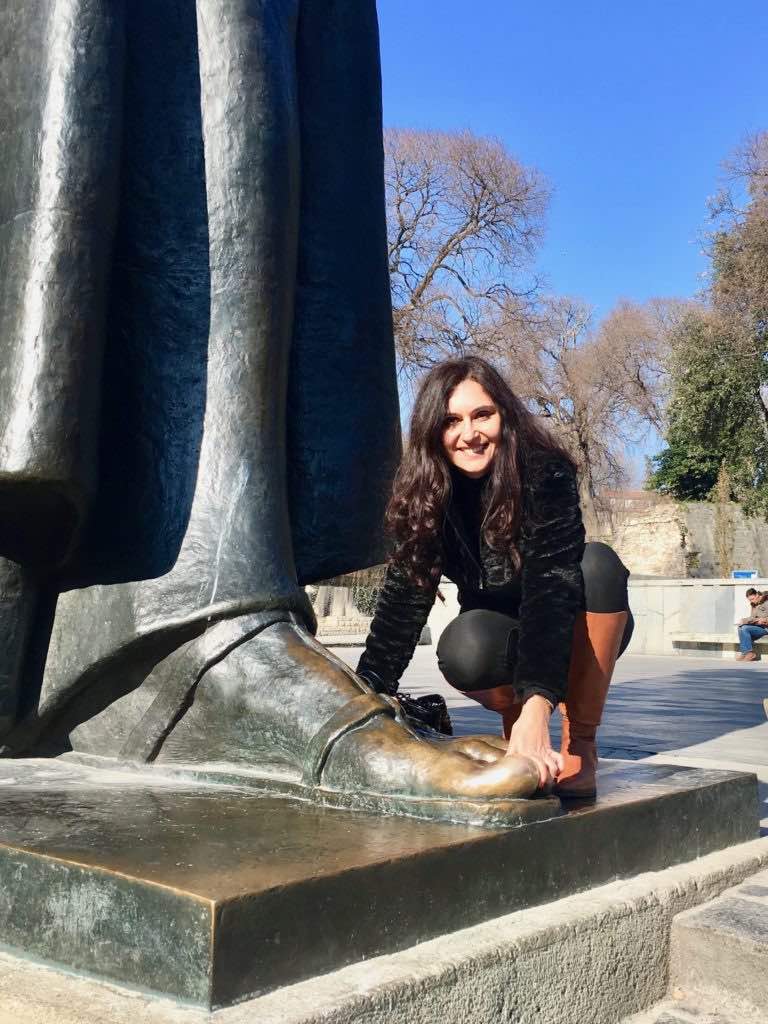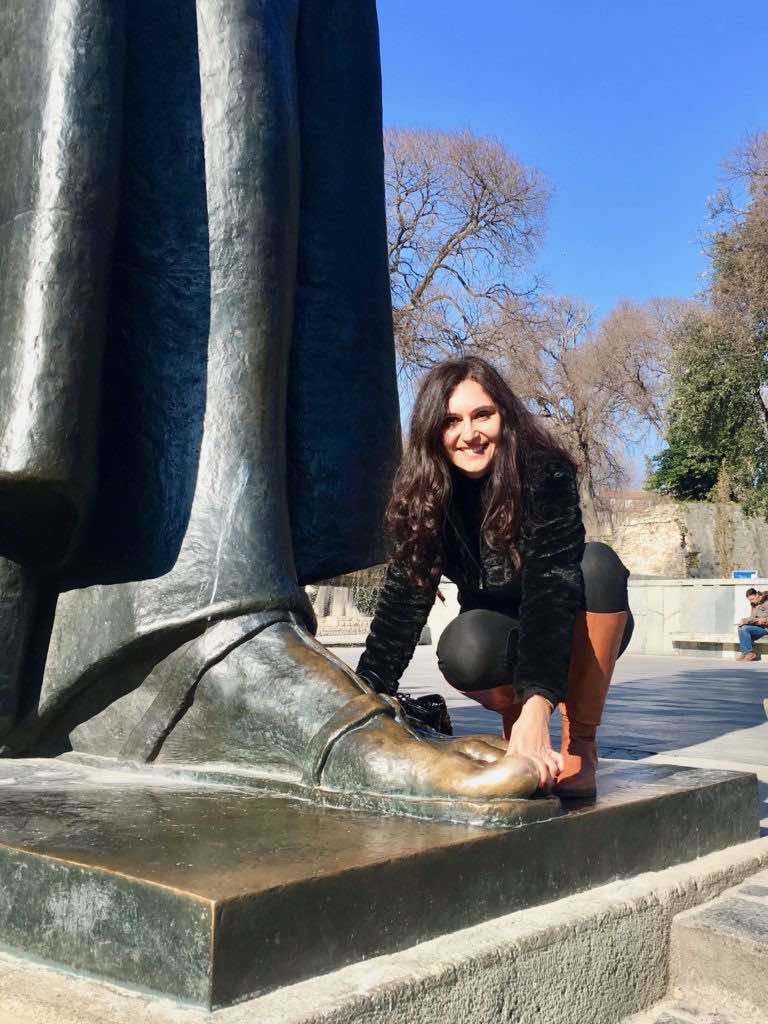 11. Riva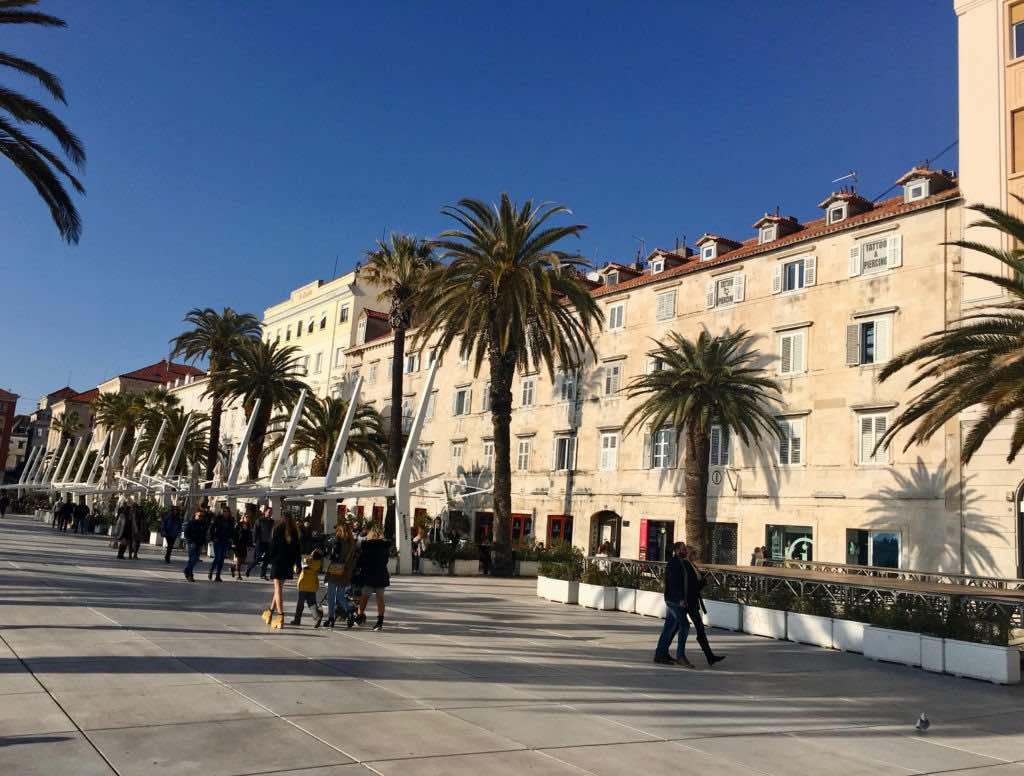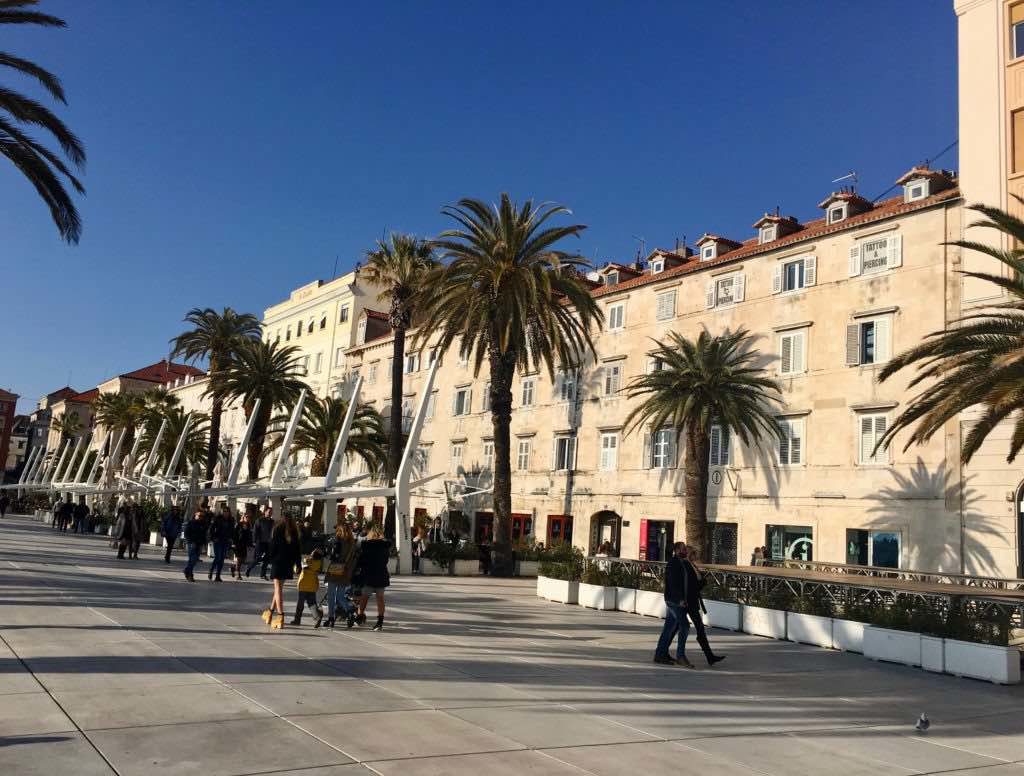 What to do in Split Croatia in one day: Have a cup of coffee like local people and enjoy people watching on the seafront promenade in Split. Trust me, it is one of the best things to do in Split Croatia!
Riva is the seafront promenade in Split. If the Diocletian's palace is the heart of Split, then Riva is the soul of Split.
The waterfront promenade is the town's living room, the most popular meeting point, and the main place in Split for social and cultural events.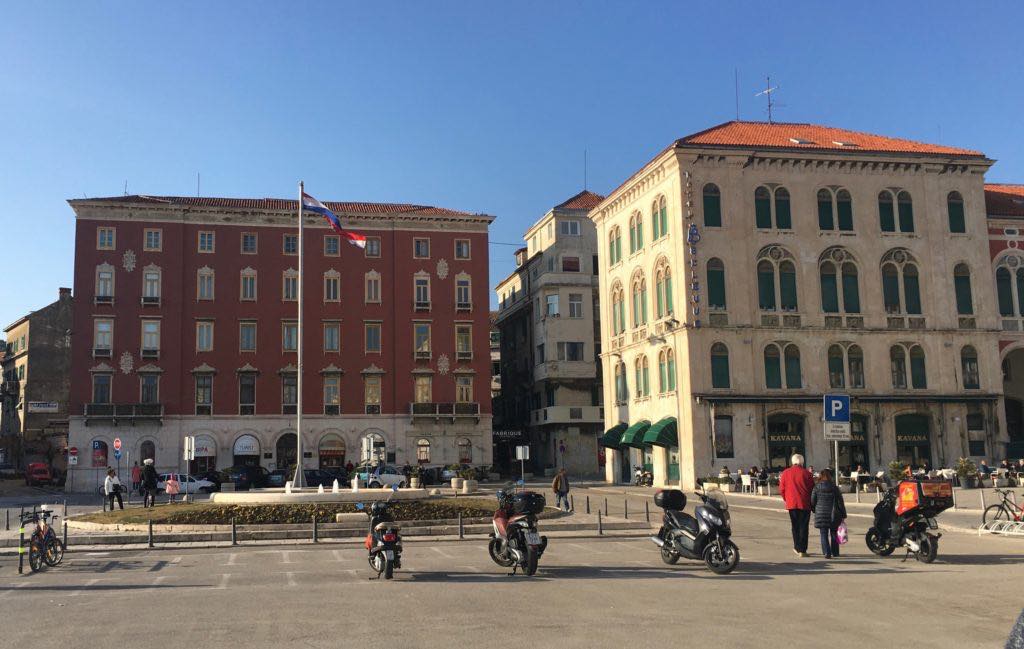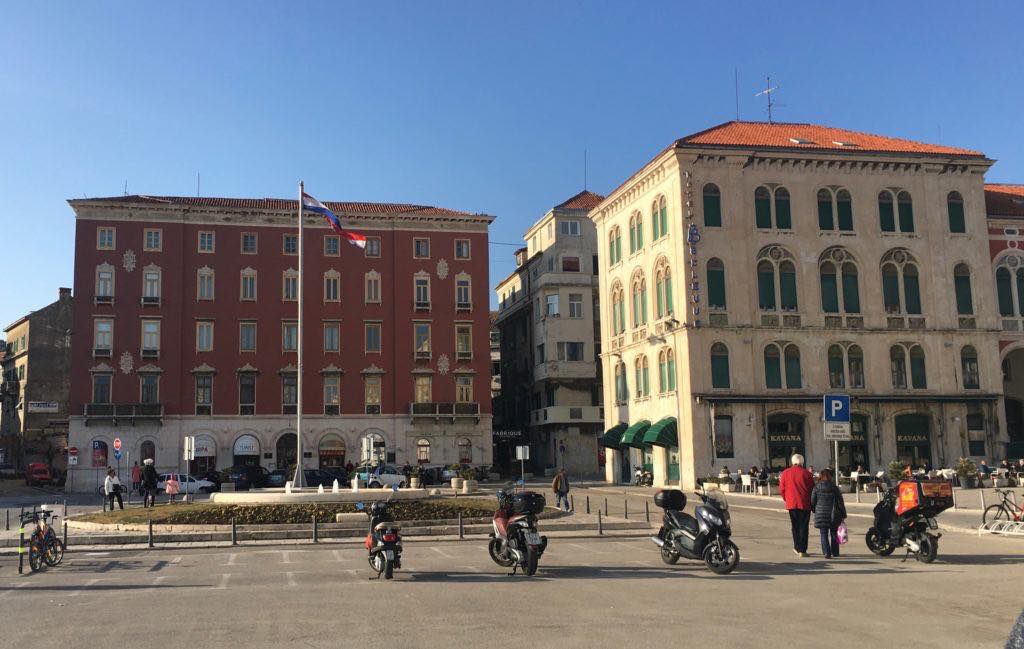 12. Prokurative square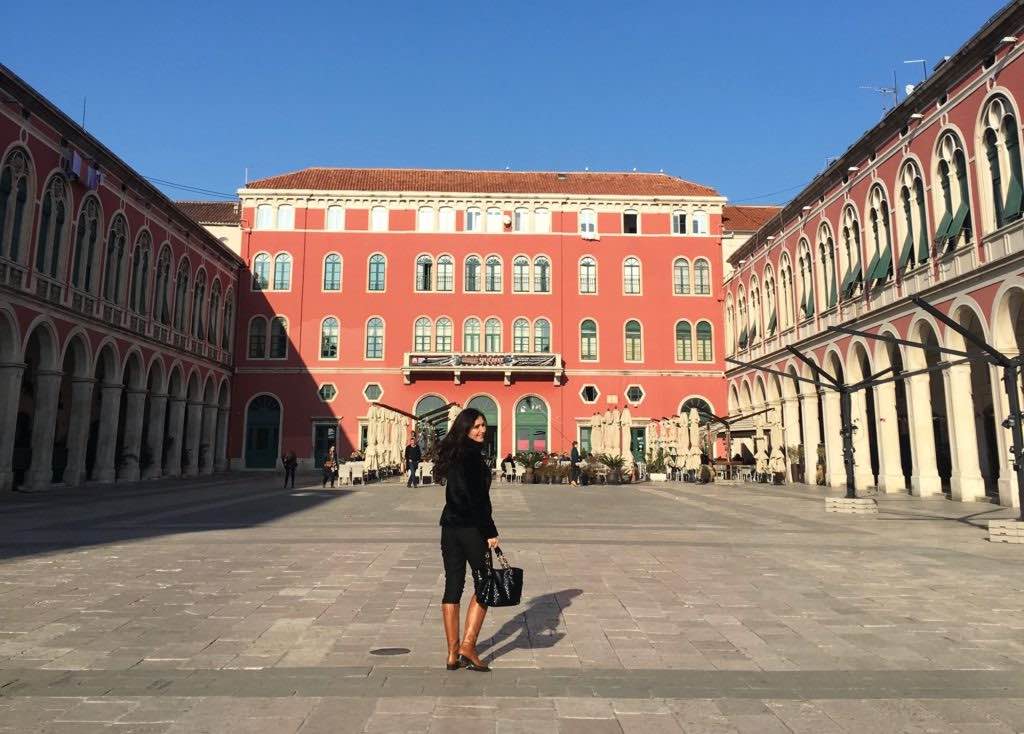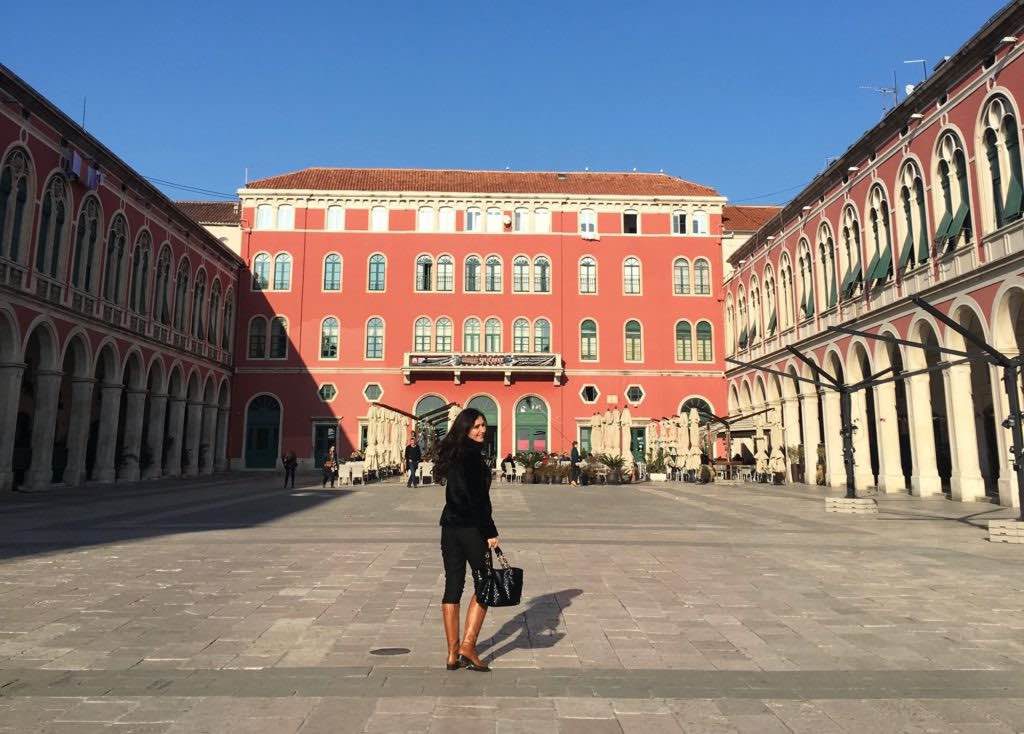 What to see in Split Croatia in one day: Prokurative square in the neo-renaissance Italian style
Prokurative is a square from the mid 19th century, inspired by Italian architecture and St. Mark's square in Venice. The square got its name Prokurative for the red neo-renaissance Italian structure in architecture.
The square is surrounded by buildings on the three sides and is open to the harbor from the southern side. The Prokurative square has been a great open stage for numerous famous concerts, cultural events, and festivals for many years.
WHERE TO STAY IN SPLIT CROATIA
Do you like this one-day Split itinerary? I bet when you see all these must-see sites in Split, you will wish to stay in Split for a few days. Split is not only one of the most beautiful places in Croatia, but also one of the most beautiful towns in all Mediterranean. Roman Emperor Diocletian loved Split more than Rome. He gave up the throne of Rome to enjoy Split. Don't be surprised if you fall in love with Split too.
RECOMMENDED STAY IN SPLIT IN CROATIA: 
BUDGET STAY: Hostel Dvor, Boutique Hostel Posteya, Gravitas Hostel
MID-RANGE: Central Split apartments and rooms Paese, Hotel Cvita, Luxury Rooms Floramye, Apartmani Split L&A, Sailor Boutique Rooms
LUXURY: Palace Suites Heritage Hotel, Royal Piazza, Pietra Rossa, Grisogono Palace Luxury Apartment, Radisson Blu Resort & Spa, Priska Luxury Rooms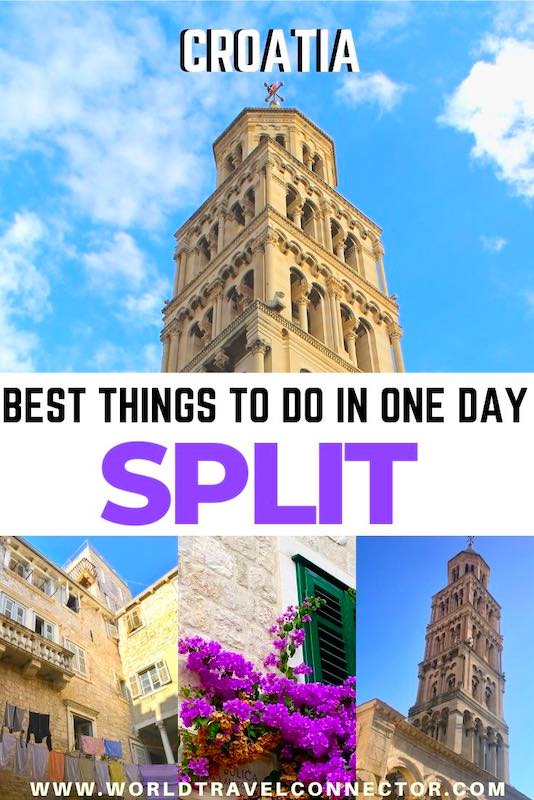 STEPS AND TRAVEL RESOURCES FOR YOUR PERFECT TRIP

1. Find and book your flight: Skyscanner
2. Find and book your stay: Booking.com, HotelsCombined.com
3. Find and book the best car rentals: Discover Car Hire
4. Get travel insurance (insure yourself against any accident, sickness, theft, and canceled flight): WorldNomads.com
5. Find and book great guided day tours: GetYourGuide, Viator
EXPLORE SPLIT IN A DIFFERENT WAY
Discover Split in 1 Day in a distinctive way
INSIDER AND OFF-THE-BEATEN TRACK SPLIT IN CROATIA
Spend 1 Day in Split Croatia in a unique way
Secrets of Split 3-Hour Walking Tour 
2.5-Hour Culinary Tour in Split 
Culinary and Wine Tasting Tour in Split
BEST DAY TRIPS FROM SPLIT IN CROATIA 
What to do near split Croatia? Plan your next trip from Split :
Plitvice Lakes Day Tour From Split
Krka Waterfalls and Šibenik From Split
Mostar and Medjugorje Day Tour From Split
Full-Day Catamaran Cruise to Hvar and Pakleni Islands
Blue Cave and 5 Islands Day Trip From Split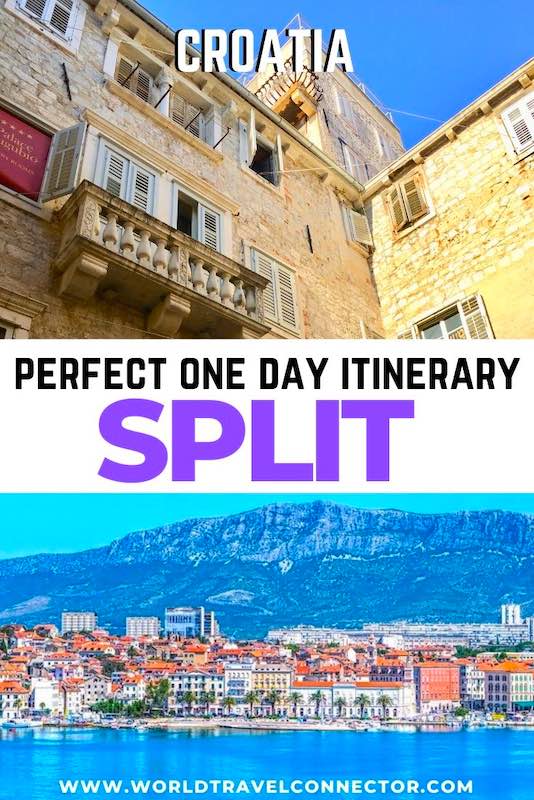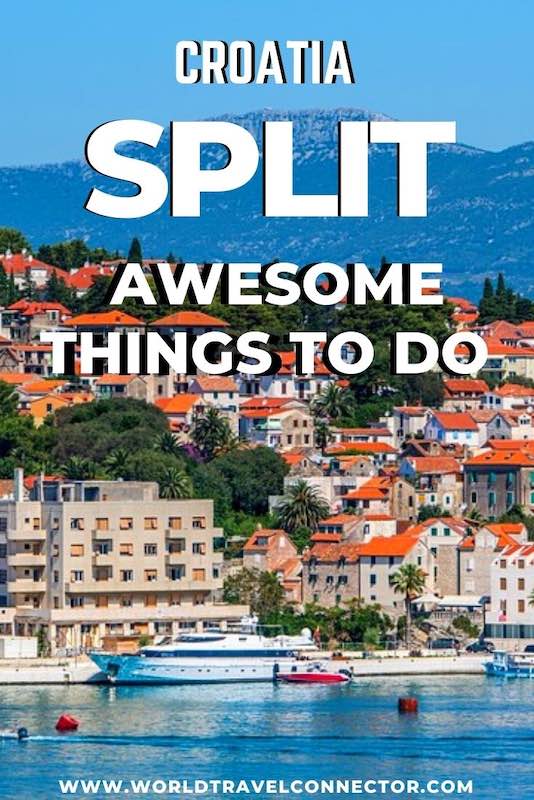 Do you want to explore more of the Balkans?
Maybe you should check out Sarajevo in Bosnia or Ohrid in Macedonia?!