Dubrovnik in winter goes for sunny and serene winter days in the town full of fascinating history on the Adriatic sea.
Winter in Dubrovnik means tranquility, serenity, leisure time, relaxation and peacefulness.
Need more reasons why you should visit Dubrovnik in winter?
Find out why you should spend your winter holidays in Dubrovnik.
1. WINTER IN DUBROVNIK – WHY YOU SHOULD VISIT DUBROVNIK IN WINTER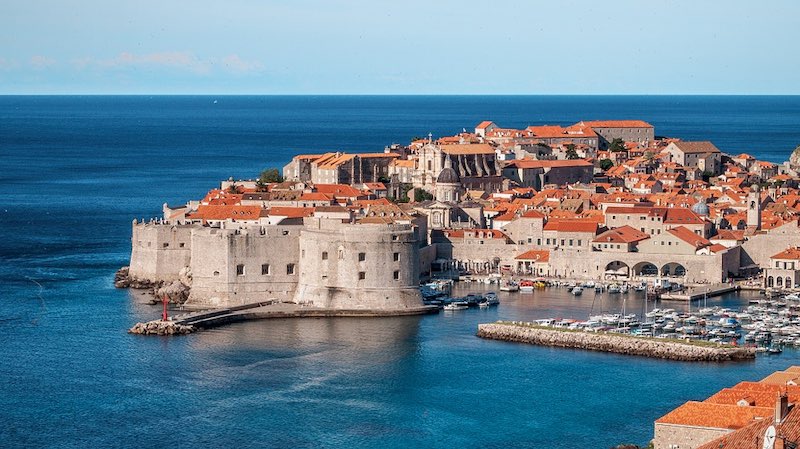 THIS POST MAY CONTAIN COMPENSATED LINKS. PLEASE READ MY DISCLAIMER FOR MORE INFO. 
Dislike crowds of tourists in summer? Prefer to feel a unique spirit of the place? Looking for Mediterranean winter sunny days? Craving for a few-day escape from cold, wet, foggy, or snowy winter? Looking for a perfect European winter weekend break in a city full of fascinating history? Want to immerse yourself in the Gothic, Renaissance, and Baroque in the silence of off-season vibe?
If your answer is yes, you should consider taking a vacation in Croatia in winter and visiting Dubrovnik in winter, 'the Pearl of the Adriatic' and one of the most beautiful cities in Europe frequently featured as a top European bucket list destination.
While Dubrovnik can be explored in one day or two, 3 days in Dubrovnik will rejuvenate your mind and soul with such ease and making you want to come back as soon as possible.
Take a winter holiday in Dubrovnik and check out by yourself why Dubrovnik has been voted as the Culture Capital of the World for 2019 by more than 100.000 travelers!
2. ACCOMMODATION IN DUBROVNIK
As a Croatian who comes from Dubrovnik-Neretva county, I am more than familiar with all the neighborhoods in Dubrovnik. Here are some great options for your stay in Dubrovnik:
2.1 Luxury
The Pucić Palace – the Pucić Palace is a superb luxury option located in the heart of Dubrovnik Old City. Check here more details and latest prices 
Hotel Excelsior – located just a 10 min walk away from the Old City, the Hotel Excelsior offers picture-perfect panoramic views of the Dubrovnik Bay and the Old City. Check the latest prices 
2.2 Mid-range
2.3 Budget
Hostel Angelina Old Town – located within the Old City's walls, the Hostel Angelina is a great option for solo budget travelers. Check the latest prices
Apartments Midnight City – a half-an-hour walk away from the Old City, with spacious and comfortable rooms, the Apartments Midnight City offers a great value for the money. Especially recommended for couples. Click here for more details and the latest prices
3. WINTER IN DUBROVNIK – WHAT TO DO IN DUBROVNIK IN WINTER
And although Dubrovnik and Croatia are popular summer destinations famed for the breathtaking coastline dotted with gorgeous 1000-plus islands, historic architecture, unforgettable island hopping and sailing, you might be surprised how easy it is to fall in love with Dubrovnik in winter too.
3.1  Take a leisure walk along the Old City's walls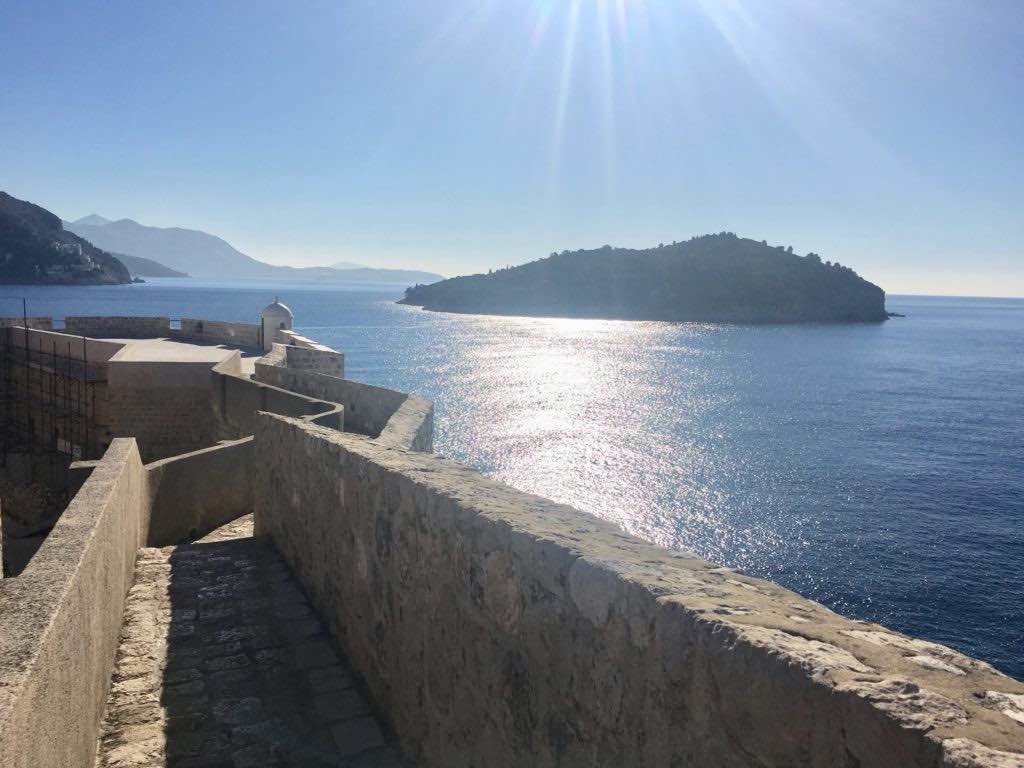 Winter in Dubrovnik gives a unique opportunity to leisurely walk along Dubrovnik old city walls with highly pleasurable views of the walls, forts, and gates without exhausting heats and hardly bearable crowds of tourists.
A slow walk along 1,9 km (1,3 miles) long old city walls followed by unpretentious gazing into the blue serenity of the Adriatic Sea on a sunny winter day in Dubrovnik is one of the best revitalization treatments you can treat yourself with.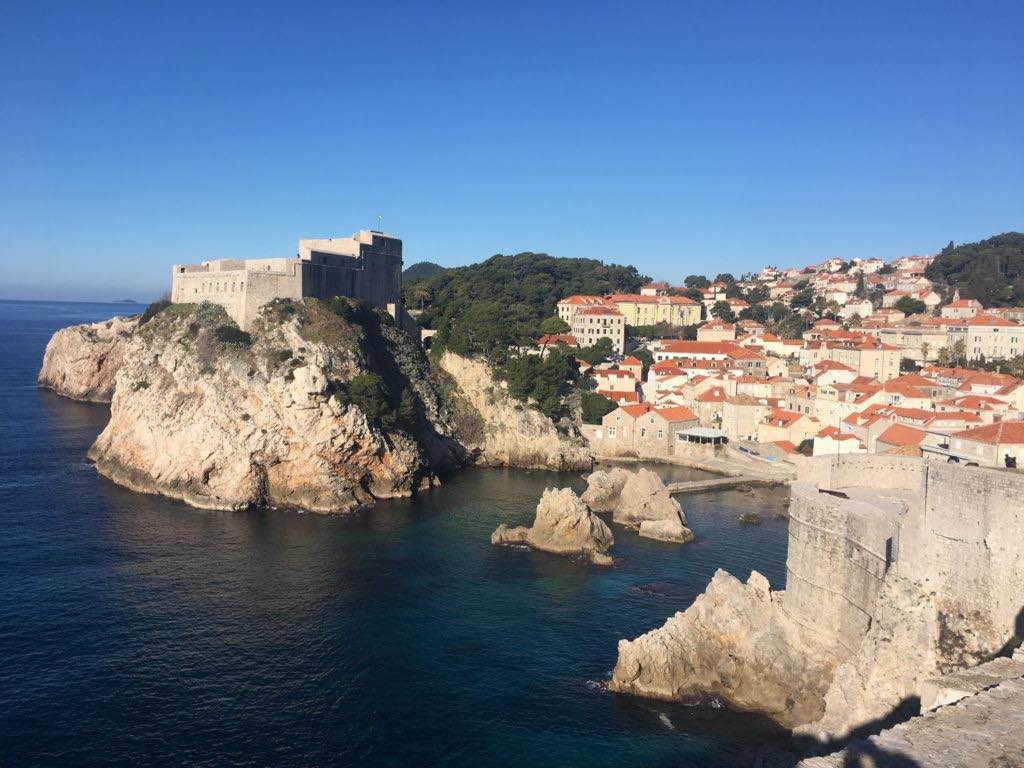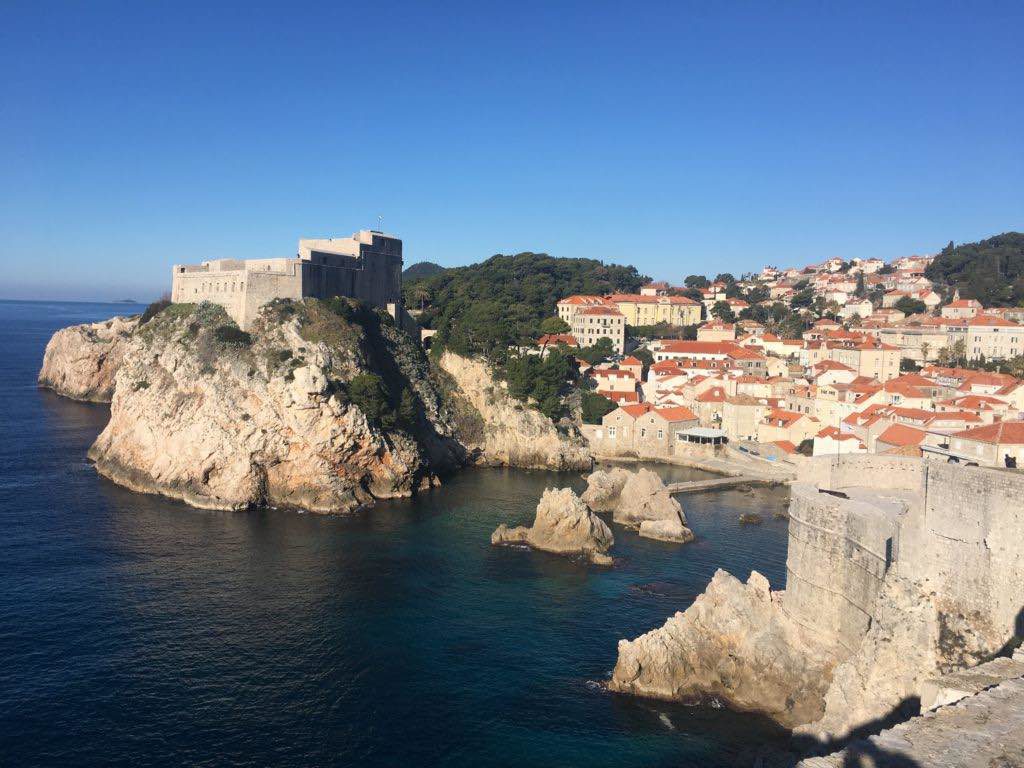 3.2 Relax in the tranquility of the Old Harbour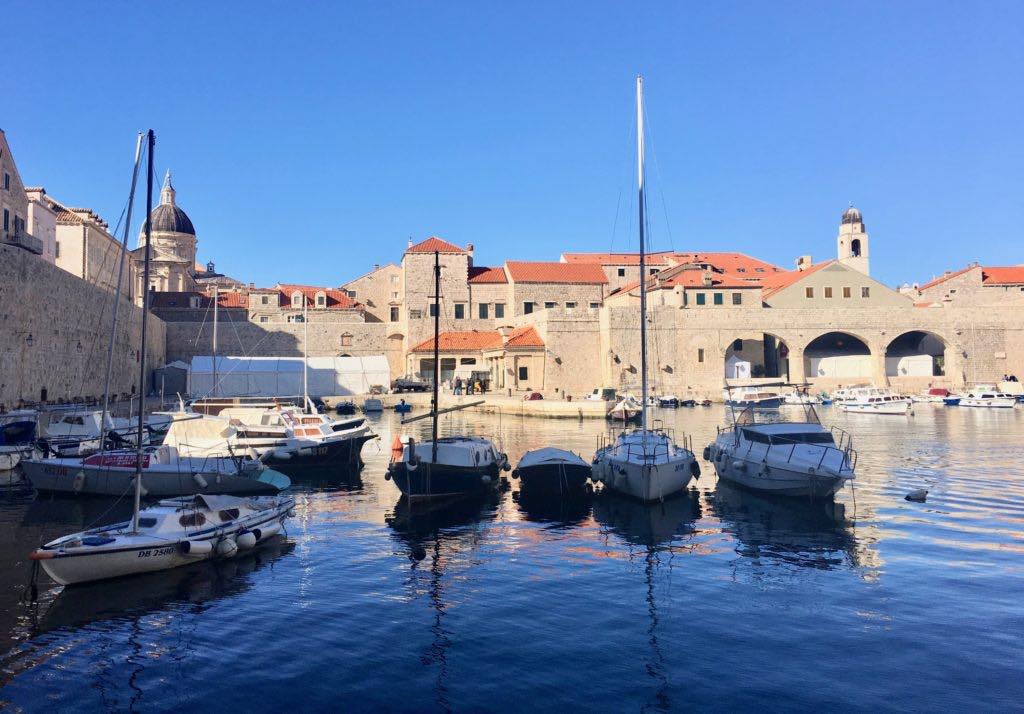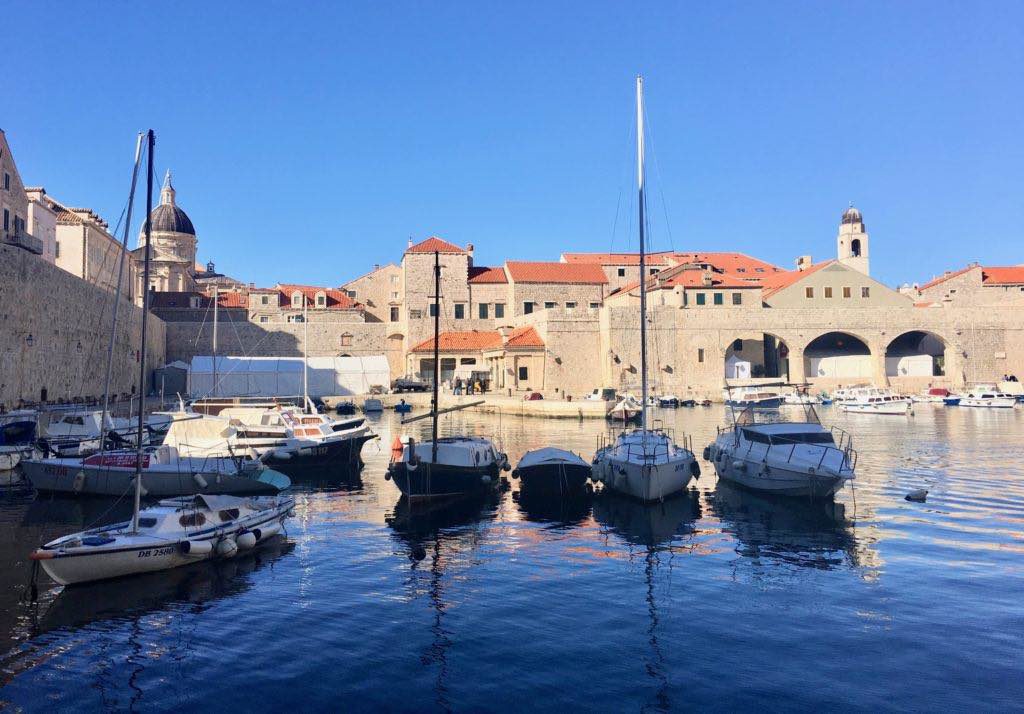 Winter in Dubrovnik offers special tranquility of Dubrovnik's Old Harbour, where the only 'noise' is made by small local fishermen's boats and sporadic chats of local fishermen.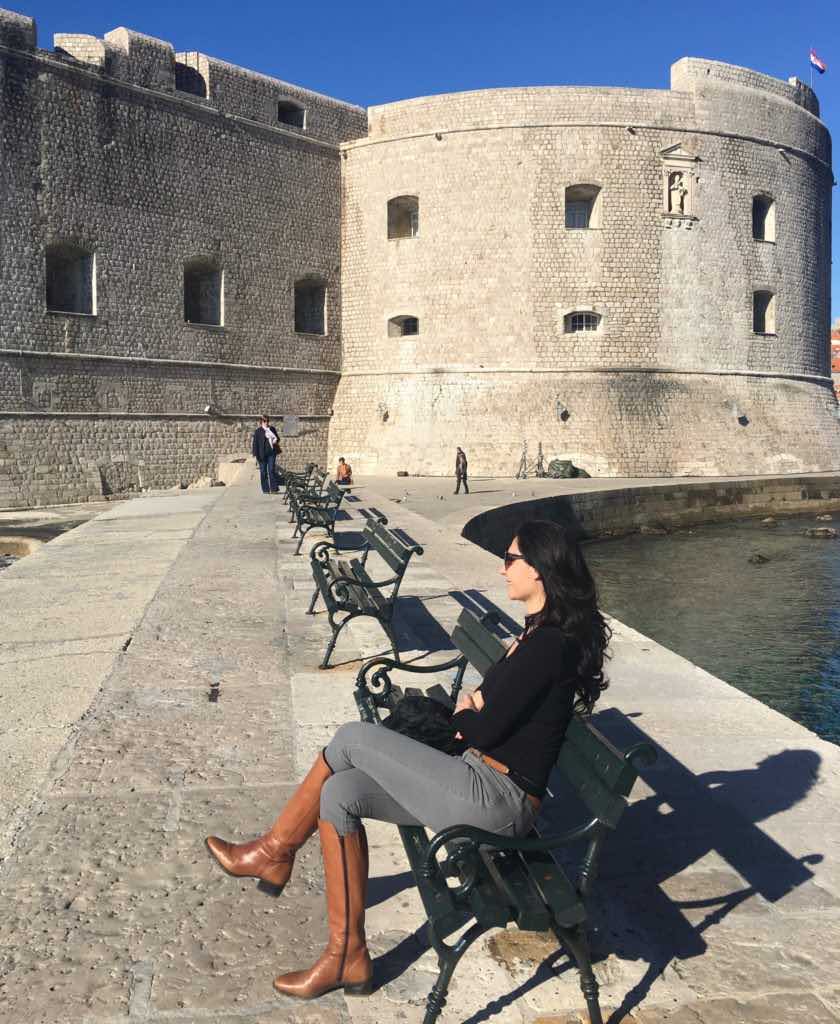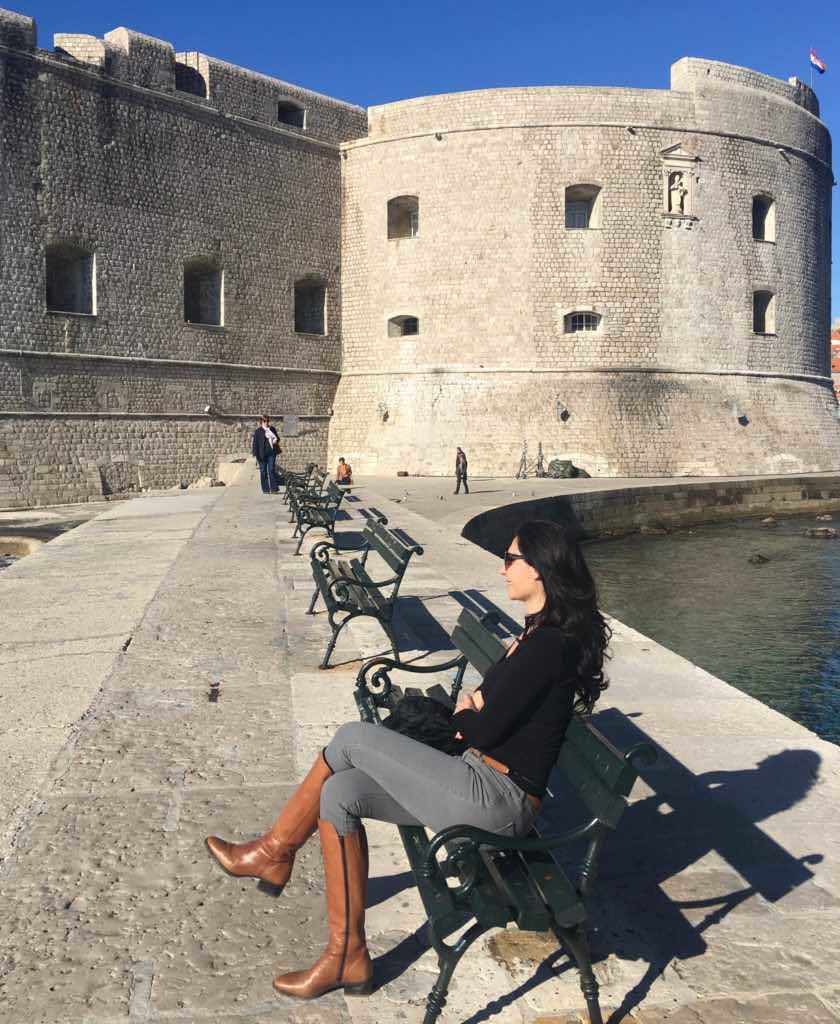 Looking at the Adriatic sea from Porporela pier in Dubrovnik in winter comes as a true blast of serenity, as the whole scenery takes a shape of a visual manifestation of the greatest mediation for relaxation.
3.3 Indulge in the serene atmosphere of Stradun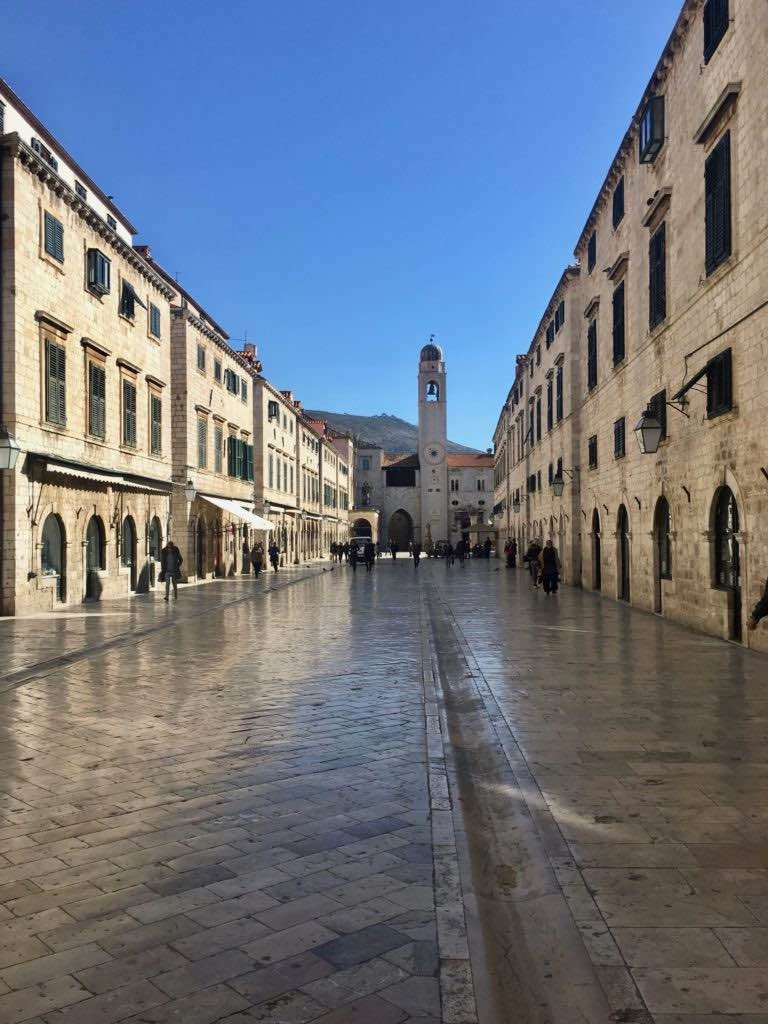 Winter in Dubrovnik allows you to take a stressless walk along Stradun and to truly indulge in one of the most beautiful pedestrian main streets in the World. Quite opposite to Stradun in the summertime when it becomes the most crowded place in Dubrovnik!
The 300 m (1.000 feet) long renaissance promenade with lined baroque stone houses with green shutters is main all year round gathering place in Dubrovnik. Stradun is a perfect place for slowly sipping coffee while watching people passing by.
3.4 Go for a laid-back stroll around palaces in Dubrovnik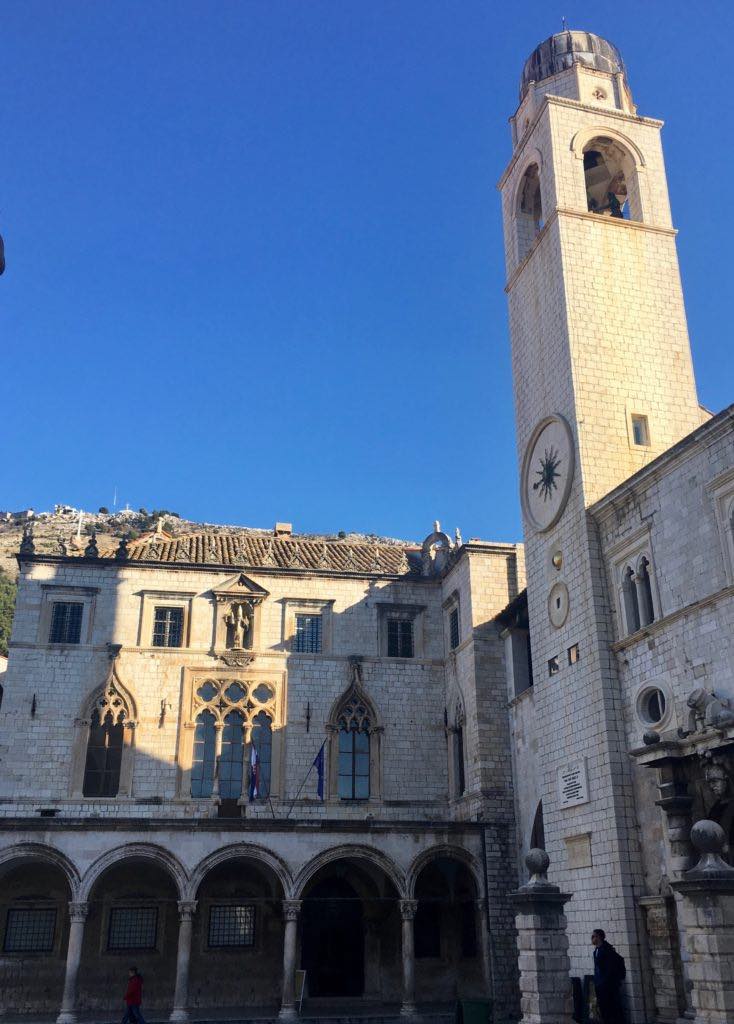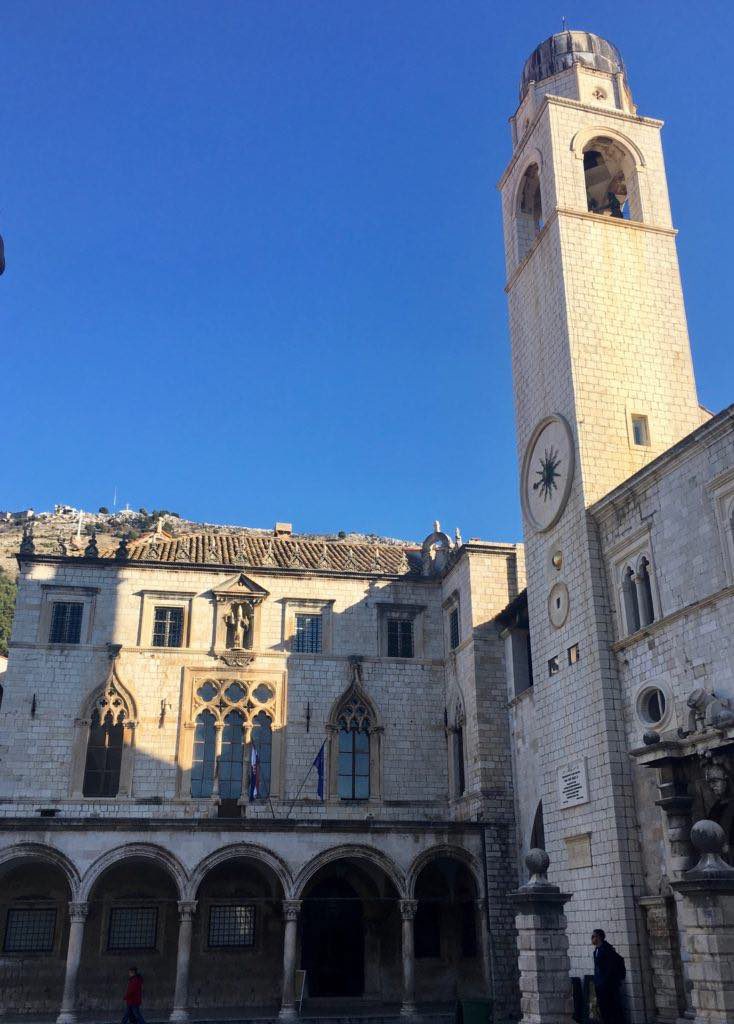 Dubrovnik in winter grants a peaceful leap into the history to enjoy glorious artifacts of past times to the fullest.
Winter in Dubrovnik is the ideal time for strolling around Dubrovnik palaces such as Sponza Palace and Rector's Palace and appreciating their elegance.
Sponza Palace is a Gothic-Renaissance palace recognizable for its beautifully carved ornamentation above the upper Venetian-Gothic windows. Once the Customs House of the Republic of Ragusa is today's State Archive.
Rector's Palace also dates back to the Gothic-Renaissance times.  It was the seat of the government and the rector (premier) of the Dubrovnik Republic. Nowadays the palace seats the Cultural History Museum.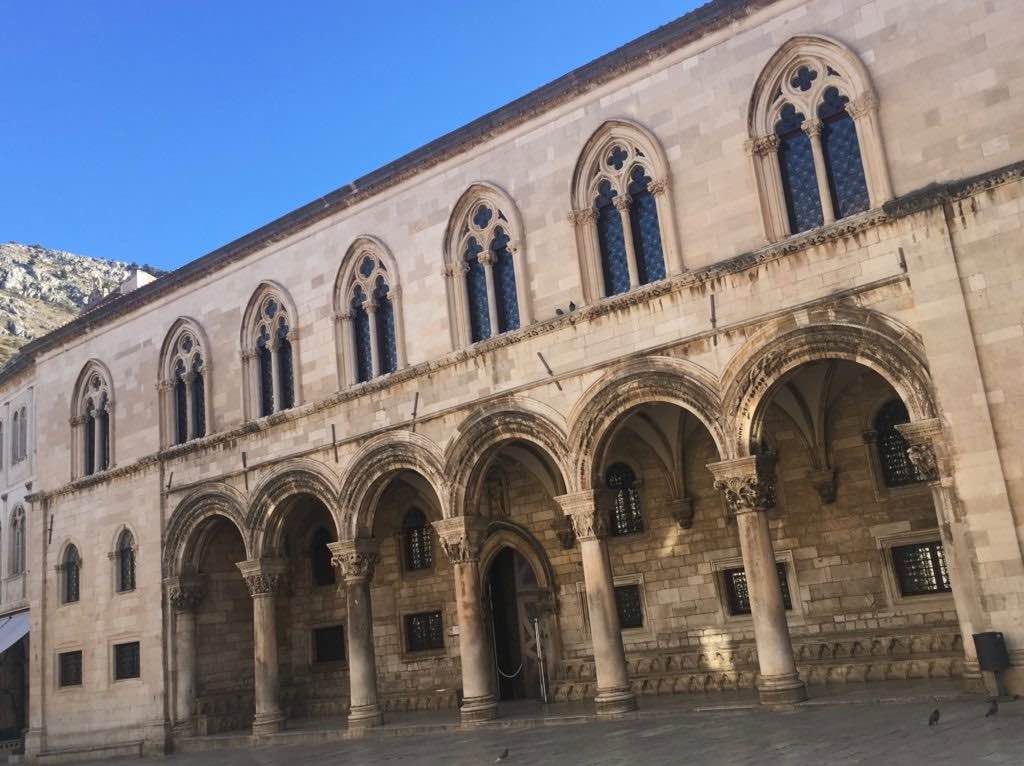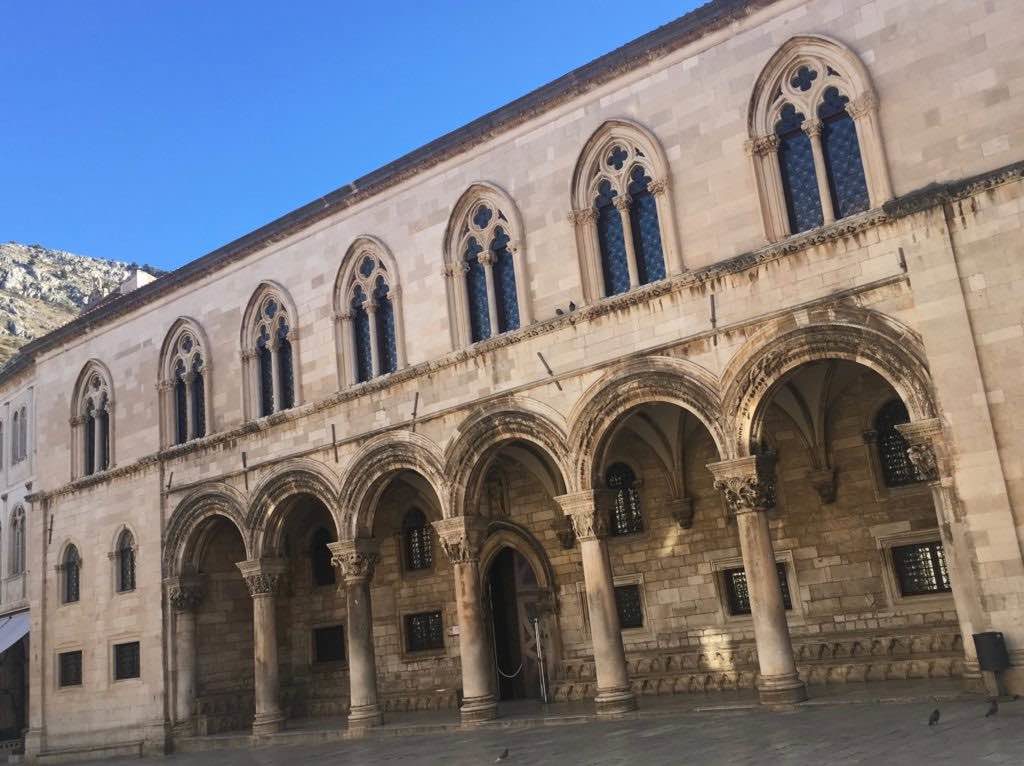 3.5 Marvel at the Baroque and Renaissance architecture in the quiet atmosphere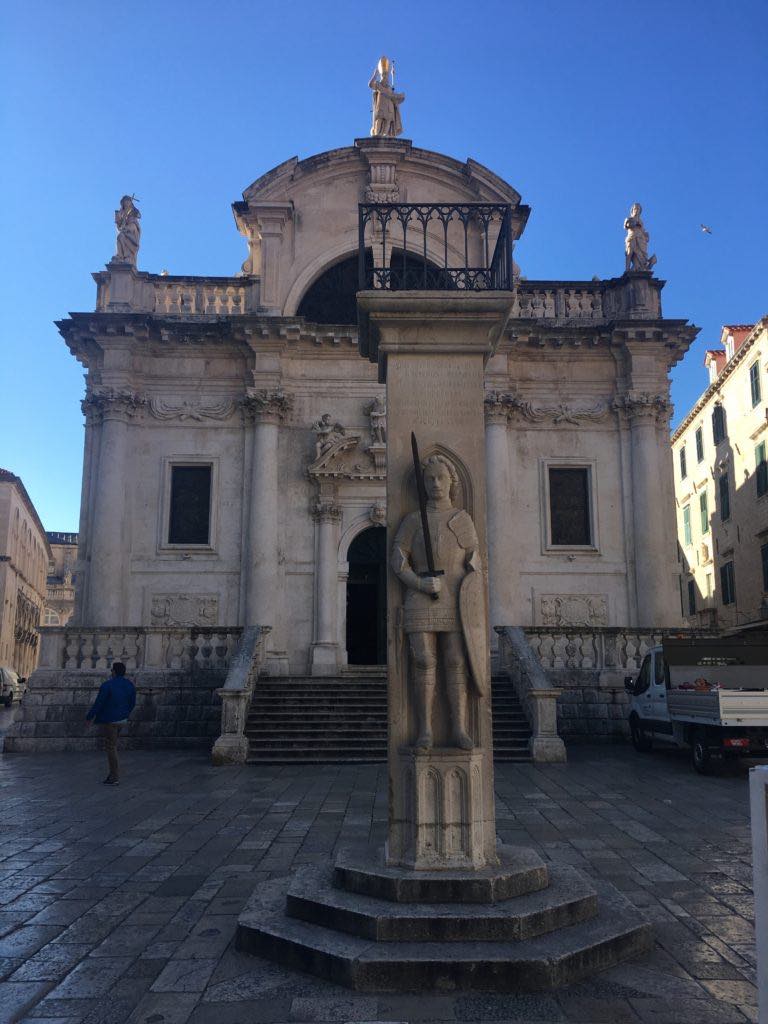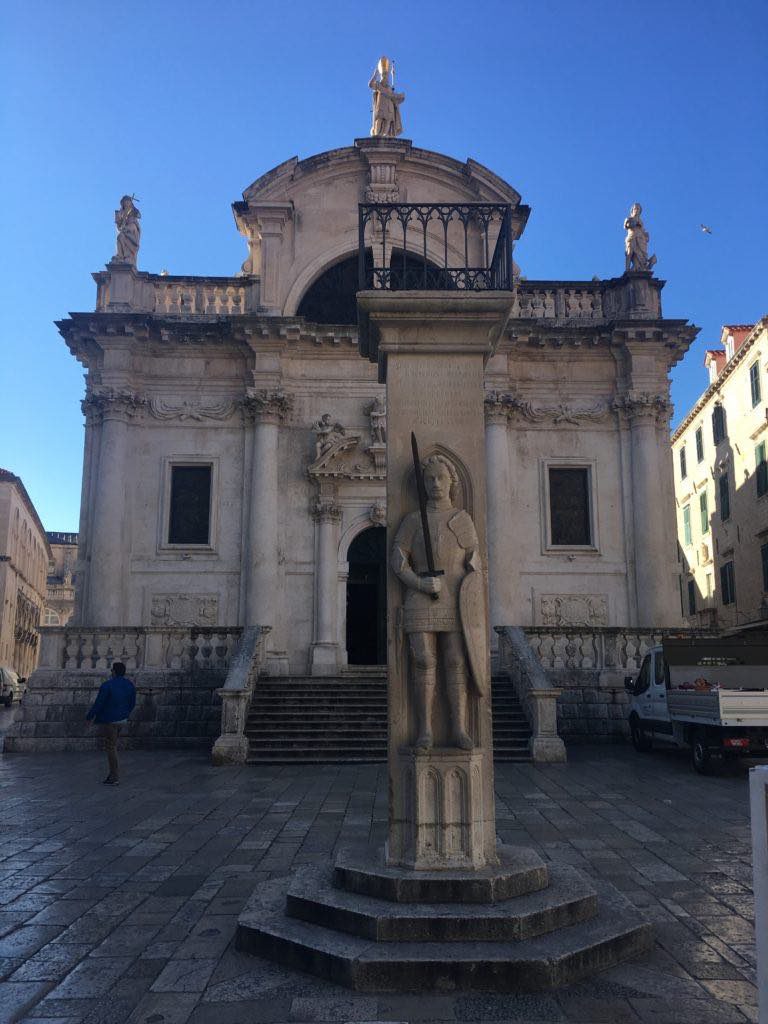 Winter in Dubrovnik gives you the quiet and contemplative atmosphere in which you can comfortably marvel at the Gothic and Renaissance architecture of the St. Saviour church, St. Blaise church, Jesuit church, and Cathedral.
St. Blaise is the saint patron of Dubrovnik. The main church in Dubrovnik is dedicated to St. Blaise and you can find it at the end of Stradun. The St. Blaise statue stands in the middle of the three statues on the top of the church as the personifications of Faith and Hope.
The Orlando's (or Rolland's) Pillar is a column in front of the St. Blaise church. It pictures a medieval knight keeping in his arms a sword and a shield. The knight is a symbol of freedom. In the Dubrovnik Republic freedom was considered to be one of the greatest values in life. Officially moto of the Republic was Non bene pro toto libertas venditur auro, meaning 'Freedom cannot be sold for all the gold of the World'.
3.6 Enjoy the meditative ambiance of the Dominican and Franciscan monasteries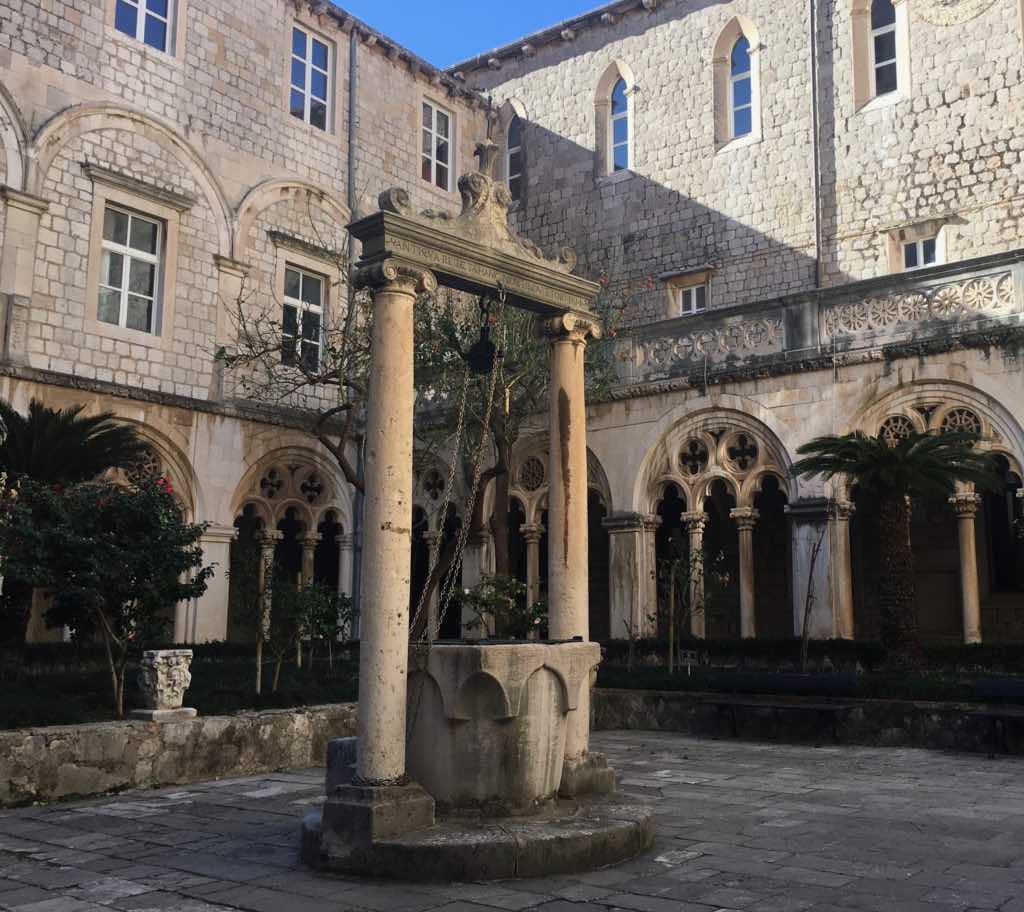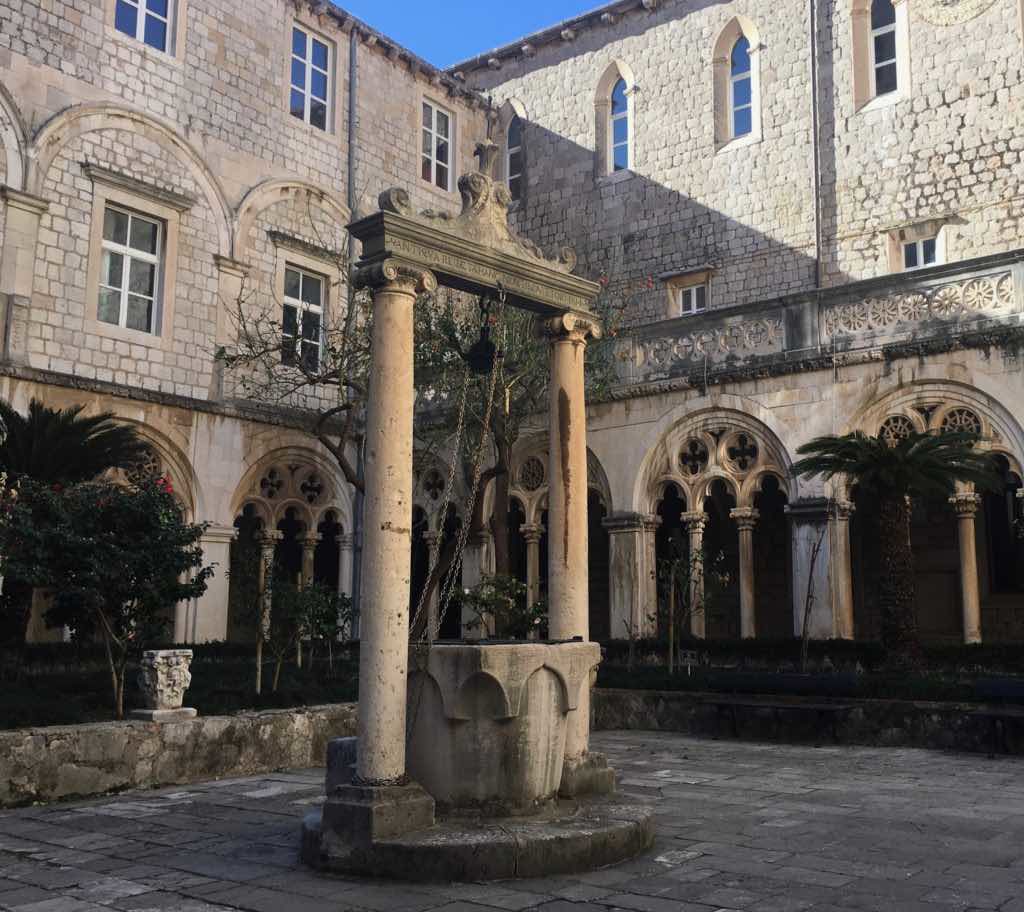 Winter in Dubrovnik provides meditative ambients of the monasteries. The harmonious architecture of the Dominican monastery takes you back to the Gothic and early Renaissance aesthetics.
But if you want to visit a genuine Renaissance pharmacy, then you should head to the Franciscan monastery of Little Brothers.
The monastery holds the third oldest pharmacy in Europe. It has been offering a great deal of good-quality products prepared according to ancient Franciscan's recipes for over 700 years. Yes, it is the oldest working pharmacy in Europe!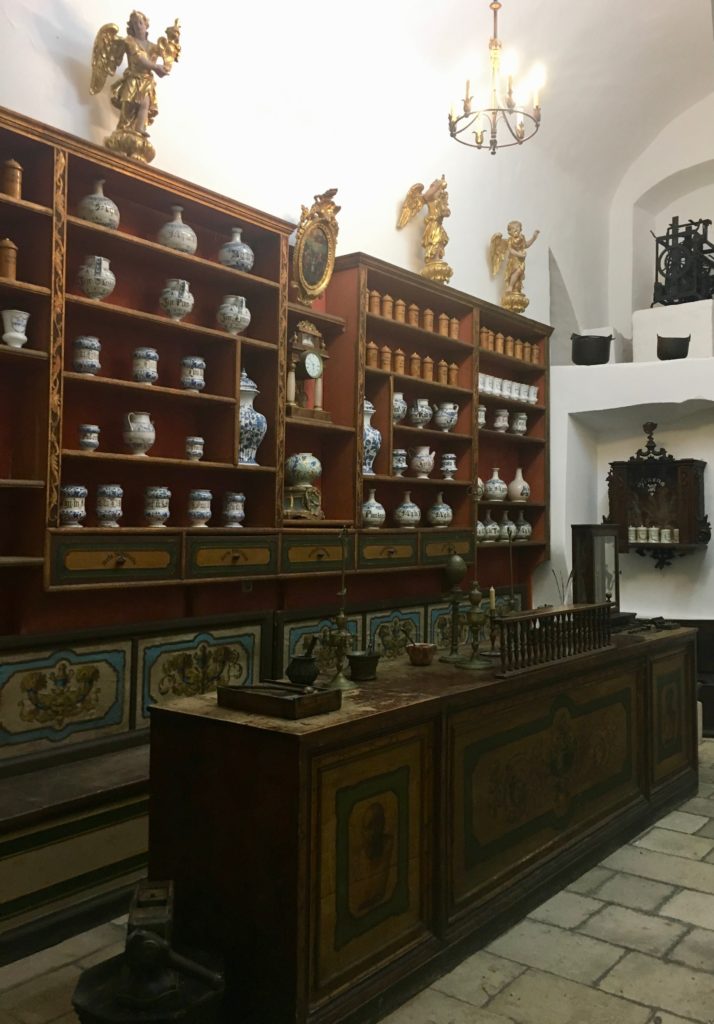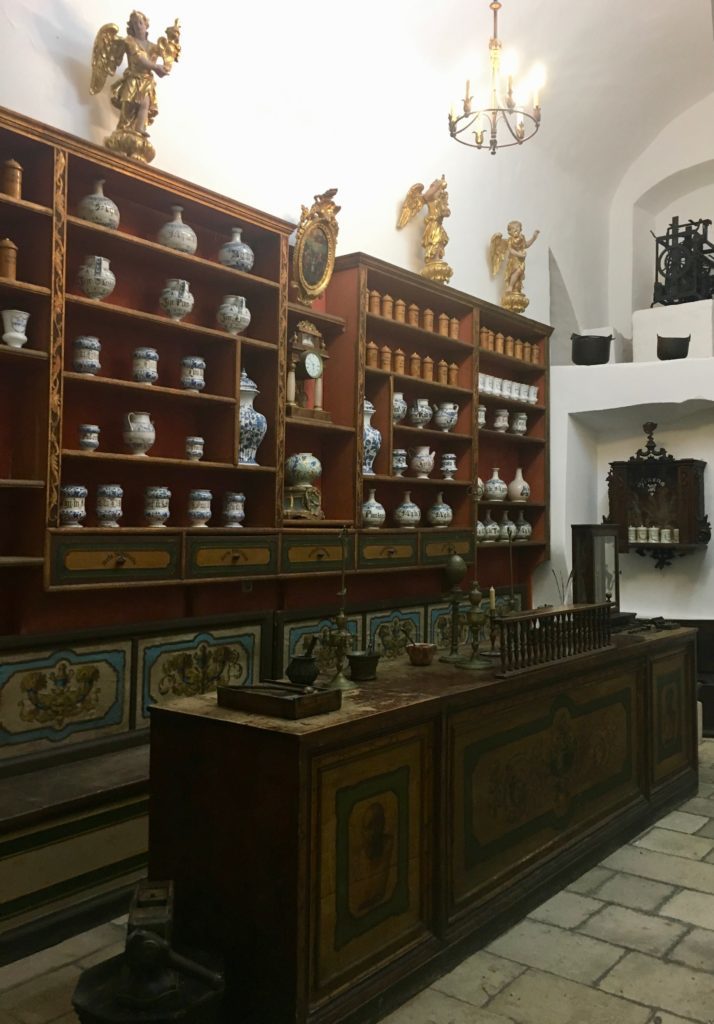 3.7 Act like a local and drink tap water on the historic Onofrio's fountain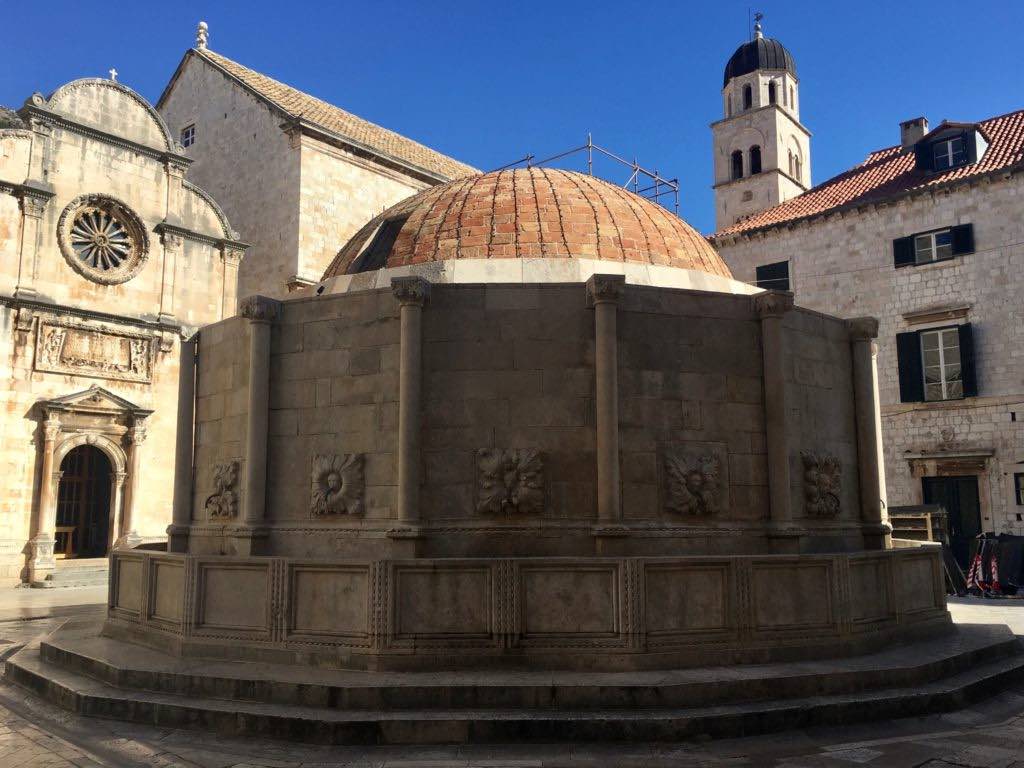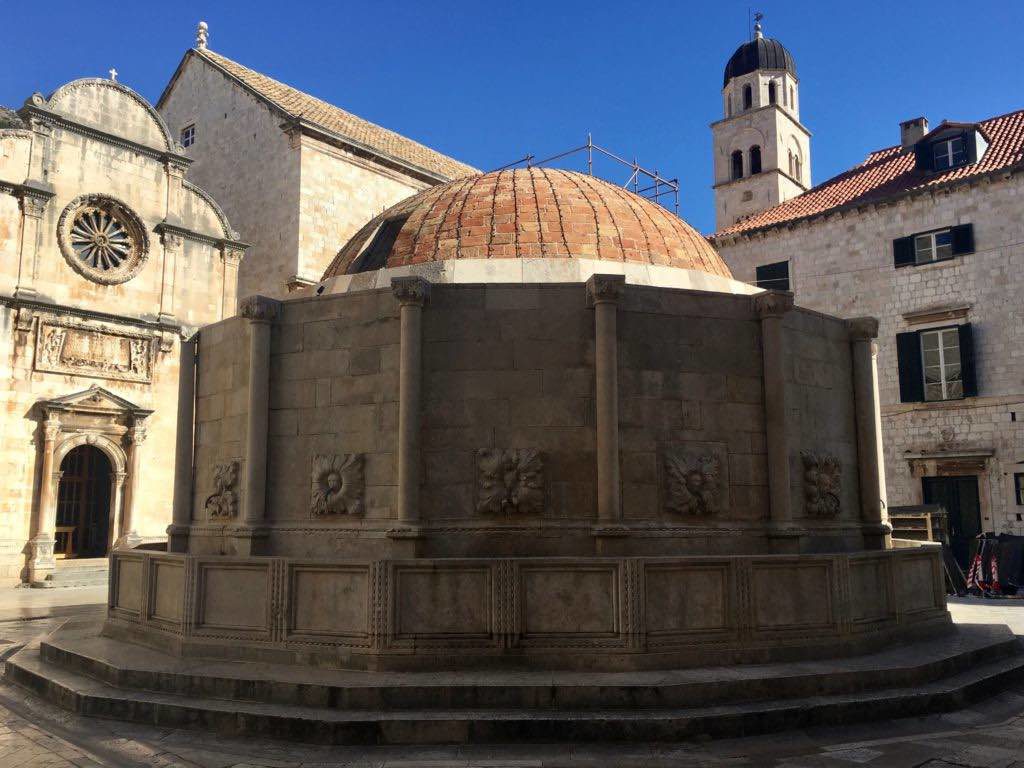 Winter in Dubrovnik is sunny. And walks in sunny Dubrovnik seek for refreshment.
You should satisfy your thirst with drinkable water at Onofrio's fountain, the most famous fountain in Dubrovnik, without tourists waiting in lines in front of the fountain – what's the case in Dubrovnik in summer.
Onofrio's fountain is a part of the city original water supply system built in the 15th century. The aqueduct has been bringing water from a 12 km (7,3 miles) distant spring to the old town for more than 600 years.
3.8 Chat with local people at the market and buy some local products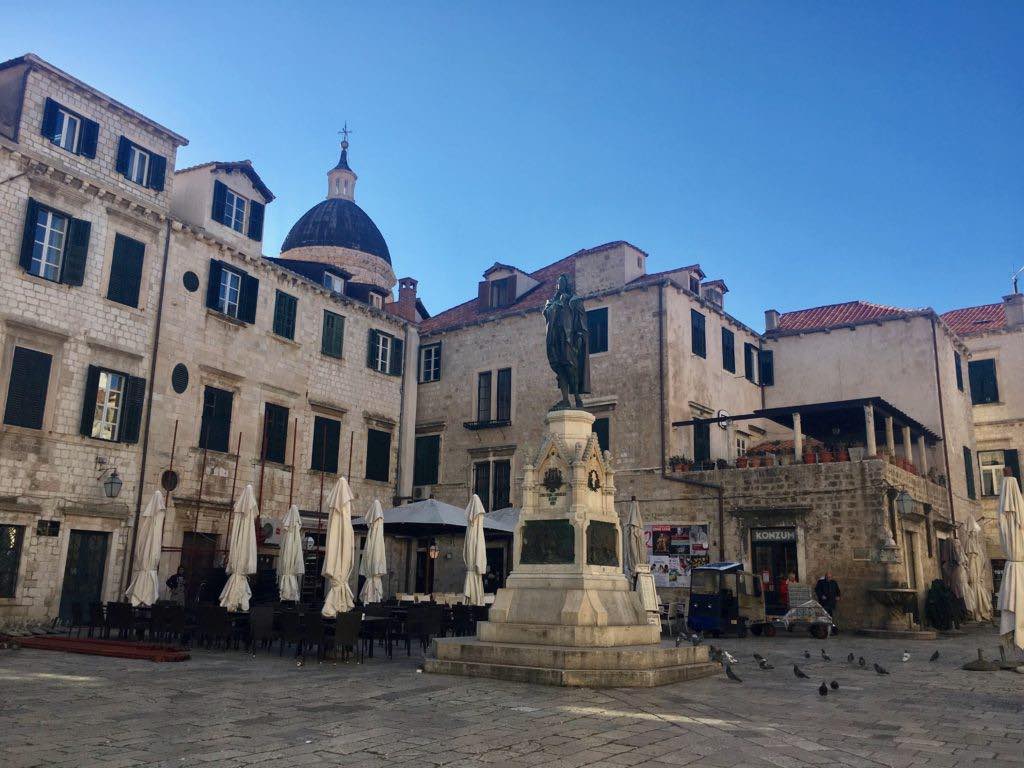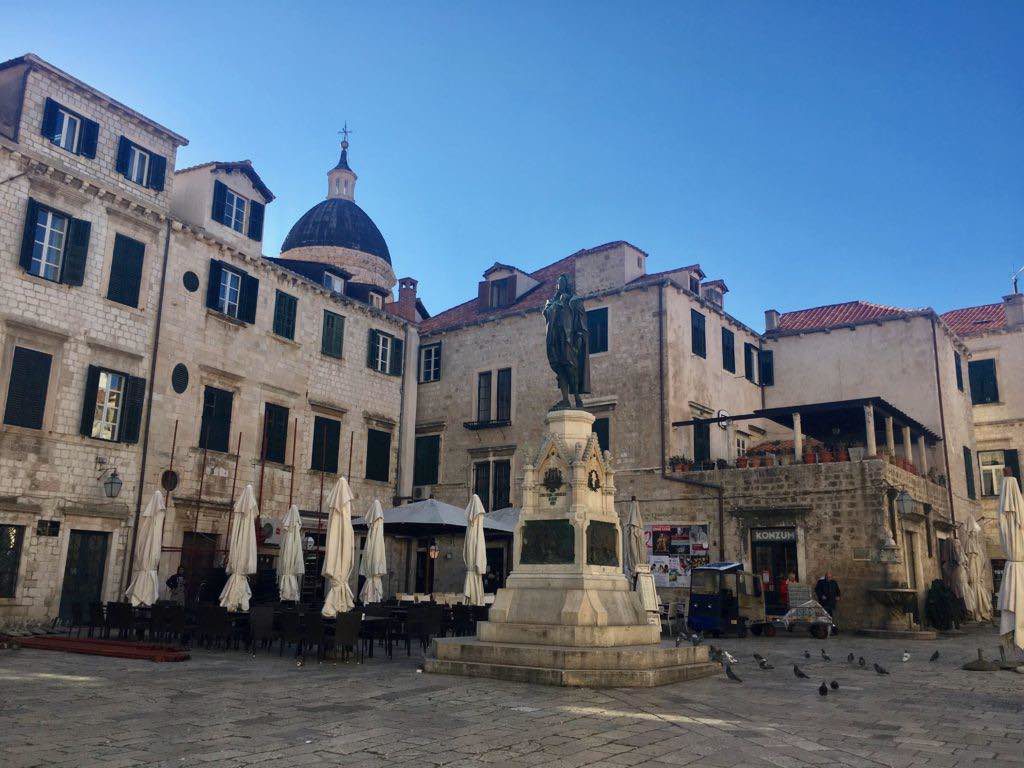 Winter in Dubrovnik offers unrushed visits to the open-air market at Gundulić Square.
Early mornings are the best time to buy some fresh fruits and vegetables from the local producers in the open-air market at Gundulić Square. Treat yourself with some tasty Mediterranean vegetables and fruits from the vendor stalls at Gundulićeva Poljana. Or buy some fresh flowers! In February in Dubrovnik, you can buy yellow bunches of mimosa.  Fluffy branches with seductive scent announce spring coming to Dubrovnik.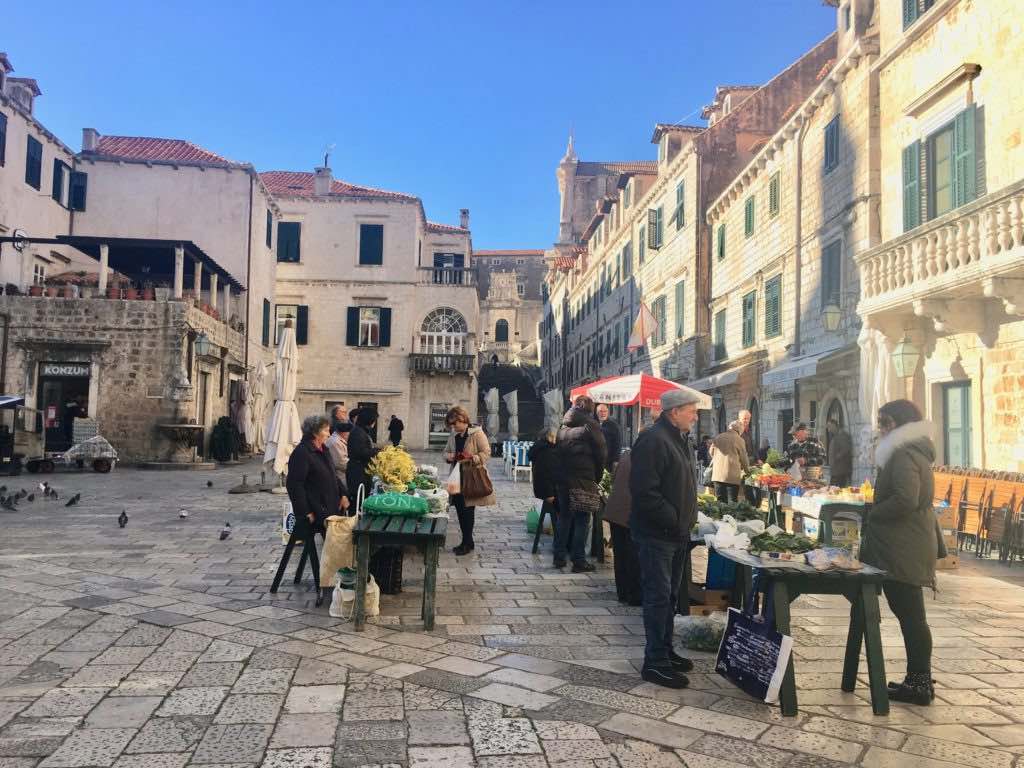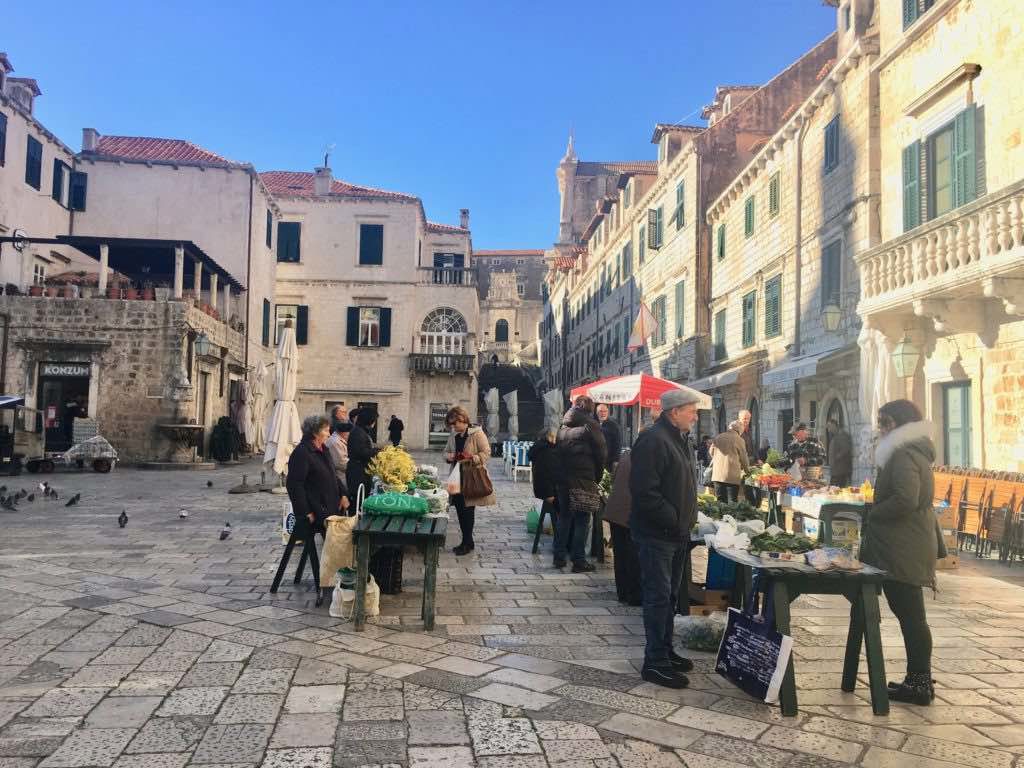 3.9 Absorb the timeless beauty of Dubrovnik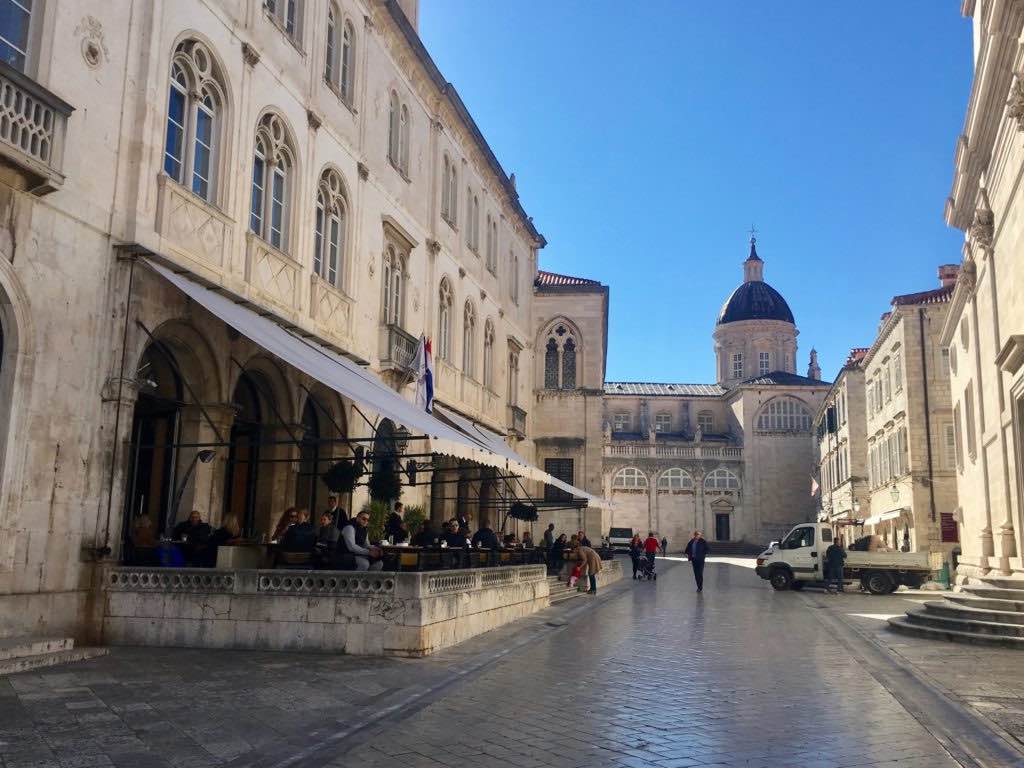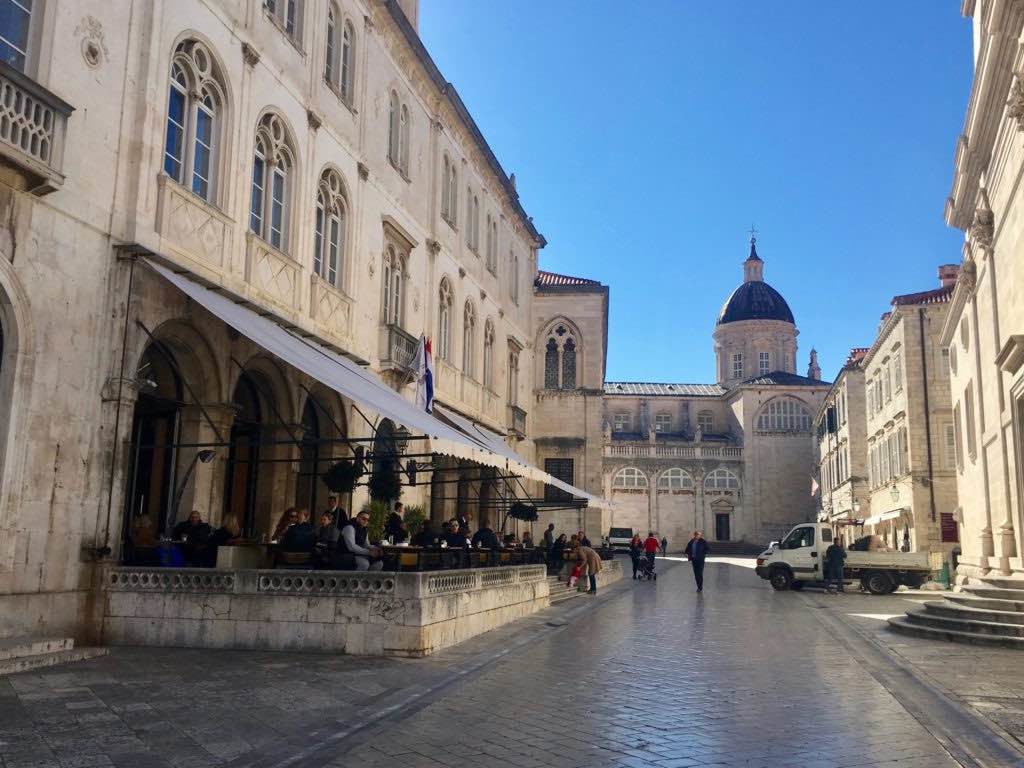 Most of all, winter in Dubrovnik with no tourist rush lets you to explore narrow and steep medieval cobbled streets of the old town unchanged for ages and to soak up the timeless beauty of Dubrovnik completely.
As a result, experiencing the rich history of Dubrovnik by foot in winter allows the magnificence of Dubrovnik winter silent streets to steal your heart and inevitably to make you wish to come back to Dubrovnik.
4. EVENTS IN DUBROVNIK IN WINTER
If you are in a festive mood, then you should visit Dubrovnik in Christmastime or February.
Are you interested in some tours in Dubrovnik in winter? Click here to check out some fantastic tours! 
4.1 Dubrovnik in December and January
Dubrovnik Winter Festival brings a special magic to Dubrovnik. The festival starts with the lighting of the first Advent candle and a concert in Stradun bringing the light and joy of Christmastime to Dubrovnik.
During the Festival, you can enjoy various concerts of popular pop and rock singers, classical music concerts, traditional Christmas carols, and Croatian klapa songs.
Dubrovnik New Year's Eve in Stradun with live music and fireworks above the Old City Walls is one of the most spectacular New Year's Eve celebrations in the World.
Dubrovnik Christmas Fair, as a part of Dubrovnik Winter Festival, starts on St. Nicholas Day. At the fair, you can buy Croatian traditional handmade Christmas ornaments or taste some of Dubrovnik traditional delicacies such as kotonjata (the quince cheese) and arancini (candied orange peels).
The full program of Dubrovnik Winter Festival Programme you can find here
4.2 Dubrovnik in February
February in Dubrovnik can be highly intoxicating for the feast days of two saints – St. Blaise and St. Valentine.
On 3rd February Dubrovnik celebrates the St. Blaise Day, the day of Dubrovnik saint patron. 2009 UNESCO declared the Festivity of St. Blaise in Dubrovnik as an Intangible Cultural Heritage of Humanity. Witnessing the celebration of St. Blaise Day in February in Dubrovnik will make your winter visit to Dubrovnik exceptional.
On 14th February is the St. Valentine's Day, the day when love is celebrated. Showing love and admiration to your partner in fairy-tale Dubrovnik on St. Valentine's Day can ultimately bring you one of the most romantic moments of your life.
4.3 Dubrovnik in March
Dubrovnik Carnival, the same as Venice Carnival in Italy, starts two Saturdays before 'Ash Wednesday' and ends 40 days before Easter on 'Fat Tuesday'. Officially the Carnival starts with the ceremony of handing the keys of the city to the Carnival's master and with that act the Carnival symbolically takes the rule over Dubrovnik.
The most exciting masquerade of the Dubrovnik Carnival 2021 will be on the weekend from 13- 14 February 2021 with the peak on Tuesday, 16 February.
Grab your Carnival mask and head to Dubrovnik to enjoy 'Waltz in Masks' in Stradun.
5. DUBROVNIK WEATHER IN WINTER
Although the daily average temperatures in Dubrovnik during winter months (December, January, February, and March) go around 10°C (5o°F), you should know that Dubrovnik is blessed with plenty of sunlight in winter.  The sunshine in Dubrovnik in winter might not be strong as in summer, but believe me, you won't miss vitamin D in Dubrovnik in winter.
6. VISITING SPLIT FROM DUBROVNIK: GETTING FROM DUBROVNIK TO SPLIT 
If you are interested to visit Split in Croatia, you can read my quick guide to Split in Croatia: What to See in Split in One Day
How to get from Dubrovnik to Split
The distance between Dubrovnik and Split is about 102 miles (165 km)
✓  A bus ride from Dubrovnik to Split takes 5 hours. Buses go daily. Timetables and prices check here. Or check out Dubrovnik Main Bus Terminal.
✓  A car drive from Dubrovnik to Split takes 3 hours. Check here Car Rentals at the Dubrovnik Airport.
7. VISITING SARAJEVO FROM DUBROVNIK: GETTING FROM DUBROVNIK TO SARAJEVO
If you are interested to visit Sarajevo in Bosnia, you can read my quick guide to Sarajevo in Bosnia Best things to Do in Sarajevo
How to get from Dubrovnik to Sarajevo
The distance between Dubrovnik and Sarajevo is about 173 miles (280 km)
✓  A bus ride from Dubrovnik to Sarajevo takes 6 hours. Buses go daily. Timetables and prices check here. Or check out Dubrovnik Main Bus Terminal.
✓  A car drive from Dubrovnik to Sarajevo takes 4 hours. Check here options to rent a car at the Dubrovnik Airport. Note: you don't need a special border crossing car to enter Bosnia from Croatia. Your car rental insurance company will supply you with the green card that covers traveling to neighboring countries. More info read: the National Green Card Bureau.
P.S.: Do you know what's the worst thing that could happen to you in Dubrovnik in winter? Any clue??
To end up on a filming set!
Photos of turning Dubrovnik into Nottingham for filming Robin Hood in February 2017
STEPS AND TRAVEL RESOURCES FOR YOUR PERFECT TRIP
1. Find and book your flight: Skyscanner
2. Find and book your stay: Booking.com, HotelsCombined.com
3. Find and book the best car rentals: Discover Car Hire
4. Get travel insurance (insure yourself against any accident, sickness, theft, and canceled flight): WorldNomads.com
5. Find and book great guided day tours: GetYourGuide, Viator