This list of traditional Basque foods covers classic Basque dishes, traditional Basque desserts, and typical Basque drinks you must try in the Basque country.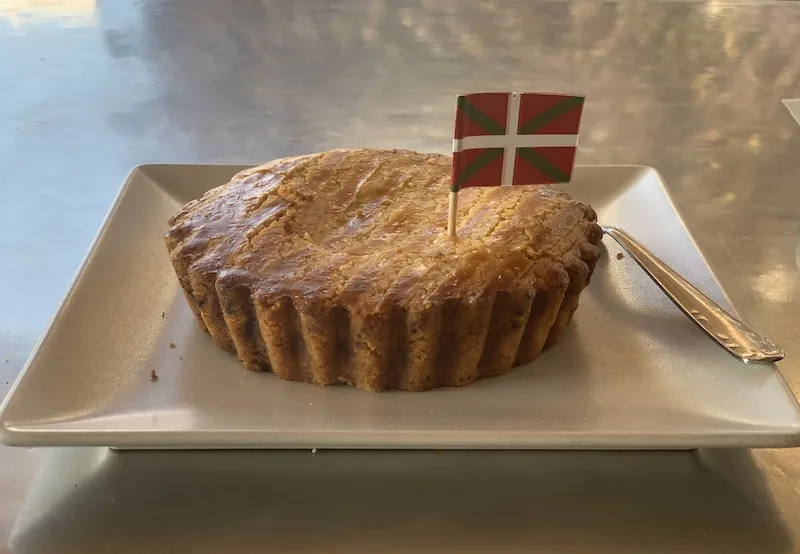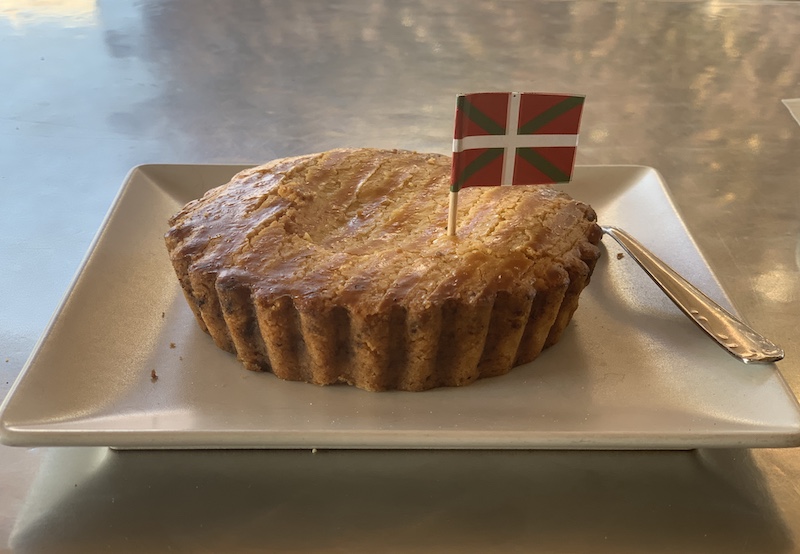 I have just come back after hiking Camino de Santiago (via the Camino del Norte route) and visiting the Basque Country on my way to Santiago de Compostela in Spain.

And let me make it official: I am in love with Basque Country!
The Basque Country is incredibly beautiful! And the Basque food and the Basque cuisine are incredibly tasteful!
The Basque Country is one of the best foodie destinations in Spain!

If you follow this blog, you know that food is an important part of my travels. I've already written about traditional Spanish foods (which I am about to update with the Basque dishes).
But after visiting the Basque Country and tasting traditional Basque dishes and typical Basque drinks, I am dedicating this post to fabulous Basque foods.
My list of Basque food covers the very best Basque food.

If you haven't visited the Basque Country yet and if you are a foodie, please put it on the top of your bucket list. And make sure to check out the following Basque foods!

PS: Did you know that San Sebastian in the Basque Country has 18 Michelin stars restaurants! Only Kyoto in Japan has more Michelin stars restaurants per square meter in the world!
RELATED:
MUST-TRY BASQUE FOODS
Traditional Basque food – Pais Vasco food:
1. PINXTOS – Basque finger food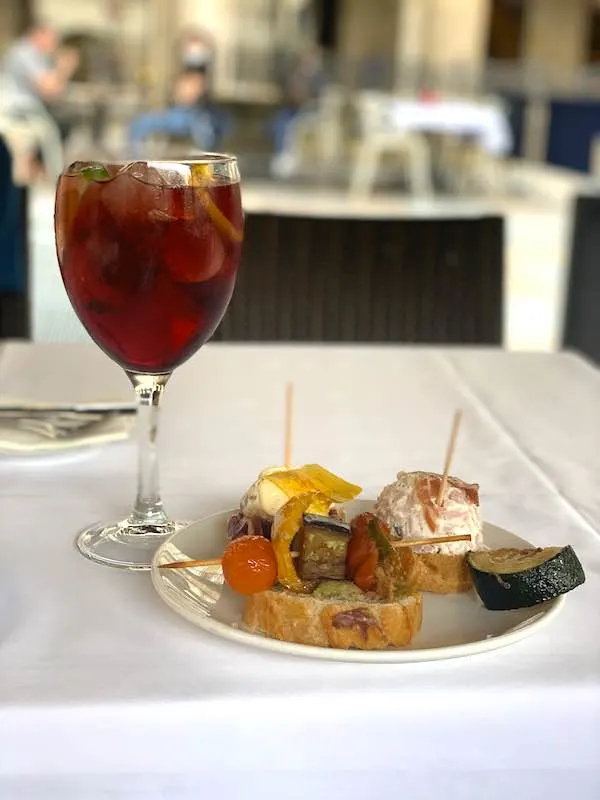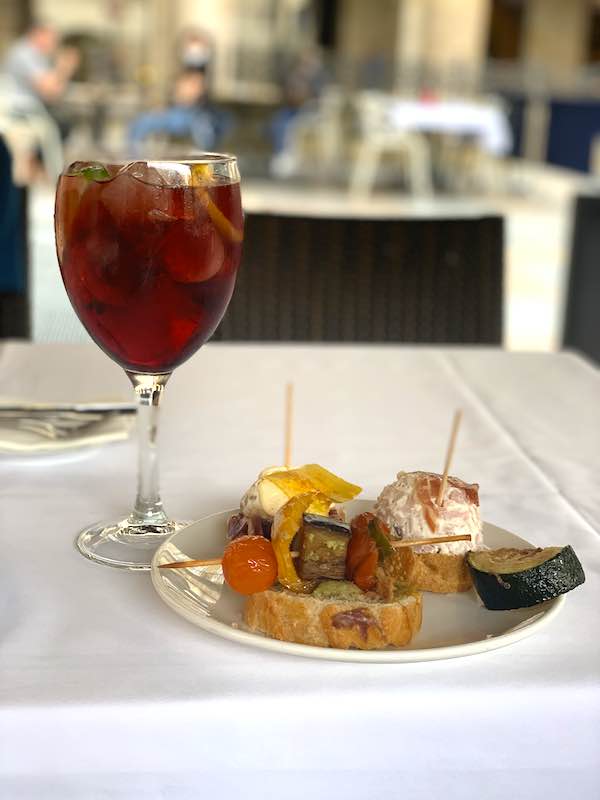 Pinchos, or pinxtos, are Basque snacks.
To make it short, pintxos are the Basque tapas. But pintxos are not ordinary tapas. Instead, sensational Basque pintxos are pure artwork for all the senses.
These small Basque sandwiches are served with toothpicks or on skewers. Tasty pintxos are traditionally eaten in the Basque Country as appetizers before dinner, but sometimes they can stand alone as dinner.
Take one pincho, take a second pincho .. you will want to try out the third pincho … while you will find pinchos simply irresistible, your stomach will be full in a blink of an eye!
Some of the most iconic Basque pintxos are called 'gilda'. Gilda pintxos are made of olives, salted anchovy fillets, and pickled Ibarra chilies (Gipuzkoa chilies).
2. BACALAO AL PIL PIL – Basque-style fried codfish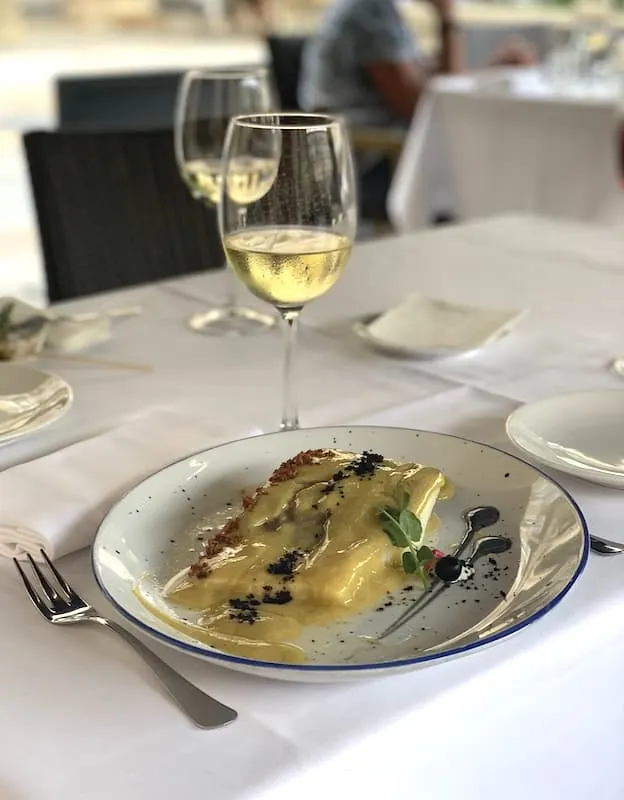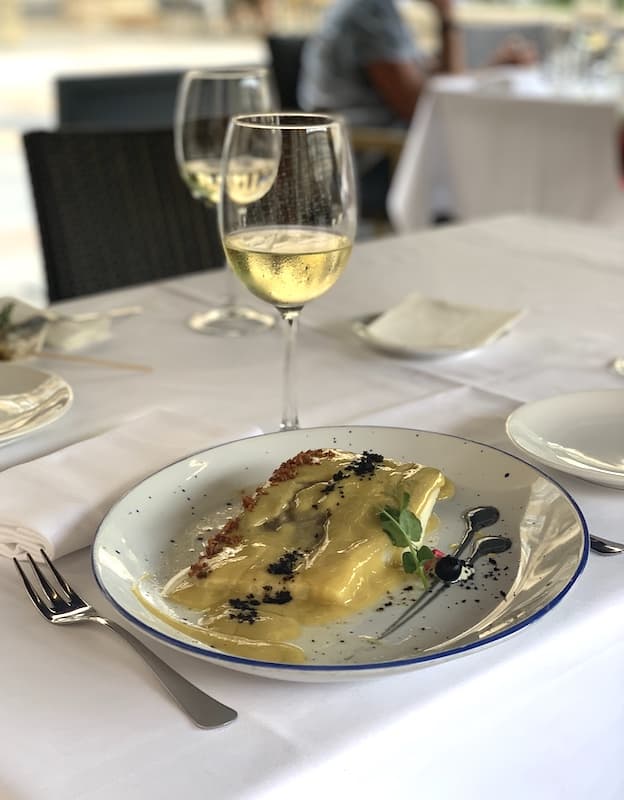 Iconic Bacalao Al Pil Pil is the most famous Basque dish.
In fact, Basque cod in Pil Pil sauce is one of the most popular seafood dishes in Spain overall.
The secret of this amazing Basque dish lies in the emulsification of Pil-Pil sauce. The emulsification of the ingredients happens naturally by simmering the pot filled with salt cod, olive oil, and garlic.
Basque Bacalao Al Pil Pil is one of those famous Basque dishes that makes visitors come back to the Basque country regularly.
3. TXIPIRONES EN SU TINTA – Basque baby squids in their ink sauce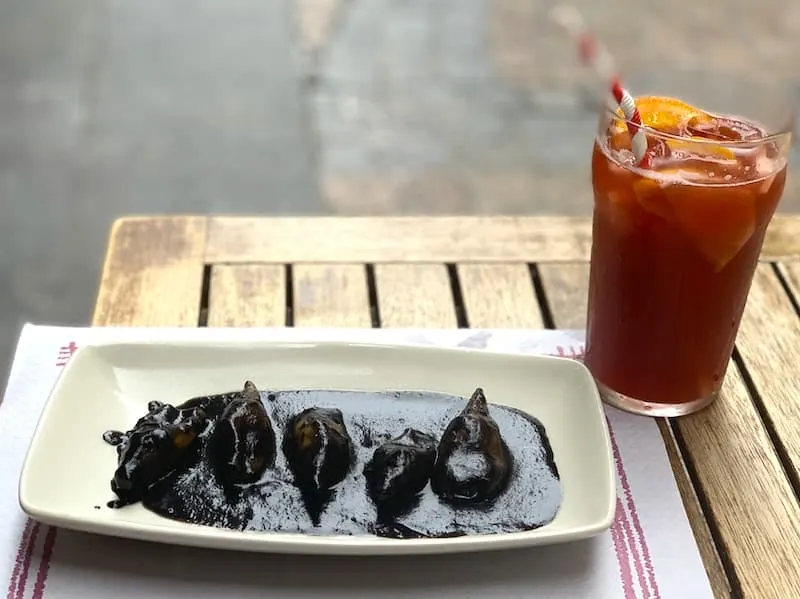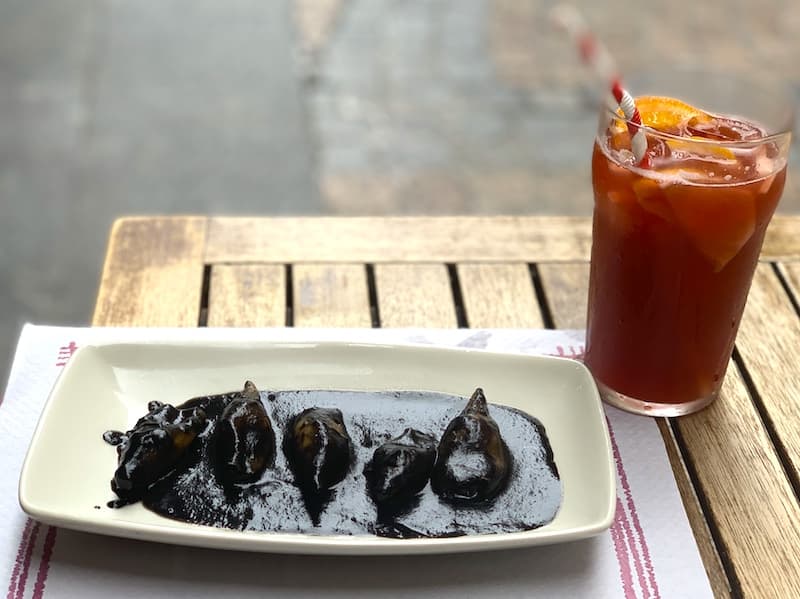 Calamares en su tinta in Spanish, or txipirones en su tinta in the Basque, is a typical Basque dish that will make you lick your fingers and clean your plate by dunking the bread into the sauce!
The black sauce is made with squid ink while the sweet taste of the sauce comes from the red onions.
Basque 'chipirones en su tinta' dish comes with incredibly soft chipirones (baby squids), and surprisingly sweet sauce. Seafood enthusiasts agree that's easy to get addicted to this amazing Basque dish.
4. LAMPERNA – Basque goose barnacles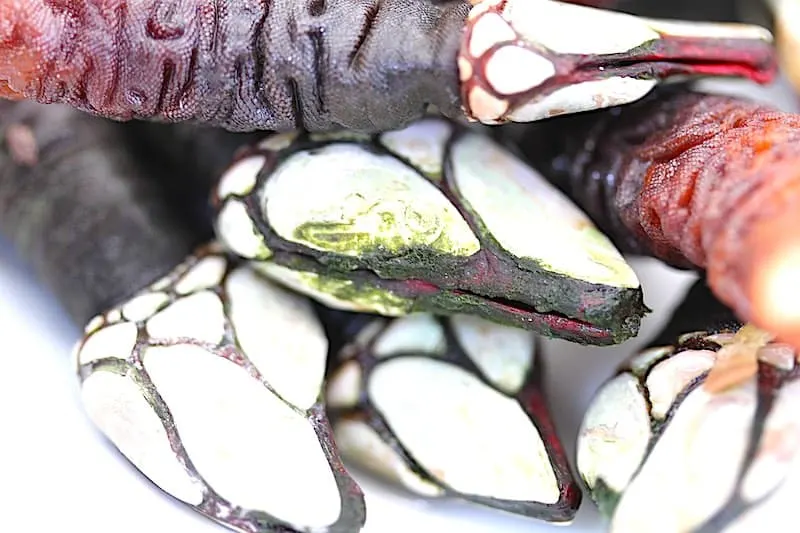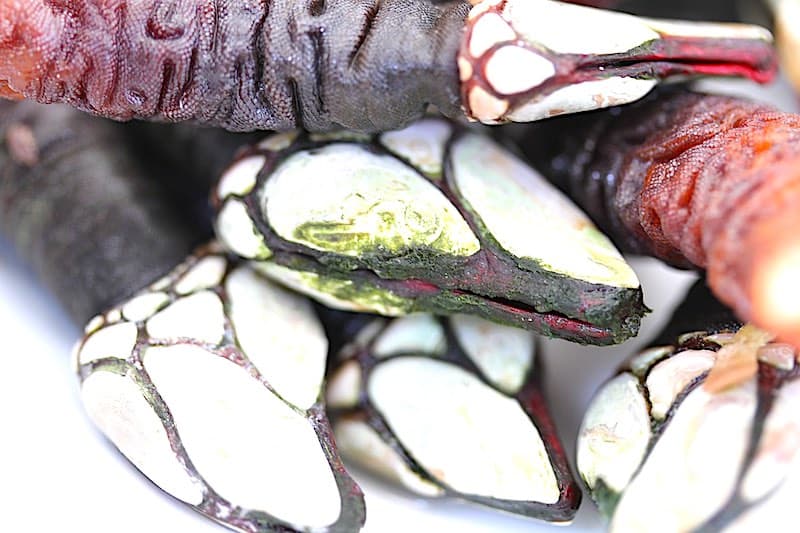 Goose barnacles in the Basque country are called lamperna. But if you visit Galicia and Asturias, they will be called percebes.
Nevertheless, barnacles are some of the most strange mollusks you can taste in northern Spain. Lamperna or percebes grow in the cracks of the cliffs in northern Spain. They eat sea plankton.
Goose barnacles are prepared by boiling in the seawater. To eat them, you just need to simply twist their tube and eat the fleshy part.
5. ESPELETTE PEPPERS – Aromatic Basque peppers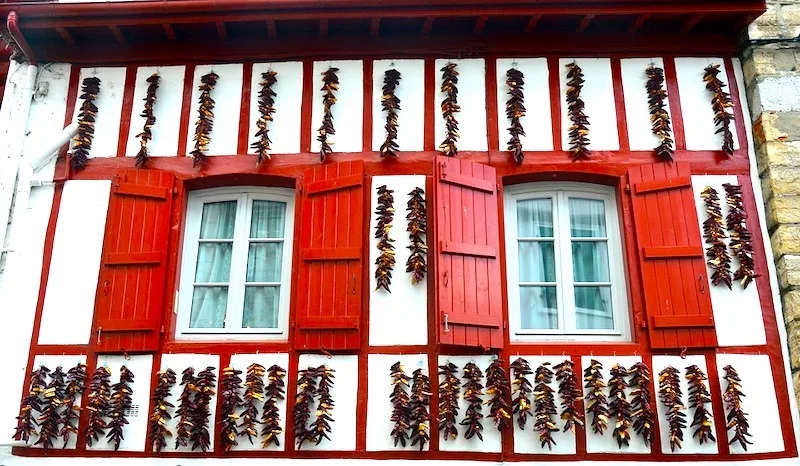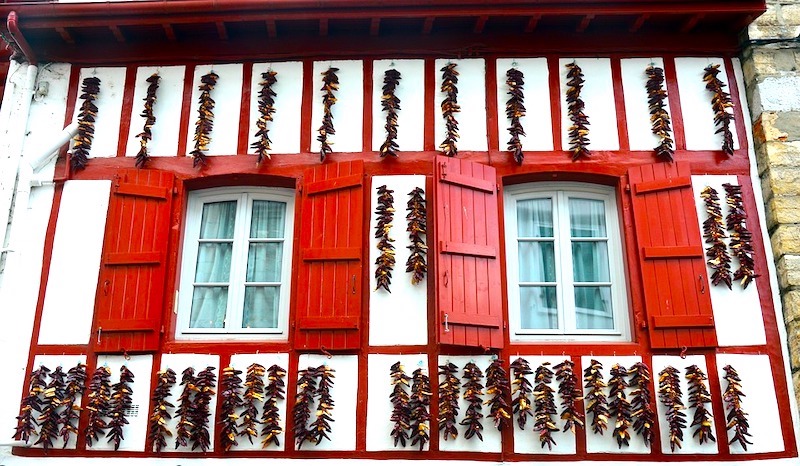 Espelette peppers are the signature ingredient of traditional Basque cuisine.
The Basque red peppers are mild chili peppers with a distinctive sweet and smoky flavor.
The Basque chili pepper is a staple of the Basque cuisine since it's used for the preparation of a large number of traditional Basque dishes (like the famous Basque piperade) and even spicy Basque chocolate.
They are named after the village of Espelette in the northern part of the Basque country in France.
Espelette peppers are traditionally dried hanging on the facades of Basque houses in August and September. Espellet peppers are so worshiped in the Basque cuisine that even the Espelette pepper festival is held in Esplette last weekend in October.
6. PIPERADE – Aromatic Basque tomato-pepper stew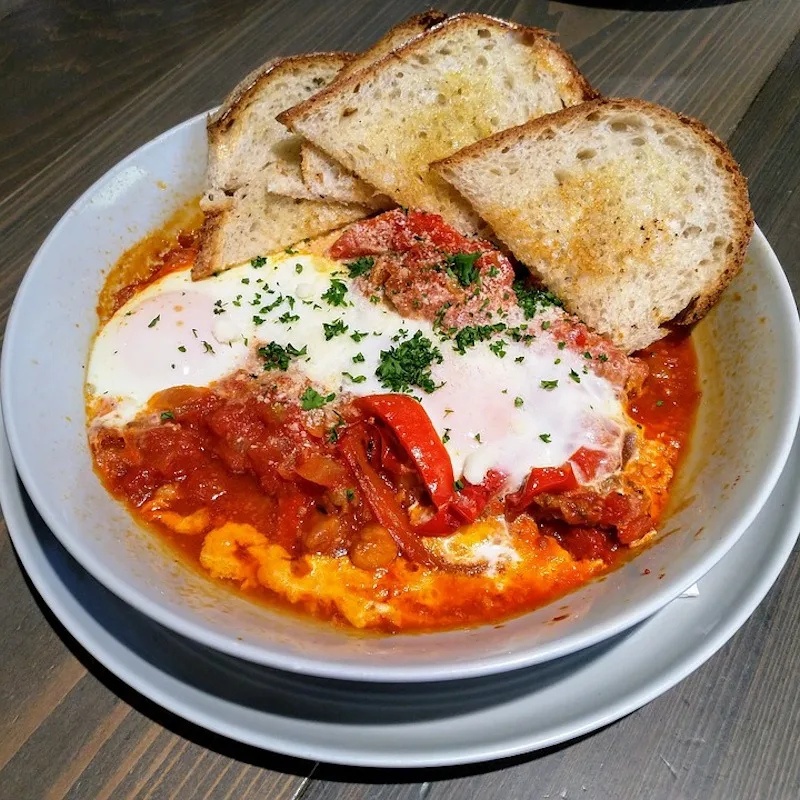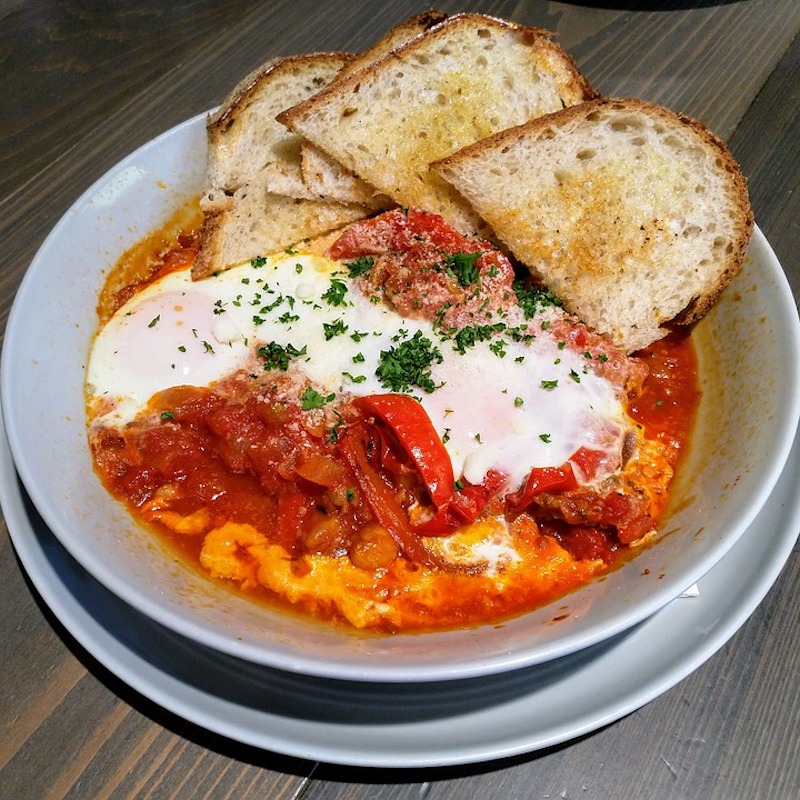 Basque Piperade is one of the most popular Basque dishes.
This simple Basque dish is made with tomatoes, onions, green peppers, garlic, and all spiced with, what else but aromatic Espelette peppers. Eggs and meat are commonly added to the mixture.
Yummy Piperade is typically served with crusty bread.
An interesting fact is that Piperade comes in the colors of the Basque flag: red, green, and white.
Yes, Piperade is the favorite Basque dish of Basque people!
7. TIGRES (or MEJILLONES RELLENOS) – Spicy Basque stuffed mussles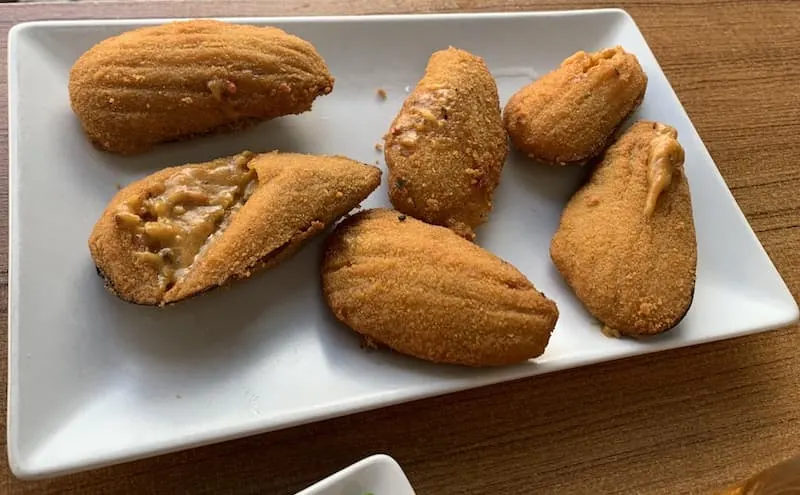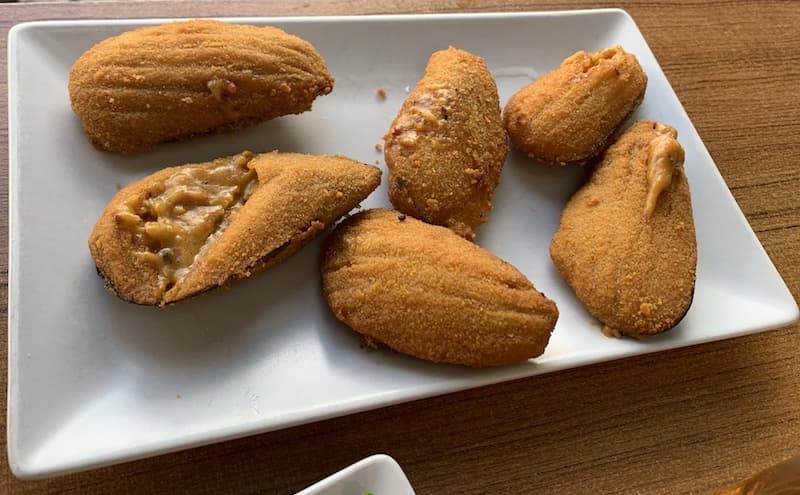 Basque tigres refer to stuffed mussels. Spicy tigres are traditional Basque appetizers.
Basque tigres are prepared in the way that steamed whole mussels are left in the shells, topped with bechamel sauce made with dry white wine and a pinch of Espelette peppers, and then all together fried with dry breadcrumbs.
Yummy breaded and fried tigres are some of the best-fried foods from around the world worth traveling for!
8. BACALAO CON GULAS – Cod fish with 'fuax baby eels'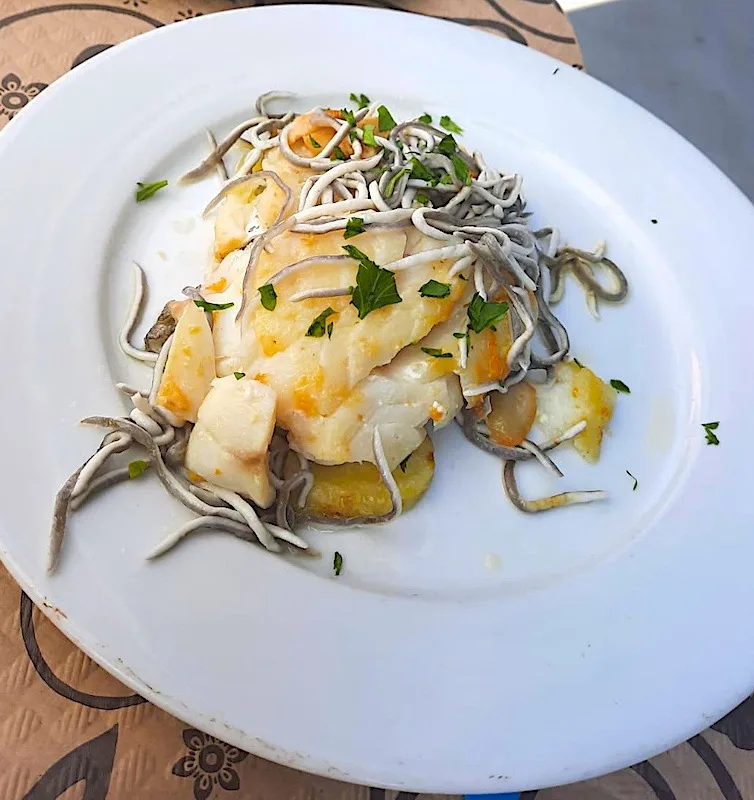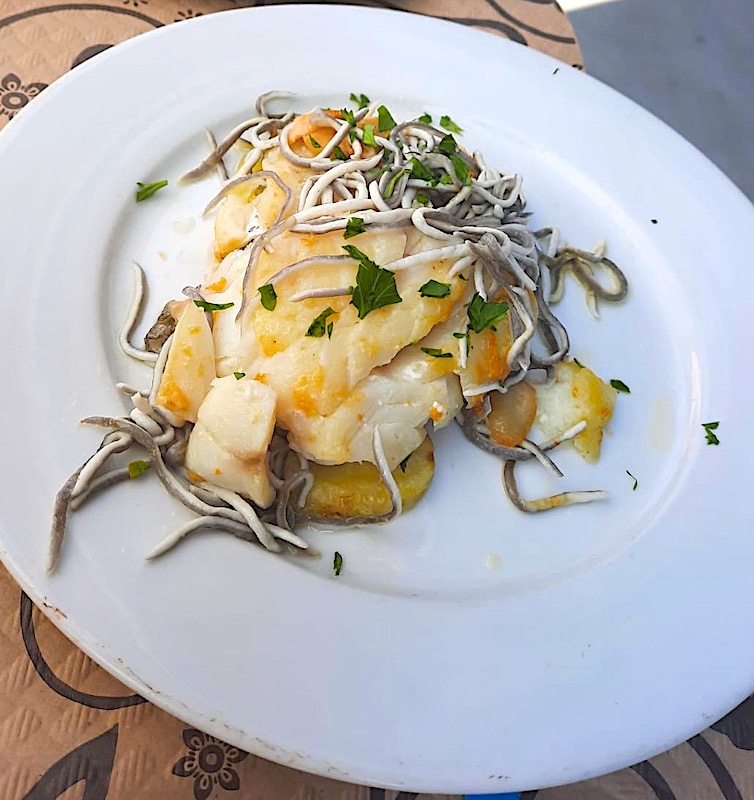 The Biscay Bay has a long tradition of fishing glass eels. So do dishes with eels.
Traditionally this Basque dish was prepared with codfish and genuine baby eels.
But, since baby eels can be enormously expensive in Spain (reaching up to 1,000 euros a kilo), Spanish chefs invented 'gulas'.
Gulas is a paste of processed fish that imitates eels. Surprisingly, gulas are softer than eels and taste as much fishy as eels.
9. BACALAO AJOARRIERO – Spicy Basque-style codfish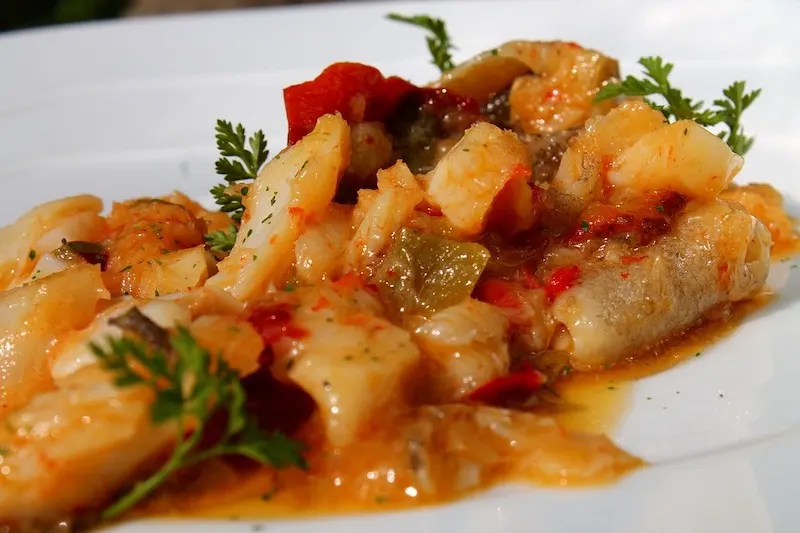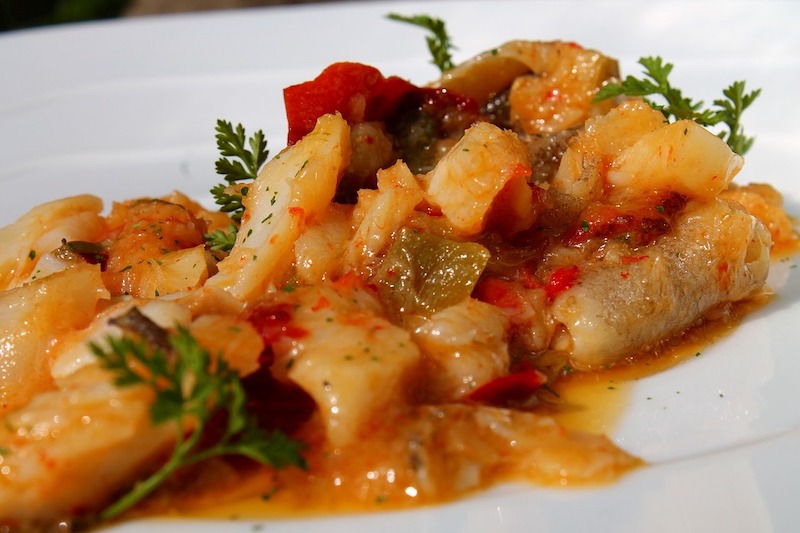 Codfish dishes are among the most popular dishes of Basque cuisine.
Bacalao Ajoarriero is a popular Basque codfish stew.
Ajoarriero is a simple dish made from cod chunks cooked with olive oil, grated tomatoes, potatoes, chopped pepper, chopped onion, and lots of – lots of minced garlic cloves and smoked spicy paprika.
Ajoarriero' literally translates to 'mule driver's garlic'. The dish was named after ancient mule drivers who would have stopped for a meal in the inns along the way on their routes in northern Spain.
Spicy Bacalao Ajoarrio is a typical dish of the Basque Country and the Navarre region in northern Spain.
10. IDIAZABAL CHEESE – Smokey Basque shepherds' cheese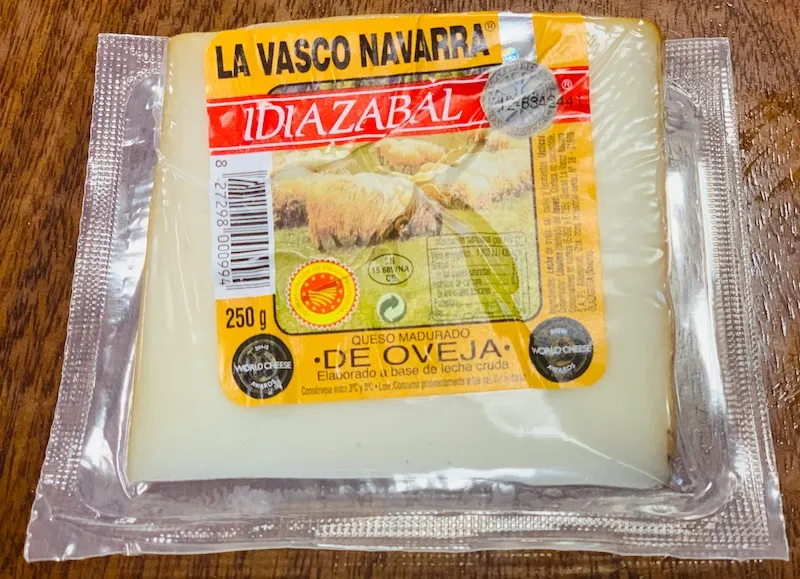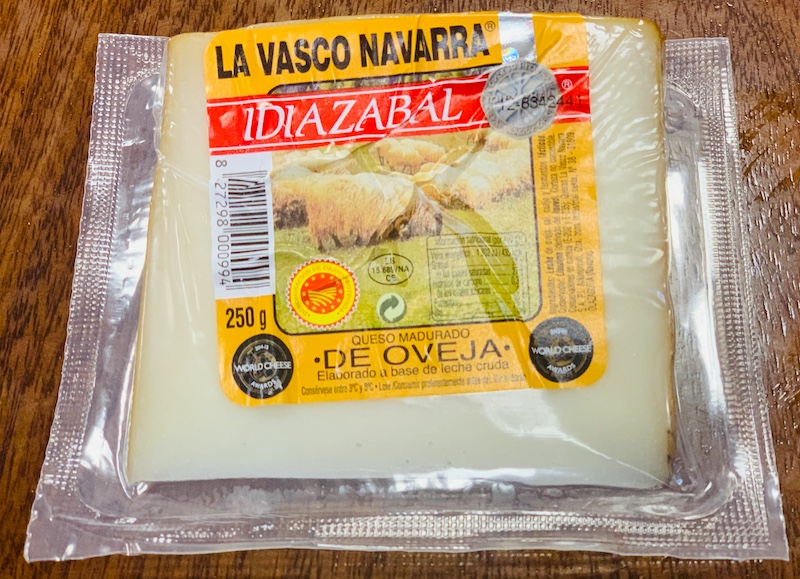 Idiazabal cheese is the most famous Basque cheese.
It's a hard sheep cheese of buttery and nutty flavor and sweet and somewhat smokey aroma. Idiazabal cheese is eaten fresh and best matched with quince jam.
The cheese is named after the village of Idiazabal. Idiazabal cheese is produced in the Basque Country and bordering Navarre province.
11. MAMIA (or CUAJADA) – Basque sheep's curd dessert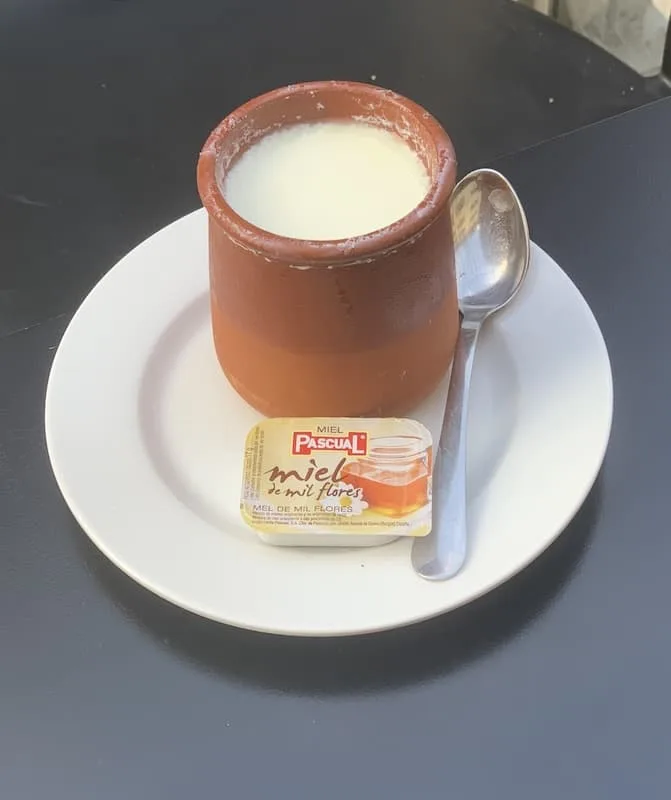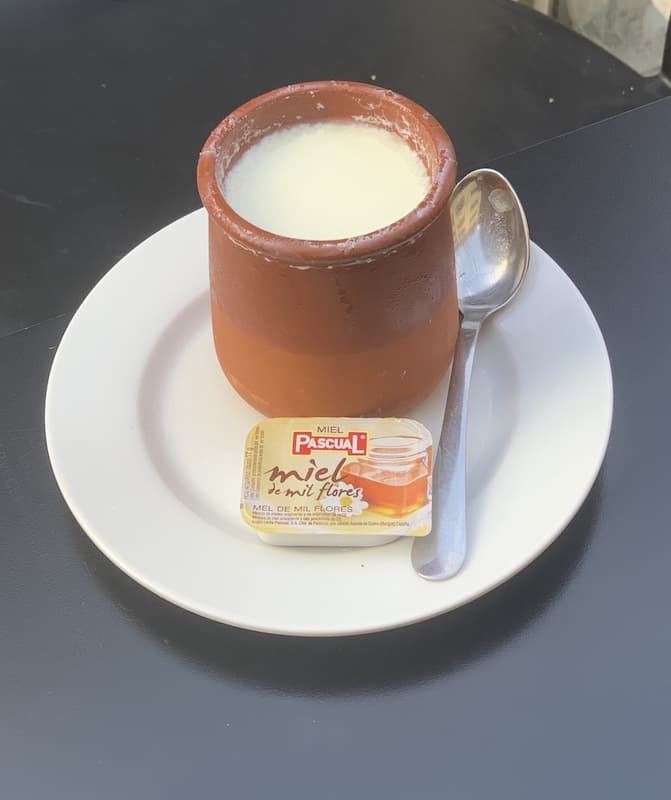 Mamia in Basque, or Cuajada in Spanish, is a cheese product or more precisely milk curd.
Basque Mamia is traditionally made from sheep's milk. This highly addictive Basque dessert is typically served with honey and walnuts.
12. GATEAU BASQUE, or PASTEL VASCO – Basque cake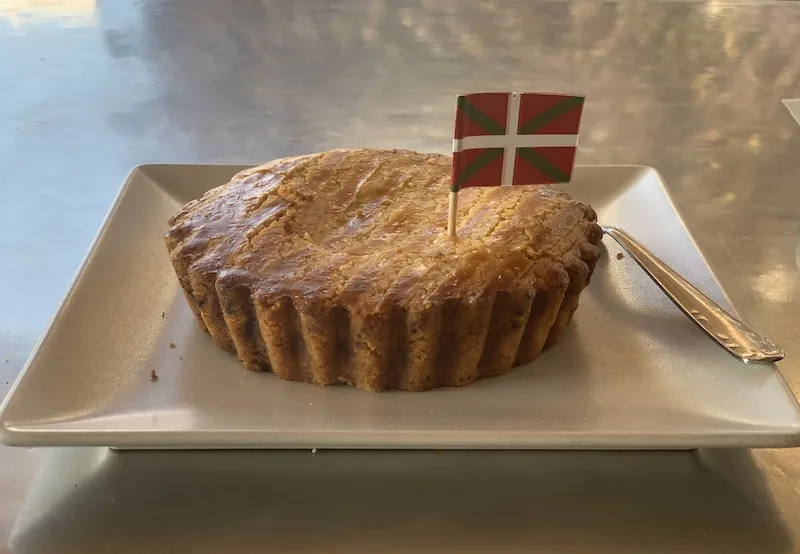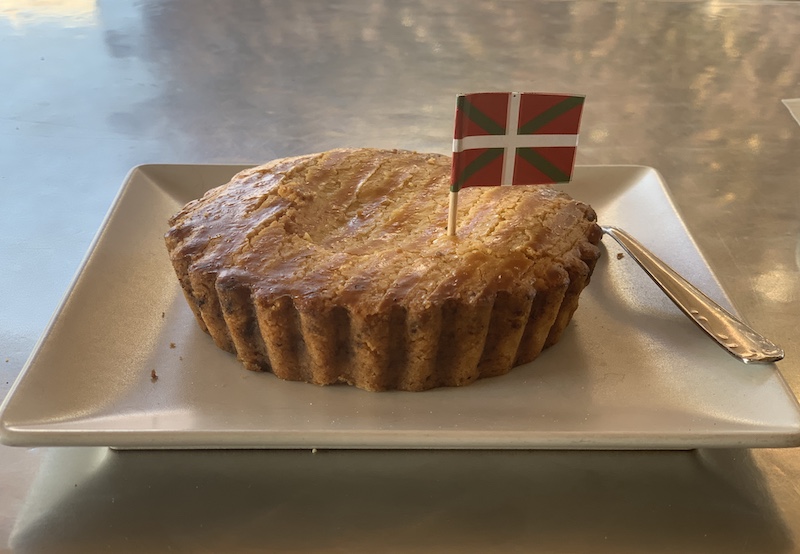 Gâteau Basque (meaning literally the Basque cake in the French language) is the signature dessert of the Basque Country.
The Basque cake is also called Pastel Vasco in the Spanish language and Etxeko Bixkotxa in the native Basque language.
The Basque cake is made of baked pastry dough with a filling. There are two types of filling: black cherry jam and vanilla cream. The most common filling in the French part of Basque Country is the black cherry jam and the most common filling in the Spanish part of the Basque Country is vanilla cream.
13. PANTXINETA – Basque pastry with custard cream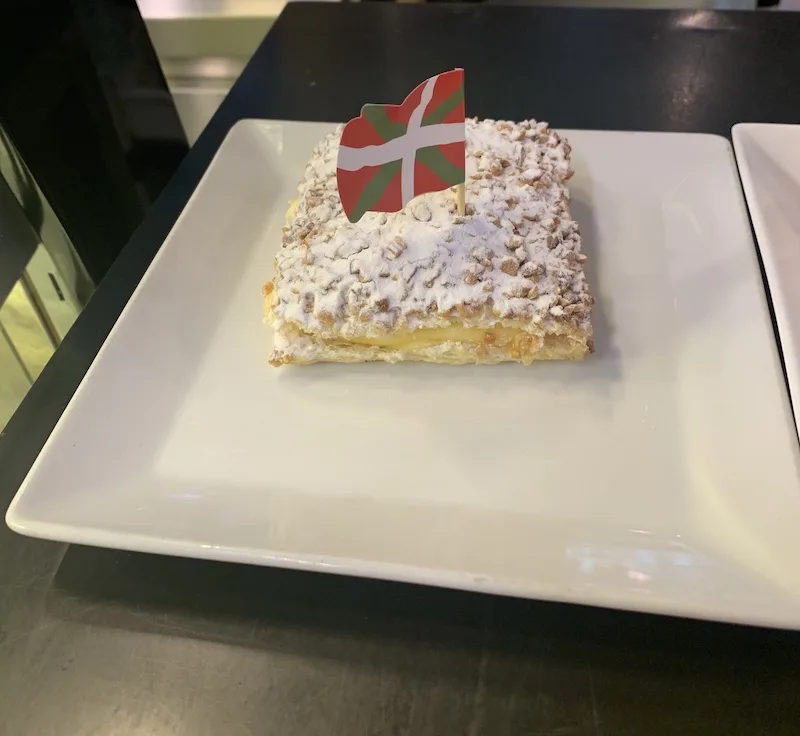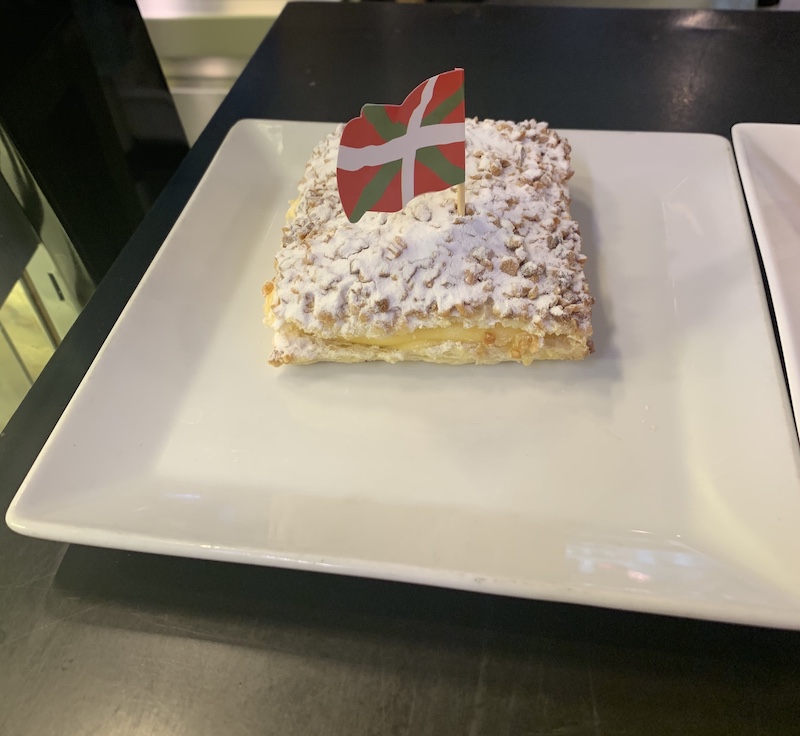 Panchineta is a traditional Basque cake made of puff pastry filled with custard cream. The cake is covered with almonds and powdered sugar on the top.
Pantixineta is native to San Sebastain (Donostia). So, if you want to try authentic Pantixineta, keep in mind to order it in San Sebastian.
14. TRAINERA – Basque apple cake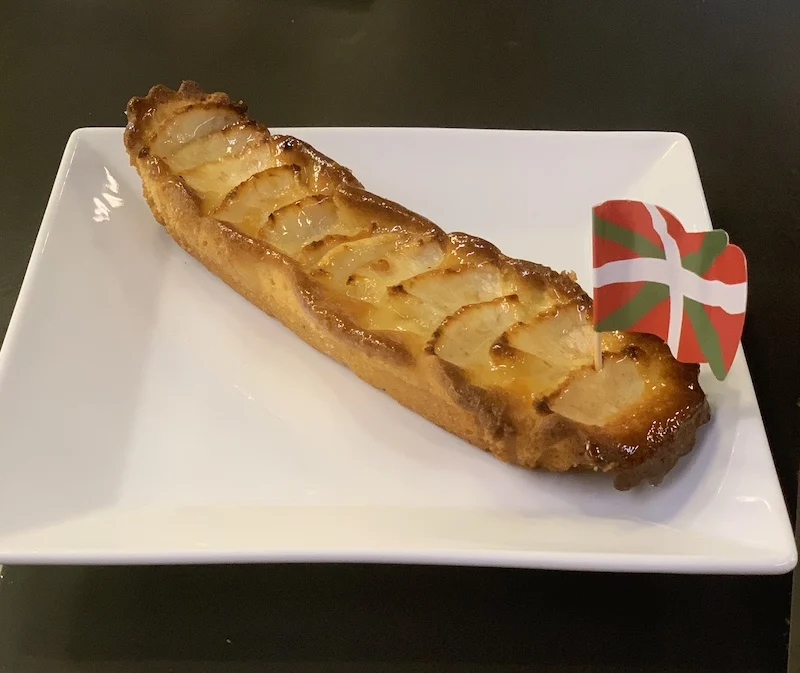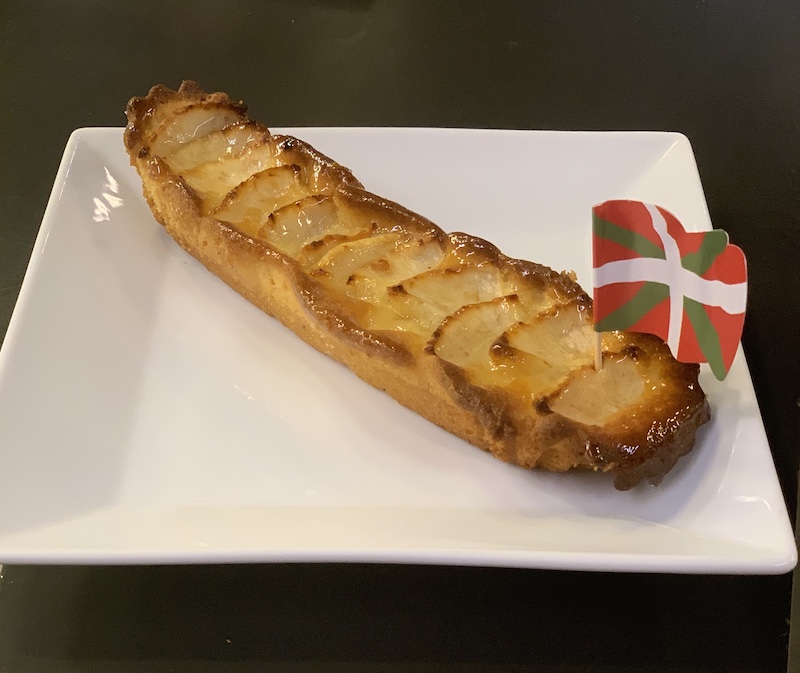 Basque trainera is an apple cake made of baked broken dough with almonds, and apples lined on the top.
The cake is named after the Basque trainera boat. Trainera is a traditional Basque boat with oars. Historically Basque fishermen used trainera rowing boats for fishing anchovies and sardines in the Cantabrian sea and most notably, in the Biscay Bay.
15. TXAKOLI WINE – Basque sparkling white wine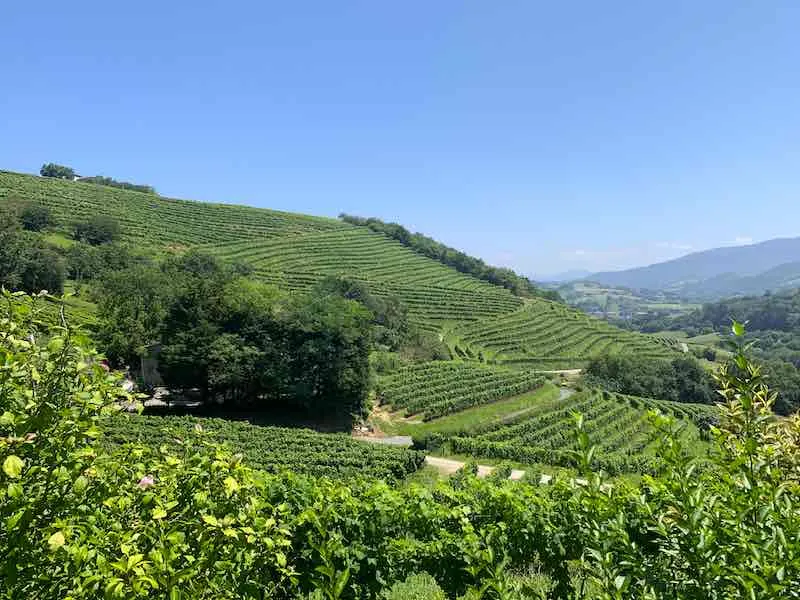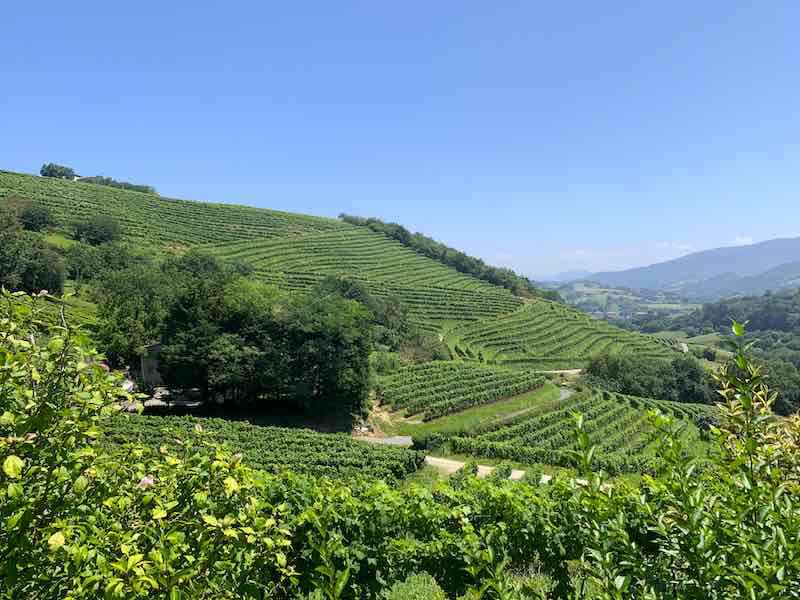 Chacoli in Spanish, or Txakoli in the Basque language, is a typical Basque sparkling wine.
Basque Txakoli wine is a dry white wine of high acidity and with a low percentage of alcohol. Refreshing Txakoli wine is traditionally enjoyed with pintxos in the Basque Country.
When you visit pintxo bars in Bilbao or San Sebastian, make sure to order Chacoli wine along with pintxos!
16. SAGARDOA – Basque cider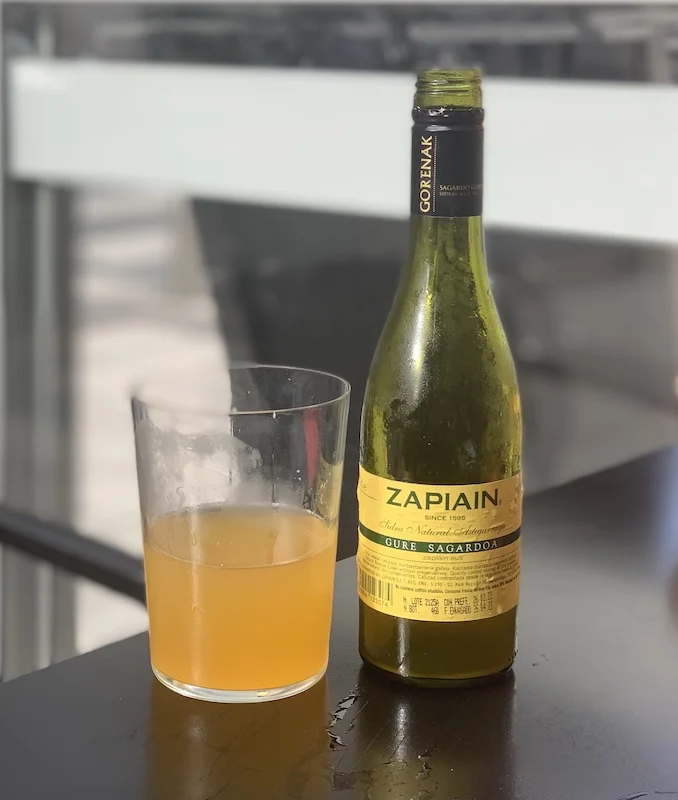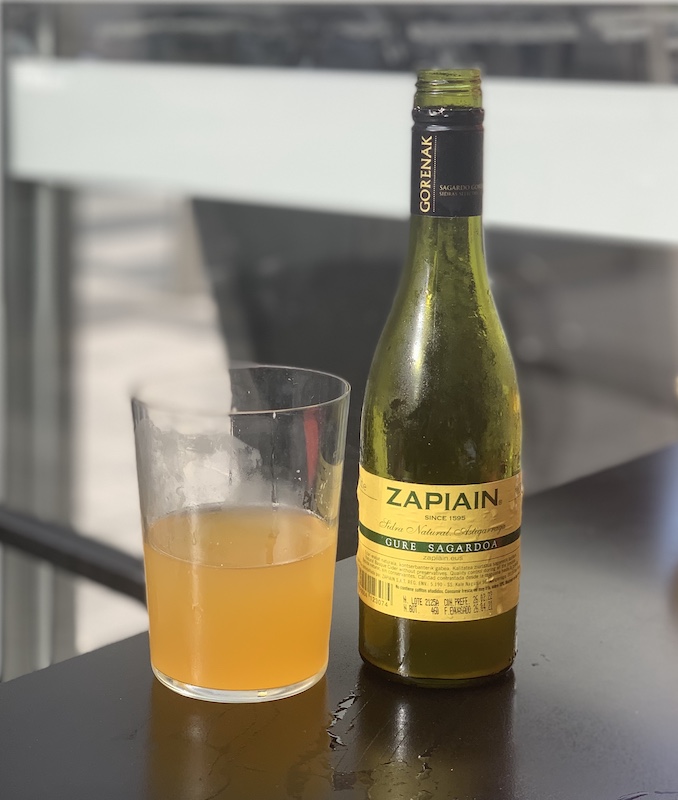 Cider has an important role in the Basque culture and heritage.
Drinking cider made by natural fermentation of apples has a centuries-long tradition in the Basque Country. It has been produced at cider houses (called sagardotegi) on the Basque farms.
Basque cider is still (not sparkling), low in alcohol about (5%), and slightly acidic. Basque Cider is the best paired with cod dishes (fried cod, salted cod omelet), cheese, nuts, quince, and apple jelly.
The best-tasting Basque ciders are straight from barrels, of course. If you want to experience some of the very best Basque cider, head to traditional Basque cider houses.
The popular txotx season (the ritual of opening barrels with new cider and drinking cider straight from the barres) is from January to April.
What is Basque food?
Basque food is the food from the Basque Country which covers the bordering area between France and Spain. Basque cuisine includes many dishes prepared with fish and seafood from the Cantabrian Sea and the Bay of Biscay. The most typical Basque dishes are Bacalao Al Pil-Pil, Chipirones En Su Tinta, Tigres, Piperade, and Lamperna.