If you are visiting Israel and want to try the best Israeli food, here is a list of the most popular Israeli dishes and Israeli drinks I have tried on my trip to Israel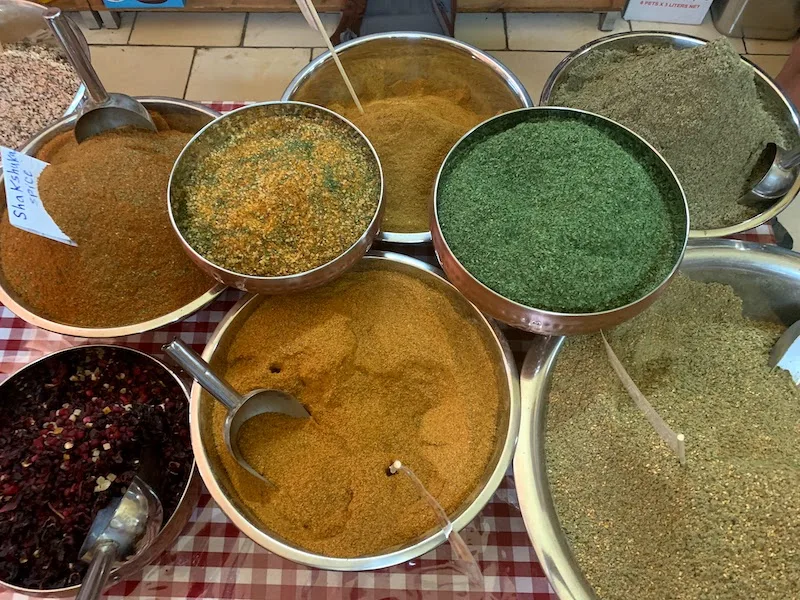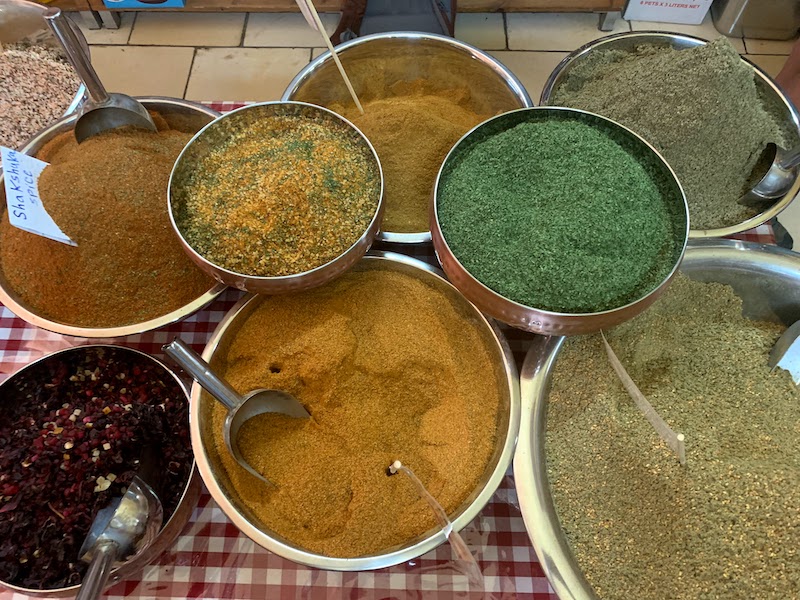 THIS POST MAY CONTAIN COMPENSATED LINKS. PLEASE READ MY DISCLAIMER FOR MORE INFO.
Are you planning a trip to Israel last minute?
Wish to try traditional Israeli food in Israel?
If you are traveling to Israel last minute, I prepared a short summary of the best food and drinks tours in Israel to make your trip absolutely delicious!

BEST FOOD TOURS IN TEL AVIV:
2-Hour Carmel Market Tour in English with Lunch (a top-selling food tour in Tel Aviv – Get Your Guide)
Carmel Market Culinary Market Tours – for people who love to eat (Viator)

2-Hour Levinsky Market Tour with Full Lunch (Get Your Guide)
Levinsky Market Tasting Tour (Viator)

Tel Aviv: Vegan Food & History Tour in English with Tastings (the most popular food tour in Tel Aviv – Get Your Guide)
Tel Aviv Vegan Culinary Tour (Viator)

BEST FOOD TOURS IN JERUSALEM:
Machane Yehuda Market Food Tour with 6 Tastings (the most popular food tour in Jerusalem – Get Your Guide)
Machne Yehuda Culinary Tour (Viator)

Unique Peek Hosting Lecture + Meal at Jewish Orthodox Home in Jerusalem (Viator)

PLAN YOUR TRIP TO ISRAEL:
Find your stay in Tel Aviv: Booking.com, Vrbo, HotelsCombined
Find your stay in Jerusalem: Booking.com, Vrbo, HotelsCombined
Foods from Israel
Modern Israeli cuisine represents a culinary fusion of traditional Jews foods and foods brought to Israel by the Jewish diaspora.
Due to Israel's geographical position, the cuisine of Israel belongs to Middle Eastern cuisine, and Mediterranean cuisine, and it is strongly influenced by Asia, Africa, and Europe. Thanks to various cultural and culinary influences, Israeli foods represent one of the most delicious foods in the World and one of the healthiest foods in the World.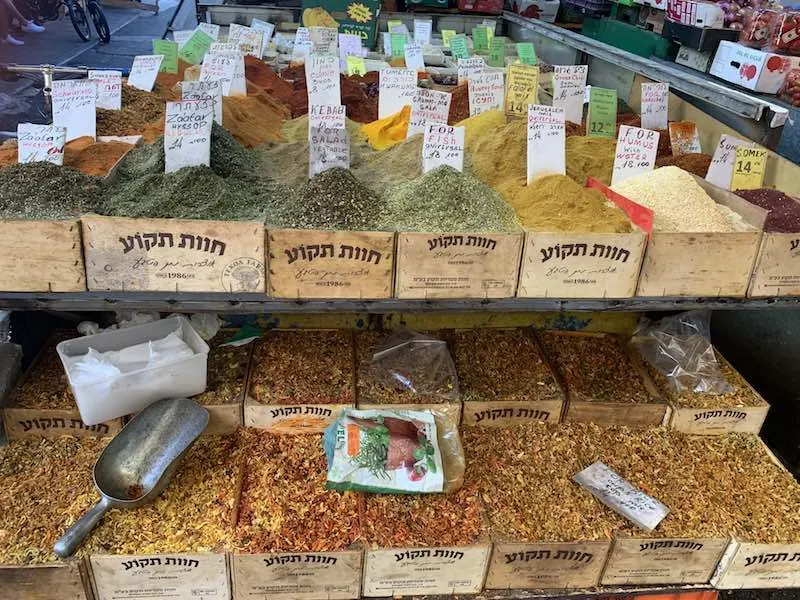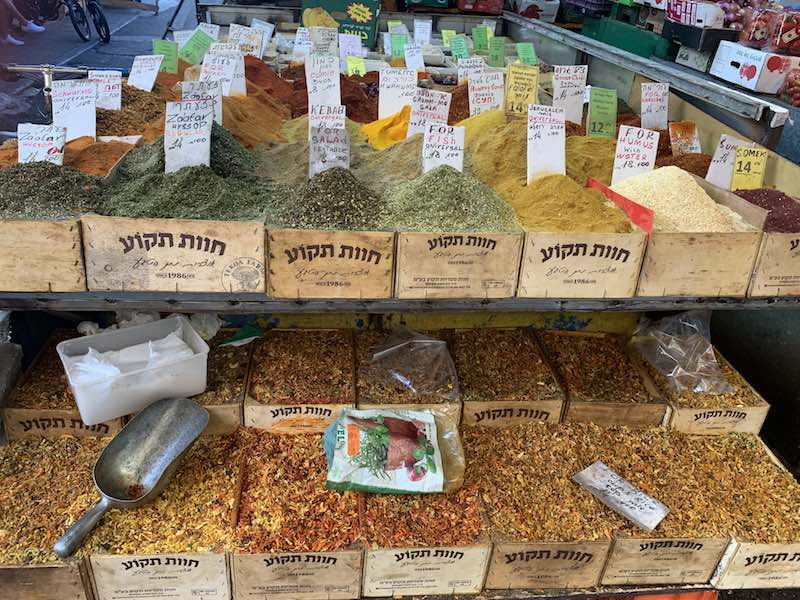 Popular foods in Israel
Talking about Israeli food means talking of first-class olives and olive oil, nutritious chickpeas, fava beans, couscous, bulgur, lentils, health-beneficial goat cheese, saporous tomatoes, aubergines, zucchini, avocados, mangos, heavenly Medjool dates, ambrosial Jaffa oranges, clementines, lemons, grapefruits, grapes, figs, pomegranates … sweet date honey called Silan … and spices such as cumin, zaatar, turmeric, sesame seeds, ginger, cinnamon, nutmeg, aniseed, saffron … or herbs such as rosemary, mint, sage, thyme, oregano, lemon verbena, fennel, bay leaves.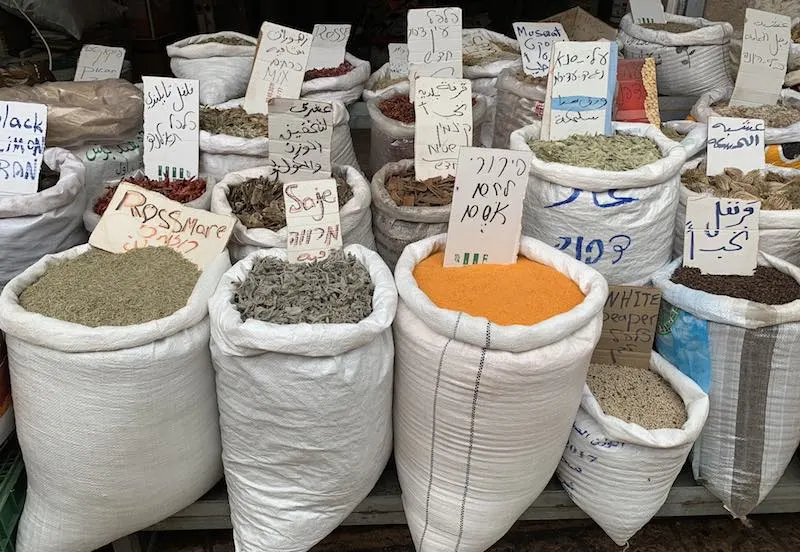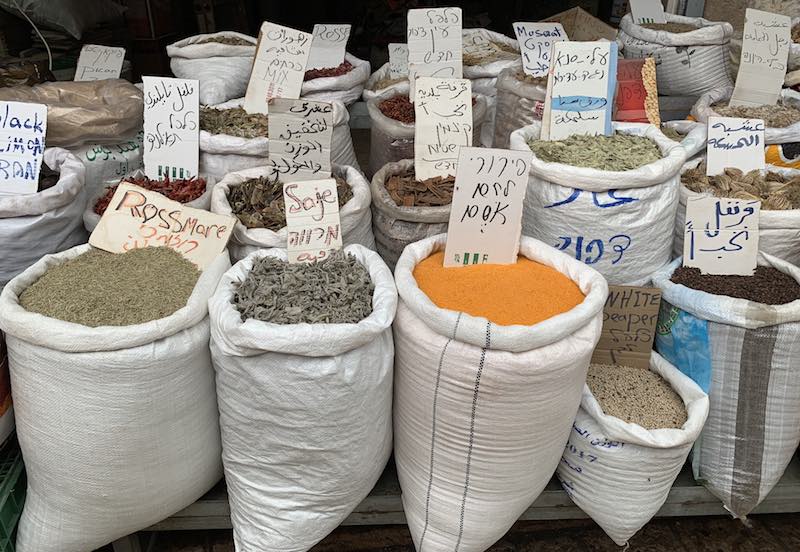 To conclude this short introduction to Israeli food, Israeli cooking, and the Israeli diet, let me just say that Israeli cuisine is a haven on the Earth for vegetarians, vegans, and all healthy food lovers.
Foods of Israel
I am deeply grateful for my experience of solo traveling to Israel. In my blog you can find my self-tailored 10 day Israel itinerary, you can read about my Masada hike in sunrise, the holy sites in Israel I have visited, and what best day trips from Tel Aviv I recommend taking.
The traditional food of Israel (with traditional Israeli food names)
1. Popular Israeli food
Israel food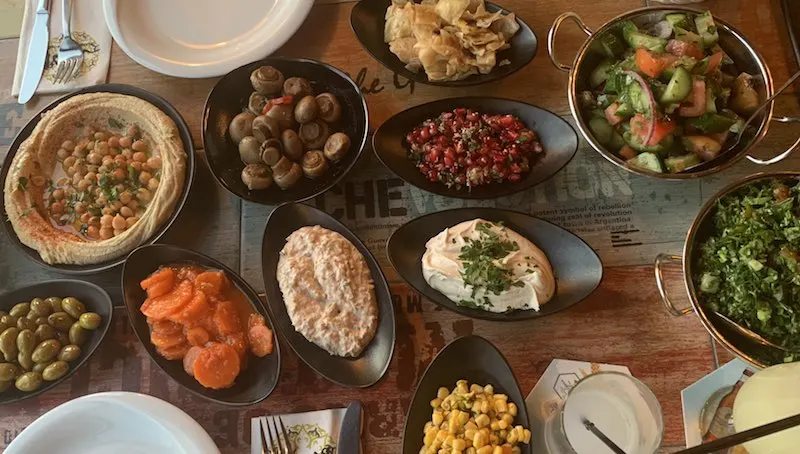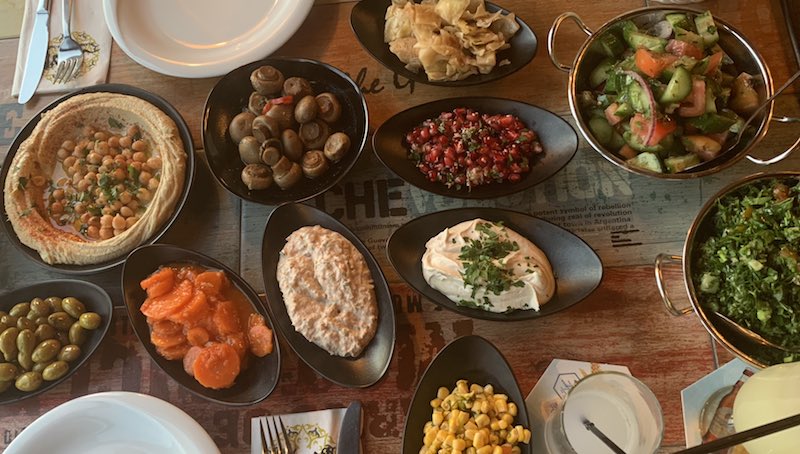 The list of the most popular Israeli food covers the most popular Israeli dishes and typical food in Israel.

It goes from famous Middle Eastern spreads like Hummus and Tahini, delicious Israeli Falafel, and divine Israeli Shakshuka to popular Middle Eastern salad Tabbouleh and wholesome Israeli salad. The Israeli foods list ends with appetizing bread from Israel and the world's popular Middle Eastern Shawarma and Kebab.

But to sweeten your trip to Israel, I have listed mouthwatering Israeli desserts and Israeli sweets you should try in Israel too.
I've also added some Israeli food recipes to try at home and discover your favorite Israeli recipe!

Let's go. Here's a list of authentic Israeli food I savored in Israel.
Famous food in Israel and the best food in Israel:
1.1 Hummus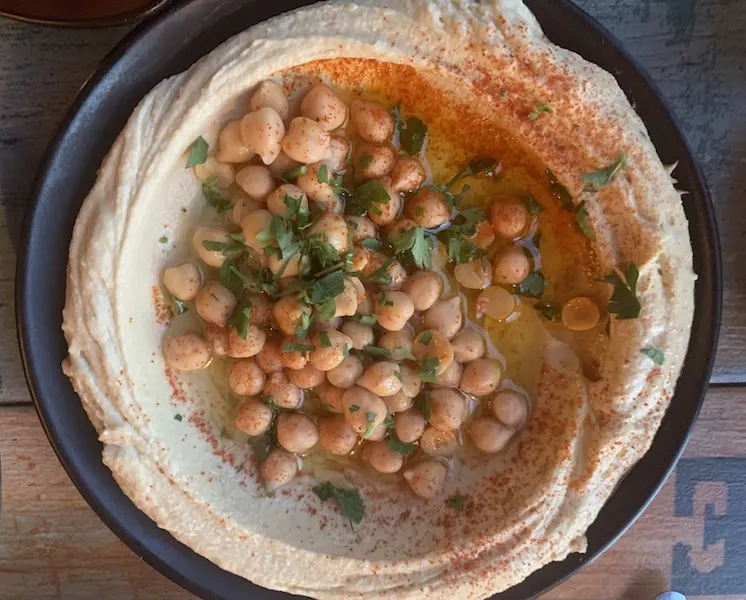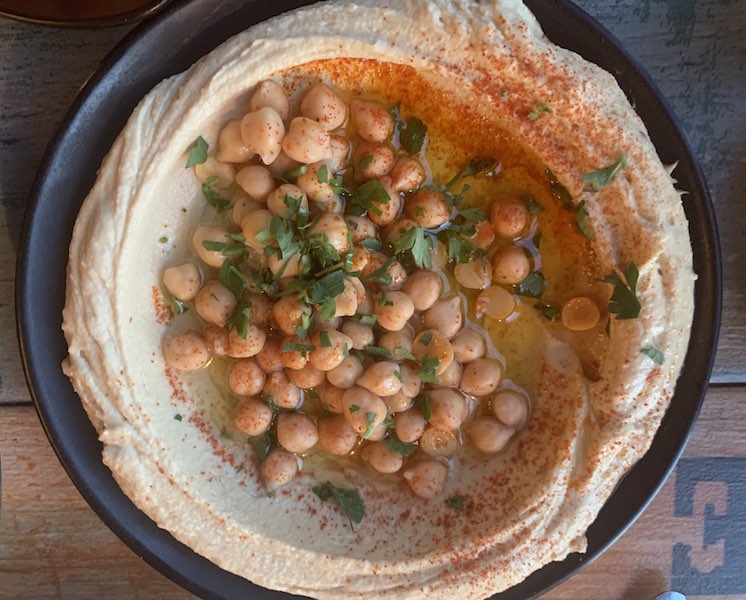 HUMMUS is a Levantine spread usually prepared of mashed chickpeas.

Sometimes hummus is made of other beans too. Mashed beans are blended with tahini, lemon juice, olive oil, salt, and garlic.
Where to find the best hummus in Israel is a never-ending debate in Israel.

If you want a perfect treat for your palate, I would suggest trying out hummus with pine nuts.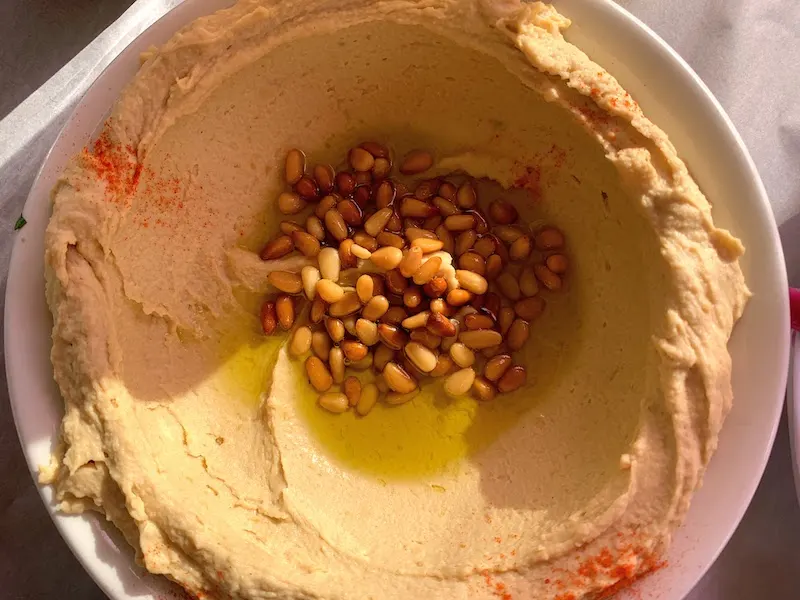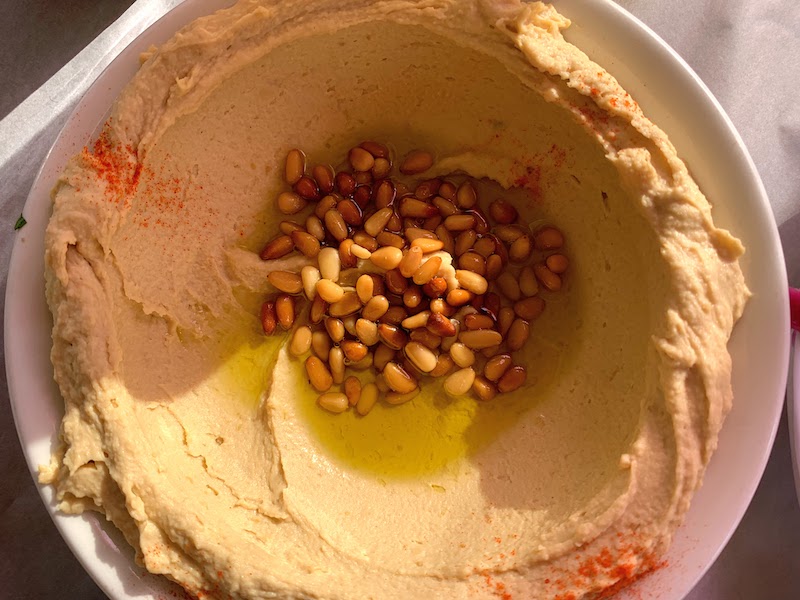 After trying roasted pine nut hummus, there is a great possibility of becoming addicted to it. Thus, please beware of hummus with pine nuts in Israel!
WATCH: Hummus recipe
1.2 Msabbha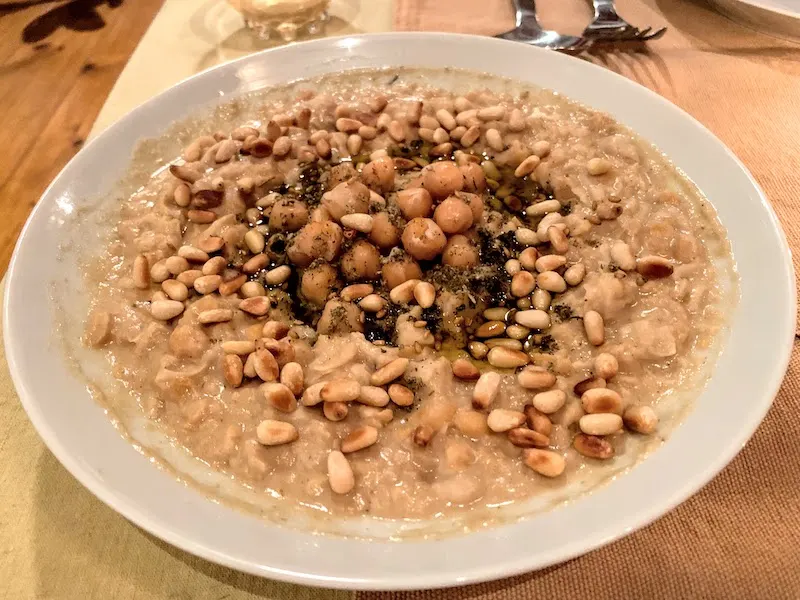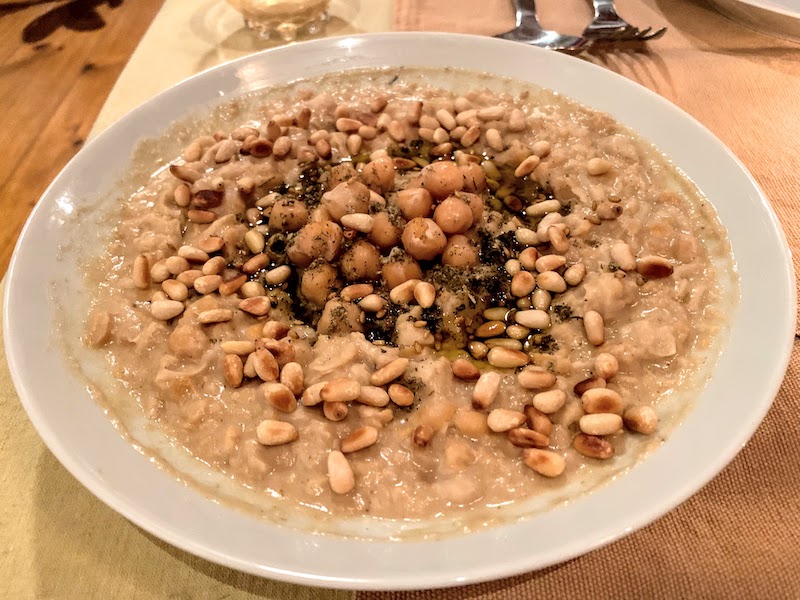 MASABACHA, also spelled msabbaha, is a popular Levantine spread. Masabacha is a version of hummus.
The base of msabbaha and hummus are the same. But unlike in hummus, chickpeas in msabbaha remain whole. Msabbaha literally means 'swimming' in Arabic. So, if you want to try hummus with 'swimming chickpeas', order msabbaha.
Again, msabbaha with pine nuts is an another level!
1.3 Falafel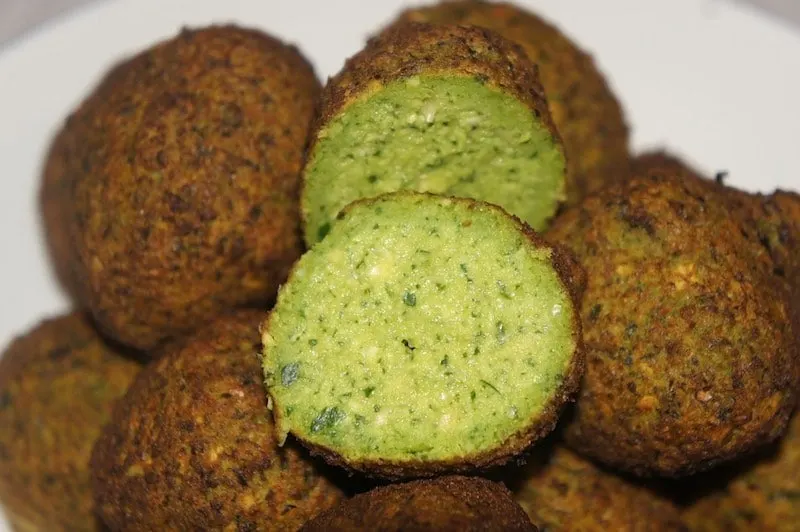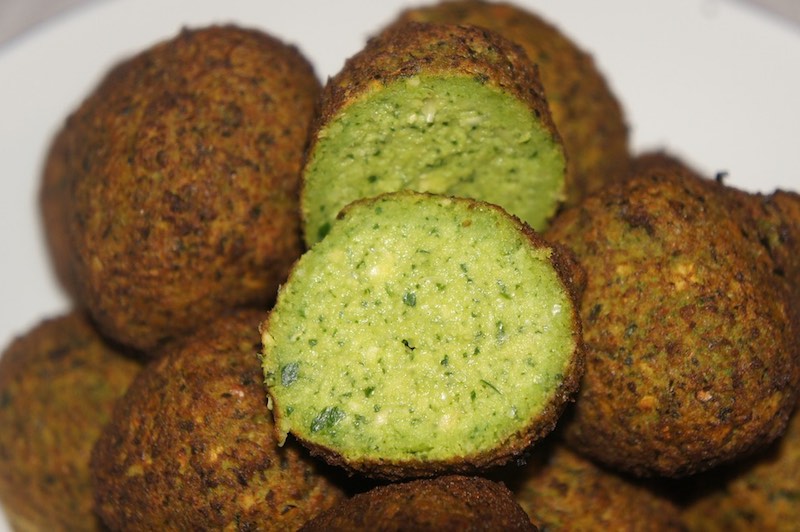 FALAFEL is a traditional Middle Eastern food, and inevitably traditional Israeli food.
In Israeli cuisine, falafel takes a special place as it is considered to be an Israeli national dish. Falafel is also the ultimate street food in Israel you can find it on every street corner in Israel. Ergo, falafel is a popular Israeli food in Israel. While falafel originates in Egypt, today is commonly eaten everywhere in the Middle East.
FALAFEL BALLS are made of deeply fried chickpeas, fava beans, or both. Falafel is often wrapped in a pita sandwich or eaten alone as a part of the meze (the Middle Eastern palette of appetizers)
WATCH: Falafel recipe
1.4 Shakshouka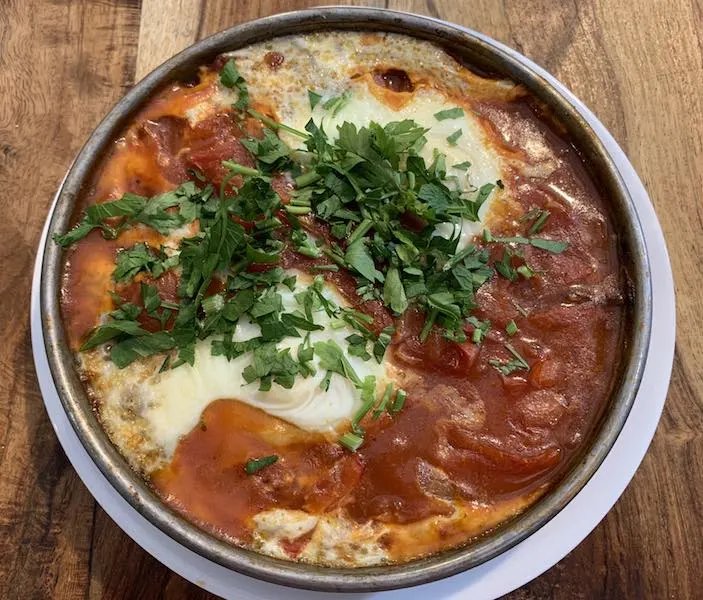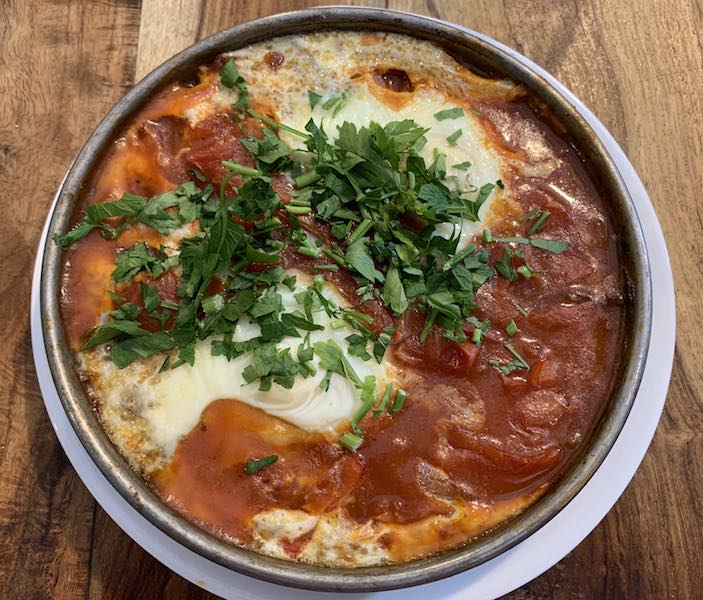 To talk about typical Israeli food and not to mention Israeli Shakshouka is impossible.
Shakshouka is among the most popular Israeli food in Israel.
SHAKSHOUKA is an Israeli dish made of poached eggs in a sauce of tomatoes, chili peppers, and onions spiced with cumin or zaatar, paprika, cayenne pepper, and coriander.
This Israeli egg dish is typically eaten for breakfast in Israel.

Shakshouka is one of the most Israeli-loved dishes of Israeli cuisine and for a good reason. Unambiguously, Shakshouka is divine.

Shakshouka was introduced in Israel by Jewish immigrants from North Africa, more precisely from Tunisia.
The word Shakshouka comes out of the Arabic word Shakka, meaning 'to stick together'.
After tasting Shakshouka you find out how good poached eggs, tomatoes, chilies, paprika, onions, cumin, pepper, and coriander stick together.
And as a result, you stick to Shakshouka for the rest of your life!
WATCH: Shakshuka recipe
1.5 Tahini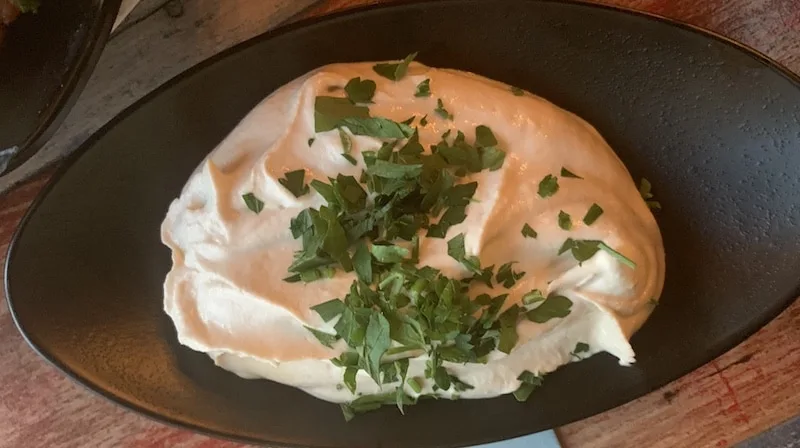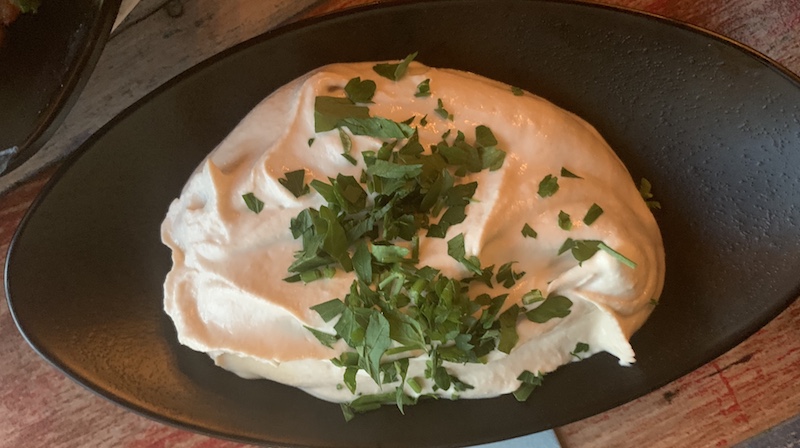 TAHINI is a creamy and savory paste made of sesame seeds usually found in hummus, baba ganoush spread (an eggplant dip), falafel sandwiches, or as a salad dressing.
Authentic Israeli tahini is made with sesame paste, lemon, olive oil, and garlic.
Let me point out here that tahini is an ancient food. It tracks down sesame seeds cultivated in India 5.000 BC.
If you want to find out why people have been adoring sesame seeds for the past 7.000 years, you should try tahini in Israel.
1.6 Baba Ganoush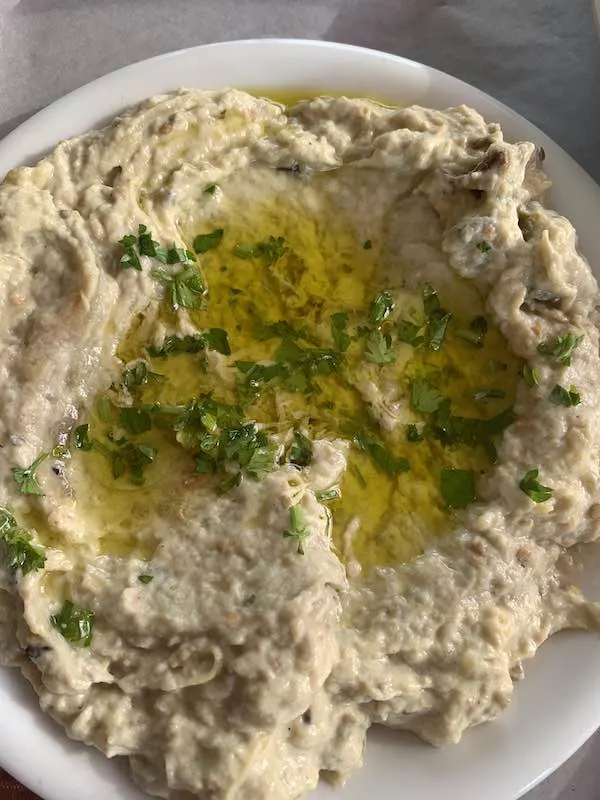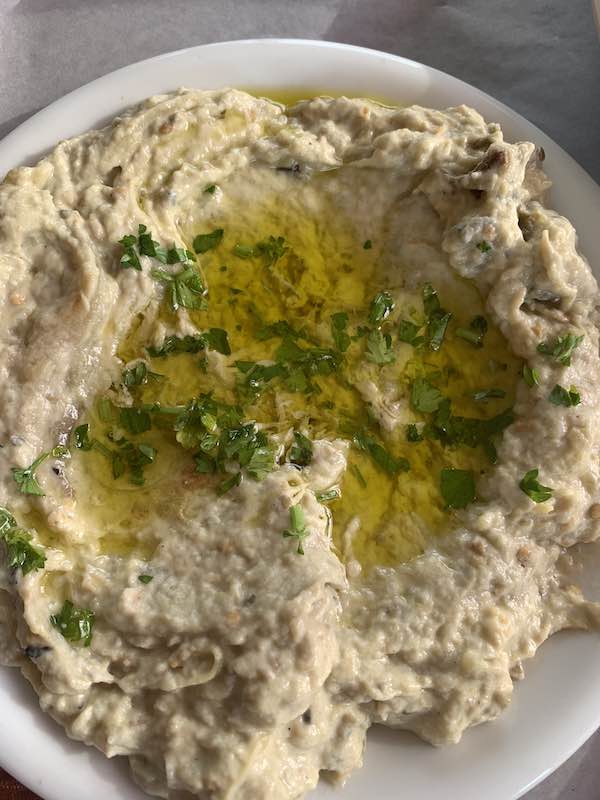 BABA GHANOUSH is a famous Middle Eastern dip made with roasted eggplants.
To prepare it, all you need is just to mix eggplants with lemon juice, and sea salt and you will get one of the most delicious spreads in the world ever.
If you prefer eggplants to chickpeas, you shouldn't debate about hummus or baba ganoush. Your choice is obvious. One of the best countries to treat yourself to authentic baba ganoush is Israel.

1.7 Mujaddara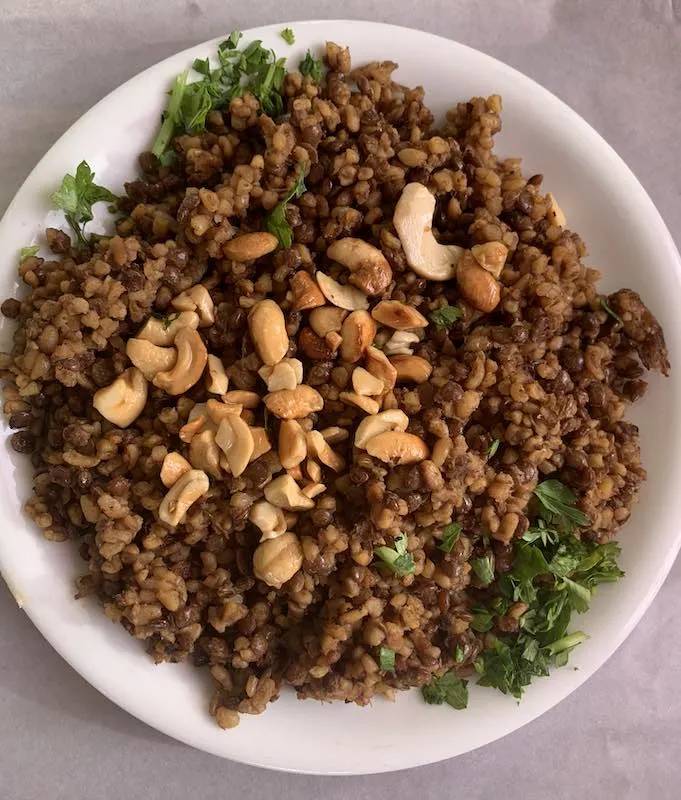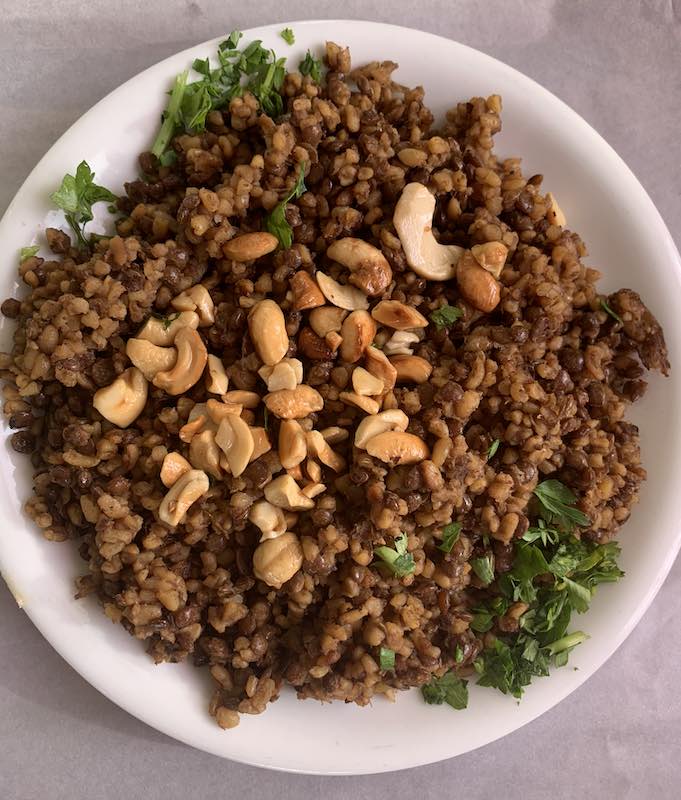 MUJADARA is another classic Middle Eastern dish.
Mujaddara is a simple and vegetarian dish made with cooked lentils, brown rice, and caramelized crispy onions. Additionally, it can be garnished with herbs and roasted peanuts (like mine in the photo).
If your diet is vegetarian, most likely you will be bewitched by mujadara in Israel.
WATCH: Mujadara recipe
1.8 Sabich with amba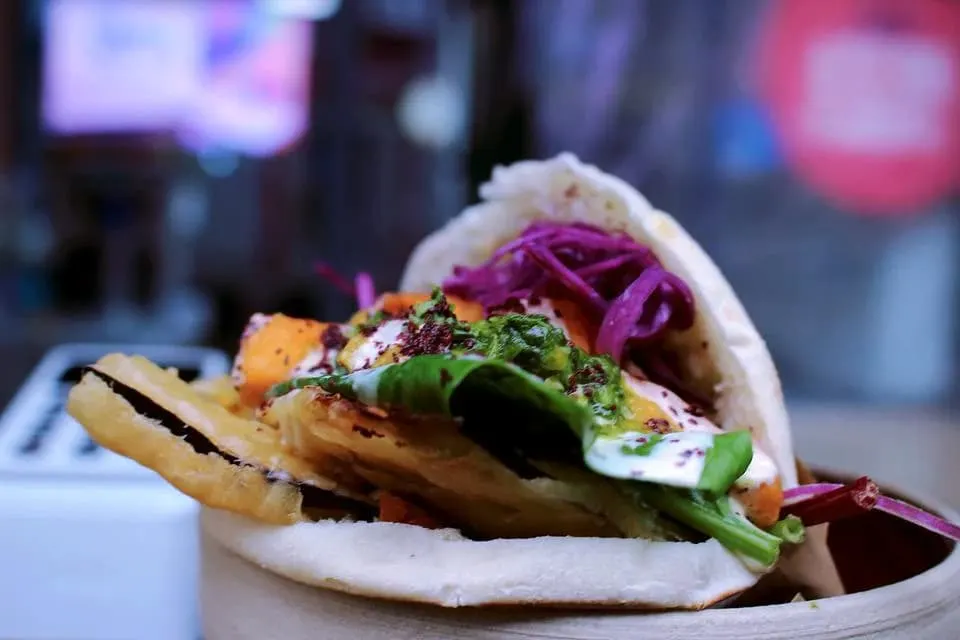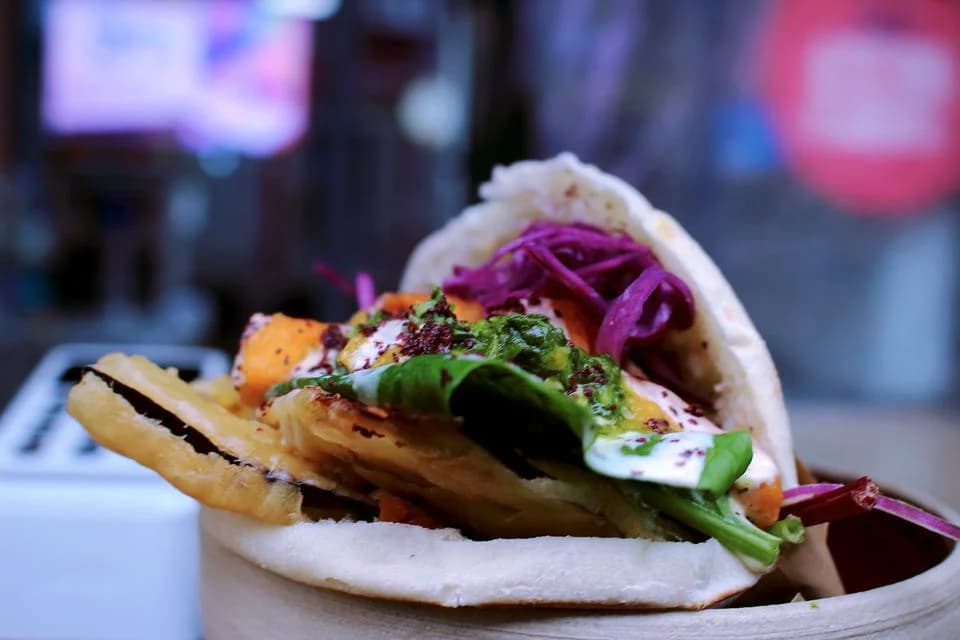 SABICH, or SABIH, is a famous Israeli sandwich and one of the top popular Israeli food.
Basically, Sabich is a pita bread filled with fried eggplant and hard-boiled eggs, tahini sauce, hummus, Israeli salad, and amba (a piquant mango dressing).
Sabich was brought to Israel by Iraqi Jews and it goes to the list of Jewish food in Israel eaten traditionally on Shabbath.
Sabich with amba was the first famous Israeli food I tried in Tel Aviv on my arrival to Israel and I was literally screaming: 'What's this?! This is soooo good!! What's this?! What am I eating? This is so perfect!'
1.9 Israeli salad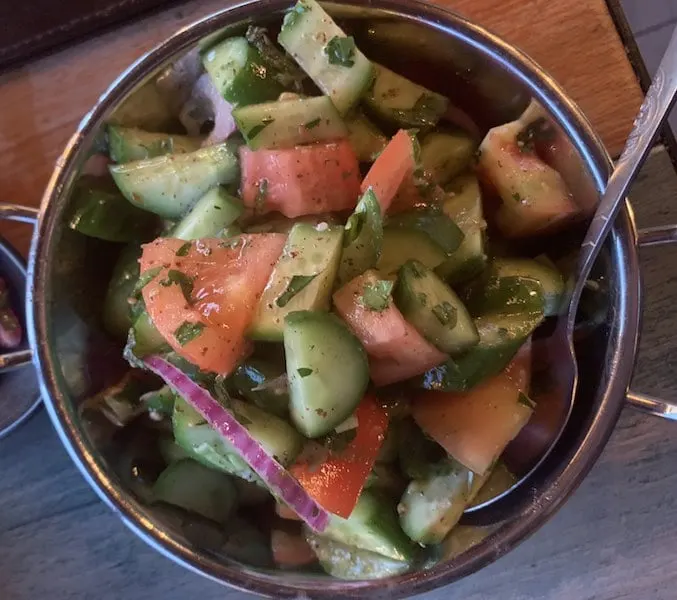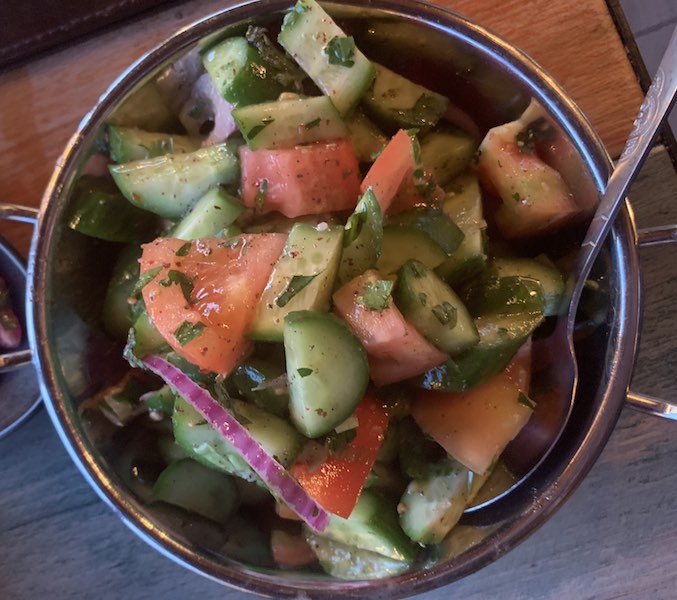 When you mix fresh chopped tomatoes, cucumbers, onions, bell peppers, and dress it all with lemon juice, olive oil, tahini, zaatar, you get one of the most delicious salads you have ever tried.
Israeli salad is a standard Israeli side dish in Israeli cuisine. There is no need to emphasize how much healthy this salad is!
1.10 Tabbouleh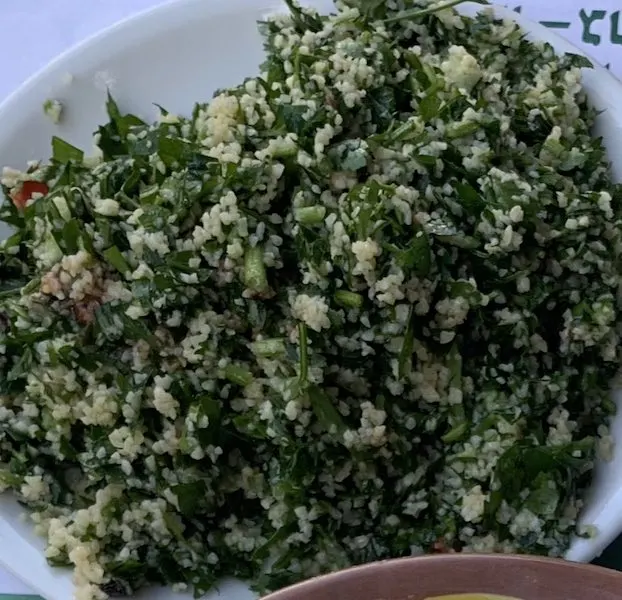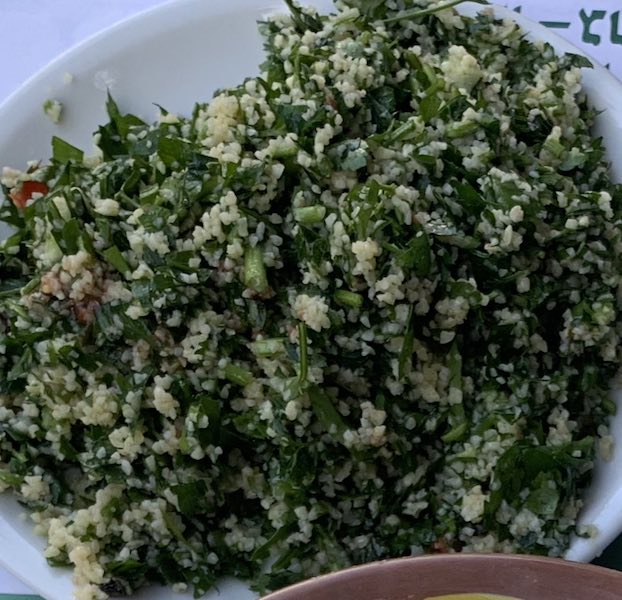 TABBOULEH is a delicious classic Middle Eastern salad originating from neighboring Lebanon.
Israeli Tabouli is a salad prepared of finely chopped vegetables, parsley, bulgur wheat spiced with olive oil, and lemon juice.
This salad is one of those compulsory Israeli side dishes that make to appreciate Middle Eastern cuisine. Tabbouleh is a simple salad that confirms that beauty lies in simplicity.
WATCH: Tabbouleh salad recipe
1.11 Israeli stuffed vine leaves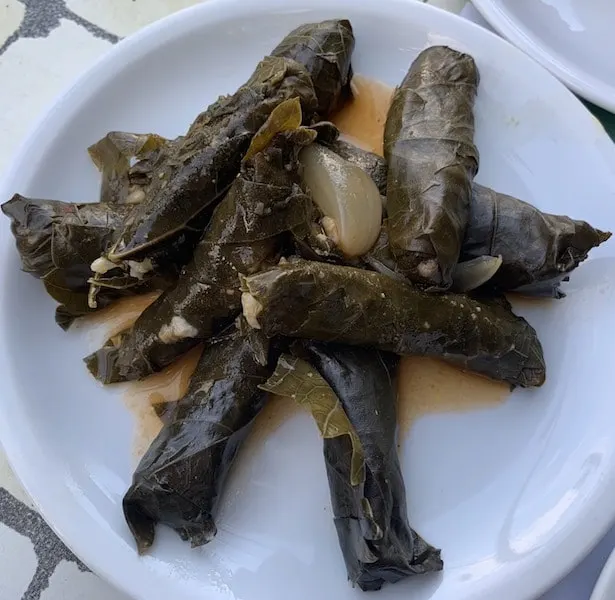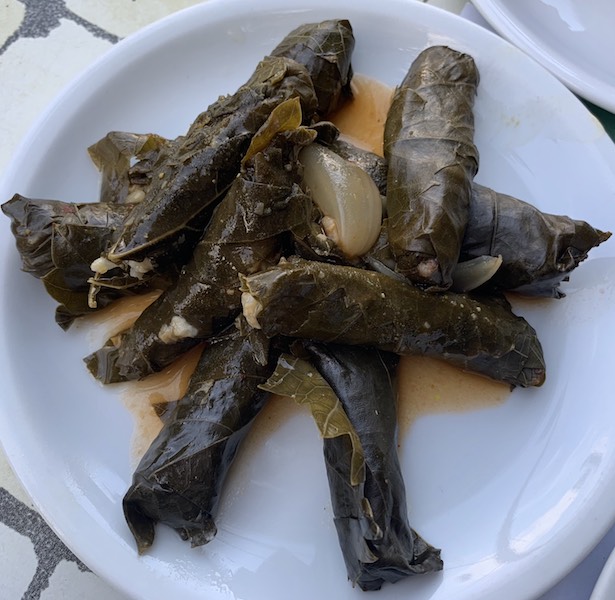 Stuffed vine leaves are widely prepared in all Mediterranean.
Stuffed vine leaves are the Mediterranean food everyone needs to try in their lifetime.
Rolled boiled or steamed fresh and young vine (grape) leaves stuffed with cooked rice, olive oil, peppers, and salt make one of the most delectable Israeli dishes.
Best stuffed vine leaves in Israel you can find served in Druze villages in Israel. Druze people are well known in Israel for their glorious culinary skills and delicious food.
Sometimes the leaves can be stuffed with minced meat too.
In Israel, vine leaves are stuffed only with rice and represent a mouthwatering vegetarian and vegan treat!
1.12 Hamutzim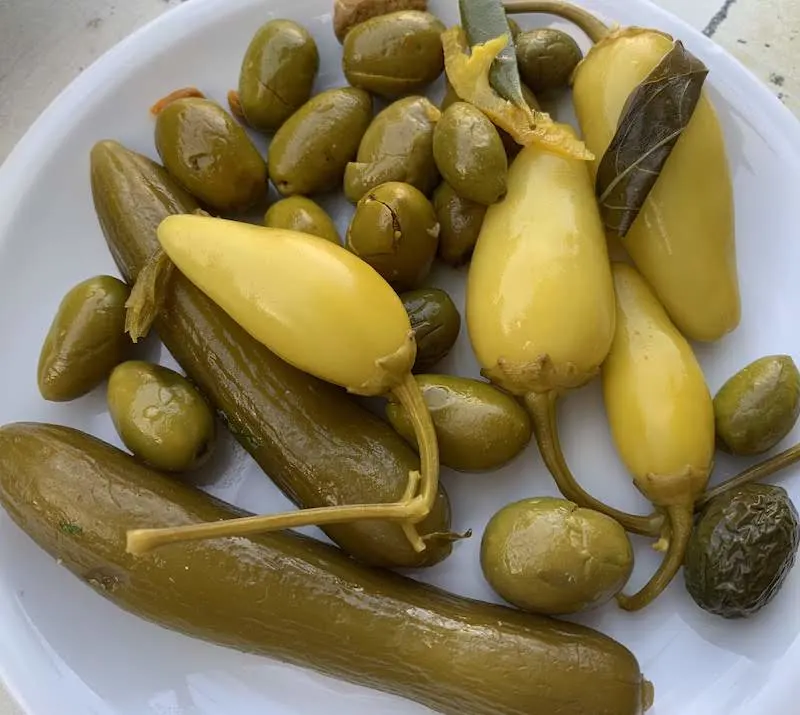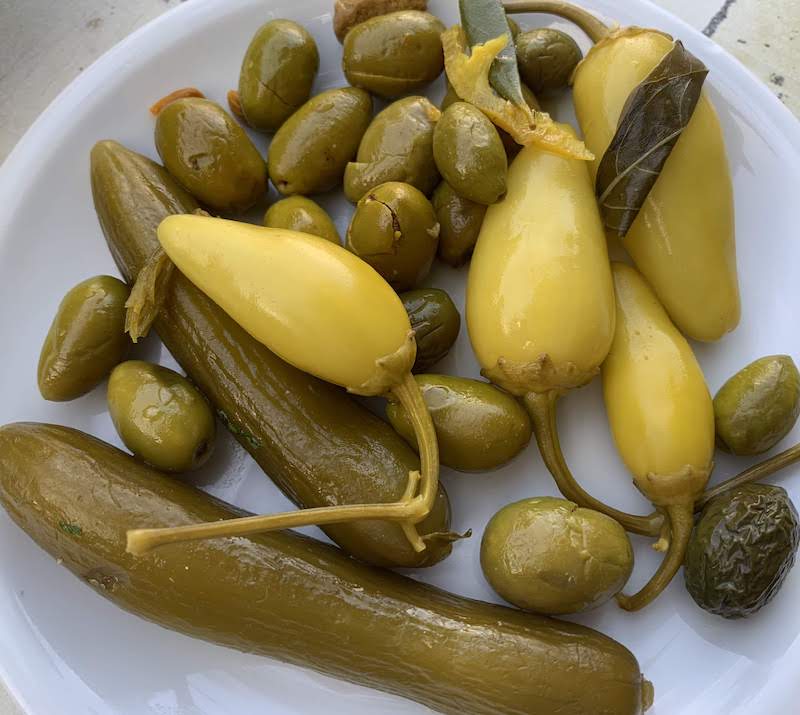 Pickles in Israel are called HAMUTZIM.
Israeli pickled vegetables typically include pickled cucumbers, pickled olives, pickled carrots, pickled cabbage, pickled cauliflower, pickled bell peppers, pickled tomatoes, and pickled garlic.
1.13 Labneh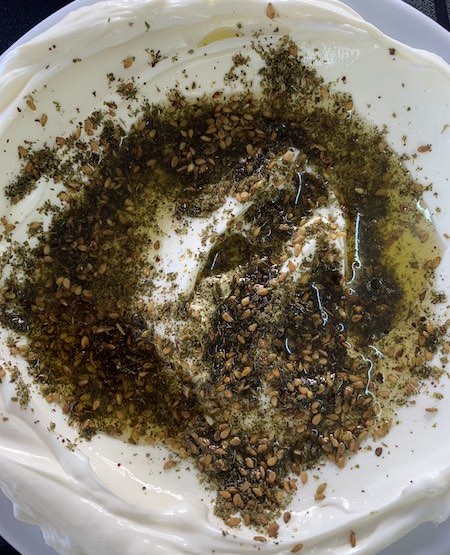 LABNEH, also spelled LABNI, LEBNI, is a strained yogurt cheese, dried and prepared either as a buttery spread or shaped into balls.

Native to the Middle East, Labneh cheese is a popular food in Israel. Creamy labneh is usually spread out onto a pita bread or a bagel.

Labneh blends well with lemon juice, olive oil, za'atar, and herbs like marjoram, oregano, thyme, and sesame seeds.
WATCH: Labneh recipe
1.14 Israeli lafa bread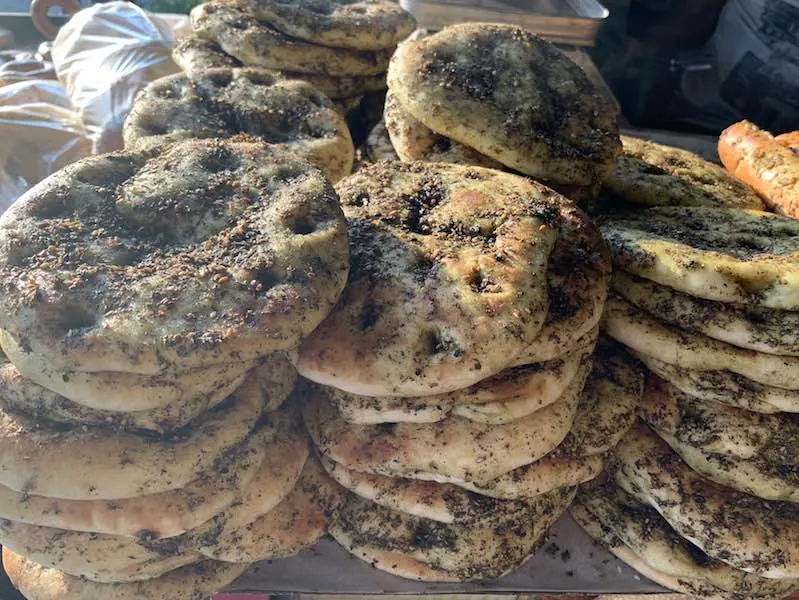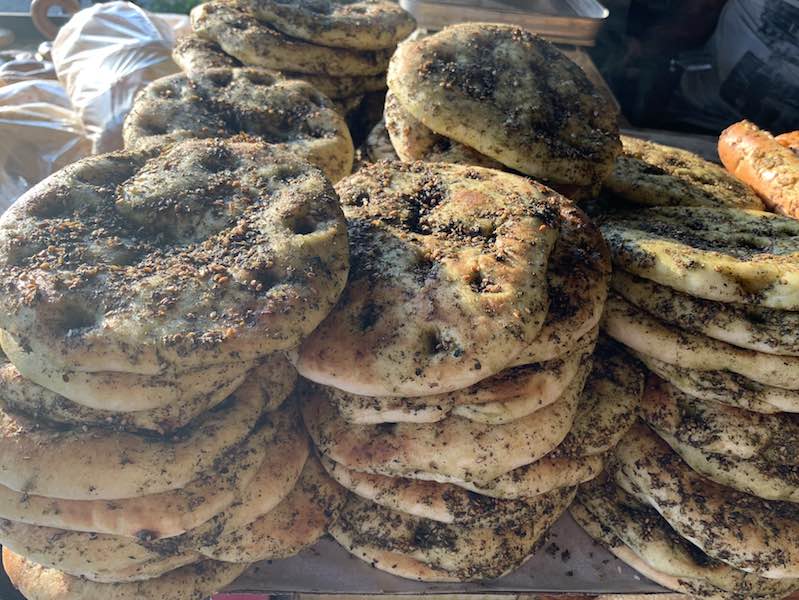 LAFA (also called, TABOON BREAD) is a traditional Middle Eastern and Iraqi flatbread sold as street food in Israel.
Laffa bread in Israel is heavily topped with lots of olive oil and za'atar. On my trip to Israel, I tried my first laffa bread in Nazareth and I got hooked on it immediately.
1.15 Jerusalem bagel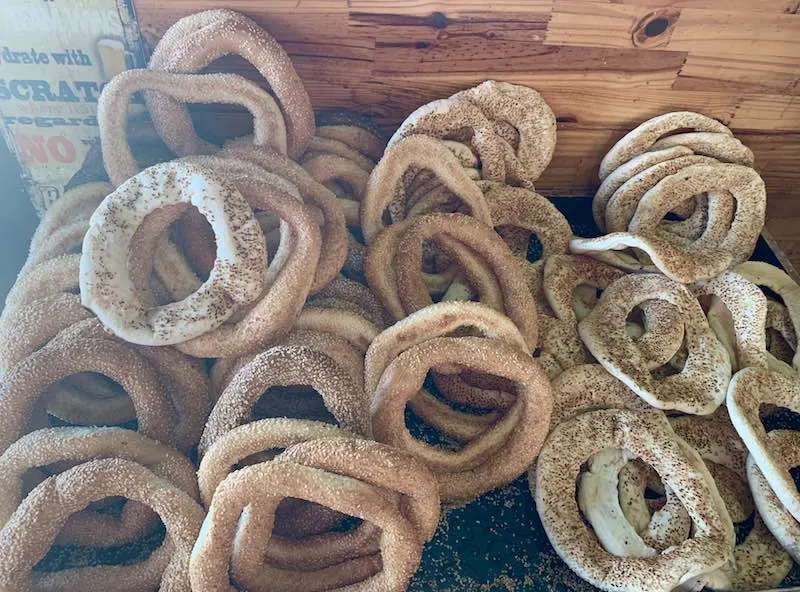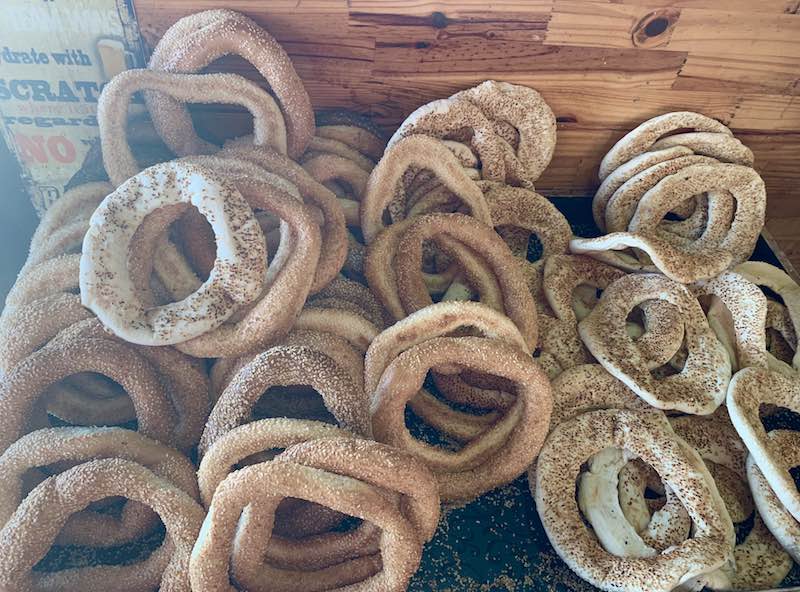 When talking about traditional Israeli foods I should mention BEIGEL or BAGEL bread, too.
BAGEL bread is probably the most popular Israeli bread in the World. Bagel bread in Israel is believed to be brought by Jewish people from Poland. Oblong bagels with sesame seeds are another popular Israeli street food.
Jerusalem bagels belong to the list of the iconic food of Jerusalem and the most popular Israeli food in Israel.
1.16 Challah bread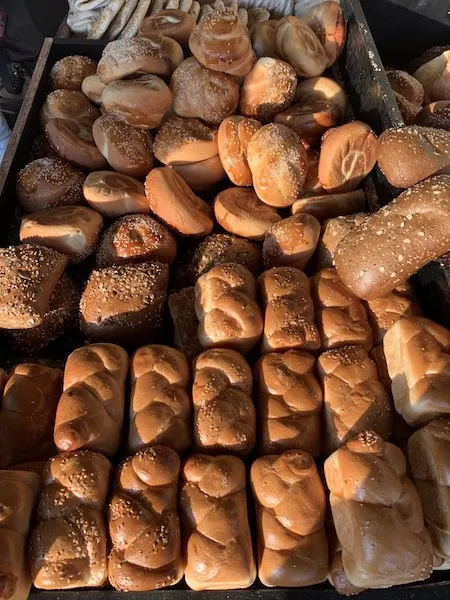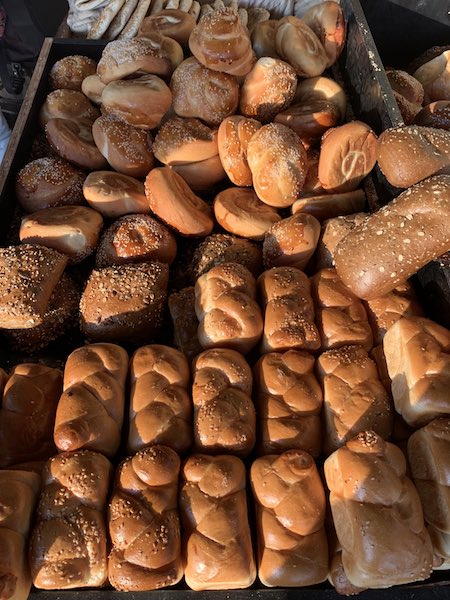 CHALLAH bread is Jewish people's food and Israeli bread is traditionally baked for Jewish holidays and Shabbath.

Tasty Israeli challah bread dough is made of water, sugar, salt, yeast, raisins, honey, eggs, and olive oil.
Israeli challah bread is traditionally prepared in a round shape implying the circle of the year for Rosh Hannah.
WATCH: Challah bread recipe
1.17 Matzah flatbread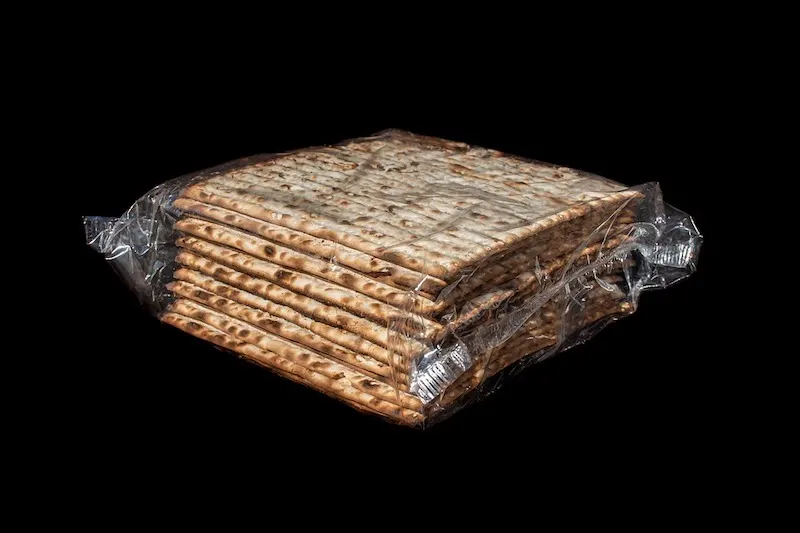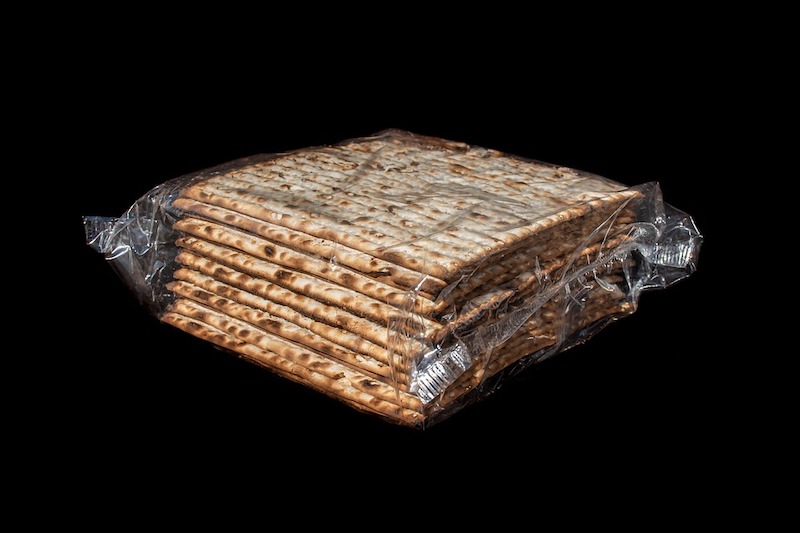 MATZO, also spelled Matzah, is a traditional Jewish flatbread eaten for Passover remembering the Exodus from Egypt.

Jewish matzah bread is made only from flour and water (without oil, honey, salt, and similar ingredients) and most important, without yeast.

Unleavened bread is one of the ancient Israelite food that has been eaten traditionally in Israelite homes for centuries as a part of the Passover meal. If you are traveling to Israel during Passover time, most likely you will have a great chance to sample this classic Jewish bread.
WATCH: Matzo recipe
1.18 Israeli pita bread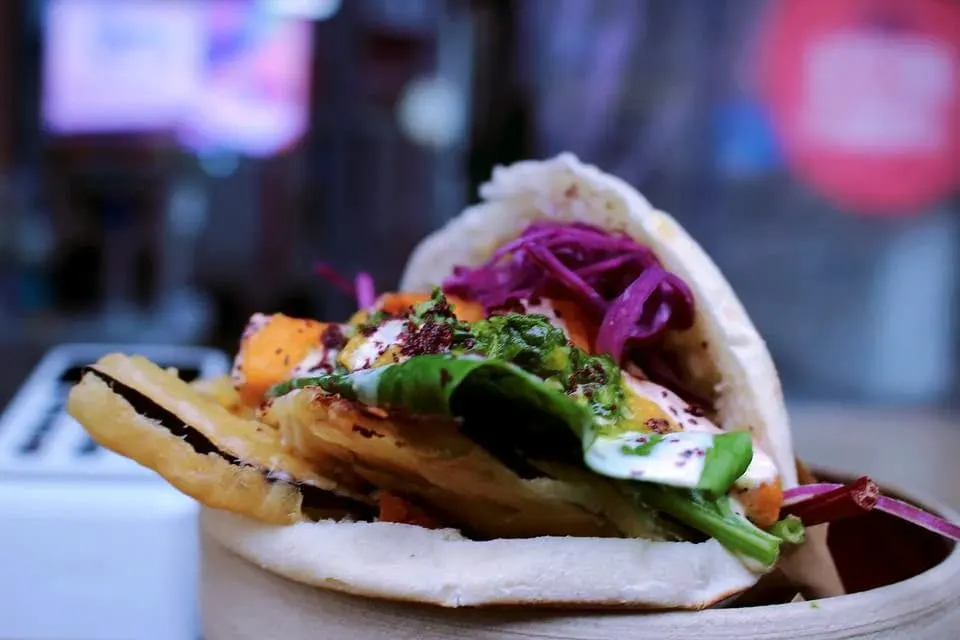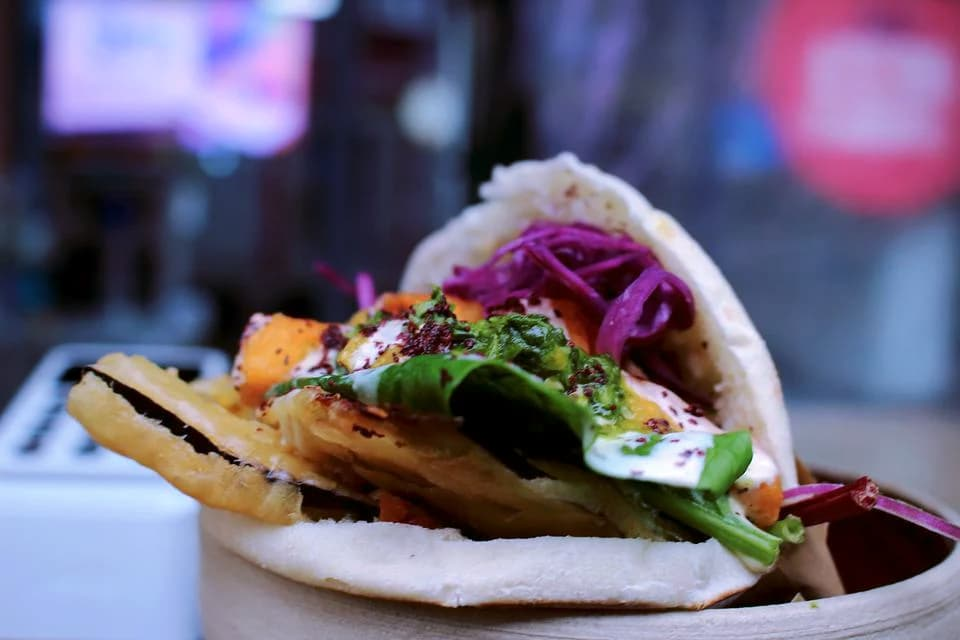 Pita bread is among the most popular breads in Israel.

Israeli pita bread is thick, soft, fluffy, spongy, and chewy. Therefore, pita bread is commonly used with dips (like hummus and baba ganoush).
Fluffy Israeli pita bread can also be stuffed with fillings like falafel, schnitzel, and shawarma. Stuffed Israeli pita bread is a popular Israeli fast food.
Needless to say, the above-mentioned sabich is the most popular version of stuffed pita bread in Israel.

Pita bread is a staple of Israeli cuisine.
1.19 Latkes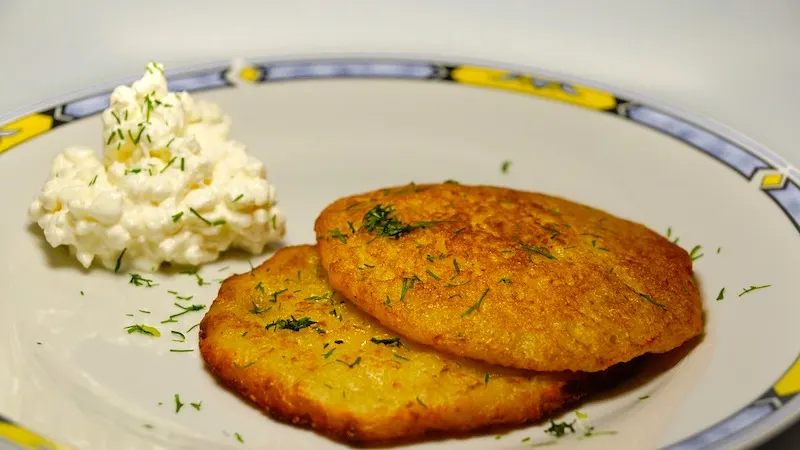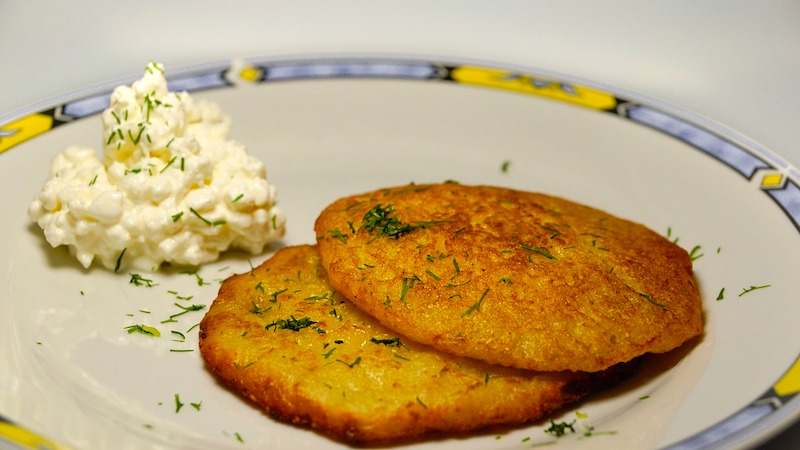 LATKES are popular Israeli potato pancakes brought to Israel by Ashkenazi Jews.

These simple pancakes are made from mashed or grated potatoes, flour, eggs, onions, and matzo meal (finely crushed matzo crackers). Ashkenazi Jews traditionally eat fried latkes for Hanukkah.
WATCH: Latkes recipe
1.20 Israeli bourekas
Bourekas are arguably the most popular pastries in Israel.

Israeli bourekas are puff or filo pastries filled with cheese (like tzfat, feta, kashkaval), spinach, mashed potatoes, chicken with pine nuts and almonds, lamb, vegetables … you name it!
Bourekas are popular street food in Israel, sold in eateries on outdoor markets (shuks) and bakeries. There are even bakeries specialized in selling only bourekas in Israel.

Bourekas are a staple food of Machane Yehuda market in Jerusalem, Carmel market, and Lewinsky market in Tel Aviv in Israel.
1.21 Khachapuri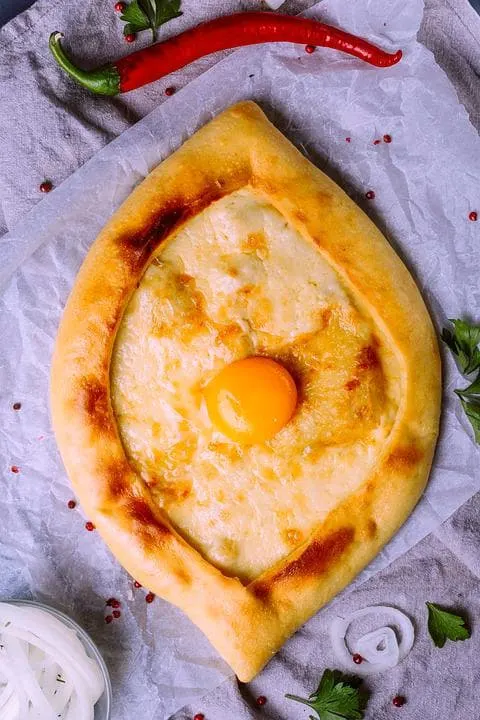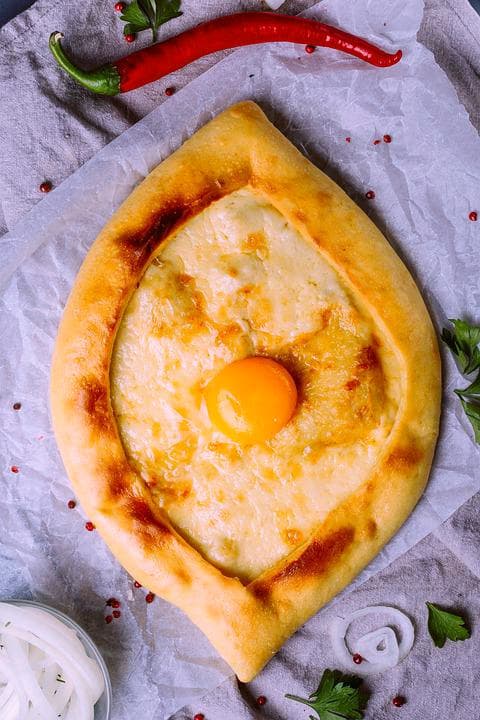 Some of the best bakeries in Israeli are owned by Georgian-Israelies. Well, that's not surprising at all if you tried khachapuri in Israel.

Khachapuri is a national dish of Georgia. But, Jews from Georgia brought khachapuri to Israel and today khachapuri is a popular brunch food in Israel.
This famous Georgian pastry with a soft-boiled egg on the top comes with many toppings to choose from like garlic butter, mashed potatoes, spinach, beans, squid, prawns, and many more.

Check out the Hachapuria restaurant Yehuda Market in Jerusalem for some of the most delicious khachapuris in Israel and beyond!
1.22 Jachnun
JACHNUN is a famous Yemenite Jewish pastry bread.

Jachnun is a slow-cooked thin and rolled pastry made with clarified butter. It is served with hard-boiled eggs and a spicy tomato sauce on Shabbat morning for breakfast.

This unique pastry originates from Yemene, and the Yemenite Jewish community introduced it to Israel. And, today Jachnun is a popular Shabbat dish in Isreal.
1.23 Lox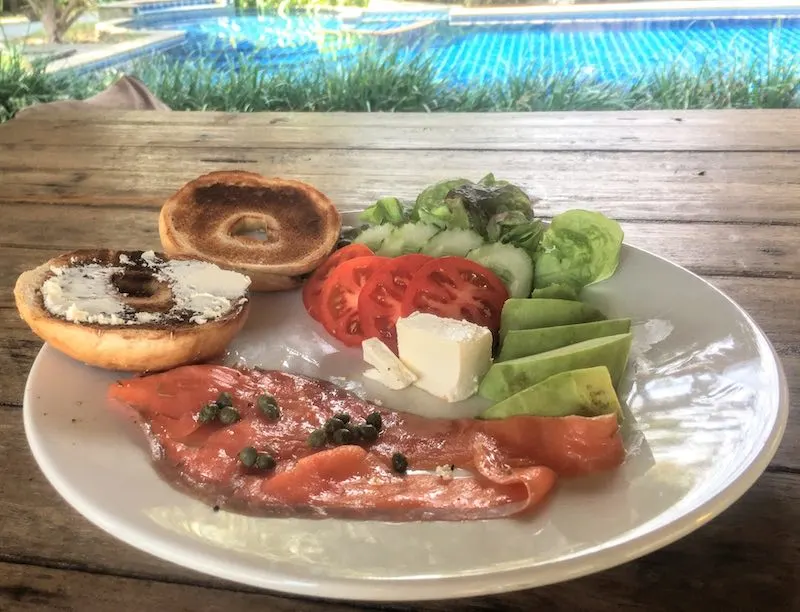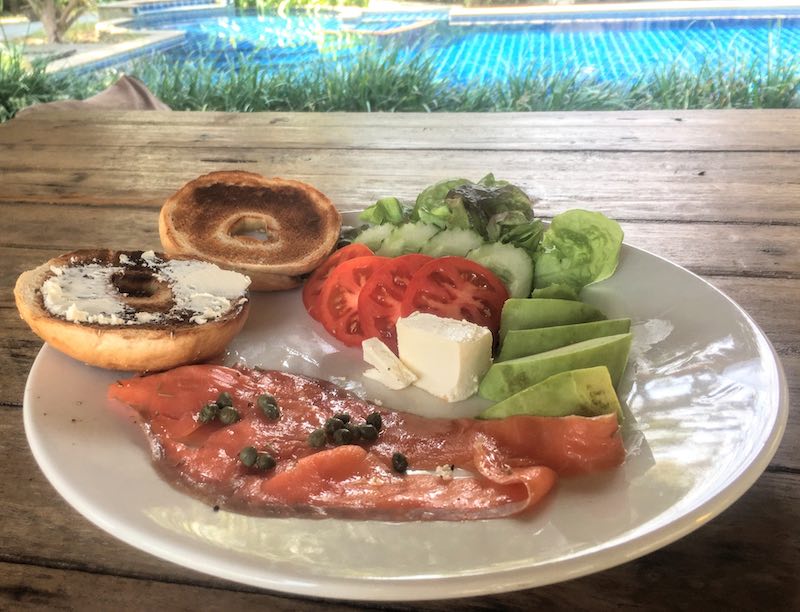 LOX means salmon in Yiddish.

But as a popular Jewish food, lox refers to salt-cured salmon on a bagel with cream cheese, typically served with tomatoes, cucumbers, onions, and capers.

This traditional Jewish food has been brought to Israel by Ashkenazi Jews. Today lox is a popular food among observant Jewish communities across the world as lox is pareve (not meat and not dairy according to kosher laws) which means that lox is allowed to be mixed with other foods.
1.24 Shawarma
Israel offers many vegetarian options, but meat lovers shouldn't be worried about what to eat in Israel.
I am a pescatarian, but I am aware that many readers of my blog are omnivores. So, I am adding some meat delicacies here.
Shawarma is a popular Middle Eastern street food made of lamb, veal, chicken, turkey, or beef meat. Although Shawarma originates from Turkey, it's well-liked in all Middle East. In Israel, Shawarma is popular Israeli street food. If you are after tender, juicy, and pleasantly flavored meat in Israel, you should opt for Shawarma in Israel.
WATCH: Israeli Kosher Shawarma recipe
1.25 Kebab
Another iconic Middle Eastern meat dish is also an easy find in Israel.
You can find three different types of kebabs in Israel: Arab, Bulgarian and Romanian.
Arab kebabs in Israel are made of chopped lamb, onions, parsley, and other herbs. But, what makes Arab kebabs in Israel especially popular are pine nuts which are added as well. Romanian kebabs in Israel are usually made of beef meat to which baking soda and garlic are added.
Bulgarian kebabs are praised to be softer than Romanian kebabs. Bulgarian kebabs served with freekeh (green wheat) are exceptionally loved among kebab devotees in Israel.
RELATED READ: 10 Day Israel Itinerary: What to See in Israel in 10 Days
1.26 Poultry schnitzel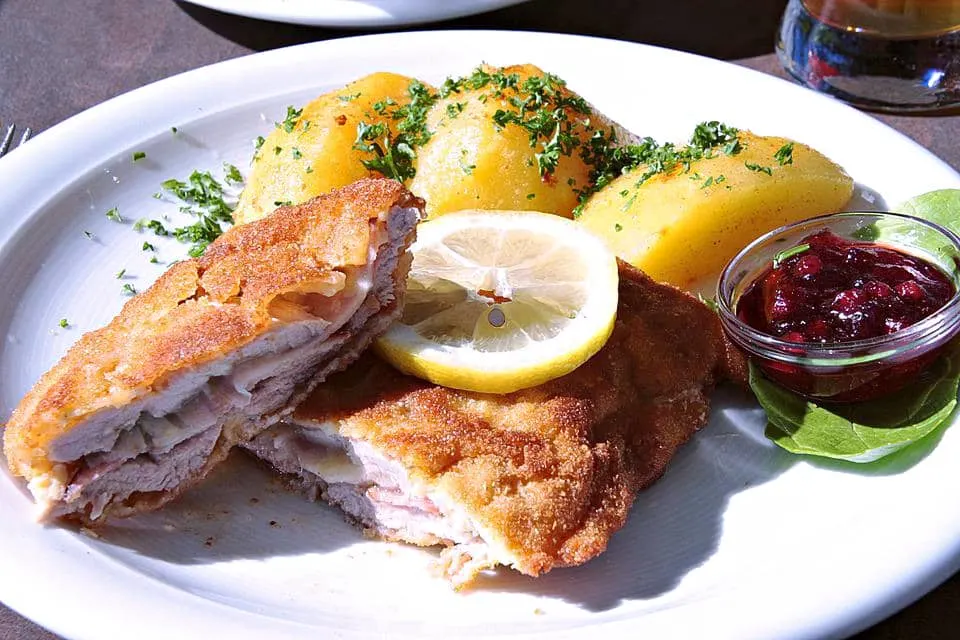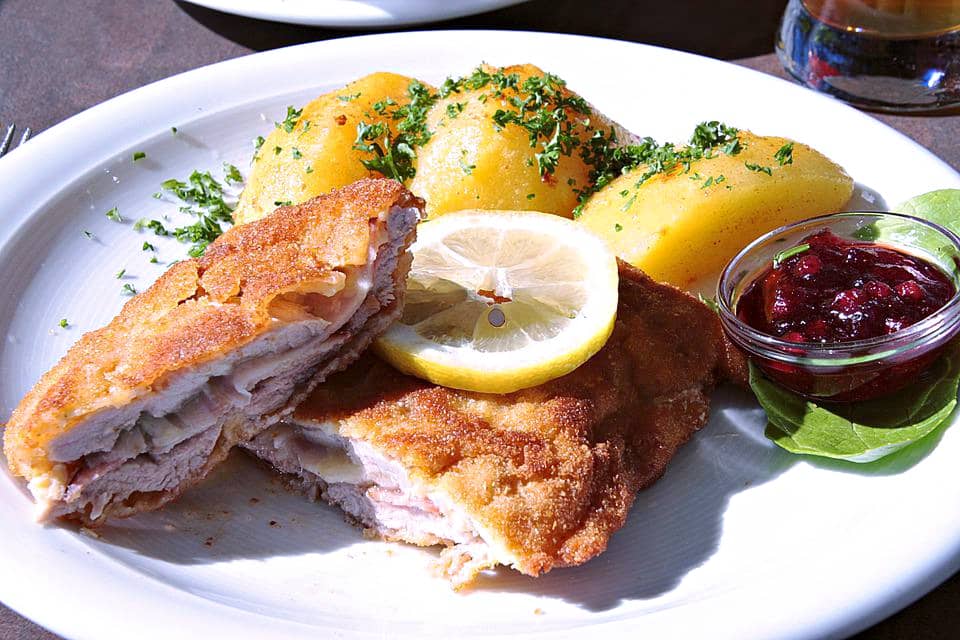 Schnitzel is one of the most popular dishes in Israel.

Schnitzel comes from Austria. And European Jews have brought Schnitzel to Israel.
But unlike authentic Austrian schnitzel which is made with veal meat, Israeli schnitzel is typically made with poultry (most commonly chicken and sometimes turkey).

The most popular schnitzel in Israel is a deep-fried breaded chicken breast cutlet. Israeli schnitzel is traditionally served with slices of lemon.
1.27 Kubbeh adom
KUBBEH ADOM is a delicious soup with semolina dumplings in a red broth made with beetroot and tomatoes.

This comforting soup is a favorite Jewish-Iraqi treat in winter. The soup is popular among Iraqi and Kurdish Jewish communities. However, this red beetroot soup is also eaten in Syria.

If you are vegetarian, you will enjoy the vegetarian-friendly red beetroot soup in Israel!
So, when in Jerusalem, you can try this appetizing soup in the restaurants in the Machane Yehuda market.
1.28 Baklava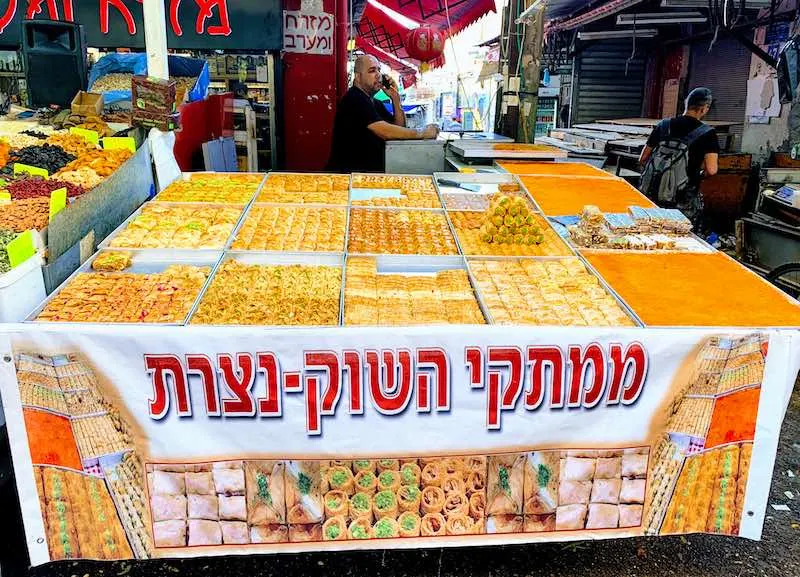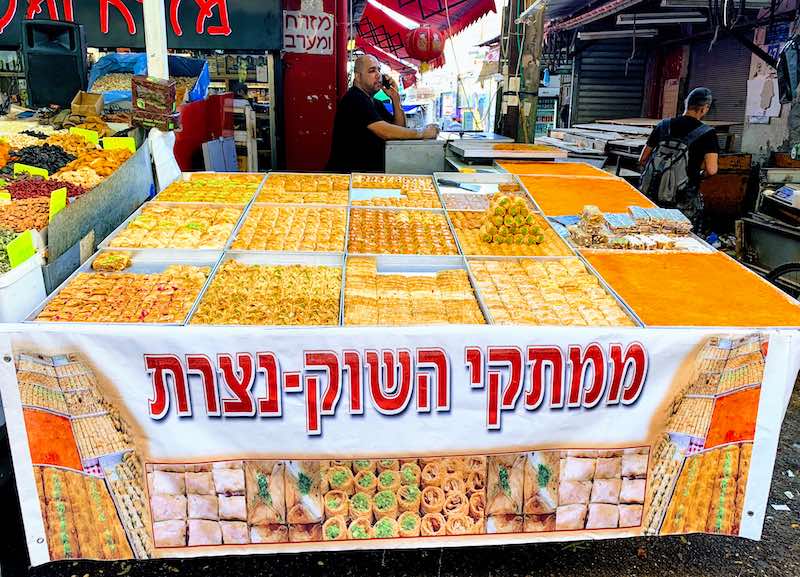 BAKLAVA is a famous pastry dessert traditionally prepared in Middle Eastern cuisine, but also in the Maghreb cuisine, and some cuisines in the Balkans region and Central Asia.
Baklava comes in many varieties depending on the region. Baklava in Israel is very rich in aroma and flavor. Typically it is prepared from phyllo dough sheets, with butter, pistachios, cashew nuts, and walnuts and traditionally soaked in sugar syrup.
1.29 Hamantashen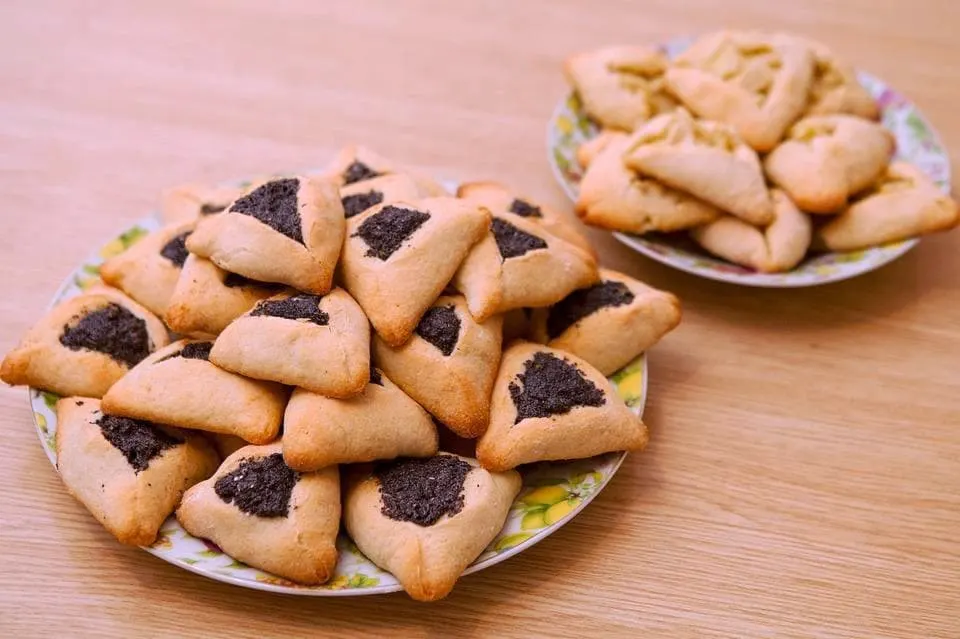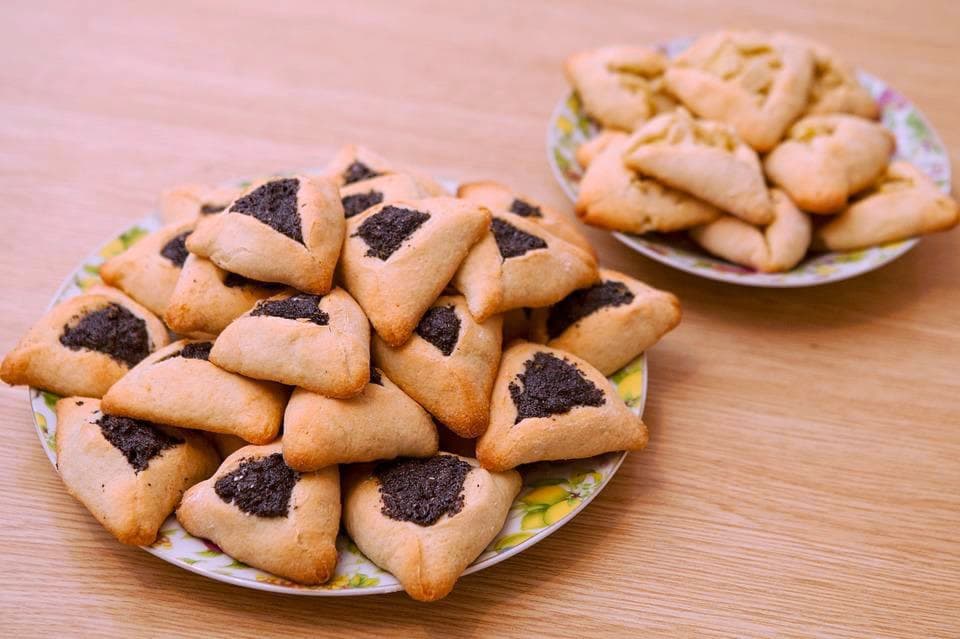 Hamantashen are triangular Israeli cookies traditionally filled with poppy seeds or prune jam.

Modern hamantashen cookies can be filled with dates, figs, halva chocolate, various jams, cheese, and even Nutella. Traditional kosher hamantashen cookies are exclusively made with oil (not butter) to be pareve.

Sweet Hamantashen cookies are traditionally eaten on the Jewish holiday of Purim. Purim commemorates the salvation of the Jewish people from a Persian official who wanted to kill Jews in ancient Persia.
WATCH: Hamentashen recipe
1.30 Kanafeh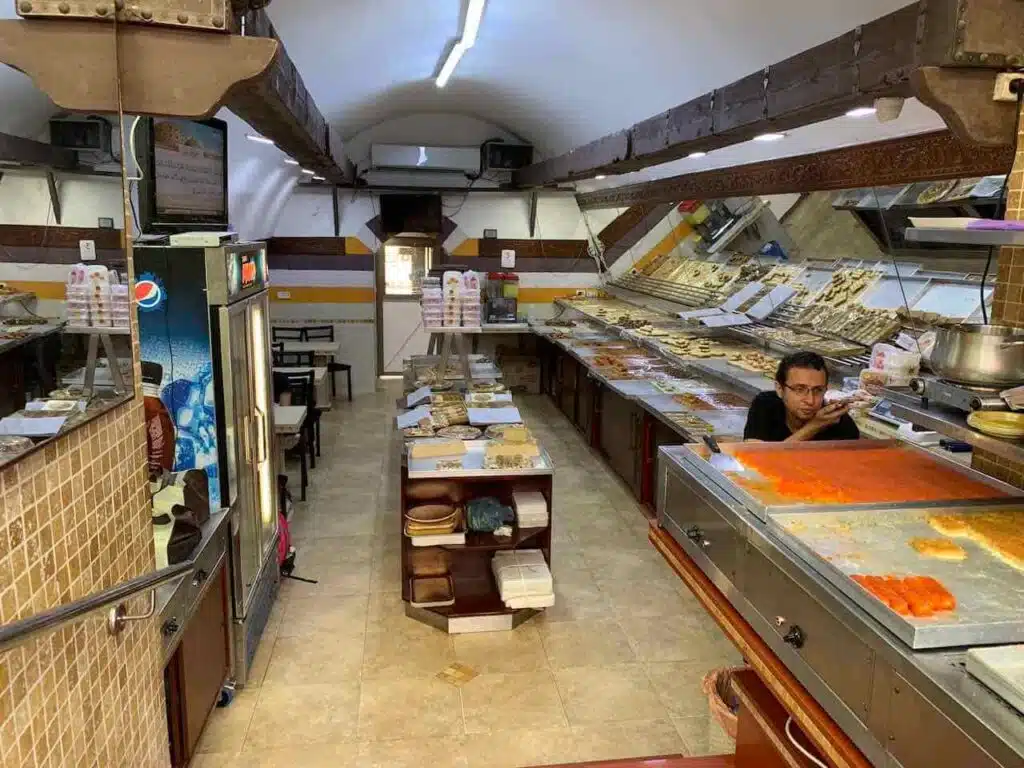 KUNAFA, also spelled kanafeh, is a famous Middle Eastern pastry and Middle Eastern dessert dish.
Typical kunafa is an orange-colored string pastry with layered cheese, typically soaked in sugar syrup and sometimes garnished with smashed pistachios.
Kunafa is a popular dessert in Israel, especially popular is Palestinian Knafeh nabilsiyeh which comes with white cheese called Nabulsi.
1.31 Sufganiyot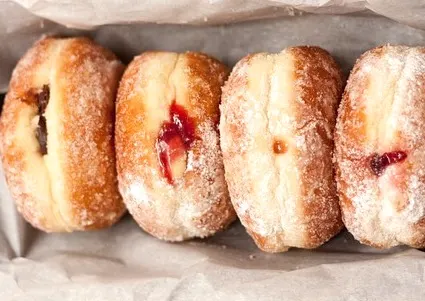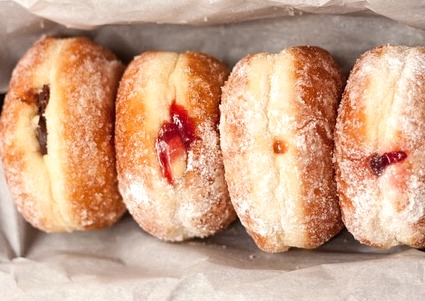 SUFGANIYA refers to famous Jewish jelly donuts traditionally prepared for Hanukkah.
These puffy donuts were brought to Israel by Jews from Europe but soon got accepted widely among the Jewish community during the Hanukkah holiday since fried food in oil in Jewish tradition honors the miracle of the menorah oil that miraculously burned for eight days.
1.32 Rugelach
RUGELACH is a famous Israeli pastry.

The pastry is stuffed with a sweet filling (like chocolate, nuts, and fruits), rolled, and shaped in the shape of a small crescent.
Rugelach originates from Poland. Ashkenazi Jewish community from Poland introduced rugelach to Israel.

Today rugelach is among the most popular pastries in Israel, found in almost every bakery and cafe in Israel.
1.33 Halvah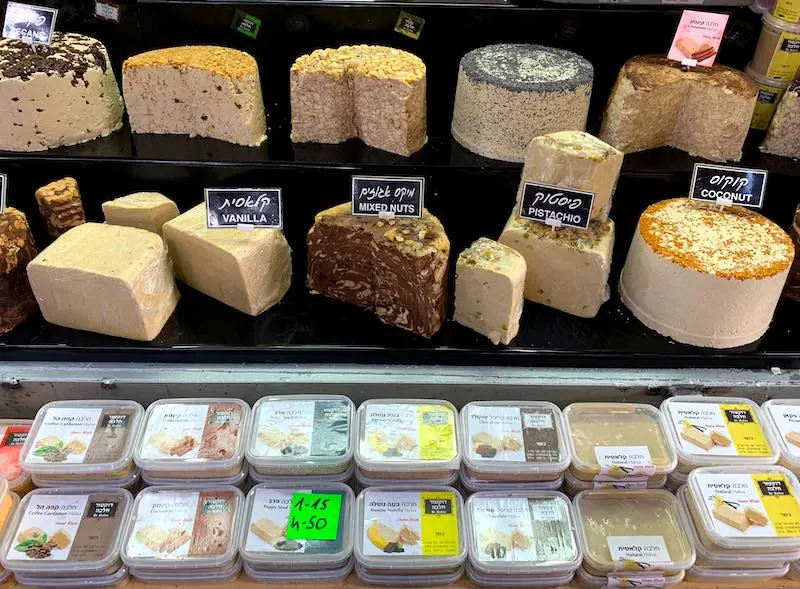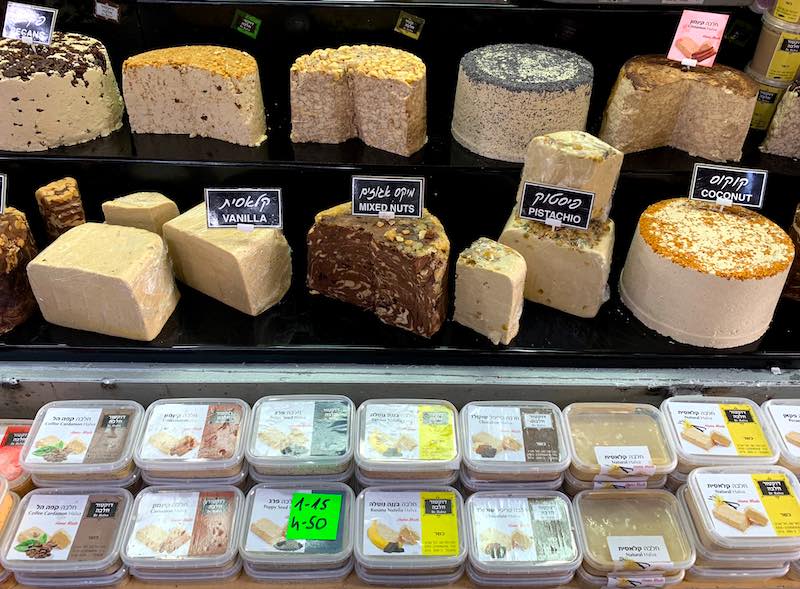 HALVA is a traditional Middle Eastern dessert, and therefore one of the most popular Israeli foods as well.
Israeli halvah is traditionally made of tahini and in the shape of a cylindrical cake. Halva in Israel comes with many mouthwatering flavors to meet everyone's taste: from typical chocolate and vanilla flavors to pistachio, coffee, coconut, cinnamon flavors, and many more.
No matter what flavor you prefer, this classic Middle Eastern confection is not to be missed out on your trip to Israel!
1.34 Malabi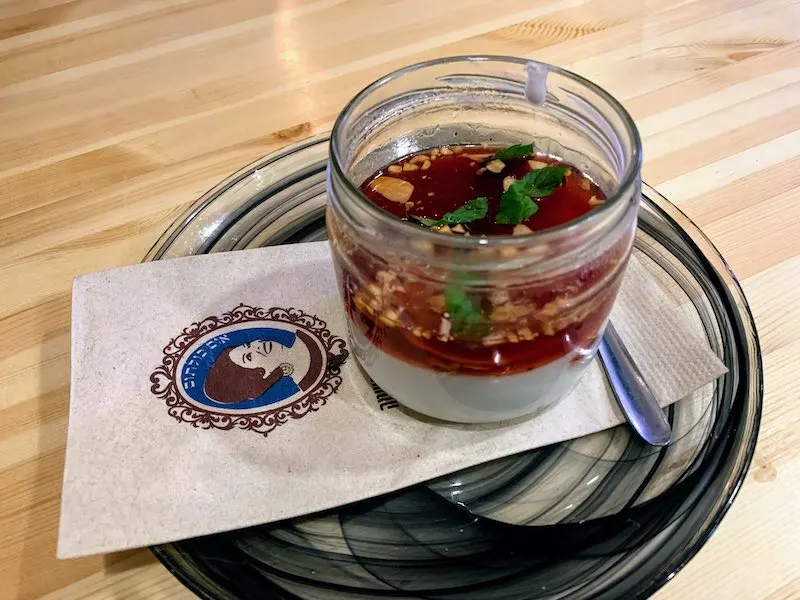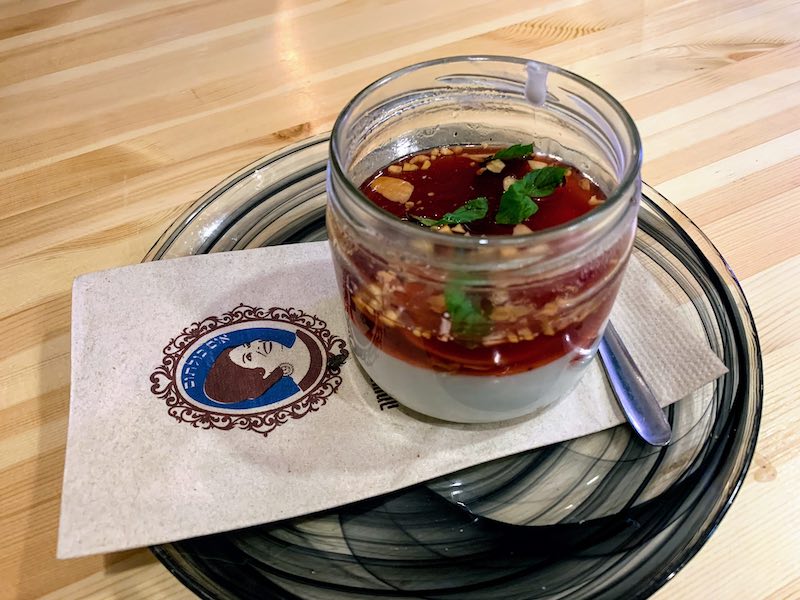 MUHALLEBI, also spelled Malabi, is a classic Middle Eastern dessert originating from Persia.
Malabi is a milk pudding flavored with rose water and garnished with chopped almonds or sometimes pistachios. While the main ingredients are milk, rice flour, rice, and sugar, every cook has their own secret Malabi recipe.
If you like Italian Panna Cotta, most likely you will like Israeli Malabi too. Can you imagine a kind of Panna Cotta with a Middle Eastern twist? Interesting and delicious, huh?!
WATCH: Malabi recipe
1.35 Medjool dates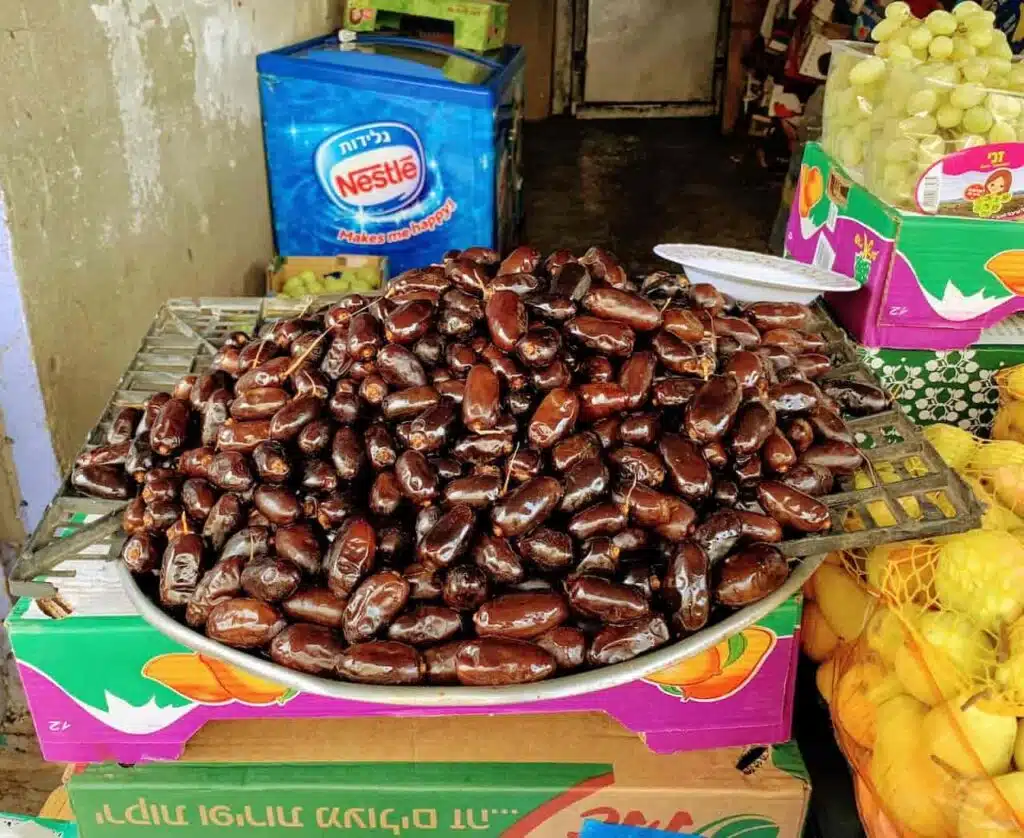 Majhool date is a large, sweet, and soft variety of dates that comes from Israel, Palestine, Jordan, Saudi Arabia, Egypt, Iran, Morroco, and South Africa.
While traveling to Israel, you can see large plantations of majhool dates, especially in the border area between Israel and Jordan. Israel is the largest exporter of medjool dates in the World.
So if you want to treat yourself to a healthy dessert in Israel, go for sweet Israeli Majhool dates.
1.36 Jaffa oranges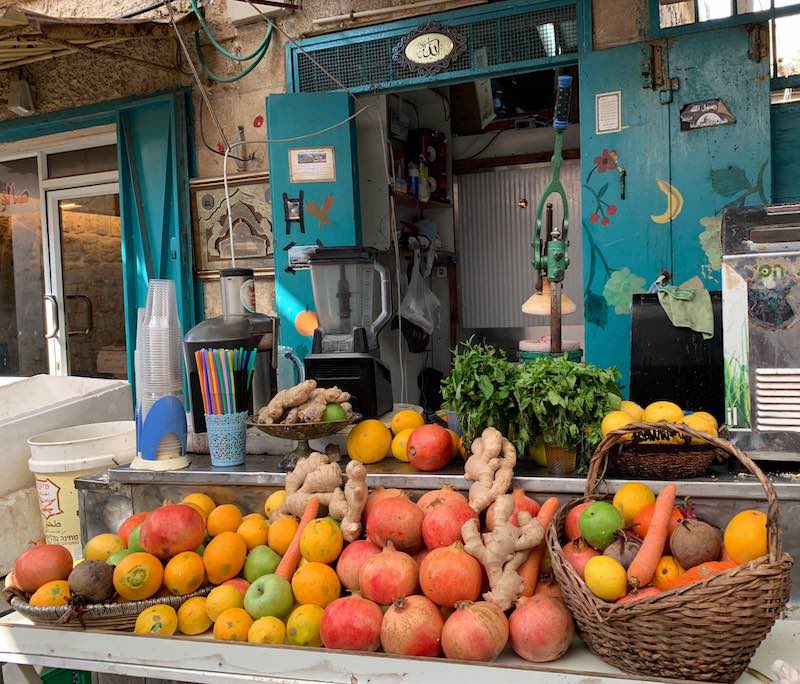 Jaffa oranges originate from the city of Jaffa in Israel.
Jaffa is the oldest part of Tel Aviv. Therefore, Tel Aviv is nicknamed 'Big Orange'.
Jaffa oranges refer to sweet, seedless, and oval-shaped oranges developed by Palestinian farmers in the 19th century.
Today Jaffa oranges are highly sought-after fruits in the world. So, please don't miss an opportunity to enjoy Jaffa oranges in Israel.
1.37 Apples and honey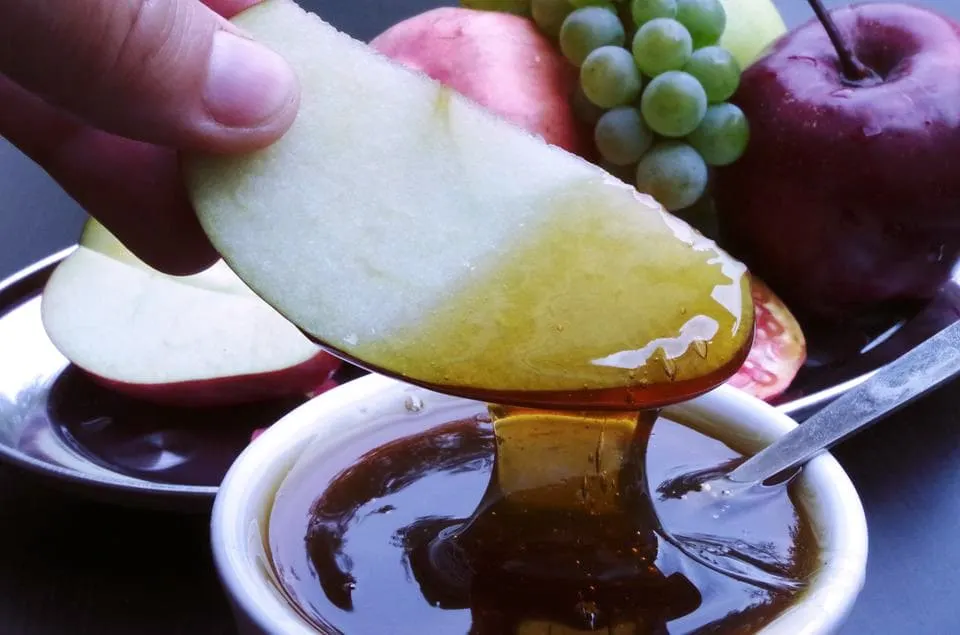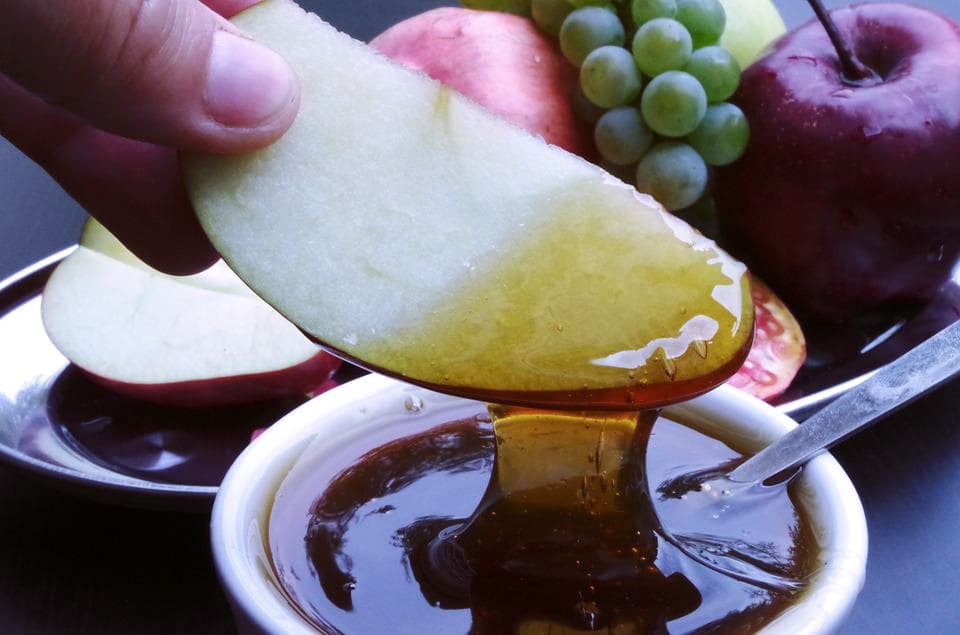 Apples and honey are a popular food in Israel for Rosh Hashanah (Jewish New Year).

The custom of eating apple slices dipped into honey for Rosh Hashanah brought Ashkenazi Jews to Israel, but soon the custom was accepted by all Israelis.
Eating honey-sweetened raw apples symbolizes the wish to have a sweet and fruitful upcoming year.

If you are traveling to Israel for Rosh Hashanah, honey-dipped apples are a must-have New Year's Israeli dish.
1.38 Israeli breakfast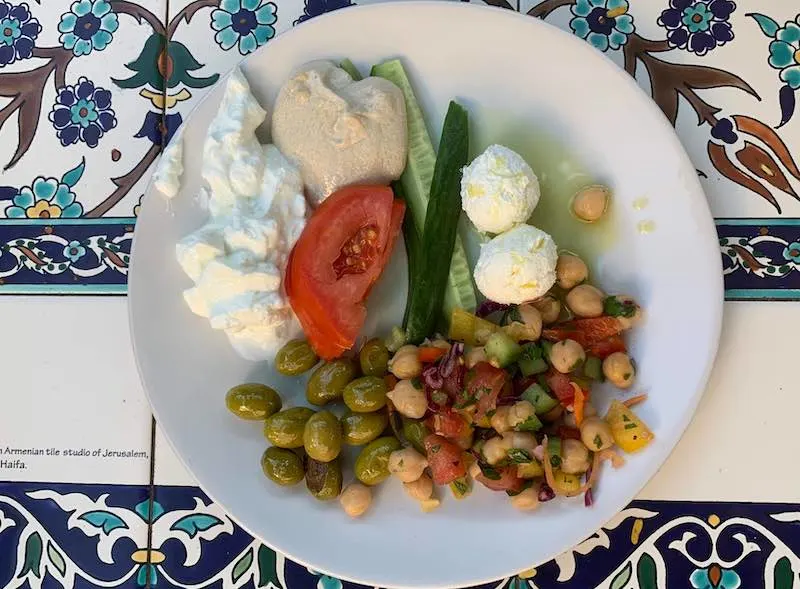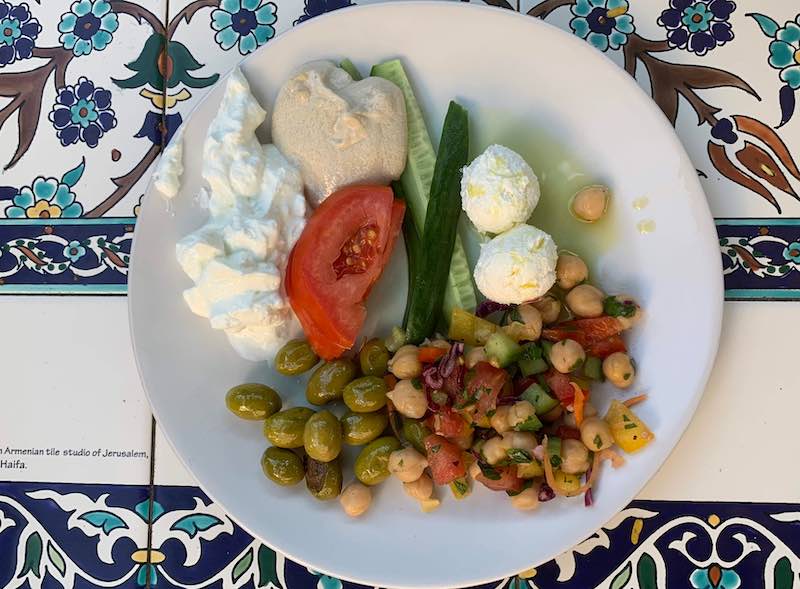 Traditional Israeli breakfast is a world-famous meal from Israel.
A typical Israeli breakfast is more sumptuous than a continental breakfast. It is made up of a variety of dishes and drinks like shakshuka, hummus, tahini, baba ganoush, labneh, Israeli salad, fresh vegetables, bread and pastries, tea, and coffee…
But meat is never served for breakfast in Israel. Instead, Israeli breakfast is first and foremost a dairy meal. Hearty breakfast in Israel typically comes as a self-service buffet. Israeli breakfast is the most important meal in Israel. And if you ask me, the most delicious meal in Israel!
2. Popular Israeli drinks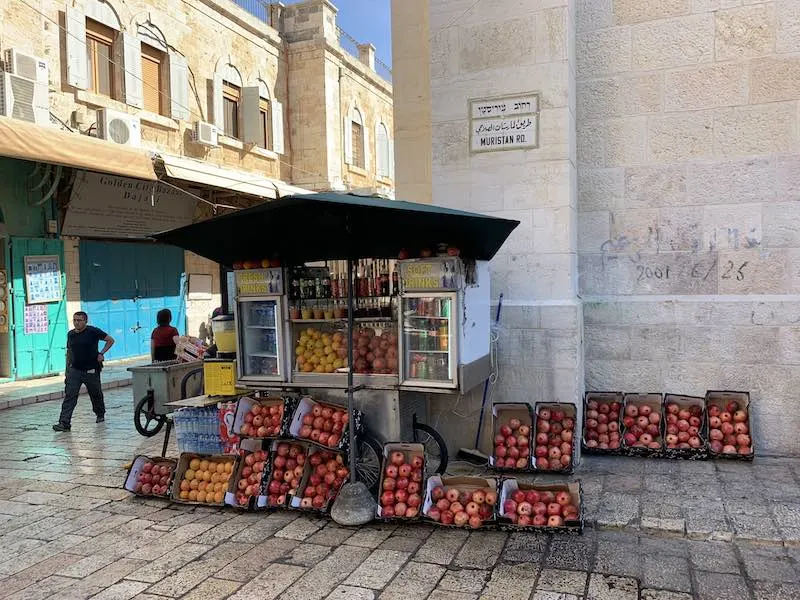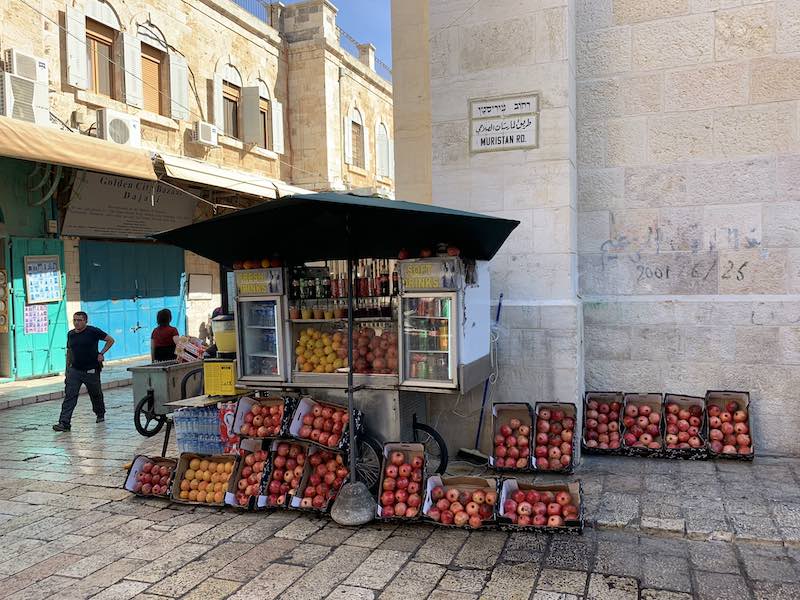 Good food goes with good drinks. Food in Isreal is often accompanied by some of the next beverages:
2.1 Pomegranates juice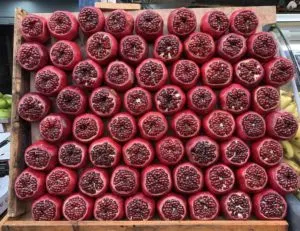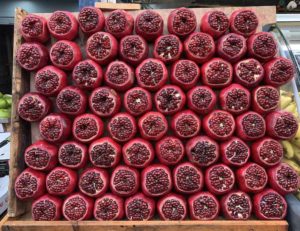 One of the healthiest juices ever is offered at every street stall in Israel.
Salesmen at street stalls in Israel simply squeeze fresh pomegranate just in front of your eyes before you start indulging in your ruby-colored juice.
Pomegranate juice in Israel is cheap, refreshing, and salubrious!
2.2 Arabic coffee with cardamom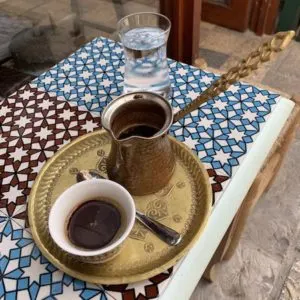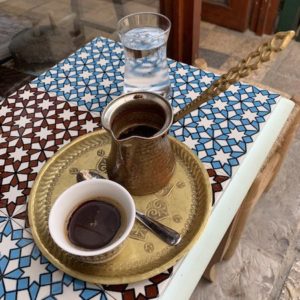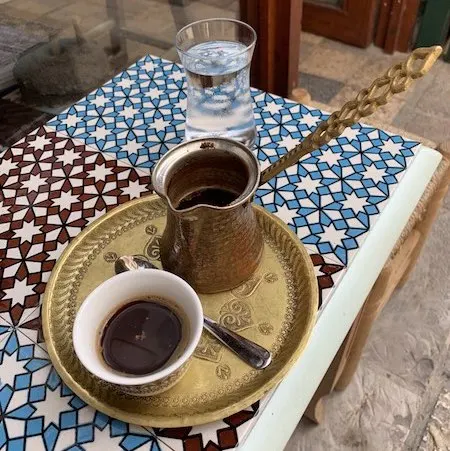 Israel doesn't lack sweet coffee treats for coffee devotees.

Coffee addicts in Israel enjoy sipping Arabic coffee prepared in a Arabic copper coffee pot with cardamom, saffron, and rose water.
Arabic coffee in Israel is usually served in a small delicate cup with some sweets and cakes on the side. My sweet morning sin in Israel was Arabic coffee accompanied by some toothsome date cakes and anise cakes.
Did you know that Israel was the only country in the World where Starbucks failed because locals love their coffee so much?!
2.3 Sahlab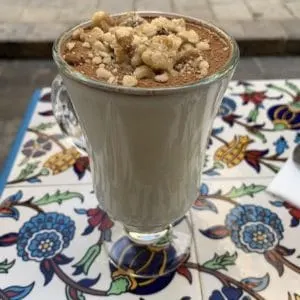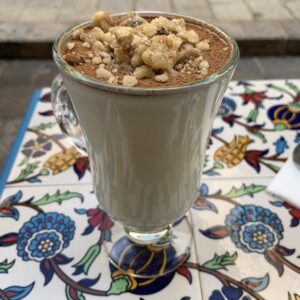 SAHLAB, also spelled SACHLAV, SALEP, is a popular creamy Middle Eastern beverage made of hot milk and a pudding powder from the orchid plant.
Most commonly is topped with cinnamon and pistachios. Salep needs to be drunk while it is warm. Warmness and sweetness are what you get when drinking Sahlab!
2.4 Arak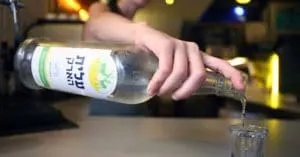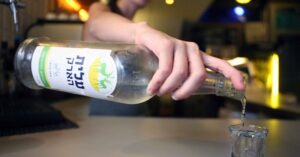 ARAK is an alcoholic drink made of anise.
Arak is widely consumed throughout the Middle East and it is made of the fermented juice of figs and grapes flavored with the seeds of anise.
2.5 Israeli beer Goldstar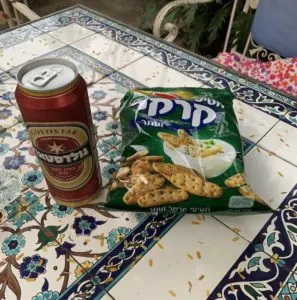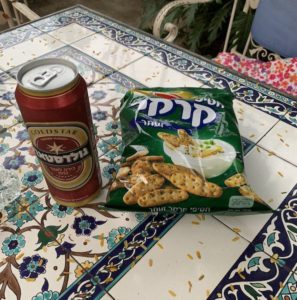 Goldstar beer is a dark lager beer produced in Israel.
Goldstar is the No. 1 selling beer in Israel. This Israeli lager beer is well worth giving a try if you are a beer lover.
If you are in Israel and want to try the best Israeli beer then Goldstar beer should be your choice.
2.6 Mint tea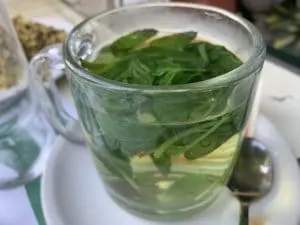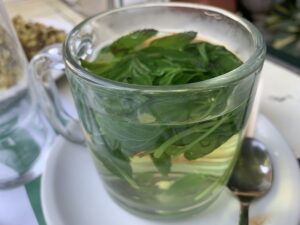 When you put fresh mint leaves into hot water, you get a perfect tea widely sipped in all the Middle East and Africa regions.
Mint tea grants comfort and calmness.



2.7 Israeli wine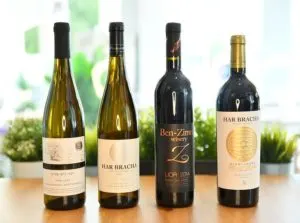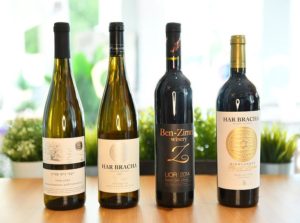 The tradition of winemaking in Israel goes back thousands of years, although the winemaking in the area was stopped during Ottoman Palestine.
Nevertheless today there are about 300 wineries in Israel in 5 main wine regions: Galilee, Judean Hills, Negev, Samson, and Shomron. Today some of the most popular wine producers in Israel are Carmel Winery, Golan Heights Winery, Tabor, Barkan, Teperberg, Recanati, and Binyamina.
When in Israel, don't miss an opportunity to have a glass of Israeli Cabernet Sauvignon, Merlot, Syrah, Chardonnay, or Sauvignon Blanc.
3. Israeli food tours in Israel
If you are traveling to Israel, consider taking Israeli food tours in Tel Aviv and Jerusalem to get familiar with foods from Israel.
I recommend visiting traditional Israeli markets like the Levinsky Market in Tel Aviv to taste some of the best Tel Aviv food or Machane Yehuda Market in Jerusalem to sample tasty Jerusalem food from selected market vendors.
3.1 Tel Aviv food tours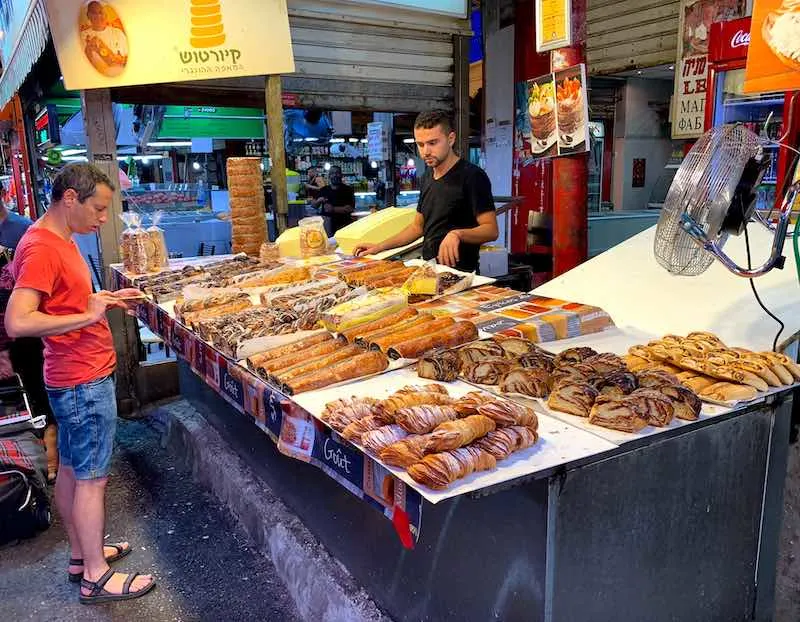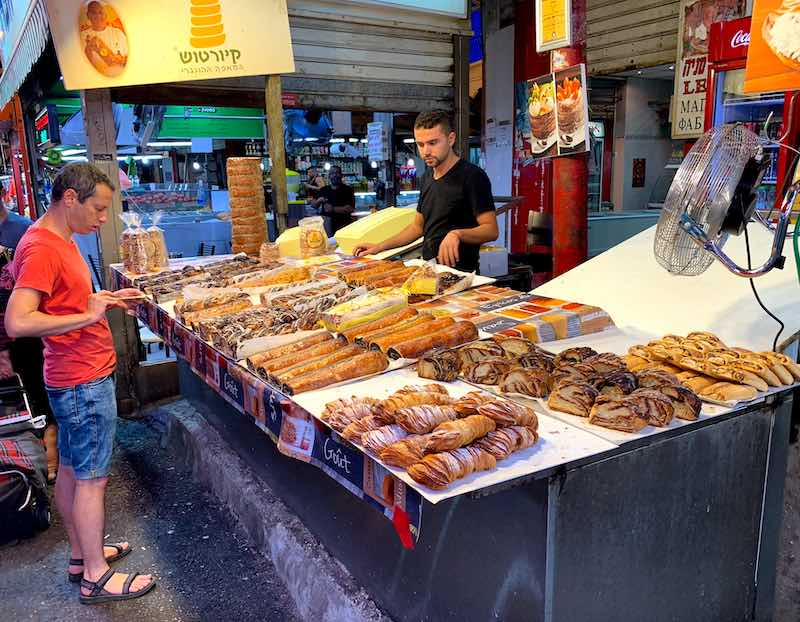 In my opinion, visiting Tel Aviv without trying food in Tel Aviv would be a big mistake.
Check out:
Tel Aviv: 2-Hour Carmel Market Tour in English with Lunch
Tel Aviv: Vegan Food & History Tour in English with Tastings
3.2 Jerusalem food tours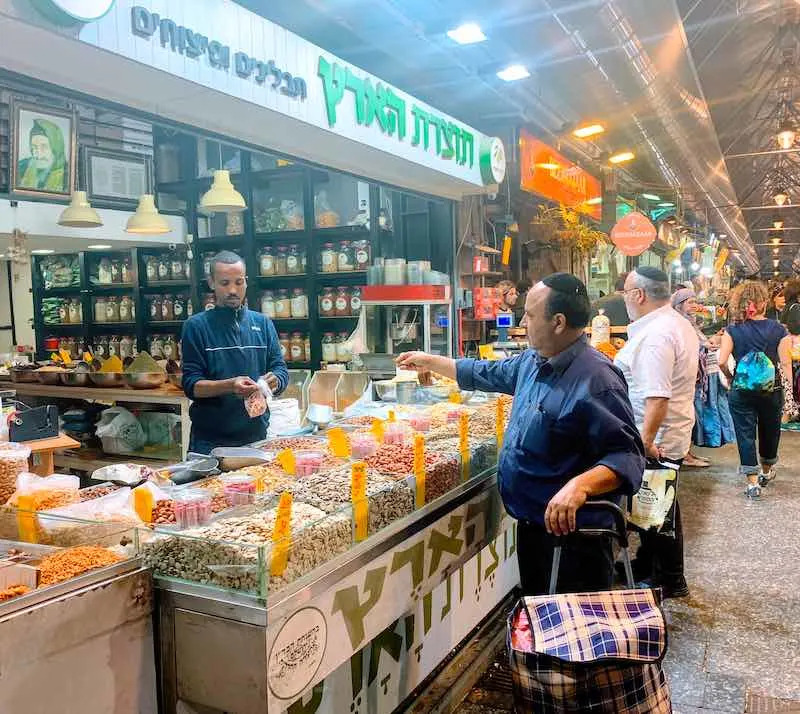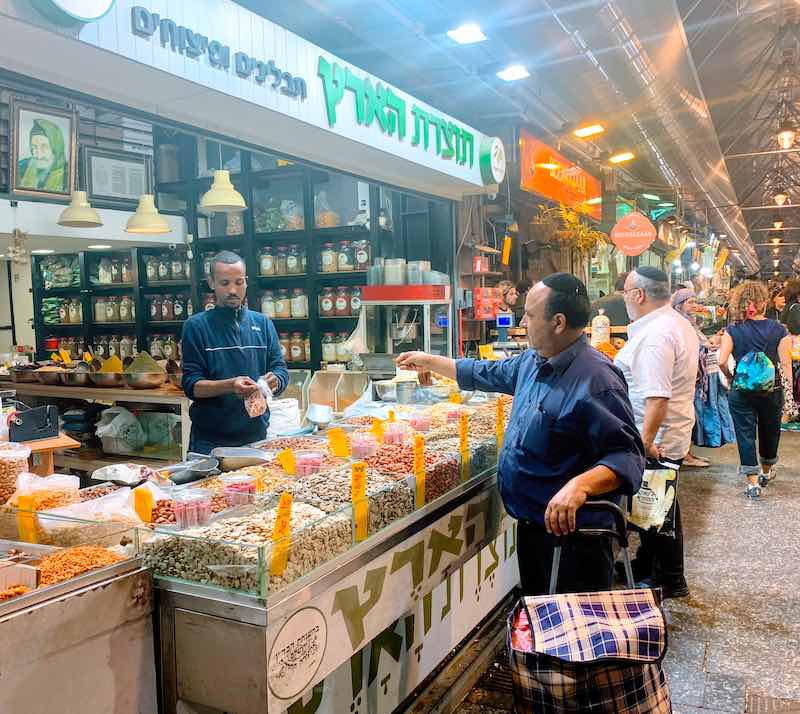 No visit to Jerusalem is complete without exploring Jerusalem food markets and trying traditional Israeli food in Jerusalem. Food tours at Machane Yehuda food market are among the best Jerusalem tours.

Check out Jerusalem: Guided Culinary Tour of Mahane Yehuda Market
4. Israeli food gifts
Middle Eastern Spices Set 6 Pack | Turmeric, Harissa Spice, Zaatar, Berbere, Roasted Cumin, Sumac
Extra Virgin Olive Oil, Galilean honey, Zaatar/Hyssop mix
5. Israeli food cookbooks:
DIVINE FOOD: Israeli and Palestinian Food Culture and Recipes






Sababa: Fresh, Sunny Flavors From My Israeli Kitchen: A Cookbook







BREAKING BREADS: A New World of Israeli Baking–Flatbreads, Stuffed Breads, Challahs, Cookies, and the Legendary Chocolate Babka



ZAHLAV: A World of Israeli Cooking


Italians say 'Chi mangia bene, viva bene', or "Who eats well, lives well'. At the end of this post, I would add that people in Israel eat well!
Q&A
What are some popular foods from Israel?
Popular foods from Israel are shakshouka, hummus, sabich with amba, falafel, Israeli salad, labneh, challah bread, latkes, sufganiyah …
What do people eat in Israel?
People in Israel eat famous Middle Eastern spreads (hummus, msabbaha, baba ganoush, tahini ..), falafel (the national dish of Israel), dishes like mujaddara and shakshuka), salads (like Israeli salad and Tabbouleh ), desserts like baklava cake, halvah, muhallebi pudding, sufganiyah donuts, breads like matzah bread, challah bread, Jerusalem bagel bread and Lafa bread. Israeli diet includes lots of fruits like famous jaffa oranges and medjool dates.
RELATED:
Israel Travel
Israel Itinerary
Israel Holy Places
Tel Aviv Day Trips
Masada Sunrise

YOU MIGHT ALSO ENJOY:
Food Travels
Best Foods in the World
Best Foods in Italy
Best Foods of Spain
Best Food in Vietnam
Food in Egypt
Food in Tuscany
Foods in Britain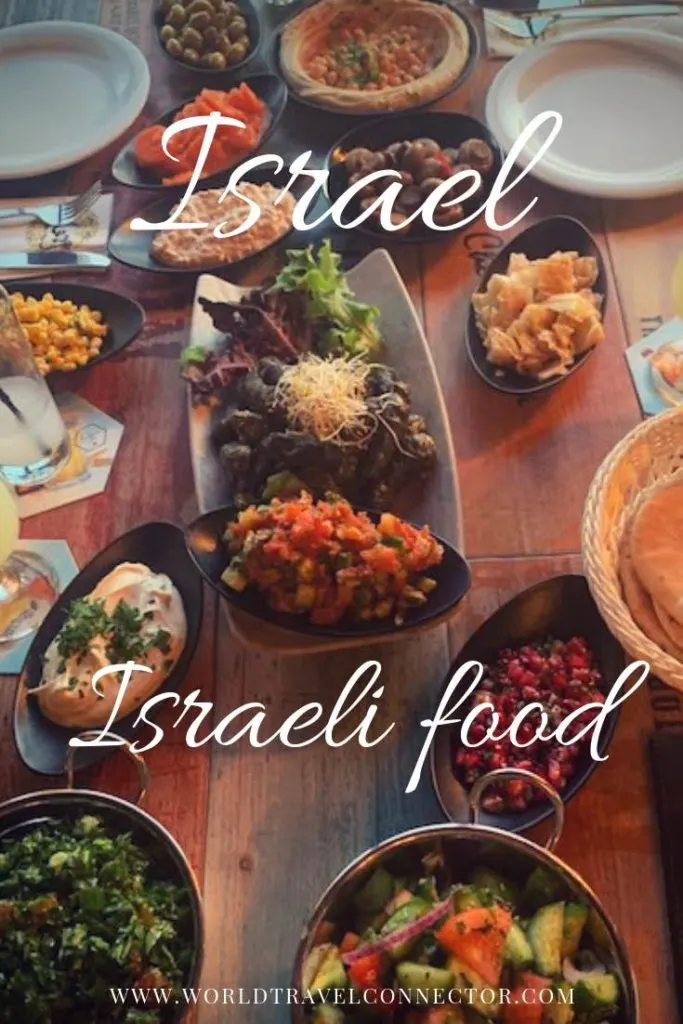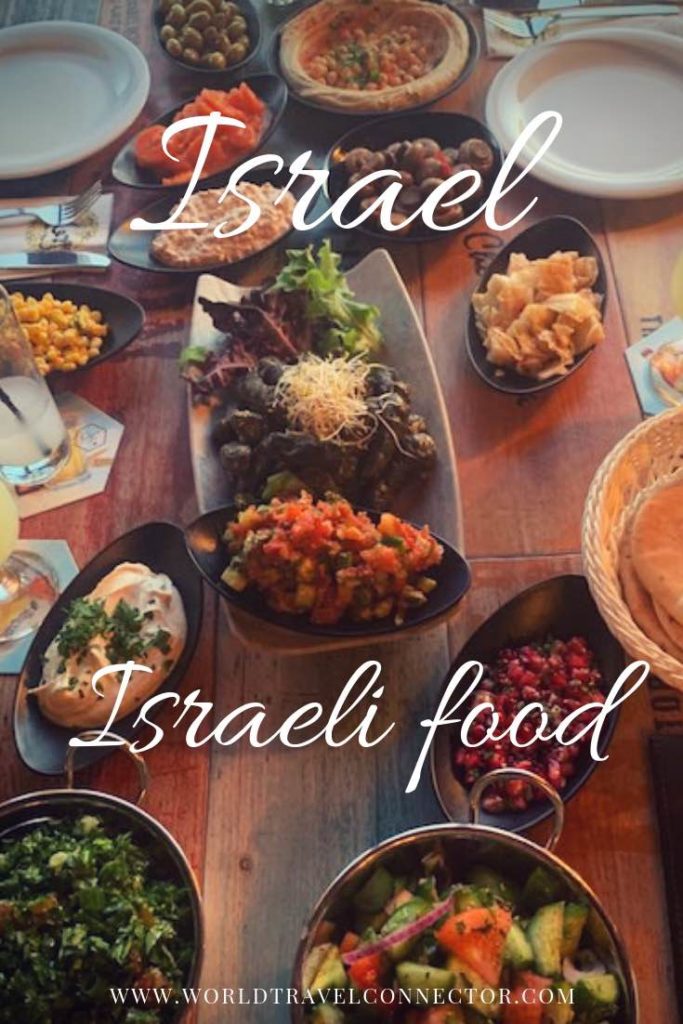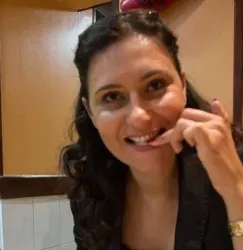 Latest posts by Milijana Gabrić
(see all)