Have you ever thought of eating snails in Spain? Wondering what escargot tastes like? How to eat escargot? Do you know that snail tapas are a favorite spring tapas in Spain?
The national food of Spain might be jamon iberico (Iberian ham), paella (Spanish rice-based dish), or gazpacho (Spanish tomato soup), but what makes Spanish cuisine one of the most sophisticated cuisines in the World is a large range of Spanish food delicacies. And although snails in Spain might sound like bizarre foods, snail tapas are a well-known Spanish delicacy.
TRADITION OF EATING SNAILS IN SPAIN: POPULAR SNAIL TAPAS IN SPAIN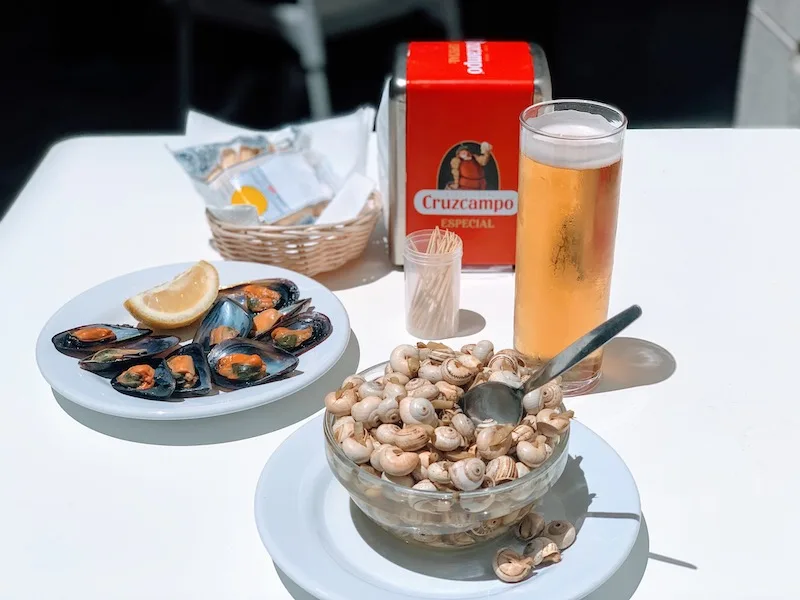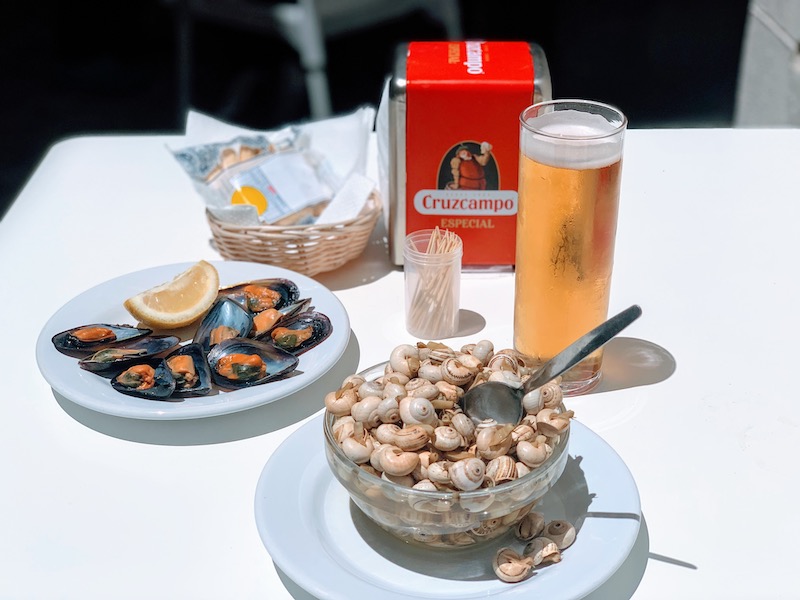 As you know I love sampling traditional dishes and exotic foods on my travels. And when eating something I have never eaten before I prefer eating alone as I enjoy mindful eating focusing on all my senses.
This was the case with eating snails in Spain.
But first of all, let me start with some basics.
Snail in Spanish is called caracol, and snails in Spanish are caracoles. In springtime, snails or caracoles take an important role in Spanish cuisine.
Market stalls, supermarkets, bars, and restaurants in Spain in spring burst with snails ready to be transformed into appetizing Spanish dishes. In spring snails in Spain are served as a crucial ingredient of popular Spanish dishes like arroz con caracoles (rice with snails), conejo con caracoles (rabbit with snails), and cabrillas en tomate (snails in a tomato sauce). In Spanish tapas cuisine, caracoles are one of the most popular Spanish tapas highly appreciated across Spain during late spring.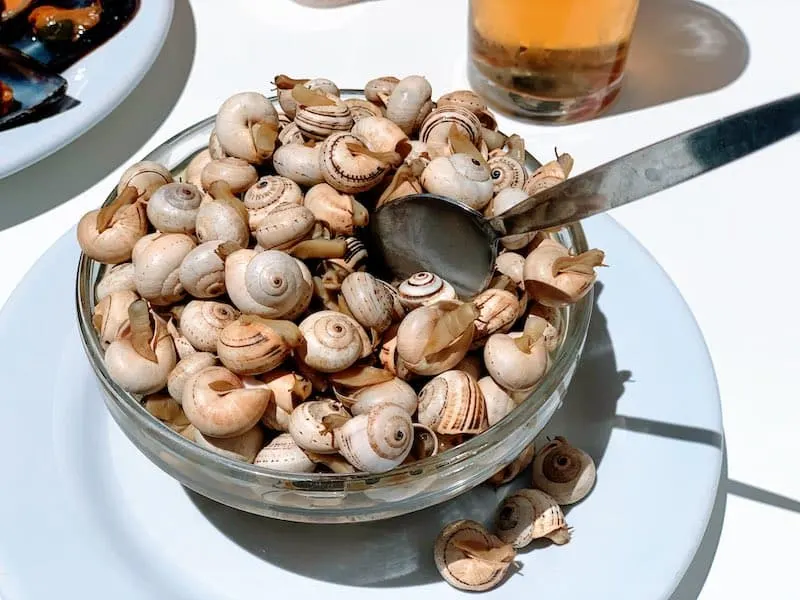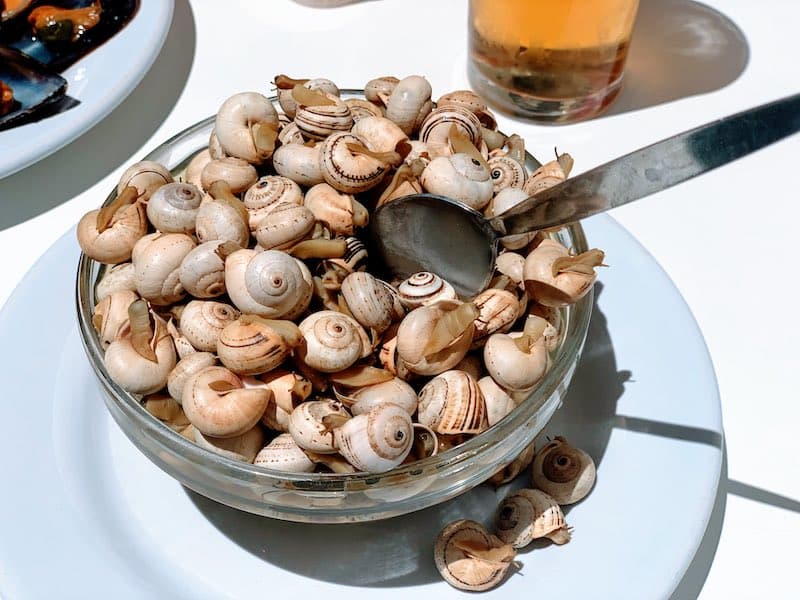 Snail tapas season lasts in Spain from May to June. I happened to travel to the region of Andalusia in Spain during May, at the peak of the snail tapas season when Andalusians indulge in tapa de caracoles, one of their favorite spring tapas.
Traveling southern Spain I have witnessed Andalusians slurping snail tapas in the streets of Malaga, Granada, Cordoba, Jerez, Cadiz, and Seville.
Although I have been a pescetarian for more than 20 years, I got curious and intrigued by the palatable joy of Andalusians. Additionally, I have always been led on my travels by an insatiable desire to taste local food. That being said, one day in Cadiz I stopped in a tapas bar full of locals eating snail tapas and decided to give it a try to caracoles. My decision turned out to be one of the best Spanish tapas I have tried in Spain.
EATING SNAILS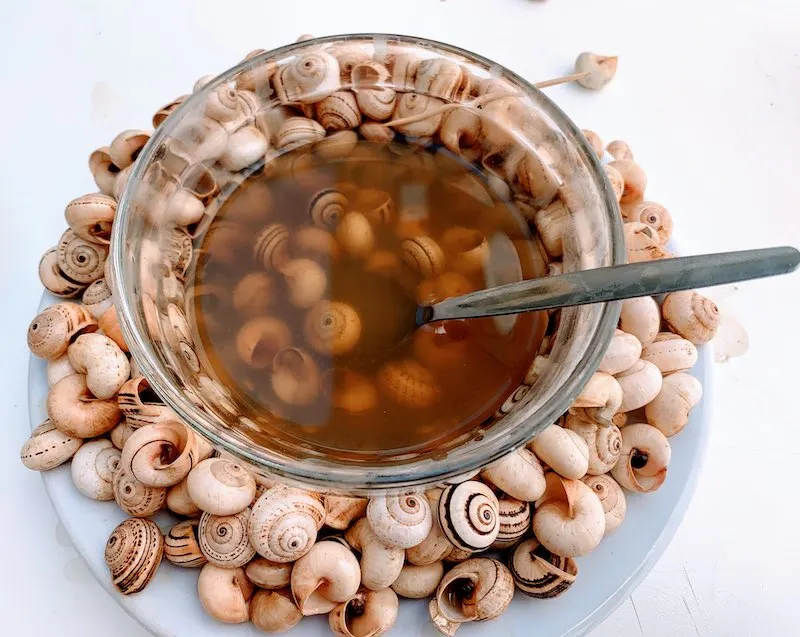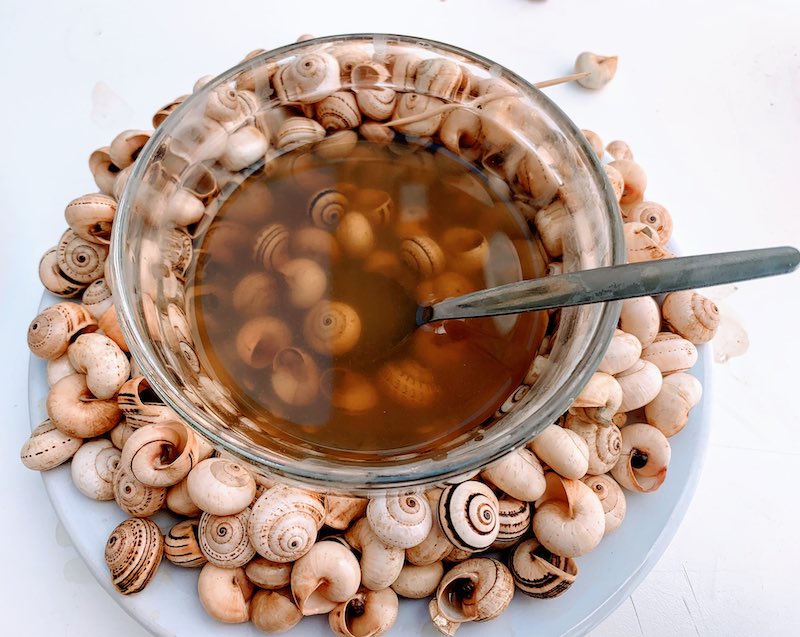 People have been eating snails since prehistoric times. The first shreds of evidence of eating snails go back 30.000 years ago. Moreover, in the Roman Empire snails were a gastronomic delicacy of ancient Roman cuisine. Nowadays snails are some of the most popular foods, widely eaten in Western Europe: Italy, Spain, Portugal, and probably the best known France where escargot snails are treated as a supreme delicacy and are on the menus of a large number of elite restaurants.
Snails are a popular Mediterranean food. Eating snails in Mediterranean countries traces back to the Catholic fasting heritage. According to the Catholic tradition, snails are not classified as meat and are allowed for eating on fasting days. Not only Western Europe appreciates eating snails. Snails are popular street food in Vietnam. The U.S. went even further and proclaimed May 24 as the National Escargot Day honoring land snail dishes.
Edible snails:
But you should know that not all land snails are eatable.
Only particular land snail species can be eaten: Helix pomatia (the Roman snail, escargot), Otala punctata (known as cabrillas in southern Spain), Helix aspersa (the garden snail), Cepaea nemoralis (the grove snail), Cepaea hortensis (the white-lipped snail), Achatina fulica (giant African land snail), and Helix aperta (the green garden snail). So, if you are thinking of preparing a snail dish, be sure if the snails are edible.
TYPES OF COOKED SNAILS IN SPAIN: CARACOLES AND CABRILLAS SNAILS IN SPAIN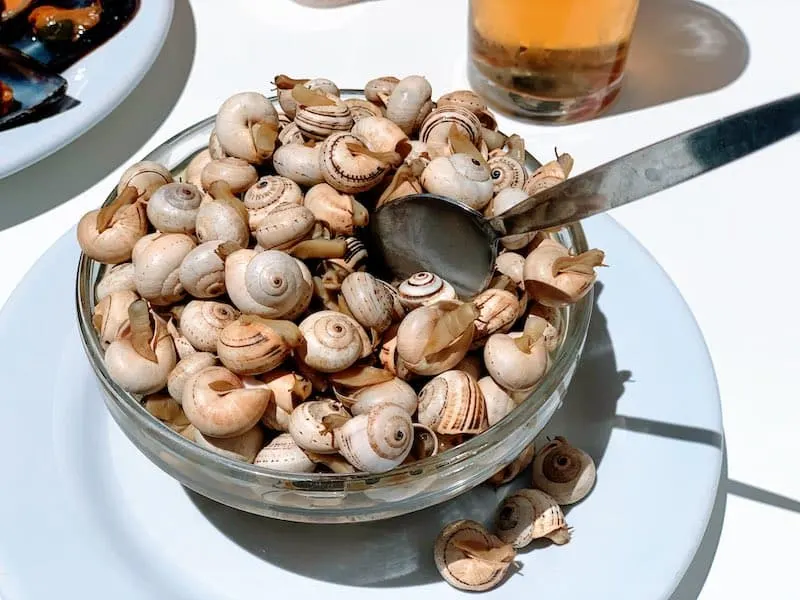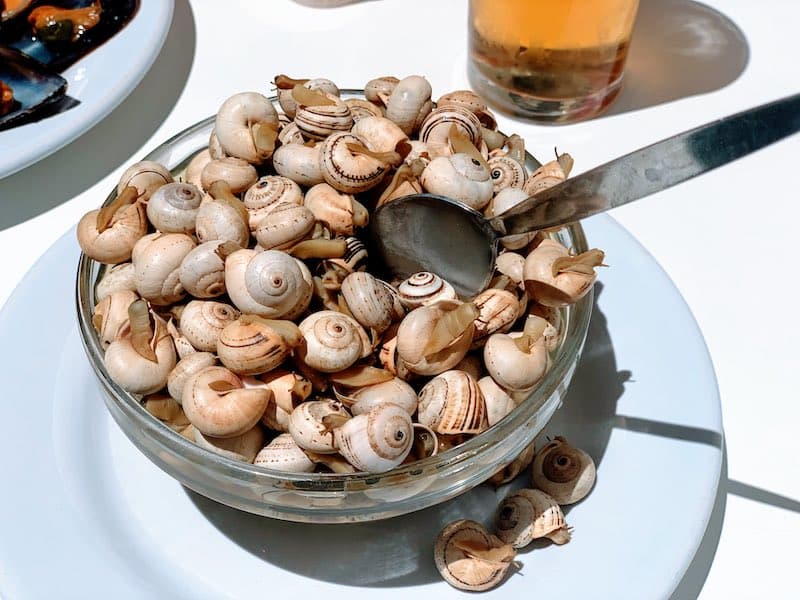 Spaniards prepare two types of snails: caracoles and cabrillas. Caracoles (Helix pomatia, escargot) are small snails, and cabrillas (Otala punctata) are large snails.

Traditionally caracoles in Spain are cooked in a broth with garlic, black pepper, cumin, and bay leaves. And cabrillas snails in Spain are prepared in a thicker tomato sauce with garlic and aromatic herbs, and usually served with sobrasada (Spanish sausage).
If you want cabrillas instead of caracoles, you should order cabrillas en tomate. Of course, tapas bars in Spain usually have their own 'secret recipes'. In any case, snails in Spain make easy tapas dishes and healthy tapas to eat.

Spanish snail tapas are commonly served in small tapas bowls and are best enjoyed with a glass of refreshing Spanish beer.
WHAT DO SNAILS TASTE LIKE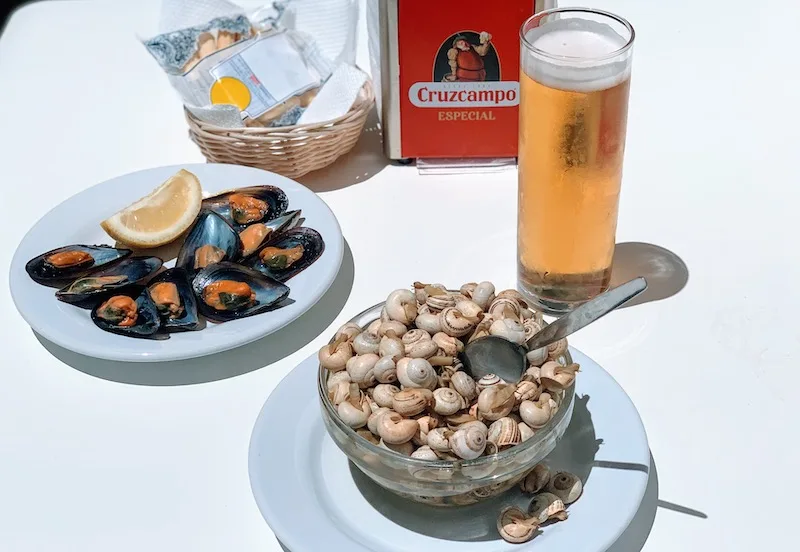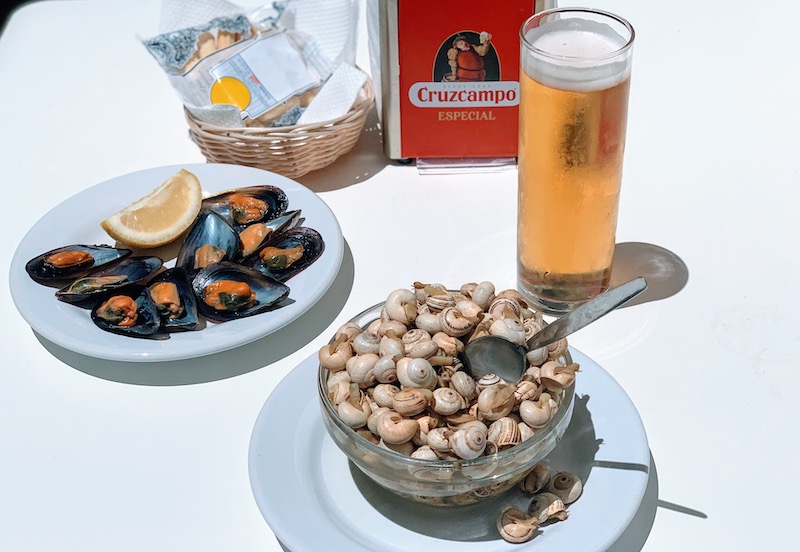 In my opinion, caracoles taste very similar to sea mussels or clams. In other words, snails taste only a little bit less salty and a bit more mushroomy than mussels or clams but otherwise pretty much the same. Thus, if you like mussels and clams, then you are going to appreciate snails as well. As a pescetarian who loves seafood, I found snails surprisingly delicious.
Spanish snail tapas are not only savory but also healthy. Snails are low in fat and full of proteins. Snails eat plants, vegetables, fruits, and algae. But unfortunately, sometimes snails can carry on some parasites. Therefore snails should be cleaned out of all impurities before consuming. Traditionally snails in Spain are put on fasting for two-three days prior to cooking. Snails are not fed to make clean themselves internally.
HOW TO EAT SNAILS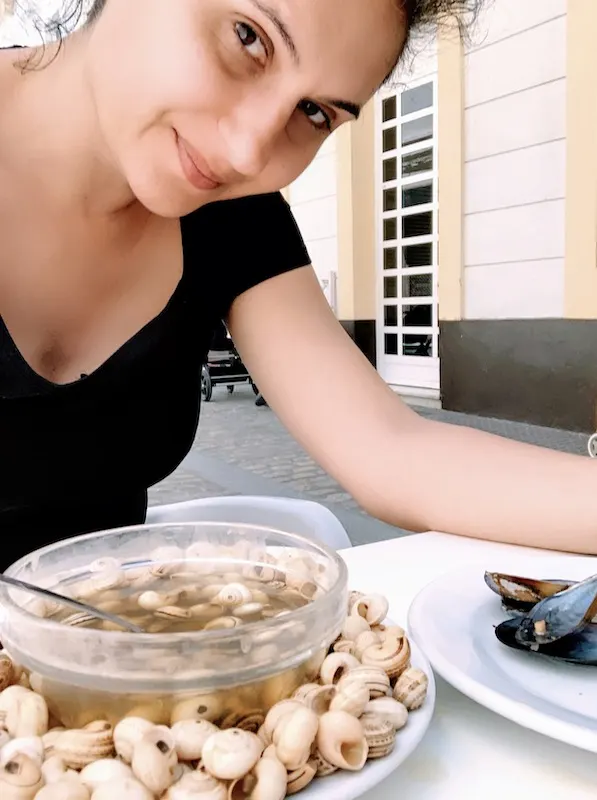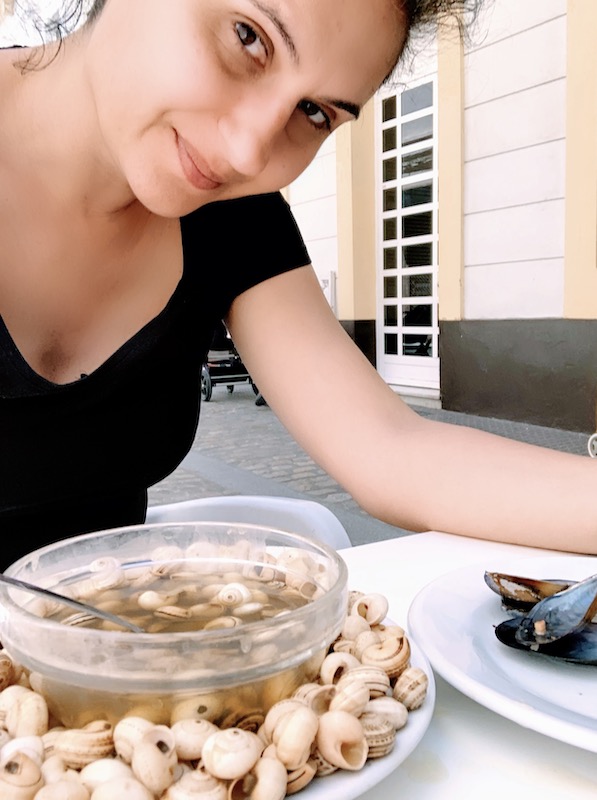 Do it as locals do: slurp them. Forget a knife and fork. But, if you feel uncomfortable with slurping, don't worry. The snail tapas comes with toothpicks to help you to take the fleshy part of the snails out of the shells. Don't bother with it if the broth starts dripping off your chin. It's a part of the snails-eating experience. In the end, a napkin will help you to make yourself tidy in a second.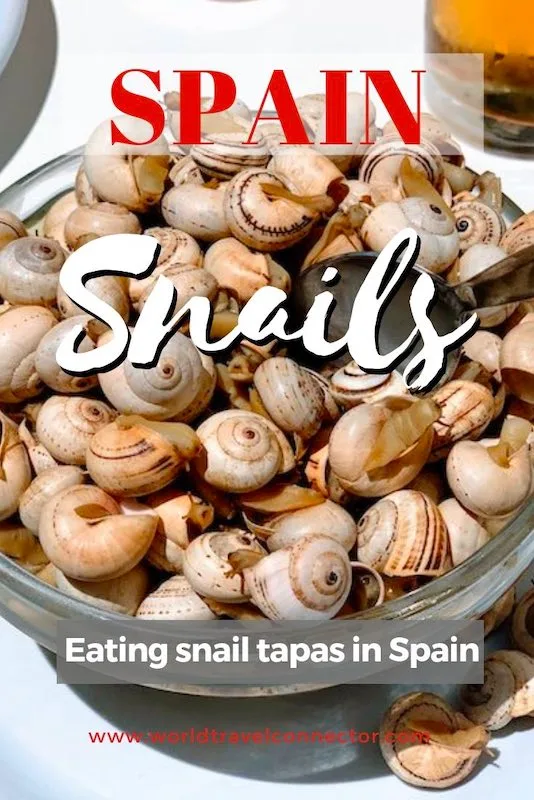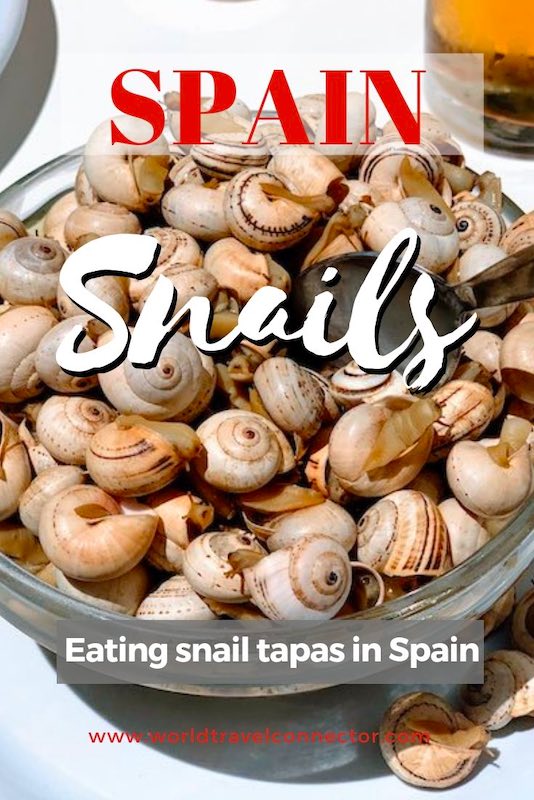 TAPAS BARS, RESTAURANTS, AND MARKETS TO TRY SNAIL TAPAS IN ANDALUSIA
Eating snail tapas in Cadiz: Bar Los Caracoles, Bar Tito, Mercado Central de Abastos (the central fresh food market in Cadiz)
Eating snails in Seville: Los Caracoles El Cano tapas bar, Casa Diego, Casa Ruperto, Casa Antonio Los Caracoles, Casa Remesel, Bodega La Mina, tapas bar Alfonso
Eating snails in Malaga: Meson Lo Gueno, La Recova, El Estrecho bar
Eating snail tapas in Granada: Bar Aliatar Los Caracoles, Los Mascarones
SNAIL TAPAS BARS AND RESTAURANTS BEYOND ANDALUSIA
Eating snails in Madrid: Restaurante Casa Amadeo Los Caracoles, Rastro flea market, Los Caracoles
Eating snails in Barcelona: restaurant Los Caracoles, El Pebrot i El Petit Cargol restaurant, restaurant Diagonal Can Soteras, Dolceta 2 Restaurant, El Convent Restaurant
To sum up, if you want to taste authentic Spanish tapas beyond classic tapas such as montaditos (famous Spanish finger food), patatas bravas (Spanish fried potatoes), tortilla da patatas (traditional Spanish omelet), chipirones (popular Spanish deep-fried baby squids) or pimientos del padrón (Spanish fried green peppers), then you should put caracoles (snails) on your list of Spanish food to taste in Spain.
If you are interested in some more authentic Spanish food and traditional Spanish drinks, you should read: Popular Spanish Food You Need To Try in Spain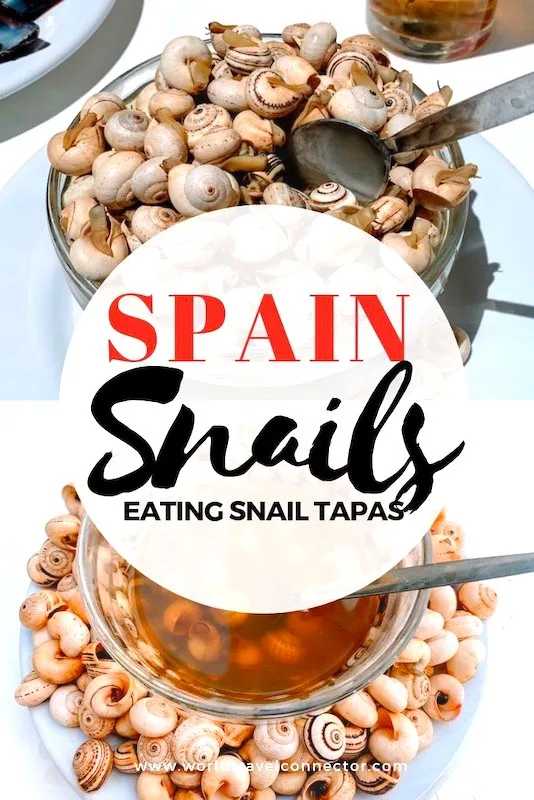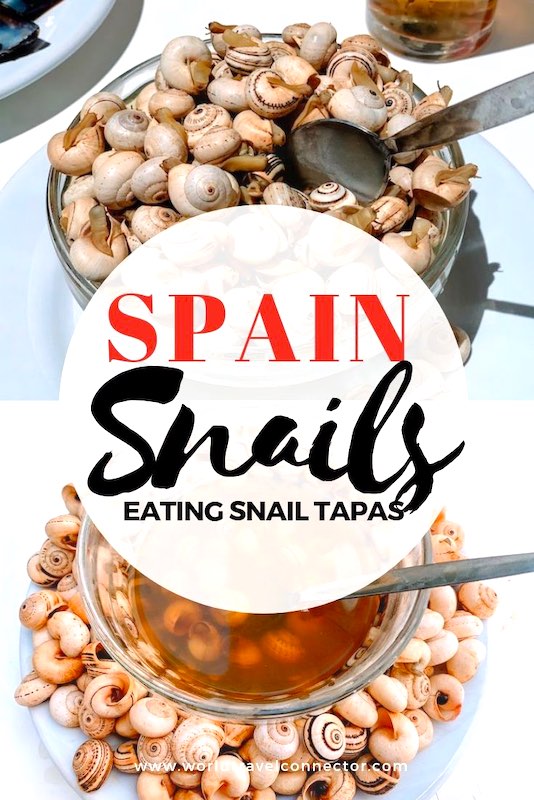 FOOD TOURS IN SPAIN
Eager to learn more about Spanish cuisine, to taste traditional Spanish dishes and amazing Spanish wines?!
Try out some authentic Spanish food tours while in Spain: from authentic tapas tour, Spanish wines tasting tour, Spanish food cooking class to traditional Spanish dinner with a flamenco show,ƒ and more.
Learn about authentic Spanish tapas, how to cook authentic Spanish paella, enjoy the finest Spanish sherry, explore local food markets in Spain…
Learn, how fun and enjoy your trip to Spain in an authentic Spanish way.
FOOD TOURS IN MADRID
FOOD TOURS IN BARCELONA
FOOD TOURS IN VALENCIA
FOOD TOURS IN VIGO
FOOD TOURS IN MALAGA
FOOD TOURS IN GRANADA
FOOD TOURS IN SEVILLE
FOOD TOURS IN ZARAGOZA
FOOD TOURS IN PALMA DE MALLORCA
FOOD TOURS IN SAN SEBASTIAN
Would you give Spanish snails a try? A cooked snail might not sound like your cup of tea, but you might get surprised. Are you ready to taste some odd foods or you prefer to stick to your regular diet while traveling? Do you like to challenge yourself with weird food? What was the most bizarre food you have ever tried? Have you tried a snails dish somewhere else if not in Spain? Maybe an escargot dish in France? Any experience with a French snail dish?
How to eat escargots?
Cooked escargots are slurped, or eaten with toothpicks. Simply take the fleshy part of the snails out of the shells with a toothpick. And enjoy your meal!
What does escargot taste like?
Escargot tastes very similar to sea mussels or clams. Only a little bit less salty and a bit more mushroomy than mussels or clams but otherwise pretty much the same. If you like seafood, most likely you will enjoy escargots too.
YOU MIGHT ALSO ENJOY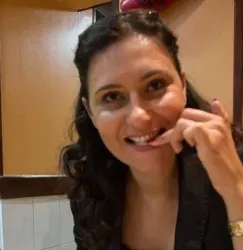 Latest posts by Milijana Gabrić
(see all)