Thinking of tropical beaches of Koh Phangan in Thailand? Find out what are the best beaches of Koh Phangan and why Koh Phangan beaches are favorite of Thai royalty
THIS POST MAY CONTAIN COMPENSATED LINKS. PLEASE READ MY DISCLAIMER FOR MORE INFO.
The exotic Thai island of Koh Phangan adorns one of the most beautiful beaches in Thailand. In the Thai language 'Koh' means 'island' and 'ngan' in the southern Thai dialect means 'sandbar'. Can you imagine how beautiful beaches you can expect on a 'sandbar island'?! Located in the Gulf of Thailand between Koh Samui and Koh Tao, sandy Koh Phangan was a favorite island of former Thai King Rama V. Koh Phangan is beloved not only by royalty but also by tropical paradise enthusiasts and hedonists.
While the island has a party reputation for the Full Moon Party that happens every month on the island, Koh Phanyang is much more. KoDepending on personal preferences, Koh Phagan has a perfect beach for everyone, especially for the people who prefer Thailand off the beaten track places. There are about 30 beaches on Koh Phangan to choose from. They range from quiet and secluded beaches to party and touristy beaches, from serene family beaches and great beaches for kids to gorgeous beaches for honeymooners who seek privacy and romance, as well as amazing beaches for snorkeling and diving.
The best way to explore the island and incredibly beautiful beaches in Koh Phangan is to rent a motorbike and do beach hopping. That's something I did on my visit to Koh Phagnan in 2018. Renting a scooter costs about 200 baht (∼ 6 USD) a day, but the value measured by the pleasure you get visiting the beaches of Koh Phangan is priceless.
Here are 10 best beaches of Koh Phangan you need to check out in Koh Phangan Thailand.
1. SECRET BEACH (HAAD SON)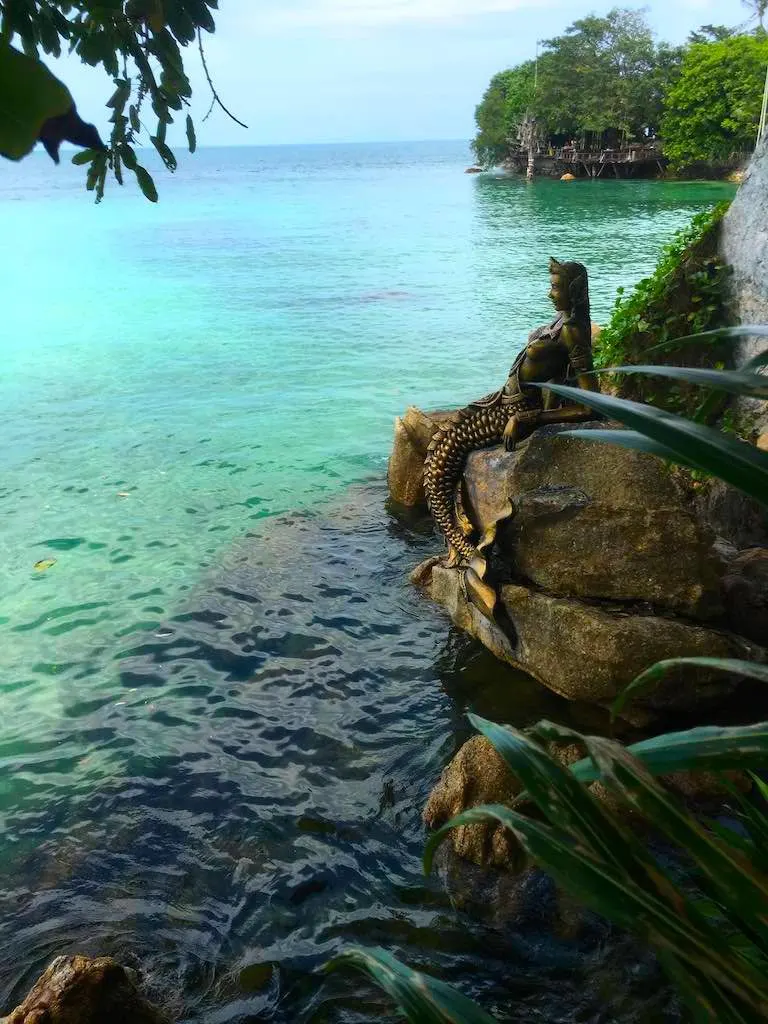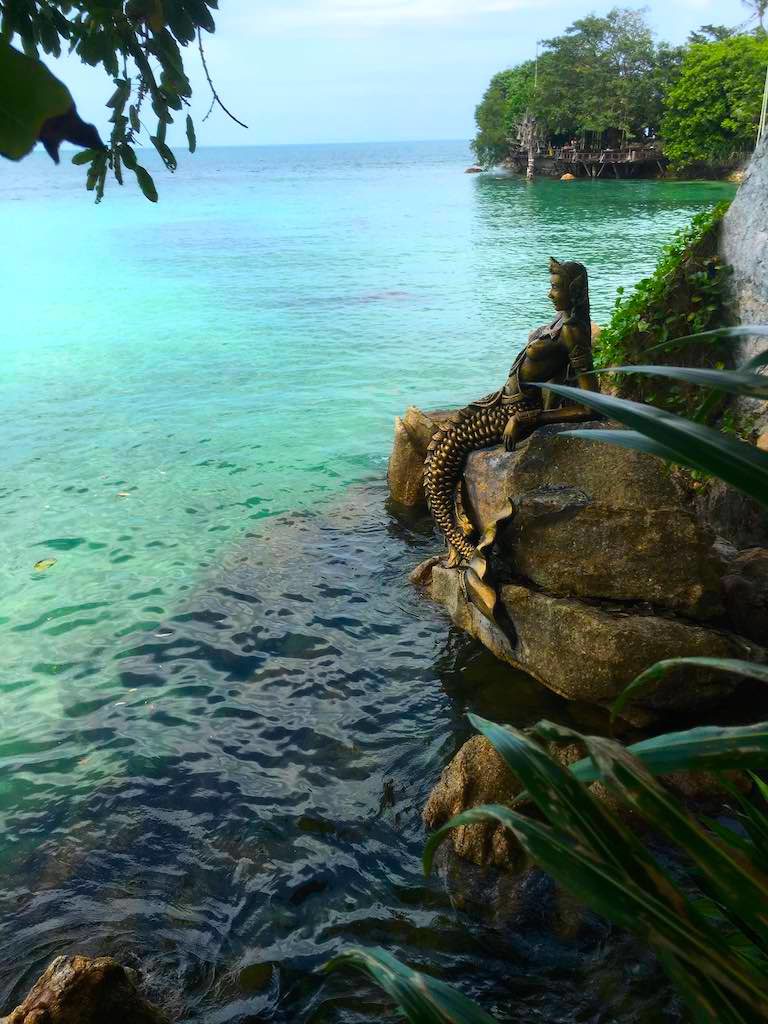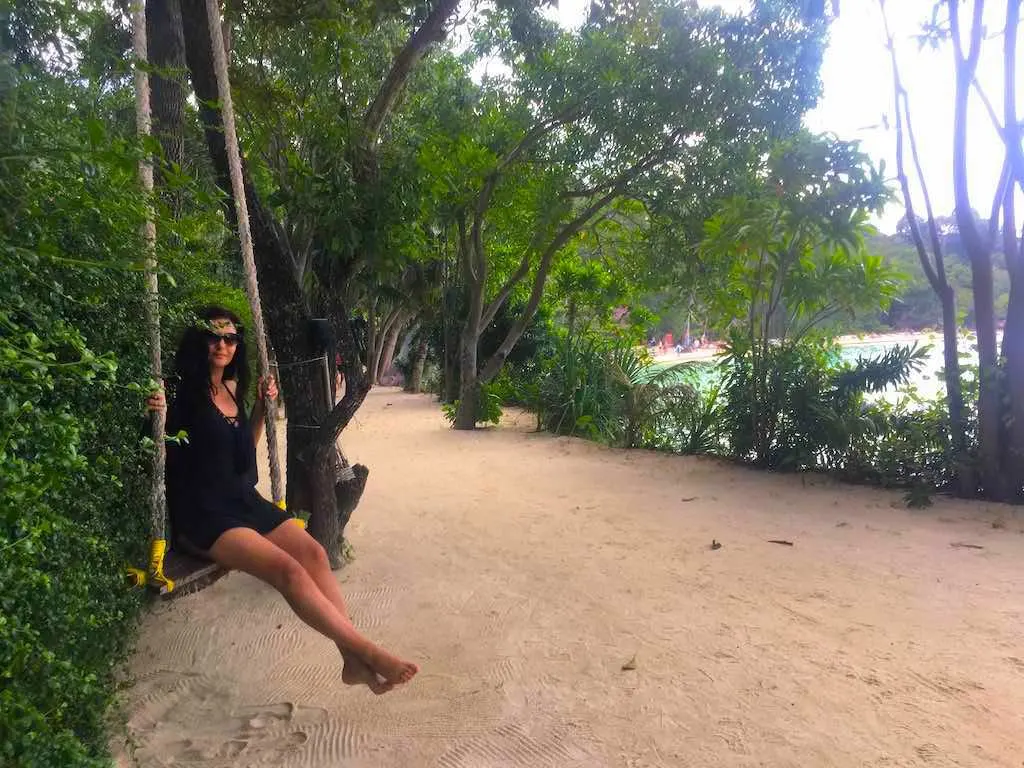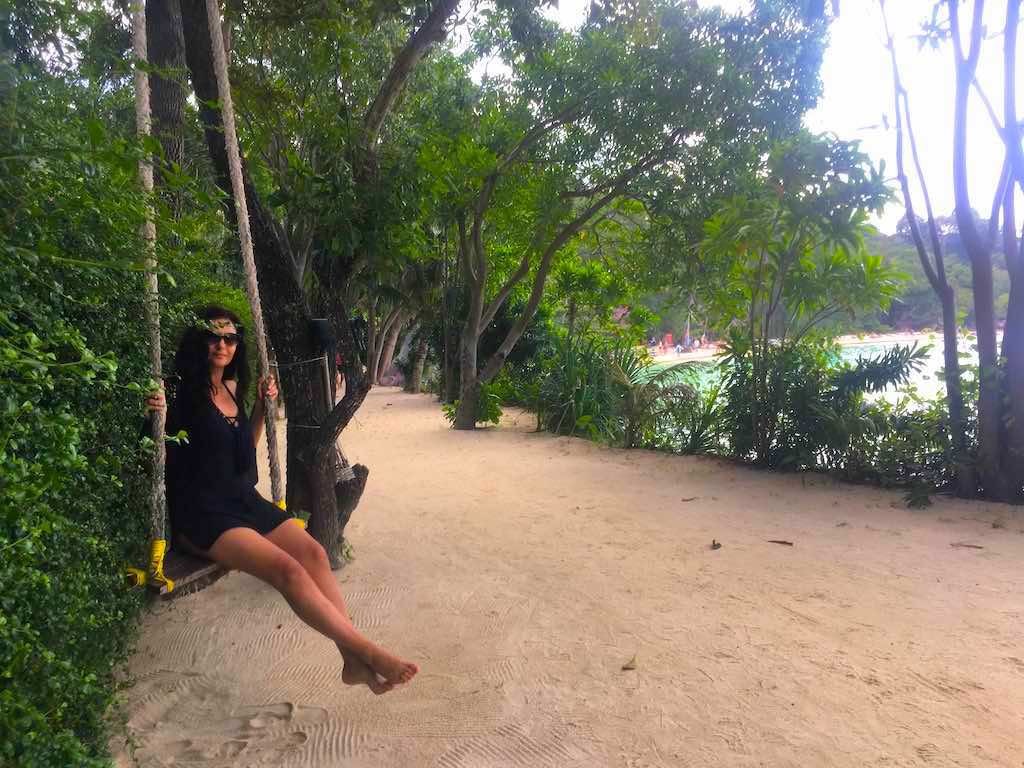 The Secret Beach is a stunning beach on the north-west of Ko Pha Ngan and one of the very best beaches in Koh Phangan.
Only a hundred meters long it is rather a small beach with soft white sand, palm trees, and crystal clear water. It is one of my favorite beaches on Koh Phangan and a hidden gem of Ko Phangan.
The Secret Beach is a quiet, idyllic, and romantic beach that looks like a small paradise with unforgettable sunsets.
Haad Son is also praised as one of the best beaches on Koh Phangan for snorkeling. A short swim from the beach takes you to a coral reef. The beach is also loved by families and is said to be one of the best beaches in Thailand. Unnecessary to mention, this picturesque beach with only one resort and a restaurant on the beach is a perfect beach for relaxation.
Haad Son is easily accessible from Thong Sala, the main town on Koh Phanhan. A ride from Thong Sala to Haad Son takes less than 15 minutes. You can park your scooter or have a taxi drop on the top of the main road and then you just need to walk a hundred meters down to the beach.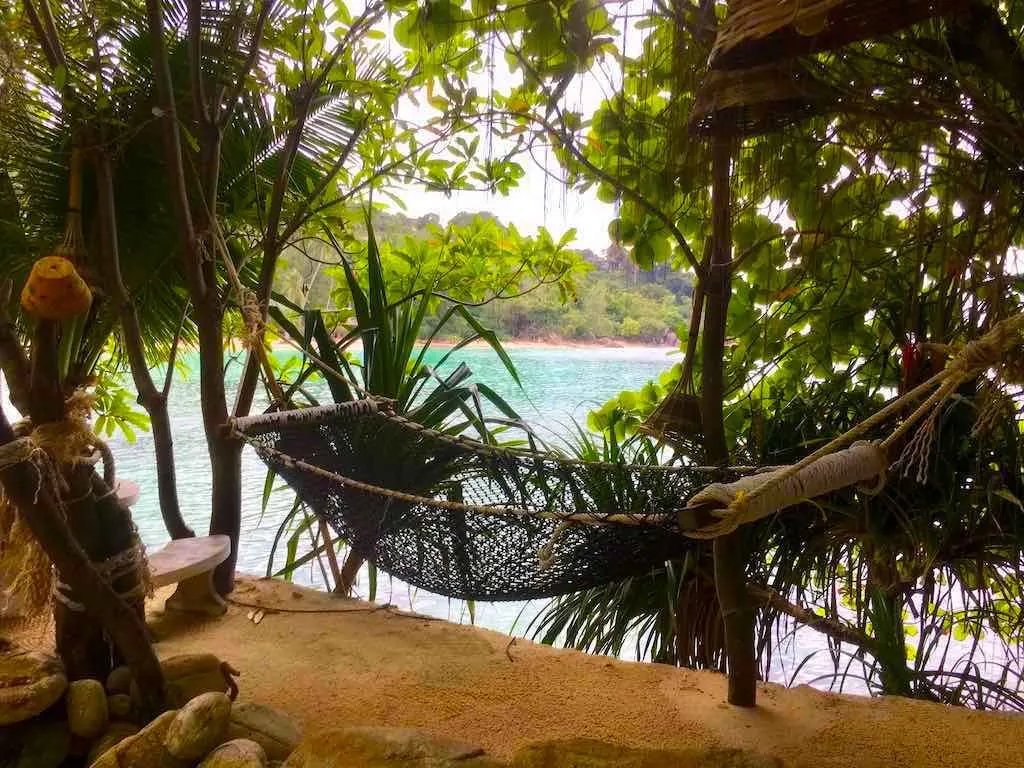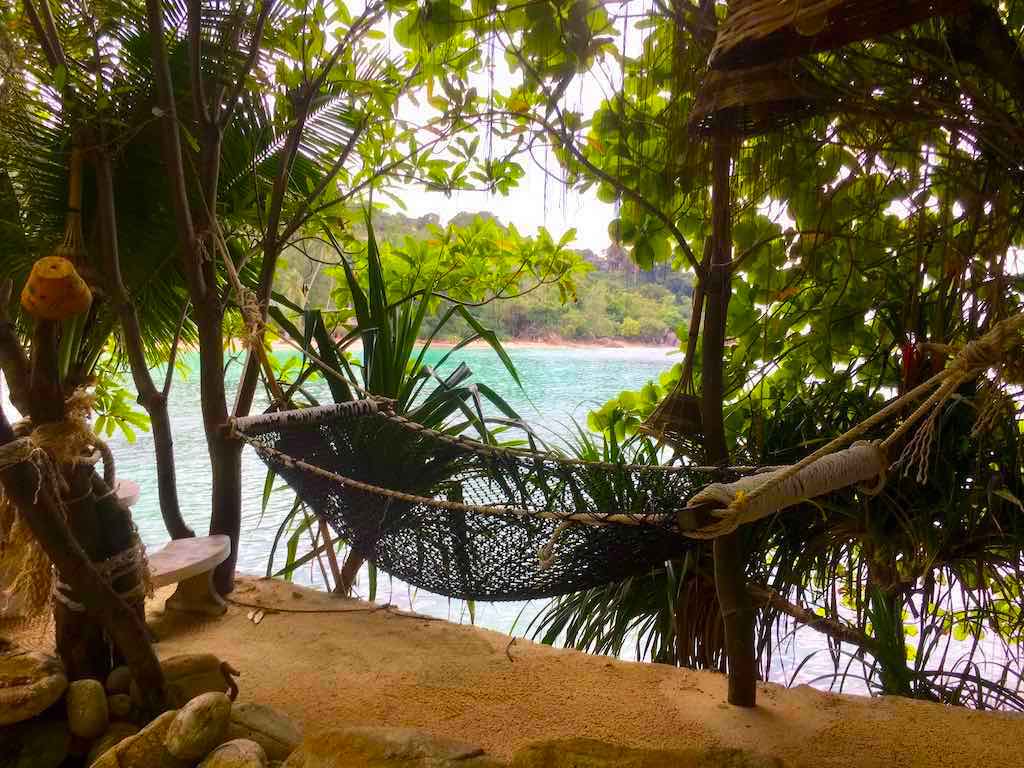 Where to stay on Secret Beach on Koh Phangan:
Srithanu Lake Cottage, Srithanu Lake Cottage, Secret Beach Bungalows, Haad Son Resort
2. LONG BEACH (HAAD YAO)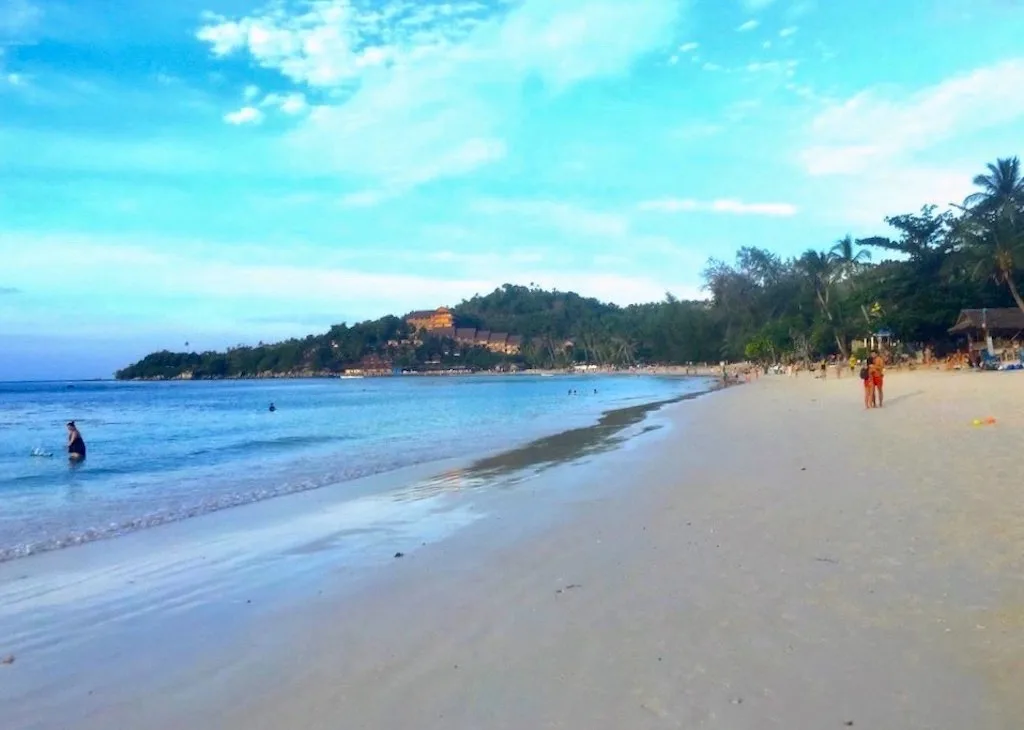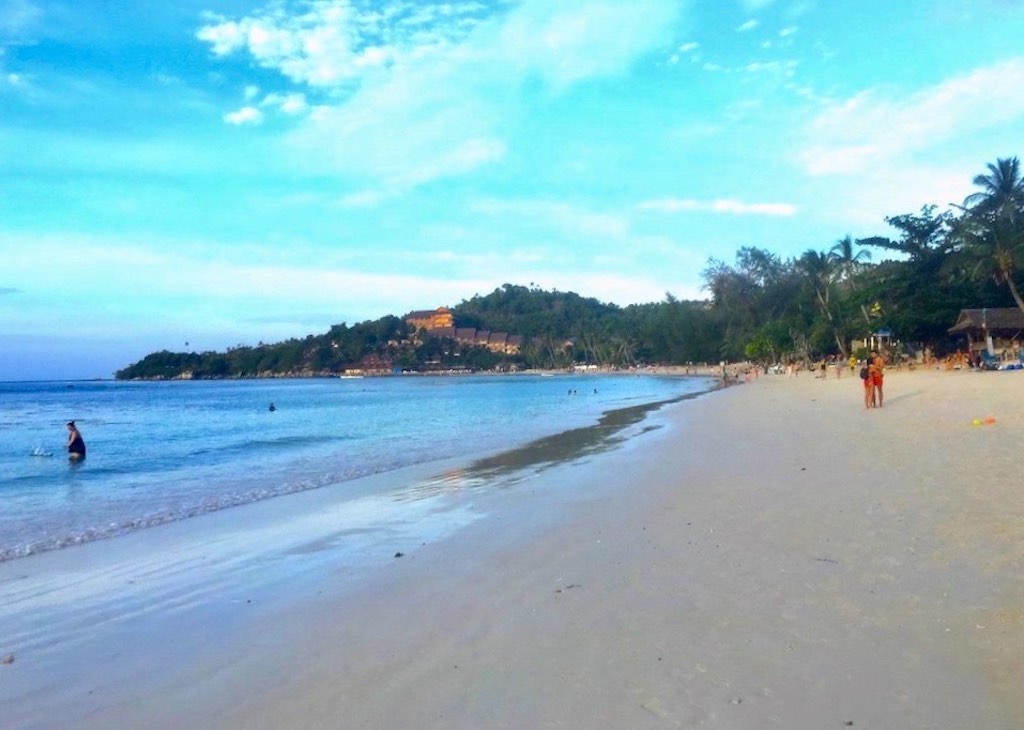 Only a few hundred meters from Haad Son comes Haad Yao beach.
Haad Yao or Long Beach is another beautiful Koh Phangan beach on the north-west side of the island. This wide sandy beach is about 1 km long with lots of shades of many palm trees on the beach with hammocks, beach bars, restaurants, and Thai massage shops.
Long Beach on Koh Phangan is well-known as the best beach for snorkeling and diving with a live coral reef along the bay. If you are looking for the best snorkeling in Koh Phangan, Long Beach should be your best bet.
The beach is easily accessible by motorbike or songthaew from Thong Sala town. A ride from Thong Sala to Haad Yao lasts 20 min, while a shared taxi (songthaew) costs about 150 baht per person. The 'Haad Yao Divers' diving center on Haad Yao was the first diving center on Koh Phangan.
Haad Yao is not a party beach. On the contrary, Long beach on Koh Phangan is popular for the laid-back vibe.
If you wish to spend more time on Long Beach, there are many accommodations to choose from: from big resorts and boutique resorts to traditional Thai bamboo bungalows.
Where to stay on Long Beach on Koh Phangan:
Tantawan Bungalows, Longbay Resort Koh Phangan, Sun Moon Star Resort Koh Phangan, Le Balcon, Haad Yao, Baan Kiao,
3. SALAD BEACH (HAAD SALAD)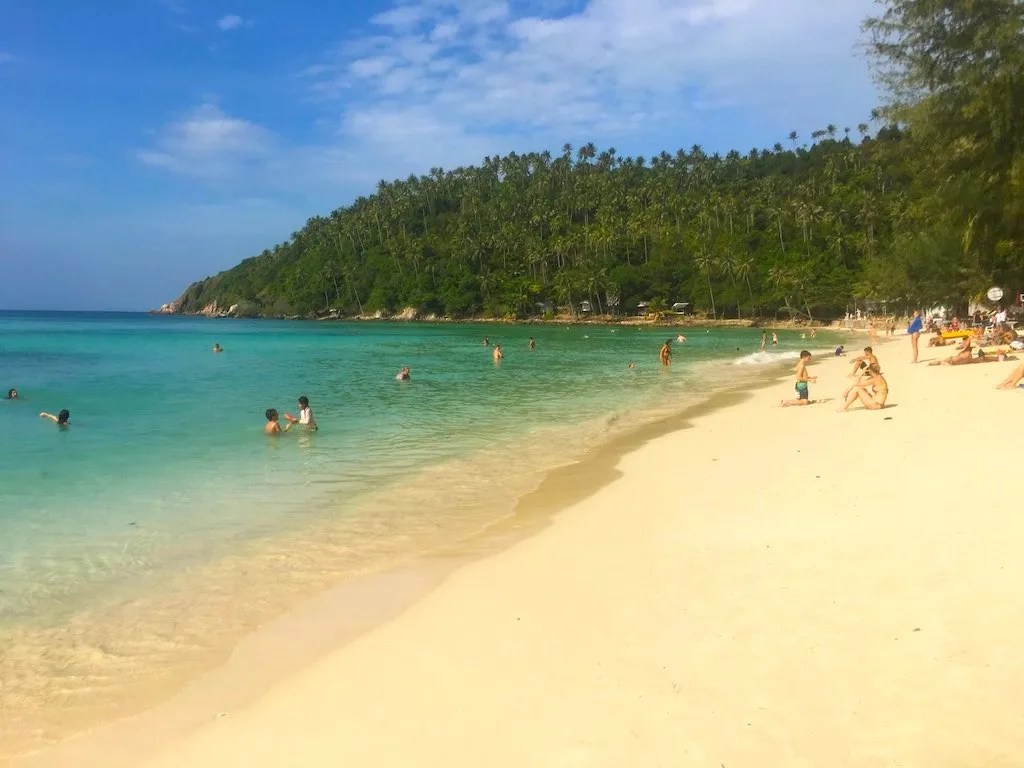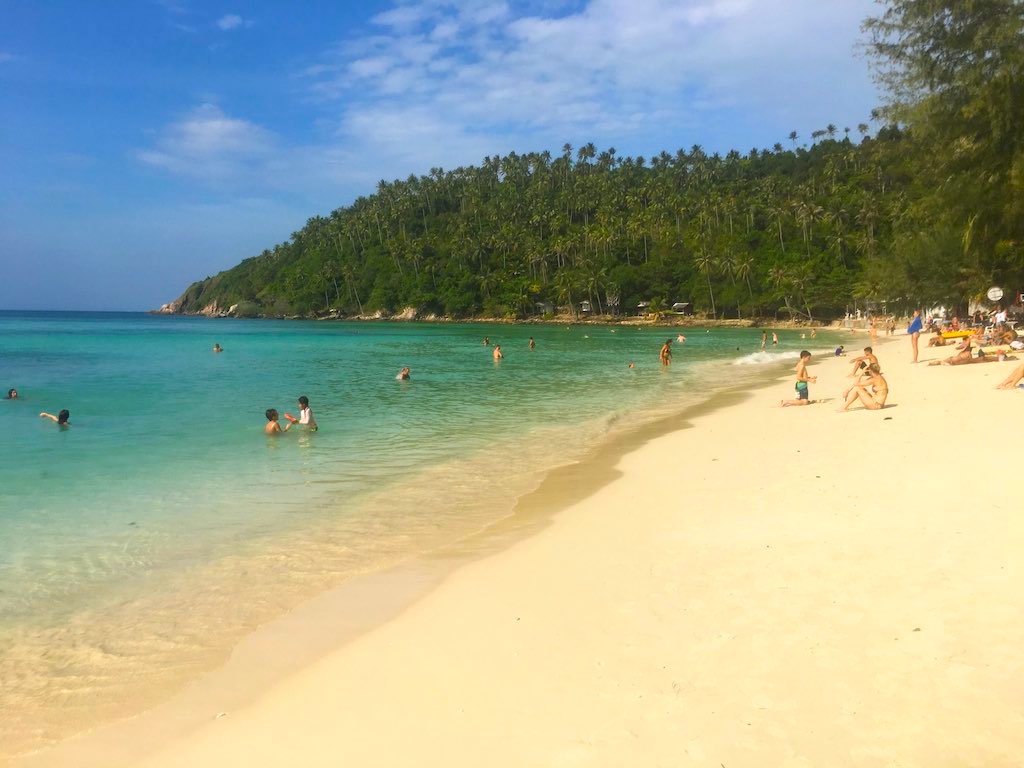 Next beach on the list of the best beaches of Koh Phangan is Haad Salad, also called Pirates Beach.
Haad Salad comes just a little bit west of Haad Yao. This five hundred meters long beach has the reputation of one of the quietest beaches on Koh Phangan. It is especially loved by families and couples. The beach is a classical tropical beauty with white soft sand, palm trees making shades, beach swings, blue-green clean, and shallow water. Swimming in the bay is possible only on the high tides. Since the beach is on the west side of the island, it is good for sunset watching and romantic moments. And although there are restaurants and resorts around the beach, it offers tranquility with no noise.
Entrance to the beach is through Haad Salad Resort. There is a broad range of accommodation on Haad Salad to choose from: from 2-star and 3-star hotels to 4-star and luxury hotels.
A 20 min drive from Thong Sala takes to Haad Salad.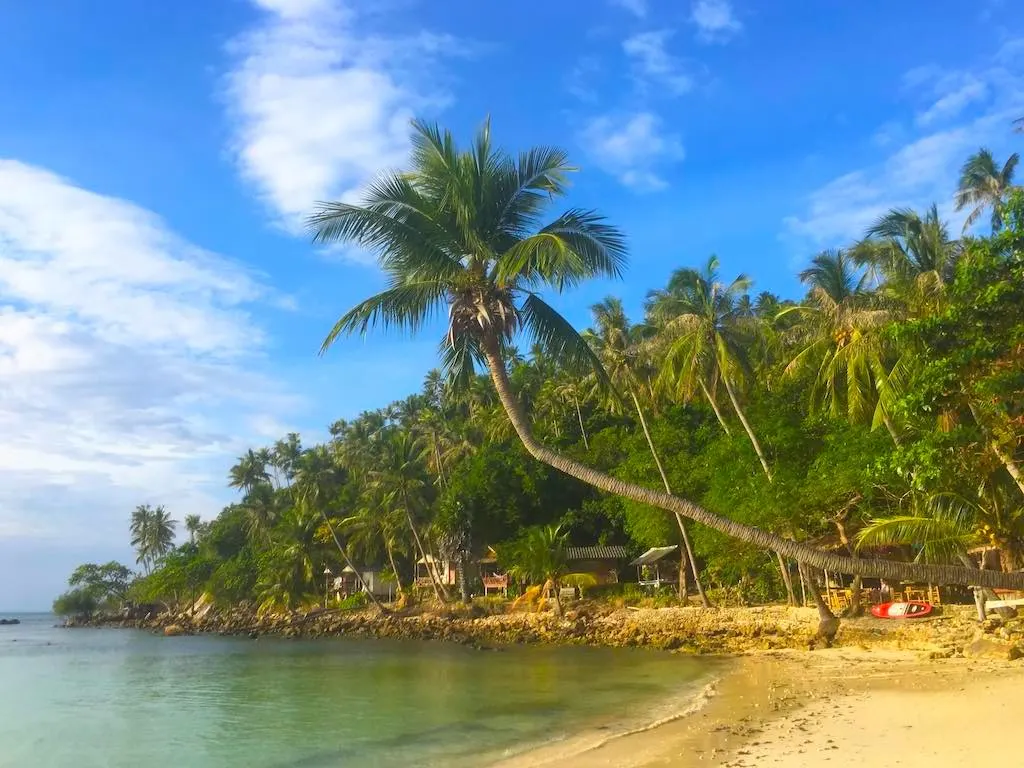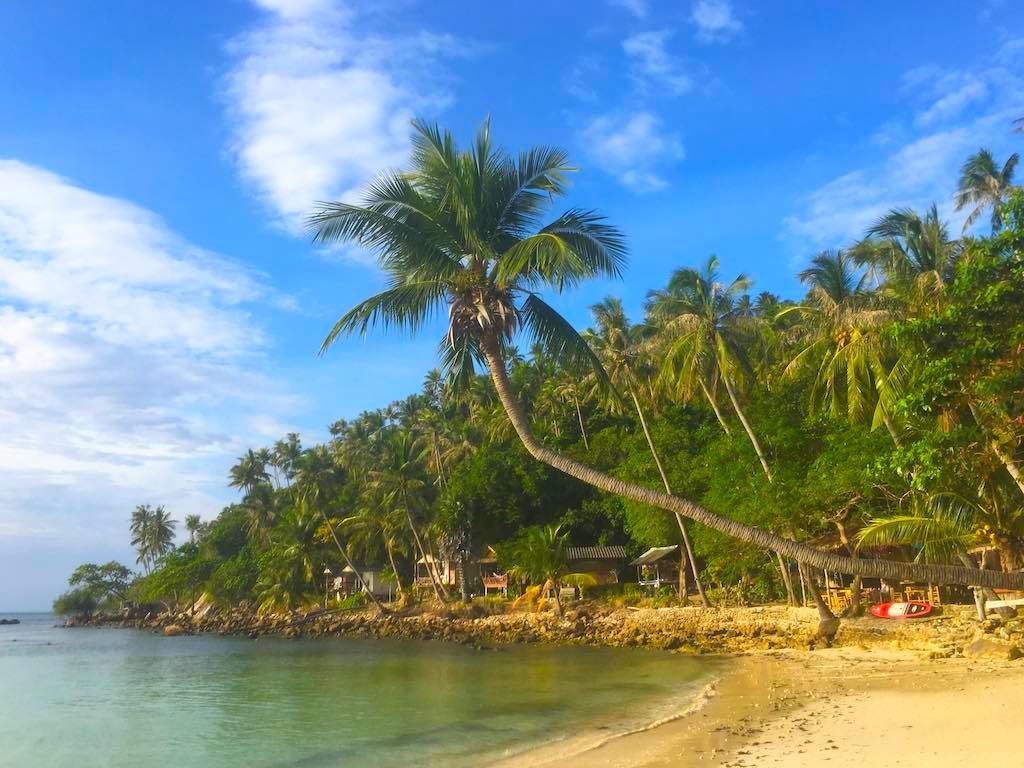 Where to stay on Salad Beach:
Resort Salad Beach Resort, Salad Buri Resort, Bay Villas Koh Phangan, Green Papaya Resort,
4. MAE BEACH (HAAD MAE)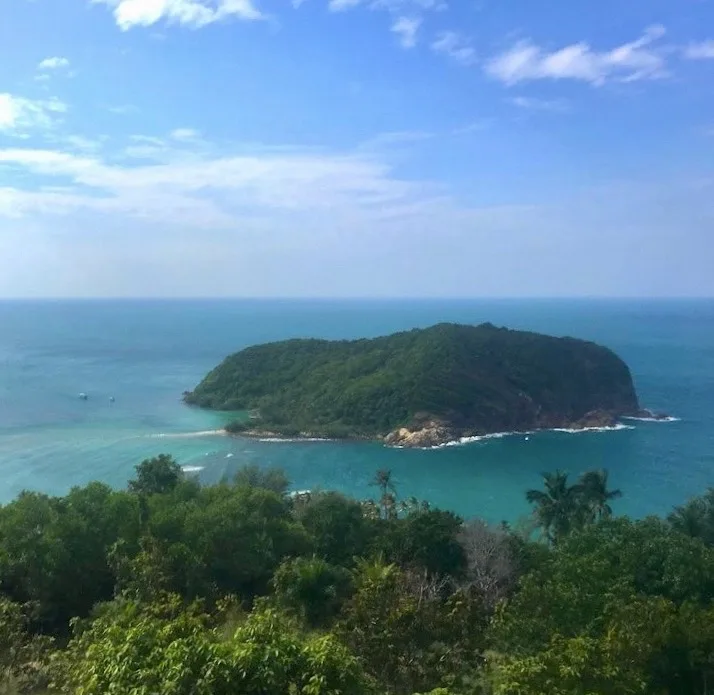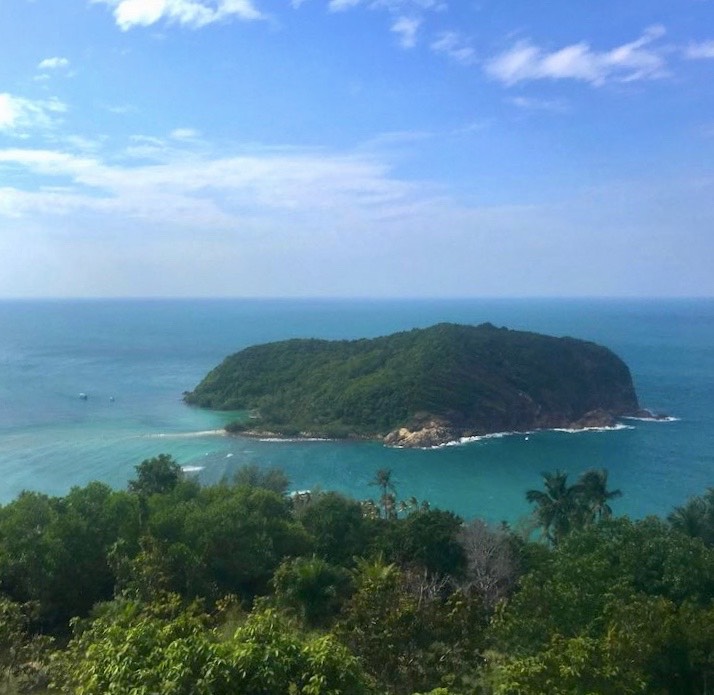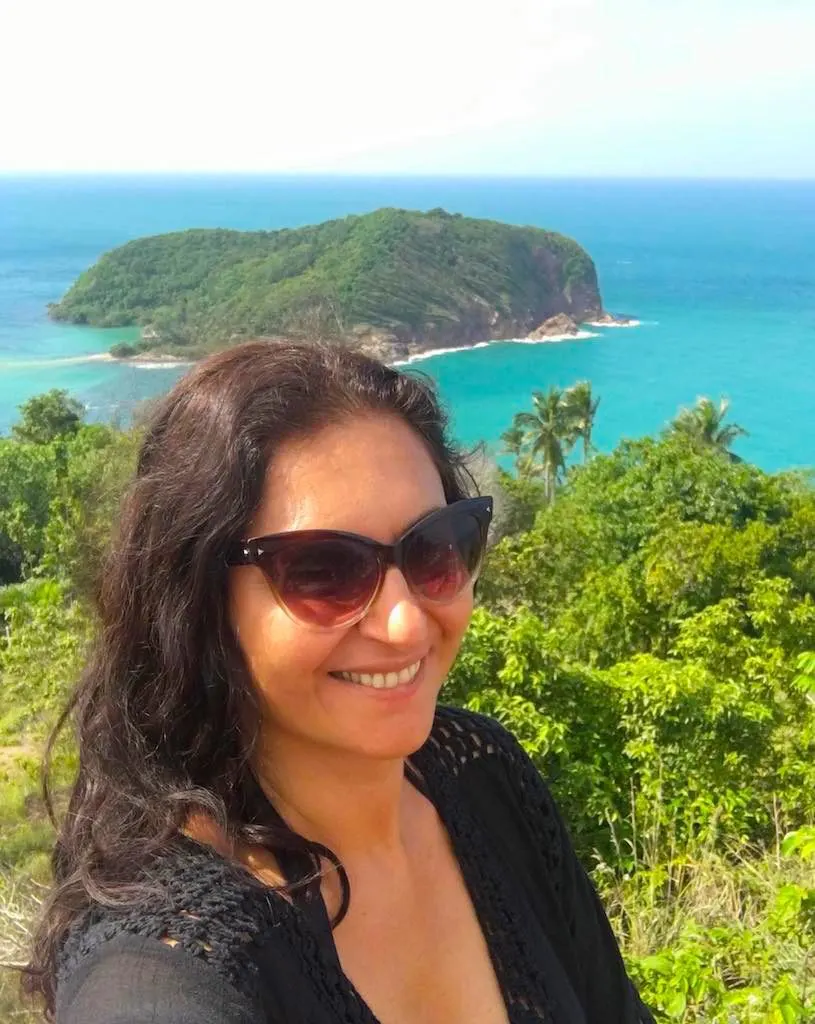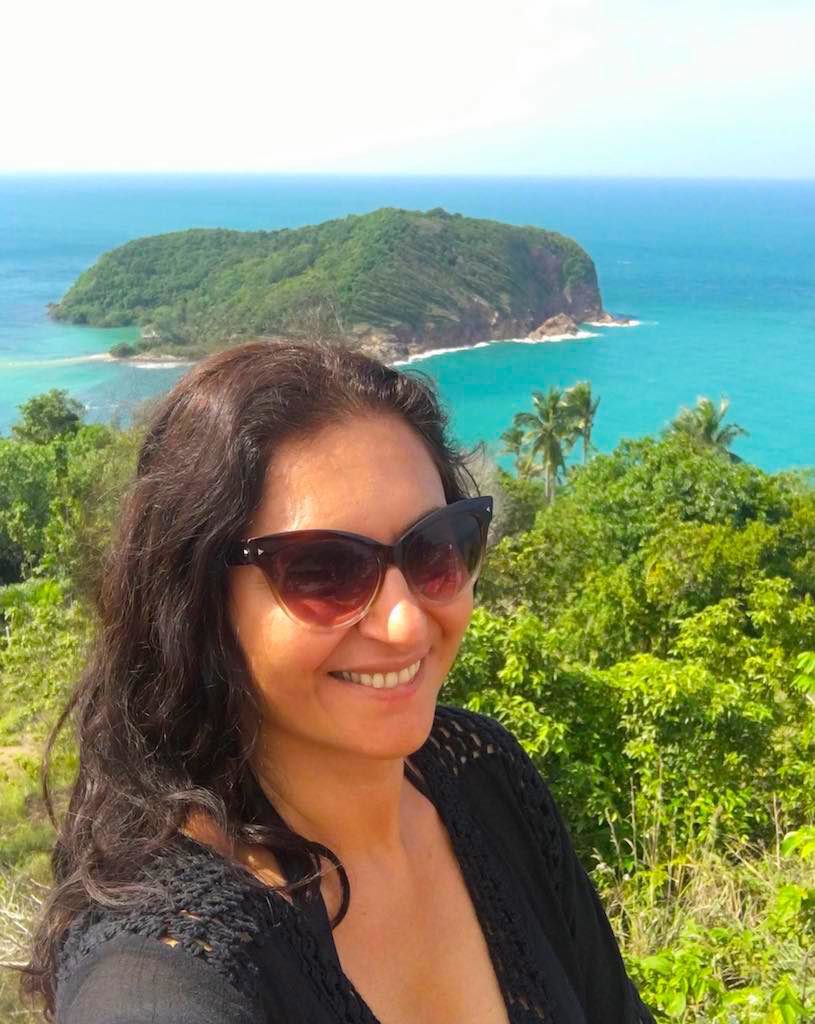 Mae Beach is another popular beach of Koh Phangan.
It is well known as a white sandy beach connected to an island called Koh Ma. You can walk the white sand strip of Mea Beach to Koh Ma during low tide.
Koh Ma Koh Phangan is the National Marine Park and a landmark of Koh Phangan. Picture perfect scenery of Koh Ma is used on many postcards and tourist ads from Thailand. Mae Beach is popular among families and people who love to get Thai massages on the beach since there are several massage shops on the beach with the sea view.
The beach is romantic, and a good snorkeling and diving spot.
About half an hour motorbike or songthaew drive from Thong Sala will take you to Mae Beach.
5. CHALOKLUM BEACH (CHALOK LAM BEACH)
With a 2 and a half km long stretch of white sand, Chaloklum Beach is one of the biggest beaches of Koh Phangan.
It is named after Chaloklum village in the north of Ko Phangan. If you want to immerse yourself into the local Thai lifestyle while enjoying a Thai beach, then Chaloklum village and Chaloklum Beach should be your choice.
Chaloklum is a charming traditional Thai fishing village on the north side of the island with fish and fruit stalls, bamboo, and wooden huts. Local fishermen keep their colorful handcrafted boats on the beach. The village is popular among ex-pats on Ko Phangan. Be aware, there are no shades of the palm trees on the beach, so don't forget to take sunscreen with you. Or you can find shades in the bars or restaurants on the beach while tasting delicious fresh Thai seafood.
Where to stay on Chaloklum Beach:
Silan Residence Koh Phangan, Padel Phangan Suite, U-Sabai Villa
6. MALIBU BEACH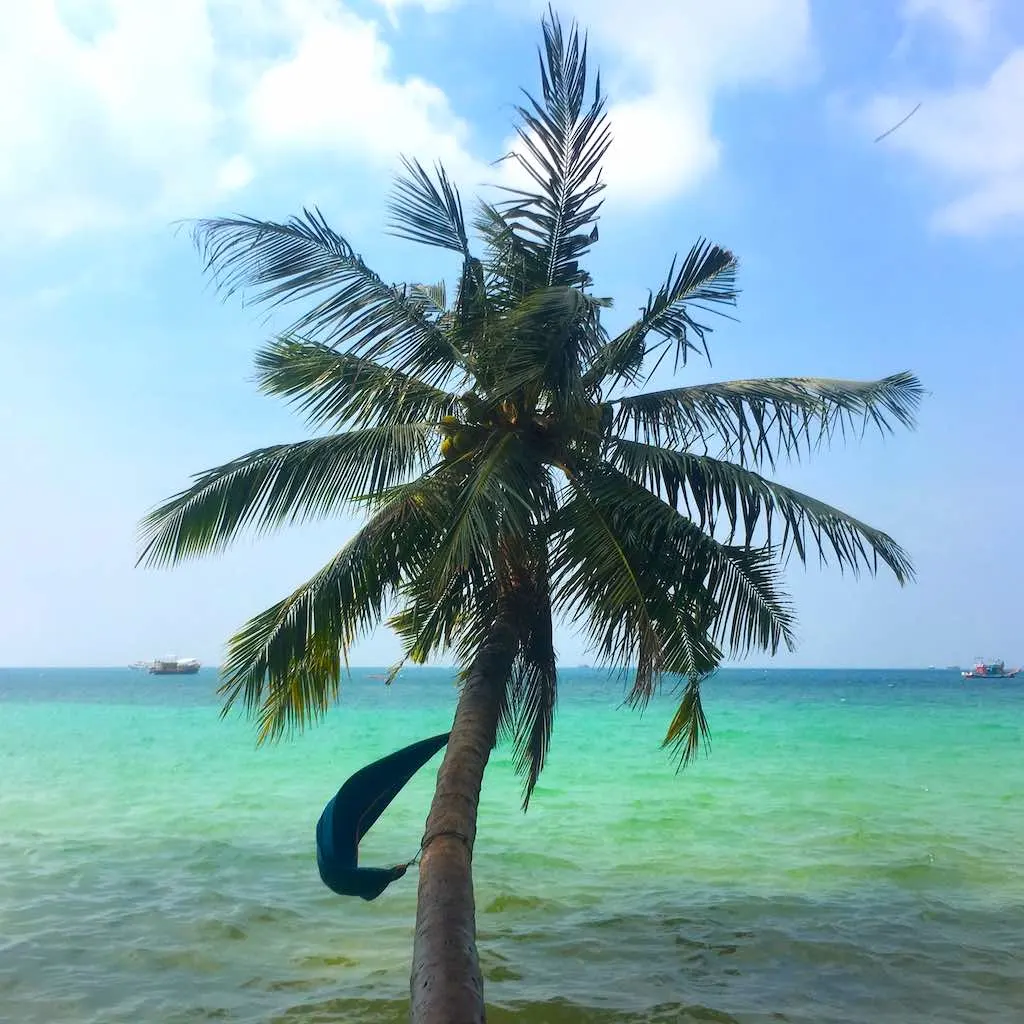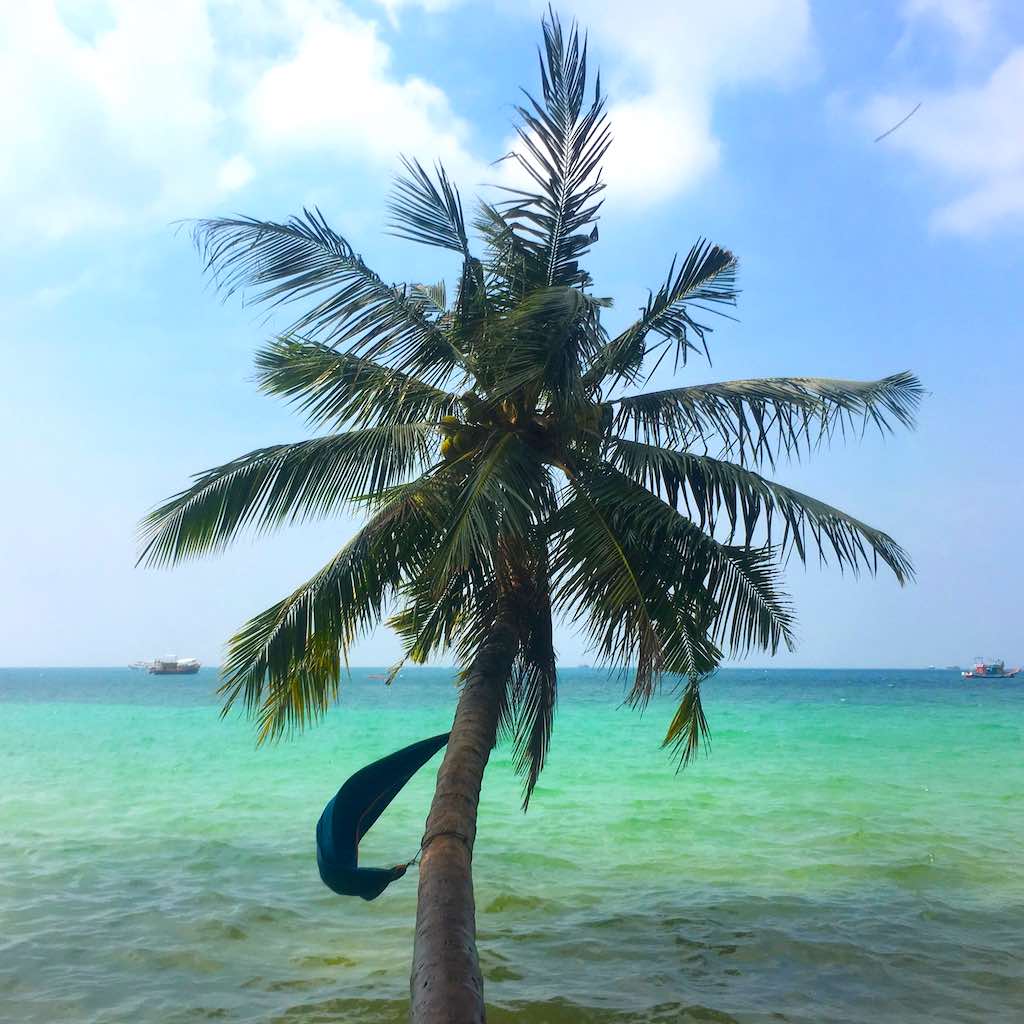 East end of Chaloklum Beach is known as Malibu Beach.
Malibu Beach is one of the most famous Ko Phangan's beaches, but yet it is a quiet beach thanks to only one hotel on the beach – 'Malibu Beach Bungalows' after which the beach is named. This typical tropical beach with fine white sand, palm trees, and turquoise tropical shallow waters is on the north of the island, near the village of Ban Chalok Lam. There are not snorkeling or diving sites in the bay and the water can be too shallow during low tide.
But the beach in high season can be full of Thai longtail boats for sightseeing the island. But even then Malibu Koh Phangan is never too crowded.
Where to stay on Malibu Beach:
7. KHOM BEACH (HAAD KHOM)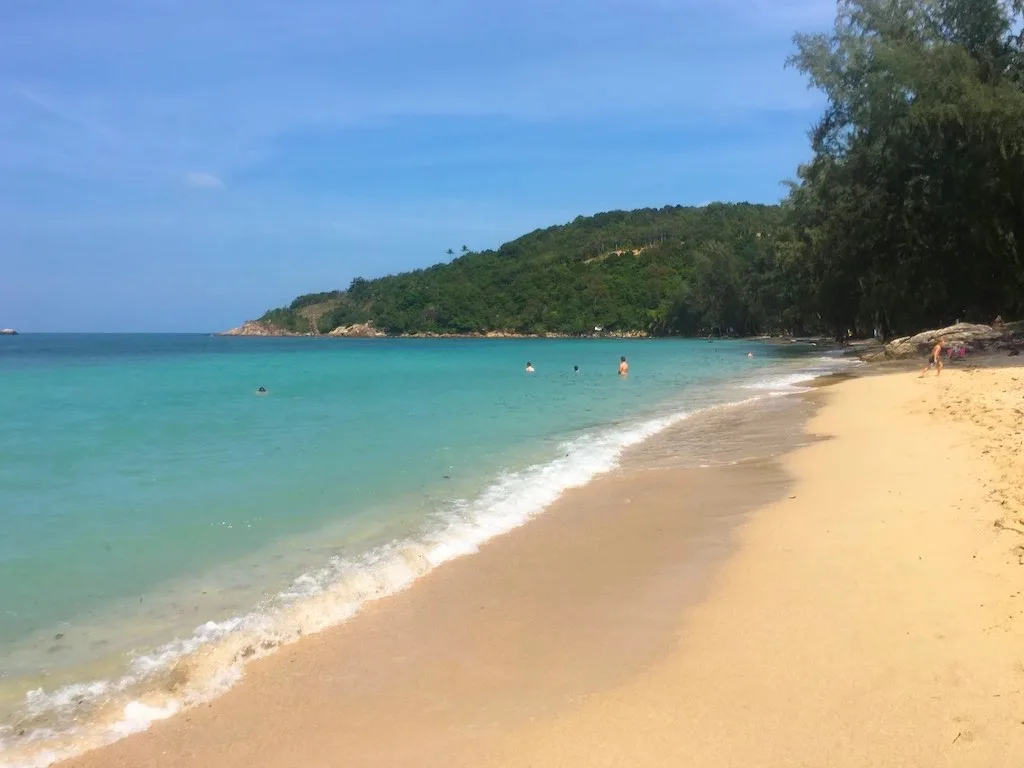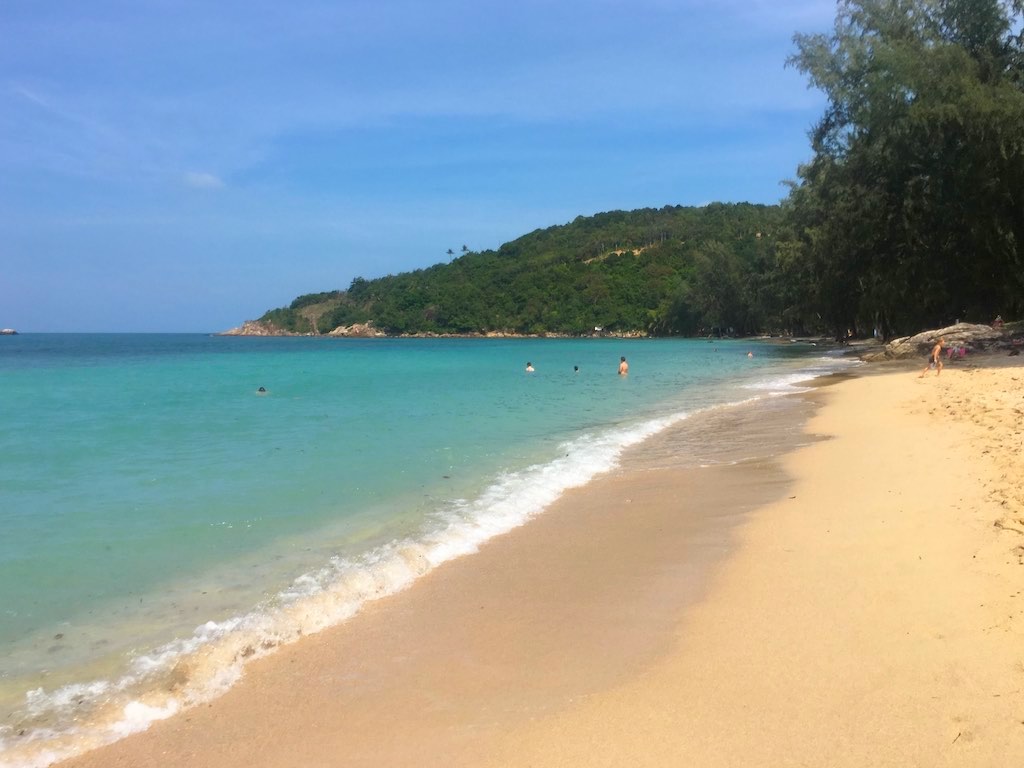 A short drive from Chaloklum Beach will take you to Khom Beach, another beach in the north of Koh Phangan.
Also called Coconut Beach and Coral Bay, Haad Khom is again one of my favorite beaches in Koh Phangan. It is a small deserted beach, peaceful and good for relaxation. With white pristine sand and coconut trees making wonderful shades it is a true tropical paradise. During the high tide, Khom Bay is one of the best snorkeling places on Koh Phangan.
There are only a few resorts along Khom Bay, well-liked by families with kids. If you seek for a perfect few days escape from everything, then Coconut Beach is the best beach on Koh Phangan for you.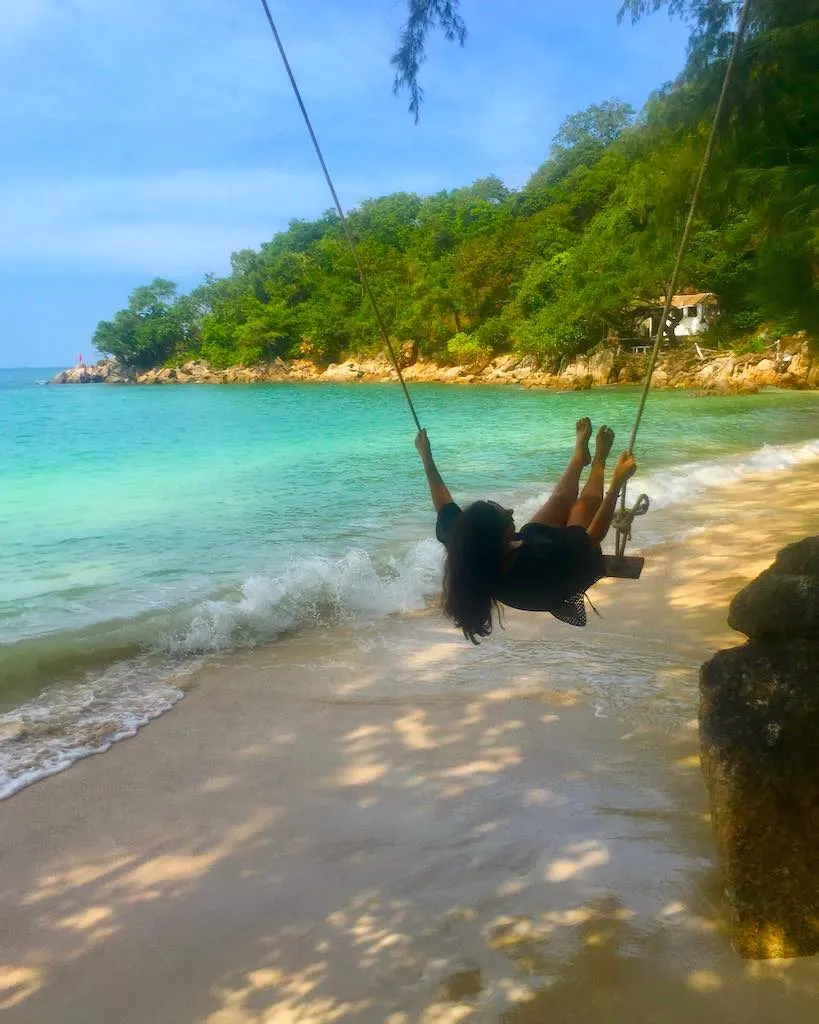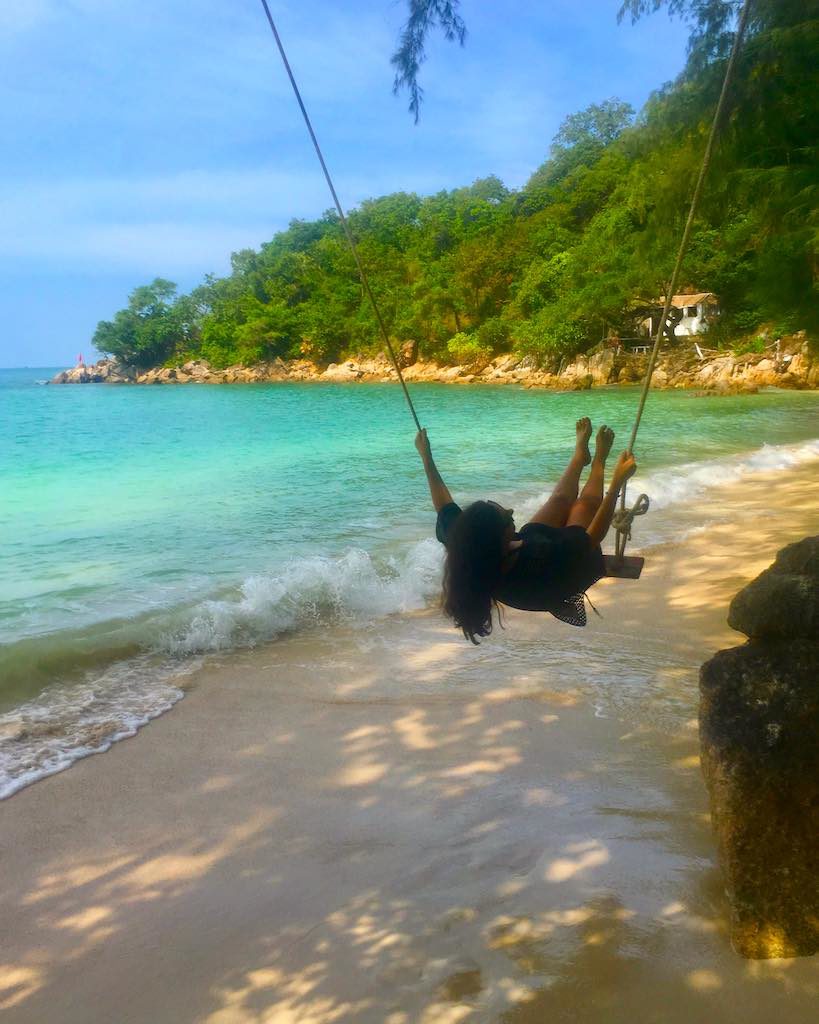 8. BOTTLE BEACH (HAAD KHAUT)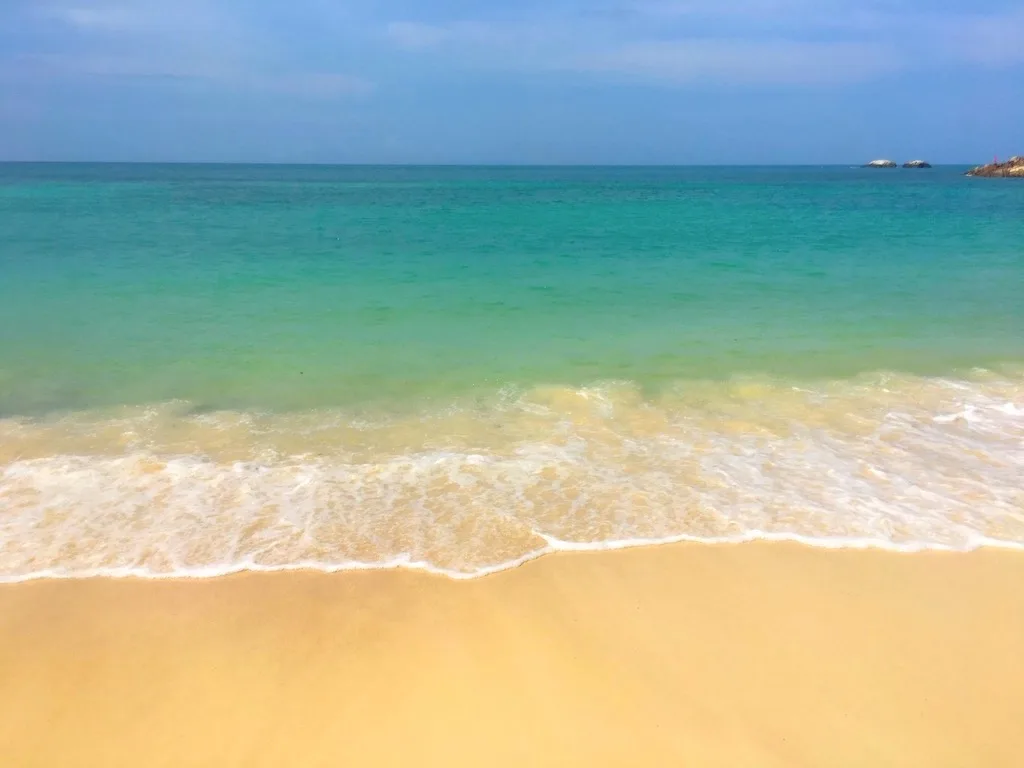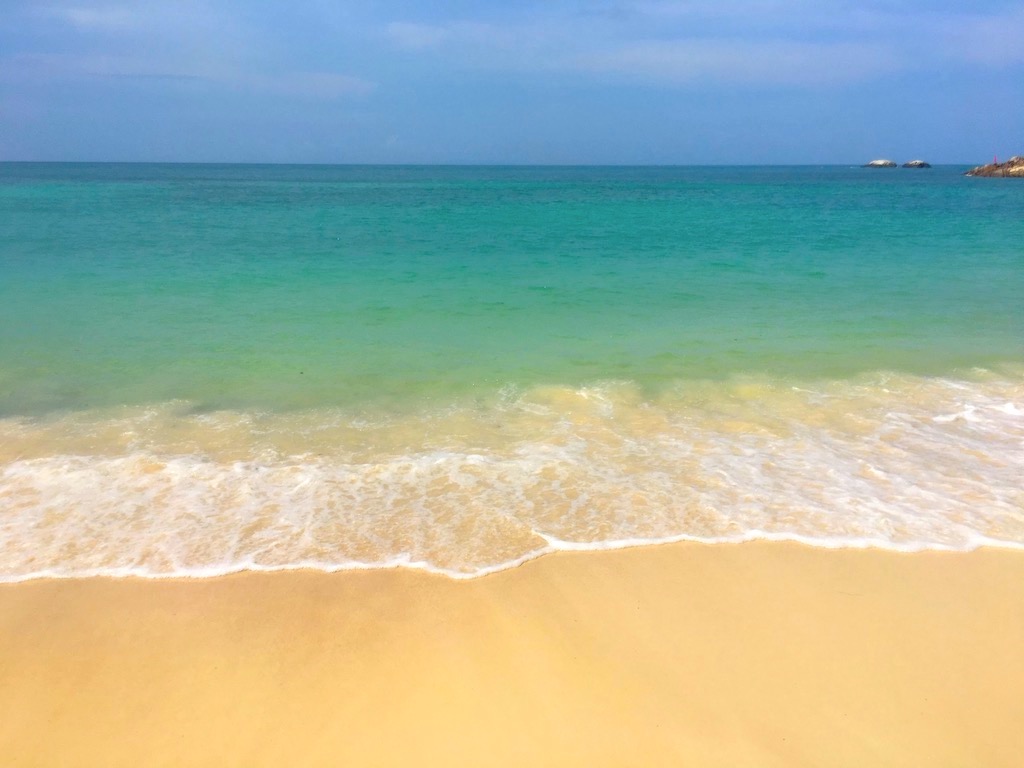 A 2-hour trek from Coconut Beach across jungle and mountain terrain will take you to Bottle Beach. It was named after plastic bottles hanging on the trees marking the hiking route to the beach.
Haad Khaut is famed as the most beautiful beach of Koh Phangan and one of the best beaches in Thailand. But it is also the most difficult beach of Koh Phangan to reach. Koh Phangan's Bottle Beach is a quiet resort beach, extremely clean with fine soft white sand, crystal clear water, not touristy, and with no crowds at all. It is a perfect beach for relaxing and swimming.
Bottle Beach is also in the north of the island and you can reach the beach by hiking, scooter or taxi boat. From Haad Kom Beach or from Thong Nai Pan Beach the trails go through the jungle to Bottle Beach. If you go by scooter, you should know that not an easy ride awaits you since the road is steep. Taxi boats to Bottle Beach are available from Chaloklum Beach and Khom Beach.
Please remember, the best time to go to Bottle Beach is in the morning. In the afternoon taxi boats with tourists can come to the beach. There are also some kayaking and snorkeling tours but nevertheless, the beach is never crowded. There are a few restaurants on the beach and some nearby resorts, varying from simple huts to luxury resorts.
Where to stay on Bottle Beach Koh Phangan:
Haad Khuad Resort, Smile Bungalow Bottle Beach
9. LEELA BEACH (HAAD SEKANTANG)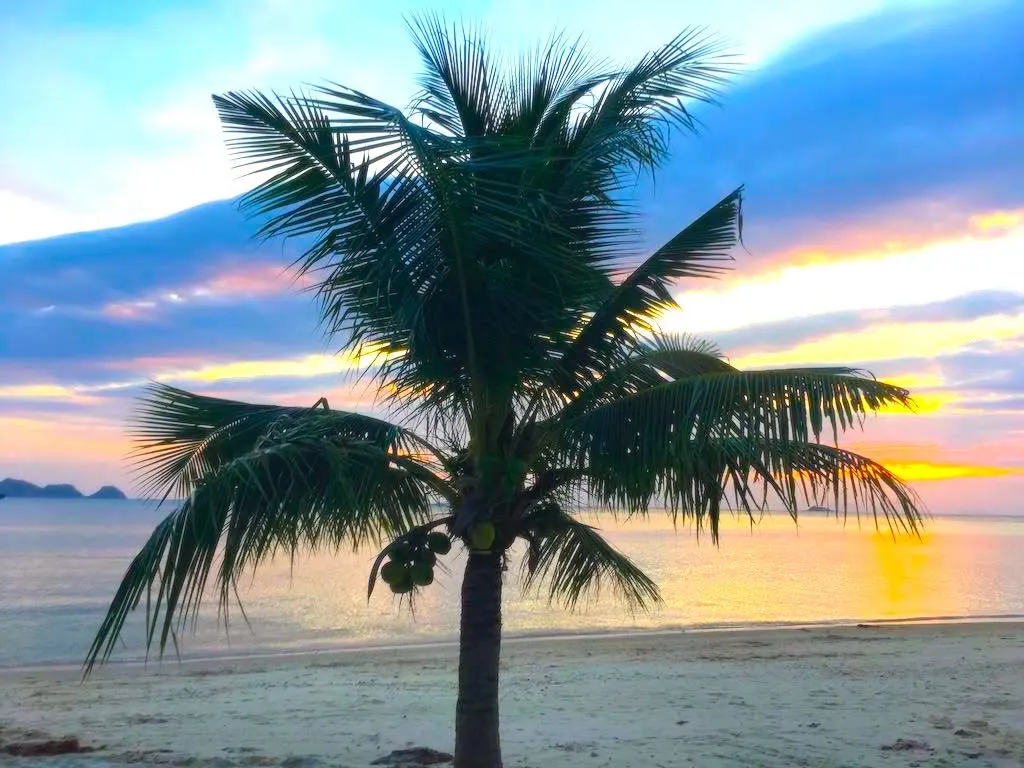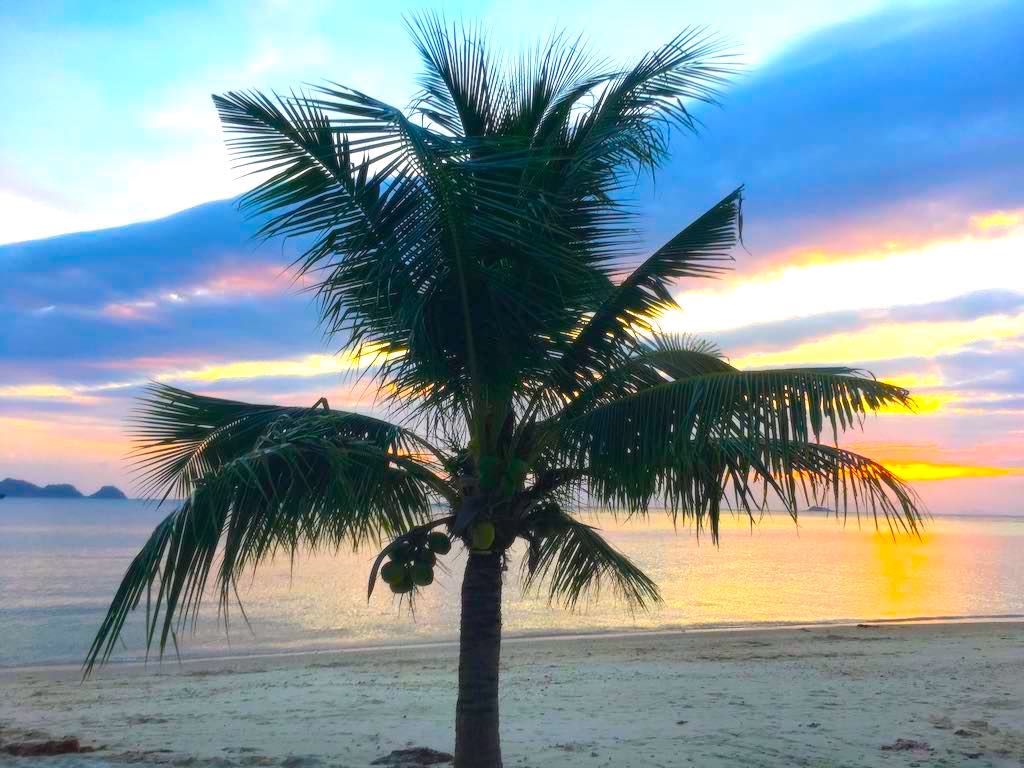 Leela Beach is named after Leela Resort.
It is a small picture-perfect resort beach with white sand, clear and shallow waters, and giant palm trees. Leela Beach is well known for its isolated location on the southeast of Koh Phangan with views of Koh Samui. It is the most Instagrammable beach on Koh Phangan with a famous giant coconut tree swing. This quiet and idyllic beach is well-liked by honeymooners, couples, and families with kids.
To enter Leela beach you need to go through a resort. Haad Sekantang is located only 15 min walk from the town of Haad Rin. If you want to stay in a peaceful beach but yet close to the party, you should stay at Leela Beach.
Where to stay on Leela Beach:
Cocohut Beach Resort & Spa, The Cabin Beach Resort
10. RIN BEACH (HAAD RIN)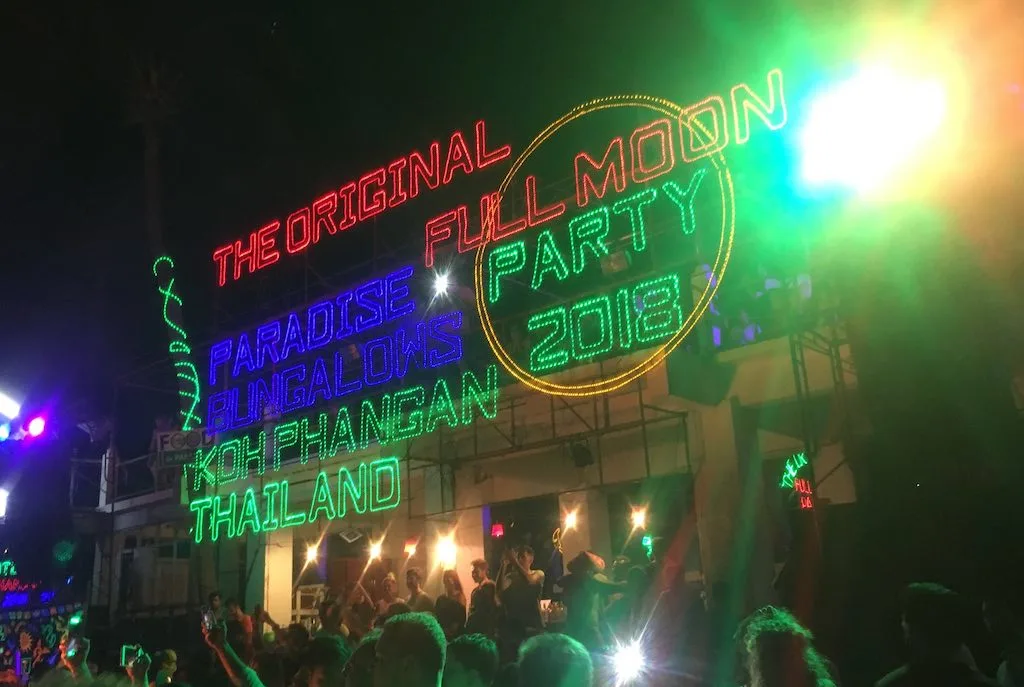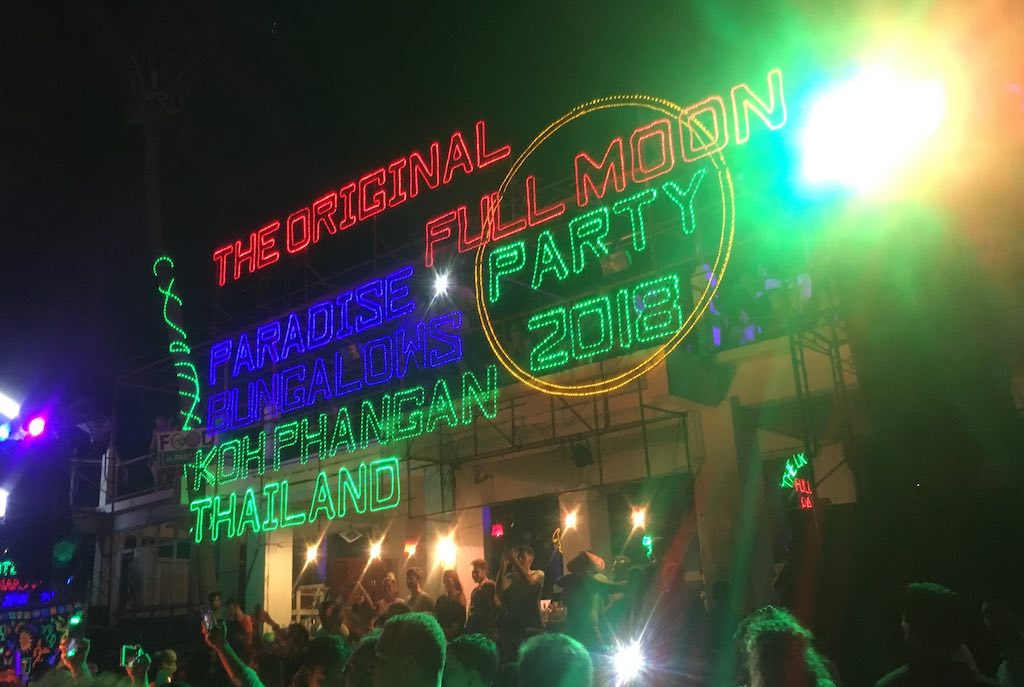 Haad Rin is world-renowned Full Moon Party Beach on Koh Phangan. Not only Full Moon Party takes place on Haad Rin, but also Half Moon, Black Moon, and all kind moon parties. In short, Haad Rin is a party mecca of Koh Phangan.
Haad Rin is one of the most famous beaches in Thailand and the busiest beach of Koh Phangan.
Koh Samui is only 8 km from Haad Rin. 4 times a day boats packed with party-goers come from Koh Samui to Haad Rin on the day of a full moon. Full Moon Party on Koh Phangan attends up to 20.000 party enthusiasts who indulge in all night loud music, dancing, and alcohol. And Haad Rin see hundreds of thousands of them a year!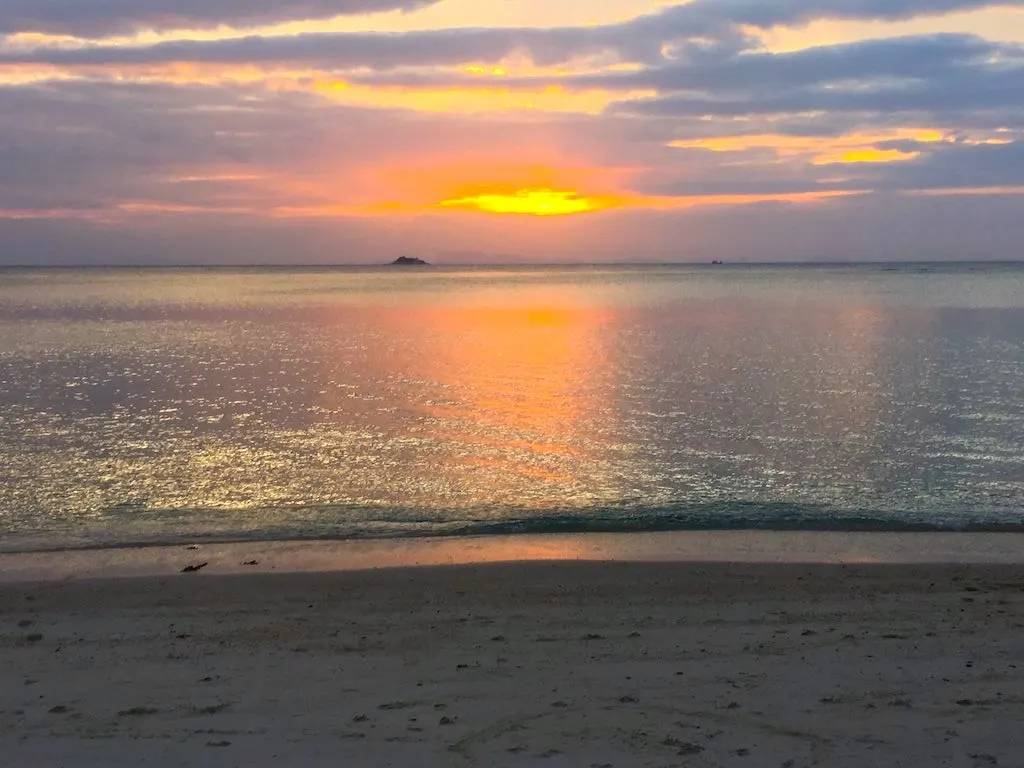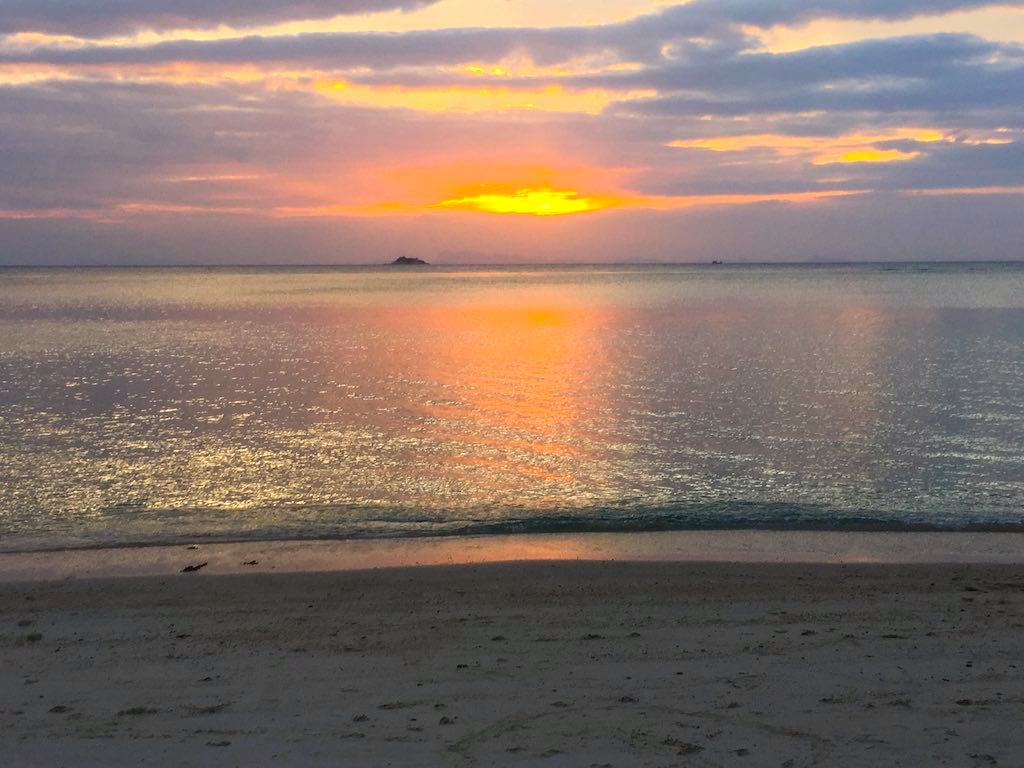 But please, don't be misled. Haad Rin is one of the most beautiful beaches in Koh Phangan.
This crescent-shaped beach with fine white sand is an impressive beach. It is located on the east coast of Koh Phangan in the Rin village. On the west end of Haad Rin is Haad Rin Nai beach good for sunsets and on the east Haad Rin Nock beach excellent for sunrises. In spite of the parties, Haad Rin is a clean beach in Koh Phangan. On days when is not a full moon, Haad Rin is less crowded and you can spoil yourself with sunbathing and swimming on one of the finest beaches in Thailand. Haad Rin doesn't lack beachfront bars and many restaurants and shops are in Rin village.
Where to stay on Haad Rin:
The Coast Resort Koh Phangan, Skymoon Resort, Palita Lodge, Moonstone Studio
MAP OF BEACHES ON KOH PHANGAN
Koh Panang map: Map of 10 best beaches on Koh Phangan island in Thailand
GETTING TO KOH PHANGAN
From Bangkok to Koh Phangan
You can take a flight from Bangkok to Koh Samui Airport or Surat Thani Airport and from there a ferry to Koh Phangan.
Famous Thai ferry companies are Lomprayah, Raja Ferry, Seatran Discovery, Songserm etc.
Ferry schedule and connection is best to check on 12go.Asia
From Koh Samui to Koh Phangan
From Koh Samui, a ferry ride to Koh Phangan takes from half an hour to an hour. Seatran, Lomprayah, and Haad Rin Queen Passenger Ferry run from Koh Samui to Koh Phangan. Lomprayah Ferry is the most expensive and the fastest and Haad Rin Queen Ferry is the cheapest and the slowest option.
From Surat Thani to Koh Phangan
From Surat Thani Airport, first, you need to take a bus and then ferry. Many companies sell combined tickets, like Lomprayah, Seatran Discovery, Songserm, Raja Ferry and Phantip. Lomprayah is the most expensive and the fastest, and Phnatip is the cheapest and the slowest. A Lombrayah ferry ride from Surat Thani to Koh Phangan takes 3 and half hours.
BEST TIME TO GO TO KOH PHANGAN
Koh Phangan has three seasons: a hot season, dry season and rainy (monsoon season).
The dry season is from late December to March, and it is also the main tourist season on Koh Phangan. February is the driest month on Koh Phangan, and March and April have a low chance of rain as well.
The hot and humid season on Koh Phangan is from April to September. The hottest months on Koh Phangan are April, May, and June with average temperatures around 93°F (34°C).
The monsoon season on Koh Phangan goes from September to mid-November.
Best time to visit Koh Phangan is in the dry season from late December to March with average daily temperatures around 86°F (30°C).
YOU MIGHT ALSO LIKE
Have you been to Koh Phangnan? What do you think is Koh Phangan worth visiting? If you haven't visited Koh Phangan yet, I hope this post and Koh Phangan photos made you see why Kopanang island is a sandy paradise everyone should visit at least once in a lifetime.