Vietnam itinerary 10 days: where to go in 10 days in Vietnam, what to see in 10 days in Vietnam and what to do in 10 days in Vietnam.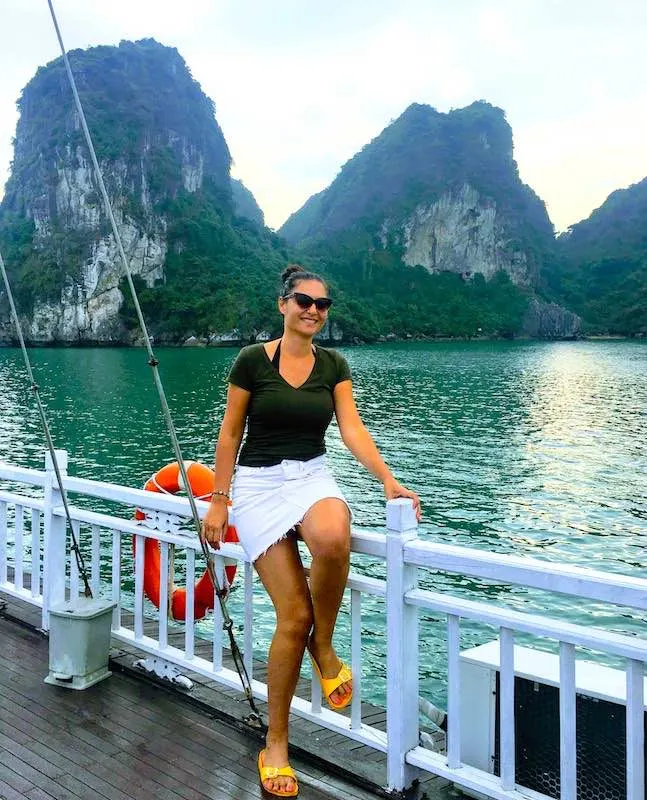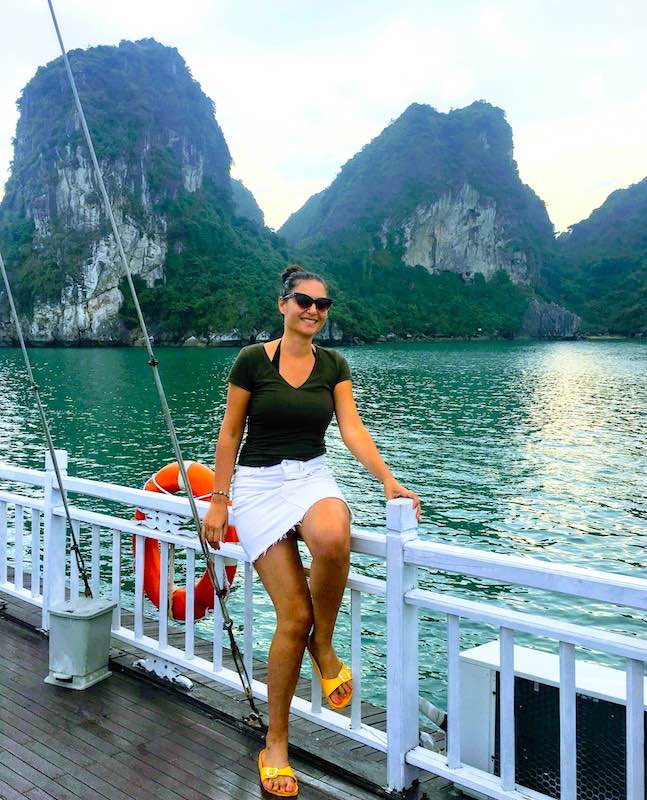 After thoroughly exploring Vietnam from the far south to the far north, I have been asked numerous times how to see the best of Vietnam in short vacation time. Especially, if you have only about 10 days of your vacation.
So, I have rolled my sleeves up, I took my pen and paper and tailored this 10 day Vietnam itinerary for people who have a limited vacation time of only 10 days,but would love to spend the 10 days in Vietnam.
Thus, let me guide you on how to experience the best of Vietnam in 10 days only.
The following Vietnam itinerary 10 days covers traveling Vietnam from the south to the north with arrival in Ho Chi Minh City and departure from Hanoi.
For people who are short with the time and have only 10 days for Vietnam, here's my suggested 10 day Vietnam itinerary which allows them to see famous Vietnam tourist attractions and make most of their trip to Vietnam while optimizing the time, money, and energy.
This 10 day Vietnam itinerary suits perfectly people who wish to travel Vietnam solo, as much as people who wish to travel Vietnam with a partner, family, and friends. This 10 days Vietnam covers all!
RELATED READ:
THIS POST MAY CONTAIN COMPENSATED LINKS. PLEASE READ MY DISCLAIMER FOR MORE INFO.
10 DAYS IN VIETNAM: Vietnam 10 day travel itinerary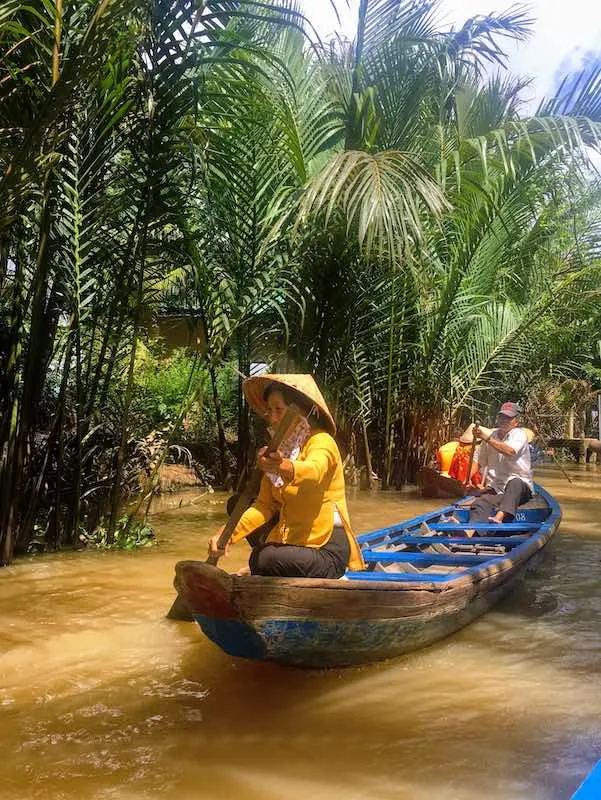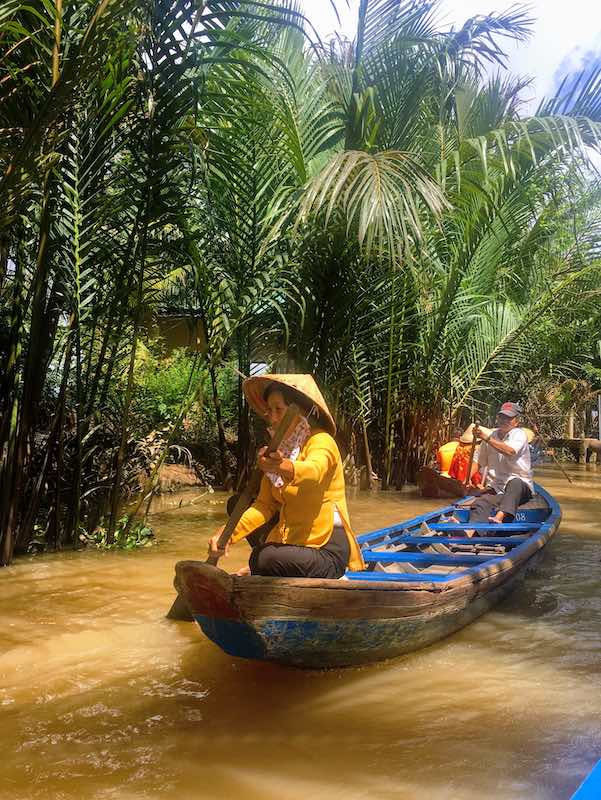 STEPS AND TRAVEL RESOURCES FOR YOUR PERFECT TRIP

1. Find and book your flight: Skyscanner
2. Find and book your stay: Booking.com
3. Get travel insurance (insure yourself against any accident, sickness, theft, and canceled flight): WorldNomads.com
4. Find and book great guided day tours: GetYourGuide
10 days in Vietnam itinerary:
DAY 1-2: HO CHI MINH CITY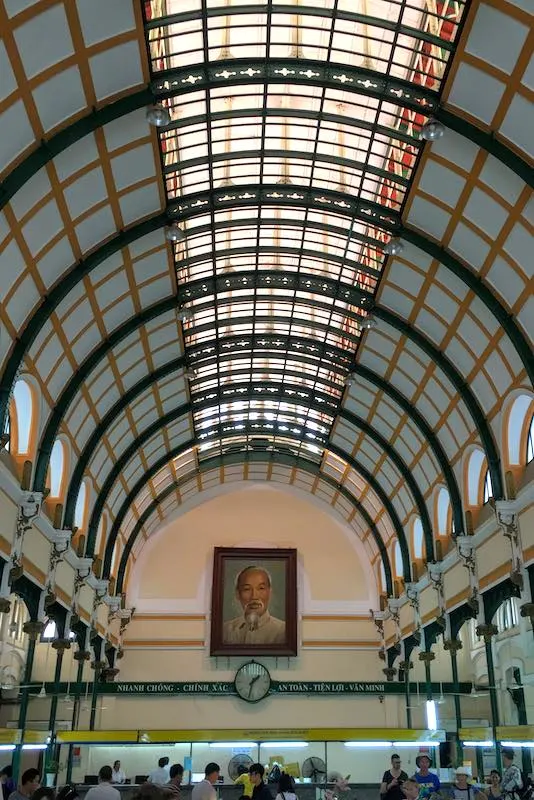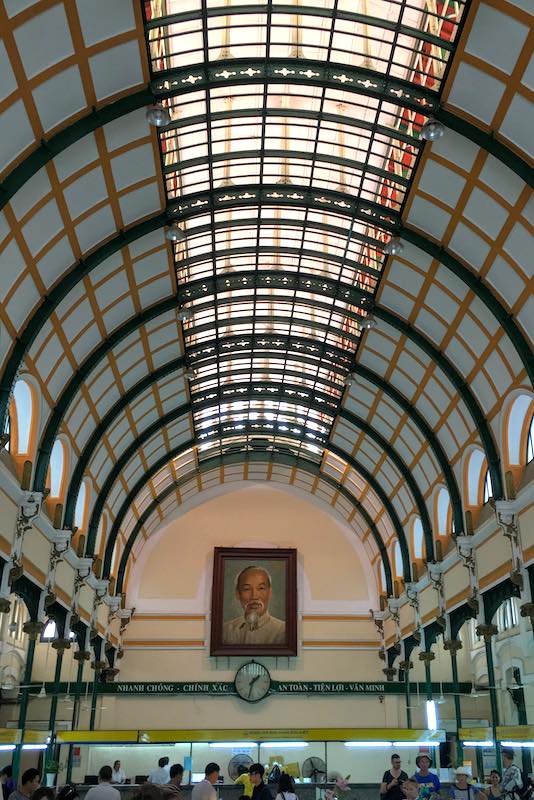 Ho Chi Minh City, popularly known as Saigon, is the largest city in Vietnam and the most visited city in Vietnam.

Ho Chi Minh city airport (Tân Sơn Nhất International Airport) is the major transport hub in Vietnam receiving about 40 million passengers a year. Thus it's easiest to find a flight to Ho Chi Minh City and start your trip to Vietnam in Ho Chi Minh City.

Ho Chi Minh City is a bustling city of complex history and fascinating culture spreading along the Saigon river from the Mekong Delta to the South China Sea. This former capital of the French protectorate of Cochinchina is today a fast-paced city and home to about 13 million people and 7 million motorbikes.
However, Saigon is special for the unique mix of past colonial times, communist times, and fast-changing modern times.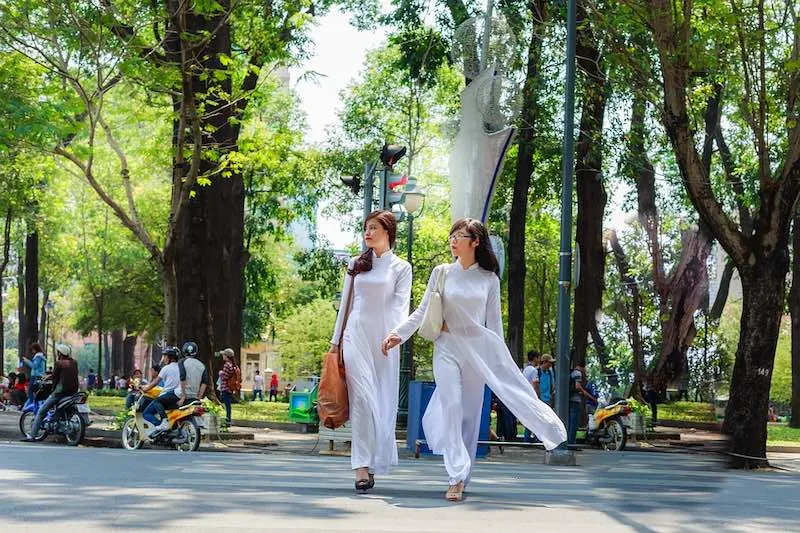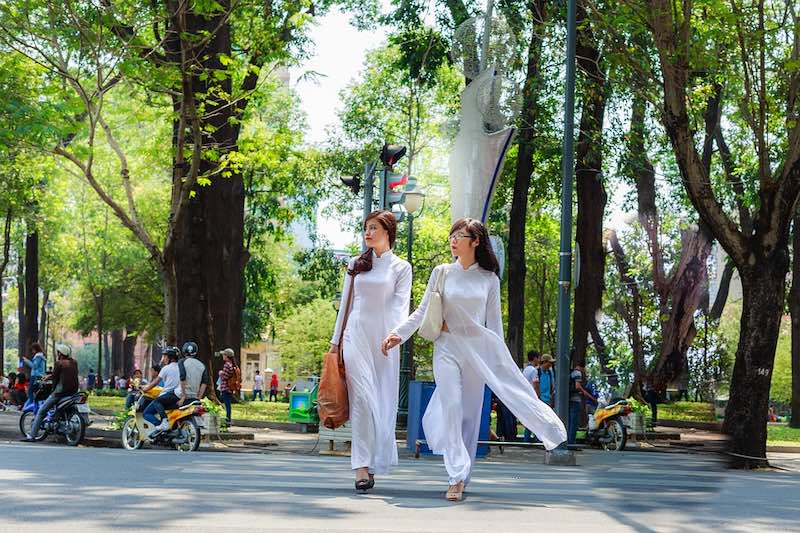 Please plan to spend 2 days in Ho Chi Minh and keep in mind that it's a huge city that has much to offer to the visitors: from sightseeing major Saigon landmarks such as Saigon's Notre Dame Cathedral and Taoist Jade Emperor Pagoda, or touring Cu Chi Tunnels to having a day trip to the nearby Mekong Delta.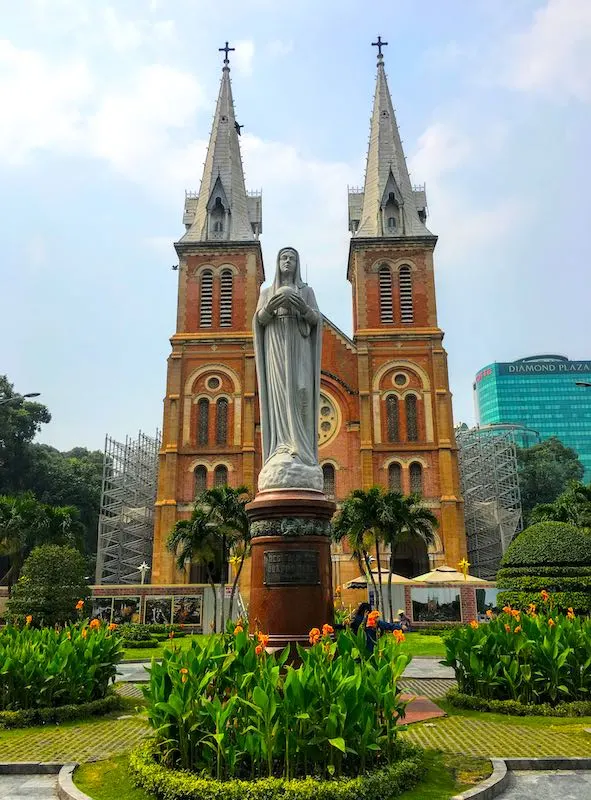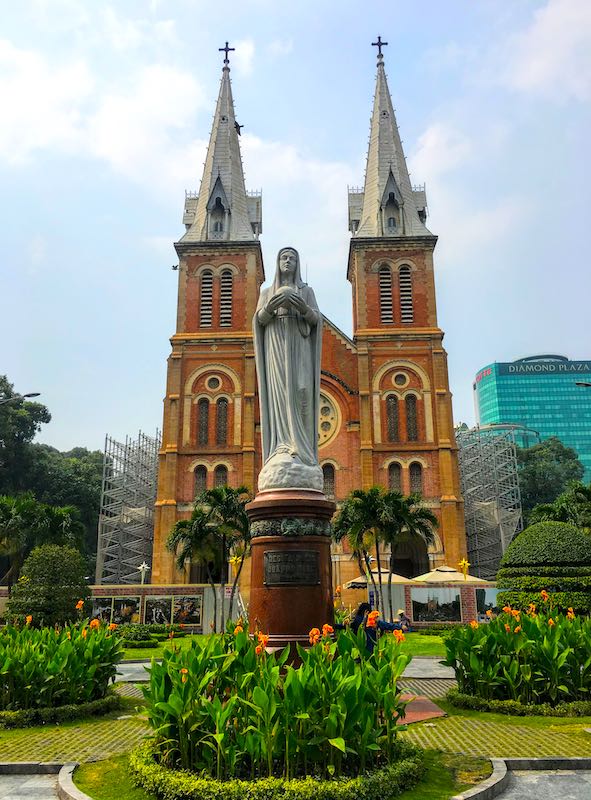 What to do in Ho Chi Minh City: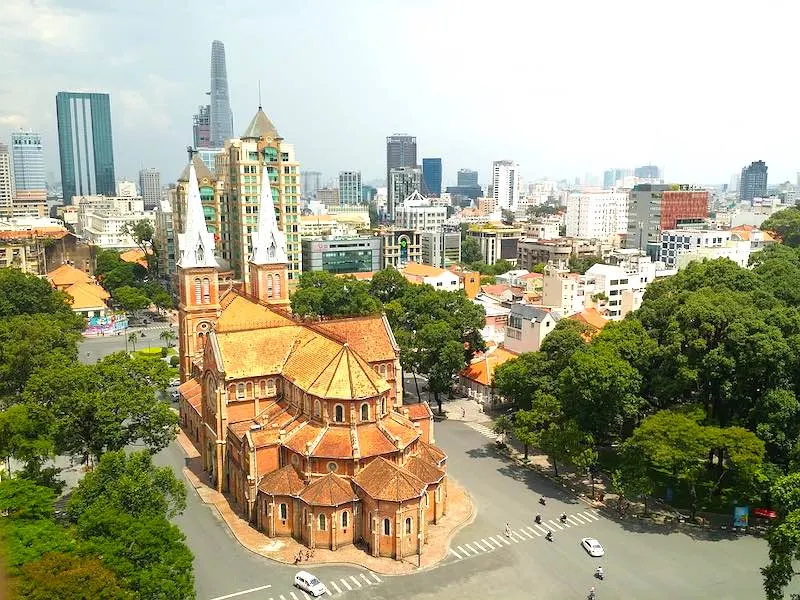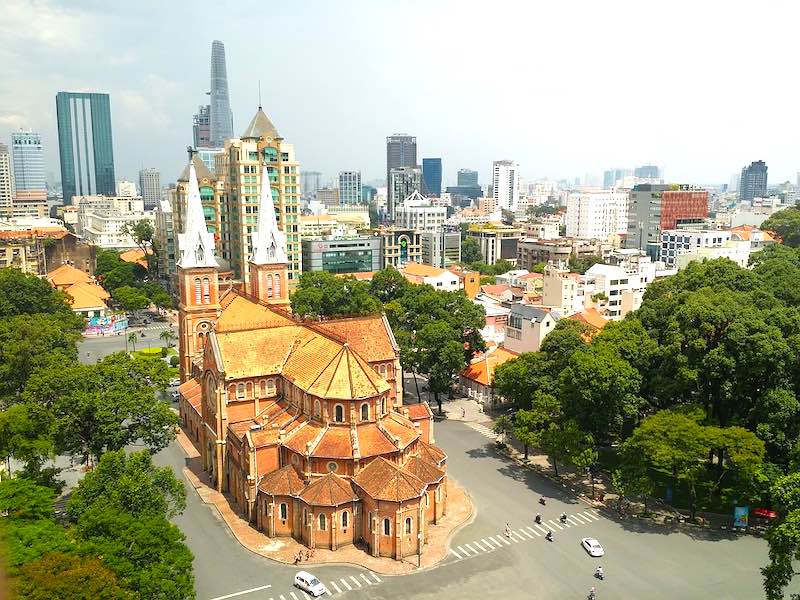 The best things to do in Saigon are:
→ visit Saigon's downtown grand Saigon Notre-Dame cathedral built by French colonialists honoring Notre Dame Cathedral in Paris,
→ go to the nearby impressive Saigon Post Office designed in Gothic, Renessainace, and French style,
→ learn about the Indochina war and the Vietnam war by visiting the moving War Remnants Museum,
→ experience bustling Binh Tay Market in Saigon's Chinatown and Ben Thanh Market, the largest market in Vietnam, a landmark of Ho Chi Minh City, and a place in Sagoin where you can sample some of the best Vietnamese food in Vietnam,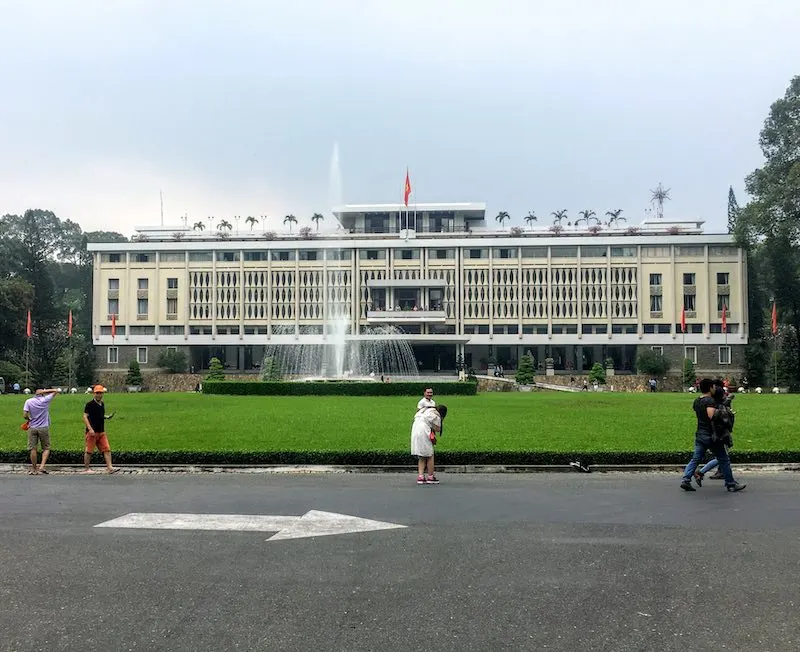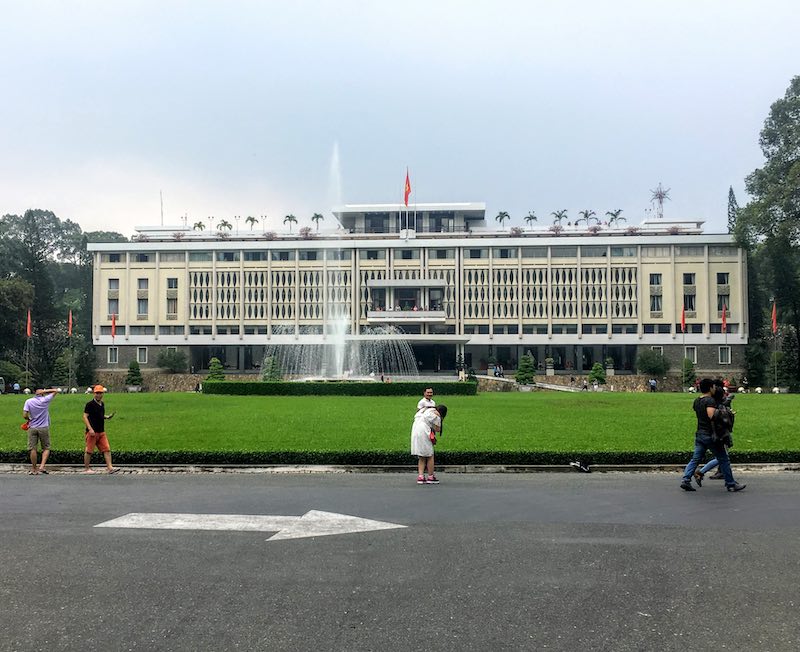 → learn about Vietnam's history at the Independence Palace in the center of Ho Chi Minh City,
→ go to the rooftop bar on the 50th floor of the Bitexco Financial Tower (aka Saigon SkyDec) for stunning 360-degree views of Saigon,
→ visit the Chinese Taoist Jade Emperor Pagoda (Tortoise Pagoda),
→ go for a traditional musical puppet show at the Golden Dragon Water Puppet Theatre in Tao Dan Park,
→ visit underground Cu Chi Tunnels used during the Vietnamese War with the USA in the Củ Chi District, → do some bar hopping at Pham Ngu Lau Street,
→ visit the interesting and unique Cao Dai Temple near Ho Chi Minh (Cao Dai or Caoidism is a uniquely Vietnamese religion, and a mix of Buddhism, Taoism, Confucianism, Christianity, and Islam) and
→ take a day tour to Mekong Delta.
Click here to get the best rates for your stay in Ho Chi Minh City.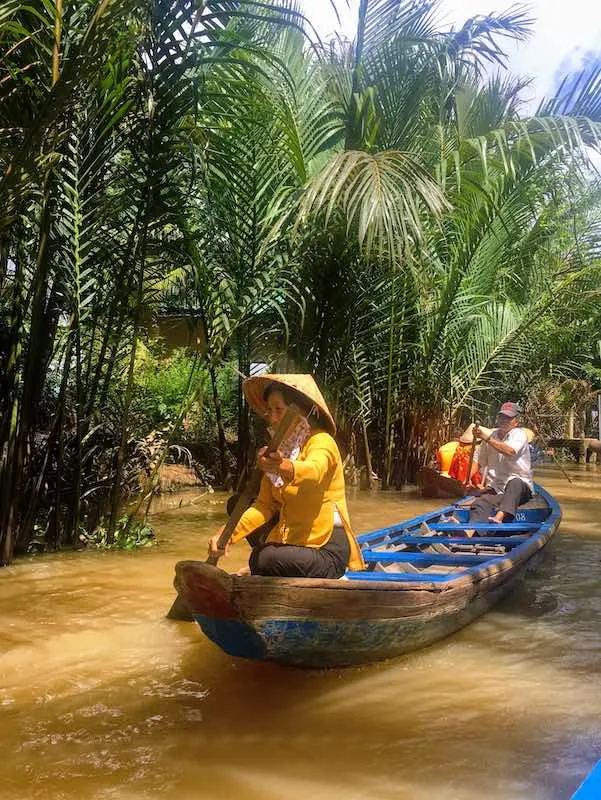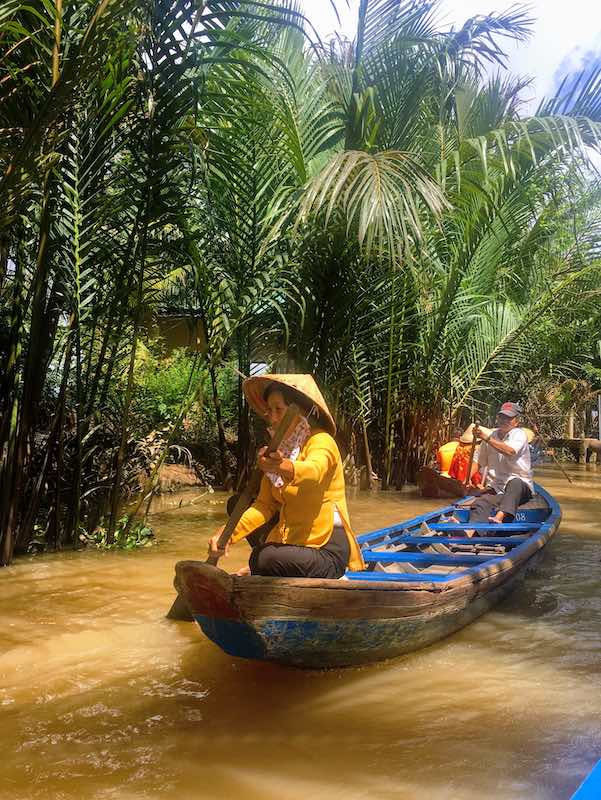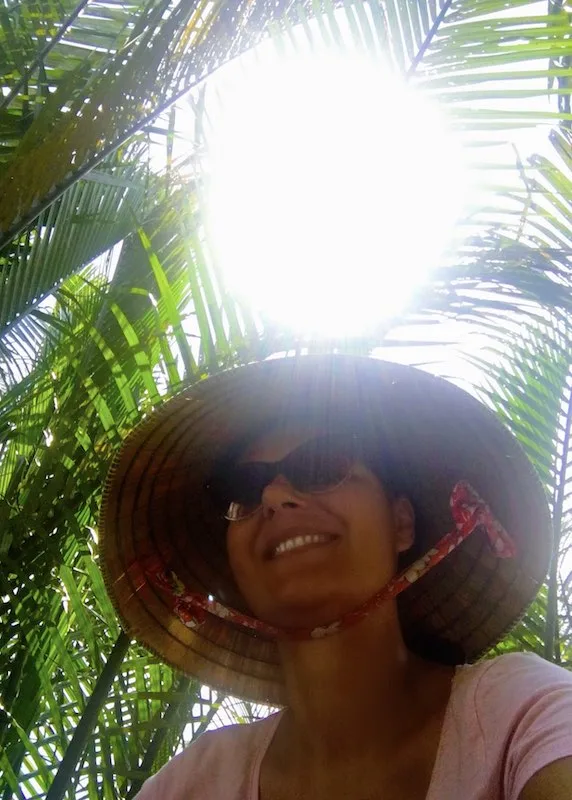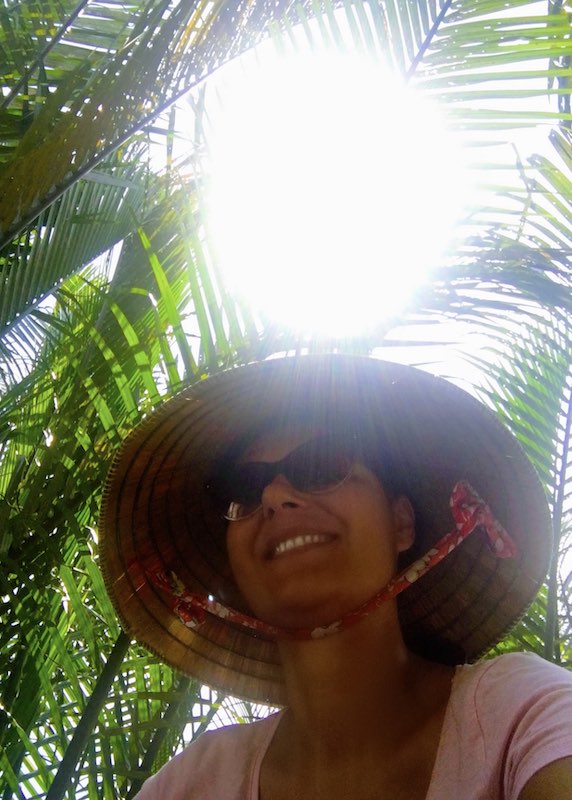 After 2 days of exploring Ho Chi Minh City, this Vietnam itinerary 10 days continues with the charming town of Hoi An.
The distance between Ho Chi Minh City and Hoi An is about 585 mi (940 km). The fastest way to travel is to take a direct flight from Ho Chi Minh City to Da Nang. A direct flight takes only about 1-1,5 hours. There is a shuttle bus from Da Nang to Hoi An. And, a shuttle bus ride from Da Nang to Hoi An takes about 45 min.
Day 3-4: HOI AN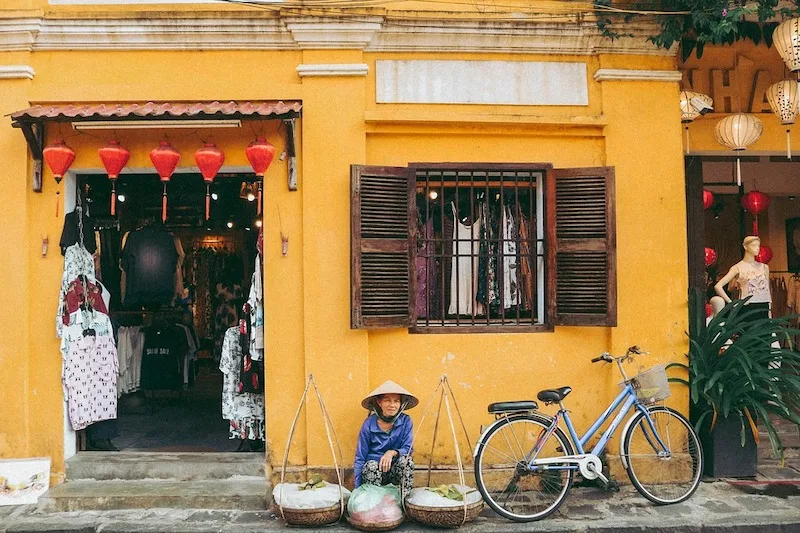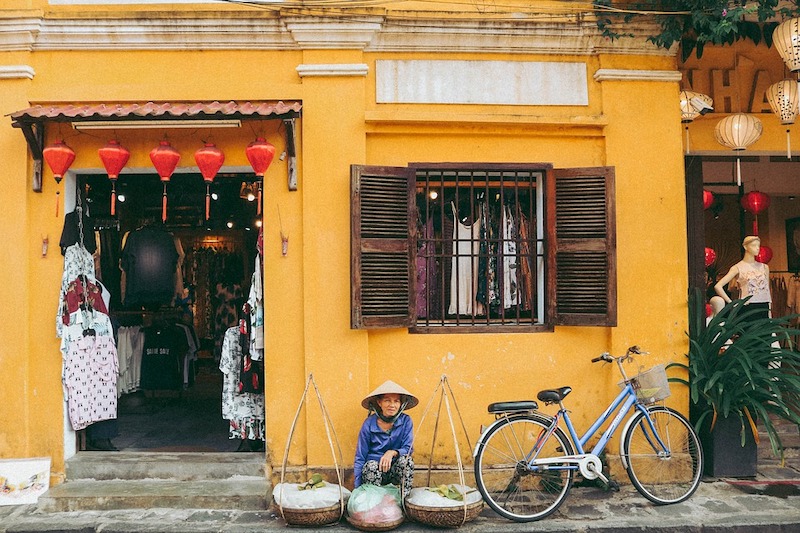 Hoi An, literally meaning 'Peaceful Meeting Place' is an ancient Vietnamese town built on the channels at the estuary of the Thu Bồn River.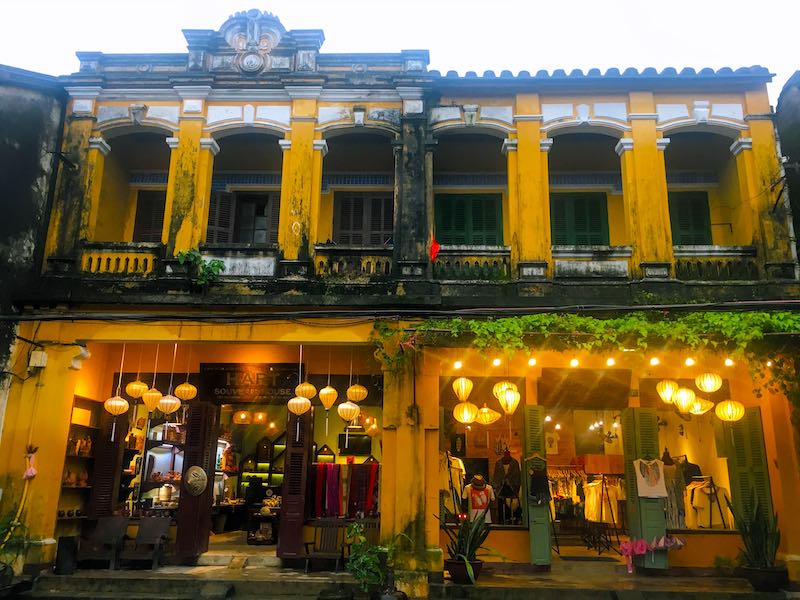 The Old City of Hoi An is one of the most beautiful cities in Vietnam and a UNESCO World Heritage site.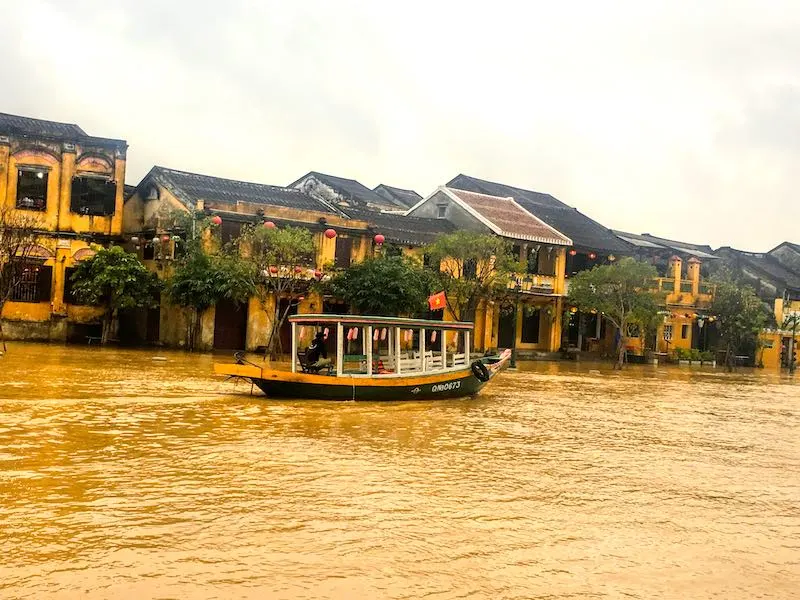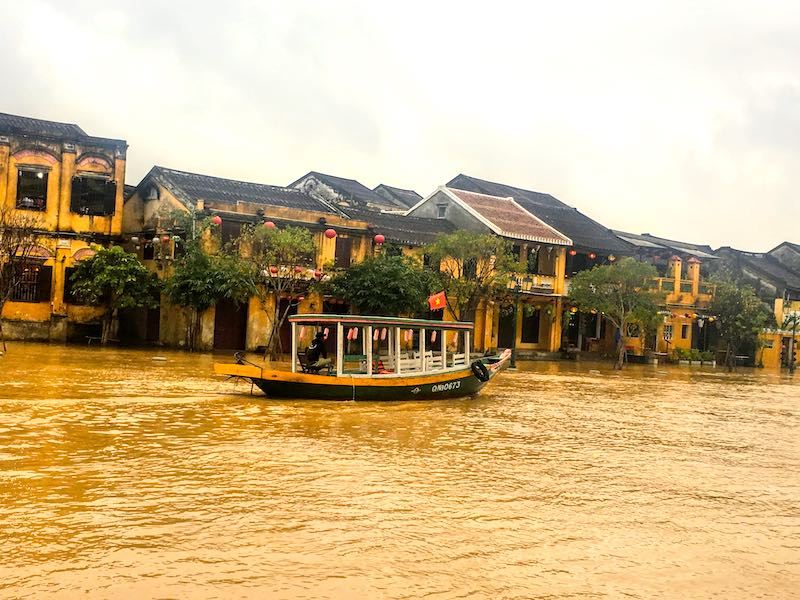 From the 15th century to the 19th century the ancient city of Hoi An was an important trading port for Vietnamese, Chinese, Portuguese, Japanese, Duch, and Indians, who left their mark on the diverse architectural styles of Hoi An.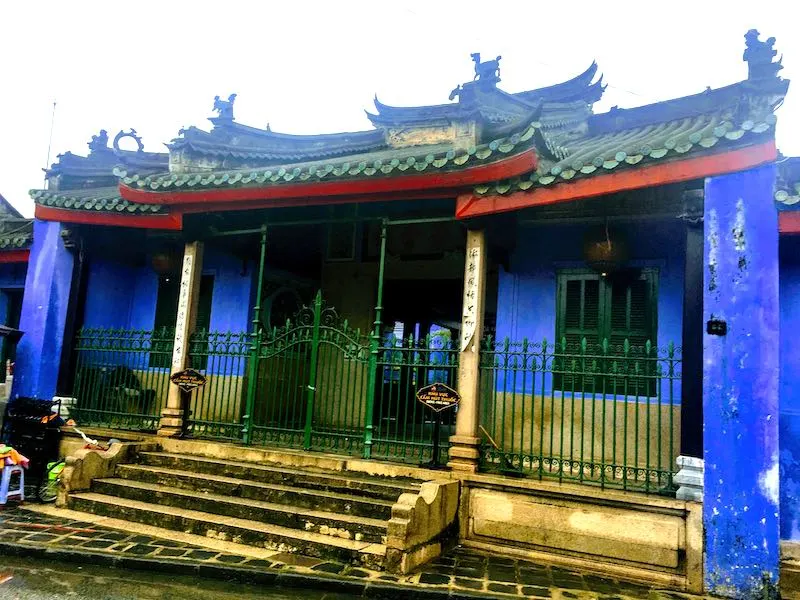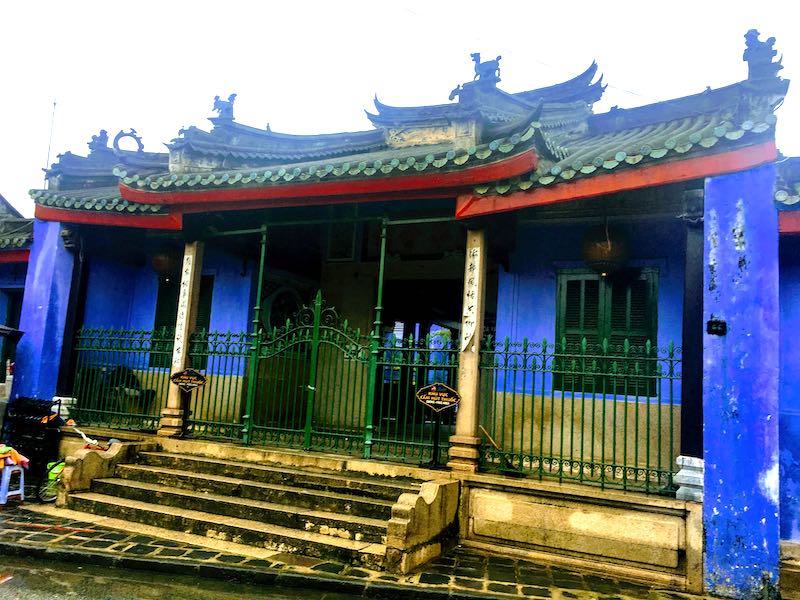 The Old Hoi An adorns beautifully decorated Vietnamese tube houses, wooden Chinese stores, intricate Chinese temples, and Buddhist pagodas, carved family cult houses, bright and vibrant French colonial buildings, and the famed Japanese Covered Bridge.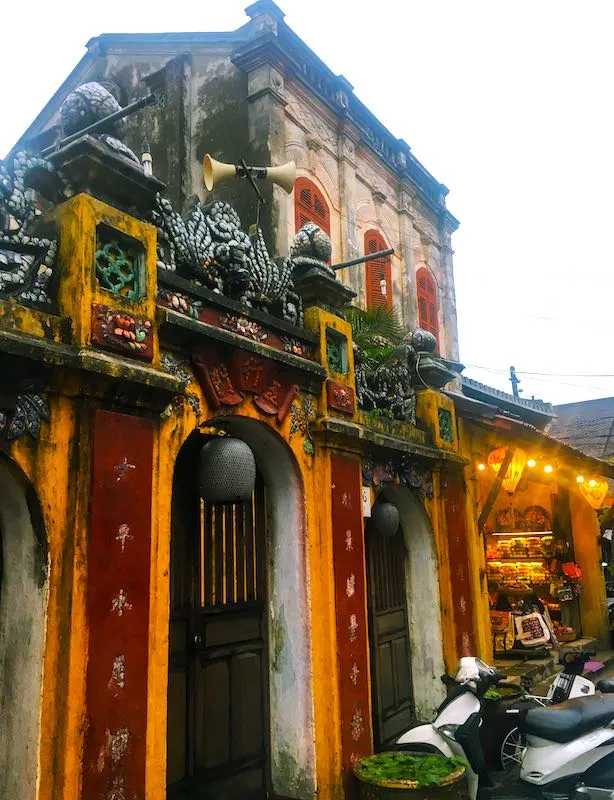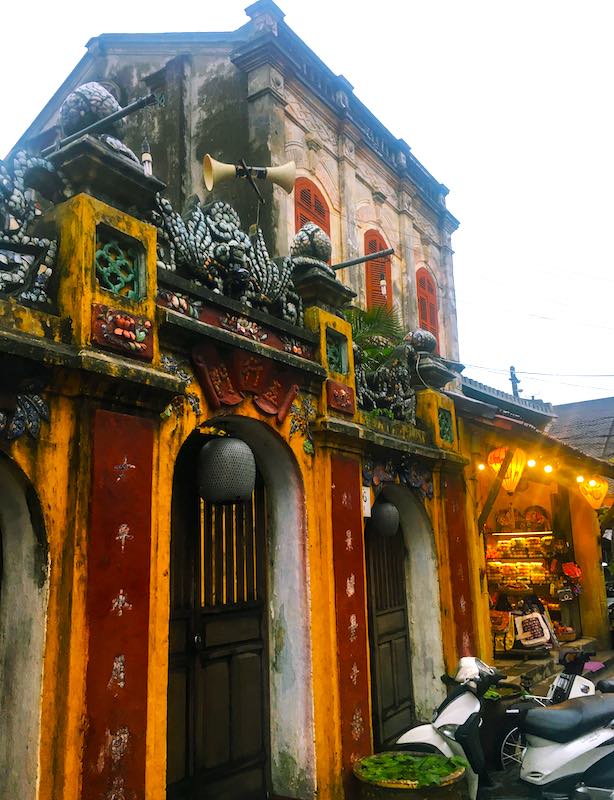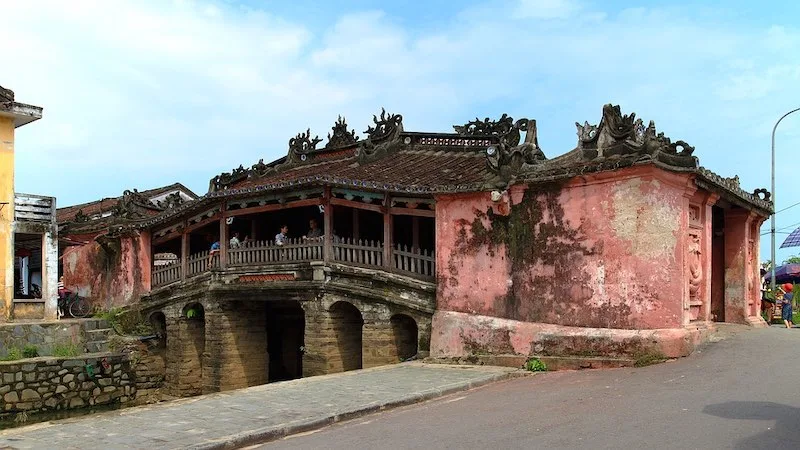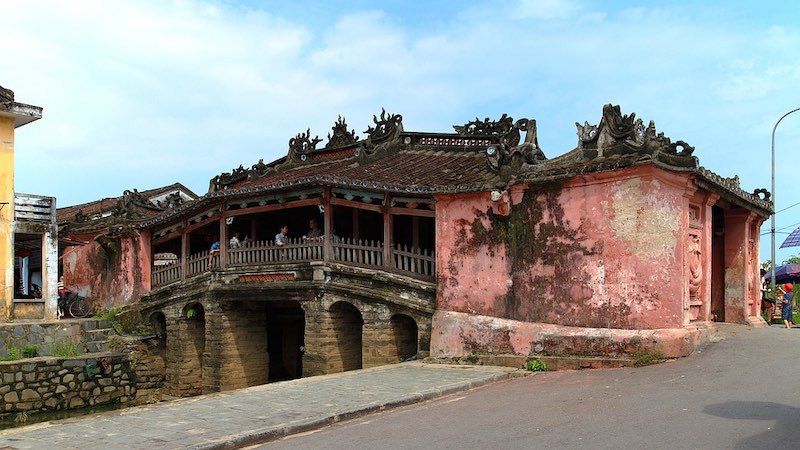 Luckily, motorbikes and cars are not allowed in the city, which makes strolling Hoi An on foot or cycling the city even more beautiful.
Click here to find your stay with the best rates in Hoi An.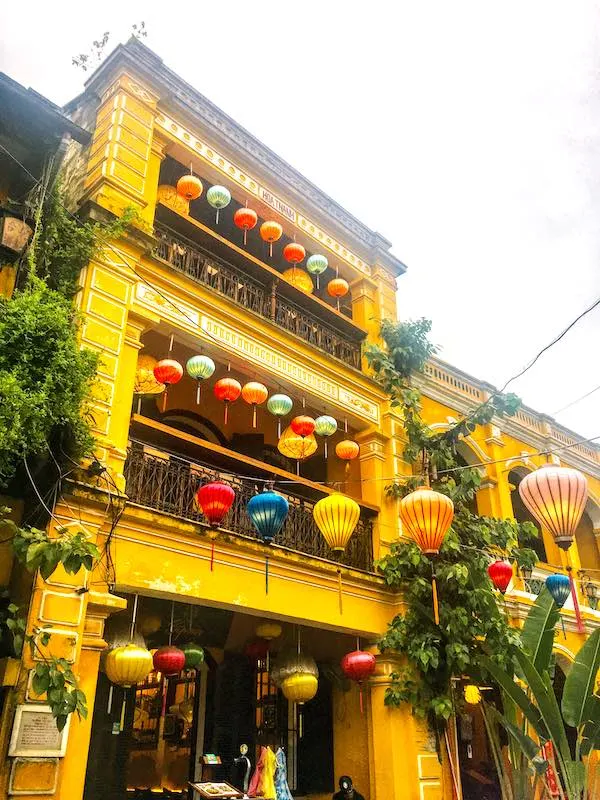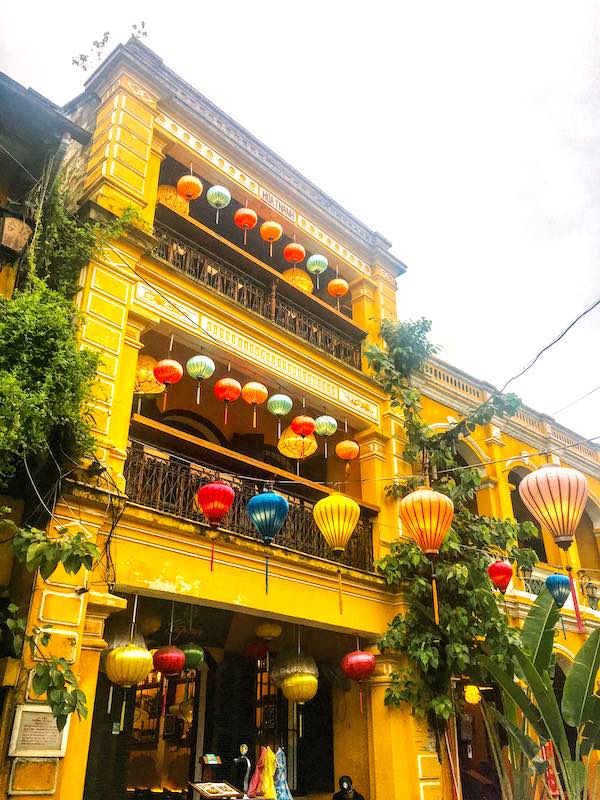 What to do in Hoi An:
→ stroll the picturesque ancient city and beautiful Hoi An's riverside,
→ see the famous Japanese Covered Bridge, visit the eye-catching Assembly Hall of the Fujian Chinese Congregation,
→ learn about Hoi An history at the Hoi An Museum,
→ buy a tailored made suit (Hoi An is famous for the tailoring industry and is the best place to get tailor-made clothing in Vietnam),
→paddle a basket boat among the water coconut palms,
→ get a traditional Vietnamese lantern at the Lantern Market,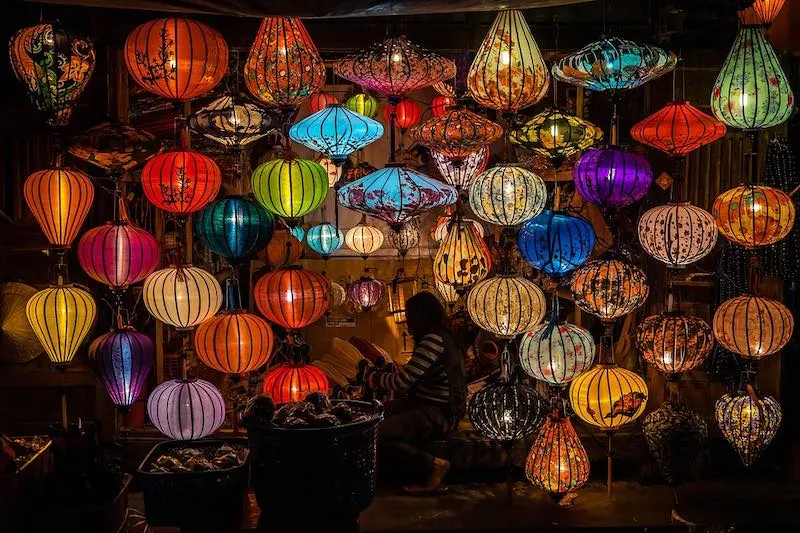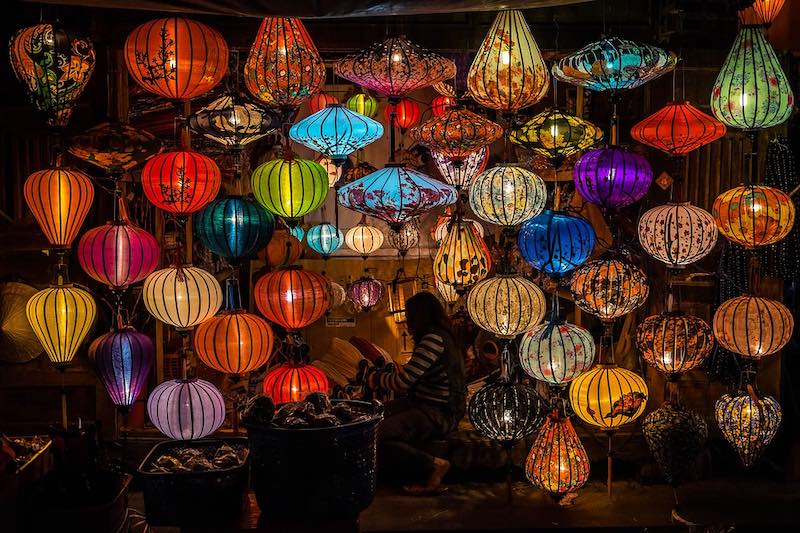 → visit the Museum of Trading Ceramics,
→ see the intricate Tan Ky Family House of famous Hoi An merchants,
→ enjoy the sun on An Bang Beach,
→ taste authentic Hoi An's Cao Lao dish made of brown rice noodles with lye water,
→ take a day tour to Cham island and explore Vietnamese sea life,
→ visit the nearby Marble Mountains (check out this Marble Mountains and Linh Ung Pagoda Half-Day Tour),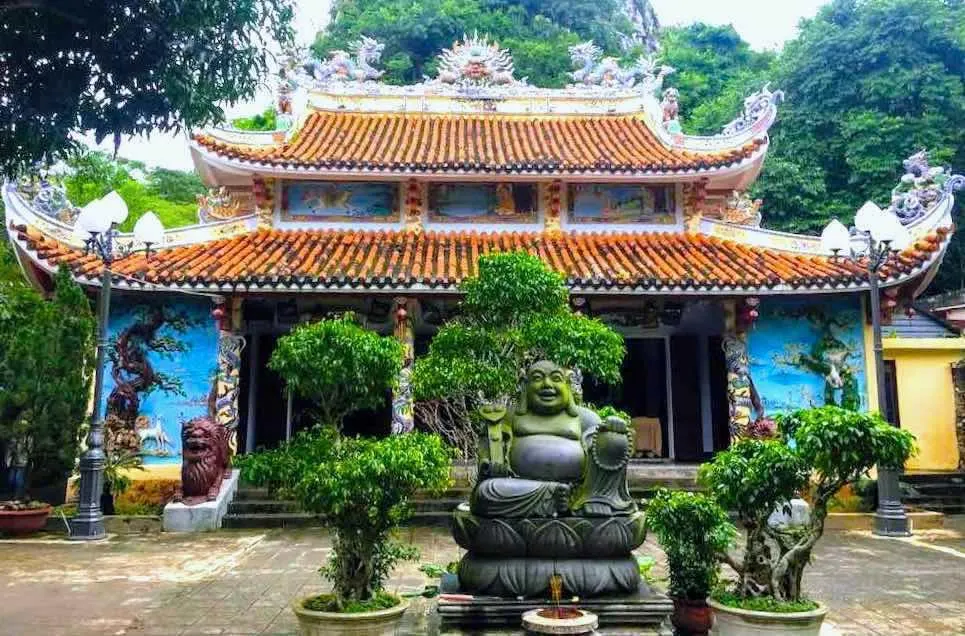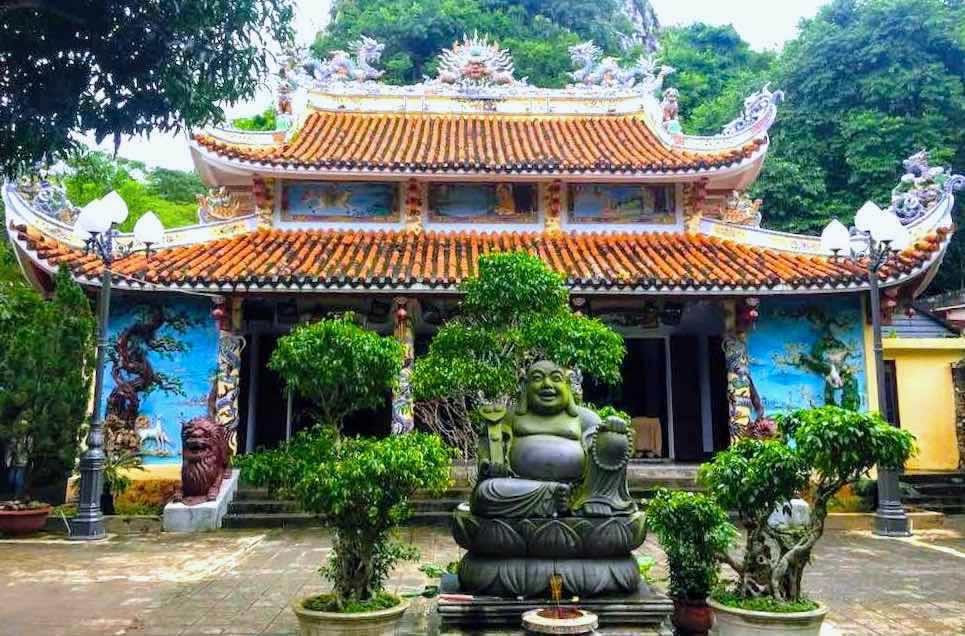 After 2 days of immersing yourself in Hoi An's history and culture and getting authentic experiences in Hoi An, head from Hoi An to Hanoi, the capital of Vietnam.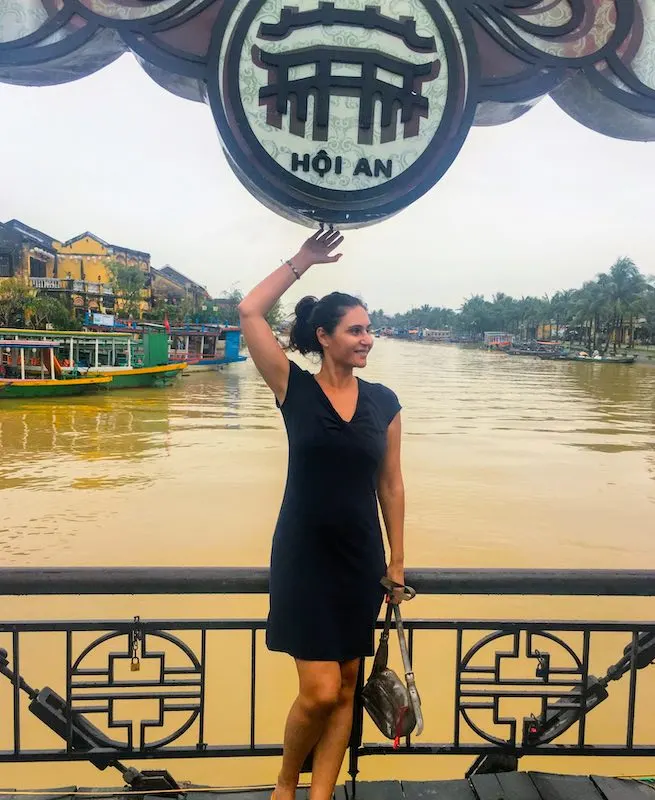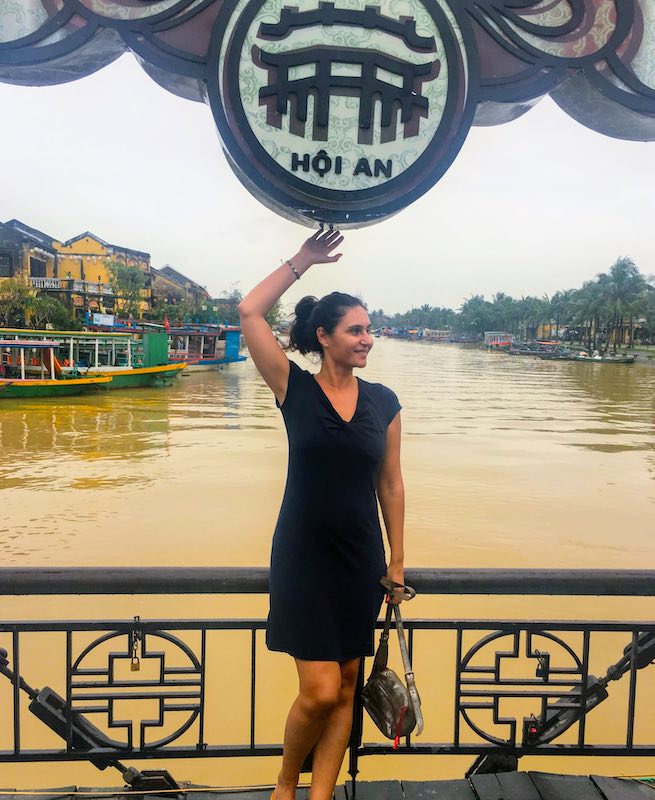 The distance between Hoi An and Hanoi is 497 mi (800 km) and it takes 2 hrs by plane, 17 hrs by train, and 17 hrs by bus.
The fastest and cheapest way is by plane. You can find a plane ticket from Hoi An to Hanoi for about 40 USD, a train ticket for about 35 USD, and a bus ticket for about 15 USD.
I strongly recommend taking a flight from Hoi An to Hanoi. A flight ticket might be a few bucks more, but the time and energy you save by flying instead of having a long and exhausting 17-hour bus or train ride from Hoi An to Hanoi are incomparable. If you take a flight, you will fly again from Da Nang Airport to Hanoi Airport. There are about 20 flights a day between Hoi An and Hanoi.
Day 5-6: HANOI
Hanoi is the capital of Vietnam and the second-largest city in Vietnam. As might be expected, this gripping and hectic city reflects rich Southeast Asian, Chinese, and French heritage.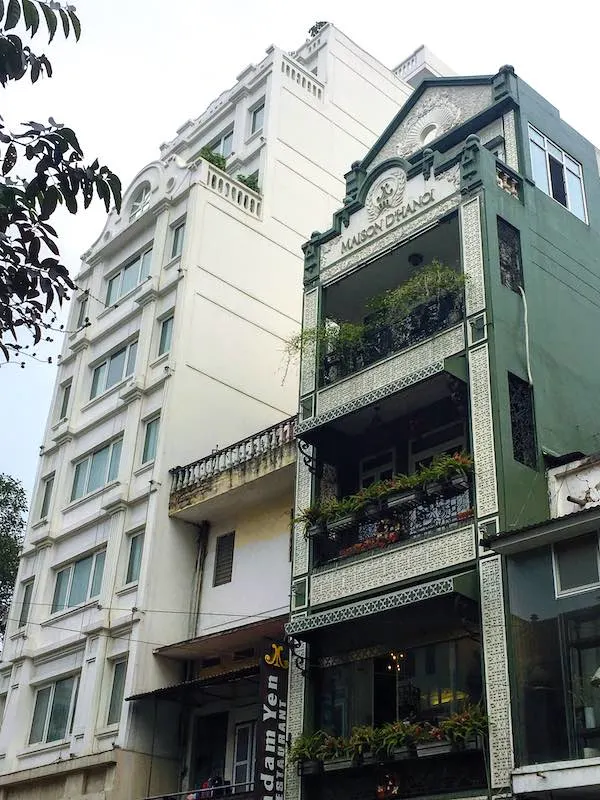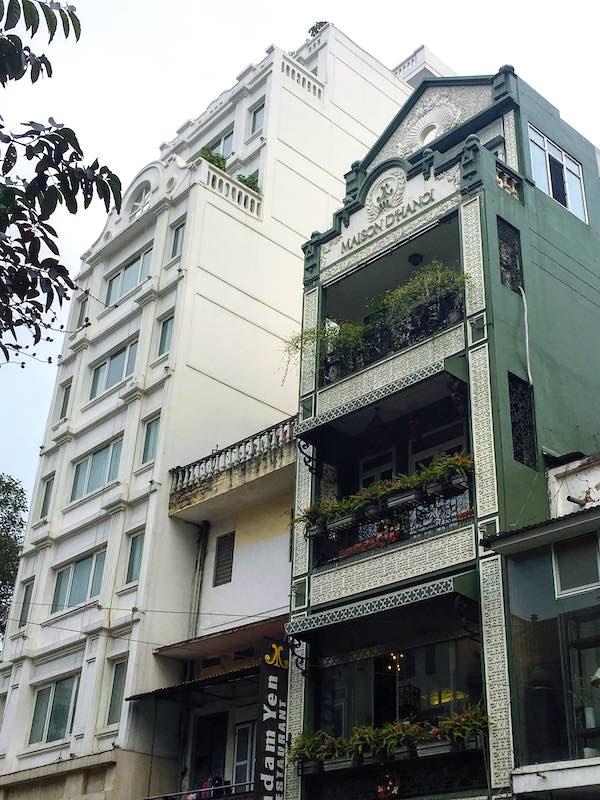 But although a frenetic city, Old Hanoi is actually easy for sightseeing as you can go from one tourist attraction to another on foot.
There are two top areas to stay in Hanoi for exploring Hanoi comfortably: the charming Old Quarter and the elegant French Quarter.
The French Quarter offers more luxurious accommodation while the Old Quarter is more budget-friendly. But whatever quarter you choose, the main tourist attractions in Hanoi will be in front of your nose.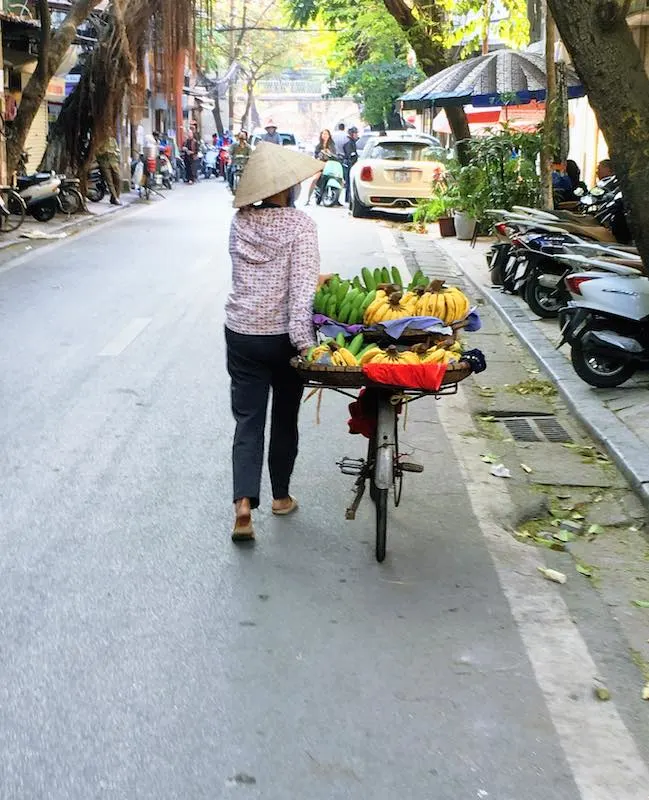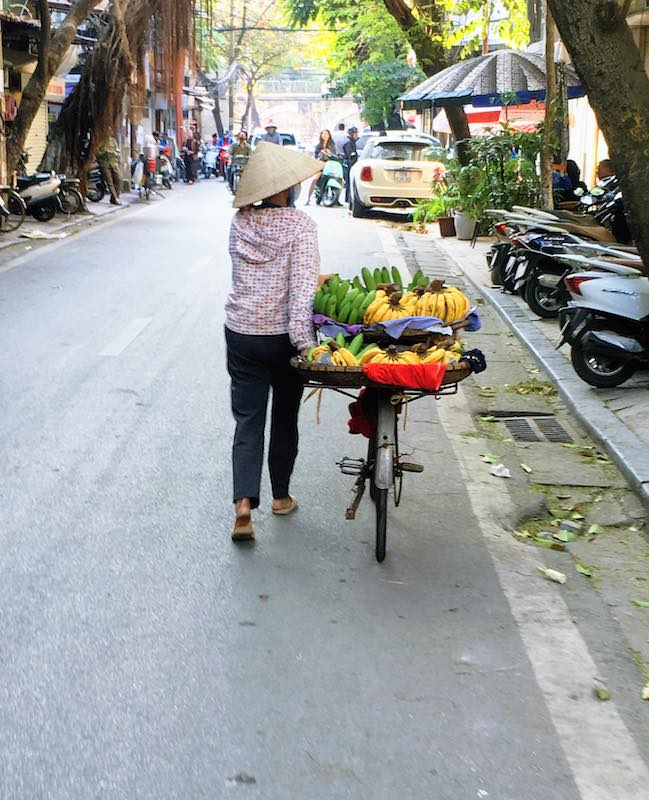 What to do in Hanoi:
→ visit serene Ho Loan Kiem lake (or 'Lake of the Returned Sword') with the red Húc bridge and the Temple of the Jade Mountain (or the Ngoc Son temple) in the center of historic Hanoi.
The serene lake's shores are a favorite spot for locals exercising and practicing tai chi. In contrast to the nearby bustling Dong Kinh Nghia Thuc public square.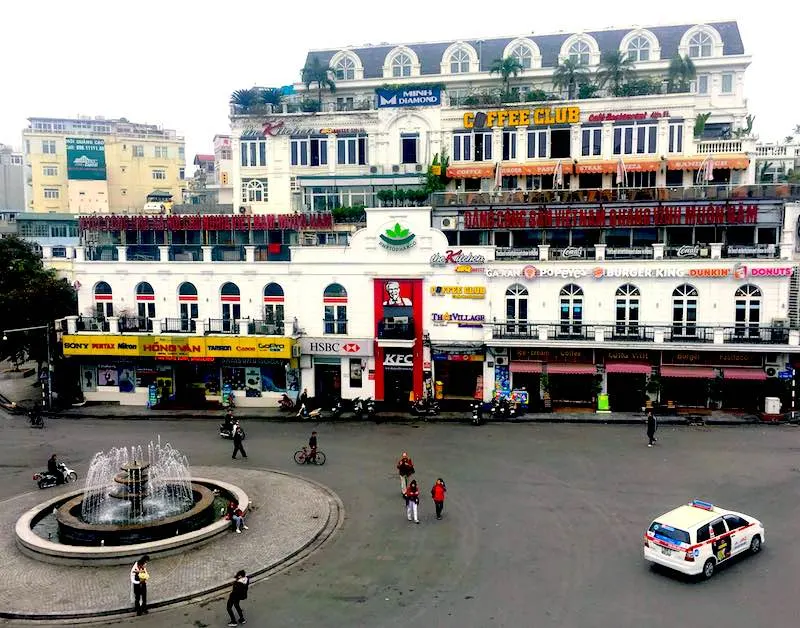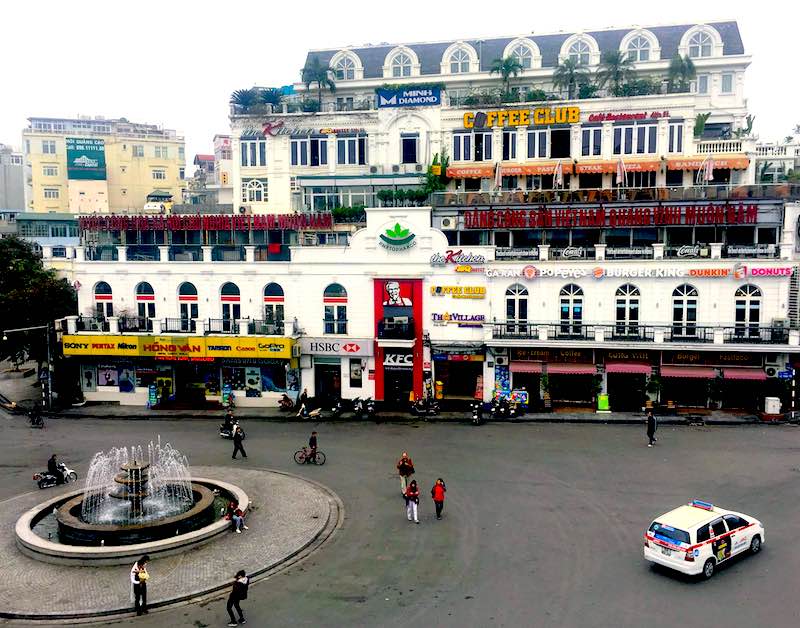 → just several steps away from the lake you will find grey Gothic Saint Joseph Cathedral and Hoa Lo Prison Memorial (at first a French colonialists prison for political prisoners in French Indochina and later a North Vietnam prison for US prisons known as Hanoi Hilton).
The Old Quarter is only a few min away from there.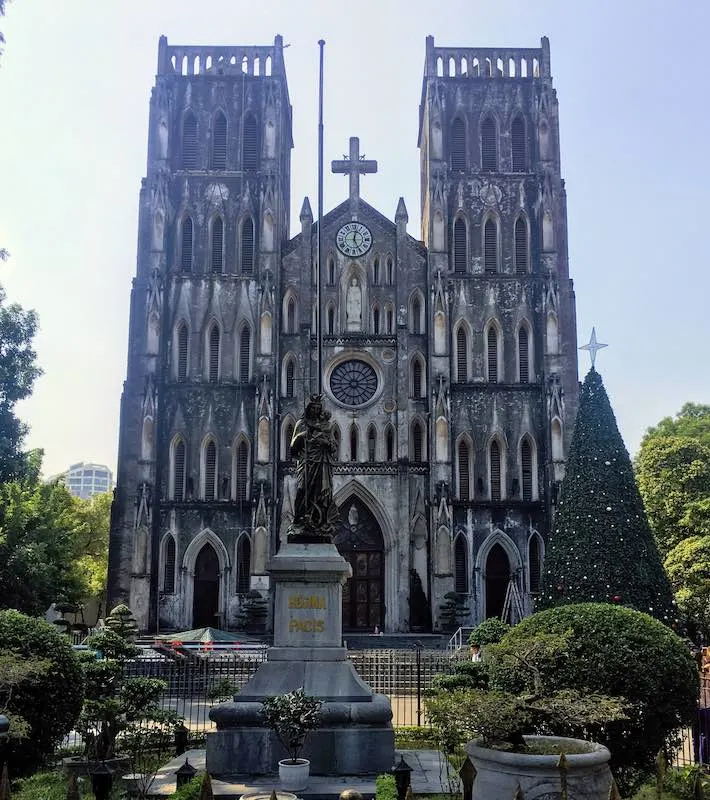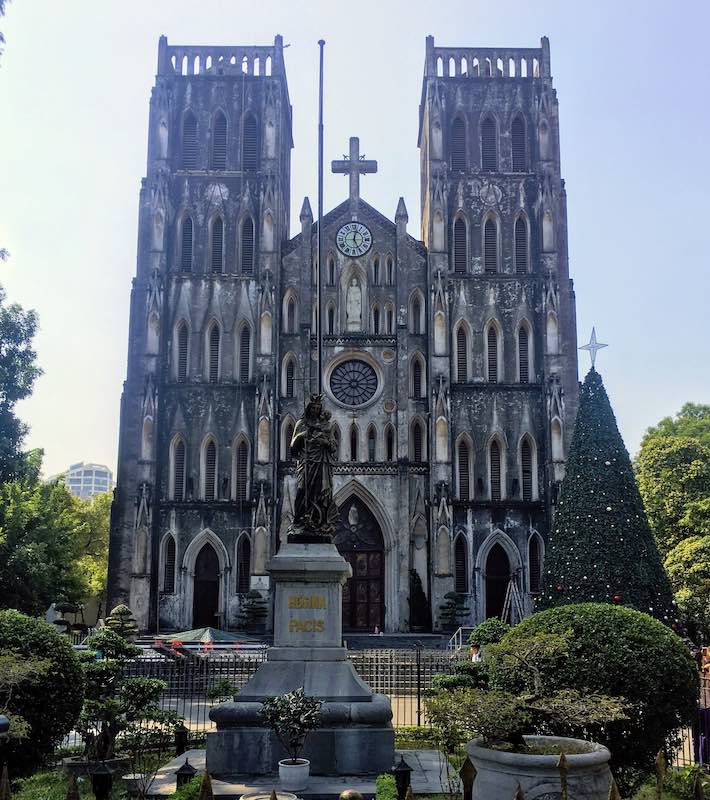 HANOI OLD QUARTER
The charming Old Quarter with a net of intersecting streets was once a home of Hanoi's trade guilds and ever since then, it has been the most vibrant quarter of Hanoi.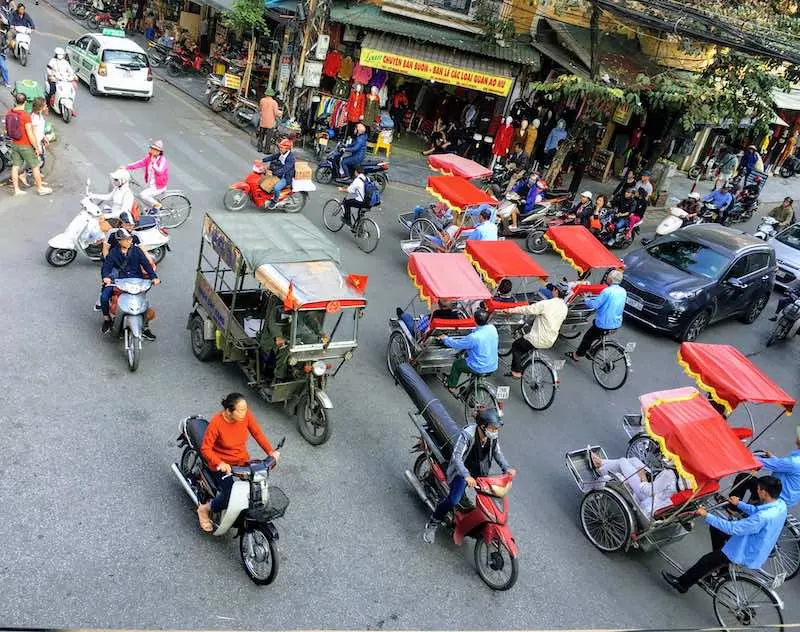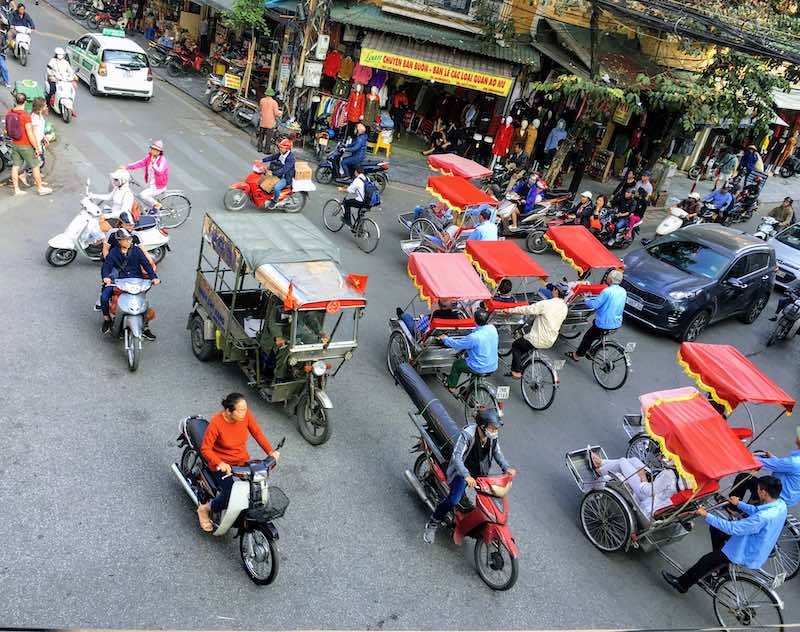 → The Old Quarter is home to a popular well-preserved traditional Vietnamese Ancient House and the famous Temple Of Literature.
The temple was dedicated to Confucius and was a royal university for Confucius students dating back to 1070.
→ The Old Quarter houses today's Instagram-famous Hanoi Train Street, a narrow street where the train shockingly goes in front of people's homes.
The Hanoi train street is officially known as Ngo 224 Le Duan. Nowadays is one of the most popular tourist attractions in Hanoi.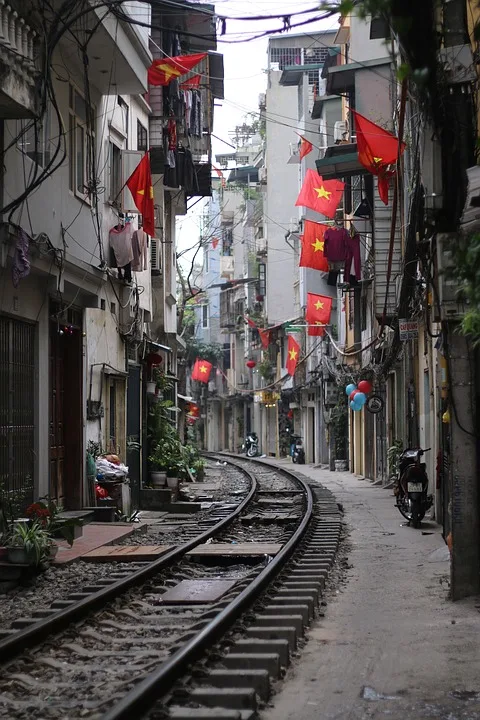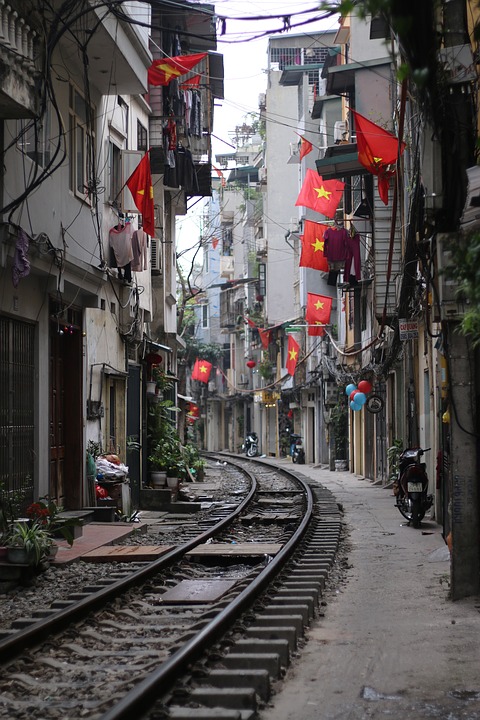 HANOI FRENCH QUARTER
Hanoi's French Quarter is a completely different story from the Old Quarter.

It's more luxurious with colonial architecture and many upscale hotels, restaurants, shops, and government buildings.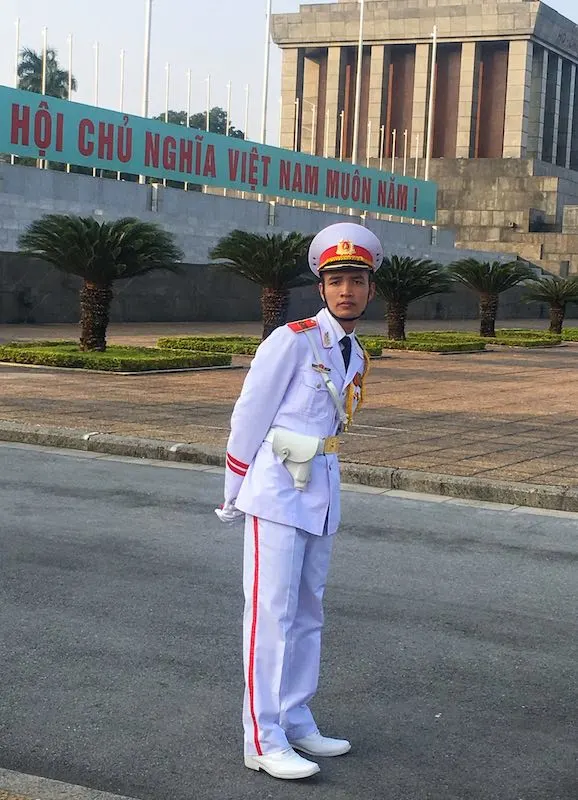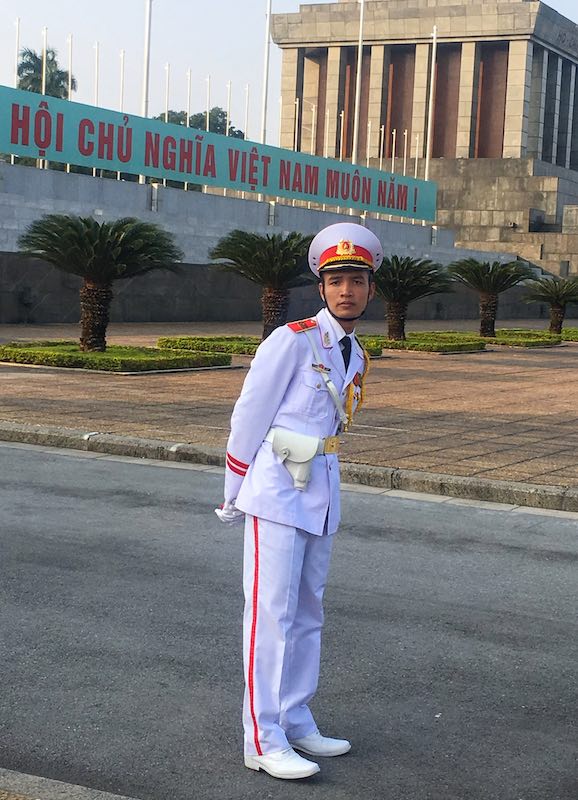 Some of the best things to do in Hanoi:
→ visit Tran Quoc Pagoda (the oldest Buddhist temple in Vietnam) on an inset near Hanoi's West Lake, → visit Ho Chi Minh Mausoleum and Museum (the resting place of Vietnamese beloved leader Ho Chi Minh),
→ relax in the green Hanoi Botanical Garden built during the French Colonial times,
→ head to Thăng Long Imperial Citadel ( the only UNESCO site in Hanoi),
→ watch the show at Thang Long Water Puppet Theatre in Hanoi (get your Thang Long Water Puppet Theatre Skip-the-Line Entry Ticket),
→ take a street food walking tour and
→ enjoy traditional Vietnamese coffee in a casual Vietnamese cafe with small plastic chairs sprawling onto the sidewalks in the Hai Ba Trung district.
Click here to get the best rates for your stay in Hanoi.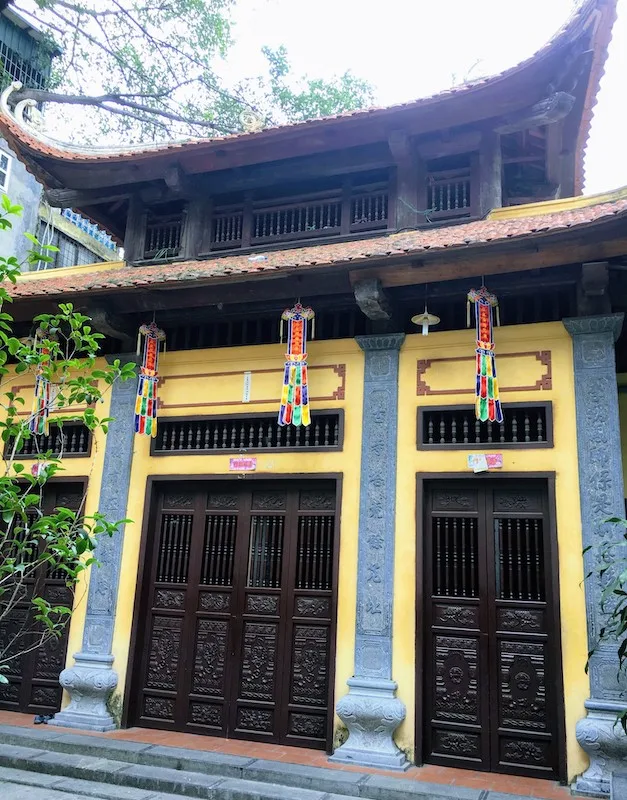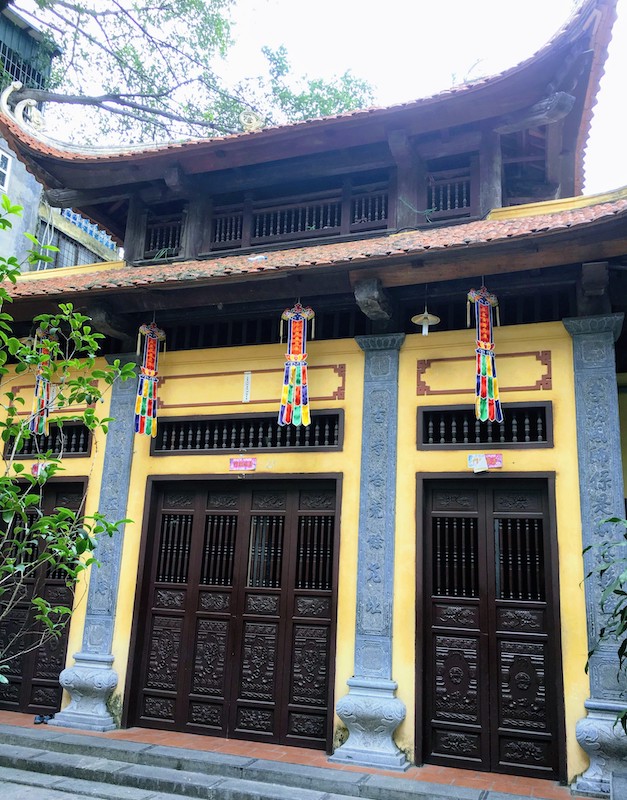 After 2 days in Hanoi, head to Halong Bay.
Day 7-8: HALONG BAY
The Ha Long Bay is a world-famous bay with thousands of arrestingly beautiful islands and dramatic limestone cliffs. Amazing Halon Bay is a UNESCO World Heritage site.
If you want to enjoy Halong bay in a proper way, consider taking an overnight cruise in Halong Bay. In my opinion, only glimpses of Halong Bay can be experienced on a day tour from Hanoi.
To experience Halong Bay at its best means taking an overnight cruise.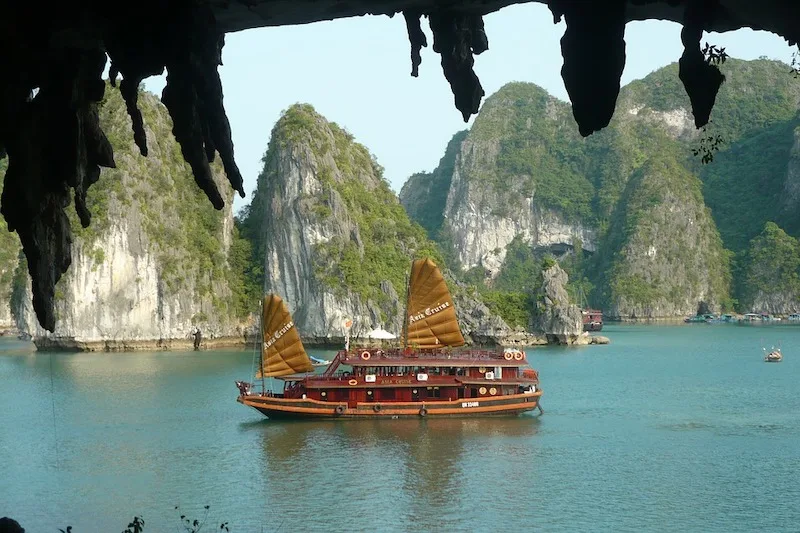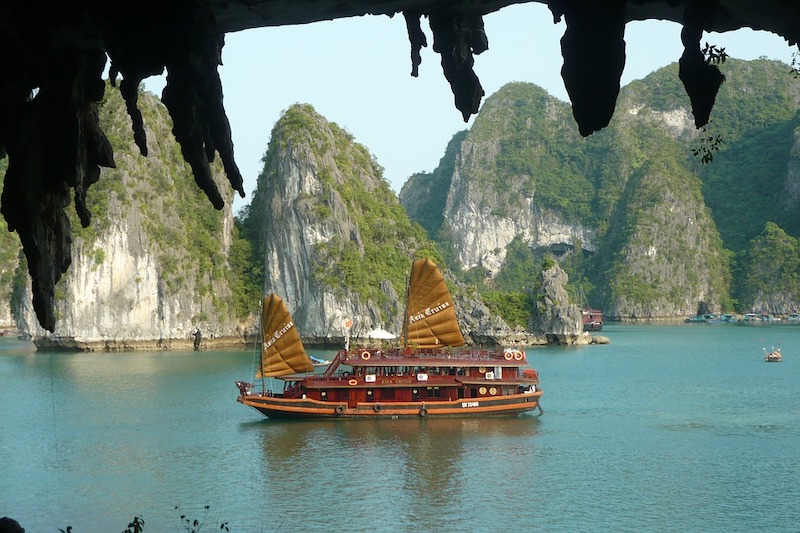 You could always arrange a tour to Halong Bay with your hotel in Hanoi, but Ha Long Bay: 2-Day, 1-Night Cruise is the option I would recommend.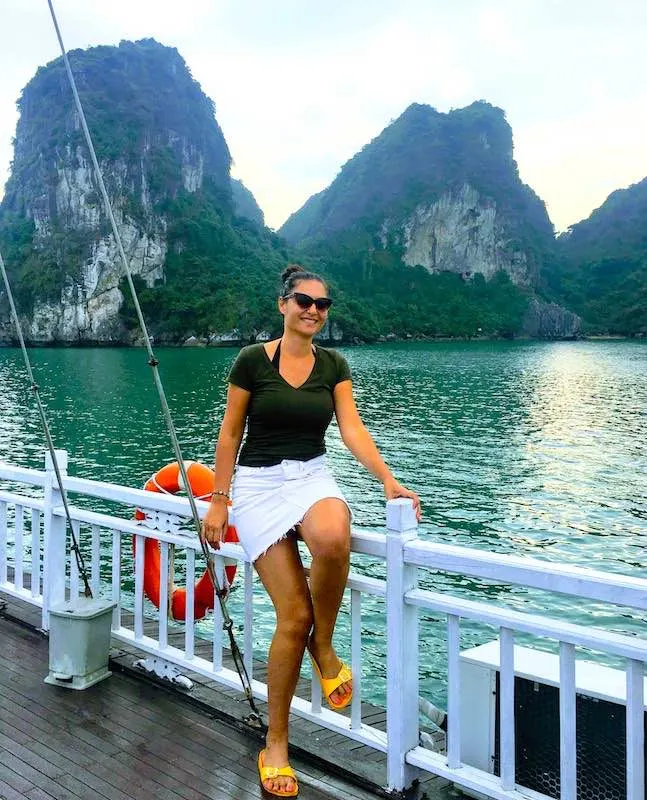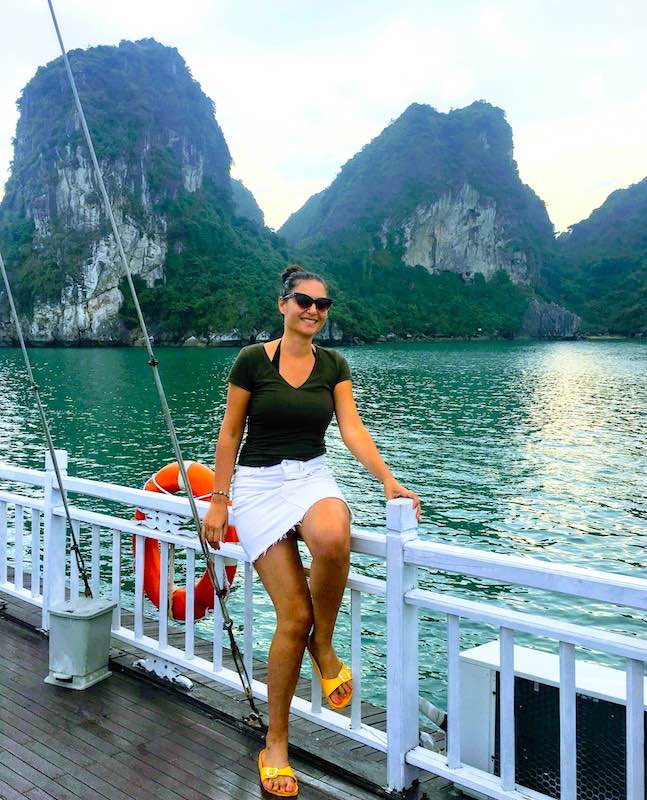 If you take Ha Long Bay: 2-Day, 1-Night Cruise, you will get picked up at Hanoi Old Quarter and stress-less head to Halong Bay cruise early in the morning avoiding hectic Hanoi morning traffic jams.

You will be cruising emerald Halong Bay for 2 days. You will visit Sung Sot Cave and swim on Titop Island. You will enroll in an onboard cooking class of delicious traditional Vietnamese food in the evening, and enjoy the starry night sky in Halong Bay. You will appreciate the beauty and serenity of a Halong Bay sunrise from the cruise deck with a cup of traditional Vietnamese tea in your hand.
This cruise sails in a part of Halong Bay with fewer boats allowing you to appreciate the magnificent Halong Bay.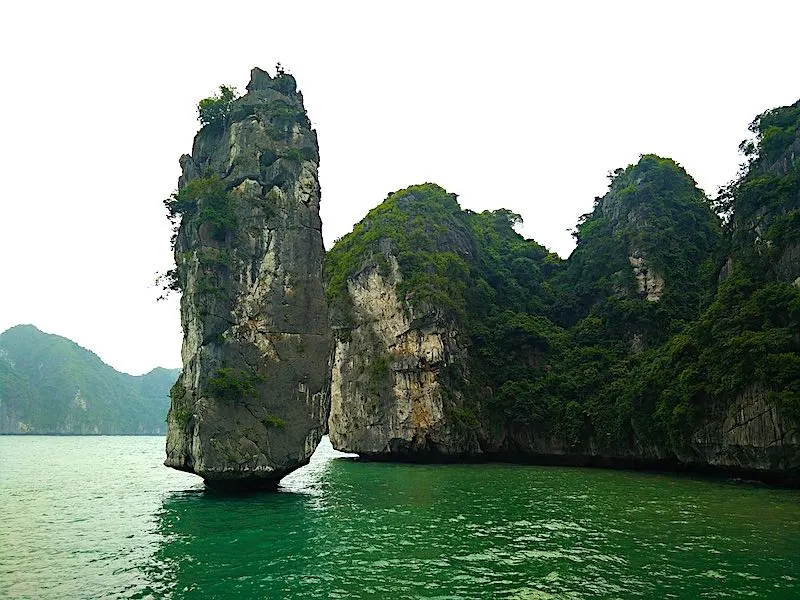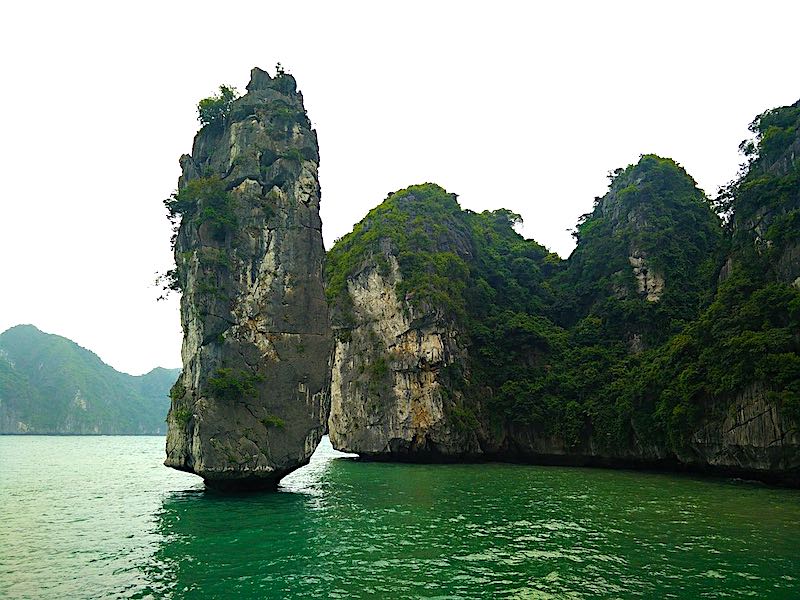 In the late afternoon of the 2nd day, you will be heading back to Hanoi Old Quarter.
From there, you can decide to head immediately by train or by bus to Sapa.
The distance between Hanoi and Sapa is 202 mi (325 km). It takes 6 hours by bus or 8 hours by train from Hanoi to Sapa.
In fact, if you decide to go by train you will go from Hanoi to Lai Ca by train and then from Lai Ca to Sapa by van. A sleeper train ticket from Hanoi to Lai Cai is 42 USD, while a sleeper bus ticket from Hanoi to Sapa is 12 USD.
But to save your time and energy and to be able to enjoy your Vietnam vacation (especially in case if you are on your honeymoon in Vietnam), I would suggest joining the 2-Day Sapa Trekking Tour with Transfer from Hanoi and spending the afternoon and the night after the cruise in Hanoi and tomorrow morning to go from Hanoi to Sapa and get back to Hanoi in two days.
This Vietnam itinerary 10 days ends with the out-of-this-world landscapes of Sapa!
Day 9-10: SAPA – back to Hanoi & fly back home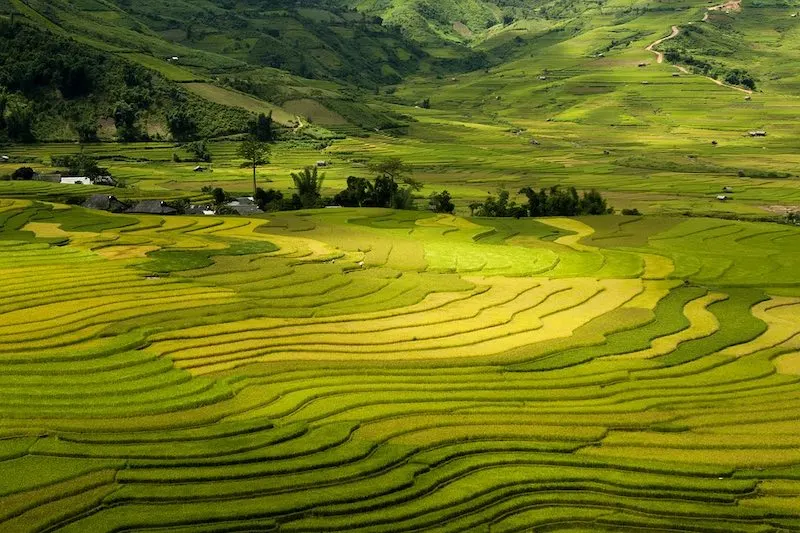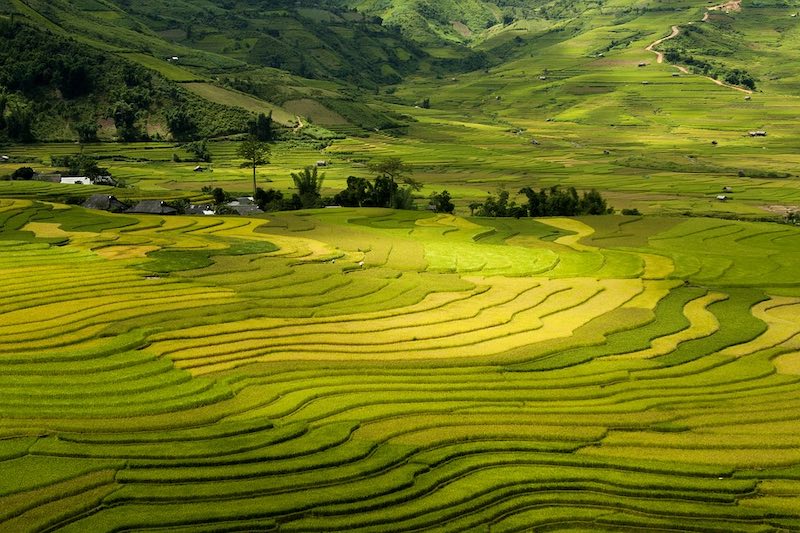 Taking 2-Day Sapa Trekking Tour with Transfer from Hanoi you will get picked up at your hotel in Hanoi and go comfortably from Hanoi to Sapa and return from Sapa to Hanoi.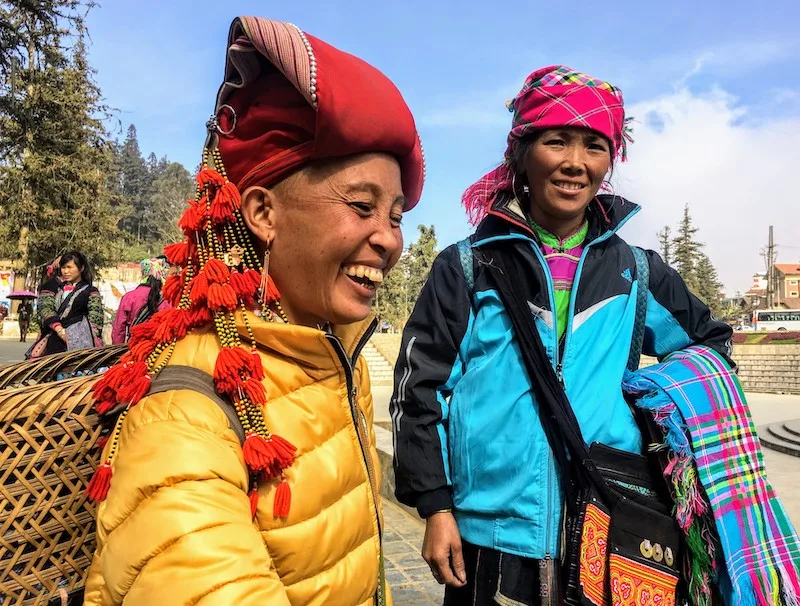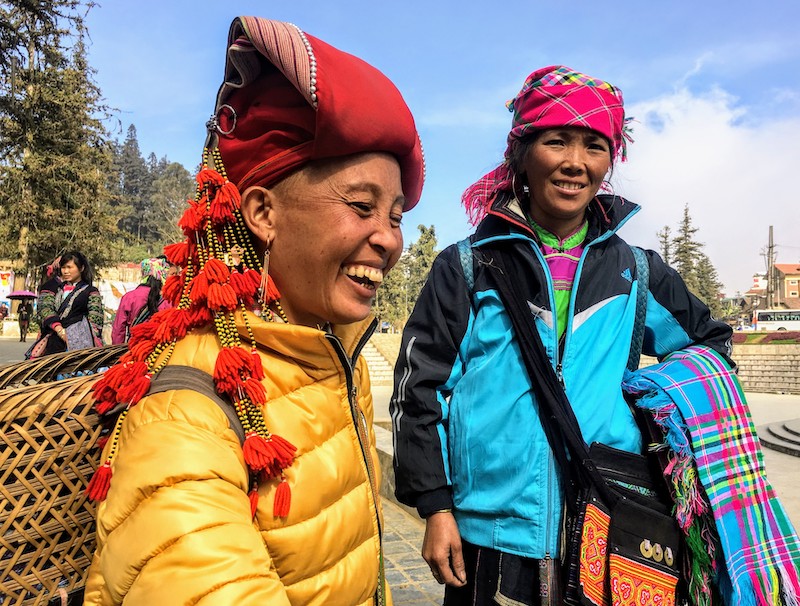 Around noon you will arrive in Sapa and meet the Vietnamese hill tribes of Sapa and after a traditional Vietnamese lunch, you will have a 1.2 mi (2 km) afternoon trek.
Tomorrow morning a longer 7.5 mi (12 km) trek through spectacular Sapa rice terraces awaits you.
First a trek to Lao Chai village, the home of the Black Hmong tribe, and afterward a trek to Ta Van village, the home of the Dzay hill tribe.
The entire trek takes around 3.5 hours and covers about 7.5 mi (12 km).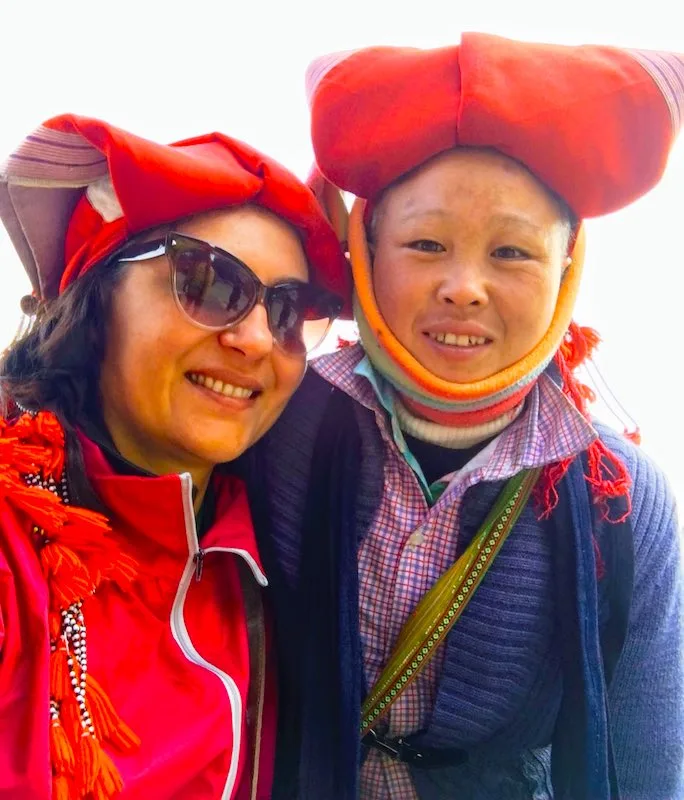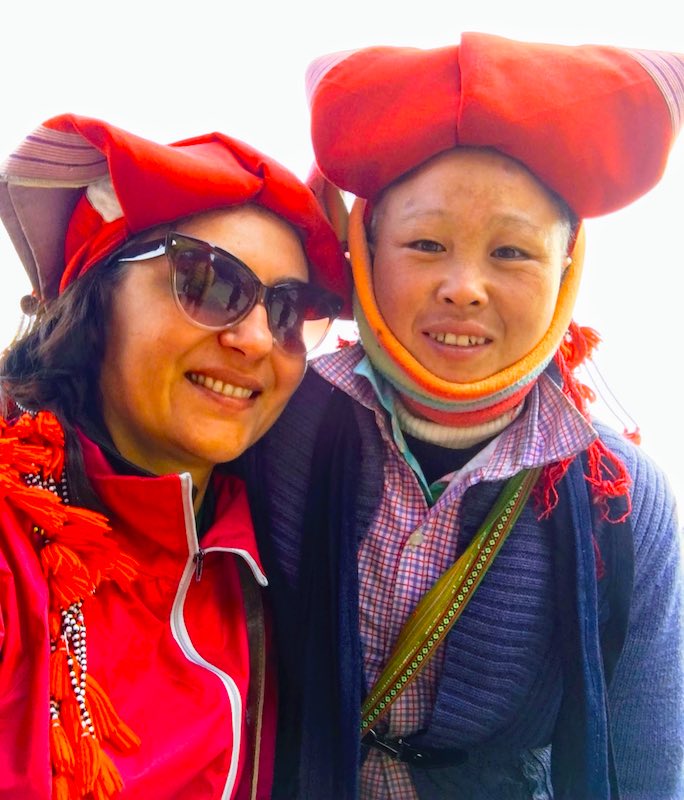 After lunch and some rest on the second day, you are going back to Hanoi and in the evening you are flying back home.
And let me finish this post by adding, don't be surprised if Sapa turns out to be the highlight of your trip. Cruising Halong Bay is wonderful, but trekking Sapa rice fields is something truly spectacular! And, you are finishing your 10-day Vietnam tour in a most spectacular way!
THE BEST TIME TO TAKE THIS 10-DAY VIETNAM TRIP
The best time to travel to Vietnam following my suggested Vietnam itinerary is the months of March and April.
In general March and April are among the best months to travel to Vietnam if you want to travel entire Vietnam (from south to north, or from the north to the south) and to have good weather all the time on your trip.
In March you can expect to have excellent weather in southern Vietnam, and good weather in central Vietnam and northern Vietnam.
In March northern Vietnam gets more sun and lush green rice fields in Sapa are starting to bloom while the trekking season in Sapa is at its best. Also, traveling to Hanoi and Halong Bay in March and April is a good option for dry and pleasant weather.
In April the south of Vietnam goes throw the transition period from the dry season to the rainy season. Although it starts raining in April, the temperatures are still high, around 31 C.
Remember, this Vietnam itinerary is for March and April!! Vietnam is a geographically very long country with 4 distinctive climates and it's hard to have good weather all the time during your trip.
March and April are the only months when you can have good weather in all of Vietnam!!
If you are planning to visit Vietnam some other month, please read my post Best Time to Travel Vietnam. Trekking Sapa rice terraces is not much fun when the rice is harvested!
Or visiting Hoi An during the typhoon season!
Even the famous emerald Halong Bay is gloomy grey in bad weather in the offseason.
Be smart, and check out the weather when planning your trip to Vietnam!! And enjoy your 10-day trip to Vietnam!
MAP OF 10 DAYS IN VIETNAM ITINERARY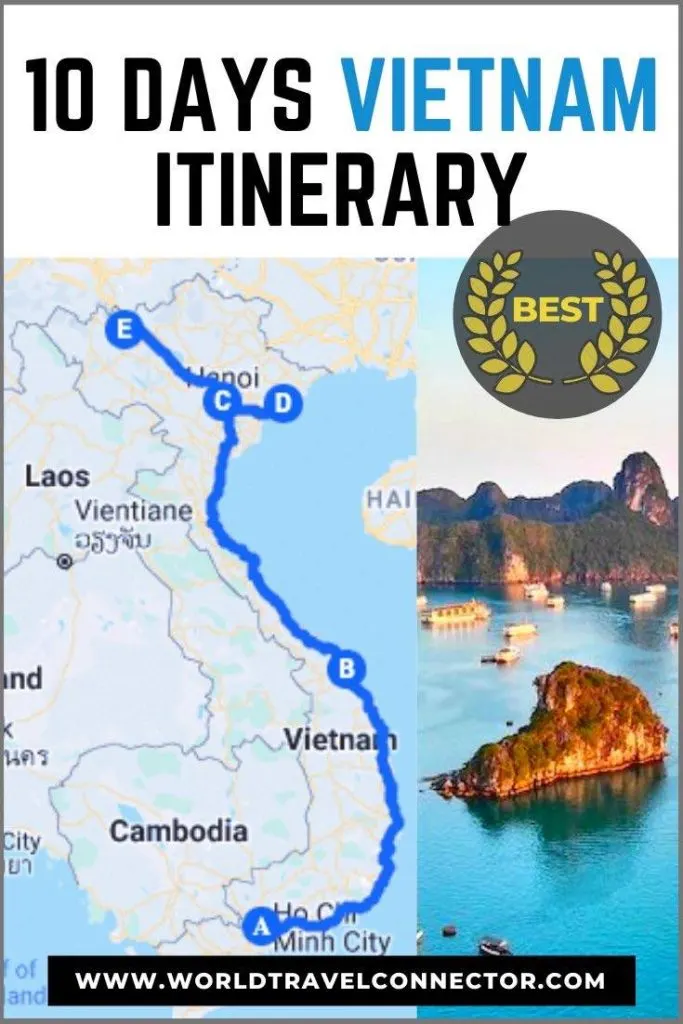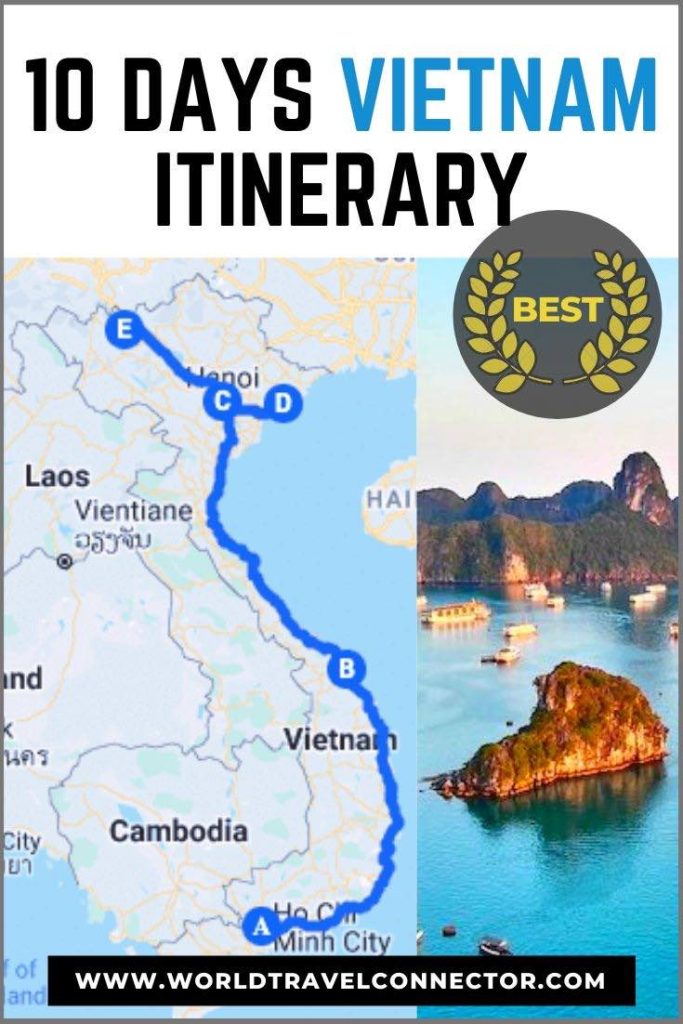 YOU MIGHT ALSO LIKE
10 day Tuscany Itinerary: The Ultimate Tuscany Road Trip
10 day USA Southwest Itinerary: A Perfect USA Southwest Road Trip
10 day Andalucia Itinerary: Andalucia Road Trip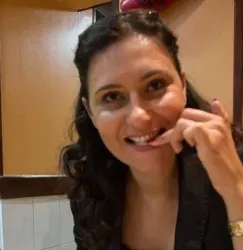 Latest posts by Milijana Gabrić
(see all)