The ultimate guide to the best Vietnamese food in Vietnam with Vietnam food names: what to eat in Vietnam and what to drink in Vietnam
TRADITIONAL VIETNAMESE CUISINE AND THE BEST FOOD IN VIETNAM WITH VIETNAM FOOD NAMES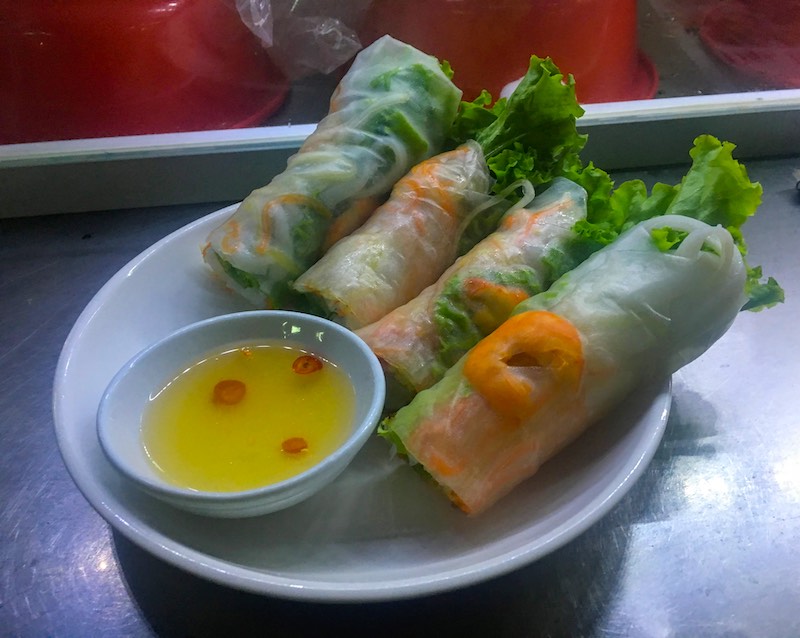 Vietnamese cuisine is worldwide known as one of the healthiest cuisines in the World.
Traditional Vietnamese cuisine is famous for the freshness of the food and the harmony of the tastes and textures of the food.
The traditional Vietnamese diet is famous for being healthy, just like the Israeli diet. Besides that, cuisine in Vietnam is also exceptionally aromatic.
Vietnamese people like to spice and garnish their foods a lot. And to tell the truth, Vietnam has truly extraordinary culinary fragrances in abundance:  from lime, lemongrass, coriander (cilantro), dill, basil, mint, galangal, ginger, turmeric, cinnamon, to southeast Asia's omnipresent coconut milk, sesame oil, peanuts, chilis  … and more.
Are you drooling already? Well, fresh herbs and condiments used in Vietnam cuisine certainly have made my inner foodie truly happy in Vietnam admiring Vietnamese cookery.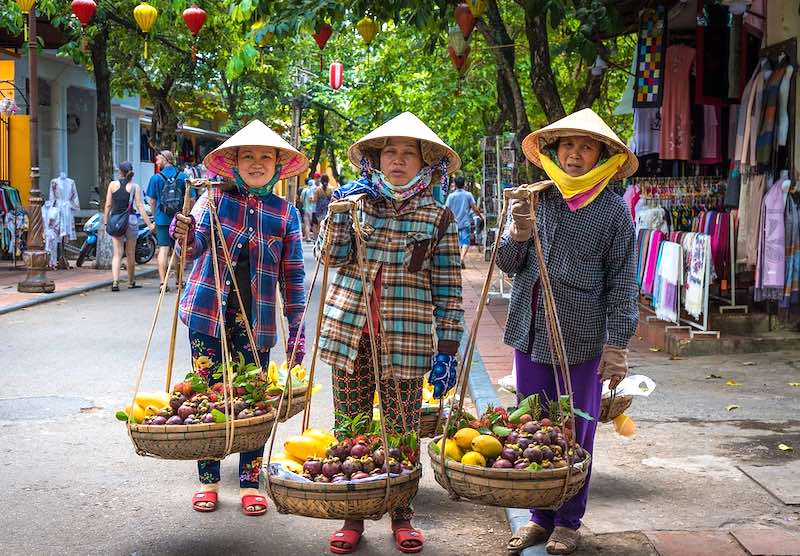 If you wish to spend an unforgettable 10 days in Vietnam, I recommend following this 10 days Vietnam itinerary considering the best time to visit Vietnam before booking your ticket to Vietnam.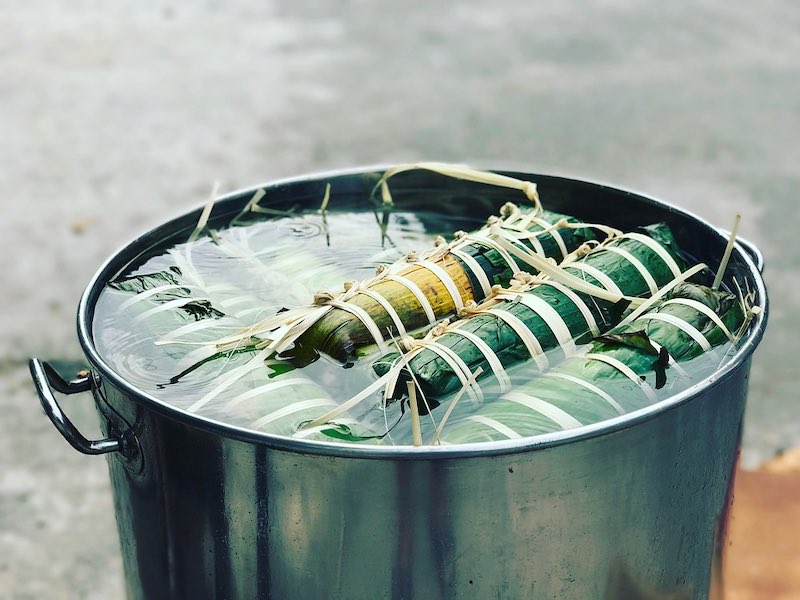 But let's talk here about Vietnam gastronomy, eating in Vietnam, Vietnamese food culture, traditional Vietnamese food, common Vietnamese food, authentic Vietnamese food, top Vietnamese dishes, and the best Vietnamese food you need to try in Vietnam.
Let's talk about the national food of Vietnam, must-try Vietnamese dishes, the best Vietnamese dishes, yummy and famous Vietnamese desserts, and some unique Vietnamese drinks. In short, let's talk about the best foods in Vietnam!
RELATED:
YOU MIGHT ALSO ENJOY:
BEST VIETNAMESE FOOD IN VIETNAM WITH VIETNAM FOOD NAMES: Most popular Vietnamese dishes and Vietnamese drinks
Guide to Vietnamese food:
First, let me start with some basic Vietnamese food vocabulary to help you navigate through Vietnam food menus easier and to prepare you for your food travels in Vietnam.
BASIC VIETNAM FOOD NAMES:
Chicken in Vietnam is called gà, beef in Vietnam is bò, and pork in Vietnamese is thịt heo. Shrimp in Vietnam is called tôm, fish in Vietnamese is cá, and salad in Vietnamese is gỏi.
Now when you got familiar with some basic Vietnamese food words, let me walk you through traditional Viet cuisine and traditional food in Vietnam.
My guide to the best Vietnamese food in Vietnam covers traditional Vietnamese dishes from compulsory phở, legendary bánh mì, iconic Vietnamese spring rolls gỏi cuốn and chả giò, and famed Barack Obama's bún chả to traditional Vietnamese mum's sick soup cháo, festive bánh tét (famous Vietnamese cake), and sweet chè (traditional Vietnamese pudding).
But to make this guide to traditional Vietnamese foods complete, I've included some must-try Vietnamese drinks like widely admired Vietnamese coffee, famous Vietnamese egg coffee ca phe trung, and weird Vietnamese snake whiskey.
My Vietnamese food list comes with Vietnamese food names for Vietnamese soups, Vietnamese noodle dishes, Vietnamese salads, Vietnamese sweets, and Vietnamese drinks.
Famous Vietnamese food:
Best Vietnamese food in Vietnam to feed your inner foodie on your trip to Vietnam
1. PHO (VIETNAMESE MEAT NOODLE SOUP)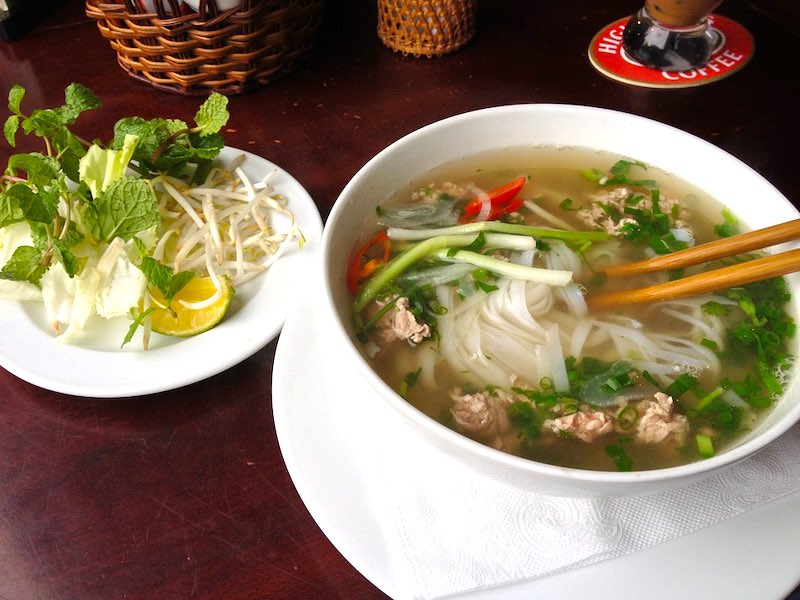 Phở is a world-famous meat noodle soup from Vietnam.
When someone speaks about traditional Vietnamese dishes, undoubtedly they mention flavorsome Phở. Simply, Pho is the national dish of Vietnam.
Vietnamese pho consists of meat broth with rice noodles and herbs. Classic Pho soup is prepared with beef meat (Pho Bo) or with chicken meat (Pho Ga).
This traditional Vietnamese soup is popular Vietnamese street food in Vietnam eaten for breakfast but also throughout the day.
I believe a trip to Vietnam for a true foodie is not acceptable without tasting authentic Vietnamese Pho! After all, savory Pho is on the list of the most popular food in the world.
2. BANH MI (VIETNAMESE SANDWICH)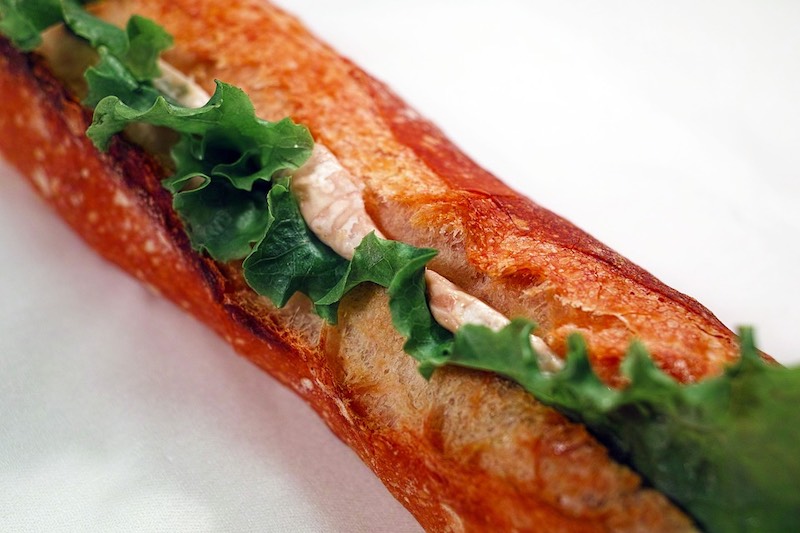 What's hamburger in the USA, bocadillo in Spain, falafel sandwich in the Middle East, that's bánh mì in Vietnam.
Bánh mì is a famous Vietnamese sandwich made of baguette with various fillings: from meat, and fish to eggs, and a large range of different vegetables, herbs, and various condiments (pate, chiles …).
While baguettes in Vietnam are the heritage of French colonial times, 'bánh mì' literally means 'wheat bread'.
Needless to say, this common Vietnamese sandwich is popular Vietnamese street food. If you are after some delicious Vietnamese food to go in the streets of Vietnam, just grab your bánh mì and go!
3. GOI CUON (VIETNAMESE FRESH SPRING ROLLS)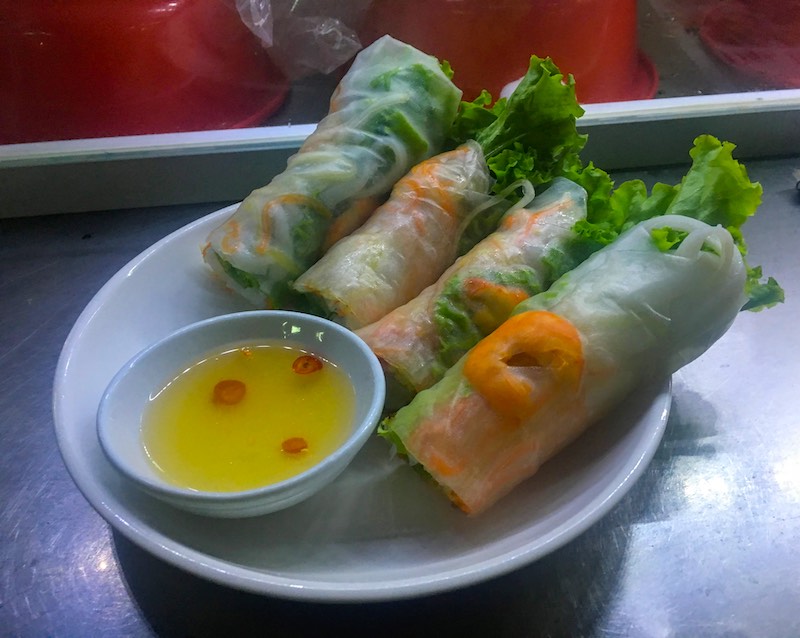 Talking about popular Vietnamese food and the best food in Vietnam without mentioning Vietnamese gỏi cuốn is not possible.
Vietnamese fresh spring rolls are some of my all-time favorite Vietnamese food!
Classic Vietnamese fresh spring rolls are made of thin and delicate rice paper batter with minced pork, wood ear mushrooms, and shallots. 'Gỏi cuốn' literally means 'rolled sheets'.
These delicious Vietnamese rolled sheets are traditionally eaten for breakfast in Vietnam.
Traditional Vietnamese fresh spring rolls definitely belong to the list of the best Vietnamese dishes.
4. CHA GIO (VIETNAMESE FRIED SPRING ROLLS)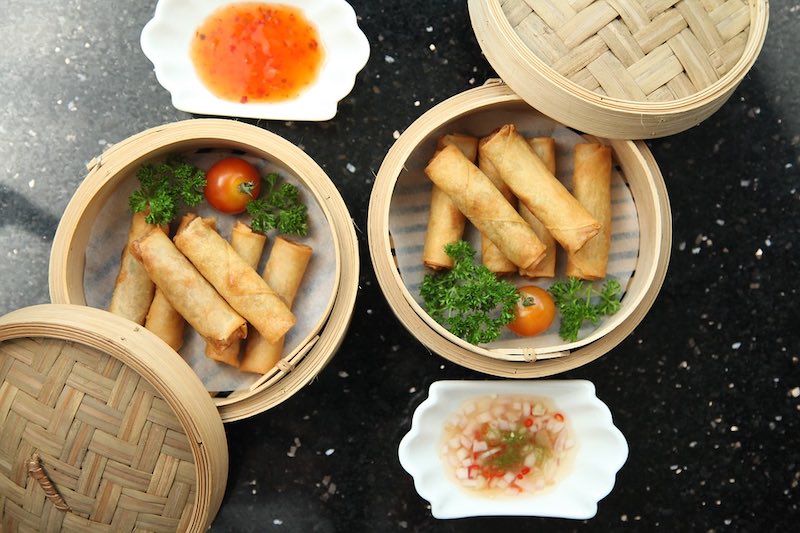 Chả giò is another popular Vietnamese dish, similar to the previously mentioned 'gỏi cuốn'.
But instead of fresh,gỏi cuốn spring rolls are fried and crispy. To simplify, Vietnamese 'cha gio' is deep-fried minced meat wrapped in rice paper.
Undeniably, fried spring rolls are some of the bestVietnamese dishes to try.
Depending on if you prefer the fresh or crispy taste, you can choose between gỏi cuốn and chả giò.
5. NUOC CHAM (VIETNAMESE FISH SAUCE)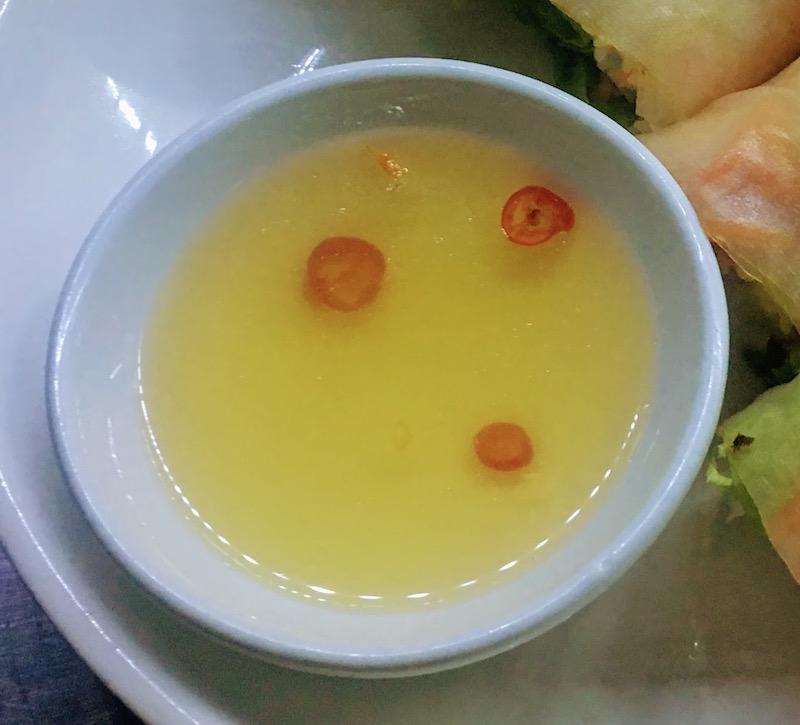 Vietnamese spring rolls and many other traditional Vietnamese dishes typically come with a famous Vietnamese sauce called nước chấm.
This dipping sauce is made from fish sauce, lime juice, garlic, and sugar. There's also a vegetarian version of the sauce called nước chấm chay. Ingredients of nuoc cham may vary from one Vietnamese region to another.
Vietnamese nuoc cham sauce belongs to the list of the most famous Vietnamese foods.
GOI (VIETNAMESE SALADS)
Traditional Vietnamese saladsare some of the best foods in Vietnam.
6. GOI XOAI (VIETNAMESE GREEN MANGO SALAD)
Vietnamese green mango salad is a popular Vietnamese dish.
Goi Xoai is a spicy Vietnamese mango salad made of sour unripe green mango, carrots, onions, mint, and basil. It comes served with nuoc cham dressing. Gỏi xoài is aVietnamese side dish that goes well with grilled meat.
If you like fresh, spicy, and sour salads, then gỏi xoài might be your thing.
7. GOI XOAI XANH TOM HAP (VIETNAMESE SHRIMP AND GREEN MANGO SALAD)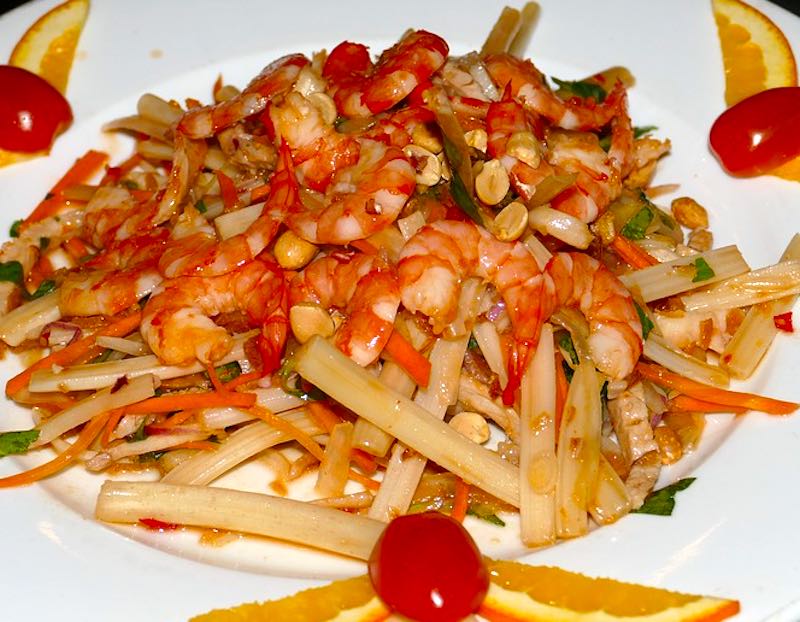 If you prefer to have some proteins in your salad, then you should go for Gỏi Xoài Xanh Tôm Hấp.
Similar to the previous salad, this mango salad comes additionally with sun-dried shrimps. Believe me, mango and dried shrimps are a winning combo.
8. GOI MIT TRON (VIETNAMESE JACKFRUIT SALAD)
Gỏi mít trộn is one of the best Vietnamese salads.
Vietnamese jackfruit salad is made of boiled and stir-fried slices of young jackfruit, lily buds or cabbage, shrimps, and cuts of pork and all seasoned with salt, sugar, and pepper. And additionally, all are sprinkled with sesame seeds.
Hmm… are you hungry now?!
9. NOM HOA CHUOI (VIETNAMESE BANANA FLOWER SALAD)
Nộm hoa chuối is made of sliced purple banana flowers and roasted peanuts with carrots, bean sprouts, garlic, chili, fresh ginger, fresh lemon, and aromatic herbs (laksa leaves, basil, coriander … ), and spices.
Tasty Vietnamese banana flower salad is one of the most popular Vietnamese dishes eaten across Vietnam, especially in rural Vietnamese areas.
But nowadays you can find this appetizing salad in fancy Vietnamese restaurants as well.
10. RAU XAO (VIETNAMESE STIR-FRIED VEGETABLES)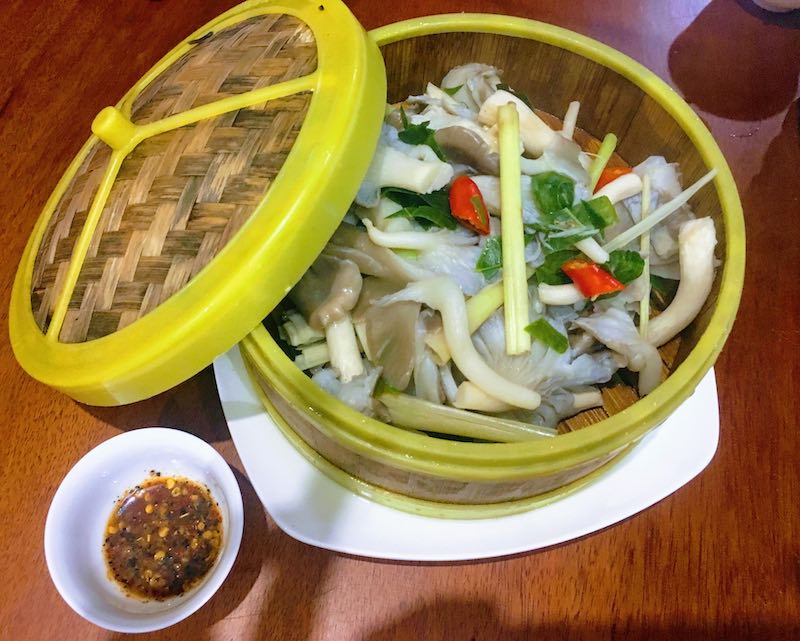 Stir fry mixed vegetables (like green beans, baby corn, cauliflower, carrots, broccoli to name a few) is a traditional Vietnamese dish commonly served with rice and fish, seafood, or meat.
The vegetables are steamed with fish sauce, rice wine, salt, and pepper in a wok or in a bamboo steamer over a wok. The vegetarian version of the dish is available with tofu instead of fish and without the fish sauce.
11. RAU MUONG XAO TOI ( VIETNAMESE STIR-FRIED MORNING GLORY)
Morning glory (water spinach), or Vietnamese rau muống is among the most popular vegetables in Vietnam.
In fact, rau muống is the national vegetable of Vietnam.
In Vietnam, morning glory is typically prepared by quickly frying over the high heat while being stirred. And the dish is called rau muống xào tỏi. Stir-fried morning glory is typically served with rice in Vietnam.
BANH (CAKE). Banh means cake.
Delicious cakes are some of the best Vietnamese foods.
12. BANH CHUNG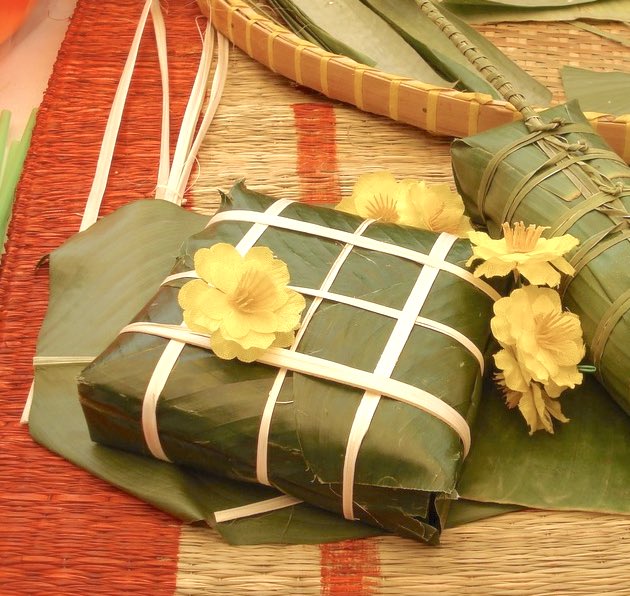 Bánh chưng is a traditional Vietnamese cake consumed especially during the Tet (the Vietnamese Lunar Year).
This famous Vietnamese cake is made of rice, pork, and mung bean in the form of banana leaf parcels. Vietnamese bánh chưng is not only interesting for the sight, but for the palate too.
13. BANH TET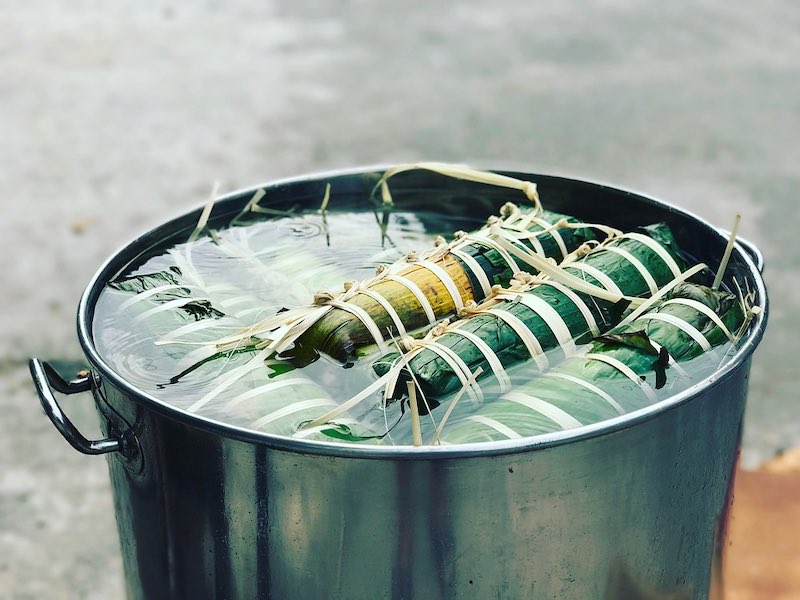 Bánh tét is the main Vietnamese cake prepared for Tet. Banh Tet is a version of above mentioned Banh Chung.
This famous Vietnamese cake is made of rice, minced pork wrapped in banana leaf, and then boiled. Vegetarian Banh Tet is prepared with mung beans, instead of minced pork. While Banh Chung is rectangular in shape, Banh Tet is cylindrical.
They can be both eaten by dipping in the Vietnamese fish sauce and with pickled spring onions.
14. BANH GHOI (VIETNAMESE FRIED DUMPLINGS)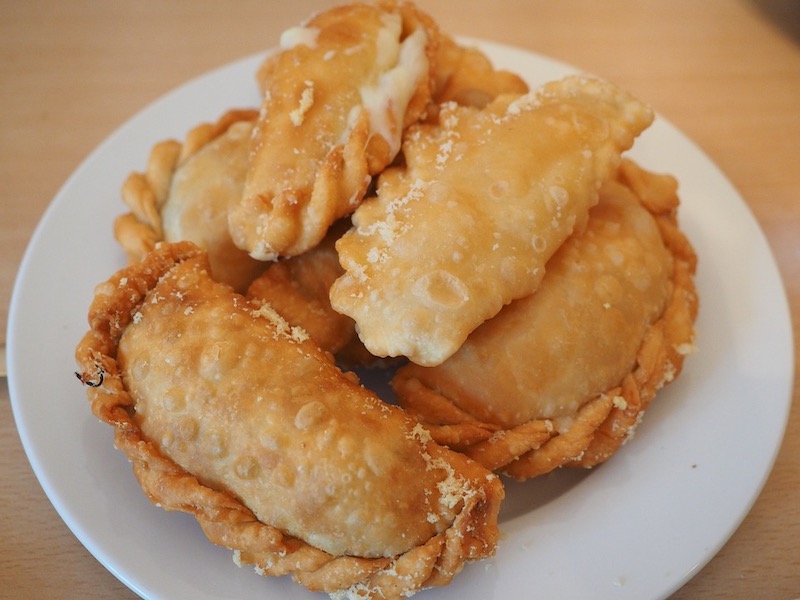 Bánh gối is a crispy deep-fried Vietnamese samosa filled with minced pork, carrot, glass noodle, and wood ear mushroom.
Vietnamese fried dumplings are especially popular Vietnamese food on cold days. These crispy dumplings are eaten by dipping them in fish sauce.
15. BANH BAO (VIETNAMESE STEAMED DUMPLINGS)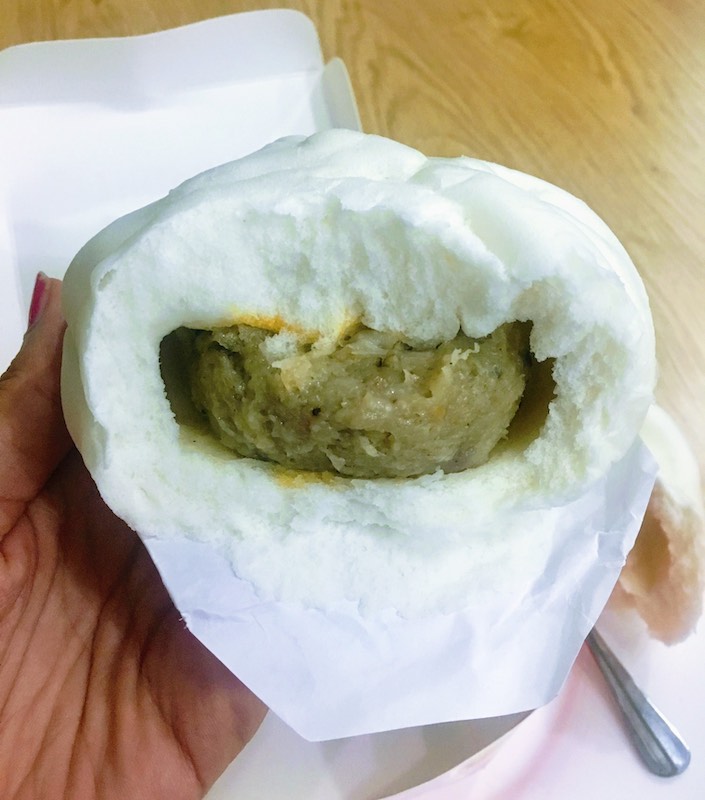 Vietnamese bánh bao is similar to Japanese Mochi and Cantonese dim-sum.
Basically, a traditional Vietnamese dumpling is a steamed rice cake (bun) filled with baby shrimps, scallions, sausage, minced pork, and hard-boiled egg. There are vegetarian versions of bánh bao too.
Today you can buy banh bao in many grocery stores across Vietnam. I got mine in a store in Hanoi.
16. BANH BEO (VIETNAMESE STEAMED RICE CAKE)
Bánh bèo originates from the town of Hue and literally means 'water fern cake'.
Bánh bèo is a rice cake made from mixed rice flour and tapioca flour, with dried shrimps, crispy pork skin, scallions and served with a dipping sauce. This texture-soft and taste-savory Vietnamese cake is popular street food in Vietnam.
But, if you are not after savory dumplings, you need to know that in the town of Hoi An you can even find a sweet version of bánh bèo.
17. BANH XEO (VIETNAMESE CREPES)
Vietnamese crispy crepes are stuffed with thinly sliced pork, shrimp, bean sprouts, and herbs.
Tasty Bánh xèo is a highly sought-after Vietnamese street food.
Traditional Vietnamese crepes are some of the best Vietnamese street food.
18. BANH CUON (VIETNAMESE STEAMED RICE ROLLS)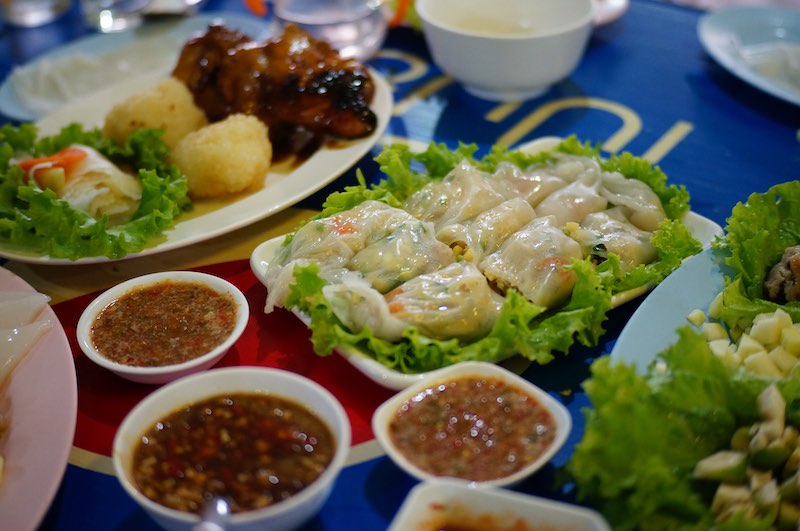 Bánh cuốn is a classic Vietnamese dish made of steamed rice batter rollers filled with minced pork and vegetables.
It is traditionally served with bean sprouts, slices of cucumbers, fresh chopped herbs, steamed pork sausage, fried onions, and fish sauce for dipping. Banh cuon is popularly called the rolled cake from Northern Vietnam. This Vietnamese delicacy is traditionally eaten for breakfast.
19. BUN CHA (VIETNAMESE GRILLED PORK WITH NOODLES) – Bun Cha Obama
This iconic Vietnamese dish is made of grilled pork (chả) over rice vermicelli noodles (bún) served with herbs and a dipping sauce.
Authentic bún chả comes from Hanoi and it is commonly eaten at lunchtime.
Bún chả is the Hanoi dish that Barack Obama made world-famous eating it on Anthony Bourdain's TV show. Since then this traditional Vietnamese dish is widely known as 'Obama's noodles', or 'Obama Bun Cha'.
20. BUN BO HUE (VIETNAMESE SPICY BEEF NOODLE SOUP)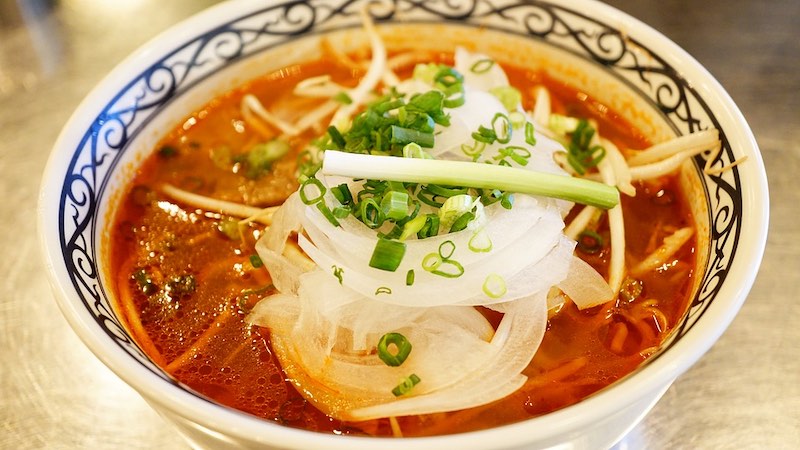 Bún bò Huế is similar to pho, but it comes with a different type of Vietnamese noodles.
Just like Pho, this is a spicy soup with thick rice noodles and beef cuts with lemongrass and shrimp paste. Authentic Bun Bo Hue comes from the town of Hue.
21. BUN NO NAM BO (VIETNAMESE STIR-FRIED LAYERED BEEF NOODLE)
Bun No Nam Bo is a sweet, sour, and spicy traditional Vietnamese dish made of noodles with beef, chopped onion, bean sprouts, peanuts, and fresh herbs.
Bun no nam bo literally means Bun (noodle), Bo (beef), and Nam Bo (the South) as the dish originates from the south of Vietnam. Quiet opposite to common beliefs, Bun No Nam bo is not a soup. It's like 'Pho without the broth'. Bun No Nam No comes in a sauce, instead of a broth. More precisely, Bun No Nam Bo is a layered dish with noodles as the first layer, then beef as the next layer, then herbs, peanuts, fried onions, and chilies, and the special sauce as the last layer. Nowadays you can indulge in Bun No Nam across Vietnam. But uppermost, it is a popular Hanoi street food.
22. GA NUONG (VIETNAMESE SWEET FIVE-SPICE ROASTED/GRILLED CHICKEN)
Ga nuong is a popular Vietnamese dish that belongs to the list of the best food in Vietnam.
When you first marinate and then grill chicken meat (chicken legs, wings, and feet) you get ga nuong.
The marinade is made with chili sauce, oyster sauce, soy sauce, sugar, and honey. And afterward, the meat is grilled or roasted with sesame oil, pepper, minced garlic, minced shallots, and minced lemongrass.
23. GA TAN (HANOI SWEET CHICKEN SOUP)
Traditional Vietnamese soups are some of the most delicious Vietnamese food, the healthiest food in Vietnam, and the very best Vietnamese food.
One of the most popular Vietnamese soups is gà tần.
The classic Vietnamese chicken soup is made of chicken meat, wormwood, turmeric, Vietnamese rice wine, optionally some other Vietnamese herbs, and Vietnamese spices.
Gà tần literally means 'fall-off-the-bone chicken' and is a popular Hanoi street food, a top Hanoi specialty, and one of the best Vietnam dishes ever.
24. CANH CHUA (VIETNAMESE SWEET AND SOUR SOUP)
Vietnamese canh chua is similar to Thai tom yum.
Canh chua is a sweet and sour soup with tamarind broth and lime and lemongrass. The soup originates from the Mekong Delta.
It is traditionally prepared with fish from the delta with sweet pineapple, various vegetables (tomatoes, and bean sprouts) in a sour-in-taste tamarind broth and garnished with aromatic herbs.
25. CANH BUN (VIETNAMESE MORNING GLORY CELLOPHANE NOODLE SOUP)
Canh bun is a noodle soup with distinctive reddish broth, thick noodles, fried tofu, crab paste, and morning glory rau muống.
It comes with different types of noodles and it is typically sold in Hanoi on street carts or carried in baskets (đồng gánh).
26. BUN DAU MOM TOM (VIETNAMESE VERMICELLI RICE WITH SHRIMP SAUCE)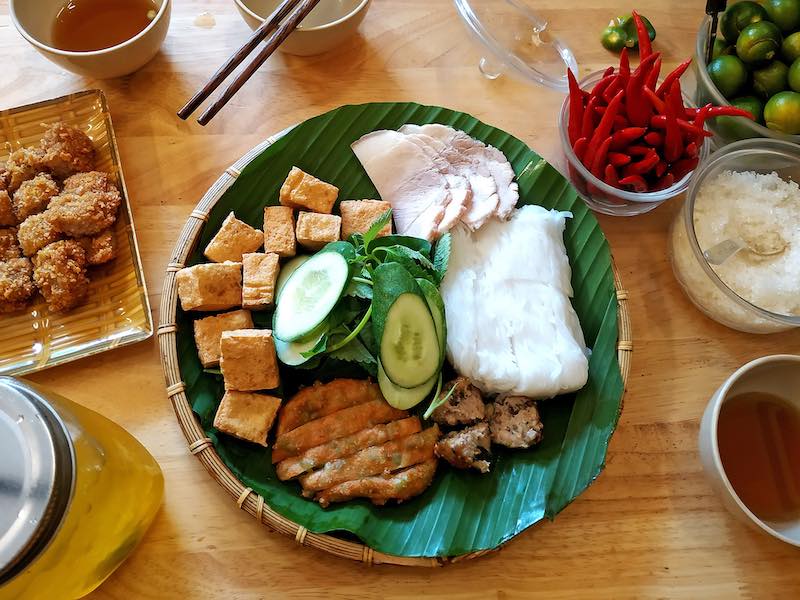 Bun Dau Mom Tom is a peasant Vietnamese dish from northern Vietnam.
The dish includes bun (fresh vermicelli rice noodles served as small blocks), dau (flaky tofu cubes), and mam tom (pungent fish paste).
The dish is typically served in a bamboo flat container with fresh herbs such as basil, marjoram, and perilla. Bun Dau Mom Tom is served as a daily dish for lower-class people in restaurants in northern Vietnam and Hanoi.
27. CHAO (VIETNAMESE RICE SOUP)
Vietnamese Chao is one of those most popular Vietnamese foods you need to try in Vietnam.
This soup is a traditional Vietnamese cure for all sicknesses, popularly known in Vietnam as the 'Mum's sick soup'.
Chao is a basic but delicious Vietnamese soup made from cooked rice with chopped meat (pork or chicken), pepper, salt, onion, ginger, sliced potatoes, and fish sauce. Finally, the soup is topped with cilantro, scallions, fried onions, chilies, and cracked white pepper.
28. CHAO GA (VIETNAMESE RICE PORRIDGE)
When listing classic Vietnamese dishes, I absolutely need to mention Chao Ga!
Simple Vietnamese porridge made from cooked rice in water with stock, fish paste, sugar, shredded chicken, mushrooms, and poultry seasoning. Sometimes it comes with a poached egg on the top.
29. COM TAM (VIETNAMESE BROKEN RICE)
Cơm tấm is a popular Vietnamese dish made of grilled meat (typically pork) and grilled shrimp served over broken rice (cheaper grade of rice) with vegetables and steamed egg and Vietnamese fish sauce (nuoc mam).
If you are traveling to Saigon, you should try Saigon-style broken rice (Com Tam Sai Gon).
30. MI XAO MEM (VIETNAMESE STIR-FRIED EGG NOODLES)
Mi Xao Mem is a stir-fried egg noodle dish.
This is a simple Vietnamese dish made of fresh egg noodles with marinated meat in soy sauce, oyster sauce, salt, pepper, sugar, and chopped shallots and with various colorful stir-fried vegetables. And finally sprinkled with pepper and chopped cilantro.
31. MI QUANG (VIETNAMESE TURMERIC NOODLES )
Mì Quảng is popularly known as turmeric noodles from the town of Da Nang.
This is a Vietnamese dish made of rice noodles, meat (chicken, pork, beef, shrimp, or fish), with fish sauce, salt, pepper, garlic, spring onions, turmeric, and a variety of fresh herbs (basil, mint, cilantro …). Traditionally Mì Quảng is garnished with roasted peanuts, chilis, lime, and sesame rice crackers.
Mi Quang is traditionally eaten for lunch.
If you are visiting Dan Nang in Vietnam, you should try authentic Da Nang Mi Quang turmeric noodles.
32. SNAILS IN VIETNAM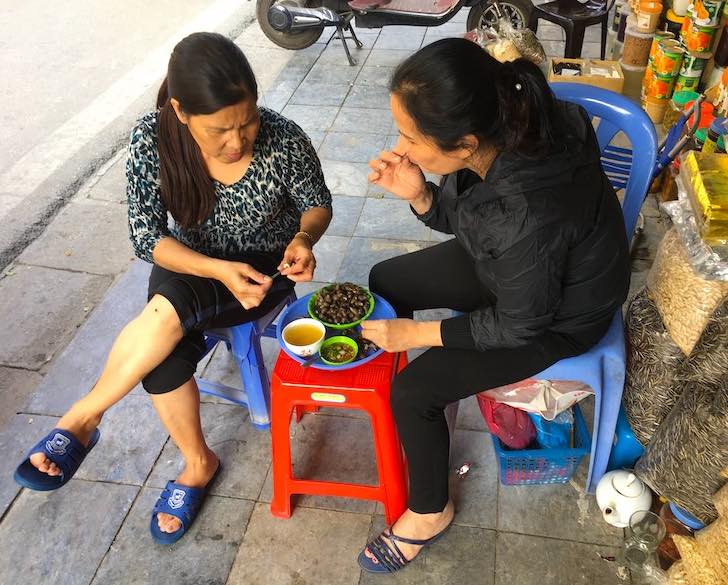 Snails are popular street food in Vietnam. You can find them served at street food stalls in Vietnam but also in restaurants, especially restaurants in Saigon.
They are typically grilled, fried, boiled, or steamed and served with a sauce (like sour tamarind sauce, creamy butter sauce, sweet coconut sauce) and garnished with fresh herbs ( like lemongrass, coriander).
If you would like to try snails in Vietnam you can choose between famous Vietnamese dishes like sea snails in spicy coconut milk (Oc Len Xao Dua), roasted sea snails with salt and chili (Cach Lam Oc Huong Rang Muoi ), boiled apple snails with fish sauce and lemongrass and ginger (Oc Buou Luoc Xa Voi Nuoc Mam Gung), sea snails sautéed with spicy butter (Oc Ca Na Xao Bo Ca), and sea snails sautéed with garlic (Oc Mo Xao Too).

33. HEN XUC BANH TRANG (VIETNAMESE STIR-FRIED BABY CLAMS WITH RICE CRACKERS)
Hến xúc bánh tráng is a Vietnamese dish made of marinated clams meat in a sauce with minced onions, chopped lemongrass, chopped chili, and pickled vegetables. The dish is sprinkled with roasted peanuts and onions and served hot with baked rice paper.
Hen xuc banh trang is well-known as the best street food in Hue. If you are traveling to Hue, you should go for authentic Hue Hen Xuc Banh Trang.
34. THIT KHO TAU (VIETNAMESE CARAMELIZED PORK WITH EGGS)
Thịt kho tàu is a Vietnamese staple of caramelized and braised pork belly and boiled eggs in a sweet and savory coconut broth.
Although it is a common Vietnamese dish eaten every day, Thit khao tau is traditionally eaten during the Vietnamese Lunar New Year (Tet) when the dish is offered to the deceased ancestors on the family altar in Vietnamese homes.
35. CA KHO TO (VIETNAMESE CLAY POT BRAISED CATFISH)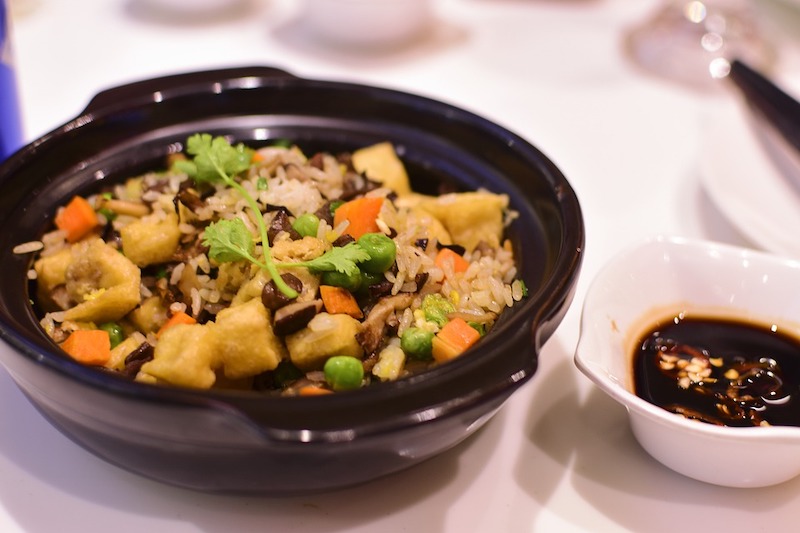 Vietnamese cá kho tộ represents sweet and salty caramelized catfish stakes braised with a caramel sauce, stock, chiles, and ginger in a traditional clay pot called 'tộ'. Ca Kho To dish is one of the tastiest Vietnams foods!
36. CA NUONG (VIETNAMESE GRILLED WHOLE FISH)
Vietnamese Ca Nuong goes for grilled fish traditionally served with Vietnamese sauce made of lime juice, fish sauce, sugar, ginger, garlic, and chile.
If you wish to sample Vietnamese grilled catfish, you should look for Ca Nuong Da Don.
37. CHA CA LA VONG (HANOI TURMERIC FISH WITH DILL AND NOODLES)
Cha Ca La Vong is first turmeric marinated and then grilled fish, garnished with garlic, ginger, dill, and served with rice. This is an iconic Vietnamese dish from Hanoi and one of the most popular Vietnamese dishes, along with Pho.
38. DAU PHU SOT CA CHUA (VIETNAMESE FRIED TOFU IN TOMATO SAUCE)
Vietnamese fried tofu in a tomato sauce and additionally garnished with fresh herbs. Traditionally tomato sauce is prepared with fish paste (nuoc mam), but for a vegetarian-friendly version, soy sauce is used instead of fish paste.
39. CA TIM KHO TO (VIETNAMESE BRAISED EGGPLANT WITH SOY SAUCE)
Sweet Vietnamese eggplants seasoned with soy sauce, braised and served with finely chopped cilantro.
If you are looking for some vegetarian Vietnamese food, then Ca Tim Khao To comes on the list of must-try vegetarian Vietnamese dishes.
40. BO LA LOT (VIETNAMESE BEEF WRAPPED IN BETEL LEAF)
Bò lá lốt is a traditional Vietnamese dish made of seasoned and grilled minced beef rolled in betel (piper lolot) leaf (called 'la lot' in Vietnam).
These tasty rolls are a favorite Vietnamese snack. These Vietnamese cigar-like rolls are traditionally served with Vietnamese rice paper, rice noodles, and a range of fresh herbs and raw vegetables on the side.
They are typically sold at Vietnamese street stalls at night.
Vietnamese desserts (tráng miệng literally meaning 'to rinse mouth')
This list of Vietnamese traditional food covers traditional Vietnamese desserts too.
41. CHE (VIETNAMESE PUDDING)
Che is a traditional Vietnamese sweet beverage or sweet pudding.
It is a popular Vietnamese dessert made of layers of coconut milk, fruits, vegetables, beans, bean jelly, seeds, rice, and tapioca powder. Various Che can be served cold with ice as a beverage, and cold or warm as a pudding.
Some typical types of Che are Three Color Dessert (Chè Ba Màu), Vietnamese Sweet Corn Pudding (Chè Bắp), Sweet Potato (Chè Bà Ba), Rainbow Dessert (Chè Sương Sa Hạt Lựu), Banana with Sago Pearls and Coconut Milk Sweet Soup (Chè Chuối), Sweet Glutinous Rice Dumplings (Chè Trôi Nước).
42. BANH FLAN (VIETNAMESE COCONUT CREME CARAMEL)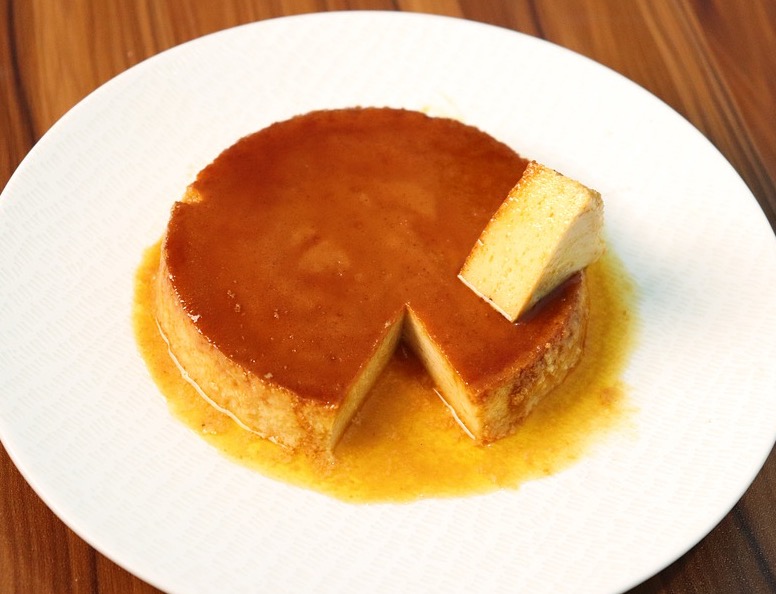 Crème caramel is a popular dessert in Vietnam.
It belongs to the list of French Vietnamese food since that was introduced to Vietnam by France during colonial Indochina.
The custard base of crème caramel in Vietnam is prepared with coconut milk.
Bánh flan is traditionally served with a Vietnamese coffee in Vietnam.
To sample authentic Vietnamese crème caramel in Vietnam, you should look for bánh flan or kem flan in southern Vietnam or bánh caramel, or kem caramel as it's called in northern Vietnam.
Traditional Vietnamesebánh flan is a must-try Vietnamese dish.
43. XOI XEO (VIETNAMESE SWEET STICKY RICE WITH MUNG BEAN)
This yellow Vietnamese dish is made of soft rice, turmeric powder, mung beans, and crispy fried shallots.
Typically xoi xeo is wrapped in banana or lotus leaf and in old newspaper and sold in the streets of Hanoi. Vietnamese sticky rice is traditionally eaten for breakfast.
44. HOA QUA DAM (VIETNAMESE FRUIT SALAD)
Hoa Qua Dam is a pure Vietnamese delight presented in a bowl of tropical fruits (pineapple, dragon fruit, lychees, longans, mango, papaya, jackfruit, sapodilla, kiwi, banana, …) with coconut milk and optionally with condensed milk and crushed ice. A sweet treat, indeed!
45. SUA CHUA NEP CAM (VIETNAMESE YOGURT)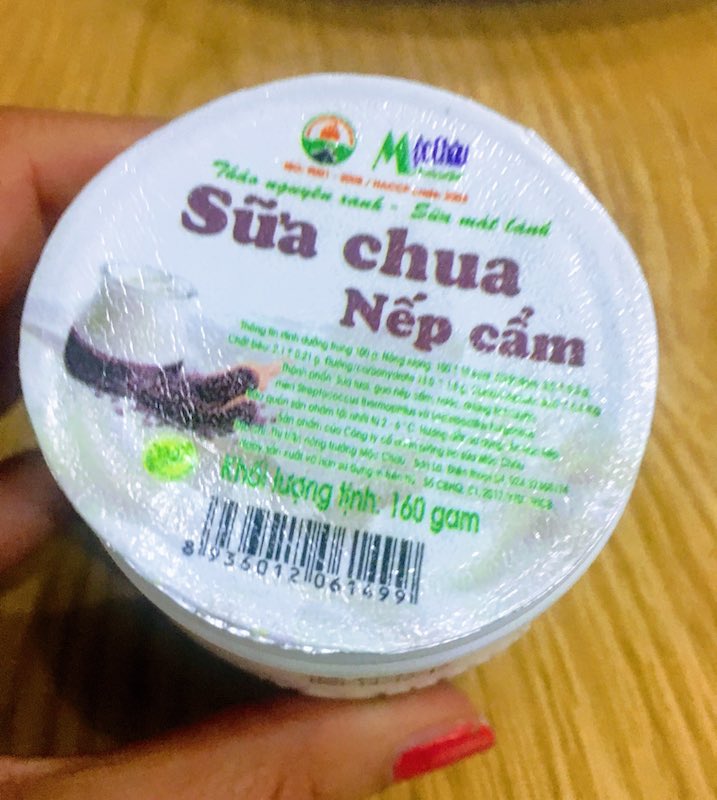 Sữa chua nếp cẩm stands for Vietnamese glutinous yogurt made from glutinous sticky rice, coconut milk, salt, pandan leaves, mixed with plain yogurt, and added some natural sweeteners like honey.
Sua chua nep cam is also known as Vietnamese Yogurt Black Sticky Rice Pudding and it is a beloved Vietnamese dessert easily found in Vietnamese stores and served in restaurants. Let me just add here, I am a huge fan of sua chua nep cam!
Traditional Vietnamese beverages
46. CA PHE SUA NONG (VIETNAMESE DRIP COFFEE)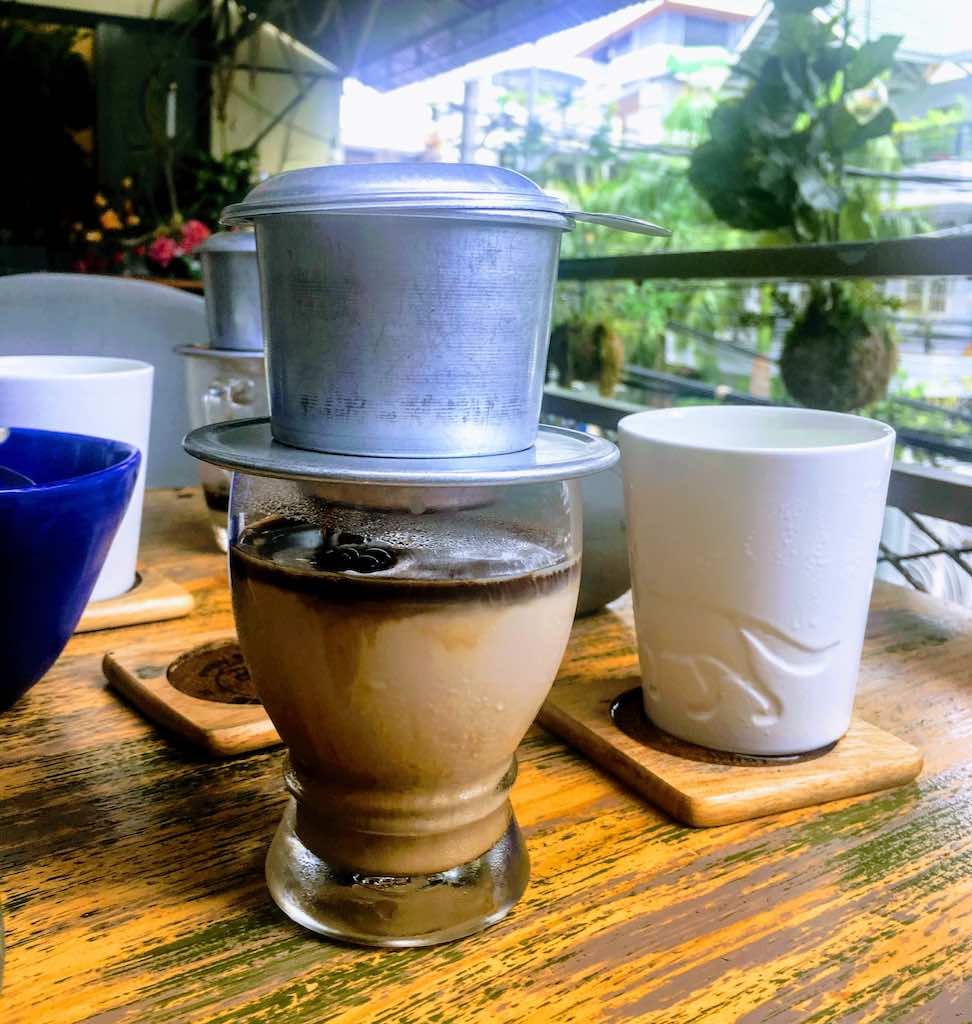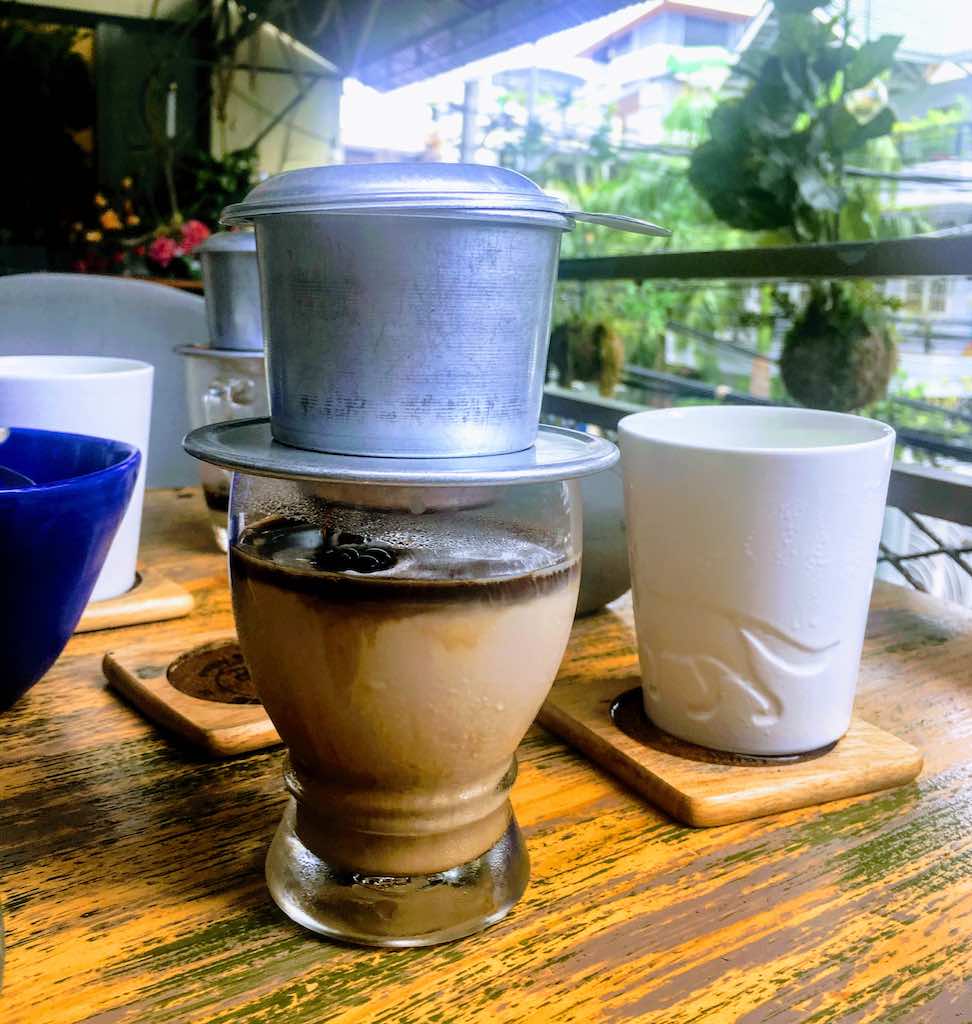 Cà phê sữa nóng is the world-famous Vietnamese drip coffee with sweet condensed milk, prepared and served in a special cup-filter called 'phin'.
If you are a coffee devotee like me, then no travel to Vietnam is complete without enjoying authentic Vietnamese drip coffee.
Traditional Vietnamese drip coffee is one of the all-time most-famous Viet foods.
47. CA PHE TRUNG (VIETNAMESE EGG COFFEE)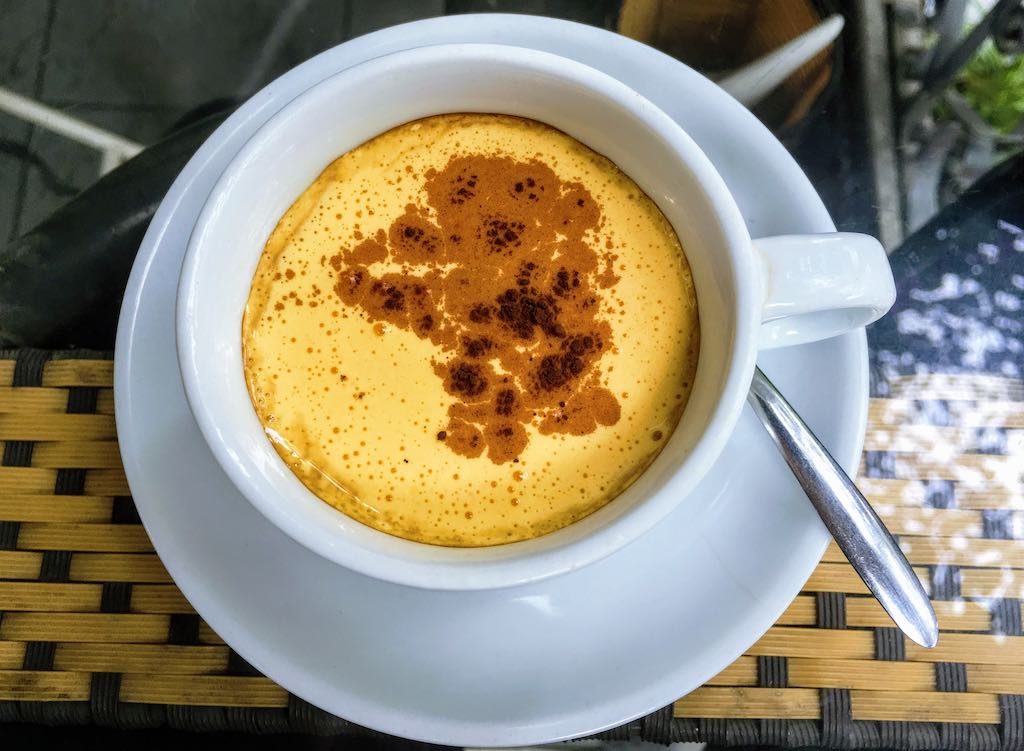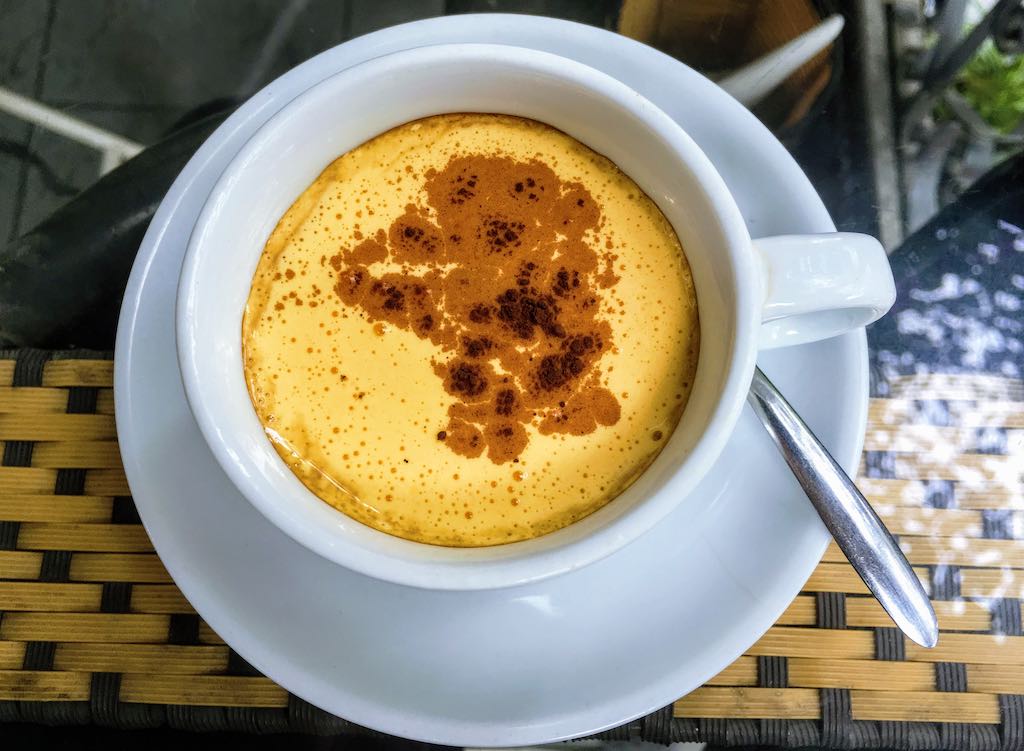 Cà phê trứng is famed Vietnamese egg coffee.
Basically, ca phe trung is a Vietnamese drip coffee with a layer of whipped egg yolks with condensed milk and sugar on the top. If you like the taste of Tiramisu, you will love egg coffee in Vietnam!
Vietnamese coffee egg is a must-try food in Vietnam.
48. BIA (BEER)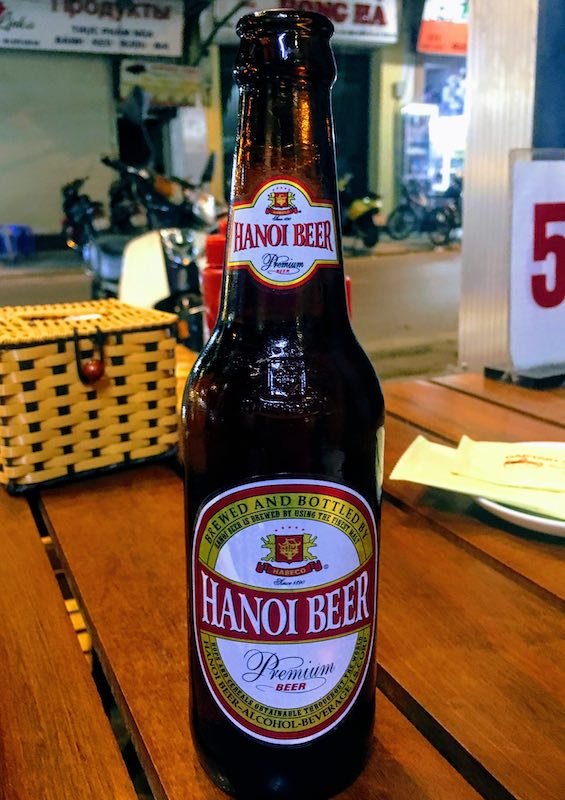 Beer is one of the most liked traditional Vietnamese drinks in Vietnam.
French colonization brought beer to Vietnam in the 19th century. The most popular Vietnamese commercial beers are Saigon beer and Hanoi beer. But if you prefer draft beer, then look for 'Bia hơi' in Vietnam.
'Bia hơi' literally means 'fresh beer' referring to draft beer. It is sold at street stalls in Vietnamese cities, especially in Hanoi and Saigon. Draft beer is lighter (less alcohol) and cheaper than commercial beer.
49. RUOU (VIETNAMESE RICE WINE)
Vietnam belongs to the top producers of rice in the world.
Rice wine is a traditional alcoholic drink in Vietnam. Vietnamese rượu is made from cooked, fermented, and distilled rice.
Rice wine in Vietnam is traditionally homemade and many Vietnamese homes have their own rice wine distilleries. Vietnamese rice winemakers typically put some herbs and plants into the rice wine.
Vietnam rice wine is one of the must-try traditional Vietnamese foods.
But keep in mind that every rice wine producer has its own wine recipe. Thus, be aware, Vietnamese rice wine can be very strong!
50. SNAKE/COBRA WHISKEY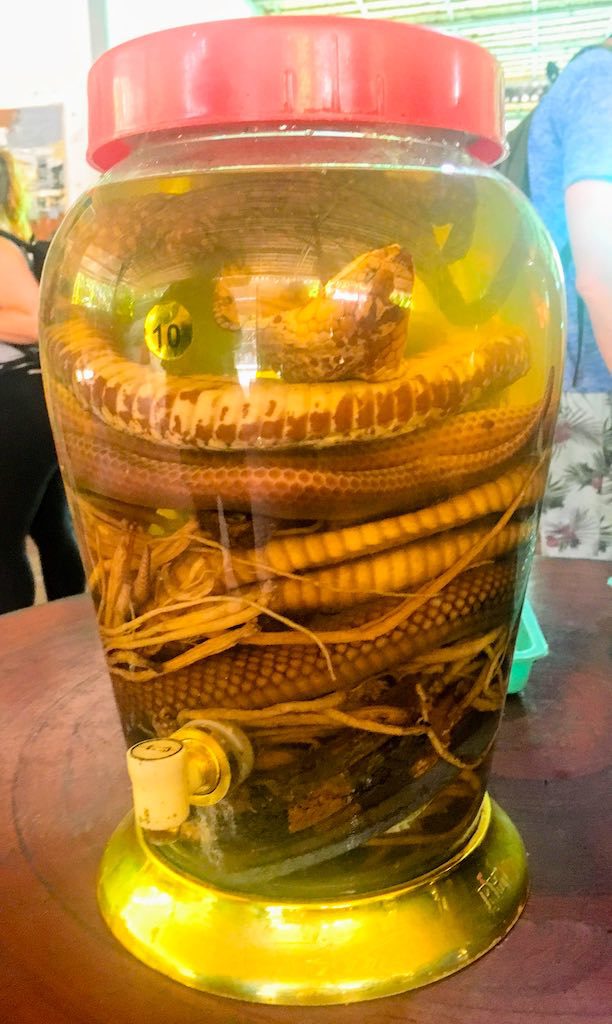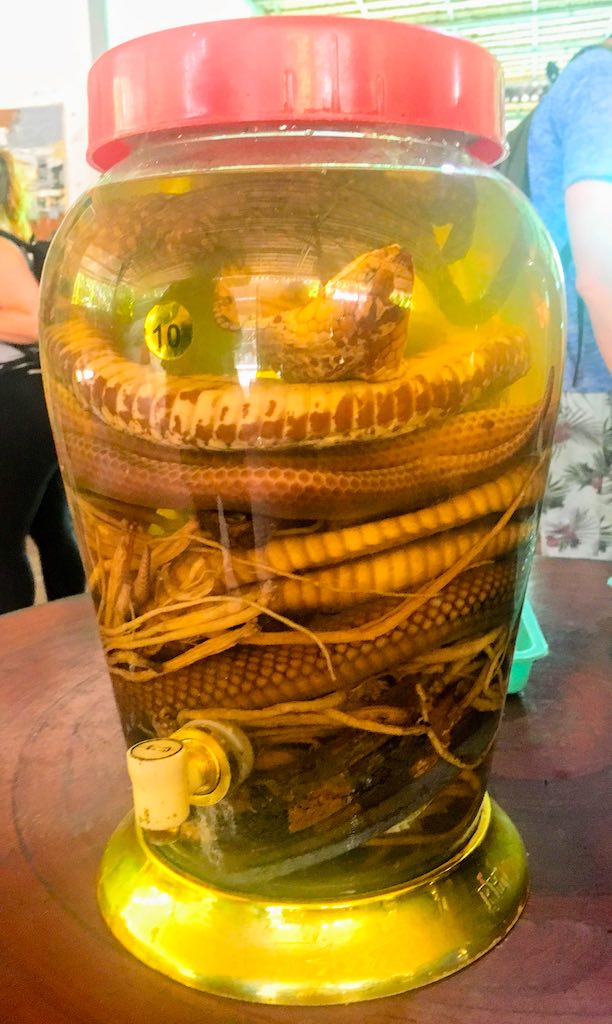 Rượu thuốc literally means 'medicinal liquor'.
Basically, ruou thuoc is a rice wine with some of what's is believed to be medicinal herbs and animals (such as snakes, and lizards). The herbs and animals are placed in a big jar with alcohol for days to dissolve medical substances.
Ruou thuoc is a typical Vietnamese aperitif consumed before a meal.
If you want to taste something weird and unique, you could choose Vietnamese snake whiskey. I sampled it on my visit to Mekong Delta!
VIETNAMESE BREAKFAST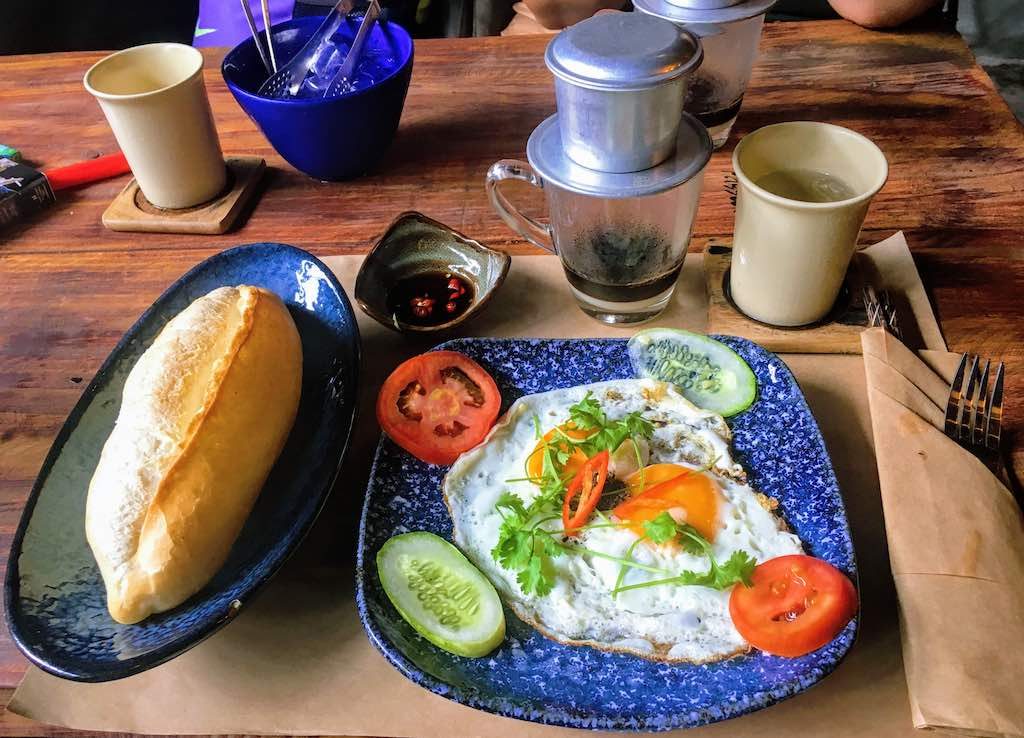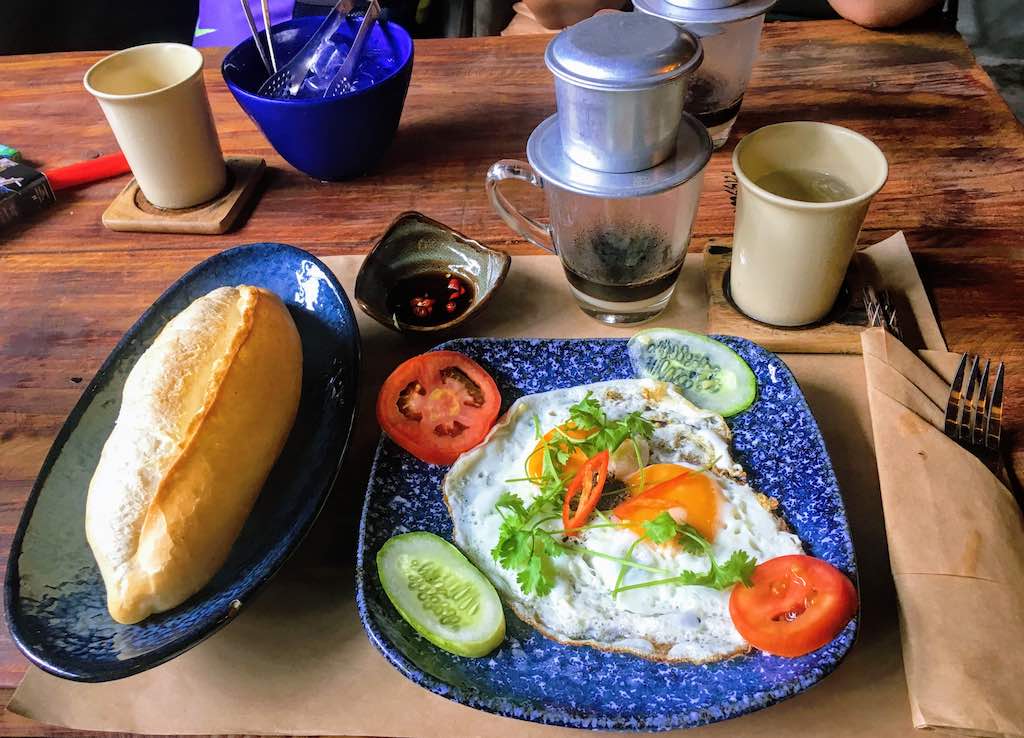 One of the most popular breakfast food in Vietnam is Vietnamese-style fried eggs with spicy nuoc cham sauce, Vietnamese baguette, and delicious Vietnamese drip coffee.
Typical Vietnamese-style fried eggs are garnished with a uniquely tasty set of strong fragrances: aromatic cilantro, sharp chili, sweet and cooling mint, sour tomato, and earthy cucumber.
Vietnamese-style fried egg breakfast is one of the most popular breakfast meals in Vietnam, along with the iconic Vietnamese Banh Mi sandwich, incredible Pho soup, celebrated Vietnamese fresh spring rolls, and fantastic north-Vietnamese Banh Cuon.
What is Vietnamese food?
Traditional Vietnamese food are pho (Vietnamese meat noodle soup), banh mi (Vietnamese sandwich), guoi cuoi (fresh spring rolls), cha gio (fried spring rolls), nuoc cham, goi xoia (green mango salad), goi mit tron (jackfruit salad), rau xao (stir-fried vegetables), banh cung, banh tet (traditional Tet cake), banh ghoi (fried dumplings), banh bao (steamed dumplings), banh beo, banh xeo (traditional Vietnamese crepes), bunh cha (grilled pork over rice vermicelli noodles), bun bo Hue, bun no nam bo ..
What food is Vietnam known for?
Vietnam is known for traditional Vietnamese food like pho (national Vietnamese meat noodle soup), banh mi (national Vietnamese sandwich), guoi cuoi (famous Vietnamese fresh spring rolls), cha gio (famous Vietnamese fried spring rolls), nuoc cham (national Vietnamese sauce), banh cung (famous Vietnamese cake, banh tet (traditional Tet cake), banh ghoi (Vietnamese fried dumplings), banh bao (steamed Vietnamese dumplings), banh beo, banh xeo (traditional Vietnamese crepes), bunh cha (famous Vietnamese grilled pork over rice vermicelli noodles), Vietnamese egg coffee, Vietnamese drip coffee …
What is the national dish of Vietnam?
The national dish of Vietnam is pho soup (traditional Vietnamese noodle soup with beef or chicken meat and herbs).
What do Vietnamese eat?
Traditional Vietnamese cuisine is famous for the freshness of the food, the use of lots of herbs and vegetables, and the harmony of tastes and textures of the dishes. Some of the most popular Vietnamese dishes are pho (national Vietnamese meat noodle soup), banh mi (national Vietnamese sandwich), famous Vietnamese fresh and fried spring rolls, traditional Vietnamese salads (like popular Vietnamese green mango salad, famous Vietnamese shrimp, and green mango salad, Vietnamese banana flower salad…), traditional Vietnamese cakes (like banh chung, banh tet, banx xeo …), popular Vietnamese soups (like bun bo hue, ga tan, canh cua, chao ..)
What is Vietnamese food?
Pho is the national dish of Vietnam and the most famous Vietnamese dish. Fresh spring rolls and fried spring rolls are some of the most popular Vietnamese dishes. Banh mi is a famous Vietnamese sandwich and popular Vietnamese street food. Vietnamese drip coffee and Vietnamese egg coffee are some of the most popular foods in Vietnam.