Thailand: Things to do in Thailand that will make you come back regularly to Thailand for the rest of your life
50 TOP THINGS TO DO IN THAILAND
Wondering what to do in Thailand? Interested in some amazing Thailand bucket list ideas?
Searching for the best things to do in Thailand for couples, things to do in Thailand for singles, things to do in Thailand with friends … fun things to do in Thailand, crazy things to do in Thailand, top things to do in Thailand?

I've covered you! Here's the ultimate collection of the most amazing things to do in Thailand, must-do things in Thailand, must-haveThailand experiences,and must-see places in Thailand.
Here&s the final list of the ultimately best 50 Thailand activities for your ultimate Thailand bucket list
STEPS AND TRAVEL RESOURCES FOR YOUR PERFECT TRIP

1. Find and book your flight: Skyscanner
2. Find and book your stay: Booking.com
3. Get travel insurance (insure yourself against any accident, sickness, theft, and canceled flight): WorldNomads.com
4. Find and book great guided day tours: GetYourGuide
THIS POST MAY CONTAIN COMPENSATED LINKS. PLEASE READ MY DISCLAIMER FOR MORE INFO.
Best things to do in Thailand
1. VISIT GRAND PALACE COMPLEX IN BANGKOK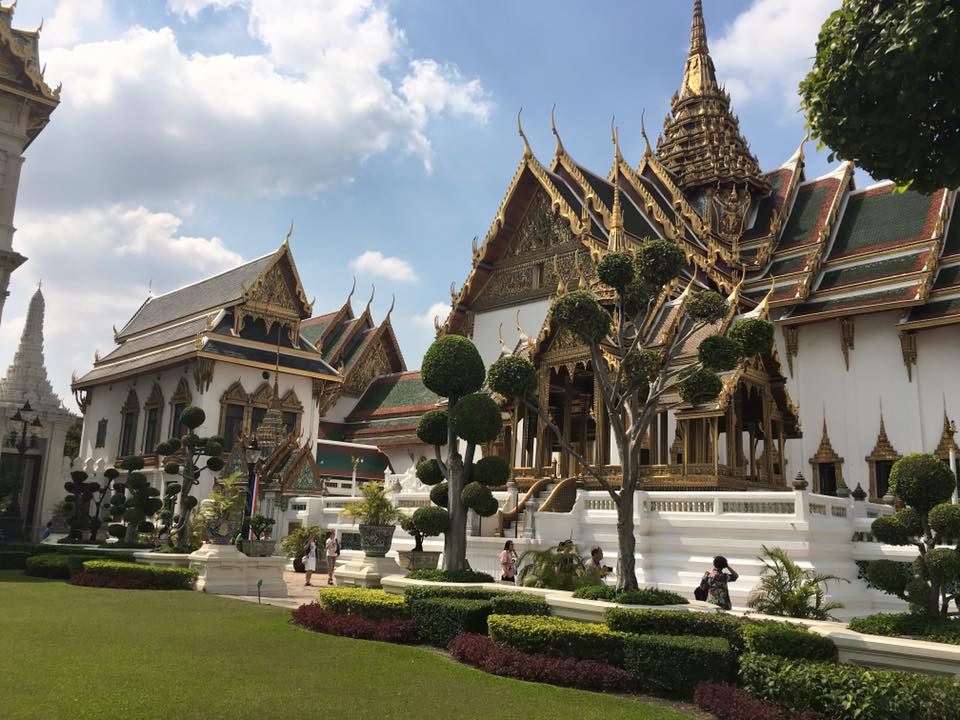 All roads in Thailand lead to Bangkok.
The Grand Palace Complex in Bangkok is the heart of Bangkok and Thailand. It'sa must-see in Thailand. Therefore, I am starting this list of the best things to do in Thailand with the Grand Palace in Bangkok.
The awe-inspiring Grand Place complex in Bangkok is a top tourist attraction in Thailand.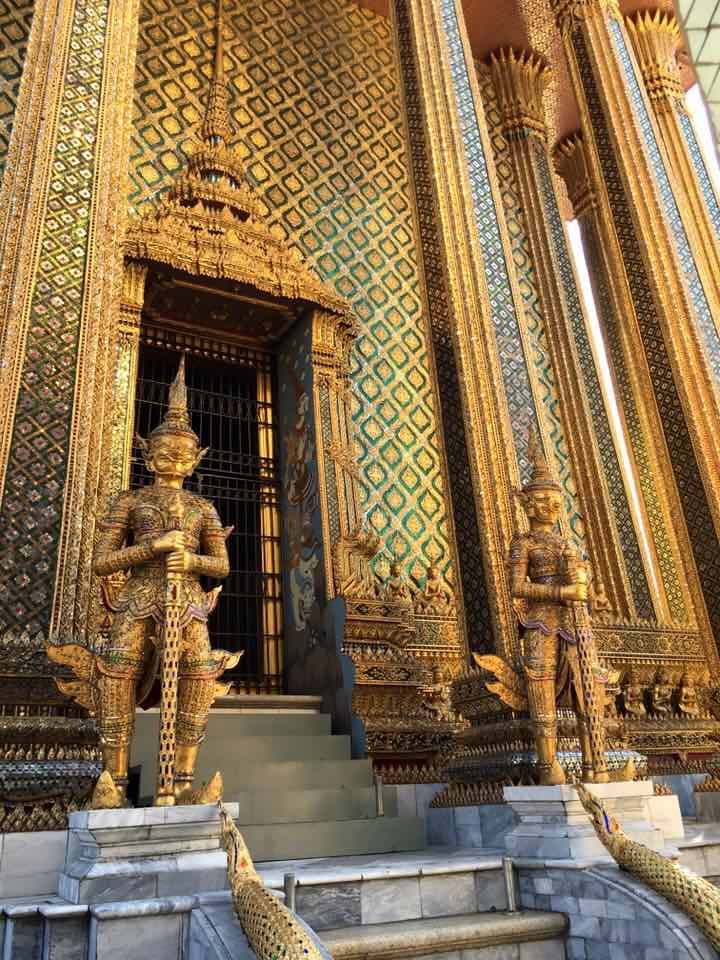 The complex covers the royal palace with several royal buildings with throne halls, royal chambers, ceremonial halls, royal offices, pavilions, courts, forts, gardens, and the famous Emerald Buddha Temple. The complex lies in an area of about 22 ha (54 acres).
No one can deny, visiting the Grand Palace complex is paying homage to the Kingdom of Thailand,a must-do in Thailand, and one of the best things to do in Thailand.
Recommended: Flexi Walking Temple Tour: Grand Palace, Wat Pho, Wat Arun

2. APPRECIATE THE BEAUTY OF ANCIENT SUKHOTHAI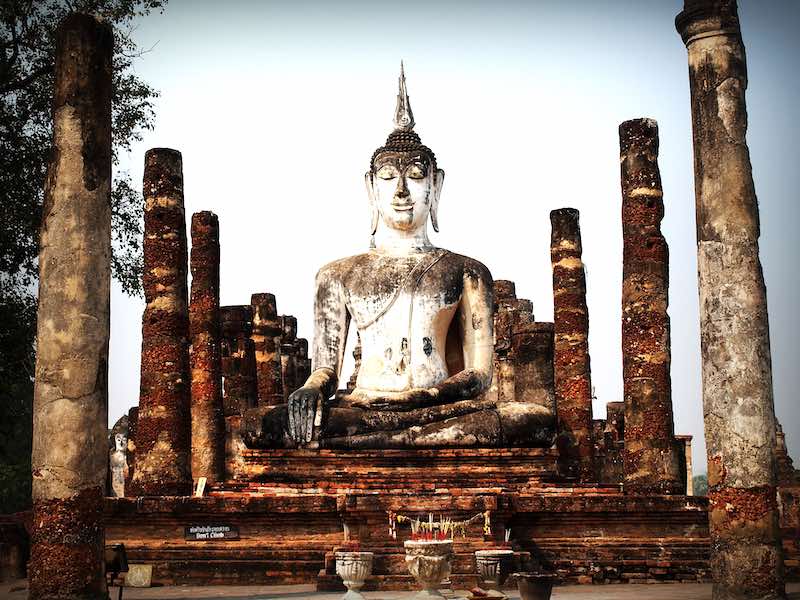 Imagine smaller and less crowded Angkor Wat in Cambodia, and you will get Sukhothai in Thailand.
The city of Sukhothai is the birthplace of the Thai language, art, and architecture. Sukothai literally means 'the dawn of happiness'.
Sukhothai was the first royal capital of the Kingdom of Siam, but today the city of Sukhothai is a UNESCO World Heritage Site in Thailand. It is one of the top Thailandattractions. Sukhothai Historical Park covers 190 historical ruins in the area of 70 km2.
The Historical Park of Sukhothai isa top place to see in Thailand.
Visiting Sukhotai equals visiting Thai's Angkor Wat. Observing the historical ruins of Sukhothai is one of the top Thailand things to do.
3. ADMIRE TEMPLES IN AYUTTHAYA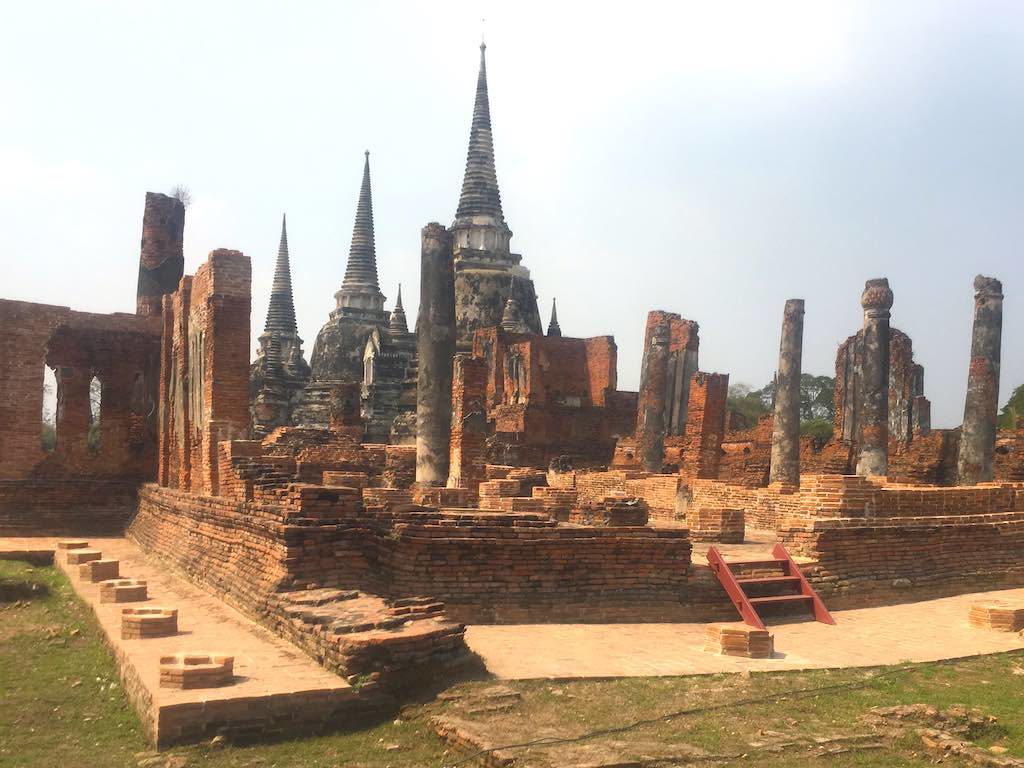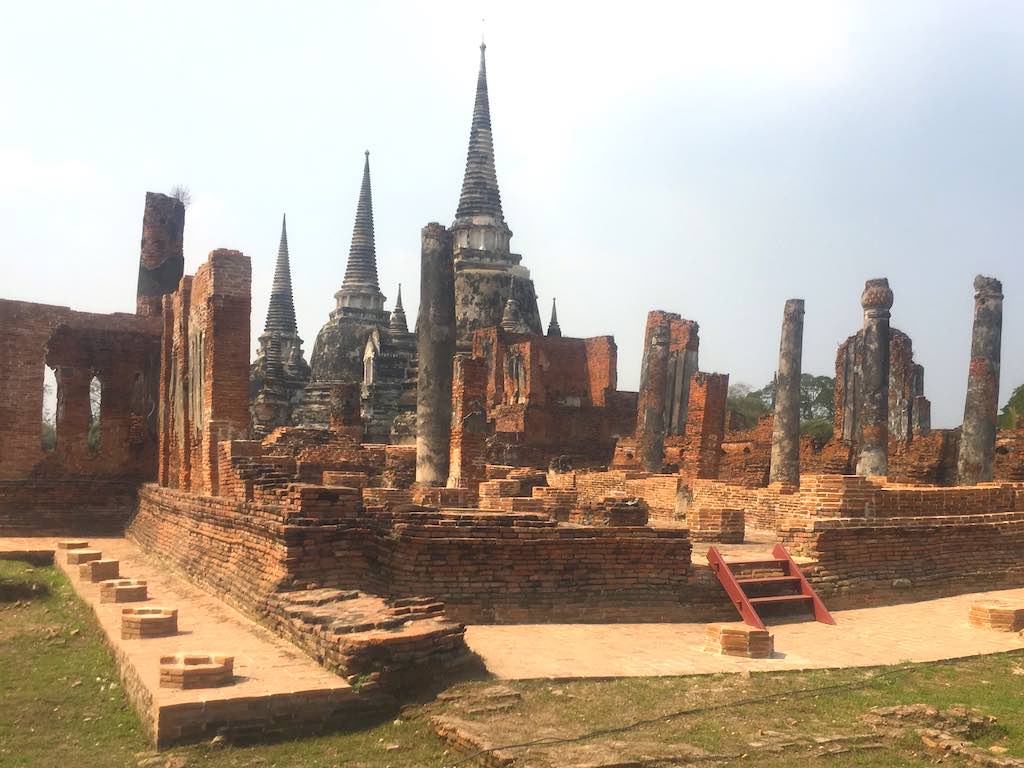 Ancient Ayutthaya was the second capital of the Kingdom of Siam.
The first Siamese kingdom was the Kingdom of Sukothai, the Kingdom of Ayutthaya was the second kingdom, then the Kingdom of Thonburi, and finally the Rattanakosin Kingdom with Bangkok as the capital.
After the Burmese burned Ayutthaya, the capital was moved to Thonburi and Bangkok. Today Ayutthaya is a UNESCO World Heritage site in Thailand. Ancient Ayutthaya is a must-go in Thailand.
Needless to stress out, magnificent Ayutthaya temples are must-see in Thailand.
More about spectacular temples in Ayutthaya you can read in my post: Best Ayutthaya temples
4. INTERACT WITH ELEPHANTS IN AN ELEPHANT SANCTUARY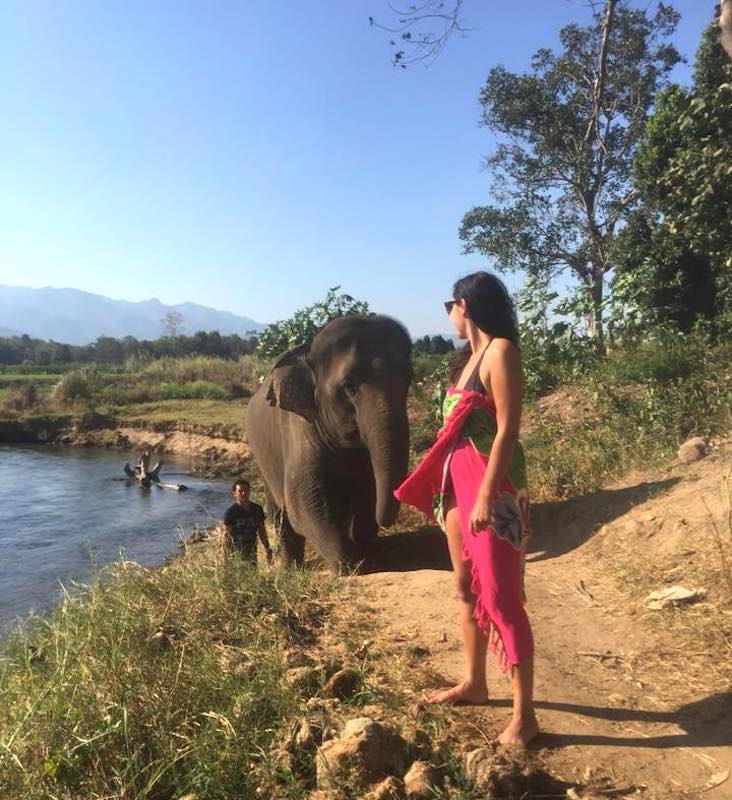 The elephant in the Thai language is called 'chung'.
The elephant is the national symbol of Thailand. White elephants are sacred animals in Thailand.
One of the top fun things to do in Thailand is to interact with elephants. Feed and bathe rescued elephants in an ethically-run elephant sanctuary like Ao Nang Elephant Sanctuary or Chiang Mai Elephant Sanctuary, Pattaya Elephant Sanctuary, or Koh Samui Elephant Jungle Sanctuary.
5. HAVE A ZIPLINE RIDE OVER RAINFOREST IN THAILAND
To have a zip line adventure over the rainforest canopy is one of the adventurous things to do in Thailand and one of the top activities in Thailand you can treat yourself with.
Have some fun and go for Fiore Zipline in Ao Nang, Eco Zip Line Adventure in Chiang Mai, Zipline Adventure in Phuket or Zipline Rainforest Adventure From Bangkok.
6. GET SPEECHLESS BY THE BEAUTY OF RED LOTUS LAKE IN UDON THANI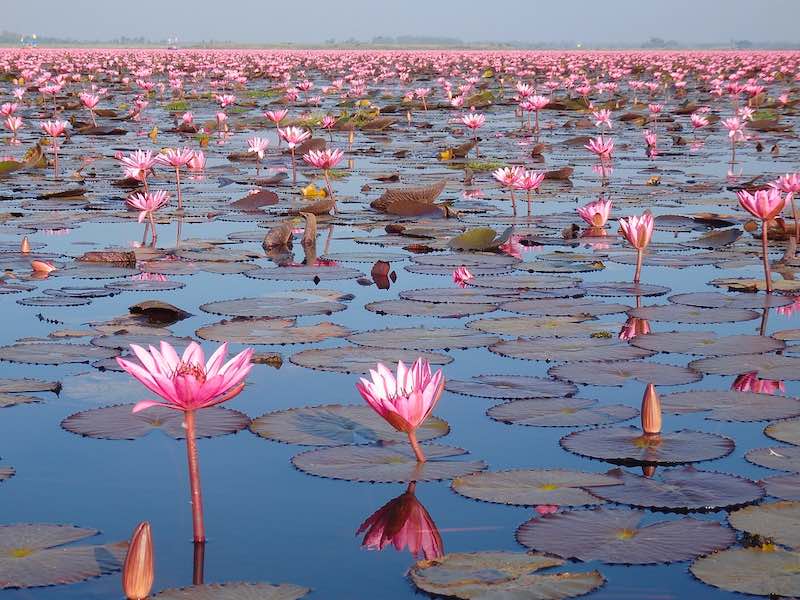 Talay Bua Daeng or the Red Lotus Sea in Udon Thani Province near the border with Laos in northeast Thailand. The Red Lotus Sea is a 7 km long and 3 km wide inland lake filled with pink lotus flowers.
Exactly, the lotus flowers are pink, not red. Despite the name.
Pink lotus flowers of the Red Lotus Seaare some of the top things to see in Thailand.
The peak time of blooming the water lilies is in January and February. Therefore one of the best things you can do in Thailand in January and February is hiring a boat on the lake and floating among pink lotus floors.
Hm, can you imagine Valentine's Day on the Red Lotus Sea with your beloved one?
7. EXPLORE NP KHAO SOK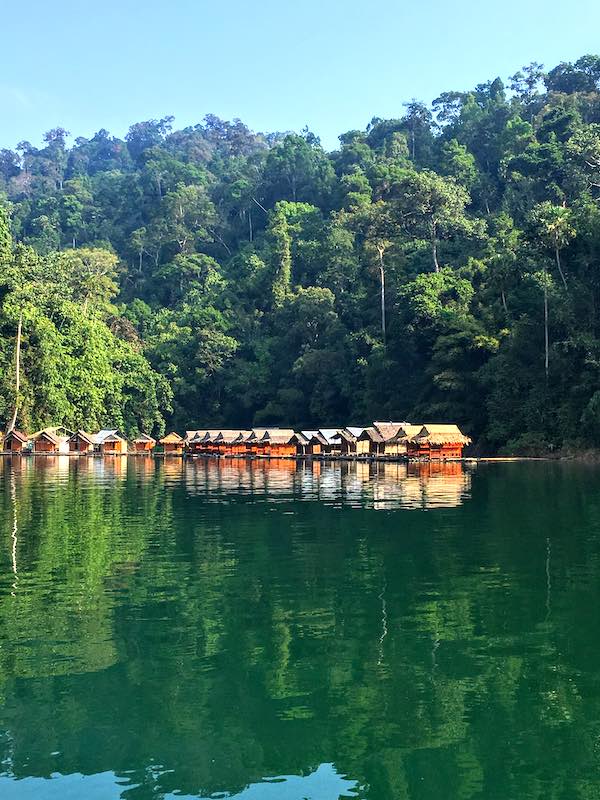 Khao Sok National Park is one of the top places to visit in Thailand.
Everyone who has ever visited Khao Sok NP will confirm it is heaven on Earth.
The park includes fascinating green rainforest that is home to wild animals (like gibbons, tigers, elephants, and many rare bird species), limestone karsts, and floating lodges on emerald Cheow Larn Lake. Khao Sok covers an area of 740 km2.
Do I need to add that Khao Sok NP is one of my favorite places in Thailand?!
Check out:
Khao Sok: Luxury 3-Day 2-Night Jungle & Lake Escape
Khao Sok: Full-Day Bamboo Rafting and Elephant Bathing
8. DO SOME SHOPPING IN TRADITIONAL THAI FLOATING MARKETS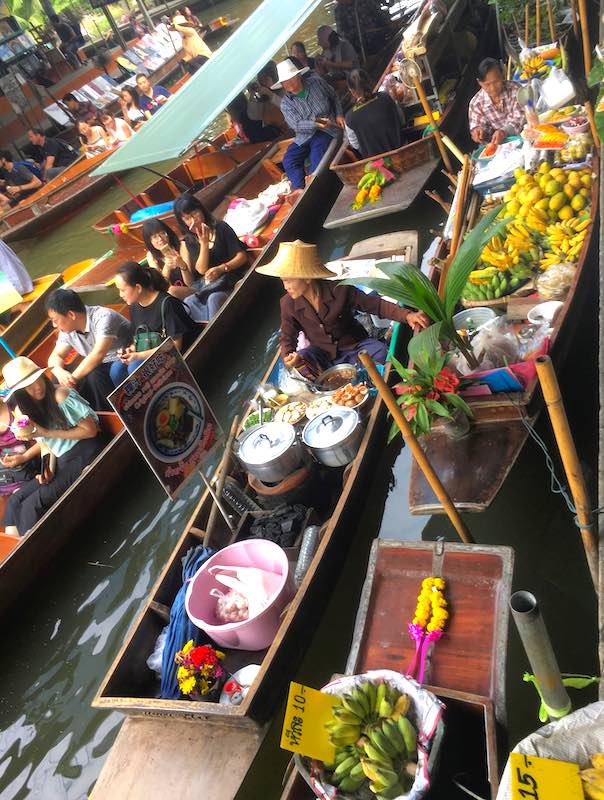 Incredible Thaifloating marketsare the must-see Thailandattractions.
Unquestionably, one of the top things to do in Thailand is visit unique Thai floating markets.
You can choose between visiting the most famous Damnoen Saduak Floating Market an hour away from Bangkok, almost equally popular and about 50 km from Bangkok Amphawa Floating Market, weekends' open Bang Nam Phueng floating market near Bangkok, beloved by locals and 15 km from Bangkok Khlong Lat Mayom, not touristy Taling Chan Floating Market located only 12 km from Bangkok and arguably the best Thai floating market the Four Regions Floating Market near Pattaya.
9. REJUVENATE YOURSELF WITH THAI MASSAGE
Traditional Thai massage is a unique body therapy and healing art more than 2.000 years old.
Thai massage is healthy, but also one of the cheap things to do in Thailand. If you are dealing with jet lag, believe me, it helps against it.
When In Thailand do yourself a favor and head to a massage room. If you are in Bangkok, the best place in Bangkok to have traditional Thai massage is Wat Pho Thai Traditional Massage School.
10. VISIT BIZARRE WHITE TEMPLE IN CHIANG RAI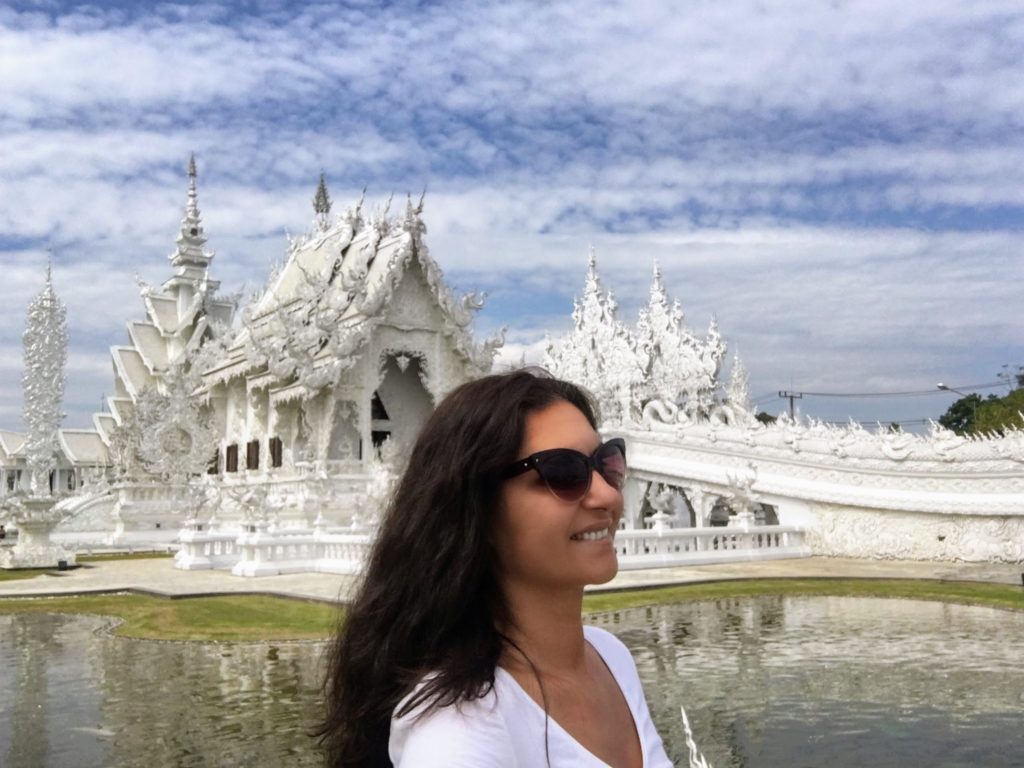 Wat Rong Khun, or White Temple, is a unique, somewhat bizarre, and unquestionably magnificent Buddhist temple in Chiang Rai in northern Thailand.
More about the White Temple you can read in my story: Top Buddhist temples in Chiang Rai in Thailand.
The White Temple is a must-see Buddhist temple in Thailand.
Visiting the unique White Temple in Chiang Rai is one of the best things to do in Thailand.
11. SET YOUR FOOT IN KOH PHI PHI ISLANDS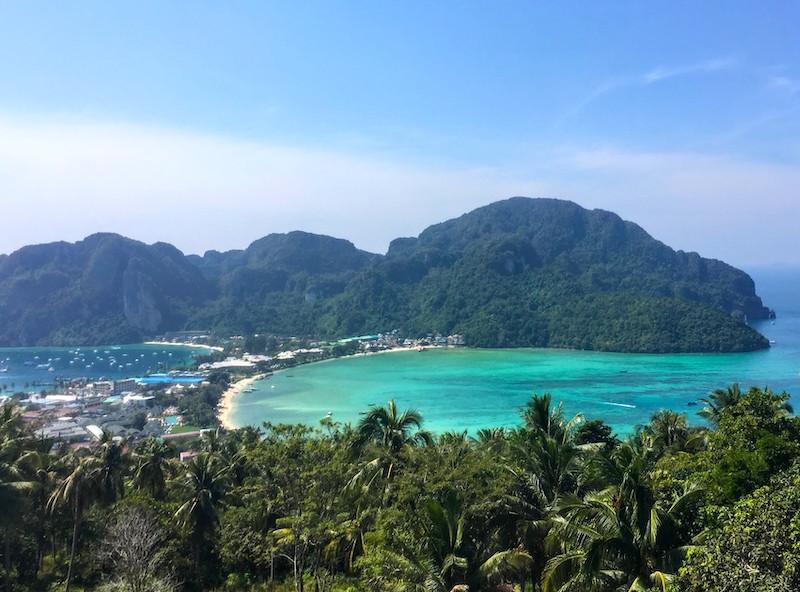 Koh Phi Phi islands are arguably the most famous islands among the 1430 Thai islands.
Koh Phi Phi islands include two main islands: Koh Phi Phi Don and uninhibited Koh Phi Phi Leh.
Koh Phi Phi islands are paradise-like tropical islands with stunning white sandy beaches, breathtaking bays with marvelous rock formations, turquoise waters, and fascinating tropical underwater life. Phi Phi islands offer some of the top diving spots and snorkeling sites in Thailand.
Phi Phi islands became famous thanks to the movie 'The Beach'. Today, the Phi Phi islands are an unmissable destination in Thailand.
Koh Phi Phi islands are Thailand's hot spots! Visiting the paradise-like Koh Phi Phi islands is one of the most amazing things to do in Thailand.
Gorgeous Koh Phi Phi islands can easily be visited on a day trip from Phuket and Ao Nang. If you are planning a family vacation to Phuket or Ao Nang, a day trip to Koh Phi Phi is one of the best things to do with kids in Phuket and one of the top things to do in Ao Nang.
12. SEE MAYA BAY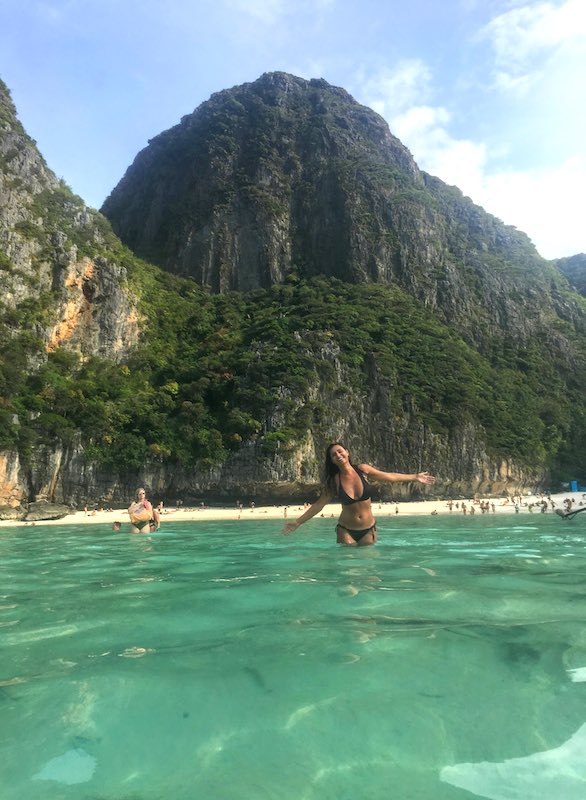 Maya Beach is probably the most famous beach in the world!
Maya Beachand Maya Bay on the island of Koh Phi Phi Lehare some of the most popular Thailandattractions.
Therefore, witnessing the beauty of Maya Bay and Maya Beach deserve a separate and special place on this list of top things to do in Thailand.
Maya Beach in Maya Bay on the island of Koh Phi Phi Leh is the beach where 'The Beach' movie featuring Leonardo DiCaprio was filmed. Enough said!
Bear in mind, Maya Beach is closed for the public until 2021, but still, you can admire it from the boat. However, boats are not allowed to anchor in Maya Bay.
If you want to visit Koh Phi Phi Islands and the Maya Bay I suggest reading my 10 day Thailand itinerary.
13. CLIMB THE ROCKS AT RAILAY BEACH
Railay Beach in Krabi province is actually a small walkable peninsula with 4 white sandy beaches, dramatically beautiful limestone cliffs, majestic viewpoints, intriguing caves, and an amazing lagoon.
There are no roads on the peninsula, but only footpaths. Don't worry, the peninsula is small and completely walkable.
Dramatical limestone pillars of karst limestone at Railay Beach are claimed to be one of the best climbing spots in the world.
If you are a climber who seeks an active vacation, then rock climbing at Railay Beach should be on your list of the best things to do in Thailand.
14. RELAX IN AO NANG
If you want to enjoy your vacation in a small resort beachfront town with easy access to some glorious sandy beaches of some blissful limestone islands like Ko Hong, Ko Poda, and Ko Gai (Chicken Island), please book your stay in Ao Nang.
Stay away from touristy Phuket and relax in Ao Nang!
15. HAVE THRILLING TUK-TUK RIDES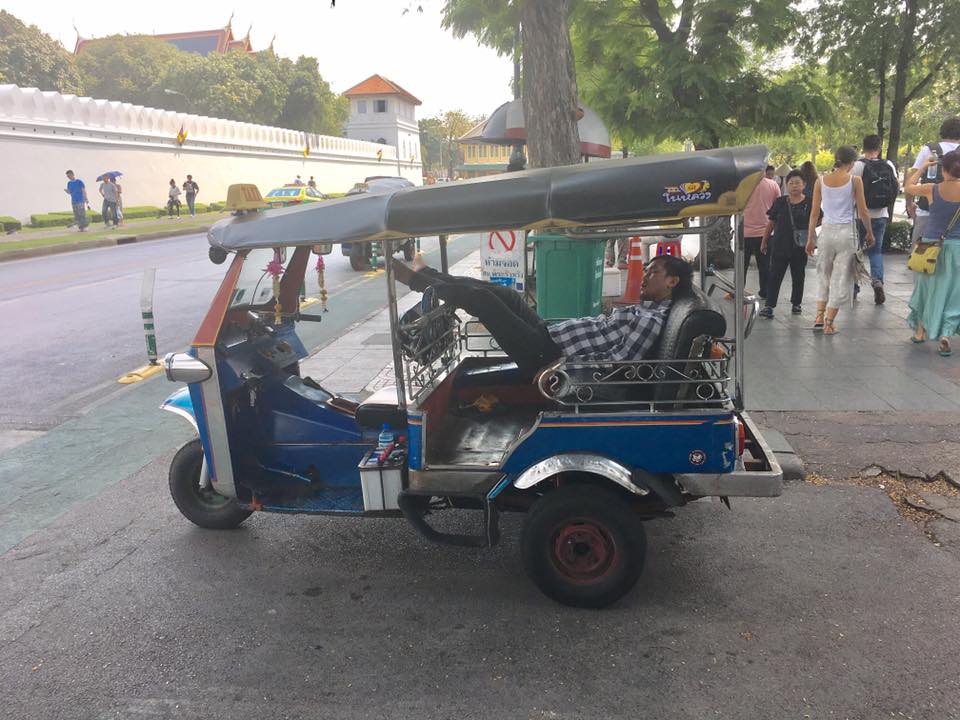 When someone mentions Thailand, one of the top things to do in Thailand that crosses the minds of many is thrilling tuk-tuk rides.
There's no visit to Thailand without exciting tuk-tuk rides!
Having an exciting tuk-tuk ride is one of the most exciting things to do in Thailand.
16. SEE UNIQUE TRAIN MARKET NEAR BANGKOK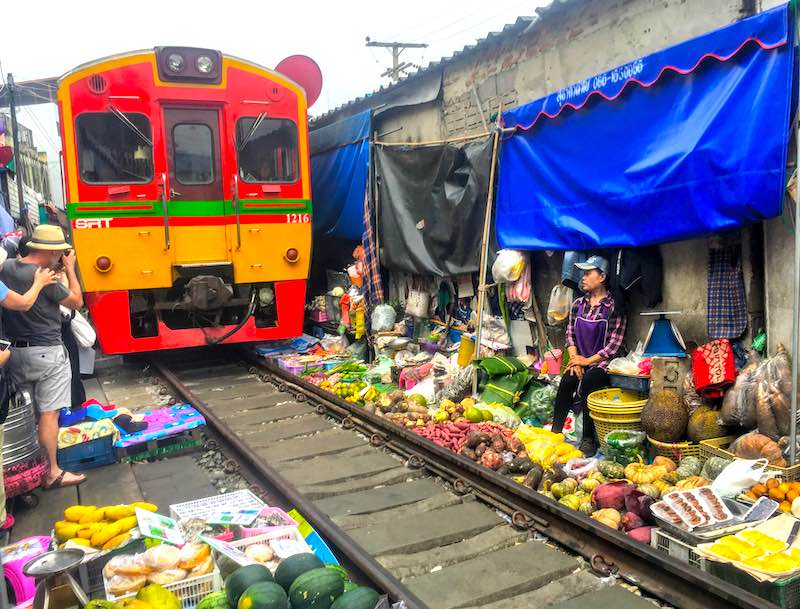 The Maeklong Railway Market near Bangkok (50 mi away from Bangkok) is one of the top Thailand attractions.
The market is aunique market nicknamed the Train Market. It got its name after a train that runs through the middle of it every day eight times a day.
Actually, the market is set up on fully operating train tracks. The vendors take their products off the tracks when a train passes by, but and soon as the train has passed, they put the products back onto the tracks.
Check out Damnoen Saduak Floating Market & Maeklong Train Market Tour from Bangkok.
Seeing the unique Train Market near Bangkok is one of the unique things to do in Thailand.
17. TRY THAI BUCKET
A famous Thai bucket is a bucket filled with a bottle of liquor (vodka, whiskey, rum…), a can of Thai Red Bull called M150, a can of soda, lots of ice, and several straws commonly served on Thai beach parties.
The most popular Thai buckets are sold during Full Moon Party on Haad Rin on Koh Phangan.
Sampling a crazy Thai bucket onThai beach party is one of the crazy things to do in Thailand.
18. VISIT INFAMOUS GOLDEN TRIANGLE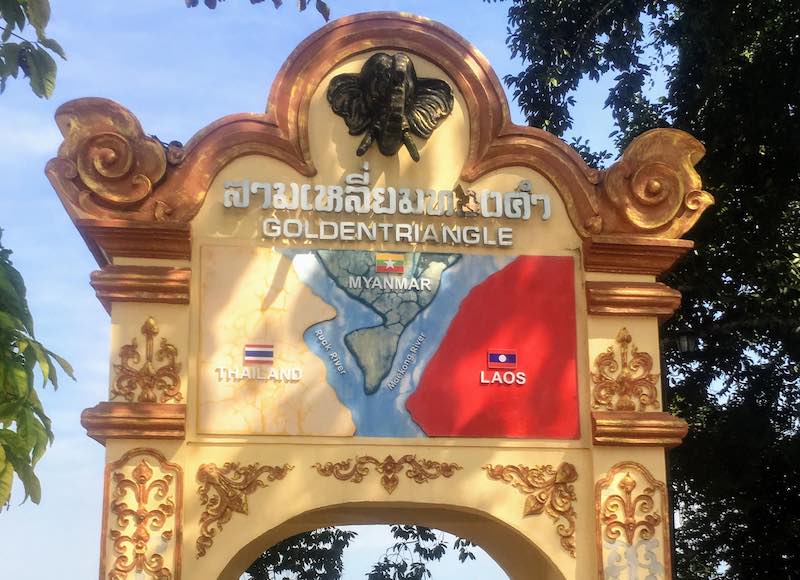 The bordering area of three countries (Thailand, Laos, and Myanmar) is the area of untouched nature once called 'the land of a million rice fields'. This is the area of the lush jungle, beautiful rice paddies, and unique hill tribes villages.
Unfortunately, this part of Thailand is a former infamous worldwide drug trading zones supplying most of the world's heroin from the 1960s to 1990s.
This area in northern Thailand was nicknamed 'Golden Triangle' by CIA describing the payment mean for opium (gold for opium). From history, let me just say opium poppy in this area (in northern Thailand and neighboring Myanmar) was cultivated by tribespeople living in poverty while Chinese traders were paying opium in gold.
If you want to visit Thailand off the beaten track, head to the Golden Triangle.
Chiang Rai and Golden Triangle tour from Chiang Mai
19. EDUCATE YOURSELF IN THE HALL OF OPIUM MUSEUM
The Hall of Opium is a world-class multimedia edutainment (educational and entertaining) museum in the Golden Triangle in Thailand.
The museum educates visitors about opium and heroin, the origin of opium and the 5.000-year history of opium, poppy growing, and opium-producing, the opium wars, illegal drug trading and trafficking, and impacts of drug abuse and addiction.
Let me add here, the museum features some shocking exhibits. I was shocked to see secret CIA files showing the controversial role of CIA in drug trafficking and sponsoring a 'Secret War' against communists in Laos from 1961 to 1975.
Unfortunately, taking photos is not allowed in the museum, but believe me, you will enjoy your visit!
The Hall of Opium is not only one of the best museums in Thailand, but one of the best museums in the world.
Learning about opium in theHall of Opium is one of the most interesting things to do in Thailand.
20. LEARN ABOUT HILL TRIBES IN THAILAND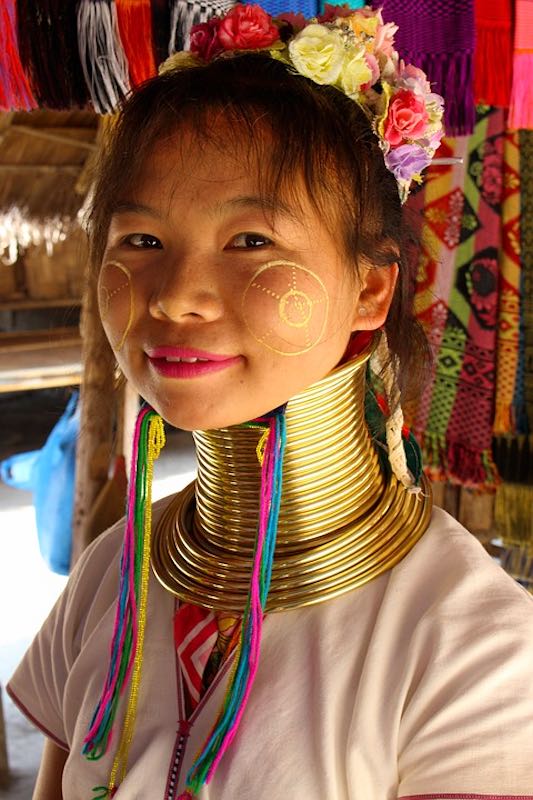 The Golden Triangle area, Chiang Mai Province, and Chiang Rai Province in northern Thailand are home to distinctive hill tribes: Akha, Karen, Hmong, Shan, Kahu, Yao, and Lisu.
Visit some of the hill tribes in Thailand and learn about their customs and traditions.
Chiang Mai: Full-Day Hill Tribe Countryside Villages Tour
21. WATCH MUAY THAI MATCH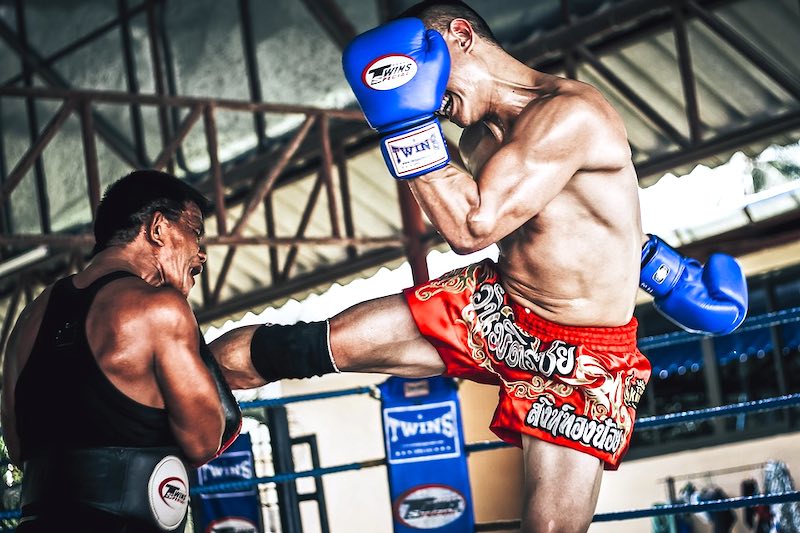 One of the best things to do in Thailand is to watch Thailand boxing in the homeland.
Some of the most popular places in Thailand to watch Thai boxing are in Bangkok of course. You can choose between watching traditional Thailand boxing matches in Rajadamnern Stadium in Bangkok (the oldest Muay Thai stadium in Thailand), Lumpinee Stadium in Bangkok (the most prestigious Muay Thai stadium in the world with the best Muay Thai matches), Channel 7 Stadium or MBK Fight Nights in Bangkok.
If youare looking for some entertainment in Thailand, get your Muay Thai Live Knockout Real Fight Ticket
22. ATTEND FULL MOON PARTY ON KOH PHANGAN
If you ask partygoers, what the best thing to do in Thailand is, the ultimate answer most certainly is: attending Full Moon Party on Koh Phangan.
Haad Rin beach on Koh Phanghan is the place where the most famous Full Moon Party in the world happens.
In fact, the beach is a party mecca in Thailand featuring Full Moon Party, Half-Moon Party, Black Moon Party ….
Attending the famous Full Moon Party on Koh Phangan is a must-lifetime experience for party-goers.
But above all, crescent-shaped Haad Rin beach is an amazing beach with the finest white sand and one of the most beautiful beaches in Thailand overall.
23. GET PRECIOUS VITAMIN 'C' ON KOH PHANGAN BEACHES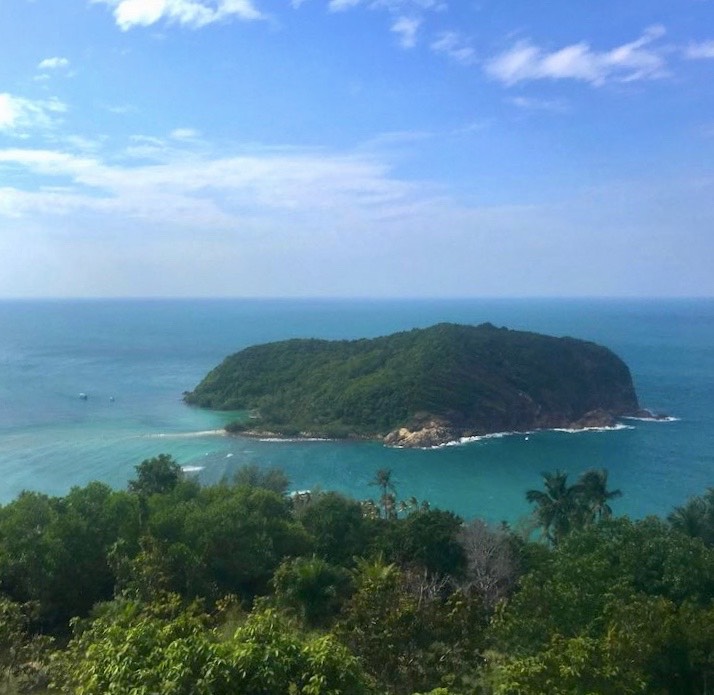 Koh Phangan is one of the most beautiful islands in Thailand.
If you are into pristine and deserted sandy beaches, don't worry Koh Phangan got you covered too!
There are about 30 beaches on Koh Phangan to choose from. They range from quiet and secluded beaches to touristy beaches, from serene beaches for families with kids to romantic beaches for honeymooners who prefer privacy, and amazing beaches for snorkeling and diving.
Here you can read my story about 10 Best Beaches of Koh Phangan you need to see!
Exploring the gorgeous beaches of Koh Phangan is one of the best things to do in Thailand.
24. DIVE ON KOH TAO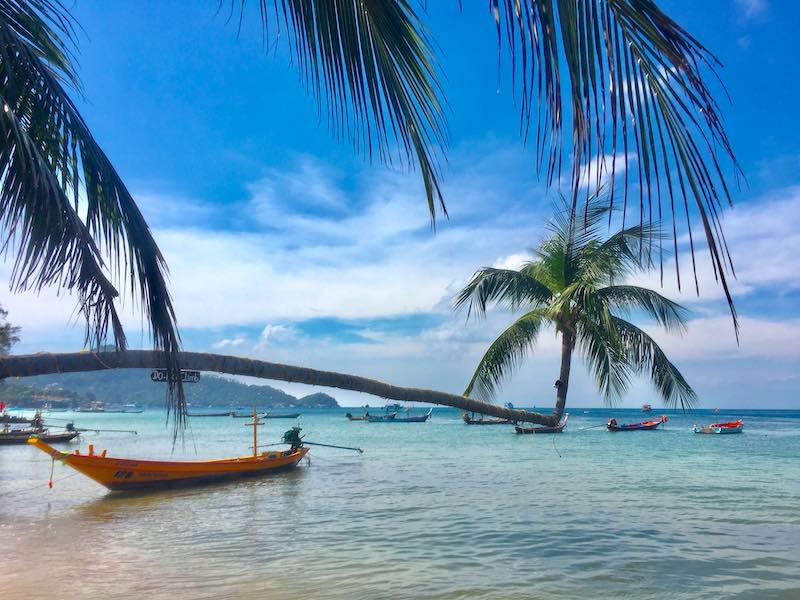 Koh Phi Phi islands are the synonym for the Beach, Koh Phangan might be the synonym for Full Moon Party, but Koh Tao is definitely the synonym for diving in Thailand.
Koh Tao offers some of the best diving sites in Thailand and some of the best diving schools in the World.
Koh Tao provides a water temperature of about 29 C all year round, gentle currents, shallow coral reefs and diving with turtles, reef sharks, leopard sharks, barracudas, and even whale sharks and bull sharks.
If you are after cheap diving lessons or getting your Professional Association of Dive Instructors (PADI) certification or Scuba Schools International (SSI) certification, you should book your ticket to Koh Tao.
Exploring the amazing diving sites of Koh To is one of the top things to do in Thailand.
25. ENJOY THE SUNSETS ON KOH LANTA
Koh Lanta island in Krabi Province is famous for its serenity and beautiful sunsets.
Beautiful Koh Lanta is one of the must-visit places in Thailand
Mu Ko Lanta National Park covers several islands, including a part of Ko Lanta island. Because of its remote location, Ko Lanta is less touristy than for instance Ko Phi Phi islands, Ko Tao, Ko Samui, or Ko Phangan.
If serenity, beautiful pristine beaches, crystal clear water, a national park, and gorgeous sunsets resonate with you, set your radar to captivating Koh Lanta and explore some of the best Koh Lanta beaches. Believe me, it is so easy to fall in love with Koh Lanta!
Visiting not-touristyand lovely Koh Lanta isa must-do in Thailand.
26. EXPERIENCE SONGKRAN FESTIVAL – THAI NEW YEAR FESTIVAL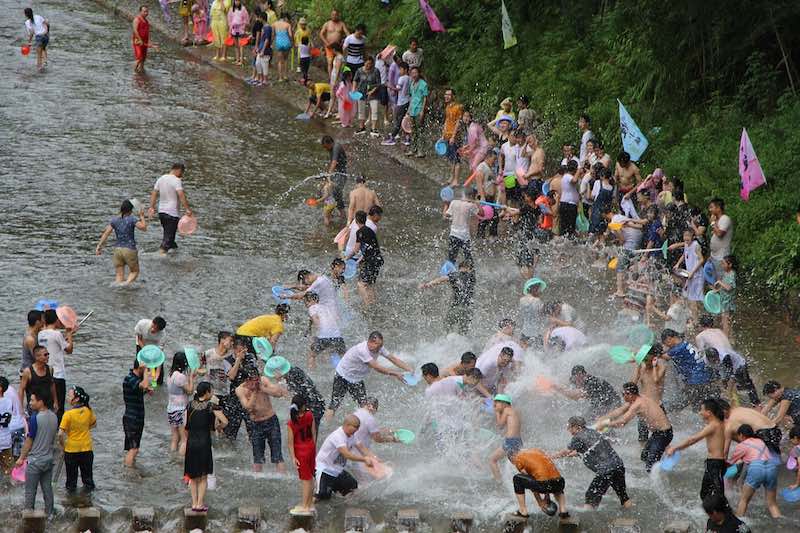 Official New Year in Thailand happens on January 1, but traditional Thai New Year happens on April 13 in line with the Buddhist calendar.
Traditional Thai New Year is called Songkran.
The Songkran Festival (popularly known as the Thai Water Festival) lasts for 3 days from April 13-15 and it is celebrated by water throwing.
Splashing water onto others symbolizes washing off other people's bad luck and sins. Observant Buddhists head to temples on Songkran and show their respect by pouring water on Buddha images and on the hands of Buddhist monks.
The most famous Bangkok Songkran Splendours Festival takes place from April 13-15 and it starts with the opening ceremony at Wat Pho.
Thailand is a popular tourist destination, especially during the Songkran Festival. So if you want to experience a unique event, set April 13 in your calendar and head to Thailand to enjoy unique and fun warfare.
27. SEE OUTSTANDING CHIANG MAI TEMPLES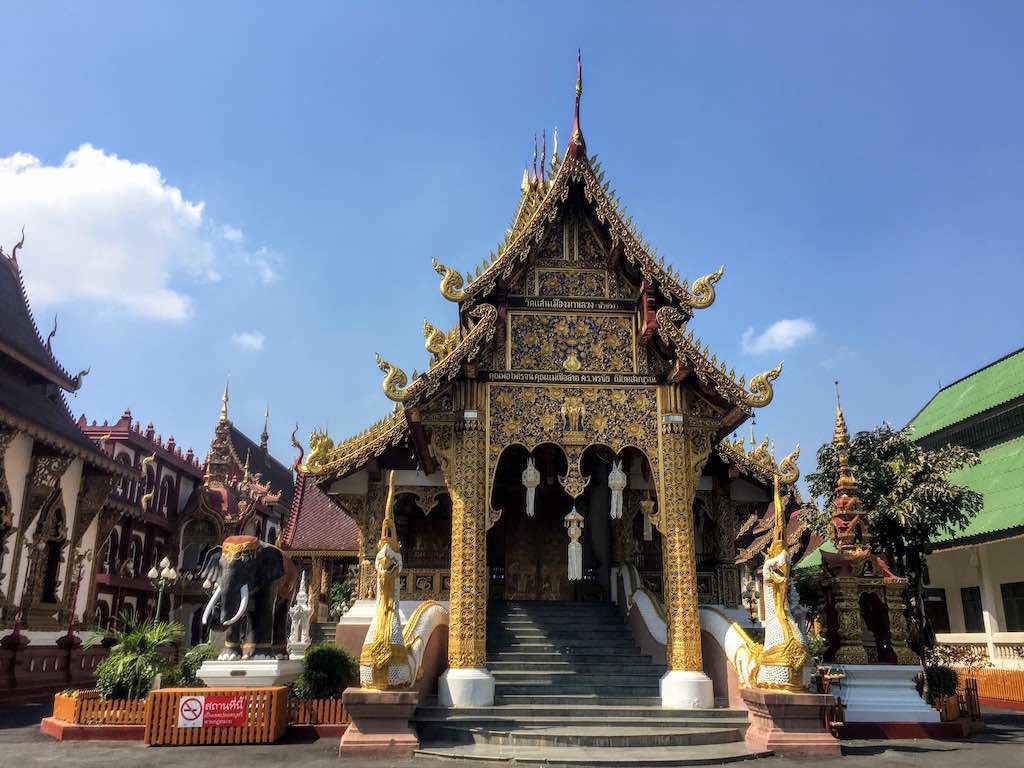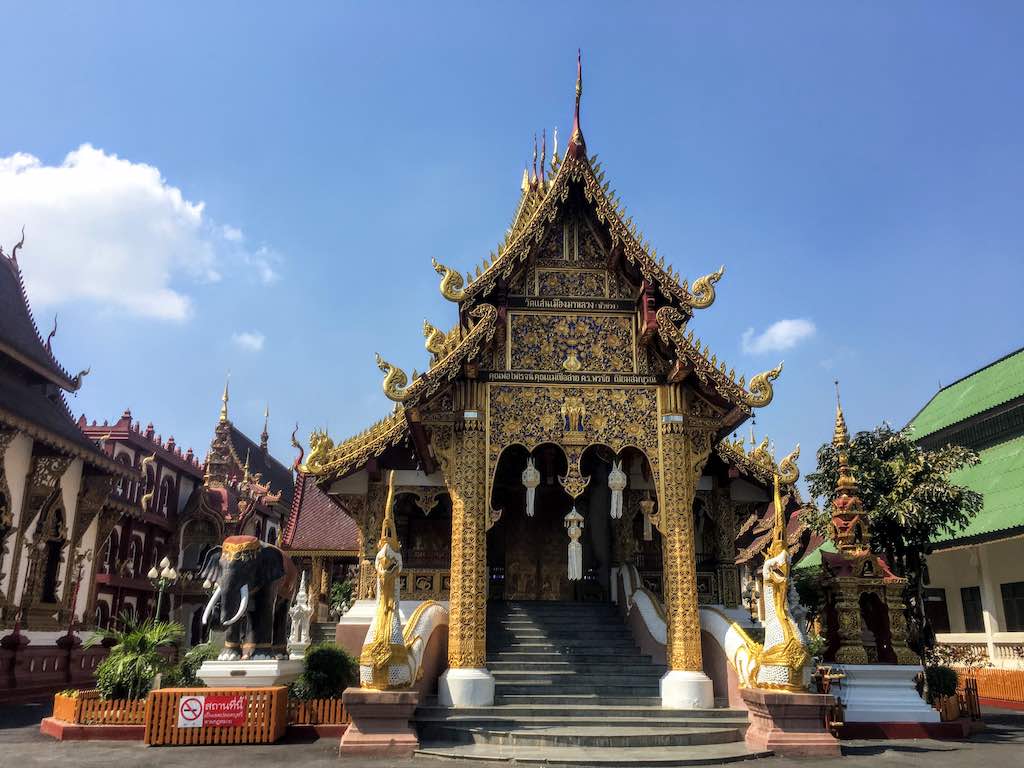 Spectacular temples inChiang Maiare some of the most famous Thailandattractions.
Chiang Mai in northern Thailand was the capital and the cultural and religious center of the ancient Lanna Kingdom.
Today Chiang Mai with more than 300 temples is a living museum. Buddhist temples in Chiang Mai are some of the most beautiful Buddhist temples in Southeast Asia .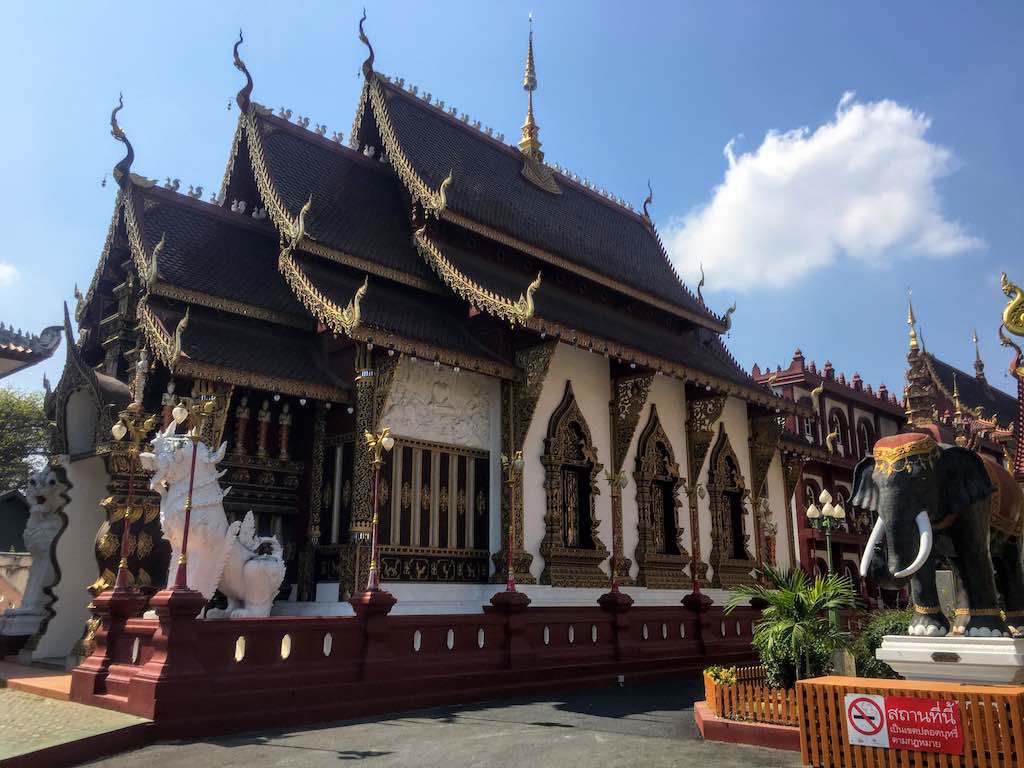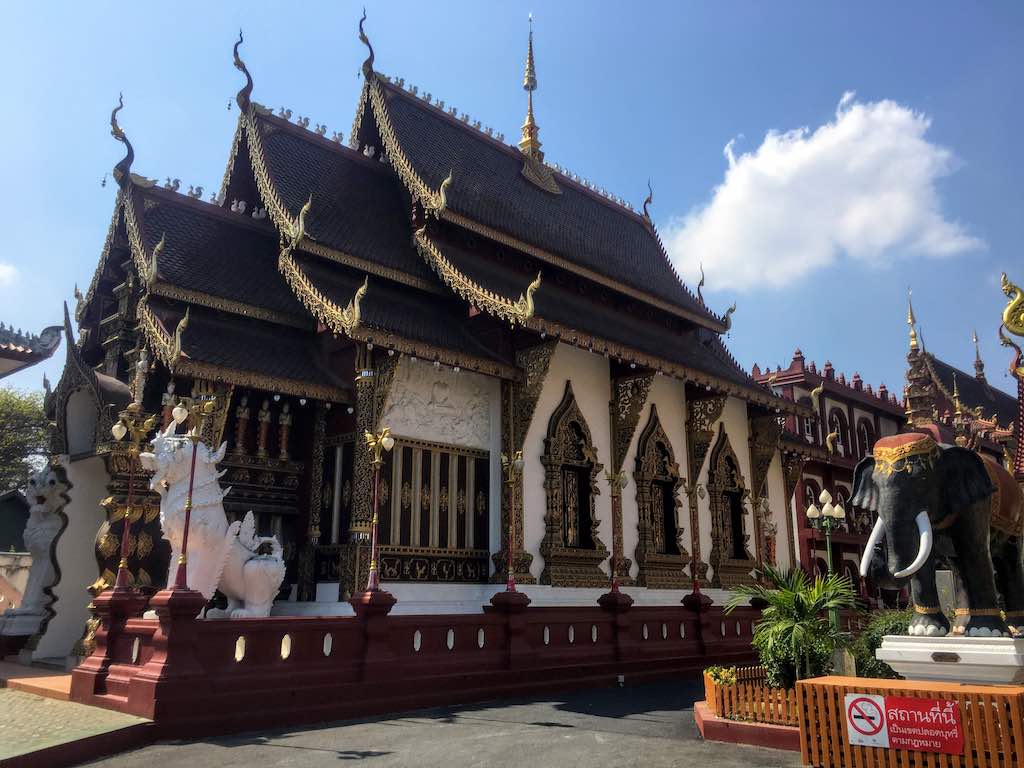 Distinctive Wat Chedi Luang, impressive Wat Phra That Doi Suthep, elaborate Wat Phra Singh, wooden Wat Phan Tao are some of the must-see top temples in Chaing Mai!
28. TAKE A DAY TRIP TO KANCHANABURI AND THE BRIDGE OVER KWAI RIVER FROM BANGKOK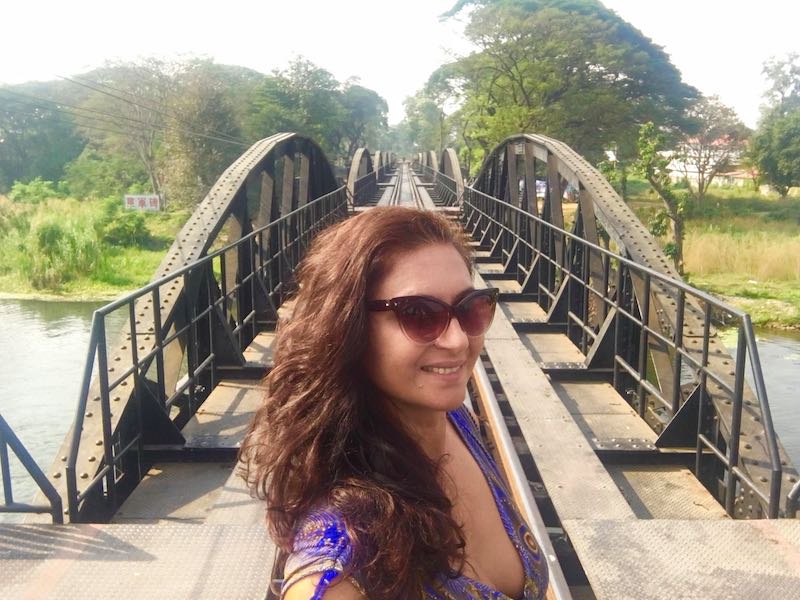 Most likely you have heard about Kanchanaburi thanks to the sad history.
During WWII Japanese forces based in Kanchanaburi forced Allied Prisoners Of War (POW) to build a railway from Thailand to Burma (Myanmar). Construction of the railway took so many lives that consequently it got nicknamed the 'Death Railway'.
Today the most popular attraction in Kanchanaburi is the bridge popularly known as the Bridge on the River Kwai due to the famous movie with the same title. I enjoyed a day trip from Bangkok to Kanchanaburi I took, visiting JEATEH War Museum, the War Cemetery, the Bridge over Kwai river, and taking a ride on the Death Railway.
Having a train ride on the Death Railway is one the mostawesome things to do in Thailand.
29. HAVE FISH SPA PEDICURE IN THAILAND
Place your feet into a water tank with 'doctor fish' and let the fish nibble dead skin on your feet away. Relax while having a gentle feet massage by fish that at the same time will make your feet look beautiful.
Today you can find fish spas in walking streets, tourist areas, and shopping centers across Thailand but the most popular fish spas are in Bangkok.
Getting a fish pedicure is one of the most fun things to do in Thailand.
30. ENJOY BANGKOK'S ROOFTOP BARS AT NIGHT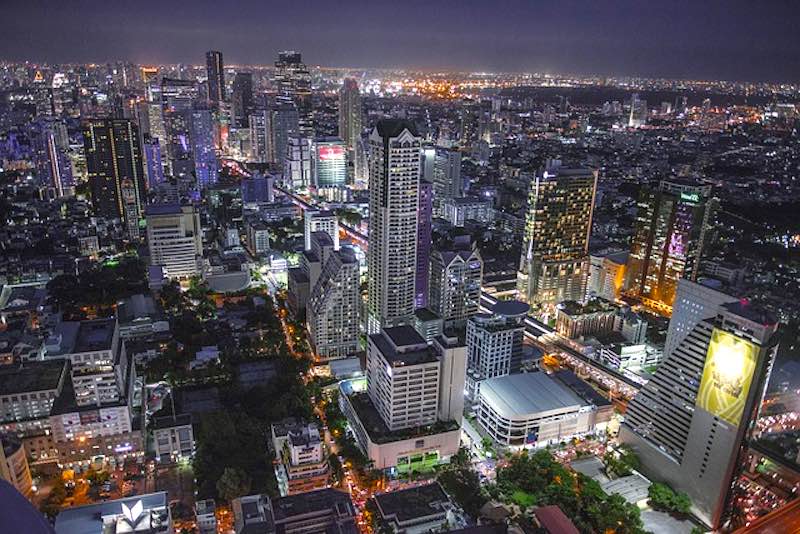 Rooftop bars in Bangkok are exciting places to go in Bangkok for the amazing views.
Mahanakhon Bangkok SkyBar located on the 77th floor is the highest restaurant and bar in Thailand providing the best views of Bangkok. Vertigo and Moon Bar on the 61st floor of the Banyan Tree Hotel provides some of the best views of Bangkok. Zoom Sky Bar on the 40th floor of the Anantara Sathorn Hotel offers stunning 360 degrees views. Cloud 47 on the 47th floor of the United Center in Silom Road is another great option. If you are a fan of the Hangover movie, then Sky Bar by Lebua on the 63rd floor is your best bet.
Touring Bangkok's rooftop bars is one of the top things in Thailand.
31. STROLL ICONIC KHAO SAN ROAD IN BANGKOK
Khaosan Road in Bangkok is the world's most famous backpackers street and backpackers ghetto.
Khao San Road is one of the top attractions in Bangkok, especially at night when bars open and music starts. According to the statistics, between 20,000 and 40,000-50,000 tourists a day visit Khao San Road (depending on the season – the high season or the low season).
Strolling iconic Khao San Road is not only one of the best things to do in Bangkok but also one of the best things to do in Thailand.
32. ATTEND LOY KRATHONG FESTIVAL
Loi Krathong is the Thai floating baskets festival celebrated on the full moon night of the 12th month of the Thai lunar calendar (which is November in the Western calendar). '
Krathong' means 'basket' while Loi Krathong means 'to float a basket'.
Thai people traditionally float small baskets made of leaves and filled with flowers, three incense sticks, a candle, and a coin honoring the water spirits and the Water Goddess on Loy Krathong.
Releasing the floating baskets Thai people symbolically let go of negative 'poisonous thoughts' (anger, hate, fear, jealousy, and similar negative emotions).
Loy Krathong 2021 takes place on November 19, 2021.
33. RELEASE LANTERN IN THE SKY IN YI PENG LANTERN FESTIVAL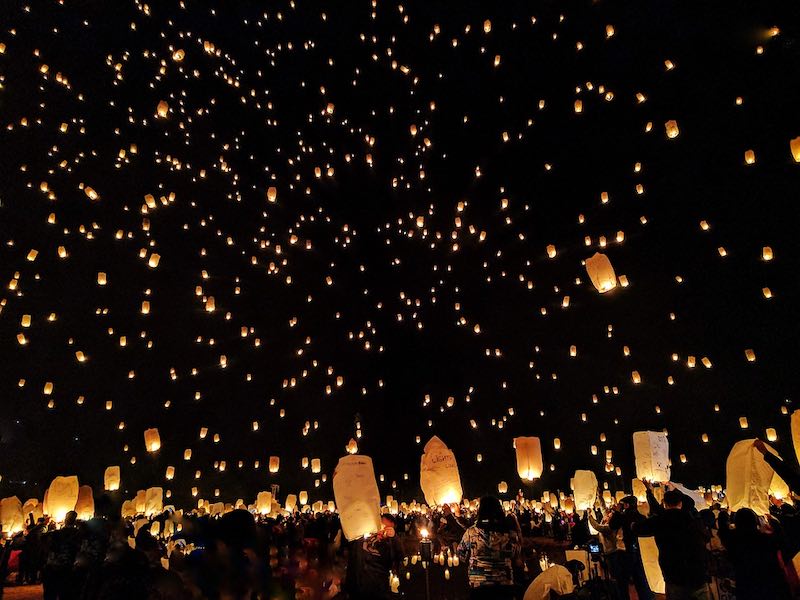 Loy Krathong happens the same day as the Yi Peng Festival in northern Thailand which is related to the Lanna culture.
Because the Thai Water Festival and Thai Lantern Festival happen on the same day, they are often mistaken by foreigners and you can often hear them calling Loy Krathong Lantern Festival.
The most popular Yi Peng Festival in Thailand happens in Chiang Mai when sky lanterns (krathongs) made of thin rice paper with a candle are released in the air.
So if you are planning to visit Thailand in November, unquestionably some of the best things to do in Thailand is witnessing the Yi Peng festival or Loy Kratong festival.
34. GET HOLY SAK YAK TATTOO AT WAT BANG PHRA TEMPLE IN BANGKOK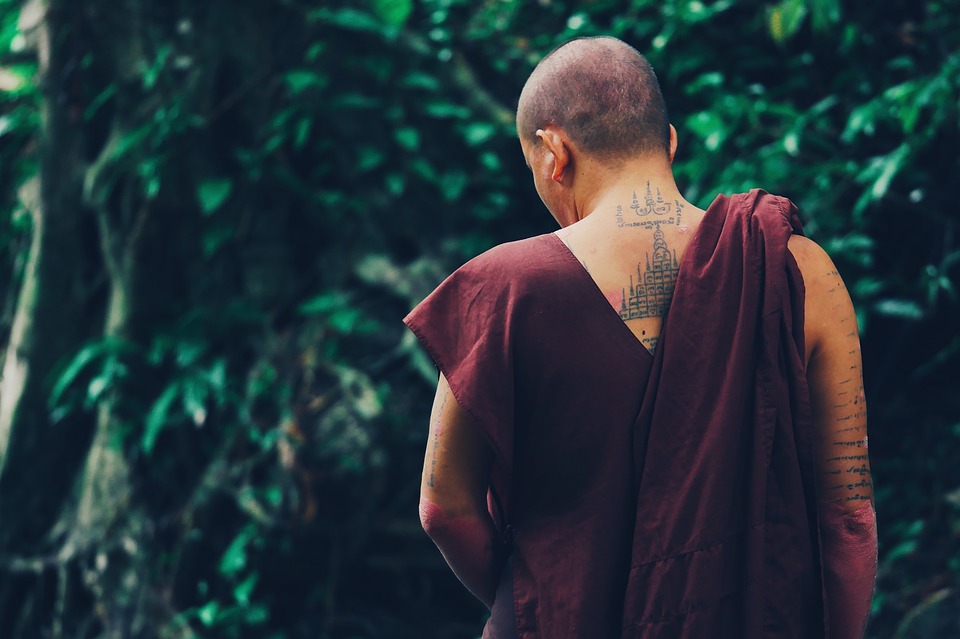 Sacred Yantra tattoo is inked by Buddhist master monks traditionally at the top of the back. It shows lines of script, geometric patterns or animal shapes. The tattoo is believed to bring mystical powers, good luck or protection from evil.
Originally Buddhist monks used to make Sank Yats tattoos to warriors for their protection and good luck, but over time Sank Yats tattooing has widely spread among common Buddhist people. Even more, today Sank Yats tattoo is one of the most desired travel tattoos.
The best place to get Sank Yats tattoo is at Wat Bang Phra temple located 50 km west of Bangkok.
If you would like to get a tattoo like Angelina Jolie's, join Holy Tattoo experience at Wat Bang Phra tour and get your holy blessings by Buddhist monks.
35. TAKE THAI COOKING CLASS
Thai cuisine is often voted as one of the best cuisines in the world.
Traditional Thai dishes are praised for the mix of sweet and savory flavors. Thus, while in Thailand take an authentic Thai cooking class in Bangkok and learn to prepare some of the traditional Thai dishes.
If you are a foodie who likes to cook, one of the best things to do in Thailand is to learn how to prepare some traditional Thai dishes like Tom Yum (the national dish of Thailand), Homok Talay, simple but flavorful Thai cucumber salad with peanuts, or famous Thai green papaya salad.
36. ENJOY THAI STREET FOOD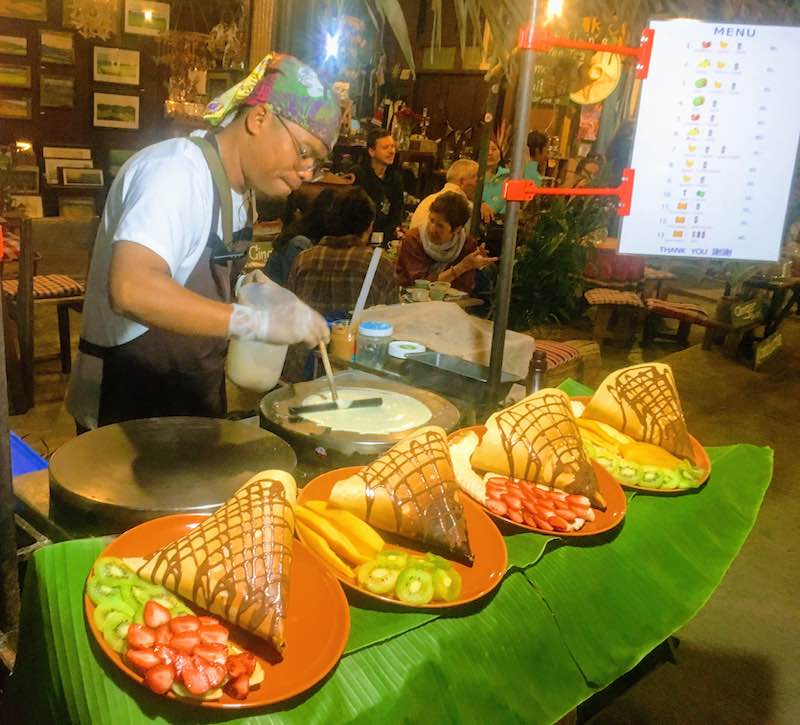 Thailand is famous for street food. No visit to Thailand is complete without sampling delicious Thai street food.
On your visit to Thailand you need to try out spicy Som Tam papaya salad, Thai omelet served over rice called Kai Jeow, Thai skewers of grilled pork called Moo Ping, peppery and chilly Pad Kra Pao made of minced pork (or chicken) stir-fried with Thai basil and chilies, or some tasty street Thai desserts like deep-fried mini-bananas called Kluay Tod or Thai sticky rice with fresh mango slices, and coconut cream syrup called Kao Niew Ma Muang.
37. FALL IN LOVE WITH PAI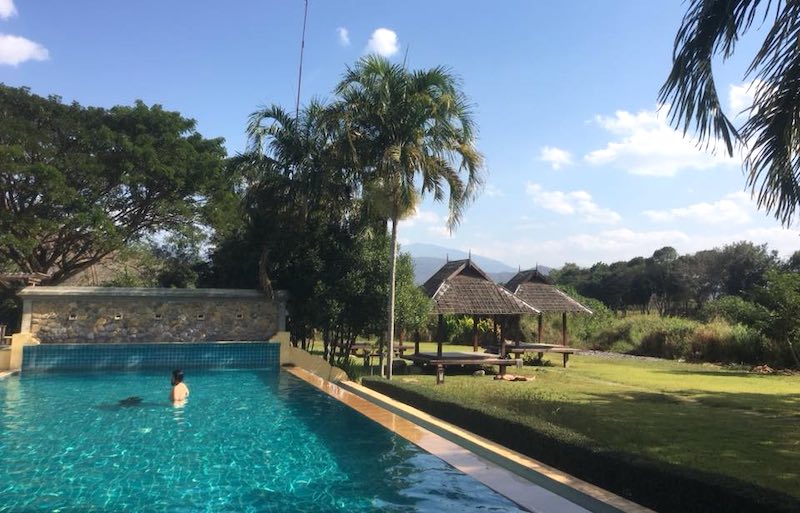 The town of Pai in northern Thailand is one of my favorite places in Thailand.
If you love serene countryside landscapes filled with hot springs, spas, waterfalls, breathing views, elephant camps, great restaurants, and cafes most likely you will love Pai too.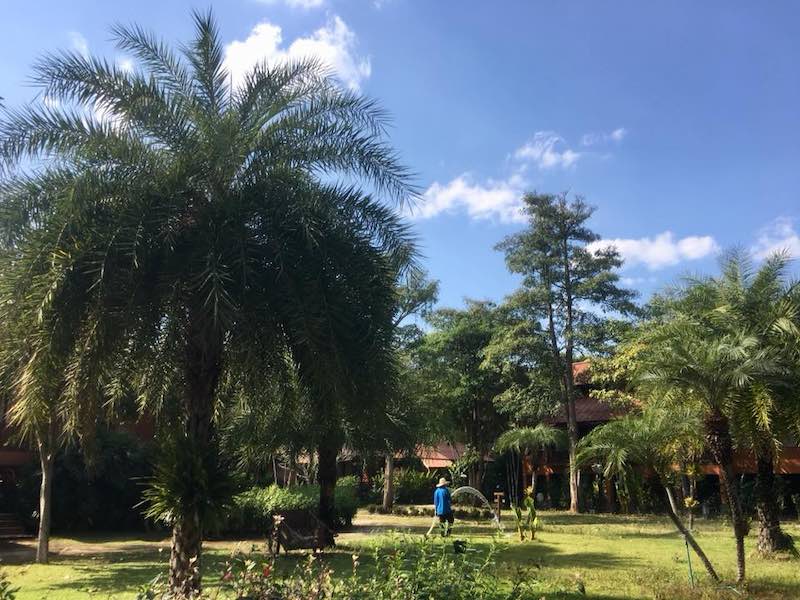 I have celebrated my birthday in Pai and will cherish my days spent in Pai for the rest of my life. Pai is one of Thailand's best hidden gems.
38. HAVE YOUR COFFEE IN THE RABBIT CAFE IN PAI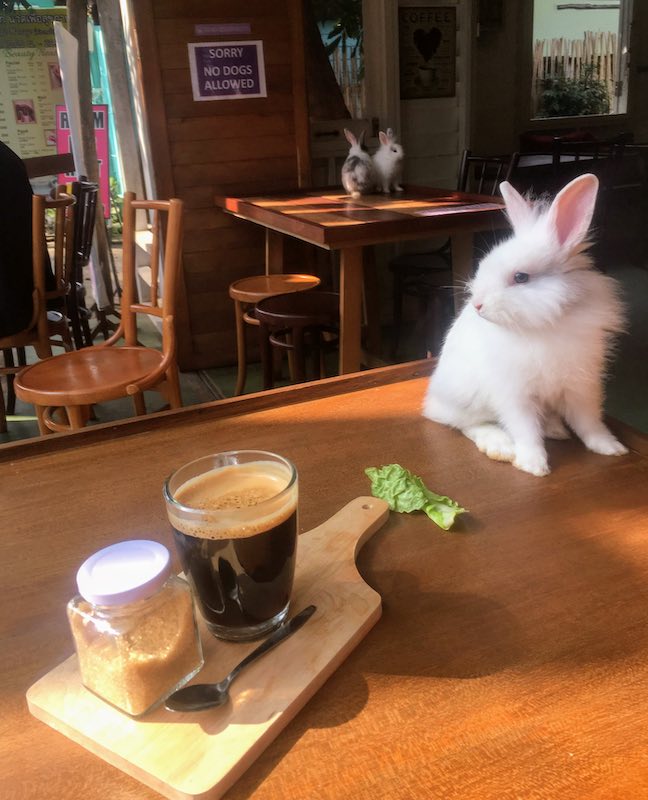 One of the reasons I have fallen in love with Pai was the Rabbit cafe.
The Rabbit cafe in Pai is one of the most unique places in Thailand.
Having breakfast with a cup of coffee while cuddling sweet fluffy rabbits is one of the cutest things to do in Thailand.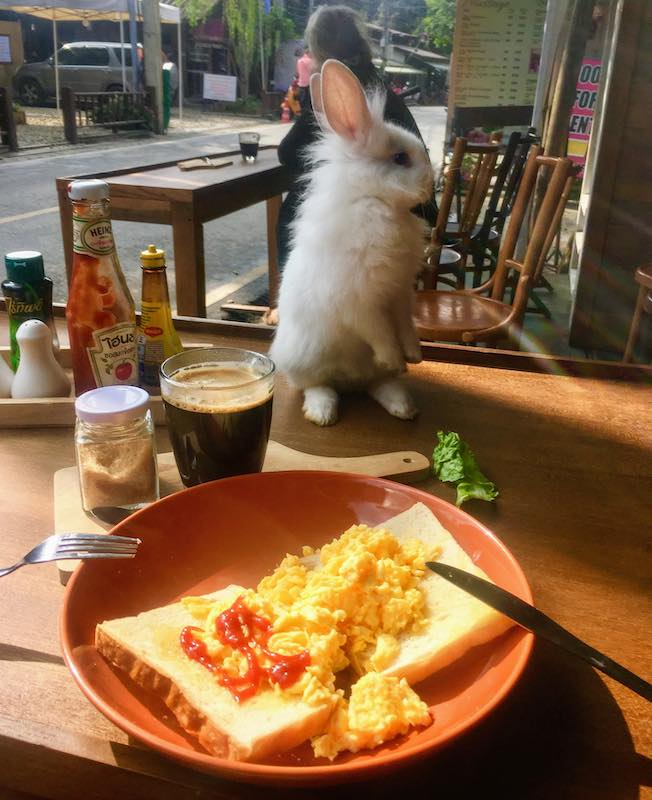 If you are a bunny lover like me, you will appreciate this unique cafe in Thailand!
39. RECHARGE YOUR BATTERIES ON KOH SAMUI
Thai island of Koh Samui is a well-known holidaymakers paradise.
Ko Samui suits the tastes and budgets of many providing accommodation from simple beachside bungalows for budget travelers to upscale resorts and villas for luxury travelers and a number of the top white sandy beaches.
The landmark of Koh Samui is a famous 12m-tall golden Big Buddha at Wat Phra Yai Temple (also called the Big Buddha Temple). Close to the Big Buddha Temple, there is another famous Buddhist temple on Koh Samui called Wat Plai Laem well-known for its large white Laughing Buddha statue.
Undeniably some of the best things to do in Koh Samui are: Koh Samui Jungle Safari Tour, Sunset Cruise Tour to Mu Ko Ang Thong Marimatme Park, adrenaline-pumping Sky Fox Zip Line, or interact with elephants in Koh Samui Elephant Jungle Sanctuary.
White sandy beaches of Ko Samui are easily reachable thanks to Ko Samui Airport which is about 2 km north of the main city on the island called Chaweng.
40. VISIT JAMES BOND ISLAND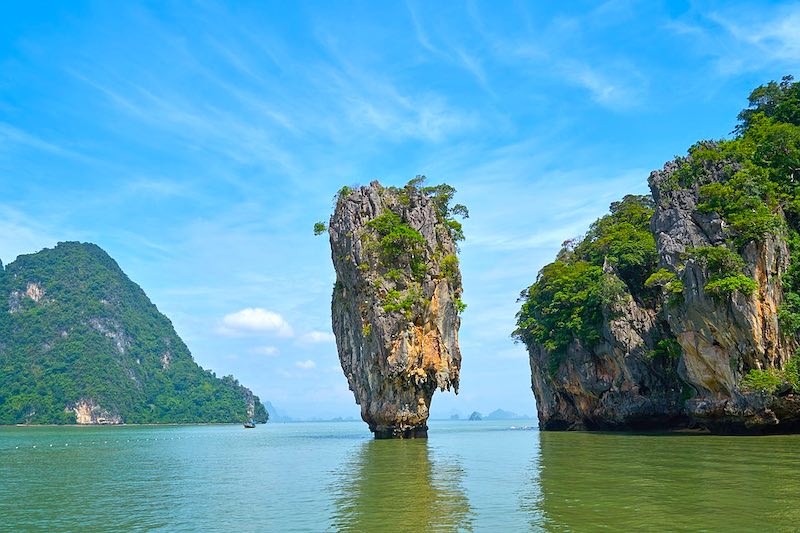 Khao Phing Kan, or Ko Khao Phing Kan, is popularly known as James Bond island as it was featured in 1974's The Man with the Golden Gun.
This rather small and needle-like island is located in Phang Nga Bay. And it is a part of Ao Phang Nga National Park.
A day trip from Phuket to James Bond island is one of the top things to do in Thailand. Embrace the James Bond vibe and head to James Bond island in Thailand!
41. SNORKEL ON CHICKEN ISLAND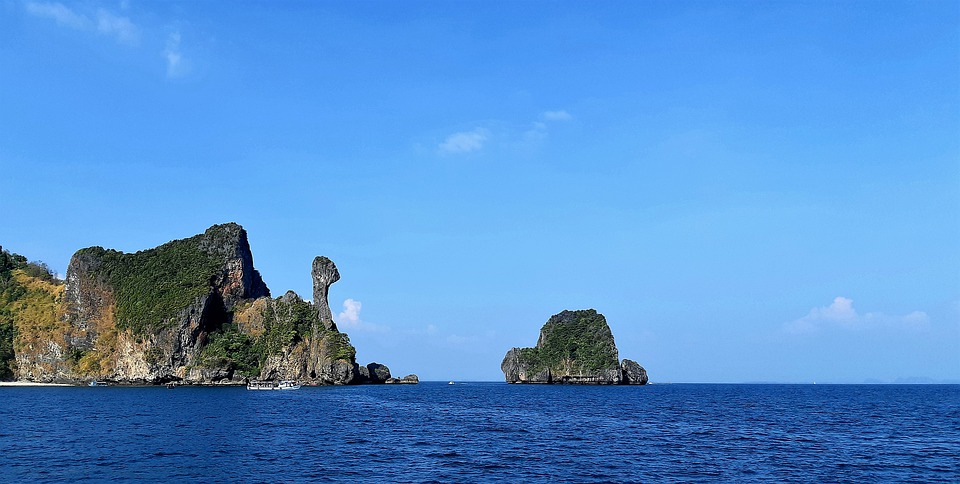 Koh Kai literally means Chicken island in Thai and it's named after the rock that looks like a chicken head.
This small island is a part of Mu Koh Phi Phi National Park. Chicken Island is connected to Tub Island with a sandbank, but you can walk from one island to another only during low tide.
If you like secluded beaches and amazing snorkeling sites, head to this tropical pearl. You can reach Chicken island from Krabi or Phuket.
42. VISIT QUIRKY SALA KEOKU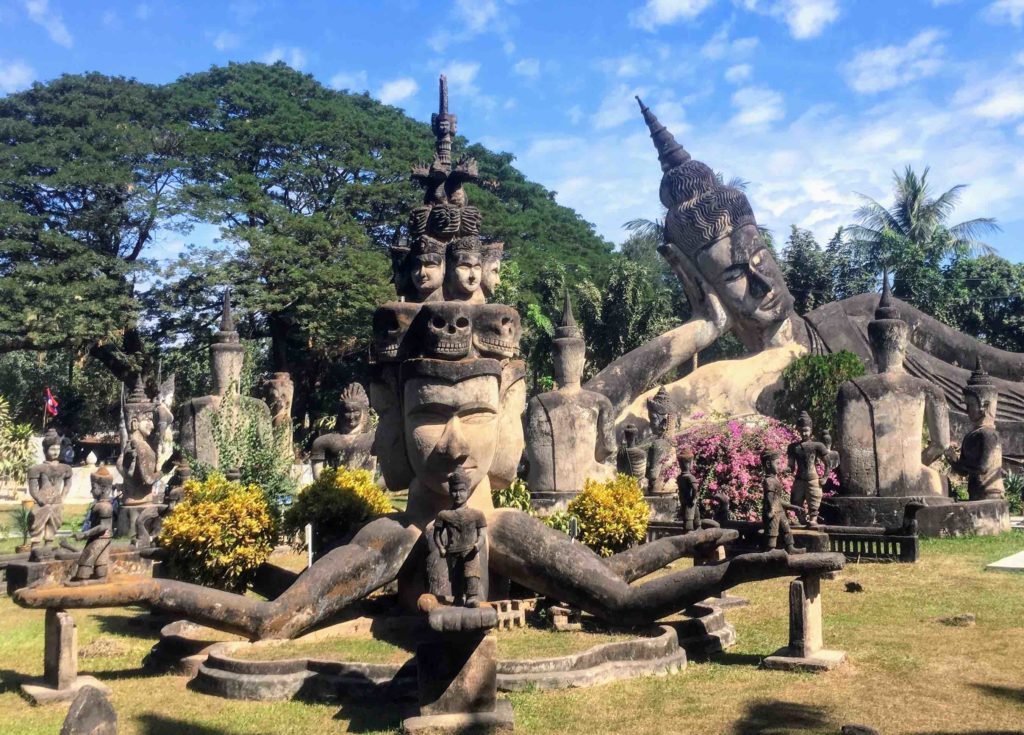 The Hall of Keoku, or Sala Keoku, is a bizarre park near the town of Nong Khai in northeast Thailand near the border with Laos.
The park features gigantic, extravagant and mythical Hindu and Buddhist statues created by a mystic teacher, and artists called Bunleua Sulilat. He named the park after the hermit Keoku who was his spiritual mentor.
Sala Keouku is located in Thailand. But, just across the River Mekong on the Laos side, there is a 'twin park' called Buddha Park near Vientiane in Laos. My detailed story about Buddha Park in Laos, you can read here: Buddha Park in Vientiane, the quirkiest place in Laos.
43. TRY PAD THAI, THE NATIONAL DISH OF THAILAND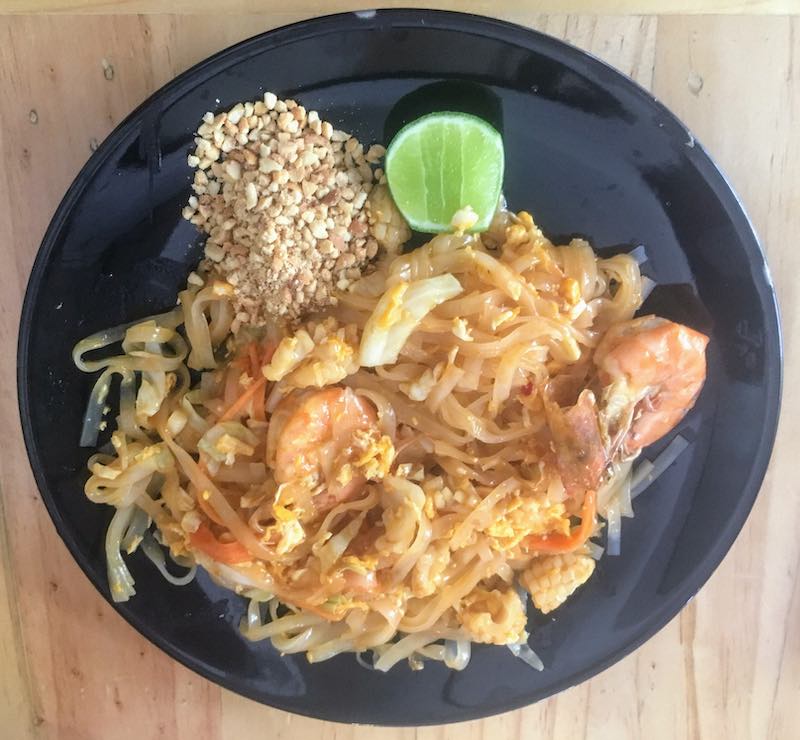 If you been following my blog, then you know how much I love national cuisines and sampling national dishes on my travels.
Pad Thai is the national dish of Thailand. Any list of the most popular food in the world always includes famous Thai Pad. It is made of rice noodles with eggs, tofu, raw banana flowers, garlic chives, bean sprouts, and optionally with shrimps, crabs, or chicken. And, all of that is finally flavored with tamarind, chili peppers, palm sugar, lime, and roasted peanuts.
Let me conclude, I got addicted to shrimps Pad Thai in Thailand! Try Pad Thai in Thailand and you will know what I am talking about!
44. MAKE YOUR TIME IN THAILAND SWEET WITH THAI ICE CREAM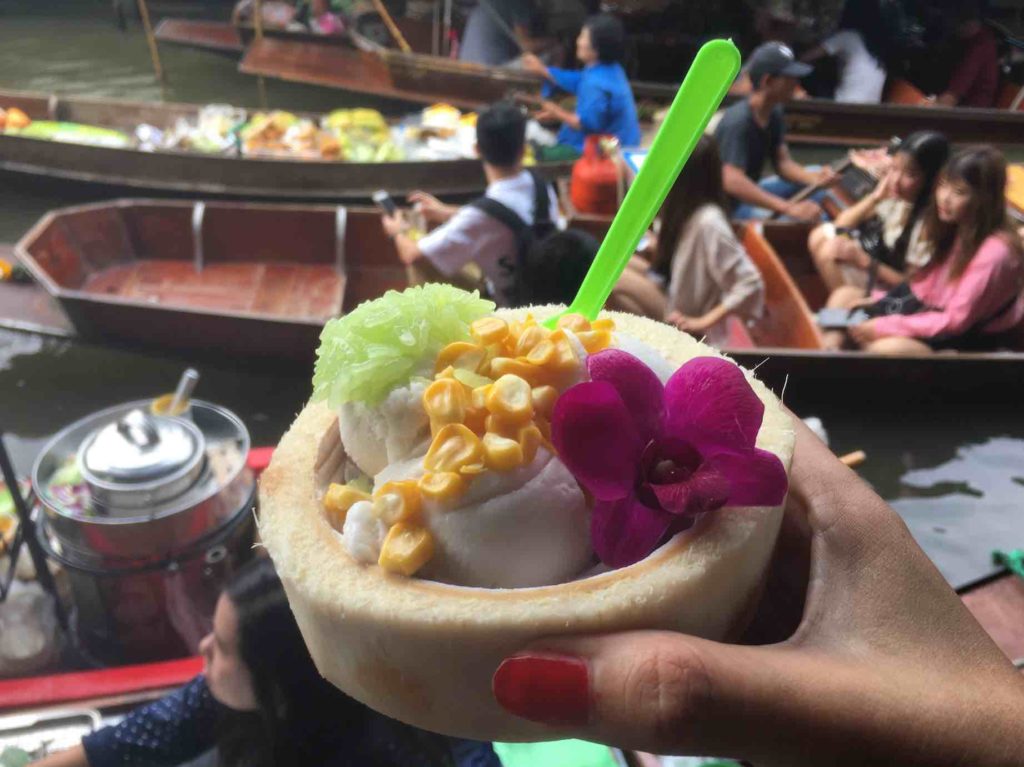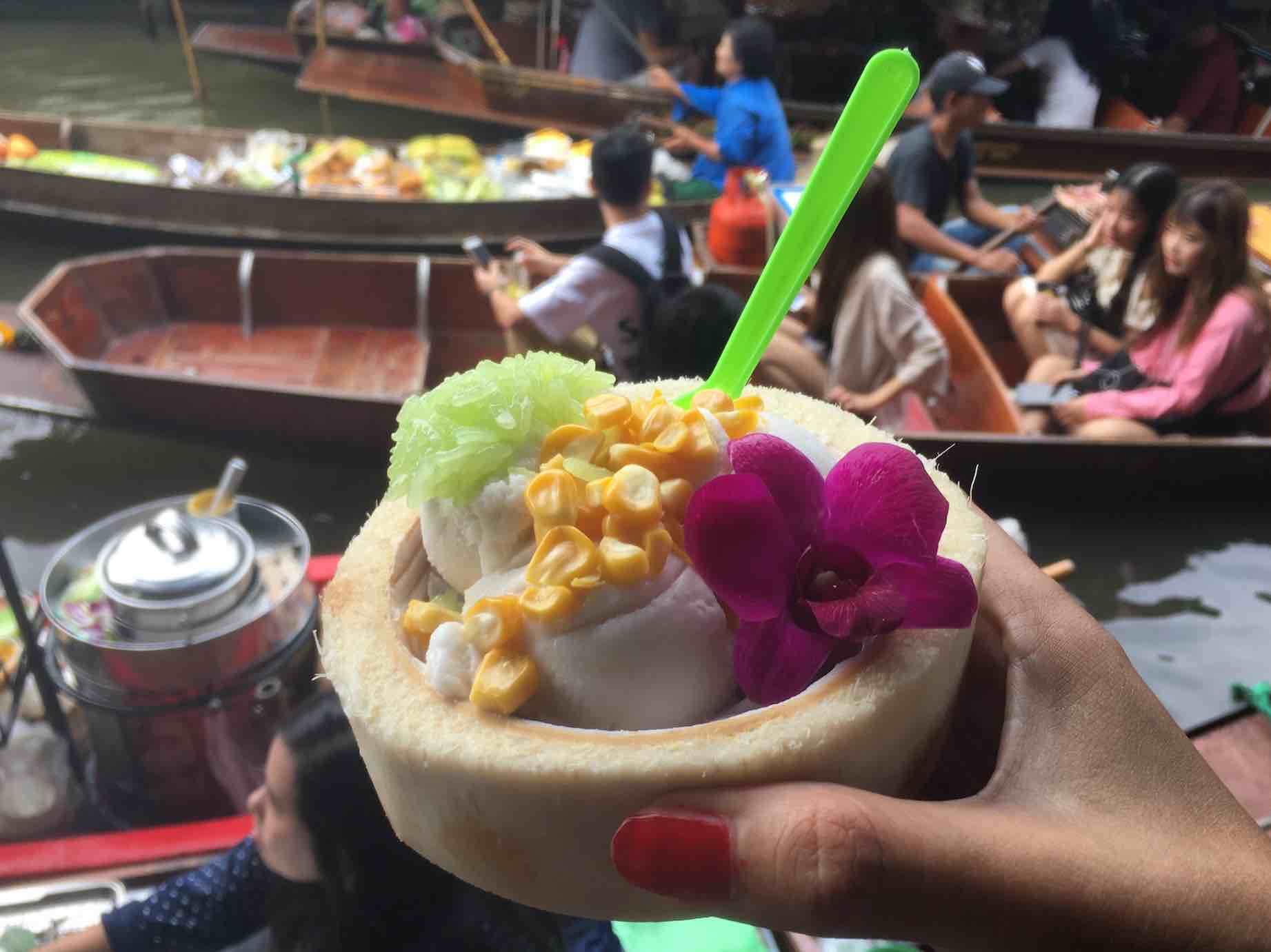 Thai coconut ice cream is an ice cream made for gods.
It is made of coconut milk (not of cow's milk) and commonly topped with toasted peanuts, cubes of sweet jelly and kernels of corn. Thai coconut ice cream is typically served in a coconut shell and sold on the street stalls in Thailand.
45. TASTE ICONIC STICKY RICE MANGO
Sticky rice with mango, or Khao Niaow Muang, is one of the most popular street foods in Thailand and a classic Thai dessert. Sticky rice with slices of fresh mango with yummy coconut cream syrup will make you want to stay in Thailand forever.
Tasting iconic sticky rice mango is one of the must-do things in Thailand.
46. REFRESH YOURSELF WITH FRESH COCONUT JUICE
Vacation on Thai beaches goes well with sipping fresh coconut juice!
Coconut juice is delicious and healthy. Thus, have a delicious and healthy vacation in Thailand!
47. HAVE A BITE OF FRIED INSECTS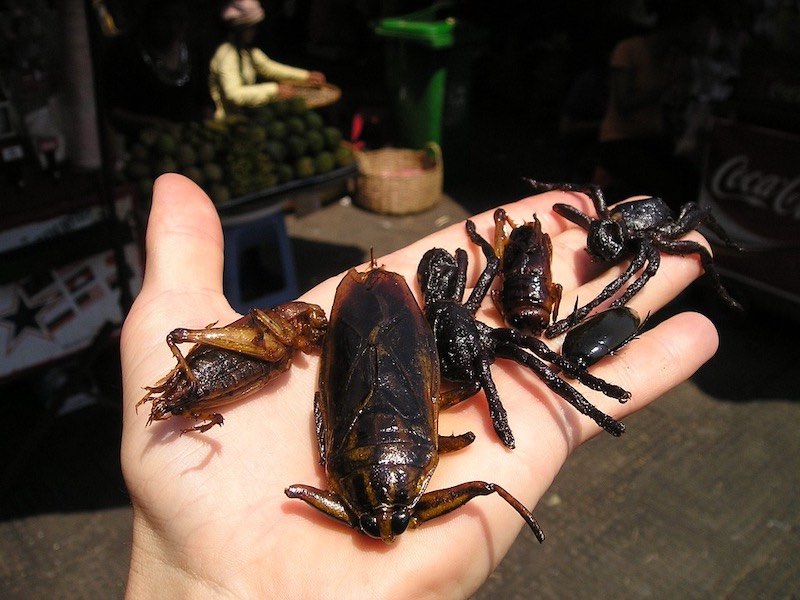 You might be surprised but fried tarantulas, spiders, cockroaches, and scorpions are traditional snacks in Southeast Asia
You can even find small snack packages of fried crickets in some 7-Eleven stores in Thailand.
If you are an adventurous eater, head to 7-Eleven stores and check out fired crickets. Or when in Bangkok, try some fried insects from street stalls in on Khao San Road in Bangkok
Trying a fried insect is one of the most unusual things to do in Thailand.
48. SHOP AT CHATUCHAK WEEKEND MARKET IN BANGKOK
The Chatuchak Weekend Market is the largest market in Thailand and arguably the largest market in the World.
The market counts more than 15,000 market shops and stalls and covers an area of 35 acres.
Every weekend more than 200.000 visitors visit the market. This shopping mecca is a bargaining paradise where you can buy almost anything: from souvenirs, books, clothing, antiques, crafts, arts, to foods, pets, and more. And, you can buy everything there for the cheapest price in Bangkok.
If you would like to explore Chatuchak Weekend Market with a local guide, consider taking Bangkok Private Guided & Self- Tailored Tour.
49. WATCH A LADYBOY SHOW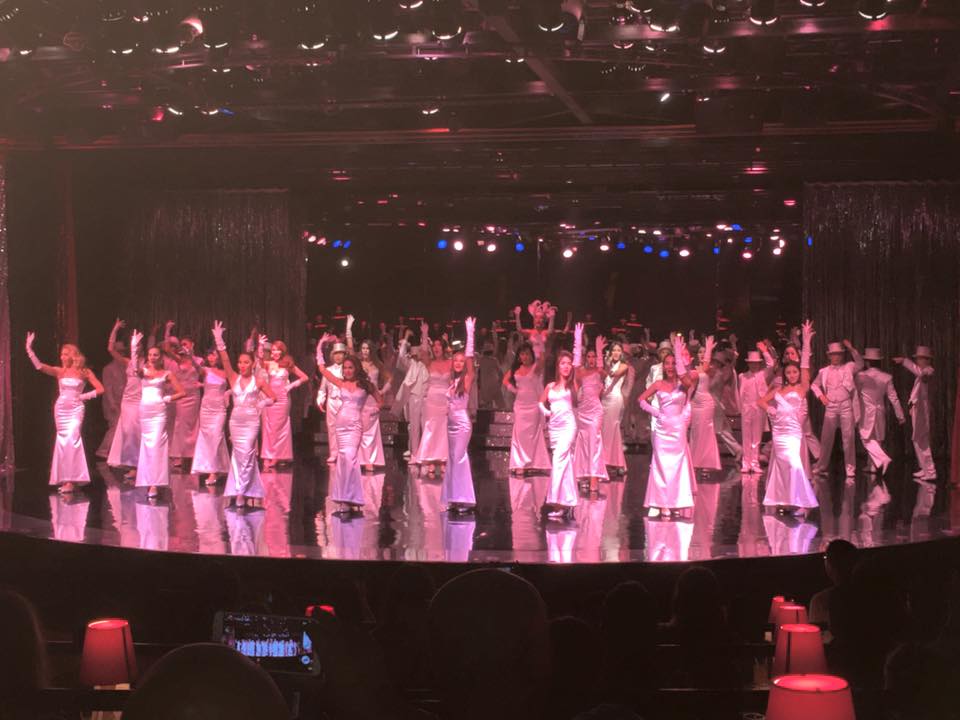 Watching a ladyboy show is one of the most unique things to do in Thailand.
If you would like to watch a unique and world-class show in Thailand, I suggest heading to the Calypso Cabaret at Asiatique The Riverfront in Bangkok. The Calypso Cabaret is a glamorous Broadway-style cabaret with first-class performers. Shows at the Calypso are quite often sold out, so bear in mind you might need to book your Calypso Cabaret Show ticket in advance.
The Calypso Cabaret is a must-see in Thailand!
Watching theCalypso Cabaret in Bangkok is one of the top must-do things in Thailand.
50. CHECK OUT JIM THOMPSON HOUSE IN BANGKOK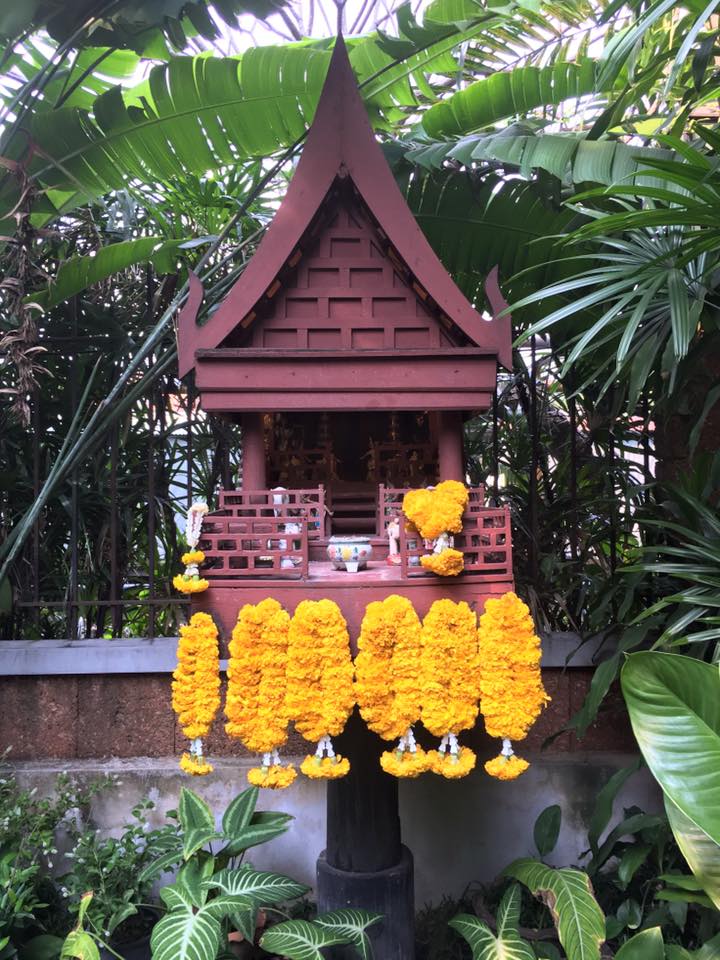 Jim Thompon House in Bangkok is one of the most unique places in Thailand.
Jim Thompson was an American businessman, silk trader, and art collector who lived in Thailand from the 1940s to the 1960s. He mysteriously disappeared in 1967. Much of his past is unknown, but it is known that he was an OSS (CIA) officer in Thailand during WW II. In 1947 he started a prosperous silk trading business selling the finest Thai silk to the fashion industry in New York and got the nickname 'Thai Silk King'.
Today his home is a museum in Bangkok featuring 6 traditional Thai teak houses exhibiting the finest examples of traditional Thai, Burmese, Lao, Cambodian and Chinese artwork that he collected on his business travels.
If you are an art lover, you will enjoy Jim Thompson House and Baan Krua Community Tour