Planning your visit to Malaga, Spain? Wondering what to do in Malaga and what to see in Malaga? Relax! I feel you. Been there, done that! Here's my ultimate guide to the best things to do in Malaga, Spain!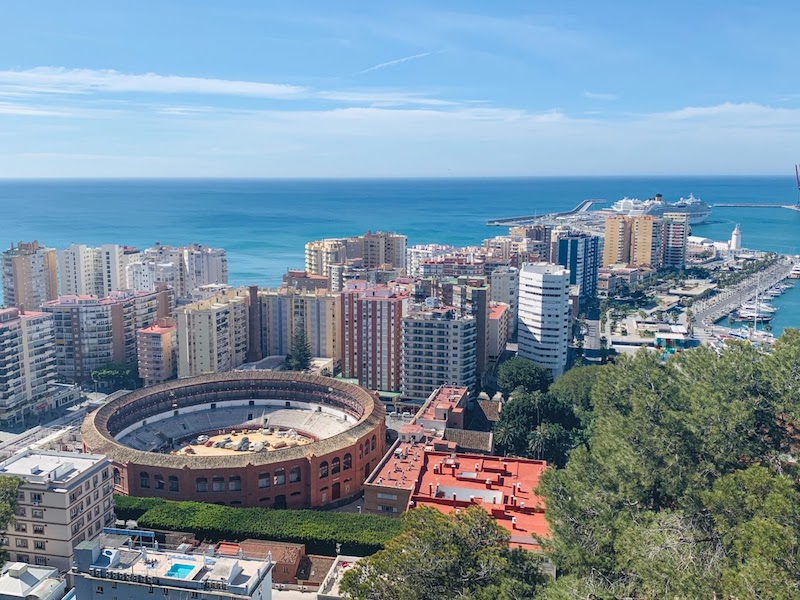 Shiny Malaga is the capital of Costa del Sol and the birthplace of art genius Pablo Picasso.
Costa del Sol is one of the most popular vacation destinations in the world appreciated for the plenty of sunshine, pretty sandy beaches, and flavorsome traditional Spanish food. And Malaga, the capital of Costa del Sol proves it the best.
Sunny and sandy Malaga is one of the best Spain vacation spots. It's one of the best places in southern Spain for leisure and pleasure. In fact, the capital of the Costa del Sol is one of the most beautiful beach cities in Spain.
Malaga is a mecca for museum lovers, beach enthusiasts, and foodies. Fabulous Malaga has more than 30 museums, among which Museo Pablo Picasso is the most popular. Malaga beaches are some of the very best beaches of Costa del Sol. In addition, Malaga has numerous traditional tapas bars, and taverns, Michelin star restaurants, and upscale cocktail bars.
So, if you are after a top sunny destination, head to Malaga on Costa del Sol.
And here's the ultimate guide to the best things to do in Malaga, best things to see in Malaga, best Malaga attractions, best places to stay in Malaga, and best time to travel to Malaga.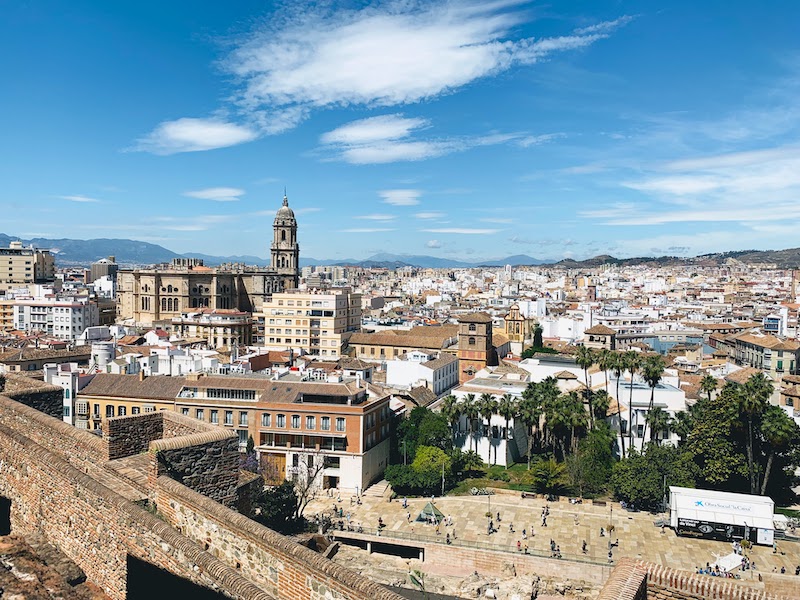 RELATED:
THIS POST MAY CONTAIN COMPENSATED LINKS. PLEASE READ MY DISCLAIMER FOR MORE INFO.
TOP THINGS TO DO IN MALAGA SPAIN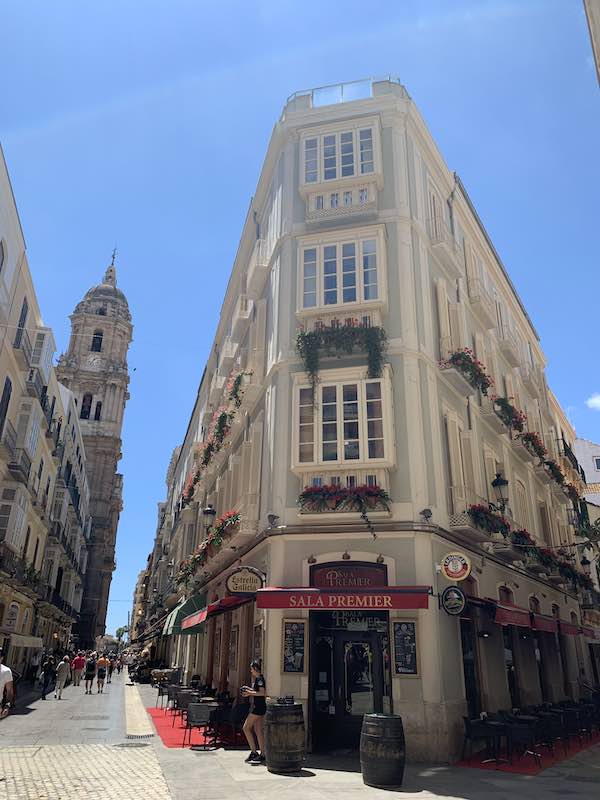 Malaga things to do
1. VISIT ALCAZABA, THE MOORISH FORTRESS FROM THE 11TH CENTURY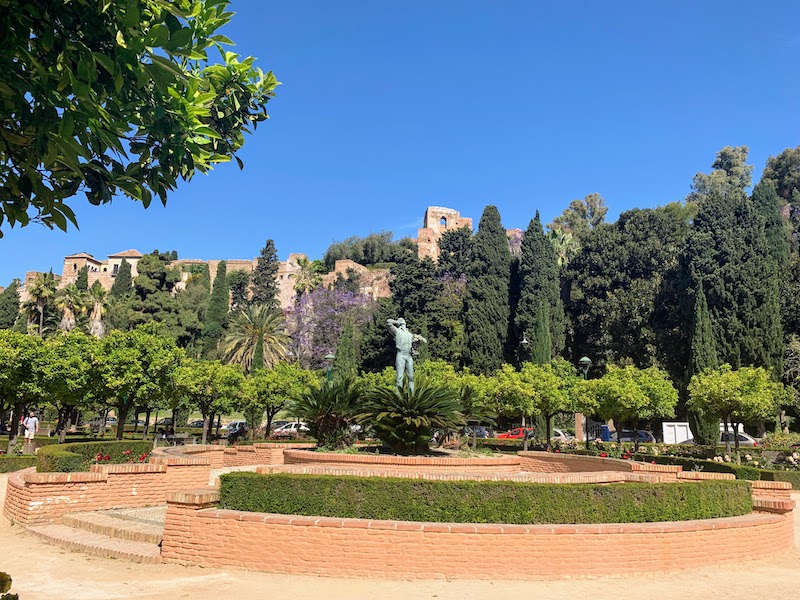 Alcazaba, or Al-Qasba in Arabic means citadel (castle fortress).
Impressive Alcazaba fortresses dominate many historic places in Andalusia: like Alcazaba de Granada, Alcazaba de Almeria, Alcazaba de Antequera, Alcazaba de Jerez de La Frontera… butAlcazaba de Malaga is the best preserved Alcazaba in Spain.
Malaga Alcazaba is a beautiful Moorish fortress from the 11th century. The castle fortress was conquered by Catholic Monarchs of Isabella and Ferdinand in the 15th century when some Renaissance makeovers were done. Therefore, Malaga Alcazaba exhibits a mix of Moorish and Renaissance architecture.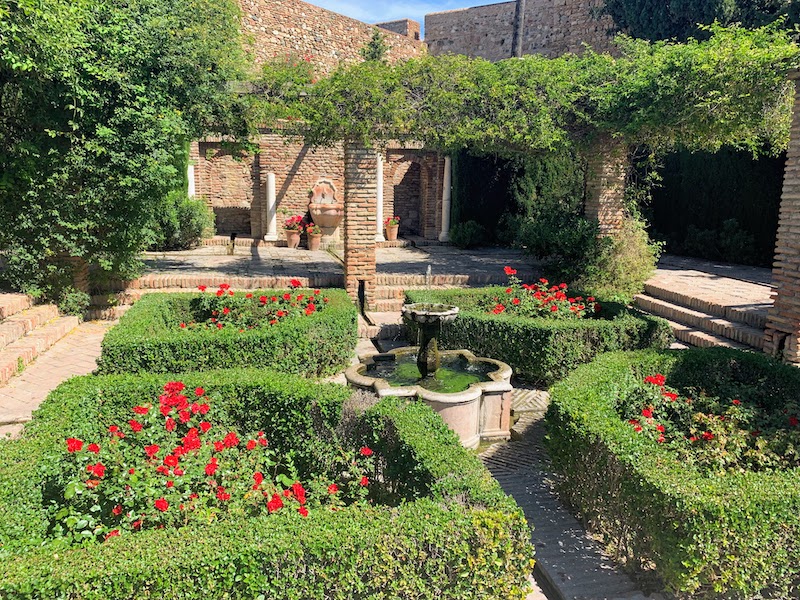 Alcazaba de Malaga is a landmark of Malaga and a must-see attraction in Malaga.
It is located on the Gibralfaro hill in the center of Malaga. The Coracha (Arabic qawraya), a walled passage corridor leads from the Malaga downtown to Alcazaba. The passage goes through wonderful gardens decorated with gorgeous fountains.
Alcazaba ticket price: 3,50 €
Alcazaba-Gibralfaro Castle ticket price: 5,50 €
Free tour: on Sundays at 2 pm.
2. HEAD TO THE GIBRALFARO CASTLE FOR THE MOST SPECTACULAR VIEWS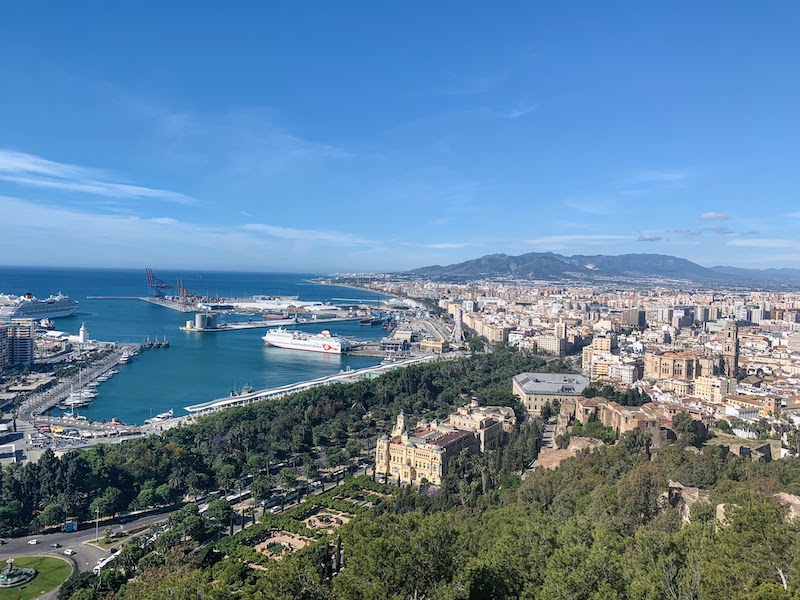 The Gibralfaro Castle is a castle and a military garrison from the 14th century.
It tops the Gibralfaro hill and it was built to protect the Alcazaba. The Gibralfaro Castle and the Alcazaba are connected by the steep Coracha corridor.
The castle has two lines of wall and eight towers, the main courtyard with the main tower, the Phoenician well and the baths, and the parade ground with the White Tower, outbuildings, and warehouses.
The Gibralfaro Castle among the Mediterranean pines and eucalyptus trees on the Gibralfaro hill overlooks the city of Malaga. The castle provides the most beautiful views of Malaga.
On clear days, it offers the most magnificent views of the entire Costa del Sol and even the Strait of Gibraltar.
Visiting Malaga's Gibralfaro Castle for the most beautiful views of Malaga and the entire Costa del Sol is one of the best things to do in Malaga.
Gibralfaro Castle ticket price: 3,50 €
Alcazaba-Gibralfaro Castle ticket price: 5,50 €
Free tour: on Sundays at 2 pm.
3. VISIT LA MANQUITA CATHEDRAL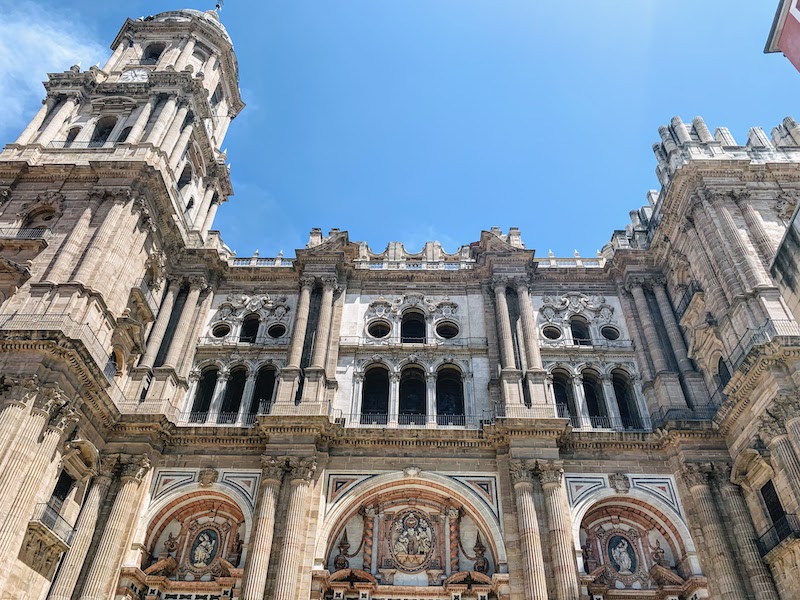 Malaga's Cathedral of Our Lady of Incarnation is one of the most beautiful cathedrals in Spain.
The cathedral has two towers. While the north tower is the second-highest tower in Andalusia (following the Giralda Tower in Seville), the south tower is unfinished (because of the lack of funding means). That's why the cathedral of Malaga is also called the One-Arm Lady or La Manquita in Spanish.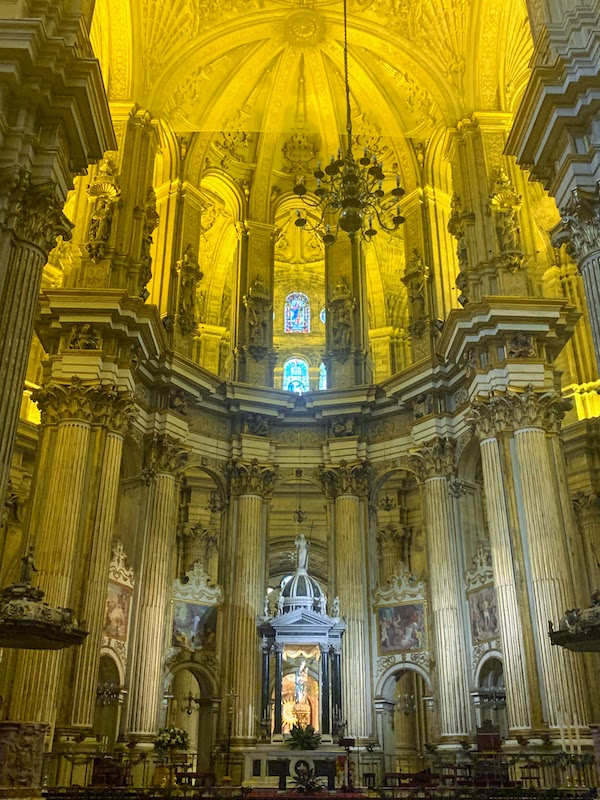 The La Manquita has several beautiful chapels, the 17th-century choir with 42 wooden statues of saints, an incredibly beautiful marble Pieta, two 18th century organs with over 4.000 pipes …
But some of the best things to do on the visit to the Cathedral is climbing to the Cathedral's roof for the amazing views of the city.
Cathedral ticket price: 6 €
Cathedral – Cathedral´s roof ticket price. 10 €
4. SEE TEATRO ROMANO DE MALAGA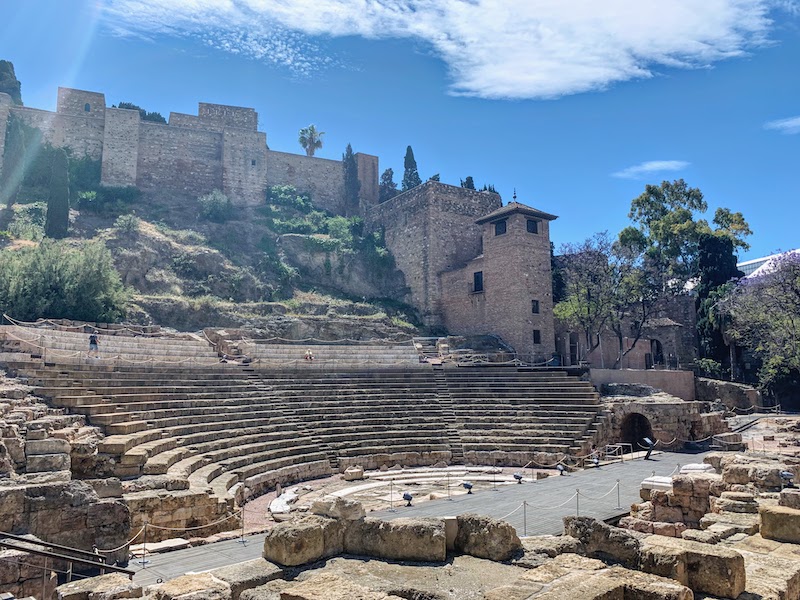 Malaga is one of the oldest cities in Europe.
Phoenicians founded Malaka around 700 BC and Romans ruled Malacca from around 200 BC to around 500 AD.
Ancient Roman Theatre in Malaga dates back to the 1st century when the Emperor Augustus ruled the empire. The theater was in use from the 1st century until the 3rd century. It has a radius of 31 m and a 15 m long orchestra with 13 raised rows of seats. One of the interesting facts is that Arabs took some parts of the Roman Theater for building the Alzacaba. So, you can see columns of Malaga's Roman Theatre in the abovementioned Alcazaba fort, for instance.
The Roman Theater is located on the foot of Alcazaba Hill in the historic center of the city and is only one minute walk from the Alcazaba.
Málaga: Roman Theatre and Alcazaba Guided Tour
5. ADMIRE PICASSO'S WORK AT THE MUSEO PICASSO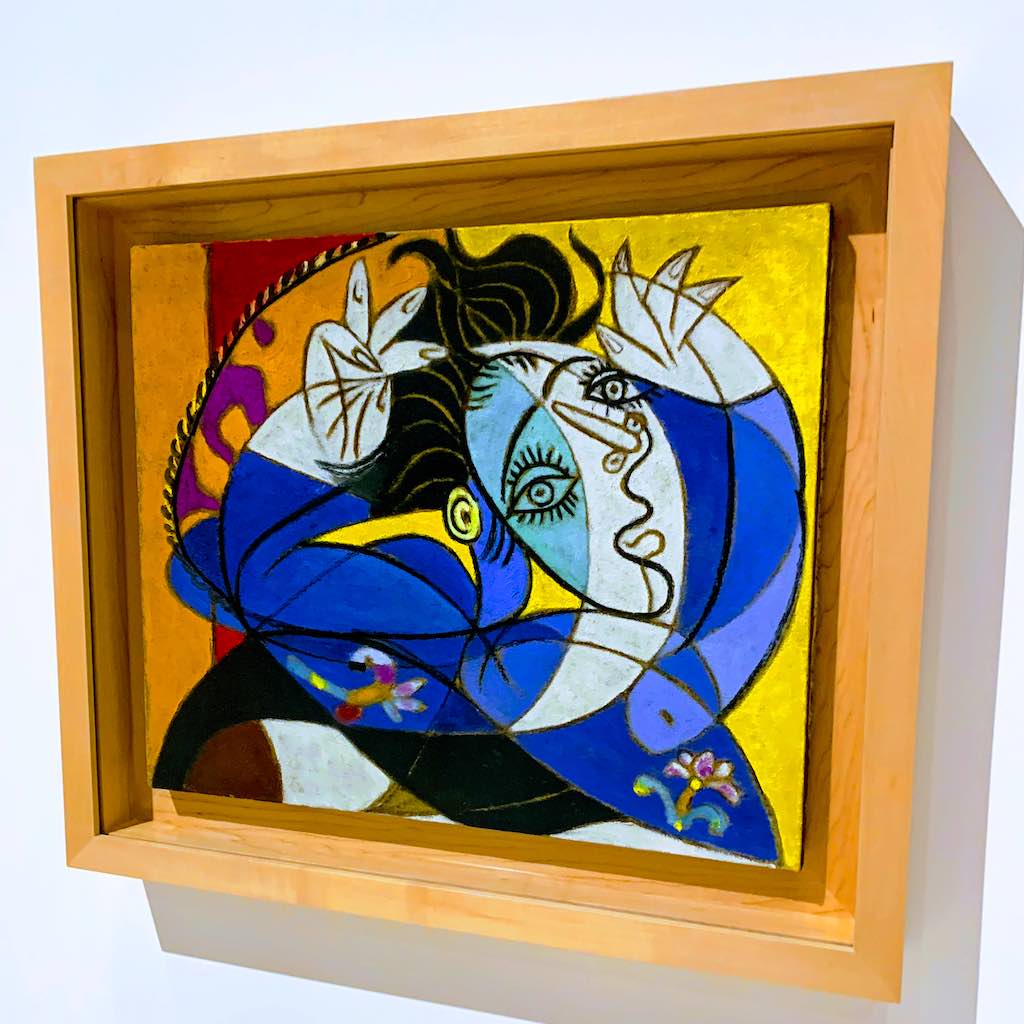 Pablo Picasso is unquestionably the most famous malagueño of all time.
He was born in Malaga and lived in Malaga until the age of 10.
Today Picasso Museum in Malaga holds a collection of about 300 works of the artist. The artwork shows the evolution of Picasso's art throughout time. Picasso's family donated the majority of the artwork. The museum has also a library and archive with several hundreds of documents, titles, and photographs related to Picasso's life.
Museo Picasso is set in beautiful 16the century Buenavista Palace and only 200 m from the house where Picasso was born.
The queues for visiting the Picasso Museum are often long. I'd recommend booking tickets in advance to skip the lines: Museo Picasso Málaga: Ticket & Audioguide
6. CHECK OUT PICASSO MUSEO CASA NATAL
The Picasso Birthplace Museum is set in the building where the artist was born in 1881.
The museum's collection shows the life of Pablo from his birth and childhood in Malaga and his life after. The museum is recommended for Picasso's fans who want to learn about the artist's life. But for those Picasso fans who are interested in Picasso's art, I recommend visiting above mentioned Picasso Museum.
The Picasso Birthplace Museum is located in Plaza de la Merced in the center of Malaga.
Picasso Museo Casa Natal ticket price: 4 €
Free entry: Sundays
7. SAMPLE FRESH ANDALUSIAN FOOD AT MERCADO ATRAZANAS DE MALAGA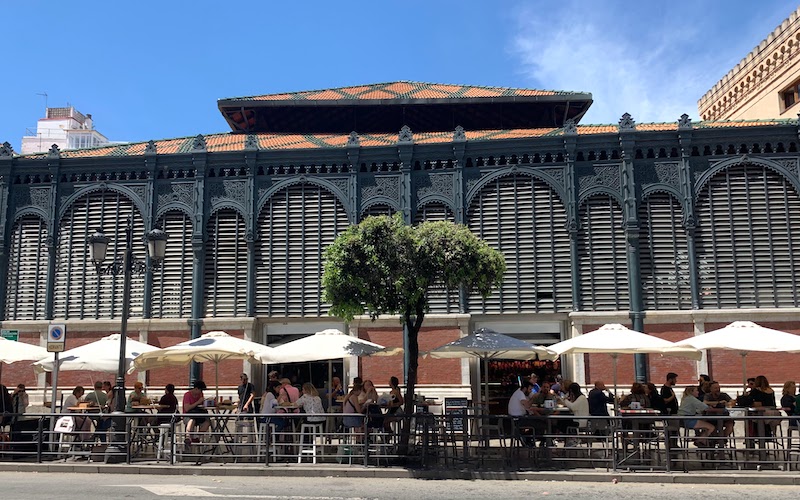 Vibrant Mercado Central de Atarazanas is my favorite place in Malaga and one of the top places to see in Malaga.
Málaga's central market is an amazing indoor market set in a beautiful building from the 19th century. The building is wonderfully decorated with arched windows and stained glass. Inside the market, there are about 250 market stalls selling local fresh products: fruits, vegetables, cheese, meat, and seafood. There are also cozy tapas bars that offer great Andalusia tapas inside the market.
One of the best things to do in Malaga is to have tapas (one bite appetizers) or raciones (dishes to share) with a glass of wine in a tapas bar at Mercado Central de Atarazans.
Opening times: 8 am – 2 pm (Monday – Saturday)
8. REST IN EXOTIC PARQUE DE MALAGA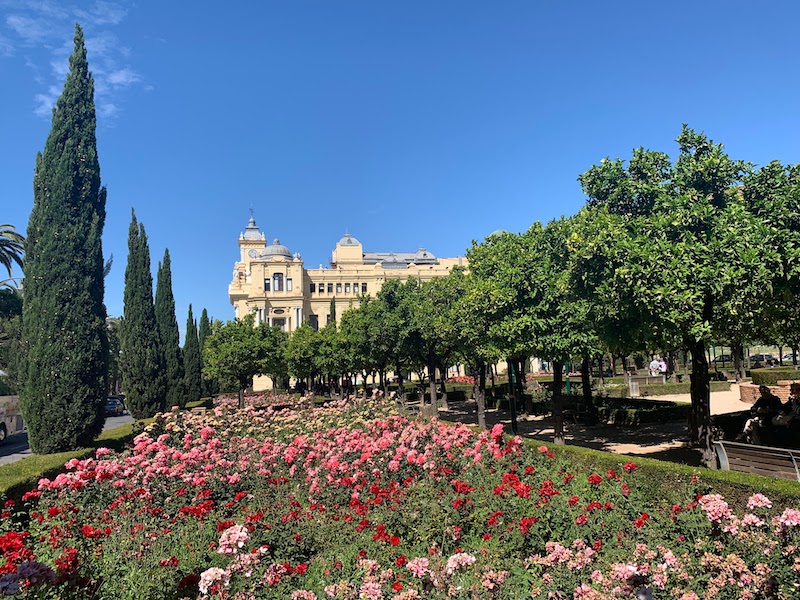 Beautiful Malaga Park is one of the most beautiful places to see in Malaga.
The park is famous for its beauty and biodiversity, It holds many tropical and subtropical plants and a wide range of botanical species from five continents.
It's one of the most exotic public parks in Europe. Malaga's park was designed in 1896. It covers 3.3 ha with lovely sculptures, pretty fountains, interesting park benches decorated with Sevillian tiles, and beautiful flora.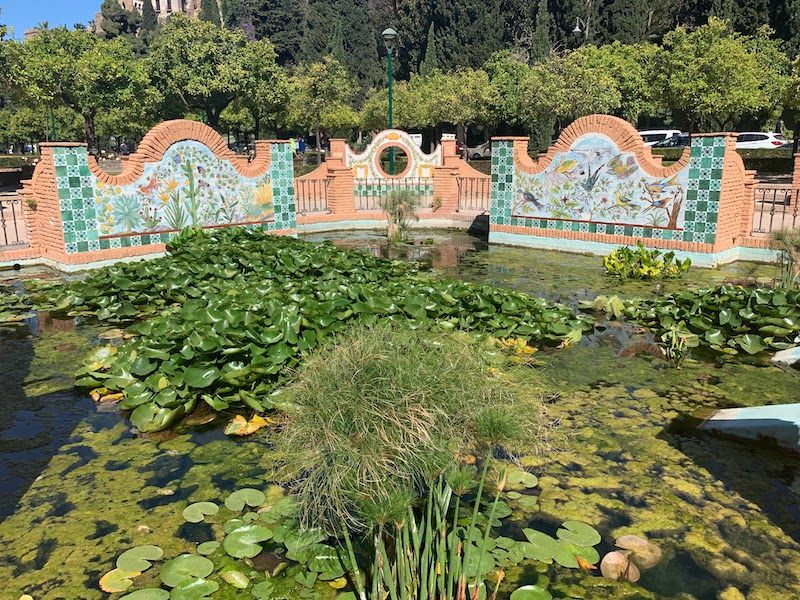 Parque de Malaga is located in the city centre from from the plaza de la Marina to the Plaza del General Torrijos next to La Malagueta beach.
9. HAVE BEACH TIME AT PLAYA MALAGUETA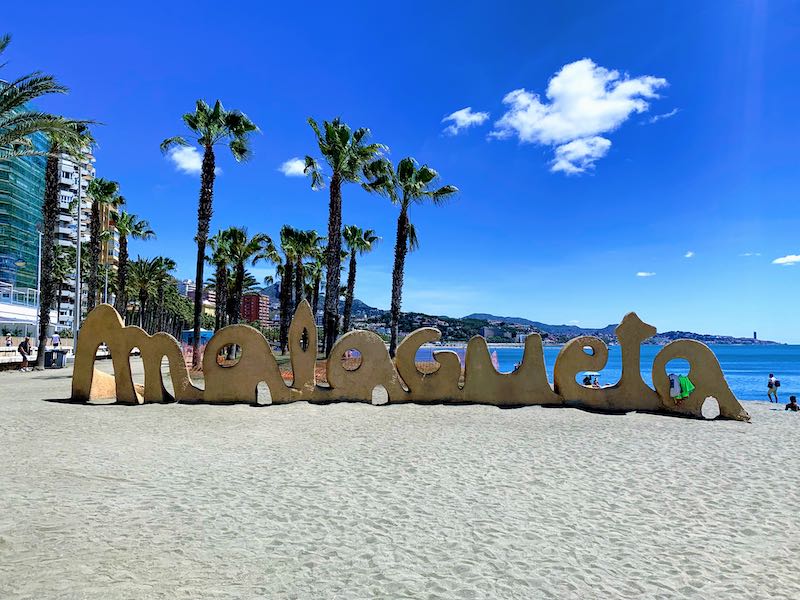 Malagueta Beach is a gorgeous sandy public beach in Malaga and one of the most famous Malaga beaches.
Playa Malagueta is equally loved by locals and tourists. It is an urban sandy 1,200 km long beach awarded with a Blue flag by the European Foundation for Environmental Education. A wonderful promenade goes all the way along the beach.
Playa Malaguetta stretches from the Port of Málaga and La Caleta beach. It's the nearest beach to Malaga center. In fact, the beach is only 10 min walk from the city center in the Malagueta neighborhood (famous for the bullring of La Malagueta).
10. HAVE SEAFOOD IN A CHIRINGUITO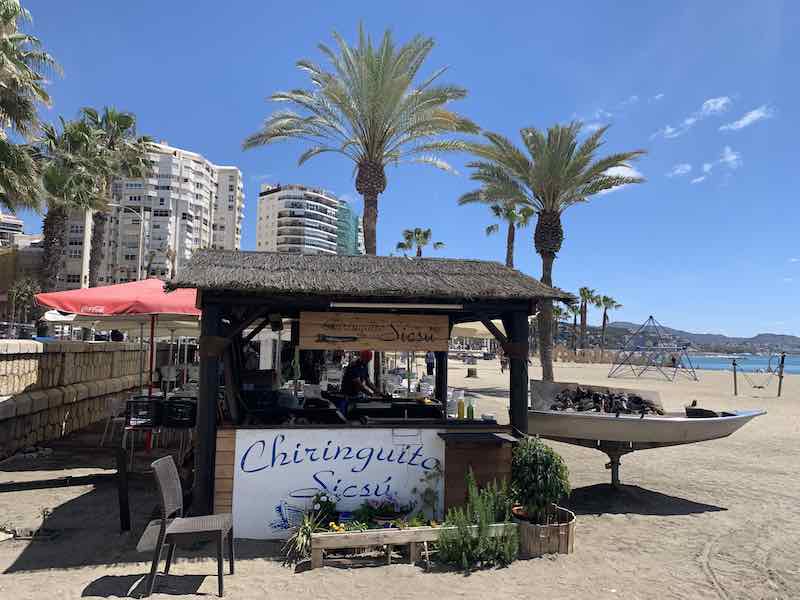 Chiringuitos are traditional beach bars and restaurants in Malaga. They sell fish and seafood. Typical chiringuitos come with terraces and sun-loungers to make the most of enjoying the food on a beach.
If you love to eat fresh fish and seafood on a beach, head to a chiringuito and order traditional pescaito frito (fried fish), boquerinos en limon (fried anchovies in lemon), pescaito combinado (a platter of mixed fish), or classic seafood paella.
11. TRY WINES OF MALAGA IN TRADITIONAL BODEGAS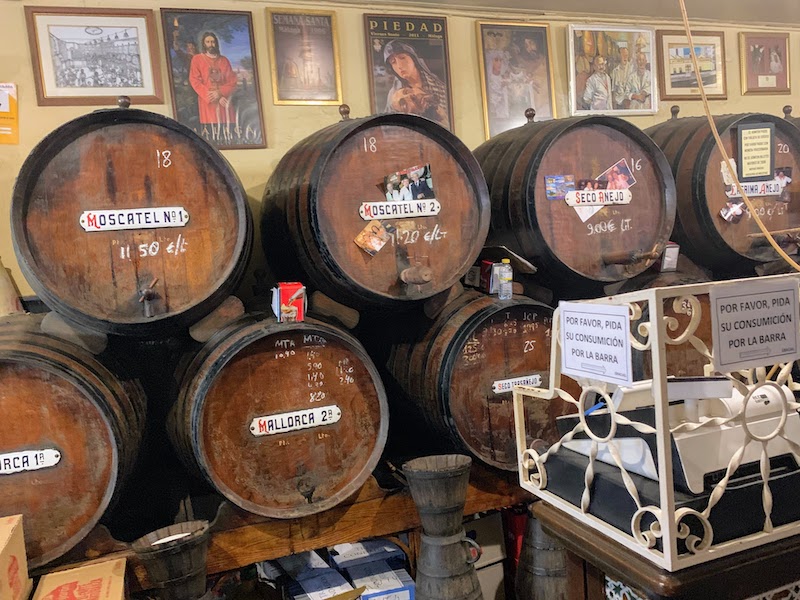 The tradition of making wine in the Malaga province goes back to the Phoenicians, Greeks, and Romans.
Traditional wines of Malaga are sweet and fortified. Malaga wines are made from the PedroXiménez and Moscatel grape varieties.
Naturally, bodega hopping and sampling sweet wines of Malaga aresome of the best things to do in Malaga.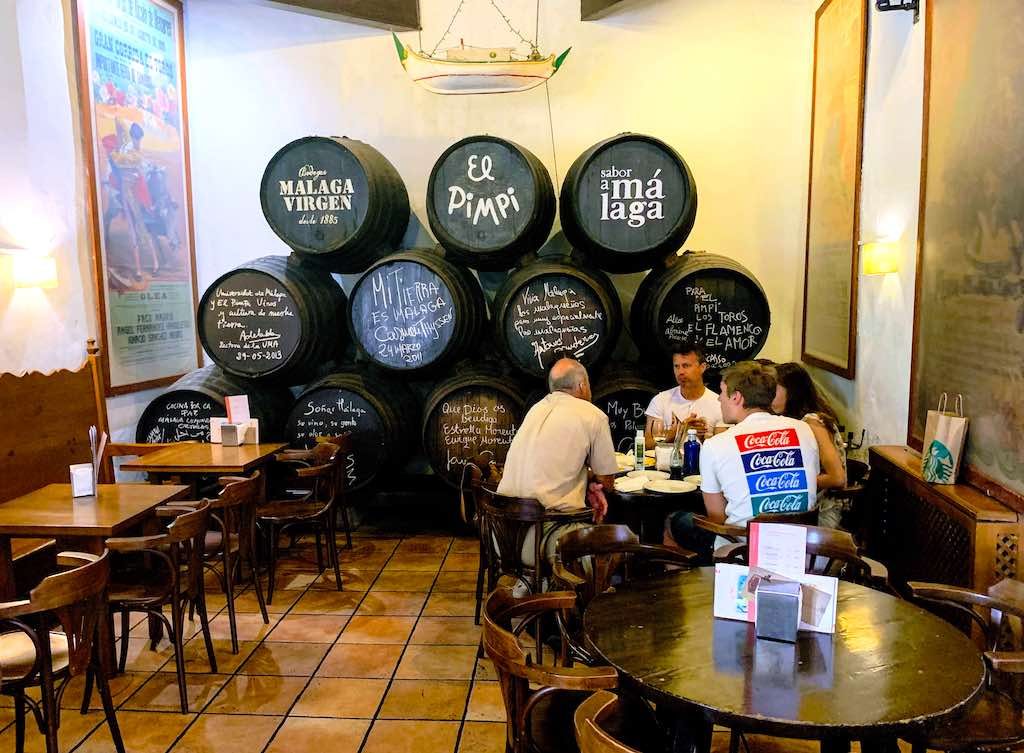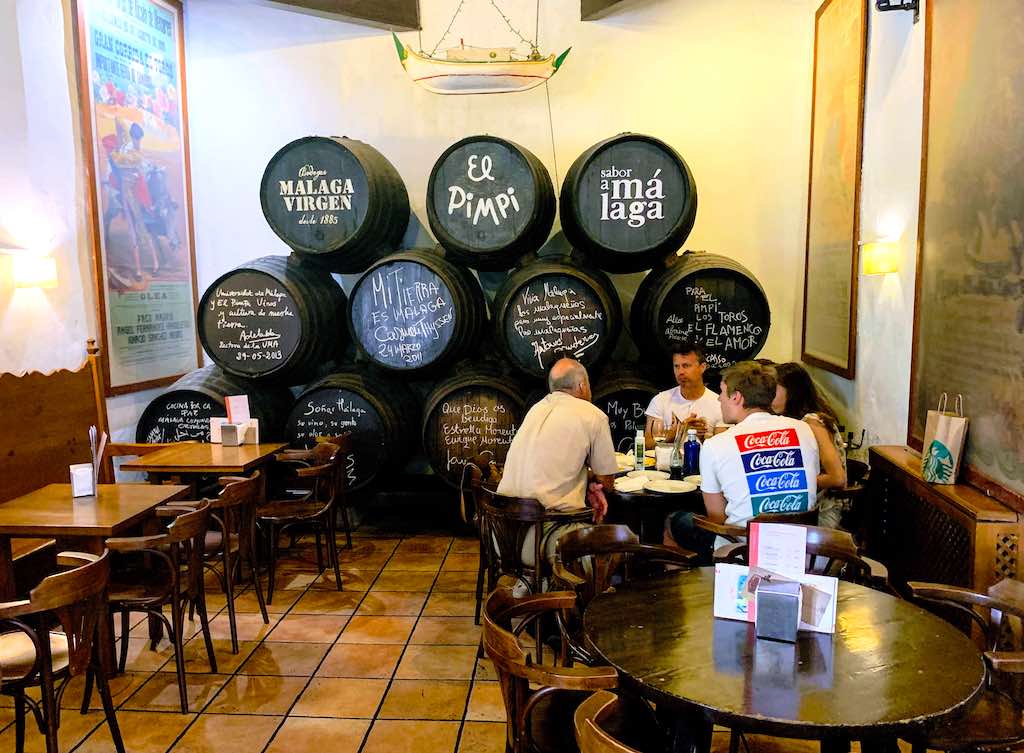 For the ultimate bodegaa experience in Mlaga, visitAntigua Casa de Guardia orBodega Bar El Pimpi.
Iconic Antigua Casa de Guardia is the oldest wine bar in Malaga, and Bodega Bar El Pimpi is one of the most famous bodegas in Malaga.
12. STROLL MUELLE UNO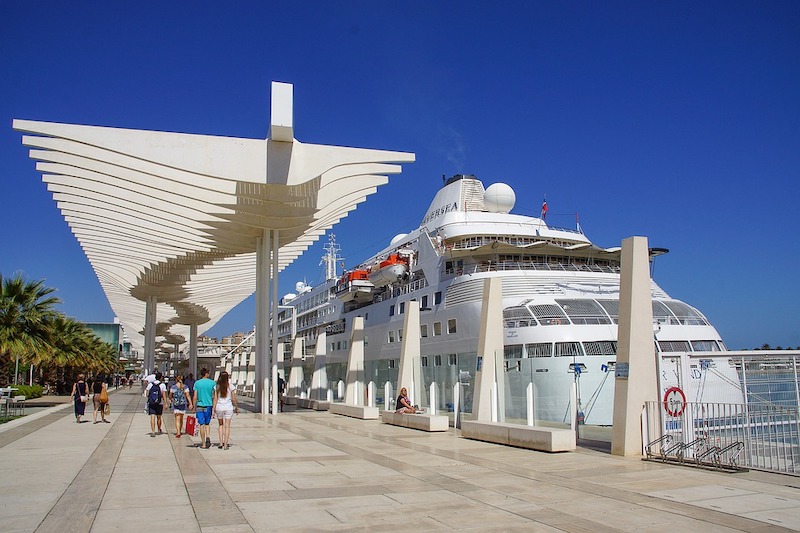 Muelle Uno is a seafront promenade and a modern shopping and restaurant area in Malaga.
Lovely Muelle Uno with lined oranges tree serves as an open-air shopping center. The promenade features bars, restaurants, shops, and a spectacular modern museum of Centre Pompidou.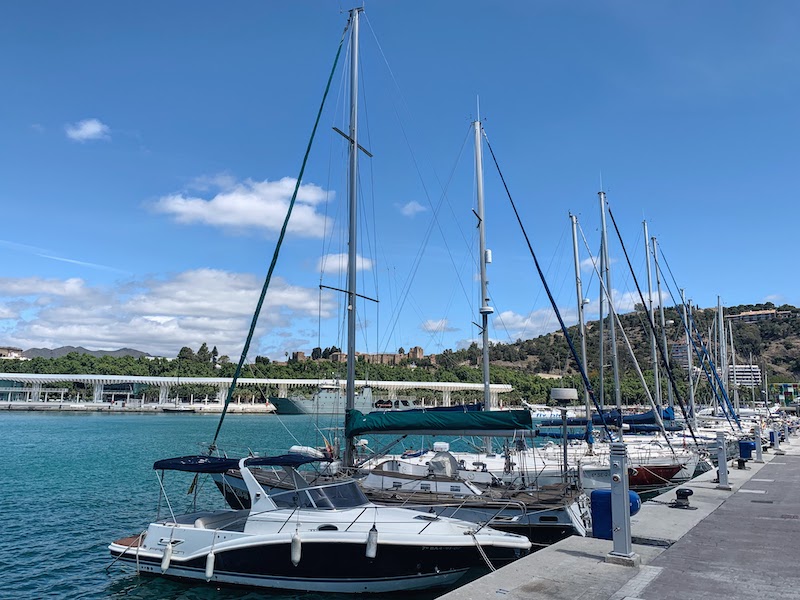 Malaga harbor promenade is one of the most vibrant parts of Malaga. It's one of the top places in Malaga to watch people passing by.
13. HEAD TO CENTRE POMPIDOU FOR CONTEMPORARY ART
Malaga's Centre Pompidou is a branch of the celebrated Centre Pompidou in Paris.
The museum structure is made in the shape of a big colorful glass cube. The building is popularly called El Cubo. It holds a permanent exhibition of Pablo Picasso, Frida Khalo, Chagall, Kandinsky, Francis Bacon, Magritte, to name a few.
The museum is located in the heart of Malaga harbor.To make the most of your time in Malaga, go for Skip-the-line Málaga: Center Pompidou Málaga Ticket.
Malaga Centre Pompidou ticet: 9 €
Free entrance: Sunday evening
14. TAKE PHOTOS OF LA FAROLA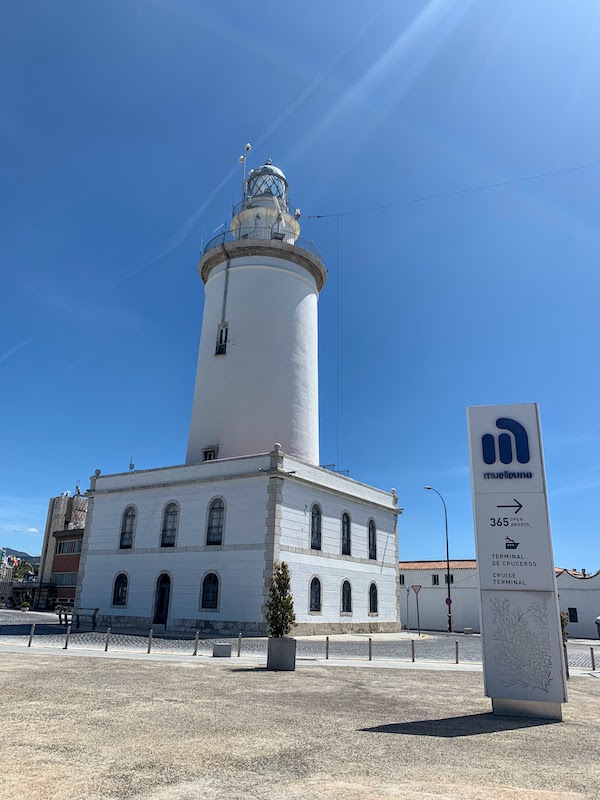 La Farola is an iconic lighthouse in Malaga.
It's a landmark of Malaga. The elegant lighthouse was built in 1816.
La Farola de Malaga is one of the most photograph buildings in Malaga.
It's located at the end of Paseo de la Farola and at the entrance to the harbor in Malaga.
15. CRUISE THE MALAGA BAY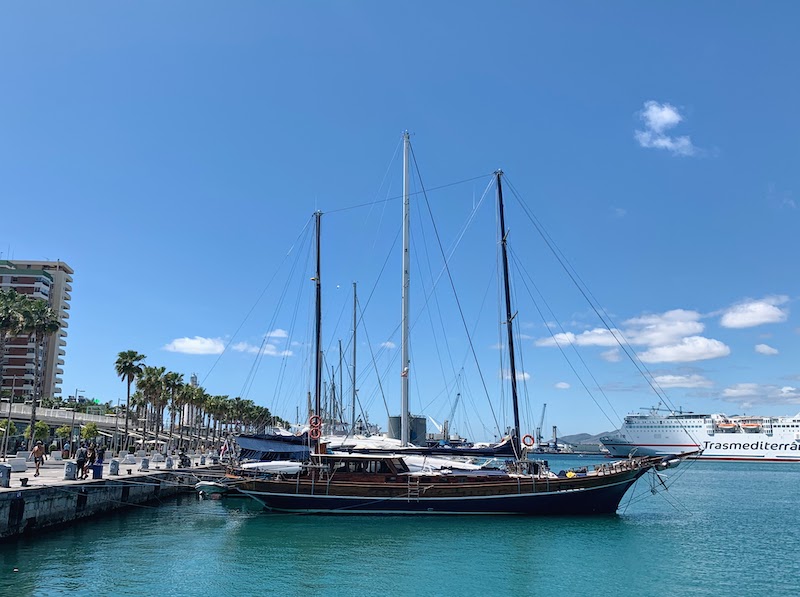 Every malagueño would agree, cruising the Malaga Bay and enjoying the sea time on a boat are some of the best things to do in Malaga.
Chill and appreciate romantic moments with a glass of sparkling Cava wine while cruising the Malaga bay on a luxury boat in the sunset.
Take acatamaran trip in Malaga and enjoy spectacular sea views of Malaga in the sunset.
16. REJUVENATE AT HAMMAN AL ANDALUS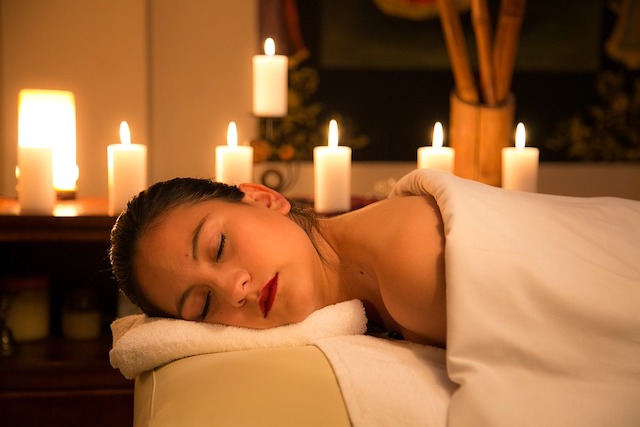 The Hammam Al-Andalus in Malaga is one of the Arab baths in Andalusia you have to try.
The Malaga's Hammam Al-Andalus offers cold, hot, and warm baths, various massages with aromatic essential oils for the ultimate relaxation. Hot green mint tea is served in the lounge area of the hammam, in line with the traditional Arab baths rituals.
Unquestionably, rejuvenating inHammam Al-Andalus is one of the most enjoyable things to do in Malaga. Check out Hammam Al Ándalus Baños Árabes Málaga !
17. GO FOR A TAPAS CRAWL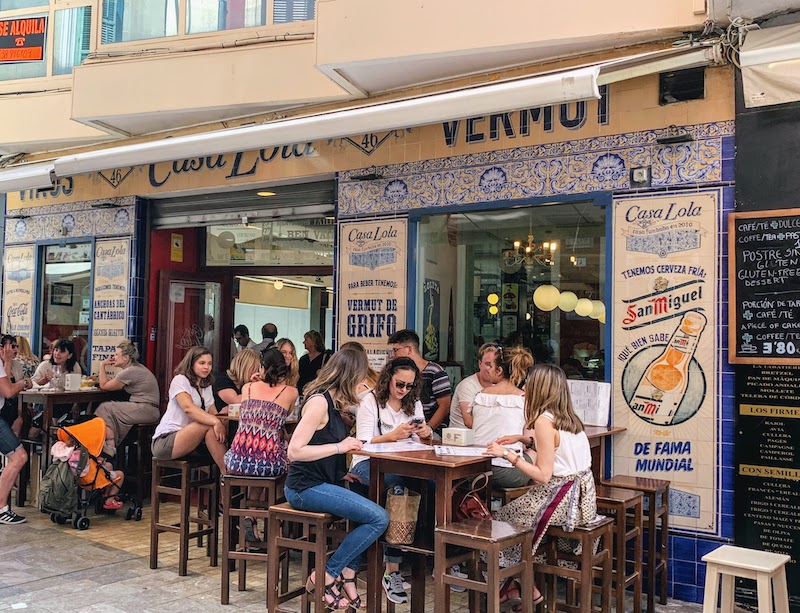 If you are a foodie like me, then most certainly you enjoy tasting local foods on your travels.
One of the best things to do in Malaga is to take a walking food tour in Malaga and learn about traditional Andalusian and Malaga food from a food sherpa.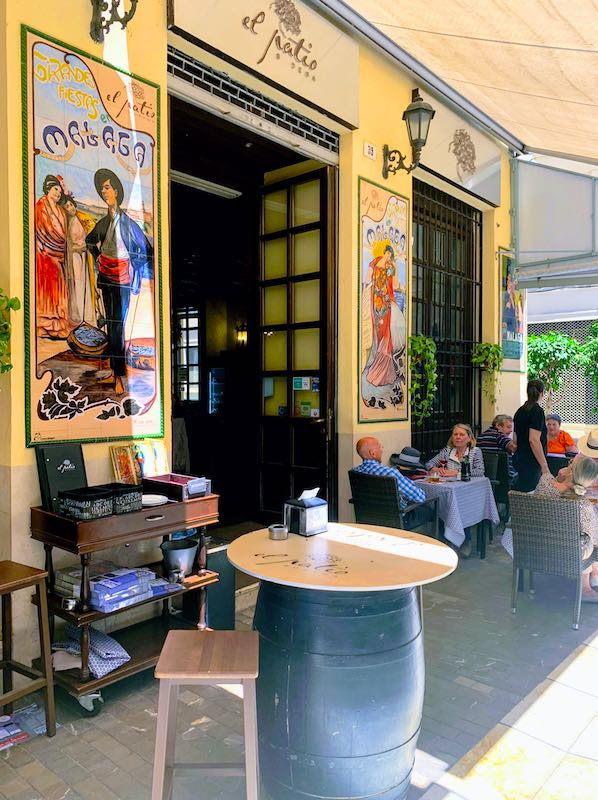 Explore Malaga cuisine, and have traditional Spanish tapas with some fine Andalusian wines while touring traditional taverns and tapas bars in Málaga. If you want to experience Malaga culinary scene in a different way, check outBike Tour of Malaga: Tapas and Wine
But, if your Malaga itinerary suits more an evening tapas crawl, check out Málaga: Evening Wine and Tapas Tour
18. TAKE HOP-ON HOP-OFF BUS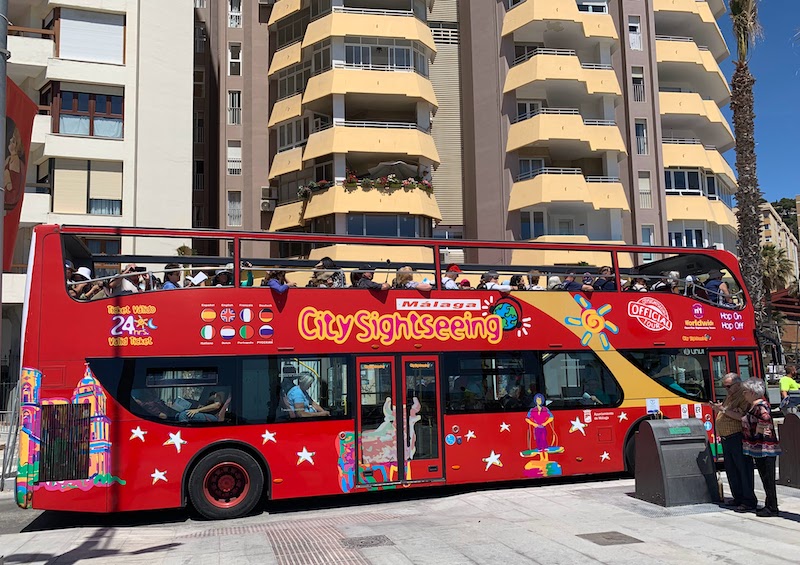 Explore Malaga from the comfort of a Malaga Hop-on Hop-off Bus.
If you are short with time in Malaga, or you simply want to sights all famous Malaga attractions in the most comfortable way, take a Hop-on-Hop-off Bus in Malaga. One loop by the bus takes only 1 hour and 20 min.
Malaga: Hop-on Hop-off Bus & Experience Card Options
19. EXPLORE MALAGA BY SEQWAY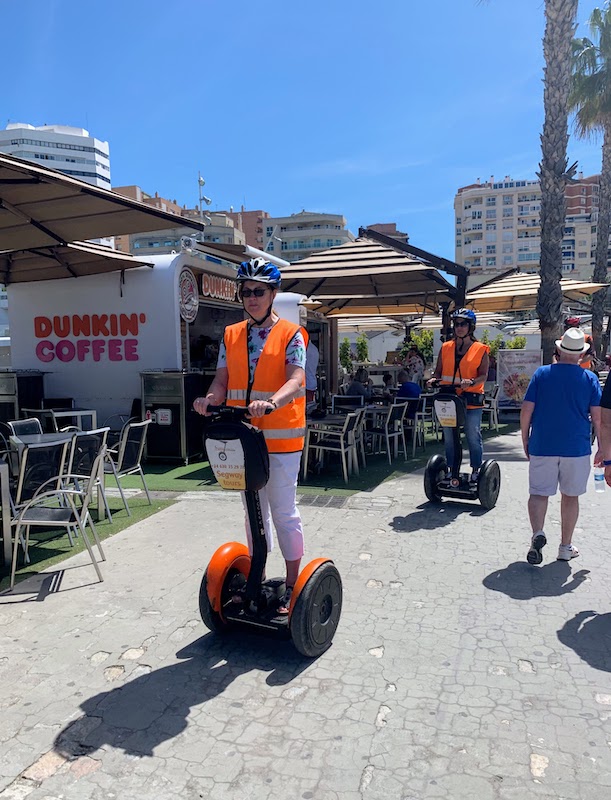 Riding a segway in the streets of Malaga is one of the most fun things to do in Malaga.
Choose between segway tours that last one hour or two hours and have fun touring the city of Malaga.
20. EXPERIENCE GLORIOUS SEMANA SANTA IN MALAGA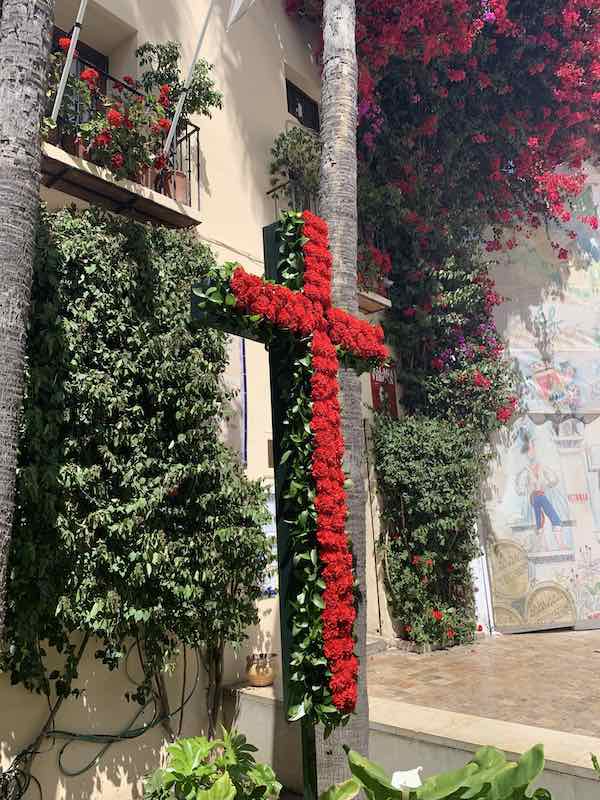 Celebrating Holy Week and Easter in Spain is exceptional.
Experiencing Holy Week, or Semana Santa in Malaga is one of the most unique things to do in Malaga.
Semana Santa in Malaga is one of the most important traditional events in Malaga. 42 religious brotherhoods dressed in unique robes organize distinctive processions carrying wooden sculptures of the sorrowful Virgin Mary and the scenes from the Passion.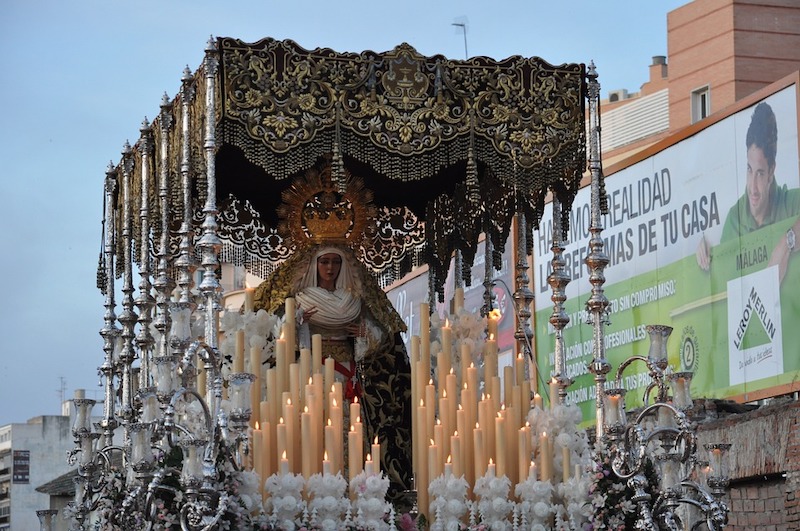 The processions go from brotherhoods' houses or their churches along the official route to the Malaga Cathedral or back to their brotherhood houses.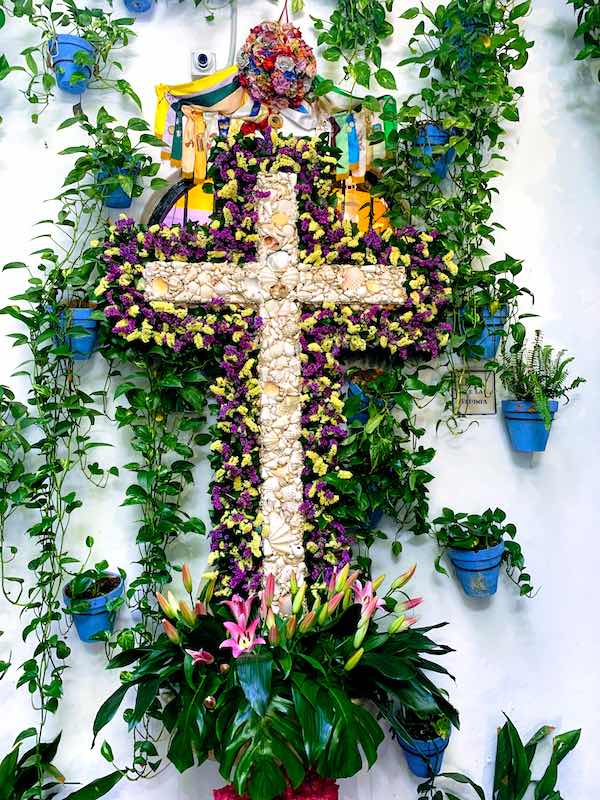 The celebration of the Semana Santa happens the week before Easter. During the celebration, the city is amazingly decorated.
READ MORE: Celebrating Easter in Spain
21. HIKE CAMINITO DEL REY FROM MALAGA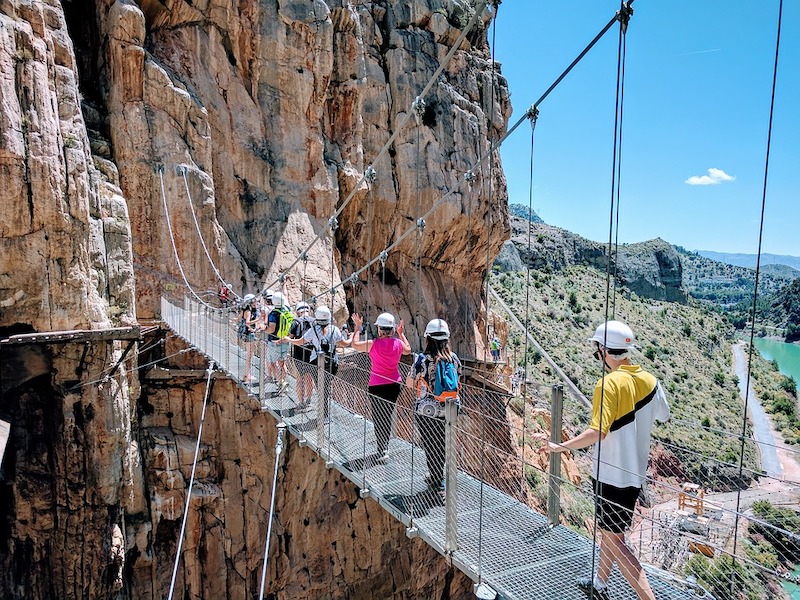 Take a day trip from Malaga and walk Caminito del Rey.
El Caminito del Rey (the Little Pathway of the King) is a spectacular path over the magnificent canyon of the Guadalhorce River. The amazing canyon features cliffs 700 m high, while the Caminito del Rey path hangs 100 m above the river.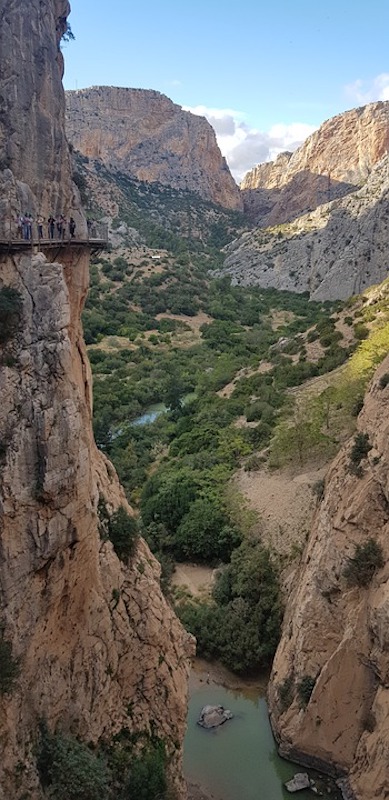 The Caminito del Rey path is about 3 km long and about 1 meter wide. The hike takes 3 hours and it always goes only in one direction.
It takes an hour by car and about 3 hours by bus from Malaga to Caminito del Rey.
Taking a day tour to Caminito del Rey from Malaga is one of the best things to do in Malaga for adventurous souls.
From Costa del Sol or Malaga: Caminito del Rey with Tapas
22. WATCH AUTHENTIC FLAMENCO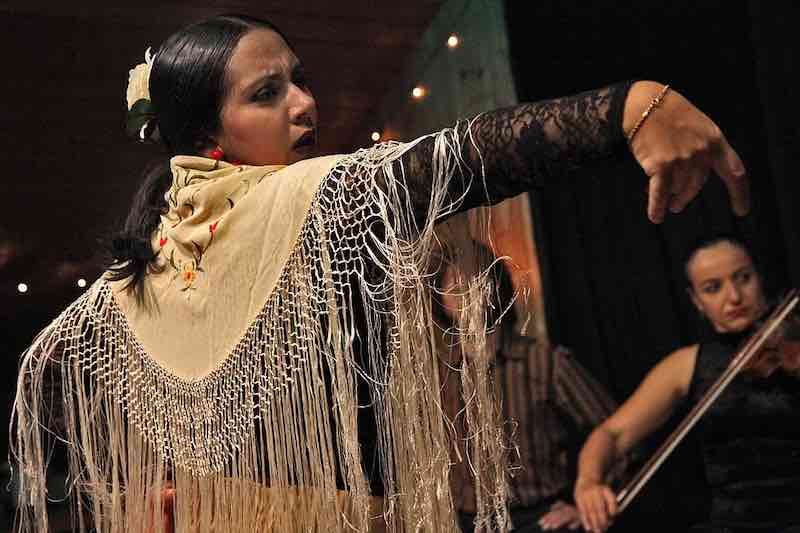 Seeing a genuine flamenco is one of the best things to do in Andalusia.
Amazing flamenco represents a unique artistic expression and musical fusion of song (cante), musicianship (toque – the art of guitar playing), and dance (baile). UNESCO inscribed flamenco to the list of Cultural and Intangible Heritage of Humanity.
If you want to see an authentic flamenco show in Malaga, head to Tablao Los Amayas!
Watching Traditional Flamenco Show in Tablao Los Amayas is one of the top fun things to do in Malaga!
23. TAKE A DAY TRIP TO GIBRALTAR FROM MALAGA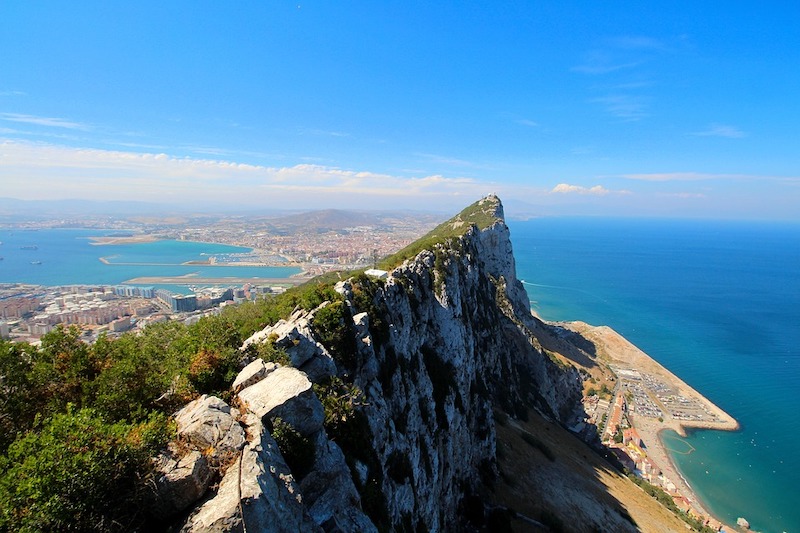 To experience the British atmosphere on the Iberian peninsula and in the near proximity to Andalusia, visit Gibraltar.
Take a cable car up the rock, see amazing Barbary macaques (the only wild primates in Europe), eat fish and chips, and say hello to Africa from Europa Point.
It takes about 2 hours by car and about 3 hours by bus from Malaga to Gibraltar. But getting into Gibraltar can be stressful because of the customs and long queues, so taking a guided day tour to Gibraltar from Malaga is the easiest way to tour Gibraltar from Malaga.
24. VISIT MIJAS, MARBELLA AND PUERTO BANUS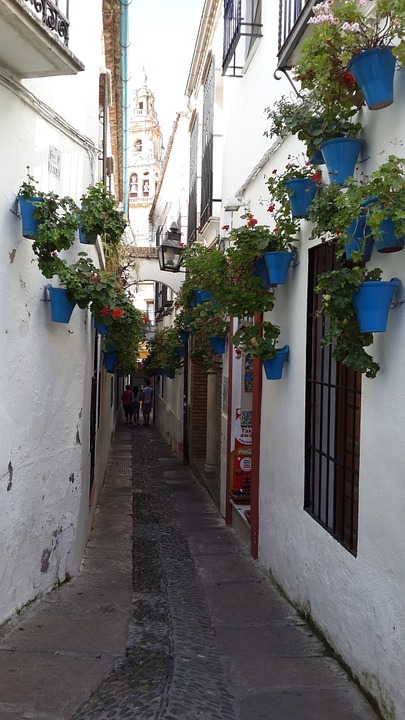 Worldwide known Marbella is one of the most luxurious seaside resorts in Spain, while Puerto José Banús is a famous luxury marina and shopping complex where rich and famous spend their holidays.
Bu everyone who travels to southern Spain dreams of seeing picturesque authentic pueblo blancos (white villages) in Andalusia. Charming Mijas near Malaga is a typical Andalusian white village. The lovely Mijas is one of the most beautiful and the most visited pueblo blancos in southern Spain.
One of the best things to do in Malaga is to take a day trip to Mijas, Marbella & Puerto Banús From Málaga and visit them in one day.
25. TOUR ALHAMBRA AND NASRID PALACES FROM MALAGA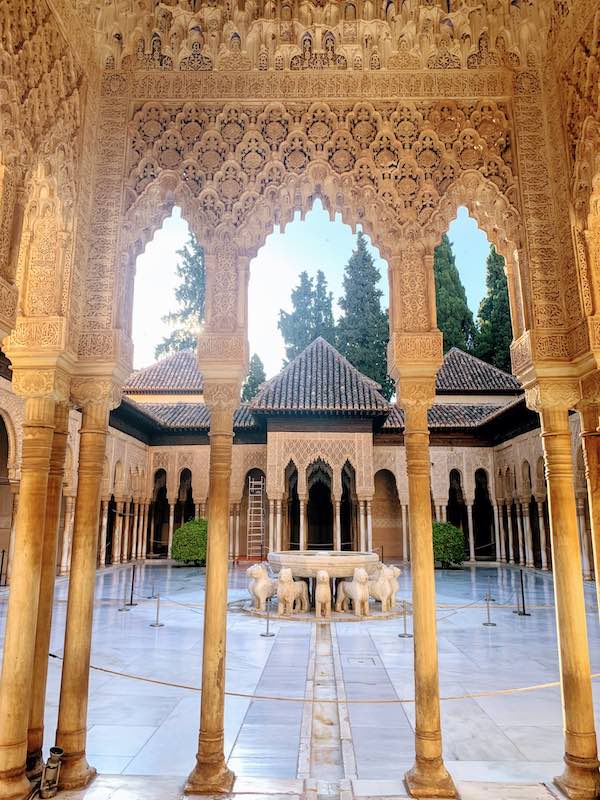 Alhambra in Granada is the most visited site in Spain. 2.000.000 people visit Alhambra every year.
Magnificent Alhambra is a UNESCO World Heritage site, a top tourist attraction in Spain, and one of the most famous tourist attractions in the World overall.
If you want to visit Alhambra from Malaga, take a day trip from Malaga to Granada.
It takes an hour and 40 min by car and up to 3 hours by bus from Malaga to Granada.
But if you want to visit Alhambra on a day tour from Malaga, take Alhambra Full-Day Tour with Nasrid Palaces from Malaga.
26. VISIT CORDOBA AND MEZQUITA FROM MALAGA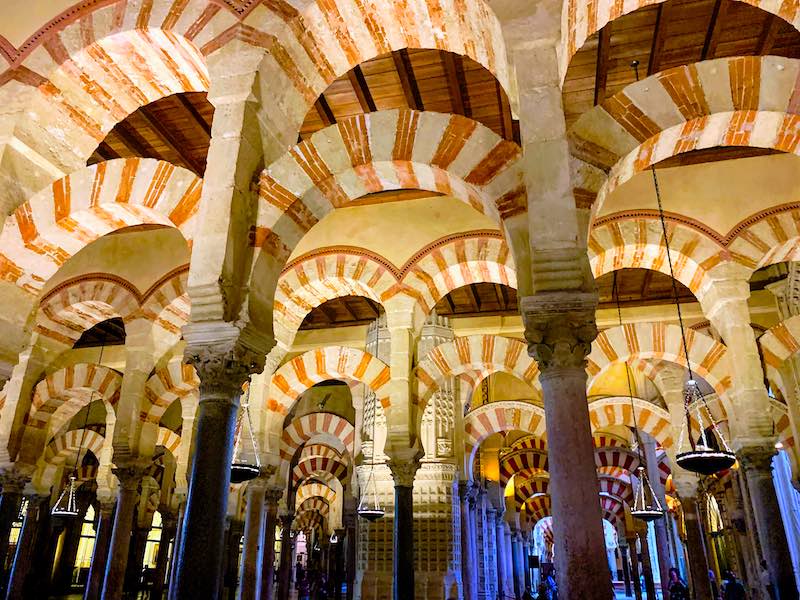 Charming Cordoba is one of the most beautiful places in southern Spain.
Absolutely gorgeous Cordoba is famous for La Mezquita Cathedral (a UNESCO World Heritage Site), lovely Juderia, the picturesque Roman Bridge over the Guadalquivir river, fantastic Roman mosaics, charming Arab courtyards with gorgeous fountains, flowers, and aromatic plants.
It takes only 1 hour by train, and about 2 hours by car from Malaga to Cordoba.
But if you fancy taking organized tours, take a day tour from Malaga to Cordoba.
27. MAKE A DAY TRIP TO RONDA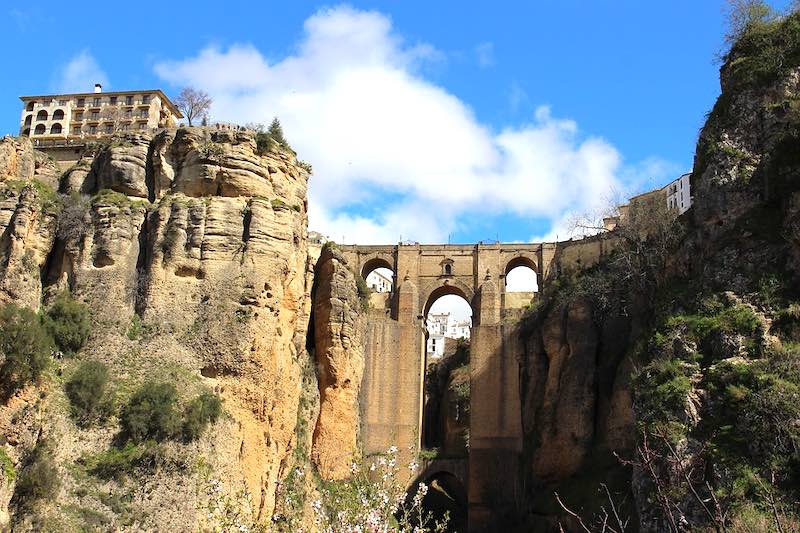 The famous town of Ronda is the most spectacular white-washed town in southern Spain. Ronda is best known for its incredible mountaintop setting above a deep gorge.
Ronda is home to the oldest bullring in Spain. Ernest Hemingway and Alexander Dumas praised the beauty of Ronda.
It takes about an hour and a half by car from Malaga to Ronda. But if like guided tours, take this awesome guided day tour from Malaga to Ronda.
28. BUY A SOUVENIR IN MALAGA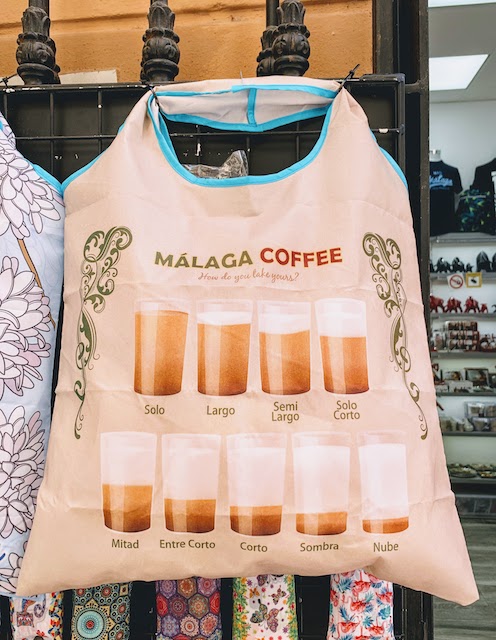 Spain is a country with strong coffee culture.
So, if you are a coffee lover like me, you'll especially appreciate your coffee time on Costa del Sol.
Malaga is well-known for the distinctive Malaga coffee types called shadow (sombra), cloud (nube), short (corto), half and half (mitad), etc. These coffee types you can not find in the rest of Spain. These coffee types you can order only in the Malaga province!
If you are looking for a unique souvenir from Malaga, you might like this funky bag that illustrates Malaga coffee types.
BEST TIME TO VISIT MALAGA
Malaga and the Costa del Sol are some of the sunniest places in Europe. Malaga has an average of 320 days of sun a year or in other words more than 3000 hours of sunlight a year.
Summer is the high season for beach and sun lovers. July is the hottest month in Malaga with a daily average temperature of 25°C (77°F).Winter in Malaga is mild and rarely cold. The coldest month in Malaga is January with a daily average temperature of 15°C(55°F).
But, spring and autumn are the best time to visit Malaga for pleasant temperatures ideal for sightseeing with no crowds.
March/April is a great month for visiting Malaga for the spectacular Holy Week in Malaga.
BEST PLACES TO STAY IN MALAGA
BUDGET:
Alcazaba Premium Hotel, – a 2-star hotel near La Caleta Beach, Picasso Museum, and Alcazaba in the center of Malaga. The hotel rooms come with high ceilings, comfortable beds, and lovely balconies.
MID-RANGE:
Hotel Eurostars Málaga, – is a 4-star hotel with spacious and modern rooms in Malaga. The hotel is within a 5-min walk to Malaga train station and a 20-min walk to the city center.
UPSCALE:
Gran Hotel Miramar, – is a superb 5-star hotel with a spa center, gym, seasonal pool, and beautiful garden in a top location in Malaga. This beachfront hotel provides spacious and magnificently decorated rooms.