Is Vietnam in your mind?
Want to cheer in the morning 'Good Morning Vietnam' with a cup of tasty Vietnamese coffee?
Looking for a great Vietnamese coffee shop with the best coffee in Vietnam?
What about a cup of best Vietnam coffee at a chic Vietnamese cafe with a retro communist atmosphere?
Yes?!
In that case, head to the Cong Caphe!
THE ULTIMATE VIETNAMESE CAFE FOR THE BEST COFFEE IN VIETNAM

First of all, let me tell you a story.
I stumbled upon Cong Caphe in Sapa in the north of Vietnam after traveling Vietnam for a month.
Starting my trip from the south with Ho Chi Minh City, Mui Ne, Nha Trang, then traveling north to Hoi An, Hanoi, Halong Bay, Mai Chau, my last stop in Vietnam was Sapa near the border with China.
Like I said earlier, I have literally stumbled upon Cong Caphe. It was love at first sight. Romantic, nostalgic and a little bit quirky. The love with a character.
At that time I didn't know anything about Cong Caphe. Not even the name. The name came last.
On a random day, I just stumbled upon Cong Caphe while searching for a place to have my morning cup of coffee. Yes, I said 'a random day'. It was a random day. A gloomy day in cold Sapa in December.
And the love happened when it was least expected, as is always the case with the big loves.
My morning search for a cup of Vietnamese coffee entering an interior full of charm.

The atmosphere of the place mirrored rich Vietnamese history. Dark marble floor, rustic wooden tables, and chairs, cozy patterned cushions, old photos on the walls, staff's retro green army outfits, vintage cups, and glasses evoked the old times.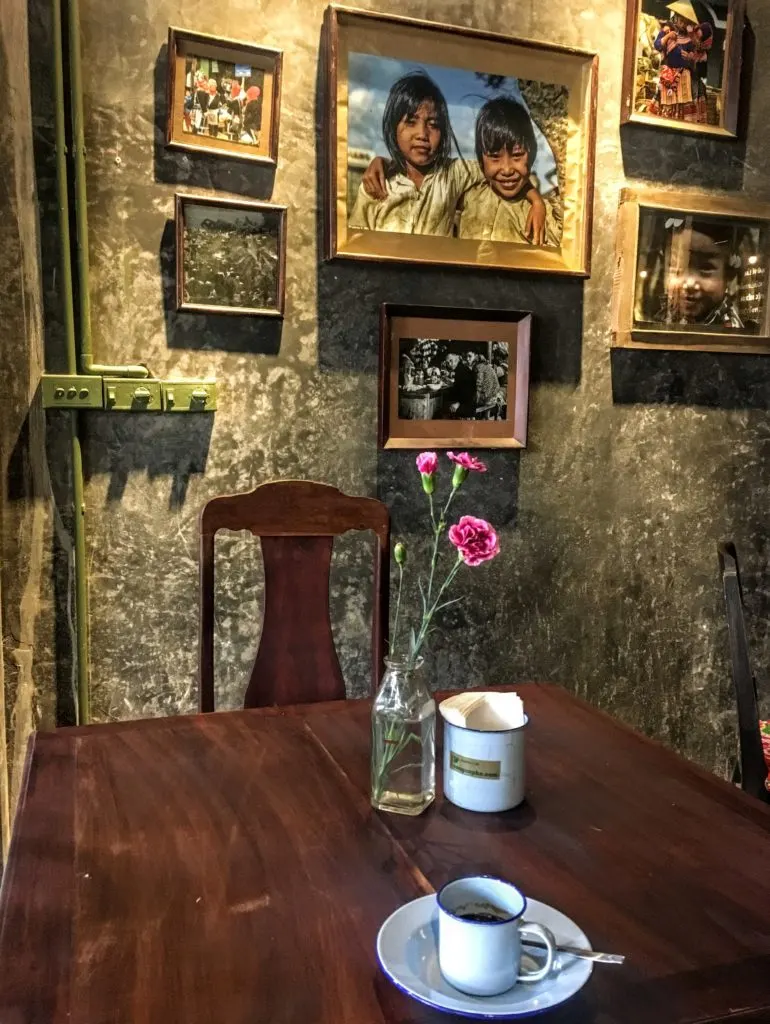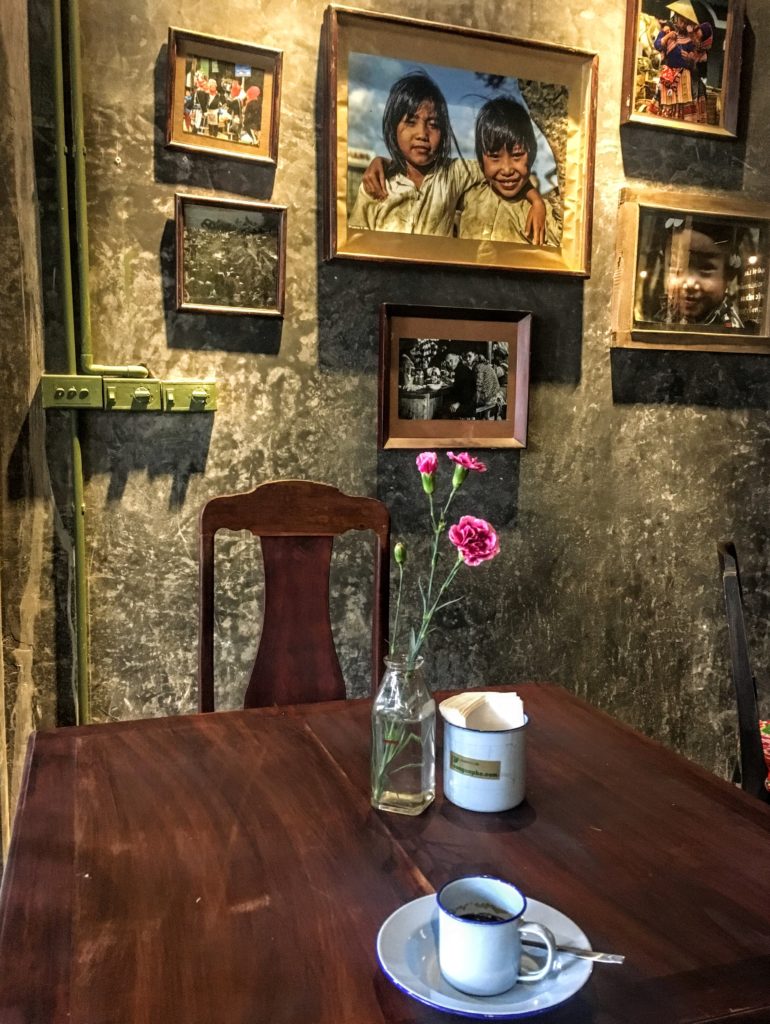 Funky communist decor with some old good music playing in the background made a perfect setting for falling in love.
I was offered different types of Vietnamese coffee – traditional Vietnamese drip coffee, Vietnamese iced coffee, Vietnamese coconut coffee, Vietnamese yogurt coffee, Vietnamese egg coffee, etc.
All my senses were fulfilled.
I smiled. I was in love.
I was in love with coffee in Vietnam. As much as I was in love with foods in Vietnam.
Love happened on my last day in the country. I had already a one-way bus ticket to Laos in my pocket. Yes, Laos was already on my mind.
Later I searched for my love on the Internet. It is pretty much usual these days to look out for the subject of your interest online, isn' it?
I found out the name: Cong Caphe.
Cong Caphe is a coffee chain in Vietnam offering one of the best coffee in Vietnam. Oh, yes, I know what are you thinking of brand chains. I don't like them either.
But, this one is different. Every café of the chain is rather unique in its own way.
These days Cong Caphe can be found in Sapa, Hanoi, Ho Chi Minh City, Da Nang, Nha Trang…Therefore I am going to meet my love at one of those places when I am back in Vietnam.
I am going for my best Vietnam coffee, again.
To end, shouldn't have I kept Cong Caphe as a secret? But shouldn't you all see the beauty of my love? Shouldn't you all taste the best Vietnam coffee?
P.S.: How to order coffee in Vietnam?
If you are a coffee addict like me, or you just want to try the best coffee in Vietnam ordering coffee in Vietnamese, there is little help with the Vietnamese language:
coffee in Vietnamese is called Ca Phe,
black coffee in Vietnamese is Ca Phe Den,
iced Vietnamese coffee in Vietnamese is called Ca Phe Da,
coffee with condensed milk in Vietnamese is Ca Phe Sua,
iced coffee with condensed milk in Vietnamese is Ca Phe Sua Da,
egg coffee in Vietnamese is Ca Phe Trung,
hot in Vietnamese is nong,
sugar in Vietnamese is duong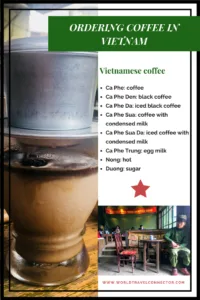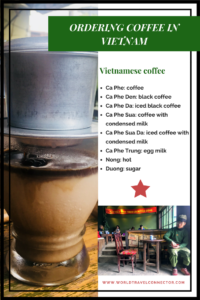 MAYBE YOU ALSO WOULD LIKE TO READ: Tasting Authentic Kopi Luwak in Bali
Perfect Vietnamese café with Retro Communist Flair: Cong Caphe
• Cong Caphe Sapa: 37 Xuan Vien
• Cong Caphe Hanoi: 8 Thai Ha; 101 Hoang Cau
• Cong Caphe Ho Chi Minh: 127-129 Bui Vien; 26 Ly Tu Trong
• Cong Caphe Da Nang: 98-96 Bach Dang; 39-41 Nguyen Thai Hoc
• Cong Caphe Nha Trang: 27 Nguyen Thien Thuat
• Cong Caphe Hai Phong: 84 Đien Bien Phu
• Cong Caphe Lao Cai: 37 Xuan Vien
• Cong Caphe Quang Nam: 64 Cong Nu Ngoc Hoa
• Cong Caphe Quang Ninh: Kios C101-C201, Cong Vien Sunworld, Bai Shay
Note: This is not a sponsored post. I paid for my coffee at the Cong Caphe. None of the opinions expressed in this blog post are shared, supported or endorsed in any manner by the Cong Caphe. All the opinions are solely mine.
YOU MIGHT ALSO ENJOY
The Best Time to Visit Vietnam
Fairy Stream in Mui Ne in Vietnam