Best vegetarian Egyptian foods to sample in Egypt.
THIS POST MAY CONTAIN COMPENSATED LINKS. PLEASE READ MY DISCLAIMER FOR MORE INFO.
VEGETARIAN EGYPTIAN FOOD: TOP MUST-TRY FOODS IN EGYPT
Are you a vegetarian who is planning to travel to Egypt and is wondering what to eat in Egypt?! Or you are just interested in healthy Egyptian culture food, Egyptian vegetarian food, and delicious Egyptian food? In any case, exploring traditional Egyptian cuisine is one of the best things to do in Egypt.
Traditional Egyptian cuisine belongs to Middle Eastern cuisine (like Lebanese cuisine, Israeli cuisine, Armenian cuisine, Cypriot cuisine, and Turkish cuisine …) and Mediterranean cuisine (like Italian cuisine, Spanish cuisine, Croatian cuisine, French cuisine, and Greek cuisine …).
Here you can find a guide to vegetarian food dishes in Egypt and famous food in Egypt I have indulged in and sampled while traveling in Egypt.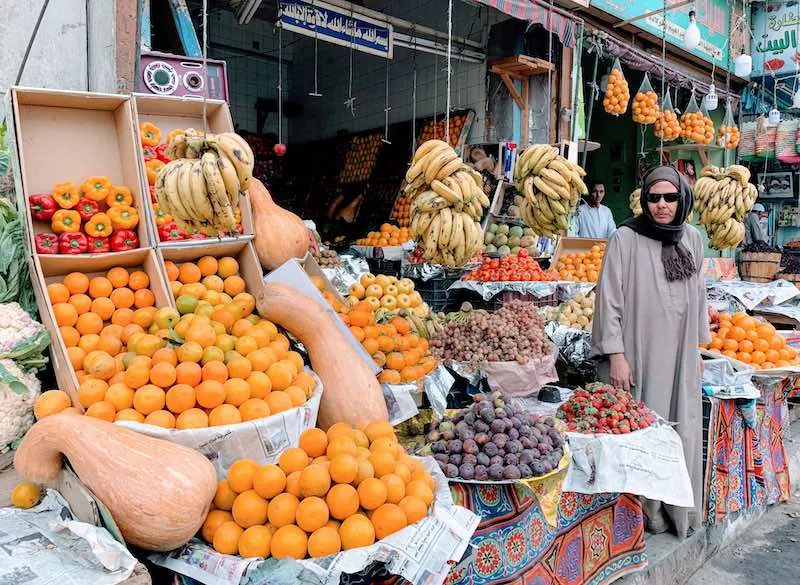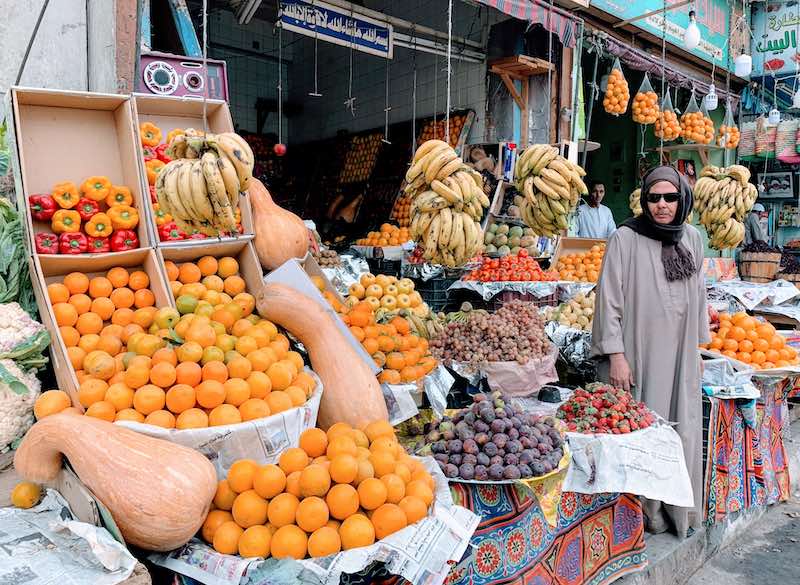 My list of vegetarian Egyptian food includes famous Egyptian vegetarian dishes ranging from ancient Egyptian food such as Molokhia soup and traditional Egyptian dishes like Koshery, Foul, and Tamaya to famous Middle Eastern spreads like Hummus and Baba Ganoush.
Vegetarian Egyptian dishes represent the healthiest and the best Egyptian food. Therefore, be assured the next traditional Egyptian food will perfectly nourish your healthy vegetarian diet.
Here you will find the most popular foods in Egypt, common foods in Egypt, Egypt traditional foods, and Egyptian food names.
Bon appetit, or Bel Hana W el Shifa ('May you have your meal with gladness and health') as Egyptians would say!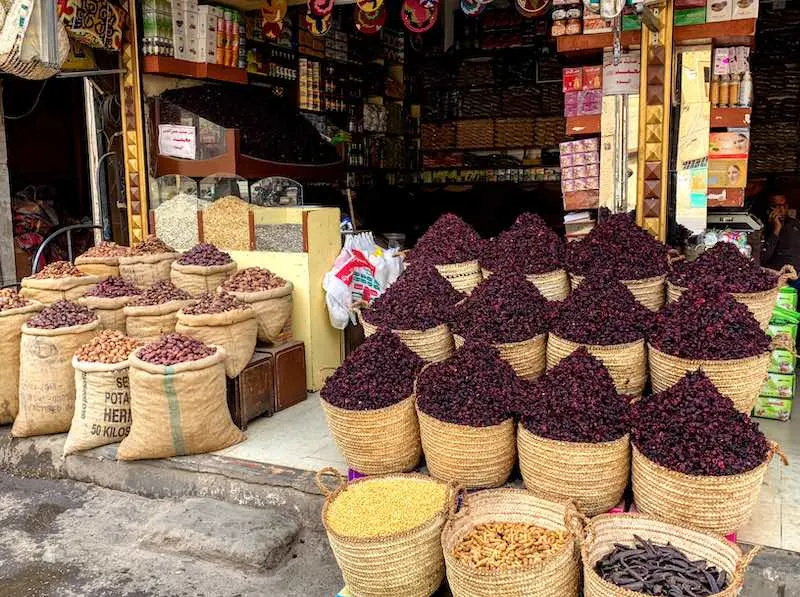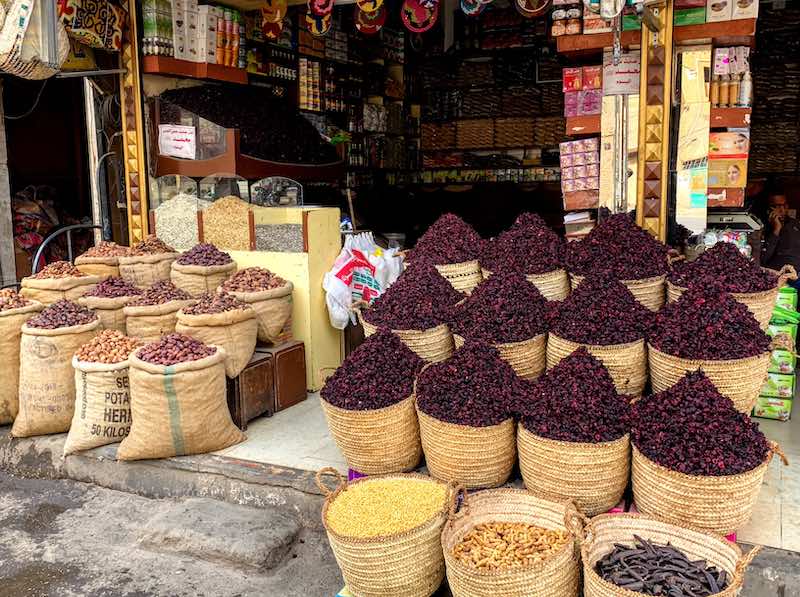 RELATED:
YOU MIGHT ALSO ENJOY:
THE 27 BEST FOODS IN EGYPT FOR VEGETARIANS AND ALIKE
Famous food of Egypt:
1. Kusheri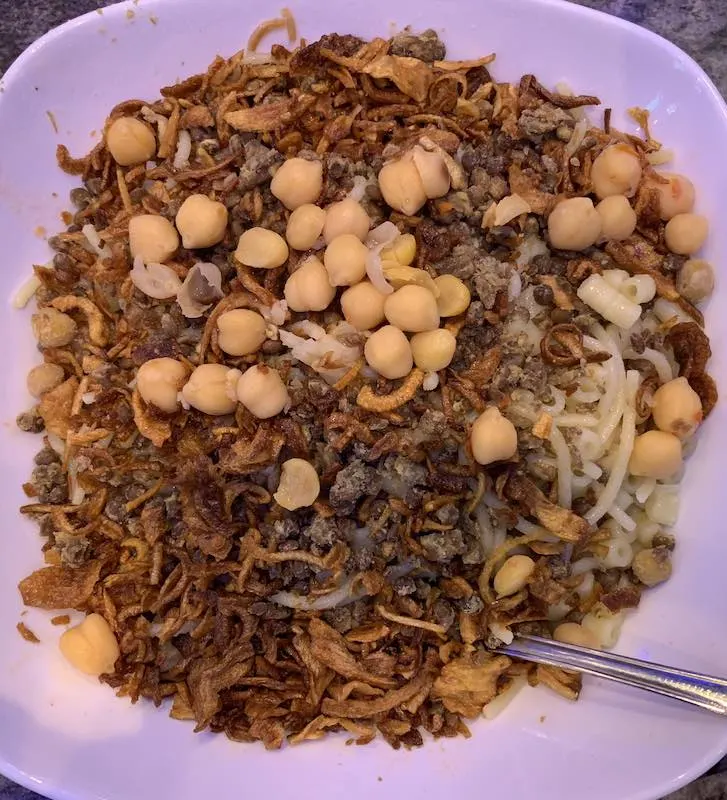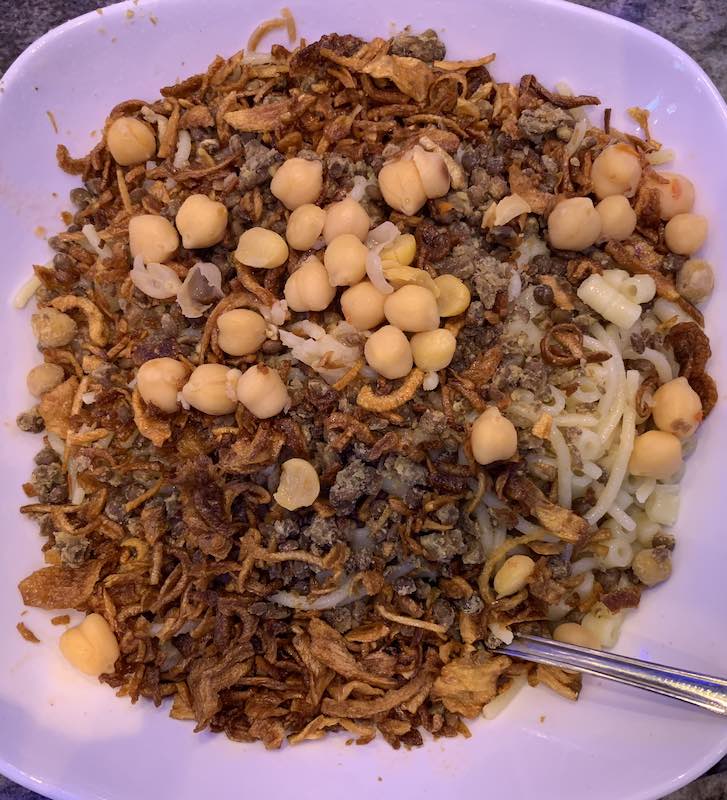 KOSHARY, also spelled Kosheri and Kusheri, is the national dish of Egypt.
This simple Egyptian dish is made of tasty carbs: rice, macaroni, lentils, and chickpeas, topped with onions, and aromatic Baharat spice mix sauce. If you want, you could additionally garnish your Koshary with hot chili sauce.
Once a 'poor man's meal', today Kosheri is the most popular food in Egypt. A tasty bowl of Koshari is actually a healthy vegan Egyptian dish. It is delicious and inexpensive. Not only Egyptians are in love with it, but also tourists in Egypt regularly worship Kusheri.
Your culinary exploration of Egyptian dishes in Egypt will most likely start with Kosheri. And most definitely you will be returning to Kosheri regularly. On my trip to Egypt, I did.
MAYBE YOU ALSO WOULD LIKE TO READ: Famous Landmarks in Egypt You Need to See
2. Tameya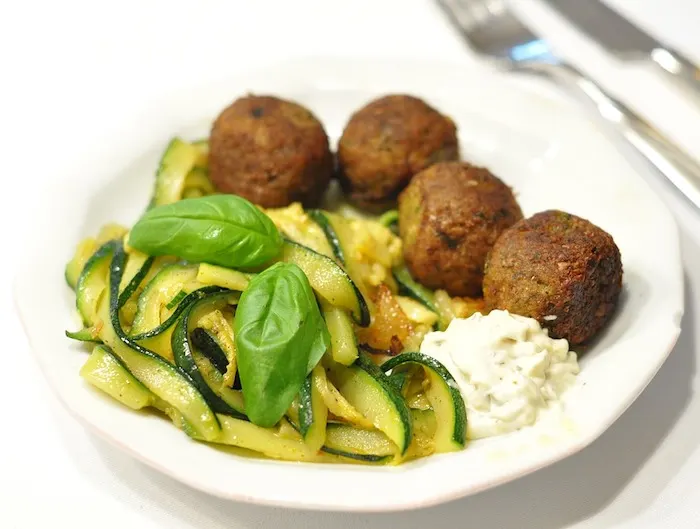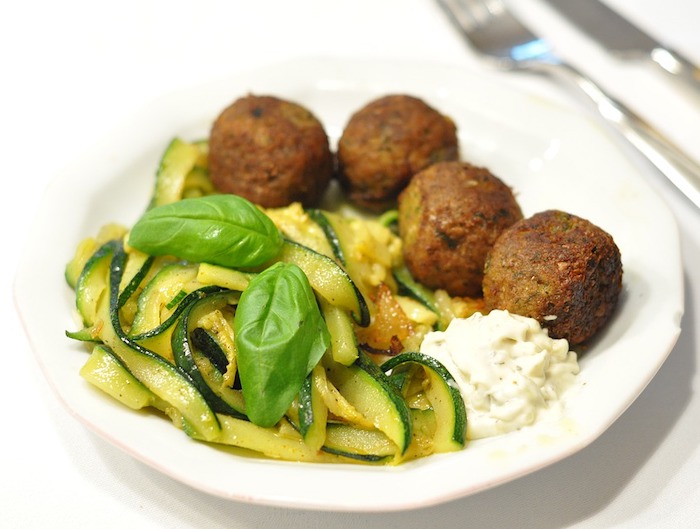 TAMEYA, or EGYPTIAN FALAFEL, is a popular vegetarian food in Egypt.
Egyptian falafel is made only of fava beans, not of chickpeas like in other Middle East countries. More precisely, Taameya is a deep-fried mix of fava beans and herbs.
In fact, this famous Egyptian food is one of the most popular Egyptian fast food you can buy on every street stall in Egypt. Tameya is the ultimate Egyptian street food. Fava beans are rich in proteins and thus an excellent substitute for meat and poultry. Luckily in Egypt, fava beans are classic Egyptian food.
All you need with Egyptian Taameya is Egyptian pita bread Baladi, tahini sauce, onions, and tomatoes, and your yummy vegetarian Egyptian meal is ready. Oh, do you know that falafel originates in Egypt?!
3. Foul Medammas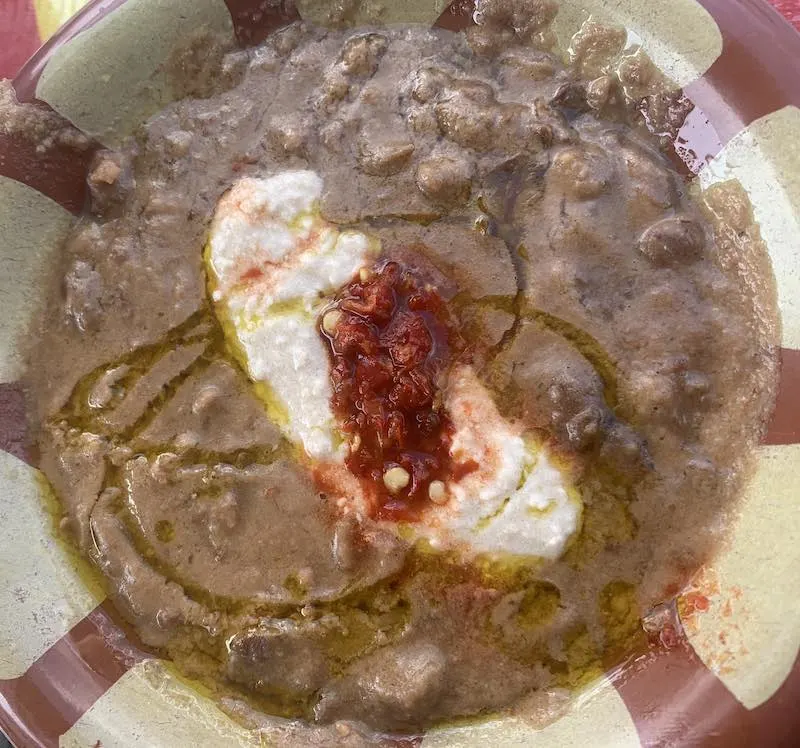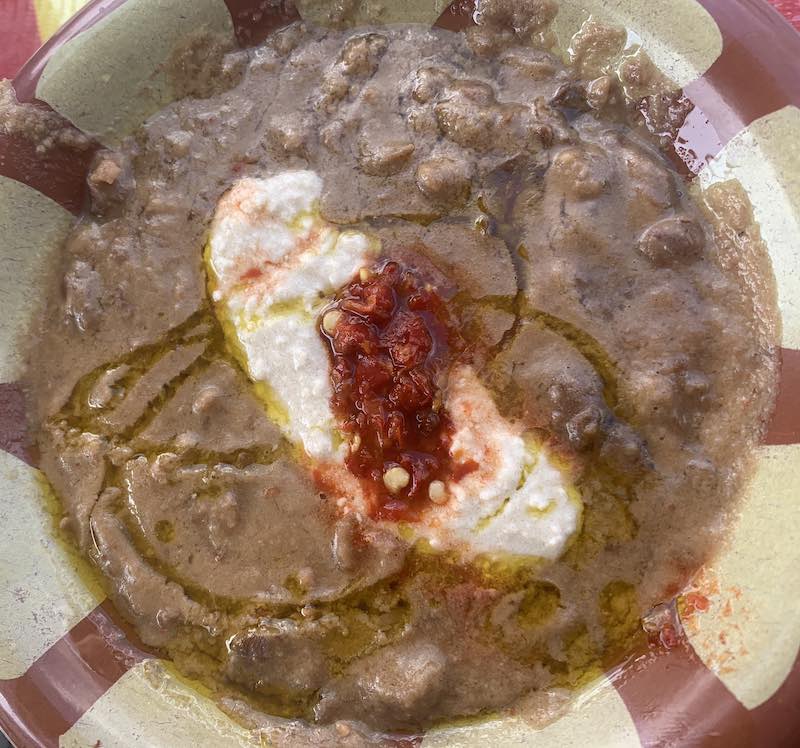 FOUL MEDAMMAS, or FUL for short, is another national dish of Egypt.
Egyptian Ful is a creamy paste made of fava beans, pepper, salt, cumin, and olive oil, and typically dressed with onion, garlic, parsley, and lemon juice. This Egyptian fava beans paste is a traditional Egyptian food, commonly served for breakfast in Egypt.
Egyptian diet is unthinkable without Foul Medammes. It is one of the most popular Egyptian street food, along with falafel, hummus, and kosheri. It's one of the ancient Egyptian dishes dating back to Pharaonic times.
But, Foul medammes is also an Egyptian fasting food since it is vegan. For example, Coptic Christians in Egypt consume it during their fasting periods.
This authentic Egyptian food is much like hummus and it is similarly eaten with Egyptian flatbread called Aish Balladi. It's interesting, 'Aish' in Egyptian Arabic means both 'Bread' and 'Life'. For Egyptians bread is life indeed. 'Medames' literally means 'buried' in the Coptic language, as the pot in which foul is prepared is 'buried' in the coal or hot sand.
Foul Medames has crossed the borders of Egypt. Today you can taste Foul in Sudan, Lebanon, Syria, and Saudi Arabia.
4. Feteer
FITEER BALADI is also known as EGYPTIAN PIZZA.
This Egyptian version of pizza is actually more like a blend of pizza and pancake. Fiteer Baladi is made of several layers of filo dough and cooked in a bricked oven.
Egyptian pizza can be plain, sweet, and savory. Commonly Feteer Meshaltet is served plain, but you can order a sweet version (with honey, syrup, and powdered sugar) or a savory version of the Egyptian pizza (with vegetables and cheese).
5. Molokhia soup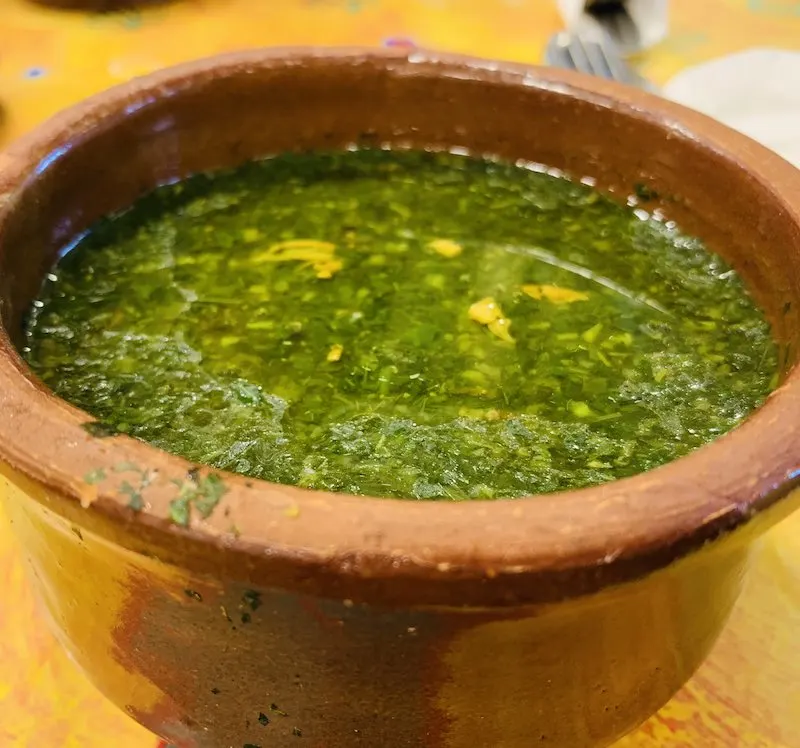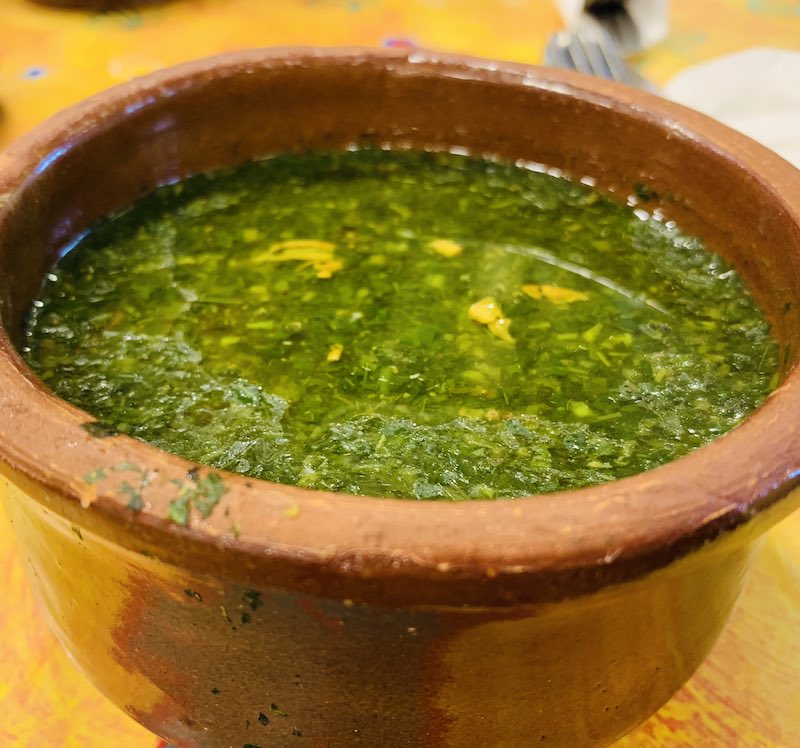 MOLOKHIA SOUP is a vegetarian Egyptian soup made of finely chopped green leaves of the vegetable called jute or Jew's mallow and cooked with a bunch of aromatic spices (bay leaves, cinnamon, rosemary, coriander, cumin). It is a thick green soup with a slimy but fresh taste.
Although authentic Mulukhiyah is vegetarian Egyptian food, sometimes it can be cooked with chicken, beef, or rabbit. Thus, please ask for the vegetarian option.
Coptic Christians in Egypt make (vegan) vegetarian Mulukhia during the fasting season. If you are a pescetarian, Molokhia in Alexandria and Port Said will work for you. Molokhia in Alexandria is cooked with shrimps, while Molkhia in Port Sad is prepared with fish.
People hate or adore molokhia. I adore it. Molokhia is an ancient Egyptian food believed to be consumed by royalty in ancient Egypt.
Molokhia prepared with rabbit is said to be the meal of the Pharaohs. Today this Egyptian green soup is considered to be a national Egyptian dish along with Kusheri and Ful. Nowadays jute is sold at farmers' markets in the Middle East and North Africa.
So, Molokhia is widely eaten in the Levant (Lebanon, Jordan, Israel, Palestine, Syria) and North Africa (Egypt, Tunisia). Mulukahiyah is a favorite meal in Egyptian cuisine. The Egyptian jute soup is served in Egyptian homes at least once a week.
6. Egyptian red lentil soup
Lentil soup is another popular soup in Egpyt. In fact, lentil soup is a common soup in Middle Eastern cuisine, equally well-liked in all Middle Eastern countries.
In Egyptian cuisine most typically is used red lentils for red lentil soup. Egyptian red lentil soup is a yummy vegetarian dish prepared with carrots, tomatoes, onions, garlic, tomato paste, Egyptian spice mix (cumin, cinnamon, cardamom, ginger, ground cloves), salt, pepper, and red lentils of course!
This protein-rich Egyptian soup is a must-try vegan dish in Egypt!
7. Hummus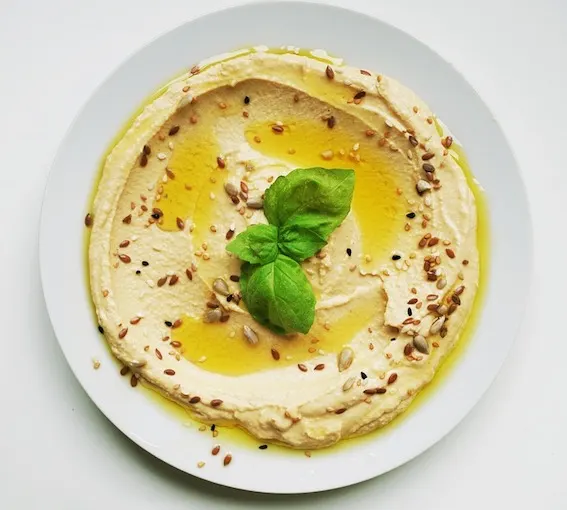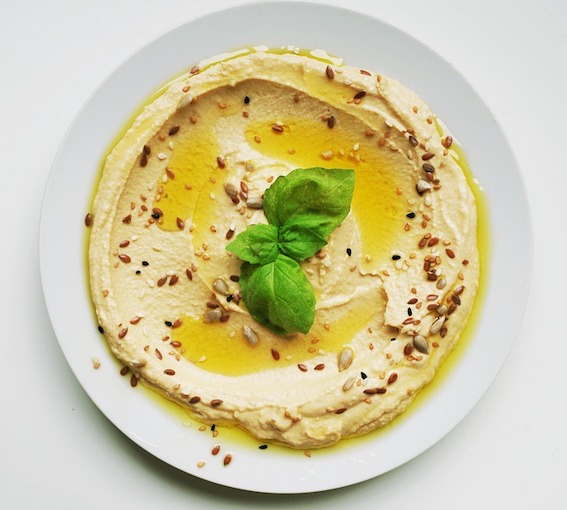 This famous Middle Eastern dip made of chickpeas, tahini, olive oil, garlic, salt, and lemon juice is also a part of traditional Egyptian cuisine.
In Egypt, traditionally Egyptian vegan hummus is usually eaten with nothing else but Egyptian flatbread and Egyptian Tamaya.
8. Sabanekh
SABANEKH is a Middle Eastern delicacy.
Sabanekh refers to a spinach stew but it can also be a pastry filled with spinach. Sabanekh stew is prepared with baby spinach, tomato paste, onion, garlic, and coriander.
The stew can be vegetarian and non-vegetarian with meat (most commonly beef). Egyptian Sabanekh is typically served with rice. When Sabanekh is a pastry, it is called Fatayer bi Sabanekh.
Fatayer in Arabic means hand pies. In both cases, Sabanekh is undoubtedly delicious!
9. Mahshy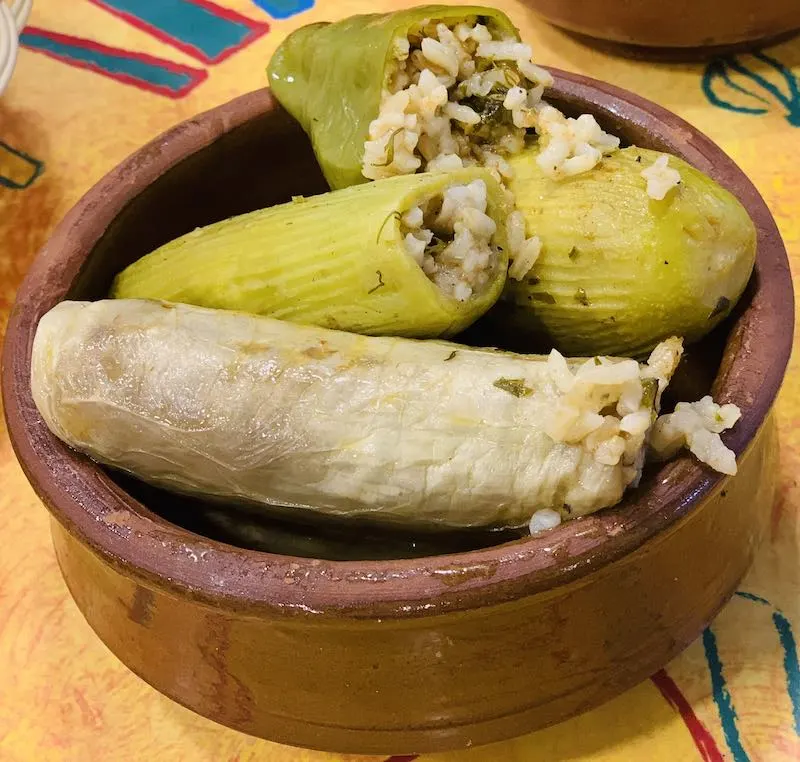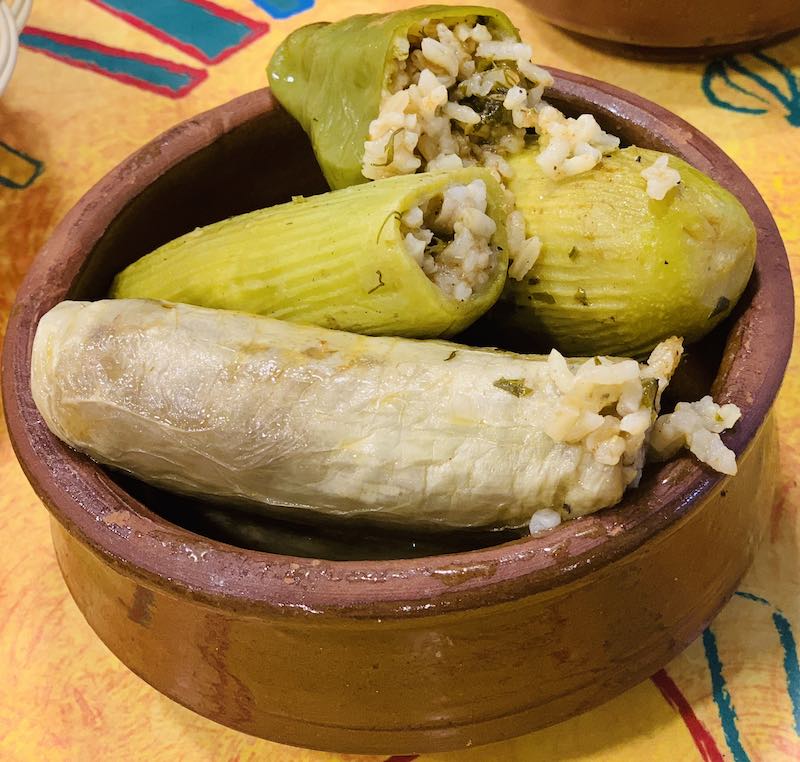 MAHSHI in Egypt literally means stuffed. Egyptian Mahshy refers to stuffed veggies, usually grapevine leaves, zucchini, or cabbage.
Mashi is a typical Egyptian food, originating from Ottoman times and much similar to Greek Dolma. The vegetables are stuffed with spiced rice and chickpeas cooked in a tomato-based sauce and served with lemon.
Stuffed zucchini in Egypt is called Kousa Mahshi. Egyptian Mahshee is traditionally eaten during Ramadan when family and friends gather to have Iftar at sundown. Egyptian Mahshi can be a full meal alone or an appetizer.
10. Besara
BESARAH is an Egyptian vegetarian dish dating back to Pharaonic times.
In short, Bissara is a creamy soup made of fava beans, parsley, leek, dill, green bell peppers, spices (coriander, cumin), and topped with grilled onion.
This Egyptian fava bean soup is traditionally served with Egyptian bread. Sometimes Egyptian Besara is a side dish and sometimes a meal alone.
11. Mutabbal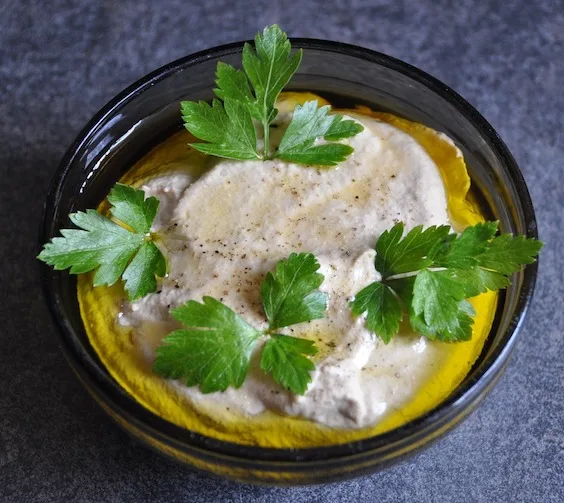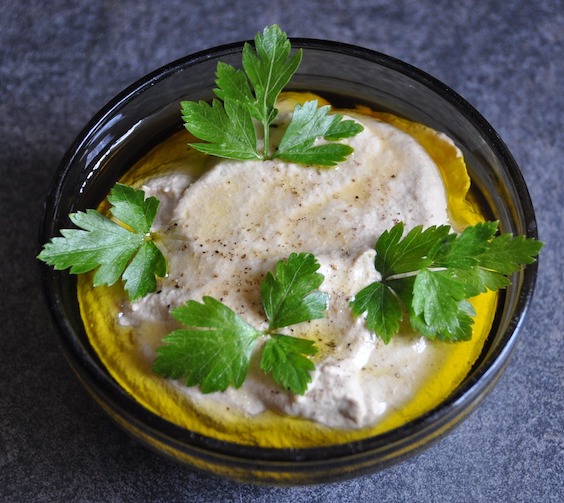 MUTABAL is a famous Middle Eastern eggplant dip commonly eaten in Egypt as well.
When you fry and smash eggplants and add them to tahini with some salt, pepper, parsley, cumin, olive oil, lemon juice you get Mutabal.
Mutabal is often mistaken for Baba Ganoush as both are eggplant dips. While Mutabal comes with tahini, authentic Baba Ganoush is without tahini. Mutabal is typically more creamy in texture than classic Baba Ganoush.
12. Baba ganoush
No list of Egyptian foods is complete without Baba Ganoush. Middle Eastern Baba Ganoush is one of the most famous spreads in the world. Baba Ghanoush means "pampered dad" in Arabic.
Baba Ganoush is prepared with fried and smashed eggplants with chopped tomato, pomegranate molasses, herbs (like mint and parsley), garlic, cumin, olive oil, lemon juice, and some salt and pepper. Instead of hummus or foul, you can try Egyptian falafel with Egyptian Baba Ganoush.
13. Masaa'a
MASAA is Egyptian eggplant moussaka.
This traditional Egyptian dish is a vegan dish made of layered eggplants, thinly sliced onions, and bell peppers, diced tomatoes, garlic, a pinch of ground cumin, coriander, parsley, salt, and black pepper.
Egyptian moussaka is common street food in Egypt. Unnecessary to say, this common Egyptian dish is easy to prepare, and it is super healthy and insanely tasty.
Egyptian moussaka is always vegan-friendly when served in small roadside eateries in Egypt. But, sometimes Egyptian Masaa is prepared with beef or bechamel in Egyptian homes.
14. Shakshuka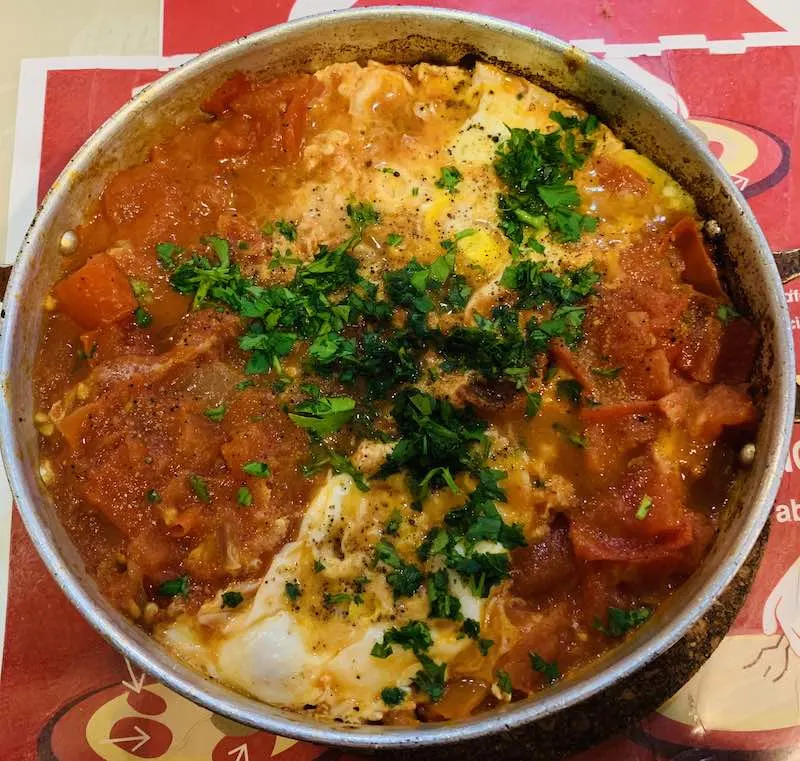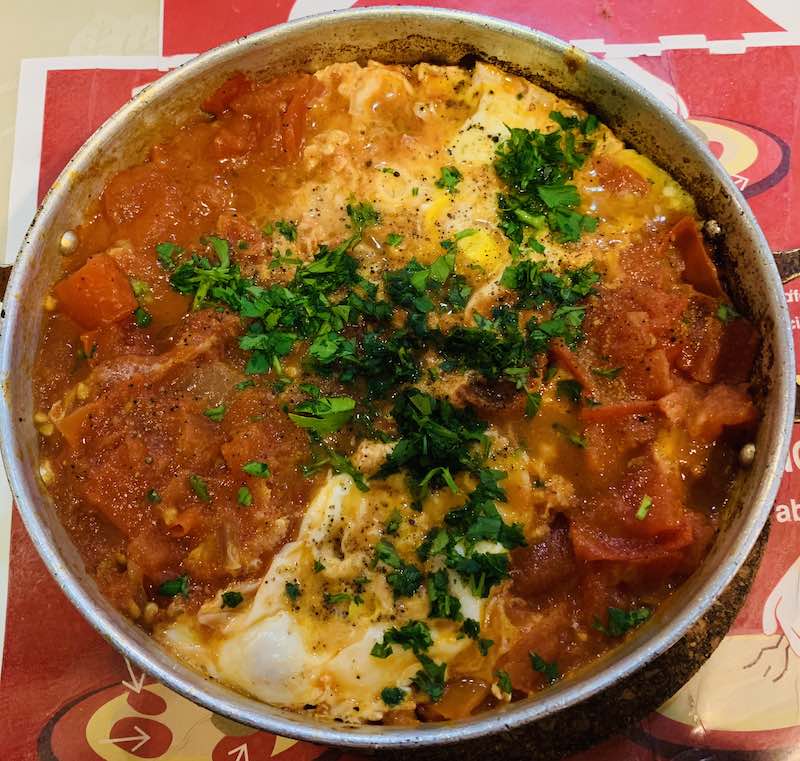 Shakshuka is a tomato-based stew with onion, chili peppers, and paprika, spiced with cumin, and topped with poached eggs.
It is simple and delicious! Shakshouka is one of the most popular Egyptian dishes. While Shakshuka is believed to originate in Tunisia or Algeria, no one knows for sure.
Today you can find this vegetarian dish in almost all Middle Eastern and Maghreb countries. Shakshouka is an extremely popular food in Israel and it is considered to be an Israeli national dish. Although Israelis made it to perfection, Egyptian Shakshuka is delicious as well.
15. Torshi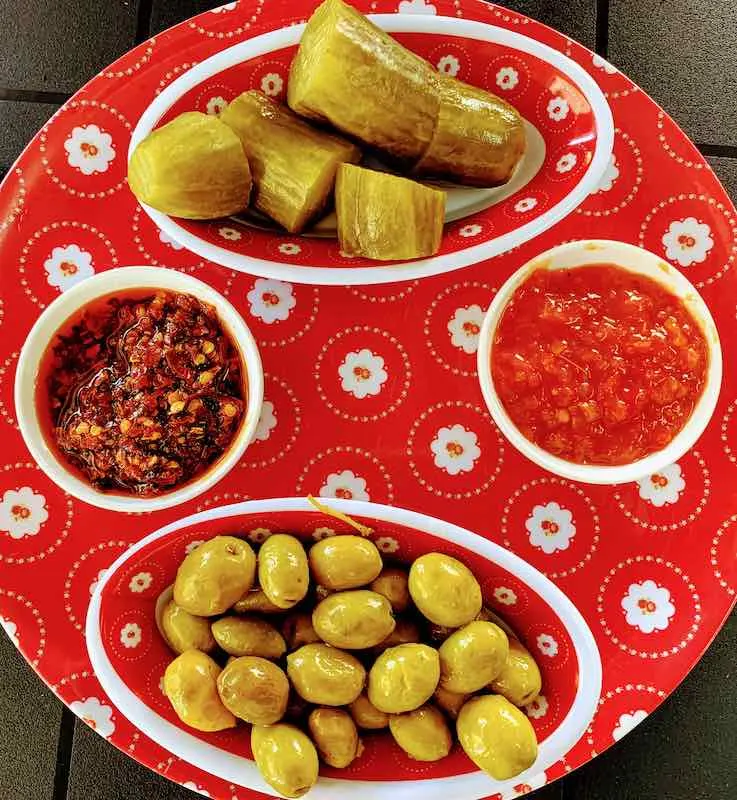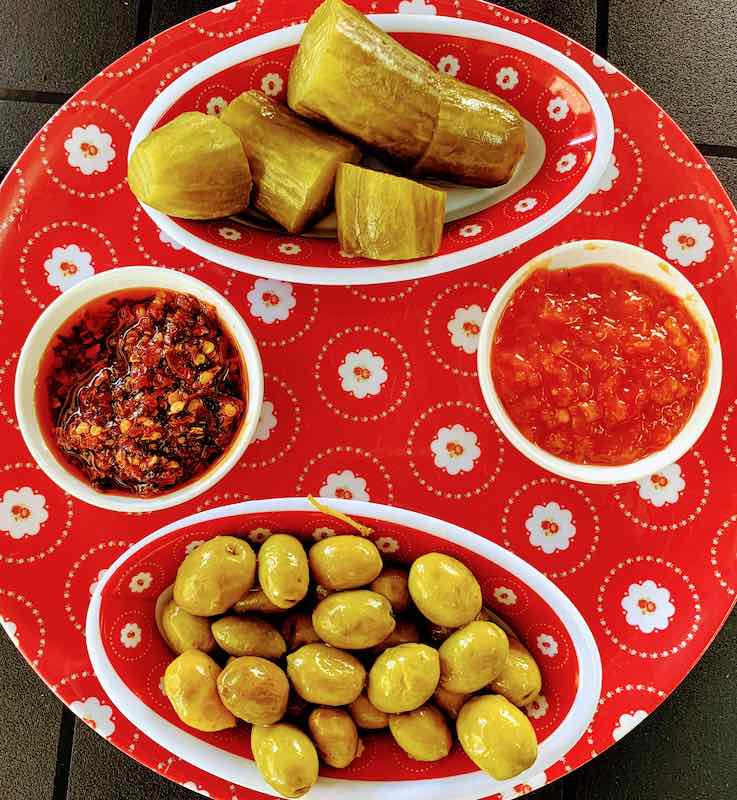 Egyptian Torshi refers to pickled vegetables (cauliflower, cabbage, celery, carrots, beets, eggplants, garlic, chili peppers, shallots, and other vegetables).
Torshi is an essential part of Middle Eastern cuisine, and therefore Egyptian cuisine too. While the origins of Torshi are in ancient Persia, today Torshi is a common side dish in many cuisines from the Far East and the Middle East to the Balkans.
Egyptians also called it Turshi. Egyptian Turshi is typically prepared with carrots, beets, cucumbers, sliced garlic, vinegar, and water. Torshi in Egypt is served as a part of traditional Egyptian breakfast, along with Ful Medames and Taamia.
16. Eggah
Ajjah or Eggah is basically the Middle Eastern omelet.
Egyptian Eggah is a pancake-shaped thick and flavorsome omelet with raisins, pine nuts, fresh herbs, nutmeg, and all well-spiced with traditional Middle Eastern spices such as coriander, turmeric, cinnamon, and cumin.
Just a small word of caution: Egyptian Eggah is a vegetarian egg-based dish that typically comes with vegetable fillings, but sometimes it can come with meat. So, when in Egypt ask openly for the vegetarian version.
Authentic Italian frittata is a must-try traditional Italian dish in Italy, authentic French omelet is a must-try French dish in France, and authentic Spanish tortilla is a must-try traditional Spanish dish in Spain.
And authentic Egyptian eggah is a must-try traditional Egyptian dish in Egypt!
17. Domiati cheese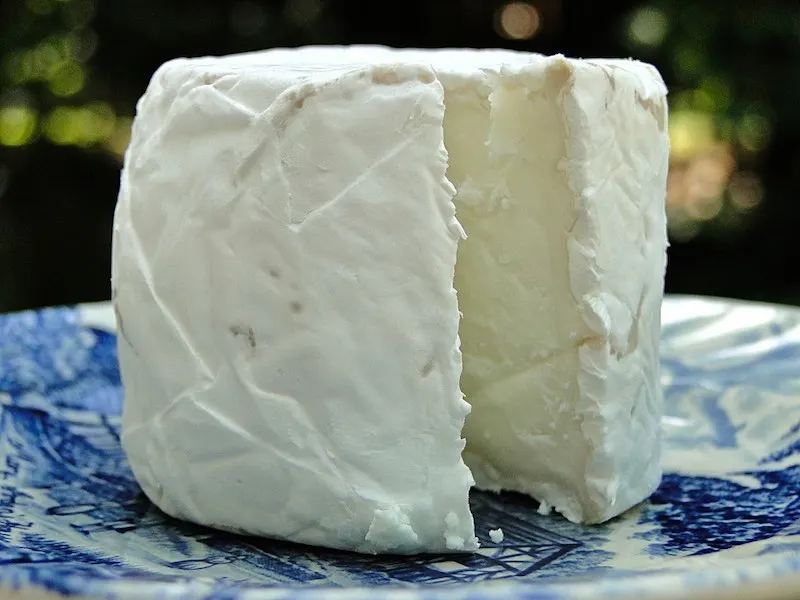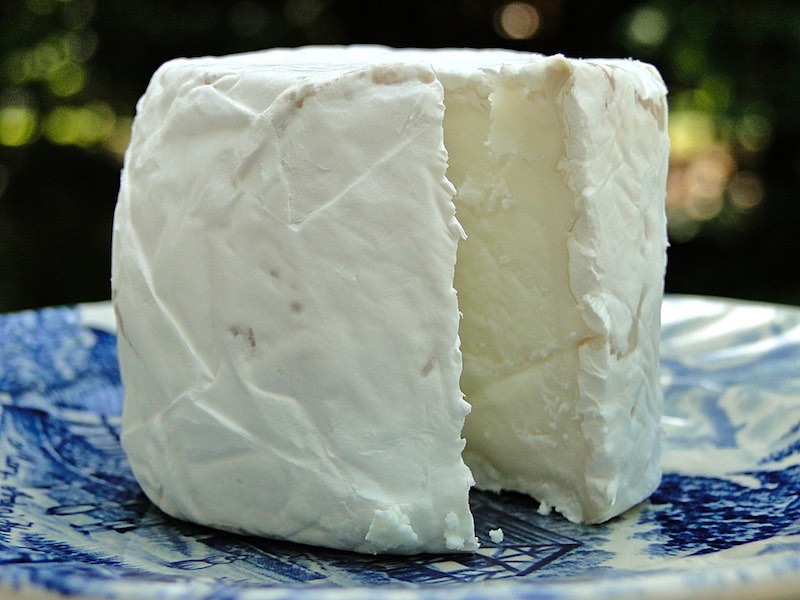 Domiati cheese is a white salty Egyptian cheese named after the city of Domiati in the north of Egypt.
This traditional Egyptian cheese is made from pasteurized cow, buffalo, goat, sheep, or even camel milk. Domiati is a unique cheese as the salt is added directly to the milk before coagulation.
Domiati cheese is also known as White Cheese, or Gibnah Baida in Egyptian Arabic. Some historical records trace the production of Damietta cheese in Egypt to 332 BC.
Egyptian Domiati cheese goes well with Baladi bread and dates.
18. Egyptian bamia
BAMIA, or OKRA, is another popular Middle Eastern dish commonly eaten in Egypt as well.
Bamia literally means okra in Arabic. Okra is ladyfingers vegetables. But, Bamia as a Middle Eastern dish is a stew prepared from okra, tomatoes, olive oil, onions, and paprika, and flavored with spices like cumin, cloves, turmeric, and cinnamon.
Egyptian Bamia is prepared with Ta'aleya, an Egyptian garlic sauce, Ta'aleya is used in previously mentioned Koshary as well. Bamia is typically served with rice in Egypt.
This yummy Middle Eastern stew is a vegetarian-friendly dish. But be careful, sometimes it can be prepared with meat (lamb or beef) too.
19. Aish Baladi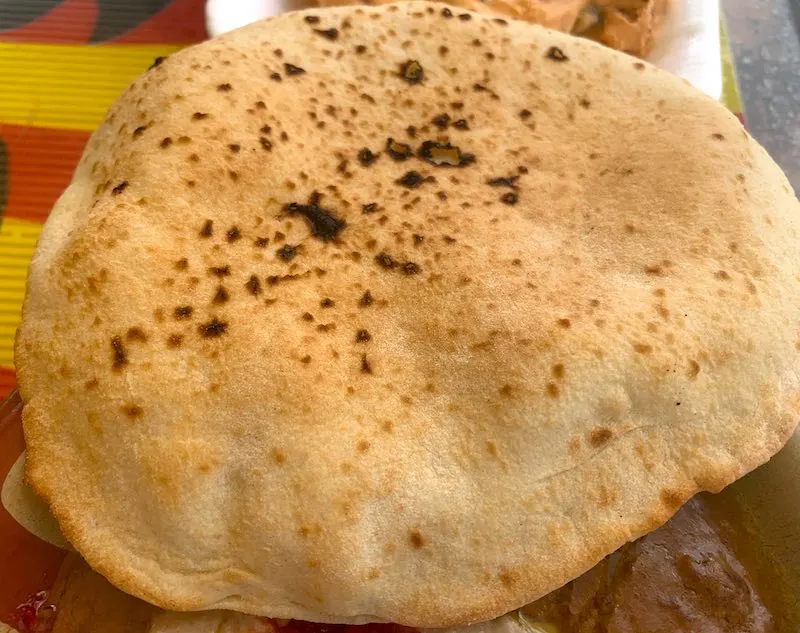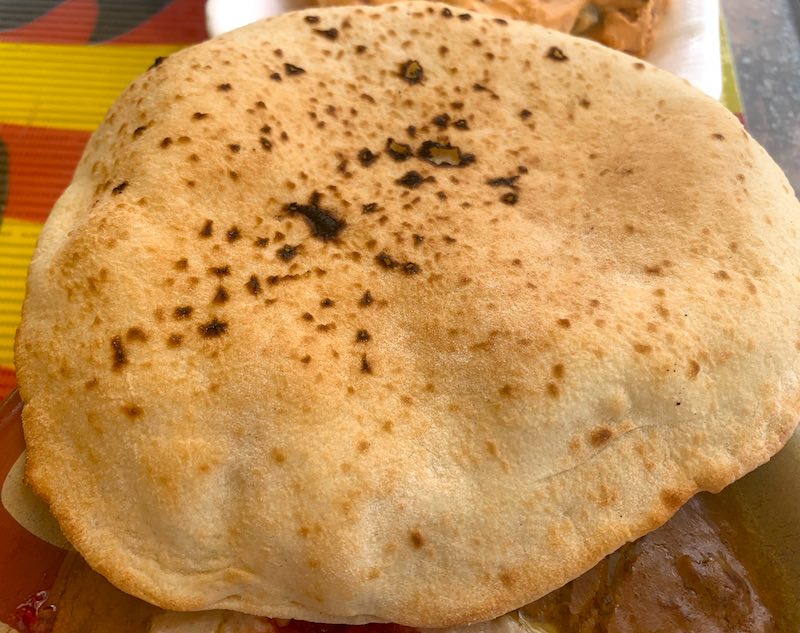 The majority of typical Egyptian dishes are eaten with Egyptian bread.
AISH BALADI is an Egyptian flatbread similar to pitta bread in shape but different in taste. Baladi bread is a common food in Egypt served for Egyptian breakfast, Egyptian lunch, and Egyptian dinner and eaten by everyone – rich and poor.
Baladi bread is the bread of ancient Egypt and it has been eaten in Egypt for more than 5.000 years. Wheat grown along the Nile Valley was sacred in ancient Egypt. The wheat plant was the sacred plant of Egyptian gods, particularly of Osiris, the ancient Egyptian god of Fertility, Life, the Afterlife, the Dead, Vegetation, and Agriculture.
As I've mentioned earlier, 'Aish' in Egyptian Arabic means both 'Bread' and 'Life'. And Aish Baladi is the bread of life in Egypt.
20. Duqqa
DUKKAH, or Duqqa, is a traditional Egyptian sauce made from nuts (hazelnuts, most commonly; but also pine nuts), herbs (such as marjoram, mint, zaatar, nigella), and spices (like cumin, sesame, coriander, fennel).
The sauce is typically served as a starter for dipping bread. Sometimes it is served with fresh herbs as well. Please don't miss an opportunity of dipping authentic Egyptian bread Aish Baladi into Egyptian Dukkah sauce while in Egypt!
TRADITIONAL EGYPTIAN DESSERTS FOR LACTO-OVO VEGETARIANS
21. Egyotain kunafa
If you have a sweet tooth, you will love Egyptian desserts.
Kanafeh is a traditional Middle Eastern dessert commonly eaten in Egypt as well. Konafa is the most popular dessert during the Muslim holy month of Ramadan.
Cream-filled konafas are the best-liked Ramadani sweets in Egypt. Creamy from the inside and crispy from the outside, Egyptian konafas are usually soaked with hot sweet vanilla syrup.
The Egyptian version of this traditional Arabic dessert is made of mixed nuts, cream, ricotta cheese with ghee or custard. Yummy!!!
22. Umm alli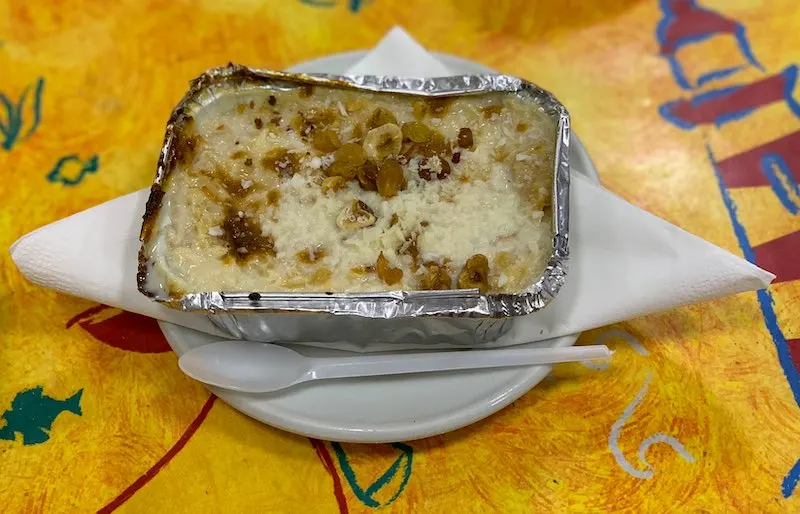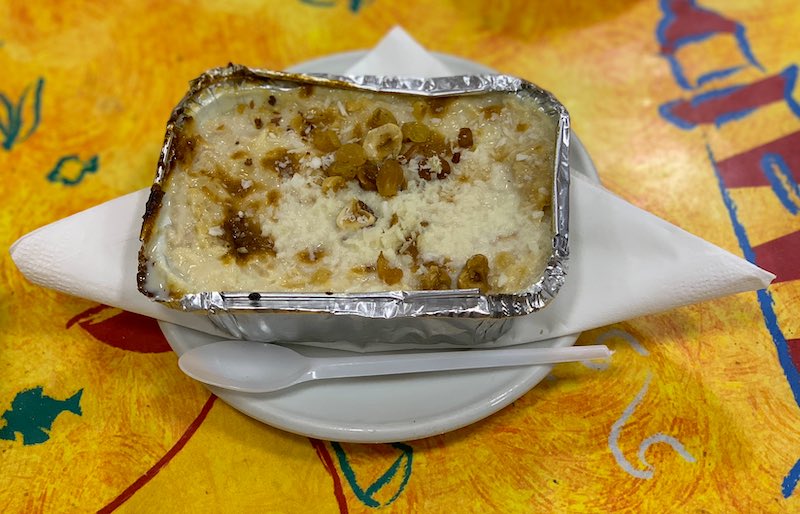 Another famous Ramadan dessert in Egypt is Umm Alli which literally means 'Ali's mother'.
This traditional Arab dessert is made of pastries, condensed milk, and a mix of raisins, almonds, and pistachios. In short, Om Ali is a simple Egyptian bread pudding. Egyptian Umm Alli is traditionally served for Iftar in Egyptian homes.
Once you try Umm Alli, you will love Ali's mother forever!
23. Basbousa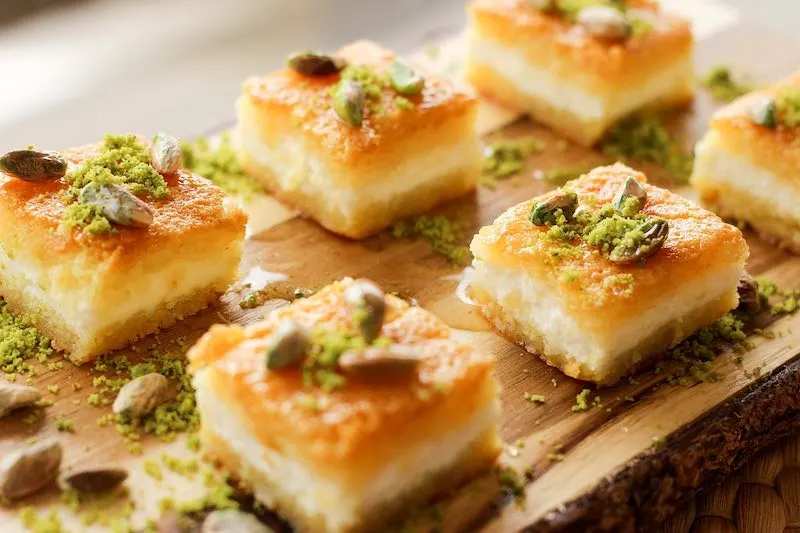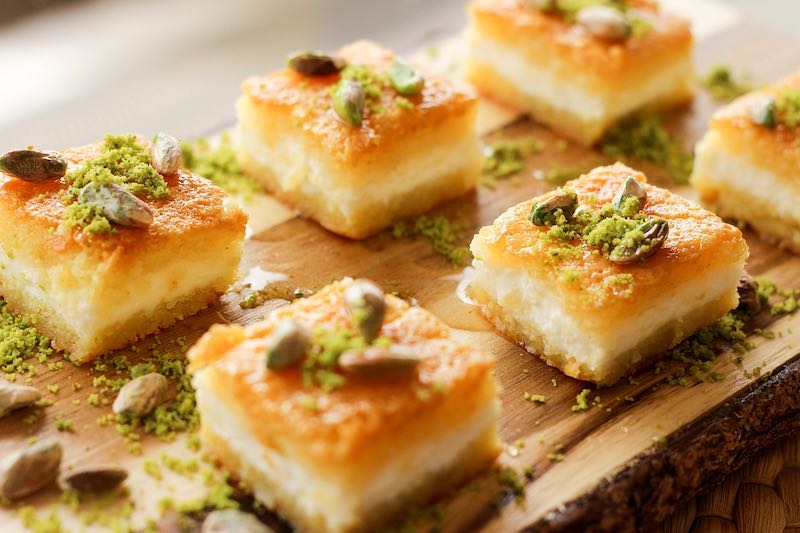 Basbousa Cake is a traditional dessert in Egypt.
Egyptian Basbousa is prepared with semolina, yogurt, and desiccated coconut, and soaked in sweet rosewater, sweet orange flower water, or sometimes in simple sweet syrup. Basbousa is typically topped with walnuts, pistachios, or almonds.
Basbousa is traditionally served during Ramadan in Egypt. Toothsome Basbousa originates in Egypt, but over time this delicious Egyptian cake has crossed the borders of Egypt and has become a classic Middle Eastern dessert that can be enjoyed all over the Middle East and even the Balkans.
POPULAR DRINKS IN EGYPT
24. Sahlab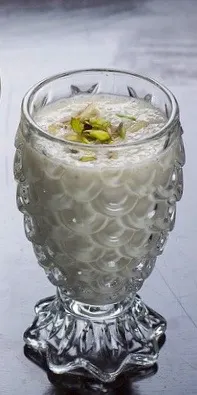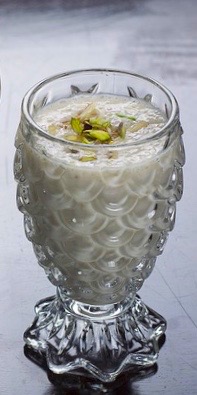 SALEP, also known as SAHLAB, is a popular Middle Eastern drink enjoyed in Egypt too.
Sahlab is made of hot milk and a pudding powder from a wild orchid, Orchis mascula. This famous Middle Eastern drink has a very distinctive sweet and unique flavor and it is usually topped with pistachios.
Sahlab is commonly enjoyed as a warm winter drink in Egypt.





25. Qahwa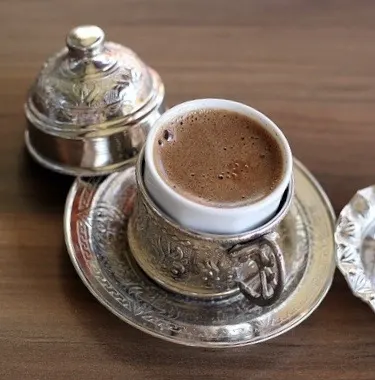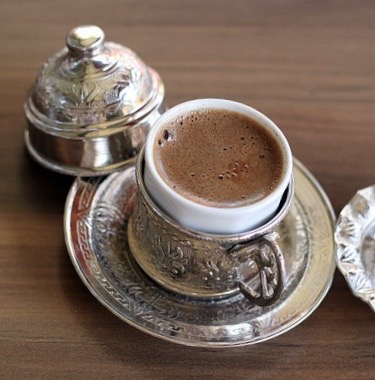 Egyptians drink Turkish-style coffee.
But coffee in Egypt is made with sweetened water. So when ordering coffee in Egypt, be prepared to get sweet coffee.
Unsweetened coffee is only drunk in Egypt on burials and other sad occasions.
The tradition of drinking coffee in Egypt traces back to Sufi Islamic mystics who started consuming coffee during dhikr prayers in the 16th century.
26. Boza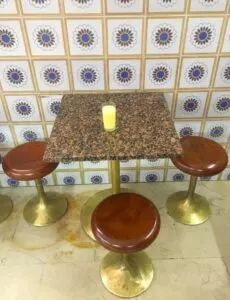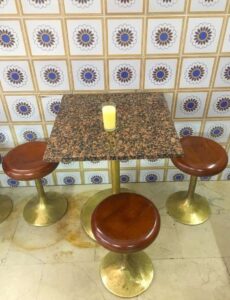 Boza, or Bousa, is a beverage made from fermented grains.
An authentic Egyptian boza is made from fermented barley. Bousa is an alternative to commercial beer in Egypt.
Boza is a popular drink in North African countries, but also in western and central Asian countries and Balkan countries. While Egyptian Boza is made from barley, Turkish boza for instance is made from wheat and corn, and Romanian boza is from millet or wheat.
Egyptian boza holds up to 7% of alcohol volume, and it is enjoyed as beer. So, if you like the taste of beer, you should try Egyptian boza in Egypt.
27. Egyptian beer
But if you are a true beer lover and you would like to try Egyptian beer, the two most popular commercial Egyptian beers are Sakkara and Luxor.
Historical evidence traces back to beer consumption in Egypt to ancient Egyptian times. Ancient Egyptian murals depict beer-brewing 5.000 years ago.
While the upper class in ancient Egypt enjoyed wine, the working class enjoyed the beer.
FOOD TOUR IN EGYPT
What do Egyptians eat? To learn more about food from Egypt, I suggest taking a food tour during your trip to Egypt.
Visit traditional restaurants in Cairo and taste common Egyptian food. And don't forget to try some of the traditional Egyptian desserts!
Book: Cairo Food Tour
VEGETARIAN-FRIENDLY RESTAURANTS IN CAIRO
Vegetarian-friendly restaurants with traditional Egyptian vegetarian food in Cairo:
EGYPTIAN COOKBOOKS TO READ
To learn about traditional Egypt food, I recommend reading:
AUTHENTIC EGYPTIAN COOKING: From the Table of Abou El Sid
NILE STYLE: Egyptian Cuisine and Culture
EGYPTIAN COOKING: A Practical Guide
YOU MIGHT ALSO ENJOY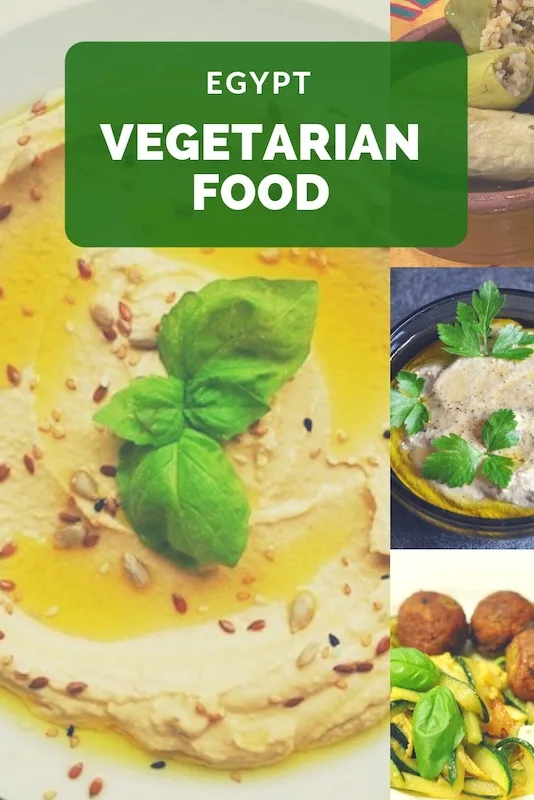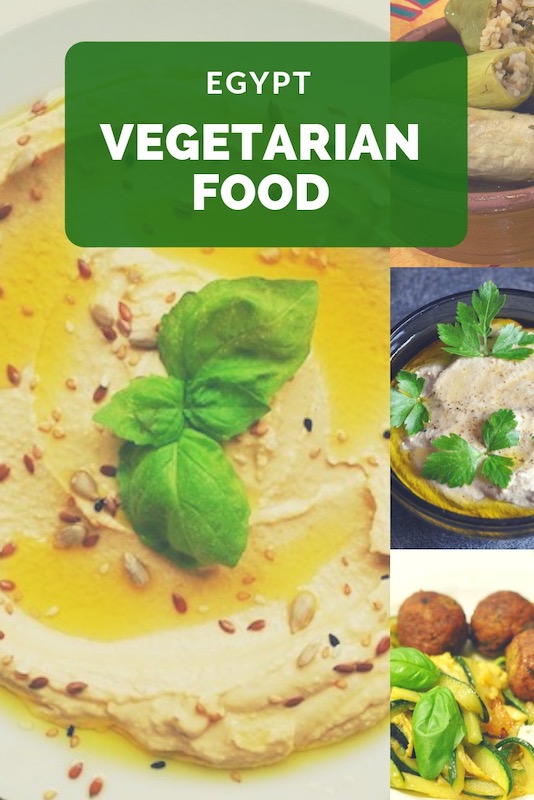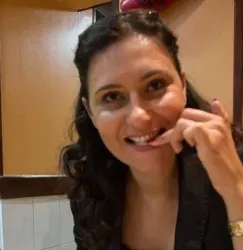 Latest posts by Milijana Gabrić
(see all)