Proper British Food: Best foods in Britain to overindulge in!
Foods from Britain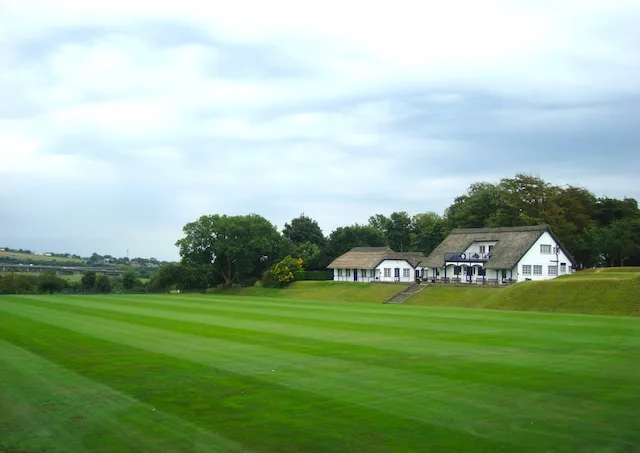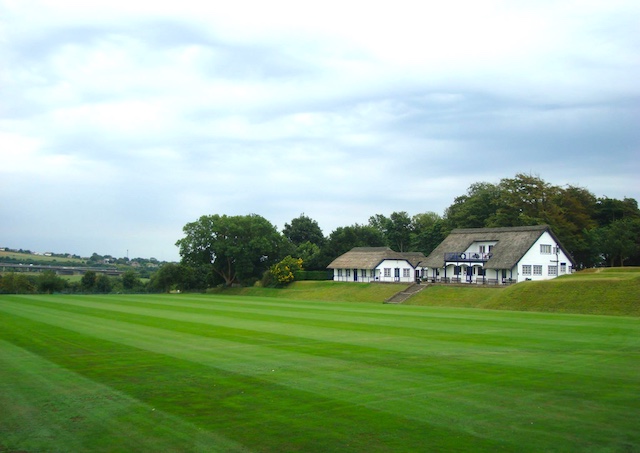 THIS POST MAY CONTAIN COMPENSATED LINKS. PLEASE READ MY DISCLAIMER FOR MORE INFO.
Britain food
British cuisine, British foods, and British food traditions embrace culinary traditions and foods from England, traditional cooking and foods from Scotland, common cooking styles, and foods from Wales. But typical British foods and cooking absorbed also significant culinary influences of former countries and territories of the British Empire, probably most notably India. It is hardly surprising that Chicken Tikka Masala is the national dish of Britain.
So, when we talk about British culture food, we refer to English traditional food, Scottish traditional food, Welsh traditional food, and some food from countries of the former British Empire.
This British food list covers the most popular traditional English food, the most famous traditional Scottish food, and the most well-liked traditional Welsh food.
In fact, this selection of the best British food covers from common British food, classic British food, typical British food, and authentic British food to famous British food, iconic British food, and popular British foods. And it ends up with classic British beverages.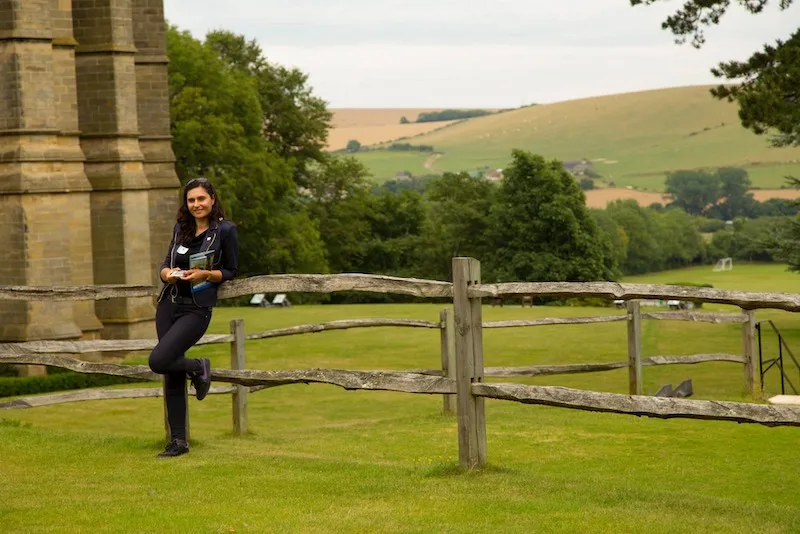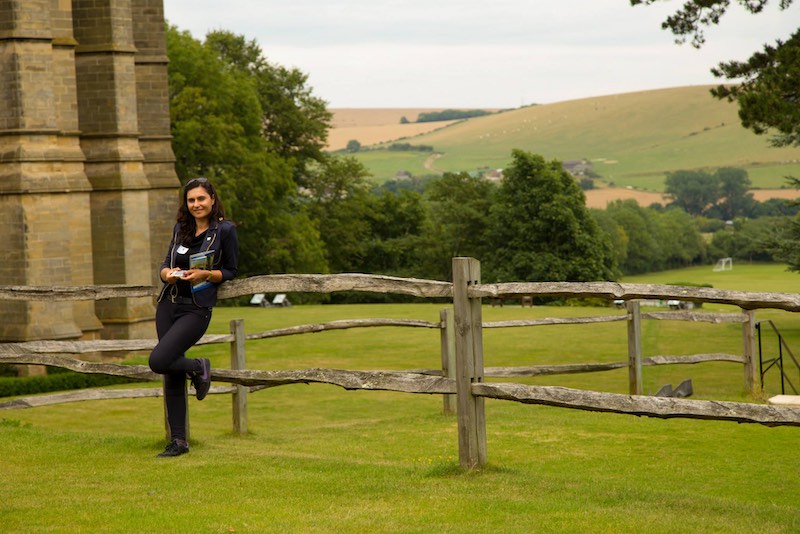 British traditional food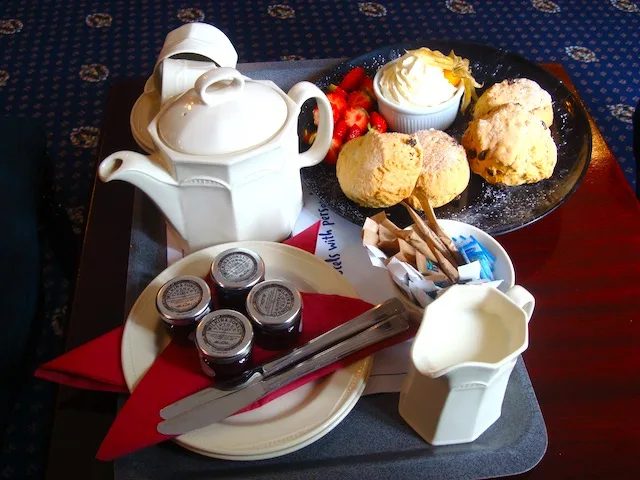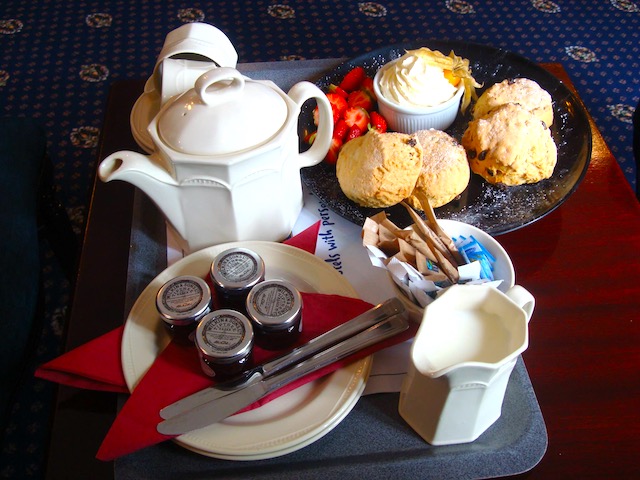 Best of British food
RELATED READ:
Food Travels
Food From Italy
Food From Spain
Foods From Israel
Foods From Vietnam
Seafood From Spain
Drinks From Italy
Foods In Egypt
Tuscany Food
MUST-TRY AND THE BEST BRITISH FOODS IN BRITAIN
Typical British food
If you are heading to Britain (England, Scotland, Wales), here is a list of British foods you need to try.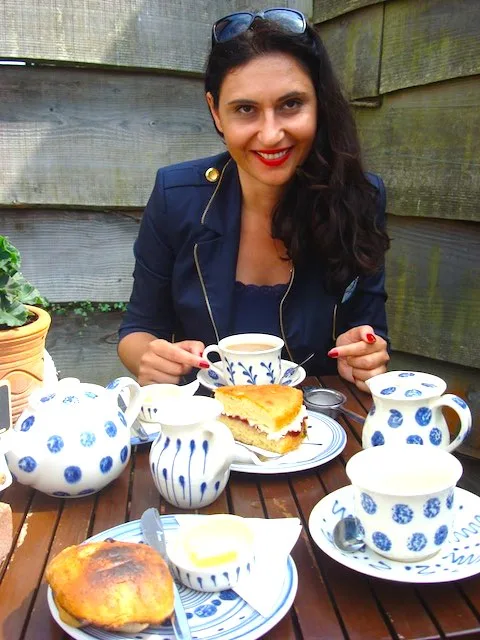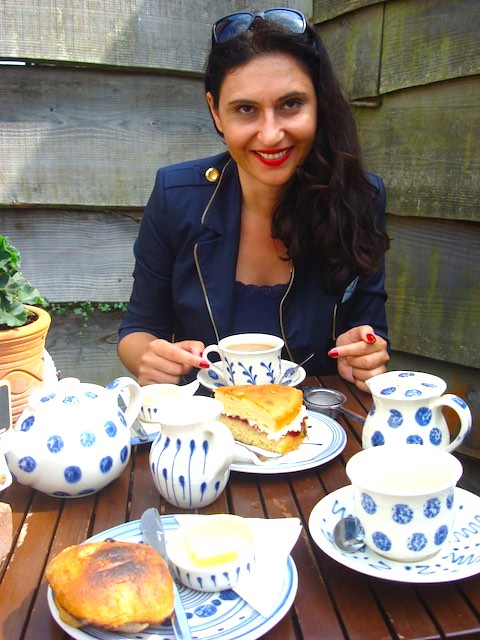 Foods of Britain
TRADITIONAL BRITISH DISHES AND TYPICAL BRITISH MEALS – BEST BRITISH FOODS
Traditional foods in Britain:
1. FULL ENGLISH BREAKFAST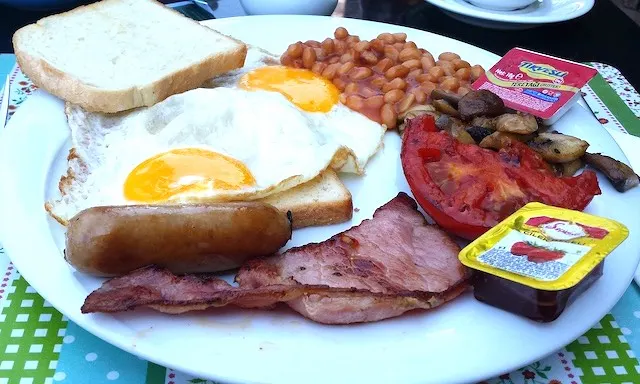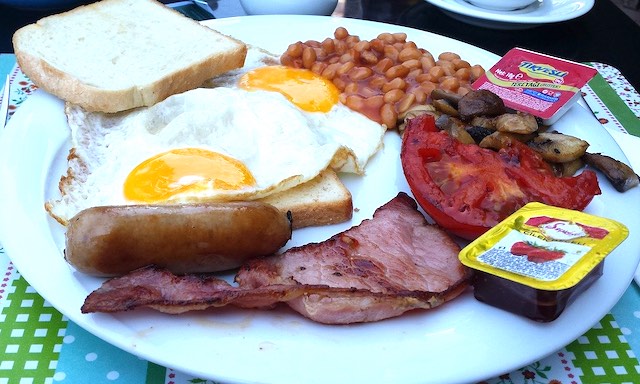 Famous Full English breakfast, also known as Full English, is a synonym for England and the United Kingdom.
The typical Full English breakfast comes with fried eggs, English sausages, bacon, tomatoes, baked beans, and mushrooms, and is traditionally served with tea or coffee.
There are regional variants of Full English Breakfast. For instance, traditional so-called Full Scottish includes black pudding (blood sausage). These regional variants are called Full Scottish, Full Welsh, Full Irish …
But, if you want to start your day as a true Englishman in England, then you should have a Full English breakfast in the morning.
Traditional Full Breakfast is a must-try U.K. food!
2. SCOTCH EGG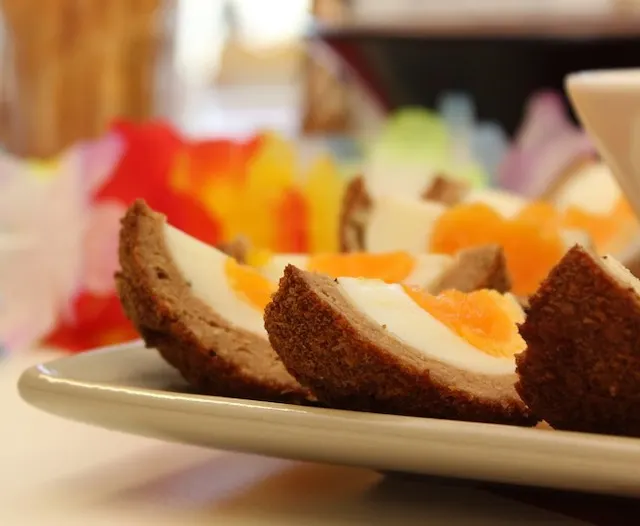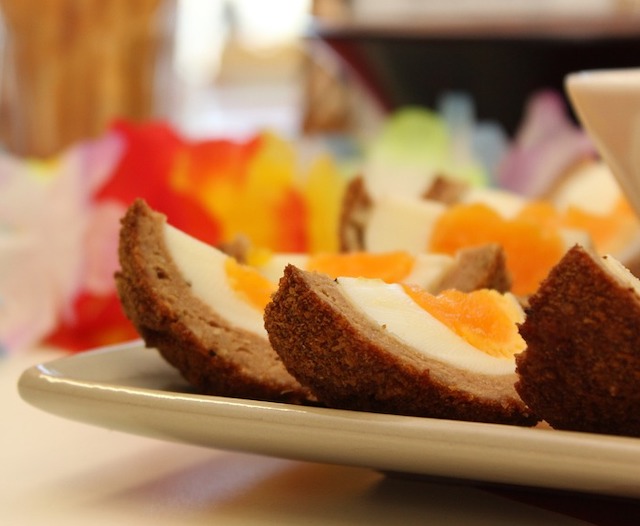 When you boil an egg, wrap it up with breaded sausages, and then deep-fry it all together, you get one of the most popular British dishes ever.
The delicious Scotch egg is traditional British picnic food, strongly beloved by all true Brits.
3. SHEPERD'S PIE
If you want to taste a genuine British pie, then Shepherd's pie should be on your British foods list.
Shepherd's pie is a traditional British meat pie with mashed potato crust. Authentic Shepherd's pie is prepared with lamb meat.
Undoubtedly, Shepherd's pie is one of the best UK dishes.
4. COTTAGE PIE
Pies are quite often a part of traditional British meals.
British Cottage pie is another famous British dish. It's similar to Shepard's Pie. But while Shepard's Pie traditionally comes with lamb meat, Cottage pie comes with beef meat.
As you may notice, meat pies are some of the most popular food in the United Kingdom.
5. STEAK AND KIDNEY PIE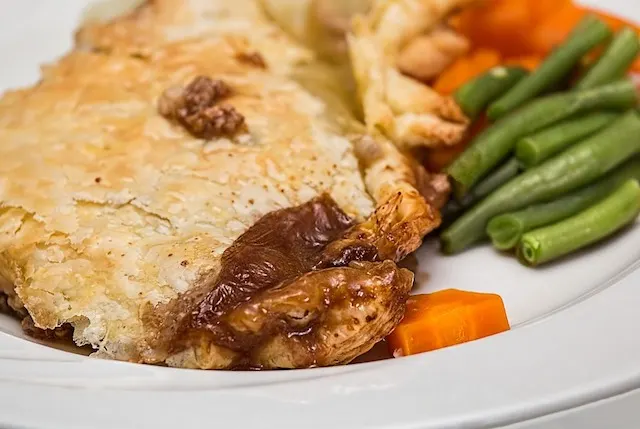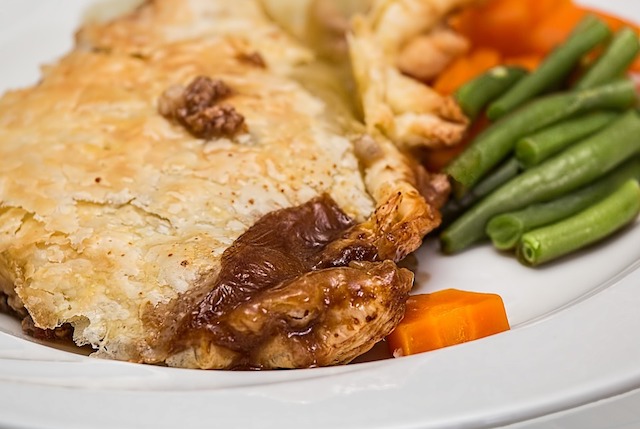 If you are after good savory British pie, then Steak and Kidney Pie is your best bet in England.
Steak and Kidney Pie is a signature dish of British cuisine. Please, don't forget to add Steak and Kidney Pie to your must-try English food list!
This traditional British pie is made with beef broth, gravy, and fried onions. It is also popularly called Kate and Sidney pie.
6. YORKSHIRE PUDDING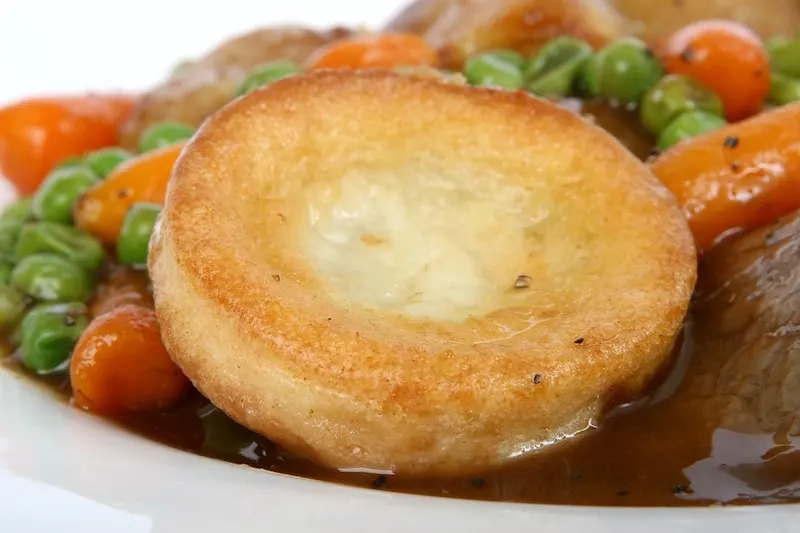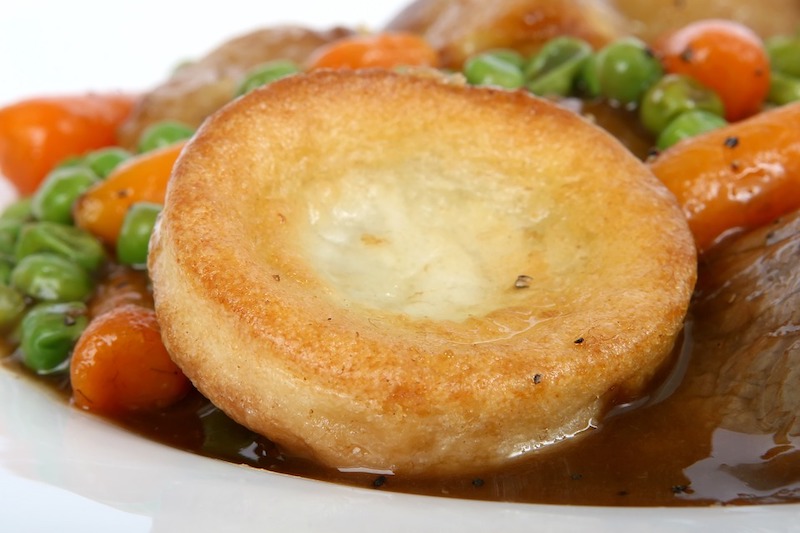 Yorkshire pudding is a national dish of England.
Actually, this simple baked pudding is traditionally a side dish in England made from eggs, flour, milk, or water. Typically it is served as a first course with onion gravy or as a main course with beef and gravy.
7. BLACK PUDDING
When you hear someone mentioning Black Pudding in England, please be aware they are not talking about a dessert but about blood sausages.
English Black Pudding refers to traditional British sausage made of pork blood, pork fat, onions, and oatmeal.
8. WHITE PUDDING
Oatmeal Pudding or also called White Pudding is a popular Scottish dish.
White Pudding is an oatmeal sausage, just like above mentioned Black Pudding but without blood. Scottish White Pudding is made with pork meat, bread, oatmeal, fat, suet, onions, and spices.
There are many different versions of this popular Scottish dish, but Scots favor the traditional mix of oatmeal and suet but without pork meat called also Mealy Pudding.
If you are planning a visit to Scotland, don't miss out on trying Mealy Pudding in Scotland.
White Pudding is also a popular dish in Northern Ireland. The huge popularity in Scotland and Northern Ireland puts White Pudding on the list of best British foods.
9. CORNISH PASTY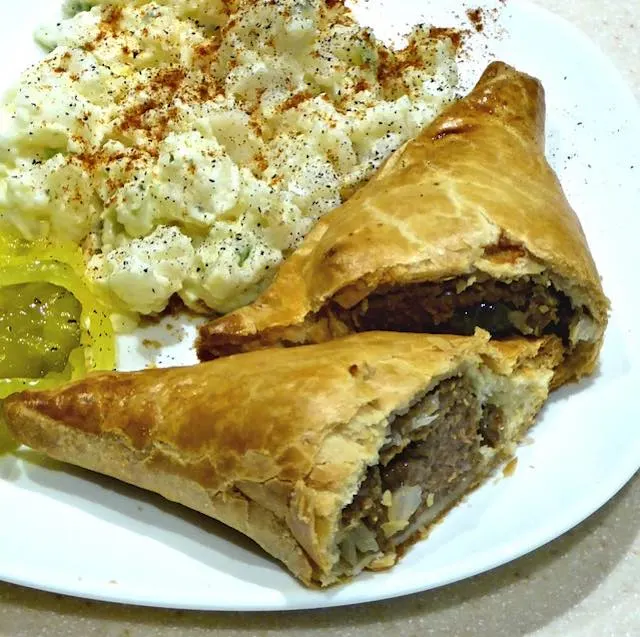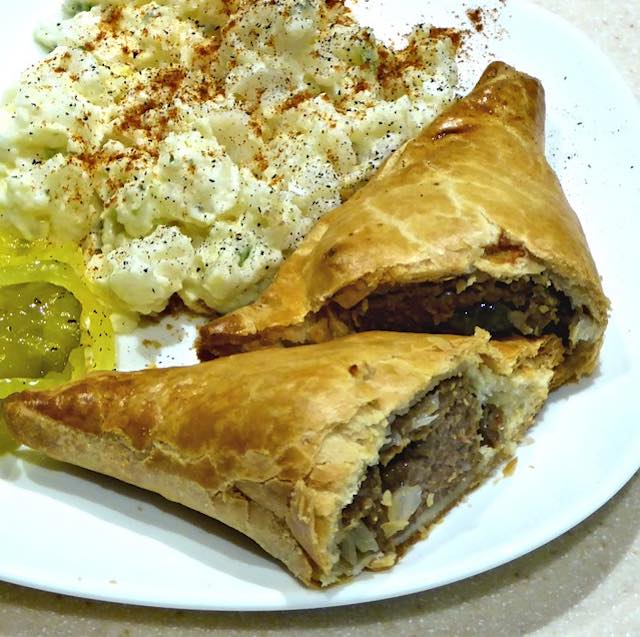 England has its favorite pastry and it is called Cornish pasty.
The traditional Cornish pasty is basically a baked D-letter-shaped pastry filled with meat. The main ingredients of authentic Cornish pasty are beef and vegetables (swede, potatoes, and onions).
This traditional English dish originates from the county of Cornwall in southwestern England.
10. PLOUGHMAN'S LUNCH
British Ploughman's Lunch is a classic pub meal including cold meats, cheese (usually cheddar cheese), bread, onions, and accompaniments (pickles, hard-boiled eggs, butter, fruits,).
Ploughman's lunch was originally a traditional meal of British farm workers packed for their lunch.
If you are in a pub at lunchtime, you should order a traditional Ploughman's lunch and a pint of ale or beer of course.
11. BANGERS AND MASH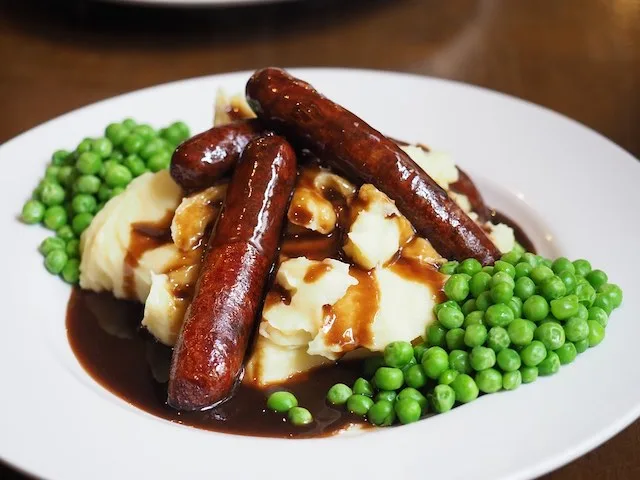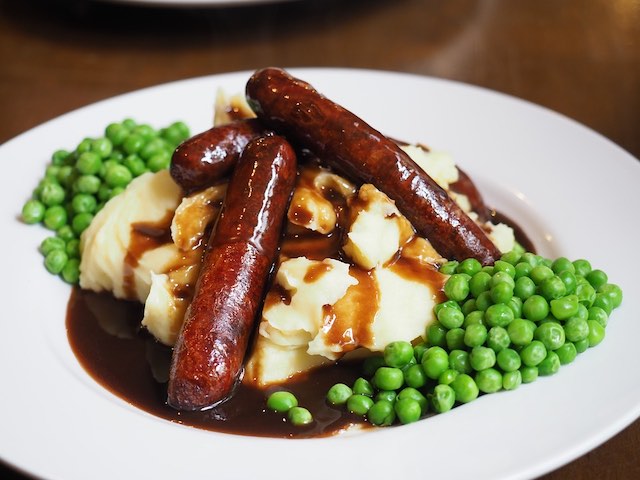 Sausages are called bangers in England.
Thus, Sausages and Mash, popularly called Bangers and Mash, is a simple British dish consisting of sausages and mashed potatoes. This ultimate English food and a classic British dish is traditionally served with peas and gravy.
If you like met and if you want to try some of the best English food, you need to try Bangers and Mash in England.
12. LANCASHIRE HOTPOT
If you want to taste a traditional British stew, then you have to try Lancashire Hotpot.

Classic Lancashire Hotpot is a lamb stew made from lamb meat and onions, topped with sliced potatoes, and then baked.
13. FISH AND CHIPS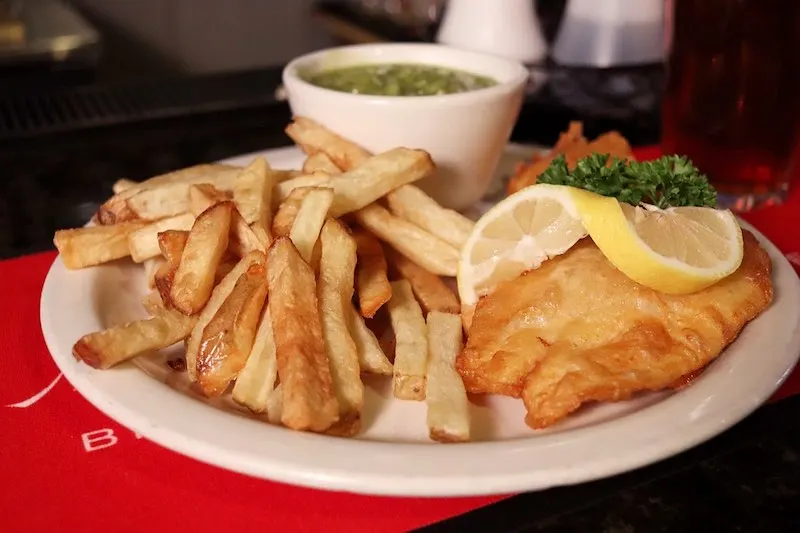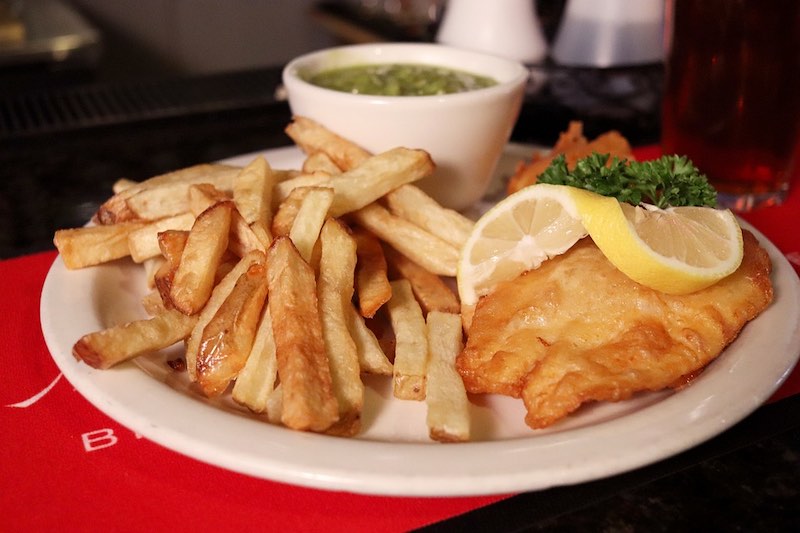 Fish and chips might be a synonym for England as this classic English dish is enormously popular across the country.
Even more, crispy fried fish in batter with chips is not only well-liked in the UK but also in all of the Commonwealth. Indisputably, fish and chips go on the list of favorite foods from around the world.
Famous Fish and chips are an essential item on the traditional menus of every British chippy (fish-and-chip shop). But, the dish is a popular take-away food in Britain and the Commonwealth.
If you are after comforting takeaway British food in Britain, you should grab Fish and Chips traditionally wrapped in newspaper.
14. PIGS IN BLANKETS
Small sausages wrapped in bacon in England are called Pigs in Blankets.
But in Scotland, this British dish is popularly known as kilted sausages.
Kilted sausages are traditionally eaten for Christmas in Scotland. Just, to remind you, Edinburgh is one of the best Christmas destinations in Europe.
So, if you are planning to visit Edinburgh at Christmas time, don't miss out on tasting Scottish kilted sausages.
15. ROAST BEEF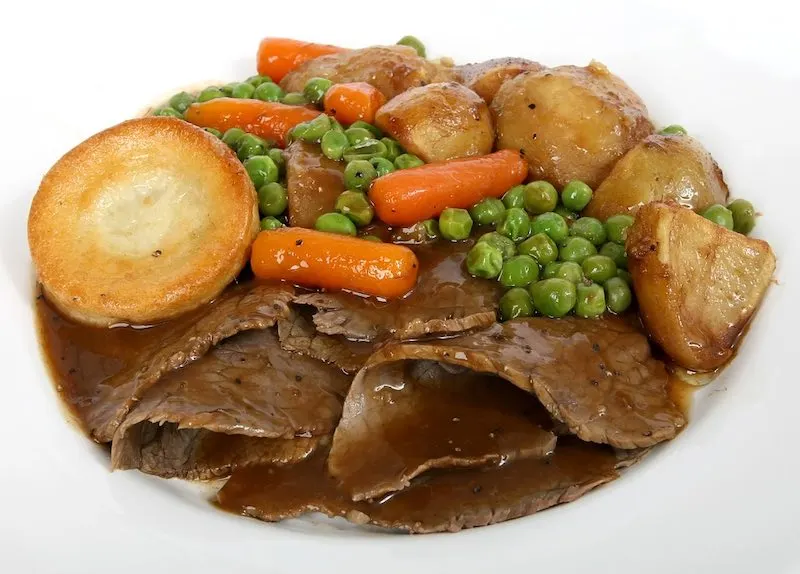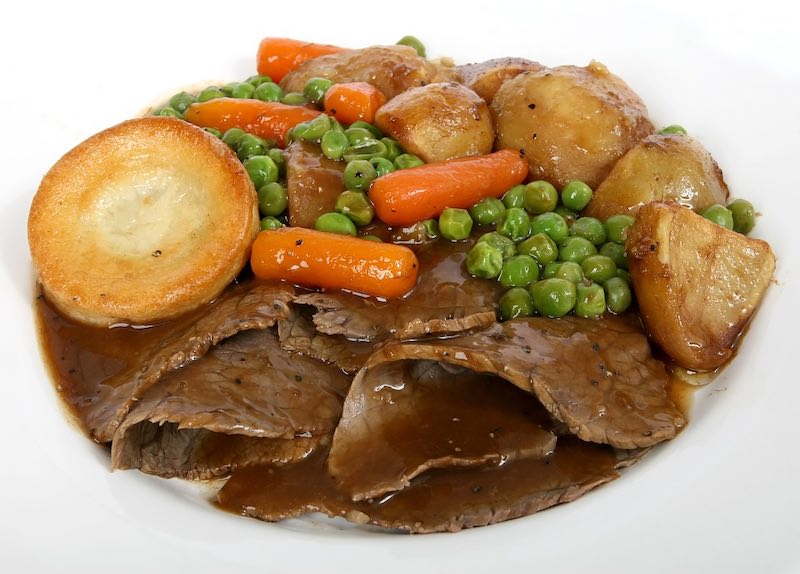 As the name says, Roast beef as an English dish refers to roasted beef.
But Roast beef in England is more than roasted meat, it's a national dish of England.
In England, Roast beef is traditionally served as a main dish for Sunday lunch or Sunday dinner along with Yorkshire pudding as a side dish. But in England, Roast Beef can come as a cold cut in sandwiches as well.
16. SUNDAY ROAST
Legendary Sunday roast is a favorite British Sunday lunch meal.
As the name suggests, the Sunday Roast refers to roasted food served traditionally for Sunday lunch. This traditional British dish includes roasted meat (most typically beef) and roasted potatoes as a main meal served traditionally with Yorkshire pudding, mint sauce, gravy, and vegetables (most commonly carrots, beans, cauliflower, Brussels sprouts, and broccoli) as a side dishes.
While the dish originates in England, Sunday roast is a popular Sunday dish also in Ireland, Australia, New Zealand, and South Africa.
17. ENGLISH CHRISTMAS DINNER
England's Christmas dinner refers to a traditional Christmas meal including roasted Christmas meat (turkey most commonly) with popular cranberry sauce, stuffing, roasted potatoes, and English pudding (dried fruit dessert) with brandy butter.
If you want to have the best Christmas in Europe, consider visiting London, strolling prestigious London Christmas markets, and celebrating Christmas with a traditional English Christmas dinner in a fancy restaurant!
18. BRITISH STUFFING
Roasted turkey meat is traditionally stuffed with onions and herbs (most typically sage, thyme, or rosemary) for Christmas dinner.
Traditional British stuffing can come inside the turkey, but also as a side dish.
19. BEEF WELLINGTON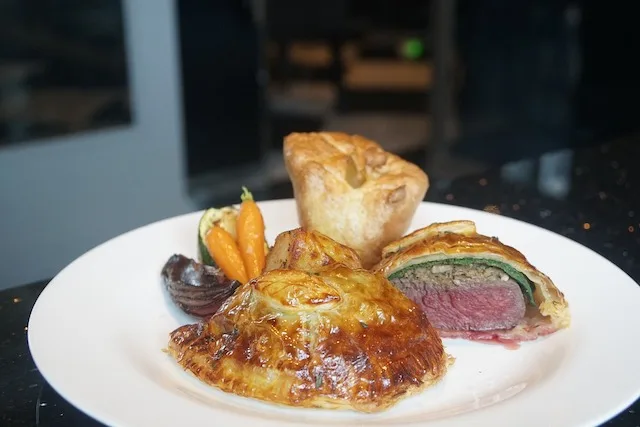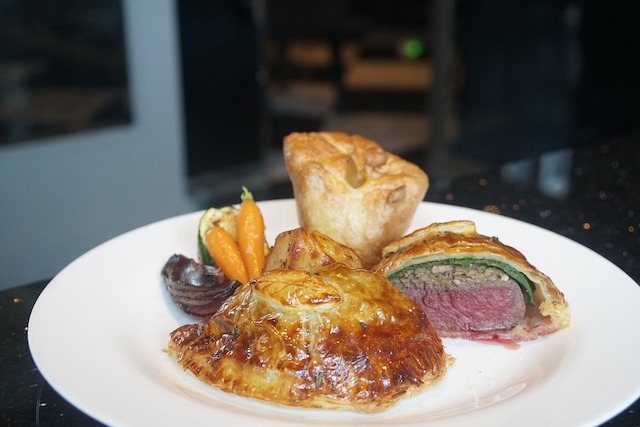 Iconic Beef Wellington is a pie and a classic steak dish from England.
Finest Beef Wellington is a prosciutto-wrapped beef steak covered with a pâté and paste mixture and all together baked in pastry.

Traditional Beef Wellington is made of beef tenderloin, the finest and the most expensive cut of beef. British Beef Wellington is similar to French Filet de Boeuf en Croute. First-rate Beef Wellington is the ultimate Christmas dinner in British homes.
20. TOAD-IN-THE-HOLE
England's Toad-in-the-Hole is a puffy and crispy traditional English dish of baked (pork) sausages in Yorkshire pudding batter.
This inexpensive dish was originally a poor men's meal made of meat leftovers. It is traditionally served with onion gravy and vegetables. The dish got the name after the look – a toad sticking the head out of a hole. This common British dish is also called Sausage Toad.
21. GAMMON STEAK, EGG AND CHIPS
Gammon in Britain stands for ham. Ham, egg, and chips is a common UK dish served in pubs along with fish & chips, and meat pie across the kingdom.
Gammon steak, egg, and chips are typically served with a ring of pineapple or with beans.
22. DEEP-FRIED ONION RINGS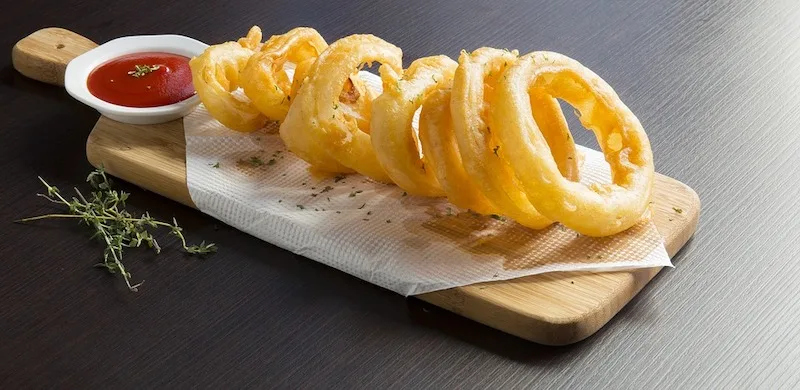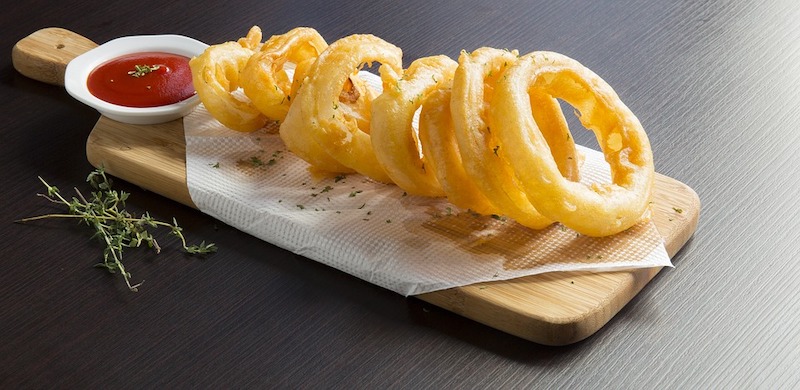 If you want to try some of the most popular British foods ever, go for deep-fried onion rings.
Believe it or not, deep-fried onion rings originate from the UK. The first recipe for deep-fried onion rings was found in The Art of Cookery Made Easy and Refined cookbook written by John Mollard dating back to 1802.
Crispy deep-fried onion rigs are staples of British Cuisine and American Cuisine.
23. BACON ROLY POLY
Classic Bacon Roly-Poly is a suet pastry pudding with bacon and onions.
More precisely, the suet pastry is filled with bacon and onions, rolled up, and then traditionally steamed. It is a popular British snack and a side dish served usually with gravy, potatoes, and peas.
24. CUMBERLAND SAUSAGE
Sausages are traditional English foods.
And Cumberland sausages are some of the finest traditional foods in England.
English Cumberland sausages are very long chopped pork meat sausages seasoned with spices and herbs (like pepper, thyme, sage, nutmeg, and cayenne). The spices and herbs create a distinctive flavor of these traditional English sausages.
The Cumberland sausages are unusually long sausages up to 50 cm and typically sold bent. The most popular British sausages were named after historic Cumberland County in northwest England.
25. WELSH RAREBIT
Welsh rabbit is a traditional dish of Wales. Quite opposite to the name, this traditional Welsh dish doesn't consist of rabbit meat.
This famous Welsh dish consists of melted cheesy sauce on toasted bread. Welsh cheese on toast is often voted as the best cheese on toast in the world. The sauce is prepared with cheese, butter, Worcestershire sauce, flour, pepper, mustard, and beer or milk. To make this Welsh meal you need a chafing dish.
26. WELSH LAVERBREAD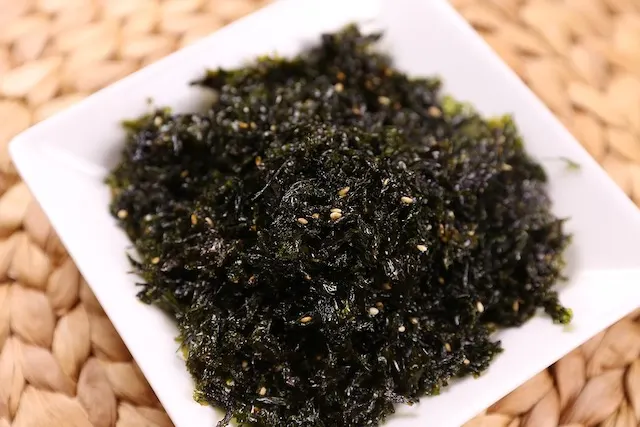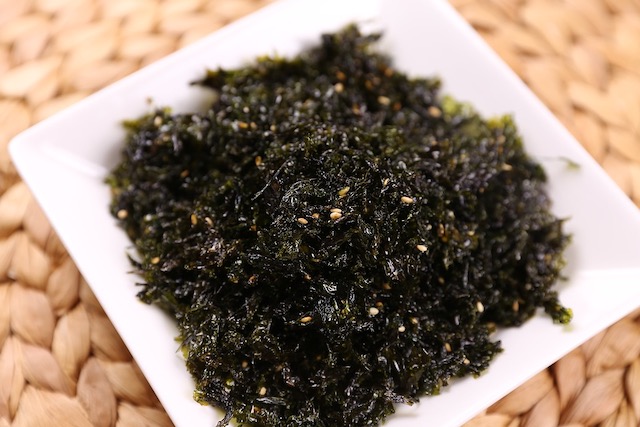 Laverbread is one of the most popular dishes from Wales, popularly known as Welsh caviar.
It is prepared of laver seaweed commonly found along the Irish Sea coast. The seaweed is boiled, minced, and then fried resulting in a delicious paste in a form and texture similar to caviar.
Laverbread is typically eaten in Wales for breakfast. It is most commonly accompanied by cockles shellfish (a typical food in Welsh cuisine, often found around the coasts of Wales), and bacon.
However, you can also mix it with oats and make patties called Lavercakes which you would fry and serve with bacon and eggs.
27. SCOTTISH HAGGIS
Iconic Haggis is a national dish of Scotland.
This most famous traditional Scottish dish is made from sheep liver, heart, and lungs with oatmeal, onions, salt, and spices.
This well-liked dish of Scotland was traditionally cooked in a sheep's stomach but in modern times it is cooked in an artificial casing.

This famous Scottish meat pudding is a hearty dish with a peppery flavor, traditionally served at the Burns Night festival dedicated to famous Scottish poet Robert Burns on January 25.
It's worth mentioning, as food contains sheep lungs. Haggis has been banned from importing into the USA since 1971. Therefore, if you want to try unique food in Scotland, Haggis is a must-try.
28. CULLEN SKINK
Scottish dishes are typically hearty. Ergo, Scottish soups are hearty too.
Cullen skink is a famous Scottish soup. This traditional Scottish soup is made with smoked fish, milk, potatoes, and onions. Typically it is prepared with smoked haddock (cod).
This thick and creamy soup got its name after 'Cullen', a village in Scotland where the soup originates from, and 'Skink', meaning soup or pottage. Cullen Skinks is traditionally a winter comfort food in Scotland.
29. BUBBLE AND SQUEAK
If you are looking for a vegetarian dish in Britain, the Bubble and Squeak might be your cup of tea.
Classic Bubble and Squeak is a vegetarian British dish made from fried leftover vegetables (like carrots, potatoes, cabbage, Brussels sprouts, and similar). It is typically made without meat but it is served with cold meat for breakfast.
Even more, the Bubble and Squeak dish is one of the most popular breakfast dishes in Britain ever. It is named after the sound of frying the dish.
30. AFTERNOON TEA
Famous Afternoon Tea is a British meal, not a drink, traditionally served at 4 o'clock.
Authentic British Afternoon Tea includes tea, freshly baked scones, afternoon cucumber sandwiches, and pastries.
Originally high-class ladies in Britain invited their friends to their houses for afternoon tea, but today you can enjoy English afternoon tea at English tea rooms across England at 4 o'clock.
FAMOUS BRITISH CHEESES
Popular British cheeses are some of the top must-try British foods in Britain.
31. STILTON CHEESE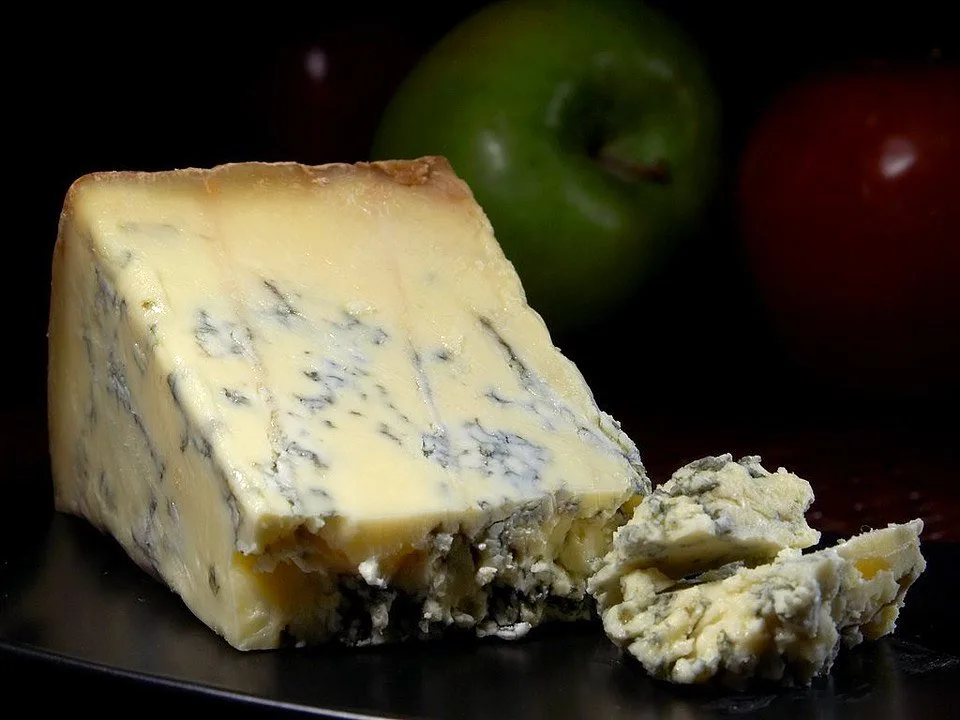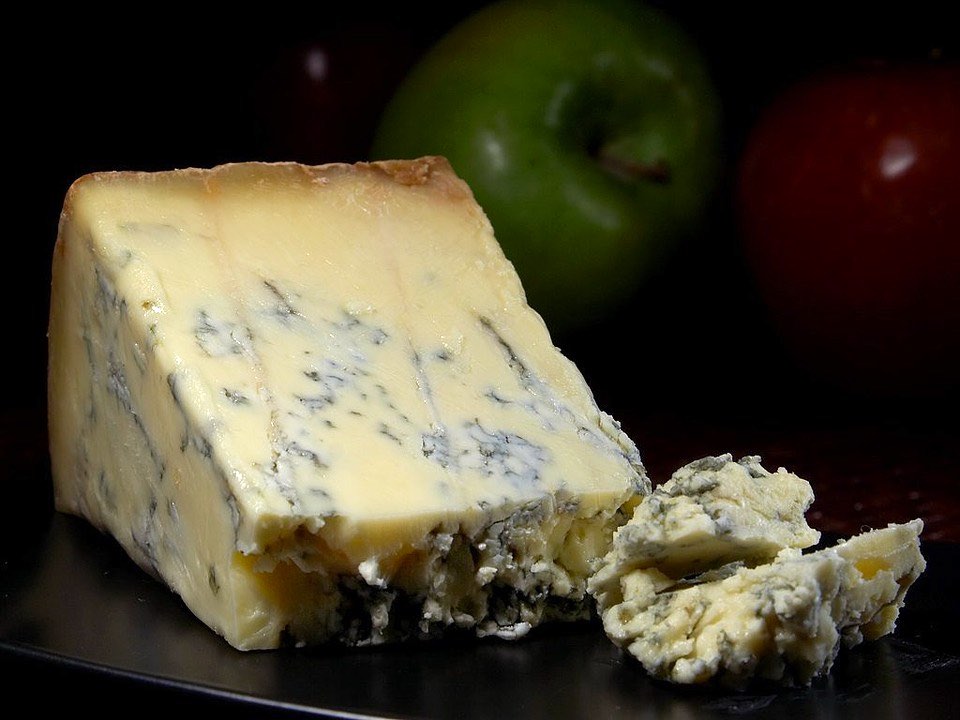 Delicious Stilton cheese comes from England.
There are two types of creamy Stilton: Blue Stilton and White Stilton cheese. If you are after a cheese that melts in your mouth on your trip to England, then you should go for English Stilton cheese.
32. CHEDDAR CHEESE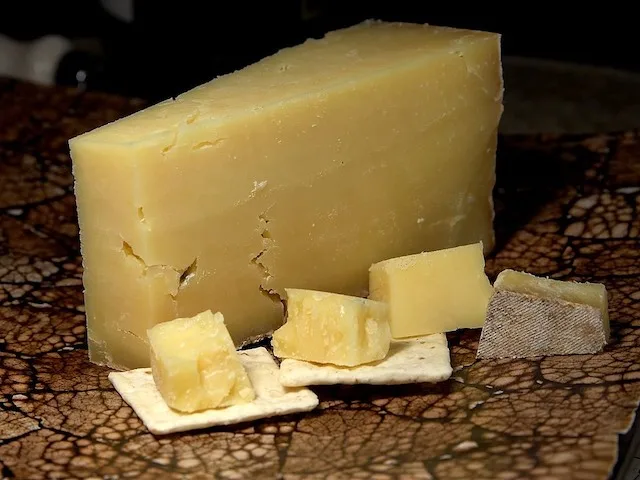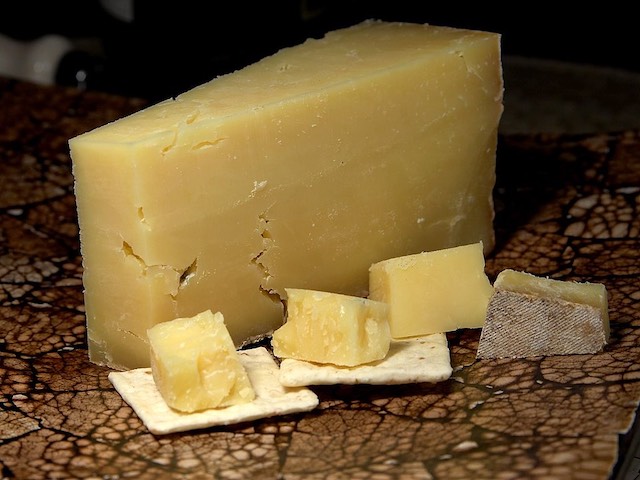 English Cheddar cheese is one of the most famous British foods in the world.
Cheddar cheese is one of the best-selling cheeses in the world, along with Italian Mozzarella, Parmesan, French Brie, and Camembert.
Classic Cheddar cheese is a hard but smooth cow's cheese with colors ranging from natural white to orange and flavors ranging from mild to sharp and extra sharp. Cheddar cheese is named after the village of Cheddar in Somerset in southwest England. The best quality Somerset Cheddar takes 9 months to mature.
Cheddar cheese is named after the village of Cheddar in Somerset in southwest England.
FAMOUS BRITISH DESSERTS
Traditional British desserts are some of the most delicious British foods in Britain that every traveler to Britain should enjoy.
33. VICTORIA SPONGE CAKE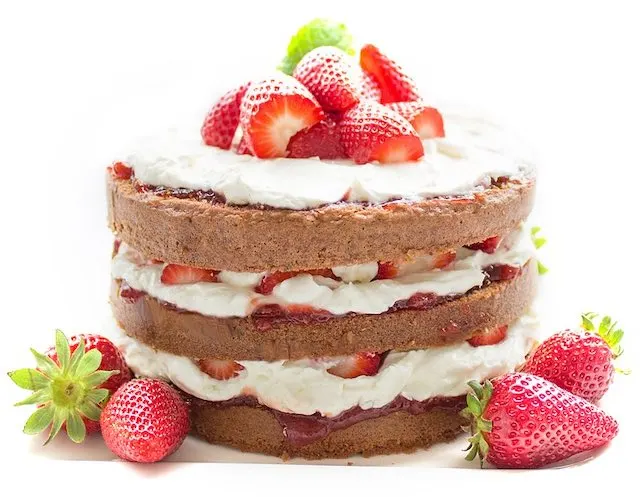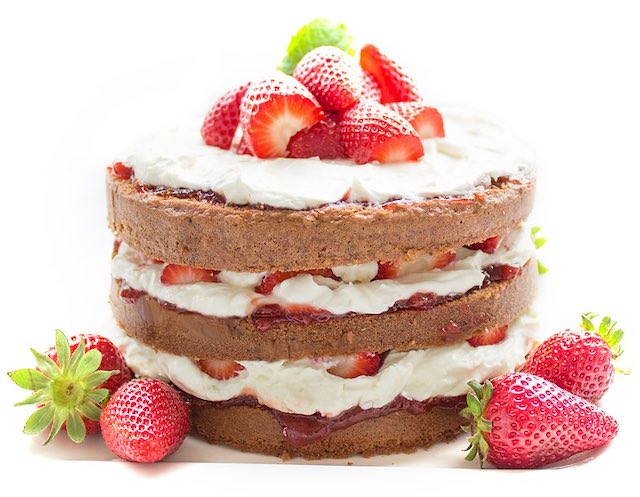 Called Victoria sandwich cake also is another classic teatime treat.
This British classic is quite a simple cake but nothing less than the ultimate delight. After all, it is named after Queen Victoria.
This buttery and layered cake is made of fluffy vanilla sponge cake filled with whipped cream and raspberry or strawberry jam. Easily found in every bakery, cafe, and coffee shop in England.
34. ETON MESS
A classic English dessert made of sliced strawberries, meringue, and whipped cream.
This traditional English dessert was invented in Eton College and soon became not only a favorite dessert of Eton students but also a well-cherished dessert across England.
A similar dessert to Eton Mass is Lancing Mass from Lancing College with bananas (instead of strawberries).
Eton Mass and Lancing Mess belong to the list of the most delicious UK food.
35. SCONES, JAM, AND CLOTTED CREAM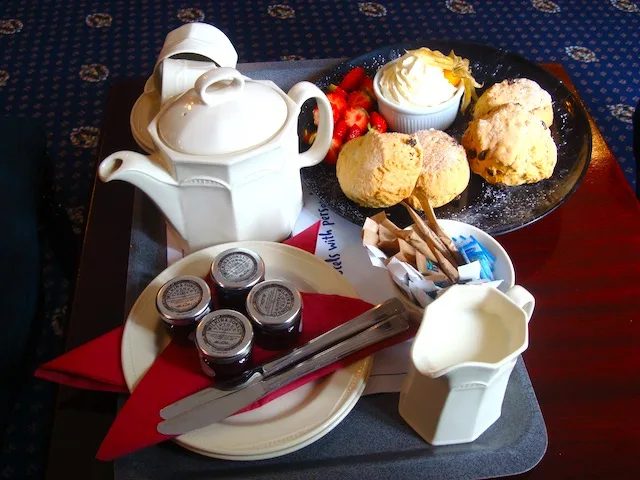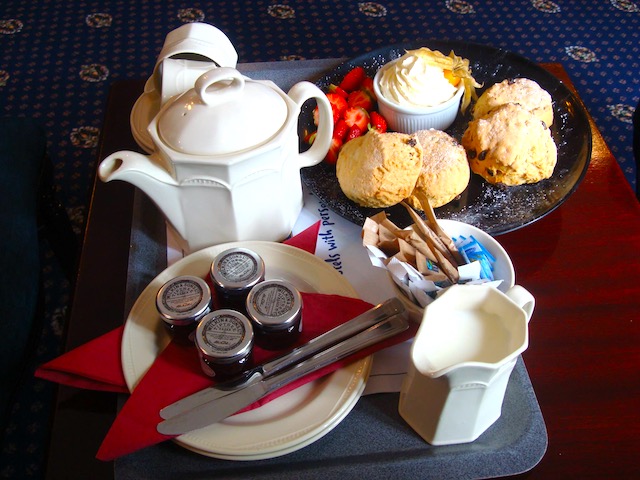 If you want to try, a classic English tea-time sweet treat, then you should go for British scones with jam, clotted cream, and strawberries.
Authentic British scones are traditionally baked with currants, raisins, dates, or cheese. Scones in Britain are traditionally eaten in the afternoon and served with tea, jam, and clotted cream. However, scones can be eaten for breakfast and for dessert.
Tea, scones with jam, and clotted cream are must-try British food classics.
36. SPOTTED DICK
Traditional English cuisine comes with some great English desserts.
While Spotted Dick might sound vulgar, in English cuisine it represents one of the most delicious English cakes.
Spotted Dick is a pudding cake traditionally made with dried fruits (most commonly black currants), vanilla custard, and beef suet (fat).
This iconic British dessert apparently got its quirky name after 'spotted' dried fruit and 'puddick', an old English word for pudding.
37. (PROPER) BRITISH APPLE PIE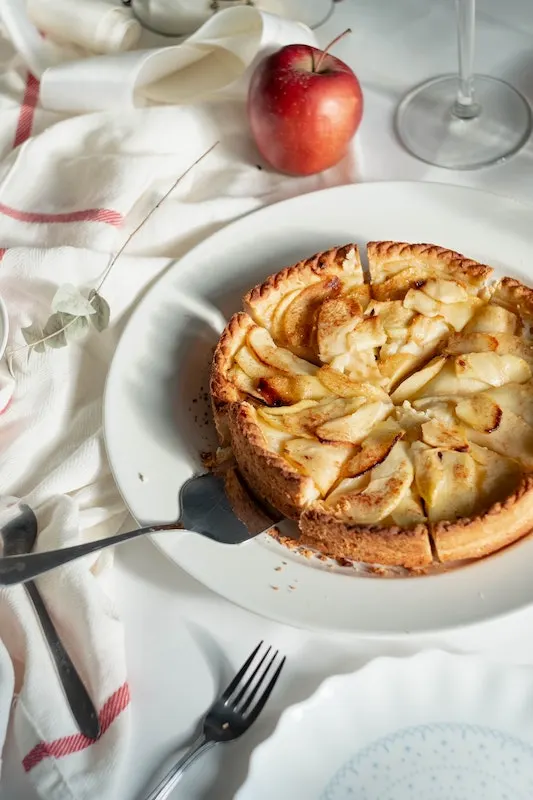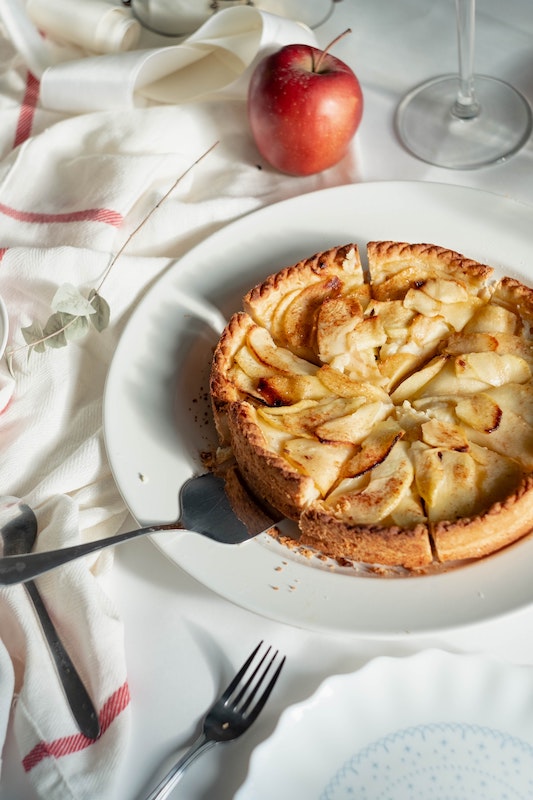 Sorry, but no one can visit Great Britain without tasting proper apple pie.
Apple pie originates from England. Toothsome apple pie is considered an English national dish in England. Today apple pie might be one of the most iconic baked dishes in the world.
So, if you want to try authentic apple pie with a generous filling of apples, please don't leave England without trying it!
38. CHRISTMAS PUDDING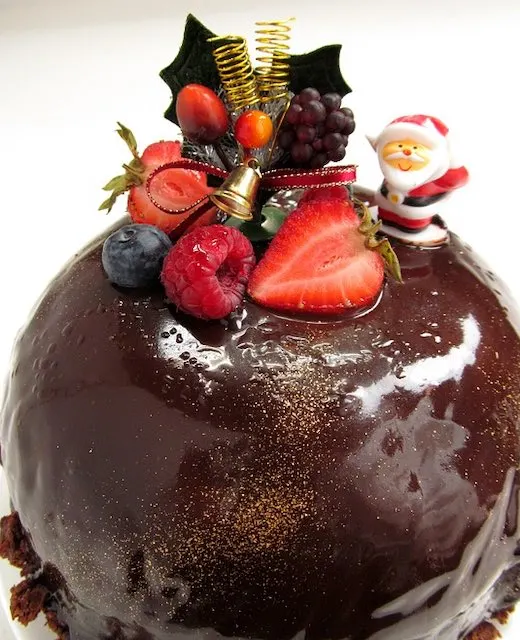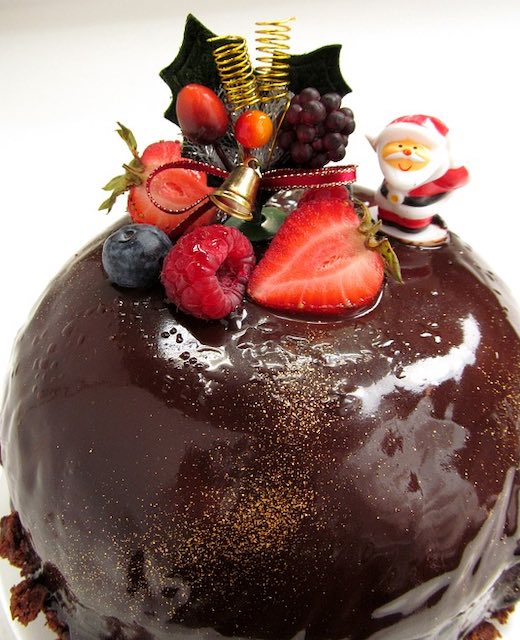 Famous Christmas pudding is a cake traditionally served for Christmas dinner in Britain, the UK, and beyond.
English Christmas pudding is a traditional Christmas dessert made with dried fruits and breadcrumbs, aged for Christmas dinner for days before Christmas, and doused with brandy just before serving. Traditionally a silver coin or trinket was placed inside the cake bringing luck to the person who would find it.
39. ECCLES CAKE
England likes pastries with black currant, and Eccles cake serves as a perfect example of it.
These flaky, fast, and round pastries with black currants are served traditionally with Lancashire cheese and go well with afternoon tea too.
Eccles Cake is named after the town of Eccles in the Great Manchester area.
40. YORKSHIRE PARKIN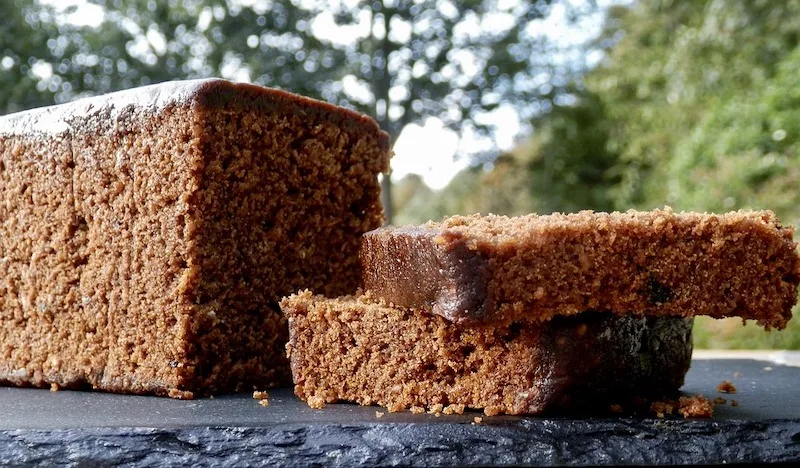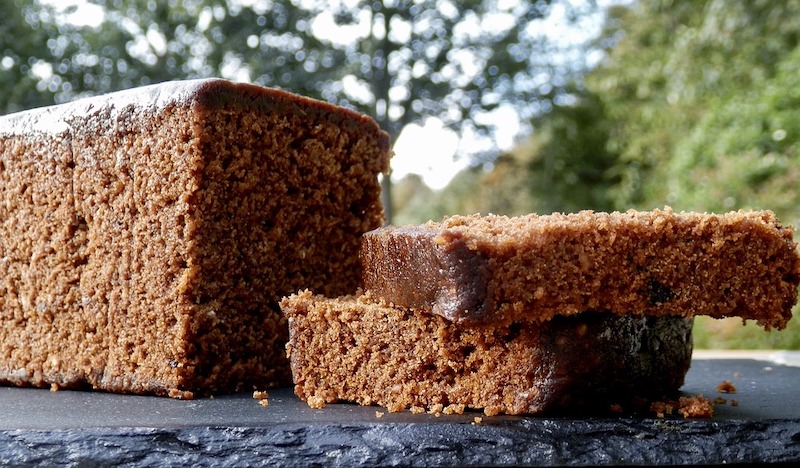 Parkin is a spicy British cake made with oatmeal, ginger, and treacle.
While it originates in Yorkshire, Parkin is eaten primarily in northern England. It's traditionally prepared on Bonfire Night on November 5. Picante Parkin was historically a poor man's cake.
Today Parkin is one of the classic northern English cakes enjoyed in winter.
41. BANBURY CAKE
Banbury cake is another popular back currant cake in England.
While Eccles's cake Is round in shape, Banbury's cake is oval. The Banbury cake has a very distinctive aroma as the main ingredients besides black currants are rose water, rum, and nutmeg.
Again, English Banbury cake perfectly goes well with English tea. The cake was named after the town of Banbury in Oxfordshire in England.
42. WELSH CAKE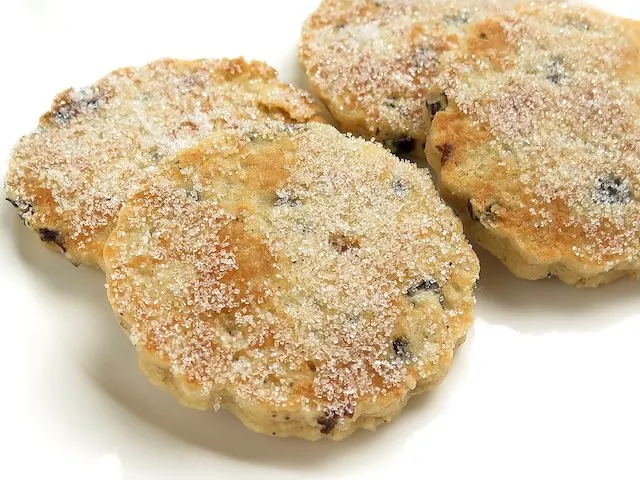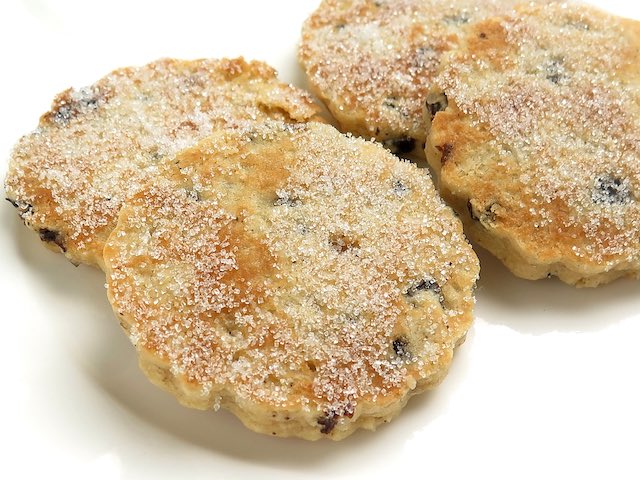 Wales likes cakes with black currant too.
Welsh Cakes, popularly known as Griddle Cakes in Wales and sometimes even as Bakestones, are traditional cakes made from eggs, milk, flour, butter/lard, currants, and spices (cinnamon, nutmeg, and similar ) and cooked on a griddle (not baked).
Welsh Cake is traditionally served on St David's Day, the patron saint of Wales celebrated on 1 March.
43. STICKY TOFFEE PUDDING
When you cover moist sponge cake with sweet toffee sauce and add some vanilla custard or vanilla ice cream to it, you get one of the most popular English desserts and one of the yummiest desserts in the world ever.
Flavorful sticky toffee pudding is another British classic and a popular English dessert.
44. FUDGE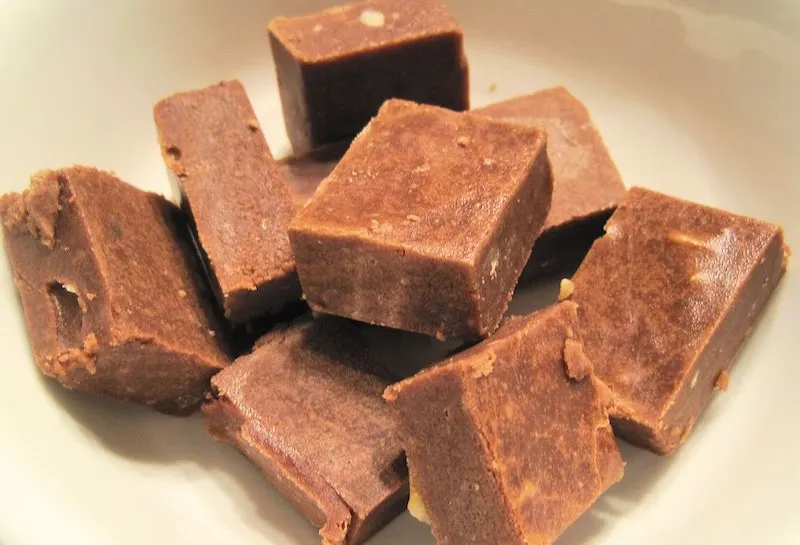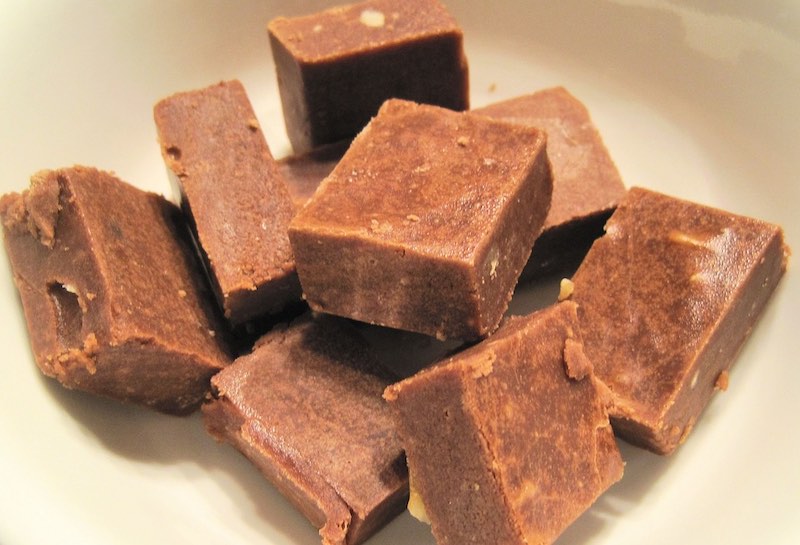 Fudge might originate from the US, but Great Britain is the place where fudge has become enormously popular.
Even more, Brits claim fudge to be originally theirs. Cornwall in England is claimed as the hometown of chocolate fudge. Regardless of the origin, fudge is considered to be a traditional British confectionery in Britain. British fudge is a creamy butter-rich candy and a must-try dessert in the UK.
45. TRIFLE
Traditional English trifle is a mouthwatering dessert.
This classic English dessert is made with 3 main ingredients: ladyfingers soaked up in fortified wine (most commonly sherry wine), fruits (most usually fresh strawberries, raspberries, or blueberries), and custard. Jam and whipped cream optionally can be added.
Trifle is a favorite Brits' dessert for Christmas time.
46. YULE LOG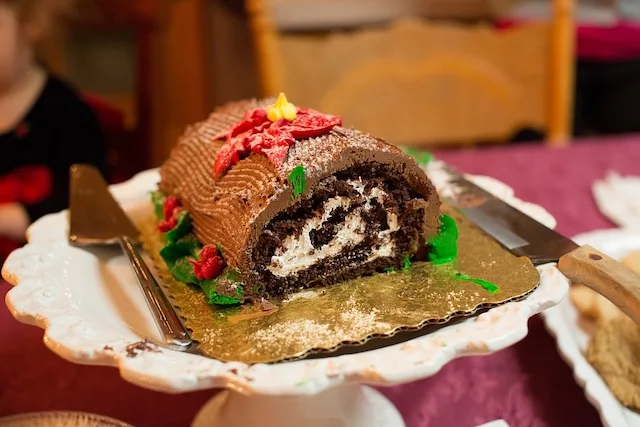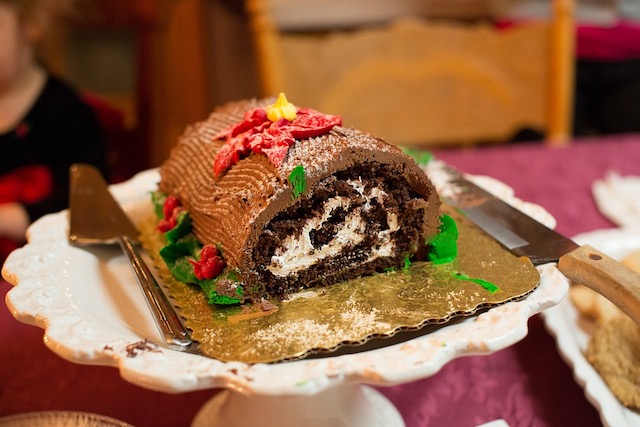 Yule log is a traditional Christmas cake in many European countries, including the UK.
Yule Log is also one of the favorite Christmas cakes in the UK. Chocolate Yule log roulade cake depicts an actual wooden log burnt for Christmastime.
British Yule log is one of the most popular Christmas desserts in Britain along with English Pudding.
47. GINGER SNAP BISCUITS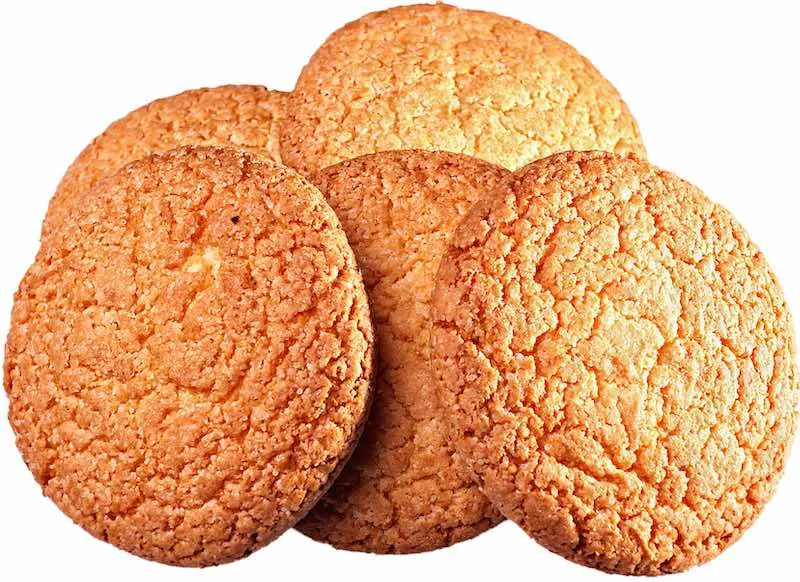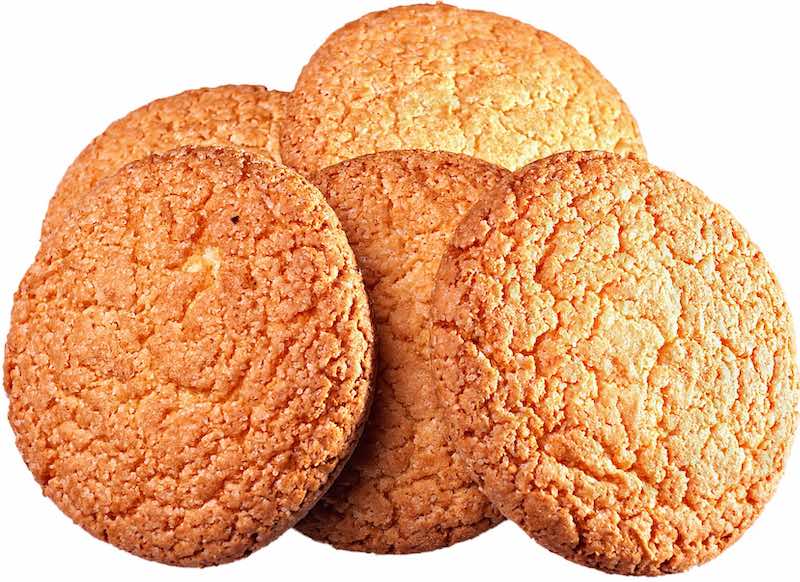 Sweet and spicy ginger biscuits are popular sweet treats in the UK.
The most famous British ginger biscuits are traditional 'Cornish fairings' from Cornwall. Hence, don't miss crunchy Cornish fairings when in Cornwall!
TRADITIONAL BRITISH BEVERAGES
48. BRITISH TEA
British food culture is unthinkable without a cup of proper British tea.
This comforting beverage is an institution in the UK tracing back to the early 17th century when the East India Company introduced tea to Britain.

Tea is a national drink of Britain and a national drink of Ireland.

Today there are more than 1,500 different teas in Britain, and the most popular are Indian teas (Darjeeling, Ceylon, Assam most notably) and Chinese teas (Lapsang Souchong and Yunnan). Traditionally Brits drink strong and dark tea with lots of milk.
49. BRITISH BEER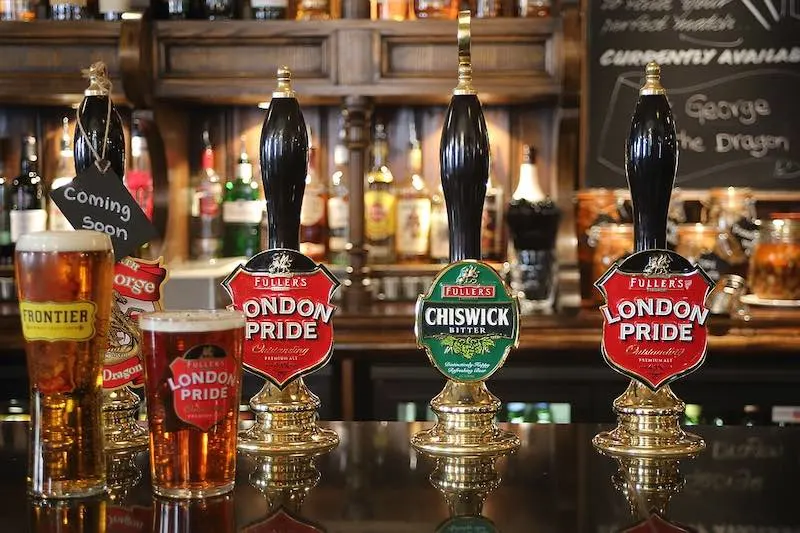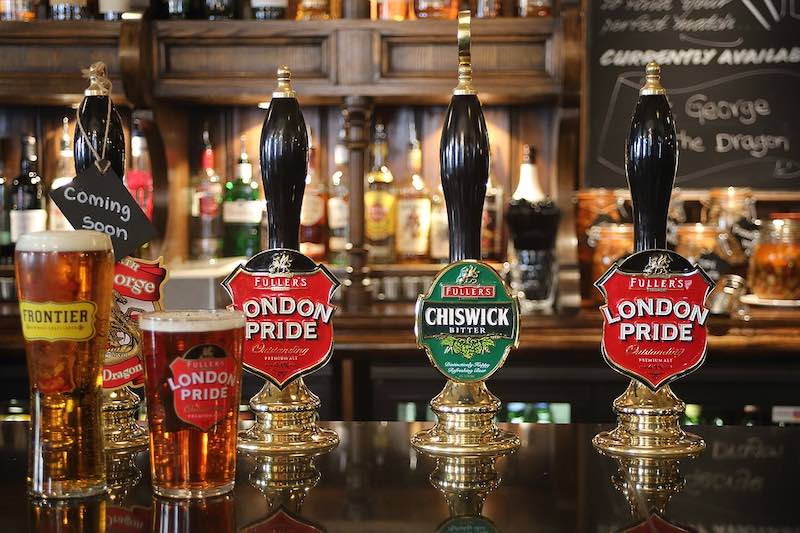 If you want to feel like a true Brit, head to a traditional British pub and order 'pint' or 'halves' of Bitter, Stout, Lager, or Cider.
Dark and heavy beer in Britain is called Bitter. It is the most popular British beer sold in every British pub.
A dark and creamy beer like the world-famous Irish Guinness is called Stout in Britain.
Cider is a popular British beer made of apples. Cold lager is also well-liked in Britain. In British pubs and clubs, you can say cheers with bigger 'pint' or smaller 'halves' of beer.
50. EGG NOG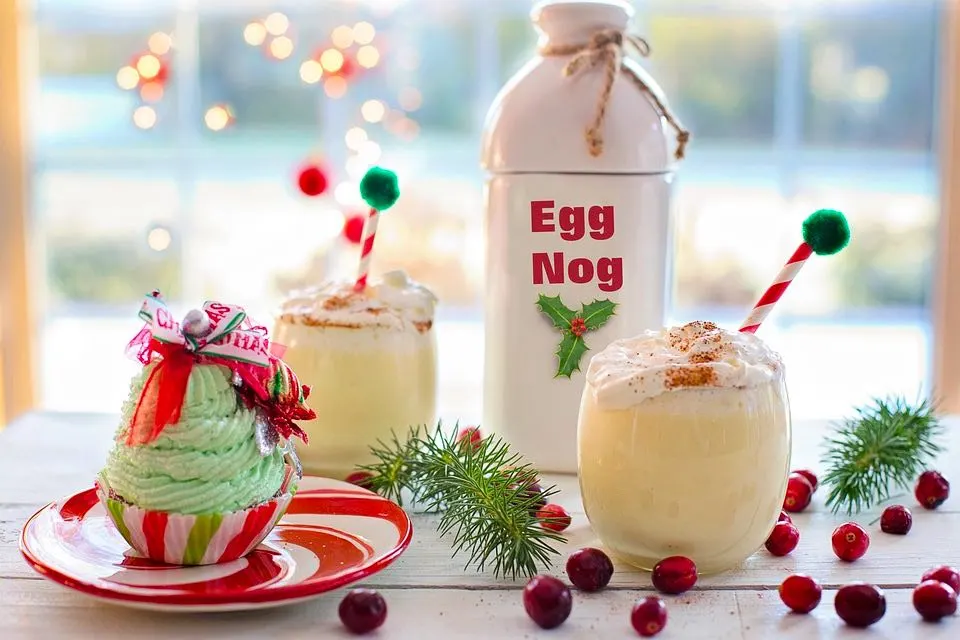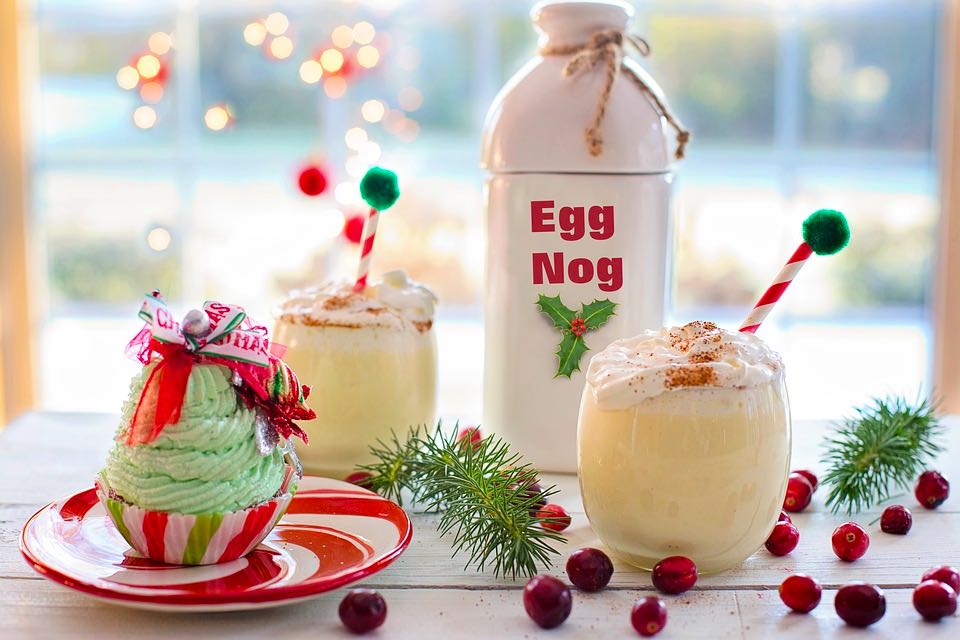 Eggnog is a worldwide popular beverage originating from the UK.
Today egg milk punch is popular in many countries around the globe, but the first egg milk punch was made in Eastern England in the 17th century.

The 'eggnog' name is believed to come from the old English word for 'strong beer'. Eggnog in Britain is sometimes called 'egg flip'.
Eggnog hails from the United Kingdom, but today is more a common drink in the US.
Eggnog is made with whipped egg whites, egg yolks, sugar, milk, and cream, but there are versions of eggnog with alcohol as well. Eggnog with whiskey, brandy, or rum is especially popular at Christmas time.
BRITISH COOKBOOKS TO READ
Paul Hollywood's British Baking









Great British Cooking: A Well-kept Secret






Mary Berry's Baking Bible: Over 250 Classic Recipes





What do British people eat?
Some of the most popular British dishes are English breakfast, scotch egg, shepherd's pie, cottage pie, steak and kidney pie, Yorkshire pudding, Black pudding, Cornish pasty, Bangers and Mash …
What is British food?
British food refers primarily to culinary traditions and food from England, Scotland, and Wales. But it also embraces culinary influences of former countries and territories of the British Empire, most notably India. Some of the most popular traditional British foods include scotch egg, shepherd's pie, cottage pie, steak and kidney pie, Yorkshire pudding, Black pudding, English breakfast, Cornish pasty, Bangers and Mash, and Chicken Tikka Masala
What is the national dish of Britain?
The national dish of Britain is chicken tikka masala. The dish is believed to symbolize the multicultural society of modern Britain. A Bangladeshi chef invented chicken tikka masala in Glasgow, Scotland in the 1970s.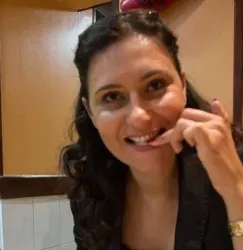 Latest posts by Milijana Gabrić
(see all)